Our 5 favourite gay beaches in Europe: which ones have you been to?
In Europe we're lucky to have some of the best gay beaches in the world right on our doorstep, and living in London we have access to a wide range of inexpensive transport options to reach them.
For us, when it comes to gay beaches, Spain leads the way, with Portugal and Greece not too far behind. These are our 5 favourite gay beaches in Europe which we absolutely love, and where you'll most likely find us showing off our latest speedos next summer!
STAY WITH A GAY LOCAL
Misterb&b is the Airbnb equivalent for the LGBTQ community. Unlike on Airbnb, you know your host is gay, avoiding any nasty surprises when you check in. It is also a great way to meet gay locals and discover the underground gay scene. Click below to get 10 € (or $10) off your first booking.
1. Es Cavallet beach – Ibiza, Spain
Ibiza island is like nowhere you've ever been before. We arrived at 3am on a Wednesday morning in Ibiza main town and the place was just buzzing with atmosphere. It's an incredibly exciting place to be, whether you love partying or not. It's a very pretty island, with some of the most famous clubs in the world, and, it has one of our favourite gay beaches in the world.
Es Cavallet beach is located on the southern end of Ibiza, where all the gay boys hang out during the day. To reach it, you take the bus from Ibiza main town, then walk for around 20 minutes through a small forest. Because of the journey, you'll develop a sense of camaraderie with fellow travellers on board and will quickly make friends. The beach is of course stunning and has its own cruising area behind it amongst the bushy dunes. It's officially a nudist beach, so draws out the exhibitionists in their numbers.
Peak season for Es Cavallet beach is July and August when it's packed full of gays. If you prefer fewer crowds, then consider going in June, September and early October.
2. Bassa Rodona beach – Sitges, Spain
Barcelona in Spain is like a gay haven for European gays. We all love it and have been there at least once. We've been many times and definitely consider it a place we'd want to live one day. The icing on the cake about Barcelona is its proximity to Sitges, a town 45 minutes train ride away.
Sitges is an old fishing village, located 35km southwest from Barcelona. Today it is a small coastal town with less than 30,000 inhabitants. It's super cute, with pretty, quaint, narrow streets, beautiful beaches, lots of bars, restaurants and boutique shops.
And it's SO gay!
Throughout the year, Sitges is like a pilgrimage for the gay boys. The summer months are of course the peak times to visit, when most of the Barcelona party crowd come here to hang out.
There are many gay beaches here that the place feels like a catwalk for gay swimwear fashion. The most popular is Playa de la Bassa Rodona, near Hotel Calipolis. Nudists will want to head over to Playa del Muerto or Playa de las Balmins.
Popular times to visit Sitges are in February for the Gay Carnival, June for Sitges Pride, July/August is peak summer season and in September for Bear Sitges Week.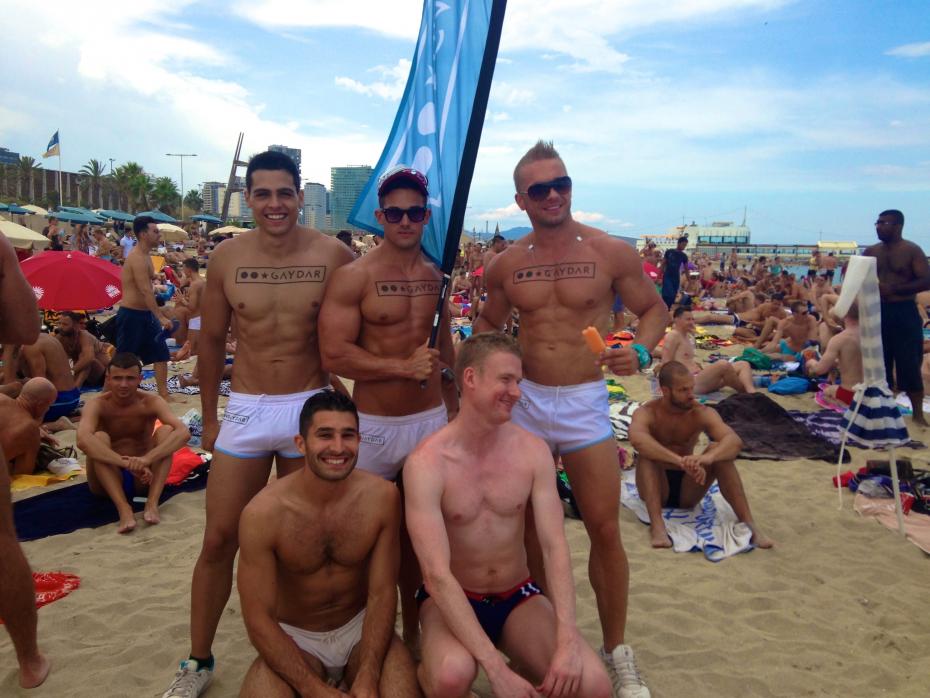 3. Elia beach – Mykonos, Greece
Third on the rite of passage for any good gay is Mykonos island in Greece, specifically the gay beaches on the south of the island: Elia, Paradise and Super Paradise. Head here in July or August and they are packed full of gay boys.
Their popularity has grown so much that they've been discovered by the straight crowd who also now head here. Elia beach however remains the most popular with the gay crowds, with a rainbow flag standing proud. Beyond Elia beach is a second, more isolated beach, which is popular with nudists at its far end.
The summer months of July/August are the most popular, with the famous XLSIOR gay party taking place in late August/early September.
4. Kiosk #7 beach – Gran Canaria, Spain
That's the third one from Spain and for good reason. Not surprising as the country does have incredible beaches, but in addition, Spain is also one of the most gay friendly countries in the world.
Gran Canaria is a popular gay destination for us European gays, throughout the year. This Spanish island is part of the Canary Islands, which lies off the coast of Africa, therefore guaranteeing almost 365 days of great weather.
We also love it because at the southern part of the island in Maspalomas and Playa del Ingles there is a massive gay scene. The Yumbo Centre is the focal point, a large shopping mall full of gay bars, clubs, restaurants and boutique shops. It's a gay man's paradise. Slightly further south of this is the large gay beach of the island, by Kiosk #7.
To reach the gay beach of Gran Canaria, start at Riu Hotel in Playa del Ingles, then head out into the sand dunes, following the trail of gay boys for around 20 minutes, until you hit the rainbow paradise on the other end. Read more in our gay guide to Gran Canaria.
5. Beach 19 – Lisbon, Portugal
Lisbon is a completely underrated European city, offering a mix of ancient architecture, Instagrammable vistas, smoking hot guys and a fun party atmosphere, especially in the Bairro Alto neighbourhood. However, the big draw for us in Lisbon during the summer months is the legendary Beach 19. Between April and October, those pretty Lisbon gay boys come here in large numbers to hang out.
Beach 19, or Praia de Bela Vista, is in fact a nature reserve along the Caparica Coast, around 12km south from Lisbon. Historically, Beach 19 was a famous cruising spot for closeted gays, but it has since evolved to become one of the best gay beaches in Europe and also for nudists.
To reach Beach 19 you can take the local train to train station #19 (which is what the beach is named after!), as well as by car rental, taxi and bus.
What's your favourite gay beach in Europe? Let us know in the comments below.
Happy travels are safe travels
We recommend you always take out travel insurance before your next vacation. What happens if you suffer from illness, injury, theft or a cancellation? With travel insurance, you can have peace of mind and not worry. We love World Nomads travel insurance and have been using it for years. Their comprehensive coverage is second to none and their online claims process is very user friendly.
Some of the links in this post are affiliate links. This means that if you book your accommodation, an activity or your insurance, we'll earn a small commission. There is never an extra cost to you for using these links and it helps us keep the site going.