We love visiting Amsterdam. Whether it's for a city break, romantic weekend or a gay party, we always know we're going to have a terrific time.
Whilst Amsterdam is most notorious for its "coffeeshops" where you can smoke joints legally, it is also culturally rich with excellent museums and has the most distinctive urban landscape. The city is dominated by water, with 165 canals, around 500 bridges, lots of cute narrow cobblestone streets and many many many bicycles! It's so picturesque that the network of canals in the 17th century historic old town (called the "Canal Ring") was listed as a UNESCO World Heritage Site in 2010.
Amsterdam is also super gay, which is not surprising given that it is the capital city of one of the most gay friendly countries in the world. Just like the gay scene of Berlin, Amsterdam is one of the few places in the world where we feel comfortable walking the streets holding hands, or don't feel like we have to look over our shoulders when kissing in public. It also has some fantastic parties, gay hangouts and many events, which we've summarised in this gay Amsterdam travel guide:
Gay district of Amsterdam
Reguliersdwarsstraat is the main gay street of Amsterdam. It is located just outside of the city's Canal Ring in the south of the city. Here you can find most of the gay bars, shops, clubs and cafes.
Further up from Reguliersdwarsstraat just by the Westerkerk church you can find the large pink Homomonument triangle memorial. When it was opened in 1987, it became the first memorial in the world to commemorate all gay men and women who were persecuted because of their sexuality by the Nazis. Next to the Homomonument is the "Pink Point", Amsterdam's official gay and lesbian information kiosk.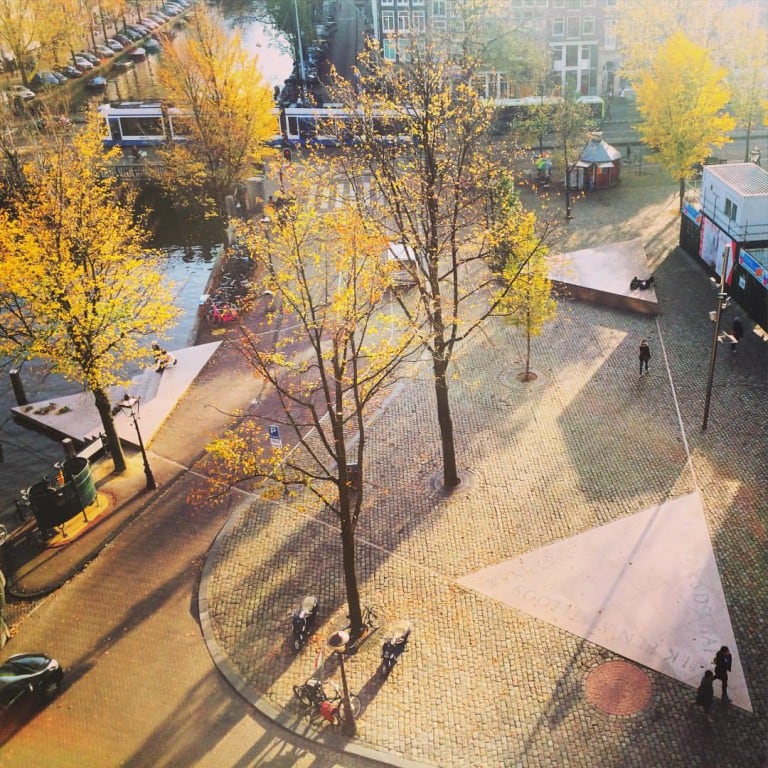 Amsterdam gay cafes and coffeeshops
Our favourite coffeeshops and gay cafes in Amsterdam are located on Reguliersdwarsstraat. Remember in Amsterdam a cafe is a place you go for caffeine and a coffeeshop for smoking marijuana.
Lunchroom Downtown: a staple since the 1970s. This is a cool place to hang out during the day especially on the outdoor terrace on a sunny day. It's open everyday until around 7pm.
The Otherside: very trendy gay friendly coffeeshop with the coolest artwork to enjoy as you get high. It is open everyday until midnight.
Betty Boop: chilled atmosphere for smoking hash and weed. It has 2 floors and a small terrace. Betty Boop is open every day until 1am.
Amsterdam gay bars
There are so many gay bars in Amsterdam that your best bet is to head to Reguliersdwarsstraat and go from there. These are some of the best gay bars of Amsterdam, which are mainly located on Reguliersdwarsstraat, unless stated otherwise.
Amsterdam gay clubs
These are some of the best gay clubs in Amsterdam, which we loved:
Amsterdam gay parties
These are some of the best monthly gay parties in Amsterdam you may want to look out for during your visit:
Gay cruising Amsterdam
Gay cruising clubs like Church and Eagle (see above) are the best places to head when it's too cold or wet outside. For outdoor fun, these are the more notorious gay cruising spots in Amsterdam:
Nieuwe Meer lake at Oeverlanden: Nieuwe Meer is a small lake in the Oeverlanden park, which is just outside the Canal Ring. It has a clothing-optional sunbathing area, making it a popular spot in the summer months. As this is the only place where cruising is officially recognised and tolerated, you can find action happening both night and day.
Oosterpark: large park in Amsterdam East, which gets cruisy after dark in the area next to the Tropenmuseum. It goes without saying you should take care here when cruising at night as robbery and stabbings frequently take place.
Vondelpark Rose Garden: public urban park in Amsterdam South with a popular gay cruising spot on the right hand side of the park towards the end known as the "Rose Garden". Cruising usually happens after dark, but during the summer months you can see some daytime action as well.
Zandvoort nudist beach: Zandvoort is a beach resort town around 30 minutes train journey from Amsterdam Centraal followed by a 30 minute walk south to the official nudist beach. Just like the gay beach of Gran Canaria, it is surrounded by dunes which makes it popular for cruising.
Gay saunas and bathhouses in Amsterdam
Currently there is only one gay sauna in Amsterdam called Nieuwezijds, named after its address at Nieuwezijds Armsteeg 95. It is conveniently located in the Canal Ring, very close to Amsterdam Centraal station.
Nieuwezijds has events like "Mellow Mondays", "No Towel Tuesdays" and a bear night on the last Saturday of each month. It is open every from midday until 6am the next morning (extended to 10am on weekends).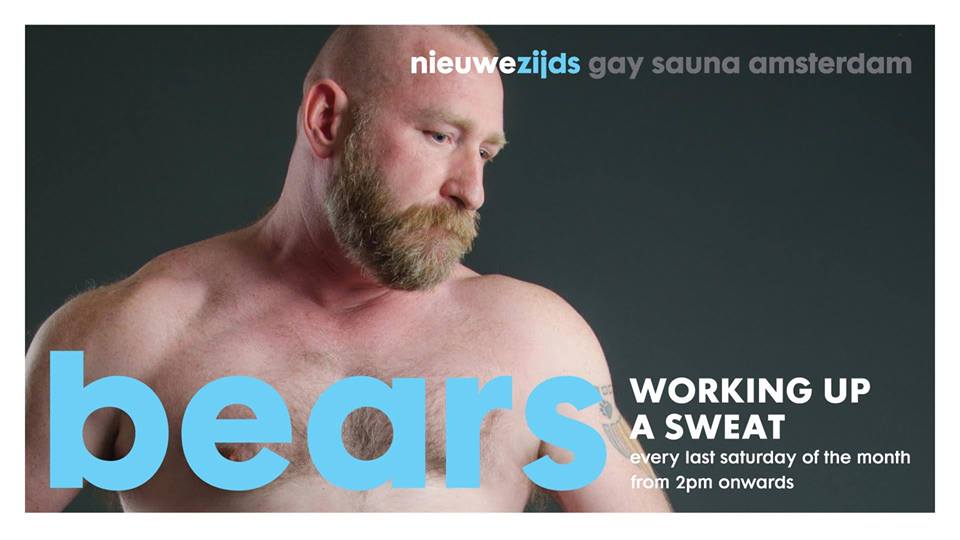 Gay Amsterdam events
Amsterdam Pride is the big one that takes over the entire city and is one of the most famous Pride events the world. There are also a handful of other gay events taking place throughout the year:
Amsterdam Bear Weekend in March: the best way to welcome the Spring to the city, with your bear buddies to hand! The Bear Weekend includes pub crawls, parties and the election of the "Mister Bear Netherlands".

Amsterdam gay Pride in July/August: the last week of July and first week of August the city turns into one fabulous colourful party. The Amsterdam gay Pride parade in early August is world famous because it is the only one that takes place on water, with 

80 boat-floats making their way through the canals. Also not to miss during Pride are the street parties, particularly on Reguliersdwarsstraat.

Amsterdam Leather Pride in October: the biggest leather party in Holland attracting thousands of leather and fetish fans on the last weekend in October. As well as lots of parties, it includes the crowning of the new "Mister Leather Amsterdam", "Mister Leather Netherlands" and "Mister Leather Europe".
International Queer & Migrant Film Festival (IQMF) in December: queer film festival featuring LGBTQ films as well as panel talks, debates, masterclasses and parties.
Gay shops in Amsterdam
There are many gay shops in Amsterdam depending on what you are looking for. These are some of the best ones:
Artem Bodywear: sexy underwear, swimwear and trendy sportswear for men, located on the Reguliersdwarsstraat street.
Black Body Shop: has the biggest collection of rubber clothing and toys in Europe. It is located at Kerkstraat 173.
Drake's Luxury Boutique: offers a wide range of gay-orientated clothing, home accessories, adults toys. It is located at Damrak 61.
RoB Amsterdam: sells a variety of clothes, toys, gadgets and more. It is located at Warmoesstraat 71.
Mister B: popular leather and fetish chain, which sells a range of toys, clothing and accessories. It is located at Prinsengracht 192.
Amsterdam gay hotels
Amsterdam is one very gay friendly city where you are unlikely to ever have any problems finding a place to stay that welcomes gay travellers.
Whether we were travelling on a budget, a romantic break to celebrate an anniversary, a weekend city break from London or a stag weekend, every place we've stayed at has been welcoming and never had an issue about us sharing a double bed. For more information, check out our top 10 favourite gay hotels in Amsterdam guide.
Get up to $55 off your next Airbnb booking
We've used Airbnb extensively during our travels because you can rent an entire home which usually works out a lot cheaper than a hotel room. It also allows you to have your own space with a kitchen, a living room and more. You can easily find places close to the gay scene by using the map function. If you've never used Airbnb before, simply click the button below to get up to $55 discount off your first booking.
Happy travels are safe travels
We recommend you always take out travel insurance before your next vacation. What happens if you suffer from illness, injury, theft or a cancellation? With travel insurance, you can have peace of mind and not worry. We love World Nomads travel insurance and have been using it for years. Their comprehensive coverage is second to none and their online claims process is very user friendly.
Some of the links in this post are affiliate links. This means that if you book your accommodation, an activity or your insurance, we'll earn a small commission. There is never an extra cost to you for using these links and it helps us keep the site going.
IF YOU ENJOYED READING, PLEASE PIN ME: