Amsterdam is a place full of diversity and sexual acceptance, one of the main reasons we love visiting so much. Some people may think that traveling around the Red Light District and all it has to offer is as naughty as it gets. But there are plenty of hidden treasures dotted around the capital just waiting to be enjoyed!
We have only had pleasurable experiences when choosing Amsterdam hotels to stay in, but these hotels are slightly different. Below is our list of five of the best and most outrageous (in a good way) kinky, sex hotels in Amsterdam for pure pleasure-seekers.
01
The Kinky Suite Amsterdam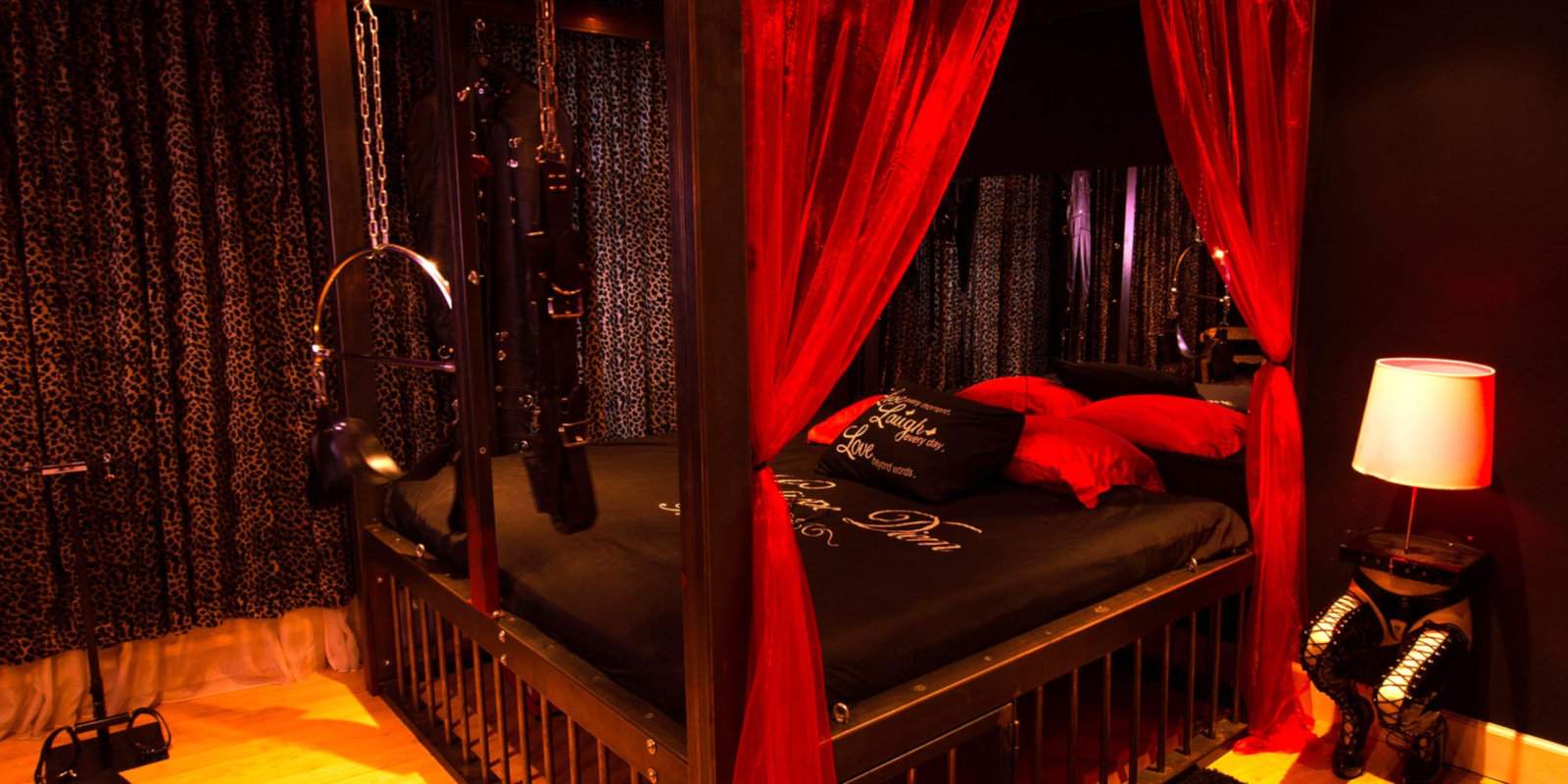 Why we love it
---
Very kinky private residence
Sultry red and black interiors with leather and lace
Located in the heart of the Red Light District
Luxury features like a Jacuzzi and underfloor heating
We thought we'd start strong! The Suite is an incredible 3-floor rental apartment slap bang in the middle of the Red Light District.
Before we get into more detail of the vast sexual instruments and equipment The Suite has available to guests, it also seems important to highlight how beautiful the décor actually is inside the apartment.
Now, for the main event, this erotic bed and breakfast have every single BDSM and bondage device you could desire. The apartment is kitted out with a full BDSM bedroom with full adjustable lighting to emit the desired atmosphere, body cage, ceiling and wall mirrors, a stage with a pole, a kinky swing, toys and a Saint Andrew's Cross. There is also the option for guests to arrange and purchase photoshoots and romantic set-ups for their stay at The Suite. Our favourite feature was that guests have the option to purchase sex toys through the company, who will then buy them from easytoys.nl at a 10% discount, then they will be ready for when you arrive. Talk about great service!
As well as all of that, The Suite also provides a kitchen area, a chic bathroom with a jacuzzi, underfloor heating, 42" TVs, a surround sound speaker system and a Nespresso machine. Full of stunning reds and blacks and plenty of expensive and deluxe looking furniture, The Suite has a really sexy vibe going on. WHEN CAN WE MOVE IN?!
02
Art'otel Amsterdam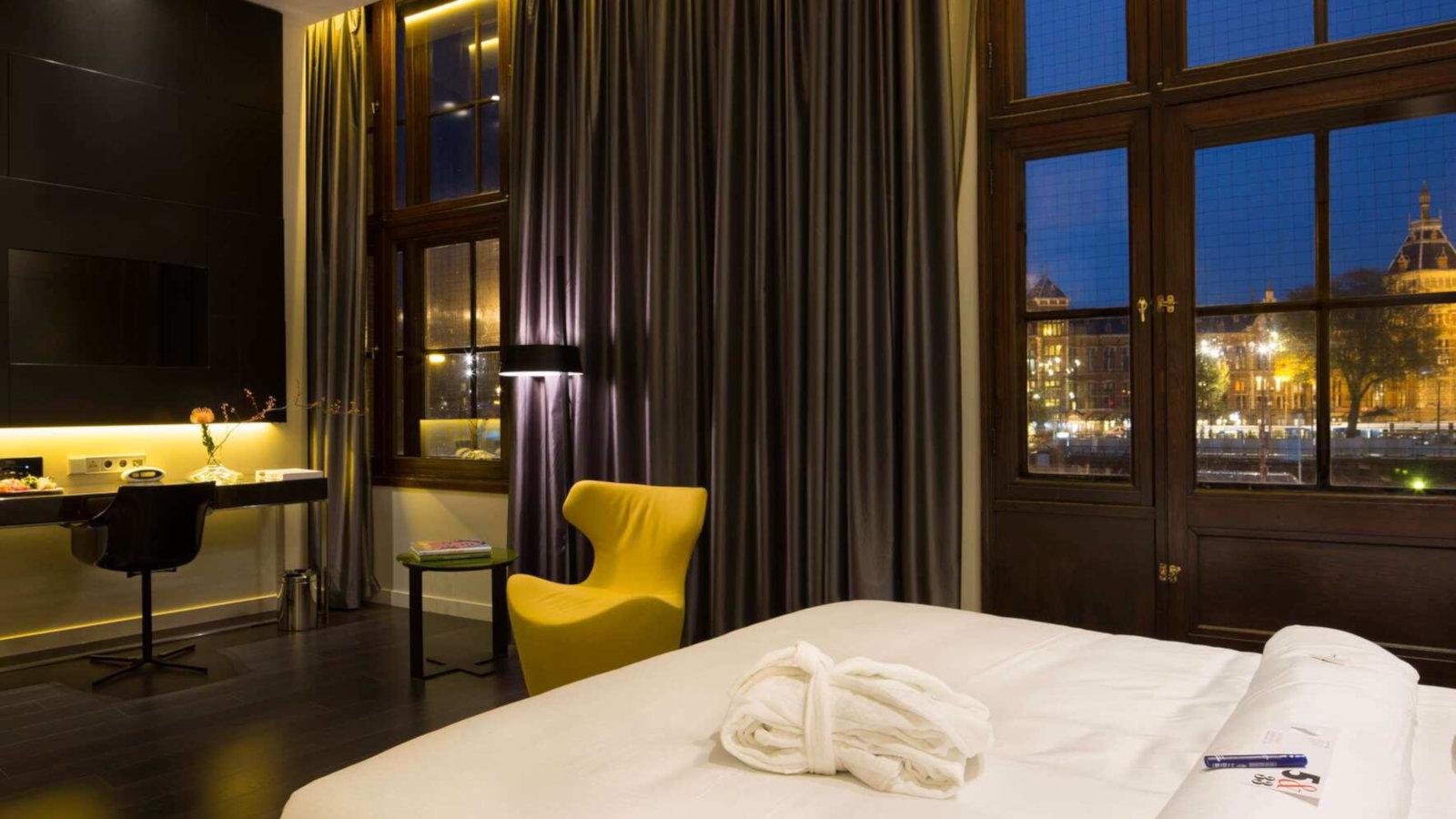 Why we love it
---
Gorgeous views of Amsterdam
Beautiful art throughout
Perfect packages for a naughty weekend
5&33 Gallery with bar, restaurant and live music
Art'otel is exactly what its name suggests, a miraculous hotel drowning in the wondrous art of many different genres.
With such a strong theme, it's hard not to love this beautiful hotel whether you're an art lover or not! The interior décor is lined with sculptures, wall art and other stunning pieces throughout the public spaces and private rooms.
Guests also have exclusive access to the 5&33 Gallery, located on-site. The guestrooms and suites are just as glamorous and intriguing to the senses as the art which can be seen in the gallery, with 5 different rooms. We thought the purple lighting in the bathrooms was particularly alluring.
All these features are great, but what makes this a sex hotel we hear you ask? Well, Art'otel offers a "Fun & Frolics" package for couples, which is an all-inclusive experience to spice things up a bit. Included in this package is a 2-night stay with 2 Horny Mule cocktails at the 5&33 Bar on the night of your arrival, a tour of the Red Light District on your second night of stay, inclusive adult films and most importantly of all, the Intimacy Package for Lovers! This package includes a mini vibrator, a couples vibrating ring, plenty of lube, two condoms and some delicious chocolates. We think this sounds like a sound excuse to hang up Do Not Disturb sign on your door.
03
Misstress Madieanne's Kinky B&B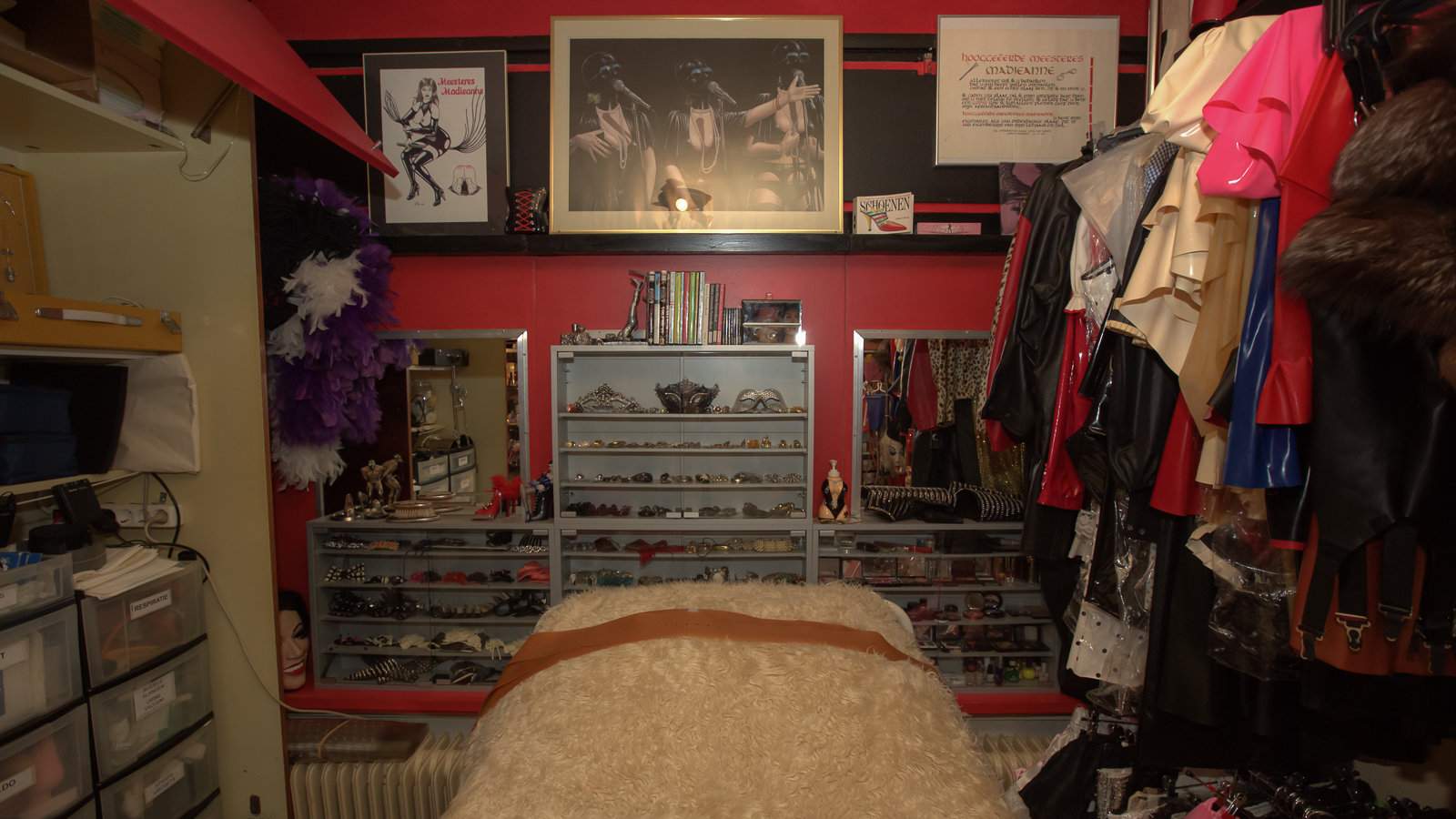 Why we love it
---
Explore a range of BDSM and bondage activities
Fully equipped and kitted out B&B
Meet one of Europe's most famous Dominatrices
Much more than traditional S&M offered
Mistress Madieanne is not only one of the most famous Dominatrices in Europe, but she also has her own B&B you can stay in.
According to her website, Madieanne is a Lifestyle Domina – she does not act as a Mistress, she IS a mistress…we'd be lying if we said we weren't completely fangirling over her!
The overnight stay at Madieanne's B&B is between 10pm and 10am the next day. It is only available to guests who are booking BDSM and bondage sessions with her. However, she also offers a full repertoire of pleasures including humiliation, transformation, crossdressing, mummification, total enclosure, restricted breath play AND fetish roleplay, it seems there's no itch Mistress Madieanne cannot scratch! However, please note that if you do decide to stay at the B&B, there are no sessions during the overnight stay because Madieanne declares that she "needs her rest" – that's right, this Mistress is one major self-care queen!
During your overnight stay, Madieanne's B&B is equipped with plenty of books, magazines, DVDs and laptops. The overnight option also includes the opportunity to attend public outings, parties, dinners and trips to the theatre with Madieanne as company. Shift over Seby, I think I've found my new dinner mate!
STAY WITH A GAY LOCAL
Misterb&b is the Airbnb equivalent for the LGBTQ community. Unlike on Airbnb, you know your host is gay, voiding any nasty surprises when you check-in. It is also a great way to meet gay locals and discover the underground gay scene. Click below to get 10 € (or $10) off our first booking.
04
Mauro Mansion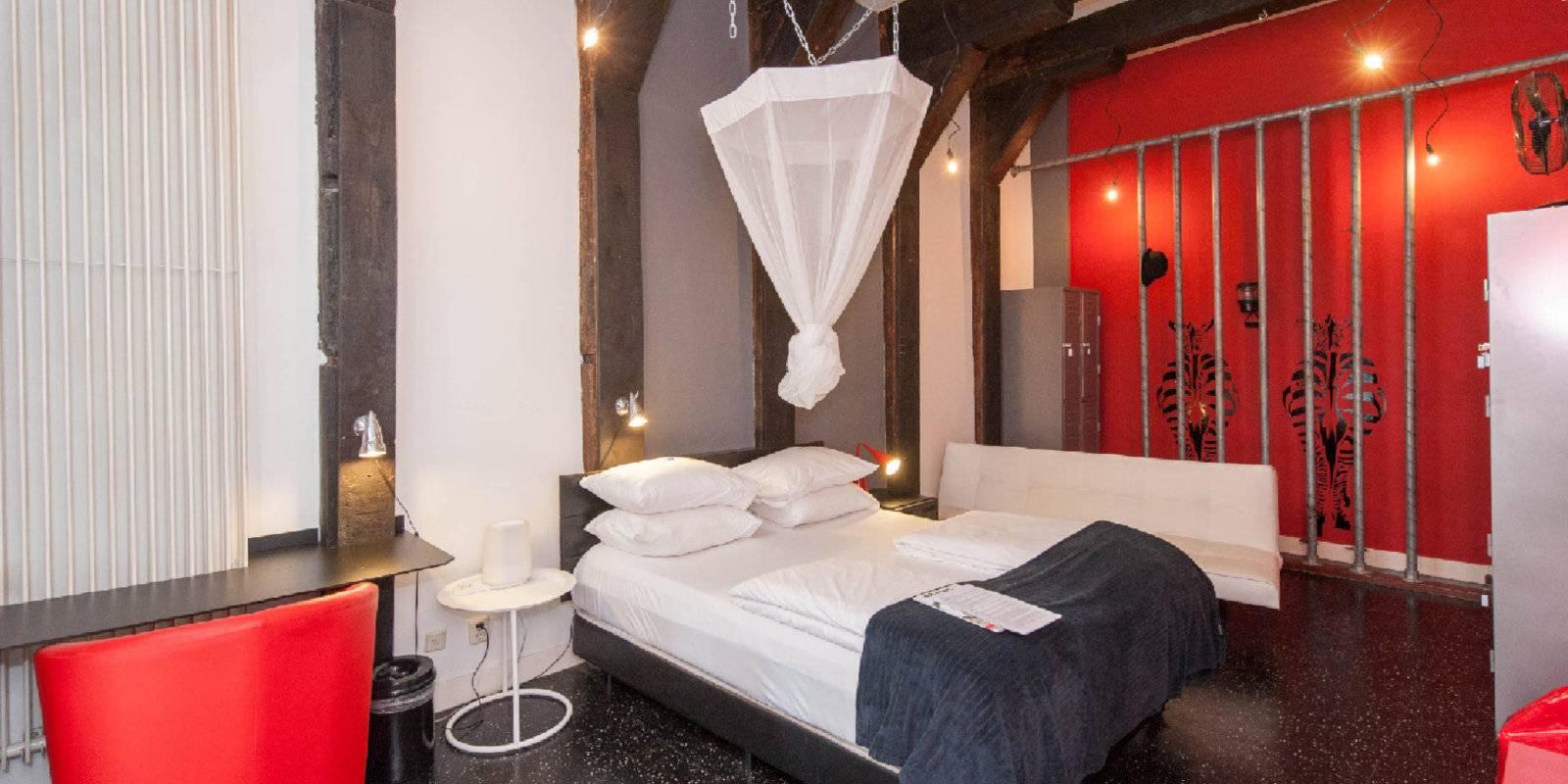 Why we love it
---
One of the more low key sex hotels in Amsterdam
Amazing location and views of the canals
Adults-only hotel with a bit of a fetish vibe
Interesting and historic 16th-century canal house
Our final kinky accommodation is for the lovers seeking a less intense environment for an active weekend.
Although Mauro Mansions is no longer under the umbrella of "sex hotels" due to new ownership and a new design, there is a rich sexual history in the foundation of this decades-old building that we think you should totally try and tap into.
In the 1990s, Mauro Mansions was known as the "Black Tulip Hotel", an exclusive, luxury hotel for gay men which accommodated for various sexual fantasies and desires with rooms stocked with fetish gadgets, bondage chairs, bed slings, rubber floors and black iron cages. You could even rent a bodybag from reception!
Mauro Mansions now stands as a 9-room boutique hotel with ironclad interiors which still ooze a strong fetish vibe. It is situated in a classic 16th-century canal house between 2 former medieval city gates. Mauro Mansion is now open to guests of any sexual orientation and has a top 5/5 star rating on TripAdvisor. It is adults only with a strict 'no children' policy. And best of all, some of the rooms are still fitted with the same black iron cage from the 1990s.
05
BedRopeBreakfast
UPDATE SEPT 2022: BedRopeBreakfast has temporarily closed, but we will update as soon as this changes!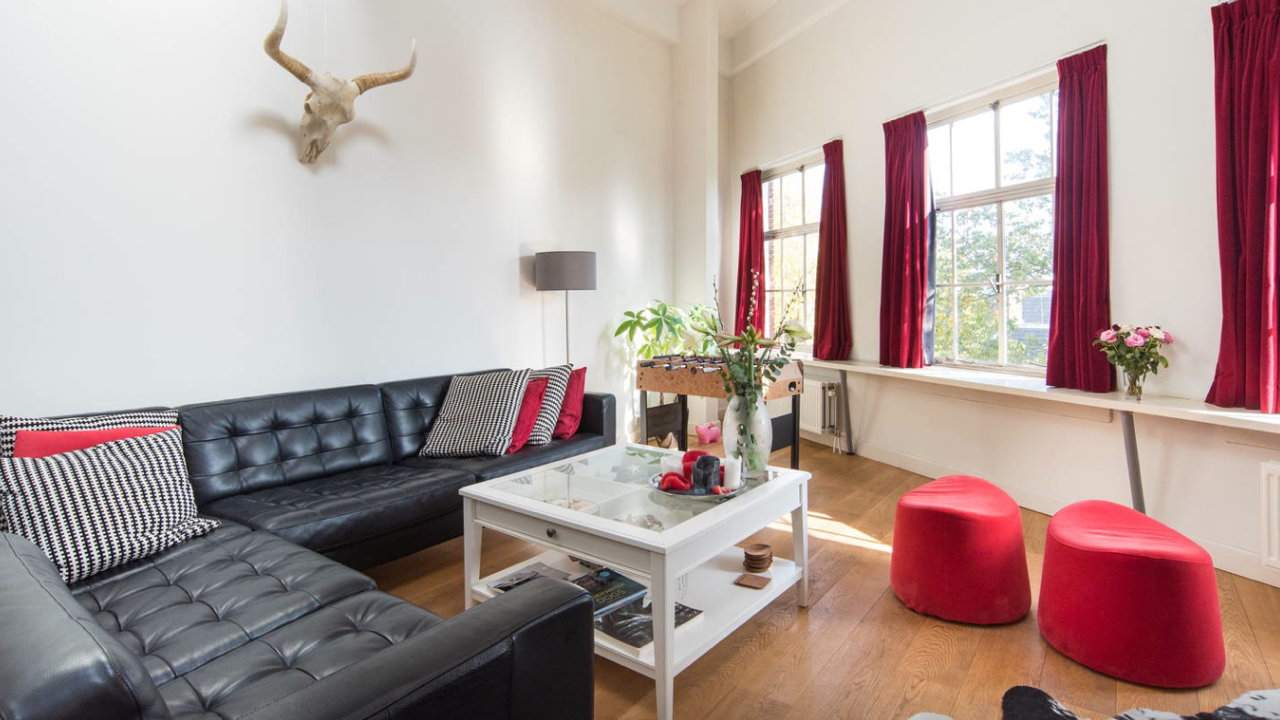 Why we love it
---
Experience the Shibari Ancient Japanese rope play
Located right in the heart of Amsterdam
A whole list of sex-related workshops
Fully nude household policy
This accommodation is something very different, and almost educational! If you want to experience the culture as well as kink, then look no further than the BedRopeBreakfast.
Unleash your inner sex god (or goddess) with a whole list of sex-related workshops! The niche which makes this accommodation so extraordinary is the ancient Japanese art of Shibari.
Shibari loosely translates to "ropes assorted decoratively" and is the art of rope play bondage with a slightly more aesthetically pleasing look about it. BedRopesBreakfast specializes in offering workshops on Shibari and Kinbaku (a variation of Shibari). Mr Bob Ropemarks himself is available for booking through the B&B for private training on weekends; apparently, Bob is Holland's most famous Shibari show performer!
Aside from the surprisingly stunning Japanese rope play, BedRopeBreakfast is an extremely relaxed and comfortable place to stay in the heart of Amsterdam. They offer everything from a massage therapist, a pro-domme to a sex educator. It's also a nudist household, and completely swinger friendly. However, there is one rule: no sex in communal areas!
To view more details about it, you have to log into the KinkBNB.com website.
---
Like this post? Pin it