God made the rainbow so we could sashay down the catwalk to heaven…
…and of course along the streets of London during Pride!
But can you imagine, in other parts of the world, the cover image for this blog post alone would likely get us arrested or even killed.
Whilst we are lucky to live in a place where we can love who we want freely, there are still 74 countries where being gay is still a crime, and many others where the mere mention of being gay can lead to you losing your job, being ousted by your family or even worse, beaten up and killed.
We saw this a lot during our big trip in Asia, such as with our friend Joko from Java in Indonesia, Kaluu from Colombo in Sri Lanka and particularly in Russia:
This is why we think it is important to come to Pride events – to march for those who can't. Whilst the parades are always a lot of fun, they are also a strong and symbolic message of love, unity and acceptance for our LGBTQ family around the world, who we want to be celebrated, respected and embraced by all – #pridematters
We've attended numerous gay pride events around the world including the gay pride festival of Puerto Vallarta, the Canada Fierte pride in Montreal and the gay Pride of Cyprus in Nicosia. Our favourite, which we always look forward to every year is Pride in London. As proud Londoners, we are of course very bias, especially as this is where we met back in 2009. But each time we go to Pride in London, we have an amazing time. Here's why:
One massive, colourful, fun parade
The London gay pride parade is huge, with over 500 groups and 30,000 people taking part. Alongside this, over 1 million people gather to watch, making it one of the world's biggest LGBTQ celebrations. The Parade is so big that it goes on for hours – in 2008 we joined in at the start of the parade just after noon, and by 6pm, it was still going strong.
Imagine those busy iconic streets of London – Regents Street, Oxford Street, Piccadilly Circus, Trafalgar Square, which on a Saturday afternoon are usually full of tourists, shoppers and traffic? On Pride day they are all closed down for the London Pride parade route, with crowds lining the streets to watch, even climbing on bus stops to get a better view!
Diversity: something for everybody
During the London Pride parade, there are so many different varieties of organisations attending. On the one hand there are floats from the obvious organisations you'd expect to see at a Pride event, like the local gay bars, LGBTQ support groups, big corporates like Skittles, and the main political parties. On the other hand, look out for the less obvious, which you wouldn't expect to see, such as the international law firm Allen & Overy, the Navy, the RAF, the Army, the Battersea Dogs & Cats home, and even the Bank of England!
Our favourite group each year are the fetish groups, particularly the group of playful pups, out for their London rainbow stroll.
The many fabulous outfits on display
It wouldn't be a complete Pride event without a few spectacular outfits on show. We love how some go to great lengths, and really put in a lot of effort, attending in full drag or completely over-the-top rainbow attire.
And of course there are always many scantily clad sexy boys at London Pride to watch out for, especially the floats representing underwear brands or boutique gay shops like Clone Zone:
Our dilemma each year is trying to work out which outfit to wear. One year we came as angels, another as devils, once as Roman warriors, and in one year, Seby introduced "Mademoiselle Butterfly" to the streets of London, with his best friend, "The Slutty Duchess":
The electric atmosphere across Central London
The Pride in London Parade culminates at Whitehall. Afterwards, the crowds congregate around one of the main squares – Trafalgar Square, Soho Square and Leicester Square. Each one has its own stage, the main one in Trafalgar Square where politicians, led by the Mayor of London, give speeches, along with famous LGBTQ celebrities, which have included people like Tom Daley, Stephen Fry and Peter Tatchell.
There are also (free) live performances by famous drag queens like Alyssa Edwards and Courtney Love in 2018, along with headlining acts, like Sophie Ellis Baxter and Alexandra Burke in 2018. One of our favourite performances from this year's London gay Pride was by the sexy Gay Men's Dance Company…
The millions who gather during the day to watch the Parade then spill out into the surrounding streets, turning Central London into one big exciting street party. This is one of our favourite things about Pride in London, which is also what makes it so unique: very rarely do you see the streets of one of the world's busiest cities close down and taken over by our colourful and diverse LGBTQ family.
The best parties
Later in the evening, the biggest gay clubs of London organise some really cool gay parties. The most popular is XXL, an all male club, which has a diverse mix of guys. We always have a fun night out here and has become our favourite gay club in London.
The WE Party group usually has a post-Pride party as well, which is the place to go if you want to hang out with sexy muscly guys. Also look out for the Sink the Pink Pride party – a more alternative, queer-focused event, which welcomes everyone.
Read why England made the list of our top 10 favourite gay friendly countries in the world.

Hope you enjoyed reading and maybe see you at next year's Pride in London!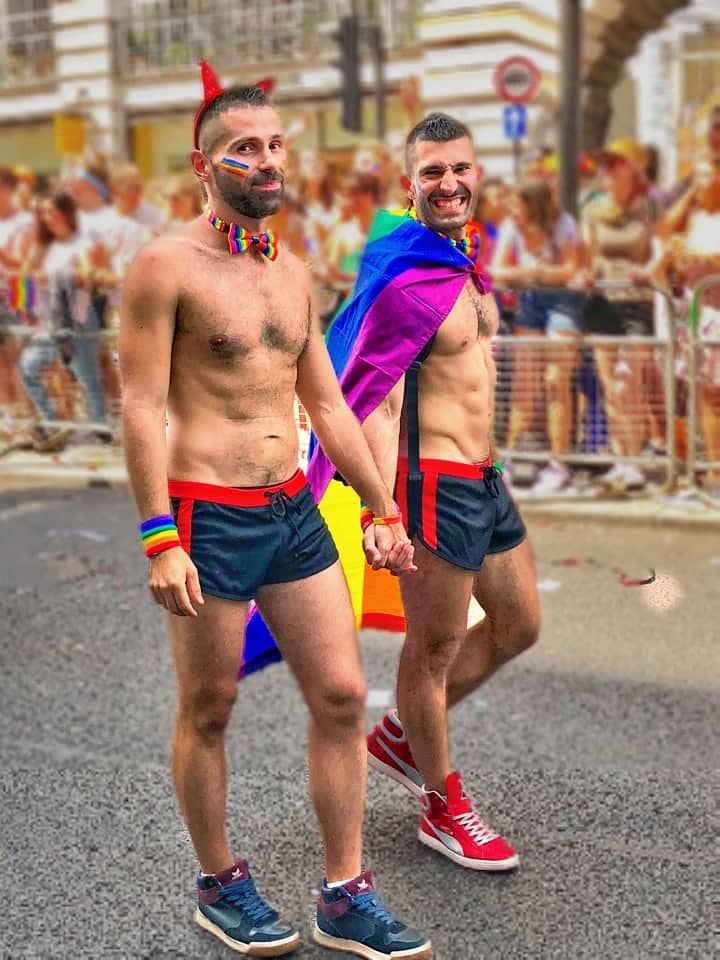 OUR FAVOURITE TRAVEL TIPS
⭐️ TRAVEL INSURANCE — We recommend you always take out travel insurance before your next vacation. What happens if you suffer from illness, injury, theft or a cancellation? With travel insurance, you can have peace of mind and not worry. We love World Nomads travel insurance and have been using it for years. Their comprehensive coverage is second to none and their online claims process is very user friendly.
⭐️ SAFETY & SECURITY — All travelers (gay or not) can sometimes encounter danger when traveling. CloseCircle is your "virtual body guard" mobile app which provides security alerts and support wherever you are in the world. They have a 24/7 emergency response team monitoring their users who will contact you immediately if the SOS swipe button is activated. Support can include anything from practical advice, to free evacuation from areas with extreme weather or security risks. You can read more about CloseCircle in our article about how to stay safe whilst traveling.
⭐️ ONLINE ANONYMITY — A VPN (Virtual Private Network) is a must in many countries: it allows you to surf anonymously and maintain your privacy whilst traveling. You'll particularly need it in countries where gay dating apps are blocked by the government. We recommend ExpressVPN, a reliable and cost effective service which we used and loved during our travels.
⭐️ HOTELS or APARTMENTS — When we plan a trip, we always look for the best hotel deals. We love Booking.com because not only do they have a comprehensive listing of accommodation options, they also offer the best prices. Added bonus: they provide 24/7 support and free cancellation for most listings.
⭐️ SIGHTSEEING and ADVENTURES — When we travel somewhere, we like to seek out the best experiences, whether it is cooking with locals in Bangkok, hiking on a glacier in Patagonia, or going on a wildlife safari in Sri Lanka. Our favorite place to look is GetYourGuide because they have over 30,000 highly rated activities, a user-friendly booking process with free cancellation and a 24 hour customer support.
This article contains affiliate links. If you click on them, we may receive compensation which keeps our website alive and helps us bring you to more destinations.
Pin to read later