TERMS OF USE: There is a chance that some of the content on this page has changed since it was last updated. By reading this article, you consent to our Terms of Use and Disclaimer. Happy Travels!
DISCLOSURE: Some of our posts may contain affiliate links which we may receive a commission if you choose to book something through one of our links.
Everything you need to know about attending gay Pride in London 2023!
We thought London had only one queen… turns out there are over a million! Or at least it seems from how busy London is at Pride. That's right! Over one million participants come out to celebrate each year, making it one of the biggest Pride events in the world.
And for good reason! Who wouldn't want to come to London for Pride? It's one of the greatest cities in the world. And we don't say that out of bias – this is where we met back many many moons ago (ok, maybe we are a teensy bit biased).
London is where the gay rights movement in the UK began. The big capital also has a plethora of queer talent that has made the city their home, and of course, London has the best gay scene in the entire country; obviously, we're very opinionated about this!
The London Pride organizers know how to put on a show. So many events happen across the London Pride season that you are spoilt for choice. Concerts, exhibitions, movie screenings… and that's before we've even started talking about the gigantic exciting Pride Parade through the iconic streets of Central London!
Here's what to expect for London Pride 2023 based on our first-hand experiences of attending the event almost religiously over the past 20 years!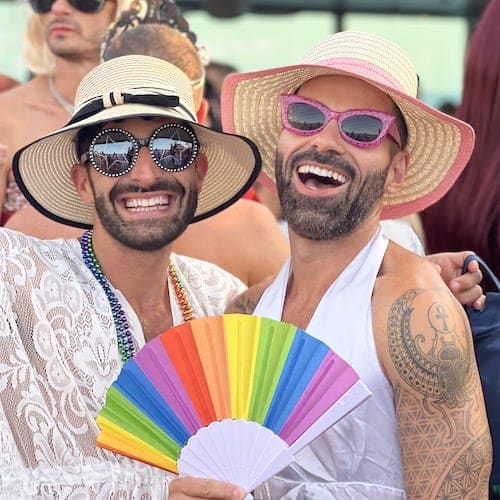 Travel worry free!
Don't skimp out on your travel insurance: make sure your trip is fun, frivolous, and free! Most importantly, good travel insurance will cover you for any medical emergencies, flight cancellations, pricey hospital bills, car rental protection, and more.
About London Pride
In 1970, 150 brave men began marching through the Highbury Fields in protest of the harassment they received from the police force and the wider public. By 1972, this had grown to 2,000 participants, with multiple organizations coming together to form the first official UK Gay Pride Rally.
Over the years, the parade grew in size, alongside an increase in public support for gay rights. In the mid-80s, the Lesbians and Gays Support the Miners group (LGSM) took part, which was what the movie Pride (2014) was based on. And in 1992, London held the first ever Euro Pride, with 100,000 attendants. And it only got bigger and better from there.
Pride London has several famous patrons, including Elton John, Ian McKellen, and Laverne Cox.
DON'T MISS OUT!
Join our newsletter
Subscribe now to receive in-depth FREE travel guides, along with inspiring stories, savvy planning tips, and exclusive discounts on gay tours.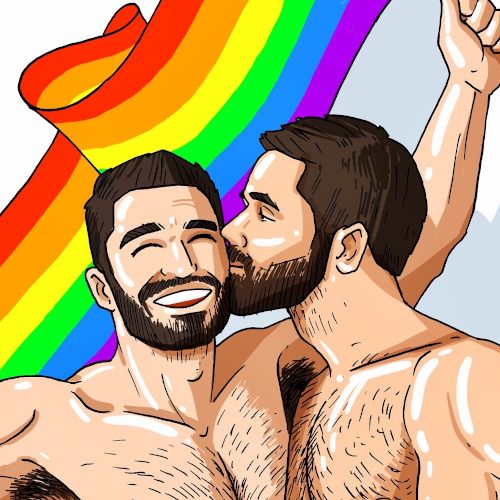 How many people go to London Pride?
London Pride is one of Europe's largest pride parades with 1.5 million attendees in 2022 and 1 million in 2019.
From 2,000 when the first London Pride was held, it has grown over the years to become one of the biggest gay events in the world and the biggest queer event in the UK.
What day is London Pride?
London Pride Parade is always held on the first Saturday in July. The next London Pride will take place on July 1st, 2023. The Parade kicks off at midday and finishes by 6 pm.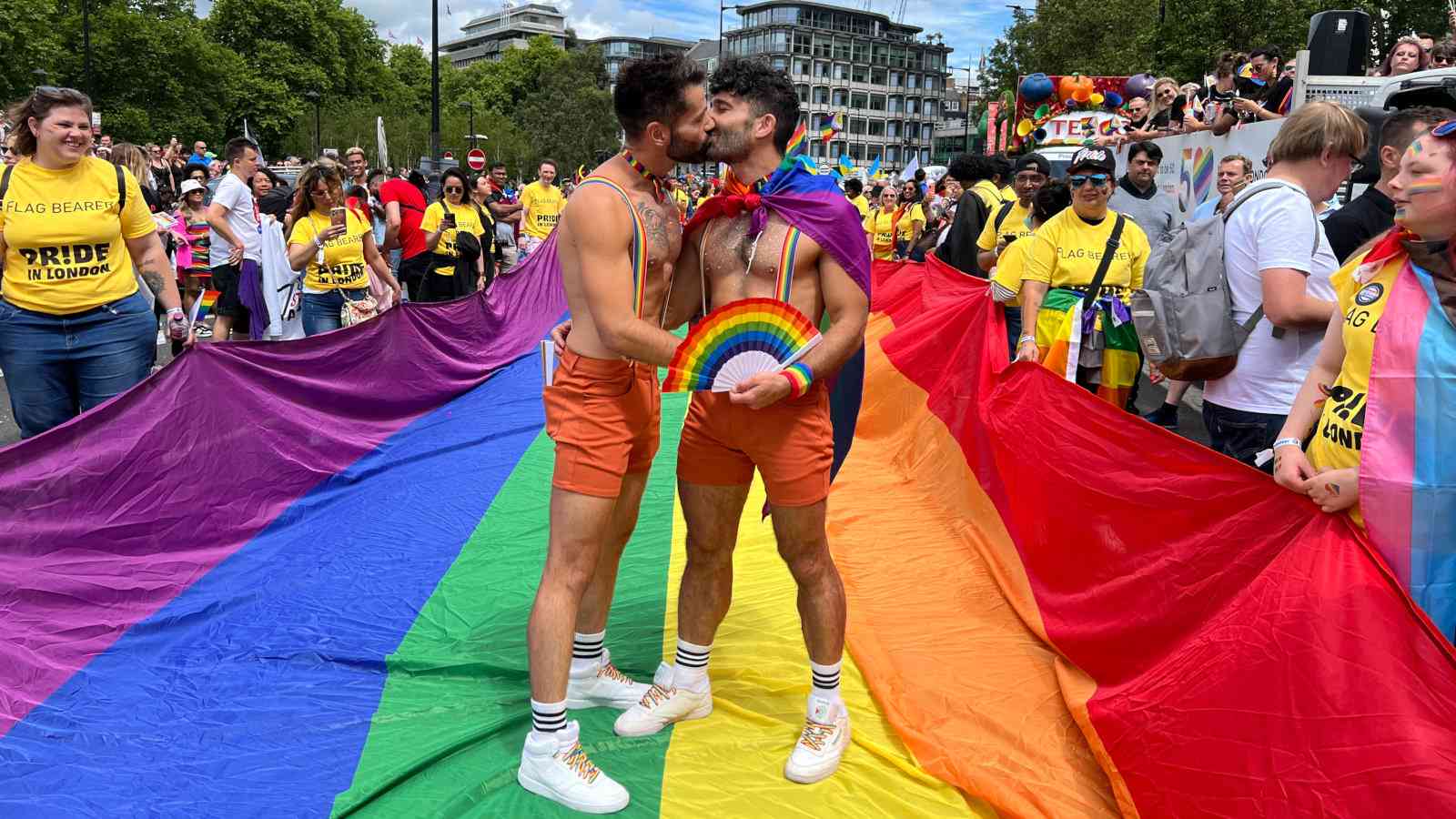 The London Pride Parade route
The parade itself can feature over 30,000 participants, representing over 600 communities. From sporting clubs to choirs, schools to charity groups, there is room for everyone.
The London Pride Parade begins at midday. While the route can change each year, the Parade route usually starts at Hyde Park, then snakes its way through Piccadilly Circus, and finishes up at Whitehall Place.
There are several stages set up along the route, including one on Trafalgar Square, where crowds gather to sing, dance, and enjoy performances by pop artists and drag acts. There are also dozens of food and drink stalls, so you can grab a bite to eat and a bevvy!
For the latest up-to-date info check the Pride in London website.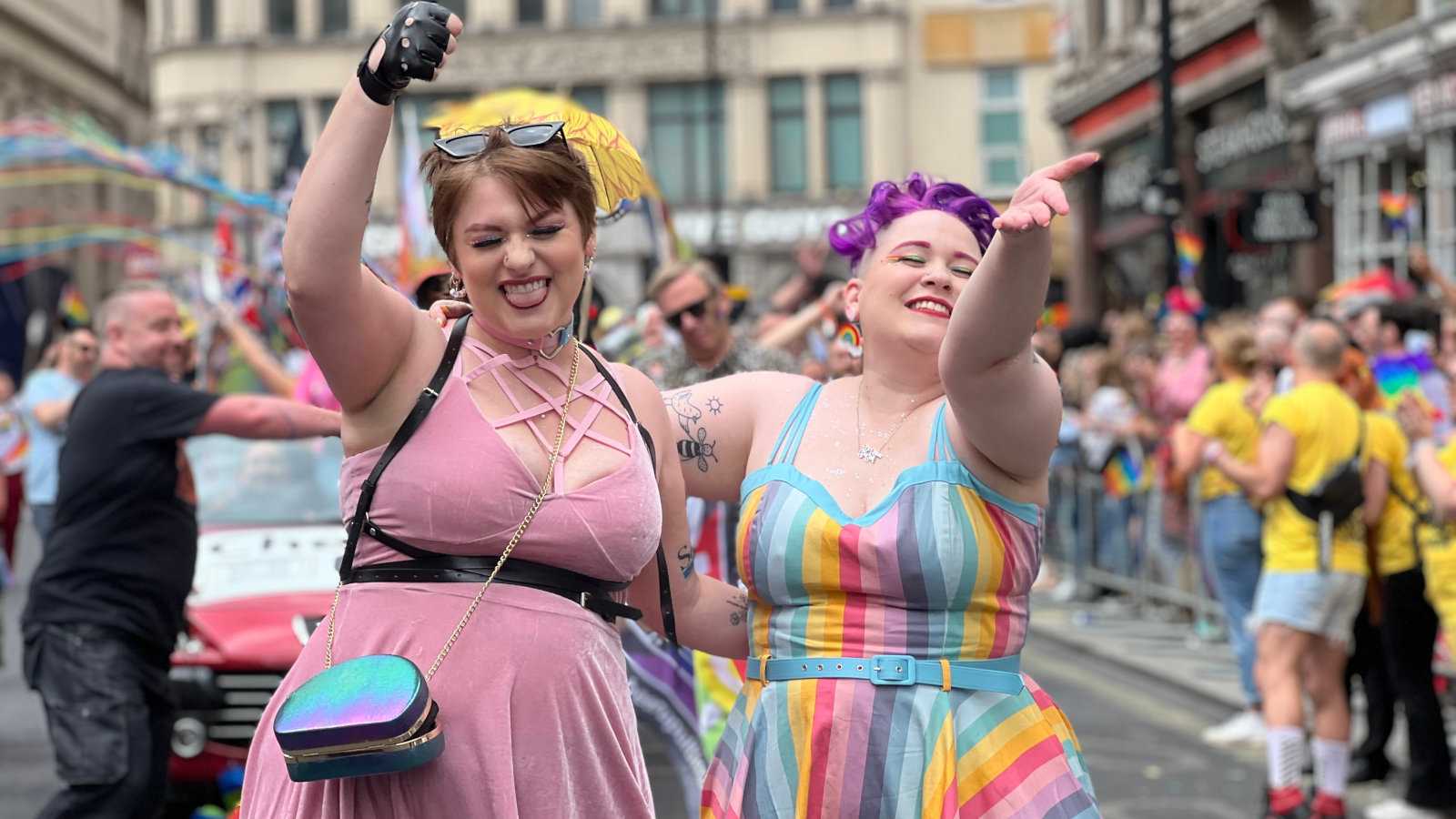 Who can join the Parade?
London Pride Parade is free but you can only take part in the parade if you are with a charity or a group that has pre-registered to march or on one of the floats. Otherwise, you can watch it on the side behind the barriers.
However, you can always volunteer to become a steward. These are the guys who help crowd control and keep everyone safe. Simply register on the Pride in London website.
London Pride Events 2023
Pride is here! And you're probably wondering where to even begin celebrating. We've got you covered. Here are some of our favorite events that take place during London Pride:
The Trafalgar Square Stage
Trafalgar Square is where the Pride parade culminates, but that doesn't mean the fun stops there! Organizers set up a massive stage for the headline act to perform, as well as for gay-friendly politicians attending to give speeches.
Concerts and film screenings
It isn't just about the parade – Pride also features dozens of pop-up film screenings and concerts throughout the city. Films can be anything from campy classics that gay people love to documentaries about the history of LGBTQ rights, with concerts featuring drag artists and queer musicians. For the latest info check out the Events section of the Pride in London website.
Queer Britain Museum
Former Gay Times editor, Joseph Galliano opened up the Queer Britain Museum in 2022. It features an exhibition on the evolution of gay rights across the UK, from the days of criminalization to the modern-day debate surrounding trans rights.
It also looks at the impact LGBTQ folk have had on culture, from politics to music. Although it's open throughout the year, we highly recommend visiting it and celebrating it during Pride Month in London.
IBikeLondon Pride Ride
Swap out your feet for wheels, by taking part in the IBike London Pride Ride. It's everything we love about Pride, but on bikes! Cycling from the National Theatre, LGBTQ folk travel through the city, whilst dressed up in fancy wear, playing disco tunes, and waving their flags. Now that's how you steal focus!
London Trans+ Pride
Taking place on the second Saturday of July is Trans+ Pride. Over the years, trans rights have come into sharper focus in the public consciousness. And sadly, with that, there's been an increase in transphobia. Therefore, TransPride is all about shifting focus away from the wider Pride discussion toward the specific experiences trans people go through.
The march moves towards Piccadilly Circus, with marchers waving trans flags and placards.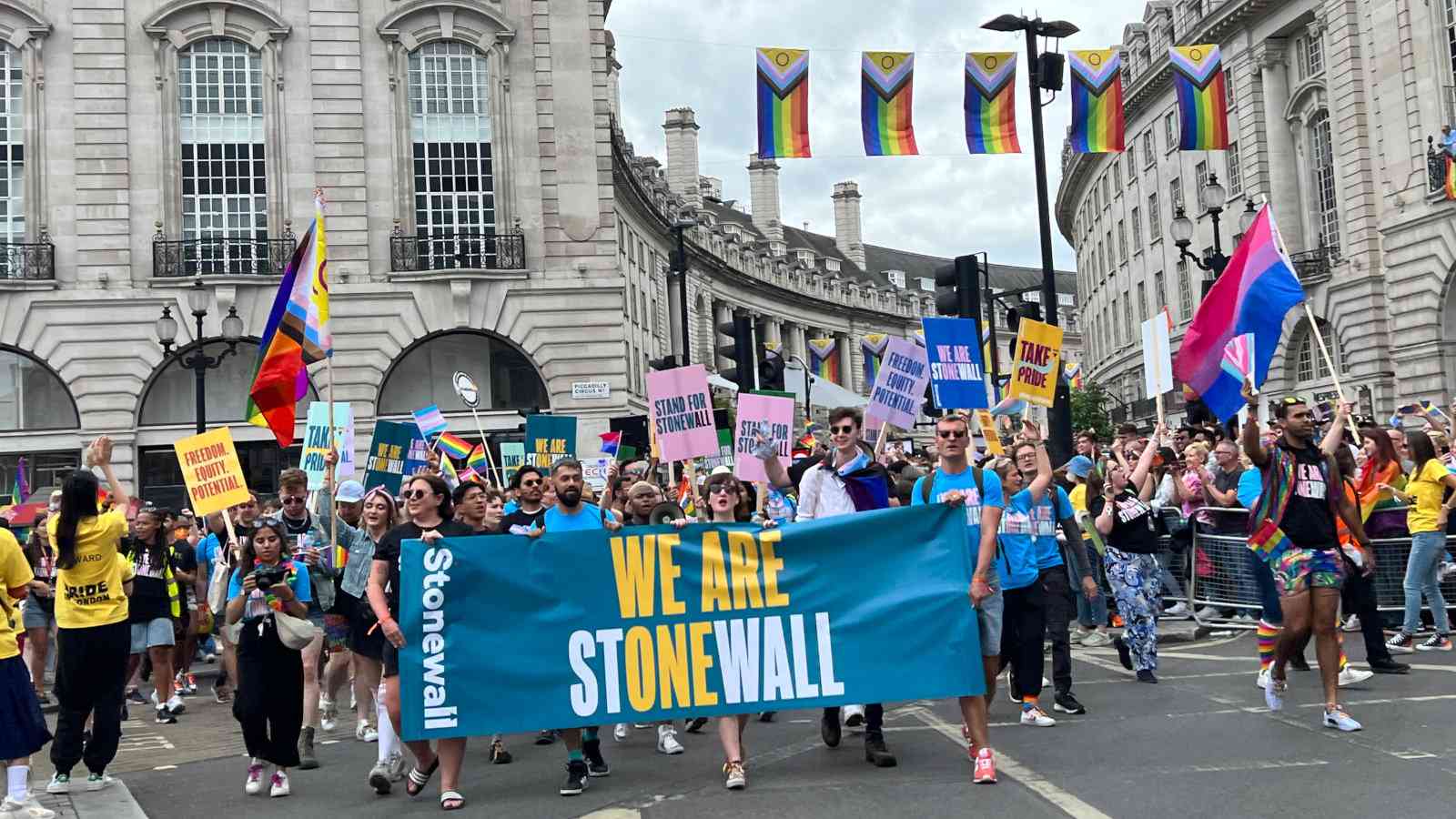 Gay Parties during London Pride 2023
Ok, so you've gotten your steps in with the parade. You've made your voice heard. Now it's time to dance and have fun. Here are some of the best gay parties:
You've celebrated gay Pride, now it's time to feel gay shame! This is a tongue-in-cheek party that serves as an alternative to the exotic dancing, rainbow flag-waving, celebratory Pride.
It takes place at the Royal Vauxhall Tavern, featuring whacky performances by underground entertainment acts. Past years have seen Bourgeois & Maurice, and Amy Lamé taking to the stage as well as DJs playing all the hits gay people love.
Are you in the mood for dancing to electronic music alongside hot, muscular men? Who wouldn't be?
WE Party, which takes place in Electric Brixton, is all about the spectacle. Extraordinary lighting effects, sensational sound systems, hot dancers, and epic DJ sets. There's no better place to spend Pride. It's totally mad though so be warned!
If you're looking for something "naughtier" than the typical Pride event, then Trough is for you! A kink-friendly space that is all about f3tish celebrating, then shaming. It brings together bears, muscle queens, daddies, and in-betweeners on a heaving dancefloor, dancing to heavy electronic beats.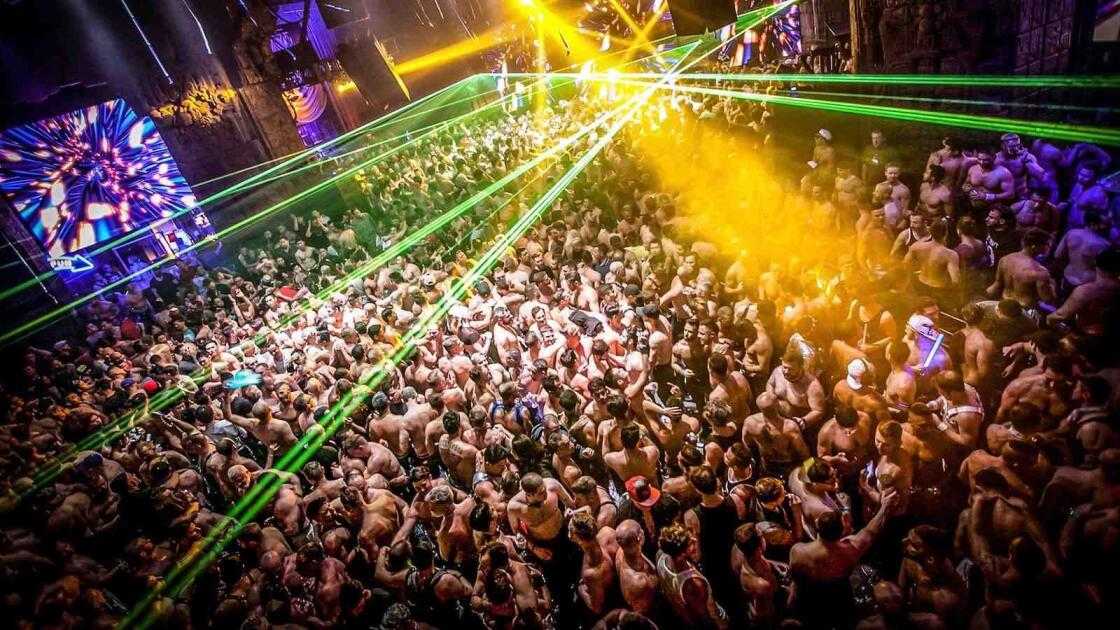 London Pride in Pictures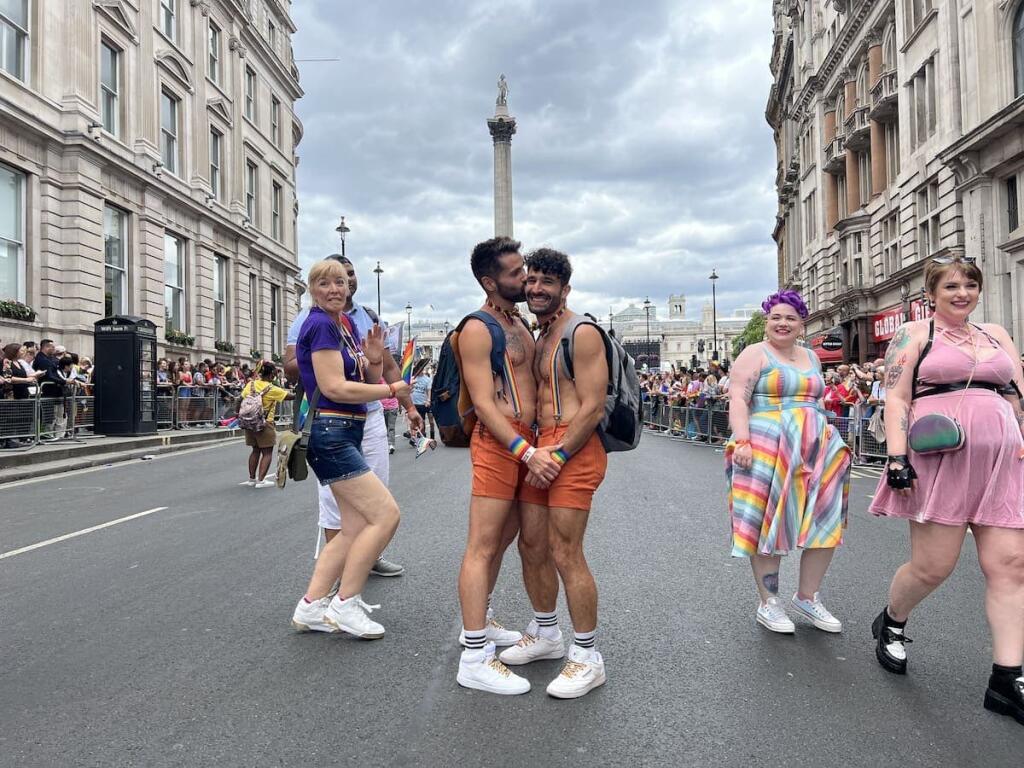 Where to Stay During London Pride
So, you may have already heard, but London's bloody massive! So we've narrowed down hotels to the super gay area of Soho, across several budgets and styles. Remember, if you're going to London, be prepared to drop some coin. If you want to save as much money as possible, check out Airbnb or Misterbnb for alternative (i.e. cheaper) accommodation.
DON'T MISS OUT!
Join our newsletter
Subscribe now to receive in-depth FREE travel guides, along with inspiring stories, savvy planning tips, and exclusive discounts on gay tours.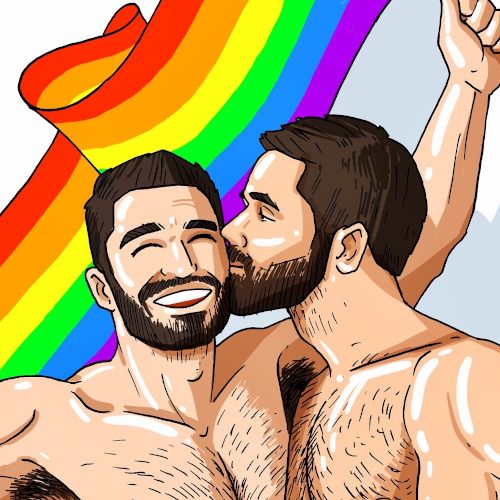 01
The Z Hotel Soho
Soho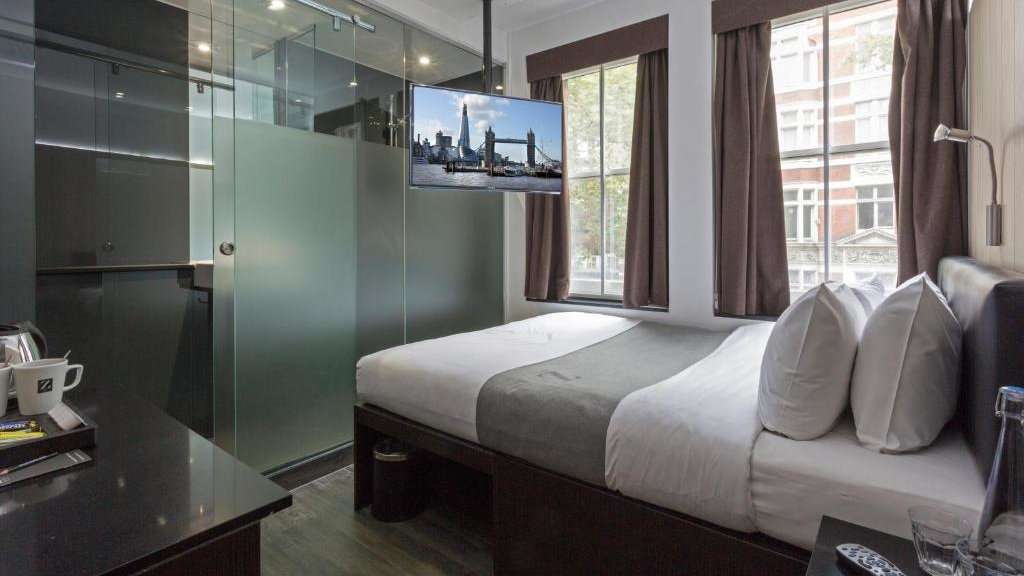 In a nutshell
---
Excellent location in London's main gay neighborhood
Comfy soundproof rooms
Lovely courtyard

De

licious restaurant and bar
The Z Hotel Soho is known for its blend of innovation and sophistication.
Nestled inside a row of glamorous Georgian-style townhouses, the Z Hotel is everything a modern hotel should be. Fun, friendly, fabulous. Centered right in the heart of the gay Soho, you will have your pick of pubs, clubs, and theaters.
Rooms are decorated with cool tone greys and soft whites, which gives off a sense of superiority. We recommend opting for the Queen room, which features flatscreen TVs, a clothes press, a terrace with views of the surrounding Soho area, and expert soundproofing (a must considering how busy the streets get at night).
There is an on-site restaurant, which whips up a delicious breakfast buffet, getting you perfectly set up for the day. Make sure to swing by the bar, which makes up a mean cocktail. It hits the right spot before heading out to the West End or to Heaven.
Prices at The Z Hotel Soho start from $274 per night:
---
STAY WITH A GAY LOCAL
Misterb&b is the Airbnb equivalent for the LGBTQ community. Unlike on Airbnb, you know your host is gay, voiding any nasty surprises when you check-in. It is also a great way to meet gay locals and discover the underground gay scene. Click below to get 10 € (or $10) off our first booking.
02
Hazlitt's
Soho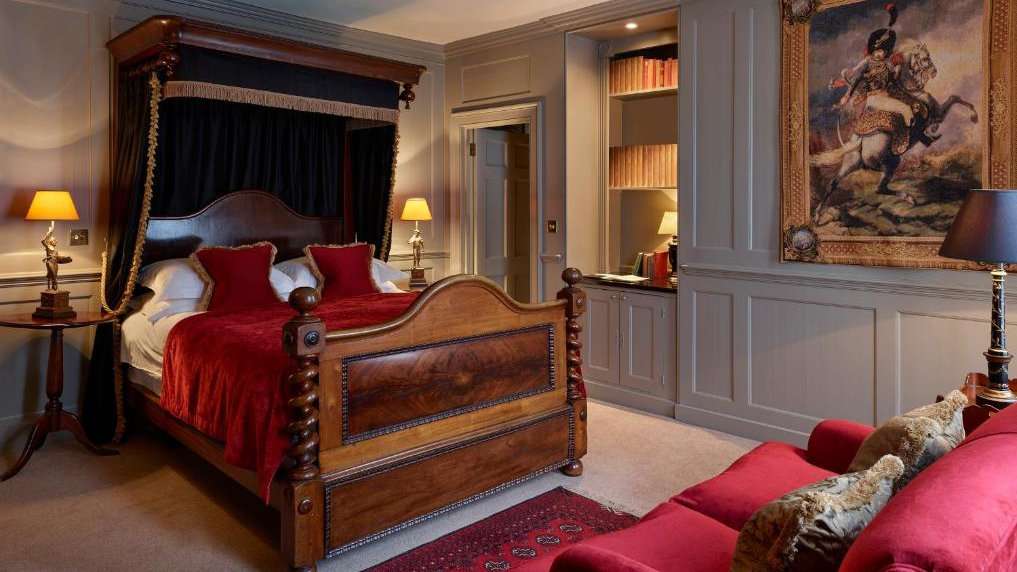 In a nutshell
---
Full of old-school glamor to make you feel like a Queen
Gorgeous library and lounge area
Excellent restaurant serving British cuisine
Right in the heart of Soho
If you've ever wondered how it would feel to live inside a Jane Austen novel, a stay at Hazlitt's is the way to go.
Rooms featuring four-poster beds with draped curtains, a giant bay window, writing desk, and portraits hanging on the wall had us feeling our Pride and Prejudice fantasy.
Wandering around the hotel is a delight in itself, with a massive lounge room, consisting of plush sofas, chandeliers, and wall length windows that allow tons of natural light to spill in. There is also a library, with a roaring fire and tons of books to pick off the shelf.
Their in-house restaurant has a menu full of English delicacies and expertly made dishes fancy enough for the Queen to tuck into. Their staff's etiquette was fit for royalty. Although, we're used to drag shows, where all civility is chucked out the window, so maybe our standards are quite low.
It's like a quaint countryside house but located in the heart of London's Soho!
Prices at Hazlitt's start from $350 per night:
---
03
Assembly Covent Garden
Covent Garden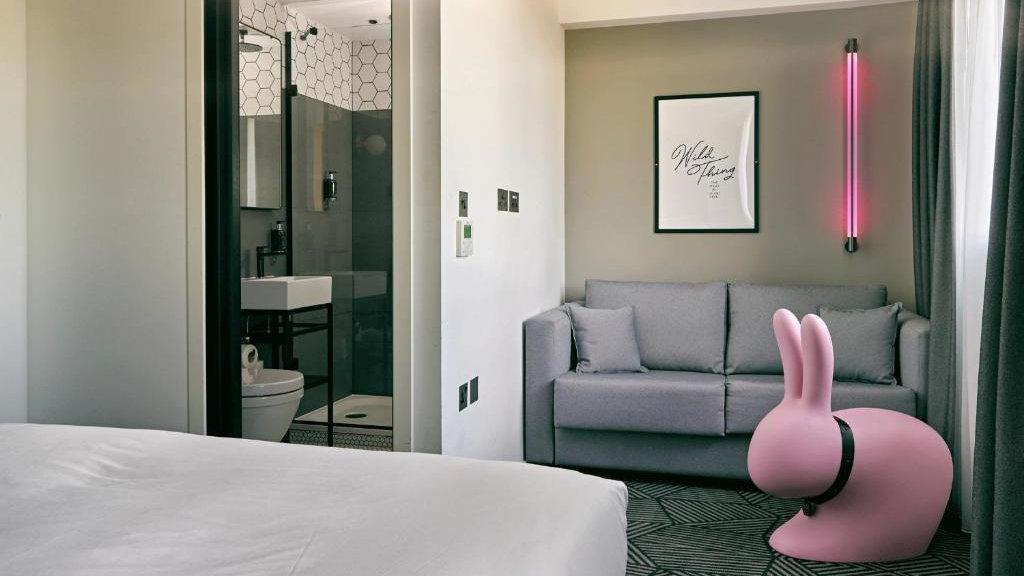 In a nutshell
---
Excellent central location
Clean, comfy and affordable
Dazzling rooftop bar and restaurant
Adorable pink bunnies throughout!
Some hotels are nothing but bells and whistles, pulling out all the stops to impress their guests. Assembly strips all of that away and is all about comfort.
Simple, clean, affordable are the three most important things at Assembly.
Its Covent Garden location makes it perfect for the busy gay traveler who is just looking for a place to get some shut eye (without sharing a dorm with seven other snoring tourists). All rooms have soundproofing, lots of storage space, and a power shower – everything you could need to relax after a busy day of exploring the city.
Their rooftop bar offers a bit of dazzle to the experience. Found on the 10th floor, guests can enjoy a drink, delicious food, and the breathtaking London skyline. We loved toasting cocktail glasses with one another whilst drinking in the gorgeous sunset, before heading out on the nearby gay scene.
Prices at Assembly Covent Garden start from $209 per night:
---
Plan Your Stay in London During Pride
We've put together some handy hints and tips to help you plan your own trip to London for Pride. Read on to find out everything the gay traveler should know before they go.
How to get there: There are a number of airports serving London, although the largest and most well-known is Heathrow, which receives flights from all around the world. Budget airlines from within Europe often fly into Gatwick, Stansted or Luton as well. It's quite easy to get into the city center from Heathrow Airport on the tube (underground train system) and there's also a direct train line called the Heathrow Express which is a bit more expensive but also a lot faster. If you don't fancy juggling your luggage on a train then there's always a private transfer, which we usually prefer since there's no hassle and a driver will be waiting to take you straight to your hotel no matter what time you arrive.
---
Visa requirements: If you are from the United States, an EU Member State, or certain Commonwealth countries (including Australia, Canada, and New Zealand), you do not need a visa to visit the UK for up to six months. Make sure you check your personal visa requirements well ahead of time though and organize a visa if you will need one.
---
Getting around: The easiest (and most fun) way to get around London is either via the tube (underground train system) or on the ubiquitous red double-decker buses! Make sure you purchase an Oyster card at the airport and keep it topped up to swipe in or out on public transport in London. Check out this site for more info about getting around London and maps of the Tube lines etc.
---
Power Plugs: In the United Kingdom (including London) the three-pin power plug and socket type G is used. If you're traveling from anywhere outside of the UK then you will need to bring a travel adaptor with you to London.
---
Travel insurance: We never travel without organizing travel insurance first because you just never know when something might go wrong costing you an arm and a leg, even in London! We've been using Heymondo Travel Insurance for years and always recommend them to others as well. Their cover is very comprehensive and it's easy to make a claim online if you have to.
---
Vaccinations: The CDC recommends that all travelers to the United Kingdom should be up to date with routine vaccinations for things like measles, mumps, rubella, chickenpox, etc, and, of course, Covid-19. You may also need vaccinations for Hepatitis A, B, and rabies (if you're planning to go anywhere more rural), so make sure you speak to your travel nurse or doctor before heading to London.
---
Currency: The currency used in London (and the rest of the United Kingdom) is the pound sterling, also called the British pound, and abbreviated to GBP. £1 converts to about €1.12 or $1.23.
---
Tipping culture: While London doesn't have as much of a tipping culture as the United States, you should probably still tip around 10% for good service in restaurants or hotels. In London cabs, you can generally just round up to the nearest note amount and it will be appreciated.
---
Internet access: London has excellent internet services, so you should be able to access fast and reliable Wi-Fi in hostels, hotels, cafes, etc, while you're there. You can also usually pay to use computers at internet cafes or for free at local libraries.
---
Accommodation: For more accommodation options in London, we always check Booking.com to see what's available at the best prices. They have lots of excellent choices, many of which come with free cancellation if needed, and their online customer support is also outstanding.
---
Sightseeing and adventure: There are so many fun things to do in and around London, aside from the gay parties and Pride events. We love using GetYourGuide to find the best tours and activities. Their online booking system is easy to use and they also offer 24/7 online support if you need it.
---
When to visit: If you're coming to London for Pride then you want to time your visit with the first Saturday in July! This is the day of the main parade but we also recommend some time before and after if you want to experience some of the parties and related events.
---
Safety Tips During London Pride
On the whole, London is a very gay friendly city and you should feel very safe during a fabulous event such as London Pride. Nowhere is perfect though, so we've put together these tips for ensuring you stay safe while enjoying everything London Pride has to offer!
Just like anywhere in the world, be aware of your surroundings, especially in a big city like London. Traffic can be different from what you are used to and obvious tourists are always seen as the easiest pickings for thieves. London can be very packed and a crowd is the best camouflage for someone who might do something nefarious…
Avoid excess drinking and the use of substances. It's far more likely that you will be taken advantage of, scammed, or even robbed if you are obviously intoxicated. Sure, have a few drinks and a good time, but if you're going to get wasted, it's probably better to do that in a familiar environment.
Don't wear valuables in public. Pickpockets operate everywhere, and the flashier your belongings, the more attractive you are as a target. Not to mention that a big excited crowd means lots of targets who might not notice a sly little pickpocket. Leave your valuable and important items in your hotel safe so even if you do find something missing, hopefully, it won't be anything too irreplaceable.
Invest in a good money belt. It's always better not to carry too much cash or credit cards anyway, but having a good money belt that hides under your clothes is another way to ensure nothing goes missing and you can just let loose and enjoy the festivities.