TERMS OF USE: There is a chance that some of the content on this page has changed since it was last updated. By reading this article, you consent to our Terms of Use and Disclaimer. Happy Travels!
DISCLOSURE: Some of our posts may contain affiliate links which we may receive a commission if you choose to book something through one of our links.
What makes a good drag club, you ask?
Well, we feel that if you leave a drag show feeling confident, self-assured, and completely in love with yourself…then we're sorry, but the drag queens did NOT do their job.
"At a good drag show, you are going to be insulted. You are going to be offended. You are going to question your self-worth – and you're going to lap it all up."
In all seriousness, drag shows are a lot of fun – and we've rarely come across a bad drag act, due to the fact that you can't define drag as just one thing. There are so many different kinds of drag acts, such as drag queens, drag kings, bioqueens, genderf**k drag acts, and celebrity impersonators! There are fishy queens, butch queens, glamour queens, fashion queens, campy queens, and honey, that barely scratches the surface!
The London gay scene is bursting with drag talent – and we've had the good fortune of seeing a lot of it. There is such a diverse and cultured drag scene, so if you see one drag show that wasn't your cup of tea, then sweetie, try a different pot because there is something out there that is right for you.
We've put together a list of some of the best drag bars/shows in the city, and we hope it will give you the inspiration to go out and see a show!
01
The Royal Vauxhall Tavern
Vauxhall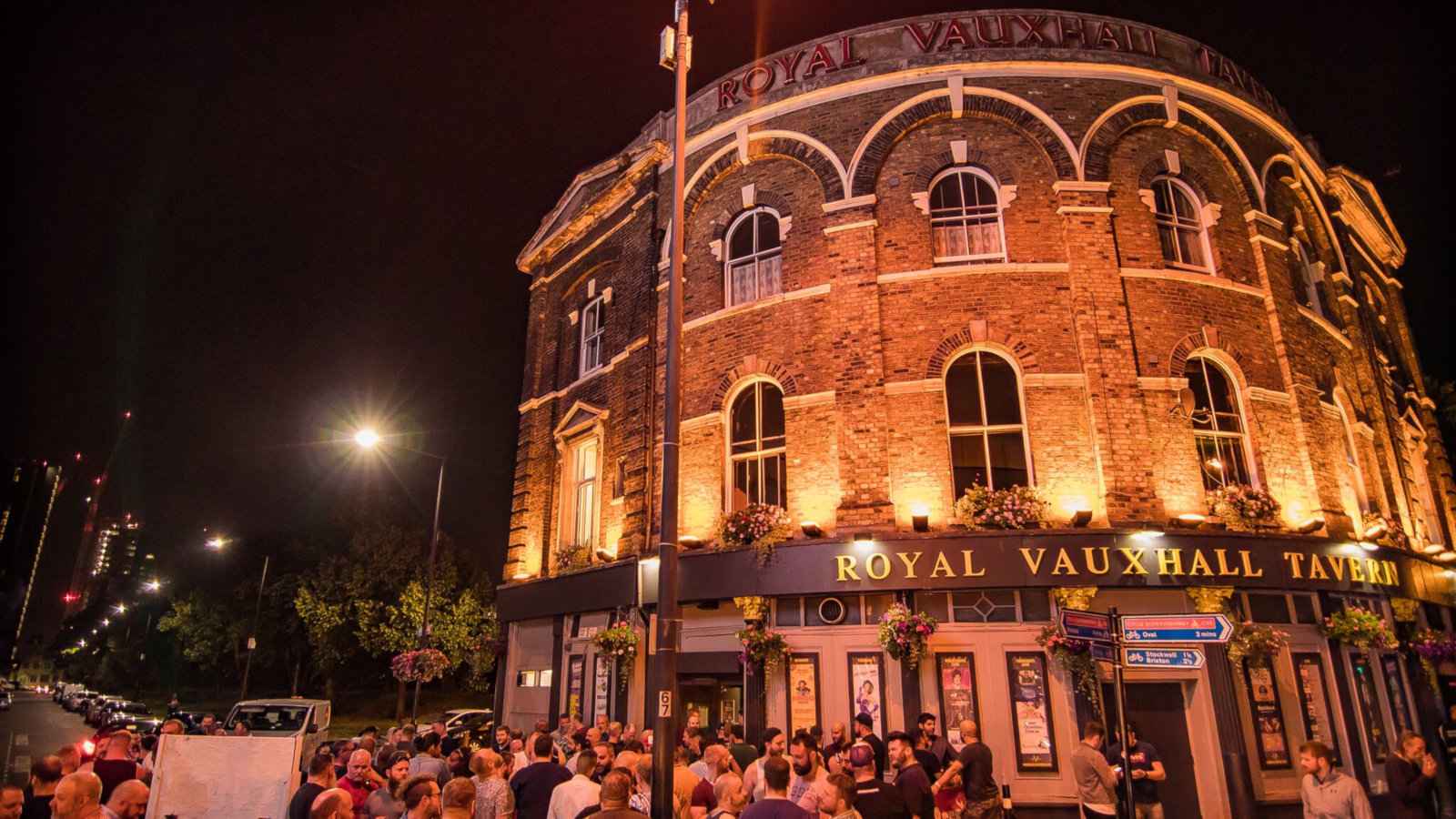 With megastars like Belinda Carlisle having performed here in the past, Heaven has been made to feel like a place on Earth, in the shape of the Royal Vauxhall Tavern!
As we were getting ready for a night on the town, we decided that we were in the mood for a vibrant and colourful night out. The Vauxhall Tavern more than delivered!
Having been built inside an old Victorian music hall, the exterior of it looks like the kind of place you'd expect a ballet performance to take place in. But once you skip through into the interior, you'll know you're in a drag bar. With deep red walls and seating, pop art hanging up, and sexy barmen smiling at you from behind the counter, this is a fantastic place for anyone who has never been to a drag show to lose their drag-gy virginity.
This bar is home to the Lipsinkers! A collection of drag artists who vogue the house down for an hour every first Friday of the month. It's weird. It's wild. It's everything we could ask for in a drag show, due to how diverse each performer is. Every month, they welcome a new guest to mess around with, so it always feels like a fresh and exciting show each time you go.
Location: The Royal Vauxhall Tavern, 372 Kennington Lane, London SE11 5HY
02
Admiral Duncan
Soho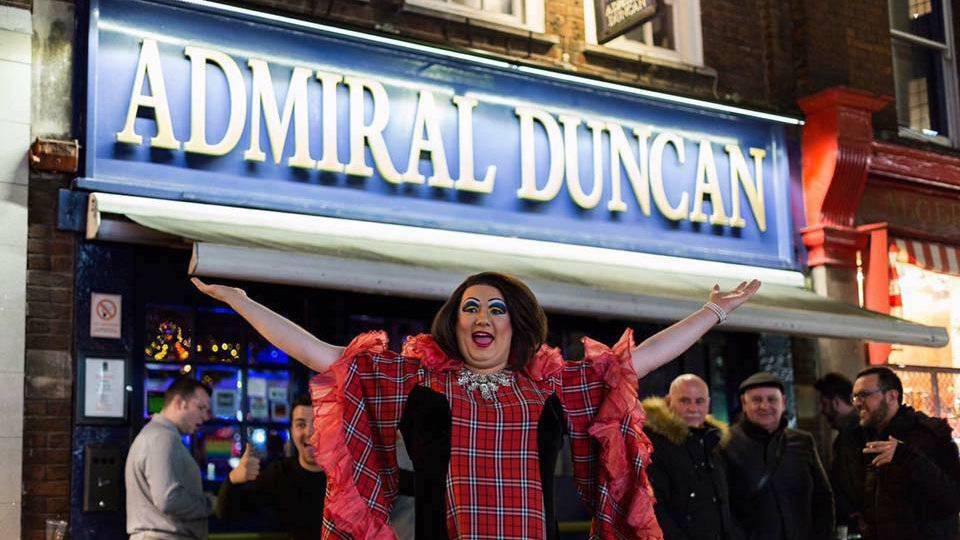 If you can survive the brash tongues of the fierce-some queens at the Admiral Duncan, then you can survive anything. Then again, they could flirt with you instead. We found ourselves going bright red when they approached us and sat on our laps!
The bar is also a pivotal monument to LGBTQ history in London, having survived a bombing in the late 90s. Sadly, 3 people lost their lives and 79 others were injured in an attack that was directed towards the queer community. The bar had become a safe haven for members of the gay community to make friends, socialise, and have a drink; so to have that sentiment be targeted so viciously, reflects how important it is to keep fighting for our rights! This bar, like its community, is a survivor, and it is truly inspirational how it continues to have a presence on the London gay scene!
With different drag acts happening each night, you'll eventually wind up having a favourite act. Kind of like how everyone has a favourite Spice Girl (we always fight over who was the best: Ginger or Scary Spice…)
There is the saucy Mary Mac. Taking on the form of a 1960s starlet, with her Marilyn styled wig (except she wears it in a bright orange colour), and pin-up blue suit, Mac dazzles the crowd with her beauty and wit. Then there is Cabaret with Wilma every Saturday night. With her blonde hair and gaudy jewellery, she'll have you rolling in the aisle with her fantastic set.
The Admiral Duncan welcomes all and you will fall in love with its charm!
Location: 54 Old Compton St, Soho, London W1D 4UB, UK
03
The Karaoke Hole
Dalston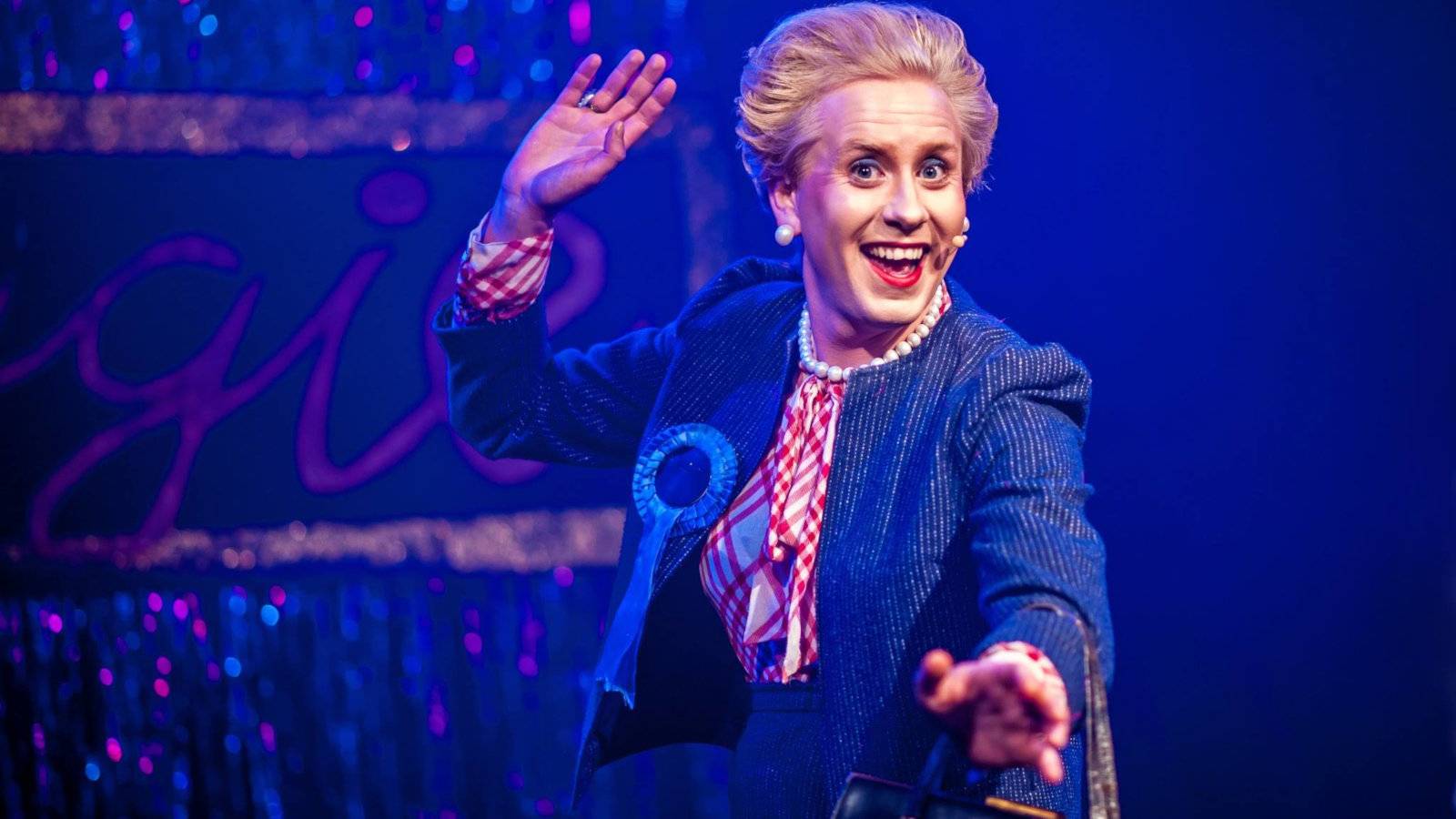 One gorgeous host. Two excited gays. Three cocktails (each)! Before we knew it, we were up on stage belting out a Mariah Carey classic. The Karaoke Hole will transform anyone into a star, with flashing lights, fog machines, and special effects that will help elevate your performance to a whole new level. Never again will we have to imagine what the feeling would be like standing in a room filled with adoring, screaming fans – the Karaoke Hole brought that dream to life!
This place was absolutely jam-packed, so we recommend booking a table in advance. If you don't book, then you are still welcome to join in on the karaoke, but you will likely be left standing. We came on a Thursday evening when it's free entry (otherwise it's £5). The whole set up was truly marvellous, and the hosts go out of their way to make everyone feel comfortable….before reading you to filth! But it's all in good fun, so if you like to laugh, then you are bound to have a fantastic night.
Sure, even if you hate singing in front of people, you'll still have a blast. After all, Seb always said he'd never sing in public, and next thing we knew, he was doing whistle tones in front of an audience…
Location: 95 Kingsland High St, Dalston, London E8 2PB, UK
04
Crazy Coqs
Soho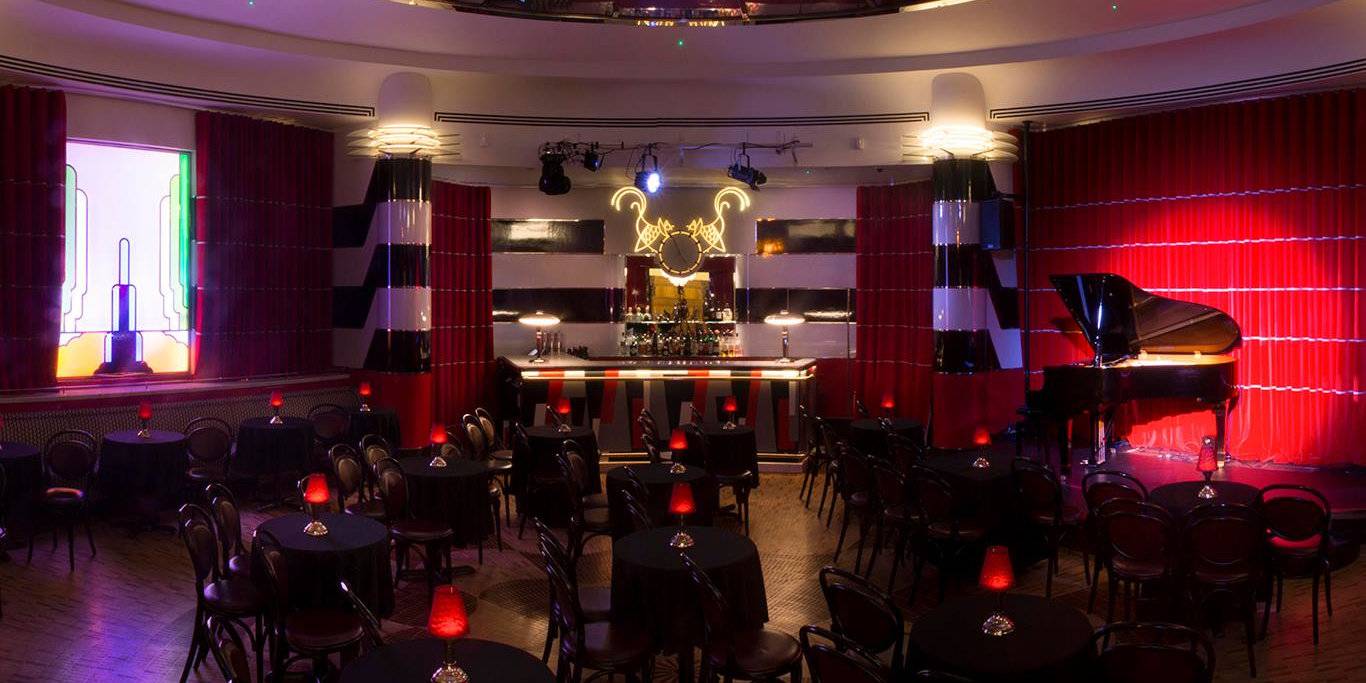 Crazy Coqs, I think we may have been called that name a few times before…
With this experience, we got to enjoy a romantic dinner, whilst relaxing to the smooth singing of the cabaret acts. The interior has an art deco vibe. It makes you feel as if you have stumbled into some Parisian underground club. Even its patrons come across as cultured and decadent.
This place takes inspiration from the drag bars of the olden days. With bluesy performances, jazz music, and candlelit tables, we felt totally underprepared for it in our modern-day tank tops and shorts. Perhaps we should have ditched our short-back-and-sides look for an Elvis style quiff?
All in all, it was a new experience. We love seeing different kinds of drag that fall outside of the stereotypical blonde, model-type figure who vogues the house down. Don't get us wrong, we love that. But there are times when old queens like us just want to sit back, relax, and listen to the sultry voices of the Crazy Coqs drag stars whilst sipping on dry martinis or Margaritas (Stefan loooooves Margaritas!).
Location: 20 Sherwood St, Soho, London W1F 7ED, UK
05
The Glory
Haggerston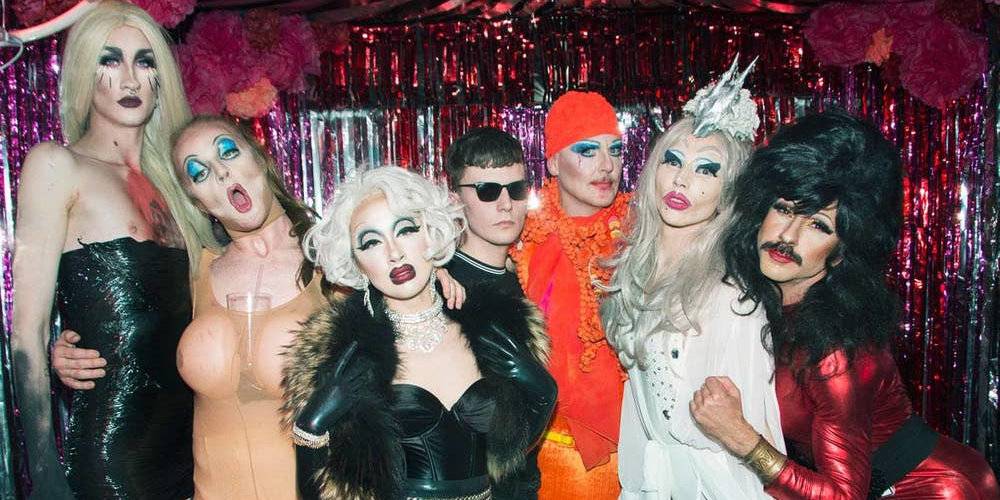 Described as an 'alternative' gay bar, The Glory bar is definitely for someone who isn't into the campy/cheesy anthems most LGBTQ places play.
Owned by drag stars Jonny Woo and John Sizzle, the bar is worked by an insanely creative staff. With impromptu performances by the bar workers, there is a wonderful feeling that hangs in the air that something magical could happen at any moment.
The drag queens here certainly don't hold back when interacting with the crowd. Prepare to be brought to tears – with both laughter and pain!
We also love the fact that they hold different events throughout the year, so there is always something exciting going on when you arrive. Every year, they hold a competition called 'LIPSYNC1000' that has the whole gay scene of London talking. Whittling down hundreds of drag performers to just one winner, the LGBTQ scene is exposed to the next crop of drag talent.
We also love how the staff approach upcoming talent across the country and offer them a performance set. The LGBTQ scene needs to look out for each other in this world, and the Glory bar is a great example of what it means to be a community.
Location: 281 Kingsland Road, London E2 8AS
06
West Five
Ealing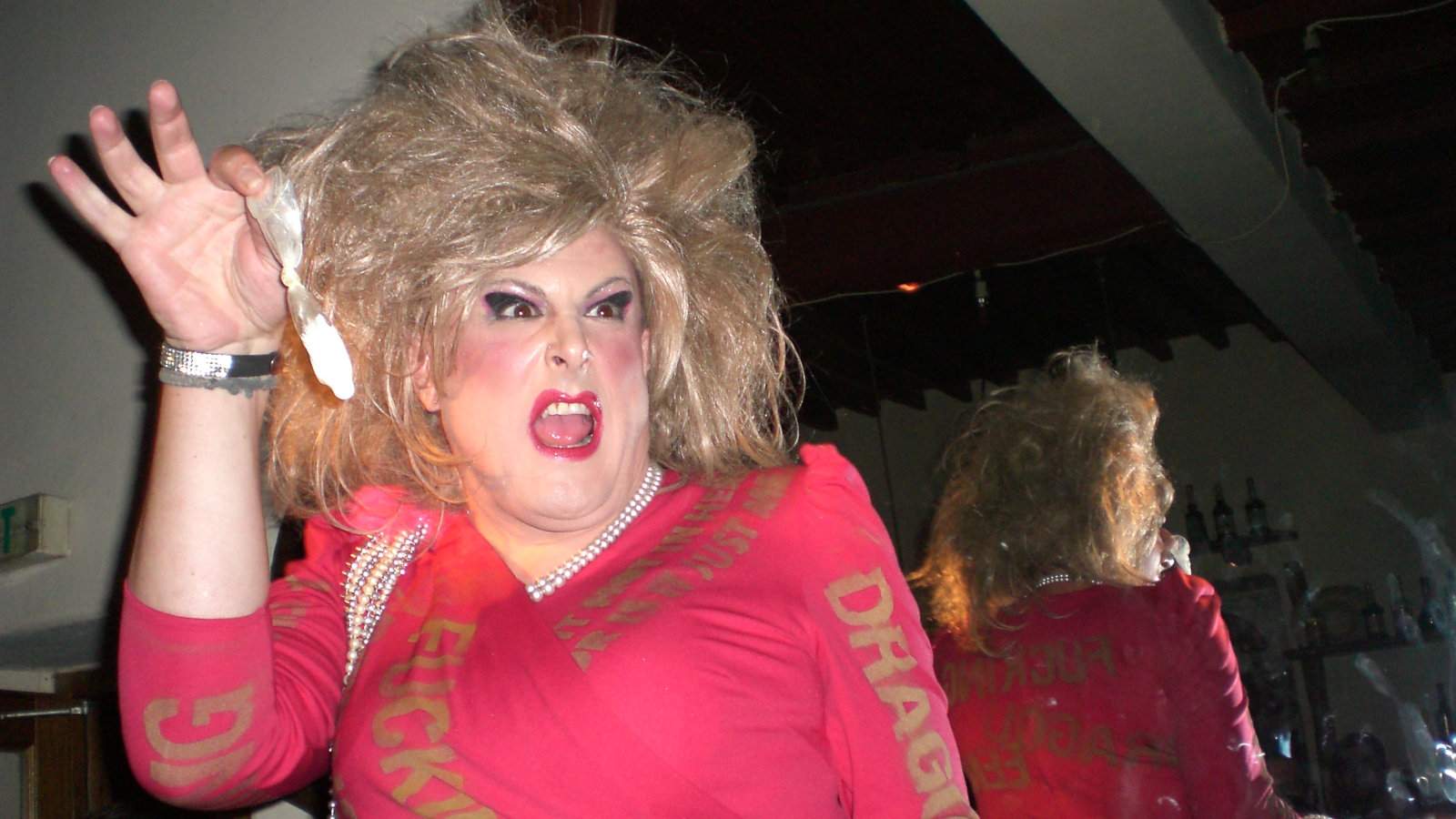 This used to be our local bar when we used to live in Acton in West London. If you want a good night out, we highly recommend West Five's Saturday night event, 'Keep It Pink'. There is a drag DJ set, who welcomes a new special guest each week, and an open mic night in the adjacent room; meaning Seb, once again, found himself being drag-ged on stage.
Seb prefers to dance, so when Stef wanted the spotlight all for himself, he was able to escape into the next room and enjoy the music.
This place has been around for over 20 years, so you know they are doing something right. We got to have a fantastic chat with one of the bar staff who told us stories about all the people he has served. He told us all about how upholding the reputation of the place was of the utmost importance to him, and how he strives to make everyone who walks in the door feel welcome. It was so adorable seeing how passionate he got!
With drag performances that do not disappoint and delicious cocktails, this is a night out that ticks all the right boxes. Famous drag queens also frequently perform here, including Alaska, Naomi Smalls, Jinkx Monsoon, Cynthia Lee Fontaine, Charlie Hides and many many more!
All in all, we always have a fantastic time here.
Location: Popes Ln, S Ealing Rd, London W5 4NT, UK
07
Two Brewers
Clapham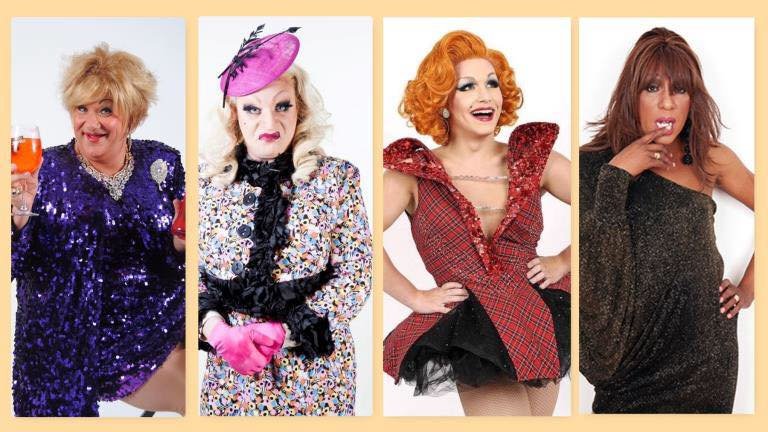 "Thank you for being a friend…"
Hands up! Who is obsessed with 'The Golden Girls'? (we each raise both of our hands)…
It's hard to find a gay person who doesn't love the show, and Two Brewers know it. That's why they often throw a hilarious show with the drag performers impersonating the hilarious foursome. Whether you consider yourself a naive Rose, a sensual Blanch, a cranky Sophia, or a quick-witted Dorothy, you'll feel right at home in this bar.
If you aren't lucky enough to be there when the Golden Girls are on, then you can still catch a variety of other amazing drag performances.
And just like West Five, the Two Brewers is also a hot favourite with some of the famous 'Drag Race' alumni, including Jinkx Monsoon and Detox!
Location: 114 Clapham High Street, London, SW4 7UJ
08
CellarDoor
Covent Garden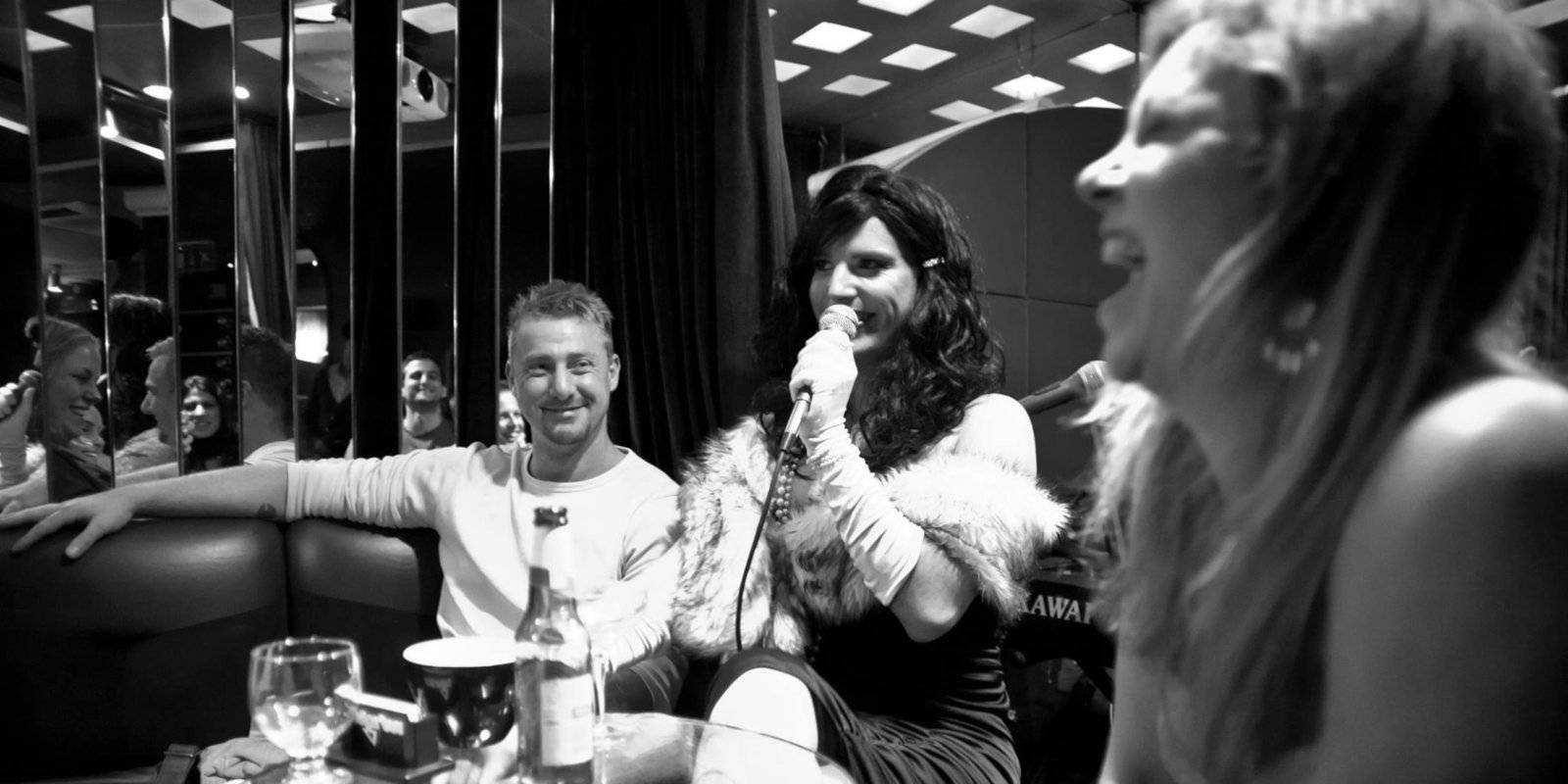 The inside of this place feels so New York. We were waiting to hear someone with a Manhattan accent walk by, or to be asked if we 'came here often?'
CellarDoor has a much more intimate setting than the other drag bars we found in London, which really adds to its charm. With fancy cocktails and performers waving around ginormous feathers whilst doing a striptease, it really added to the illusion of a 1940s bar vibe.
We fell in love with the old-timey theme of the place. It felt like what it must have been like to socialise in a gay bar pre-Stonewall. Everything felt hidden in the shadows (behind the cellar door, if you will), and there was a sense of excitement and naughtiness in what was happening around us. Luckily, we were comfortable in the fact that when we left, it would be 2019, and we'd be free to be out and proud public. But whilst inside, we had that daring feeling that we could be caught at any moment.
Entrance is free every night, apart from the weekends when you will need to pay a small fee if you arrive after 10 pm.
Location: Wellington St, London WC2E 7DN, UK
09
Halfway to Heaven
Charing Cross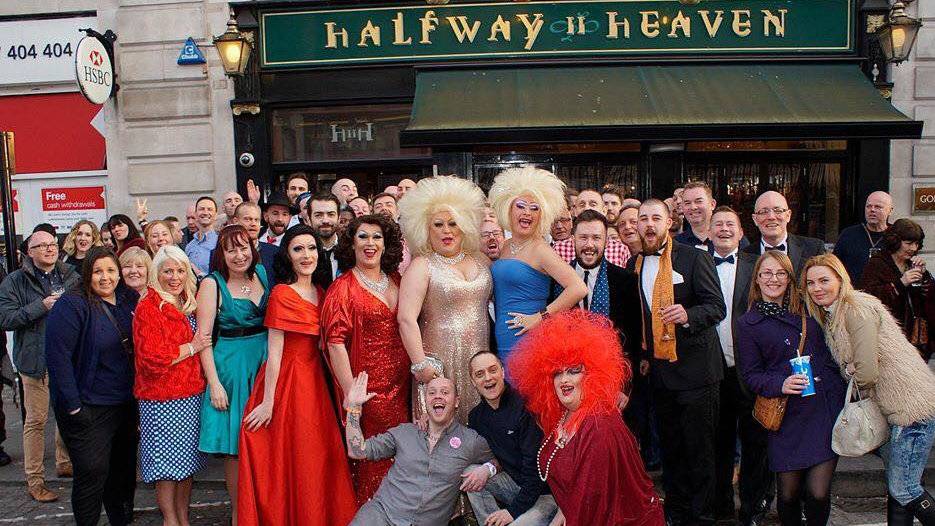 We thought the name 'Halfway to Heaven' was tongue-in-cheek. Fast forward to closing time, and boy, did we feel as if we were practically on Death's door.
The drag shows in this place are always raunchy, scandalous, and fiery. The drinks are mouth-wateringly delicious, and the music is too good to pass off. The crowds are full of locals who have been frequenting the bar for years. So there is definitely a familial sense when making your way through the dance floor. People greet each other as if they were meeting at a long-overdue reunion (even though they probably saw each other the night before).
Yet, this didn't leave us feeling isolated as we were made to feel perfectly welcome. We were adopted into 'the family', so to speak, and the patrons felt comfortable engaging in banter with us. One cheeky youngster had the nerve to refer to us as the 'new dads' of the group. How very dare he…!
If you want to experience a fun and frivolous night, then you need to add this bar to your list. With fabulous cocktails, music, and performances, there wasn't a dull moment!
Location: 7 Duncannon St, Charing Cross, London WC2N 4JF, UK
10
She Soho
Soho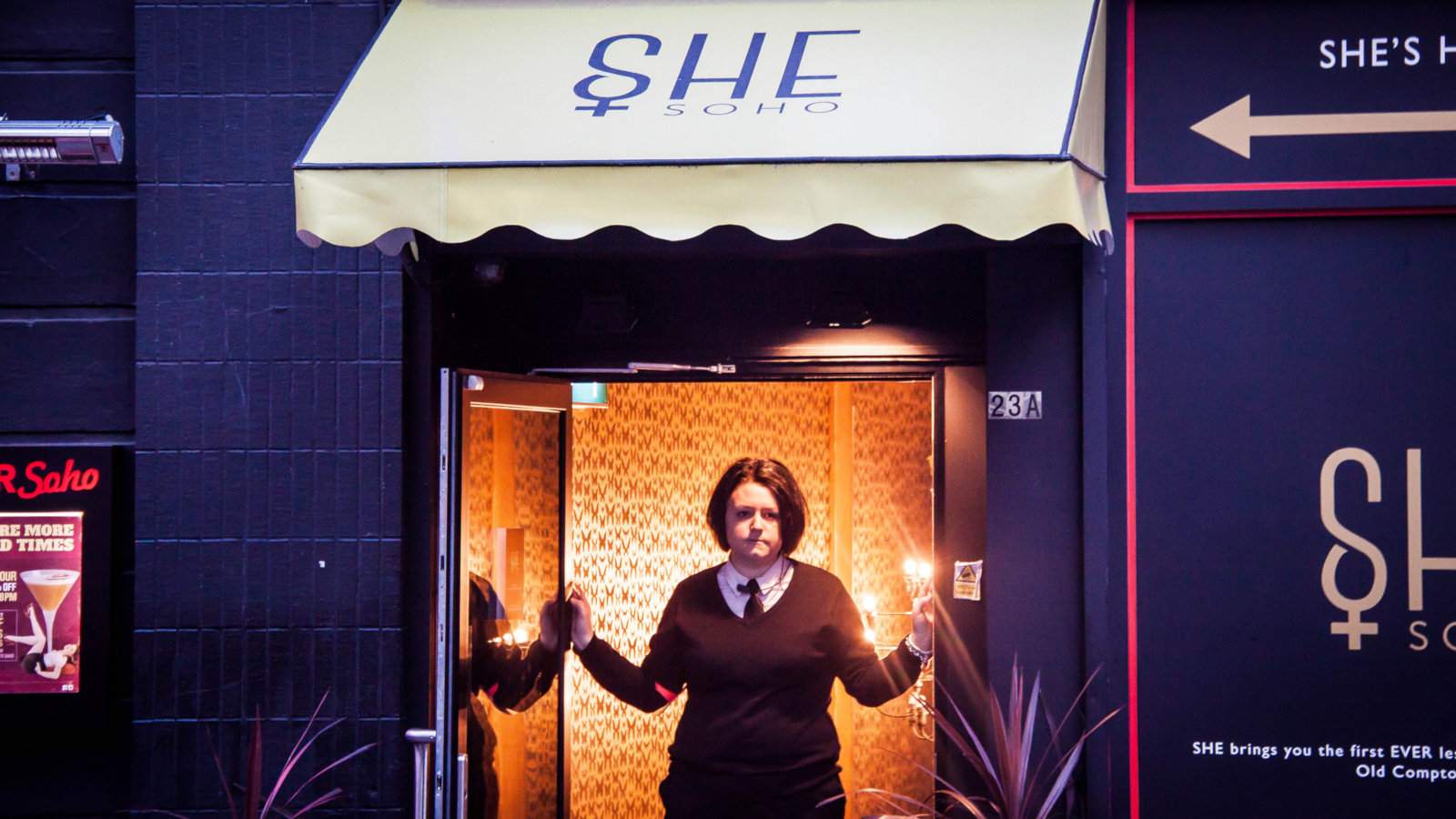 'Don't be a drag, just be a … king!'
This drag club is women-priority, so we didn't get a look in, unfortunately. However, a close friend of ours told us all about what we were missing at She Soho.
Moving through the bar, you can expect to come across a wide range of women, from different ages, backgrounds, and styles. Despite any differences, the crowd comes together in unison for the drag performers!
It's not like partying, it's like being with family. After a few visits, you'll begin to recognise the same faces and make a solid group of friends. It's a safe space for women to come together and celebrate femininity and queer identity – and we love that!
With karaoke nights taking place at least once a week, drag DJs, and competitions happening, She Soho is the place to be. One of the best nights is on Wednesdays when there is karaoke with drag king Adam All and bio queen Apple Derriere!
Location: 23a Old Compton St, Soho, London W1D 5JL, UK
---
Like this post? Pin it