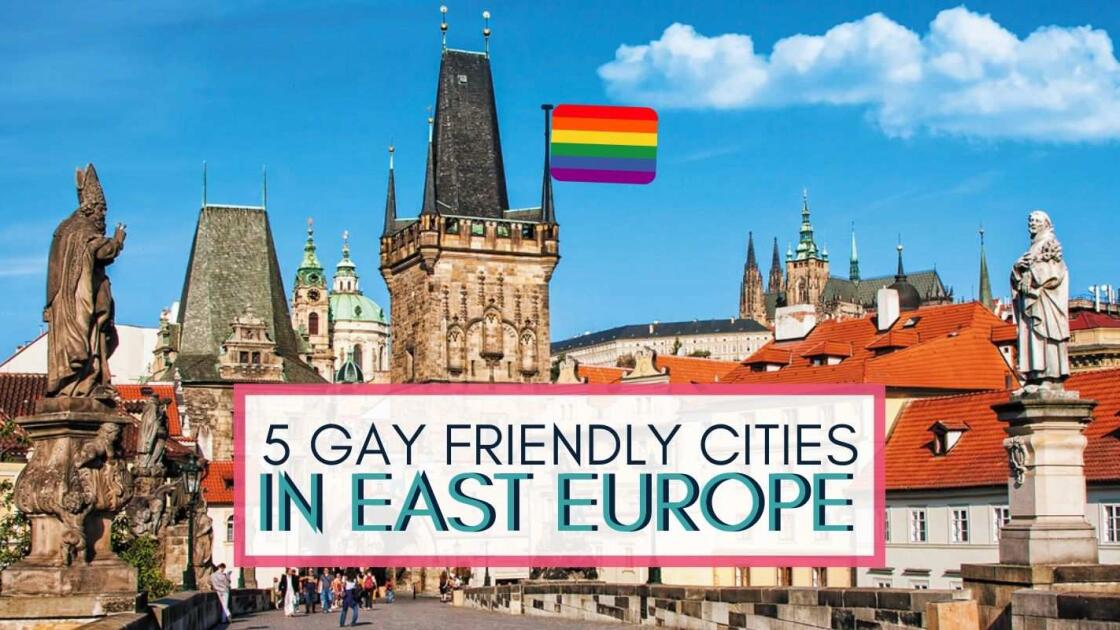 Find out what the most gay friendly places are in East Europe, a region notorious for lacking in progressive LGBTQ laws.
Europe has some of the most gay-friendly countries in the world with extremely progressive LGBTQ rights. However, these are largely confined to the North and West. The further East you head on the continent, the less gay-friendly it becomes.
East Europe is notorious for lagging behind the rest of the continent when it comes to LGBTQ rights. Thankfully, when most of them started joining the EU from 2004 onwards, membership requirements forced them to adopt more progressive LGBTQ laws, especially with regards to recognising civil unions for same-sex couples and introducing anti-discrimination legislation.
This is not to say that East Europe is completely void of any fabulousness! During our many trips as a gay couple around the region, we discovered several places that have a more liberal outlook, a thriving LGBTQ community and a vibrant gay scene.
Based on our first-hand experiences, we've put together what we think are the 5 most gay-friendly cities in East Europe. Be sure to check out our more detailed guide to the gayest countries in Europe and the world.
Disclosure: this was written as part of a paid collaboration with Moon Travel Guides.
DON'T MISS OUT!
Join our newsletter
Subscribe now to receive in-depth FREE travel guides, along with inspiring stories, savvy planning tips, and exclusive discounts on gay tours.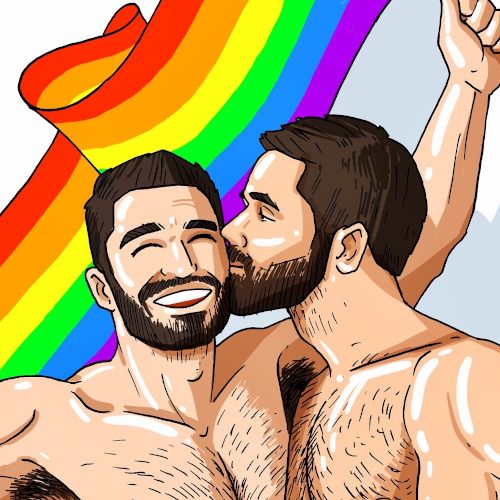 What is East Europe?
A quick note about this. Whilst we appreciate that some countries fall into the "Central" rather than "East" Europe grey area, others would argue they are "Baltic" instead, or "Balkan", there is no clear definition of which countries are strictly defined as "East Europe".
We've therefore taken the UN breakdown of what is East Europe and included the countries that the travel industry also regards as being part of "East Europe".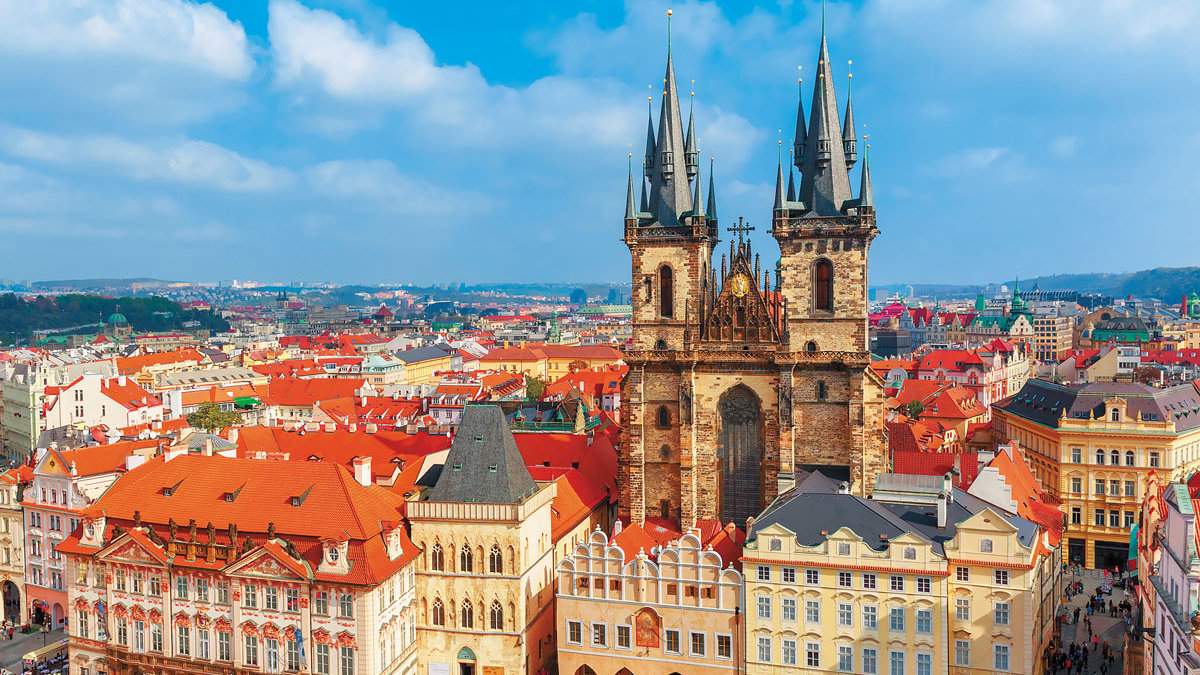 1. Prague (Czech Republic)
Prague has become one of the top gay hotspots of Europe. Not only does it have a terrific gay scene, but we fell in love with its gorgeous old-world charm. The meandering streets look as if they are fit for a queen (or two!), with its narrow cobblestones, and medieval castles dotted around the city.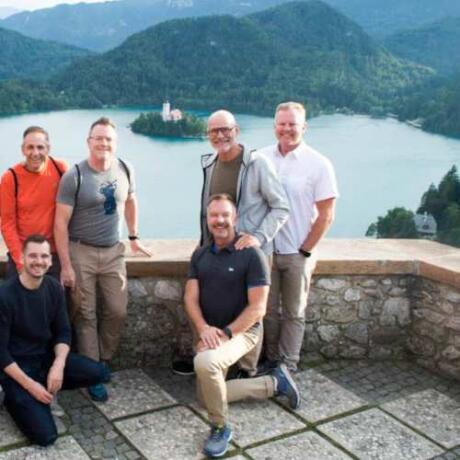 Explore eastern Europe on a gay tour
Guess what. Our friends at Out Adventures are hosting an 8-day adventure through Hungary and Slovenia… and you're invited! The all-gay tour is bookended with extended weekends in each country's respective capital: beguiling Budapest and impossible-to-pronounce-but-take-a-stab-anyway Ljubljana. While Budapest boasts sweeping history, exquisite architecture and steaming baths (not that kind!), Ljubljana is the undiscovered gem of former-Yugoslavia. The tiny metro oozes charm and flaunts a nonchalant sophistication of almost Parisian proportions. What's Slovenian for C'est chic!?
LGBTQ rights in the Czech Republic
We would argue that the Czech Republic is the most gay-friendly country in East Europe because it has the most progressive LGBTQ laws and is on the verge of becoming the first place in this region to introduce gay marriage laws.
Homosexuality was legalised in 1962.
Civil unions for same-sex couples introduced in 2006.
Gay marriage and adoption laws predicted to be passed very soon.
Comprehensive anti-discrimination laws in place since 2009.
The Czech army allows gays and transgender people to openly serve since 1999.
The right to change legal gender was introduced in the 1970s.
The gay scene of Prague
Unlike other Eastern European cities, there were so many gay clubs to choose from! The majority of the gay scene of Prague is based in the Vinohrady district, located just south of the Old Town. Some of our favourite gay bars in Prague to check out include Piano Bar, The Saints Bar, Klub U Rudolfa, Klub 21, Dandy and Bourgeois Pig.
Prague also has several gay cafes, in particular: Celebrity Cafe, Cafe-Cafe and Cafe Bar Flirt.
In terms of gay clubs and queer parties, check out Club Termax, Club TerMIX, Friends, Factory, the Alcatraz fetish club and the OMG Party at Mecca. The Eastern Europeans sure know how to get themselves noticed at a party. With dazzling, sequined outfits, and makeup that was snatched for the gawwwds, we felt pretty underdressed when moving around these dancefloors.
Gay events in Prague
Some of the best gay events in Prague include:
Behind the Mask Queer Ball in March: who is the mysterious man behind the mask? Oh, it was just Seby! This was a truly original experience. With fantastic music and great company, this masked event celebrates all things queer.

Prague Rainbow Spring in May: international LGBTQ sports tournament. A one-of-a-kind event, this festival encourages LGBTQ youth to get active. It also tackles the ingrained homophobia and often toxic masculinity that seems to come within the sporting world. Despite its already positive message, it was so much fun getting involved. We weren't particularly big fans of PE back in our school days, but by the end of this festival, you could have mistaken us for Sporty Spice!

Prague Pride in August: the largest and best gay pride event in East Europe! The Czechs sure know how to throw an impressive festival. With dazzling colours surrounding the streets, tons of confetti, singing locals, blaring music, and flags flying from every window, this Pride literally made us feel like we were somewhere over the rainbow!

Mezipatra Queer Film Festival in November: Prague's LGBTQ film festival allows us to see a selection of the best queer films out there. Even in the western world, there are virtually no big blockbuster movies that represent gay lives, so LGBTQ film festivals are of pinnacle importance in a city's gay lifestyle for reclaiming these stories for ourselves. With panel discussions on LGBTQ issues and tons of gay film and shorts to choose from, we were spoilt for choice on what to pick for our romantic cinema date.
2. Ljubljana (Slovenia)
A country with the word LOVE in it is always going to bode well with the gays! These guys know it and have even used it as part of their "I Feel sLOVEnia" slogan when marketing to the LGBTQ travel community. However, homophobia is still prevalent across Slovenia, as was shown in the December 2015 referendum, which overwhelmingly rejected gay marriage with adoption rights by 63.5% against and 36.5% for.
Ljubljana is Slovenia's most gay-friendly city, with the largest LGBTQ community, a growing gay scene and several queer festivals, in particular, Pink Week in May. Impressive for a city with just 300,000 people!
LGBTQ rights in Slovenia
Despite the problems introducing marriage equality, Slovenia is nonetheless one of the most gay-friendly countries in East Europe.
Homosexuality was legalised in 1977.
Civil unions for same-sex couples introduced in 2006, followed by "same-sex partnerships" in 2016 as an alternative to gay marriage, denying adoption rights.
Despite not passing a referendum on gay marriage and adoption laws, support for equal marriage has since seen a slight incline in support. Who knows where this could lead to in years to come!
Comprehensive anti-discrimination laws in place since 1998.
The right to change legal gender was introduced in 2011.
The Slovenian army allows LGBTQ people to openly serve.
The gay scene of Ljubljana
Given that it's such a small city, it's not surprising that Ljubljana doesn't have any gay bars. However, due to the large student population, we found most places to be gay-friendly and welcoming, particularly Cafe-Galerija, LP Bar and Pritlicje.
They weren't the biggest venues to hang out in (not much space for dancing), but it allowed us to mingle with locals.
The main gay club in Ljubljana is Klub Tiffany, with cabaret shows and electro dance parties. It also doubles up as a centre for LGBTQ youth in the city, to enjoy a safe space and meet other queer people. They've recently had tango lessons and a talk on body image in the gay community.

The other big gay party in Ljubljana is "Roza" at Klub K4, which happens every few months. As the event is only on every so often, people really make the effort to show out for it. Expect to see dazzling costumes, over-the-top outfits, and a wild night out, as the LGBTQ community come together and celebrate their diversity!
Gay events in Ljubljana
Pink week in May: the largest and most famous gay event in Ljubljana, with events taking place all across the city. Learn about the gay history of Slovenia, watch LGBTQ films, and see some of the dazzling sites around the coast. It all culminates in a huge party, known as "Dragon's Ball", where partygoers go all out when dressing up. The melting pot of music and visuals surrounding the dance floor make this a truly unique experience that needs to be seen.
Ljubljana Pride in June: a week-long festival with lots of parties and a parade through the city's main streets. There's nothing more special for the queer community of a city than its Pride festival. It's the one chance of the year for people from all aspects of the community to come together and celebrate themselves. With events on poetry, theatre, and tons of parties, the Ljubljana Pride festival is thoroughly special.
LGBTQ Film Festival in December: it started in 1984, making it one of the oldest queer film festivals in Europe. It's so important for the gay community to see their stories represented on film. Not only does it make us feel seen, but it allows non-LGBTQ folk to understand that we are not some scary community with an agenda, but normal human beings! This LGBTQ Film Festival has tons of films and shorts every year that are made by queer people. It also hosts tons of panel discussions that are a must-go-to.
DON'T MISS OUT!
Join our newsletter
Subscribe now to receive in-depth FREE travel guides, along with inspiring stories, savvy planning tips, and exclusive discounts on gay tours.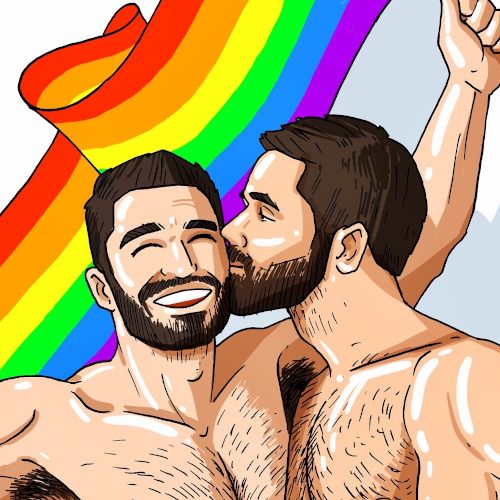 3. Tallinn (Estonia)
Tallinn is one of our favourite cities in East Europe to visit for a romantic city break. The Old Town is incredibly charming, like something from a Medieval fairytale, especially at Christmas-time when it's covered under a blanket of thick snow. We also found Tallinn to be welcoming to us as a gay couple. This surprised us at first, given that it is an ex-Soviet country, with Russia neighbouring it on its East.
We put this down to the fact that Estonia has more in common with its Nordic northern neighbour, Finland. Put it this way, since Estonia gained independence from the Soviet Union in 1991, it evolved massively to become one of the most advanced digital nations in the world – this is the birthplace of Skype and TransferWise. As a result, this has seen a more culturally astute, open-minded and world-savvy generation of Millennials develop.
LGBTQ rights in Estonia
Estonia is the most liberal and advanced of all the former Soviet countries, becoming the first to recognise same-sex couples in 2016 when the Civil Partnership Act came into effect. Whilst it's still got a long way to go (for example, the vote for the Civil Partnership Act was won on a knife-edge of 40 to 38), this is a big deal for LGBTQ rights in East Europe.
Homosexuality legalised: 1992.
Civil unions for same-sex couples introduced in 2016.
Unlike most other Eastern European countries, Estonia does not have a ban on same-sex marriages and even recognises foreign gay marriages since 2016.
Adoption laws: limited to single LGBT people, but step-child adoption by same-sex couples allowed since 2016.
Comprehensive anti-discrimination laws in place in all areas since 2009.
The Slovenian army allows gays, lesbians, bisexuals and transgender people to openly serve in the military.
Transgender people have been allowed to change their legal gender and name in Estonia since 2002.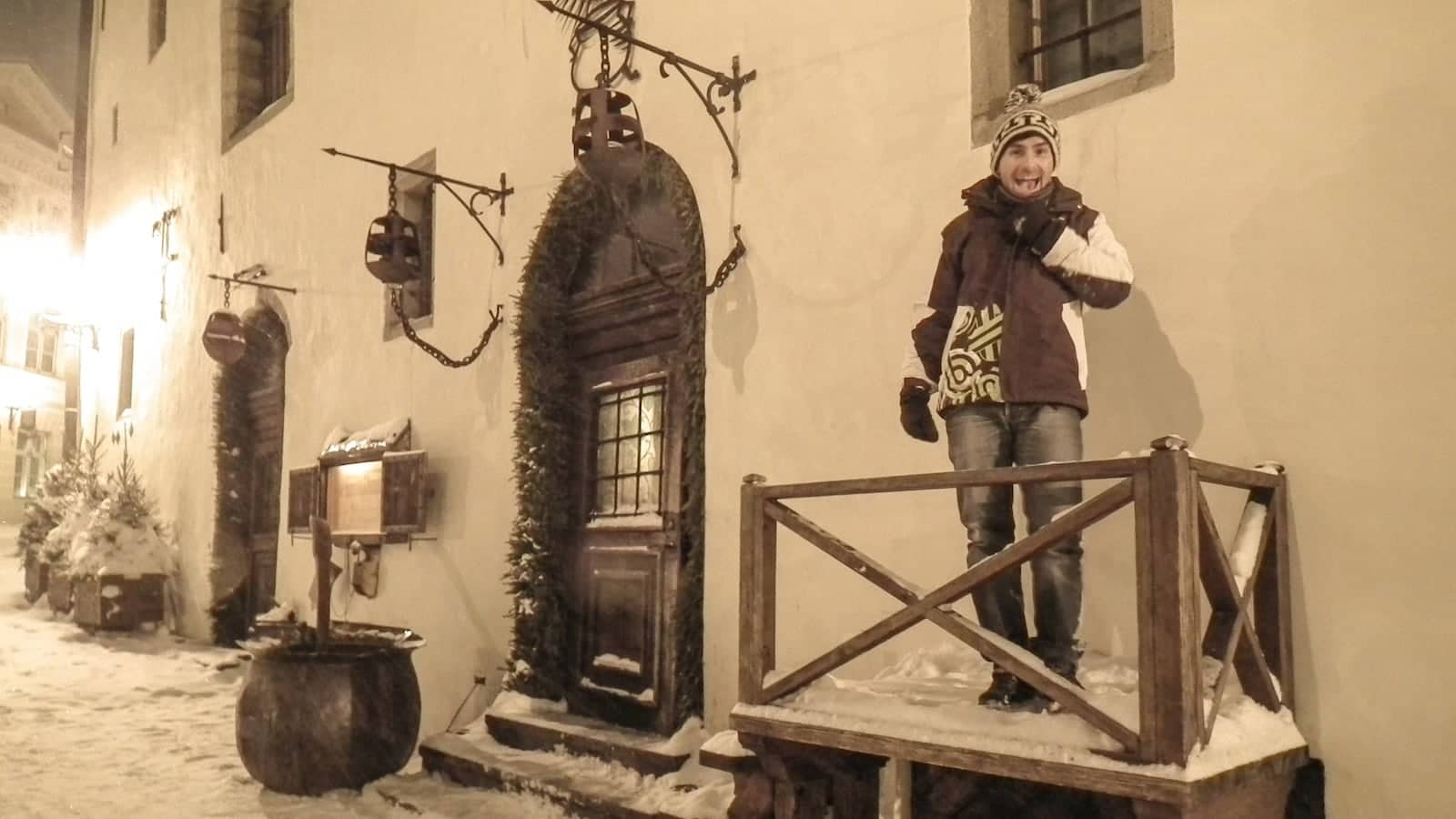 The gay scene of Tallinn
The gay scene of Tallinn is not big, which is not surprising given that the population is only around 430,000. The main (and only) gay bar of Tallinn is X-Baar, which is also the longest running gay bar in the Baltics. Tucked behind a lovely flower shop, this bar can be a little difficult to find (we'll admit we got lost a few times trying to find it!) But once you find your way inside, you are made to feel more than welcome.

Everyone was so talkative, and we were made to feel like part of an Estonian LGBTQ family! The night usually starts off quiet, but once midnight hits, all the locals start to pour in and boy, then it's a party! With classic pop tunes, mixed with some of Estonia's own catalog of techno music, we had no energy left after we left the dance floor.
In terms of gay clubs in Tallinn, the main one is Club 69, which also has a sauna. It is hidden away down a side street. To gain access, you ring on a doorbell under a sign that simply says, 'Sauna'. The lights are dimmed pretty low and patrons are given a towel and locker key upon entry. As seedy as it sounds, fear not, there are a number of people who come here just to chill in the sauna and dance a bit in the club.
Gay events in Tallinn
As mentioned above, the modern face of Tallinn is a fabulous shiny progressive one. Rewind to 2004-2007, Pride events were so brutally suppressed, that they had to be stopped altogether. They only recently started back up again in 2017, to a much more welcoming reception.
Baltic Pride is the main gay festival of the region that rotates between the 3 main Baltic capitals: Riga (Latvia), Vilnius (Lithuania) and Tallinn (Estonia). It took place in Tallinn in 2011, 2014, and 2017. Whenever Tallinn takes over the festivities, it makes sure it delivers. Everyone dresses up, from daddies to fairies, to bears; every nugget of the gay community is made to feel welcome.
The other main gay event of Tallinn to look out for is the Festheart queer film festival in October. It includes lots of panel discussions on issues that still plague the Estonian LGBTQ community.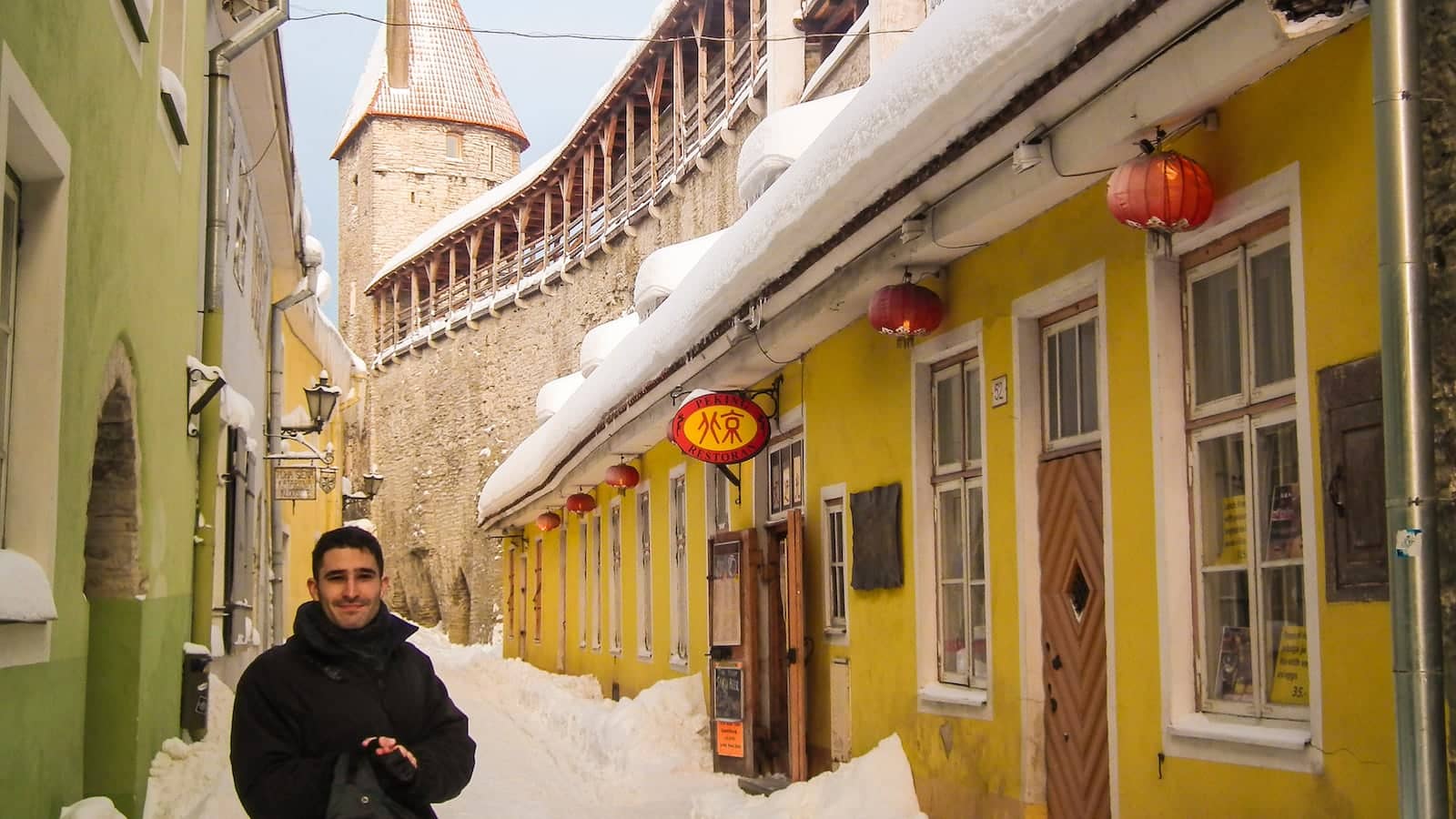 4. Budapest (Hungary)
On the face of it, Hungary has a huge anti-LGBTQ problem, often competing with Poland to be the capital of homophobia within the EU. For example, the right-wing governments of Hungary have a strong track record of blocking EU gay rights texts and have openly embraced extreme right anti-gay groups. Budapest, however, is home to a growing number of open-minded Millennial Hungarians, who are more embracing and accepting of the LGBTQ community.
Budapest is also a fascinating and unique city to explore, with quite a large gay scene and several queer events. It has also hosted the Mr Gay Europe contest in 2007 and the LGBTQ EuroGames in 2012.
LGBTQ rights in Hungary
Hungary was forced to agree to an array of LGBTQ laws as part of its accession into the EU, which included recognising same-sex couples. However, the government responded by banning gay marriage in the 2012 constitution.
Homosexuality was legalised in 1961.
Unregistered cohabitation recognised in 1996 and same-sex partnerships formally recognised in 2009.
Same-sex marriages are illegal in Hungary and were banned in the 2012 Constitution.
Adoption is limited to single LGBTQ individuals only.
Full anti-discrimination laws in place since 2004.
The right to change legal gender was introduced in 2018.
Gays, lesbians and bisexuals are allowed to serve in the Hungarian military, however, transgender people are not.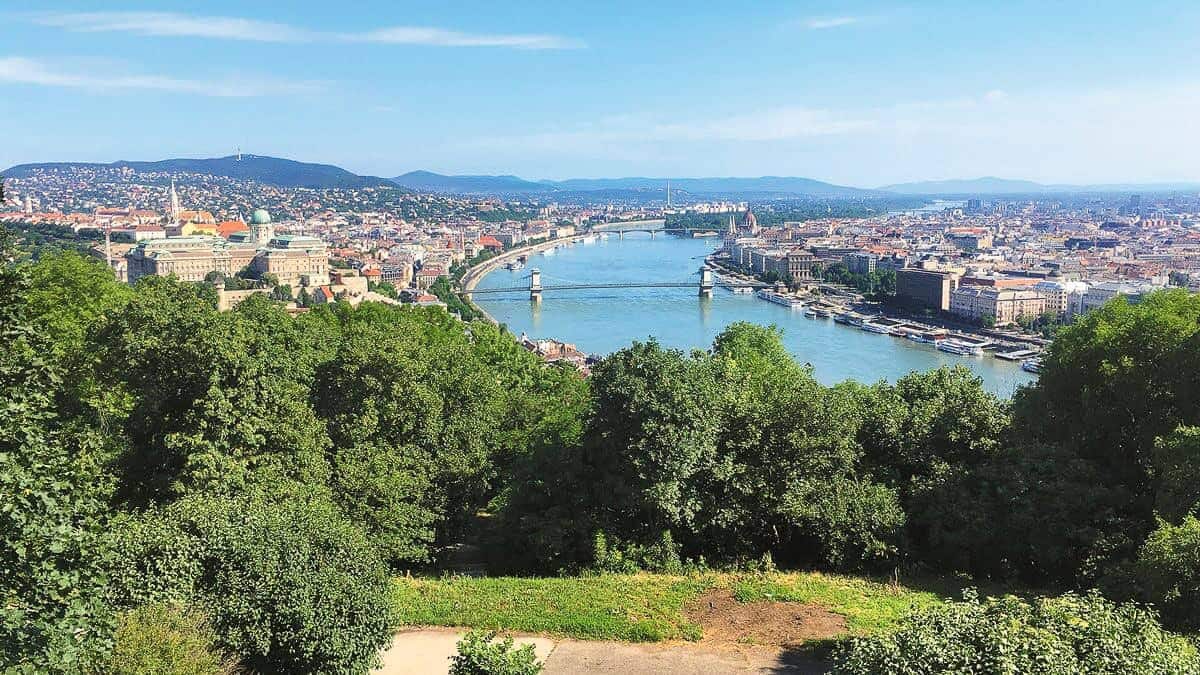 The gay scene of Budapest
For such a conservative country, with lots of wannabe-Trump-like-politicians spouting anti-gay rhetoric left right and centre, the gay scene of Budapest is pretty impressive! Don't come here expecting a big gay party scene like Prague, but you will find a handful of cool hangouts. Some of our favourite gay bars in Budapest include Habrolo, No Limit, Phoenix and Why Not.
In terms of gay clubs, some of the best include Alterego and the CoXx fetish/cruising club. Keep an eye out for the huge monthly Garçons and Hello parties. For gay saunas, you'll want to head over to Magnum.
Gay events in Budapest
Budapest Pride was the first LGBTQ event in Eastern Europe in 1997. Although it faced a great deal of violent homophobia in its early years, from 2007 onwards, it evolved to become one of the largest and most notorious LGBTQ events in the region.
Budapest Pride in June/July: it's one of the largest Pride events in East Europe attracting over 10,000 people. A chance to celebrate all things LGBTQ – Budapest Pride sees the community emerge from the shadows and into the spotlight.

Gay Film Festival in June/July: one of the best events during Budapest Pride. There's nothing better than a gay film festival is there? For film buffs in the LGBTQ community, it's their chance to be inspired by how they can tell their story on the big screen. With tons of films shown to represent members across the community, the film festival does a great job in helping Hungarian queer people feel noticed.

Sziget Festival in August: one of the best music festivals in the entire country in our opinion, featuring famous artists like the Foo Fighters, Florence + The Machine, Macklemore and many more. Plenty of queer artists also make an appearance as well, but it's mainly an opportunity for all music artists to come together and celebrate what unites us all!

Mr Gay Hungary in September: Hungary took a long break from the Mr Gay World competition, but in September 2018, it elected the very handsome, Oliver Pusztai, as their representative. He came an impressive third in the overall competition in South Africa in May 2019. The event is so much fun – who wouldn't want to go to an event and watch all these gorgeous men? Have a look at a taste of what to expect here:
5. Bratislava (Slovakia)
Bratislava is like the sleepy alternative to Prague. We found it to be a quiet, sleepy, quaint and charming town, full of winding cobblestone streets to get lost in. In terms of gay-friendliness, we certainly felt safe here as a gay couple. However, like Hungary, Slovakia remains very conservative, as can be seen by the ban on gay marriages in their 2014 Constitution.
LGBTQ rights in Slovakia
Homosexuality was legalised in 1962.
Same-sex unions were recognised from 2018 offering limited cohabitation rights only.
Gay marriage is illegal in Slovakia and was banned in the 2012 Constitution. However, since 2018, gay marriages from other EU countries are recognised, but for residency purposes only.
Adoption is limited to single LGBTQ individuals only.
Slovakia has a comprehensive set of anti-discrimination laws in place since it entered the EU in 2014, which have been evolving ever since.
Lesbians, gays and bisexuals are allowed to openly serve in the Slovakian army.
The gay scene of Bratislava
The gay scene of Bratislava is quite small, with only a few gay hangouts, especially when compared to Prague or Budapest. The main gay bar is the Tepláreň Café and the main gay club is the Apollon Club.

Both of them may be small in size, but we found them to be utterly charming. What they lose in size, they make up for love. In the Tepláren bar, friends can gather and indulge in small talk before heading out to the Apollon club.

There is also a monthly queer party at the High Street Club called "Tutti Frutti". The name is a playful dig at the clientele, but nevertheless, the atmosphere is so welcoming. It's the perfect chance for the community to come together and celebrate their diversity. We felt more than welcome amongst the locals and even learned some traditional Slovakian folk dancing (we did it whilst moving to Britney Spears, but it still counts for something, right?)
For us, Bratislava was more of a cultural visit: a stopover on our inter-railing adventure between Prague and Vienna. We recommend visiting Bratislava when you're also heading to Vienna because the two are only an hour away by train. In addition, Bratislava is a much cheaper base than Vienna.
Gay events in Bratislava
The two main gay events in Bratislava are the Duhovy Pride and the Slovak Queer film festival:
Dúhový PRIDE Bratislava (Jun/Jul or Aug): takes place every summer, usually around June/July/August. This event sees many people in the queer community use their platforms to speak out against some of the anti-LGBTQ rhetoric in Slovakia, and demand to be seen as respectful citizens. But it's also a chance to party, have fun, and celebrate what makes us diverse. With loads of events happening throughout the city, check their Facebook page for the most up-to-date details about what's happening.
The Slovak Queer Film Festival (October): the only LGBTQ film festival in the country, organised by Iniciatíva Inakosť. Similar to the one in Slovenia, it's a chance for the gay community to see themselves represented on the big screen. We can't tell you how beautiful it is when we see the gay youth finally feel as if their stories are being seen. It does so much for our LGBTQ movement!
Other (non-gay specific) festivals we love in Bratislava, which we recommend you look out for include the Summer Castle Festival in June/July/Aug, the Slovak Food Festival in June, the massive Viva Musica! Festival in June/July/Aug, the Festival of Light in September and the White Night contemporary art festival in October.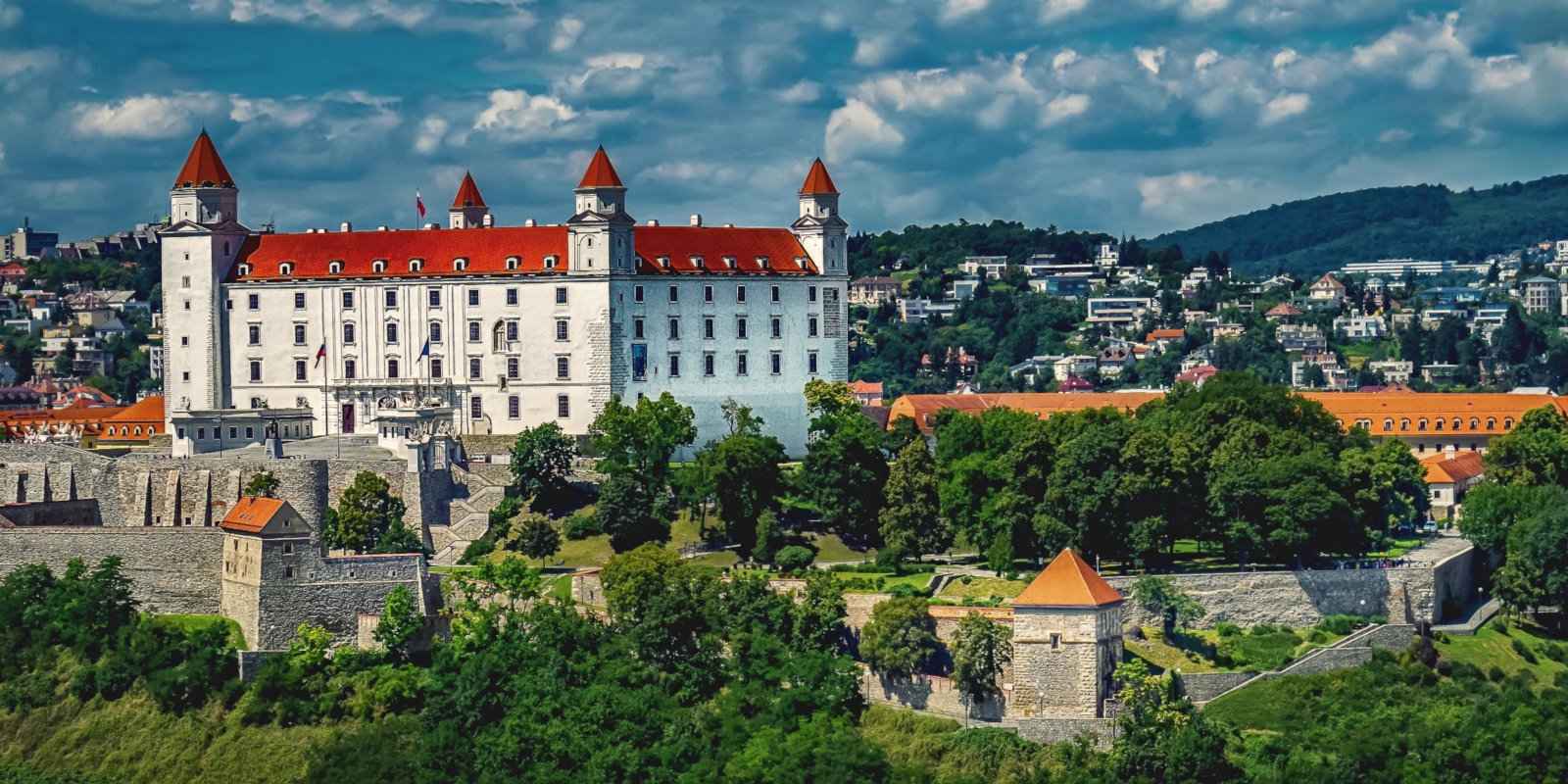 Honorary mention: Vienna!
Not technically Eastern Europe, but given its proximity to the region, we include it in this list. We also mention it because if you're travelling around the region, it's very easy to drop into Vienna, especially as it's only a 30-minute train ride away from Bratislava.
Like Prague, Vienna has a far more progressive and liberal attitude with a large gay scene. Vienna Pride in June is infamous, particularly after they hosted EuroPride in 2019.

Home to the great Conchita Wurst, Austria is one of the shining beacons when it comes to LGBTQ positive countries. One of our favourite things about gay Vienna: some of the traffic lights have green same-sex couples holding hands- either two men, or two women. This was one of the first places in the world we've seen do this! There are also plenty of shop fronts all around the city that proudly fly the rainbow flag. We never felt more comfortable holding hands in public as we explored Vienna.
DON'T MISS OUT!
Join our newsletter
Subscribe now to receive in-depth FREE travel guides, along with inspiring stories, savvy planning tips, and exclusive discounts on gay tours.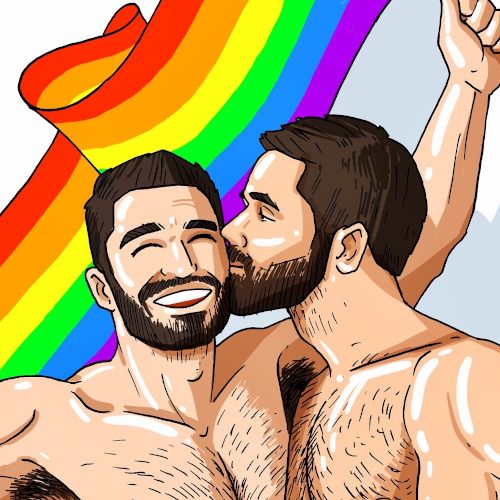 ---
Like this post? Pin it