TERMS OF USE: There is a chance that some of the content on this page has changed since it was last updated. By reading this article, you consent to our Terms of Use and Disclaimer. Happy Travels!
DISCLOSURE: Some of our posts may contain affiliate links which we may receive a commission if you choose to book something through one of our links.
Our roundup of the best gay holiday destinations in Europe to inspire and help you plan your next gaycation.
Every gay traveller, at one point, looked up at a rainbow and dreamt of seeing the world. 'There must be somewhere better than this drab old town?'…each of us often wondered in our respective beige suburbs growing up…
Fast forward 20 years, and we're both living our dream of seeing the world, one amazing continent at a time. Europe is hands down our favourite. We are biased of course as this is where we're from – Stefan is British/Greek Cypriot and Seby from France.
We've travelled extensively around Europe when growing up, as well as together as a gay couple. Of course, some places stood out to us more than others, so we list out what we found to be the best gay holiday destinations in Europe from our first-hand experience:
1. Sitges in Spain
For us, Sitges is the numero uno gay holiday destination in Europe. It's a small coastal town, around 45 minutes train ride from Barcelona. For decades it's been a famous LGBTQ mecca, full of many gay hangouts, all congregated together mainly along the Carrer de Joan Tarrida street.
The gay scene of Sitges
The gay scene of Sitges is vast and always buzzing. Parrots is the main bar. It's our favourite meeting spot as well as being the ideal place for people-watching, with chairs and tables facing the crowd passing by. We always start a gay night out in Sitges at Parrots, then head on down the Joan Tarrida street where there are tons of bars like XXL, El Horno, La Cueva and Man Bar. These all converge outside to become one large fabulous street party every single evening.
A few blocks away is the excellent El Piano gay bar, which is one of the best places to come for drag shows, cabaret nights, piano singalongs and bluesy singers performing.
Sitges also has some of the best gay beaches in Europe. The main one is called San Sebastián, located right in the heart of town. Further out are a few gay nude beaches, like Balmins and Playa del Muerto.
Gay events in Sitges
Sitges Pride takes place each June and is one of the best Pride events that a gay guy could wish for. With beach games, loud music, tons of drinks and queens in all shapes N' sizes, Sitges Pride really delivers the true meaning of what Pride is all about.
Other fantastic gay events to check out in Sitges include the Carnival in February/March, the International Bears Week in April/May, another Bears Week in early September and the queer International Fantasy Film Festival in October.
2. Mykonos island in Greece
It's Lindsey Lohan's favourite place in the world for a reason…
Mykonos island is a place that is rich in history, culture and lots of partying. During the summer period (May to October), gay Mykonos comes alive and becomes one big fabulous gay mecca. July and August is definitely the peak season when it gets super busy, especially around the big gay XLSIOR festival.
The gay scene of Mykonos
It might not be the exact location of the Mamma Mia movies, but it looks pretty close. We spend most our days in Mykonos hanging out at the Super Paradise and Elia gay beaches, which are located on the southern tip of the island.
In terms of gay bars/clubs, these are located back in Mykonos town in the northwest side of the island. Jackie O stole our hearts, with some of the funniest drag shows happening every evening in the summer months. Next door, Babylon offers a vibrant and exciting night out, filled with flashing lights and go-go dancers.
Gay events in Mykonos
The annual XLSIOR festival, which takes place each August, will have you singing Lay All Your Love On Me as you become overwhelmed by all the gorgeous topless speedo-clad gay hunks. This is one of the biggest and best gay beach parties in Europe.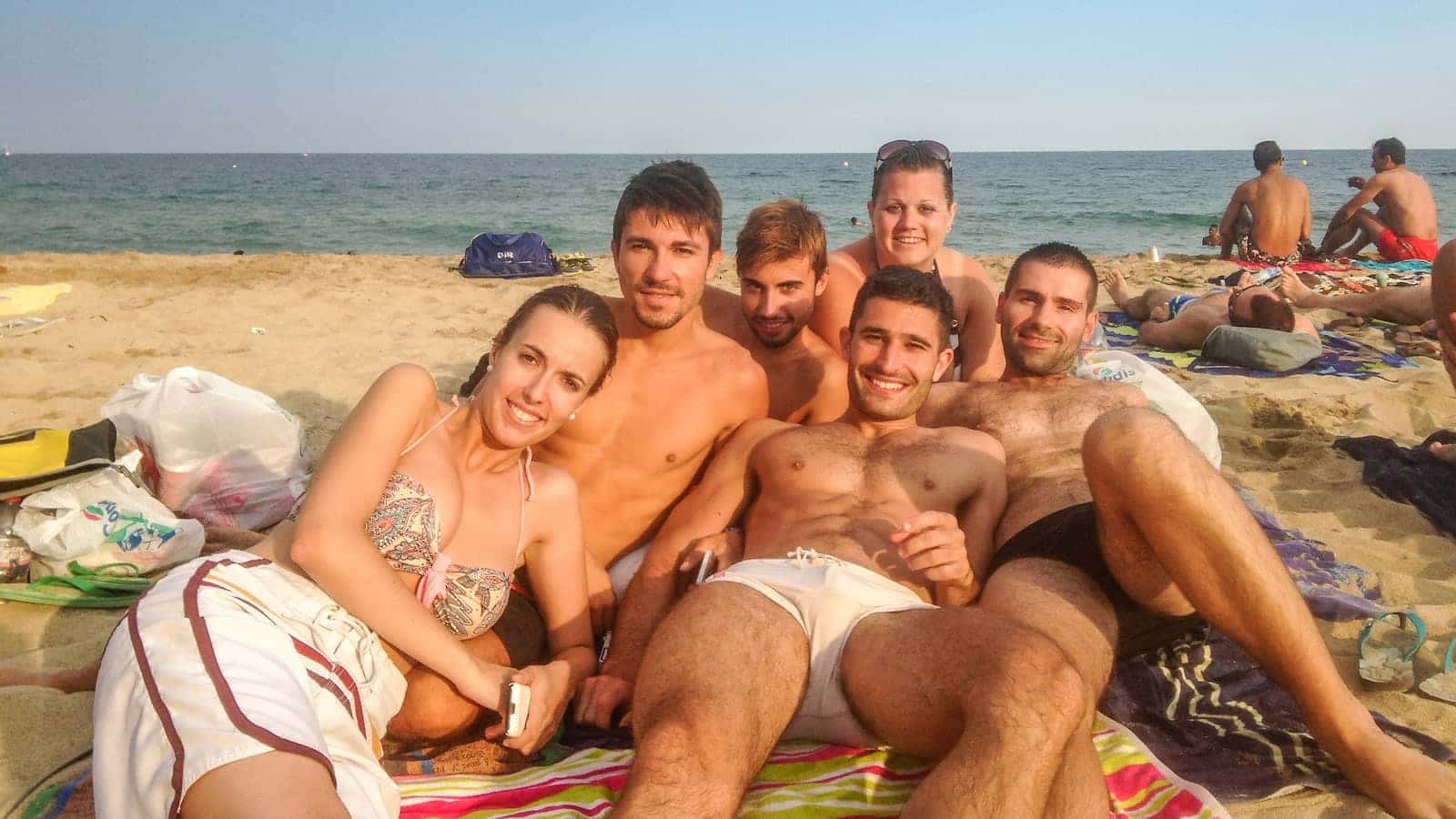 3. Tel Aviv in Israel
Hear us out. We know Israel is not technically part of Europe, even though they have some of the best Eurovision parties and have had iconic winners like Dana International and Netta who are superstars around the continent. However, we include Tel Aviv because the city feels like you're in Europe, it's a stone's throw away from Europe, and this is one massive LGBTQ mecca you need to check out when holidaying in the region. Plus we think Tel Aviv Pride in mid-June is one of the best Pride events in the world.
The gay scene of Tel Aviv
Tel Aviv feels more like you're in a straight-friendly city. It's gay gay gay everywhere, especially, at the beaches. Those hot Israeli gay boys are not shy, and we love them for it! Whilst there aren't many gay bars in Tel Aviv, the gay scene instead evolves around weekly parties and events like PAG and FFF Shirazi. Some of the best gay hangouts include Apolo, Lima Lima, Jimmy Who? and The Block. Just a word of warning though – just like the Spanish, the Israelis boys party late, so gay bars/clubs in Tel Aviv don't get going until well after 1/2am!
Gay events in Tel Aviv
The main one is Tel Aviv Pride, which takes place in mid-June. It's notorious and rivals Mykonos' XLSIOR as one of the best gay beach parties in the world. As if Tel Aviv couldn't get any gayer, a whopping 250,000 gays from around the world descend on the city for Pride every June. Impressive for a city with a population of just 450,000!
During Tel Aviv Pride, some of the biggest gay Circuit-style parties take place. The most famous is Forever Tel Aviv. Other gay parties and events to look out for in Tel Aviv include the PAPA Party and the BEEF Party.
4. Gran Canaria in Spain
Gran Canaria is kind of like Spain's naughty step. Back when the Catholic Church held the nation by its throat, all criminals and social deviants were banished to the Canary Islands and left to their own devices. Those 'deviants' included gay people, and naturally, many of them found themselves there. As generations developed, the island became a community of super tolerant folk. Sure, the island is small. But what it lacks in size, it makes up for in heart.
The gay scene of Gran Canaria
Many gay people swing by the Yumbo centre – a shopping mall filled with gay bars, clubs, shops and restaurants. There are tons of gay hangouts here to choose from, so the best advice is just to head there and discover it yourself. One of our favourite bars is Terry's, which has hilarious Spanish drag shows featuring some of the classic Latino hits. In terms of clubs, Mykonos is the one we enjoyed the most, which goes on until the early hours.
Gay events in Gran Canaria
The island has tons of Pride events throughout the year. Maspalomas Pride is the main one, which takes place in May. In October, check out the Maspalomas Ŧetish Week, which celebrates all things leather and more exotic. And if that wasn't enough, the Pride festival comes back for a winter edition in November.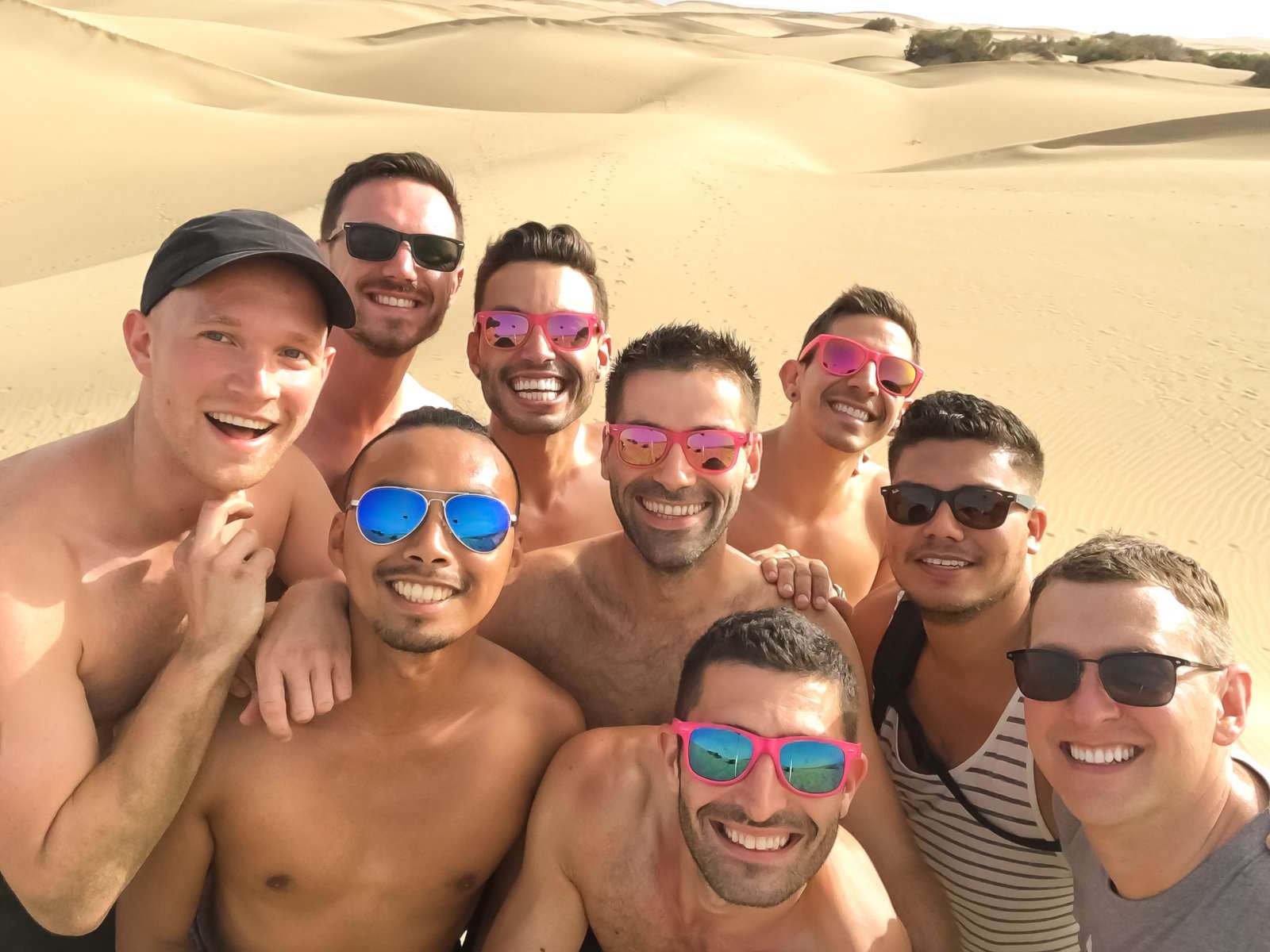 5. Puglia in Italy
Oh Italia… where it is virtually impossible to tell the gay men from the straight. Our gaydars have never been as confused as when we first hit the beaches of Puglia. Italian men (gay and straight) take good care of their bodies and have a lot of pride in what they wear. And we love them for it! Puglia is a stunning region of Italy, which has grown more and more popular with LGBTQ travellers over the years, particularly since the country allowed gay unions in 2016.
The gay scene in Puglia
The majority of the gay hangouts of Puglia are quite spread out, so we highly recommend renting a car. We did a road trip around the region, basing ourselves in Gallipoli and visiting cultural gems Lecce, Ostuni, Alberobello, Polignano a Mare and Otranto.
The main gay hangouts to check out are Cafe Bellini and Village Picador in Gallipoli. In terms of gay beaches, you'll need a car to reach the nudie beach of D'Ayala, located around 1 hour north of Gallipoli. Lecce is another cultural not-to-miss gem in Puglia, where you'll find Marilyn Bar. Bari is the main transport hub of the region with a handful of gay and even a gay sauna – Millennium. Find out more in our detailed gay guide to Puglia.
Gay events in Puglia
The main one is Puglia Pride (usually in Bari), which takes place every August. It is awash with rainbow colors, an excitable crowd, and glorious weather. The Parade itself is a lot of fun, climaxing with an epic beach party on the Lido Por Do Sol. Attendees dance on the sand in bathing suits to funky dance music, whilst sipping from cocktails and reveling in their LGBTQ pride!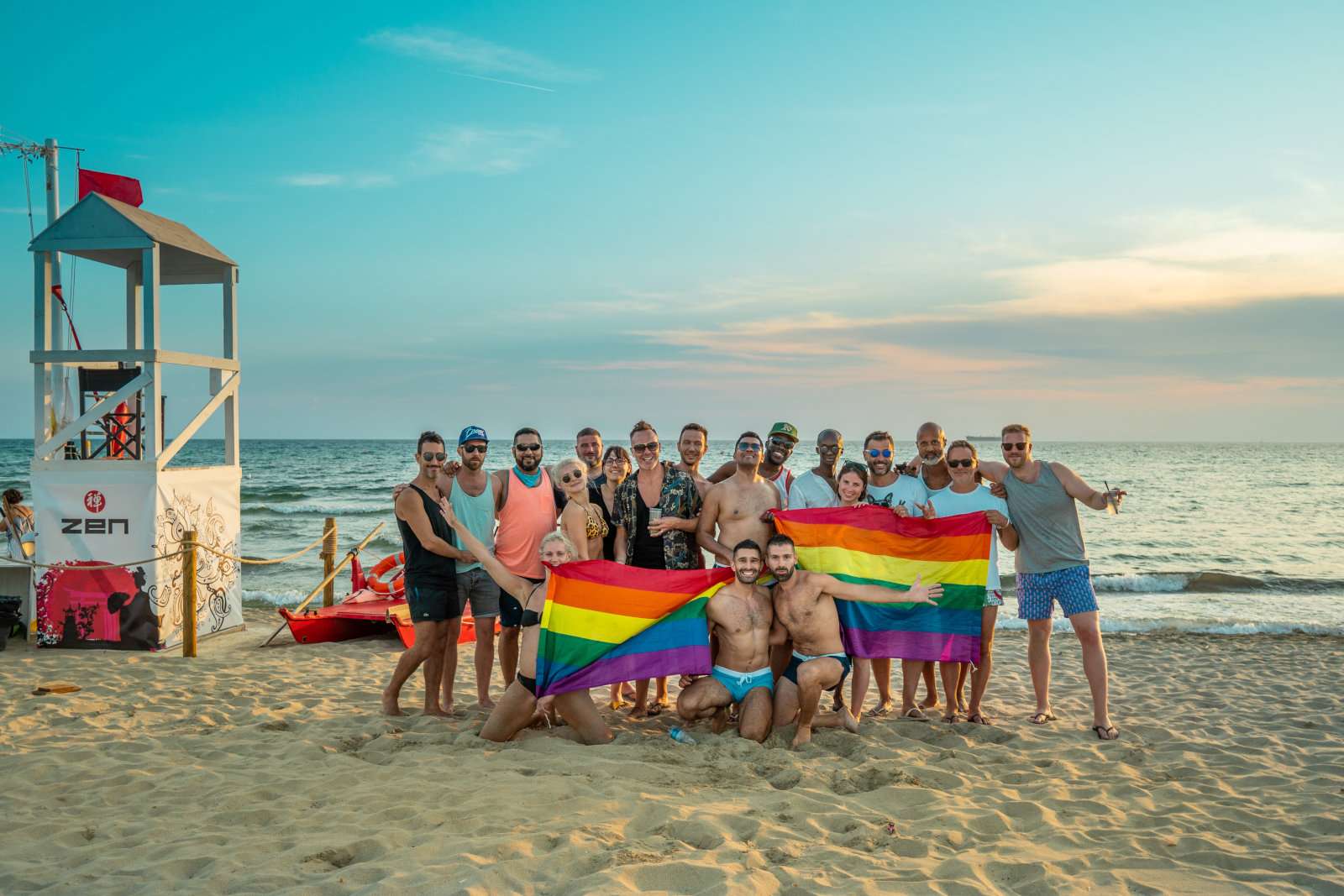 6. Ibiza island in Spain
"We're going to Ibiza!"
…the party capital of the Mediterranean, Ibiza is an island filled with crazy nightclubs and even a gay nude beach. We all know the fun doesn't really begin until the gays walk in, so inject a little bit of queer magic into the tropical Spanish nightlife.
The gay scene of Ibiza
There are a handful of gay hangouts on Ibiza, mainly based in and around Ibiza town. Mad Ibiza is one of the most popular where most start their evening, drinking and chatting the night away. JJ Bar is another gem, which was one of the original gay bars on the island, still standing strong. Also, check out the weekly Frigays parties at Club Lolas.
After a night out, you might find yourself whipping off all your clothes for a streak along the Playa Es Cavallet – the island's gay nudist beach. By day, it's a beautiful place to relax, with white sands and blue seas, surrounded by rolling green hills and tons of nude gay guys. Between sun tanning sessions, the Chiringay restaurant is open to serve up some delicious meals and even tastier drinks. So, what's not to love…
Gay events in Ibiza
What is a sensational experience, is super gay and lasts for five whole days???
Ibiza Gay Pride of course!
Packed full of drag shows, film screenings, DJ sets and dance parties, the Spanish island's Pride event attracts thousands of people from all around the world. It takes place in mid-June each year, underneath the scorching Mediterranean sun. The festival climaxes with a parade through Ibiza Town, with plenty of parties to follow.
7. Barcelona in Spain
Barcelona – the birthplace of the LGBTQ movement of Spain. The city is well known for being super gay-friendly with an entire neighbourhood just for us. The "Gaiexample" (pronounced gai-sham-ple) is packed with LGBTQ shops, bars, cafes, restaurants, clubs and hotels. You could spend your whole trip in Gaixample and never get bored!
The gay scene of Barcelona
The Barcelona gay scene is incredible. With a swirling mix of drag bars, hedonist clubs and dance halls, there is truly something for everyone. Some of our favourite gay bars in Barcelona include Moeem, La Chapelle, Versailles and Gin Gin. For the best drag shows, head to Believe, which has a hilarious show every evening. In terms of clubs, check out Arena, Metro, Sala Safari and The Black Room.
Mar Bella is the main gay beach of Barcelona and one of our favourite gay beaches in all of Europe. It gets super busy here during the summer months, especially during the August Circuit festival.
Gay events in Barcelona
The best gay events in Barcelona are Circuit in August and Pride in June. The Circuit Festival is a week full of parties with plenty of muscle hunks who have probably taken a rest from Tel Aviv Pride, coming to Circuit Barcelona and are probably heading over to Mykonos afterwards for Xlsior! Meanwhile, the Pride festival is as campy and fabulous as ever, and we love it! Read more about our experience at Barcelona Pride.
Other gay events in Barcelona to look out for include the Snow Gay Weekend in March, the International Memorial AIDS Festival in May and the Barcelona International Gay Film Festival in October.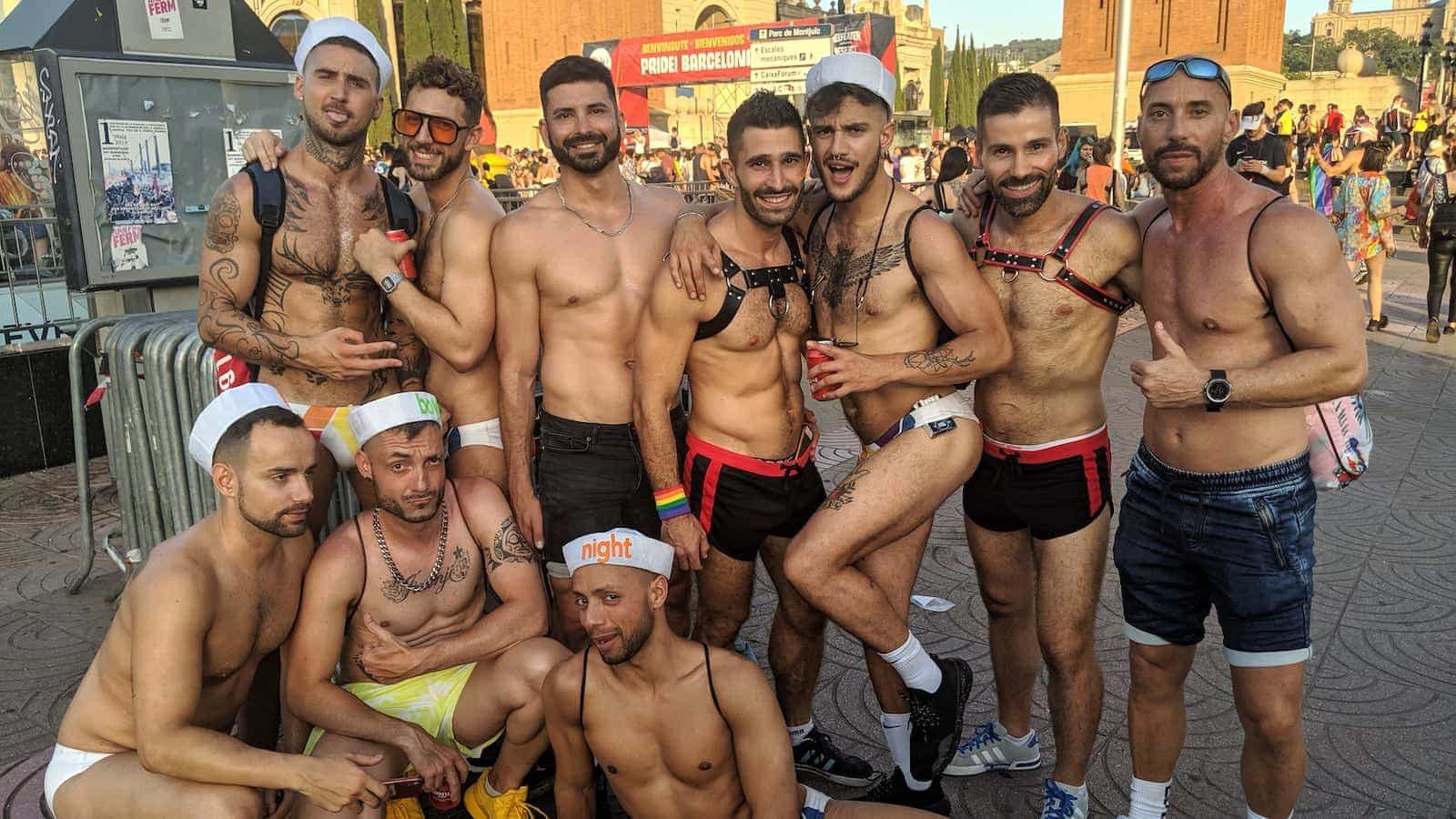 8. Reykjavik in Iceland
There is nothing gayer than sitting underneath a pitch-black sky and seeing it lit up with swirling, green swashes. The Northern Lights is basically nature's way of saying "I'm here, I'm queer, get used to it!" Regardless of the purpose of your trip to Iceland, a tour of the Arctic Circle is a must – but bear in mind, the chances of seeing one of the wonders of the world will be higher if you go during the winter months.
The gay scene of Reykjavik
The city of Reykjavik is a lovely city in an amazingly gay-friendly country. The gay scene is more lively than you would imagine for a country that is situated so far away from everything. The Kiki bar is a fabulous place to, well, have a kiki. The cool and casual vibe of the bar is a great place to share gossip with new friends and enjoy a relaxing evening. Adjoining the bar is the gay-friendly Bravo, which has a more local crowd.
Moving through the idyllic streets, with its fairytale-like houses and cheery faced nationals, it's difficult to believe such a quaint and demure little city would have a spot like The Icelandic Phallological Museum – a museum to men's most private part! Inside lies the world's largest display of phallic objects. Don't get too cocky when walking around! It can be quite easy to break out in a fit of giggles, but you'll receive stern looks from fellow patrons – you could even be penalised…!
Gay events in Reykjavik
For a city that's so small (around 125,000 people), it sure makes its impact. With 1/3 of the population attending the Pride event every August, Reykjavik Pride has become one of the country's biggest events. It has some of Iceland's most famous stars popping up to perform, fierce drag artists and tons of organisations supporting the parade. Reykjavik Pride literally brings this small city to a standstill.
If that wasn't enough, Reykjavik also has a winter Pride event called Rainbow Reykjavik in February. The city flips the celebration of gay Pride on its head, swapping out tank tops and tight shorts for geometric baths and field trips to see erupting volcanoes!
9. Paris in France
A city of stars… Paris is a romantic paradise. Whether you're going for the Instagrammble worthy scenery, or for a cheeky weekend away, Paris is worth seeing all year round. Of course, there's the gorgeous Eifel Tower, with its sparkingly light show each night. And obviously, the allure of the Mona Lisa in the Louvre, with her sinister smile that reminds every gay man of the smirk they give when trying to catch the eye of a potential lover across the bar floor…
The gay scene of Paris
Paris has a thriving queer scene, especially in the La Marais area. There is the frankly named gay bar called COX, with charming clientele and fruity cocktails (excuse the pun!) Another gem we love is FreeDJ, which has fantastic drag/cabaret shows with epic lip sync battles and gender-bending performances.
Gay events in Paris
Paris Pride attracts a large turnout of almost 1 million every year. It's a burst of colour, sparkles and music. In Paris, they don't do things by halves: the French are either lounging around in dark wine cellars, smouldering over a plate of cheese and bread or rioting in the streets in an attempt to dismantle the government. With Paris Pride, they take all that passion they use for protesting and turn it into love!
10. Amsterdam in The Netherlands
What makes Amsterdam so alluring for gay travellers? Could it be the canals that make the city feel as if it were floating? Or is it the picturesque scenery that transports you right into a storybook where you're guaranteed a happy ending. Perhaps, it is the carefree and openminded nature of its people, who want nothing more than to relax and have a great time.
Whatever it is, Amsterdam is a must-see for the gay traveller. It is honestly one of the only places in the world where we feel comfortable showing affection in public. The Netherlands has a long history of LGBTQ tolerance and you can really feel the support for our fabulous community buzzing through the air wherever you go.
The gay scene of Amsterdam
Take us to church – or Club Church to be precise. One of the hottest gay Ŧetish clubs in Amsterdam, with an electric atmosphere, stellar drag performances, and cheap drinks that will create a night out worth remembering. Other gay clubs to check out in Amsterdam include NYX, YOLO and Eagle. In terms of gay bars, there are many. They are mainly based along the Reguliersdwarsstraat street like SOHO, Prik and Amstel 54. Read more in our detailed guide about the gay scene of Amsterdam.
Gay events in Amsterdam
Amsterdam Pride in late July/early August is one of the most unique in the world as it takes place on the water. Instead of floats parading the streets, Amsterdam Pride has floats sailing along the city's famous canals.
Then, prepare to have all the boys come up to the yard, with the Milkshake Festival in July (see what we did there?) Milkshake is a truly liberating festival with multiple stages across a large campsite with something for everyone. Whether you're a lover of pop, dance, rock, or techno, the Milkshake Festival is there to set you free.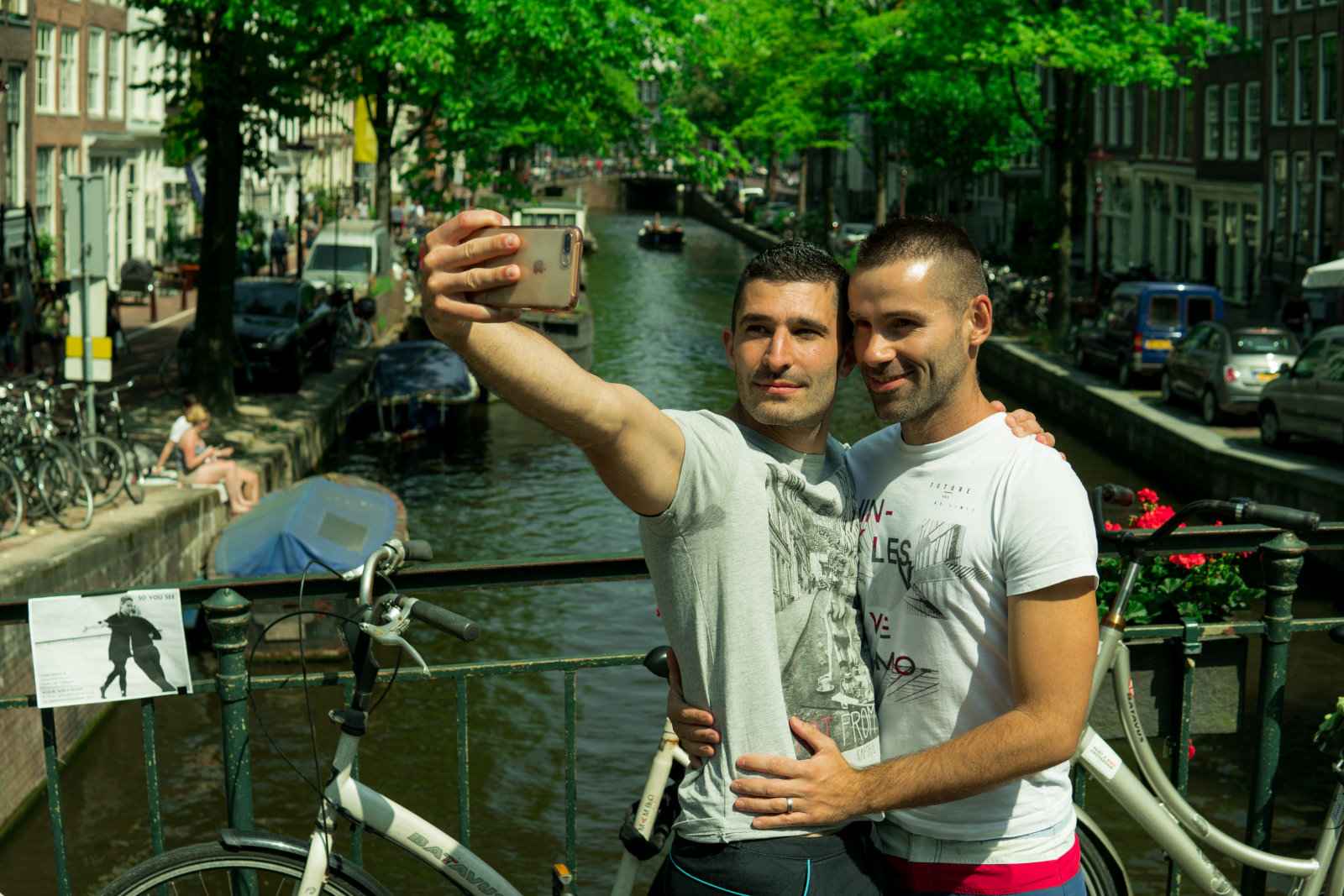 11. Berlin in Germany
What London is for musical lovers, Paris for romantics and New York for fashionistas, Berlin is for the Ŧetishists! Some even call it the Ŧetish Capital of the world, with the annual Folsom Festival cementing the city as an S&M fanatic's goldmine. Berlin is definitely known for its heavy and industrialised scene, but for the quieter and introverted souls, there is still a place for you in Berlin!
The gay scene of Berlin
Don't pass off the chance to visit one of the city's biggest gay clubs: the Berghain! If you, like us, are the kind of people who like to keep the party going until well past a normal person's bedtime, then you're in luck. The Berghain starts on a Friday evening and continues until Monday midday! Inside are several floors with dancing areas, bars, places to chill, order food, smoke and a few darkrooms. There are no mirrors inside and a strict 'no photos' policy, leaving you to just live in and enjoy the moment. That's if you get in of course! This place is extremely picky with who is let in. The door staff famously turn away every other person for no reason, so if you know someone connected to the club, try to get on the guestlist to guarantee entry.
Drag bars like Monster Ronson and Rauschgold are fantastic and will have you end your night with fits of laughter. Read more in our gay guide to Berlin.
Gay events in Berlin
Berlin proudly hosts multiple LGBTQ events each year. The most famous are Berlin Pride in July and Folsom Europe in September.
Folsom is a street fair which sells items related to the leather and more underground subculture. Everyone is welcome to the market, but the consumer base is predominately gay. What city can say it celebrates its leather daddies so proudly? If that wasn't enough, Easter in Berlin is another gay Ŧetish festival every April that also shines the spotlight on lovers of leather and Ŧetish items.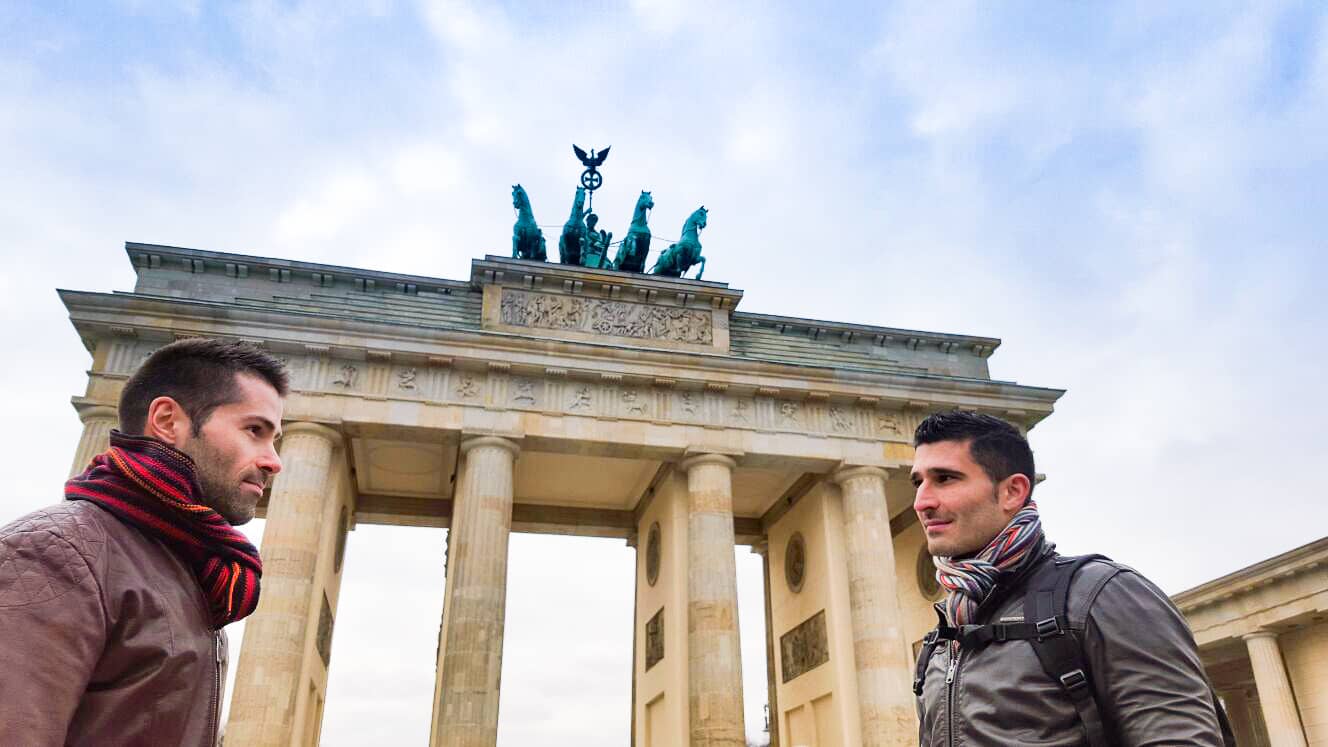 12. Stockholm in Sweden
Stockholm! Everyone we speak to seems to have it on their European bucket list. Why is it so attractive? Well, not only is it amazingly LGBTQ friendly but it has a great nightlife scene with some pretty impressive sights to explore. No matter what time of year you go, whether the sun is splitting the sky in summer, or the Gamla Stan Old Town is a blanket of snow in the winter months, Stockholm always looks so wholesome and perfect.
The gay scene of Stockholm
The Secret Garden isn't such a secret, but it makes for a fun night. With juicy cocktails and a great dance playlist, you'll feel like Adam & Adam, or Eve & Eve, as you move through the gorgeous bar's interiors. Another gem is the Space Sthlm gay club, which has some of the best drag shows in town.
Gay events in Stockholm
Stockholm Pride in late July/early August is an affair to remember! Over 600,000 people attend each year, spilling out onto the street adorned in rainbow flags and glitter smeared faces. It is a week of street parties, queer-related workshops and LGBTQ walking tours across the city. This is not only the largest gay event in Sweden but of all the Nordic countries.
13. London in the UK
We think our hometown of London definitely ranks as one of the best gay holiday destinations for LGBTQ travelers. We mean, the city has its own freakin' Queen! But, whilst you might have trouble spotting Elizabeth II, you'll be guaranteed to find many queens roaming around our great city. Of course, those interested in the royal family can pay a visit to Buckingham Palace or Westminister Abbey.
London is also the musical theatre mecca of Europe. The West End is where you'll see some of the best shows from Wicked to the Phantom of the Opera; lovers of all things musical will be spoiled for choice. See more in our guide to the best gay shows in London.
The gay scene in London
According to Grindr, London has the highest number of users than anywhere else in the world! That's a lot of 'discreet' hookups going on… It seems the gay community of London certainly knows how to make their presence known! The main gay areas of London are Soho in the center, Clapham/Vauxhall in the south, and in the East around Dalson, each with its fair share of queer hangouts.
One of the best gay clubs in London is the massive G-A-Y in Soho. On Saturday evenings, there is always someone famous performing like Madonna, Ru Paul's Drag Race queens, Kylie, the Spice Girls, and many more. Meanwhile, the Royal Vauxhall Tavern offers up a cozier place of refuge, where you can enjoy a stiff drink and a moan about the English weather. Sink the Pink in Dalson is one of the best queer clubs in London.
Gay events in London
London Pride in early July is always a showstopper. Every corner of the LGBTQ community is represented. Whether you're trans, non-binary, bisexual or simply someone who likes to adorn leather attire or angel wings, this parade is for you! Read more about it our in our article about why we love Pride in London.
The Mighty Hoopla Festival in early June is a celebration of all things love and freedom, which embraces inclusivity, with tons of LGBTQ icons such as Chaka Khan, Lily Allen and Melanie C. The LGBTQ+ Film Festival in March is a true delight! Offering the chance to meet and support queer filmmakers and actors, the festival is packed full of comedies, dramas and panel discussions.
14. Prague in the Czech Republic
Eastern and Central Europe often get a bad rap for being quite backwards when it comes to LGBTQ rights. Although most countries in the region aren't the most LGBTQ friendly (particularly the more East you head), Prague certainly has to be acknowledged for how queer-centric it is. A walk around the city will be enough to convince you of its magic. Seriously, it looks like a snapshot from the village Cinderella lives in – except in this version of the story, everyone gets an invite to the ball!
The gay scene of Prague
The majority of the gay scene of Prague can be found in the Vinohrady neighbourhood. The Piano Bar is perfect for lovers of drag. Whether they are singing live, lipsynching or hosting a game of bingo, there is always a fun night in store whenever we go! The Saints Bar is, in a sense inappropriately named, for there is very little saintly activity happening here! While it is a little on the smaller side, it makes up for it in heart and fun. The Bourgeois Pig is a truly unique experience. It turns the campy, gay scene on its head and harnesses the rebellious and punk rock queer vibes that make up a huge part of the LGBTQ scene of Prague.
Regardless of where we went in the city, we had a fabulous experience, which you can read more about in our comprehensive gay guide to Prague for LGBTQ travellers.
Gay events in Prague
Prague Pride in August is the biggest Pride event in Eastern Europe and it makes sure the rest of Europe knows it! With stellar star performances, incredible floats and tons of representation, Prague Pride is truly a firm favourite of ours. Gay sports fans will want to check out the Prague Rainbow Spring international gay event that takes place every May.
For a city that is well ahead of its neighbouring nations in terms of LGBTQ rights, festivals like the Mezipatra Queer Film Festival in November are super important. It offers an opportunity for LGBTQ people to see their stories reflected on the big screen and to have an open discussion about the issues that plague queer people in society.
---
Like this post? Pin it