Our gaydar went absolutely crazy on the beaches in Puglia. Everywhere we looked, these metrosexual studs were posing and just looking absolutely gorgeous…Italian men sure know how to take care of themselves!
Puglia is located in the southeastern region of Italy – the heel of the country's boot. It's a popular holiday retreat and a prime hotspot for gay travellers, particularly Gallipoli. We came here to attend our first gay wedding, so took this as an opportunity to make it a road trip around the region to discover what gay Puglia has to offer.
Is Puglia safe for gay travellers?
Although Italy is a conservative country with regards to LGBTQ rights, over the years, Puglia has become a bohemian playground for gay travellers. There are a handful of gay beaches across the region, as well as many gay hangouts in the main cities, particularly Gallipoli.
Obviously don't come here expecting to find Mykonos/Ibiza style Circuit beach parties. Instead, there's a mix of remote beautiful beaches, delicious food, plenty of culture and of course, bronzed Adonises everywhere.
We focused on the sub-region of Puglia called Salento, which is the Southern part. Salento stretches from Tarranto on the western side and Brindisi on the east, all the way to the coastal tip. For us, we found the best gay beaches and gay hangouts in Salento, particularly around Gallipoli and Tarranto.
One tip for gay travellers to Puglia is to rent a car to get the most out of it. Public transport is very limited, and taxis are expensive.
Gay hotels in Puglia
There's a handful of gay friendly hotels to stay in Puglia, including one exclusively gay guesthouse:
STAY WITH A GAY LOCAL
Misterb&b is the Airbnb equivalent for the LGBTQ community. Unlike on Airbnb, you know your host is gay, avoiding any nasty surprises when you check in. It is also a great way to meet gay locals and discover the underground gay scene. Click below to get 10 € (or $10) off your first booking.
Tenuta Monticelli: luxury gay friendly resort in Alezio
Tenuta Monticelli is a hidden gem we were really proud to stumble on. It's set in a large plot of land in the small town of Alezio. Here you're surrounded with nature, olive trees and lots of wildlife. Right in the heart of this private space of land is the resort itself which has 5 luxurious rooms, and a separate building for the breakfast/reception area. There's an outside seating area with terrace and large swimming pool.
We stayed in their superior room, which we highly recommend because you have the entire rooftop area to yourself, which includes a Jacuzzi and stunning 360 views of the Italian countryside around Alezio. To get a feel for the beauty of this place, as well as how massive it is, check out our drone video below. Most importantly, we felt very welcome here as a gay couple.
Rooms at Tenuta Monticelli start from €172/$200. To find out more, check availability and prices, see their Booking.com listing.
Hotel Palazzo is one of the best 5 star luxury boutique hotels in Gallipoli, just outside the old town. It's particularly popular with gay couples visiting the area who want a romantic base in Gallipoli. We were impressed by the many excellent reviews on Booking.com and recommendations by all online gay Italy directories about Puglia.
Hotel Palazzo has everything you'd expect from a luxury hotel – rooftop terrace restaurant, swimming pool, Sky Bar, Technogym, Solarium, and even it's own Winery.
Rooms at the Hotel Palazzo start from €170/$200 a night. Read more about it and check prices and availability on Booking.com.
For more, check out our gay hotels in Puglia guide.
Monteforte Resort: luxury gay friendly boutique hotel in Ugento
Ugento is a really cute town in the middle of the Italian countryside of Puglia. We stayed here because it's the ideal place to get a feel of local Italian life in Puglia. Of course it also helps that it's so stylish; every room is designed with a particular colour theme, decorated so that everything is beautifully matching.
Breakfast is served upstairs on the restaurant rooftop. Now this is a real treat. Not only is the food fresh and delicious (their pastries are orgasmic!), they have a Jacuzzi where you can lounge all day long and enjoy the views across Ugento.
Rooms at the Monteforte Resort start from €120/$140. Read more about it and check availability and prices on Booking.com.
This was the only exclusively gay hotel in Puglia we could find. It's owned by gay couple Angelo and Umberto, located next to the gay beach of D'Ayala, around 1 hour drive north from Gallipoli and 45 minutes south from Taranto. Lune Saracene only has 3 rooms, which makes it very personable and homely.
Rooms at Lune Saracene start from €50/$58 a night. For more information about rates and availability check their website and their Tripadvisor listing.
Sotto Sopra: good budget gay friendly hotel in Gallipoli
The best gay friendly budget option we found in Gallipoli is Sotto Sopra, who openly advertise their guesthouse as being "gay friendly" on their website. It's located just outside of Gallipoli old town and has many excellent online reviews.
Rooms at Sotto Sopra start from €43/$50. To find out more and check availability/prices, see their Booking.com listing.
Best gay beaches in Puglia
There are a handful of gay beaches in Puglia, mainly scattered around the Salento region:
D'Ayala Beach: the best gay beach we found in Puglia, located around 45 minutes drive south from Taranto city, or 1 hour north from Gallipoli. It's officially called "Spiaggia D'Ayala", which is the best point of reference to use in your Google Maps GPS. We love D'Ayala beach because it's separated from the main road by a large forest, which gives it a lot of privacy. As such it's also popular with nudists.
Torre Guaceto: located a 25 minutes drive north from Brindisi. This is a large nature reserve, with a long stretch of beach. Due to the privacy given by the nature reserve, it is popular with nudists as well as the local gay boys. The gay area is quite far to reach. First you need to park your car in the first beach you reach called "Penna Grossa" as you drive in from the Torre Guaceto junction. From here, walk south for around 45 minutes and you will eventually reach it.
Lido Zen in Gallipoli: this is a popular beach club in Gallipoli, not exclusively gay, but with a young and open-minded crowd. If you want decent beach facilities and can't be bothered to venture out too far from Gallipoli, then this is the place to come.
Warning: one to be aware of – G Beach Club in Gallipoli: what used to be a gay beach club in Gallipoli (and is still being reported as such by other LGBTQ online guides) dramatically changed its tune recently. Following a change of management, they've appeared to move away from their previous "gay" image by asking gay couples who were kissing to leave, and if that wasn't bad enough, ask gay clients not to tag G Beach in their social media posts! A sad sign that homophobia remains strong in parts of Italy…one to avoid!
For more, check out our article about the best gay nude beaches in Italy.
Best gay bars and clubs in Puglia
Most cities across Puglia have a gay bar or club. We've listed the ones we could find in order of the city we located them in, starting with the most popular – Gallipoli:
Gay events in Puglia
These are the two main gay events in Puglia we could find:
Italy Gay Travels Summer Party: Sergio's company runs an annual gay summer party which is definitely worth joining. It takes place in late August/early September and is 3 days of fun, parties and lots of Prosecco.
Salento Pride: takes places in Gallipoli in mid-August every year and includes a rainbow music party as well as a large beach parade. Definitely worth planning your trip around if you're thinking of coming here during the summer months.
Best things to do in Puglia for gay travellers
Puglia is the heel of long-legged Italy and one of the country's underrated gems. It has plenty of gorgeous beaches, delicious food and unique architecture to explore, with far fewer crowds than in Venice or Rome.
Puglia is famous for producing around 40% of Italy's olive oil, as well as bread and pasta, which is why it is nicknamed the "bread basked of Italy". Puglia also has one of the longest coastline of Italy – over 800km / 500 miles, so you know you're guaranteed to find excellent beaches here. Lecce is an example of one of the many architectural gems in Puglia – a city comprised of Baroque architecture, earning it the epithet, "the Florence of the South".
There's plenty to do in Puglia to plan your holiday just in this region.
Gallipoli: the best gay scene in Puglia
We love Gallipoli old town in the evening. It's always buzzing with life, buskers performing in the streets, cool little boutique shops and excellent restaurants. Gallipoli is also is the heart of Puglia's gay scene with a handful of bars worth checking out.
The main gay hangout to look out for is the LED Cafe. This is the main gay bar in Gallipoli and the best place to start the night. We recommend coming here to chat with other local gay guys to get a feel for any ad hoc parties taking place. The main gay club in Gallipoli is Village Picador, which is only open during the summer months.
If you're heading here in the summer, be sure to look out for the Salento Pride, which take place in mid August, as well as the 3 days Italy Gay Travels Summer Party.
D'Ayala: the best gay beach in Puglia
There are a handful of gay friendly beaches to check out across Puglia, most of which are also nude friendly beaches because they are usually more remote and harder to reach. Our favourite, and probably the most famous is D'Ayala beach, located 45 minutes drive from Tarranto City and 1 hour from Gallipoli.
The official name is "Spiaggia D'Ayala", which is also the best reference to use in your Google Maps. It is a long coastline, separated from the main road by a large forest. We also love it because as well as the privacy afforded by the large forest, the water is perfect for swimming, and the sand powdery white.
Foodie tour around Puglia
As passionate foodies, we knew we were in for a treat when we heard Puglia's nickname is "the bread basket of Italy". It comes from the fact that Puglia produces over 80% of the country's pasta. One of our favourites we recommend you try is the ear shaped "orecchiette", which literally translates to "little ears". Other famous pastas from Puglia to look out for include troccoli, cavatelli, stacchiodde, curti and gruessi.
Another exciting culinary prize which delighted us in Puglia was the abundance of cheese produced here. The most famous Puglia cheeses include Canestrato Pugliese, Burrata di Andria and Fallone di Gravina. Most breakfasts at your hotel will include healthy servings of each of these, usually washed down with an array of cured meats.
Lecce: exploring unique Baroque architecture
Lecce is one of the cultural highlights of Puglia. It's full of Baroque style buildings, cute narrow cobblestone roads, Roman ruins and impressive churches. It is nicknamed "the Florence of the south" and became a UNESCO World Heritage listed site in 2006. Some sites to look out for include the Piazza del Duomo main square, Lecce Cathedral, the Church of the Holy Cross, Roman Amphitheatre and the Castello di Carlo V.
To prepare for Lecce, we watched the 2010 film called "Loose Cannons" ("Mine Vaganti" in Italian). It depicts a family in Lecce who own a pasta making business, and also have two very cute sons. These two sons are also gay, and all hell breaks loose when they try to come out to their conservative family. As well as being a very funny film, it also gives you a feel of Lecce and what gay life is like in Puglia.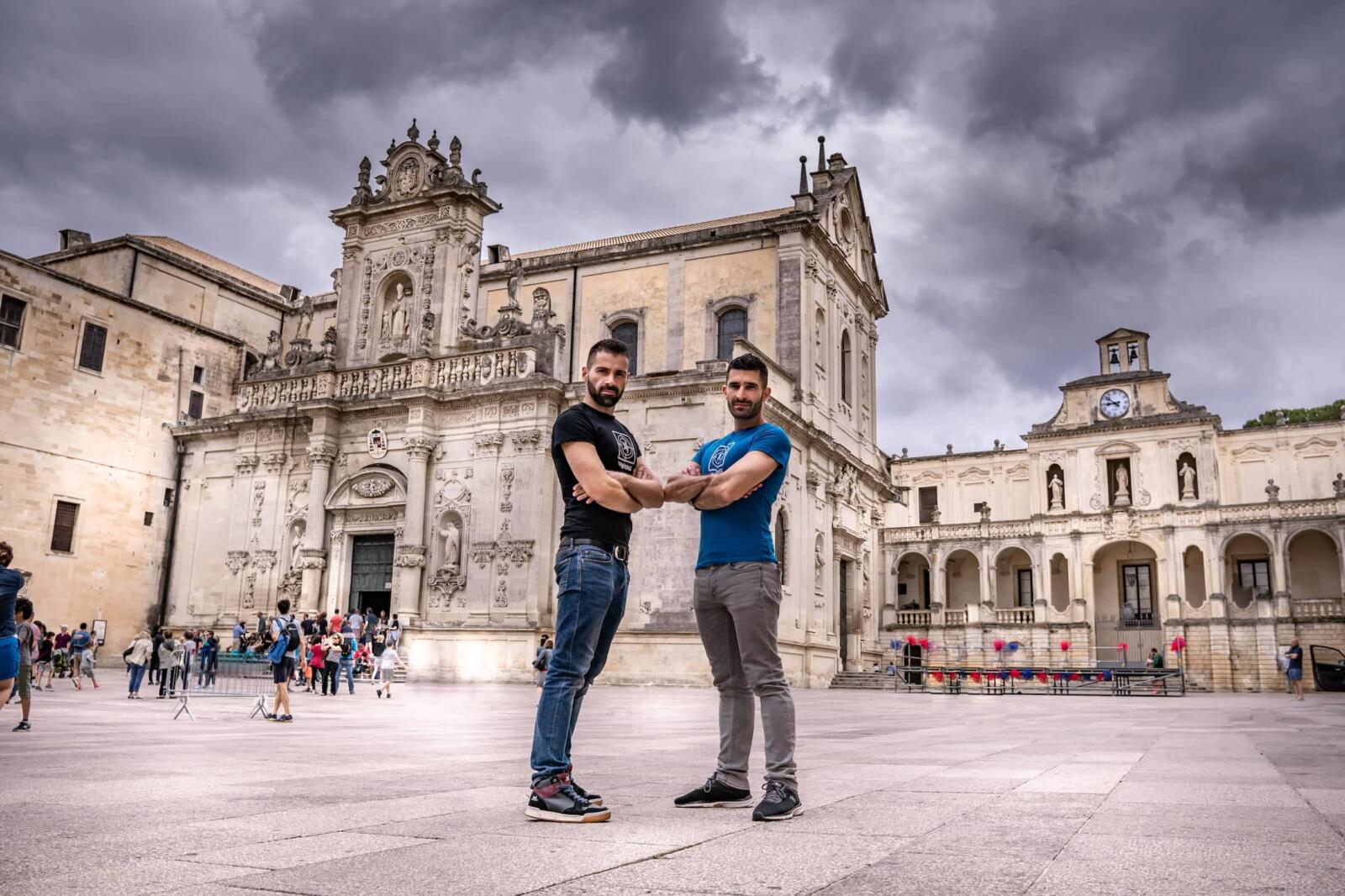 Ostuni: experience a gay yoga retreat
Ostuni's whitewashed old town is extremely pretty and worth a stopover, especially if like us you are visiting Puglia on a road trip. Ostuni dates back to the pre-classic period, was subsequently destroyed by Hannibal, then rebuilt by the Greeks, who named it Astynéon, meaning: "new town".
We loved exploring the narrow cobblestone streets of Ostuni's old town. It is perched on a hill, fortified by ancient walls. Ostuni's nickname is "the White Town" (La Città Bianca in Italian) because of the many Greek island-like white painted buildings. The main sightseeing highlights to look out for in Ostuni include the main Cathedral and the Bishop's Palace.
Alberobello: exploring the famous trulli huts
A trullo is a stone Hobbit-like hut with a conical roof, unique to Puglia, especially in the Itria Valley. The trulli (plural of trullo) are a UNESCO listed site and are mainly be found in Alberobello, which has over 1,500, some dating back to the 1300s.
Today the trulli are preserved as inns, souvenir shops, cafes and restaurants. We visited Alberobello as a day trip and loved exploring the different trulli – each with its own symbol on the roof. Trulli aside, Alberobello is also a fascinating place to visit, with cute photogenic narrow cobblestone streets. One recommendation is to walk up the hill and go on the balcony of one of the trulli cafes for the best views.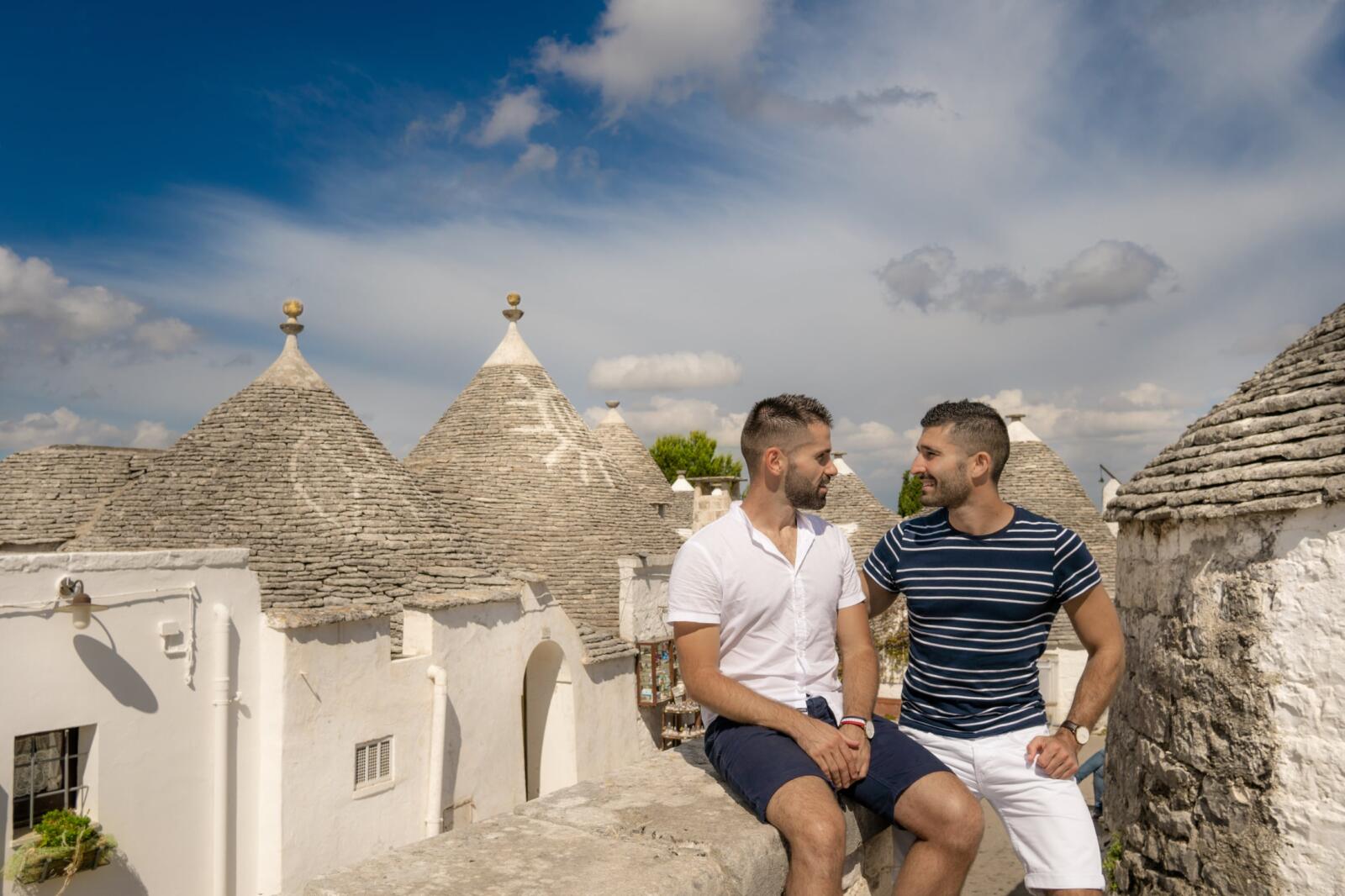 Otranto: pretty seaside town
Otranto is a pretty coastal town in Puglia famous for its Aragonese Castle, which dates back to the 1400s. It also has an impressive 11th century Cathedral which also attracts large crowds. The old town has many small winding streets, which is fun to get lost in.
We particularly loved the harbour area, which is a nice spot to get a bite to eat, coffee or romantic sunset cocktail. The views of the fishing boats out in the water are particularly picturesque.
One favourite recommendation of ours in Otranto is "Skafe". We found it on Tripadvisor when searching for an inexpensive lunch spot. They make delicious baguettes using local ingredients, which you pick.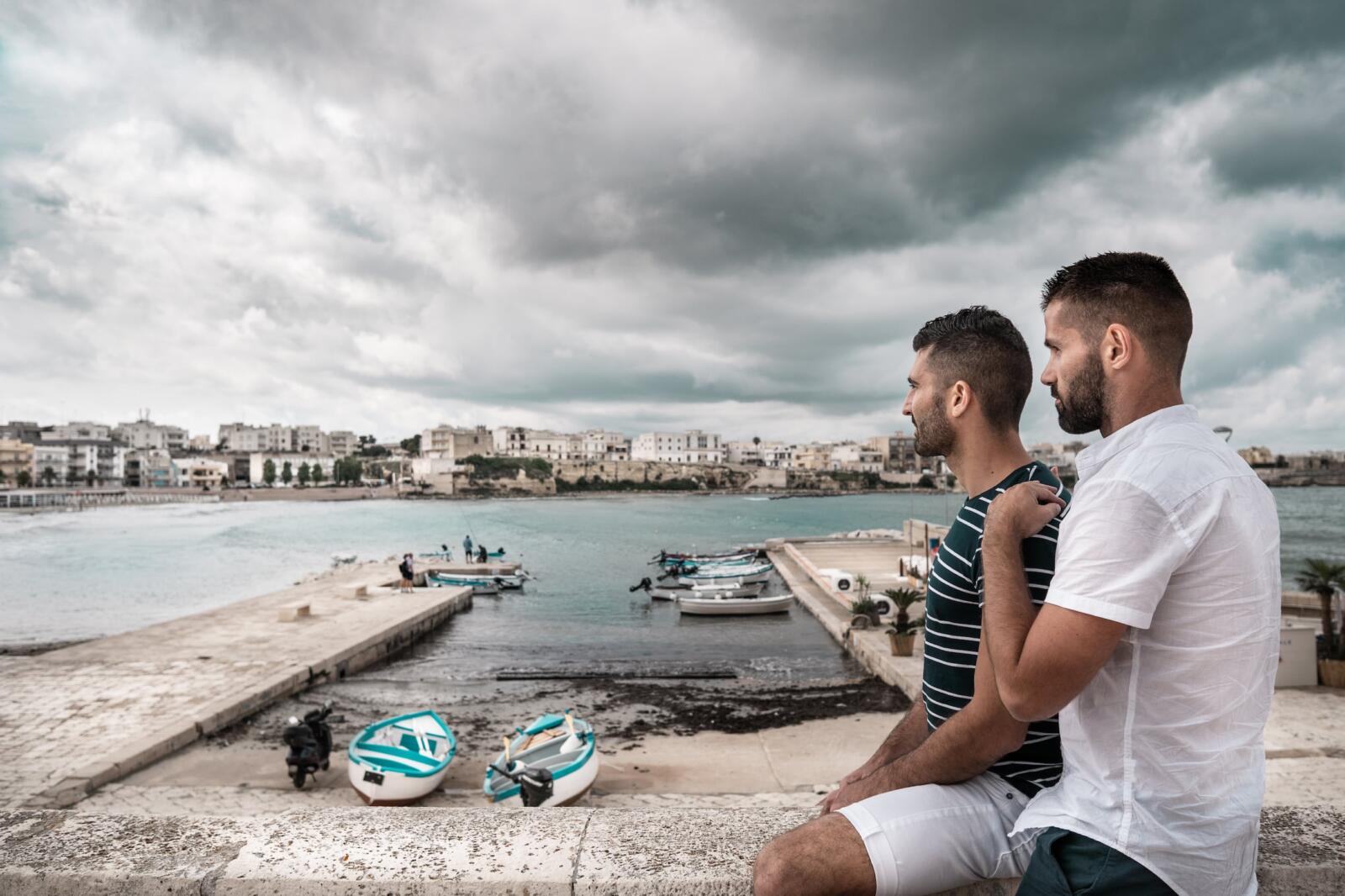 Polignano a Mare: famous cliff diving
Polignano a Mare was one of our favourite coastal towns in Puglia, mainly because of its famous beach, surrounded by cliffs, where the waves come crashing onto the rocks on a beach. If it's not too windy, it's the perfect place to take a dip.
This spot is also famous for cliff diving and has even hosted the famous Red Bull diving competition, attracting huge crowds of around 50,000.
When we came, the winds were strong, so people were just sunbathing or (like us) trying to get the perfect Polignano selfie.
Polignano a Mare also has a quaint old town with many bars and restaurants. Most are touristy, but there are some gems here. We loved the pizza at Bella 'Mbriana. Not only was it delicious, it's located right in the middle of the old town, making it ideal for perving on the many hot Italian local guys people watching.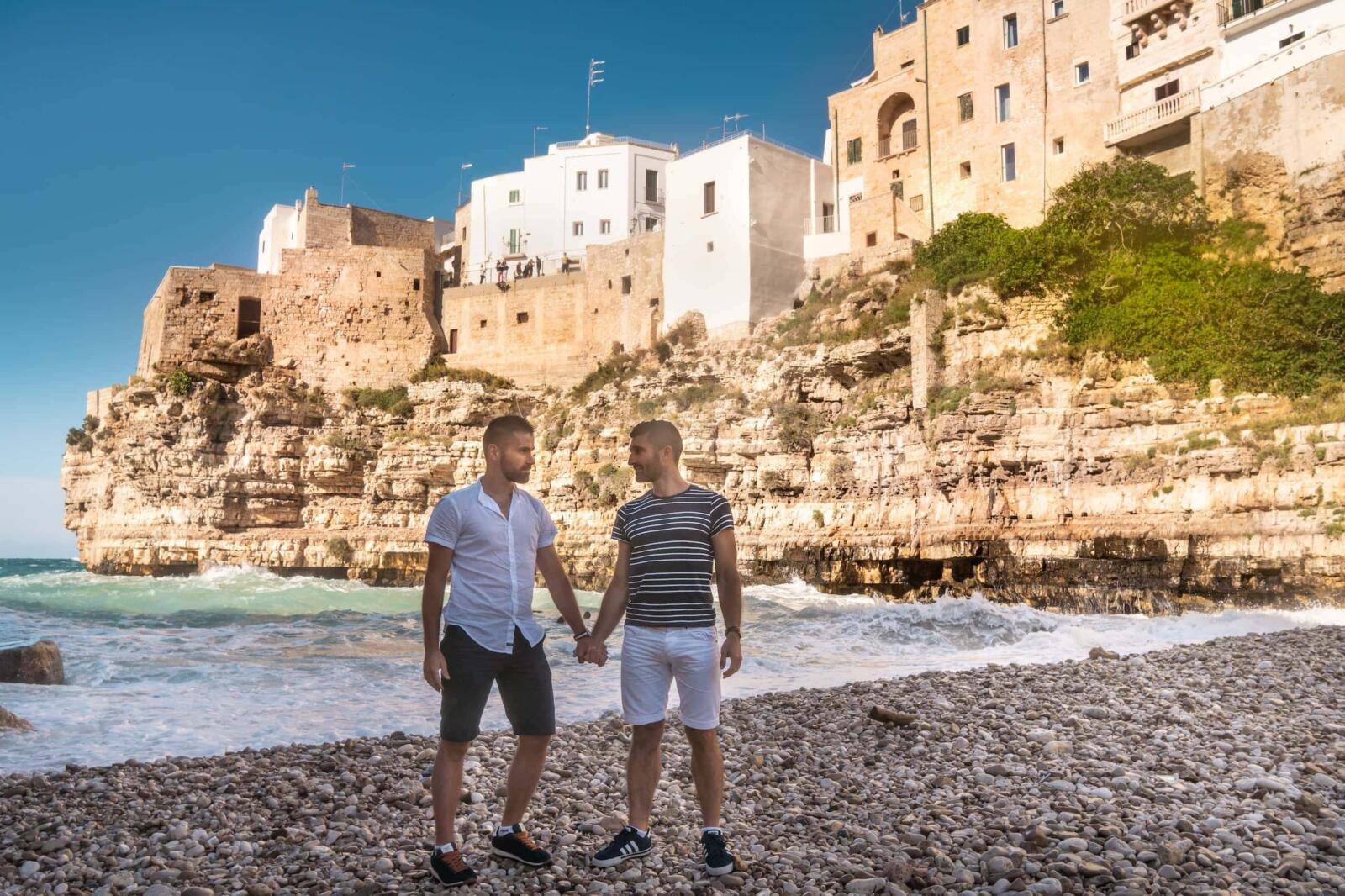 Grotta della poesia: swim like a mythical Princess
The "Grotta della poesia" in Roca Vecchia is a 100 foot wide sinkhole at the edge of the sea. According to legend, this used to be the favourite swimming spot for an ancient princess. The sight of her swimming inspired poets, hence the name "Caves of Poetry" (Grotta della poesia). Today, this is a popular spot for cliff diving and scuba diving.
On the North side of the cove is an archaeological site with ruins of an ancient city dating back to the 4th Century BC, which is thought to have been an important place of worship. One tip is to come early in the day as it gets very busy here, particularly on weekends.
Or, like us, come when there's a heavy storm with heavy winds…! Despite our bad luck, the clouds nonetheless gave us quite a pretty image to takeaway.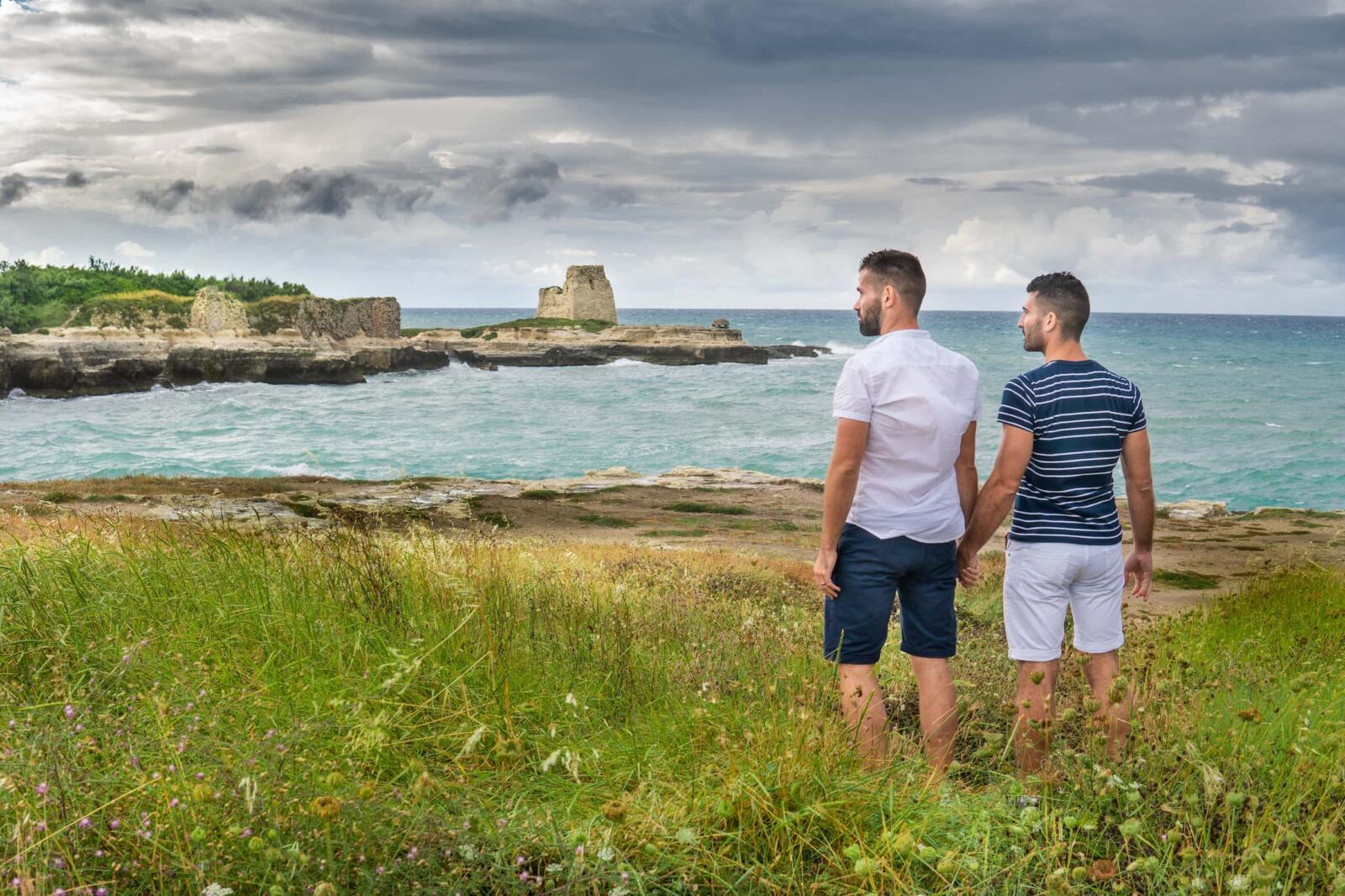 Castel del Monte: the back of the one cent coin
Castel del Montel is a UNESCO listed 13th century citadel located on a hill in Andria. It was built in 1240 by King Frederick II of Swabia. Its layout is famous for its mathematical and astronomical precision, which also has a perfect octagonal shape.
Another famous fact about the Castel del Monte is that it appears on the back of the Italian one cent Euro coin: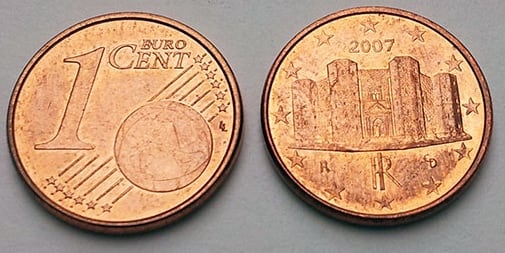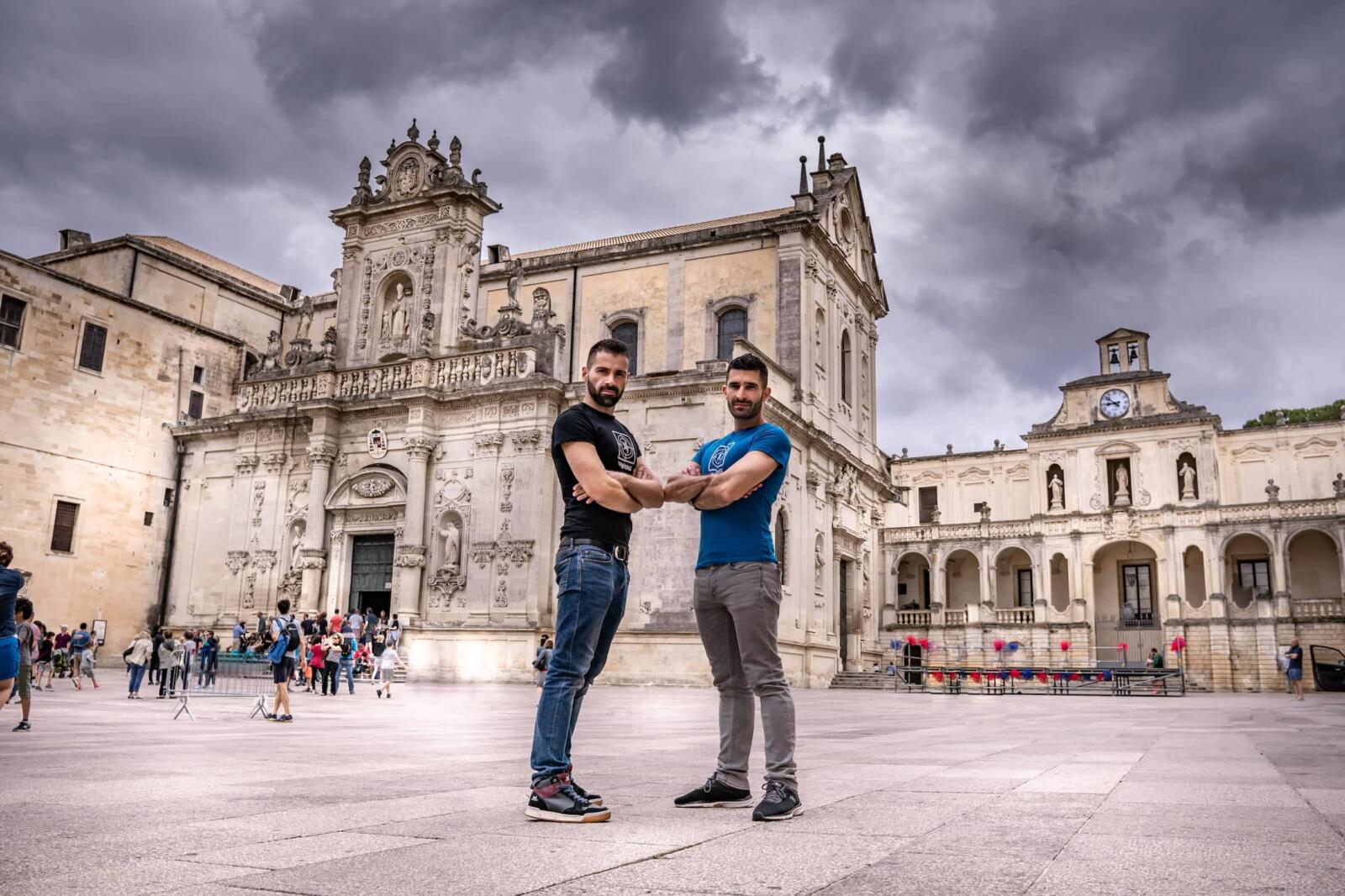 Happy travels are safe travels
We recommend you always take out travel insurance before your next vacation. What happens if you suffer from illness, injury, theft or a cancellation? With travel insurance, you can have peace of mind and not worry. We love World Nomads travel insurance and have been using it for years. Their comprehensive coverage is second to none and their online claims process is very user friendly.
Pin to read later