Our gaydar went absolutely crazy on the beaches in Puglia. Everywhere we looked, these metrosexual studs were posing and just looking absolutely gorgeous…Italian men sure know how to take care of themselves!
Puglia is located in the southeastern region of Italy – the heel of the country's boot. It's a popular holiday retreat and a prime hotspot for gay travellers, particularly Gallipoli. We came here to attend our first gay wedding, so took this as an opportunity to make it a road trip around the region to discover what gay Puglia has to offer.
How gay friendly is Puglia?
Although Italy is a conservative country with regards to LGBTQ rights, over the years, Puglia has become a bohemian playground for gay travellers. There are a handful of gay beaches across the region, as well as many gay hangouts in the main cities, particularly Gallipoli.
Obviously don't come here expecting to find Mykonos/Ibiza style Circuit beach parties. Instead there's a mix of remote beautiful beaches, delicious food, plenty of culture and of course, bronzed Adonises everywhere.
We focused on the sub region of Puglia called Salento, which is the Southern part. Salento stretches from Tarranto on the western side and Brindisi on the east, all the way to the coastal tip. For us we found the best gay beaches and gay hangouts in Salento, particularly around Gallipoli and Tarranto.
One tip for gay travellers to Puglia is to rent a car to get the most out of it. Public transport is very limited, and taxis are expensive. We flew into Bari airport and picked up our car here from Goldcar, who we recommend for the most cost effective prices.
Where to stay: best gay hotels in Puglia
There's a handful of gay friendly hotels to stay in Puglia, including one exclusively gay guesthouse:
STAY WITH A GAY LOCAL
Misterb&b is the Airbnb equivalent for the LGBTQ community. Unlike on Airbnb, you know your host is gay, avoiding any nasty surprises when you check in. It is also a great way to meet gay locals and discover the underground gay scene. Click below to get 10 € (or $10) off your first booking.
Tenuta Monticelli: luxury gay friendly resort in Alezio
Tenuta Monticelli is a hidden gem we were really proud to stumble on. It's set in a large plot of land in the small town of Alezio. Here you're surrounded with nature, olive trees and lots of wildlife. Right in the heart of this private space of land is the resort itself which has 5 luxurious rooms, and a separate building for the breakfast/reception area. There's an outside seating area with terrace and large swimming pool.
We stayed in their superior room, which we highly recommend because you have the entire rooftop area to yourself, which includes a Jacuzzi and stunning 360 views of the Italian countryside around Alezio. To get a feel for the beauty of this place, as well as how massive it is, check out our drone video below. Most importantly, we felt very welcome here as a gay couple.
Rooms at Tenuta Monticelli start from €172/$200. To find out more, check availability and prices, see their Booking.com listing.
Hotel Palazzo is one of the best 5 star luxury boutique hotels in Gallipoli, just outside the old town. It's particularly popular with gay couples visiting the area who want a romantic base in Gallipoli. We were impressed by the many excellent reviews on Booking.com and recommendations by all online gay Italy directories about Puglia.
Hotel Palazzo has everything you'd expect from a luxury hotel – rooftop terrace restaurant, swimming pool, Sky Bar, Technogym, Solarium, and even it's own Winery.
Rooms at the Hotel Palazzo start from €170/$200 a night. Read more about it and check prices and availability on Booking.com.
For more, check out our gay hotels in Puglia guide.
Monteforte Resort: luxury gay friendly boutique hotel in Ugento
Ugento is a really cute town in the middle of the Italian countryside of Puglia. We stayed here because it's the ideal place to get a feel of local Italian life in Puglia. Of course it also helps that it's so stylish; every room is designed with a particular colour theme, decorated so that everything is beautifully matching.
Breakfast is served upstairs on the restaurant rooftop. Now this is a real treat. Not only is the food fresh and delicious (their pastries are orgasmic!), they have a Jacuzzi where you can lounge all day long and enjoy the views across Ugento.
Rooms at the Monteforte Resort start from €120/$140. Read more about it and check availability and prices on Booking.com.
This was the only exclusively gay hotel in Puglia we could find. It's owned by gay couple Angelo and Umberto, located next to the gay beach of D'Ayala, around 1 hour drive north from Gallipoli and 45 minutes south from Taranto. Lune Saracene only has 3 rooms, which makes it very personable and homely.
Rooms at Lune Saracene start from €50/$58 a night. For more information about rates and availability check their website and their Tripadvisor listing.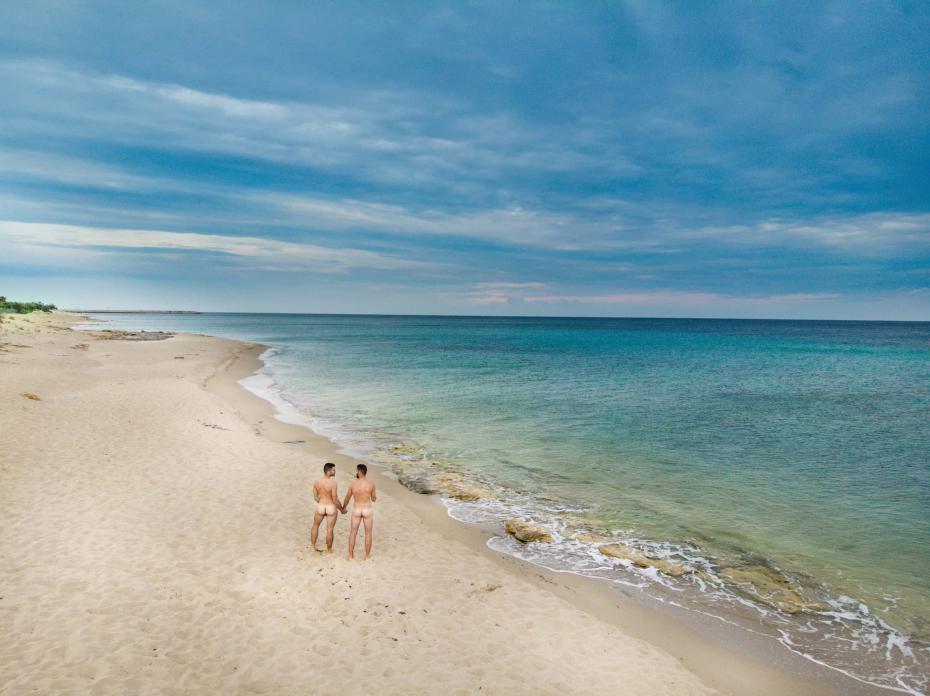 Sotto Sopra: good budget gay friendly hotel in Gallipoli
The best gay friendly budget option we found in Gallipoli is Sotto Sopra, who openly advertise their guesthouse as being "gay friendly" on their website. It's located just outside of Gallipoli old town and has many excellent online reviews.
Rooms at Sotto Sopra start from €43/$50. To find out more and check availability/prices, see their Booking.com listing.
Best gay beaches in Puglia
There are a handful of gay beaches in Puglia, mainly scattered around the Salento region:
For more, check out our article about the best gay nude beaches in Italy.
Best gay bars and clubs in Puglia
Most cities across Puglia have a gay bar or club. We've listed the ones we could find in order of the city we located them in, starting with the most popular – Gallipoli:
Gay events in Puglia
These are the two main gay events in Puglia we could find:
Touristic highlights of Puglia
Most of our favourite tourist attractions in Puglia are in and around Salento. For a more detailed guide, check out our sightseeing highlights of Puglia for gay travellers.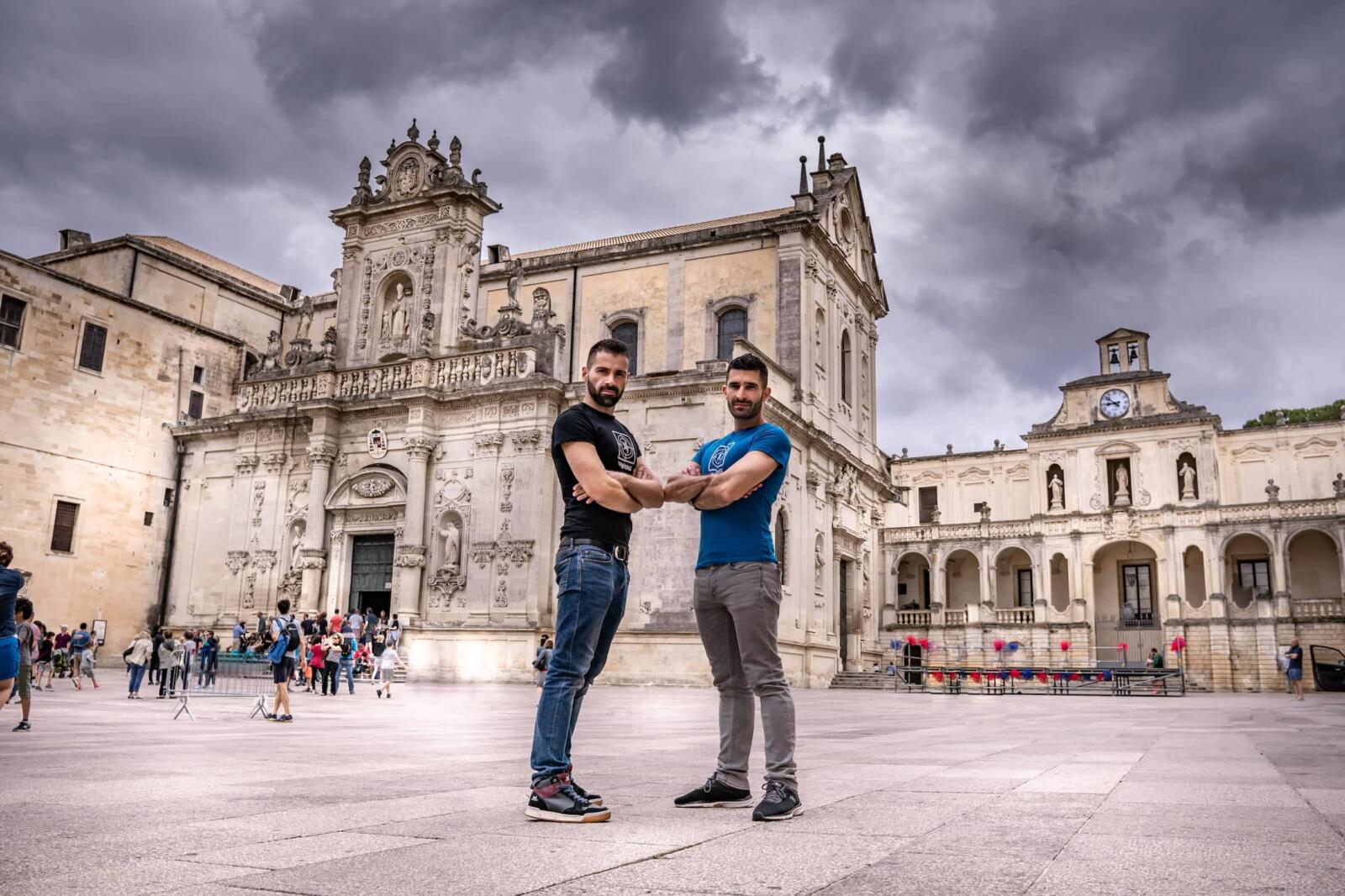 OUR FAVOURITE TRAVEL TIPS
⭐️ TRAVEL INSURANCE — We recommend you always take out travel insurance before your next vacation. What happens if you suffer from illness, injury, theft or a cancellation? With travel insurance, you can have peace of mind and not worry. We love World Nomads travel insurance and have been using it for years. Their comprehensive coverage is second to none and their online claims process is very user friendly.
⭐️ SAFETY & SECURITY — All travelers (gay or not) can sometimes encounter danger when traveling. CloseCircle is your "virtual body guard" mobile app which provides security alerts and support wherever you are in the world. They have a 24/7 emergency response team monitoring their users who will contact you immediately if the SOS swipe button is activated. Support can include anything from practical advice, to free evacuation from areas with extreme weather or security risks. You can read more about CloseCircle in our article about how to stay safe whilst traveling.
⭐️ ONLINE ANONYMITY — A VPN (Virtual Private Network) is a must in many countries: it allows you to surf anonymously and maintain your privacy whilst traveling. You'll particularly need it in countries where gay dating apps are blocked by the government. We recommend ExpressVPN, a reliable and cost effective service which we used and loved during our travels.
⭐️ HOTELS or APARTMENTS — When we plan a trip, we always look for the best hotel deals. We love Booking.com because not only do they have a comprehensive listing of accommodation options, they also offer the best prices. Added bonus: they provide 24/7 support and free cancellation for most listings.
⭐️ SIGHTSEEING and ADVENTURES — When we travel somewhere, we like to seek out the best experiences, whether it is cooking with locals in Bangkok, hiking on a glacier in Patagonia, or going on a wildlife safari in Sri Lanka. Our favorite place to look is GetYourGuide because they have over 30,000 highly rated activities, a user-friendly booking process with free cancellation and a 24 hour customer support.
This article contains affiliate links. If you click on them, we may receive compensation which keeps our website alive and helps us bring you to more destinations.
Pin to read later