Our gaydar went absolutely crazy on the beaches in Puglia.
Everywhere we looked, these metrosexual studs were posing and just looking absolutely ripped…Italian men sure know how to take care of themselves!
Puglia is located in the southeastern region of Italy – the heel of the country's boot. It's a popular holiday retreat and a prime hotspot for gay travellers, particularly Gallipoli. It's also stunning, full of UNESCO sites like Alberobello, pretty cities like Lecce, lush landscapes like the Grotta della Poesia, and some of the best food of the entire country…orecchiete anyone?
To get a flavour of gay Puglia, we recommend watching the 2010 Italian movie, Loose Cannons ("Mine Vaganti") about a bourgeoise family in Lecce coming to terms with their two gay sons… You'll laugh your socks off, but will also get some fantastic inspiration about the region. We also help to inspire you with our detailed gay guide to Puglia setting out our first-hand experience of the gay scene out here, the best gay hotels to stay, beaches, events and more.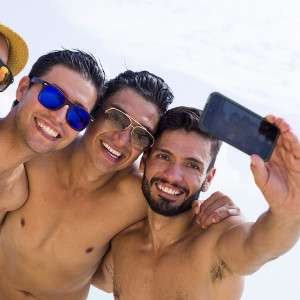 Discover Puglia on a gay tour:
Our buddy Sergio is one of the craziest human beings we've ever been fortunate to meet, and we love him! He has his own gay tour company based in Puglia and organises many different trips for gay travellers throughout the year. We highly recommend joining one of them: foodie tours in Lecce, a gay bike tour across Puglia, gay yoga retreats, and so much more!
Is Puglia safe for gay travellers?
Yes it is! Whilst Italy is a conservative country with regards to LGBTQ rights, over the years, Puglia has become a bohemian playground for gay travellers. There are a handful of gay beaches across the region, as well as many gay hangouts in the main cities, particularly Gallipoli.
Obviously don't come here expecting to find Mykonos/Ibiza style Circuit beach parties. Instead, there's a mix of remote beautiful beaches, delicious food, plenty of culture and of course, bronzed Adonises everywhere.
We focused on the sub-region of Puglia called Salento, which is the Southern part. Salento stretches from Tarranto on the western side and Brindisi on the east, all the way to the coastal tip. For us, we found the best gay beaches and gay hangouts in Salento, particularly around Gallipoli and Tarranto.
One tip for gay travellers to Puglia is to rent a car to get the most out of it. Public transport is very limited, and taxis are expensive.
Getting around Puglia
The most convenient way to explore the region of Puglia is by renting a car and driving from town to town. This way you'll be able to get to hidden gems not as accessible by public transport and stop wherever or whenever you fancy!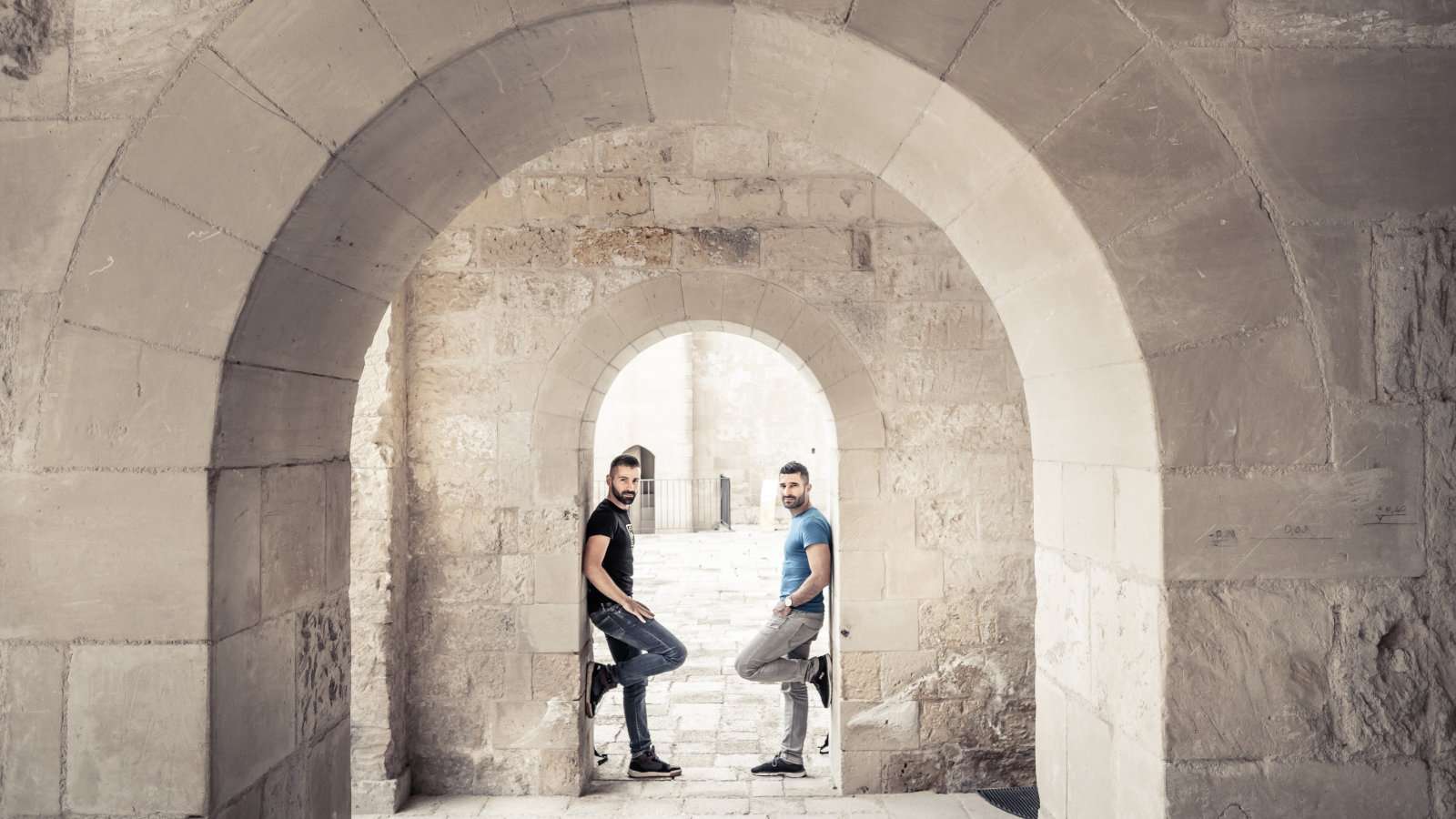 Gay hotels in Puglia
Puglia is a gay travel hotspot in Italy with a ton of gay-friendly accommodation options available to choose from across the region. From luxury resorts to down-at-heel gay B&Bs just a stone's throw from the hotties on the beach, Puglia hotels feature every kind of option any queen could need!
These are some of the best gay hotels and gay-friendly accommodation in this stunning corner of Italy which we tried, loved and highly recommend:
01
Tenuta Monticelli
in Alezio
Why we love it
---
Beautiful isolated location
Opulent rooms
Near to gay nightlife hubs
Attentive, professional staff
Tenuta Monticelli is a stunning place to stay that totally took us by surprise.
Located close to a lovely little town named Alezio, this gorgeous, gay-friendly boutique hotel sits amid the lush countryside of Puglia.
Close to Gallipoli, this is the ideal spot to recharge after some wild nights out down at the beach or in the gay nightlife spots of this vibrant coastal town.
It goes without saying that we felt extremely welcomed by the staff at Tenuta Monticelli, who were non-judgemental and incredibly professional.
The fact that Tenuta Monticelli has just five rooms means you really feel attended to at this luxury accommodation. Their rooms are luxurious, with superior options providing a private rooftop terrace including a jacuzzi from which jaw-dropping views of the rural surrounds provide the most romantic backdrop. As you can imagine, we really made the most of this private, romantic set-up!
For us, Tenuta Monticelli had one of the most gorgeous pool areas of any place we stayed in Puglia. You truly feel isolated in this area of the hotel, swimming with nothing but the sound of the birds and views of rural Puglia. With an outdoor shower and sun loungers that are tailor-made for catching some rays, you can enjoy some much-needed rehab after a wild night out in Gallipoli, ready to go again later…
02
Monteforte Resort
Ugento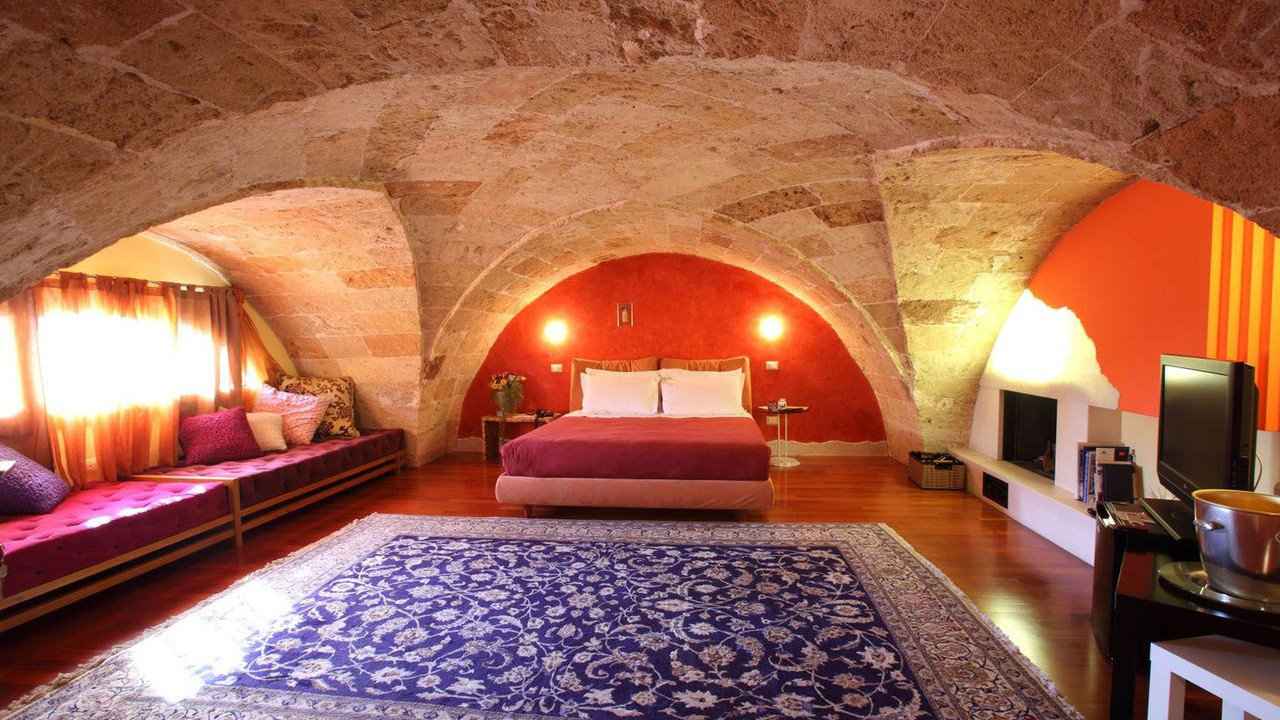 Why we love it
---
Luxury rooms
Rooftop massages available
Close to gay beaches
Delicious breakfast served on the rooftop
Monteforte Resort is a beautiful boutique hotel that offers you the chance to get up close and personal with rural Puglian life.
Through melding modern luxury with classic Italian farmhouse vibes, Monteforte manages to create a truly unique place to stay that's ideal for gay couples seeking a romantic hideaway.
The fact that Monteforte Resort is close to gay hotspots in Puglia like Gallipoli and Spiaggia d'Ayala makes it the perfect spot to recharge after late nights partying and mingling with local hotties on the sand or the dancefloor!
The rooftop is where all the real action happens at Monteforte Resort. In fact, there is a veritable pleasure zone atop this boutique hotel! With the expertly trained staff providing sensuous massages (alas, you can't choose from who), there is a gorgeous jacuzzi area too that offers great views of the local countryside. For us, sipping a nightcap whilst taking a long hot soak together was one of our most cherished Puglian memories!
The rooftop at Monteforte Resort is also the place to grab your meals at the hotel, which includes an especially sumptuous free breakfast that makes the most of the region's delicious fruits, cheeses and of course, pastries!
Without a doubt, a stay at Monteforte Resort is a great way to enjoy Puglia and the gay hub of Salento in particular. The staff are professional and discreet, with many of them gay. You never know, maybe you'll bump into that hot waiter one night down at the beach club…
03
Lune Saracene Bed and Breakfast
Maruggio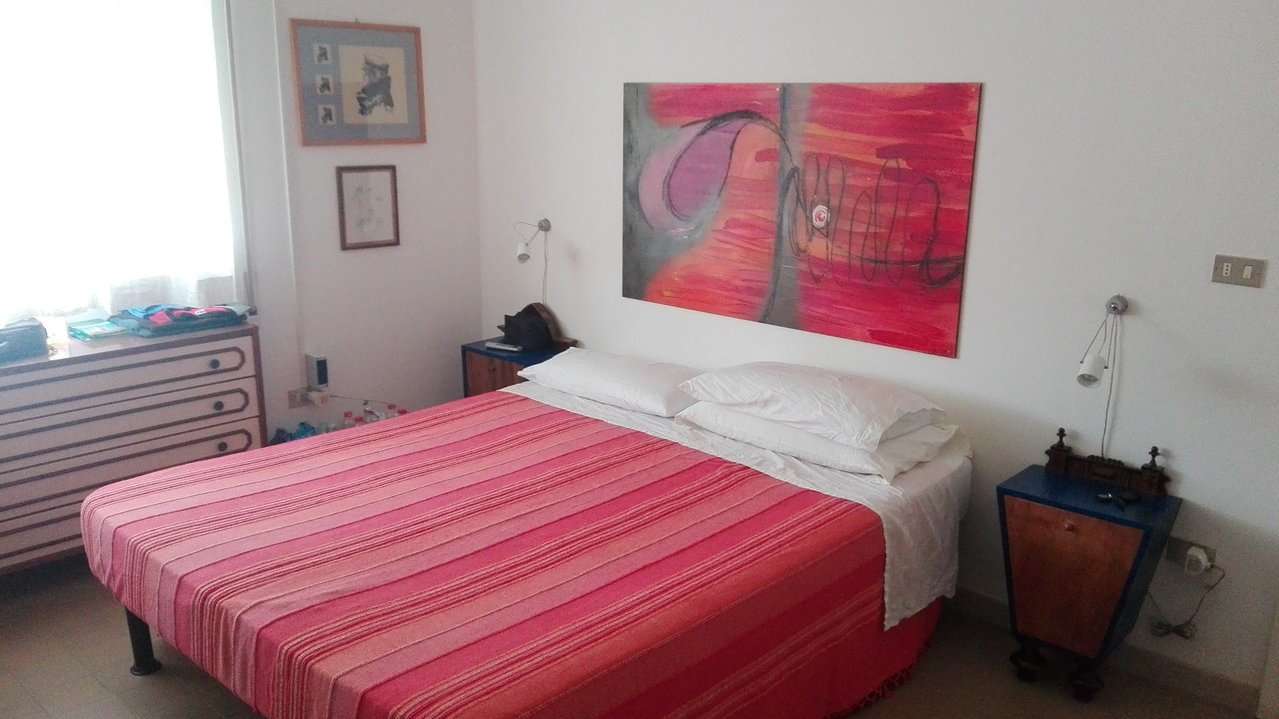 Why we love it
---
Gay, male-exclusive B&B
Cool, artsy vibe
Great value
A stone's throw from Commenda
This budget B&B is Puglia's first and only male-exclusive gay guesthouse, sitting just off the famous gay beach of Commenda.
For gay boys visiting Puglia, a visit to this gay hub is an absolute must. The men here truly know how to look after themselves… Think six-packs abs, teeny-weeny speedos and tans that will make you drool!
Owned and operated by gay couple Angelo and Umberto, Lune Saracena is a simple yet clean and ambient place to stay. What's more, nudism is encouraged here and with the beach just a hop, skip and a jump away, there's barely any need for clothes whatsoever!
The three basic but well-designed and decorated rooms here are perfect if you're traveling as a group of gay guys who want to stay together in the same beach-front accommodation. You can chill in the garden or hang around with Angelo and Umberto, who we found willing to tend to our every need…
Yanny's Club is a popular spot for queens in Commenda and parties here can go on until the early hours with the place packed with lots of muscular, bronzed Adonises the whole summer long!
Whilst Lune Saracene may not be for you if you're looking for luxury, the artsy and laid-back vibes at this beachfront guesthouse make it a real winner in our books. Add to this the great value and the fact that Lune Saracane is something of a gay hotspot on Commenda, it's easy to see why we rate it so highly.
Best gay beaches in Puglia
Puglia is renowned for its stunning beaches, with more and more tourists beginning to flock to this once undiscovered corner of Italy. Gay beaches are plentiful, with each possessing its own unique character and attracting a different crowd.
Most gay beaches in Puglia are scattered around the Salento region, which is also the area where Puglia's finest beaches can be found. This means you can look forward to white sands, crystalline water and tanned Sun Gods by the boatload!
For more, be sure to check out our detailed guide about the best gay beaches in Italy.
D'Ayala Beach
Our favorite gay beach in Puglia, D'Ayala Beach is about an hour north of regional hub Gallipoli (and 45 mins drive from Taranto City). If you're coming by car, best to search for 'Spiaggia D'Ayala' – the official name – in your GPS.
As D'Ayala Beach is separated from the main road by a forest, it's super private and a haven for nudists, meaning there's plenty of great scenery to enjoy here! Certainly, D'Ayala is a center for gay guys in Puglia looking to mingle and have some sun-soaked fun.
Torre Guaceto
Located on the opposite side of the Salento peninsula (around 25 mins drive north from Brindisi) is Torre Guaceto, a gorgeous stretch of sand that attracts queens from across Italy and beyond! Although quite remote, Torre Guaceto is worth the trek as it is a popular spot for nudists and gorgeous gay guys who come here to show off their toned abs and bulging biceps in the tiniest of speedos!
Park your car at Penna Grossa beach as you drive in from the Torre Guaceto junction. From here, walk south for around 45 minutes and you will reach this gay hub of eastern Salento.
Lido Zen in Gallipoli
Although not explicitly a gay beach club, Lido Zen attracts a young, liberal crowd who don't bat an eyelid when a group of queens turn up or a gay couple feel like sharing a kiss! Close to Gallipoli town and boasting great facilities, this place is ideal for those days when you just can't be bothered to trek across Salento for your gay beach fix!
What used to be a gay beach club in Gallipoli (and is still being reported as such by other LGBTQ online guides) dramatically changed its tune recently. Following a change of management, they've appeared to move away from their previous "gay" image by asking gay couples who were kissing to leave. As if that wasn't bad enough, they also asked gay clients not to tag G Beach in their social media posts. A sad sign that homophobia remains strong in parts of Italy…one to avoid!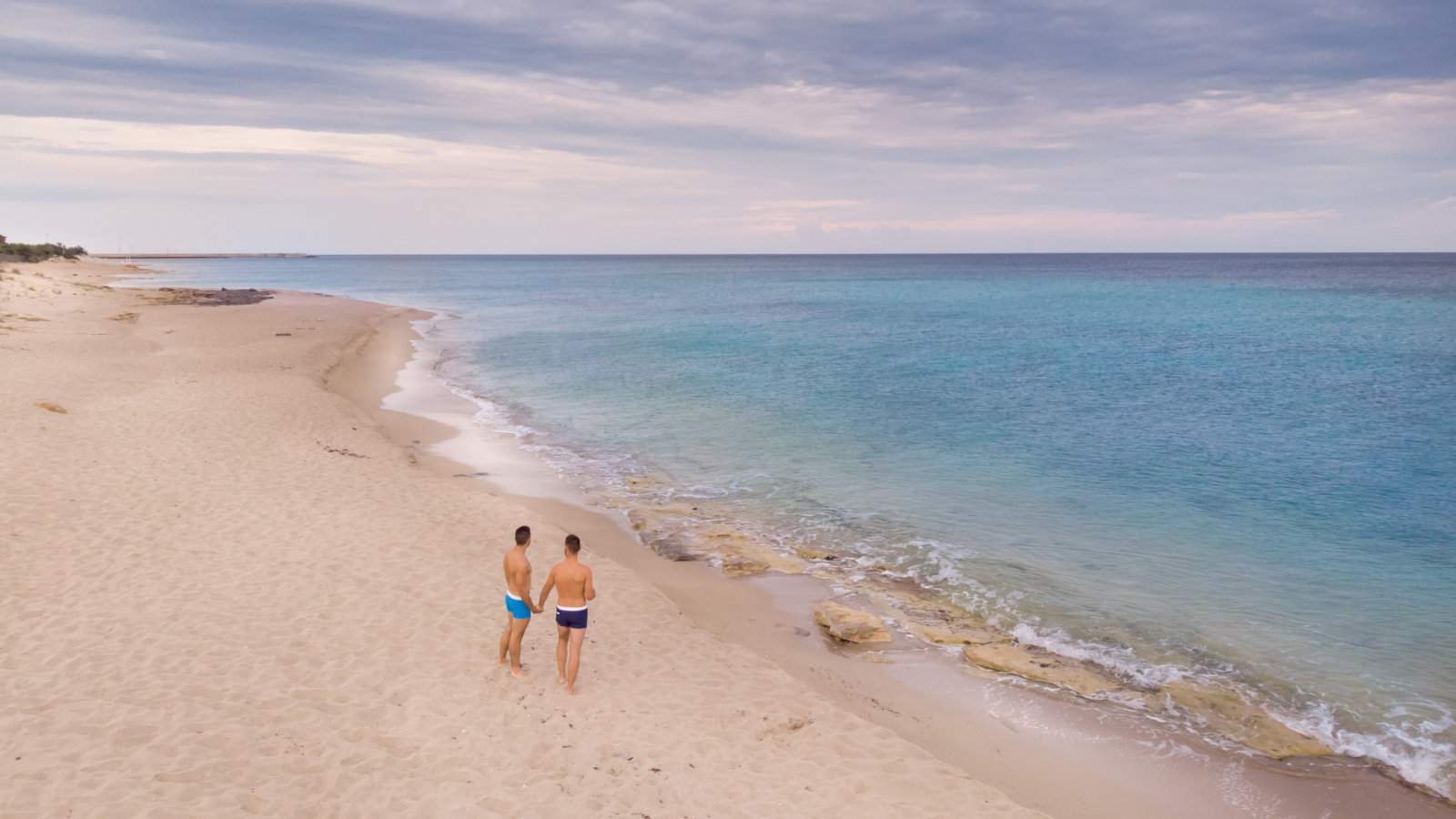 Best gay bars in Puglia
As a firmly established fixture on the gay tourist trail, Puglia is home to some fabulous gay bars. Whether you seek late-night hysteria or something a little more cosmopolitan, we're sure that you'll find it in the best gay bars of Puglia.
The best gay bars are located in the major hubs of Puglia, such as in Bari, Lecce and Gallipoli, a must-visit for any fun-loving gay boys in the area.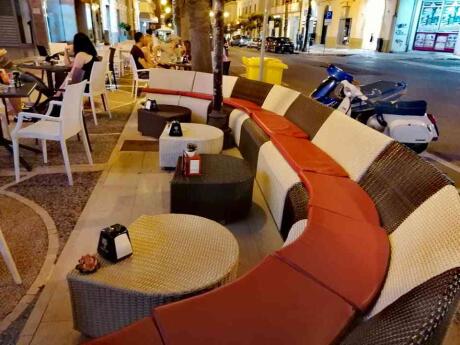 The action at this renowned Gallipoli gay bar starts early, with most of the fun spilling onto the packed terrace out front. This makes Bellini a great place to start the night and meet other gay guys to see where the party is at later on! Indeed, Cafe Bellini is a Gallipoli haven for gay boys both local and foreign, so you really have to visit for a cocktail (or three!) whenever you're in town.
Location: Corso Roma, 11, 73014 Gallipoli LE, Italy
Open: Daily from 11am to 11pm
---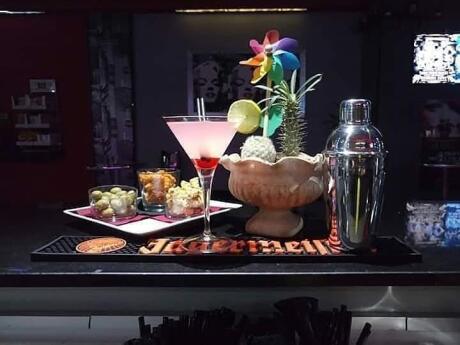 Named after the Queenpin herself, this gay bar is located in Lecce, perhaps Puglia's most beautiful and cosmopolitan city that's just a 40-minute drive from Gallipoli. Marilyn attracts the hottest gay guys from across Lecce and Salento, making it easier than ever to meet tanned studs looking for some summer fun! The cocktails and food here are great, so come early for a bite to eat before revving up for a late one because the party at Marilyn goes on until the wee hours.
Location: Via Giovanni Presta, 23, 73100 Lecce LE, Italy
Open: Monday from 6:30am to 3pm, Tuesday to Saturday from 6:30am to 3pm and then from 6pm to 2:30am, Sunday closed
---
Best gay clubs in Puglia
Across Puglia, gay clubs are located in the region's major hubs. You're sure to find some amazing parties here, teeming with handsome studs!
Gallipoli, Lecce and Bari are the main areas for gay clubs, with queens from across Puglia flocking to these hotspots for no-holds-barred fun into the early hours of the morning. From enormous superclub set-ups to smaller city center fun boxes, we've set out some of the best gay clubs in Puglia to check out: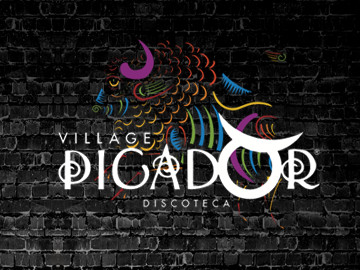 Situated just ten minutes outside of Gallipoli, Village Picador is perhaps the wildest of all gay clubs in Puglia. It's only open during the peak months of summer, so you know you're bound to be surrounded by a ton of handsome locals and tourists sporting their finest tans! With two dancefloors and its own car park, Village Picador is an enormous space that gets seriously hedonistic from June to September. It's tough to know when the best nights are going to come around here, so we recommend heading over to LED Cafe in Gallipoli beforehand to see if it looks set to go down or not.
Location: Sp 289 Località Fontana Gallipoli, 73057 Taviano LE, Italy
Open: Varies
---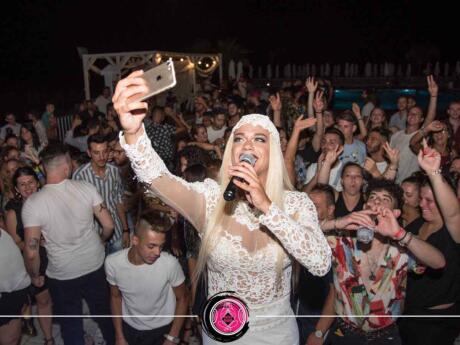 A legendary gay night taking place on a beach close to Bari. Pacha Mama only goes down on Saturday evenings so you're guaranteed to see a packed event brimming with eager, delicious beefcakes from across all of Puglia! Theme nights here include "Men At Work" with drag animation in addition to live DJ sets and hot Go-Go dancers. It's safe to say that your eyes are going to be busy on a night out at Pacha Mama…
Location: Contrada Le Paludi, 6, 76121 Barletta BT, Italy
Open: Saturday from 10pm til late
---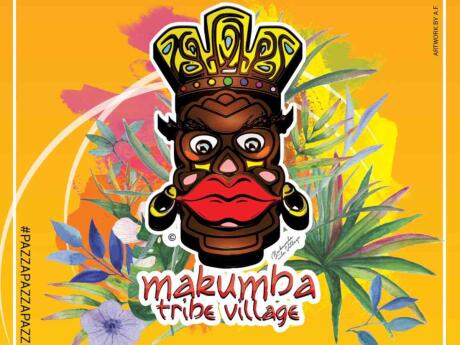 Drag queens and dancers abound at this fortnightly event taking place inside the Bari Aquapark. Makumba Parties have been a gay staple in Bari every other Saturday since time immemorial and the fun is just as wild nowadays as ever! Expect to meet an international crowd of gay groups with their queen bees as well as local singles and couples partying the summer nights away at this Bari gay scene hotspot.
Location: Prolungamento, Via Caldarola, 6, 70126 Bari BA, Italy
Open: Every second Saturday from 10pm til late
---
Gay saunas in Puglia
As a liberal region of Italy and a hotspot for gay travel, you might think that Puglia would be home to a plethora of exciting gay saunas. Alas, that isn't so and at the time of writing, there is only one of any note in the region. We hope that by the time you head over, there will be a thriving gay sauna scene for you to dip into and report back to us on!
This clean, modern sauna in central is situated across two floors and attracts a wide variety of local gay guys seeking to relax and meet new people. With a variety of treatment rooms as well as a dark area and bar, Millennium Gay Sauna is sure a fun place to spend a couple of hours in this vibrant city.
Location: Via Adriatico, 13, 70132 Bari BA, Italy
Open: Tuesday to Sunday from 3:30pm to 10pm, Monday closed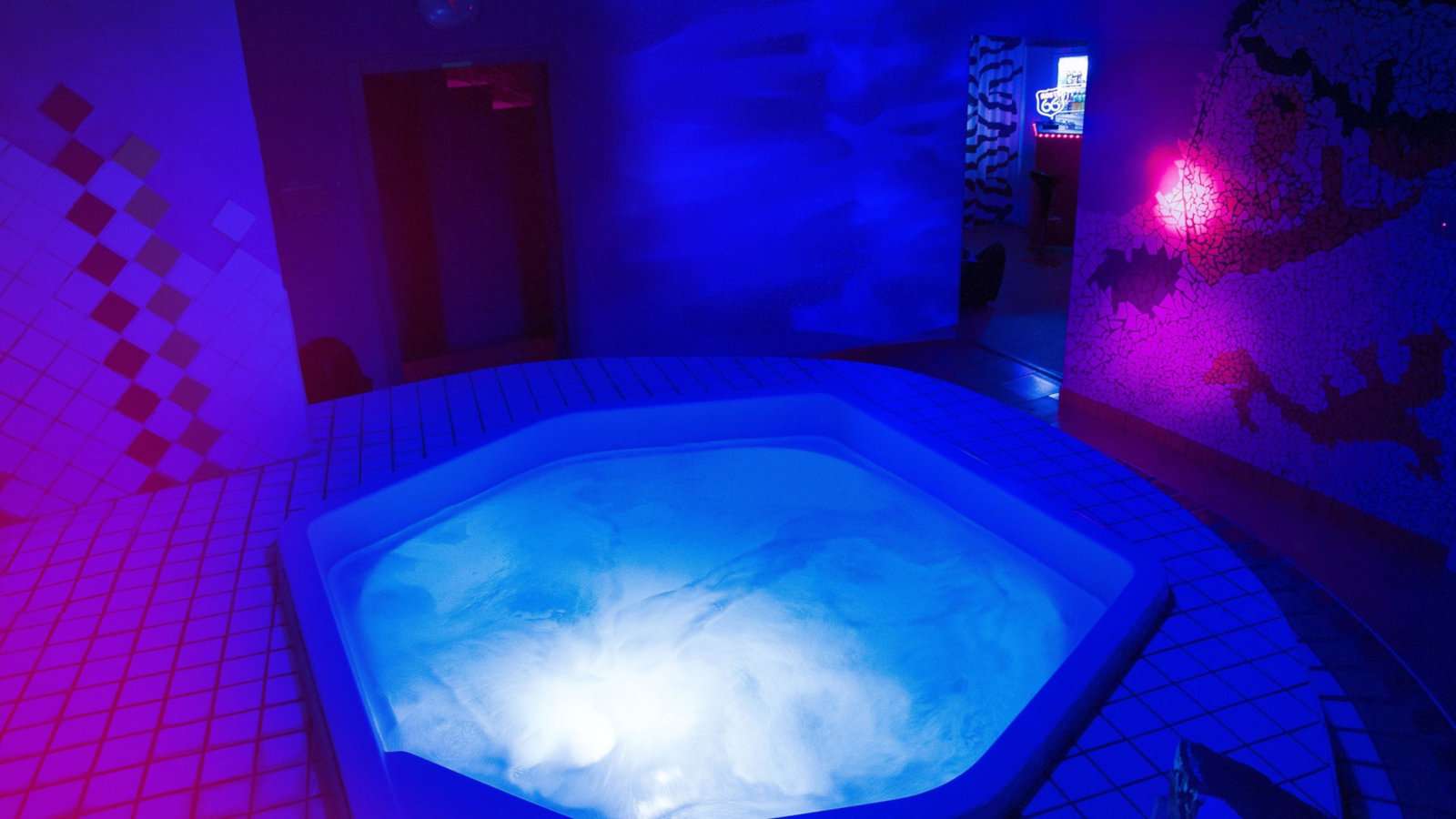 Gay Pride and other events in Puglia
Due to the fact that Puglia is quite an open-minded area of Italy that attracts gay boys from across the globe on their travels, Gay Pride and other events are big news in this part of the world. This means fabulous parades, plenty of dressing up and, of course, flocks of studs teeming into the area from all over the place. Let's take a look at some of the main gay events taking place in Puglia.
These are the two main gay events in Puglia we could find:
This three-day bonanza event is a must for gay guys visiting Puglia in late summer. Comprising all sorts of parties including boat parties, dinners and club nights, it is one of the premier exclusively gay summer parties taking place not only in Puglia but anywhere in Italy! Of course, you don't need us to tell you that this means boatloads (literally!) of tanned Italian and international studs partying into the early hours for three days straight in nothing but their favourite swimsuits…
By now it's common knowledge that Salento is the hotspot for gay guys in Puglia. Naturally then, it only makes sense that Salento has its own Gay Pride festival taking place every August in Gallipoli, the gay capital of the region! Featuring a massive parade, parties, and all kinds of hedonism, Salento Pride is one of Italy's biggest Pride celebrations and brings together gorgeous guys from across the nation to celebrate their sexuality on sunny, sandy beaches.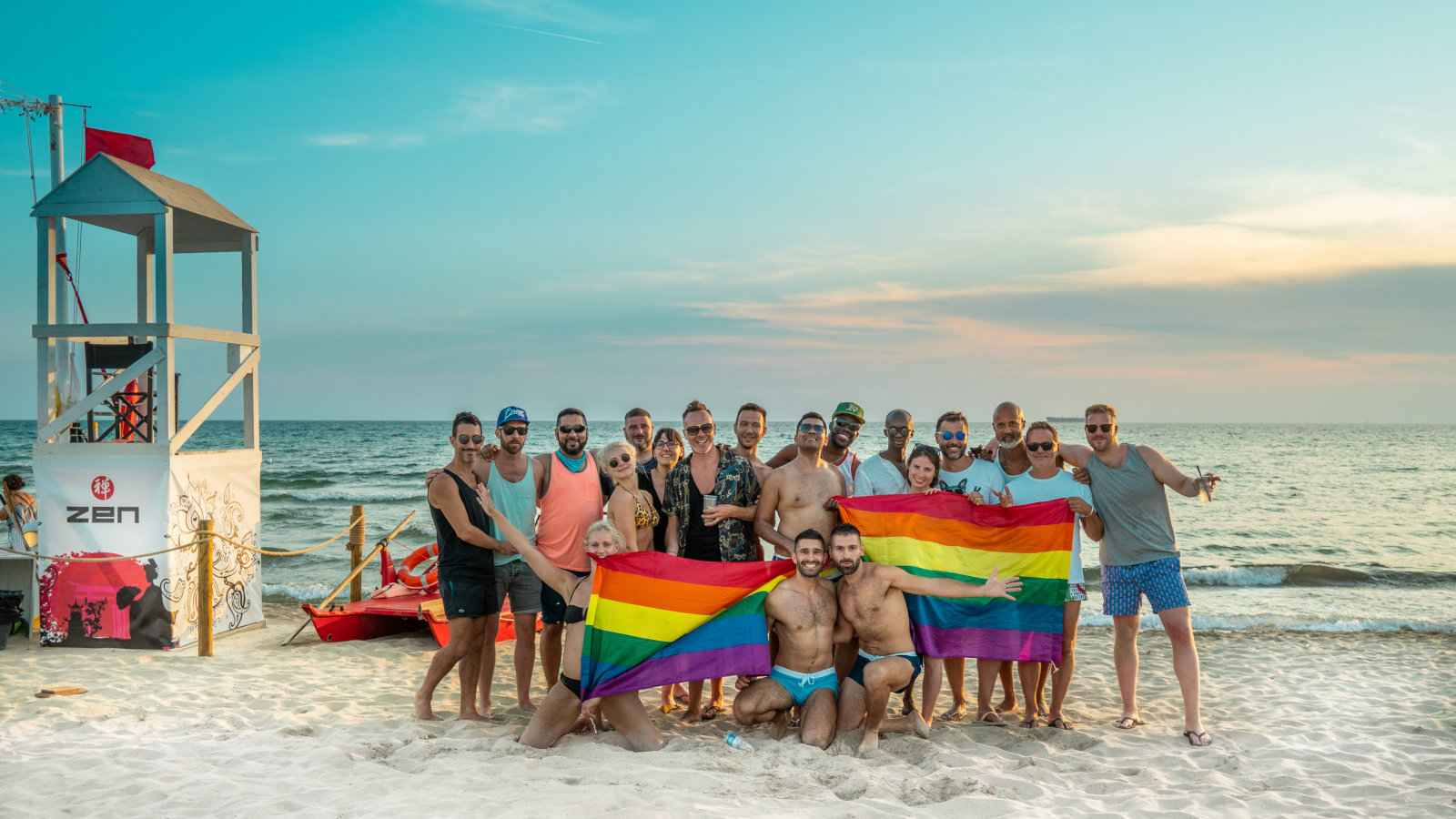 Gay travel agency in Puglia
If you need a local Italian gay tour company to show you around and help you flesh out your itinerary, we recommend our buddy Sergio. As well as being a gay local, he's also born/bred in Puglia and knows the region like the back of his hand. Sergio can put together an itinerary for your Puglia trip and to other parts of Italy. He also has a variety of excellent gay tours happening throughout the year which we strongly recommend joining. A fabulous way to discover Italy and quickly make friends.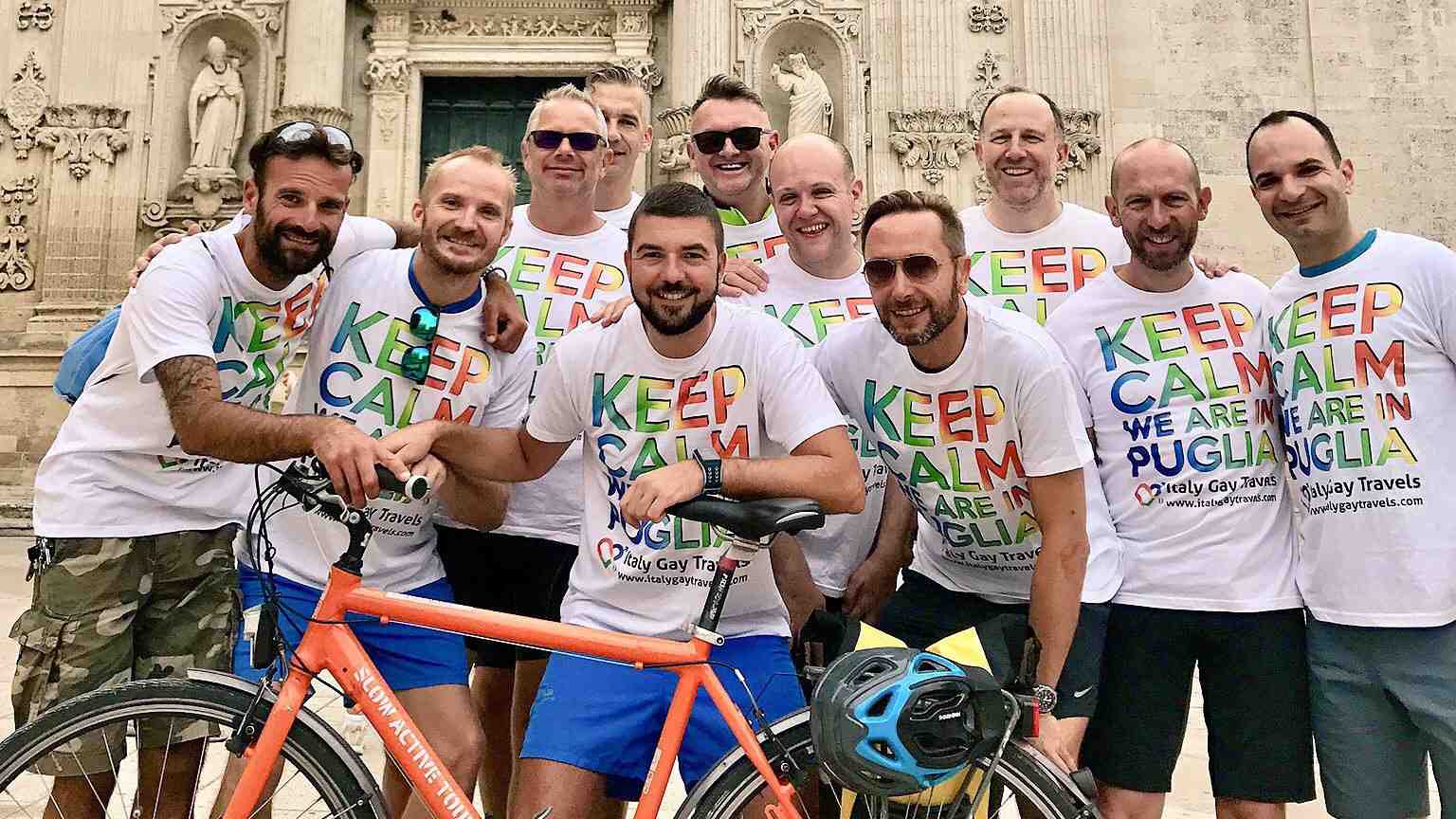 Top things to do in Puglia for gay travellers
Puglia is the heel of long-legged Italy and one of the country's underrated gems. It has plenty of gorgeous beaches, delicious food and unique architecture to explore, with far fewer crowds than in Venice or Rome.
Puglia is famous for producing around 40% of Italy's olive oil, as well as bread and pasta, which is why it is nicknamed the "breadbasket of Italy". It also has one of the longest coastlines of Italy with over 500 miles (800km), so you just know you're guaranteed to find many excellent beaches here! There is so much to see and do in this remarkable region of Italy. We summarise some of the highlights here:
Foodie tour around Puglia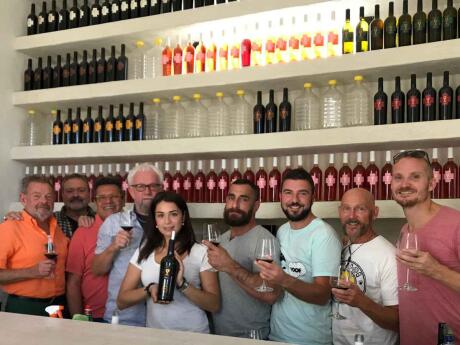 As passionate foodies, we knew we were in for a treat when we heard Puglia's nickname is "the breadbasket of Italy". It comes from the fact that Puglia produces over 80% of the country's pasta. One of our favourite culinary prizes we recommend you try is the ear-shaped "orecchiette", which literally translates to "little ears". Puglia is also renowned for its cheeses including Canestrato Pugliese, Burrata di Andria and Fallone di Gravina. We also recommend joining a gay foodie tour to learn more about the delicacies of the region!
---
Lecce: exploring unique Baroque architecture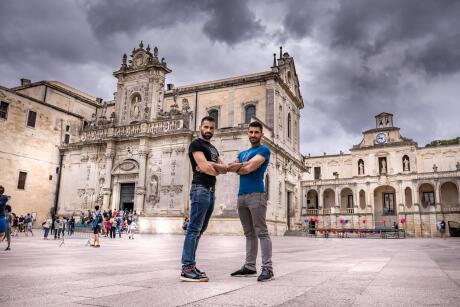 Lecce was our cultural highlight of Puglia. It's a UNESCO listed site full of Baroque style buildings, cute narrow cobblestone roads, Roman ruins and impressive churches. As such it is nicknamed "the Florence of the South". The main sites to look out for include the Piazza del Duomo main square and Lecce Cathedral. To get a flavour for Lecce, we recommend you watch the 2010 film called "Loose Cannons" ("Mine Vaganti") about a family in Lecce who own a pasta-making business and also have two (very cute!) gay sons.
---
Ostuni: experience a gay yoga retreat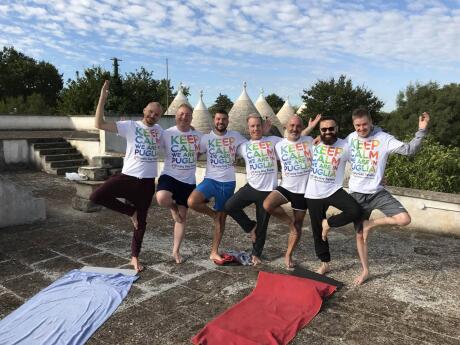 We loved exploring the narrow cobblestone streets of Ostuni's whitewashed old town. It's perched on a hill, fortified by ancient walls. It dates back to the pre-classical period, was subsequently destroyed by Hannibal and then rebuilt by the Ancient Greeks, who named it Astynéon, meaning: "new town". In fact, Ostuni's modern-day nickname is "La Città Bianca" ("the White Town") because of the many Greek island-like white-painted buildings. If you join a gay yoga retreat you'll also have time to explore Ostuni in between those asanas!
---
Alberobello: exploring the famous trulli huts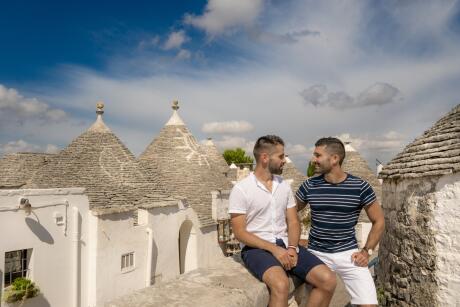 A trullo is a stone Hobbit-like hut with a conical roof, unique to Puglia, especially in the Itria Valley. The trulli (plural of trullo) are a UNESCO listed site and are mainly found in Alberobello, which has over 1,500 trulli, some dating back to the 1300s. Today the trulli are preserved as inns, souvenir shops, cafes and restaurants. They are so iconic to the region as well as very Instagrammable! We recommend heading up to the balcony of one of the trulli cafes for the best views.
---
Otranto: pretty seaside town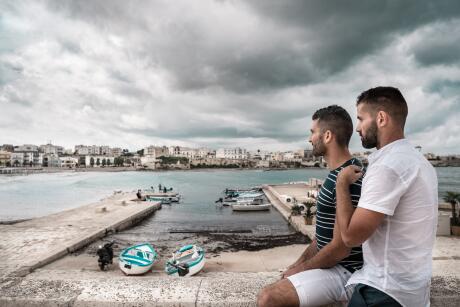 Otranto is a pretty coastal town in Puglia famous for its Aragonese Castle, which dates back to the 1400s. It also has an impressive 11th-century Cathedral which also attracts large crowds. The old town has many small winding streets, which are fun to get lost in. We particularly loved the harbour area, which is a nice spot to get a bite to eat, coffee or a romantic sunset cocktail. The views of the fishing boats out in the water are particularly picturesque.
---
Polignano a Mare: famous cliff diving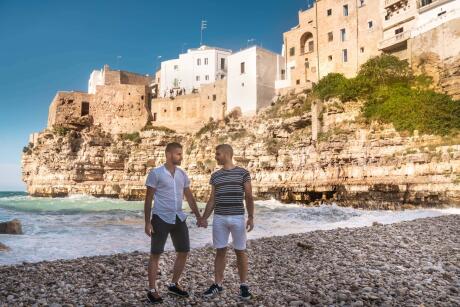 Polignano a Mare was one of our favourite coastal towns in Puglia. It has a pretty dramatic and picturesque beach, surrounded by cliffs, where the waves come crashing onto the rocks. This spot is also famous for cliff diving and has even hosted the famous Red Bull diving competition, attracting huge crowds of around 50,000. Polignano a Mare also has a cutesy old town with lots of cafes to hang out at and watch the world (also, super-hot local guys) go by…
---
Grotta della poesia: swim like a mythical Princess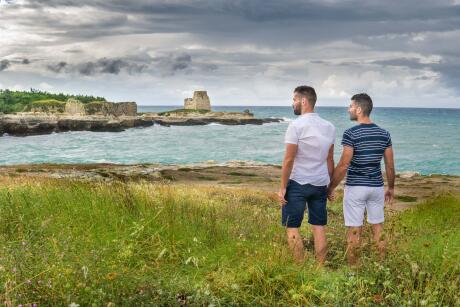 The "Grotta della Poesia" in Roca Vecchia is a 100-foot wide sinkhole at the edge of the sea. According to legend, this used to be the favourite swimming spot for an ancient princess. The sight of her swimming inspired poets, hence the name "Caves of Poetry" (Grotta della Poesia). On the North side of the cove is an archaeological site with ruins of an ancient city dating back to the 4th Century BC, which is thought to have been an important place of worship.
---
Castel del Monte: the back of the one cent coin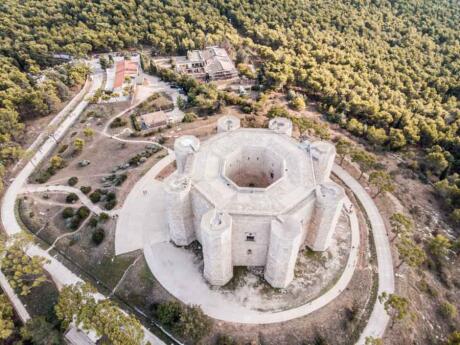 Currency-collecting geeks, listen up! The back of the Italian one-cent coin? That's Castel del Monte, an impressive UNESCO listed 13th-century citadel located on a hill in Andria at an altitude of 1,770 feet (540m). It was built in 1240 by King Frederick II of Swabia. Its layout is famous for its mathematical and astronomical precision, which also has a perfect octagonal shape. Castel del Monte is also where the 2015 Salma Hayek fantasy movie Tale of Tales was set.
---
Plan your trip to Puglia
We've put together some handy hints and tips to help you plan your own trip to Puglia. Read on to find out everything the gay traveller should know before they go.
How to get there: There are two main airports in Puglia, in Bari and Brindisi, so it's relatively easy to fly into the region from most parts of Europe. If you're already in Italy you can also drive, catch a train or even a ferry to the heel of the boot. We recommend hiring a car to explore as you'll be able to reach more beautiful and remote spots than you can access via public transport.
---
Visa requirements: Travellers from the United States, Australia and New Zealand don't need a visa for stays in Italy for up to 90 days, so you can easily visit Puglia. Members of the Schengen Zone can also travel freely in Italy but if you're coming from somewhere else (or just want to be sure) make sure you check your personal visa requirements beforehand.
---
Getting around: As we've mentioned, while there are bus, rail and ferry routes between parts of Puglia, the easiest way to explore is by renting a car. If you really don't feel comfortable driving then the official Puglia tourism website has helpful links to all the public transport options to help you plan your movements.
---
Power Plugs: In Puglia (and the rest of Italy) you will find the regular European power plug/socket. If you're travelling to Italy from North America, the UK, Australia or some Asian countries then you will need to bring a travel adaptor with you.
---
Travel insurance: We definitely recommend getting travel insurance for any trips because you just never know when something might go wrong, whether it's just lost luggage or something more serious. We personally love to use WorldNomads Travel Insurance (and have been for years) as their cover is so comprehensive and it's easy to make a claim online.
---
Safety and Security: Even with the security of travel insurance, sometimes things happen when you're travelling where you require immediate assistance. We use the CloseCircle "virtual bodyguard" app when we're travelling because they offer everything from advice to evacuation, all from an app on your phone. Find out more about CloseCircle in our post on staying safe while travelling.
---
Currency: The currency in Italy is the Euro, like most countries in Europe. Generally, €1 converts to around $1.10 US or about 89 pence in British Pounds.
---
Tipping culture: Tipping isn't generally required when travelling in Italy, although it's starting to become more expected in popular destinations due to the large influx of American tourists. You won't need to tip very much, maybe just €1 or so. For a full guide to tipping in Italy, check out this article.
---
Internet access: Most hotels, restaurants and cafes in Puglia will offer free WiFi and you can find a map with free hotspots here as well. If you know you'll need to get some work done or just require reliable internet access then we suggest bringing a portable WiFi device with you.
---
Accommodation: There are lots of other great places to stay in Puglia, so make sure you check out Booking.com if you want to see even more options. We love using them because they have excellent online support, it's really easy to book online and a lot of places even offer free cancellation.
---
Sightseeing and adventure: For more fun things to do in the Puglia region, check out GetYourGuide. We love using their easy online booking system to find exciting activities and tours to do wherever we travel.
---
When to visit: The best time to visit Puglia is between April and June, when the spring flowers are in bloom, the weather is just warm enough but not too warm. Visiting during this time means you can also avoid the tourist crowds of summer and higher prices for everything.
---
Gay map of Puglia
Here's our detailed gay map of Puglia which includes our favourite gay friendly hotels, gay bars and clubs as well as the best things to do in in the region: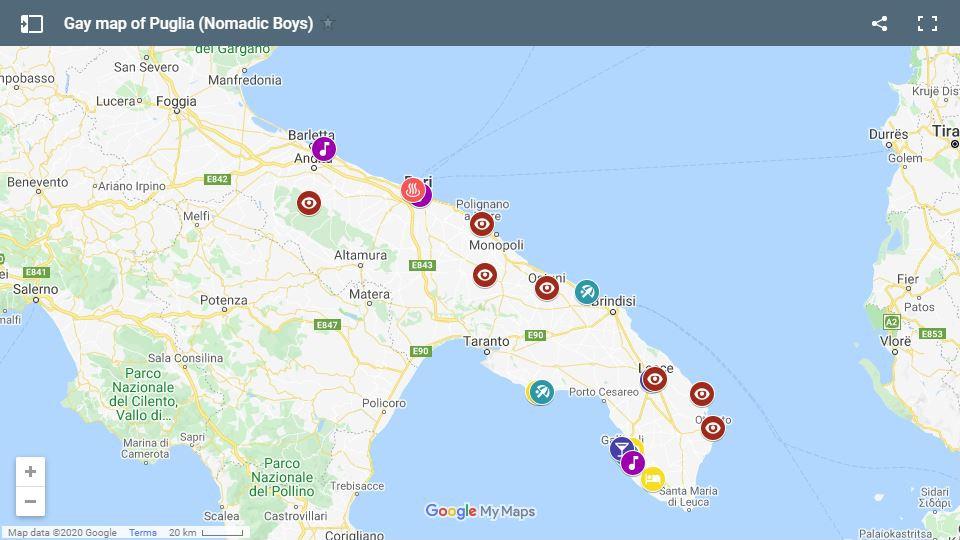 ---
Like this post? Pin it