These are our favorite gay hotels in Puglia, including private villas and male-only resorts for an amazing gaycation in Italy.
For years an underappreciated region of Italy rarely visited by foreign tourists, Puglia is today one of the most exciting destinations in Europe and a true hotspot for gay travel.
This is hardly a surprise – it's no secret that Italian men know how to look after themselves, and Puglia is no different. Taut bronzed Adonis bodies are everywhere you look particularly on the beaches of Gallipoli.
The heel of Italy's boot, Puglia remains blissfully absent of the kind of high-rise, package holiday tourism that blights so much of the Amalfi coast and other areas of Italy. Instead, visitors come here to enjoy pristine beaches, authentic cuisine and, of course, the super handsome local population!
Whether you're seeking beachside party hotels or tranquil private villas, our guide to the best gay-friendly hotels in Puglia has you covered. So, without further ado, here are our seven best places to stay for gay travellers in this stunning region of southern Italy. For more, be sure to check out our detailed gay travel guide to Puglia.
Heads up: We just wanted to let you know that this post contains affiliate links. That means if you book something through one of those links, we'll get a small commission, at no extra cost to you. It helps us keep our blog going – so thank you in advance for your support! ♥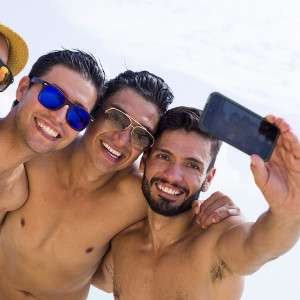 Discover Puglia on a gay tour:
Our buddy Sergio is one of the craziest human beings we've ever been fortunate to meet, and we love him! He has his own gay tour company based in Puglia and organizes many different trips for gay travelers throughout the year. We highly recommend joining one of them: foodie tours in Lecce, a gay bike tour across Puglia, gay yoga retreats, and so much more!
01
Q40 Ostuni
Ostuni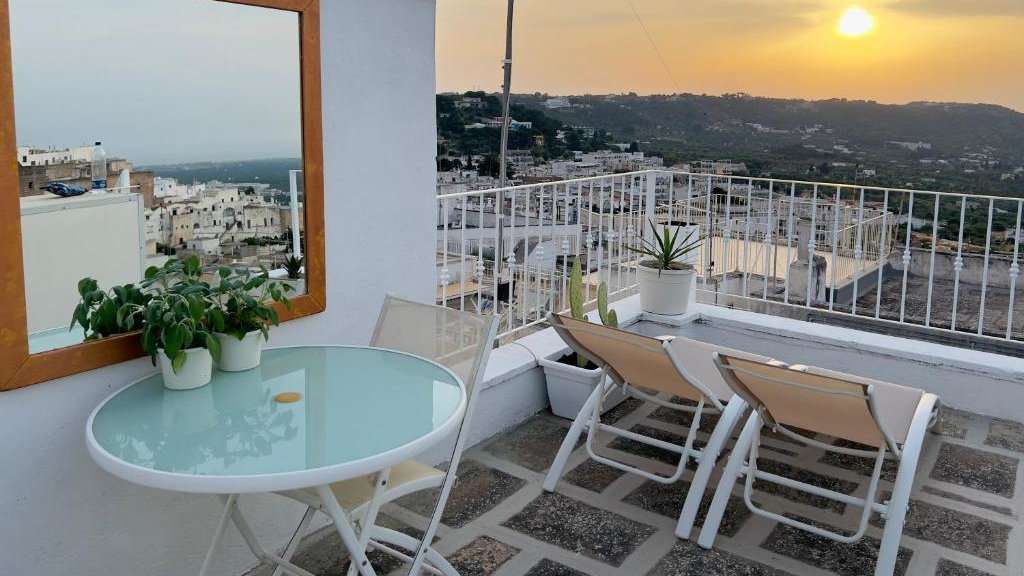 Why we love it
---
Private apartment with stunning views over Ostuni
Great location for experiencing bars and restaurants
Full kitchen if you don't want to eat out
Sleeps up to 6 but is also nice for a couple
If you want to experience what it might feel like to actually live in the gorgeous Puglia region, Q40 is the ideal choice.
This airy apartment features two full bedrooms and two bathrooms, along with a fully equipped kitchen, three balconies AND three rooftop terraces! Both the views and sunbathing opportunities are stupendous here, in fact, we often felt reluctant to drag ourselves away from the panorama to explore the town of Ostuni.
However, if you can force yourself to go out, there are many excellent bars and restaurants to discover in this vibrant and famously white-washed city. Since the apartment is right in the Old Town you're also close to the Cattedrale Santa Maria Assunta and the Museum of Preclassic Civilizations of the Southern Murgia.
The apartment is ideal if you're traveling with a group of friends, as it can comfortably sleep six and has everything you need for a longer stay. Of course, we were traveling as a couple and it was also perfectly secluded as our own little love nest. Since it's gay-owned, you can book with confidence knowing there won't ever be any issues for same-sex couples.
STAY WITH A GAY LOCAL
Misterb&b is the Airbnb equivalent for the LGBTQ community. Unlike on Airbnb, you know your host is gay, voiding any nasty surprises when you check-in. It is also a great way to meet gay locals and discover the underground gay scene. Click below to get 10 € (or $10) off our first booking.
02
Monteforte Resort
Ugento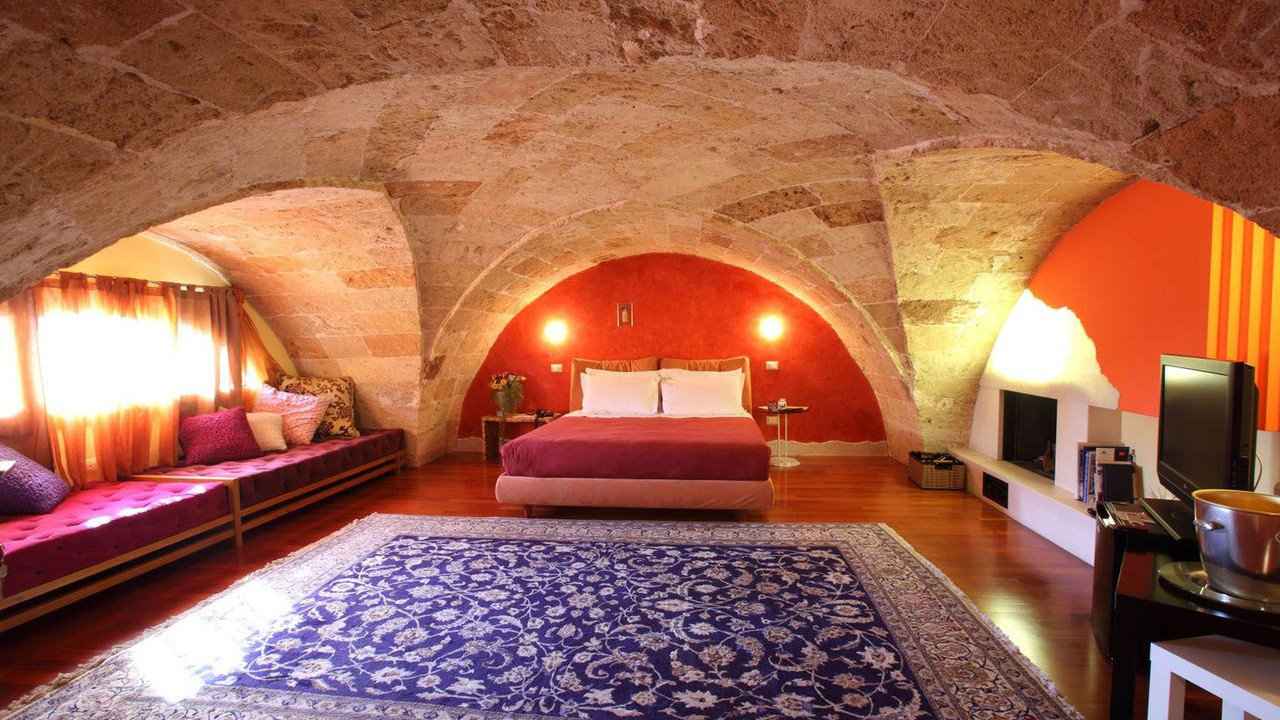 Why we love it
---
Gorgeous rooms
Rooftop Jacuzzi and terrace
Close to town and beaches
Provides stunning views
Monteforte Resort is a gorgeous, gay-friendly boutique hotel near the small town of Ugento, a cute place that provides a taste of local life in Puglia.
This place is seriously stylish and does a great job of blending the building's centuries-old walls with modern innovations. We loved that every room is designed with a particular colour theme and decorated so that everything matches.
Situated just a short journey from Puglia's famous 'Maldives of Salento' coastal area, this beautiful resort is the ideal spot to recharge after a day mingling with local beauties down at the beach! In fact, Monteforte Resort offers a massage service to guests, with special beds located on the rooftop terrace for this purpose. Alas, choosing our own personal adonis to perform the treatment was not an option but the staff here did a great job of soothing our sore muscles and joints.
Also located on the rooftop is the jacuzzi area, which we made sure to enjoy every night along with stunning views of Ugento and beyond. Slipping into our speedos, grabbing a drink and spending some time soaking was one of the highlights of our stay at Monteforte.
Breakfast is also served upstairs on the restaurant rooftop. The food served is hyperlocal, fresh and delicious, just be careful not to eat too many of their amazing pastries or you might not fit into that speedo any longer!
03
Villa Margareta
Ostuni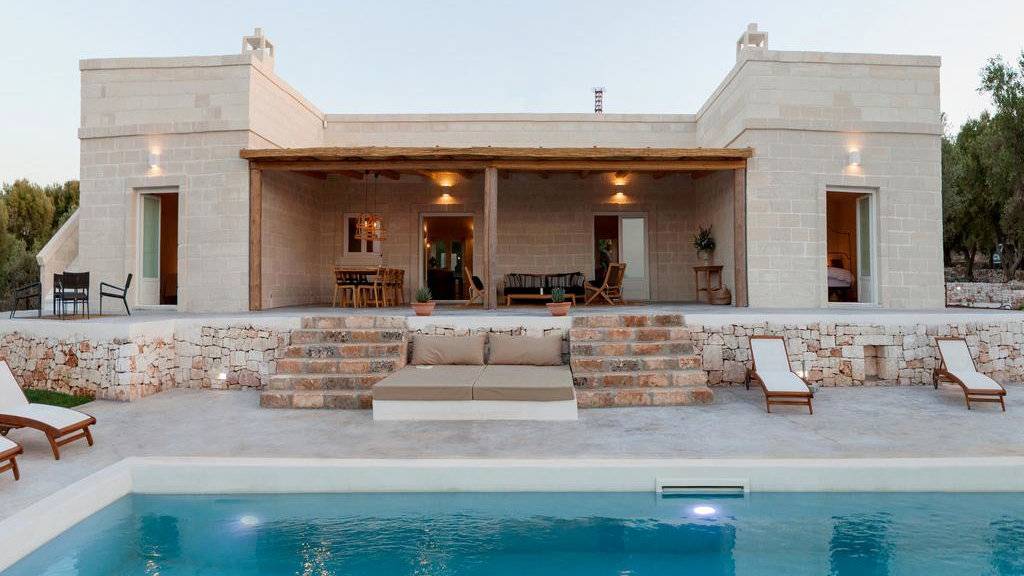 Why we love it
---
Luxury farmhouse villa
Stunning 360-degree views
Outdoor barbecue and pizza oven
Close to Ostuni and beaches
This stunning farmhouse villa is a special place to stay for up to eight, making it ideal for a group of gay boys traveling through Italy's beautiful heel region.
Situated close to the romantic hilltop town of Ostuni, known as the white city, this country hideaway blends classic Puglia style with flashes of modernity.
We loved how Villa Margareta was littered with touches of luxury, such as the stand-alone bathtubs, ornate mirrors and of course the spectacular pool area. The decor, in general, is incredibly chic. The neutral tones match perfectly with the natural stone of the villa's walls and floors, which somehow seem both refined and organic. There are countless outdoor seating areas in which it is possible to read, enjoy a chat, or get up to something a little more risqué. With total privacy, we were free to do as we liked at Villa Margareta, and we invariably did!
Days at Villa Margareta are best spent lounging around and enjoying the amazing views, whether that's the surrounding countryside or your tanned and toned entourage! For those seeking a little more excitement, this place is just 10km from some of Puglia's most beautiful gay beaches. Who knows, maybe you'll meet some handsome ragazzi to invite back to this stunning villa for the night!
There is a great woodfired barbecue area here for those who enjoy to cook and dine al fresco. Alternatively, Ostuni is a short journey away and offers a plethora of spots in which to sample local delicacies, and we don't just mean the food…
Happy travels are safe travels
We recommend you always take out reputable travel insurance before your next vacation. What happens if you suffer from illness, injury, theft, or a cancellation? Many gay travelers forget about it and regret it when something happens. Better to pay a small price and have peace of mind and not worry.
04
Tenuta Monticelli
Alezio
Why we love it
---
Set amid lush countryside
Luxurious boutique hotel
Close to Gallipoli and beaches
Delicious free breakfast
Tenuta Monticelli is a hidden gem of a hotel that we were delighted to stumble upon. Set within a sprawling plot of land in the small town of Alezio, we found ourselves surrounded by olive trees and plenty of wildlife at this gay-friendly boutique spot.
Not far from gay hotspot Gallipoli and its gorgeous old town, Alezio is a quiet town that's ideal for recharging your batteries after wild nights out!
We felt extremely welcome at Tenuta Monticelli as a gay couple, as you might expect in an area so popular with the community as this one. Although home to just five rooms, Tenuta Monticelli oozes luxury. We stayed in their superior room which meant we had access to an entire rooftop area that included a jacuzzi and offered stunning 360-degree views of the Alezio countryside. To say that this made our stay here a romantic one is an understatement, and we spent many hours enjoying each other's company on our private terrace.
It is also worth noting that the free breakfast at Tenuta Monticelli is unusually generous, with all kinds of local pastries, cheeses, meats and fresh fruits offered along with the usual cereals, juices and hot drinks. You can get all the energy you need for a day frolicking at the beach or by the pool!
The pool area at Tenuta Monticelli is set amid acres of green gardens, so you really feel the isolation of this hotel amid nature. There is an outdoor shower along with plenty of comfortable loungers for you to stretch out and make sure every inch of your body gets bathed in sunlight. This is essential before heading out into Gallipoli for an evening of shenanigans!
05
Bed and Breakfast Sottosopra
Gallipoli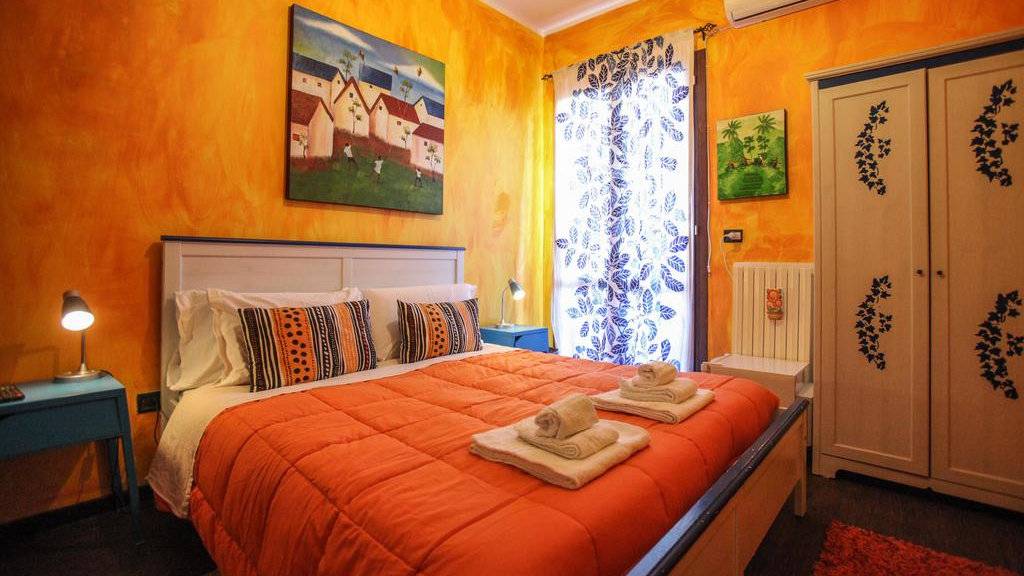 Why we love it
---
Central Gallipoli location
A great value place to stay
Gay-friendly Bed & Breakfast
Close to all of Puglia's best gay hotspots
This gay-friendly B&B is the best value accomodation we found in Gallipoli. Situated just outside the old town, you will be within striking distance of all the most fabulous gay haunts in this most liberal of Puglian resorts!
The rooms at Sottosopra are fabulous for the price, with a striking approach to decor that blends classic Italian period style with modern art and gorgeous colour combinations.
If you're lucky enough to bring back one of the local hotties to Sottosopra, they certainly won't be disappointed with the rooms at this awesome B&B. One of the things we loved most about Sottosopra is its central location, with all the major amenities including bars, restaurants and nightclubs practically on your doorstep. This includes the legendary Cafe Bellini, were local gay boys flock to drink cocktails and show off their tans. Then there is Village Picador, a lively gay nightclub filled with local and foreign hotties looking for summertime fun! The best part is that this is located just a short drive from Sottosopra on the outskirts of town, making it easier than ever to meet with gorgeous gay Italians and fit foreigners that flock here throughout the year.
We also love the fact that Sottosopra is close to all of Salento's best beach clubs, including the fabulous Lido Zen. Throw in the fact that gay beaches like D'Ayala and Torre Guaceto are a short drive away and a stay at Sottosopra begins to make even more sense!
STAY WITH A GAY LOCAL
Misterb&b is the Airbnb equivalent for the LGBTQ community. Unlike on Airbnb, you know your host is gay, voiding any nasty surprises when you check-in. It is also a great way to meet gay locals and discover the underground gay scene. Click below to get 10 € (or $10) off our first booking.
06
Hotel Palazzo del Corso
Gallipoli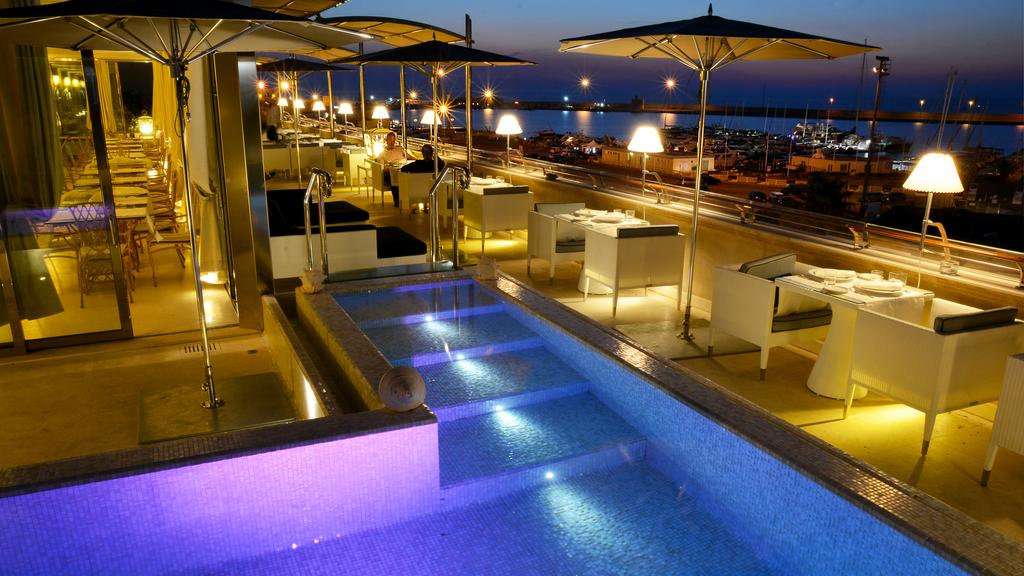 Why we love it
---
Pure luxury boutique hotel
Centrally located close to bars, nightclubs and restaurants
Amazing amenities including a gym and solarium
Popular with gay couples and groups
This stunning luxury hotel is located just outside the old town of Gallipoli and makes a perfect base for gay couples seeking a romantic stay in this beautiful Puglian town.
Indeed, Hotel Palazzo del Corso consistently ranks highly among gay online travel directories for Italy, making it popular with couples as well as groups of gay guys looking to blend deluxe accommodation with some serious summertime shenanigans.
The rooms at this 5 star hotel are pure opulence, triggering some serious sensual vibes that could lead who knows where after a few Aperol Spritz or glasses of local vino.
In fact, we adored the level of quality at Hotel Palazzo del Corso, where amenities include a rooftop terrace restaurant of exceptionally high quality, a stunning rooftop swimming pool, a Sky Bar with magnificent views and even it's own winery!
Not satisfied? No problem, this luxury boutique hotel in Gallipoli is also home to a Technogym and solarium so you can pump those biceps before tanning those abs and hitting the local gay bars and nightclubs!
As if Hotel Palazzo del Corso was not impressive enough, we have to say that this place is also ideally located for visiting local gay bars, nightclubs and even popular gay beaches slightly further up the coast. There is even a convenient shuttle bus that runs back and forth to the local beach clubs, many of which are home to flocks of golden-skinned beefcakes from across Italy and beyond!
07
Paragon 700 Boutique Hotel & Spa
Ostuni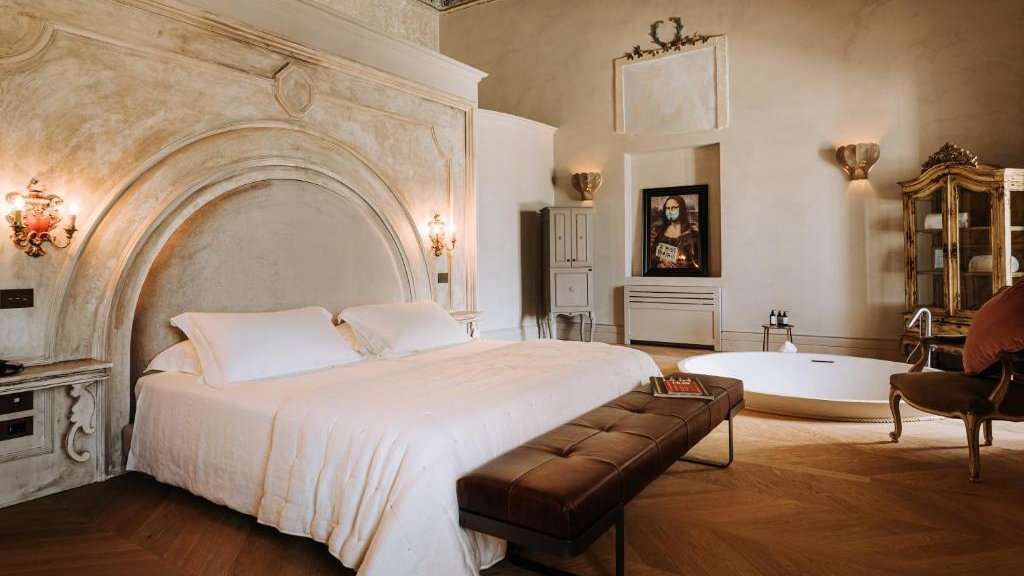 Why we love it
---
Lesbian-owned and very gay friendly
Lovely sun terrace and swimming pool
Incredible underground spa
On-site bar and restaurant
If you want to feel totally spoiled, pampered and like royalty then you have to book a stay at the gorgeous Paragon 700 Boutique Hotel & Spa!
Even though it's located in the center of Ostuni, Paragon 700 feels like you're in the middle of the countryside on a luxury villa. The beautiful garden, swimming pool and sun terrace are completely walled off from the city, so you can just relax in this gay haven that's run by a lesbian couple.
Paragon 700 is housed in a lovingly restored 17th-century palazzo, with huge luxurious rooms and suites, all featuring frescoed ceilings. The Paragon Suite is definitely the number one room to pick, if you can afford it, with a massive sunken bathtub, 7-meter-high cathedral ceilings, and a grand open fireplace.
The pampering spa is located 7 meters below ground and is only just big enough for two people – so it's super romantic. We loved using the hydromassage basin, steam bath, and spa shower with chromotherapy, then relaxing in a lounge where the walls were clad in Himalayan salt!
While the whole of Ostuni is on your doorstep, don't be surprised if you never want to leave Paragon 700. There's an on-site restaurant, lounge bar and a pool bar where you can find refreshment and nourishment while basking in the sun or sitting by a fireplace.
---
Like this post? Pin it