Did you also grow up watching those scenes in The Godfather when Michael Corleone woos the drop dead gorgeous Apollonia set in the stunning Savoca village of Sicily?
The surroundings of the hillside village on the Eastern end of this Italian island is what first captured our attention (not to mention of course, the pretty Sicilian boys accompanying Michael in his conquest).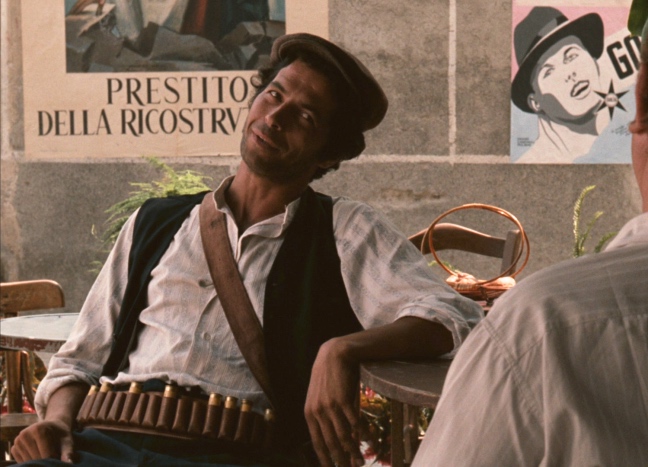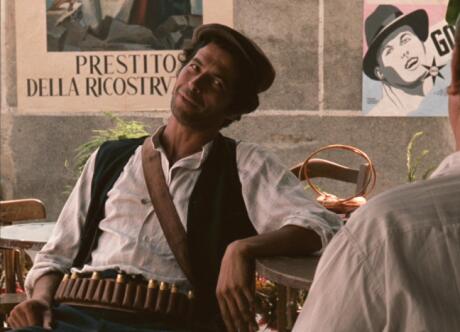 Sicily is the largest island in the Mediterranean and lies off the "boot" of mainland Italy – hence the phrase, long legged Italy, kicking little Sicily!
Sicily is the place you want to visit for that special romantic occasion, just like we did. These are our 5 romantic things to do in Sicily to inspire you to dream as well.
Stay in a luxury villa
The scenes around the village of Savoca from The Godfather movie are located in the Etna region in the Northeast of Sicily. The best way to experience it with your lover is in a luxury villa. We stayed in a few villas during our travels in Bali and from experience, having a private villa all to yourself is definitely worth the splurge. Doing this in a romantic destination like Italy is the perfect way to truly celebrate your special anniversary and why it is one of our favourite romantic things to do in Italy.
We love using websites like Luxury Retreats, Airbnb and Tripadvisor to find hidden gems, like this renovated aristocratic country villa near Centuripe, complete with swimming pool and huge beautiful gardens. You can imagine being transported right into The Godfather movie set in a place like this!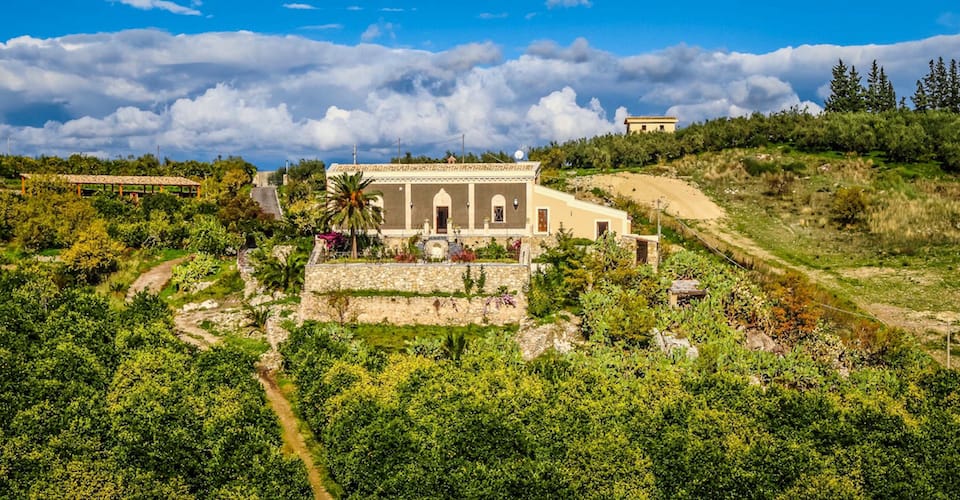 Sicily beaches for your fix of Vitamin Sea
Sicily has around 1,000 km (620m) of coastline with plenty of golden sandy beaches, unspoilt nature reserves and pebbly coves. It's a great way to spend the day together and why we've featured it as one of our romantic things to do in Sicily.
The North part of the island is the place to come for more long sandy beaches, but inevitably will draw larger crowds of people. The beaches in the South are more wild and untouched and in the East even more so with rocky beaches in remote fishing villages.
Some of the best beaches in Sicily include:
Calamosche: a quiet sandy beach located in the Vendicari Nature Reserve in Southeast and next to the archaelogoical site of Eloro.
Sant Vito Lo Capo: sandy beach with turquoise waters located in the Northwest with the backdrop of Monte Monaco. In September the nearby town comes alive with the Cous Cous Festival.
Mondello: a 1.5 mile long sandy beach coast, located 20 minutes drive from Palermo in the Northwest, popular with both tourists and locals.
For more inspiration check out the BBC's guide to beaches in Sicily and also read about our favourite gay nude beaches in Italy.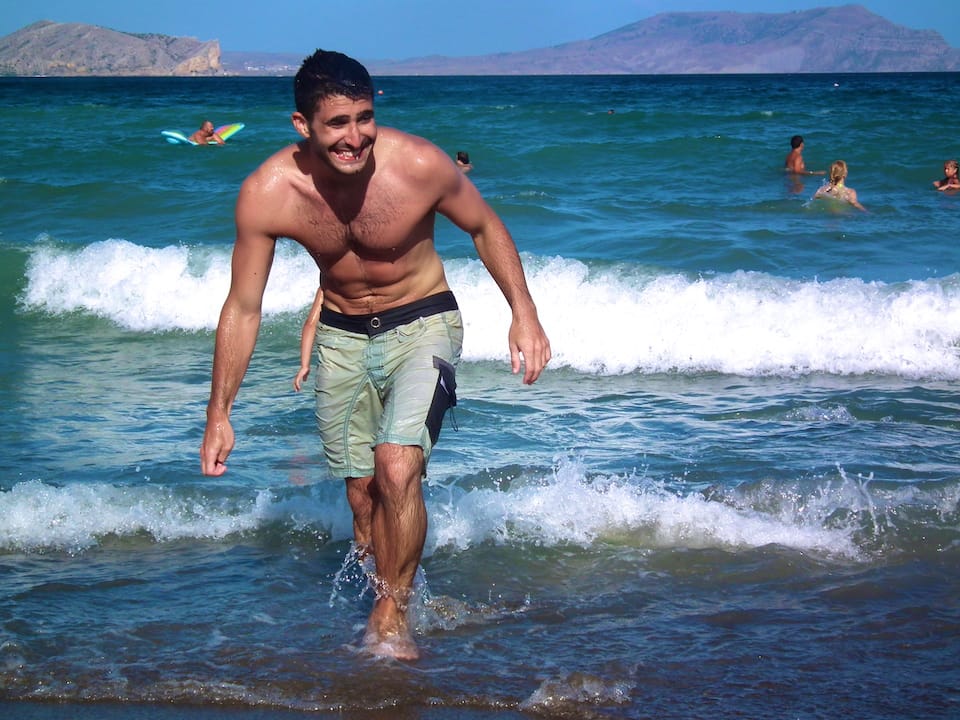 STAY WITH A GAY LOCAL
Misterb&b is the Airbnb equivalent for the LGBTQ community. Unlike on Airbnb, you know your host is gay, avoiding any nasty surprises when you check in. It is also a great way to meet gay locals and discover the underground gay scene. Click below to get 10 € (or $10) off your first booking.
OUR FAVOURITE TRAVEL TIPS
⭐️ TRAVEL INSURANCE — We recommend you always take out travel insurance before your next vacation. What happens if you suffer from illness, injury, theft or a cancellation? With travel insurance, you can have peace of mind and not worry. We love World Nomads travel insurance and have been using it for years. Their comprehensive coverage is second to none and their online claims process is very user friendly.
⭐️ SAFETY & SECURITY — All travelers (gay or not) can sometimes encounter danger when traveling. CloseCircle is your "virtual body guard" mobile app which provides security alerts and support wherever you are in the world. They have a 24/7 emergency response team monitoring their users who will contact you immediately if the SOS swipe button is activated. Support can include anything from practical advice, to free evacuation from areas with extreme weather or security risks. You can read more about CloseCircle in our article about how to stay safe whilst traveling.
⭐️ ONLINE ANONYMITY — A VPN (Virtual Private Network) is a must in many countries: it allows you to surf anonymously and maintain your privacy whilst traveling. You'll particularly need it in countries where gay dating apps are blocked by the government. We recommend ExpressVPN, a reliable and cost effective service which we used and loved during our travels.
⭐️ HOTELS or APARTMENTS — When we plan a trip, we always look for the best hotel deals. We love Booking.com because not only do they have a comprehensive listing of accommodation options, they also offer the best prices. Added bonus: they provide 24/7 support and free cancellation for most listings.
⭐️ SIGHTSEEING and ADVENTURES — When we travel somewhere, we like to seek out the best experiences, whether it is cooking with locals in Bangkok, hiking on a glacier in Patagonia, or going on a wildlife safari in Sri Lanka. Our favorite place to look is GetYourGuide because they have over 30,000 highly rated activities, a user-friendly booking process with free cancellation and a 24 hour customer support.
This article contains affiliate links. If you click on them, we may receive compensation which keeps our website alive and helps us bring you to more destinations.
Food tour in Palermo the capital city
Palermo is the bustling main city on the island. Its historical centre is one of the largest in Europe and has a large labyrinth of streets. Foodies should spend some time discovering the local food here and consider doing a food tour.
Sicilian food is a mix of the different cultures that have made the island their home over the years, ranging from the Ancient Greeks, the Romans, Arabs and the French/European. Some of our favourite Sicilian specialities to look out for in Palermo include:
arancini: rice balls stuffed with fillings like mozzarella
pani ca meusa: a seeded bread offering with cuts of veal
pannelle: chickpeas fritters
cannoli: a sweet ricotta-based treat
sfincione: pizza topped with olive oil and caciocavallo cheese
You could either arrange your own food tour or visit some of the lively markets like Capo and Vucciria and many bakeries found across the city. Whichever you choose, it is one of the most memorable and romantic things to do in Sicily together.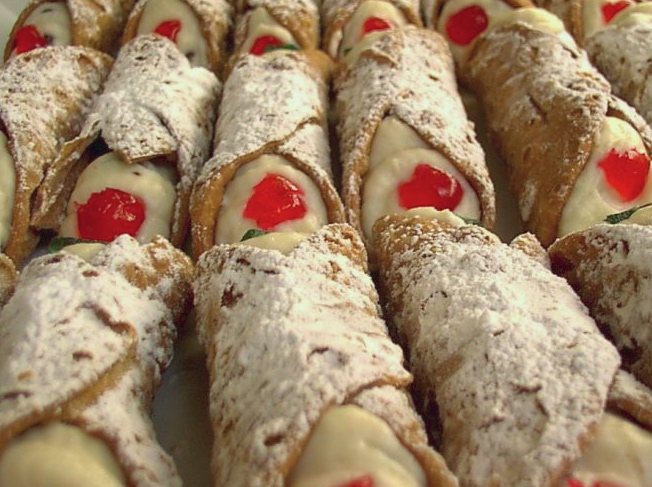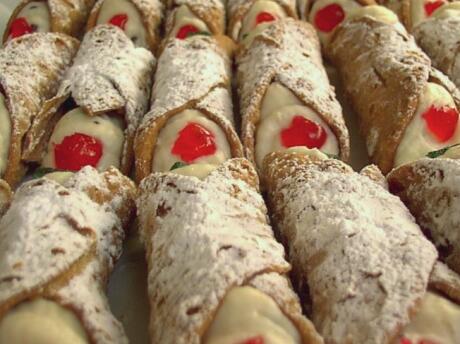 Visit the famous salt pans at sunset
The salt pans are one of the most iconic features of Sicily, located between Trapani and Marsala. The piles of sand are surrounded by ancient windmills and pools of water which make for some excellent Instagram pictures at sunset.
One of our favourite romantic things to do in Sicily is to watch the sunset over the salt pans from the top of nearby Mount Erice. It is 751 metres (2,463 ft) above sea level and will also have some pretty sweet views across the Western shore of the island.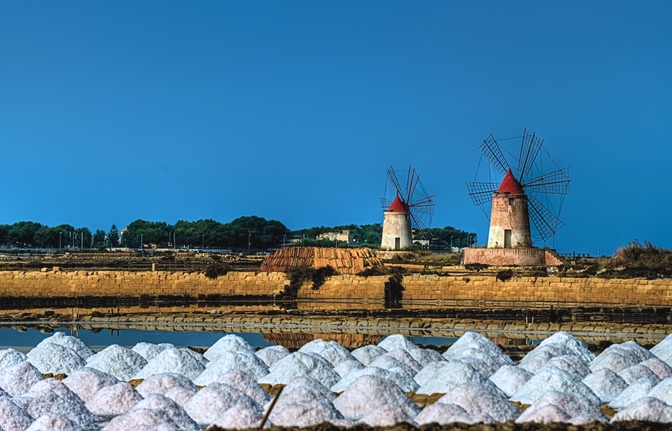 Mythological discoveries at Syracuse
The archaeological park of Syracuse is one of the most important places on the island to visit to admire Sicily's ancient Greek and Roman heritage. The main attraction is the Greek theatre that dates back to the 5th Century BC. Its cavea seating areas is one of the largest ever built with 59 rows to accommodate 15,000 people.
The ancient Roman amphitheatre is another highlight, dating back to the 3rd Centuary AD. It's one of the largest, 140m long and was were gladiators would fight wild animals to the joy of spectators.
Syracuse also used to be an important city, home to Ancient Greeks like Archimedes. At its peak, the city had a population of 300,000 and was referred to by Cicero as "the greatest Greek city and the most beautiful of them all".
For more inspiration check out our romantic things to do in Italy and in the Amalfi Coast.