This is our list of the hottest gay beaches in Italy that you need to check out on your next gaycation here. Just remember to pack a few Speedos, and you're off!
Italy is one place that sure as hell confused the crap out of our gaydar! Almost every single guy here is well dressed with a charming smile and such perfectly chiselled speedo-ready-bodies…just head to any beach here and you'll know exactly what we mean.
And they're not shy: those hot Italian studs love to show off (and do a pretty fine job of it in our humble opinion)!
We've travelled throughout Italy, from our romantic anniversary in Venice, the Amalfi Coast all the way to gorgeous Gallipoli in Puglia in the south. It's such a rewarding destination for LGBTQ travellers, rich with culture, fine food, some of the hottest guys on the planet, and some amazing gay beaches!
Along the way, we joined the throng of Italian-admirers and headed to the many gay beaches in Italy and have summarised some of the best ones in this guide. One thing to note is that whilst public nudity in Italy is officially illegal, in 2006 nude tanning was legalised in designated areas, which has seen an increase in popularity in nudist-friendly beaches in Italy…remember that point we made above about how Italian men like showing off…
1. D'Ayala beach in Commenda near Taranto in Puglia
Puglia is truly a gay hotspot in Italy. Spiaggia D'Ayala is the official name of this hidden gem. It's the main gay beach in Puglia and also a nudie beach because it's nicely cut off from the main road by the large "Pineta d'Ayala" forest. The beach is in the small town of Commenda, which is a 40-minute drive from the nearest big city of Taranto.
To reach it, on Google Maps search for "Spiaggia d'Ayala" and you'll see it surrounded by a large patch of green, which is the large forest. Leave your car parked at one end of it, then walk in via one of the main paths which will take you to this 1km stretch of beach. The gay part is right in the middle, near the Lune Saracene Gay B&B.
At each end of this beach, there are beach clubs like Lido Posto 9 where you can rent sunbeds/umbrellas. Also nearby across the main road is the Toro Loco Beer House, which does delicious pizzas. Otherwise, D'Ayala beach is super remote with few facilities. Just you and Mother Nature…
2. Il Buco beach in the Capocotta Nature Reserve
Il Buco means "the hole" in Italian…
Il Buco is also one of Italy's popular gay beaches, located south of the Lido di Ostia, hidden inside the tranquil Capocotta Nature Reserve. It's popular because of its proximity to Rome, just 30km south from the Eternal City: roughly 1 hour by train and local bus. We recommend coming here as part of a day trip from Rome.
Yes it's a tad remote, but that's the beauty of it – you're not going to see many kids or straight crowds here. Just the boys, some in their birthday suits!
Il Buco beach is far from any facilities so we highly recommend bringing with you all the amenities you may need for the day. But this means there is a lot of privacy, making it very popular.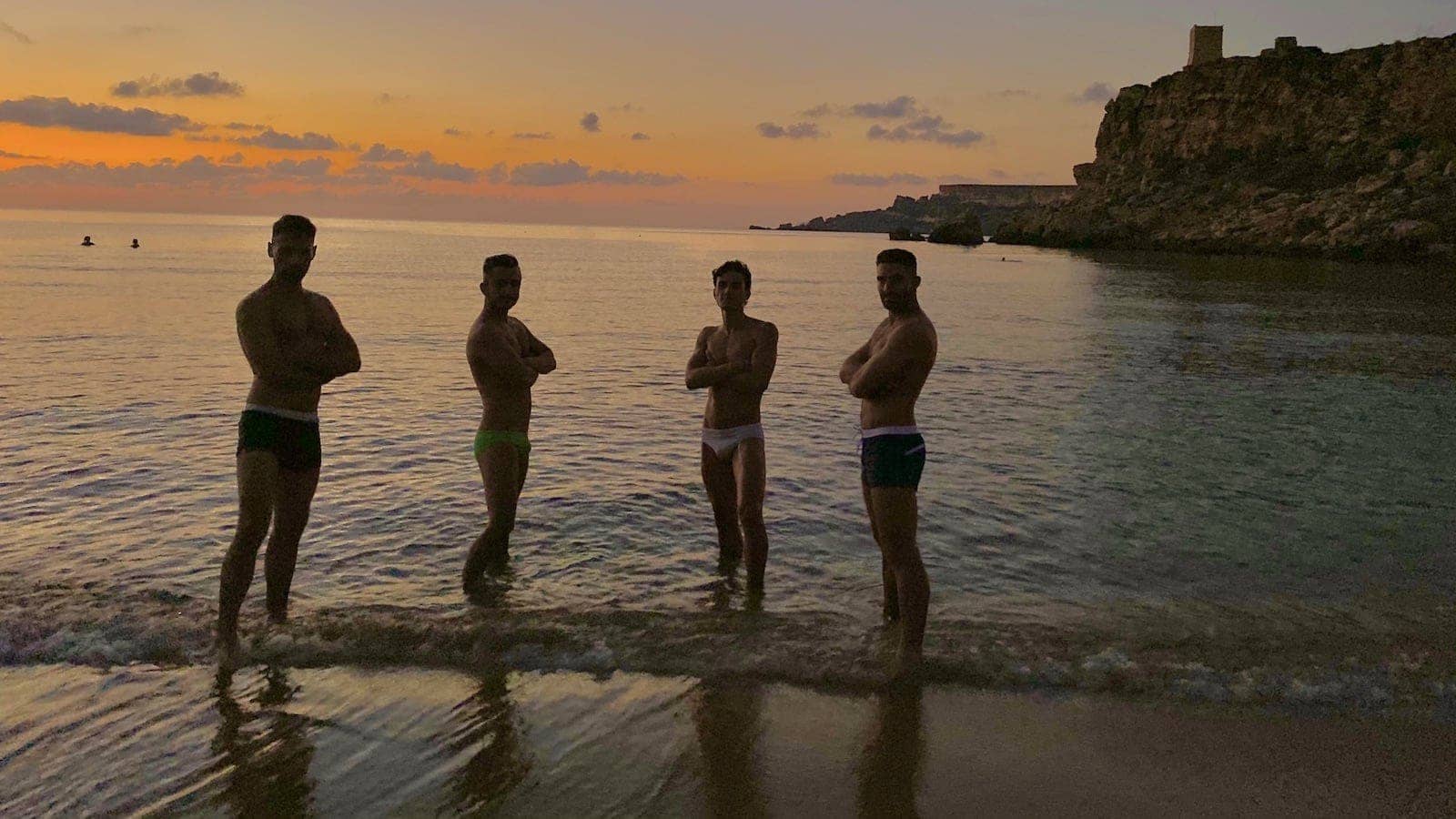 3. Lecciona Mama Mia beach in Tuscany
Lecciona beach is part of the natural park of Migliarino, San Rossore and Massaciuccoli, between Viareggio and Torre del Lago. It's stunning!
We love it because not only is it a sandy beach (most tend to be pebbly or quite rocky), but it is surrounded by a gorgeous pine forest. This beach is also famous for the Mama Mia gay beach club which has been going strong since 1999. Sometimes this beach is called Lecciona, Mama Mia beach or Dune Beach.
Note: the Lecciona beach official season is May to September and is for the most part very quiet. However, it gets quite busy on weekends, especially during the peak summer months of July and August. But as is it's so long and wide, it never felt too hectic for us compared to other beaches we've been to.
To reach it, it's a 20-minute drive from Lucca (our favourite place in Italy for the record!). Then you have to first walk for around 15 minutes through the dense pinewood and sand dunes. There are no facilities, bars or restaurants here so make sure you bring with you plenty of sunblock, water, a beach towel and any food/drinks.
4. Mari Pintau on Sardinia island
Mari Pintau is one of the hottest beaches on Sardinia Island. It's also super picturesque with emerald greens and turquoise blues, hence its name – Mari Pintau, which means "painted sea" in the Sardinian dialect of Italian.
Mari Pintau is located halfway between the pretty town of Cagliari and Villasimius, located next to the Kala e Moru beach. The gay section is on the far right.
The beach is nicely enclosed in a large gulf that sprawls out for around 2.5 miles, making it ideal for swimming as the water is usually calm. One thing that surprised us about Mari Pintau is that whilst most of the beach is rocky, the sea bed itself is sandy.
Sardinia is a popular tourist destination by both locals and foreigners, so it does get quite busy here on weekends in the summer months. However, we found that the straight crowds stayed on one side of the beach, leaving the extreme right end of the beach for the gays. The other thing we'd point out is that you should bring your own sun cover, food/drinks etc as there are no facilities here.
5. Beach Barbari Coast Sistiana near Trieste
The Costa Dei Barbari is a scenic gay beach in the Friuli Venezia Giulia province in Northeast Italy right by the border with Slovenia. It is located around 6 miles (10km) north from Trieste city and 40km (25 miles) south from Monfalcone. The closest towns are Sistiana and Duino.
Barbari is quite a narrow beach with white cobbles and pebbles. It is bordered on one side by Porto Piccolo and on the other by the Hotel Europa, however, it has no facilities on the beach itself, which is part of its charm. The beach is also completely surrounded by nature with plenty of bushes and trees for privacy…you've guessed it Don't worry, it's not mandatory.
As one of the main gay beaches of northern Italy, Costa Dei Barberi frequently receives lots of visiting gays from nearby Slovenia as well as from Austria and Croatia. Some day-trippers from Venice also head here in the summer months as it's around 140km (87 miles) from Venice.
To reach the Barbari Coast beach from either Monfalcone or Trieste, drive towards Sistiana town and park your car/motorbike just before the village where you see a bend in the road. This area has been converted into a parking area and closed off to traffic. From here there are several steep trails that descend to the sea.
6. Guvano beach in Cinque Terre
Guvano beach is a remote gay beach, more famous for the journey if anything! It's one of the most unique we've ever been to, based around an abandoned railway. The Cinque Terre region of Italy is so famous for being scenic and picturesque that the entire region is UNESCO listed. It is made up 5 ancient seaside villages: Monterosso al Mare, Vernazza, Corniglia, Manarola and Riomaggiore.
Guvano Beach is located just outside the village of Corniglia. It's like the cherry on top of an adventurer's dream holiday in the Cinque Terre, and is certainly what attracted us to it. The area around is stunning, with dramatic cliffs jutting out into the Mediterranean, so we thought we could do some gorgeous hikes coupled with a remote nudey beach. And it didn't disappoint!
To reach Guvano Beach follow the signs from Corniglia village to a pitch-black tunnel! From here it's a 1km trek to the beach – remember to bring a torch or have enough battery in your phone to use it as a torchlight. First, you walk through this long, dark (and pretty spooky!) tunnel for around 10 minutes, until you see the light at the other end. Then you need to claim over a bunch of jagged rocks for another 10 minutes…it's certainly quite the adventure!
The beach itself is nothing special as it's mostly pebbly. However, the water is crystal clear – the perfect reward for a sweaty hike through a very remarkable region of Italy!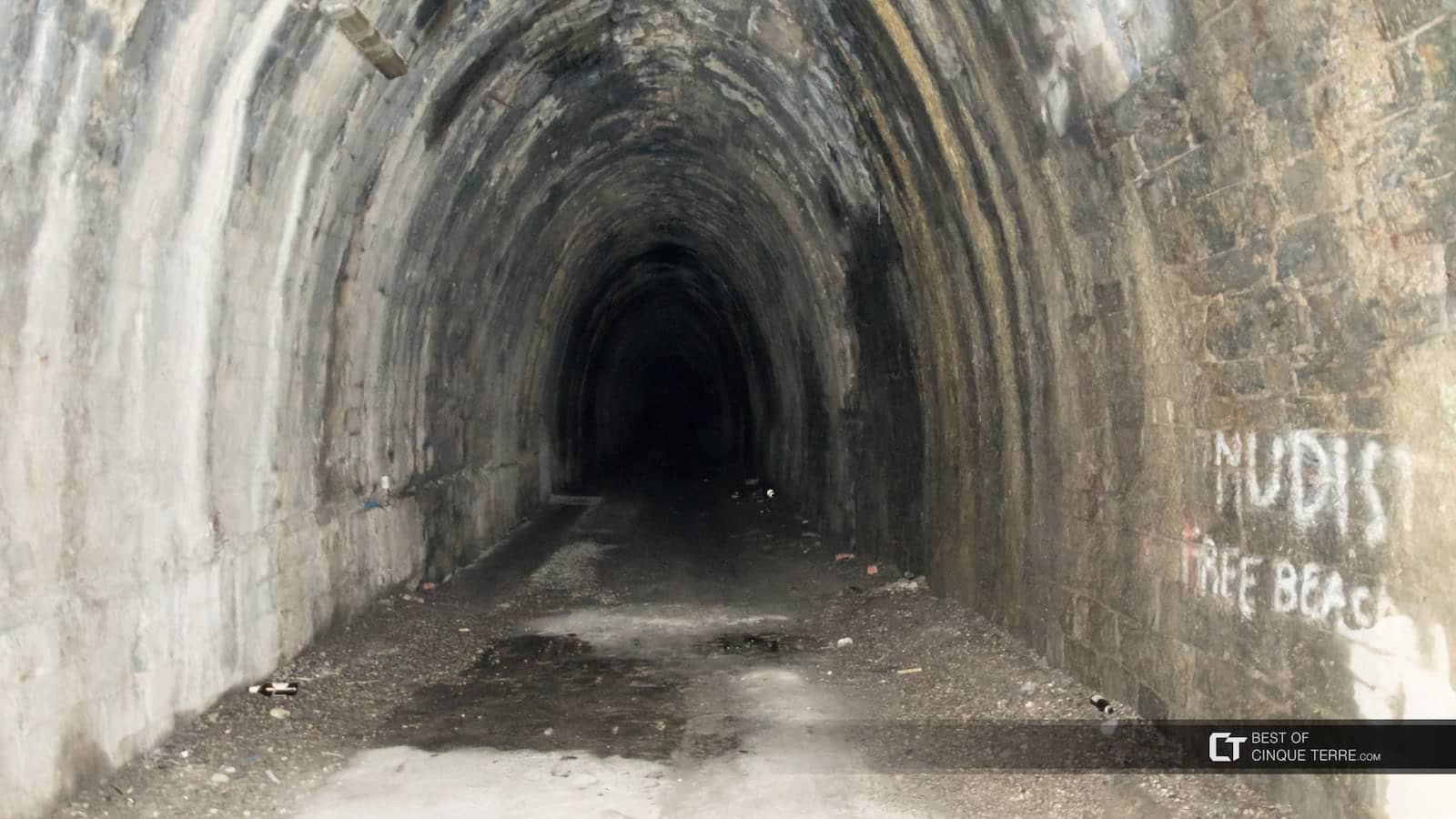 7. Capo Camino beach in Sardinia
Capo Camino is a beach resort town in northeast Sardinia. The beach is a long stretch of powdery white sand and pretty pink rocks, located just off the State Road 125 Nuoro. It is instantly recognisable by its striking ancient lighthouse, which dates back to 1903.
The gay area of Capo Camino beach is located by the sand dunes on the right. Nearby there are a few facilities including a beach bar and restaurant, so it's not as remote as the other beaches mentioned in this article.
An interesting fact about Capo Camino: it has been the backdrop to many films including the 2002 Guy Ritchie movie "Travolti dal destino" (Swept Away) with Madonna.
8. Gay friendly beaches in Sicily
Sicily island at the southern tip of Italy has a handful of mixed beaches, which aren't outrightly gay beaches as some of the others in this article, but have become popular and therefore developed a strong tolerance for LGBTQ couples.
Balestrate is the most famous and the most the gay beach on Sicily we could find. Balestrate itself is a cutesy small resort town located on the northern side of the island, around 40km west from Palermo. The beach itself is less crowded than the other beaches of Sicily – useful to note during the peak summer months. As the beach is close to a summer resort town, it mainly attracts a family crowd. However, the further along the beach you go beyond the umbrellas and screaming children, the more remote it becomes…and therefore nudey.
Eraclea Minoa is a beach near Agrigento town in the southwest side of Sicily. The beach is a 5km long stretch with dramatic white limestone cliffs overlooking the sea and a thick pine forest which gives the beach cover. It's quite wild and raw here, which is part of its charm.
Marianelli Beach is located in the southeast of Sicily in the Siracusa area inside the Vendicari Nature Reserve, which affords the beach a lot of privacy. As such it's popular and also attracts a handful of gay tourists looking for something remote, adventurous and cut away from it all.
9. Other tolerant mixed gay friendly beaches in Italy to check out
The beaches mentioned in this article are ones which felt outrightly "gay" to us, ie frequented mainly by men. We also found a few tolerant "gay friendly" beaches, which although had a straight crowd, we felt comfortable with PDAs. These include Bibbona Beach in Tuscany and San Cataldo in Puglia and Colonia Bolognese beach in Emilia Romagna.
---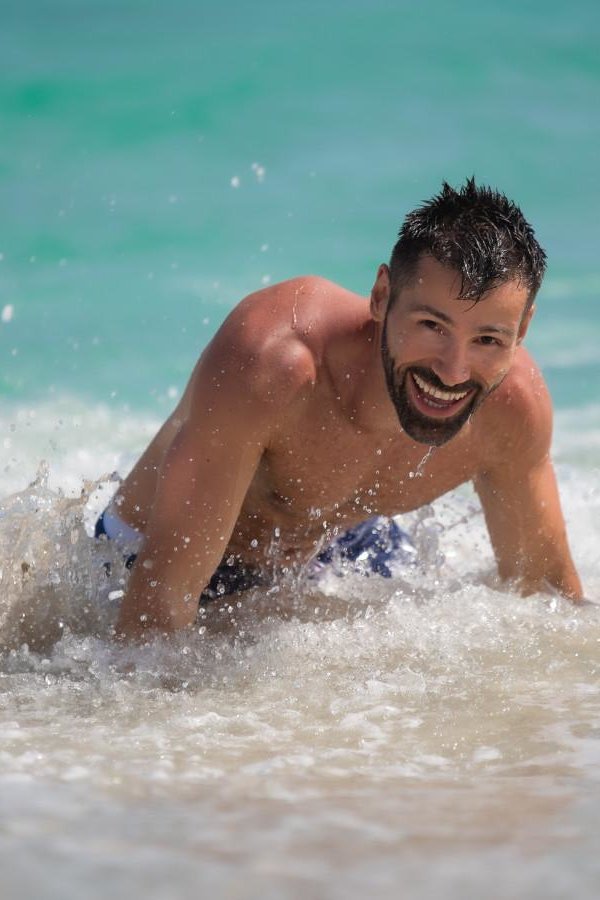 Happy travels are safe travels
We recommend you always take out reputable travel insurance before your next vacation. What happens if you suffer from illness, injury, theft, or a cancellation? Many gay travelers forget about it and regret it when something happens. Better to pay a small price and have peace of mind and not worry.