TERMS OF USE: There is a chance that some of the content on this page has changed since it was last updated. By reading this article, you consent to our Terms of Use and Disclaimer. Happy Travels!
DISCLOSURE: Some of our posts may contain affiliate links which we may receive a commission if you choose to book something through one of our links.
This is our bumper guide to the best gay beaches in the world to inspire your next gaycation…get the Speedos ready!
Waves lapped gently against the shore, the sun beat down and warmed my every fiber, palm trees swayed in the breeze. As I took a sip of my ice-cold mojito, I asked Seby: "Is there anything better than a trip to the beach?"
"Of course" he replied, "a trip to a gay beach!"
I had to admit, he was right. Whether it's the chance to get active in the water, show off your hard work in the gym or simply top up that tan, it's no secret that many gay guys feel most fabulous at the beach. This has meant that gay beaches have popped up across the world down the years, providing a hotspot for local gay communities and gay tourists too.
From vibrant city center beaches where summer nightlife lasts well into the early hours or more relaxed, isolated affairs with a cultivated vibe, gay beaches come in as many shapes, sizes, and guises as gay men. Whether you're searching for the best gay beaches in the United States or fancy visiting a gay beach further afield, our rundown of the twenty best gay beaches in the world has got you covered.
1. Fire Island Pines gay beach in New York, USA
Fire Island is a thin sliver of land running parallel to the south shore of Long Island in New York. It's a serious gay mecca on the east coast, where the Manhattan gay boys come to party during summer. The main gay areas are predominantly located around Cherry Grove (or "the Grove" for short) and Fire Island Pines (aka "the Pines"). The beaches around here are gay as hell.
The Grove and the Pines have been gay havens since the 1960s and have largely been left alone as self-governing communities. This has allowed an "anything goes" attitude to flourish here, which makes for some wild fun as well as some of the skimpiest swimsuits we've ever seen! Spots such as Pavilion are ideal for drinks in the sun before moving on to more hedonistic establishments such as Sip n Twirl.
Our favorite spot is located on the wild stretch of beach between the Grove and the Pines, separated by a large forest. As you enter the forest between the two communities, continue heading towards the beach ahead and there you'll find it. The total walk from either the Grove or the Pines ferry dock is around half a mile. Check out why we also rate Fire Island as one of the best vacation spots in the US.
How to get to the gay beach of Fire Island: The most convenient way to reach Fire Island from New York is by car but keep in mind that you'll need to pay for the parking as you cannot use your car on Fire Island. Otherwise, you can take the train then the ferry. For more info on directions, timetables and different means of transports, check out this page.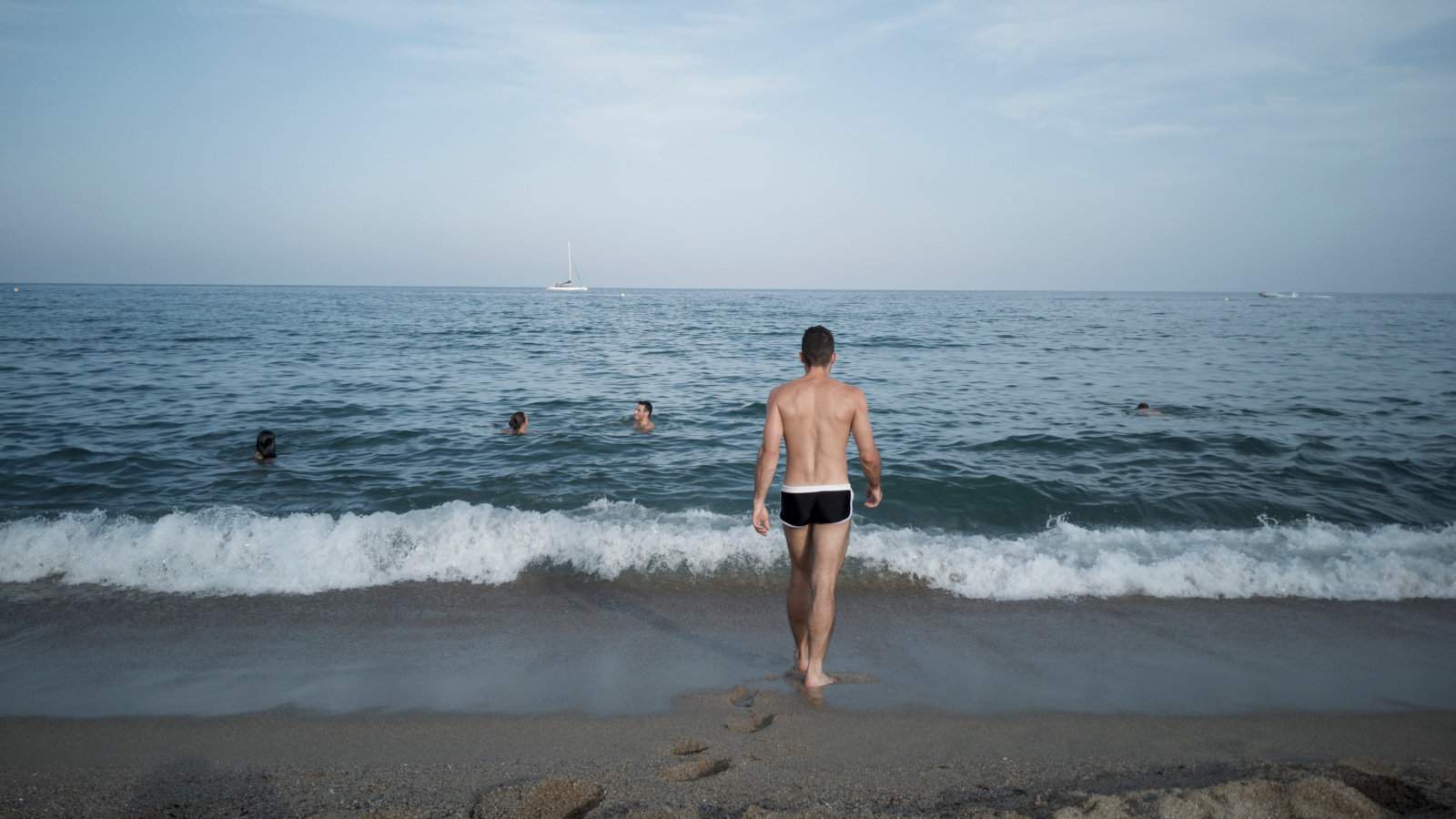 2. Hilton gay beach in Tel Aviv, Israel
This sandy beach in central Tel Aviv is the de-facto epi centre of the city's gay scene: this is also where the massive Tel Aviv Pride Festival takes place every June. There are plenty of bars and cafes around Hilton Beach serving refreshing cocktails and snacks. We particularly loved Hilton Bay, which is a chic place to enjoy a drink right there on the sand.
With calm, clean Mediterranean waters, Hilton Beach is an ideal spot to make like the locals and try your hand at Stand Up Paddleboarding (SUP), which is something of a tradition in this super-sporty city.
For those who are not so athletically minded, grabbing a cocktail at one of the many terrace bars here is a rite of passage at Hilton Beach. Bring your sunglasses, your eyes will be darting every way as you try to keep track of all of the muscled men that patrol this section of the beach wearing only the tightest of trunks!
How to get to the Hilton gay beach of Tel Aviv: the gay beach is located in a prime area of Tel Aviv. Take the 55 bus to the stop HaYarkon/Arlozorov – you can't miss the Hilton Hotel, which stands opposite the stop. Then, the beach sits right in front of the hotel. Remember, the central part of the beach is the main gay area, with the north more for a dog walking scene and the south the preserve of local surfers.
3. Mar Bella gay beach in Barcelona, Spain
Truly a gay beach like no other, Barcelona's Mar Bella benefits from a location that is both secluded and close to the city center. Cozy, intimate yet not without its fair share of glamor, the gay beach of Mar Bella offers visitors the best of both worlds.
Right there on the beach is the BeGay bar-restaurant, which during summer stays open from early in the morning until, well, early in the morning! Serving great food and delicious cocktails, it's easy to while away hour after hour sitting on the bar's vibrant terrace area, chatting with the cosmopolitan crowd that gathers here.
For extra supplies, like sun lotion or shades, there are a few small supermarkets just 10 minutes up the road from Mar Bella, as well as endless options for food and drink.
This beach famously hosts the epic Circuit Festival every August, which is one of the main annual gay events in Barcelona. Though it does make finding a spot to sunbathe a real pain, which is why it's important to go there early if you're there in the peak summer months.
How to get to the Mar Bella gay beach of Barcelona: To reach Mar Bella hop on the metro to Poblenou. From there it's a 10-minute walk down to the sea. Mar Bella attracts a mixed crowd of all ages including both locals and foreigners. We spotted guys throwing beach balls, playing music, and chilling out under the sun.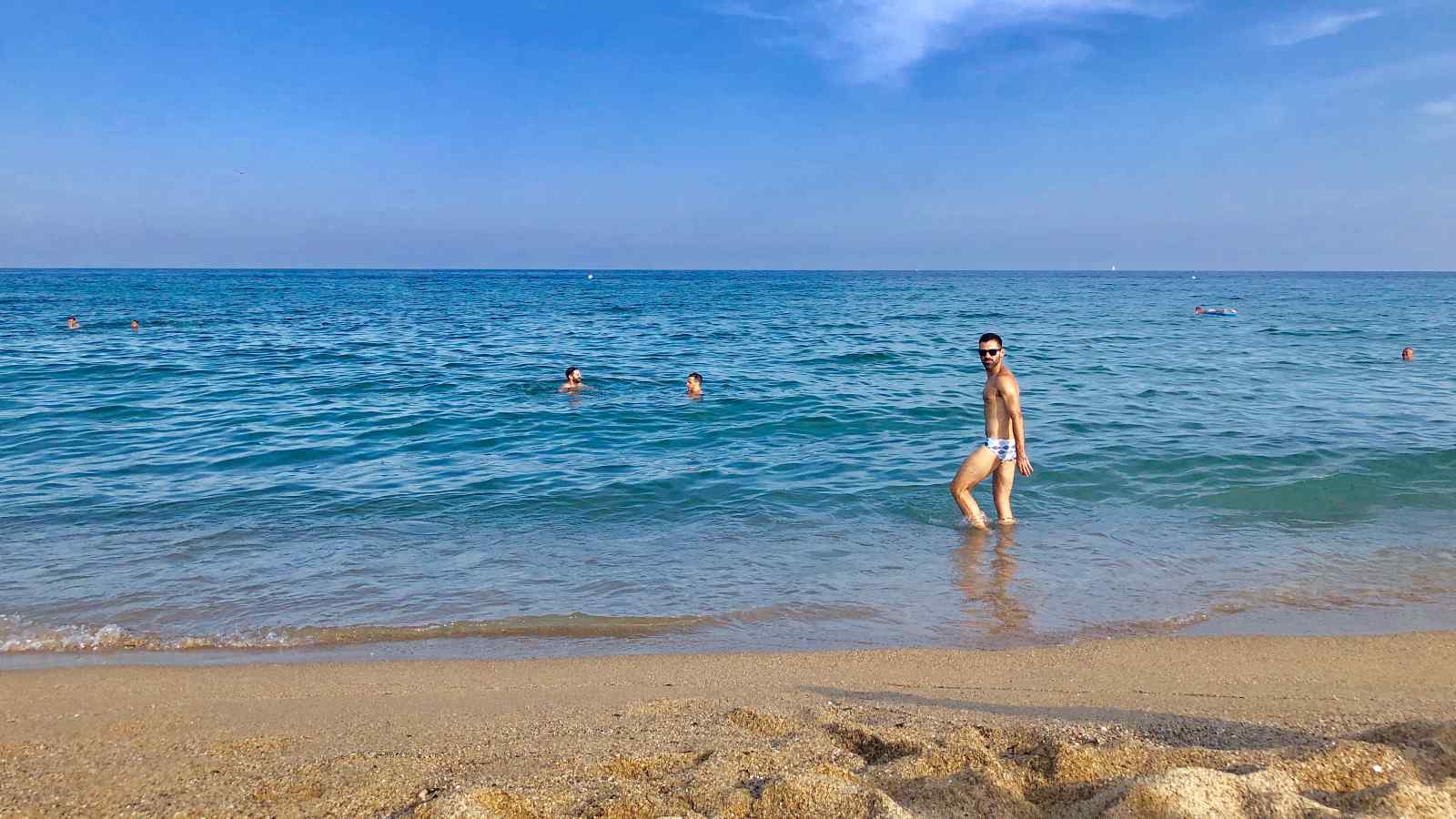 4. Miami 12th Street gay beach, Florida, USA
Miami's South Beach is world-renowned as a hotbed of glitz, glamor, and beautiful people. Nowhere is this more true than at the city's 12th Street beach, where gay Miami really comes to the fore.
This is where America's most unapologetically flamboyant come to strut their stuff and have fun. We found the 12th Street beach to host some of the most gorgeous guys we have seen anywhere in Miami, which really is saying something!
One of the best things about 12th Street beach is that it is located in one of Miami's most exciting parks: Lummus Park. This sprawling green space is filled with volleyball courts, outdoor gyms, and more, meaning you'll have no shortage of activities to enjoy on and around the beach.
This gay hotspot in Miami is home to the annual Winter Party Festival, the Circuit Party, and the Miami Beach Pride. If you're not planning to visit for one of these events, not to worry, as 12th Street beach is close to all manner of top bars and restaurants including the famous Palace Bar which sits just a couple of blocks away.
How to get to the 12th Street gay beach of Miami: The clue's in the name – head over to the coastal end of 12th Street, past the intersection with the famous Ocean Drive street, and voila! If you're driving, park up at the city garage located nearby at the intersection of 13th Street and Collins.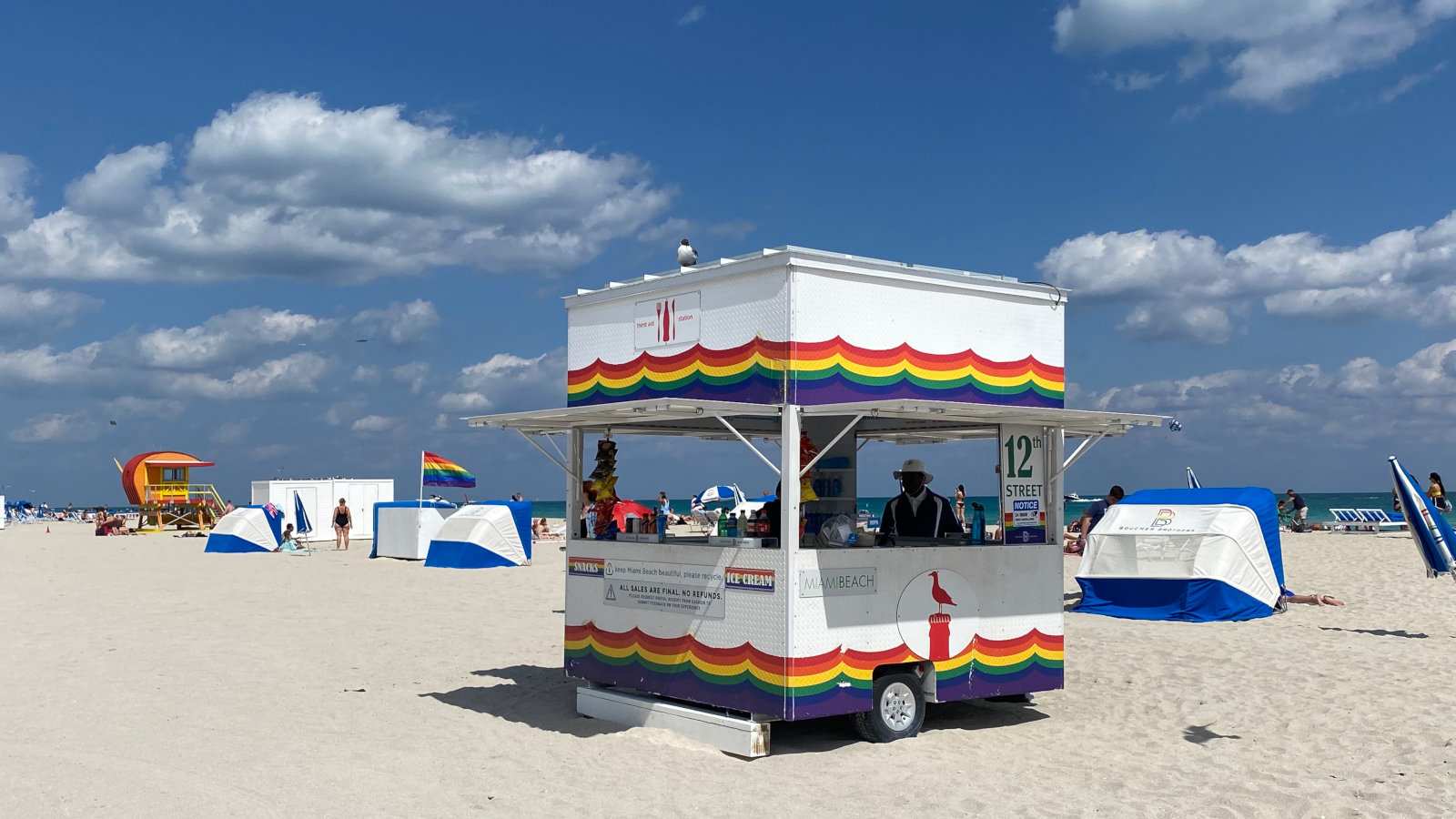 5. Bondi gay beach in Sydney, Australia
When you think of Sydney beaches, you probably think of hot Aussie surfers, lifeguards, and endless nights of partying. Well, that's exactly what Bondi Beach has to offer for gay travelers looking to enjoy Australia's most famous stretch of sand.
The de-facto gay area of the beach is north Bondi, where the speedos are tighter and the abs more chiseled than in any other zone. North Bondi even has its own LGBTQ lifeguard force numbering over a thousand! If you're lucky enough to be in town for Sydney Gay Mardi Gras in March, you'll see north Bondi transformed into a zone of wild partying that goes on well into the early hours of the morning.
On that note, it's worth remembering that drinks are banned on Bondi beach and that this rule is strictly enforced by local authorities. Luckily, the boardwalk area directly behind the beach is packed with cool bars, cafes, and restaurants serving everything from cold beers to deliciously fruity cocktails and ice-cold Aussie white wines.
How to get to the Bondi gay beach of Sydney: You can go either by train/bus or bus all the way. By train head to Bondi Junction and then either walk the final 2 km to the beach or take a short bus ride. By bus from downtown Sydney, jump on the #380 which will take you directly to Bondi beach. Driving is not recommended because of parking limitations at the beach.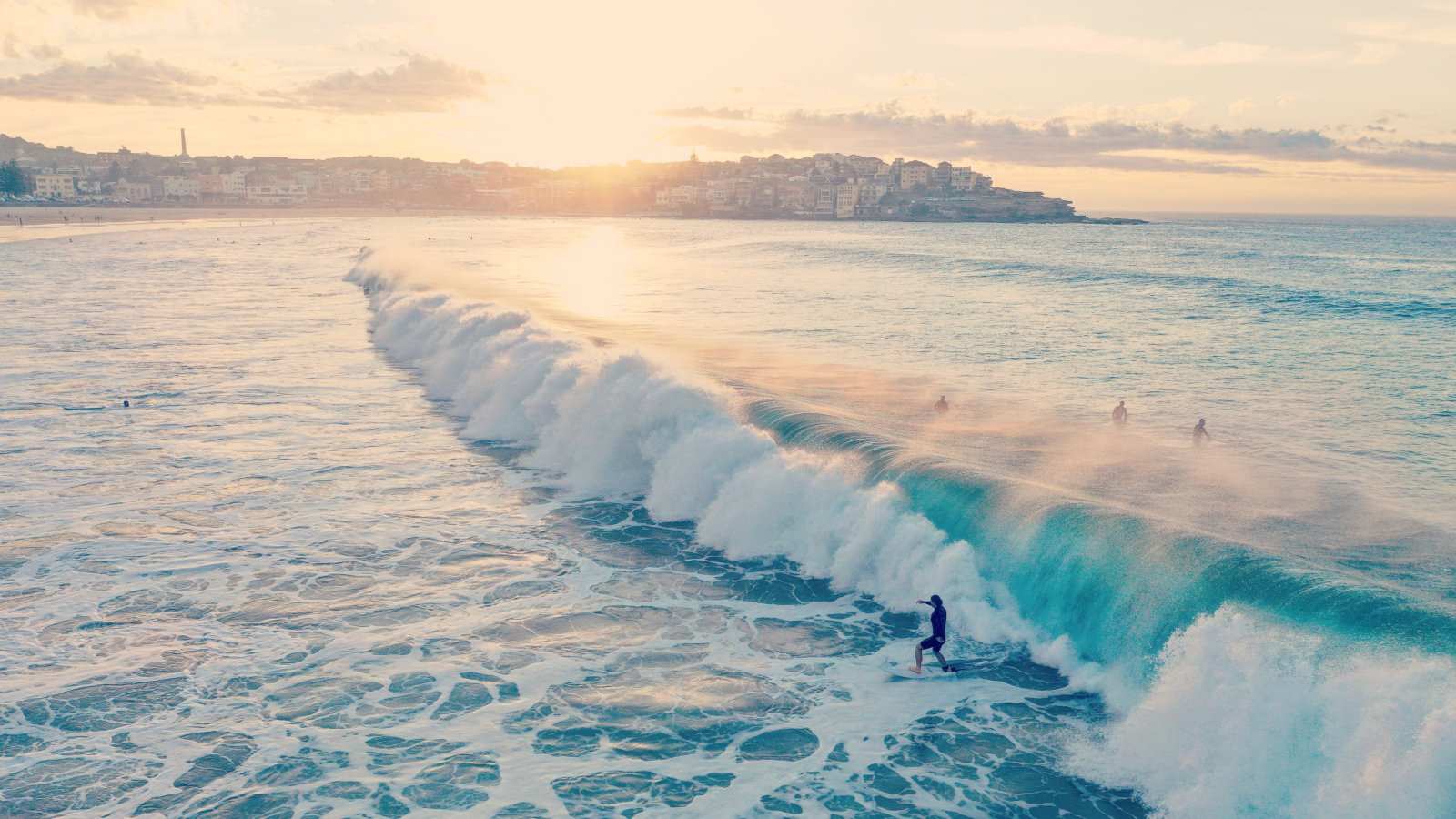 6. Atlantic Beach in Condado, Puerto Rico, USA
With a strong gay scene made up of both locals and tourists, San Juan is home to a string of gay beaches, with the best of all located at Condado.
The gay area of Condado sits in front of the Atlantic Hotel, whose bar is a hub for gay men looking to sip cocktails and mingle in the sun. The Happy Hour here is legendary, taking place daily from 5-9 pm when mixer drinks can be enjoyed for as little as $4 each, with cocktails only slightly pricier. If you're the kind of guy that seeks nothing more than sun, sea, and cheap drinks, then this is the place for you!
Alternatively, you can rent a sun lounger and enjoy being waited on hand and foot right there on the sand as you watch the boys pass by. Atlantic Beach is home to the kind of relaxed, carefree attitude that means you're sure to meet plenty of fun, interesting folks during your time here. It is no wonder why we rate Puerto Rico as one of the most safest Caribbean islands for gay travelers!
How to get to the Condado gay beach of Puerto Rico: the easiest way to reach Condado beach is by Uber, which takes around 10 minutes from downtown San Juan. Tip: be sure to tell the driver you want to be dropped at the Atlantic Beach area in the center of Condado, which sprawls for some way in either direction.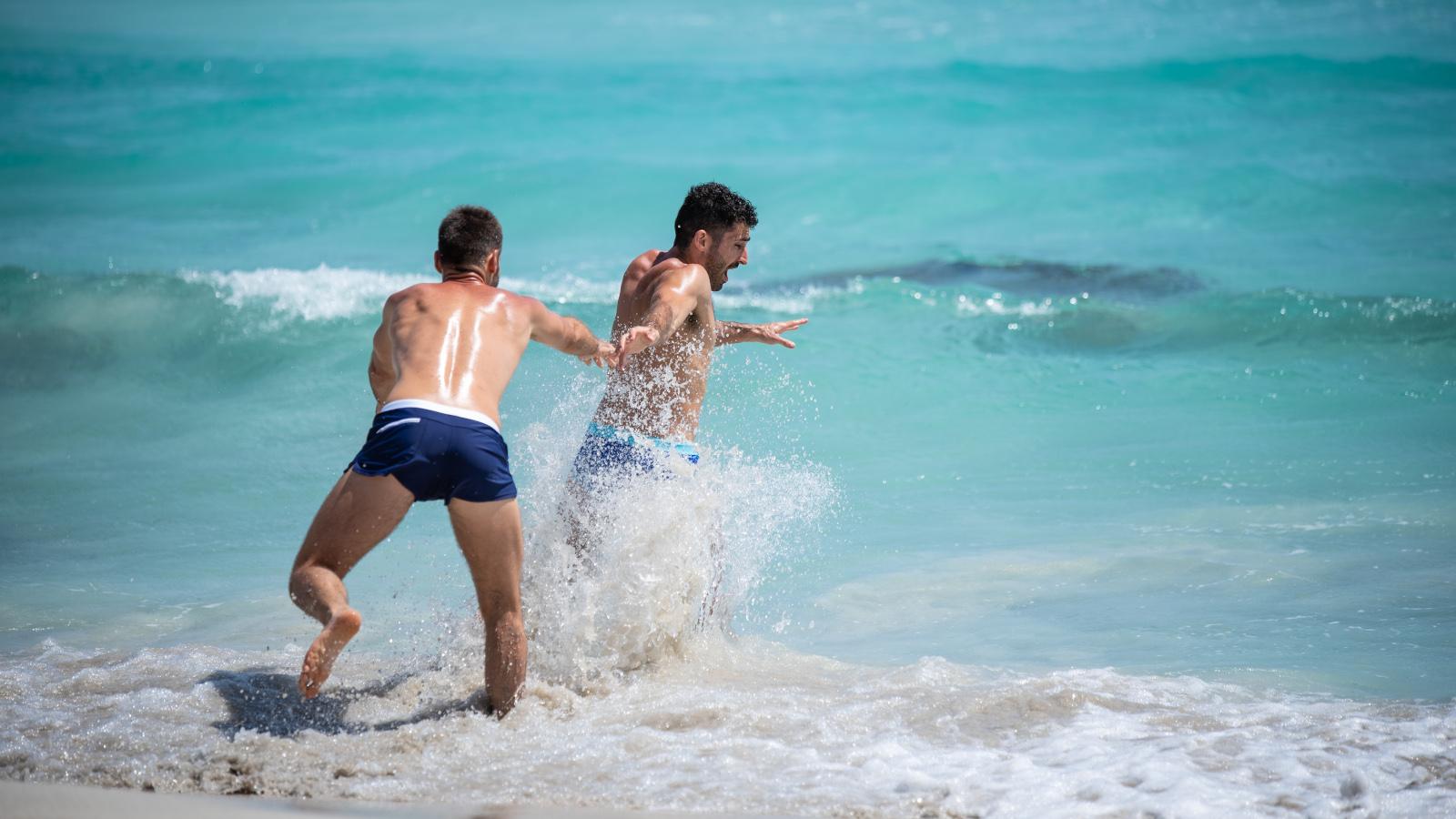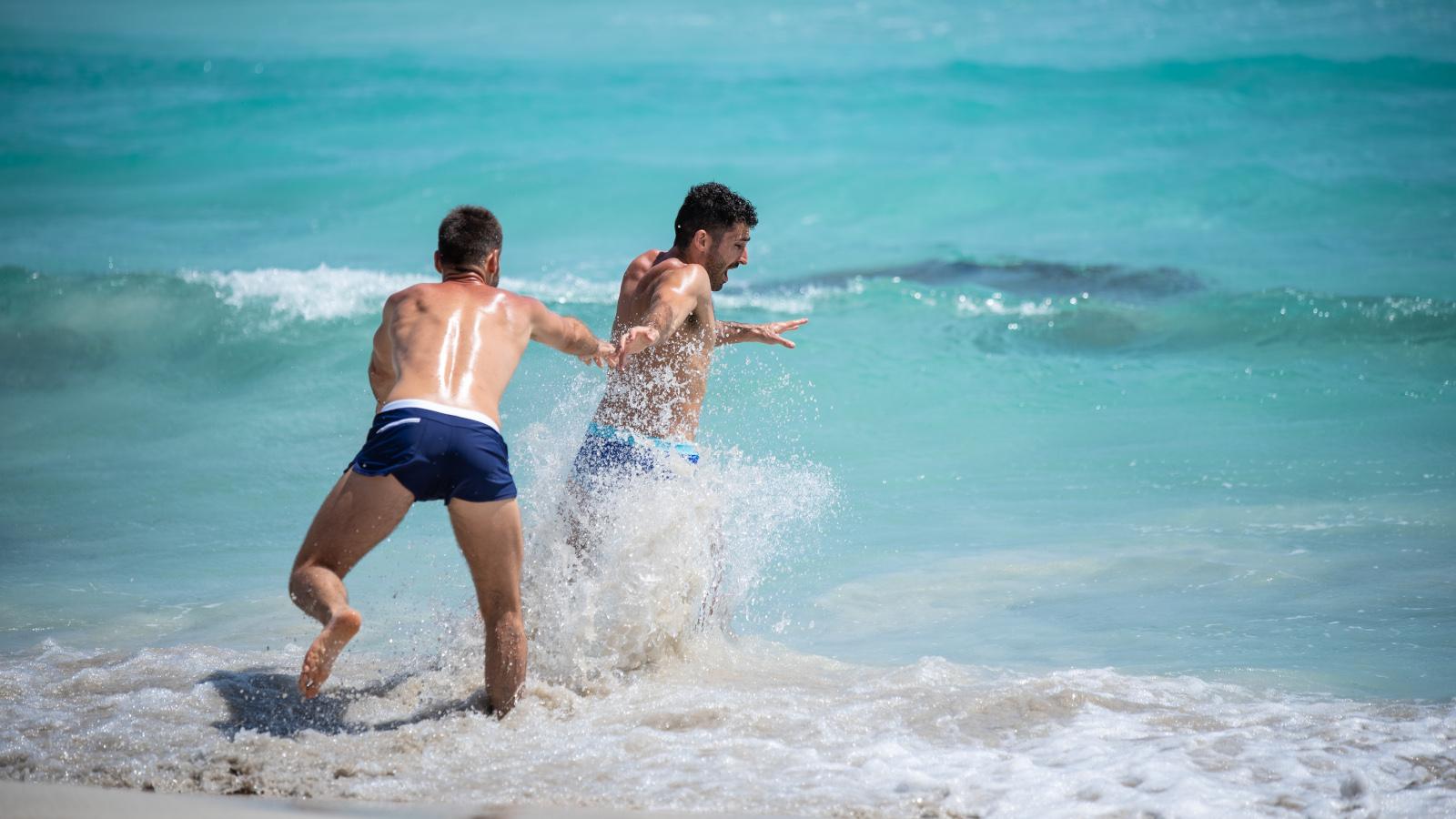 7. Black's gay beach in San Diego, California, USA
A gorgeously secluded section of Torrey Pines State Beach, Black's Beach is perhaps the most famous nudist beach in the United States. This enormous stretch of sand is home to a sizeable gay area at the north end of the beach, where you will find gay surfers, beach bums, and straight-up posers quite literally rubbing shoulders.
When we say that Black's Beach is long we mean really, really long, two and a half miles to be precise. As such, you're sure to feel the immense sense of freedom and seclusion that Black's has to offer whether you're here to surf, sunbathe, or just run around in your birthday suit!
As one of the premier surf destinations on the West Coast, Black's Beach is a prime spot for meeting and at the very least eyeing-up the scores of beautiful surfer boys that flock here every day of the week. If that doesn't do it for you, keep an eye out for the schools of dolphins that call this stretch of the coastline home, they're known to get extremely close to the shore.
How to get to the Black's gay beach of San Diego: simply put the destination "Torrey Pines Glider Port" in your GPS and follow the directions. Once you arrive, continue through the driveway. There is a parking lot where the path ends – you'll know you've reached it when you spot the 'Danger' signs.
8. Maspalomas Kiosk #7 gay beach in Gran Canaria, Spain
Gran Canaria is one of the Canary Islands in Spain, located just off the coast of West Africa. The island is a gay haven with a massive gay scene around the Yumbo Centre in Playa del Ingles. Just south of this is the gay beach of Maspalomas close to kiosk #7, which sits hidden by the island's famous sand dunes.
The beach itself is a lot of fun, with sun loungers available for rent and guys of all ages enjoying themselves. Mainly, the gay beach attracts tourists from North Europe on their gay vacation in Gran Canaria.
The only downside about the Maspalomas gay beach is that when it gets windy here, the sand goes EVERYWHERE! So be prepared for this or avoid going on a very windy day. Gran Canaria has tons of gay accommodations to choose from and to suit all budgets, you won't be disappointed!
How to get to the gay beach of Maspalomas: Head over to the Hotel Riu Palace Maspalomas and from there cross through the Sand Dunes following the path marked with wooden posts. The walk through the sand dunes is around 15 minutes.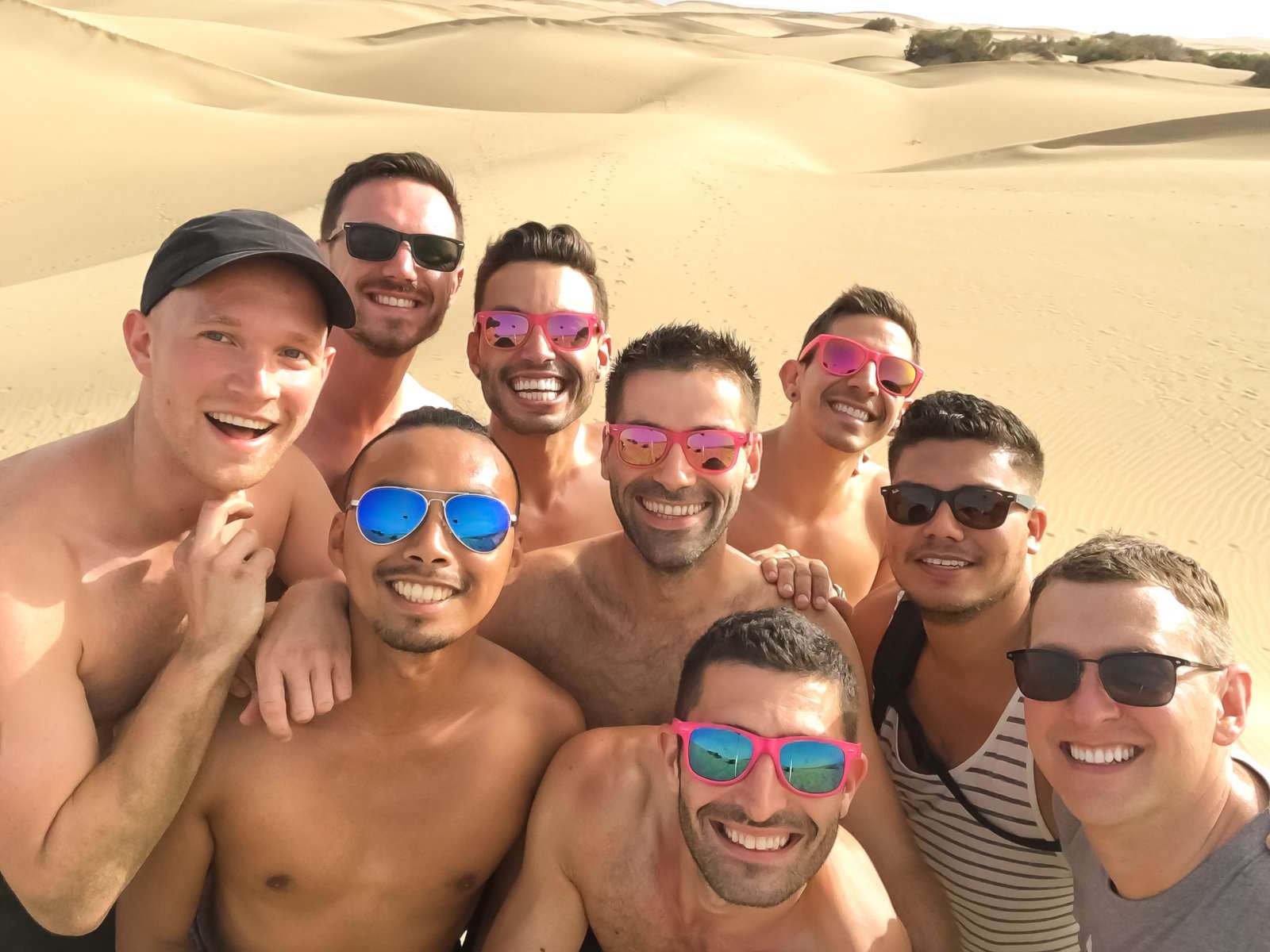 9. Herring Cove gay beach in Provincetown, Massachusetts, USA
Herring Cove is a part of the wider Cape Cod National Seashore, a stunning national park located in the northeast United States. This is the most popular gay beach in Provincetown as well as being an unofficial spot for nudists – though be aware that nudism is technically illegal here. The authorities just turn a blind eye to it…!
The dunes just behind the beach are a hotspot for cruising and a bit of rumpy-pumpy, so it's worth being careful where you tread! Herring Cove attracts a diverse gay and lesbian crowd that can stick around until very late indeed during hot summer nights when the atmosphere gets downright hedonistic.
How to get to the Herring Cove gay beach of Provincetown: Take the beach shuttle from downtown Provincetown. If you're driving, head south out of town just a couple of miles and follow the signposts. You will be able to park up right there in front of the dunes.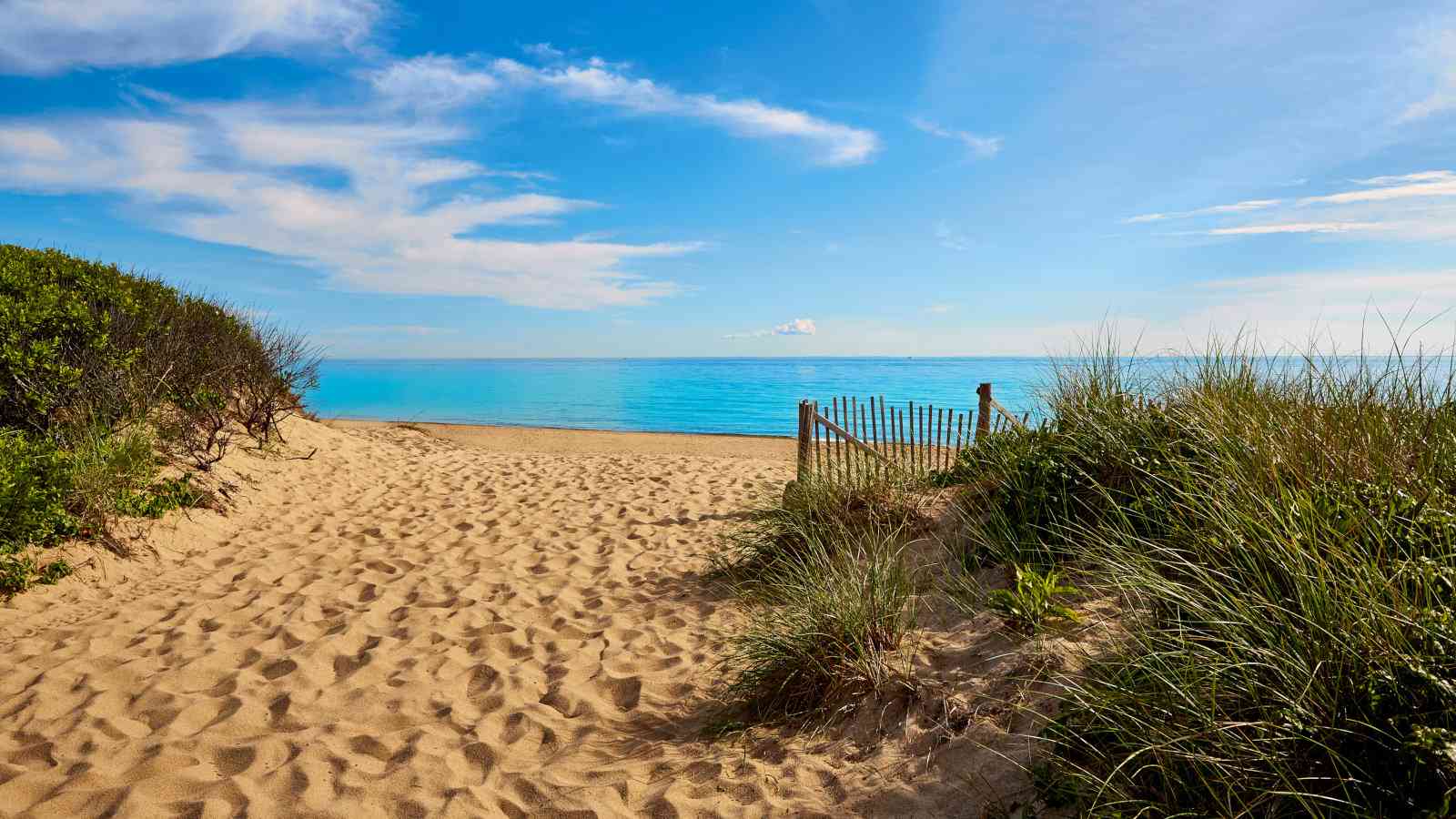 10. Elia gay beach in Mykonos, Greece
Elia Beach is our favorite gay beach on Mykonos Island in Greece.
It has a super cool gay section – lookout for the rainbow flags waving in the wind. The water is warm, the sand soft and the facilities exceptional. The beach is generally very quiet in the morning, so if you're just looking for a place to relax, then use this time to do it! Things start to get a little bit more active in the afternoon with tons of gorgeous gay men descending onto the beach for a day of socializing, partying, and swimming.
The busiest period is during the XLSIOR gay festival which takes place at the end of August and early September. Read more about it in our gay guide to Mykonos.
How to get to the Elia gay beach of Mykonos: Elia beach is located 6.2 miles (10km) south from Mykonos Town at the southern tip of the island. The best way to reach it is to drive down in your rental car or buggy. There is a public bus but it runs on limited hours and take ages! Sometimes scheduled boat services can take you here during the peak summer seasons.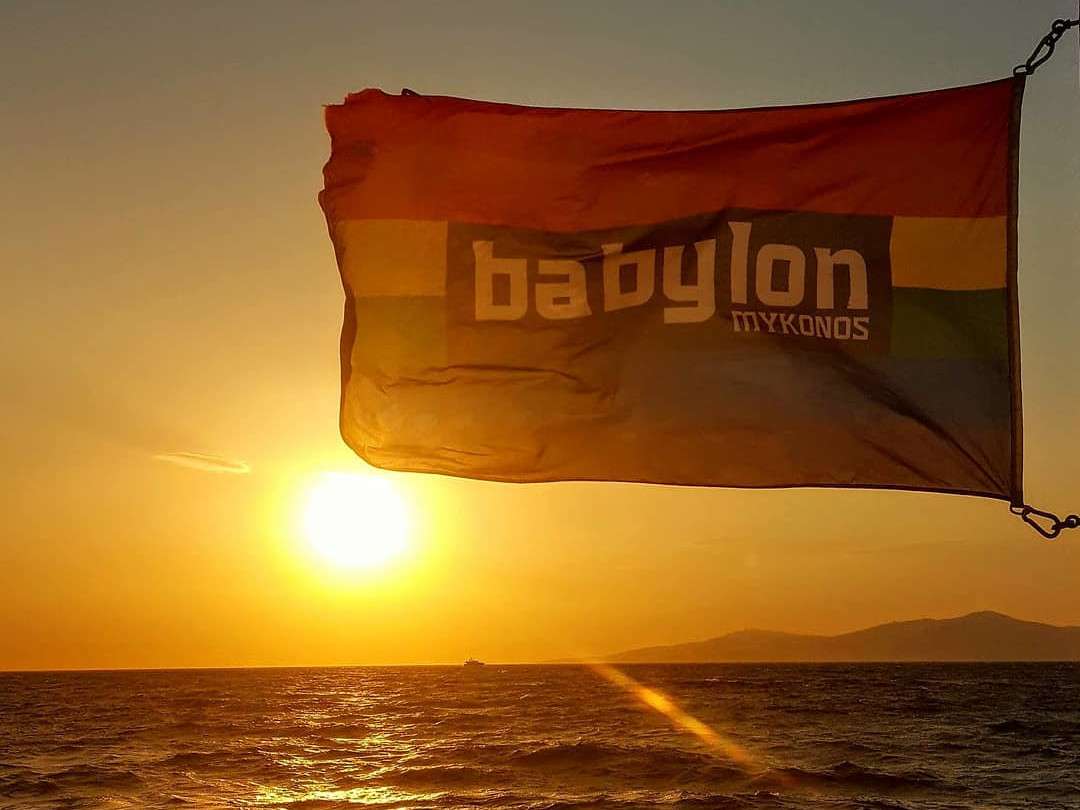 11. Sandy Bay gay beach in Cape Town, South Africa
Sandy Bay Beach is renowned as the best gay beach in South Africa, and we wholeheartedly agree!
This beach is quite secluded from the rest of Cape Town and as such, it can be rather difficult to reach. Tucked away beside a hidden road half-way between Cape Town and Cape Point, Sandy Bay doesn't like to make its presence known too loudly. Yet, if we're being honest, this only adds to the mysterious charm and tranquil vibe that this place has in bucketloads.
With stunning coastline views, plenty of caves to explore, plus a fantastic mix of people both old and young, Sandy Bay is the kind of place to visit when you want nothing more than to get firmly off the beaten track. Surrounding the beach is also a stunning hiking trail, which you can explore if you're feeling a bit more adventurous. There are guided tours available that take you along the sights by the beach, as well as through the Cape Peninsula and Winelands. Read more in our guide to the highlights of Cape Town for gay travelers.
How to get to the Sandy Bay gay beach of Cape Town: Sandy Bay is quite secluded, so the best way to reach it is by car. Just follow your GPS to the endpoint before making the 20-minute hike down to the beach.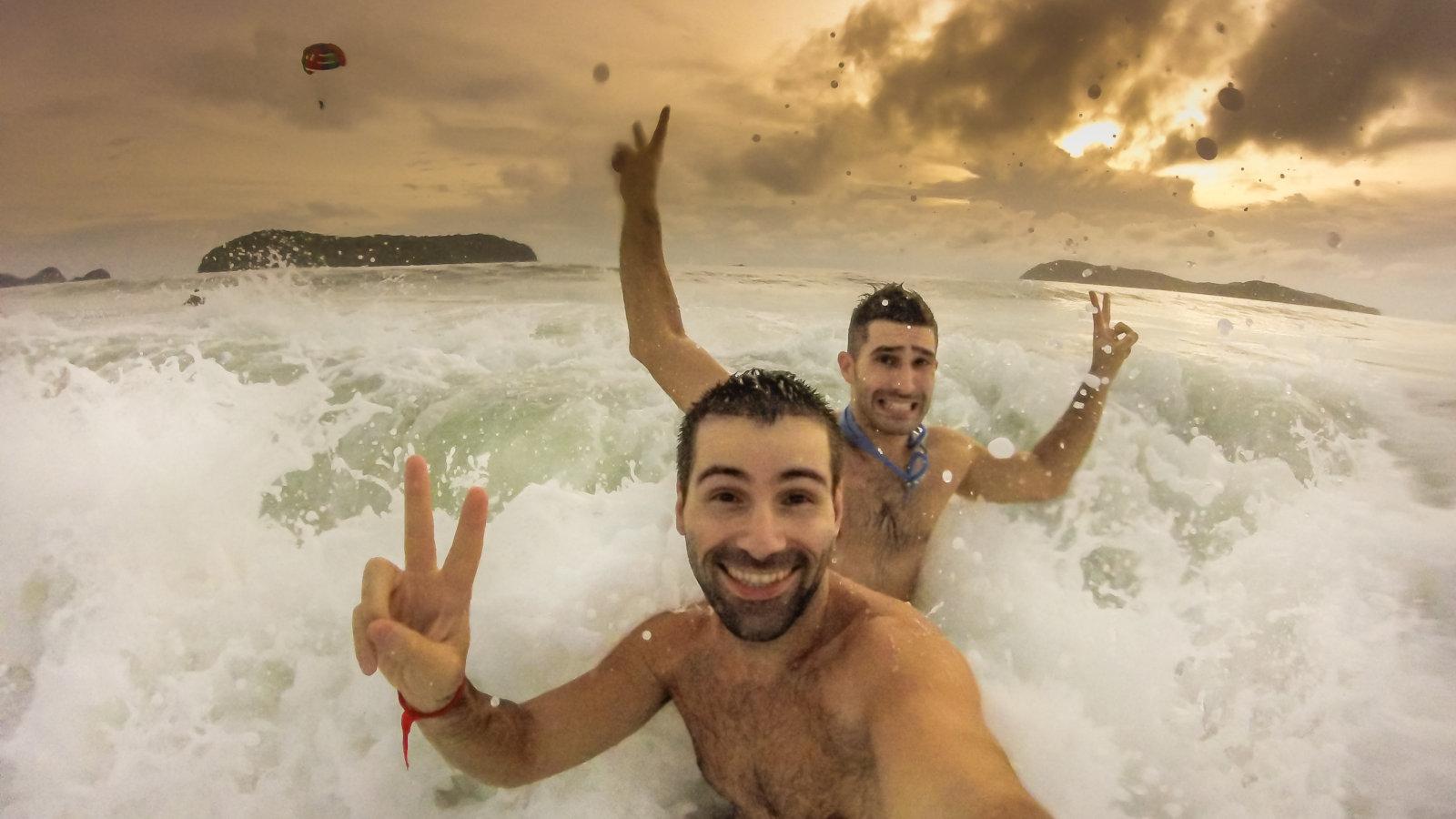 12. Sebastian Street gay beach in Fort Lauderdale, Florida, USA
Sebastian Street Beach is one of America's best-known gay beaches for a reason. That is – it's absolutely awesome! Whether you come for the sun, the warm water or the eye-candy, Sebastian Street is a must-visit for gay guys in the Fort Lauderdale area.
The vibe is quite low-key at this LGBTQ hotspot, with refreshingly little posing going on. Not that we're against posing, it's just that there's a time and a place – we're looking at you, Miami! In Fort Lauderdale, the pouts turn to easy-going smiles…you're sure to find the crowd here friendly, open and accessible in comparison.
The nightlife around Sebastian Street gay beach is more dinner and cocktails than wild, endless beach parties. Again, if that's what you want, head to nearby Miami or sashay over to the gay scene of Wilton Manors for one of the best gay nights out of your life! In terms of gay accommodation, there are plenty of excellent gay resorts in Fort Lauderdale with some of them close to Sebastian Street Beach.
How to get to the Sebastian Street gay beach of Fort Lauderdale: The best way to get around anywhere in Fort Lauderdale is by Uber or Lyft. Otherwise, you can reach it by public transport by jumping on bus number #11 or #40 from downtown, which will drop you right there by the sand.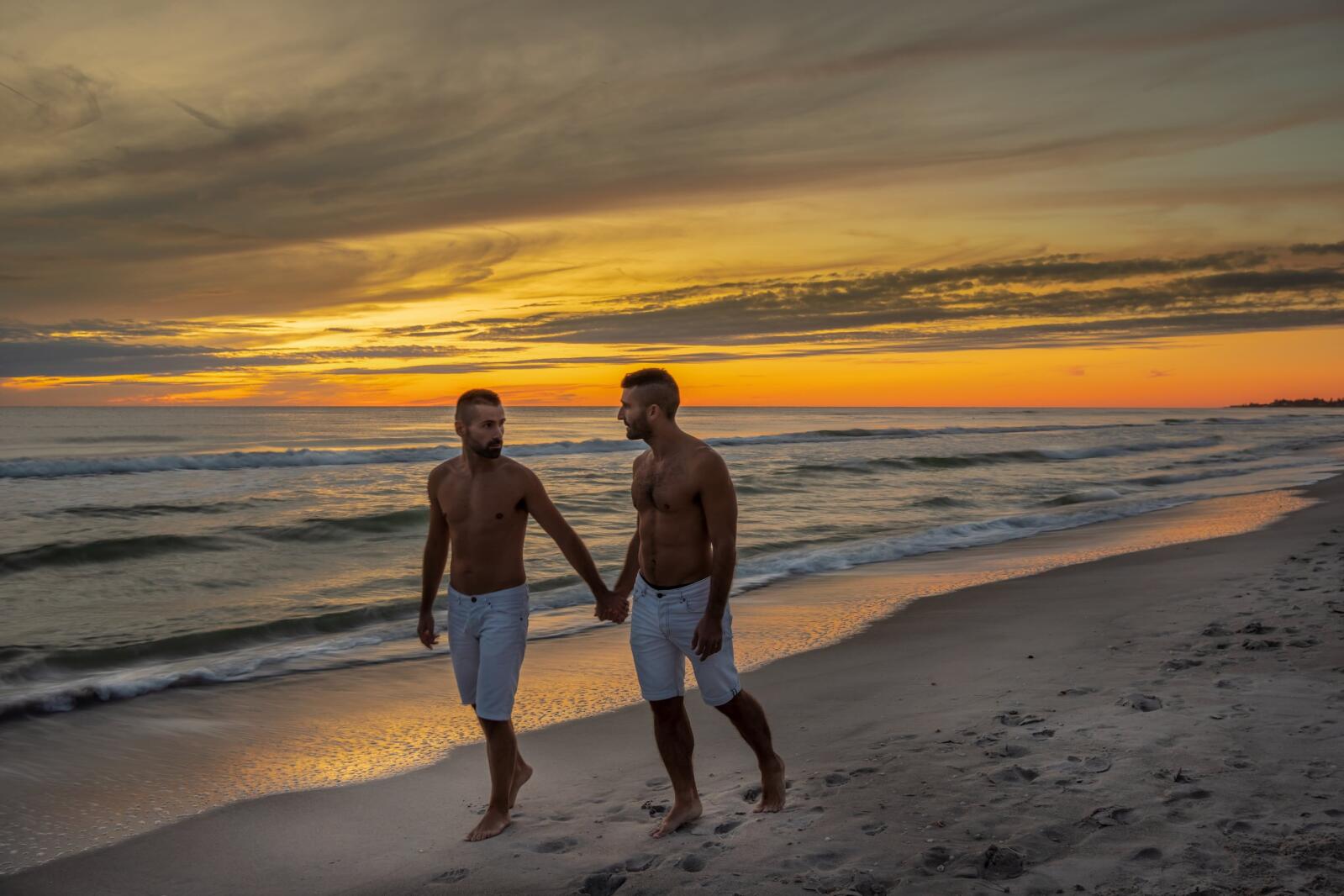 13. Will Rogers State gay beach in Santa Monica, California, USA
Situated in the gay mecca of Santa Monica, Will Rogers State Beach is one of California's most fabulous places to be. After all, as Katy Perry once said, "California is fine, fresh, and fierce!"
This is one of the best gay beaches in the US, located near lifeguard tower 18 in Pacific Palisades on the Santa Monica Bay. Will Rogers is fondly nicknamed "Ginger Rogers Beach" and it is famous for being the filming location of Baywatch before it was moved to Hawaii. Need we go on?!
The beach is well maintained, so it's always very clean, whilst the crowd here tends to be extremely laid back, which of course is true of much of the West Coast. In what is a famous surfing spot in the region, you can hit those waves in between games of volleyball or gymnastics. Everywhere you look there is a hive of activity going on, with people just embracing the bodies they were born, in the most shame-free and California fashion.
Nearby you can enjoy a bike or hiking trail, which meanders right across the beach and around the coastline. Close by is a totally lush gay bar called "The Birdcage" – yes, just like the movie. The bar throws a Beach Club party every weekend with great music, drinks, and no shortage of fun.
How to get to the Will Rogers State gay beach of Santa Monica: The best (and only!) way to reach it is by car, bound for Pacific Palisades on the Santa Monica Bay. When you arrive, look out for the rainbow painted lifeguard tower #18.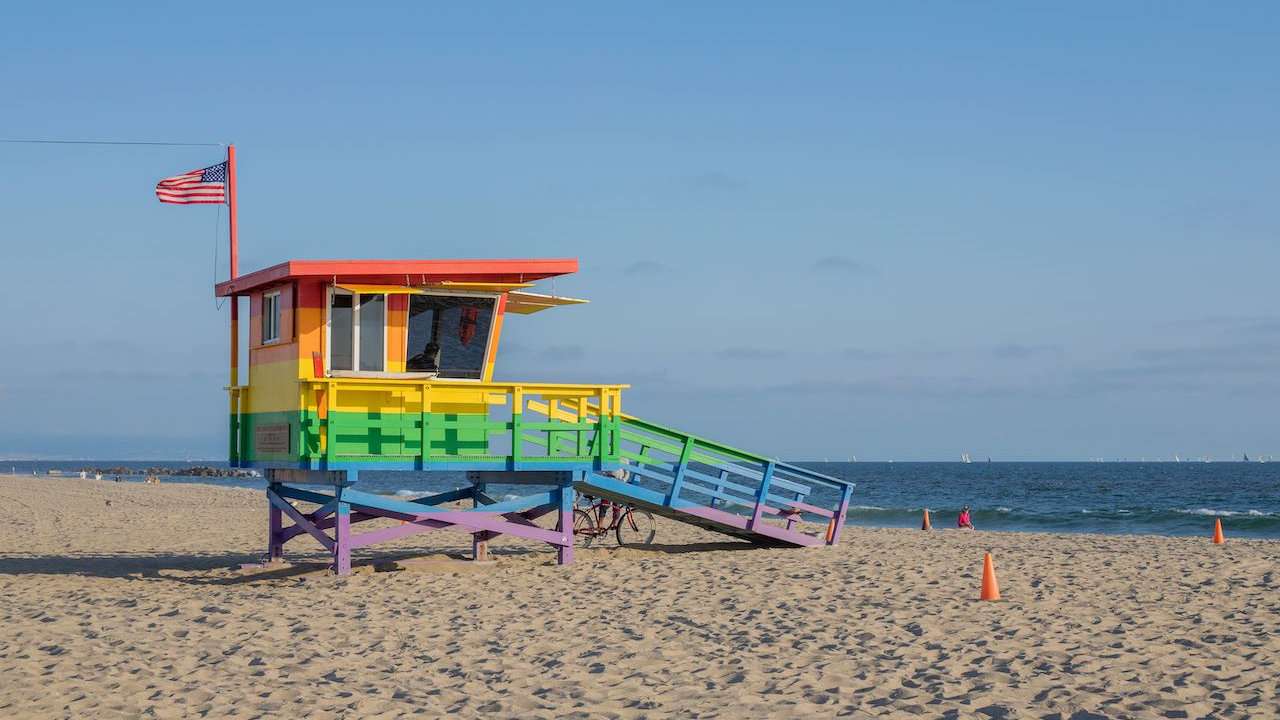 14. Playa de los Muertos gay beach in Puerto Vallarta, Mexico
Translating quite literally as "Daed Man's Beach", Playa de Los Muertos is ironically one of Mexico's most vibrant, life-filled beaches that has become a hive of LGBTQ activity.
This is a true downtown beach, located just off the main seafront drag in gay friendly Puerto Vallarta, a beautiful town and a key part of Mexican tourism. As such, the party never stops at Playa de Los Muertos! Grab a tropical cocktail (Piña Colada, anyone?) at literally any time of day, settle down in a lounge chair and watch the whole carnival-like situation unfold before your very eyes.
Whether it's speedo-clad gay guys showing off their chiseled abs or local traders selling everything from fresh fruit to handicrafts, Playa de Los Muertos offers a true feast for the eyes. With beautiful white sand, crystal clear waters, and a glut of trendy bars, this awesome gay beach has everything you need to spend a few days getting lost in the festival atmosphere.
How to get to Playa de Los Muertos gay beach of Puerto Vallarta: From Zona Romantica, either grab a taxi over, or jump on the Centro Bus and get off at the Playa Los Arcos Hotel, which is 2/3 blocks away from the gay beach.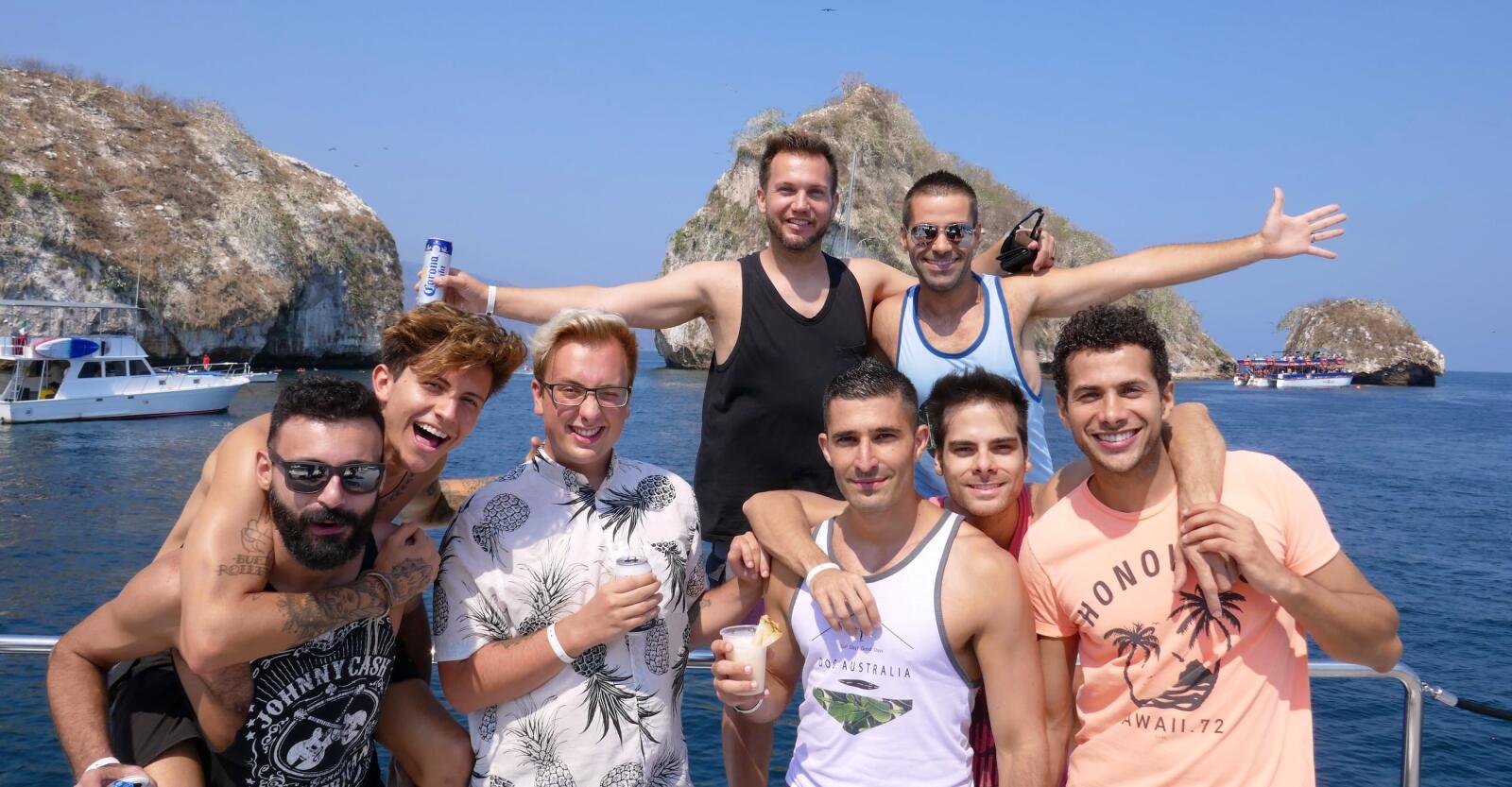 15. Farme Ipanema gay beach in Rio de Janeiro, Brazil
Not only is the beach of Ipanema a big part of the LGBTQ scene in Rio, but there is an entire district of the same name that has become a gay hub in its own right.
Let's face it though, you came to Rio for the beaches and this one does not disappoint. Situated toward the eastern end of Ipanema between 'Postos' 9 and 8, this fabulously gay-friendly area is filled with queens both local and foreign. In fact, in Rio, they use the term 'Barbies' to describe musclemen! This particular stretch of beach is packed with Barbie Boys in all their tanned, skimpy-shorted glory!
There are always plenty of games happening – even if you're not that into sports, the crowds here are so inviting and engaging that you'll feel yourself becoming the next Sporty Spice within minutes! Try your hand at surfing, the waves here are to di…ve for, and the blue waters feel so relaxing underneath the piping hot sun.
How to get to the Farme gay beach of Ipanema in Rio: Jump on to the metro line #1 or #4 and take it to the General Osório stop. From there it's a 5-minute walk down to the sand. You'll know you're in the right place when you spot all the rainbow flags.
16. Poodle gay beach in Rehoboth, Delaware, USA
Part of the wider Rehoboth Beach area, Poodle Beach is Delaware's gayest patch of sand and a hub for the area's vibrant LGBTQ scene. Located at the southern end of the Rehoboth Boardwalk, the gay section of the beach is unmissable due to the rainbow parasols and throngs of guys who come in every conceivable shape and size.
Poodle Beach is known to have some of the cleanest water of any beach in America, making this a hotspot for swimming and watersports. If you would rather kick back on the sand and work on that tan, there are plenty of bars and cafes nearby to grab an ice-cold cocktail or beer from.
The crowd here is incredibly friendly and open, with none of the pretentiousness that blights many other gay beaches in the world. As long as you turn up with a smile and the cutest bathing suit you can find, you're sure to make plenty of new friends at Poodle Beach.
How to get to gay Poodle Beach of Rehoboth, Delaware: Drive over to Rehoboth Beach and keep heading south on the Rehoboth Boardwalk until you spot the gays and the rainbows!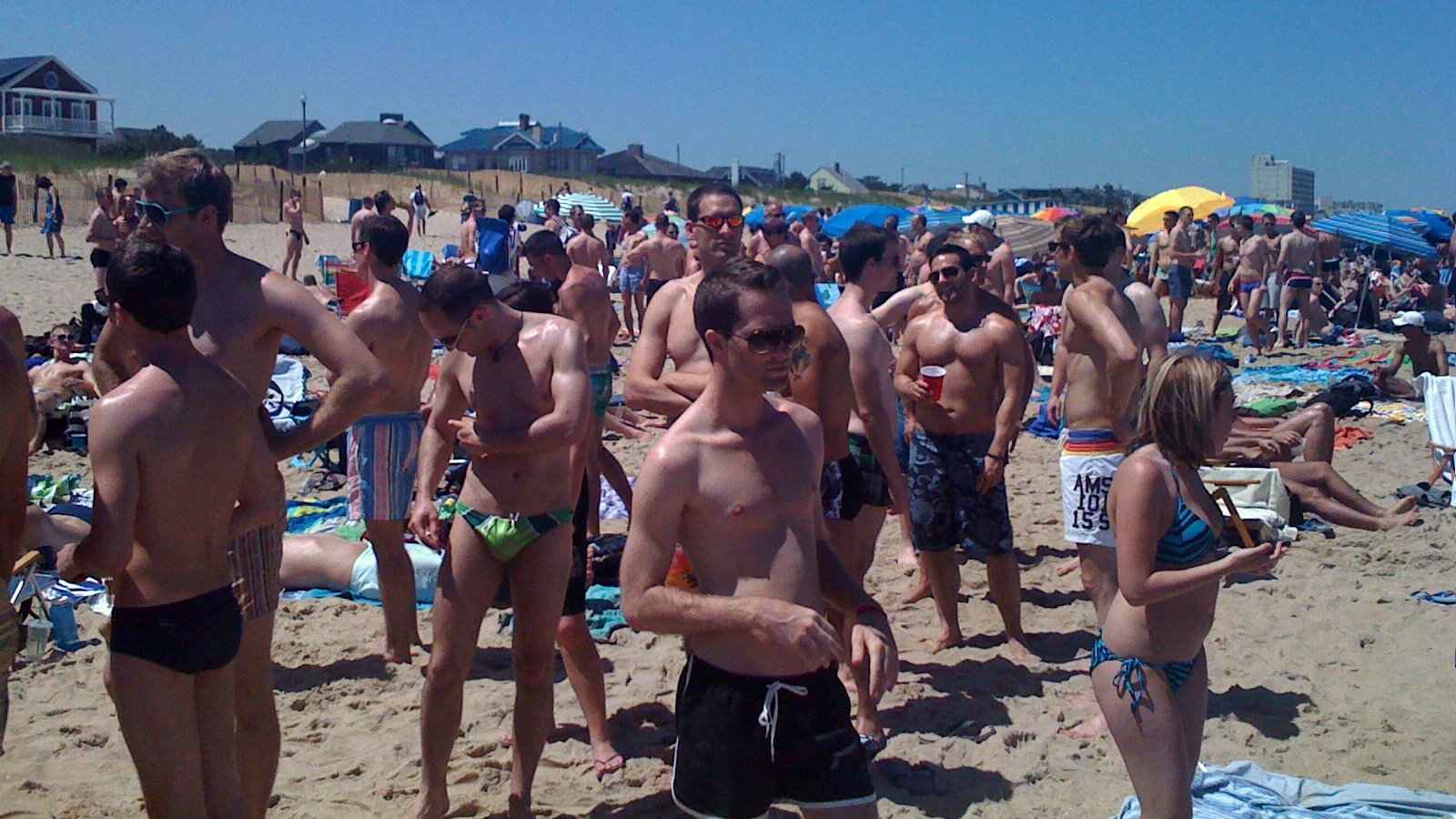 17. Praia #19 gay beach in Lisbon, Portugal
Renowned through the city as a popular nudist beach, 'Praia 19' as it is known locally, is one of the largest and best gay beaches in Europe. It is situated just across the River Tagus from downtown Lisbon, part of the wider Costa da Caparica coastline.
Praia 19 will blow you away on arrival, the sheer scope of this beach is enormous. The huge waves of the Atlantic ocean, are truly a sight to behold. Yet it's not just the natural scenery here that's amazing. Praia 19 is known for anything-goes-hanky-panky in the dunes and forest area just behind the sand. You will find all kinds of gay boys enjoying themselves at this enormous beach, with both locals and gay tourists frequenting it.
For such a wild beach, Praia 19 is blessed with amazing facilities that you will be thankful for after a long day in the sun. Bars, restaurants, and cafes line the area at Fonte da Telha beach just a short walk south, with many of these spots ideal for meeting new friends and finding out where the latest gay party will be happening that evening.
How to get to the gay beach of Lisbon: The quickest way is to drive down from Lisbon if you're renting a car, or get a taxi. You can also use Uber to get to and from Beach 19 safely.
18. Bassa Rodona gay beach in Sitges, Spain
Platja de la Bassa Rodona is the main official beach of Sitges, with rainbow flags proudly flying in the wind.
Sitges is one of the best gay resort towns we've ever been to. Located around 27.3 miles (44km) south from Barcelona, this has to be one of our favorite gay destinations on the planet. Throughout the town, you will see the rainbow flag flying proudly outside windows, bars, and restaurants. We rate it as one of the gayest cities in Europe!
Platja de la Bassa Rodona sits in front of the town and is one of many beaches in Sitges. Undoubtedly though, this is the most popular gay area and it's here that you will find the buffest guys in the skimpiest swimsuits. The water is warm, clean, and perfect for swimming, just be sure to get here early during summer as it can get really packed.
Owing to it being so close to town, Platja de la Bassa Rodona is backed by many bars, cafes, and restaurants, many of which are gay owned. We particularly love Picnic, which offers delicious snacks and cocktails that are perfect to take away and enjoy right there on the beach.
How to get to the Bassa Rodona gay beach of Sitges: the gay beach is super easy to reach. From Sitges train station, just head south, through Sitges main town, cross over the promenade and voila – spot the rainbows!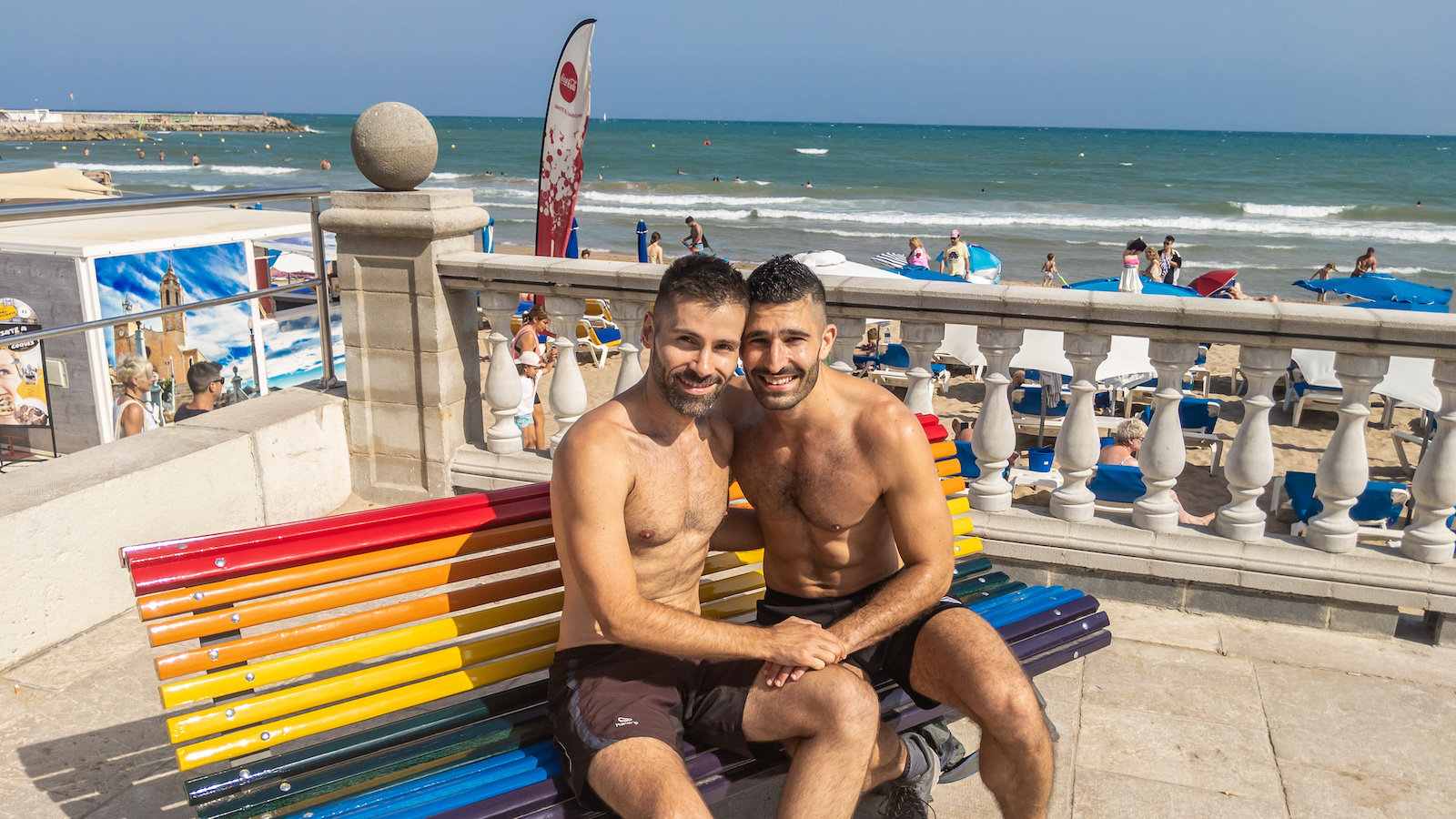 19. Little Beach in Hawaii, USA
Little Beach is located in the gorgeous Makena State Park of Maui and is one of the island's most popular nudist spots. Officially named Puʻu Olai, you will be able to fulfill all of your tropical fantasies at this stunning, paradise beach.
The gay area of Little Beach tends to be at the far end, where you will find all types of queens frolicking on the crystal-clear waters and sunning themselves on the sand. Be sure to bring plenty of supplies to this remote beach as there are certainly no swanky cafes here. Also, be careful in the water because the currents can be quite unpredictable and get strong without any warning.
How to get to the Little Beach gay beach of Hawaii: Little Beach can be tough to get to and rewards only the most adventurous minds. First of all, enter the Maui Prince Hotel on your GPS. Once you arrive here keep driving until the sign for Makena State Park when you will want to turn right. Leave the car in the nearby parking lot before walking down to Big Beach. Turn right and head all the way to the volcanic rocks at the end, hike over these and you will see the most beautiful little bay ever. This is Little Beach!
20. Cavallet gay beach in Ibiza, Spain
Just like the Venga Boys said, "We're going to Ibiza". And we sure love it on this Spanish party island!
Ibiza is synonymous with mega-clubs, some of the best we've ever been to. However, it's not all about partying here. Ibiza also has some stunning beaches to check out including one just for us called Platja Es Cavallet, located in the south of the island.
Cavallet beach is a super chilled place to hang out during the day after a night out partying in one of the island's mega clubs. This was also the first gay beach we ever went to together as a young gay couple, many, many moons ago. We remember standing behind the dunes, peeking out onto the horizon where Seb swears he could spy Formentera…
On our visit, it was peak summer period in July, so the beach was packed full of gay guys of all ages from all around the world. It's also where you will find the club flyer boys hanging around and giving out discounts to that evening's biggest parties. Yet, despite the crowds, we love that you can always find a quiet spot all to yourself at Cavallet.
How to get to the Cavallet gay beach of Ibiza: you can reach the gay beach either by driving here or via a long bus ride from Ibiza Town, followed by another good 20-minute walk through the forest.