Our bumper gay travel guide to Fort Lauderdale including where to stay, and where to play…read why we LOVE this Florida gay mecca so much!
"Fort Lauderdale is almost too gay to function!"
Over the past few decades, Fort Lauderdale has evolved massively to become the gay capital of Florida as well as one of the top LGBTQ destinations in the USA. The city has everything to suit all LGBTQ travelers including clothing-optional male-only resorts, gay beaches, many gay events taking place throughout the year, and of course the gay scene of Wilton Manors!
We've been several times to Fort Lauderdale, either as a stopover for a cruise, or to go to one of the many gay parties they have here throughout the year like "Wicked Manors" on Halloween. We always love coming here, particularly as it's a 365-day destination. There's always something happening and you're almost always guaranteed gorgeous sunny weather.
This is our detailed gay guide to Fort Lauderdale featuring highlights from the gay scene of Wilton Manors, the best gay beaches, events, and gay hotels to stay. Read why we included Fort Lauderdale in our detailed guide to the best vacation places in the world for LGBTQ travelers.
Is Fort Lauderdale gay friendly?
Hell yeah!
Fort Lauderdale has evolved so much over the past few decades to become one of the gayest places in the entire country, especially Wilton Manors.
Even the community leaders of Wilton Manors are predominantly gay. The city's first openly gay mayor was John Fiore who was elected in 2000. He was then succeeded by Jim Stork in 2002, making Wilton Manors the first city in the United States to elect two consecutive openly gay mayors. More recently, Justin Flippen was the openly gay mayor of Wilton Manors, who sadly died in early 2020 from a brain aneurysm.
Wilton Manors also has many gay businesses, from bars, clubs, hotels, guesthouses, and even a very proactive LGBT Chamber of Commerce. If there's a large gay event happening in the country, you can be sure that Fort Lauderdale will be at the focal point of it, such as the first Pride of the Americas, which was scheduled to take place right here in Fort Lauderdale in 2020…but sadly had to be postponed due to the global pandemic.
So yeah, when it comes to gayness, Fort Lauderdale's got your back!
Fort Lauderdale gay area
The main gay neighborhood of Fort Lauderdale is based in Wilton Manors, located around 15 minutes drive inland from the beach. Wilton Manors comprises several blocks with many gay bars, clubs, boutique gay shops, cafes, and restaurants. The biggest parties take place on weekends, but there is always a large crowd on every night of the week.
One hidden gem in the area you should check out is the unassuming road near Wilton Manors called "Eucalyptus Gardens". It's a Bohemian block of cafes and colorful gay friendly hangouts. One particular favorite of ours in Eucalyptus Gardens is "Voo La Voo" who do the best crepes and omelets we've ever tried, as certified by our discerning Frenchman.
Finally, be sure to check out the Stonewall National Museum for an excellent history lesson about LGBTQ culture, as well as the World AIDS Museum for a fascinating insight into the history of AIDS and the steps taken to alleviate it (more about it below).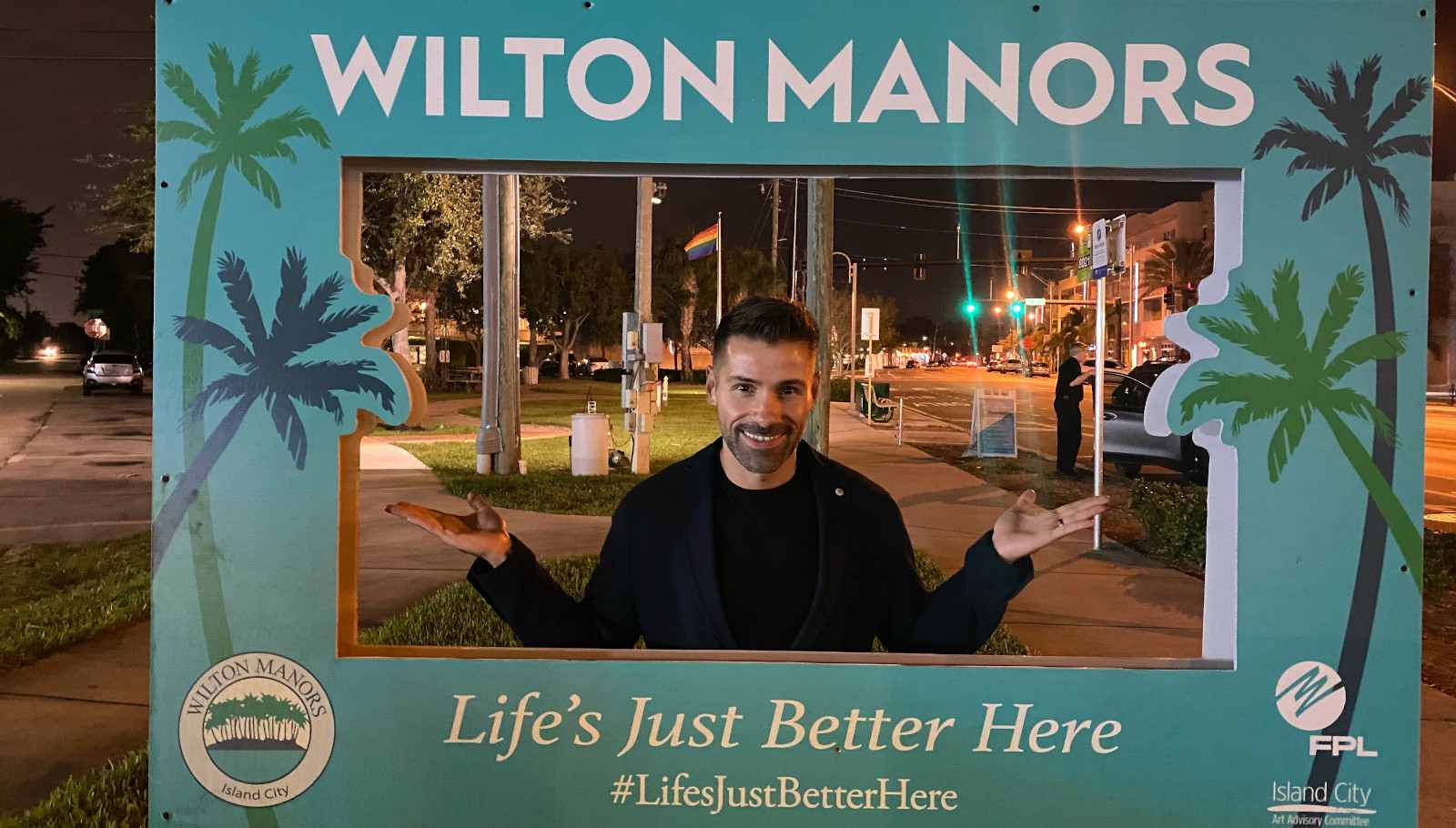 Best gay hotels in Fort Lauderdale
The number of gay hotels in Fort Lauderdale is impressive: each time we visit, we seem to stumble on a new "male-only clothing-optional" resort, which is a testament to how gay friendly the city is. We tried several gay hotels in Fort Lauderdale and list the best ones below. For more, check out our guide to the best guesthouses in Fort Lauderdale as well as our comprehensive guide to Fort Lauderdale's best gay Airbnbs.
Gay beaches of Fort Lauderdale
Fort Lauderdale is famous for its long white sandy uber-gay beaches, where local lads come for their morning run, people watch, flex their pecs, and show off their Speedos! Sebastian Street Beach is the main one and in our opinion one of the finest gay beaches in the USA. But there are also a few others to check out:
Sebastian Street gay Beach
Sebastian Street Beach is the most popular gay beach in Fort Lauderdale, located at the end of Sebastian Street near the Ritz Carlton Hotel and next to the Fort Lauderdale main beach. It gets particularly busy here on weekends and has parking, places to buy food/drinks, and umbrella rentals. Note this is not a nude beach, but you will definitely bump into Mr. Right Now here!
Haulover Nude beach
Haulover is located between Miami and Fort Lauderdale and is Florida's only official legal nude beach. We love it because it is a zero-attitude zone! You can choose to cover up, or be completely undressed – no one cares. Whatever your shape and size, everyone is welcome. Note that although it's generally a family-friendly beach, there is a gay section in the Northern-end, which is where we recommend you head.
Northeast 18th Street beach
This is a smaller beach than Sebastian and less touristy. It's located further away than Sebastian beach and more protracted to reach so it mainly has a more local crowd. It's also a lot more cruisy here. Note, this is also sometimes referred to as the "NE 18th & A1A" beach and can be hard to locate, so click here for more specific directions.
Gay bars of Fort Lauderdale
These are just a sample of the dozens of gay bars in Fort Lauderdale over in Wilton Manors – one of the most famous gay villages in North America! Our best advice is to head to Georgie's Alibi first and take things from there. For solo travelers or first-timers, we recommend doing a gay nightlife tour with a local who will show you the best hangouts. It's also the best way to quickly make new friends. Also, be sure to check out our article about the best gay bars and clubs in Fort Lauderdale.
Gay clubs of Fort Lauderdale
These are just a sample of the main gay clubs in Wilton Manors. There are many!
For first-timers or solo LGBTQ travelers who may find it overwhelming, we highly recommend doing a nightlife tour with a gay local who will show you the best parties happening. It's also a fantastic way to quickly make new squirrel friends.
Gay massage in Fort Lauderdale
Fort Lauderdale has plenty of options when it comes to gay masseurs. We're talking about good old-fashioned muscle kneading here – no happy endings or hanky panky! There are lots of other places you can go for that in the city (see below). These are some of the best gay massages in Fort Lauderdale:
The super gay Grand Resort we mentioned above is also famous for its excellent Spa. I tried the deep tissue massage and Seby the sports massage. They were gooooood! Robert, the massage therapist, knows his stuff and also offered us some really useful tips for stretching out after a gym session. They offer a mix of treatments and services including hair & grooming, manicures, pedicures, body scrubs, or packages that includes a mix of everything. Massages are available for non-guests, during the day, every day of the week.
The glorious Pineapple Point has two dedicated massage therapy studios with a team of very handsome and super-talented masseurs (Joel…swoon…!) The studios have a tranquil atmosphere with soothing Enya-like music, soft candlelight, and lavender essence. Their masseurs are topless studs that do a really good job, but most impressive is that they are completely professional and respectful whilst still being personable. Massages are available for non-guests, during the day, every day of the week.
Achille Touch
Achille is a licensed massage therapist serving the gay community in both Fort Lauderdale and Miami. As well as being a cutie, he's very thorough and literally puts his whole body into the massage. Get your mind out the gutter – we didn't mean it like that! Check out his YouTube Channel to watch Achille in action. He offers a full range of treatments ranging from needle-free acupuncture, full-body massage, scar release therapy, and more. Achille Touch is located at 1599 NE 34th Street, 33334 Oakland Park, and is open daily from 9 am to 9/10 pm.
Gay saunas in Fort Lauderdale
If you're looking for good old-fashioned hanky-panky fun, Fort Lauderdale's got you covered! There are several places you can head to, but for gay saunas or gay bathhouses in Fort Lauderdale, these are the two best ones to check out:
The Club is one of the most popular gay saunas and bathhouses in Fort Lauderdale. It has a full state-of-the-art gym, outdoor heated pool, sauna, a range of different video rooms, and two dark areas, one with a sling, the second with lots of different-sized holes in the walls. They offer a daily rate, but the vest value is to get their 6-month membership which costs around $50.
The Club is located at 10 NW 5th Avenue. It is open every day from 8 am until 11 pm with a 6-hour cap on visits.
The Clubhouse II is a private club for gay/bi men over 18. It is popular with the bear boys and the leather crowd, but everyone is welcome. It features a steam room, sauna, whirlpool, golden shower area, private cabins, and a video lounge. Peak times are around lunchtime, especially on Saturdays and Wednesdays. Clubhouse II is located at 2650 East Oakland Park Boulevard and is open daily from 8 am until 11 pm.
Gay events in Fort Lauderdale
As Fort Lauderdale is one of the gayest places in the US, they have many LGBTQ events taking place throughout the year. We've set out the main ones below, including the best ones that take place in gay 'ole Miami, which is only a 45-minute drive away.
Fort Lauderdale's Pride is the oldest in Florida, dating back to 1977 when the first one began as a protest. Today it has evolved to become one of the best Pride events in Florida that also coincides with the Carnaval season, so you KNOW it's going to be one very colorful experience – so the more extra your outfit, the better! In 2020, Pride Fort Lauderdale hosted the first-ever Pride of the Americas – a fantastic initiative with many different countries across North and South America as well as from the Caribbean.
Gay8 is a Latino-based gay festival taking place in Little Havana on 8th Street in Miami. It gets very popular with the Fort Lauderdale Latino gay boys…as well as their many many fans! It has a mixture of events for both men and women, which include, the Macho Dance Party, the Women's Quinceanera, salsa classes, and a mini film festival.
Live Free. Play Hard. Give Back. The Winter Party Festival is an annual, week-long celebration of music, dance, and community in Miami Beach. Their mission is to raise funds for the LGBTQ community. It is run by the National LGBTQ Task Force which supports around 75 not-for-profit organizations in South Florida. It's been going strong since 1994 and each year draws thousands of people from all around the world.
Miami Beach Pride is Florida's second-largest Pride event after St Pete's and the biggest in South Florida attracting around 200,000 people each year. It is a nine-day celebration with special parties, socials, a VIP gala, an incredible 2-day festival, and of course, a loud, wonderful, and super colorful Parade! It's also famous for attracting lots of celebs in the past such as Gus Kenworthy, Ross Mathews, Gloria Estefan, and Adam Lambert.
Wilton Manors Stonewall Pride in June is Fort Lauderdale's second Pride event, which takes place in the gay neighborhood of Wilton Manors. We love it because of all the (many!) LGBTQ businesses in the area come together and put on an incredible festival which is essentially one giant gay street party. It includes a very colorful parade on a Saturday evening from around 5-11 pm.
OUTrageous. OUTspoken. And OUTstanding. The Out Shine LGBTQ Film Festival is the main film festival in South Florida. It takes place every October in various locations between Miami and Fort Lauderdale. It's been going strong since it started in 2008 and has grown to become the largest LGBTQ cultural arts event in South Florida. It includes an award ceremony at the end where the Jury presents prizes for each film category winner.
Wicked Manors is one of the best Halloween street parties we've ever been to! It's a large street party in Wilton Manors every year on 31 October. The surrounding roads are blocked off to traffic to allow the Wicked Manor gays to take over the entire area. Watch our video clip (below) to get a flavor of what it's like. Also, check out our article about the best gay Halloween outfits for more inspiration!
White Party Week (November):
White Party Week is one of the largest Circuit-style parties in the world. It takes place every November (except in 2020) in Miami and includes over a dozen parties. Expect lots of chiseled hot-blooded Speedo-clad Latino boys (and their admirers!) everywhere, with live DJs, lots of drag shows, and live DJs. They also have parties of the ladies called Women's White Party.
Gay shops not to miss
Wilton Manors has lots of quirky gay shops selling everything from Speedos, harnesses, string vests, and even a Trump-shaped toilet cleaner! Yup, you read right…
There are several excellent shops in Wilton Manors to check out. These are the two main ones that caught our eye:
To The Moon is one of our favorite things about Wilton Manors. They sell the funniest souvenirs you can imagine. From cute rainbow socks to a toilet cleaner in the shape of Donald Trump's face! They also have a wide range of old-school candies from everywhere around the world, lots of novelty toys(!), bumper stickers, metal lunchboxes, cocktail naps, superhero gifts… You get the idea – kitsch and eclectic pretty much sum it up!
LeatherWerks is the best shop for leather and other hanky panky clothing. They have everything from rings for your ding-a-ling(!), armbands, hats, gloves, harnesses, neckwear, belts, pants, shirts, square peg toys, gauntlets, impact toys, watches, and lots of other accessories. Whether you're into leather or not, it's a useful place to come and top up your outfit, particularly if, say, you're missing a mask to compliment your Wicked Manors Batman outfit…
Gay restaurants in Fort Lauderdale
There are many gay restaurants in and around Wilton Manors, which also double up as bars and are great places to come for dinner/drinks before going out to party. These are some of the best ones which we highly recommend from our personal experience:
Top things to do for gay travelers
The gay scene in Fort Lauderdale is amazing, but there's more to do than hang out in the bars and clubs! From beautiful beaches to the exciting Everglades, active travelers will not get bored. There are also some must-visit cultural spots, so read on to see our favorite things to do in Fort Lauderdale:
Plan your trip to Fort Lauderdale
Fort Lauderdale gay map
Here's our gay map of Fort Lauderdale which includes all the gay bars, clubs, hotels, and sightseeing highlights we've mentioned in this post. Use it to plan your own amazing gay trip to Fort Lauderdale!