Over the past few decades, Fort Lauderdale has evolved massively to become the gay capital of Florida as well as one of the top LGBTQ destinations in the USA. The city has everything to suit all LGBTQ travellers including clothing optional male-only resorts, gay beaches, many gay events taking place throughout the year and of course the gay scene of Wilton Manors!
We've been several times to Fort Lauderdale, either as a stopover for a cruise, or to go to one of the many gay parties they have here throughout the year like "Wicked Manors" on Halloween. We always love coming here, particularly as it's a 365 day destination. There's always something happening and you're almost always guaranteed gorgeous sunny weather.
This is our detailed gay guide to Fort Lauderdale featuring highlights from the gay scene of Wilton Manors, the best gay beaches, events and gay hotels to stay.
The gay area of Fort Lauderdale
Just tell your Uber or Lyft driver to head straight to Wilton Manors. This is where all the action happens. It's comprised of several blocks where all the gay hangouts can be found as well as gay shops like Pride Factory, and museums like the Stonewall National Museum and the World AIDS Museum.
One hidden gem in the area you should check out is the unassuming road near Wilton Manors called "Eucalyptus Gardens". It's a Bohemian block of cafes and colourful gay friendly hangouts. One particular favourite of ours in Eucalyptus Gardens is "Voo La Voo" who do the best omelettes we've ever tried, as certified by our discerning Frenchman:
Where to stay in Fort Lauderdale
The number of gay hotels in Fort Lauderdale is impressive: each time we visit, we seem to stumble on a new "male-only clothing-optional" resort, which is a testament to how gay friendly the city is. We tried several gay hotels in Fort Lauderdale and list the best ones below. For more, check out our guide to the best guesthouses in Fort Lauderdale.
STAY WITH A GAY LOCAL
Misterb&b is the Airbnb equivalent for the LGBTQ community. Unlike on Airbnb, you know your host is gay, avoiding any nasty surprises when you check in. It is also a great way to meet gay locals and discover the underground gay scene. Click below to get 10 € (or $10) off your first booking.
Grand Resort is one of the most famous gay hotels in Fort Lauderdale, mainly due to its association and sponsorship of Ru Paul Drag Races (which we're massive fans of).
It's located a few blocks from the beach, which for us ticks all the boxes. The front part includes a pool area, and the back includes a hot tub and relaxation area, which is clothing optional. The Spa is excellent, particularly the deep tissue massage.
Rooms at the Grand Resort start from $150.
This is a real treat! Although not directly next to the beaches, it's in our opinion one of the best gay hotels in Fort Lauderdale. It's more expensive than the others, but totally worth every cent!
It's full of greenery at Pineapple, with massive rooms and plenty of clothing optional communal areas, which includes hot tubs, pools and a gym. The happy hour at 6pm is a sweet touch, which encourages socialising between guests.
Prices at Pineapple Point start from $300 a night ($200 in low season).
This is one of the largest W hotels in the world, with 550 rooms. It's super trendy and chic, with a super cool bar and highly rated restaurant called "El Vez".
What we love most about the W brand is that it is world famous for being very gay friendly. For example, upon arriving at the W Hotel Fort Lauderdale, we noticed gay weddings are openly advertised in the lobby, and they also host LGBTQ events like "Night of 1,000 Chers".
Rooms at the W start from around $380.
Gay bars of Fort Lauderdale
These are just a sample of the best gay bars in Fort Lauderdale. There are many in Wilton Manors! For a more detailed guide, be sure to check out our article about the best gay bars and clubs of Fort Lauderdale.
Rosie's Bar and Grill: Rosie's is a gay institution in Wilton Manors. Whenever we come for a night out in Fort Lauderdale, we always start the night here with a burger and a few cocktails before heading out to party at Alibis or Hunters. Their menu is hilarious, with gems like the "Big Girl Plates" and the "Bacon Bitty Bang Bang" burger. Cocktails are particularly good during their Happy Hour afternoons, which is on weekdays until 7pm. Rosie's closes around 11pm, later on weekends.
Georgie's Alibis/Monkey Bar: Alibis is one of the largest gay bars in Fort Lauderdale and the one we suggest you start out at. It's got one room devoted to Latino music and hilarious OTT drag shows, another with large dancing area, and outdoor patio. Like Rosie's, Alibis also has a kitchen/restaurant attached to it, which serves up some pretty decent burgers, which have won awards. Alibis is open daily until around 3am.
DrYnk Bar & Lounge: we really liked DrYnk. It's a more chilled bar, less hectic than Alibis and some of the other busier places in Wilton Manors. It's designed to look like a countryside lodge with the heads of wild animals mounted on the walls. We like hanging out in their courtyard area at the back where there's always a fun crowd gathering. DrYnk is open everyday until around 2/3am.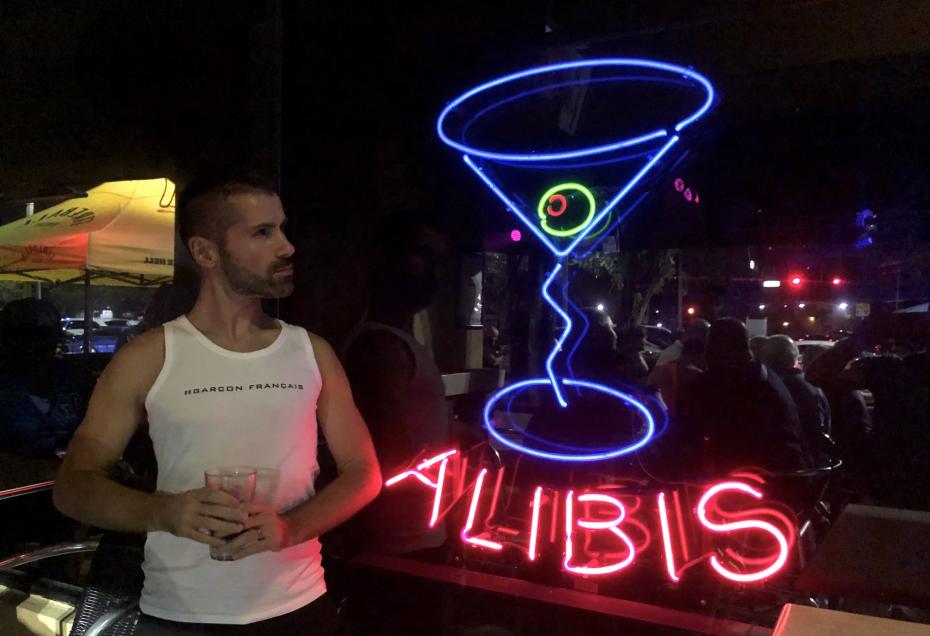 Gay clubs of Fort Lauderdale
As mentioned above, these are just a sample of the main gay clubs in Wilton Manors. Check out our guide to the gay scene of Wilton Manors for a more comprehensive list.
Hunters: everyone will at some stage during the night end up at Hunters. It's one of the main gay hangouts in Wilton Manors, which means it's always busy. It has a large dance floor area on one side and an equally big bar in the building adjacent to it. Hunters is open every night of the week until 2am (later on weekends), and have themed nights like karaoke on Mondays/Tuesdays and "Fur Friday". Watch our video below to get an idea of what a night out at Hunters is like.
The Manor Complex: this is another large and popular gay club in Wilton Manors, which is only open on weekends. Unlike the other clubs which close at around 3am, The Manor is open later, so most will head here after partying at Hunters. As it's only open on weekends, it allows them to make every night unique, with shows and special guests attending, like famous queens from Ru Paul Drag Races. See more on their Instagram profile.
Gay beaches of Fort Lauderdale
Fort Lauderdale is famous for its long white sandy beaches. These are the main gay beaches to check out:
Sebastian Street beach: this is the most popular gay beach of Fort Lauderdale, located at the end of Sebastian Street near the Ritz Carlton hotel and next to the Fort Lauderdale beach. It gets particularly busy on weekends and has parking, places to buy food/drinks and umbrella rentals. Note this is not a nude beach.
Haulover nude beach: located between Miami and Fort Lauderdale, Haulover is one of Florida's most famous nude beaches. It's family friendly and attitude free: you can choose to cover up, or go nude – no one cares. Though when we came, most people were nude, so we followed suit.
Northeast 18th Street beach: a smaller beach than Sebastian, but more cruisy with a more local crowd. Click here for more specific directions to it. Note this is also sometimes referred to as the "NE 18th & A1A" beach.
Terramar Street beach: not as popular as Sebastian beach, which means it won't be as crowded. It is located at the end of Terramar Street near the Royal Palm Resort and opposite the Atlantic Hotel.
Vista Park beach: an even more laid back and tranquil beach than Sebastian and Terramar. As a bonus, there is a reef around 100 yards in, which is perfect for snorkelling. This beach is located near Vista Park, which it is named after. Click here for more specific directions.
Gay events in Fort Lauderdale
As Fort Lauderdale is one of the gayest places in the US, they have many LGBTQ events taking place throughout the year. We set out the main ones below, including the main ones that take place in Miami, which is only 45 minutes drive away:
Pride Fort Lauderdale Carnaval (Feb): one of the few Pride events with a parade that takes place on the beach. As it coincides with the Carnaval season, this is the theme for each one. Therefore, the more extra your outfit, the better!
Gay8 Festival (Feb): Latino based gay festival taking place in Little Havana on 8th Street in Miami, which is popular with the Fort Lauderdale Latino gay boys.
Winter Party Festival (Feb/March): huge gay fundraiser party that takes place in Miami and has lots of different parties over a 1 week period. It's run by the National LGBTQ Task Force who support over 75 other not-for-profit organisations in South Florida.
Miami Pride (April): one of the biggest events in South Florida, attracting around 200,000 people.
Wilton Manors Stonewall Pride (June): this is Fort Lauderdale's second Pride, which takes place in Wilton Manors. It includes a parade and street festival.
Out Shine film festival (Oct): the main film festival of South Florida, which takes place across Miami and Fort Lauderdale. It's been going strong since it started in 2008 and has grown to become the largest LGBTQ cultural arts event in South Florida.
Wicked Manors Halloween party (31 Oct): we love dressing up for Halloween and had to come to Wicked Manors when we heard about it. It is a large street party in Wilton Manors every year on 31 October. The surrounding roads are blocked off to traffic to allow the Halloween street party to take over the entire area. It includes costume contests, entertainment, music, live DJs and plenty of parties (see video below).
White Party Week (Nov): one of the largest Circuit parties in the world, which takes place in Miami in late November.
For more Florida inspiration, read our other posts:
Happy travels are safe travels
We recommend you always take out travel insurance before your next vacation. What happens if you suffer from illness, injury, theft or a cancellation? With travel insurance, you can have peace of mind and not worry. We love World Nomads travel insurance and have been using it for years. Their comprehensive coverage is second to none and their online claims process is very user friendly.
Some of the links in this post are affiliate links. This means that if you book your accommodation, an activity or your insurance, we'll earn a small commission. There is never an extra cost to you for using these links and it helps us keep the site going.
Pin to read later