TERMS OF USE: There is a chance that some of the content on this page has changed since it was last updated. By reading this article, you consent to our Terms of Use and Disclaimer. Happy Travels!
DISCLOSURE: Some of our posts may contain affiliate links which we may receive a commission if you choose to book something through one of our links.
Tampa is a city packed with so many things to do for couples of all ages. We spent 4 days here and never once got bored.
There is always something happening in Tampa, with a festival to celebrate almost everything, like a Greek Festival, Italian, festivals for Margarita cocktails, cigars, cupcake and even a Mac & Cheese festival! The most famous is the Gasparilla pirate festival in January, which celebrates José Gaspar, a Spanish pirate who used to roam and plunder across the Gulf of Mexico.
For the latest events taking place in Tampa, check Visit Tampa Bay's website, as well as the Visit Florida website. For romantic inspiration, continue reading below for our 10 coolest things to do in Tampa for couples, based on our first hand experience.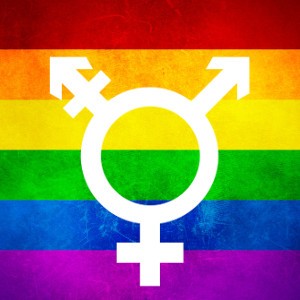 Advice for LGBTQ travellers to Tampa
Ybor City is where it's at! Along Seventh Avenue are the city's best gay bars and clubs, which you can read all about in our gay guide to Tampa. From our big road trip around Florida, we found Tampa to be one of the most tolerant and gay friendly cities across the state, largely because of the large student population.
1. A stroll through history in Ybor City
Ybor City is Tampa's historic neighbourhood, once home to a prominent cigar industry. It is named after Vicente Martinez-Ybor who in 1880 selected this spot as the base for his industry. Back then, this was a tiny isolated village.
Mr Ybor attracted thousands of immigrants, mainly from Cuba, Italy and Spain, who came here to work and subsequently developed a strong Latino culture here. At one point, Ybor City become a prominent base for Cuban revolutionaries like Jose Marti and Paulina Pedroso.
After Mr Ybor's death in 1896, his cigar industry thrived, reaching a peak in the 1920s, when there were more cigar factories in Ybor City than in Cuba. Sadly it started to decline after the Great Depression hit in 1929, and also due to the growth of the cigarette industry.
This led to a mass exodus of people between the 1930s-1980s from Ybor City. However since the 1980s, Ybor City has had a huge renaissance, becoming not only a hotspot for tourism, but a popular nightlife area with an excellent gay scene on Seventh Avenue.
We highly recommend doing the Historic Ybor City Food Tour to get a deeper understanding of Mr Vincente Martinez-Ybor and his influence in Tampa. We like this food because it also includes a culinary element, trying six local food/drinks.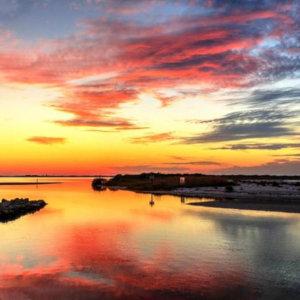 Must do in Tampa: Romantic sunset cruise
The sunsets on west coast Florida are just jaw-droppingly divine! They easily rank as the most dramatic we've ever seen in all our travels. One of the best ways to experience the sunset in Tampa is on board a sunset and dolphin boat tour. During this 2.5-hour private tour, we were taken around the Tampa Bay area where we spotted a few dolphins playing in the water.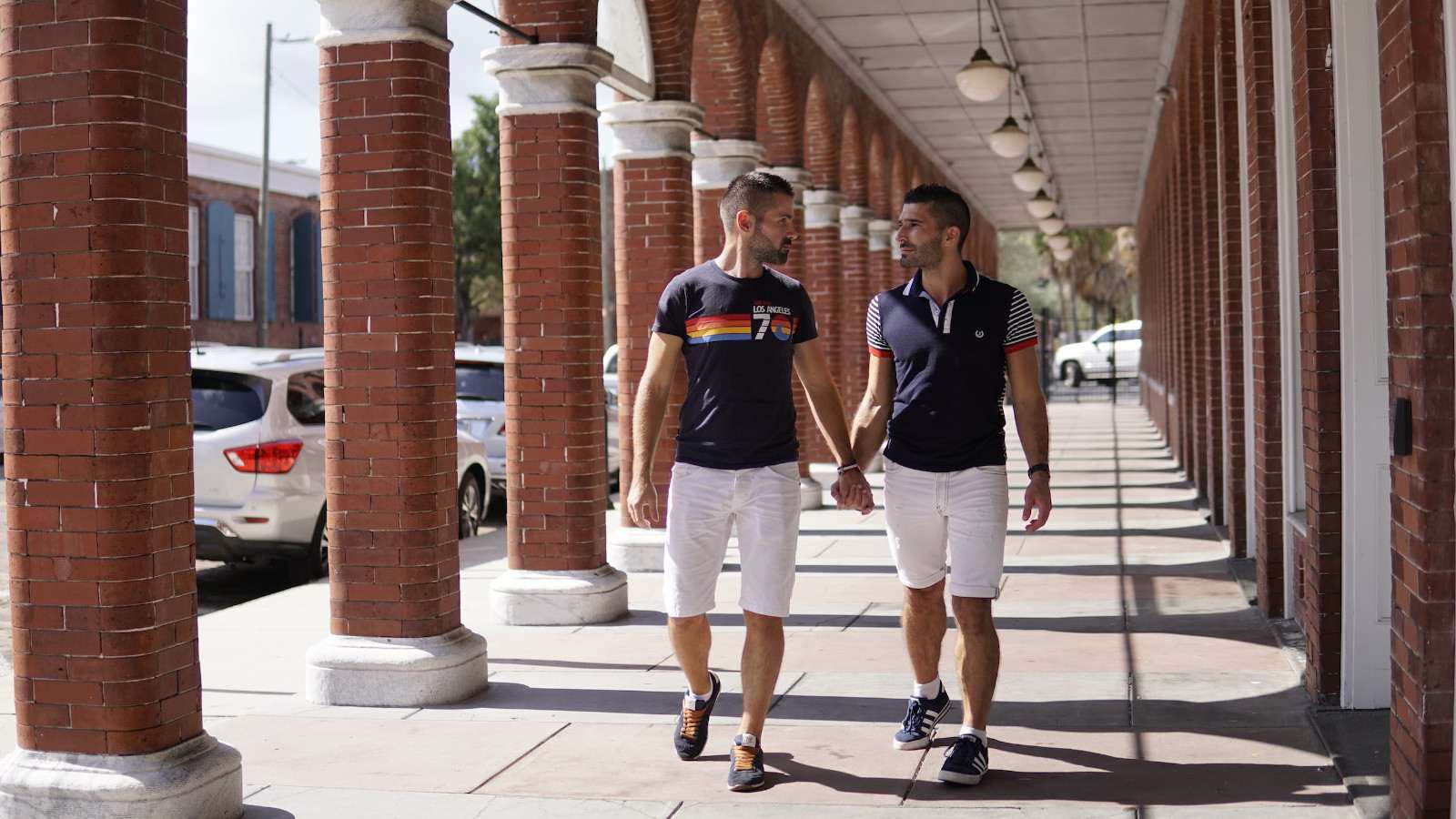 2. Dolphin spotting
Dolphin spotting was one of our favourite things to do in Tampa together. Bayshore Boulevard is a great spot to head to for it, especially early in the morning.
If however you prefer not to get up at the crack of dawn, you can also go dolphin spotting in Tampa aboard a cruise in Tampa Bay. The waters here are famous having large pads of friendly Atlantic Bottlenose dolphins. They love these waters because they feel safe here to raise their young, feed and play. The Bottlenose dolphins in particular are great for photos because not only are they playful, they look like they are always smiling.
But please remember to respect the dolphins! It is against the law to feed, touch, harass, or swim with wild dolphins.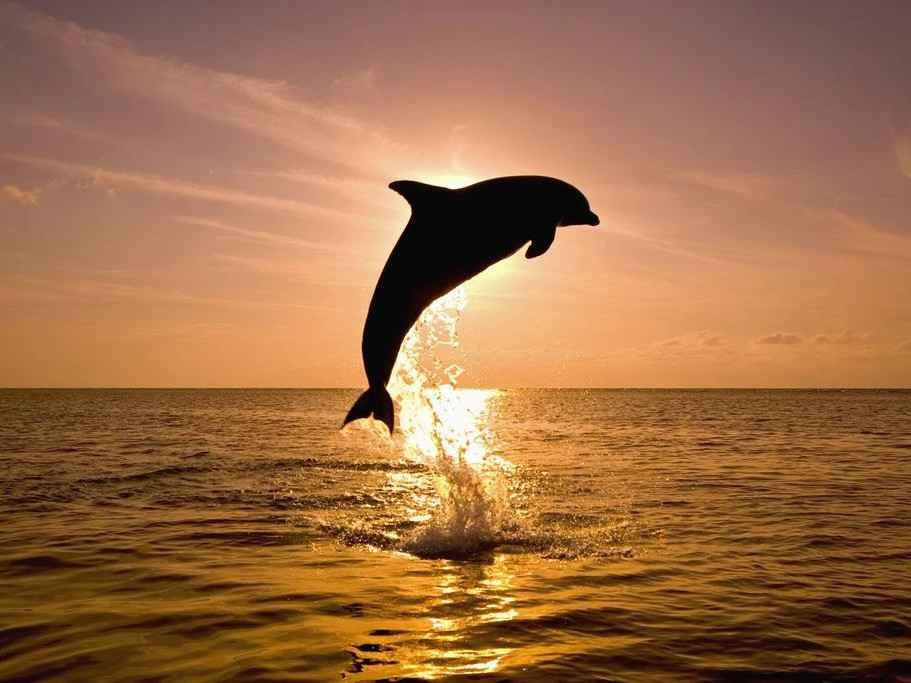 3. Relaxing couples massage at The Evangeline Spa
The Evangeline Spa is one of the city's best for massages. It is part of the lavish Epicurean Hotel, which we highly recommend for a special occasion.
We did the Couples Massage together and highly recommend it. It includes a side-by-side Swedish massage with Aromatherapy. It was super relaxing and made us feel goood afterwards!
4. Walking hand in hand down the Tampa Riverwalk
The Riverwalk is a 2.6 mile-long (4.2km) pedestrian trail along the waterfront by the Hillsborough River. It goes through most of downtown Tampa from the Channelside District all the way to the Tampa Convention Center, then north up to the Water Works Park in Tampa Heights.
The Riverwalk is a great place to go for morning runs, Segway tours, biking and evening sunset strolls with your lover. The path includes bench swings, outdoor art displays, playgrounds and bronze busts of prominent figures of Tampa, like Vicente Martinez Ybor.
5. Feeding giraffes together on a safari in Busch Gardens
Busch Gardens was not only one of our favourite things to do in Tampa, but one of our highlights from our entire road trip in Florida. This is a part adventure park, part zoo. The rides here are incredible, and in our opinion rival some of the best rides at Universal. The advantage of Busch Gardens is that unlike Universal, it is not as busy, especially if you come on a week (school) day when there are few queues.
Busch Gardens is unique because it also has a safari-type zoo, with exotic animals like giraffes and rhinoceros. Our favourite thing to do in Busch Gardens was the safari ride in a jeep through the grounds where we got to feed lettuce leaves to the friendly giraffes.
Tips for visitors to Busch Gardens, buy your ticket online beforehand to skip queues, and get combo deals with other attractions. Our favourite deal is the Tampa Bay CityPass, which from $107 includes not only entry to Busch Gardens, but to other attractions like The Florida Aquarium, ZooTampa, the Clearwater Marine Aquarium and more.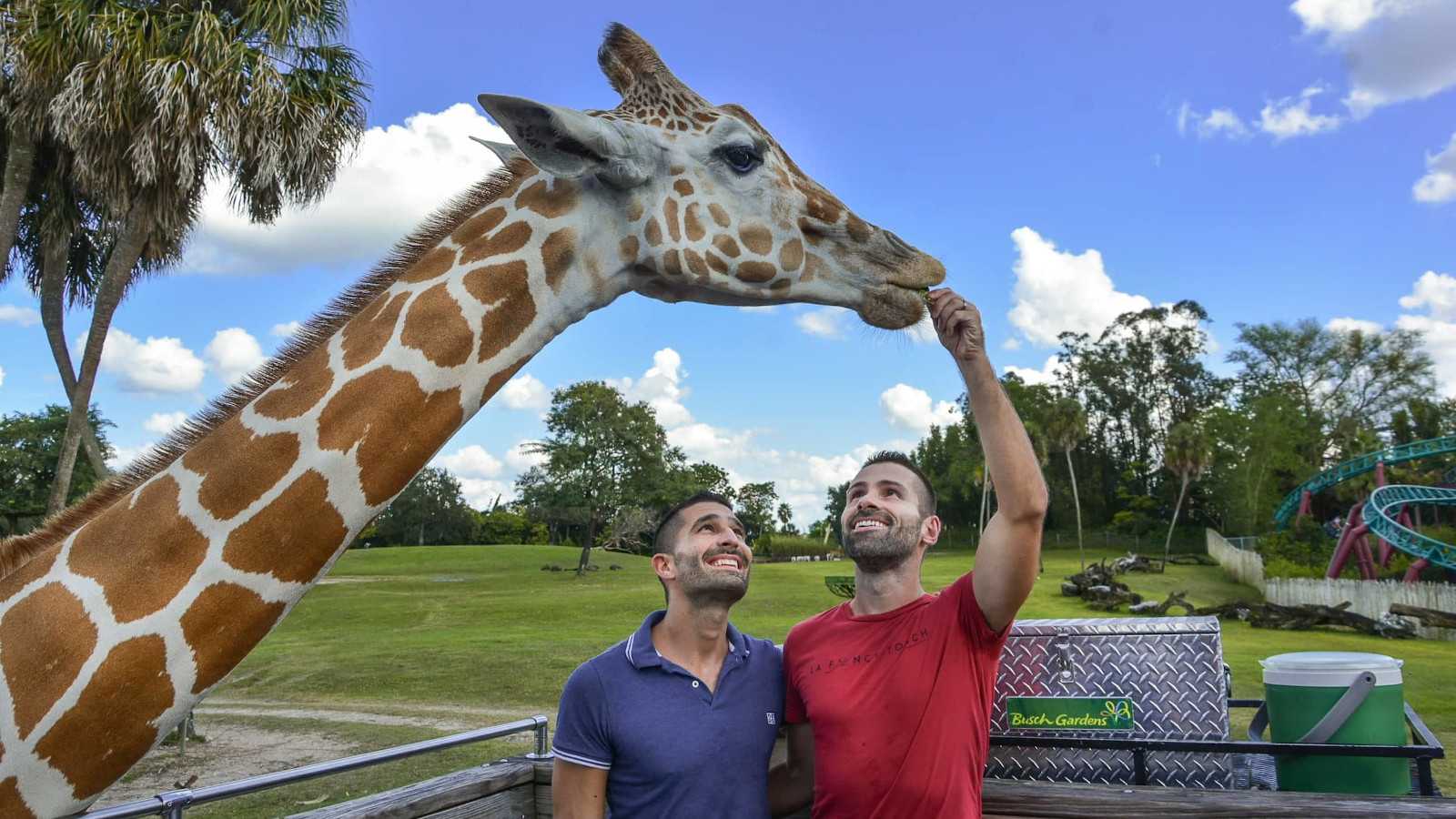 6. Brunch at the Oxford Exchange
Ask any local what they think are the best things to do in Tampa and almost everyone will recommend brunch at the Oxford Exchange. This is a large cafe/restaurant set in a historic building, directly opposite the University of Tampa in a beautiful courtyard, which also has a bookshop. The food is fantastic and makes a great spot to come for breakfast, lunch, coffee or a romantic brunch.
One of the most unique things to try at the Oxford Exchange is their Nitro Coffee. At first it looks like a pint of beer, but it is in fact cold coffee that has been infused with Nitrogen:
6. Diving with sharks in The Florida Aquarium
The Florida Aquarium is the largest aquarium in the entire state. It contains more than 7,000 aquatic plants and animals, in particular sharks, rays and turtles.
We were particularly impressed by their conservation ethos with excellent rescue, restoration and rehabilitation programmes. For example, helping the dwindling population of sand tiger sharks.
As divers we jumped at the chance of diving with the sharks in Florida Aquarium's 500,000 galloon Coral Reef tank. We were each assigned a divemaster who took us round the tank, pausing to interact with the playful fish, and see the sand tiger sharks swim right past our faces; a moment we won't forget in a hurry!
Watch our diving experience at The Florida Aquarium in our video below.
Tip for first time visitors: buy your Florida Aquarium entry tickets beforehand to skip the queue and maximise your time inside.
8. See Tampa and manatees from a helicopter
Seeing Tampa from up above in a helicopter was one of our most memorable moments together in Tampa. We took a helicopter ride from downtown Tampa, which circled around Davis Island, downtown Tampa and culminated over the Manatee River.
The highlight was over the Manatee River where the pilot dropped our helicopter so low to the water that we could spot manatees swimming. If you get lucky you may even see dolphins swimming here as well.
9. Romantic dinner at a highly rated restaurant
As foodies we loved Tampa because it has many excellent restaurants, like Ulele, Osteria and Mis en Place.
Ulele an institution in Tampa and always busy. You need to call ahead to secure a table here. Their burgers are one of the best we tried, and their okra chips, simply divine!
Osteria is an Italian inspired restaurant with an enthusiastic (and cute!) chef who cooks delicious food. Our favourite dish which we recommend is the "squid ink garganelli", which you won't forget in a hurry.
Mise en Place is a French inspired restaurant, perfect for a romantic fine dining experience. It has subtle lighting, really attentive staff and a fantastic taster menu. Each dish was served like it was a work of art and tasted exquisite.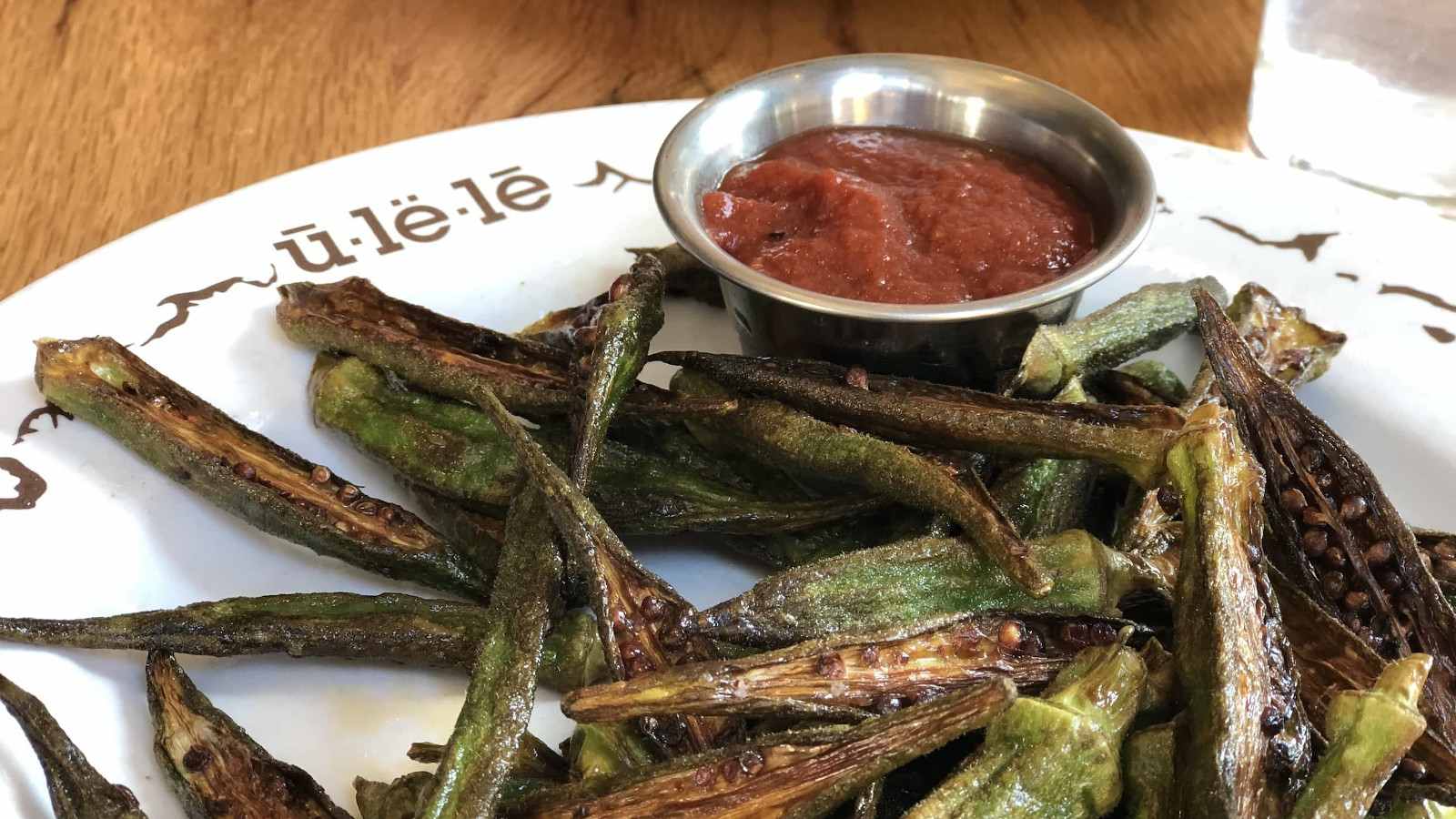 10. Sunset and dinner cruise
The west side of Florida is renowned for having the most magnificent sunsets in the world. One of the best ways to experience it is aboard a sunset cruise around Tampa Bay.
Our cruise left from Clearwater, which is near Tampa. You have the choice to either watch the sunset with drinks, or splash out on a longer journey aboard a yacht, which includes dinner. Both include a live DJ playing romantic music to set the mood.
We highly recommend this experience to couples celebrating a wedding anniversary.
Happy travels are safe travels
We recommend you always take out a reputable travel insurance before your next vacation. What happens if you suffer from illness, injury, theft, or a cancellation? Many travelers forget about it and regret it when something happens. Better to pay a small price and have the peace of mind and not worry.
---
Like this post? Pin it