Best gay bars and clubs of Tampa: the ultimate guide for the LGBTQ traveller
Tampa is a lot of fun and very gay friendly!
It has a young and diverse population due to the large community of students, expats and the strong sports culture with two notorious home teams: the "Tampa Bay Lightening" hockey team and the "Tampa Bay Bucaneers" American football team.
All gay travellers to Tampa will find something to love about the city, in particular the GaYborhood in Ybor. For general inspiration, check out our best things to do in Tampa guide. Meanwhile, this is our detailed gay guide to Tampa focusing on the best bars, clubs, places to stay and more:
Gay neighbourhood of Tampa
The gay neighbourhood of Tampa is based in the city's historic district called "Ybor City", specifically along 7th Avenue. A coalition of businesses in the area created a LGBT Chamber of Commerce business group called "GaYbor", from which the gay neighbourhood of Tampa affectionally takes its name.
In GaYbor, you will find the main gay clubs, bars, bathhouses of Tampa, as well as a number of boutique and vintage shops like "La France". In the evening, especially on weekends, 7th Avenue comes alive as the crowds hit the gay bars like Bradleys and Honey Pots (see more below).
The GaYborhood is also home to Tampa Pride, which takes place on the last weekend in March with a Diversity Parade. Also look out for the "Tampa International Gay & Lesbian Film Festival" held every October.
Gay bars in Tampa
These are the main gay bars of Tampa, most of which are based in or around Seventh Avenue in Ybor City with the exception of City Side Lounge:
Gay clubs in Tampa
These are the main gay clubs and parties in Tampa, which are located on 7th Avenue unless stated otherwise:
Drag shows in Tampa
These are the places to come for the best drag shows in Tampa (note: Hamburger Mary's Tampa has closed down):
Bradley's: their slogan says it all: "drinks divas dance". The drag shows at Bradley's are infamous. They take place in their Diva Dance Room and includes the "La Cage Aux Folle" show. Check out their website for details of the next drag show.
Southern Nights: drag shows on most nights of the week, with popular queens like Miss Vanjie, Roxxxy Andrews and Derrick Berry performing. Check out the Events section of their Facebook page for details of the next night.
City Side: has a mix of drag shows like "Miss City Side" and drag competitions like "SLAY Talent". For details of the next drag event at City Slide, check the Events section of their Facebook page.
Gay bathhouses in Tampa
There is one main gay bathhouse in Tampa and one mixed gay friendly sauna:
Tampa Mens Club: has themed daily nights like "Twinkie Tuesday" and "Bear and Cub Thursdays". Check the Calendar section on their website for details of their latest events. Tampa Mens Club is located at 4061 West Crest Ave, Tampa, FL 33614 and is open 24/7.
Shangri-La Bath & Sauna: a Korean inspired gay friendly mixed sauna, which also offers massages. Shangri-La is located at 5636 E Hillsborough Avenue, Tampa, FL 33610 and is open 24/7.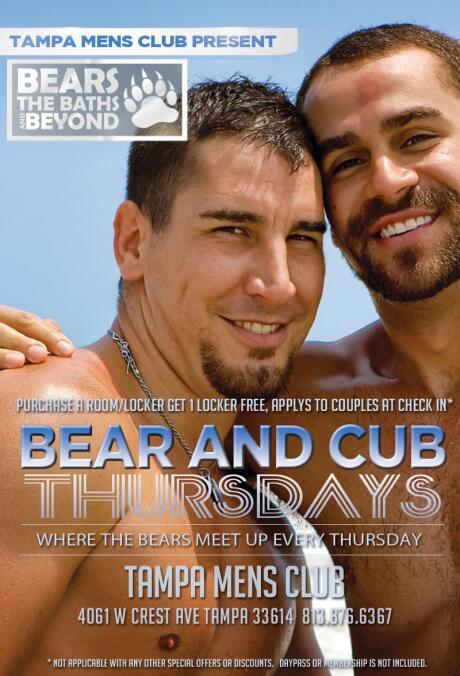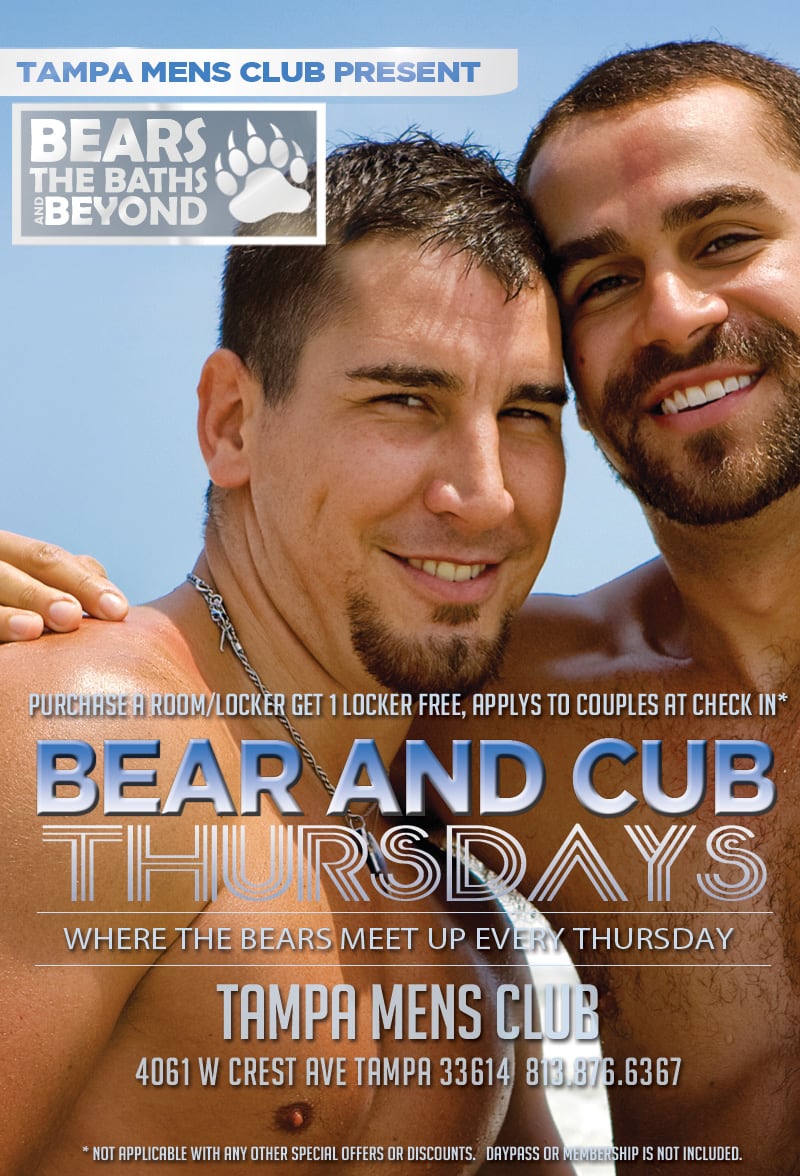 Gay hotels in Tampa
Whilst there are no exclusively male-only gay resorts in Tampa, there are several gay owned and LGBTQ friendly hotels. We've set set out the best ones below, based on our personal experience:
Casa Puente Guesthouse: owned and managed by super cute gay couple Martin and Eric. It is located towards the north side of Tampa, near Busch Gardens. They have 2 private ensuite rooms in the main house starting from $65 a night, as well as an entire studio which you can rent from $120 a night. Nudists will love their clothing optional outdoor pool, spa, patio and fire pit. Read more about Casa Puente in their Misterbnb listing.
Aloft Hotel: trendy hotel in downtown Tampa, which has a popular pool bar area. It's located just opposite the University of Tampa overlooking the city's Riverwalk. Rooms are quite small with limited storage space, but it's made up by the fact that it's very stylish, hip and pet-friendly! See more in our video below. Rooms at Aloft start from $300 and you can read more about it here.
Epicurean Hotel: this is one of the most romantic hotels for couples in Tampa, perfect for special occasions. Almost every gay local we asked raved about this hotel and highly recommended it for special occasions. We loved the food at their "Elevage" restaurant, and also tried the couple's massage at the "Evangeline Spa", which was goood! See more in our video below. Rooms at the Epicurean start from around $450 a night, and you can read more about it on Booking.com.
For more gay friendly options, we recommend checking out the listings for Tampa on Misterbnb where there are a variety of different listings to suit all budgets, whether a room in a shared home, or separate apartment to rent.
BONUS TIP: we highly recommend getting the Tampa Bay CityPass, which for just $107, includes entry into various attractions like Busch Gardens, The Florida Aquarium, ZooTampa, Clearwater Marine Aquarium and more. It also allows you to skip the queues, which will save you a lot of time!
Read more from our big trip in Florida:
If you enjoyed reading, please pin me: