Conch! It's quite a quirky word, satisfying, yet it sounds like you're cursing…"you CONCHhead!" or "you're such a CONCH!"…
Giggles aside, over in the gay island mecca of Key West, a conch is a legit nickname given to the locals. And this bunch of conchers sure know how to live life to the fullest!
Key West is famous for its relaxed, tolerant and queer inclusivity. Historically it's always been different, helped by the fact that it is the southernmost point of the USA mainland, slightly cut off from the rest of Florida. This has allowed Key West to thrive as a mixed haven for an eclectic blend of people ranging from Native Americans, Spanish, freed slaves, pirates, and of course, the LGBTQ community.
It has also been a bedrock for artistic talent with the likes of openly gay playwriter, Tennessee Williams, Ernest Hemingway, and Judy Blume all making this unassuming island their home base. Key West even has an official motto of "One Human Family".
We absolutely loved Key West. There are so many things to do here with a really exciting gay scene along Duval Street. We've been to Key West several times and always had a ball on each visit. We've put together this detailed gay guide to Key West to include our experience trying out the best gay hotels, partying in the bars/clubs, inspiration for things to do, and more.
Key West gay area
The gay area of Key West is based around the busy Duval Street, between Angela and Petronia Streets. There is a permanent Rainbow Crosswalk here so you can't miss it! This small intersection forms the gay neighborhood of Key West, largely centered around 3 large complexes forming a sort of triangle. The 3 large complexes are 801 Bourbon, Bourbon St. Pub and Aqua. Each one has around 3/4 separate bars/clubs inside which we summarise in detail below.
A few blocks from the Duval gay street is another gay bar which we love called Bobby's Monkey Bar. See below for more about it, but it was our favorite hangout because of its relaxed and friendly "local neighborhood dive bar" feel.
One thing we also love about the gay scene of Key West is the prominent local drag culture. Every evening stars like Miss Sushi and Randy Roberts entertain the crowds and we LIVE for it! We have never had a dull night out on the Key West gay scene that's for sure!
Gay resorts in Key West
When it comes to all-male gay resorts, Key West has some of the best we've tried. There are so many that we've put together a detailed guide to the best gay resorts in Key West, which we recommend you check out. For this guide, we've selected our top 3.
The one thing we'd say about accommodation options in Key West is that it's not cheap! The island has notoriously become touristy and quite expensive that many locals are forced to have 2, sometimes 3 jobs. So, if you're looking to splurge, you'll be in paradise here. Otherwise, if you're watching the pennies, we recommend checking out the listings on Misterbnb.
Best gay bars in Key West
The gay scene of Key West is comparatively large given how small the island is. There are 3 main gay complexes, each with their own party vibe happening. We've summarised these below, along with a few others like Bobby's Monkey Bar which is located a few blocks away from the big 3.
Gay clubs in Key West
The best gay clubs in Key West are in the same 3 complexes that house most of the bars mentioned above. From our experience, you're guaranteed a fun night out whichever one you go to. They are all located a stone's throw distance from each other so most just migrate between the 3 depending on where the vibe's at. That's what we did and had a fantastic evening followed by a terrible hangover…
Drag shows in Key West
Key West is home to some of the best drag artists, like the hilarious America's Got Talent star, Randy Roberts, and one of the Gaycities "Best of 2018 Hometown Queens", Miss Sushi. We've set out below some of the best drag shows in Key West to check out.
For first-timers or solo LGBTQ travelers who want to quickly make friends and see the best of the gay scene of Key West, we highly recommend doing a drag tour that is led by a charismatic charming local.
Gay beaches in Key West
Although Key West doesn't have an "official" gay beach, these are the beaches you are most likely to find a large LGBTQ crowd. For more inspiration, check out our guide to the best gay beaches in the USA.
Higgs Beach
Higgs is where the gay boys are most likely to head. The water is usually shallow, which makes it ideal for swimming and snorkeling. Higgs Beach is located at Atlantic Blvd between Reynolds Street and the White Street fishing pier.
Smathers Beach
Smathers is one of our favorite beaches in Key West because of the long sandy beach with shallow waters. It is located at the southern end of Key West near the airport, just off Roosevelt Blvd.
Fort Zachary Taylor beach
This gem of a beach is named after Elizabeth Taylor who used to visit it a lot with her buddy Tennessee Williams in the 1950s. Unlike the other beaches, Fort Zachary Taylor is rocky, so remember to pack a pair of sandals. Fort Zachary Beach is located at 601 Howard England Way.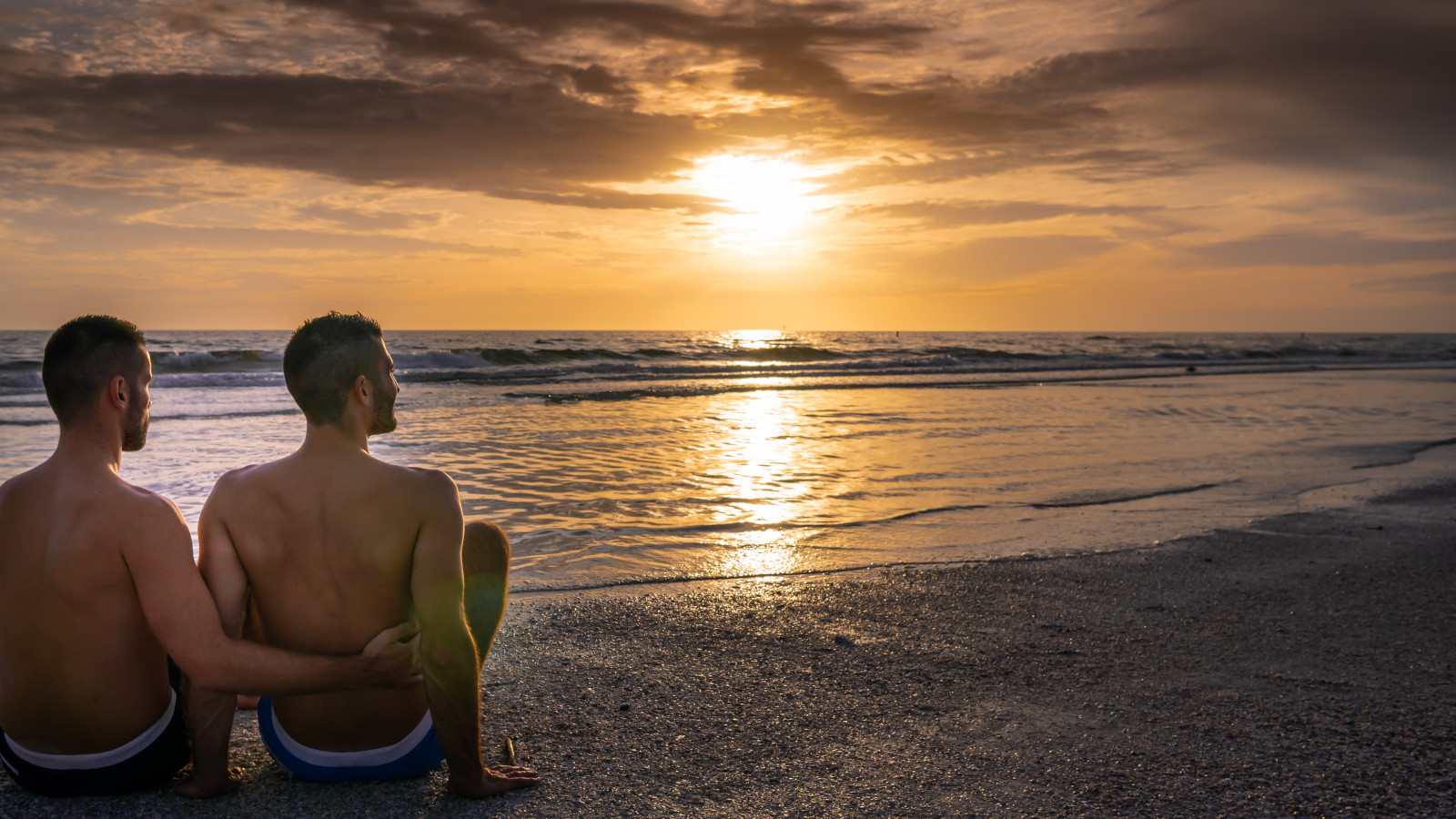 Gay Pride and events in Key West
For a small island, Key West sure packs a punch when it comes to queer events! There is quite a large number to look out for, most organized by The Key West Business Guild. We've summarised some of the main gay events in Key West below which we recommend you check out if your trip coincides with one:
Key West Pride takes place on the 2nd week of June (except the 2020 Pride which was rescheduled to November). It is so much fun, with hilarious events like "Five Lesbians Eating a Quiche" and stand-up comedy shows with celebrities like Leslie Jordan. The event culminates with the Key West Pride Parade, which starts at the Truman Waterfront, goes along Duval Street, and ends at South Street.
Tropical Heat is a 4-day summer male-only event, which takes place in the 2nd week of August. It has different themed events, like the Splash! Pool Party, the Bare-only and Underwear Party, and a Drag Brunch. Oh – and that infamous Sunday pool party over at Island House? Well, during Tropical Heat, those Island House pool parties morph into the Hot Naкҽd Sunday Pool Party!
Womenfest is Key West's equivalent of Tropical Heat for the girlies and also one of the largest lesbian events in the world attracting thousands each year! This 4-day festival takes place during the 2nd week of September over the Labor Day weekend. Events include a pool party, boat party, and club nights with live DJs. Find out more on the Womenfest Facebook page.
The Headdress Ball is an annual ticketed Cabaret event that takes place in October. It's part of the Key West Business Guild's annual fundraiser event. And it's really popular, often selling out within weeks of tickets being released online! Entrants compete for "The Best Headdress" cash prize ($3,000 for 1st place, $1,000 for 2nd place and $500 for 3rd).
Growl! Key West's biggest bear parties take over the island during Bear Weekend! It usually takes place on the last weekend of October and includes foam parties, a hilarious "Butch Queen Bar Crawl", a Bear Cruise and the "Mr Key West Bear" contest. Find out more on the Key West Bear Weekend Facebook Page.
"Passion Meets Paradise!" is the slogan of Key West's annual film festival, which takes place in mid-November. The event is huge and takes over the whole island. During the day there are film screenings, which includes a large LGBTQ segment. In the evening, the film geek crowds spill out into the Duval Street gay bars giving the gay scene a really cool vibe!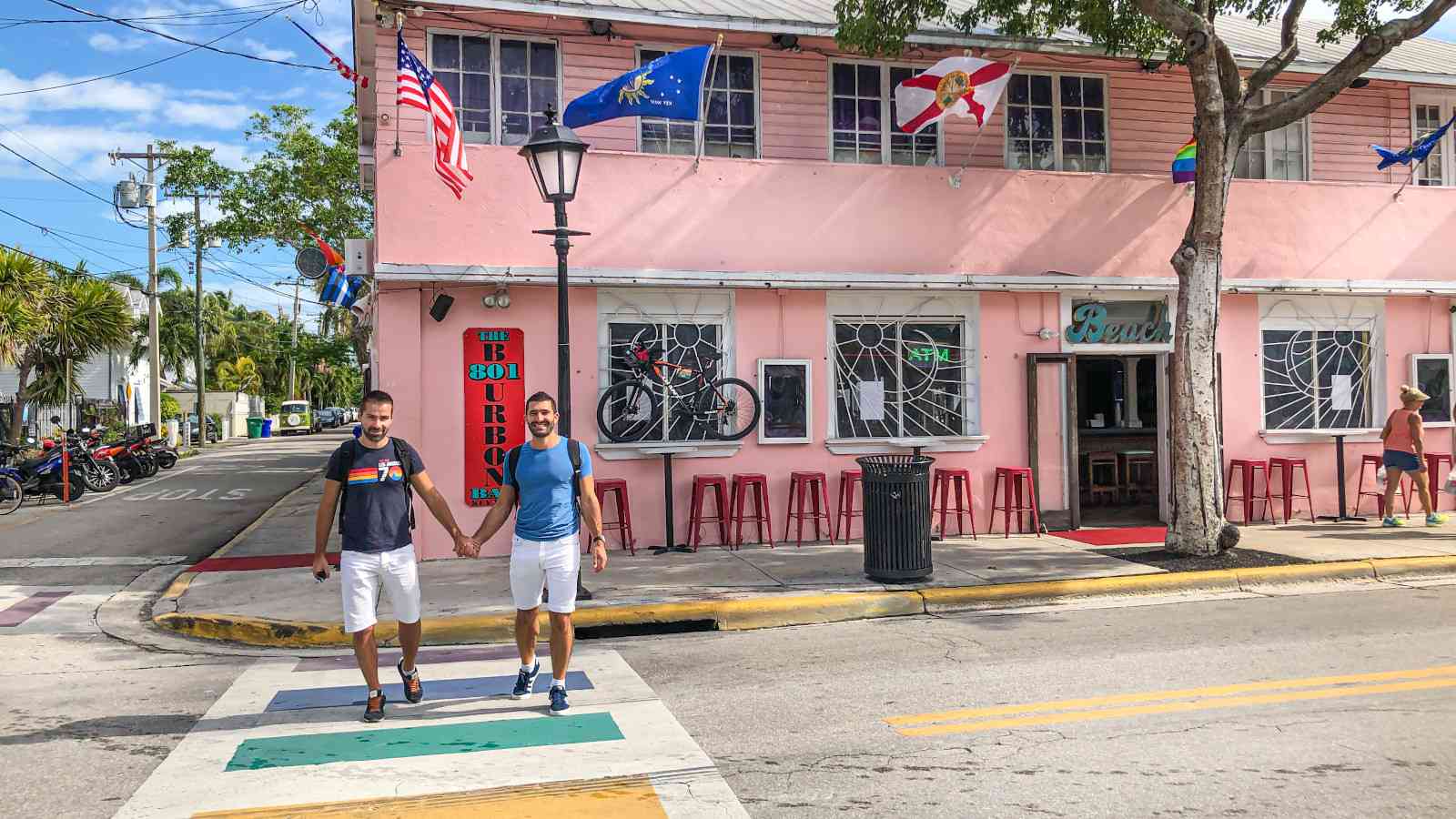 Gay saunas in Key West
There are no official gay saunas in Key West. However, if you're looking for some hanky panky, Island House is your best bet. It is a male-only clothing-optional resort (read more about it above) with a sauna, steam room and plenty of cruising areas.
Weekends at Island House are particularly notorious as this is when many locals and tourists (who aren't staying at Island House) visit on a Guest Pass.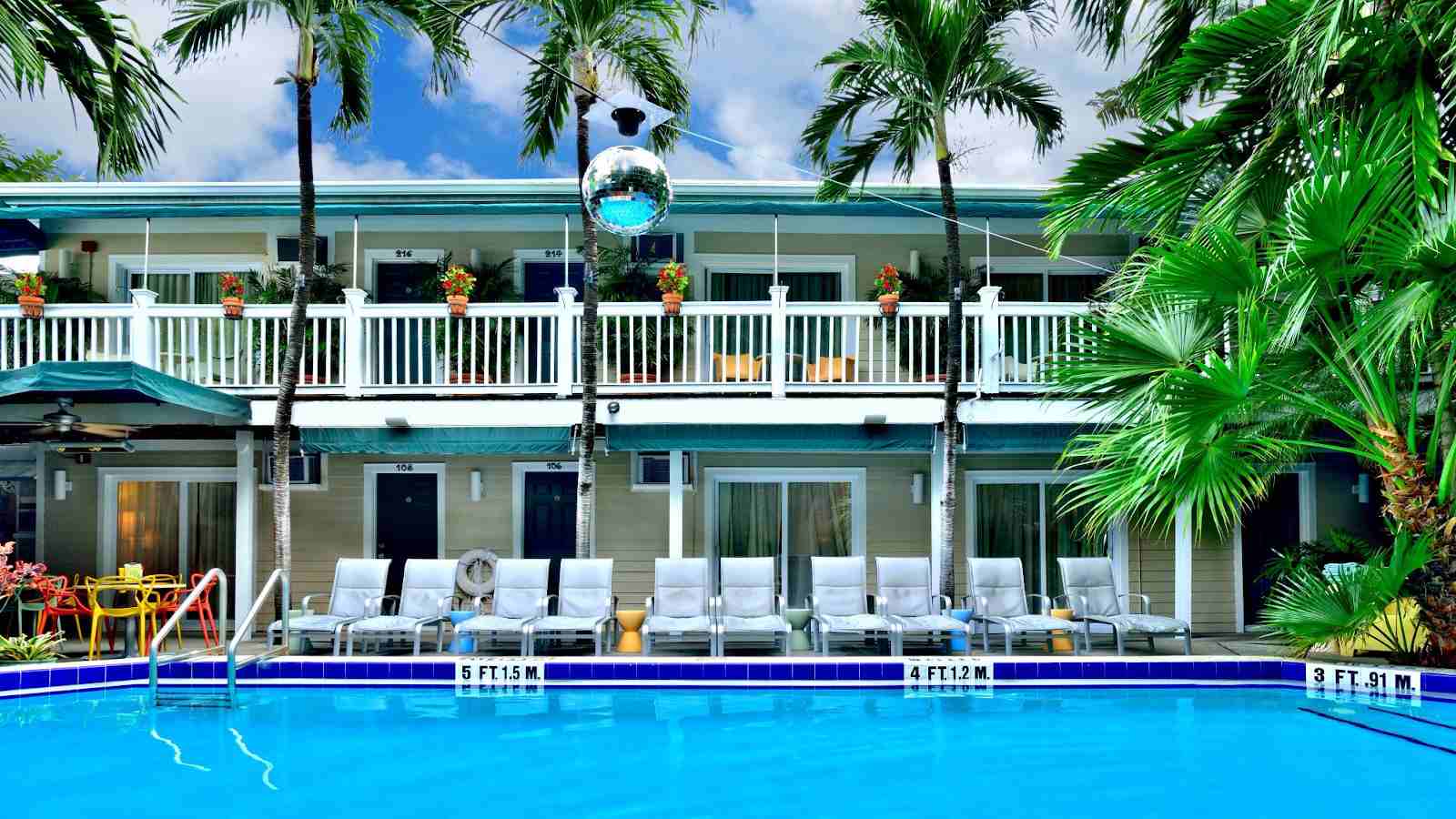 Gay restaurants in Key West
Key West is a satisfying place for foodies with many different restaurants to check out. We've summarised some of our favorites below. Just remember, you're in South Florida, so you'll want to try the famous Key Lime Pie amongst other culinary gems!
Things to do in Key West
Guys, this is the west-facing side of South Florida – it's made for sunsets! The sunsets are one of the best we've ever seen in all our travels. We recommend making this a thing during your trip, whether you watch it at Mallory Square or on a romantic sunset cruise, make sure you watch it every evening – it's truly magnificent! There is, of course, lots to do in Key West, so we've summarised a few of our favorites here:
Plan your trip
Key West gay map
Here's our gay map of Key West which includes all the gay bars, clubs, hotels, and sightseeing highlights we've mentioned in this post. Use it to plan your own amazing gay trip to Key West!