These are the best gay resorts in Key West including male-only clothing-optional resorts, hotels, guesthouses, and adult-only mixed hotels.
Key West is super gay!
The island's history as a gay destination dates back to the 1950s when well-known LGBTQ celebrities like Tennessee Williams, Gore Vidal, Jerry Herman, Leonard Bernstein, and Elizabeth Bishop have since made it their home. Subsequently in 1983, Key West became the first place in the US to elect an openly gay mayor (Richard A. Heyman), then in 2000, the island's motto became: "One Human Family".
Today, this remarkable small island in south Florida has become an incredible gay mecca – one of the most famous, in fact, across the whole US!
We've visited Key West on several occasions and always had a blast, especially when hitting the gay bars of Duval Street. There are so many things to do for gay travelers and with regards to the hotels, it was never a case of 'please can we have a double bed', but more – 'which of these many gay hotels should we stay at on this trip?'
There is an impressive number of different gay resorts in Key West to pick from, so we've put together our 10 favorite, which also includes gay hotels and guesthouses.
🏳️‍🌈 OUR GAY RESORT PICKS IN KEY WEST 🏳️‍🌈
Heads up: We just wanted to let you know that this post contains affiliate links. That means if you book something through one of those links, we'll get a small commission, at no extra cost to you. It helps us keep our blog going – so thank you in advance for your support! ♥
01
Alexander's Guesthouse
Gay and Lesbian guesthouse • clothing-optional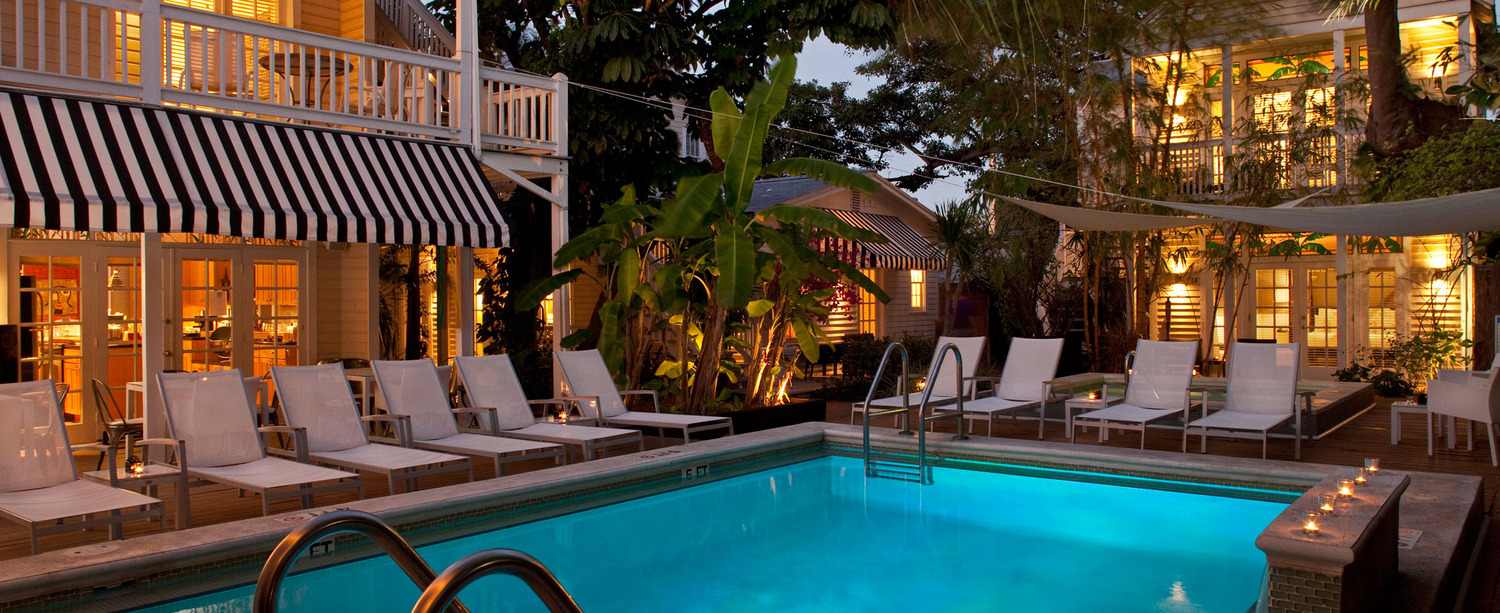 In a nutshell
---
Upscale gay owned guesthouse
Clothing-optional sundeck
Sunning decks, swimming pool, Jacuzzi and bar
Complimentary breakfast and daily evening cocktail
Alexander's Guesthouse is our favorite gay guesthouse in Key West. From the moment we arrived, we were catered to in every way imaginable. The property is gorgeous and intimate.
It's full of character, set in a restored 3-story Conch house from 1902. A Conch house is a typical Key West house dating back to the 1800s. They're made from wood and set on posts, which allows air to circulate under the floor. The style was developed by immigrants from the Bahamas who were back then referred to as "Conchs".
What makes Alexander's unique is that there is a mix of both men and women, staying here, which makes it feel less cruisy. It's proudly gay-owned and operated, but also welcoming to straight friends. It's super friendly. That was our main takeaway – an easy place to quickly make new friends.
Alexander's has large bedrooms with king-sized beds and private balconies. Communal areas include several sunning decks, a pool and Jacuzzi. Some of the communal spaces are clothing optional as well. They also have a cocktail happy hour at their aptly named inhouse bar: the Pink Monkey Bar. If you're visiting Key West as a group of friends, we recommend renting out one of their larger apartments.
Prices at Alexander's Guesthouse start from $335 per night:
---
STAY WITH A GAY LOCAL
Misterb&b is the Airbnb equivalent for the LGBTQ community. Unlike on Airbnb, you know your host is gay, voiding any nasty surprises when you check-in. It is also a great way to meet gay locals and discover the underground gay scene. Click below to get 10 € (or $10) off our first booking.
02
Island House
men-only • clothing-optional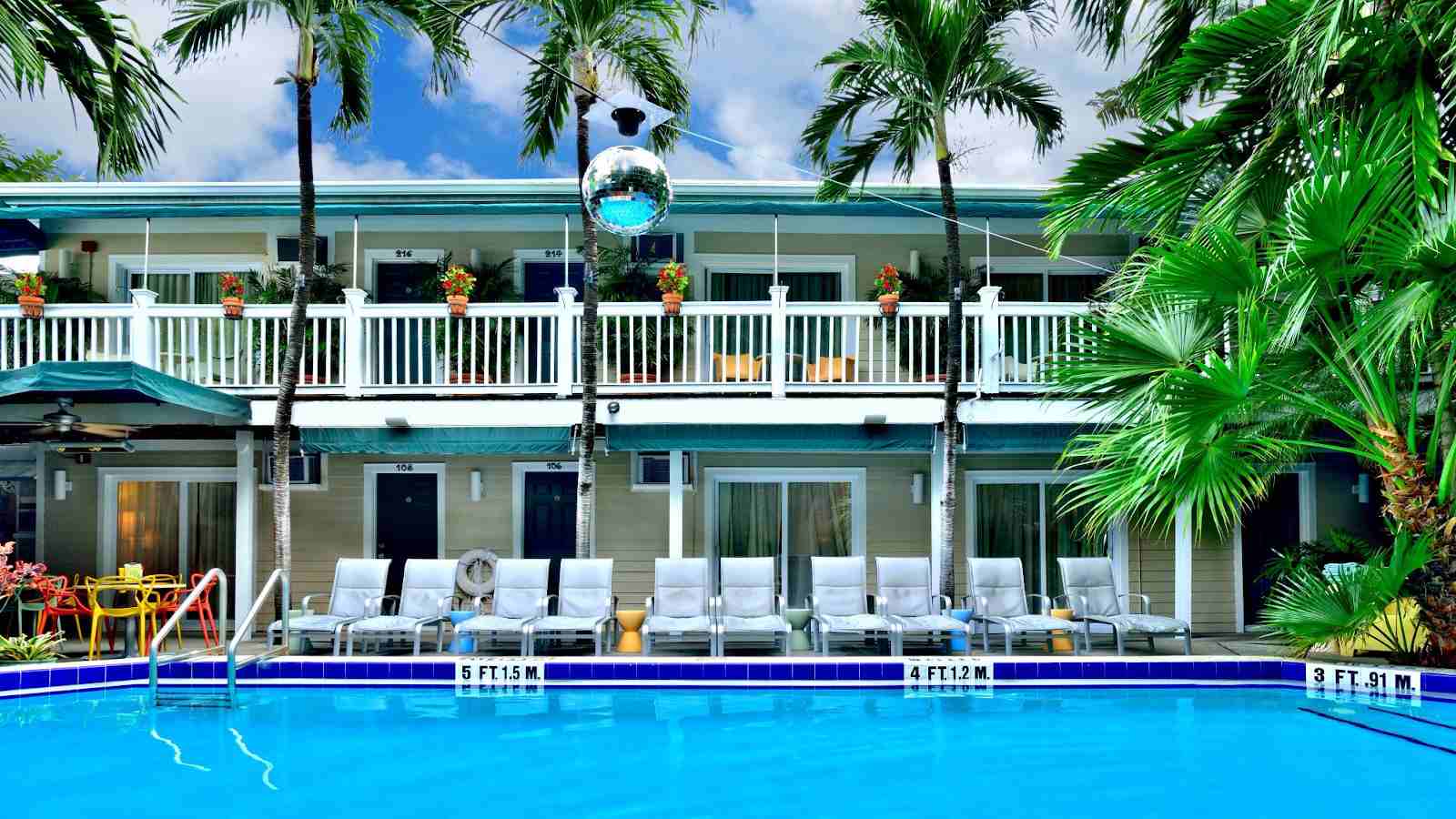 In a nutshell
---
largest men-only gay resort in Key West
Fully clothing optional
Fun twice-weekly pool parties
Jacuzzi, swimming pool and pool bar to enjoy
Island House is notorious across the entire LGBTQ community of south Florida. It's also one of the largest male-only clothing-optional resorts we've ever been to.
Whether you come here to enjoy the facilities on a Day Pass or stay overnight, Island House is a gay man's paradise! They have clothing-optional pool parties every Wednesday between 5-8pm and on Sundays from 12-4pm. These are always a lot of fun and attract plenty of attendees looking to mingle.
There is a large outdoor Jacuzzi as well as a heated pool with its own poolside bar, both open 24 hours a day. Happy Hour takes place between 5-6:30pm where free drinks are available for guests. Upstairs overlooking the pool is a large sundeck area, perfect for working on your tan or perving on the talent below. Indoor facilities include a gym, steam room, sauna and another Jacuzzi, all of which are available for guests to use at any time.
Island House has a variety of basic rooms, some with private bathroom, others shared. In addition, they have more lavish suites and apartments to rent with a group of friends. If you don't want to stay the night, you can still come to one of the pool parties or purchase a Day Pass to use the facilities. An exciting gay man's paradise to say the least!
Prices at Island House start from $135 per night:
---
03
New Orleans House
male-only • clothing optional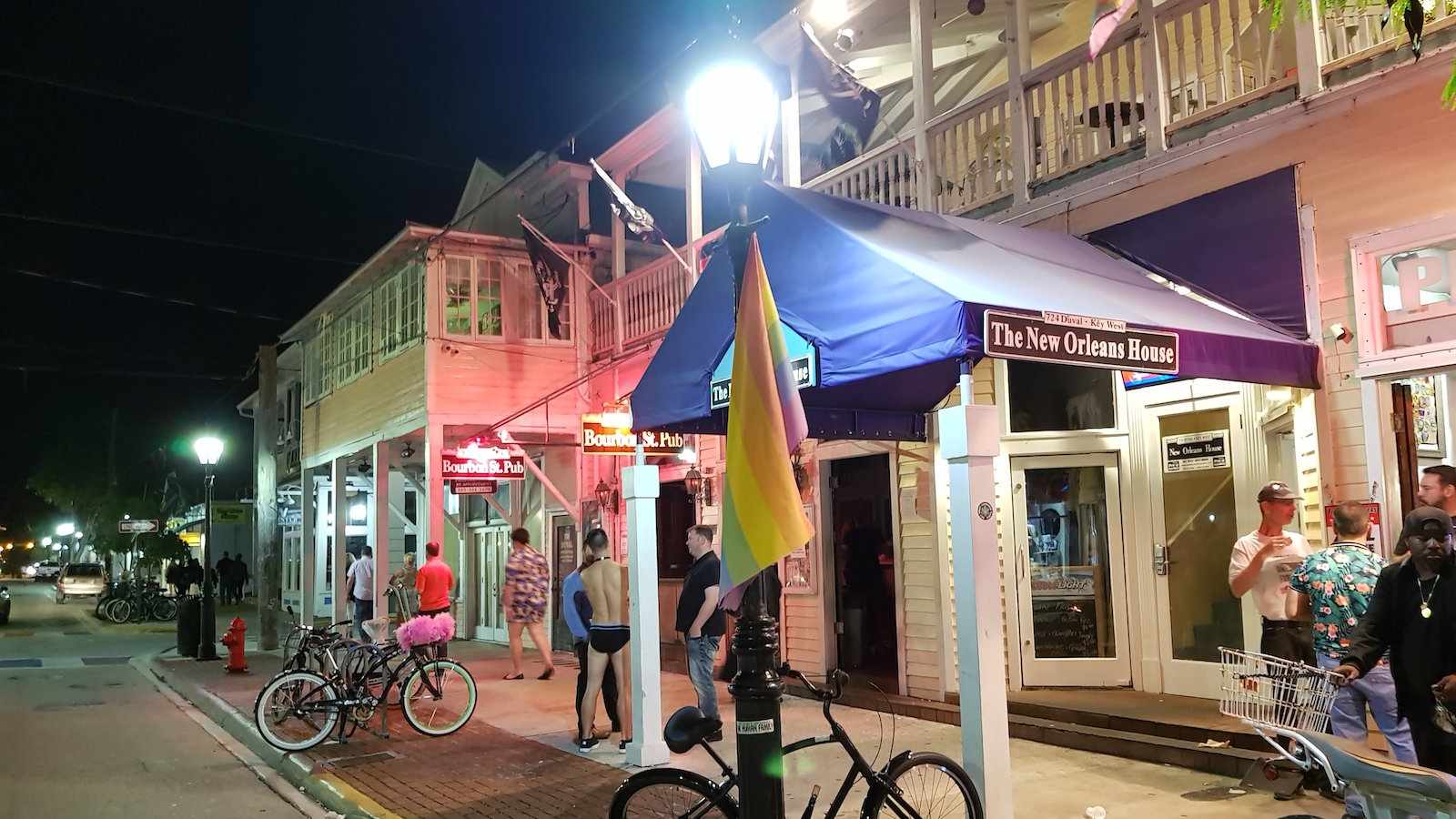 In a nutshell
---
Gay guesthouse in the heart of the gay scene
Male-only and clothing-optional
Free breakfast, happy hour and gym included
Free entry to the Bourbon Street parties
New Orleans House is part of the Bourbon Street Complex, which has gay parties going on until 4am. It is the only male-only clothing optional resort in downtown Key West, directly on Duval Street.
The rooms are located upstairs in the Bourbon Street Complex, directly above the bars/clubs, so it's very noisy until very late at night/early in the morning! But hey, you can always sleep during the daylight hours right?
While the guesthouse is not the most luxurious, you do have free access to the facilities of the Bourbon Street Complex, which includes a 15-man Jacuzzi, gym, swimming pool and a clothing-optional private sun deck area. A continental breakfast is included for guests and served on the huge balcony overlooking Duval Street, perfect for watching the world go by.
If you've come to Key West to party till the early hours and want to be based right in the heart of the gay scene, then this is the ideal place to stay, especially on weekends when the gay scene here really comes alive!
However, if you just want to chill and relax, then avoid staying here as the parties downstairs go on until 4am. As a result of the high noise levels, the New Orleans House is a cheaper option compared to the other gay resorts of Key West.
Prices at New Orleans House start from $315 per night:
---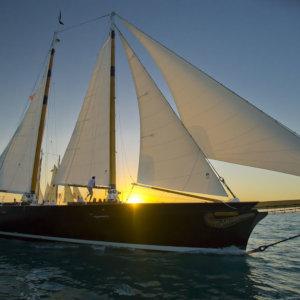 Must do in Key West: Romantic Sunset Sail
For an experience you won't ever forget, you and your lover can enjoy a sunset sailing excursion on an elegant sailboat. You'll get to enjoy a glass of champagne and some yummy hors d'oeuvres as you watch the sun setting over Key West…
04
Equator Resort Key West
male-only • clothing optional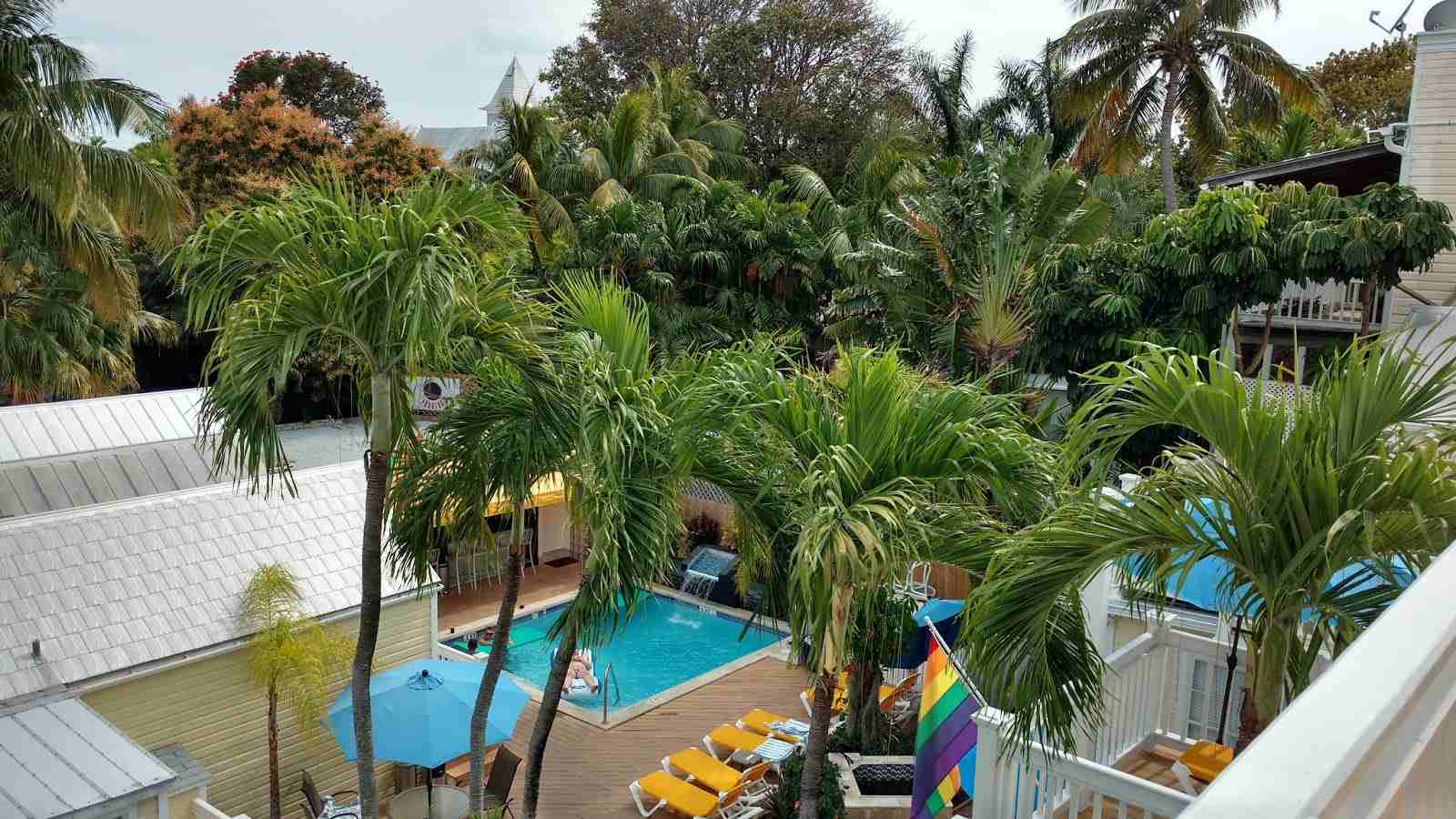 In a nutshell
---
Personable gay male clothing-optional resort
11 complimentary adult male channels available on the TVs
Onside masseuse available for, er, consultations!
Pool, Jacuzzi, bar and sunbathing areas
The Equator Resort is another male-only clothing-optional resort in Key West based on Fleming Street. It's smaller and more personable than Island House with a wide mix of rooms ranging from standard queens to larger apartment-style suites.
We love all the complimentary extras included in the price of your stay, like the continental breakfast with freshly baked pastries and ELEVEN different adult male channels in the rooms – ooh la la!
There is a ground floor pool with sunken Jacuzzi, a small bar and an area for sun lounging. Upstairs there is a larger sundeck area, which we found to be more private and better for sunbathing. They also have a complimentary happy hour every day, which is perfect to socialise with other guests and make new friends. They is even an onsite masseur available for, er, consultations(!) offering a range of treatments including specials for couples.
If you want to stay in an exclusively gay, clothing-optional resort, but not as large and overwhelming as Island House, then this is the place for you. Also, if you want more privacy, we recommend asking for a room near the front of the building, away from the pool area.
If, however, you're a social butterfly and want to be at the heart of all the action, we recommend you book one of the rooms near the pool or on the upper-level sundeck.
Prices at Equator Resort Key West start from $199 per night:
---
05
La Te Da Hotel
Gay and straight friendly • adults-only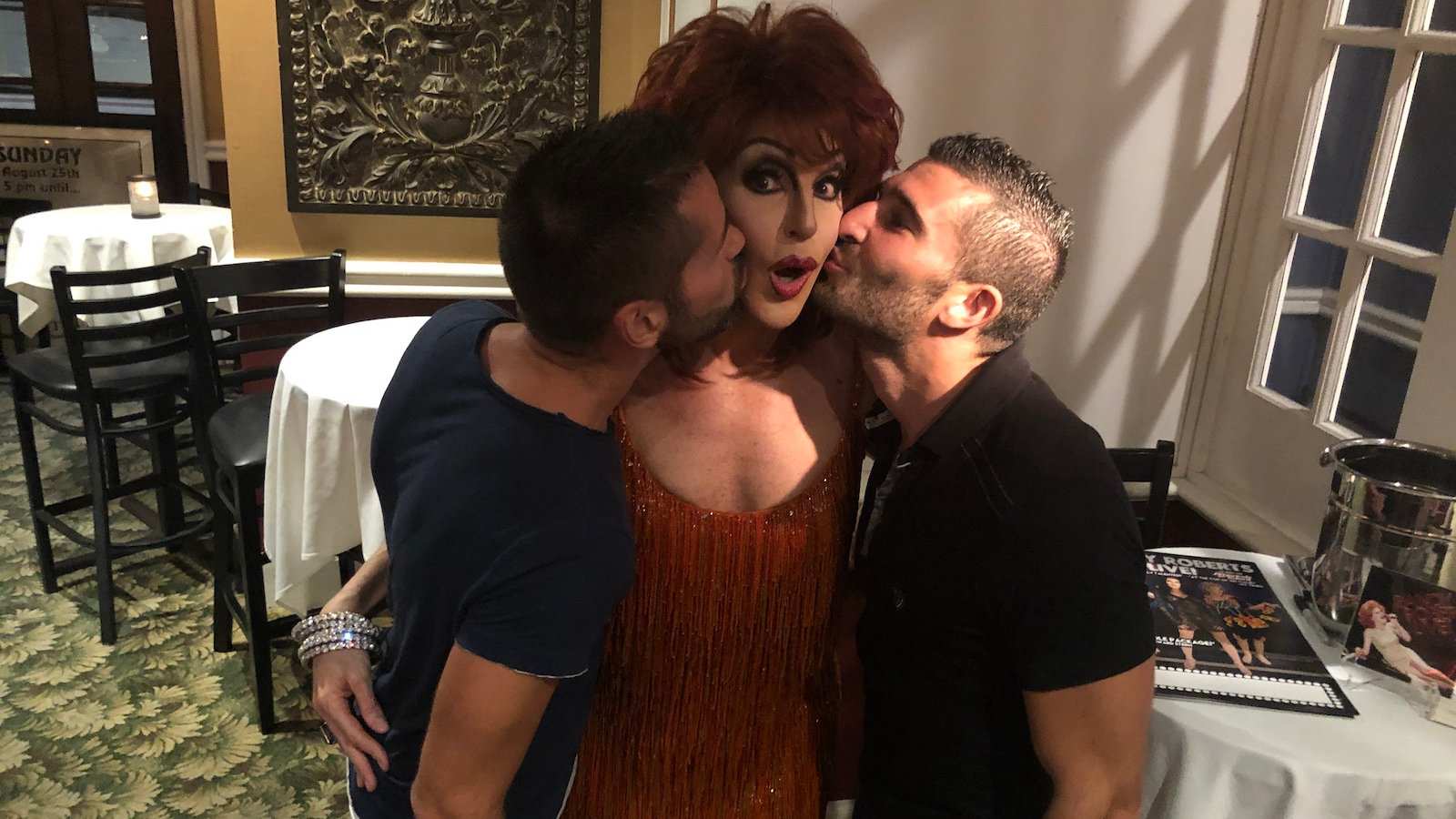 In a nutshell
---
Adults-only hotel on Duval Street
Home of the Randy Roberts drag and cabaret shows
Famous Sunday gay tea dance pool party
Look out for hilarious and charismatic owner/Chef Christopher
La Te Da is a large gay friendly venue with an excellent restaurant, Cabaret theatre, bars, swimming pool and an intimate hotel.
Although it's not clothing optional, it is exclusively for adults. It is particularly popular with gay couples as it's well located on Duval Street, just down the road from the main gay hangouts. We love the cabaret show they have here every evenings, especially Randy Roberts!
There are just 15 rooms at La Te Da, which makes it super personable and friendly. The more high-end rooms feature marble baths, vaulted ceilings and hardwood flooring. The communal relaxation area includes a large pool and sundeck. On Sundays, La Te Da hosts a gay tea dance party in the afternoon, which is a fun alternative to the more boisterous pool party over at Island Gardens.
We love La Te Da because it's ideal for couples, no screaming loud children and minus the cruisy atmosphere you tend to get from the male-only resorts. The restaurant/bar is a popular gay hangout, part of the Key West gay scene. Look out for the very charismatic and hilarious owner Chef Christopher, who may even let you touch his crown! The food is also divine, so make sure you come for a meal even if you're not staying here.
Prices at La Te Da Hotel start from $249 per night:
---
06
The Gardens Hotel
Gay friendly • adults-only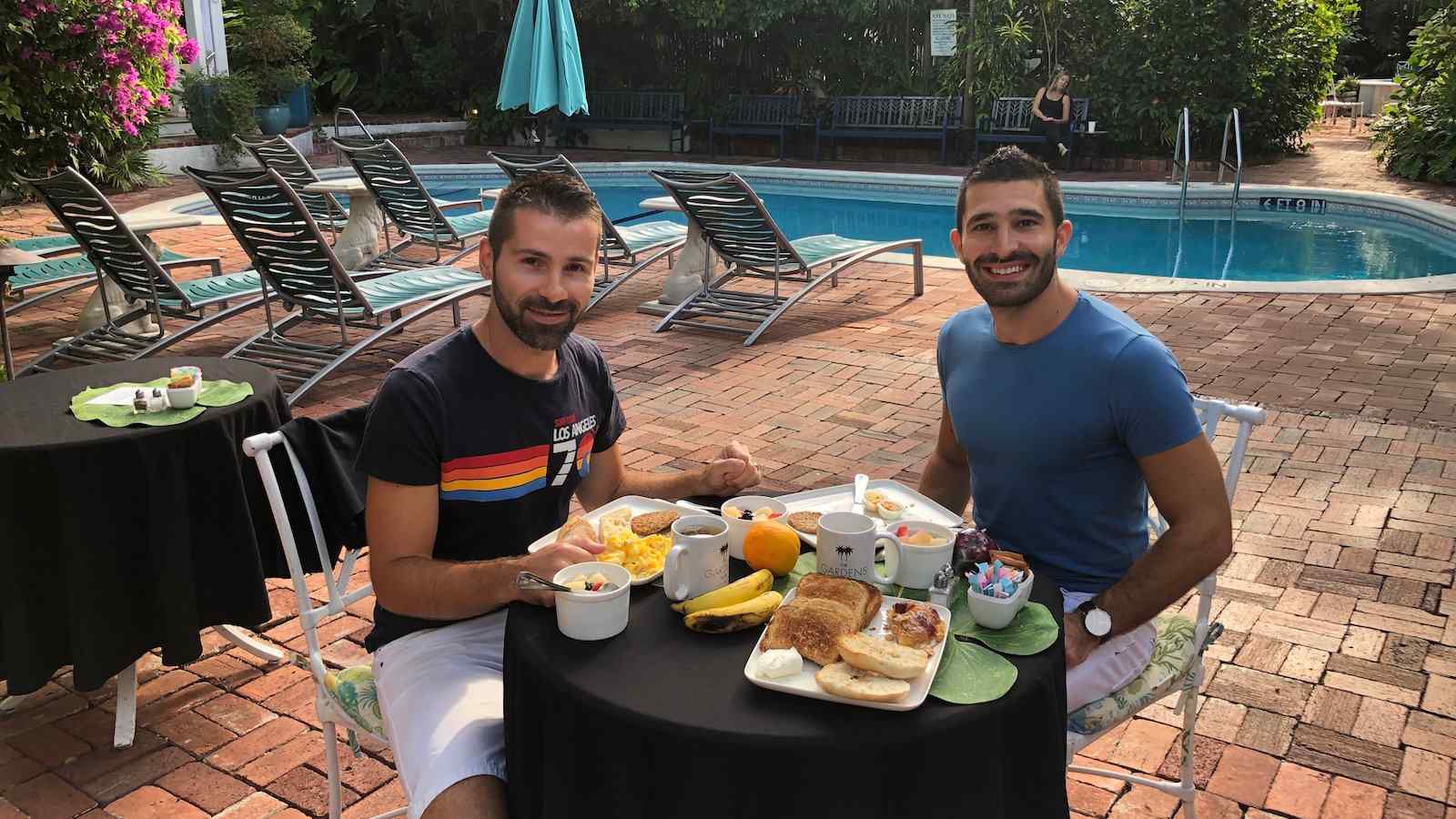 In a nutshell
---
Beautiful 4-star hotel with lush gardens
Two swimming pools and a bar
Excellent tropical breakfast each morning
Walking distance to the gay bars yet very quiet at night!
The Gardens Hotel is a super classy, 4-star hotel, famous for its wine collection. It was named "The Prettiest Hotel in Key West" by The New York Time's List and we couldn't agree more! All the buildings are stunning and surrounded by lush gardens.
It also has the perfect location, just around the corner from the gay scene of Duval Street. Despite this, The Gardens Hotel is totally peaceful at night – perfect if you want a place close to the gay parties but also want a good night's sleep!
Although the crowd is mixed, we felt extremely welcome as a gay couple. The rooms are spacious and really beautifully decorated. All rooms have a shared balcony or patio. The hotel has its own private parking area for guests, which is a big deal in Key West – parking is getting harder to find and more expensive each year!
The buffet breakfast is excellent – one of the best we've had from all our hotel stays in Key West. We always had ours by the outdoor pool which is surrounded by beautiful gardens, a bird aviary and fountains.
The main highlight of The Gardens Hotel, which it is so famous for locally is the wine gallery. They have a smart card system for wine tasting so you can do it yourself at any time of the day, or, join one of their wine tasting evenings. The Gardens Hotel is perfect for gay couples who want to be close to the gay scene but far enough from it to have a break from it when needed!
Prices at The Gardens Hotel start from $374 per night:
---
07
Kimpton Ridley House (Cypress House Hotel)
Gay friendly • adults-only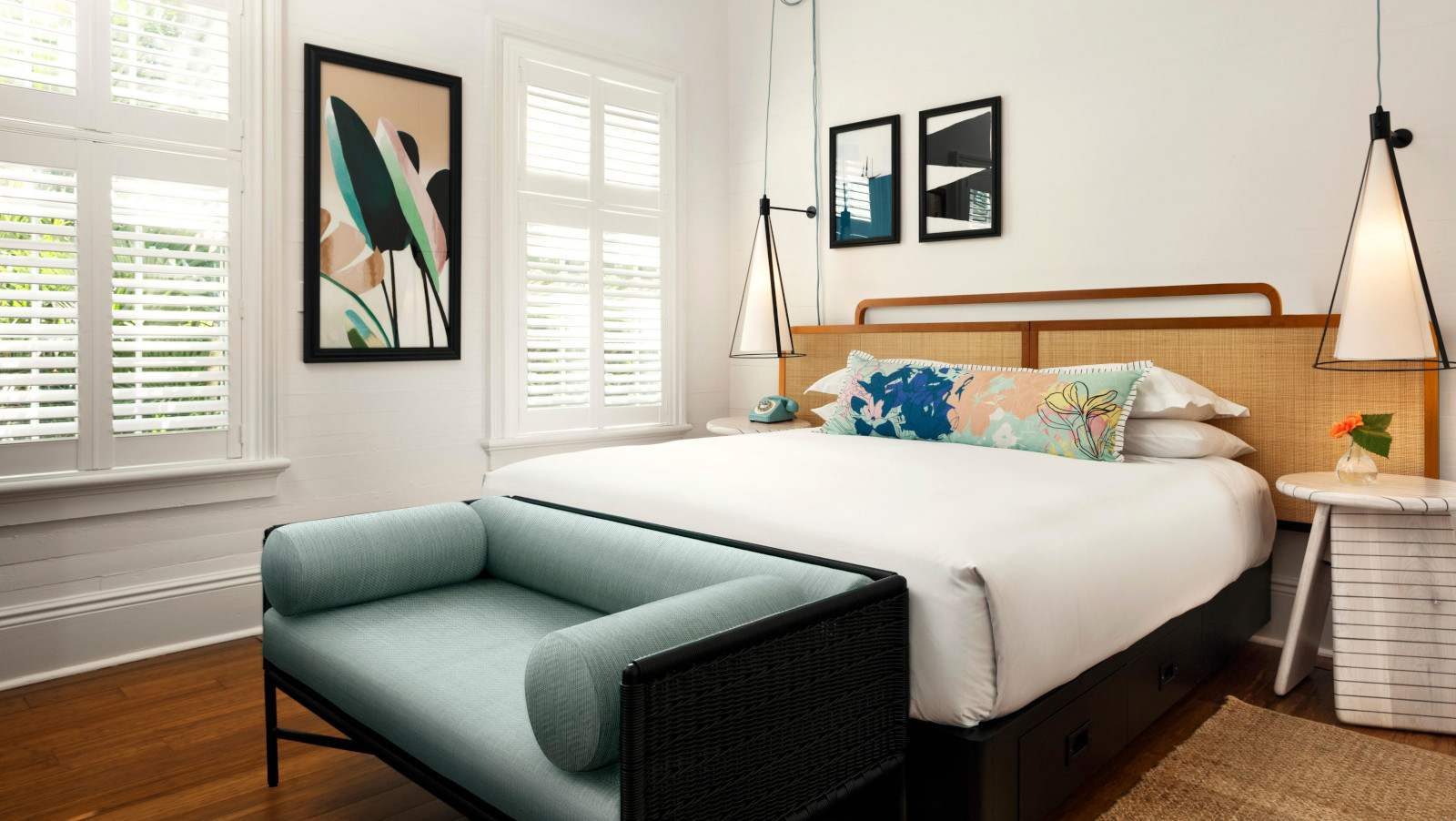 In a nutshell
---
Adults-only hotel in three historic homes
Only 23 guestrooms so super intimate and personable
Full of character: set in a charming historical conch-style building
Gay friendly AND pet friendly!
Kimpton Ridley House is a gay friendly, adults-only, 3-star hotel, located a few blocks from Duval Street. It was previously known as Cypress House Hotel, but has recently undergone a change in ownership, although note many websites still refer to it as the Cypress House.
The majority of the staff working here are gay. The building is full of character, set in three historic homes, including two Victorian and one Bahamian Eyebrow (named for the low front roof).
There are 23 spacious ensuite guest rooms at Kimpton Ridley House, some of which have private balconies or access to decks/common balconies. The common areas of the hotel include a large outdoor lap pool, landscaped sun lounging area and kitchen area. Also note: they are pet-friendly, unlike many other hotels in Key West!
Kimpton Ridley House is well known for being a gay friendly hotel in Key West. The majority of the staff are gay (and super cute!), so they obviously have no problems allowing gay couples to share a bed. We love that it's set in a charming historical conch-style building, which gives it so much character. Also, the fact that there are only 23 rooms available means it's more personable compared to some of the larger commercial chain hotels in Key West.
Prices at Kimpton Ridley House start from $295 per night:
---
08
Southernmost Beach Resort
Gay friendly • adult only areas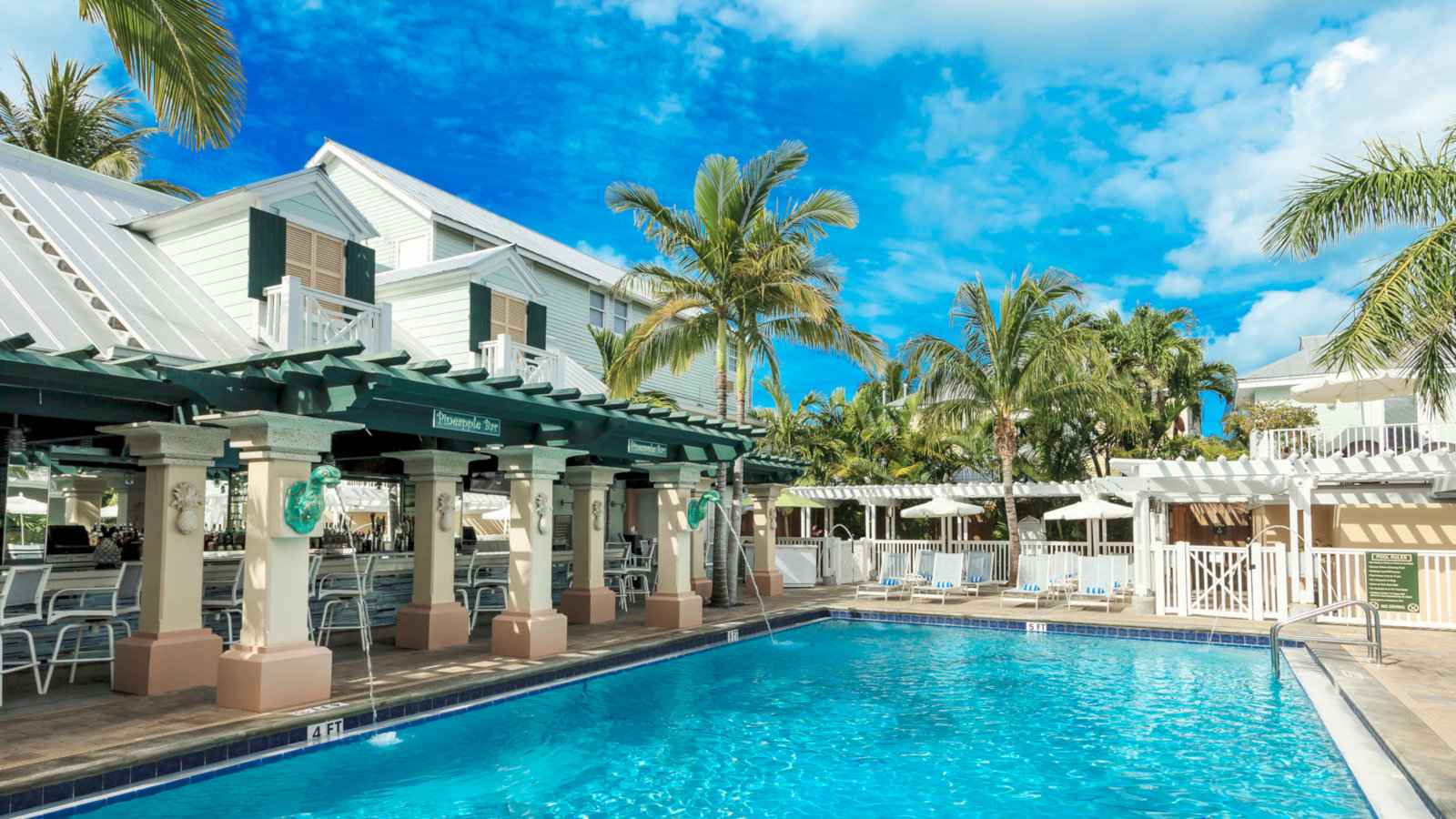 In a nutshell
---
Huge stunning resort right on the beach
Three swimming pools and four tropical bars
Delicious restaurant/cafe on the beach
Lush spa and super-modern fitness centre
Stunning…simply stunning!
The Southernmost Beach Resort is one of the most luxurious and exquisite hotels in Key West. It's huge, set over six acres of land in two historic buildings. It's also located right by the beach so you're never far from an ocean view.
Put it this way, visually it's so beautiful and perfect that it has become a popular location for gay weddings in Key West.
There are 261 elegantly furnished rooms, suites and luxury private guesthouses to book. Each room is decorated in a modern style, spacious, with plenty of storage space. They have three different swimming pools, including an adult-only zone.
There are no fewer than four tropical bars to enjoy either beside the pool or the beach. There's also a private section of beach here for the exclusive use of guests, which includes an attached tanning pier. Sunsets on that pier are gorgeous!
Other perks of this gem of a hotel include a large fitness centre, outdoor yoga classes and the deluxe Petite Spa for massages and beauty treatments. We recommend the Southernmost Beach Resort to couples looking to splash out and celebrate a special occasion. Visually, we rate this as our favourite gay friendly hotel in Key West!
Prices at Southernmost Beach Resort start from $257 per night:
---
09
Simonton Court Historic Inn and Cottages
Gay friendly • adults only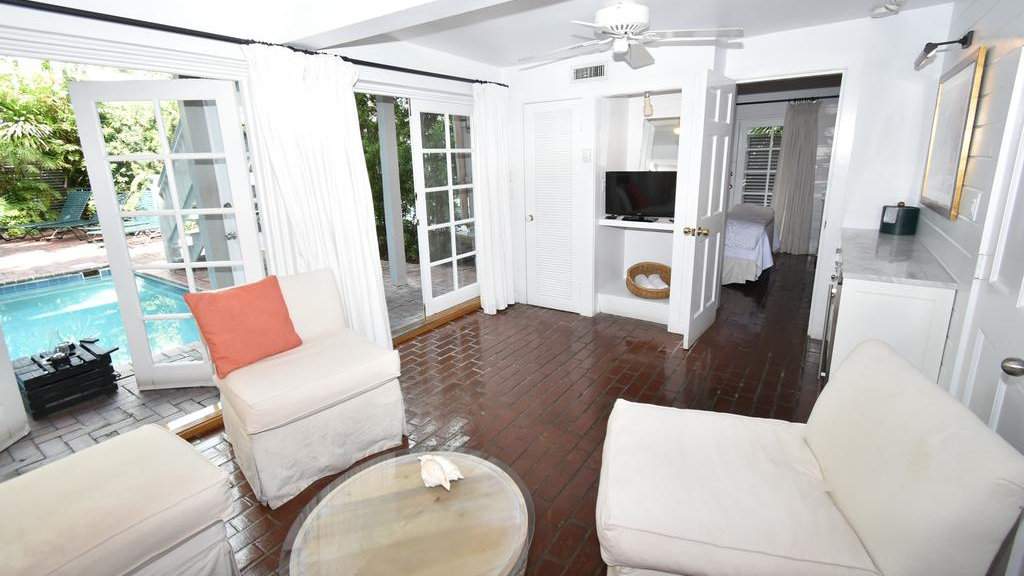 In a nutshell
---
Intimate resort in an 1880s renovated cigar factory
Spacious rooms, cottages and townhouses available
Four swimming pools and lush garden
Tropical island feeling here: serene and tranquil!
Simonton Court is a gay friendly adults-only 4-star hotel set in a large 2-acre compound. The compound includes historic cottages, a Victorian mansion, a townhouse and an 1880s cigar factory.
The cigar factory was converted into a hotel where you can book a room to stay in. Alternatively, you can book one of the annexed cottages, which is where the cigar factory workers used to live.
The rooms are spacious, decorated with many of the original features still in place. The beds are extremely comfortable, or as Seby put it – "it felt like I was sleeping in a cloud!". In terms of communal spaces, there are no fewer than 4 pools here and a pretty brick courtyard area where breakfast is served. Depending on which type of accommodation you choose, you may even have a pool right outside your door.
This is a slightly more intimate resort than the Southernmost Beach Resort and full of charming history dating back to the late 19th century when the cigar industry was booming in Key West. We loved the flowering vines and palm fronds, which made it seem like we were on our own tropical island. The Simonton is an ideal option for couples looking for a unique, serene and peaceful stay in Key West.
Prices at Simonton Court Historic Inn and Cottages start from $269 per night:
---
10
NYAH Key West
Gay friendly • adults-only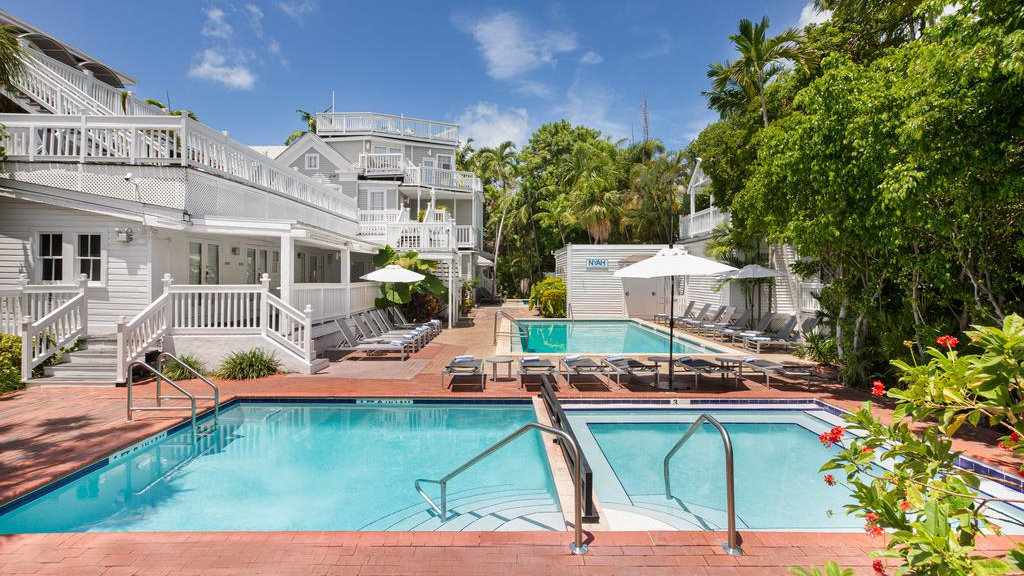 In a nutshell
---
Excellent budget option
Adults only and gay friendly
3 swimming pools and 2 Jacuzzis
Walking distance to the gay bars of Key West
Budget-friendly gay welcoming hostel…tick!
Yes, Key West is very expensive. Put it this way: most locals have at least 2 or 3 jobs just to make ends meet! As such, accommodation options in Key West are famous for being pricey. Even for a basic guesthouse or Airbnb, you need to budget for a few hundred dollars a night.
The NYAH hostel serves as the ideal solution to LGBTQ budget travellers in Key West.
NYAH stands for Not Your Average Hostel, and NYAH Key West is definitely that! With a Build Your Own Room concept you choose all the add-ons you want – kinda like booking a flight with JetBlue or Spirit Airlines! There are 36 rooms to choose from, each sleeping between 4-6 people. For couples, we recommend booking one of their private bungalows. A continental breakfast is provided daily free of charge.
The NYAH has three outdoor swimming pools, two Jacuzzis and multiple deck areas for sunbathing. There's a bar with a daily happy hour every afternoon. It's super sociable here, perfect for meeting other travellers and quickly making new friends. In terms of location, the gay scene of Key West is on your doorstep – just a few minutes walking down the street!
Prices at NYAH Key West start from $289 per night:
---
What to do in Key West?
Key West is a gay mecca with so many fun things to do. We love the tours recommended by GetYourGuide because they always inspire new ideas, are super easy to book and won't break the bank!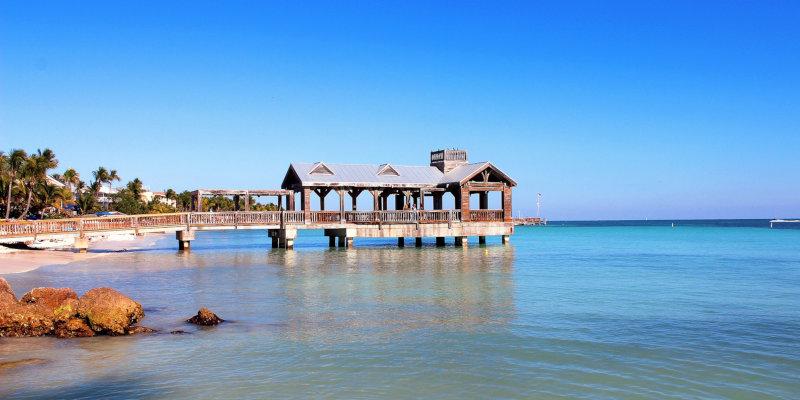 Happy travels are safe travels
We recommend you always take out reputable travel insurance before your next vacation. What happens if you suffer from illness, injury, theft, or a cancellation? Many gay travelers forget about it and regret it when something happens. Better to pay a small price and have peace of mind and not worry.
---
Like this post? Pin it