These are our 20 gay pride accessories you need to make your next Pride event the most exciting and fabulous one you've ever been to!
You've been planning your outfit for months. You've got all your rainbow gear ready. The plans you've made with your friends have been set in stone. And you're pumped full of excitement!
Yep, sounds like Pride month to us!
Looking back at our first Pride event together, we remember walking around in awe, staring at all the gorgeous people, proudly celebrating their identity. We were so full of love and admiration. We were also very under-prepared at our first Pride event. We didn't dress the part and, to make matters worse, got sunburnt from standing around under the summer sun. We vowed that the next Pride we attended, we would be ready!
"We were so under-prepared at our first Pride event, we vowed that the next Pride we attended, we would be ready!"
Flash forward to today, we have 'come out' fully, attended Pride events across the globe ranging from London Pride, Cyprus Pride, Canada Fierte Pride in Montreal, Puerto Vallarta Pride and many more – to the point where we are now very much seasoned Pride veterans! We feel that we need to pass on the torch and share our advice on all the things one needs for attending the festivities.
Whether you're a baby gay or a couple of seasoned ole' queens like us, check out our checklist of the most essential gay Pride accessories to make your next Pride event the most fabulous one ever!
Important: As an Amazon Associate we earn from qualifying purchases. If you book through any of our links, we earn a small commission, at no extra cost to you. This helps keep our site going – so thank you in advance for your support! ♥
The rainbow flag, a symbol of Pride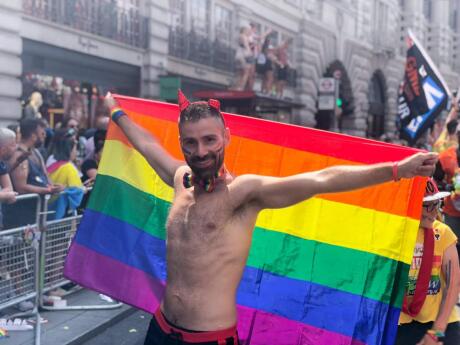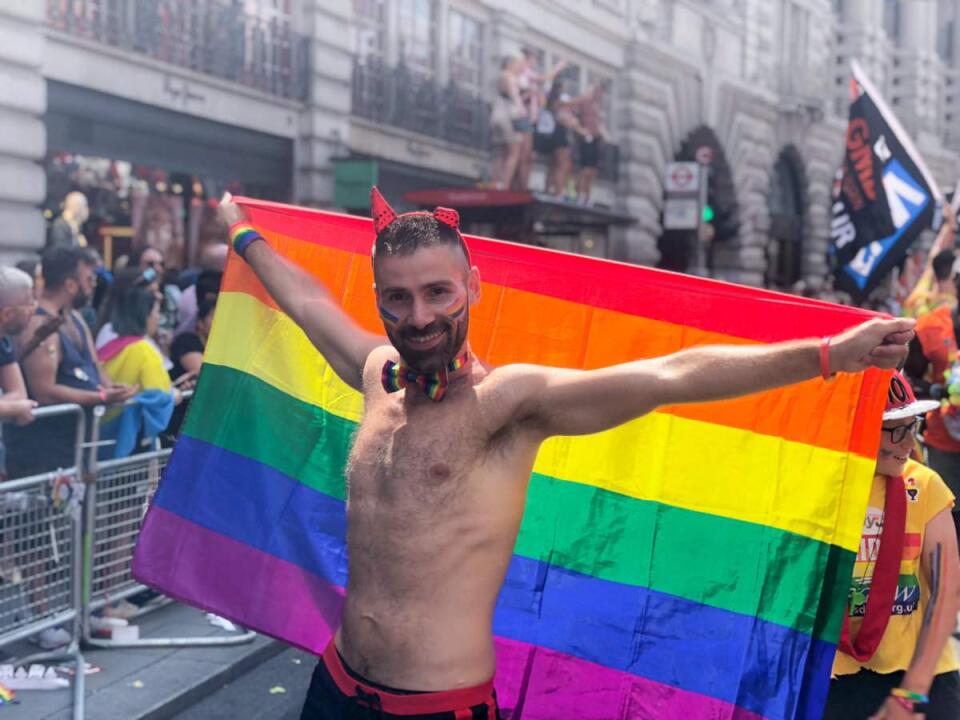 Well duh…isn't it obvious? Going to Pride without a flag is like going to a St Patrick's Day parade without wearing green! Time to light up that city in our beautiful colours and celebrate what makes us beautiful.
The Pride rainbow flag was first designed in 1978 as a way of representing the whole community. Each color represents something different: red (life), orange (healing), yellow (sun), green (serenity), turquoise (art), indigo (harmony), and violet (spirit).
Remember as well that there are many flags that represent the LGBTQ community, such as the bi flag (pink, lavender, and blue), the trans flag (light blue, light pink, and white), and the asexual flag (black, grey, white, and purple). All of them are just as important. All of them showcase the beauty and diversity of our LGBTQ family. Find the flag that you identify with best and fly it with Pride!
---
Whistle: be loud, be heard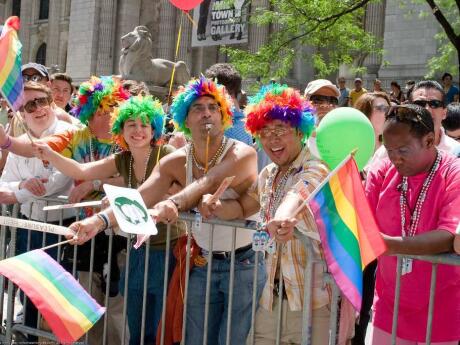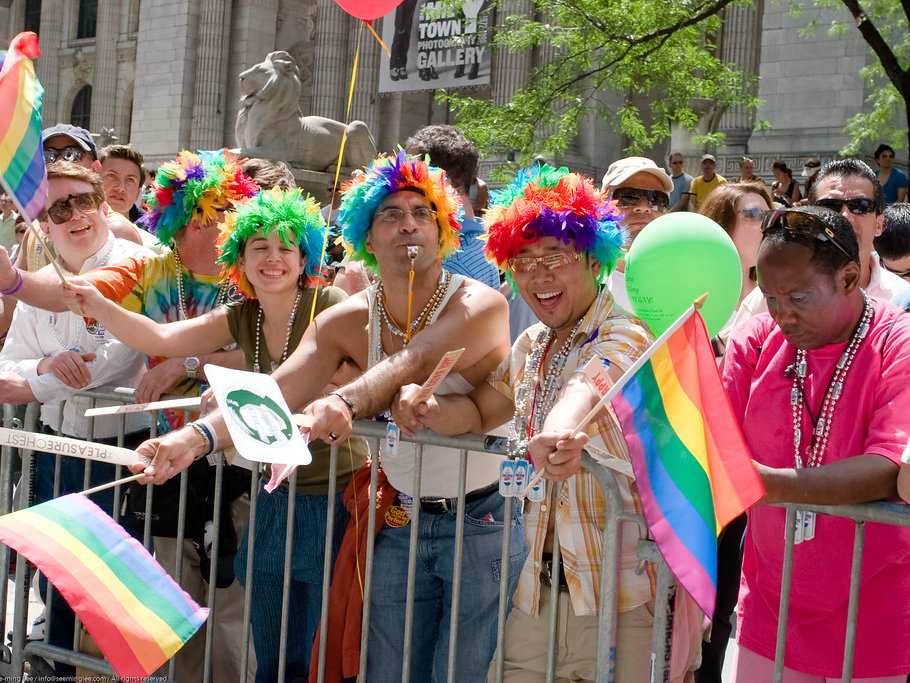 As if we weren't already loud enough…but hey, at the end of the day, Pride is more than a celebration of our liberated queer identities. It's about a protest. It's about being heard. It's about emerging from the shadows and silencing the voices that still try and suppress our rights to exist.


So yes, we will be loud. We will blow those whistles!
---
The fabulous rainbow sunglasses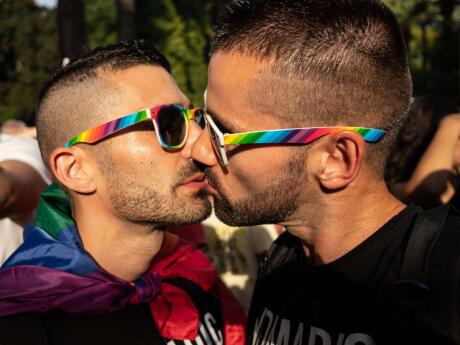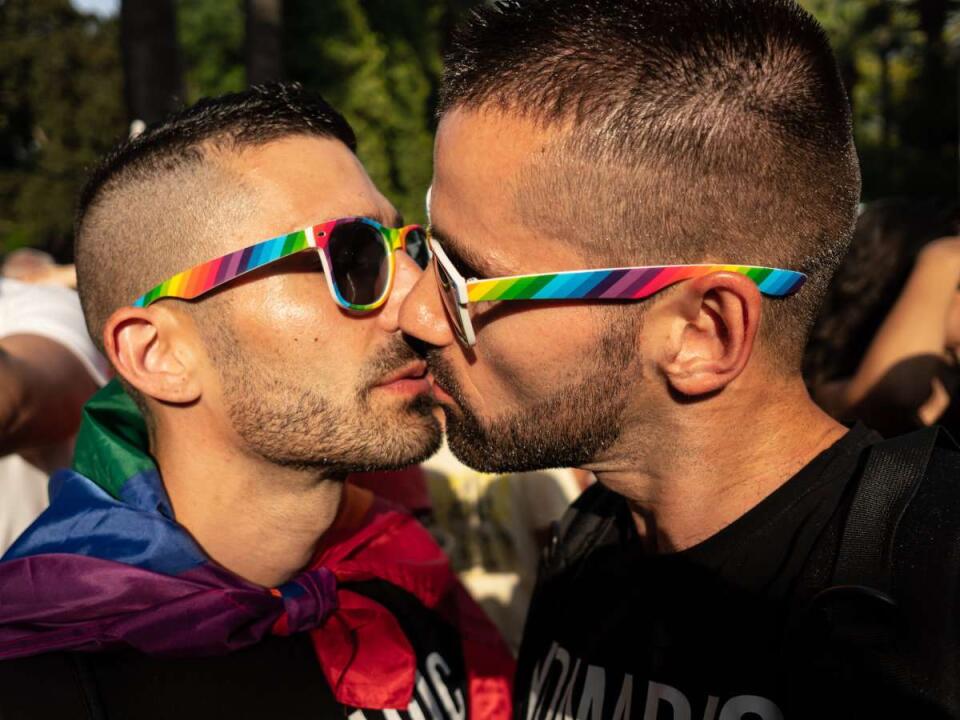 It's time to get shady up in here! Fuel your Audrey Hepburn fantasy with fab sunglasses. Whilst these sunglasses might not be the kind Holly Golightly wore in 'Breakfast at Tiffany's', you can't help but feel like a starlet whenever you prance around in a pair of shades.
The ones we picked out look great! And the rainbow rims take away the sophisticated vibe black sunglasses can give off, and instead makes you look super fun and approachable!
We think that sunnies are a must. Particularly if it's a sunny day. Plus, no one has ever worn a pair of pride sunglasses and not looked fabulous. So get them packed!
---
Rock the rainbow bow tie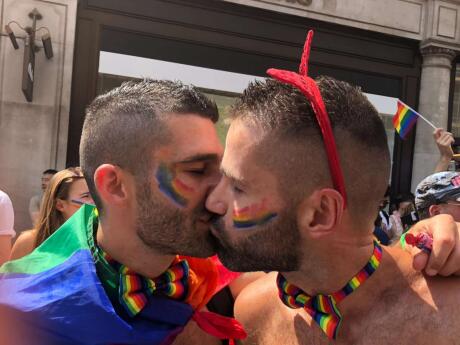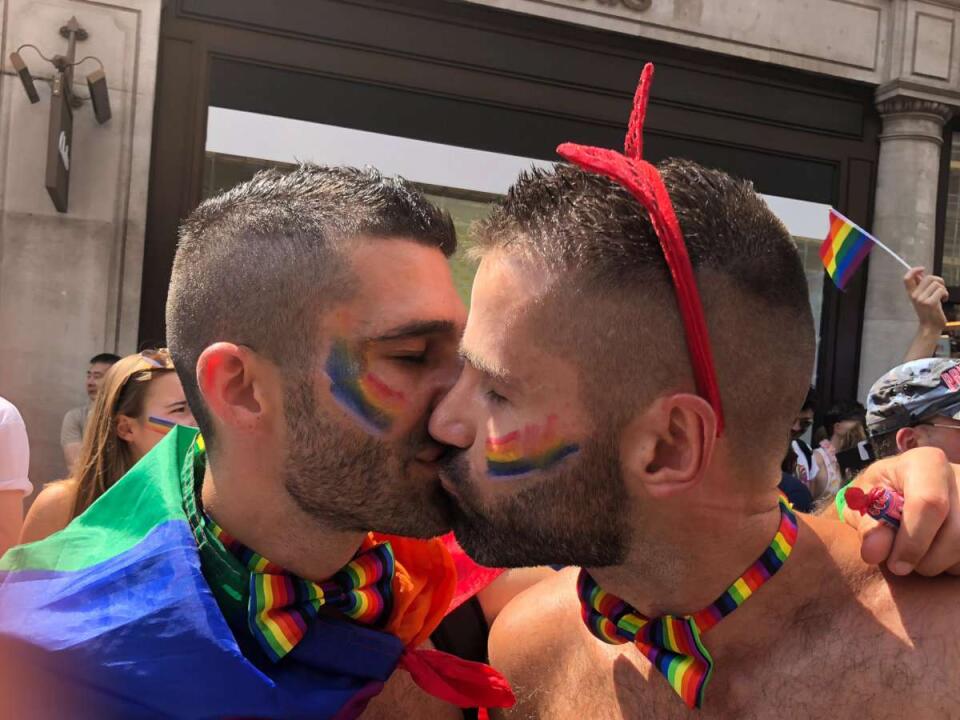 Who has ever not looked adorable in a bow tie? If you like to dress smart, then a rainbow bow tie is a nice touch for you to keep in theme, whilst sticking to your fabulous roots. Charlie Chaplin eat your heart out!
Honestly, when we put these on, we couldn't help but turn into selfie addicts. The look was everything! It's a particularly nice addition if you find yourself going to a more formal event, like a Pride ball. We know you'll catch everyone's eye – as we certainly did when we put them on!
A 3 piece black suit with this dollop of colour? Oh, honey, the fashion icon will come through!
---
Strap on your rainbow sweatband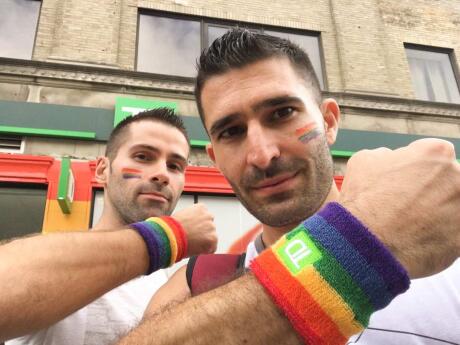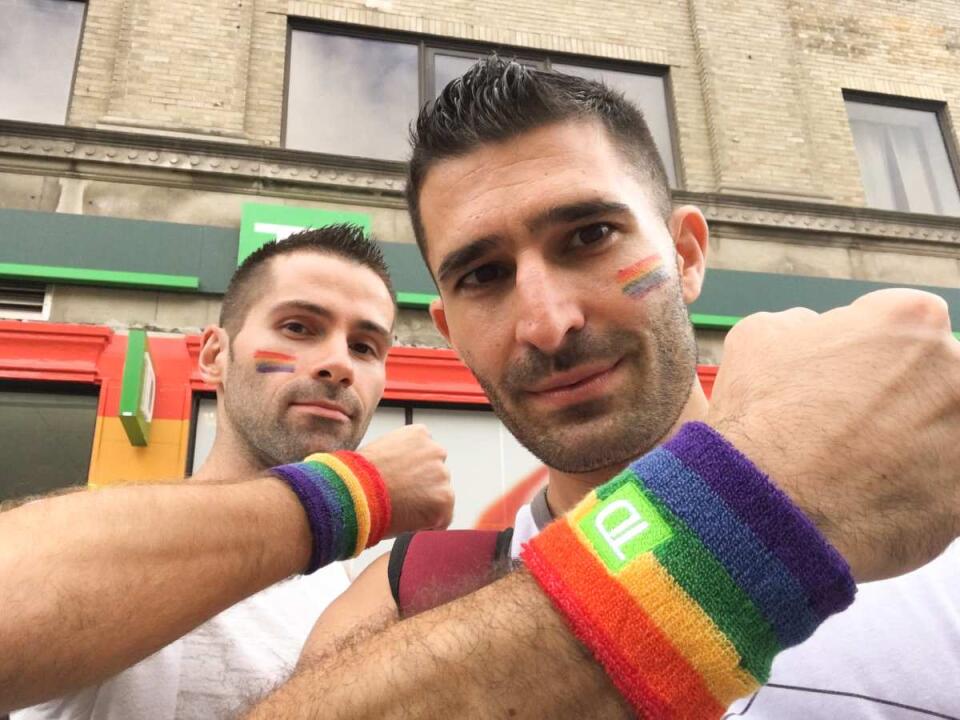 You can use it at the gym. Or simply use it to get your 80s fantasy on!
We loved these rainbow sweatbands. Not only were they super comfy and fitting; but they look absolutely gorge!
Honestly, what doesn't look good in rainbow colours?
We think it is so important to be visible wherever we go, and a sweatband around the head (or wrist) is a great way to get the message of Pride out there. It's a simple, yet effective, way of topping off your Pride outfit!
---
Pack your rainbow bag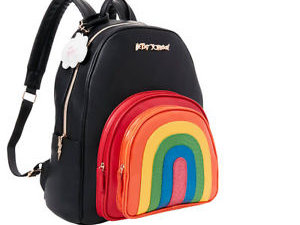 You're not going to get very far without a bag. Based on this list you're going to want at least a backpack to carry all of your fab must-have accessories. So why not keep in theme and get a groovy, rainbow one!
This bag we've picked out is cool, stylish, and super easy to carry. No excuses for forgetting your essentials on the big day.
Plus, when you are running around the city or commuting on the train, the rainbow bag will let everyone know that you are proud to be an LGBTQ person, or that you are an avid supporter. Either way, some closeted kid may spot it and feel inspired by it!
---
Lotion up with sunscreen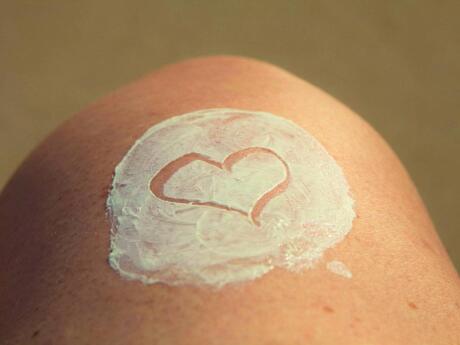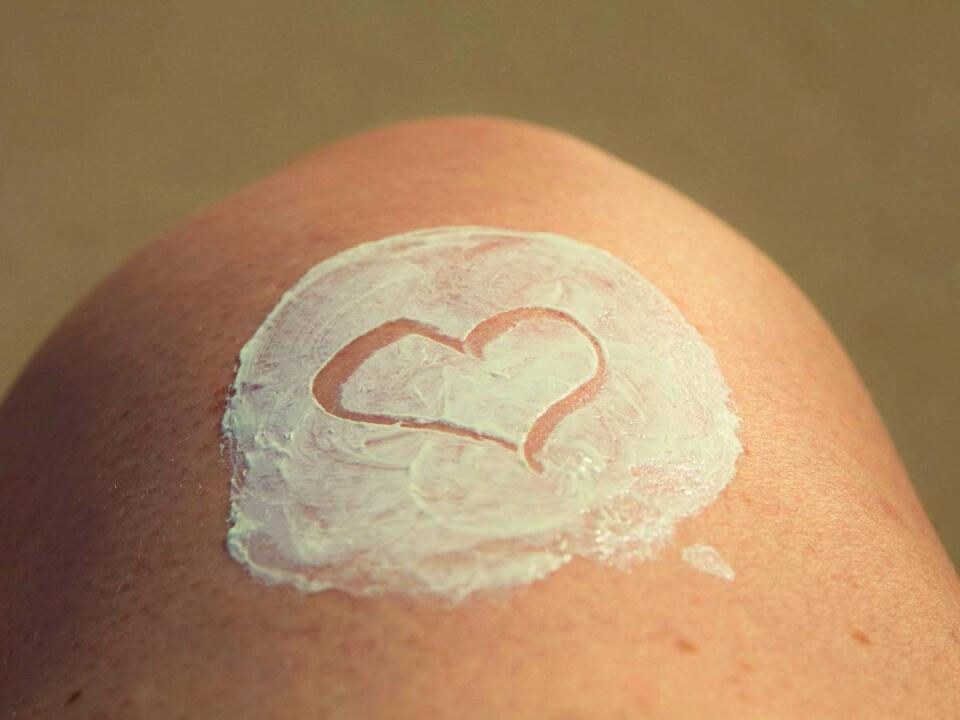 When packing your accessories for Pride, make sure to check the weather before. Always bring sunblock, even in a place like rainy London (we've been sunburnt at London Pride one too many times). This is really important if you burn easily as you'll be walking around looking like a pink flamingo for weeks. So remember to lotion up!
Most Pride events take place in the summer months, often under a scorching hot sun. Be sure to look after yourself and keep that gorgeous skin healthy.
Don't be a burned queen! Be a turned up queen!
---
Brace yourself with a rainbow bracelet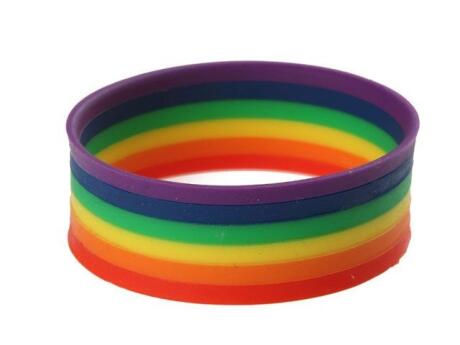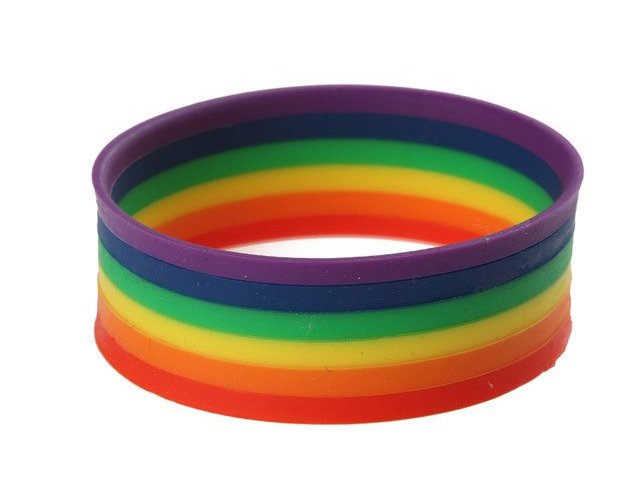 Similar to the flags, you can customise your choice of bracelet to show the colours of the rainbow flag, trans flag, or bi flag. A subtle way of showing your identity, you can also be super cute and give a bracelet to all of your friends to keep forever!
And just like the backpack, it's a great way for people to take notice of your engagement with Pride and might inspire a little kid to come to terms with their own sexuality.
We love wearing these on our wrists as they always add a pop of colour to whatever outfit we might be wearing, and it goes with everything.
---
Paint yourself with pride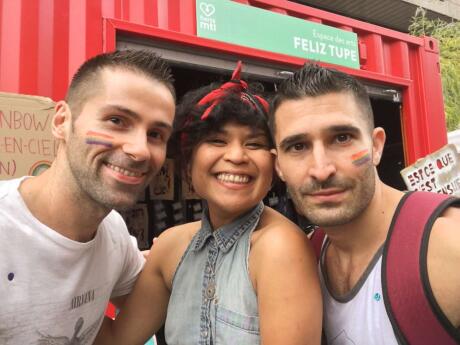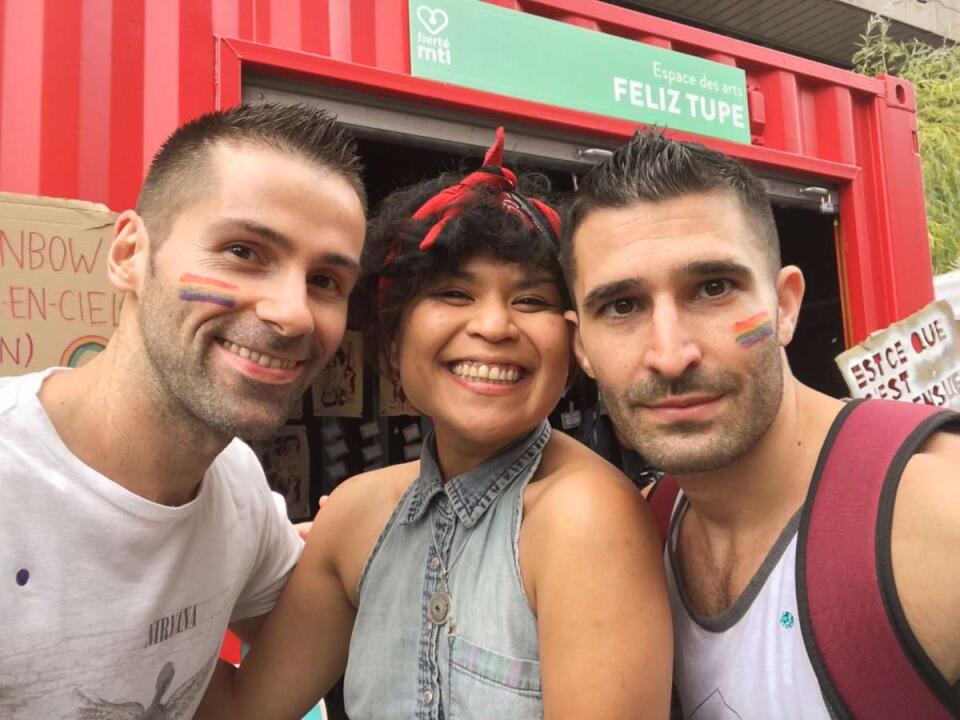 If you're not up for putting on a full face of make-up, then a tiny bit of face paint might be the answer. With paint that comes in little tubs that you can swab across your chest or face in one quick motion, you can express your Pride with a tasteful and simple feature.
You can paint on a rainbow or a few prideful words. You can even paint yourself up to look like an animal or a drag queen.
You won't get far walking around at Pride without seeing people covered in paint or glitter – so why not join them?
Makeup to a face is like a paintbrush to a blank canvas. So, have fun. Use all the colours. Be fabulous!
---
Glitter and be gay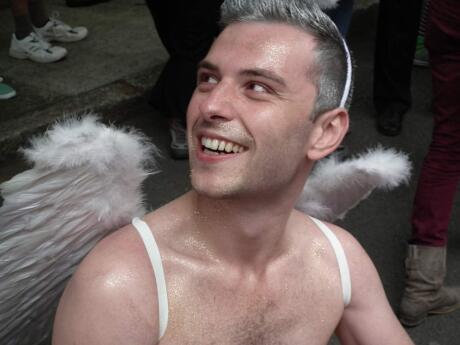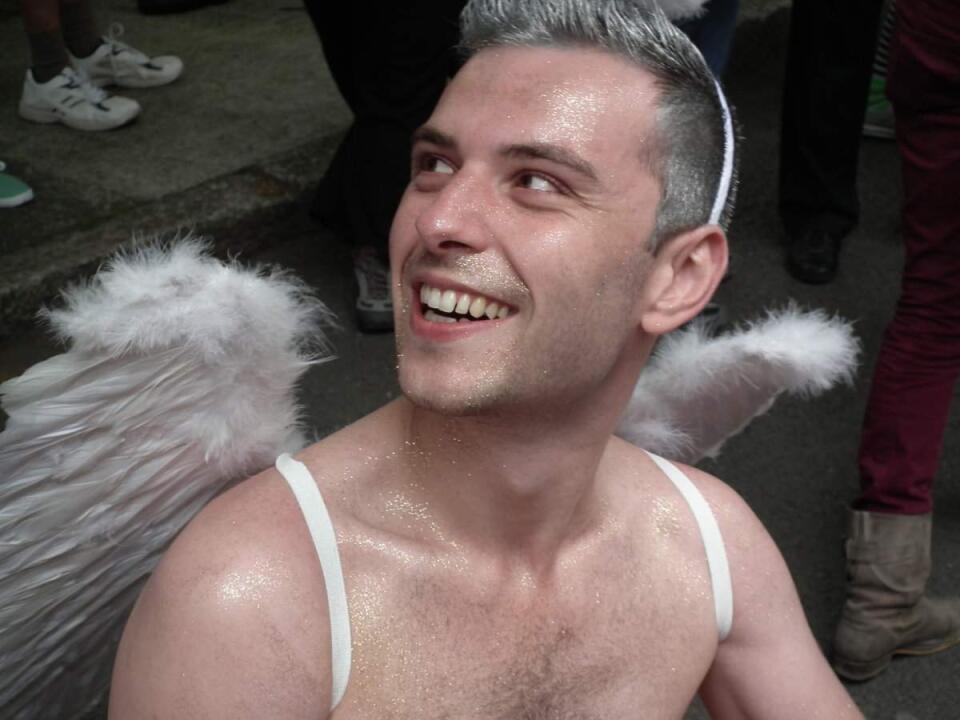 "Being gay is like glitter, it never goes away"…so said the incredible Lady Gaga.
"If you're not wearing glitter, you're not doing pride"…is what we say!
You'll see it on every street corner, on every exposed chest, and on every face as you march through the parade. Embrace the glitter fabulousness with some of your favourite colours.
What we feel, is that no outfit at Pride is complete when you're not wearing the glittery stuff.
But good luck with cleaning it off!
---
Let them know your pronouns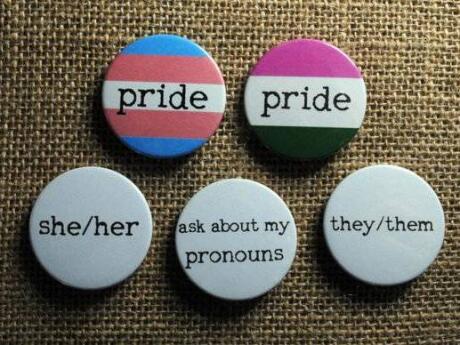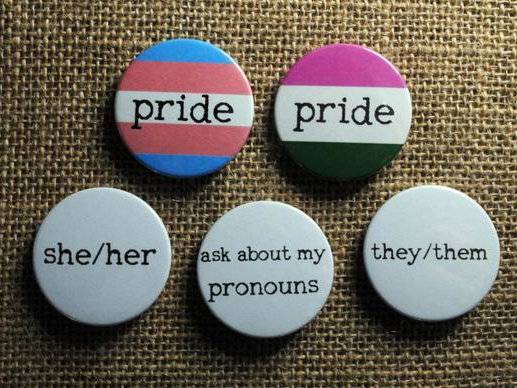 A simple badge pinned to your shirt with your preferred pronouns (he/him she/her they/their/them), will not only allow trans and gender non-conforming people to express their gender identity to the world, but will normalise the idea for cisgendered people not to assume someone's gender based on their appearance.
Plus, you can totally customise these badges to match your outfit and look super cute.
---
Ring a round the rosie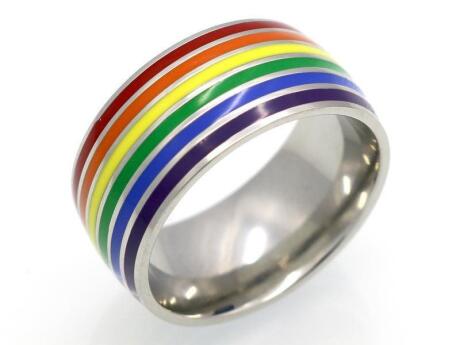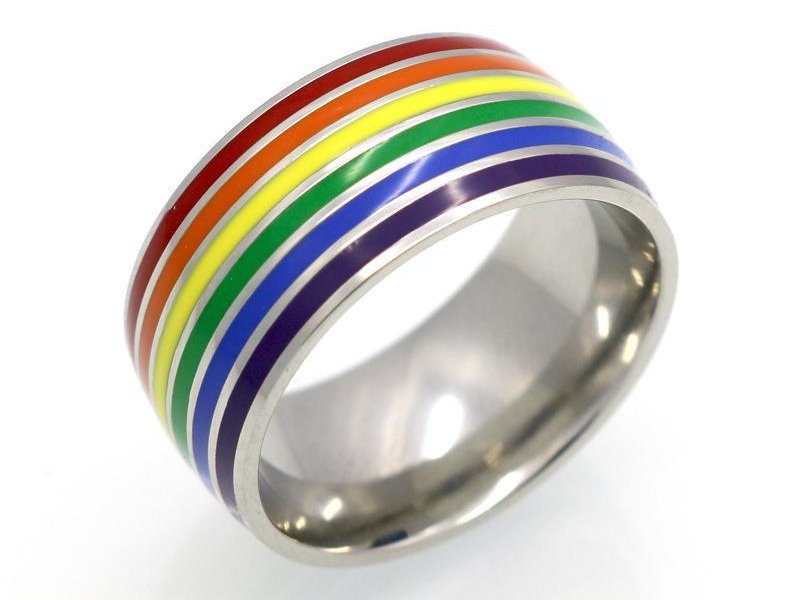 A Pride ring is a great miniature detail to add to your overall outfit. Outside of Pride, it's also a lovely way of expressing your individuality. The one we picked out is made from stainless steel and feels so slick and secure on our fingers.
We got ours to not only symbolise our gay Pride but to also commemorate our relationship. Yep, as cheesy as that may sound, but come on, these adorable things have 'anniversary gift' written all over them!
Hey, why not even use them to pop the question (should a moment of spontaneity hit you)? There wouldn't be anything cuter than getting down on one knee, whipping out this ring, and making your love official!

But of course, make sure you pick out a diamond engagement ring later on!
---
Under my umbrella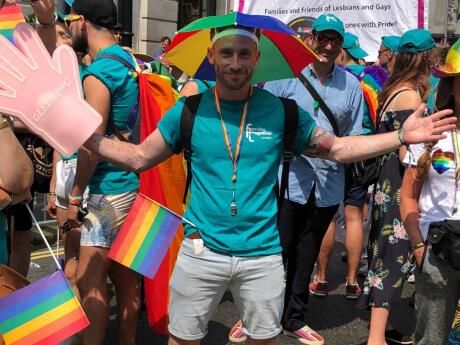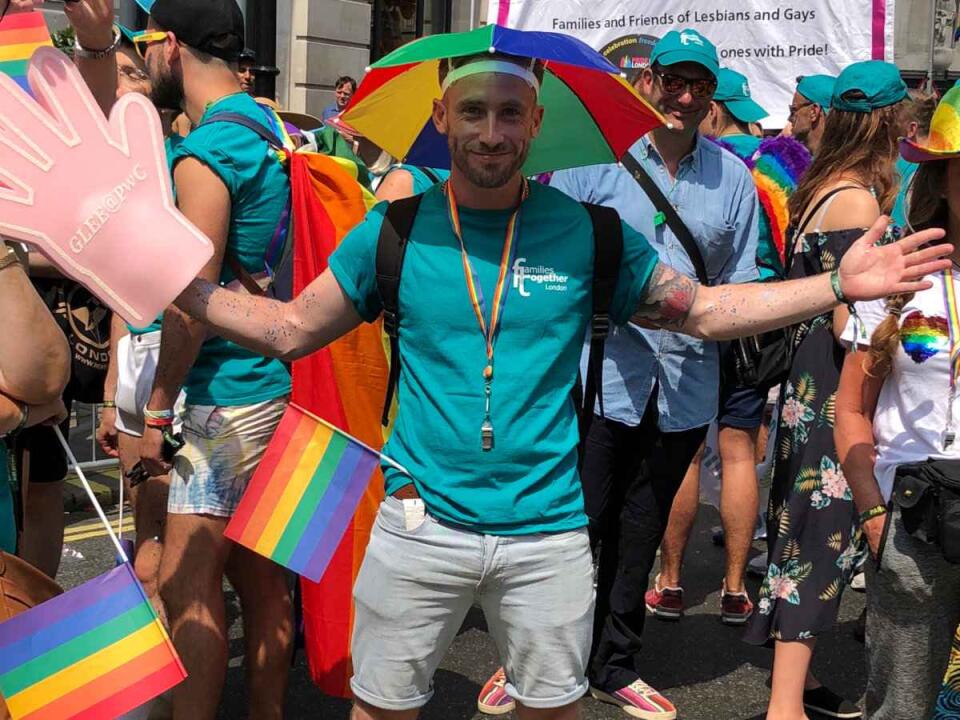 It's time to get that Mary Poppins fantasy on….
Whether it's sunny or raining, an umbrella is a super cute way to accessorise your look. Match it to your rainbow poncho for full effect! This umbrella is extremely durable and can hold up even in strong winds. No bad weather is going to stop us from going to Pride – and if you're rethinking heading out because of predicted rainfall, then this umbrella is perfect for you.
It will also look super cool to carry around without rainfall. Ever see Mariah Carey walking around in the sun, making her security hold an umbrella over her head? Bring that same energy to Pride!
---
Poncho life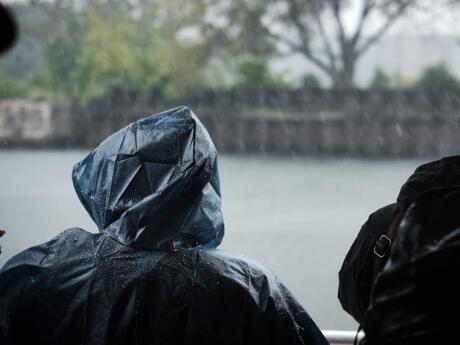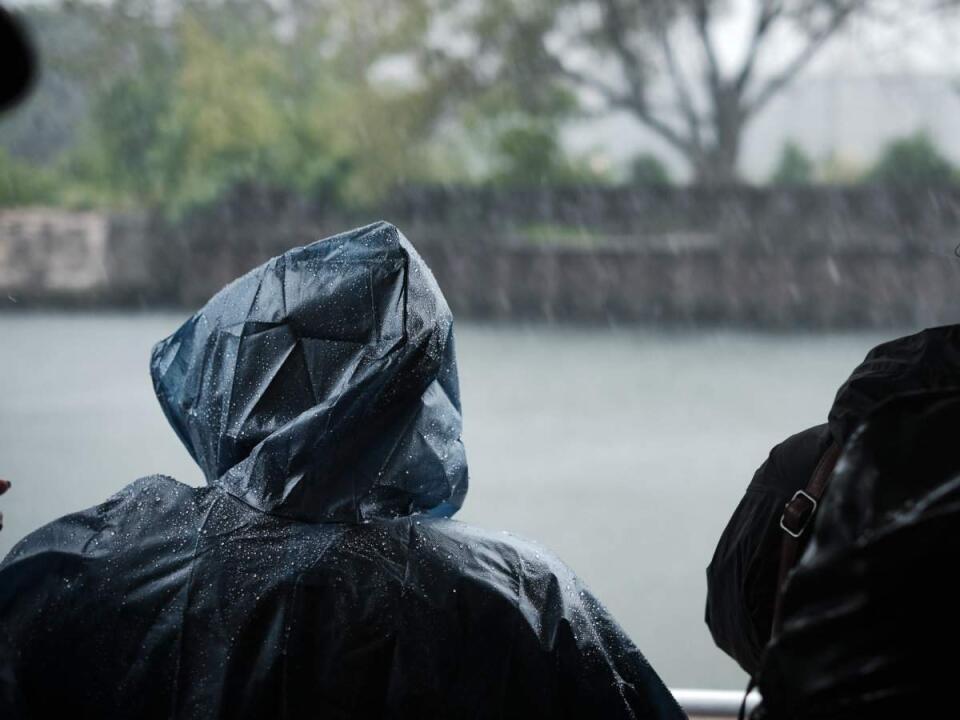 If you live in a place where it's likely to rain during Pride (ahem – London, Toronto, New York…!), then it would be nice to bring along a poncho. Yet, that doesn't mean you have to go around looking like a batty old woman on her way back from the laundromat. There's no excuse for not adorning your body in an adorable, rainbow coloured poncho, and keeping on-brand with the festivities.
Ponchos come in an easy-to-pack bag, which is super handy. We always make sure we have a few next to our sunscreen in our Pride bags.
---
Call your mates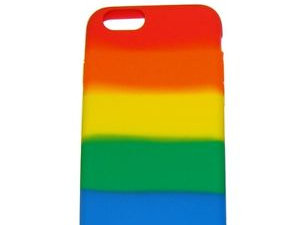 We don't know about you, but Stefan is terrible about dropping his phone. After making the mistake of letting his brand new iPhone slip from his grasp and smashing its screen on the pavement, we decided it was time to be responsible and purchase phone covers.
But of course, we couldn't just buy one of those boring leather black ones, we had to get a rainbow case! After all, a phone case is a fantastic way of showing off your Pride every single day of the year right?
---
Be safe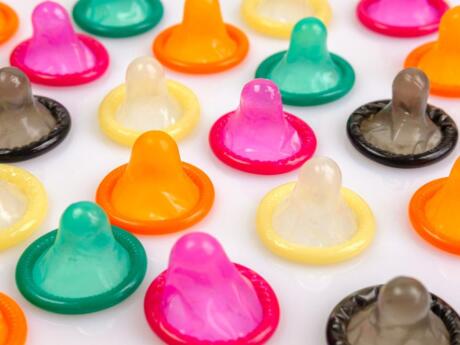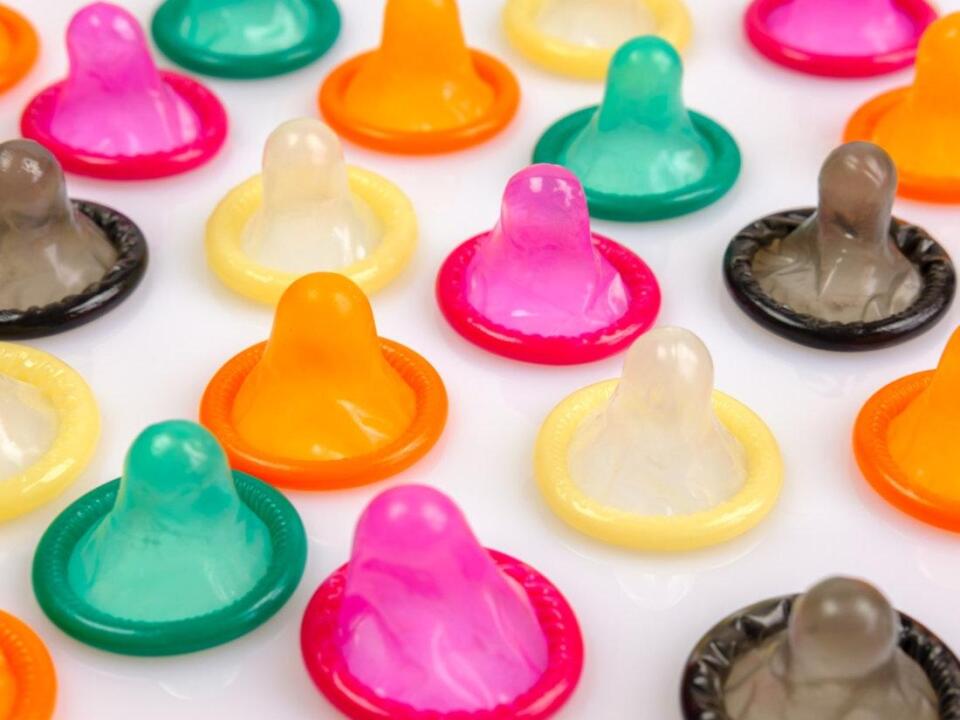 If you stay ready, you don't have to get ready! When it comes to getting frisky, safe is always the way to go. We all remember being told by Baby Spice in the classic Spice Girls song, '2 Become 1', to "be a little bit wiser baby, put it on, put it on". And we owe it to her to live by those words.
Pride is all about liberation, and for those of us in the community who enjoy sex, then you need to have these condoms to hand. There is no excuse for not taking the necessary precautions, so revert back to Bunton's lyrics, be prepared and be safe!
---
Put a sock in it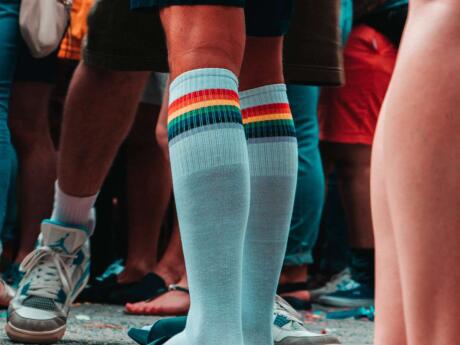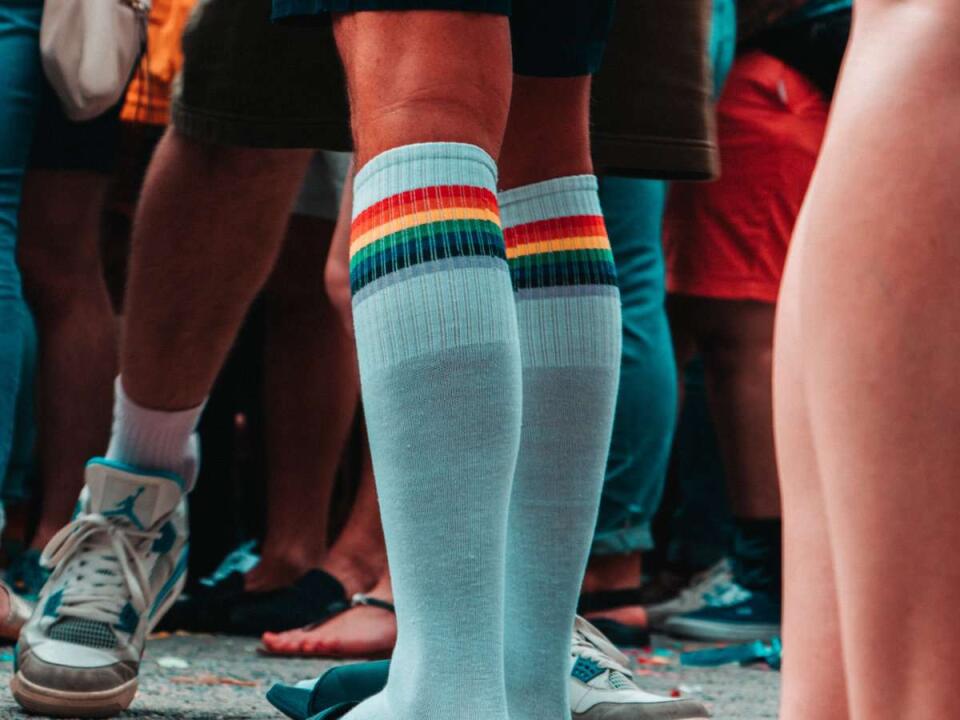 So if you really want to go over the top with your outfit, and be bedecked from head to toe in rainbow gear, then make sure you finish off your look with some rainbow socks. They're not only great for marching during pride, but make cute footwear for sauntering around every other day of the year.
You don't need to go all-out crazy rainbow either. It's totally possible to get socks that aren't too over the top. Like a black pair with rainbow stripes zipping across the upper foot. So you can adapt them to a more professional, everyday life setting.
---
Cap it all off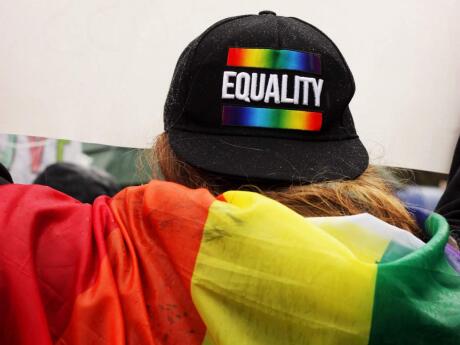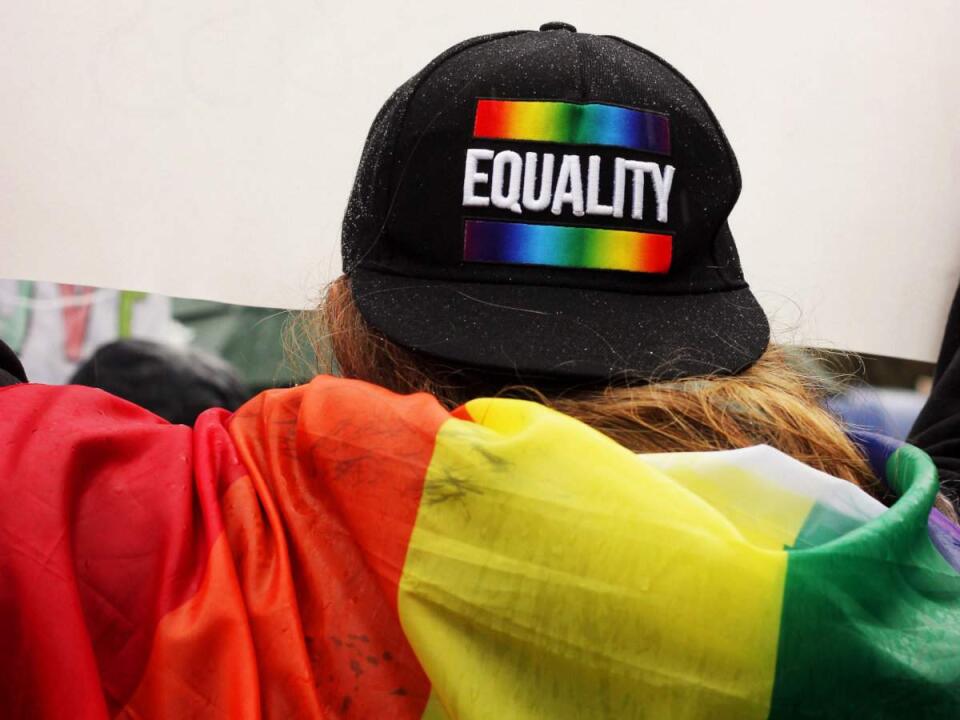 Top your amazing look off with a cutesy cap. There are so many great cute caps to choose from, some with a simple message or ones that are completely colourful and over the top.
You can match a cap with almost any outfit and it's an easy way to show your Pride outside of the parade as well. Go for a powerful message like 'equality', the simple 'love is love' or something funny like 'gay AF'!
---
Makeover time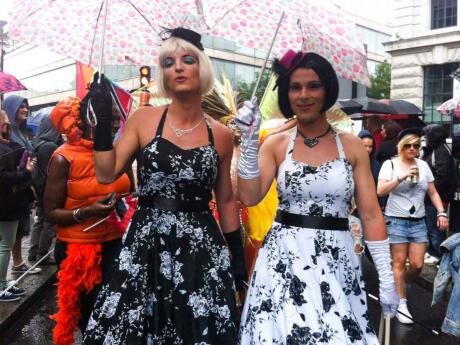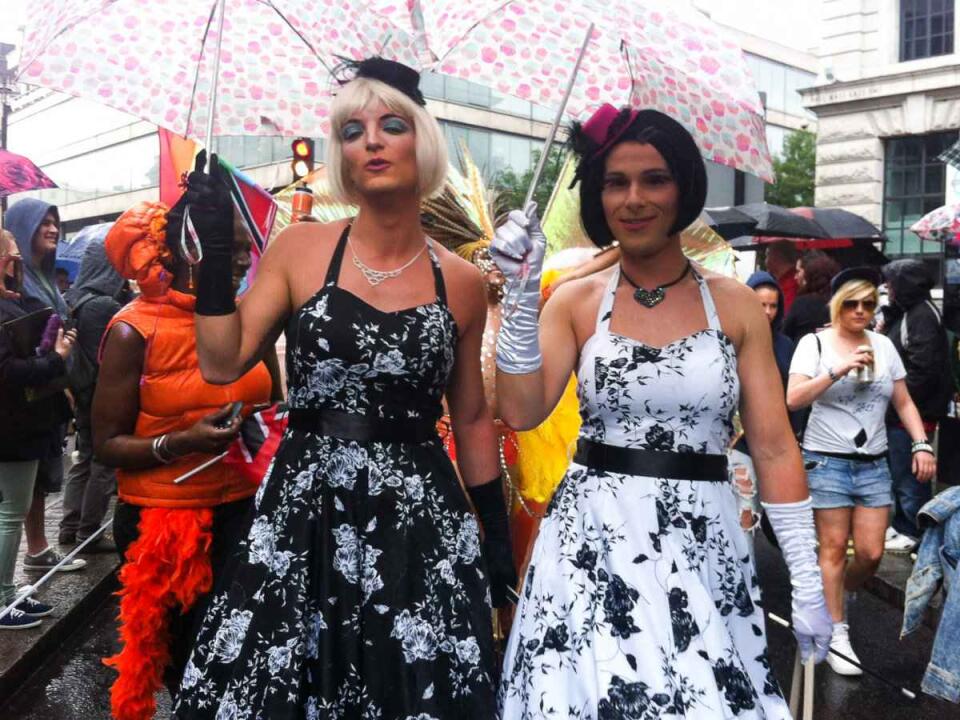 Whether it's your first time in drag, or you've got to the stage where you can confidently submit your audition tape for next season's 'Drag Race', you should have fun and experiment with make-up!
You don't even need to go in full drag. Just a little bit of eyeliner. Or blush. Or however much you need to feel your oats. After all, you're born naked, and the rest is drag…!
---
Become a unicorn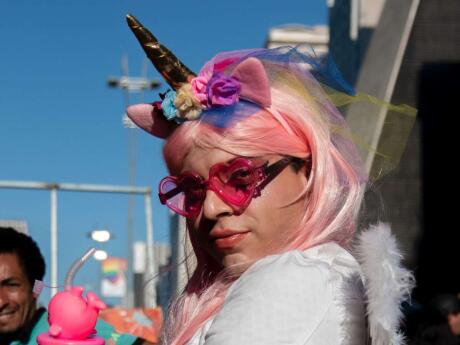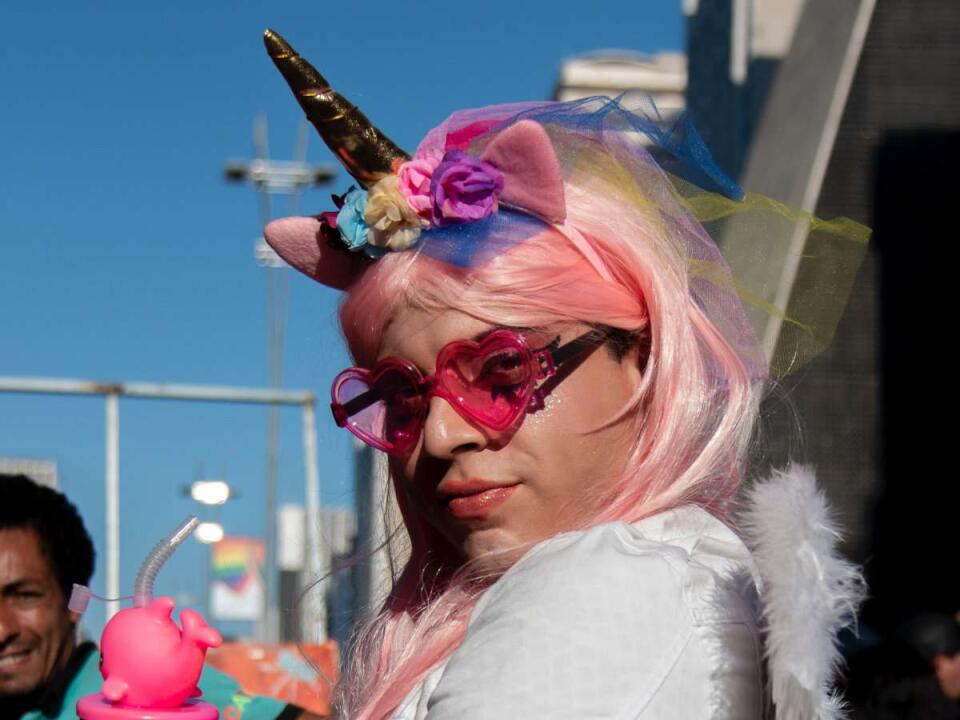 Unicorns are the gayest of all mythical creatures. You can't attend a Pride event and not expect to see some semblance of a unicorn somewhere.
Some attendees bring unicorn balloons and carry them around. So why not take it one step further and become the unicorn yourself?
With a simple horn that straps on your head, you'll get to live your magical fantasy.
---
Like this post? Pin it