TERMS OF USE: There is a chance that some of the content on this page has changed since it was last updated. By reading this article, you consent to our Terms of Use and Disclaimer. Happy Travels!
DISCLOSURE: Some of our posts may contain affiliate links which we may receive a commission if you choose to book something through one of our links.
These are the best gay Airbnbs in Fort Lauderdale if you're looking for an intimate and gay friendly choice of accommodation.
Fort Lauderdale is fast becoming the gay capital of America! Well, at least that's what we think. With an abundance of gay beaches, bars and much more besides, this Florida city attracts gay boys from across the world to its tropical shores.
Areas such as Sebastian Street and Wilton Manors are today dominated by gay guys who come here to sip cocktails and party like there's no tomorrow. In fact, you can't go more than a few seconds at a time without seeing another piece of eye-candy go by in these super-liberal part of town!
With such a large gay community, it's only natural that Fort Lauderdale boasts a ton of gay accommodation options. Whilst there are some fantastic gay resorts in Fort Lauderdale, for those who like a little more independence on vacation we recommend checking out a gay Airbnb website such as Misterband. Luckily, Fort Lauderdale is teeming with amazing gay choices in this department and you're sure to find something no matter your preference or budget.
Whether you seek a romantic getaway close to the beach or a sprawling base for a large group of queens, our collection of the best gay Airbnbs in Fort Lauderdale will do the trick!
These are some of our favourite and some of the finest gay Airbnbs in Fort Lauderdale. Be sure to also check out our detailed gay travel guide to Fort Lauderdale for more inspiration to help plan your trip and also our rundown to some of our favorite gay alternatives to Airbnb.
01
Casa Hermes Gay Guest House
Wilton Manors – private room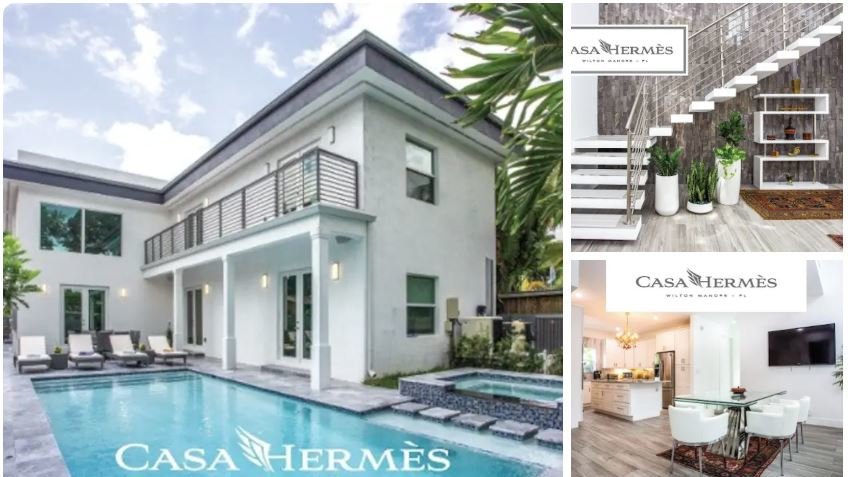 Why we love it
---
Super-chic guest house
Gay-exclusive
Close to Wilton Manors gay scene
Amazing large Jacuzzi area
Situated in the heart of Wilton Manors, this gay-exclusive guest house is located in a stunning multi-million-dollar property that will make you feel oh so fabulous!
Hosted by the lovely Riccardo, this ultra-modern space competes with some of the more highly rated five-star hotels in Fort Lauderdale. We absolutely adored the balcony in our deluxe king room at Casa Hermes.
This gay Airbnb attracts chic, affluent gay guys who simply want to have a good time. And what better place for this than the 10 person Jacuzzi, with a cocktail to hand, engaged in deep and meaningful conversation with your fellow guests…"it SOO should have been Shangela right?". Location wise, you are just a few steps away from the gay scene of Wilton Manors – one of our favourite gayborhoods in the US.
02
Private Pool Home Hosted by Arnie and Jacob
close to Wilton Manors – entire apartment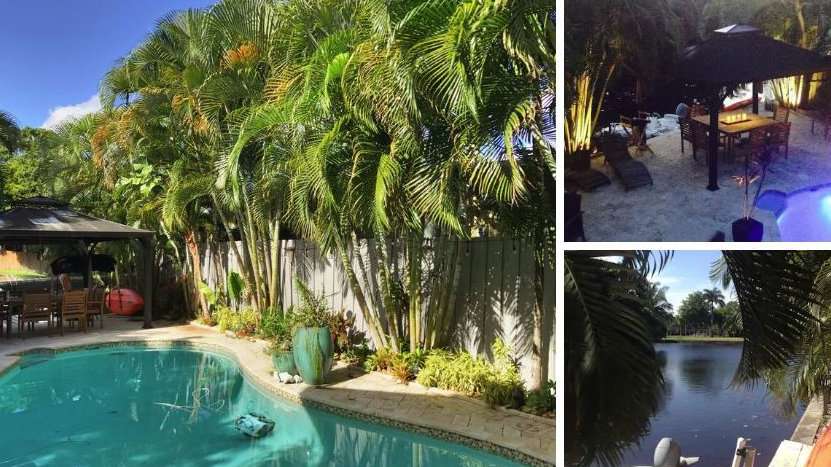 Why we love it
---
Heated pool and hot tub
Close to the Wilton Manors gay scene
Romantic canalside location
Super-friendly gay hosts
This gorgeous two-story home belongs to Arnie and Jacob, a married gay couple who live downstairs and rent out their beautiful upstairs apartment.
With a heated pool, hot tub and delightful dining area, this Wilton Manors apartment is close to all of the major gay nightlife hubs of the area.
The property sits beside a scenic canal.
There's no better way to spend a day here than kayaking around the area before returning home to a poolside dinner and a long, hot soak in the tub with a cocktail. Scott and Rod are an attentive, friendly couple who make truly wonderful hosts.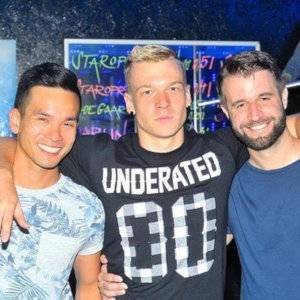 Discover Wilton Manors on a gay tour!
First-timers and solo LGBTQ travellers listen up! Want to quickly make new friends and discover the Wilton Manors scene? Then we totally recommend you do this Gay Party Time in South Florida tour. A cute local will take your hand and show you around all the best bars and parties happening. Our group quickly formed a sisterhood-type bond and became friends for life. Highly recommended!
03
Super Host in the heart of Wilton Manors
Wilton Manors – entire house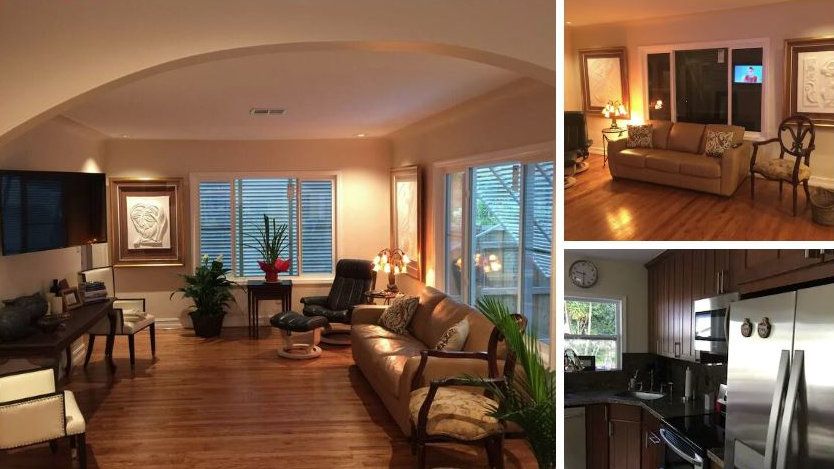 Why we love it
---
Half a block from Wilton Drive
Recently renovated
Hot tub
Attentive host
This two-bedroom home in the heart of Wilton Manors is great for a bunch of friends who want to be close to the most vibrant gay hubs of the area.
In fact, this gorgeous home is just half a block from Wilton Drive and its pick and mix array of gay bars, restaurants and clubs. A stay at this home puts you smack dab in the middle of all the action!
Spotless and newly renovated yet with the perfect amount of homely touches, this home features a hot tub with enough space for all four guests at once! Simply perfect to unwind in after a night of shenanigans…
04
Bearadise Cottage
Wilton Manors – entire cottage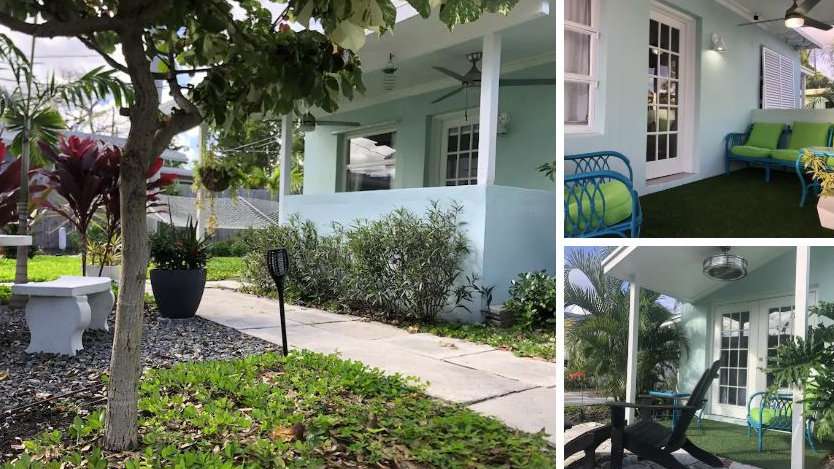 Why we love it
---
Gay hosts
Central location
Delightful space
'Home away from home' vibes
With room for three guests, this small but perfectly formed cottage in the center of Wilton Manors is run by Phil and Chris, a delightful gay couple who cater to their guests' every whim.
Aptly named, Bearadise Cottage is perfect for gay couples or groups who want their very own little oasis that's nonetheless right at the heart of Wilton Manors' thriving scene.
With a short walk, there are endless bars and restaurants just waiting to be enjoyed. We particularly love the lush, well-groomed garden at Bearadise Cottage, which is what makes this one of the coziest gay Airbnbs in Fort Lauderdale.
05
Men only/Clothing Optional hosted by Doug
Wilton Manors – private room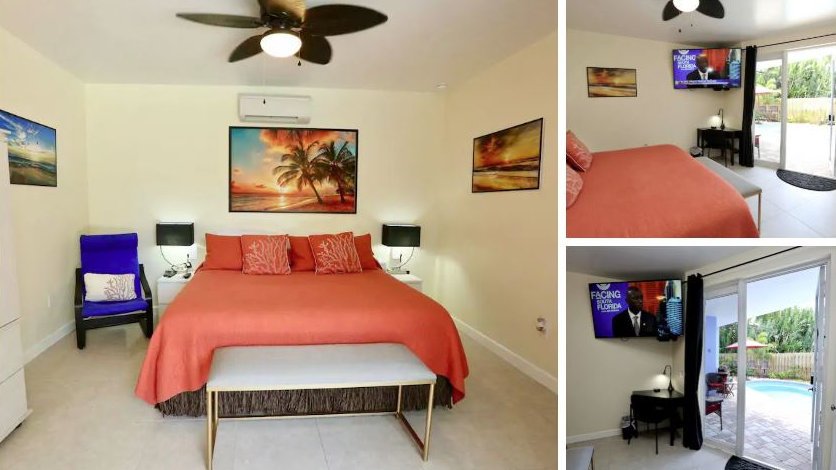 Why we love it
---
Heated pool
Clothing-optional policy
Quiet yet central locale
Clean and tidy rooms
A beautiful gay-exclusive Airbnb with a clothing-optional policy throughout, Doug's place is just steps from the vibrant gay hub of Wilton Drive.
The rooms here are clean and simple with all the relevant amenities. Perhaps the best part about staying at Doug's place (apart from the clothing policy!) is the gorgeous heated pool, which most rooms here open directly onto.
Doug is a friendly, amicable host. He's happy to help out with anything you might need including recommendations for the best pizza restaurant, booking your airport taxi or his take on which is the best gay party happening in Wilton Manors for that evening. Top man!
06
House With Pool hosted by Juan and Bob
Wilton Manors – entire house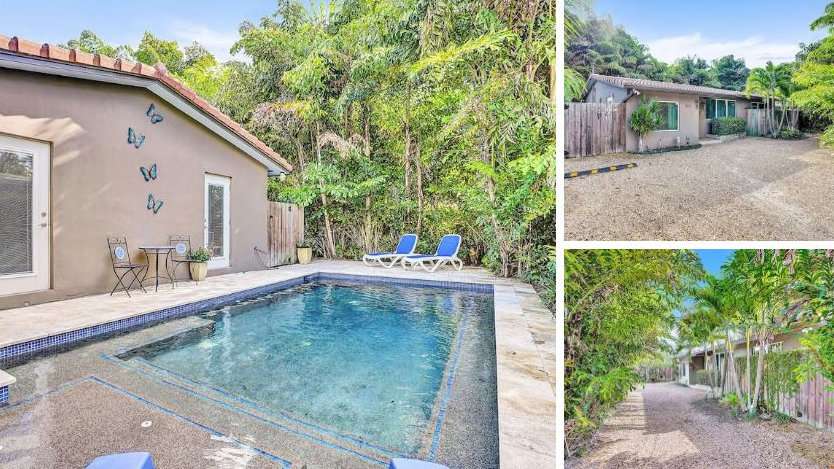 Why we love it
---
Modern studio for two
Gay hosts
Close to Wilton Drive
Heated pool
A darling studio that's ideal for a gay couple, Juan and Bob's place is just a five-minute walk to the delicious eateries and happening nightlife of Wilton Drive.
We adored the sparklingly clean, modern interiors here as well as the relaxing pool area set amid a good chunk of lush green gardens. In fact, the garden here is one of the best-maintained we've seen of any gay Airbnb in all of Fort Lauderdale.
It's the purrfect backdrop for all those Insta thirst traps you know you'll want to take during your trip! For those quiet nights in when snuggling up on the sofa is the only thing you want to do, the 60-inch LED screen is the perfect accompaniment.
07
The Sanctuary at Coral Ridge
Coral Ridge – private room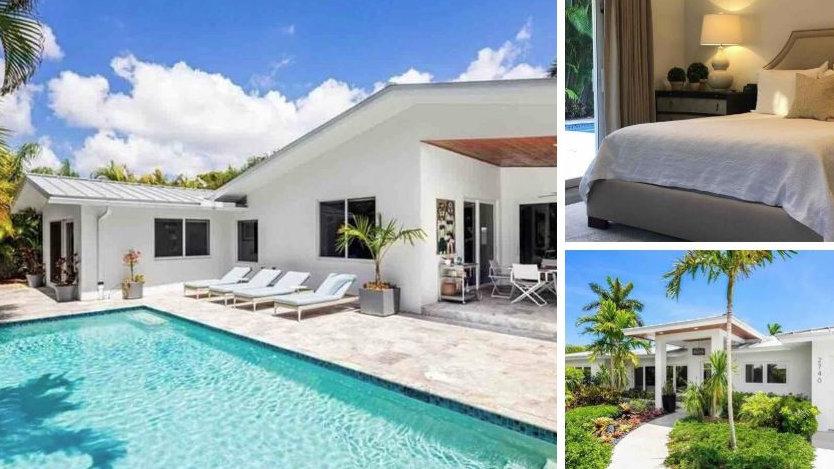 Why we love it
---
Modern, luxurious home
Friendly gay hosts
Massage therapy offered
Located between Wilton Manors and the gay beach
Rick and Thomas offer a private bedroom in their beautiful home that's ideal for a gay couple. With modern decor, palm trees and a pool, this is a seriously chilled gay Airbnb yet one which boasts tons of character too.
Rick and Thomas are also incredibly helpful hosts who are willing to offer advice on anything and everything Fort Lauderdale.
For those who fancy some R&R, Rick is a professional massage therapist and offers his services to guests during their stay. Location wise, this gem of an apartment is nestled in the leafy Coral Ridge neighborhood, which is equidistant between the gay beach of Fort Lauderdale to its East, and Wilton Manors to its West.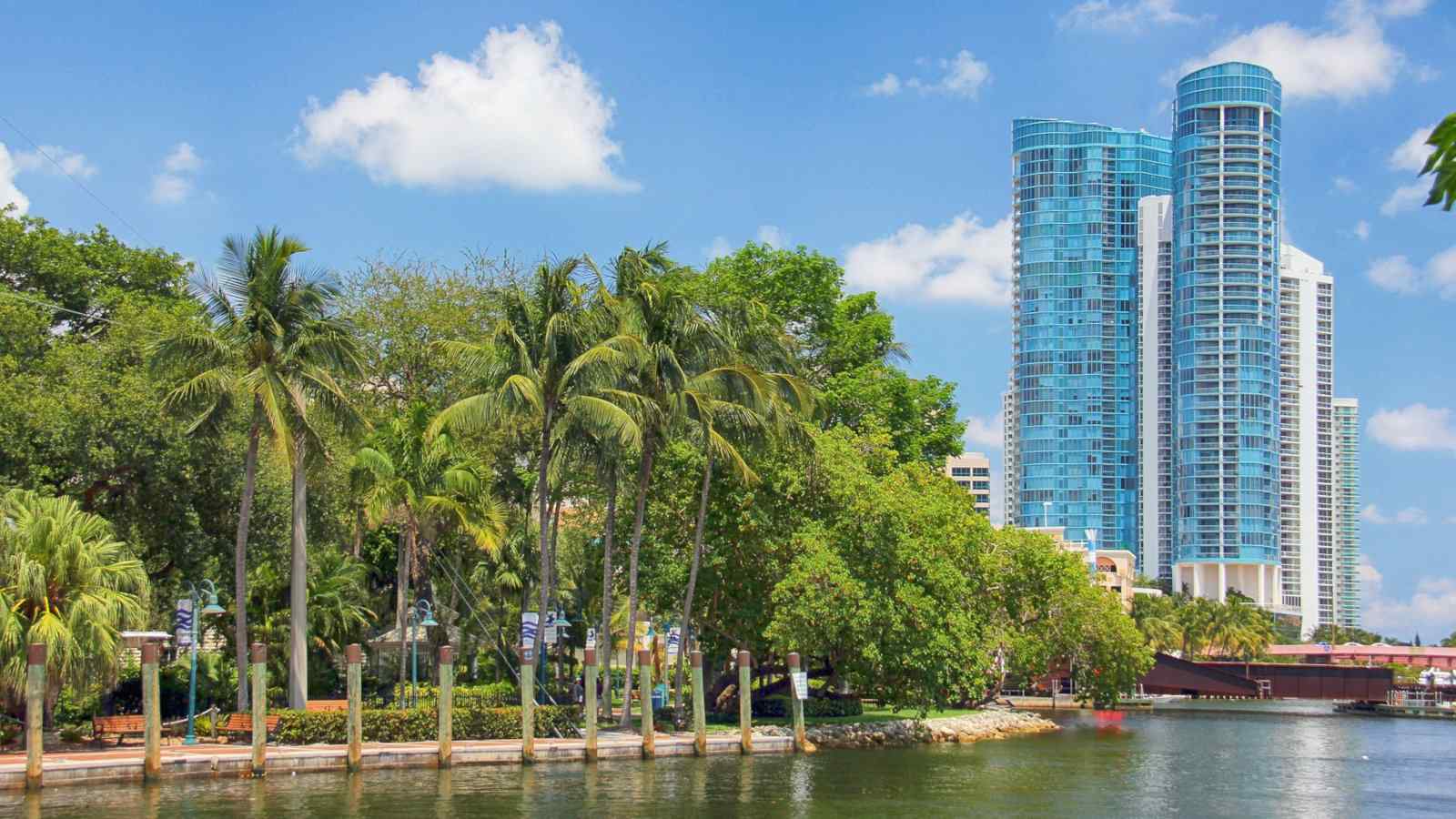 What to do in Fort Lauderdale?
Fort Lauderdale has so many fun things to experience as well as lots of gay bars and clubs. There are plenty of excellent beaches and with easy access to the Everglades, you'll find plenty to entertain you during the day!
08
Private Cottage hosted by Harvey
Wilton Manors – entire guesthouse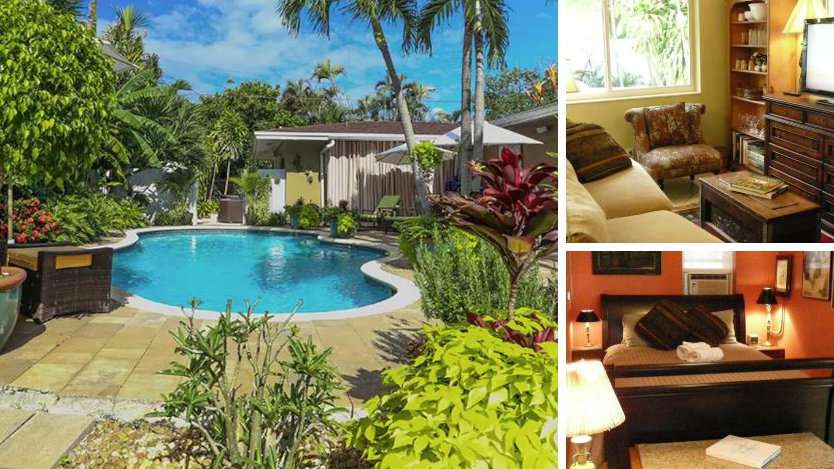 Why we love it
---
Leafy location right by Wilton Manors
Attentive host
Heated pool and hot tub
Classy interiors
Sitting in an upscale residential neighborhood of Fort Lauderdale just a stone's throw from Wilton Drive and its teeming gay scene, this is a stunning private cottage that accommodates two guests.
In the lush, plant-filled garden you will find a beautiful and crystal clear swimming pool. The interior of the house, meanwhile, oozes class with a blend of modern and classic southern decor.
Guests here are hosted by Harvey, who prides himself on bending over backwards (ooh er!) for his guests and providing them with the most memorable experience of this beautiful little cottage. Nothing is too much for him, so just remember to ask if you need anything.
09
Fort Lauderdale Cottage Oasis
Fort Lauderdale – entire bungalow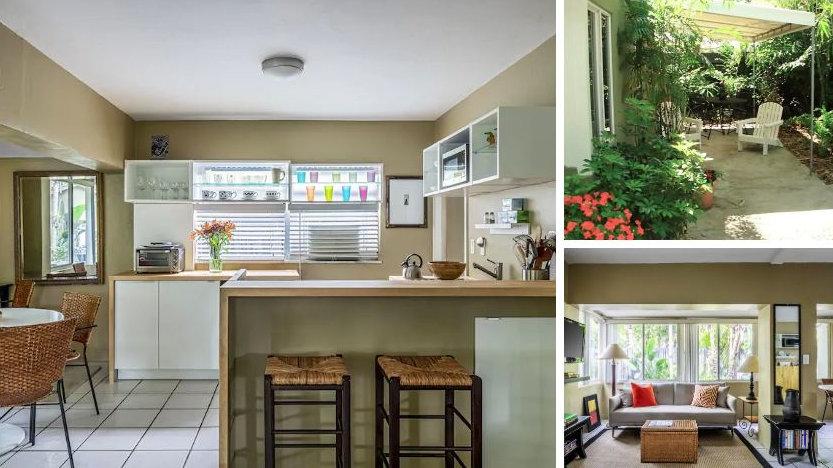 Why we love it
---
Romantic cottage for two
Great location in a gay-friendly neighborhood
Attentive host
Stylish design
Sitting amid a lush bamboo grove, Cottage Oasis is a gorgeous little casita perfect for a gay couple seeking to get away from it all. That's not to say that this property is isolated, with the fun atmosphere of Fort Lauderdale's gay-friendly Victoria Park just a short stroll away.
Clean, modern yet super homely, this property is a romantic little place to stay that's perfect for two. Hosted by Mike, an artist and gallerist, you will be in good stead to learn more about Fort Lauderdale's cultural highlights. Mike is also a fountain of knowledge of all things Florida. He is super passionate about the State and full of invaluable tips to help plan your trip.
10
Beachplace Villa
Sebastian Street Beach – entire serviced apartment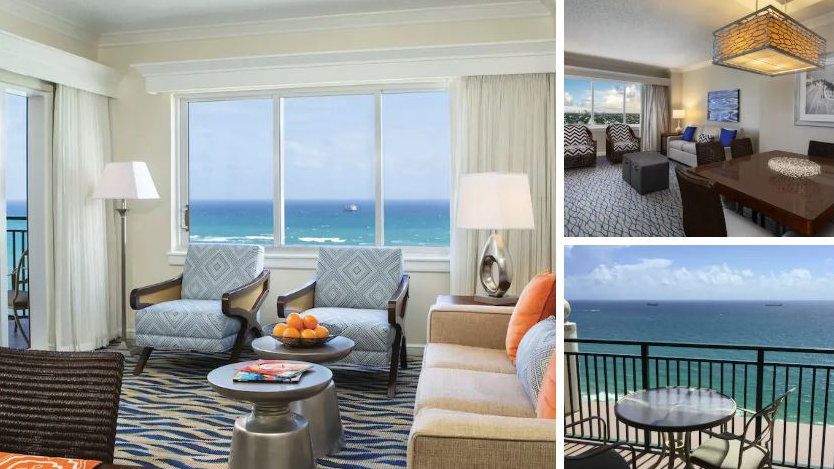 Why we love it
---
Beachfront location
Close to shopping, restaurants, bars
Shared pool and gym area
Sleeps up to eight people
Sleeping up to eight people, this airy seafront property is tailormade for groups of friends seeking a base from which to enjoy some sun, sand, and sea.
Part of a wider resort, this stunning villa benefits from a shared pool area and gym to keep those arms pumped for days at San Sebastien beach, one of our favourite gay beaches in the world. The nearby Splash Pool Bar and Grill serves up delicious seafood and salads to fuel shopping trips to the nearby entertainment district.
Containing everything you and your friends might need for a full self-sufficient yet relaxing holiday, this Beachplace Villa hosted by Chimera Vacations is a stunning waterfront property.
11
Modern Fort Lauderdale House with Heated Pool
close to Wilton Manors – private room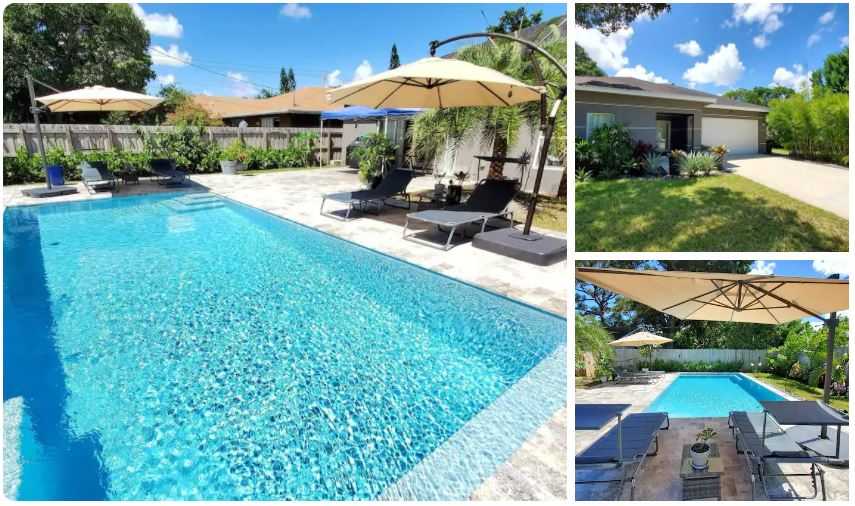 Why we love it
---
Fabulous heated outdoor pool
Fantastic gay hosts
Clean and comfy private room
Adorable dogs!
Clayton and Guillermo are a charming British/Venezuelan gay couple who open up their home to other gay travelers to Fort Lauderdale.
And when we say charming, we really mean it! Both guys are so friendly and helpful, plus it doesn't hurt that they speak about four languages! If you stay here you have a very comfortable private room and a private bathroom, while the shared areas are also stunning.
We love the eclectic mix of decor and art throughout the house, not to mention the gorgeous outdoor space. Days here are best spent relaxing by the huge (heated) outdoor pool on the patio or playing with Clayton and Guillermo's adorable French bulldogs! Of course, all the fun of Wilton Manors is also just a short Uber ride away as well.
---