Not only is Florida one of the best spots for an awesome summer vacation, but Fort Lauderdale also happens to be one of the gay capitals of the southeast coast.
A local and affordable guesthouse is one of the best ways to spend your time in Fort Lauderdale, and where better than a gay-owned or clothing optional one?
There are a number of great places to stay in and around the famous Wilton Manors, the heart of the city's gay scene. You're spoilt for choice in terms of gay guesthouses in Fort Lauderdale and it can be hard to decide which one suits you best. Especially when you want to be as close as possible to Wilton Manors, but also to the popular gay beaches in the area.
So, we've put together a list of our favourite gay guesthouses in Fort Lauderdale to help you pick the perfect spot for your next beach holiday in Florida. For more, check out our guide to the best gay Airbnbs in Fort Lauderdale.
Smart Shortcut:
01
The Grand Resort and Spa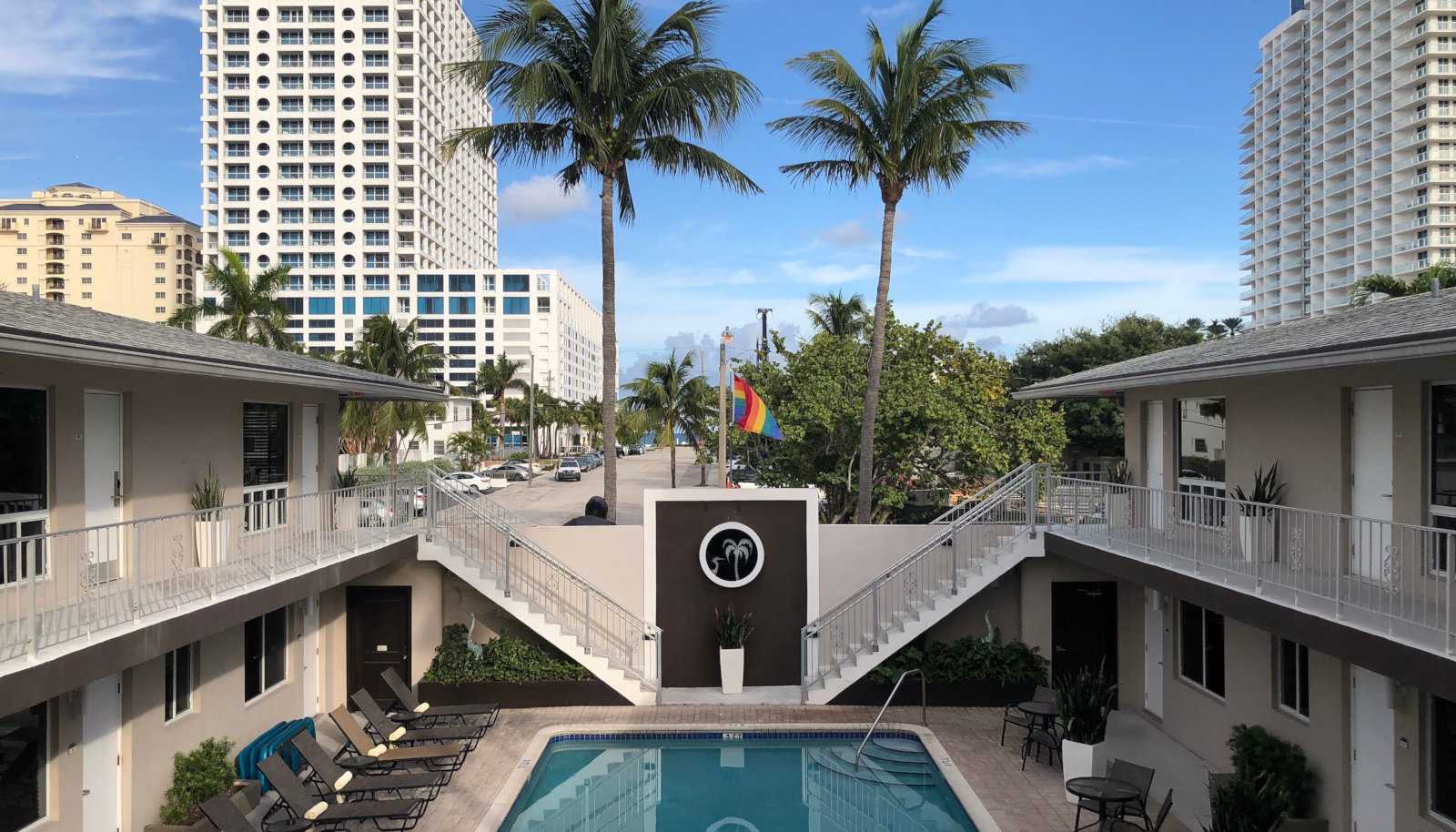 Why we love it
---
Clothing Optional area with hot tub
Full service day spa
Close to the beach
Fitness room
Five minutes walk from the beach, with a wonderful host of staff and a spa that's to die for, the Grand Resort and Spa is our favourite gay guest house in Fort Lauderdale.
While it's a little bit on the pricey side, the privacy, level of service and amenities make it an excellent place to stay for a weekend getaway or a full holiday.
With a huge choice of rooms to stay in, from a guest bedroom all the way up to the Grand Penthouse, the Grand Resort and Spa offers something to suit every budget.
The Grand Resort's decadence extends to the all-day spa, offering everything from massages and facials, to body scrubs, grooming and nails. It's the ideal way to unwind on your blissful summer break. You won't be disappointed.
In addition, we love the little perks like beer, wine and champagne service; spontaneous poolside servings of scented towels; and the complimentary mimosa hour on Sundays make The Grand Resort your idyllic and pampered paradise!
Don't forget to visit the clothing optional jacuzzi area – it's a treat!
02
Pineapple Point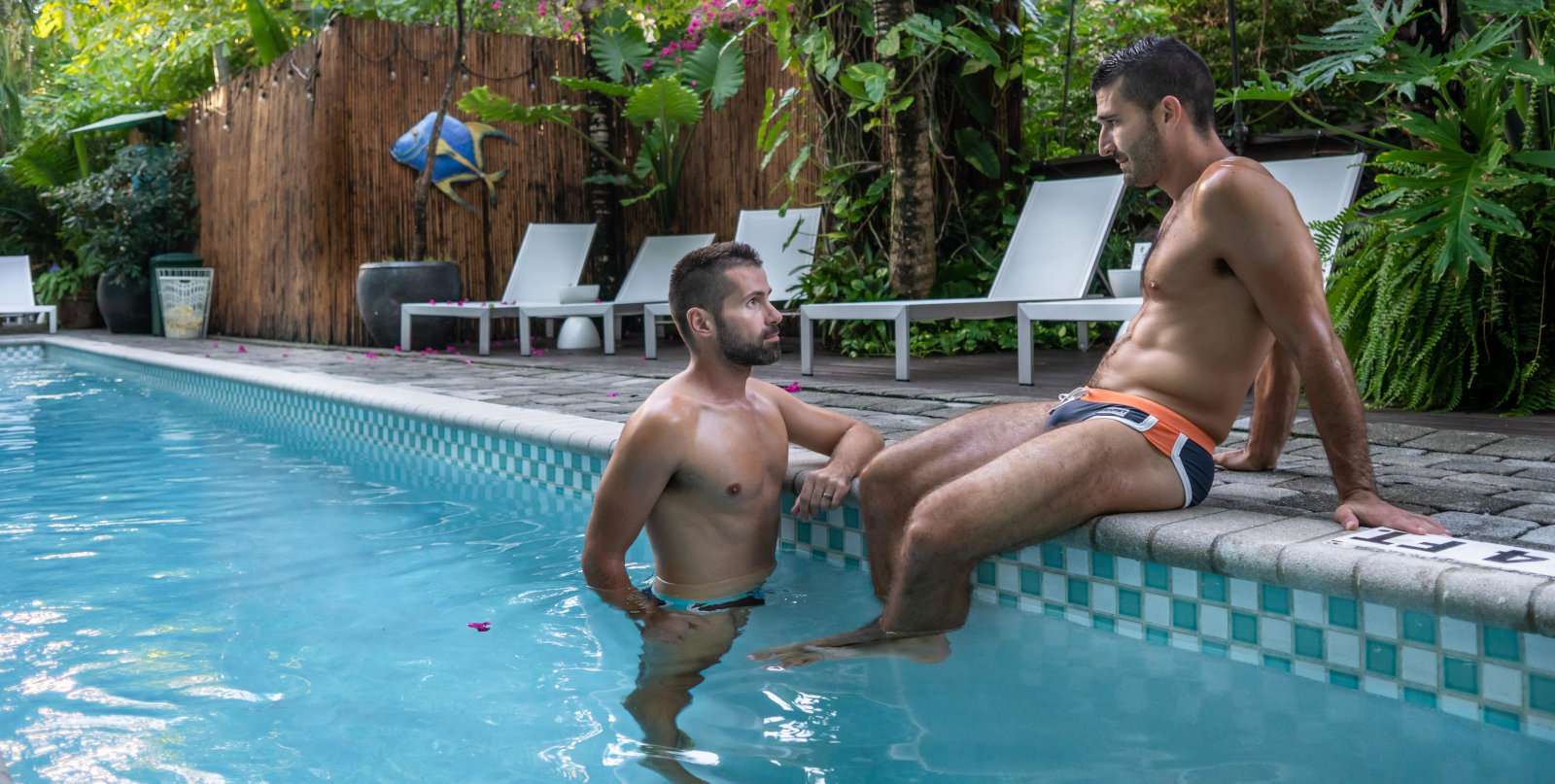 Why we love it
---
Luxury clothing optional
Lush tropical gardens
Daily complimentary happy hour
Gym and Massage Studios
Made up of six buildings on a private two-acre stretch of land, this tropical paradise, which sits a short walk from the beach, Pineapple Point is in our opinion the best luxurygay guest housein Fort Lauderdale.
One of the best known in the area, it's earned its name through their fantastic service, sun decks, clothing optional pool areas and all-day continental breakfast.
The property is surrounded by great shopping options and fantastic restaurants, as well as the beach and some art galleries, both a short walk away.
With on-site massage and personal training to name a few, they've got all the amenities you need for your getaway. They also have a number of packages available for occasions like anniversaries, birthdays and just plain old treats.
Pineapple Point offers five great room options at five different price points so you can pick the perfect place to stay when you're on your next visit to Fort Lauderdale.
STAY WITH A GAY LOCAL
Misterb&b is the Airbnb equivalent for the LGBTQ community. Unlike on Airbnb, you know your host is gay, avoiding any nasty surprises when you check in. It is also a great way to meet gay locals and discover the underground gay scene. Click below to get 10 € (or $10) off your first booking.
03
Cabanas Guesthouse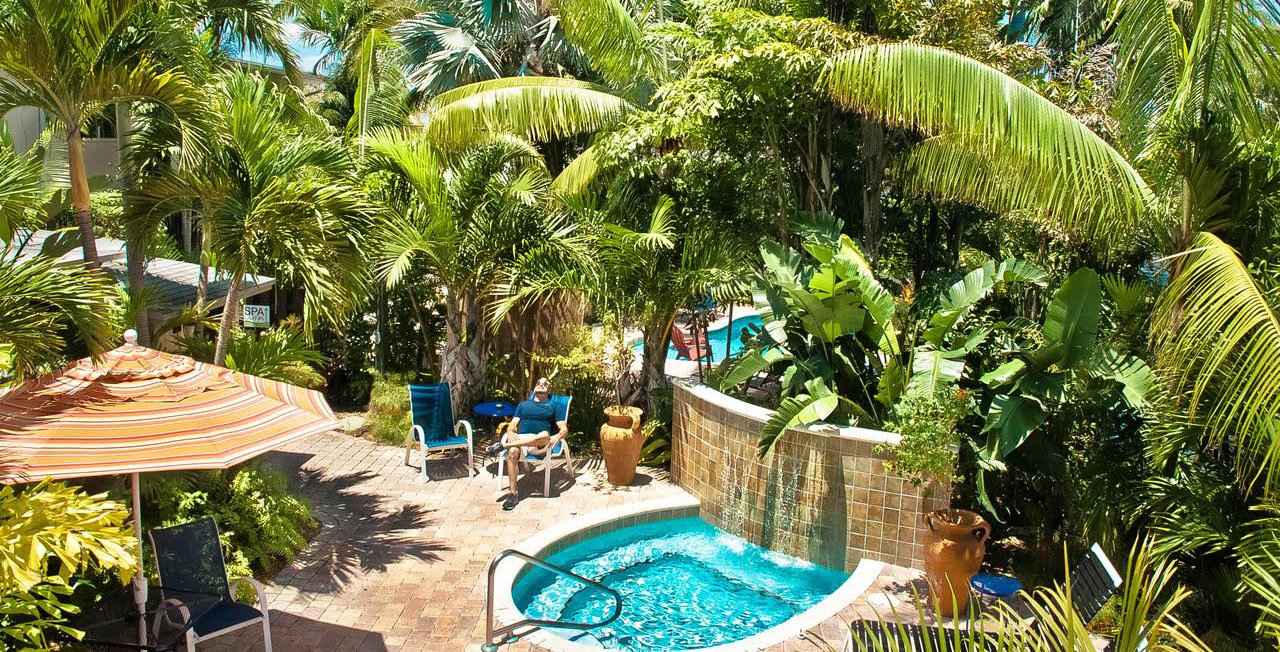 Why we love it
---
Clothing optional
Close to Wilton Manors
Tiki bar
Budget friendly
Located minutes away from Wilton Manors, Cabanas Guest House is a beautiful, lush spa and resort in the heart of Fort Lauderdale.
Known for their lovely, friendly staff; two fantastic clothing optional pools and a tiki bar with a jacuzzi next to it; Cabanas is one of the best Gay Spa resorts in Fort Lauderdale to stay at. It's reasonably priced with a number of options for accomodation, from low to high.
With shopping, dining and the local gay nightlife just a few minutes Uber ride away in the well-known Wilton Manors, it's a great spot to stay at if you're looking for a a place with a good spa and close the gay scene of Wilton Manors. The Spa itself offers a range of great services from hands and feet, to facial and skincare, hair removal and various other body treatments.
04
Cheston House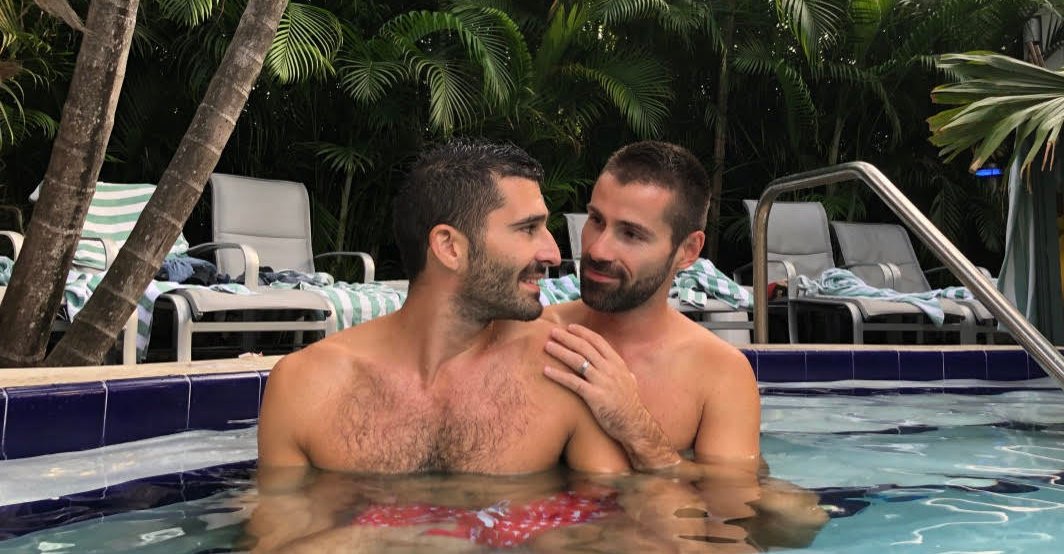 Why we love it
---
Clothing optional
Private pool
Walking distance to the beach
Most affordable gay guesthouse
Cheston House is a tropical oasis situated just a few minutes walk from the beach, budget conscious travellers will love this place as it is the most affordable option of all the gay guesthouses in Fort Lauderdale.
With a served breakfast every day, and great vibe amongst the decks, Cheston House has a wonderful atmosphere perfect for relaxation and a bit of a party.
Cheston House is only a few minutes drive from Wilton Manor too, making it a nice hotspot between the beach and the gay scene of Fort Lauderdale. The rooms range from the most simple guest rooms, to a more complete apartment-style rooms with fully equipped kitchen. Most rooms are spacious and come with a place to sit down and relax just outside the front door.
With a heated, nude pool; continental breakfast and small exercise room, you're getting everything you need for your gay vacation in Fort Lauderdale. Cheston House is quiet, quaint, uncrowded, and makes for one of the best spots to relax under the sun and unwind.
05
The Worthington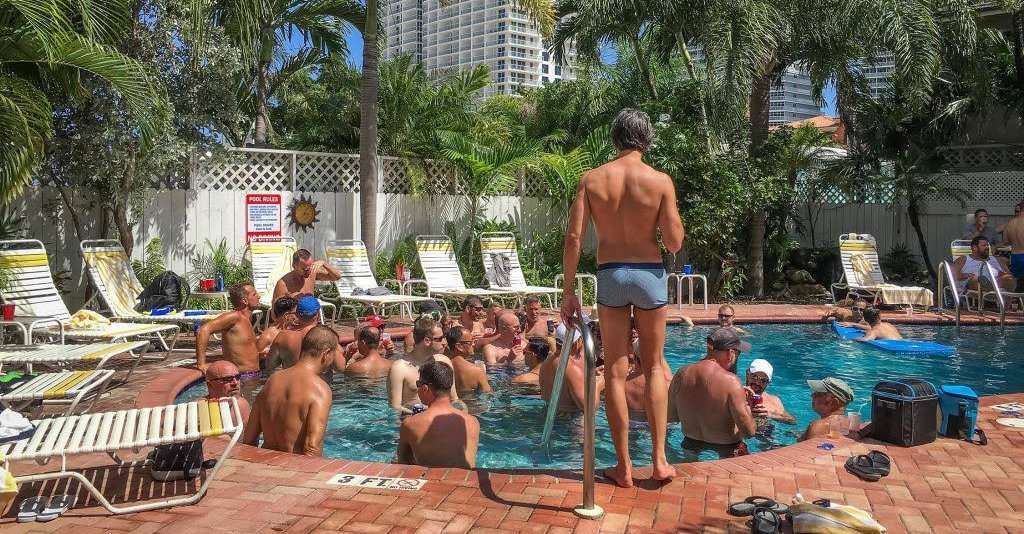 Why we love it
---
Three clothing optional pools
Connected with 2 gay resorts
5 min walk to the beach
Short drive to Wilton Manors
The Worthington is one of the most popular, largest and well-known gay guesthouses in Fort Lauderdale. It's a huge complex featuring three clothing optional pools, a fitness room, two large hot tubs and a tropical garden.
The Worthington offers a total of 63 rooms divided into three places: the Alcazar Resort, Villa Venice Resort and Worthington Guest House, each with their own clothing optional pools.
These three spaces are all connected with garden pathways, making it ery easy to get lost a in this tropical maze. If you're looking for a place with a busy vibe and a party atmosphere, then the Worthington is the gay gueshouse you need for your vacation. However if you want some quiet and relaxing time, we recommend any of the gay gesthouses we've listed above.
The Worthington is just a five minute walk from the beach, as well as a quick uber drive over to the dining, shopping and nightlife of Wilton Manors.
You should now have a good idea of where you'd like to stay in Fort Lauderdale on your next holiday to Florida. Apart from Cheston House, all the spots we've mentionned in this post are gay-owned guest houses. If you still can't decide, the Grand Resort remains our top pick, it is one of the most popular gay guesthouses in Fort Lauderdale, so you won't be disappointed.
Fort Lauderdale itself is a great place for a holiday with more than enough to see and do, so if you need a few days to unwind and take it easy, you know where to go.
---
Like this post? Pin it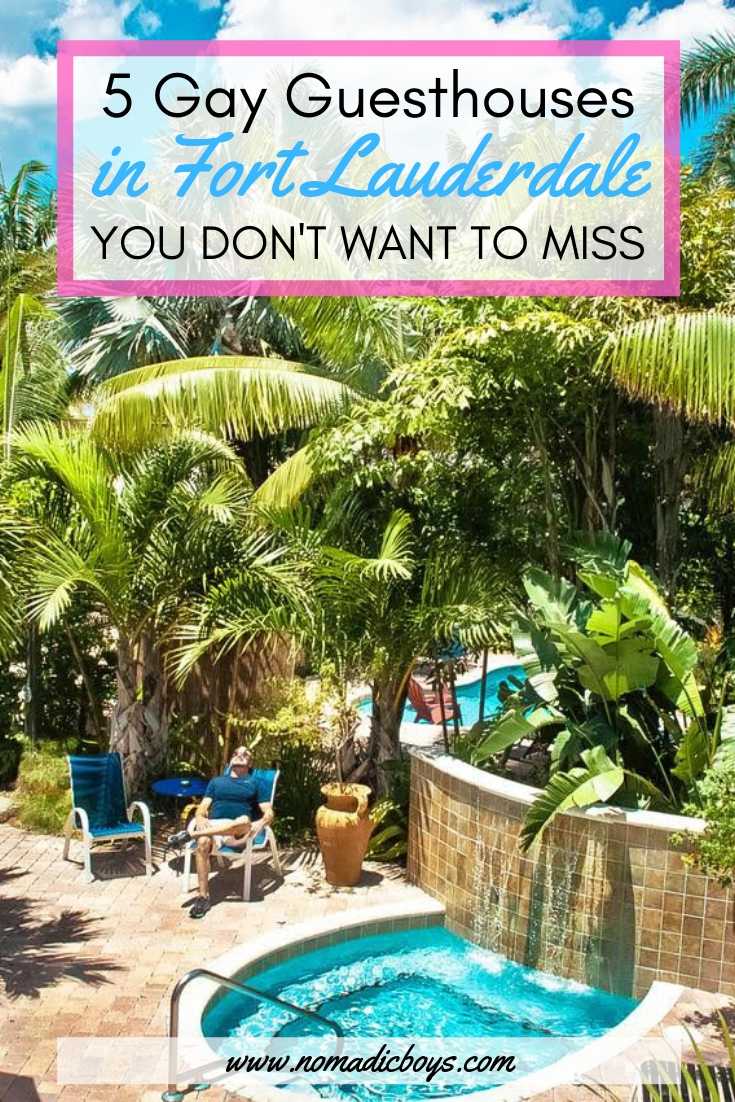 Happy travels are safe travels
We recommend you always take out travel insurance before your next vacation. What happens if you suffer from illness, injury, theft or a cancellation? With travel insurance, you can have peace of mind and not worry. We love World Nomads travel insurance and have been using it for years. Their comprehensive coverage is second to none and their online claims process is very user friendly.