Gays Gone Wild!
…the subtitle "Another Gay Sequel" movie about a bunch of cute gay guys heading to Fort Lauderdale for their gay Spring Break at a gay resort presided over by Ru Paul and Lady Bunny…
Whilst the movie is good old fashioned fun trash, it does depict quite a raucous gay side of Fort Lauderdale, which lets face it, we all love from time to time. However, Fort Lauderdale also caters to the many of us who don't always want their summer gay vacation to be all about crazy wild parties and instead want a chilled, laid back environment where we can spread our wings and be ourselves.
And when we say spread our wings, we do mean it literally! This is one place in the world with some of the best gay clothing-optional resorts, gay owned guesthouses and male only hotels. In this article we've bundled together our wealth of experience staying at some of the best gay resorts in Fort Lauderdale and summarised it to aid your next FL Gaycation planning.
🔥 OUR TOP GAY RESORT PICKS FOR 2021 🔥
Heads up: We just wanted to let you know that this post contains affiliate links. That means if you book something through one of those links, we'll get a small commission, at no extra cost to you. It helps us keep our blog going – so thank you in advance for your support! ♥
01
The Grand Resort and Spa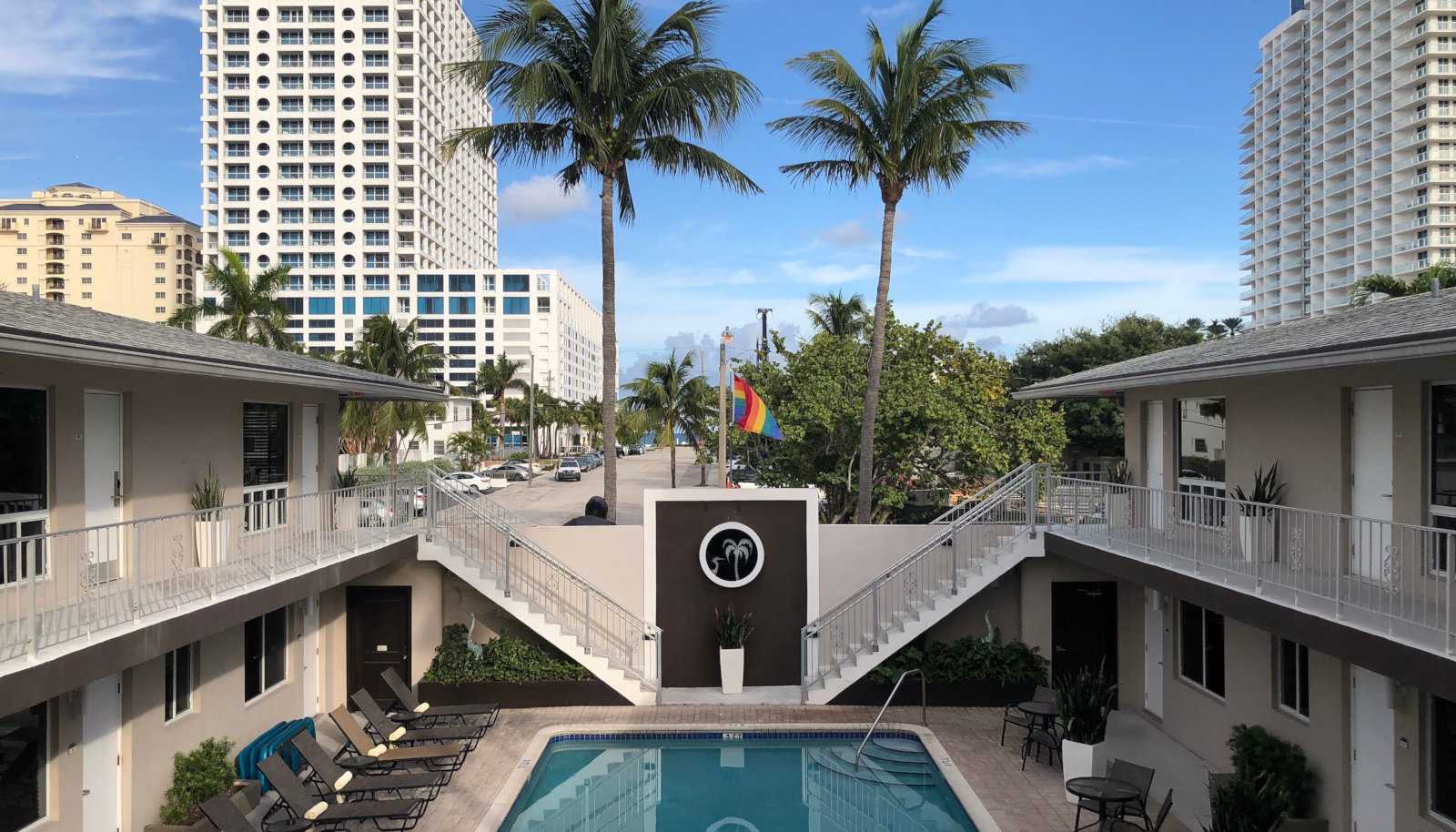 In a nutshell
---
Male only gay resort
Clothing optional hot tub with courtyard
Pool, gym and divine Spa
Happy hour with wine and cheese
5 minutes walk to gay beach
That picture above? Imagine it sprawled with an array of Speedo-clad gentlemen, taking in the sun rays, sipping a nice cocktail…
The Grand Resort & Spa is the most popular gay resort in Fort Lauderdale and our favorite. It's not only five minutes walk from Sebastian Beach (one of the best gay beaches in the world), it's also heaps of fun with men of all ages. It's the one place you can be assured you'll very quickly make new friends, as well as new friends…just sayin…!
The staff are extremely charming – warm, friendly, welcoming…but the icing on the cake is the Spa. It's really gooood! Don't leave here without booking a treatment or two.
All those cuties you'll meet over at Wilton Manors will at some point have made it through the doors of the good ole' Grand Resort…these guys are so on point with their marketing, having sponsored and even featured on Ru Paul's Drag Race. The rooms are spacious with all the amenities you'll need, but our top tip, try to bag yourself one of the suites. It comes with its own private Jacuzzi and divine outdoor shower….one could simply IMAGINE all the frivolous parties one could (ahem!) host here…!
The Grand Resort includes a pool right by the front as you come in from the main doors. This is the beating heart of the place – note, no nudity here…save that for round the back where there's an entire clothing optional courtyard and Jacuzzi. Gym bunnies will love the humble gym – don't come here expecting a massive fitness studio, but it's got enough equipment to keep the pecs firm and the biceps pert…
Prices at The Grand Resort and Spa start from $195 per night:
---
STAY WITH A GAY LOCAL
Misterb&b is the Airbnb equivalent for the LGBTQ community. Unlike on Airbnb, you know your host is gay, voiding any nasty surprises when you check-in. It is also a great way to meet gay locals and discover the underground gay scene. Click below to get 10 € (or $10) off our first booking.
02
Pineapple Point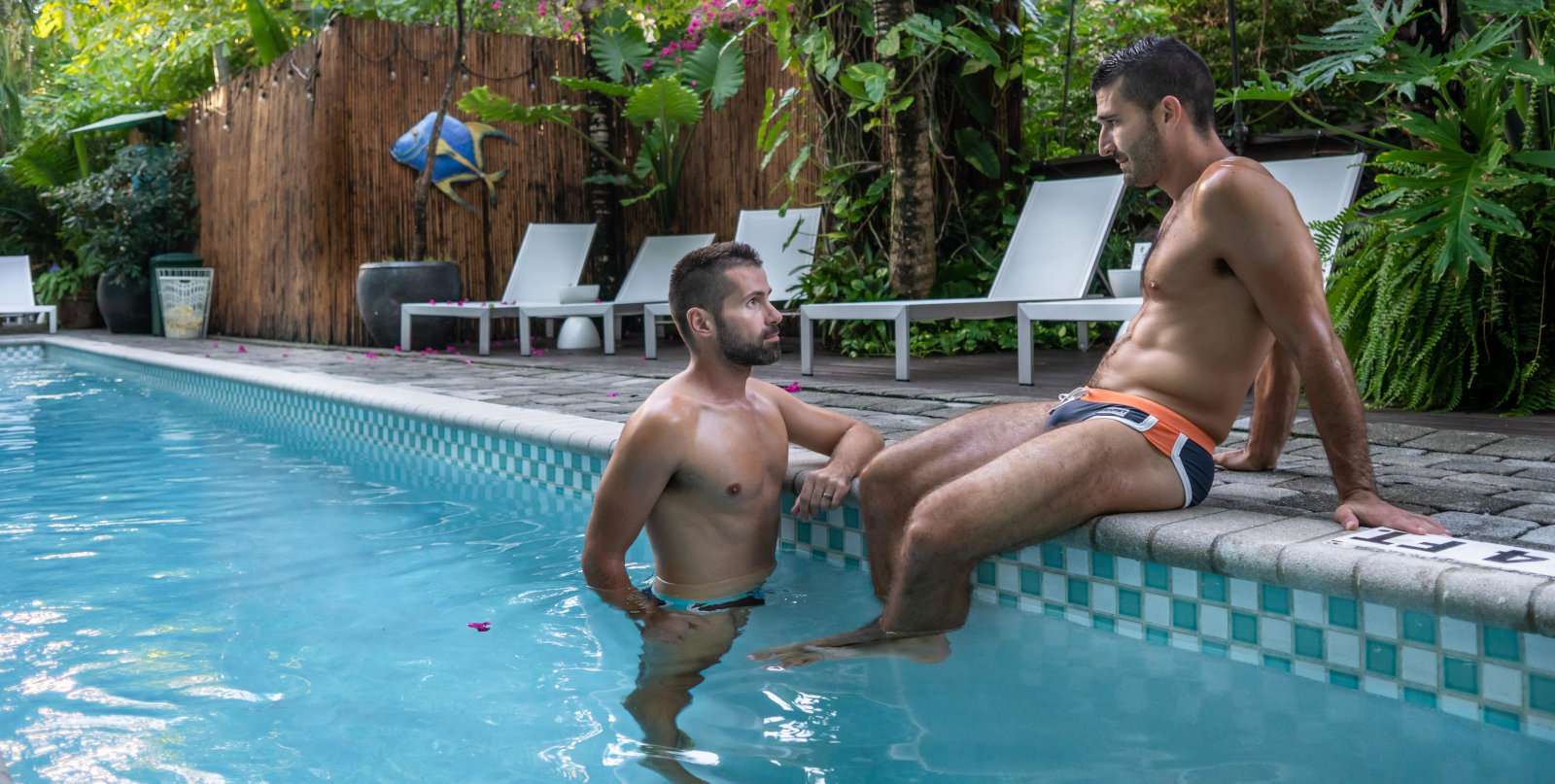 In a nutshell
---
Male only gay resort
Luxurious, tropical and intimate
Fully clothing-optional
Several hot tubs, pools and gym
Lush, tropical, simply gorgeous, and romantic. That's how we'd sum up our stay at this gem.
Whilst party boys may fare better at Grand Resort, those of us seeking a more upmarket chilled and luxurious gay resort in Fort Lauderdale – you should go right ahead and check out Pineapple Point.
Pineapple Point is as grand as it is exquisite. The gay resort is spread over six buildings covering more than two acres of land. On our first few days we kept getting lost, each time bumping into a new hidden private pool or Jacuzzi! There is however a large central pool area, which is the heart of the Pineapple's social scene amongst guests – facilitated by the afternoon Happy Hour. We made a whole bunch of new friends here, whilst still being able to feel like we were living our own private gay jungle fantasy with no one else around – it's so big here, you just get that feeling!
Other perks of Pineapple Point include a well stocked gym, a homely feeling in the "Great Room" where breakfast is served, and massage therapy studios. Even if you're not staying here, fear not, you can purchase a Day Pass.
In terms of location, Pineapple Point is in the Victoria Park area of Fort Lauderdale, ie equidistant between the gay bars of Wilton Manors and the gay beaches of the city – both a short Uber away.
Prices at Pineapple Point start from $225 per night:
---
03
Cabanas Guesthouse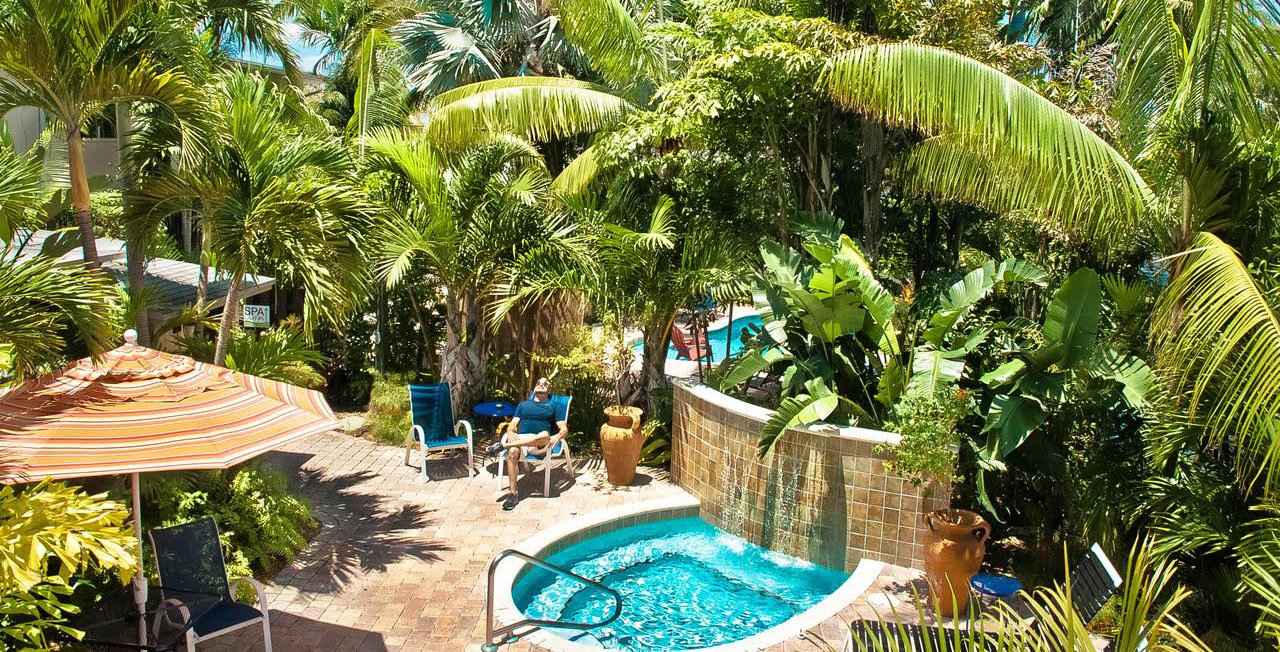 In a nutshell
---
Male only gay guesthouse
Fully clothing-optional
Pools, Jacuzzi, steam room, Tiki bar and Spa
Pretty waterfront river location
Those unique waterfront views make this gay resort super Instagrammable thanks to its location right by Fort Lauderdale's New River tidal estuary.
…as do the many homoerotic statues, lush palm trees surrounding the (clothing-optional!) pool area, and super cute staff…
Cabanas has been carefully designed to be a gay man's paradise…the type of place to live out your Adam and Steve fantasy – walking hand-in-hand amongst a tropical Garden of Eden, the Crown Jewels on full display…
We're not joking about the Adam & Steve fantasy – although, that could easily become plural here if you catch our drift – 8 man Jacuzzi and steam room guys, just saying…! Cabanas also has a full service men's day spa and two heated pools. The Tiki bar by the Jacuzzi is the resort's social heart where you can casually bump into that cute guy you were eyeing up at the breakfast buffet earlier…
The staff are incredible! Not only are they welcoming, they create an air of familiarity between guests, which makes you feel you're part of a big gay family. This is probably our favorite thing about our stay at Cabanas.
In terms of location, you're a short Uber ride to the gay scene of Fort Lauderdale in Wilton Manors as well as to the gay Sebastian beach.
Prices at Cabanas Guesthouse start from $185 per night:
---
04
Cheston House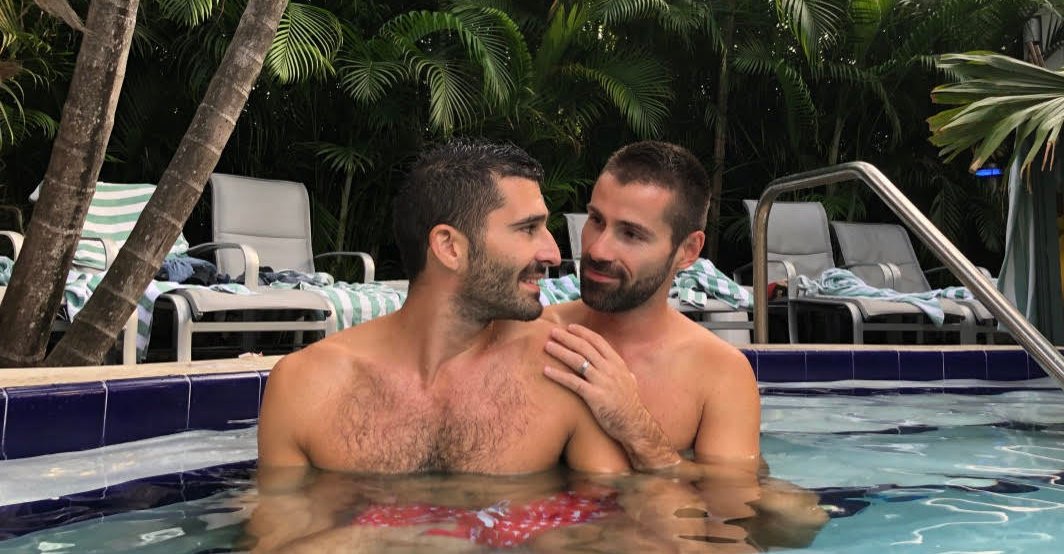 In a nutshell
---
Gay resort with party atmosphere
Fully clothing-optional
24-hour heated outdoor pool
10 minutes walk to gay beach
Cheston House is a tropical oasis situated just a few blocks away from the Sebastian gay beach. This gay resort is fully clothing optional…and my goodness, this is fully embraced in every single way!!!
One of the highlights of Cheston House is the party atmosphere created by the flamboyant evening cocktail parties.
Just like Grand Resort, the location of Cheston House is pretty sweet as you're around 10 minutes walking distance to the beach and a short cab ride to Wilton Manor. The rooms range from the most simple guest rooms, to a more complete apartment-style rooms with fully equipped kitchen. They're all super clean with plenty of space to hang your outfits and bring a few friends back from the pool for a more intimate conversation!
Communal facilities at the Cheston include a 24-hour heated, obligatory gym room, and continental breakfast. Party boys who strolled in late will appreciate the late check out offered…we sure did! The only downside of Cheston House is that whilst it's very clothing optional here, it is surrounded by taller buildings that look into the communal spaces, so take care of that! This is made up by the thick lush tropical plants around the garden areas, which give quite a generous amount of privacy.
Prices at Cheston House start from $159 per night:
---
05
The Worthington Resorts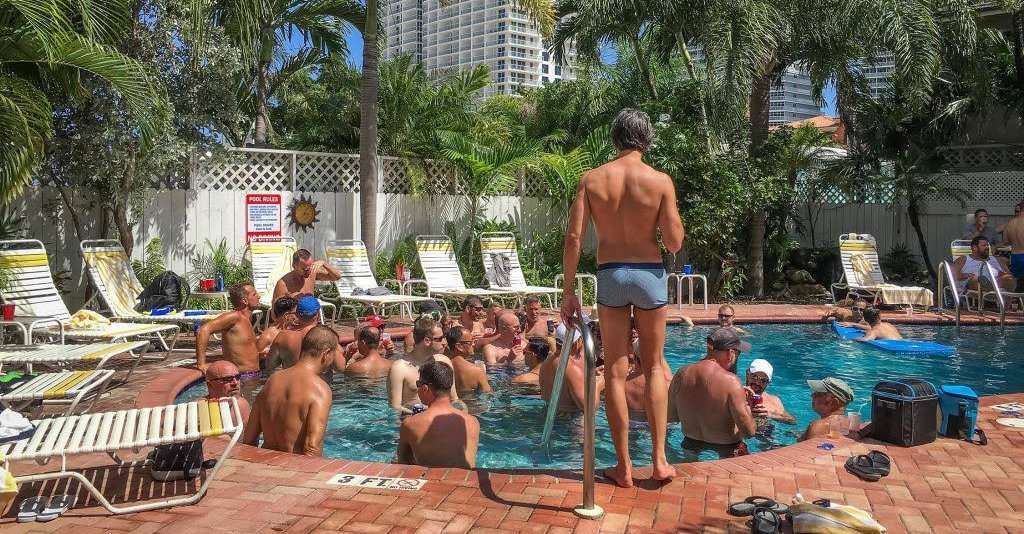 In a nutshell
---
Largest gay resort in Fort Lauderdale
Fully clothing-optional
3 pools, 2 hot tubs and a gym
10 minutes walk to the gay beach
The Worthington is one of the most popular, largest and well-known gay clothing optional resorts in Fort Lauderdale. It's a huge complex featuring no fewer than three clothing optional pools, a fitness room, two large hot tubs and an elaborate tropical garden.
The Worthington offers a total of 63 rooms divided into three gay hotels: the Alcazar Resort, Villa Venice Resort and Worthington Guest House, each with their own clothing optional pools.
The 3 buildings are all connected with garden pathways, which makes it pretty convenient to get lost amongst this tropical maze… Or just head over to one of those large hot tubs! In terms of location, the Worthington is 2 blocks to the Sebastian gay beach – that's roughly around 5-10 minutes of sashaying the streets of FL. For Wilton Manors, it's a short cab ride away.
We found the overall vibe at the Worthington to be chilled and fun during the day, then in the evening it got quite exciting as the boys got ready for a night out at Wilton Manors – a fun gay sisterhood quickly forming…
Prices at Worthington Guesthouse start from $165 per night:
---
06
The Big Coconut Guesthouse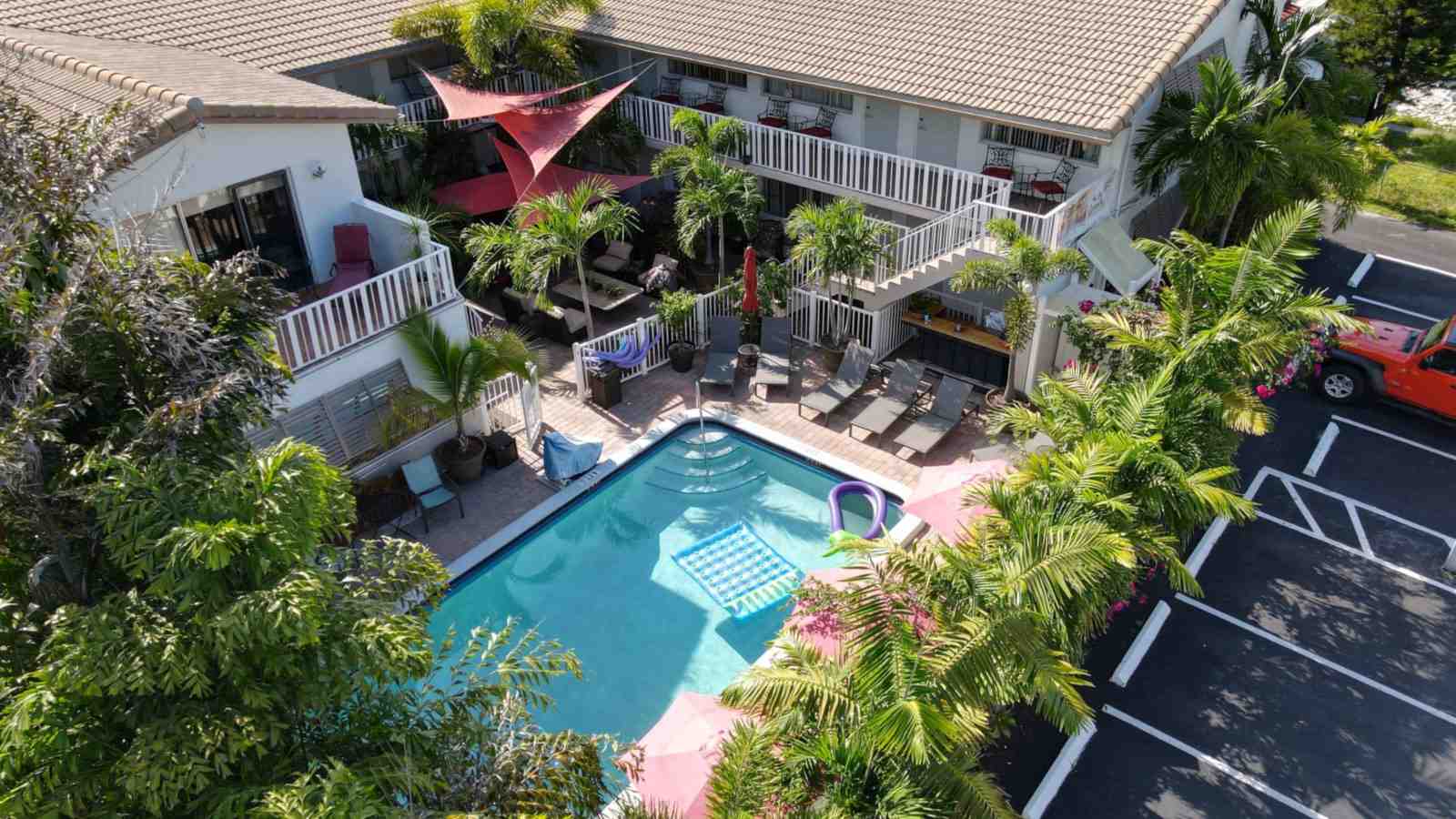 In a nutshell
---
Men only gay guesthouse
Fully clothing-optional
Live out your Daddy fantasy
Short cab ride to beach and Wilton Manors
The Big Coconut Guesthouse is a small intimate gay hotel, not as large as the others in this guide, which is what we love about it.
David and Marty are the super cute hosts who make you feel like you're coming home to your own gay south Floridian family.
As with most of the more upmarket gay resorts in Fort Lauderdale, we found most of the guests here to be from the bear and older gay community – perfect to live out your daddy fantasy, not so great if you're hunting for a twinky holiday romance.
The rooms are spacious yet cosy, perfect for hibernating in if you want a break from the partying. Holidaymakers have the option between rooms with king-sized beds with a wet bar and full sized-kitchen, a room with a queen-sized bed and wet bar, or a penthouse apartment with a private balcony. We like those choices!
It is also one of the friendliest gay resorts we've stayed at. David and Marty are super chatty and approachable. Every evening, the Happy Hour allows for guests to enjoy a drink or two (or three, if we're being real!) and spend an hour getting to know their fellow guests.
Prices at The Big Coconut Guesthouse start from $99 per night:
---
07
Inn Leather Guesthouse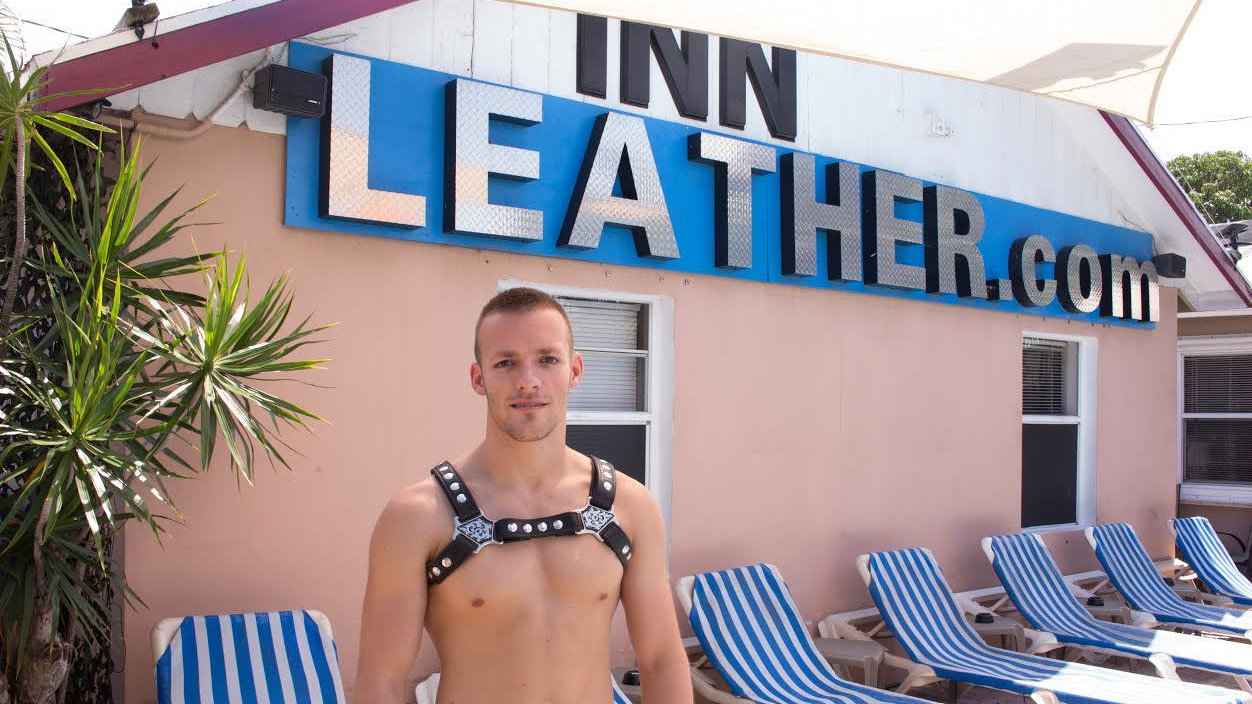 In a nutshell
---
Male-only leather lover's paradise
Fully clothing-optional
Heated pool, hot tub and a sling in every room!
Short cab ride to gay beach and Wilton Manors
A gay resort that loves leather so much, it even put it in its name…
If that weren't enough, each of the rooms are decorated with leather furniture and, wait for it, a leather swing!! Perfect for the adventurous couple on their honeymoon…
Originally founded as a male shelter for those who served in the naval/air forces, Inn Leather Guesthouse has become a gay resort that is dedicated to celebrating male bonding and comradery.
Decompress in the lush gardens with its gurgling water fountains and exotic plants that help shelter you from the Florida sun. Or perhaps work out in the clothing-optional gym that is filled with quirky and unconventional exercise equipment. There's also a heated swimming pool and hot tub where guests can socialise with drinks and fabulous conversation.
To give you an idea, this is the sort of place to come and live out your ultimate Tom of Finland fantasy. Beyond the slings and the leather themes, it also has outdoor showers, hammocks and an overall super friendly vibe which we totally dig.
Location wise, it's got a Taco Bell right on its doorstep, otherwise you're going to need an Uber to get to the gay beach and Wilton Manors.
Prices at Inn Leather Guesthouse start from $145 per night:
---
08
Villa Venice Men's Resort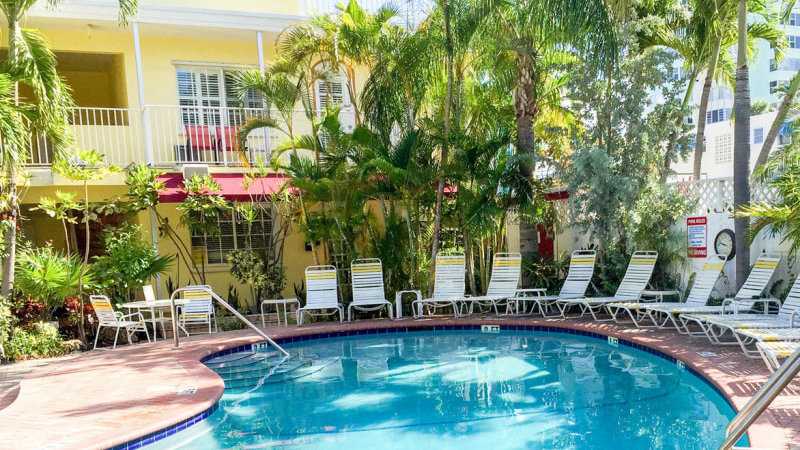 In a nutshell
---
Male only gay resort
Fully clothing-optional
Waterfall pool and large Jacuzzi
10-minute walk to the gay beach
Between the tall palmetto trees, vibrant tropical colours, and clothing-optional policy, we can safely say Villa Venice is a gay man's idea of Heaven. Belinda Carlisle was right!
They share their swimming pool with two other all-male gay resorts, Alcazar and Worthington, resulting in guests from three different gay hotels becoming united through their love for swimming and tight speedos. No, really. Being here is like walking around backstage at the Mr Universe Swimsuit competition. No complaints though…
The resort is part of the largest men's clothing-optional gay resort in the USA, with travelers from around the globe flocking to it to see what all the fuss is about. With that fervent interest and thirst for a good time, comes a social space that is so infectious it's impossible not to make friends. The gardens are pretty impressive too, with some exquisite landscaping, dramatic bubbling fountains and even a few exotic orchids dotted around.
In terms of location, the Villa Venice is a just few blocks away from the gay beach. For Wilton Manors, you'll want to grab some of those newly found peers, hop in a cab and paint the town pink – roughly 10-15 mins Uber away!
Prices at Villa Venice Men's Resort start from $136 per night:
---
09
Ed Lugo Resort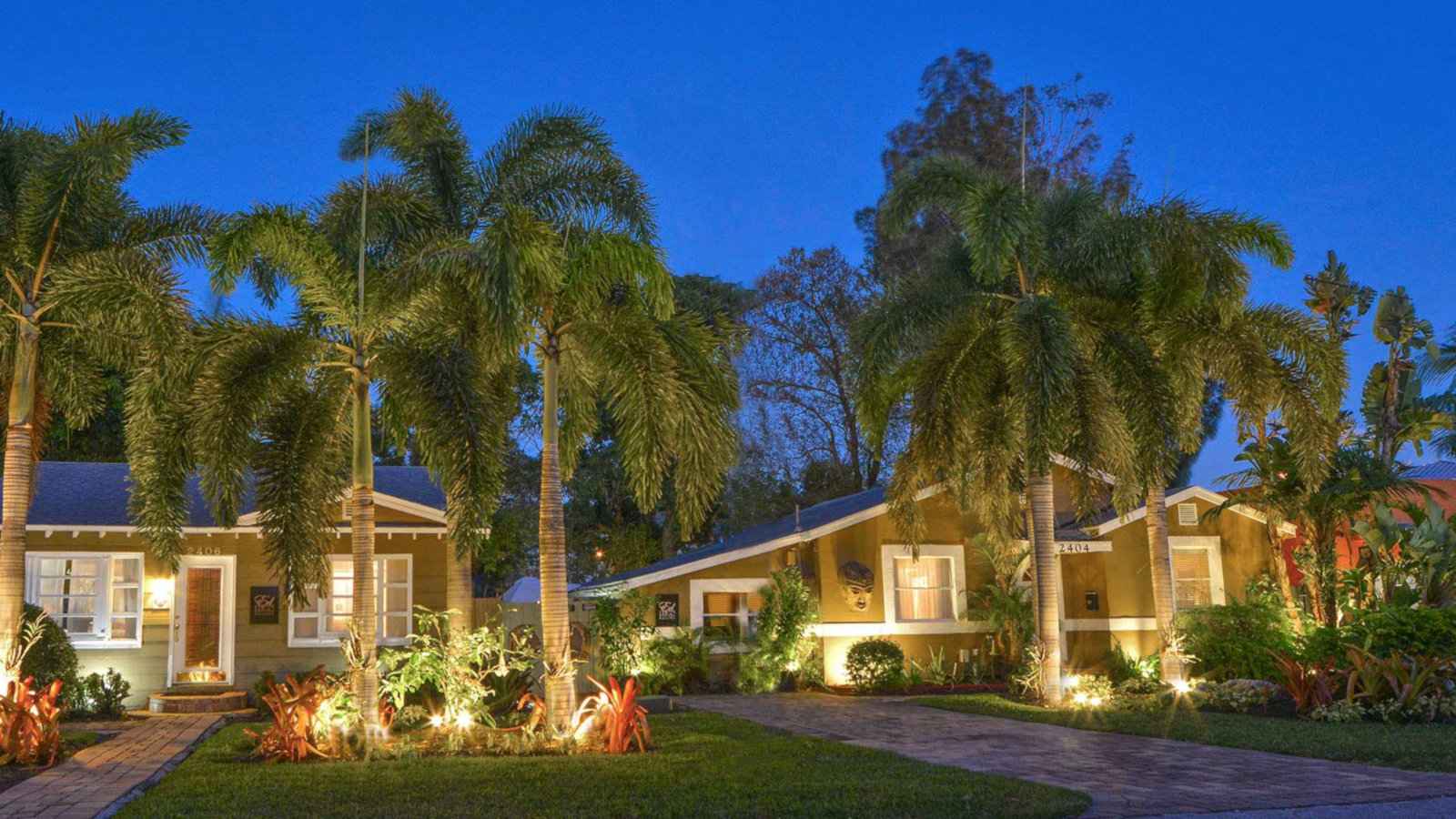 In a nutshell
---
Adults only LGBTQ resort: everyone (over 18) is welcome!
Some clothing-optional areas
Heated pool, hot tub and outdoor showers
Located right in the heart of Wilton Manors
The Ed Lugo resort is made up of a collection of bungalows, giving off the feel that you're moving into a small village of fabulously gay locals.
Based in the heart of Fort Lauderdale's gayest district, Wilton Manors, there are tons of restaurants, gay clubs, bars, and boutique shops right on your doorstep. You'll never be stuck for anything to do here, that's for certain!
In terms of accommodation, we personally loved the King suites. These bad boys include a fully equipped kitchen, plus an outdoor couples shower! What better way to wake up in the morning than to a hot steamy shower surrounded by mother nature herself? They even had dual hot water valves so each person can regulate the temperature to their preferred setting. Talk about innovation!
Other options include a two-bedroom and single bedroom bungalow for those traveling with friends or flying solo. Each room is decorated in rustic colours and dark woods, so it gives off the illusion of sleeping deep in the forest! Bear in mind though that some rooms/deals require you to book at least two nights minimum to proceed with the booking.
The gay hotel features a clothing-optional pool area for guests to socialise around. If you're looking to escape the everyday stresses of life then just spend an afternoon in the resort's heated pool or hot tub, surrounded by swinging hammocks, giant orchids and a soothing tumbling waterfall… It's the perfect way to decompress! One other thing to mention about Ed Lugo – it's one of the few gay resorts in Fort Lauderdale that is pet friendly.
Prices at Ed Lugo Resort start from $169 per night:
---
10
Alcazar Resort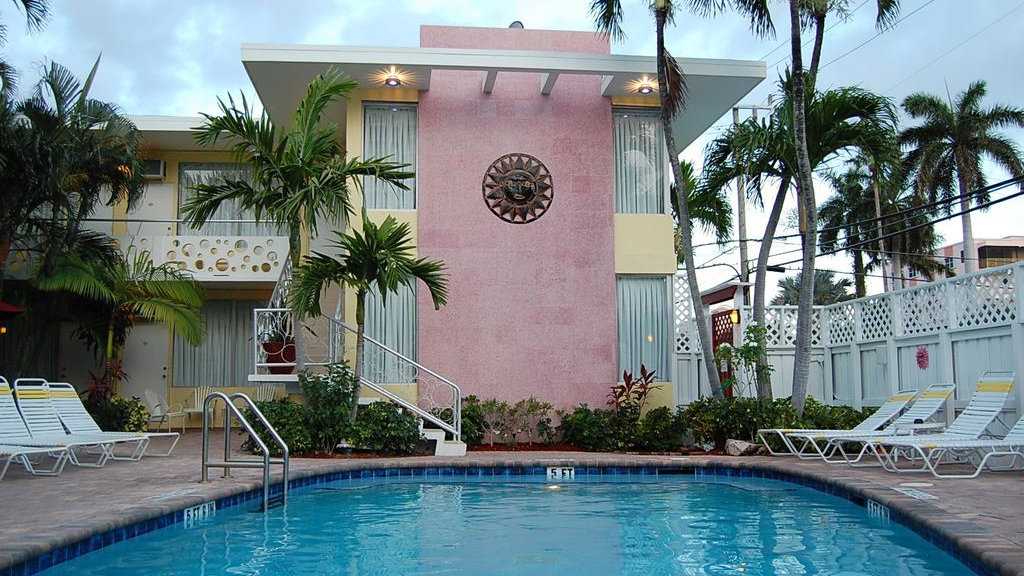 In a nutshell
---
Male only resort
Fully clothing-optional
2 heated pools and super large hot tub
10-minute walk to the gay beach
With a shared swimming pool with the neighbouring gay resorts, Villa Venice and Worthington, the Alcazar resort becomes one big party.
From lounging on the sun deck chairs sipping cocktails, to playing water games, to dancing to pop music blasting from the speakers, there is so much to see and do. Plus, so many new friends to make!
Built in the late 1950s, the resort features incredible mid-century architecture that has been excellently preserved. The décor is a glorious mix of modern meets retro, while the rooms are comfortable, spacious, and exquisitely decorated.
As the Alcazar is joined to the Worthington and Villa Venice, it means you're free to you use all their facilities. So if you get bored of the Alcazar's pool/hot tub and want a new scene, just head over and try out a new one at Worthington or Venice! We'll be honest, we did – the pool at the Alcazar is not heated, so for some of us (ahem!) it may be a tad chilly, especially during the winter months.
The Alcazar is located just 2 blocks away from the Sebastian gay beach of Fort Lauderdale and a 10-15 minute cab ride to Wilton Manors.
Prices at Alcazar Resort start from $136 per night:
---
---
Happy travels are safe travels
We recommend you always take out reputable travel insurance before your next vacation. What happens if you suffer from illness, injury, theft, or a cancellation? Many gay travelers forget about it and regret it when something happens. Better to pay a small price and have peace of mind and not worry.