The best sunsets EVER!
We've travelled the world extensively, and can hands down say that when it comes to stunning sunsets, the Keys of south Florida is the best place to come. There are of course many other reasons to visit the Keys: the terrific gay scene of Key West, the diving in the many coral reefs, beautiful beaches, and of course the star culinary highlight, the Key Lime pie! But for us, those magnificent sunsets stole the show.
The Florida Keys are a string of thousands of tropical islands stretching about 120 miles (193km) off the southern tip of Florida, between the Atlantic Ocean and Gulf of Mexico. The word "Keys" comes from the Spanish word "cayo", which means 'small island'.
The Keys begin at the southeastern coast of the Florida peninsula, about 15 miles (24 km) south of Miami. They then extend from Key Largo, all the way to Key West, which is the westernmost of the inhabited islands.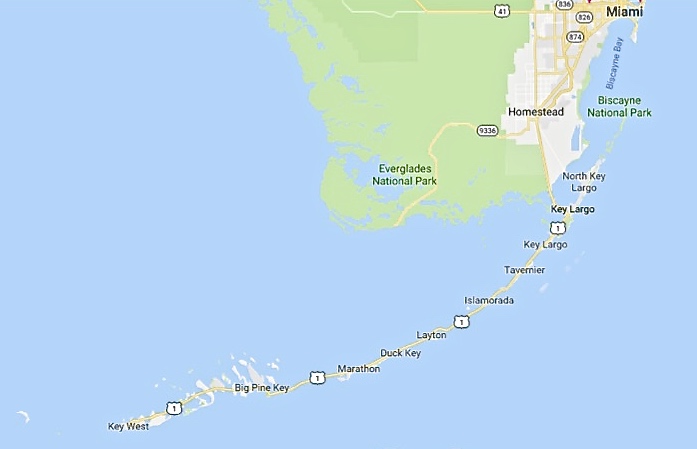 In this gay guide, we've set out the best gay hotels to stay, favourite gay hangouts and best things to do.
What we cover in this guide
Gay travel in the Florida Keys
Key West is not only the most touristic part of the Florida Keys but also the main gay hotspot of the region. Whilst there are no official gay clubs/bars in the rest of the Florida Keys, there are still plenty of fascinating places to check out.
For the best gay bars, clubs, parties and events, be sure to check out our detailed gay guide to Key West.
Best gay hotels in Florida Keys
The majority of the male-only gay hotels of Florida Keys can be found in Key West, so be sure to check out our detailed guide about the 10 best gay resorts of Key West. For this section, we've highlighted the best gay friendly places across all of the Florida Keys that we tried and loved.
Just remember the Florida Keys is not a budget friendly destination, especially Key West, so if you're looking for something more cost effective, check out the listings on Misterbnb. Also, check out the accommodation listings for the Florida Keys on Expedia.
STAY WITH A GAY LOCAL
Misterb&b is the Airbnb equivalent for the LGBTQ community. Unlike on Airbnb, you know your host is gay, avoiding any nasty surprises when you check in. It is also a great way to meet gay locals and discover the underground gay scene. Click below to get 10 € (or $10) off your first booking.
Island House gay resort in Key West
The ultimate gay resort! Island House is notorious across the entire gay community of Florida. Whether you come to stay here or just visit the day spa, it's a gay man's playground. It's male-only and entirely clothing-optional. They have a large pool area with restaurant and bar, which is the focal point of the resort, particularly on Sundays when they have the pool party.
Rooms at Island House start from $200 for a basic room, going up to $450 for a luxurious 2 bedroom apartment. Booking is exclusive and only possible by contacting them directly.
Casa Morada on Islamorada
Casa Morada is one of our favourite boutique hotels in Florida, ideal for couples. The atmosphere here is private, peaceful and serene. For us, the highlight is the private island connected to the hotel. The island is accessed by a footbridge and has a fresh water pool, secluded cabana and a bar with swings to enjoy those famous views we mentioned at the start of this article. They also offer guests yoga classes, as well as use of their kayaks, paddle boards, snorkelling equipment and bikes.
Rooms at Casa Morada start from $650 a night.
Playa Largo Resort and Spa in Key Largo
Playa Largo is part of the Marriott's Autograph Collection, internationally famous for being gay friendly. Playa Largo is a massive 14-acre waterfront resort, with 144 rooms. It also has a marina, several bars, restaurants, spa and gym. It's so impressive, that it's become a popular venue for weddings in the Florida Keys.
Rooms at Playa Largo Resort start from $660 a night.
Best hangouts in Florida Keys
In terms of gay bars and clubs in Florida Keys, you want to be heading directly to Duval Street in Key West. Check out our Key West gay guide for more detailed information.
We've set out the main gay bars of Key West below, along with a few cool mixed hangouts we discovered outside of Key West:
Bobby's Monkey Bar: our favourite gay bar in the Florida Keys, located just off the main strip of Duval Street in Key West. This is one of the friendliest places we've been to, like a gay Cheers! bar with a pool table, cash-only bar, local everyone-knows-everyone crowd and super fun karaoke nights.
801 Bourbon Bar: the first of three large gay complexes on Duval Street in Key West. It has a bar area downstairs and club upstairs, where they also have some of the best drag shows on the island.
Bourbon St Pub: the second of the three large gay complexes on Duval Street. You'll recognise it by its sexy speedo-clad Go-Go dancers who stand outside enticing you to come in. Inside it's a gay man's heaven, with sexy topless bar men, club room and large poolside area to chill.
Aqua: the third of the three large gay complexes of Key West. It has a few bars, a club and also hosts drag shows, Gay Bingo and karaoke nights. Saturday is the big night to come and see the Aquanettes performing.
No Name Pub: located on Big Pine Key, which is the final main Key before arriving at Key West. No Name Pub initially opened in 1931 as a general store. In 1936, the owners added a small room to the main structure and the Pub was born. It's super quirky, with dollar bills plastered across the walls, and a slogan: "A nice place if you can find it"!
Florida Keys Brewing Co: we love chilling in their beer garden, which often has live music. They are renowned for their craft beers, especially the more unique flavours, like beer infused with Key Lime! The Florida Keys Brewing Co is located in the "Morada Way's Arts and Cultural District" on Islamorada.
Best things to do in the Florida Keys
It's all about great beaches, stunning sunsets and the chilled Bohemian atmosphere. There are also many other activities and places worth checking out in the Florida Keys:
The Stunning Sunset! As we said at the start of this article, the sunsets of the Florida Keys are one of our travel highlights. Whether you watch it with a cocktail to hand from a beachfront bar or at the "Sunset Celebration" at Key West's Mallory Square, you will also fall in love. Our favourite way to experience the sunset together was on a romantic sunset cruise. The best ones are in Key West. We strongly advise paying a little bit extra and going with one of the smaller yachts like the Schooner America because it won't be as crowded, and the quality of the drinks/snacks on board is much better than the cheaper larger boats.
John Pennekamp Coral Reef State Park in Key Largo: this is the first undersea park in the United States. As well as a beautiful park to visit for a picnic, it also has mangrove swamps where you can kayak in, and coral reefs you can visit as part of a snorkelling trip. The underwater highlight here (other than the many tropical fish!) is the 8.5ft (2.6m) underwater statue of Jesus called, "Christ of the Abyss" .
Snorkelling and kayaking through mangroves: if you don't make it to the John Pennekamp Coral Reef State Park, you can book an ecotour which includes a mix of snorkelling and kayaking in the mangroves across 3 different marine ecosystems around the Florida Keys.
Shopping on Duval Street: one of our favourite ways to soak up the atmosphere of Key West is taking a stroll down Duval Street. Along with the many souvenir shops, galleries and bars, look out for gay shops like, "Leather Master", "InTouch" and "Graffitti".
Key West Butterfly & Nature Conservatory: this was one of our favourite places in the Florida Keys. It's a greenhouse-like garden with many different species of butterflies, some of which are really big. It's so mesmerising watching them flutter about so delicately. We recommend using your phone's slow-mo feature to get some really impressive videos.
Tarpon feeding at Robbie's Marina: tarpons are large air breaching fish. At Robbie's Marina on Islamorada you can buy a bucket of fish for a few dollars and feed the family of tarpons that reside here. Just watch out for those seagulls who'll stop at nothing to steal a few fish from your bucket!
Snorkelling with rays at the Florida Keys Aquarium: we love this aquarium on Marathon Key. Just like the Florida Aquarium in Tampa, you can dive in the large tank and interact with the wildlife. We got close up to stingrays and also fed sharks through a safe hole between the tank walls.
Try the best Key Lime Pie: every restaurant in the Florida Keys will claim to have the best Key Lime Pie! And boy did we have the best time ever trying as many Key Lime Pies here! The winner for us was "Mrs Mac's Kitchen", located on Key Largo.
Delicious fresh seafood: the Florida Keys is the place to come for tasty seafood, especially Mahi Mahi, fresh lobster, conch and ahi tuna. Some of our favourite restaurants for seafood in the Florida Keys include the beachfront "Marker 88" and "Chef Michael's", both located on Islamorada.
Romantic fine dining: there are a number of excellent highly rated restaurants in the Keys for a romantic fine dining experience. Our favourite was the "Morada Bay Beach Cafe" on Isla Morada. It's an outdoor Mediterranean bistro café set in the sand. The ambience, excellent food and the friendly staff make this a memorable and really special experience. Another highlight for a romantic meal is the "Latitude's Restaurant" in Key West, set on its own private island.
Read more from our Florida trip with our gay guides to Tampa, Sarasota and Fort Lauderdale. We also have an inspiring romantic guide for Sarasota to read, as well as a detailed guide to the gay scene of Wilton Manors.
If you enjoyed reading, please pin me: