TERMS OF USE: There is a chance that some of the content on this page has changed since it was last updated. By reading this article, you consent to our Terms of Use and Disclaimer. Happy Travels!
DISCLOSURE: Some of our posts may contain affiliate links which we may receive a commission if you choose to book something through one of our links.
We've rounded up all the best gay skiing events around the world, from North America to Europe, Asia, and the Pacific.
The sun is setting. The evenings are getting darker. The department stores are starting to play Mariah Carey, and you still have lots of places to tick off your travel list!
Fear not, there are still plenty of unique things to do across the world during winter. The number one thing we recommend: skiing! Yes, I know, you mightn't think of us as avid snow bunnies (especially Skiing Scared Stefan), but we love it. The snow. The cute resorts. The outfits. What is there to not like?
Plus, regardless of how much you've skied before, you get so much enjoyment out of it. It's like riding a bike and riding a rollercoaster all at once. And if you've never skied before, don't worry! All you need is a quick lesson and you'll have the essentials down. Well, you won't be sliding down Everest anytime soon, but you'll definitely be able to enjoy some fabulous skiing.
So without further ado, we present our favorite upcoming gay skiing holidays from Europe, North America, and the rest of the world.
Smart shortcut…
How to pick the ideal skiing holiday for you
Not all gay skiing holidays are created equal. Obviously, geography is going to be a major factor. So we've broken these up by general area of Europe, North America, and the southern hemisphere – plus a bonus! If you're looking for a specific type of gay skiing holiday, these are the main differences we've found:
1. The biggest gay skiing events
If you want to find the most popular gay skiing weeks or weekends where you're almost guaranteed to make new friends, then you'll want to head to one of the bigger events that attract attendees in the thousands. The biggest events are also usually the ones with the gayest parties with a wide range of age groups. A helpful summary:
2. The most affordable
What with gear, accommodation, travel costs, lift passes, AND the event tickets, gay ski events can be quite pricey. Generally, the closer the gay skiing event is to you, the more you'll save on travel costs. Most of these gay skiing events also offer excellent packages and discounts, especially if you book early. Our favorite affordable gay skiing events across the world summarised are:
3. Best for parties
While pretty much all of these gay skiing events feature at least a few parties, some of them definitely feature more gay parties than others. If you like your skiing with a nice big side of dancing, dressing up for themed parties, or even partying in a pool, you will love these gay skiing holidays:
4. The most chill/intimate events
Maybe you want to ski and have fun but you're not looking to party the whole time. There are some gay skiing weeks that are a bit more intimate and chilled out (usually because they're slightly smaller than others), so they tend to attract an older crowd along with couples who just want to make new friends. These events will still have some parties, but you can also expect more relaxed evenings of dining, yoga, cinema, and casual meetups.
5. Best for solo travelers
Traveling alone to a big event can be nerve-wracking, but nowhere is more inclusive and friendly than a gay ski week! Generally, the bigger an event is, the easier it will probably be for you to make new friends. Some of these gay skiing weeks also organize tables at dinner for solo travelers to make friends, speed-dating nights to meet someone special, or room-sharing programs to match you with a roommate AND save some money.
6. Best for lesbians
While many gay skiing events are mostly catered to (or at least seem to attract) gay men, there are some that make an effort to include specific parties or dinners for the lesbian snow bunnies out there. Some of these have exclusive programs for the ladies on and off the slopes.
Gay Skiing Holidays in Europe
Starting off with our home continent…we Europeans love a bit of snow, so it's no surprise that there are some incredibly charming resorts dotted all across the continent. Many of these also host some fabulous gay skiing events. Some of the best ones include:
01
Arosa Gay Ski Week
Switzerland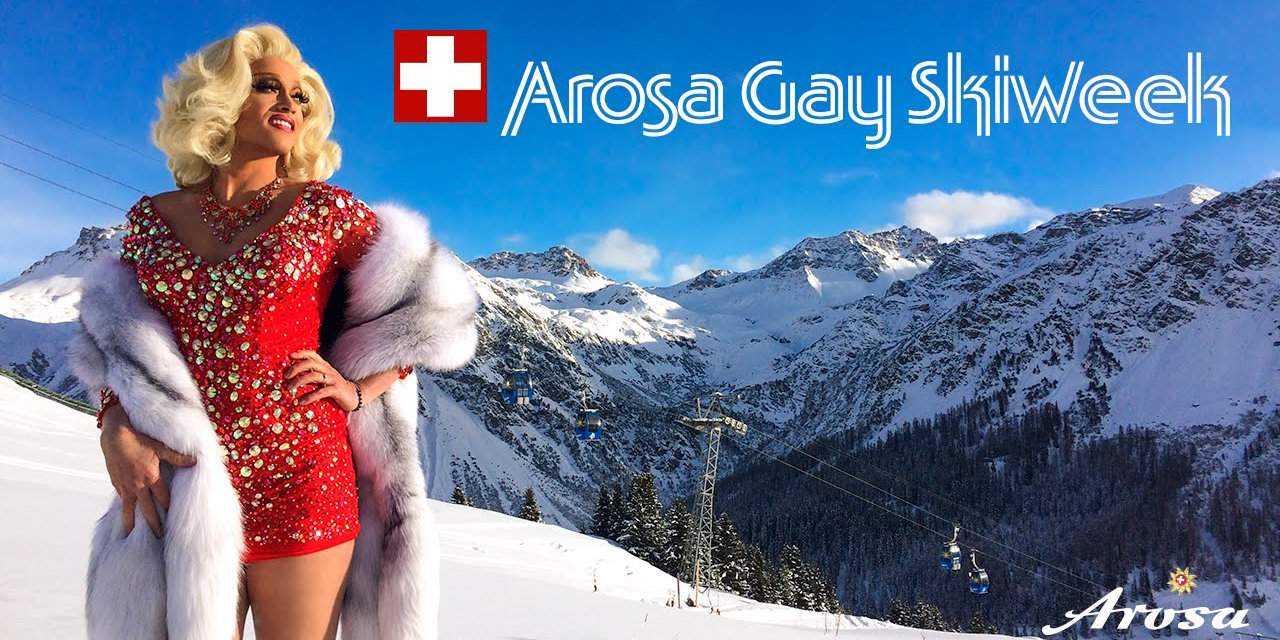 Details of this skiing holiday
---
Dates: Jan 20 – 27, 2024
Location: Arosa, Switzerland
Price: a 3-night package from €649
Includes: Accommodation, ski pass, and event pass
Partying and skiing! Start the new year off with a bang! After all, the 1920s had Gatsby-esque parties, great jazz music, and fabulous flapper dresses. So we have to party extra hard this decade to show those historians who's boss.
And what could be more incredible than a getaway to a luxury ski resort with awesome parties and sexy boys? In the heart of Switzerland, you won't be feeling any neutral feelings about this place. It will just be hardcore love love love!
Arosa ski resort is always gay friendly and they fly their rainbow flag all year long. But during the gay ski week, more than 600 guests come together to celebrate their fabulousness in fresh powdered snow, breath-taking mountain views, friendly chats by the fire, warming mulled wine, fun parties, and great gay camaraderie. The Arosa Gay Ski Week is the getaway of dreams for those of us who like some fun in the snow.
At an altitude of 1,800 meters (5,906 feet) in the Swiss Alps, Arosa offers over 225 km (140 miles) of runs, a 50km (31 miles) free-ride area, and a fun snow park for you to enjoy. It doesn't matter if you prefer to ski or snowboard, or even just sit on a sled, you will be welcome at the Arosa Gay Ski Week. Afterward, you can take part in lots of fabulous parties: among the highlights and not to miss parties: the Drag Ski race, the pool, and the White Snowball parties.
02
European Snow Pride
France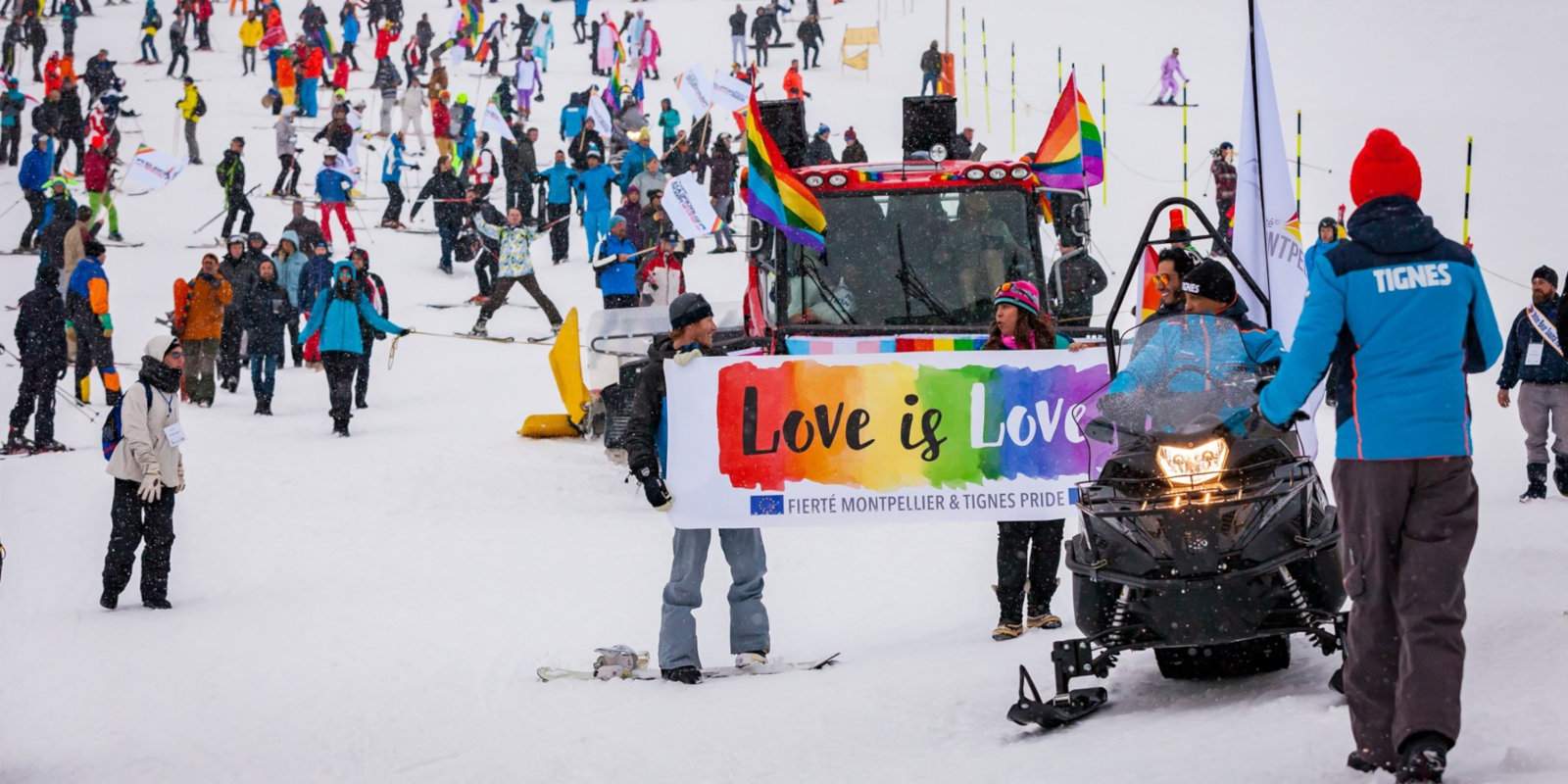 Details of this skiing holiday
---
Dates: March 16 – 23, 2024
Location: Tignes, France
Price: From €429 per person
Includes: Accommodation, lift pass and event pass
Situated in Tignes, the ski resort that tops the list for alpine skiing, snowboarding, and off-piste, European Snow Pride is one hell of a fabulous, fierce, and fun time.
After all, you can take the gays out of the city for Pride, but that doesn't mean we can't keep waving our rainbow flags on the mountain slopes. The entire Tignes area transforms into a Gay Village for the festival, and you are encouraged to be as openly and actively gay as you dare.
People legitimately treat this as a normal Pride parade, so expect to see lots of gorgeous men dancing around in their underwear in the snow. There are lots of parties taking place each night, including a pop party, rodeo-themed party, a 90s party, multiple pool parties, and even some raunchy sex/fetish parties! More than 600 people attended in 2020, so this is definitely a good place to make new friends and have fun.
There are packages you can book including accommodation, event pass, and ski pass, or you can just book your accommodation separately. The resort itself sports a beautiful lagoon, swimming pool, and spa, so you'll have lots of opportunities to relax after being on the slopes all day. There is also a sports center. With loads of stigma around sports being a homophobic industry, this entire festival is dedicated to proving how sports can be a communal and inclusive space for all to enjoy.
03
European Gay Ski Week
France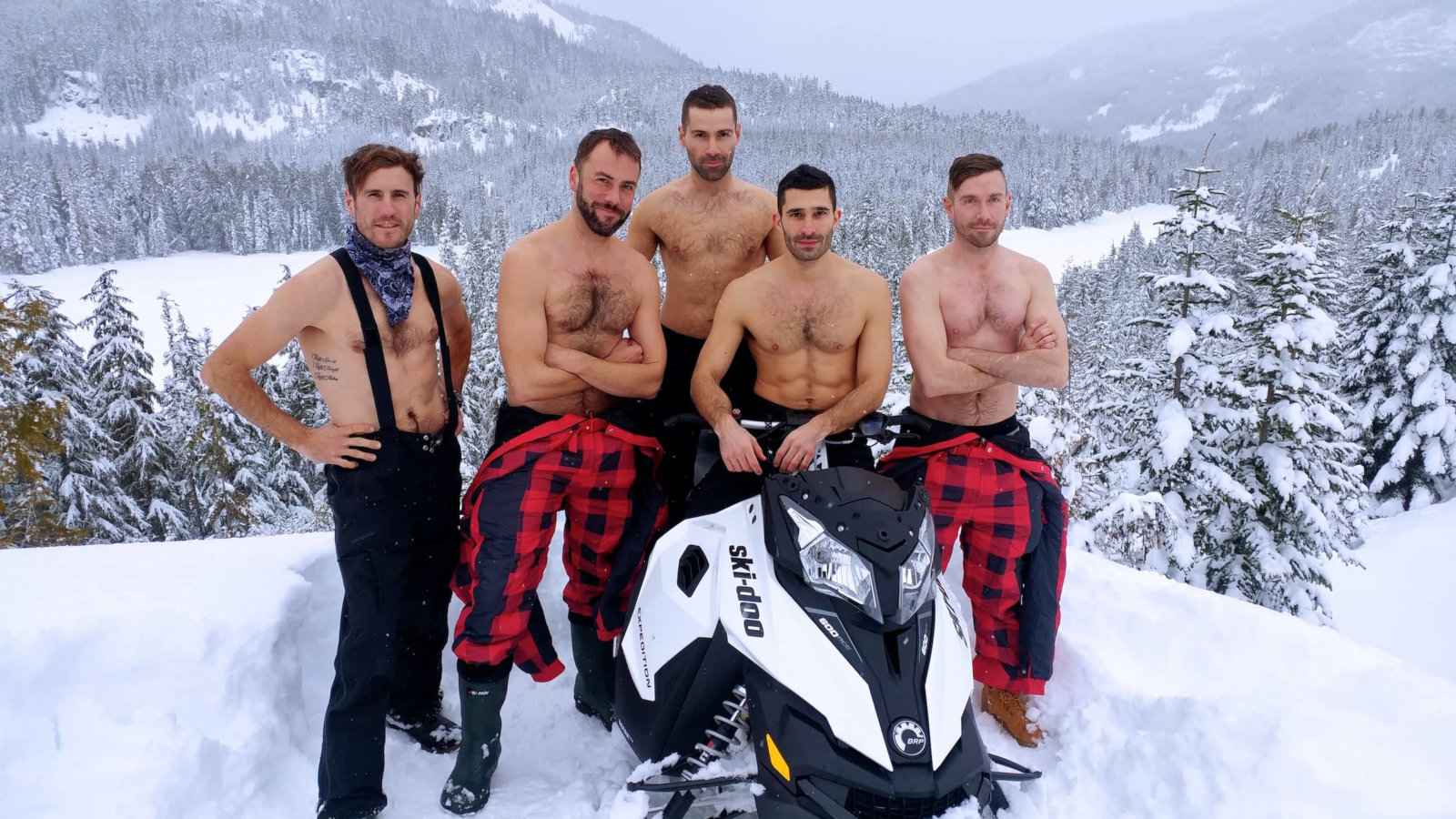 Details of this skiing holiday
---
Dates: March 16 – 23, 2024
Location: Les Arcs, France
Price: Starts from €429 per person
Includes: Accommodation and event pass
With sights that look like they come from a Christmas card, the European Gay Ski Week will completely enthrall you. For us, it is the most enjoyable and anticipated week of the year. It combines our favorite activities – skiing, apes ski, eating and a lot of partying!
However, there's no need to stress yourself. You can do as much or as little of each activity as you want. You'll love being in the mountains and sharing all these activities with 1,000 or so other like-minded LGBTQ travelers.
Situated in the Les Arcs resort, which is made up of five villages, this trip will see you completely cut off from the world. So if you've been craving a true GAY get away from 'the grid' then this is no better way to do it. With 425km of pistes to ski on, Les Arcs is one of the largest ski resorts in the world. You can slide all the way from the Les Arcs area to La Plagne or you can hop on the Vanoise tram and experience the French Alps from high above.
If you're a beginner skier, you have nothing to fear. European Gay Ski Week also boasts of having Europe's only gay ski school, where you can join beginner to expert classes for skiing and snowboarding. Thanks to their talented pool of hot ski instructors, you'll become a professional in no time!
What we also love about the resort is how everything is within walking distance of each other. You can float around between the restaurant, bar, resort, and your bedroom with minimal effort. There is a wide range of accommodation to suit all budgets from shared to 5 stars luxury.
After skiing, usually from 4-5 pm, there is "Apres Ski" taking place at the base of the ski area which is always fun. This is where all the hotties hang out for a drink or two with some cool music and live DJs. For evening entertainment, there will be fantastic cabaret performances, decadent dinners, and a huge variety of parties (pool party anyone?). So make sure to bring your dancing shoes (and swimming gear!) as well as your skis…
04
Gay Ski Week Lenzerheide
Switzerland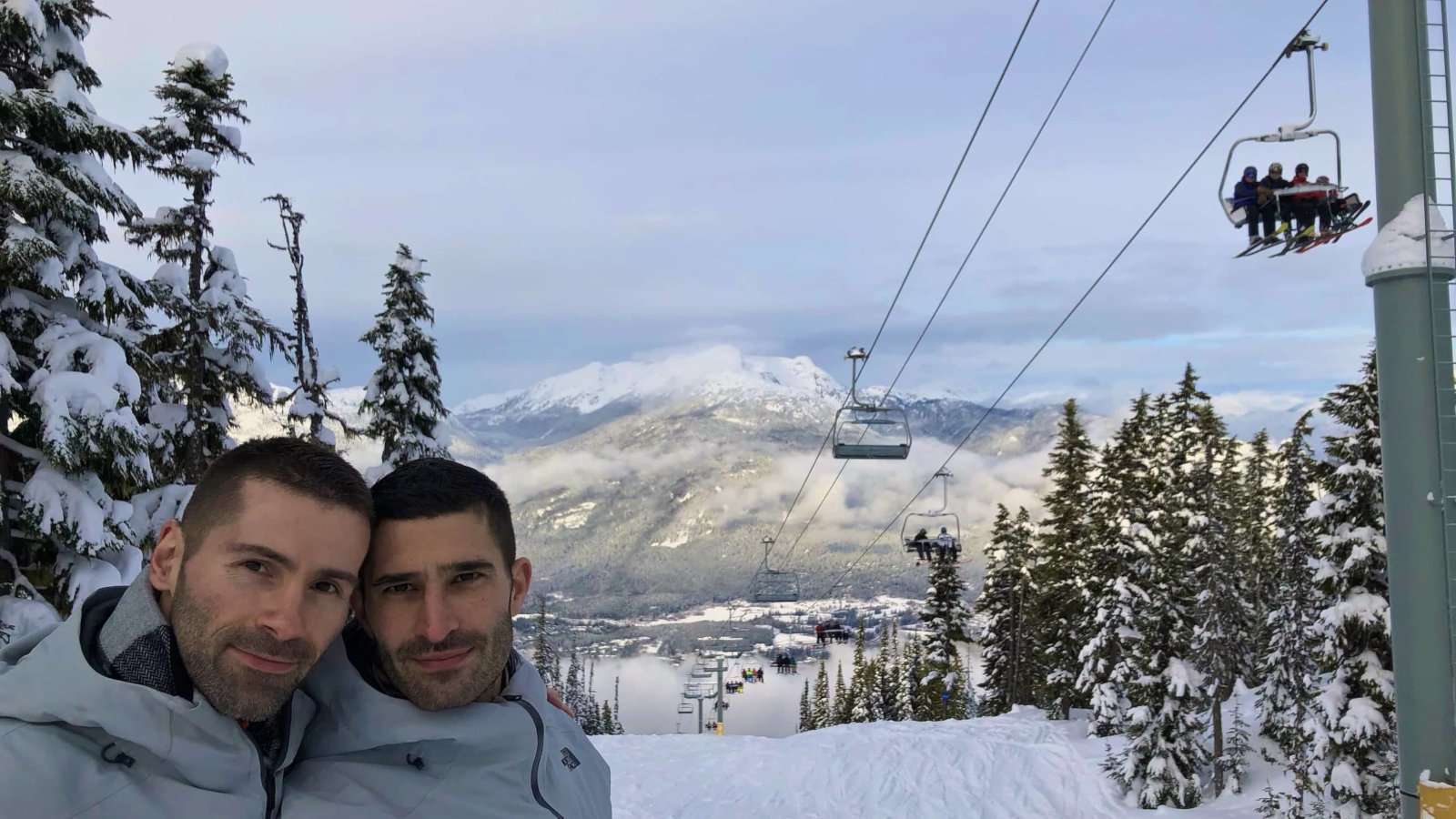 Details of this skiing holiday
---
Dates: March 03 – 10, 2024
Location: Lenzerheide, Switzerland
Price: From around €1,343
Includes: Accommodation and ski pass
Situated in the stunning Lenzerheide area of the Swiss mountains, this resort feels totally cut off from the rest of the world.
Gay ski week Lenzerheide is a bit smaller than some of the other European gay ski weeks, attracting a chilled-out group of couples and singles from a range of age groups. There are some parties but also plenty of opportunities to just relax and socialize.
Classes occur almost daily and cover a wide range of ground. We love this as it can get a bit tedious seeing the same side of the mountain all the time. With Lenzerheide, you get to experience so much the Swiss mountain range has to offer. Be aware that you do need to book your spot on each course though.
There are also skiing opportunities outside the lessons, for those who are experts or feel confident to take on what they learned during the ski course. This week is also great for foodies, with plenty of delicious group meals including a fondue evening, a high tea, and decadent dinners. Evening entertainment includes a disco night and a pool party. For more chilled-out activities you can join a yoga class, attend the movie night or relax with a massage on hammam night in the Hotel Schweizerhof's sauna.
The room design pulls together vibes of Scandanavian minimalism and modern comforts. Whilst you can choose from a basic room, we recommend splurging and getting a Nostalchic apartment. It truly deserves its name as it expertly combines both chic furnishings with a throwback-to-simpler-times vibe. There's even a plasma screen TV, so after a long day of skiing down those snowy hills, you and a partner can just curl up on your bed and enjoy some home viewing.
05
Winter Pride Sölden
Austria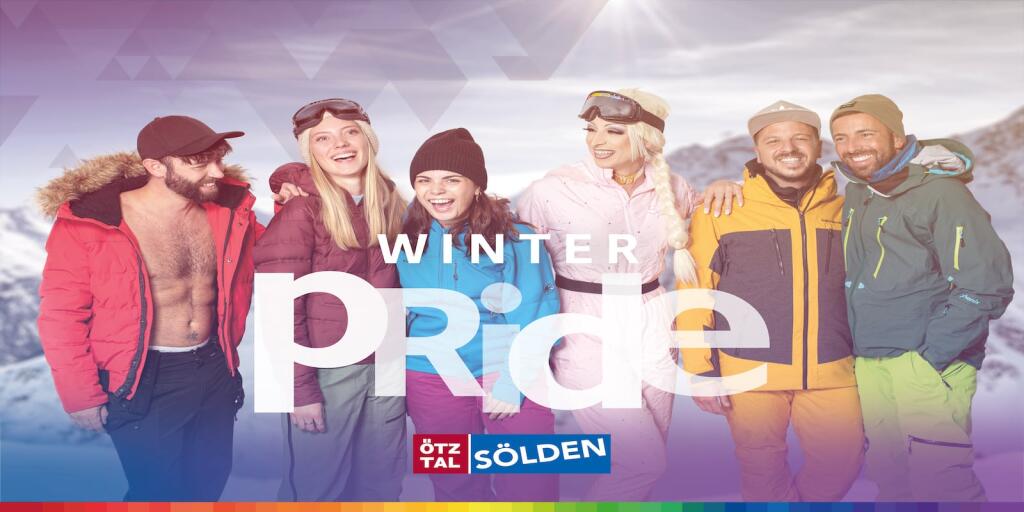 Details of this skiing holiday
---
Dates: March 16 – 23, 2024
Location: Sölden, Austria
Price: From $109 for a 4-day party pass
Includes: Parties, gay ski guiding, and drinks
No matter gay, straight, or bi, Sölden welcomes all!
Picture yourself all bundled up atop a snowy mountain, preparing to slide down at top speed. There is no better adrenalin rush. The best part is that March in Austria provides the perfect weather, with a nice blend of sunshine and snow.
You can purchase event passes for 3, 4, or 7 days and also have the opportunity to benefit from one of rainbowtravel.at's special offers including accommodation. Travel and ski pass are to be organized separately.
At the end of the day, you don't have to go back to a boring old hotel room (though we must say, these hotel rooms sure are pretty swanky). Nope, the package offers up a string of fabulous evening events to keep you in high spirits. The drag queen hosts, Sindy Sinful & Co are full of energy and delicious wit. Be on your toes at all times!
With skiing, snowshoeing, fun races a treasure hunt, and also off-the-slope activities, this is sure to be one fun week. Entertainment highlights include a colorful welcome party, an evening on a hut, drag dinner shows, bingo events, live music, and a spectacular closing. If you haven't had enough sports during the day there is also a nighttime toboggan run. This isn't a huge event, but you're sure to make plenty of new friends during all the fun activities!
Gay Skiing Holidays in North America
Skiing in North America! Of course, Canada immediately springs to mind. But there are other packages available in the USA as well, which are definitely worth checking out.
06
Aspen Gay Ski Week
Colorado, USA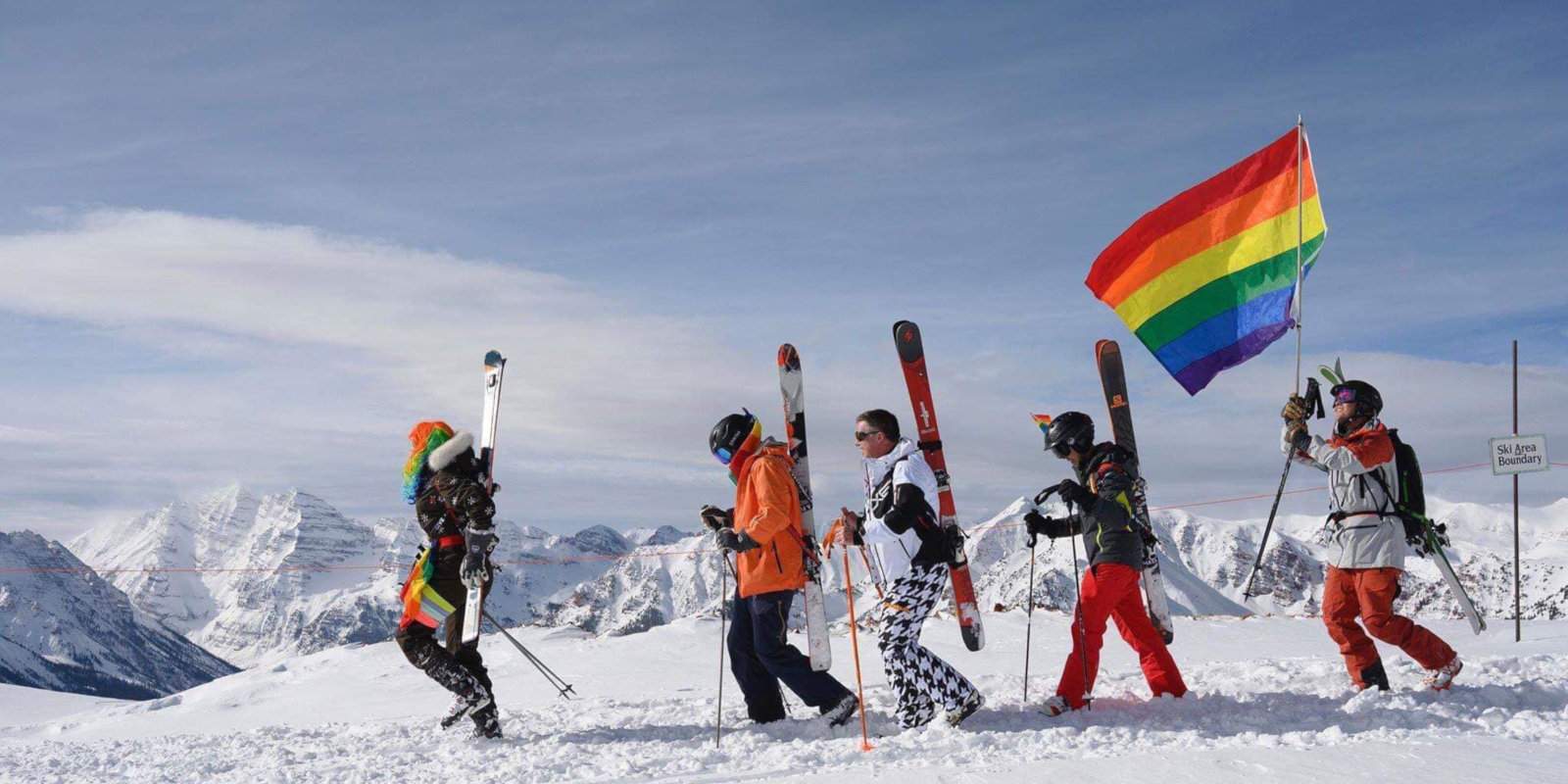 Details of this skiing holiday
---
Dates: January 14 – 21, 2024
Location: Aspen, Colorado
Price: From around $3,655 per person
Includes: Accommodation, event pass and ski lift pass
Even the guys from the movie Dumb & Dumber weren't stupid enough to pass up this place…
Aspen is one of America's most famous skiing destinations, and the resort has its own Gay Ski Week every January, what a fantastic way to bring in the new year!
Aspen Gay Ski Week is both the longest-running and largest gay ski event in North America.
Prepare to take on the incredible Aspen Highlands – a 12,500-foot mountain, meaning there is plenty of ground to play with. If you dare, take on the Highland Bowl – an off-piste thrill-ride – with a steep descent that spans down 45-degree pitches. Ski and snowboard enthusiasts will be able to join lessons or guided excursions or just shred those slopes solo. Just don't miss out on the downhill costume competition where you will see the most fabulous outfits as contestants race down the slope to their choice of music. Outside of skiing, there are options to do yoga and relax in the spa.
They also have so many events planned for each evening, for a variety of tastes. Whether you prefer fine dining in a fancy restaurant, getting down at a party, watching some comedy or enjoying some fashion and art, you will have no shortage of options. The parties, in particular, are incredible, with multiple dance parties, a white party, a 90s party, and a pool party! While many of these events are dominated by the guys, this one makes sure the ladies are being catered to as well, with special women's-only cocktail nights and dinners.
07
Winter Rendezvous Gay Ski Week
Vermont, USA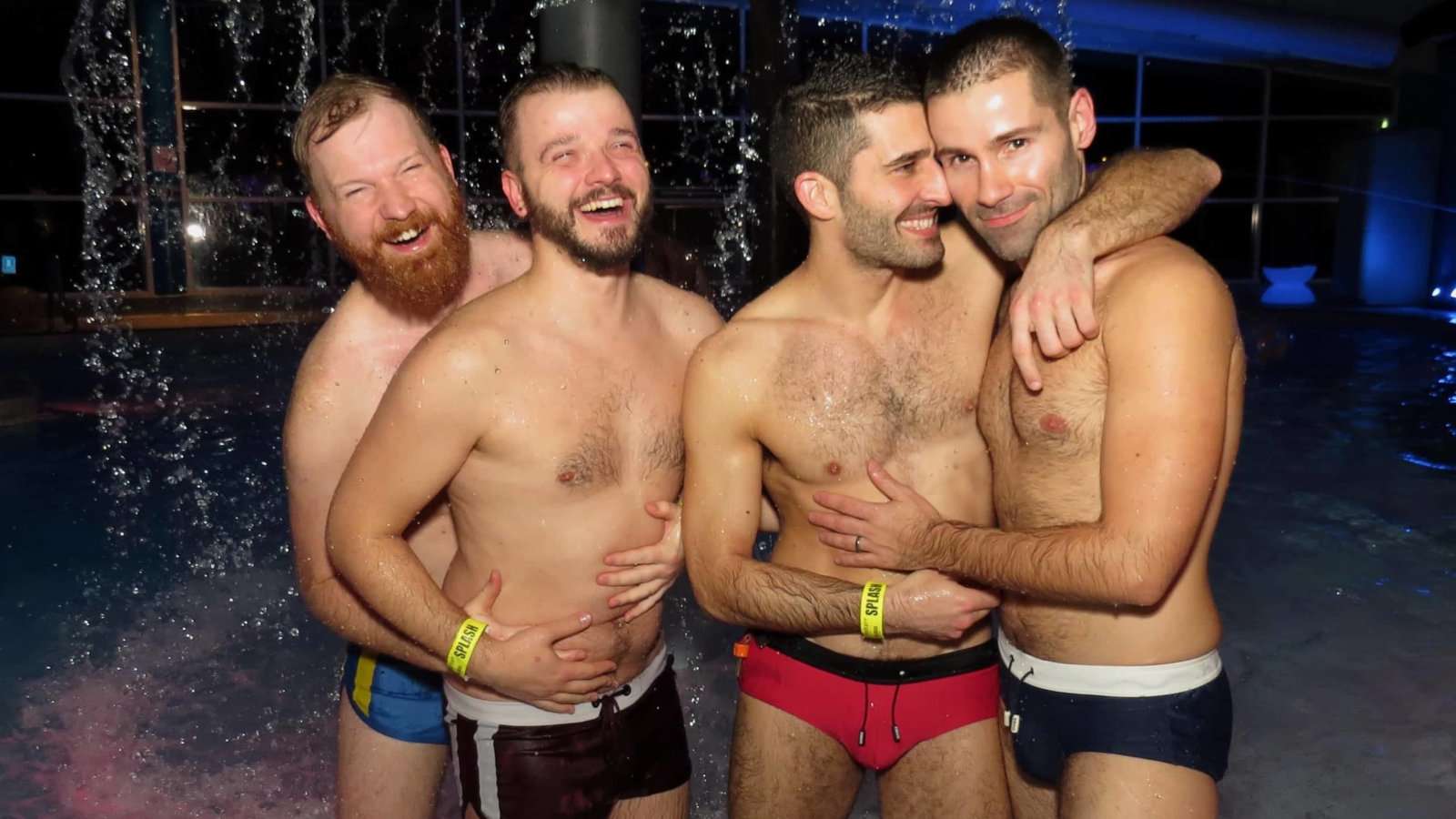 Details of this skiing holiday
---
Dates: January 17 – 21, 2024
Location: Stowe, Vermont
Price: Event pass is $185
Includes: All parties and events
We gays sure are fond of a rendezvous, aren't we? Hundreds of queer guests have participated in this Winter Rendezvous Gay Ski Week across the past 36 years.
Situated in the town of Stowes, the week-long event encourages LGBTQ folk to get involved in all the snowy fun! While the event pass itself isn't too expensive, you do need to organize your own accommodation, travel, and ski pass separately.
The resort provides spectacular skiing, not only on one mountain but two! That's right, both Spruce Peak and Mount Mansfield are available for tackling. The area gets an average annual snowfall of 333 inches. There are plenty of opportunities to ski or snowboard, along with options for going snowshoeing, ice-skating, and even dog-sledding. If you want a break, the resort spa is divine or you could pay a visit to the local Ben & Jerry's Factory!
This week-long event also includes lots of different parties to socialize with after a day on the slopes. There's a pool party, karaoke party, and blowout party with a DJ for getting your dance on, as well as comedy nights. This is the only gay ski event we've seen which includes a huge bonfire cocktail event, plus you can join a drag bingo night for a rip-roaring time. We think this is an excellent choice if you want a good mix of snow activities beyond just skiing, as well as parties and socializing.
08
Whistler Pride and Ski Festival
BC, Canada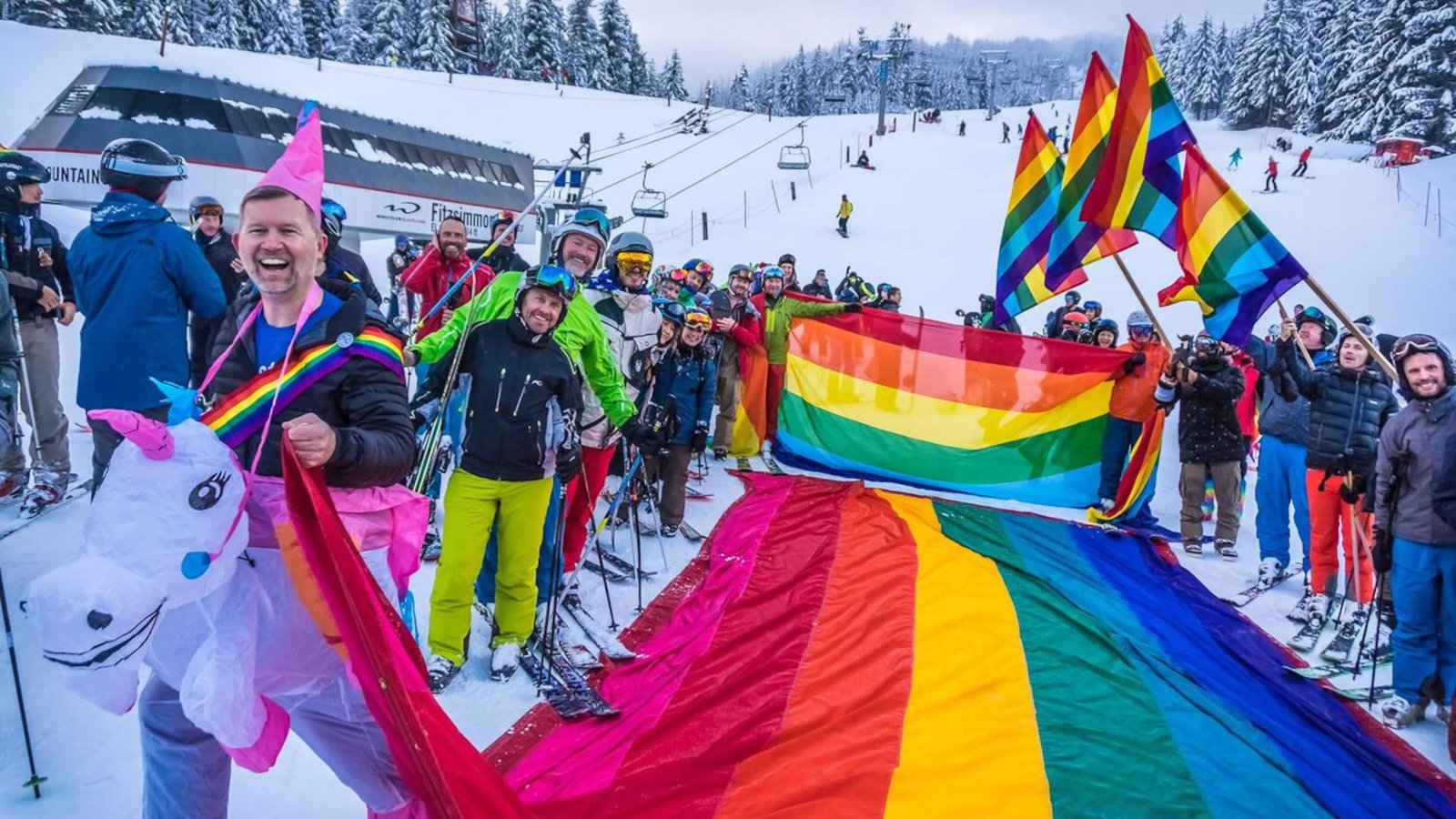 Details of this skiing holiday
---
Dates: January 21 – 28, 2024
Location: Whistler, British Columbia
Price: From CAD $2,259
Includes: Festival pass and accommodation
From small meetups among friends in the early 90s' to a hugely popular skiing festival – Whistler Pride has grown to become one of the largest queer-focused ski festivals in the world with thousands of attendees each year.
Gay snow sports enthusiasts from around the globe fly into British Colombia, and Canada from all over the world, you can read more about our experience here!
If you book your accommodation at the host Aava Whistler Hotel then you pay for the hotel and your festival pass in one. You need to book your lift pass and travel arrangements separately though. Exploring the Whistler Mountain with a guided snowboarding group is the best way to dive right into the action. You'll meet with a fun and diverse group of people at the top of the mountain, and enjoy a day of snowboarding. To top it all, you'll go for a fancy lunch in the rustic Roundhouse Lounge.
If you're feeling like giving something back, we definitely encourage you to take part in the W.A.G. (Whistler Animals Galore Society) charity ski race. All kinds of skiers and snowboarders are welcome, with varying experiences able to join in. The Pride Ski parade is probably the highlight of the week, with fun costumes and rainbow flags everywhere you look on the slopes! There are also a LOT of parties during the week from pool parties to FURROCIOUS: the leather, uniform, gear, and more party! If you want a quieter evening there are game nights, film screenings, spa evenings, and comedy nights as well.
09
Elevation Utah Gay Ski Week
Utah, USA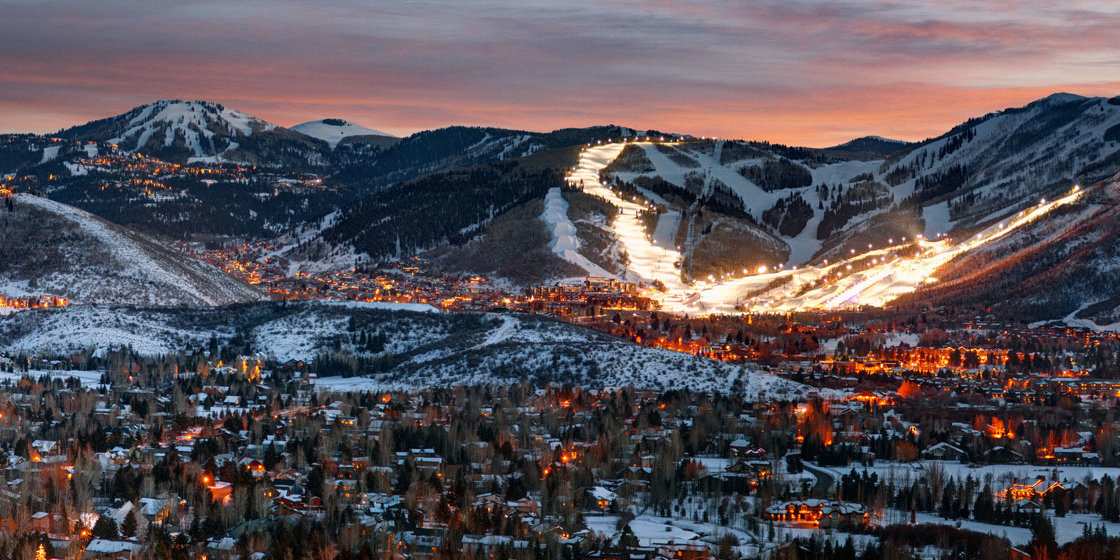 Details of this skiing holiday
---
Dates: February 28 – March 03, 2024
Location: Park City, Utah
Price: Party passes from $130
Includes: All parties/events
Having been around for over 17 years, Elevation decided to expand its horizons beyond sunny California, and situate itself in the land of Park City, Utah.
The third longest-running and third-largest (with around 2,500 guests each year) gay ski week in North America, Elevation proves every time, to every guest, why it has such staying power. As it has been around for so long, many of the guests have grown to see each other as extended family.
With excellent packages for accommodation, discounts for travel and ski passes, plus the fact that it's technically only a long weekend, this is also one of the most affordable gay ski events in North America. The week commits you to have a seriously fun time, and you'll leave the resort with more friends than when you walked in. There is a wide range of lodgings for you to book your stay, from old cabin-style rooms to fabulously modern dwellings that are furnished for the gods. Whatever your mood (and budget) fancies really!
The weekend always kicks off with a welcome party – the chance to drink, dance, and meet your fellow guests. Don't worry, that is not the only partying you will do. The rest of the schedule is jam-packed with apres ski and party nights. A few famous faces have been known to pop out here and there as well, such as Lance Bass from N*Sync fame and Shangela from 'RuPaul's Drag Race' – Halleloo!!!
10
Telluride Gay Ski Week
Colorado, USA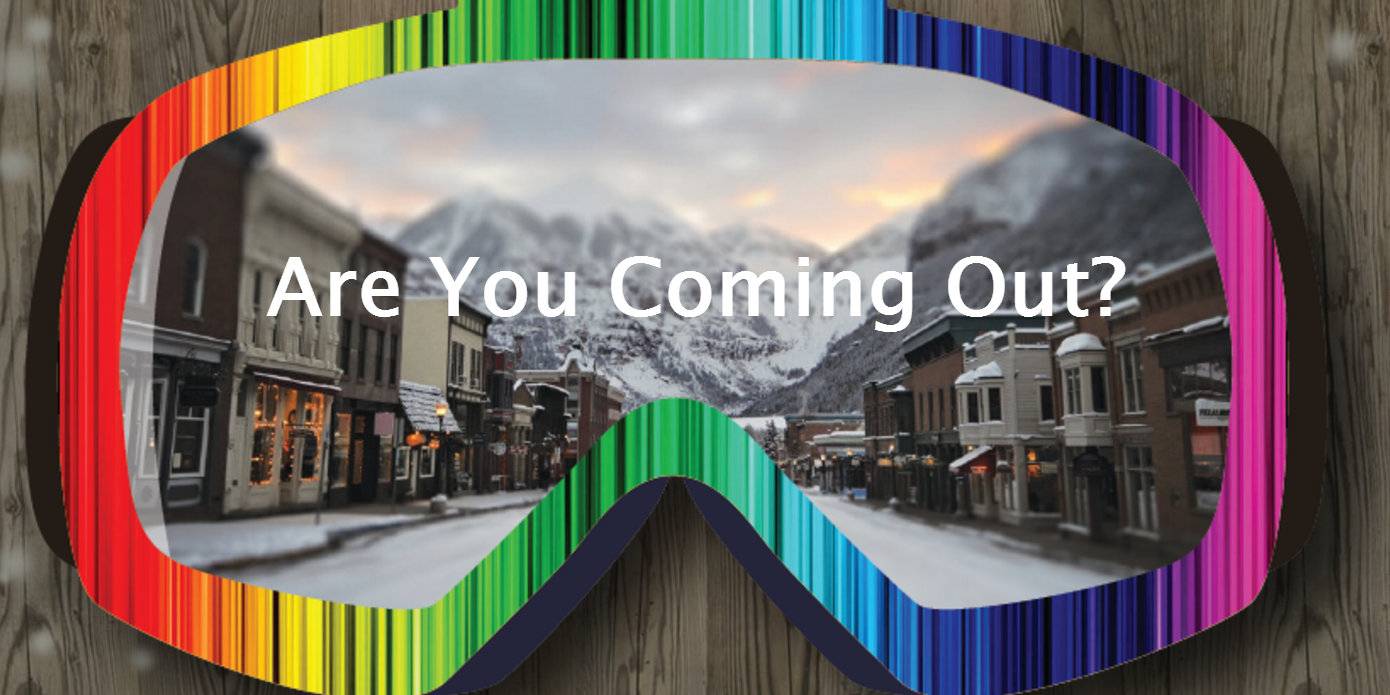 Details of this skiing holiday
---
Dates: February 24 – March 2, 2024
Location: Telluride, Colorado
Price: TBA
Includes: Most separate but lots of discounts
Whether you're enjoying a cocktail at one of their many evening events, dancing the night away, or simply dying to get out onto the mountain, you will always be feeling pumped full of energy at the Telluride Gay Ski Week!
Nestled in the fresh Colorado mountainside, you can expect breathtaking sights and heaps of fun. More than 1,000 fabulous snow bunnies attend each year.
Regardless of your skiing experience, it never hurts to give it a go. All you are risking is missing out on a fabulous time. Along with the daily skiing and snowboarding meetups, you can enjoy 'chairlift warmers' at the Telluride Distilling Company Hangover Lounge. There are plenty of nighttime entertainment options, lots of parties, karaoke, drag performances, a spa/pool day, and a concert featuring Joshua Radin & Lissie! While price details are not available just yet (watch this space) there will be discounts for everything, from the accommodation, to lift passes to ski gear and even transport with a gay-friendly shuttle service from all area airports.
For fans of all things movies and Hollywood, you may have noticed that this occurs during the Oscars ceremony. Fear not, for the resort has you covered, with a themed night, complete with fancy dress, great drinks, and a screening of the show. Afterward, feel free to decide amongst yourself, who is Best Skiier? They also have a Britney-themed night so you can ditch those skis one more time (or just for the evening) and dance to all her greatest hits. And if you want to support a good cause, make sure you attend the AIDS Benefit Gala Fashion Show which includes a live auction.
11
Elevation Mammoth Gay Ski Week
California, USA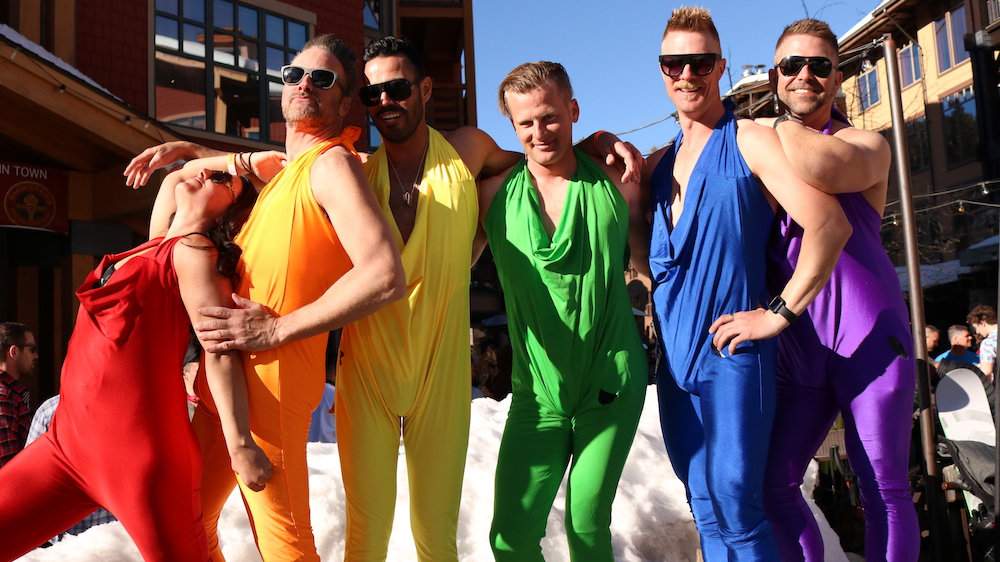 Details of this skiing holiday
---
Dates: March 13 – 17, 2024
Location: Mammoth Lakes, California
Price: Party pass from $195
Includes: All parties/events
With the name 'mammoth' in its title, you really can't help but feel intimidated. But a mountain is just a mountain, right?
The Elevation Gay Ski week returns to Mammoth Lakes in California (we know right? Sunny California actually has mountains and snow!) for its 18th year. With around 2,000 guests attending, you don't want to miss the chance to ring this skiing event into its adult years!
The week's organizers pride themselves on offering an alternative to the partying and binge-drinking lifestyle that LGBTQ people are typically associated with. Don't get us wrong, there are still plenty of parties during the week, but the focus is on exploring the great outdoors. They give a call out for laidback, unpretentious, and fun guests to join them as they explore the great Californian High Sierras. Evening entertainment also includes a ten-pin bowling night and comedy with fabulous drag queens.
Like the other Elevation events, you need to book your event pass, ski pass, travel, and accommodation separately, although there will be discounts for the gay ski week attendees. The highlight of the week though is the Rainbow Run, where skiers dress in their rainbow best and parade down the Mammoth mountain flying their flags with Pride! On the last day, you'll get to farewell all your new friends over a delicious brunch, the perfect bittersweet ending to a wonderful week.
12
Jasper Pride Festival
Alberta, Canada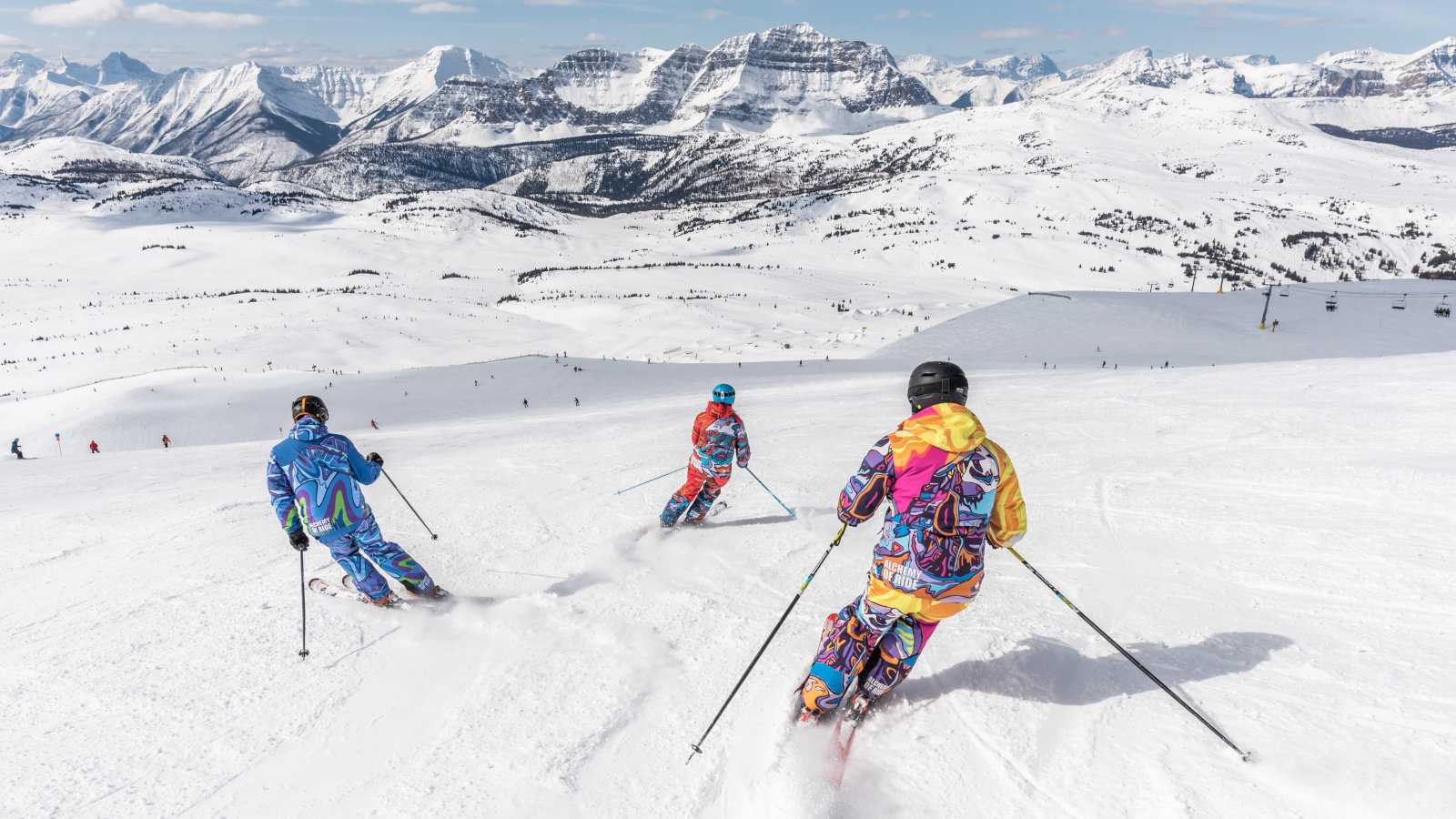 Why we love it
---
Dates: April 05 – 14, 2024
Location: Jasper, Alberta
Price: no package prices but the free pride pass gets you lots of savings
Includes: discounts for hotels, rentals, food
If you didn't get enough Canadian hospitality at Whistler Pride, or couldn't attend, then there's another Canuck option over in Alberta! Jasper is just across the border from BC, in the middle of Jasper National Park – which features plenty of mountains layered with snow to enjoy.
The Jasper Pride Festival takes place over a long weekend, with fun Pride events, but not too many because who wants to miss out on as much time shredding the slopes as possible, right?!
The opening day on Thursday is the busiest, with a Pride flag-raising ceremony in the morning, a Pride beer launch party in the evening, and the opening of the Fork & Spoon Mini Food Festival during the day. Luckily the food festival runs during the whole event, so you will have ample time to try some delicious treats at local restaurants.
Other events include a group Pride tour of Marmot Basin's mountain, a casual coffee meetup, Pride breakfast, and the famous Pride Ride where everyone hits the slopes in their most colorful attire to bring Pride to the snow! Pride pass holders can also book a multi-day glacier adventure at a discount, where you can walk on the Athabasca Glacier on Mt Athabasca.
As far as accommodations go, Pride pass holders can also take advantage of excellent discounts when booking at a wide variety of hotels, resorts, lodges, and hostels. There's pretty much something to suit your budget and style, whether you want swanky pampering or just a cheap bunk for the night!
13
Elevation Tremblant Gay Ski Week
Quebec, Canada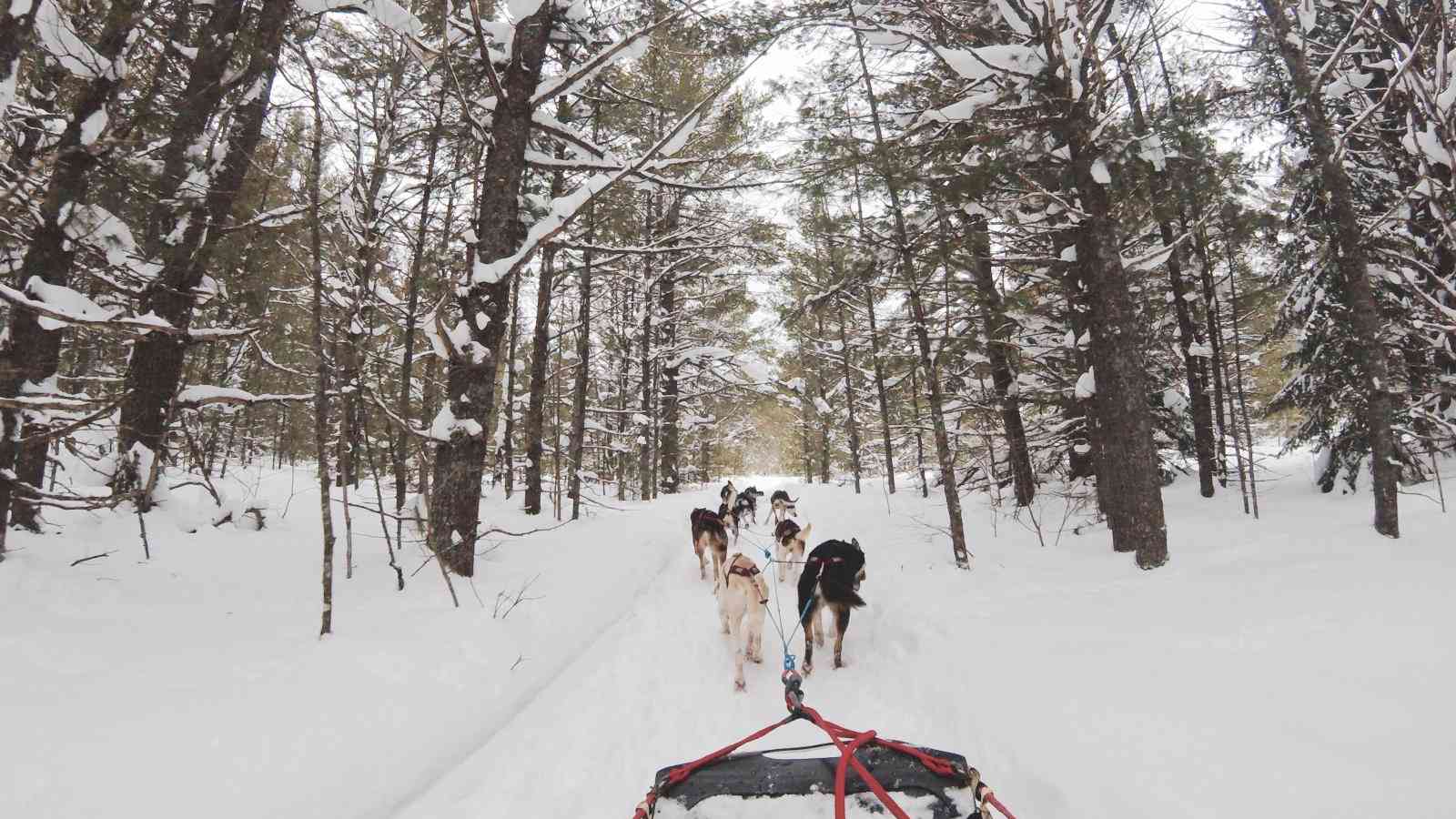 Details of this skiing holiday
---
Dates: TBA
Location: Mont Tremblant, Quebec
Price: Party pass from $135
Includes: Entrance to all the events
Ski Magazine calls it the best resort in Eastern North America, plus it'll be full of hunky French-Canadians, so you don't need to tell us twice!
In the ski resort town of Mont-Tremblant, it's pretty much a constant winter. Think Frozen – without the sorceress. Though, we can't deny that it is still pretty magical and looks like something straight out of a Disney film.
Outside of skiing or snowboarding, you can explore the town, go snowmobiling, zip-lining, snowshoeing, ice-climbing, and even sledding with adorable huskies. This is definitely a good choice for the athletic thrill-seekers out there! You do need to organize your accommodation and travel separately from the event tickets, but there will be affordable packages available at the host hotels. You can also choose from high-end luxury condos to more budget accommodation to ensure you get to experience this fun event.
Elevation Tremblant attracts hundreds of gay guys and girls but is more focused on the snow fun than partying. That is not to say there aren't opportunities to dance the night away though, as there are some awesome parties over the duration of the weekend. Each party has its own fun theme, so you'll need to bring outfits for the neon party and a cute onesie for the apres onesie ski!
Gay Skiing Holidays in the Southern Hemisphere
Plenty of skiing holidays can be found where you least expect them… Don't just think of skiing as a place confined to the Alps and Scandanavia, the Southern Hemisphere is also bursting with opportunities!
14
Gay Ski Week Australia
Victoria, Australia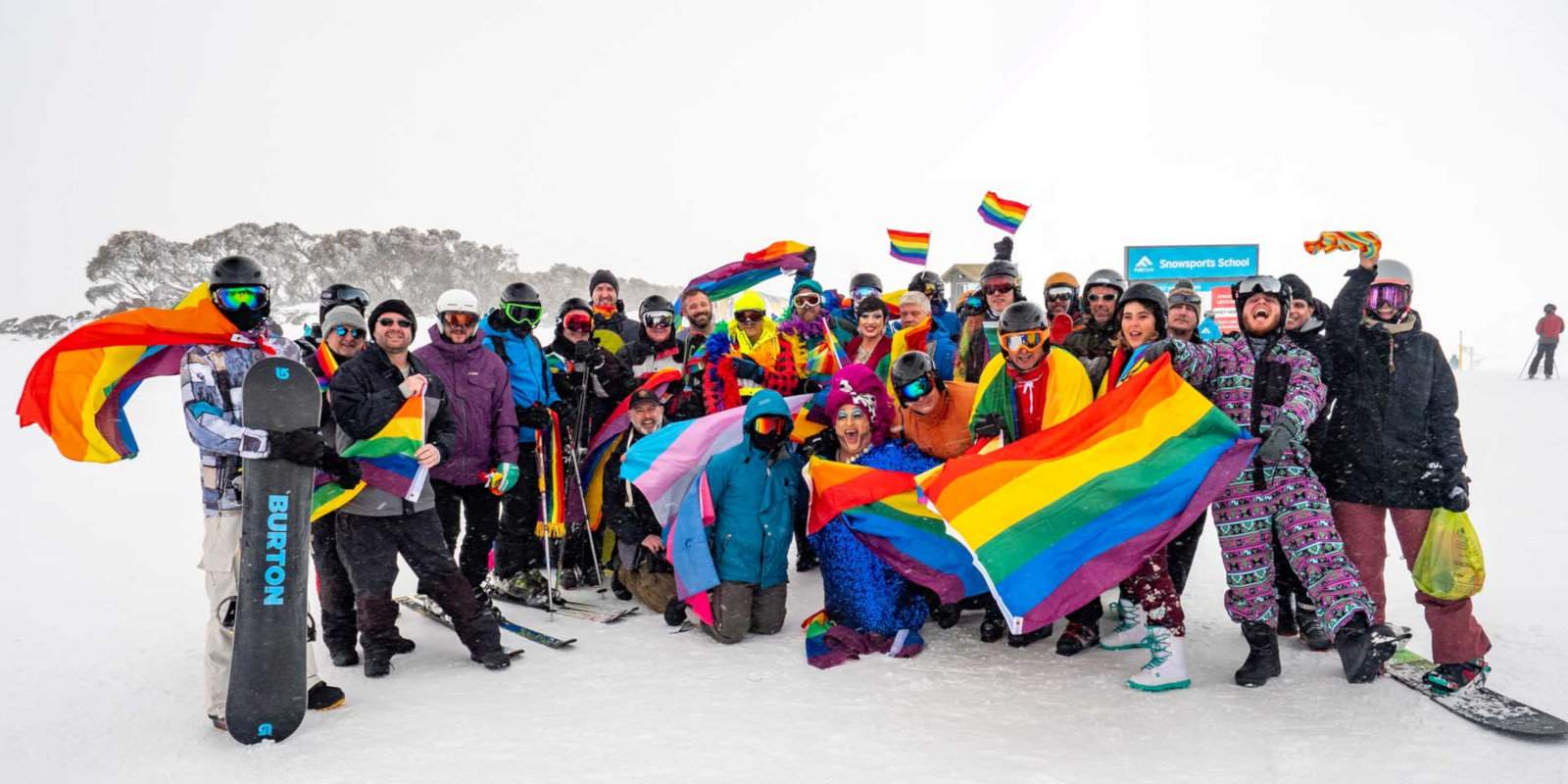 Details of this skiing holiday
---
Dates: TBA
Location: Falls Creek, Victoria
Price: Packages from $298 AUD
Includes: Accommodation and events
Yes, we know what you're thinking, "do Australians even know what snow is?"
Well, those Aussies up in Falls Creek are all too familiar. Gay Ski Week Australia takes place on the Falls Creek and Mount Hotham resort in the Victorian Alps, which are about five hours' drive from Melbourne.
This is an intimate and fun event, where you can choose to stay for short or longer periods.
Celebrating all things diversity, the week is filled with activities to help you make new friends and new memories. With fabulous lodgings all close to the event itself, you can choose your own type of accommodation or book a package which also includes transport and gear rental. Since the next event isn't until late in the year, you will need to check back for prices when they're available. The best thing about this kind of trip is that you don't feel obliged to stay anywhere or participate in all the activities.
While this is a small event that attracts a range of ages, couples, and singles, there are still plenty of exciting things to do after you've been on the slopes. There's only one official big party but you can still have fun on the drag pub crawl, attend drag bingo, watch queer films, cabaret night, and a spa afternoon. During the day some of the more unique activities include a scavenger hunt, and a fabulous rainbow run!
15
Winter Pride Queenstown
Queenstown, New Zealand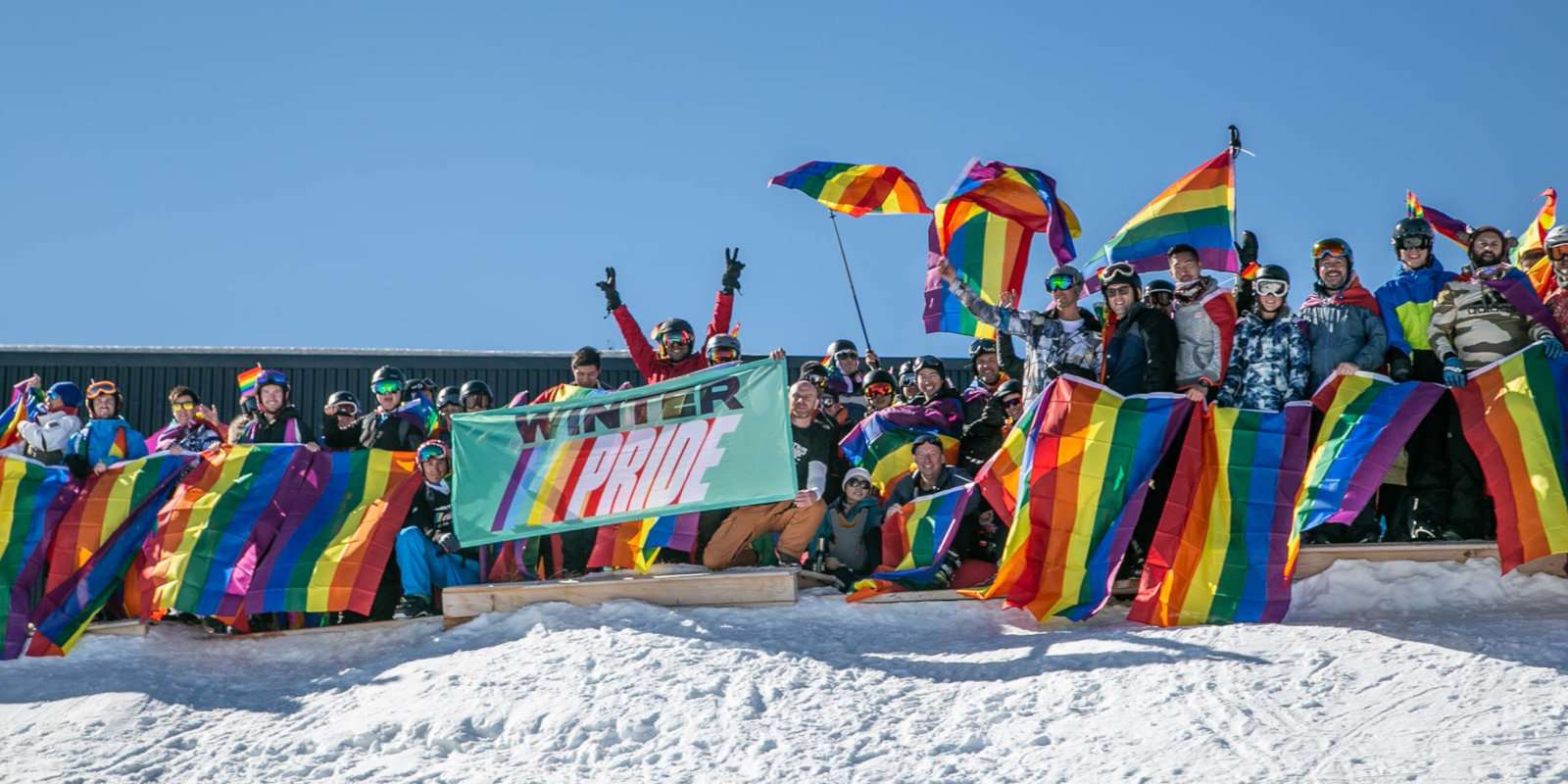 Details of this skiing holiday
---
Dates: August 23 – September 01, 2024
Location: Queenstown, New Zealand
Price: From $475 for the whole week
Includes: Parties and events
From the land that gave us the stunning visuals from The Lord of the Rings movies, we couldn't pass by the chance to get a bit of skiing experience from some of the most breathtaking sights in the world.

Expect a joining of gays and nerds coming together to celebrate this monumental event in New Zealand's dramatic southern alps. With more than 4,500 attendees, this is also the biggest gay ski week in the southern hemisphere!
As well as general ski/snowboarding opportunities you can take part in fun on-mountain events like a charity ski race, a pride flag slope parade, and costume ski days for wearing outfits like onesies or dressing up as superheroes. If you need a break from the cold, there are also off-mountain events like hiking, long lunches, cocktail parties, and cabaret wars. You can even go for a jet boat ride or white water rafting, this is the adventure tourism capital of the world after all…
Winter Pride Queenstown is also popular with the ladies, especially since there's a special ladies' night just for the girls. The calendar is absolutely packed with parties and other events like karaoke, speed-dating, or a cocktail-making class. From 'Queenstown's Got Talent' to game nights with your fellow festival-goers, there is always something fun and fabulous happening. We recommend getting the Winter Pride MAXI pass if you want to attend all the parties and events, although you can also get weekend passes if you are short on time or money. You will need to book your accommodation separately, but the festival partners offer deals for attendees of the event.
16
Rainbow Mountain
NSW, Australia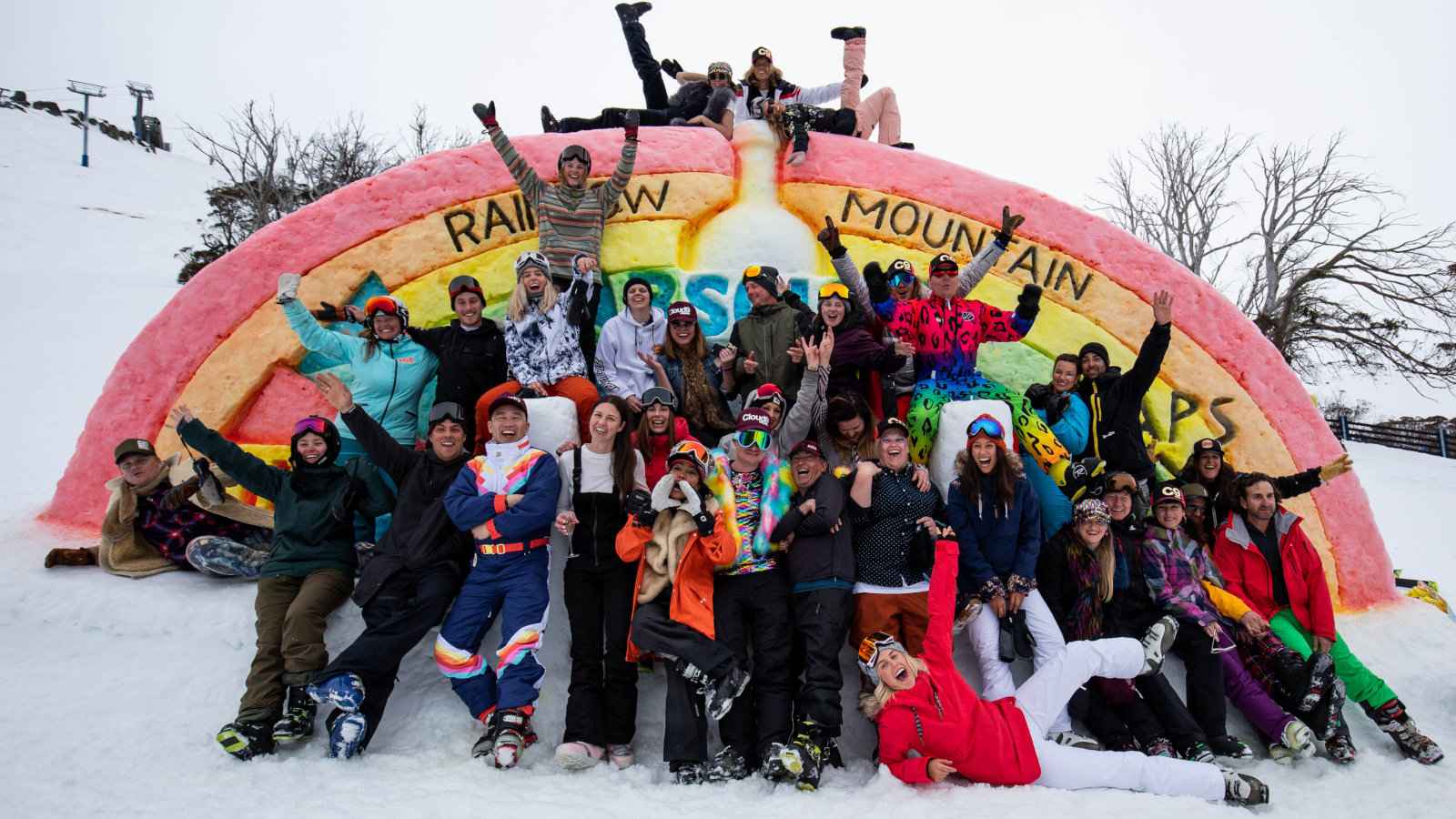 Details of this skiing holiday
---
Dates: TBA
Location: Thredbo, New South Wales
Price: 3-day event pass from $254 AUD
Includes: Activities and lift pass
No, unfortunately, the gays have not taken over a mountain….yet!
Rainbow Mountain, a Heaps Gay Snow Week can be found in the Land Down Under – and it promises to be bigger and gayer than ever before for its 2020 event, with a few hundred attendees.
It takes place at the Thredbo alpine village and ski resort in the Snowy Mountains of South Eastern Australia.
Borrowing all the great talents from Sydney to keep you entertained, the week is as much of a party as it is about skiing. You might even convince one of the drag performers to go out skiing down a mountain in full drag! There are plenty of performances to enjoy, along with karaoke nights, drag shows, cabaret, discos, and a pool party to keep you up all night. If you prefer a more chilled-out vibe you can also just hang out at the fireside drinks and drag.
They offer different packages to include event passes only or event plus ski lift packages (note prices will be in Australian dollars, not USD). Accommodation needs to be booked separately but there is also a wide range of options for very affordable prices. This is probably the most affordable gay skiing event in the southern hemisphere, you know, once you've booked those flights to Australia!
Bonus Gay Skiing Holidays in Asia!
Just when you thought you'd run out of places to go skiing, we go ahead and uncover two gay skiing events in Asia…
17
Gay Ski Week Hakuba
Hakuba, Japan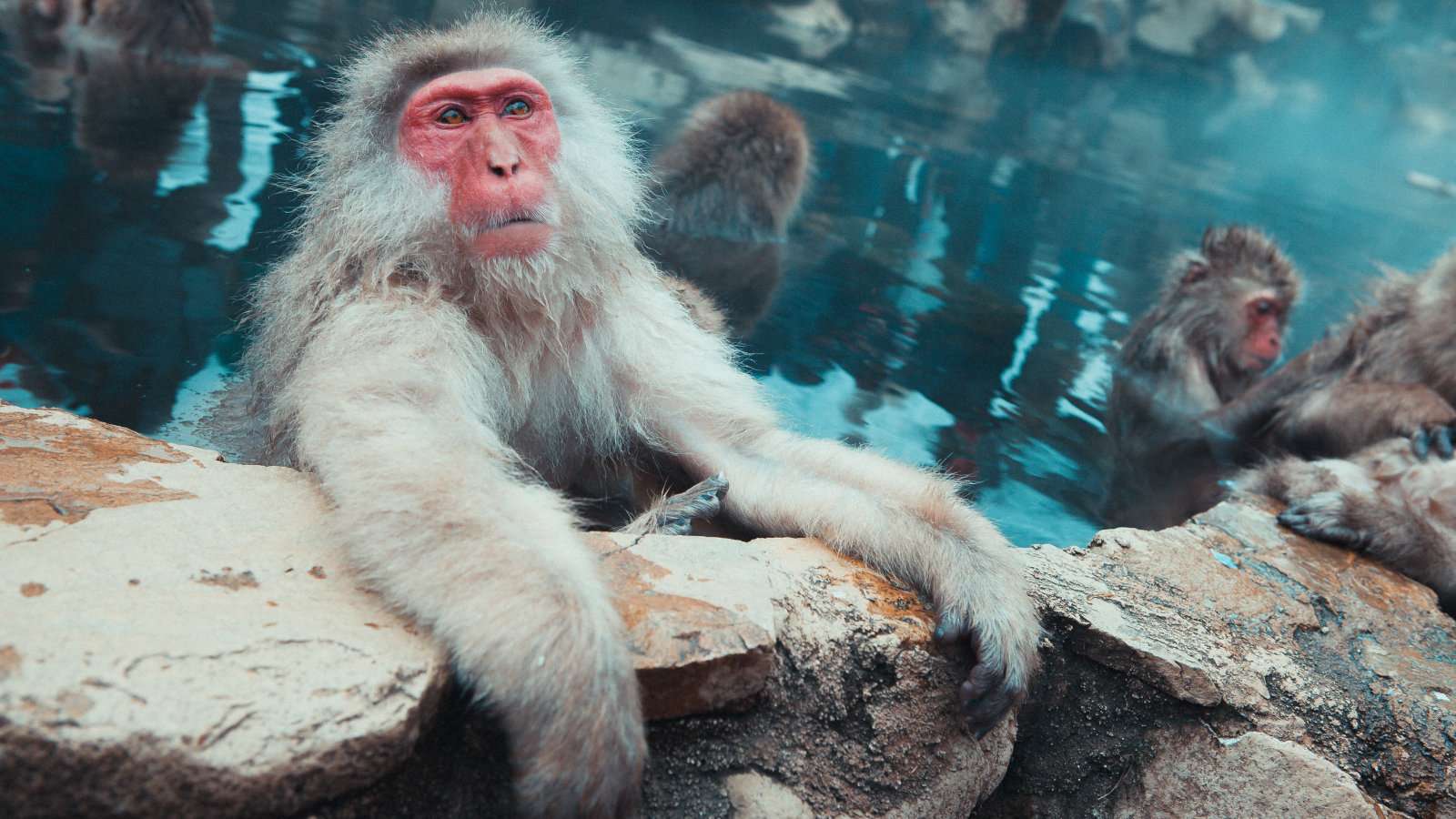 Details of this skiing holiday
---
Dates: March 08 – 17, 2024
Location: Hakuba, Japan
Price: 7-day packages from $699 USD
Includes: hotel, transport, ski pass and events
This might be the newest entry on our list, as it only began in 2019!
Taking place in the Japanese village of Hakuba, this Gay Ski Week is a glorious adventure.
With fun-filled nights of sing-alongs and visits to local bars, there are plenty of opportunities to mingle with your fellow gay holidaymakers as well as hit the slopes.
With 2, 5, 7, and even 9-day packages available, you're sure to find something that suits your budget. The packages include everything from your accommodation with daily breakfast to the ski pass and transport to all events. Tackle the Hakuba Valley, with its sparkling snowcaps, colorful skies, and picture-perfect villages. We particularly love how this package highlights the beauty of the Japanese Alps, which are impressive in their own right. As the event is so new it's still quite small, but perfect for those craving a more intimate and perhaps romantic getaway with like-minded friends.
During the day you'll be able to go skiing, snowboarding, and snowmobiling on the slopes or even join a tour to nearby Matsumoto Castle. At night there are plenty of fun activities to enjoy, like a drag race, trivia night, pub crawl, parties, and a sushi train dinner. The Hakuba ski resort is also only about an hour and a half from the Jigokudani Monkey Park, where you can see some of the famous Japanese snow monkeys!
18
Rainbow Ski Weekend Urabandai
Fukushima, Japan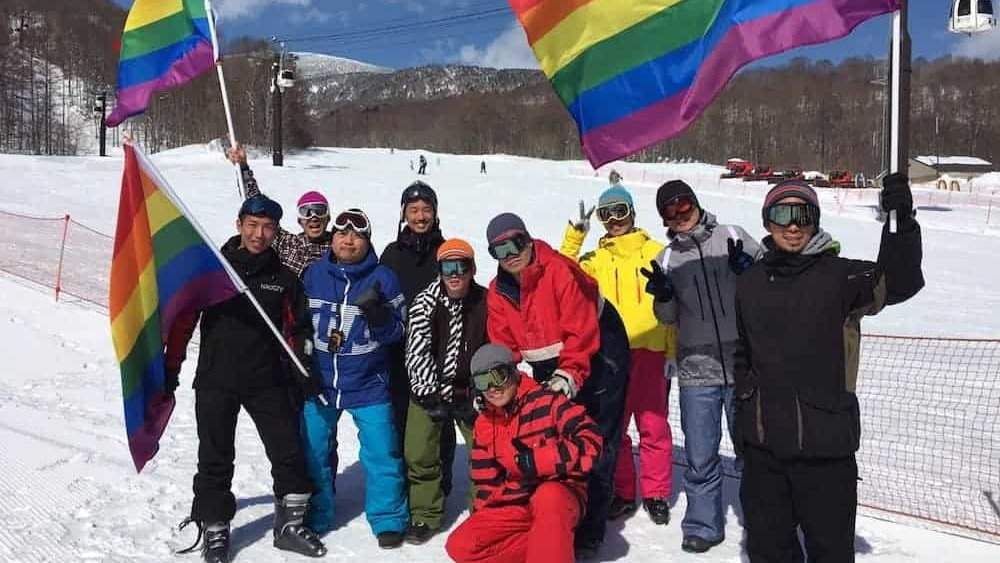 Details of this skiing holiday
---
Dates: March 02 – 03, 2024
Location: Urabandai Lake Resort, Fukushima, Japan
Price: 2 days, 1 night from $152 USD
Includes: hotel, dinner, breakfast, party and ski lesson
Wait, wait, wait – there's another gay ski weekend taking place in Japan – the Rainbow Ski Weekend at Urabandai!
This one is great for those on a bit of a time or money-crunch, as it's just a two-day weekend event that takes place in Fukushima. If you're visiting Tokyo this is the perfect quick, gay ski trip as it includes a bus from Tokyo all the way to the resort and daily transfers from your hotel to the ski resorts.
Considering this is just a weekend event it sure is packed full of exciting activities! Starting with the LGBTQ bus transfer from Tokyo, where you will be entertained by famous local drag queens, who will also perform during the Saturday night drag banquet. Transfers to the slopes are also included in your package, plus you can enjoy a complimentary ski lesson with a gay instructor if you've never skied before.
Accommodation for the weekend is at the luxurious five-star Urabandai Lake Resort, with spacious and elegant rooms as well as two different swimming pools. Even if you're traveling alone you can make new friends by taking advantage of the room share program, thereby avoiding paying a huge single supplement. There will also be cute GoGo boys to hang out with during the fun leisure times which include a bingo game, party, and relaxation time in the pools.
---
Like this post? Pin it