This is our complete guide to Whistler Gay Pride in Canada, one of the largest gay ski festivals in the world and a very unique pride event.
The next Whistler Pride will take place on January 21-28, 2024.
What do you get when you mix together a bunch of gay boys, a giant rainbow flag, and a huge pile of Canadian snow? The Whistler Pride and Ski Festival of course!
Whistler is a small town north of Vancouver in the British Columbia province of Canada. It's famous for having one of the largest ski resorts in North America and for hosting some of the events of the 2010 Vancouver Winter Olympics.
The town is surrounded by two mountains: Whistler (2,184m/7,165ft) and Blackcomb (2,436m/7,992ft). There are over 200 marked ski trails in between the two mountains, catering to all difficulty levels: green for beginners, blue for intermediate, black for advanced and double blacks for people who are just plain mad!
The Whistler Pride and Ski Festival is one of the biggest and best LGBTQ ski events in North America. We absolutely loved it and highly recommend it to all gay travelers seeking out a gay ski event to attend.
This is one of the biggest and best LGBTQ ski weeks in North America and you need to be there!
What happens during Whistler Pride?
Every January, Whistler hosts the biggest LGBTQ piste party in Canada and the second largest in North America. It's a week of skiing, snowboarding, and parties.
A few highlights to expect from Whistler Pride include:
Splash Pool Party: where there's a gay Pride party, you know there will be an awesome pool party taking place around the corner.
The Furrocious Military Ball: the big fetish party of the week.
The Closing Party: this is always the biggest and best party of the week.
Awesome gay après ski events: taking place every day during the festival.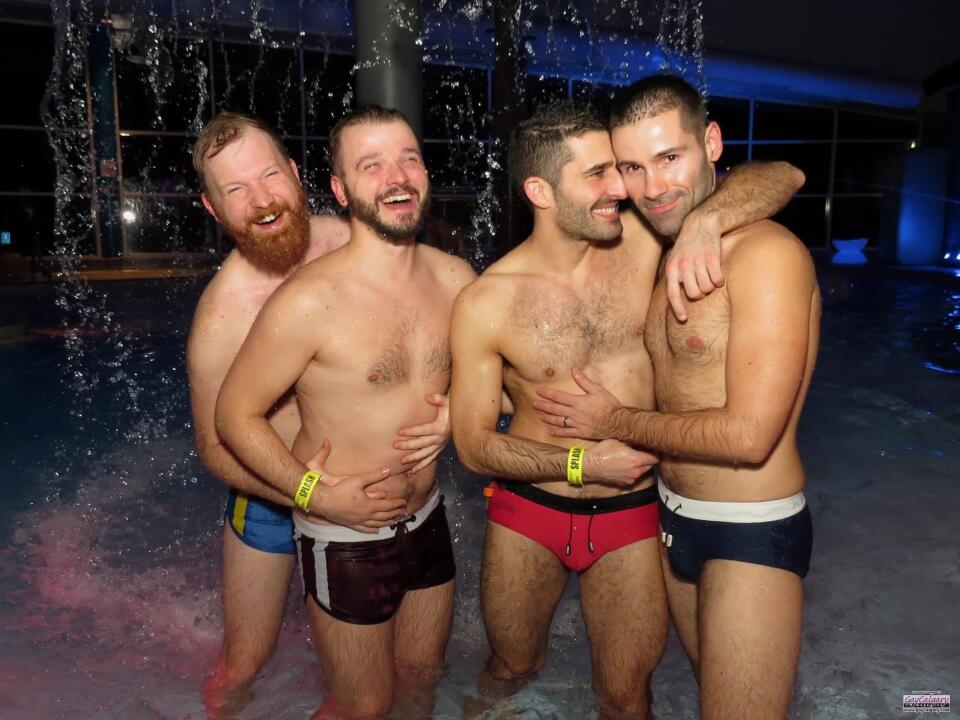 How to get to Whistler Pride?
Whistler Pride takes place in the award-winning mountains of Whistler and Blackcomb, West coast Canada, around 2 hours drive north from Vancouver airport on the scenic Highway 99.
You can also fly to Seattle or Bellingham airports and transfer to Whistler from there.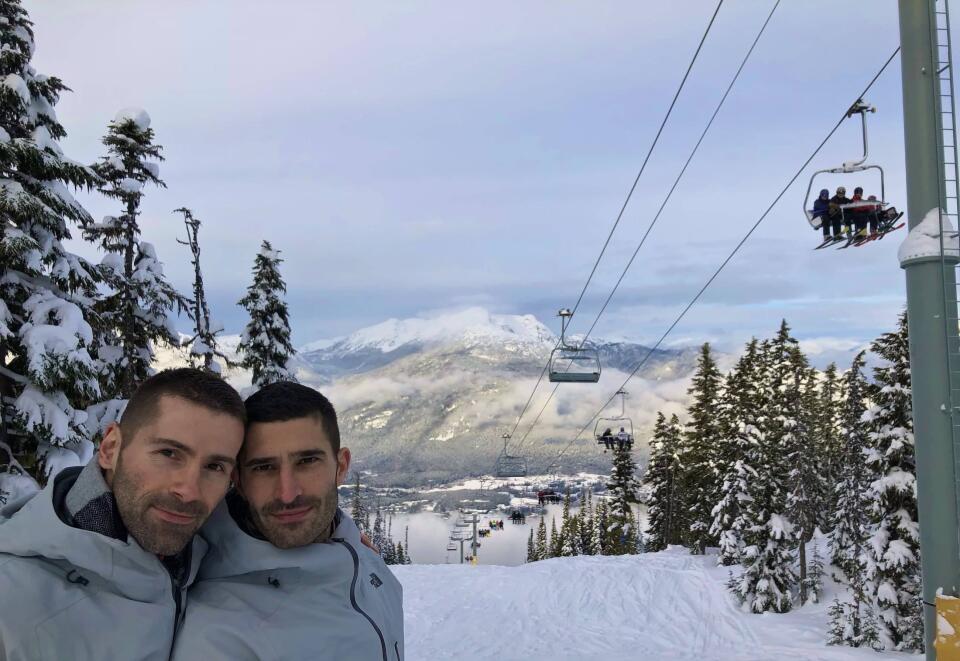 When is the next Whistler Pride?
The next Whistler Pride will take place on January 21-28, 2024.
How to book tickets for Whistler Pride
Whistler Pride packages, which include accommodation and festival passes, start from CAD$1,478 (USD$1,087 / £873) for 2 nights. Whistler Pride passes only, starting from CAD$179 (USD$140 / £105).
Best value to book hotels by:
April 30th (saving around 40%)
August 30th (saving around 30%)
November 15th (saving around 22%)
Awesome things to do during Whistler Pride
1. WHISTLER PRIDE PARADE: skiing with pride!
Let's start with the basics, the skiing. It's pretty damn awesome here. Why? Whistler boasts one of the best yearly snow conditions, receiving an annual average of 11.7m (38.4 feet), so you're guaranteed an excellent ski season during the winter months. In addition, the whole town becomes one large skiing community, with public shuttle buses, excellent chalet-style lodgings, a variety of après ski events, and more. It's no surprise why Whistler is consistently voted as one of the top resorts in North America by major ski magazines like Snow Magazine and SkiMag.
One of the best things about the Whistler Pride festival is the parade. We started at the top of a green slope, giant rainbow flags to hand, then skied all the way down, continuing through the center of Whistler town, with a fun large crowd growing alongside us by the minute.
We've been to many pride parades during our travels, like the gay pride in Montreal and Puerto Vallarta to name a few, but never have we been in a gay pride parade that involved snow and skiing. It's unique, unreal, loads of fun, and definitely worth checking out.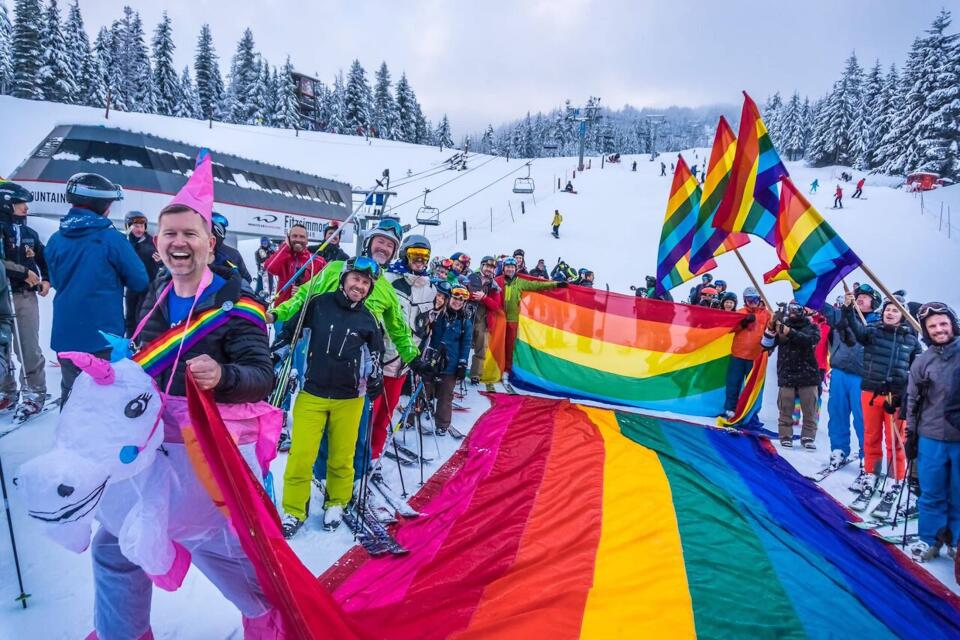 2. WHISTLER PRIDE EVENTS: pool parties, après ski & more
There are many different Whistler Pride events taking place, which are reason alone to come. Every day we had a happy hour cocktail at the gay après ski with our group. Then after dinner, there was a large party taking place, which would go on into the early hours of the next day.
The Whistler Pride pool party called Splash was our favorite. Imagine partying with a group of gay boys in Speedos, splashing about in a large pool, with live music, disco lights, and of course, the obligatory pink flamingo floats.
Other fun Whistler Pride events we loved were the Furrocious fetish party, the Snowball closing party, and the comedy night featuring the hilarious Margaret Cho. She was absolutely brilliant and completely brought the house down.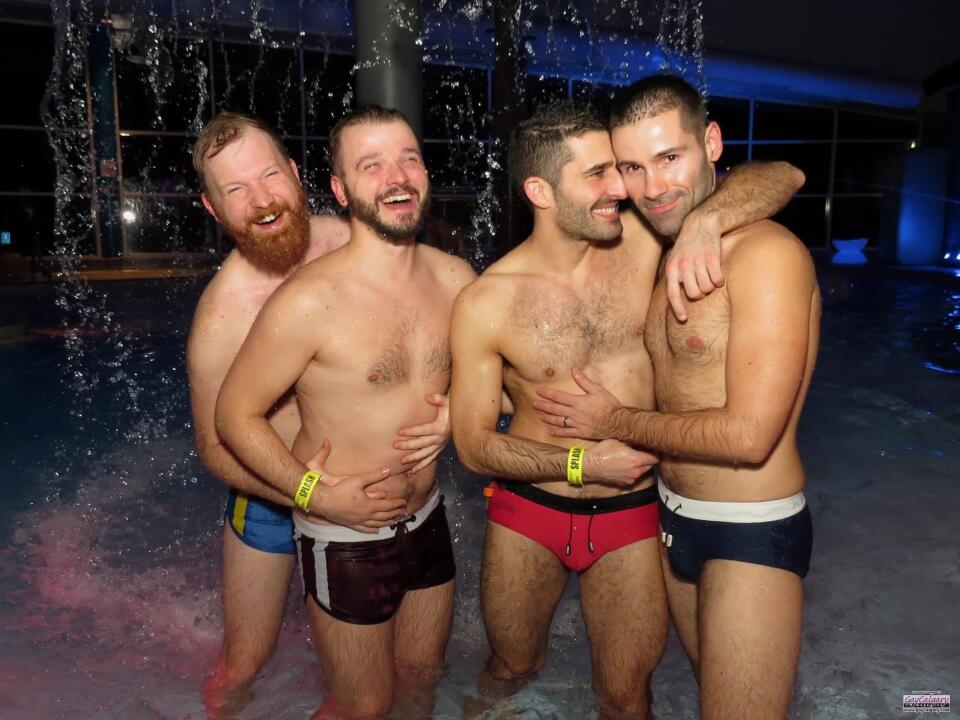 3. SNOWMOBILE TOUR: feeling like Elsa on a motor sled
There are many activities you can do at Whistler alongside skiing and ogling speedo-clad guys at the pool party. One of our favorites was riding a snowmobile through thick piles of snow, in a scenery completely white, everything completely frozen over.
We rented a couple of snowmobiles and did a guided tour with Tag Whistler. We went away from all the crowds of skiers into untrodden paths, which you can only access with a snowmobile. It was just us powering through this white paradise – a truly unique feeling you can't beat.
And guess what happens when a group of gay boys get their hands on a few snowmobiles…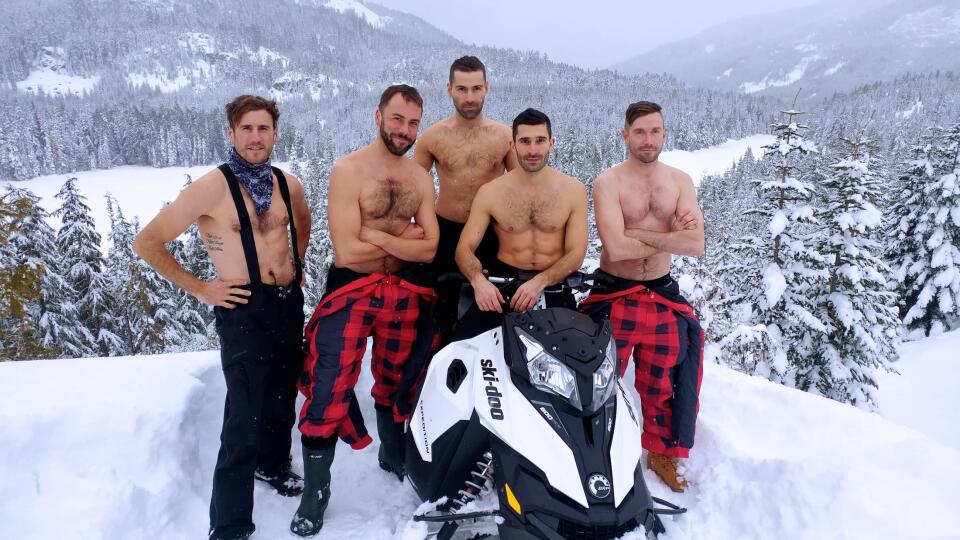 4. LUXURIOUS SPAS: relax after skiing all day
If you're starting to get snow board and piste-off at all these skiers, you may just Après-ciate a dip in a nice luxurious spa. There's surely snow-thing else more relaxing than that…
After a full day of skiing, we were craving a spa session. We were recommended by many locals the divine Scandinave Spa. We can see why! It's stunning here, beautifully decorated with a mix of outdoor cold/hot baths, relaxation rooms, saunas and steam rooms. There's also a strict silence policy in place, so no chatting, and absolutely no phones allowed!
Definitely a place to check out in Whistler.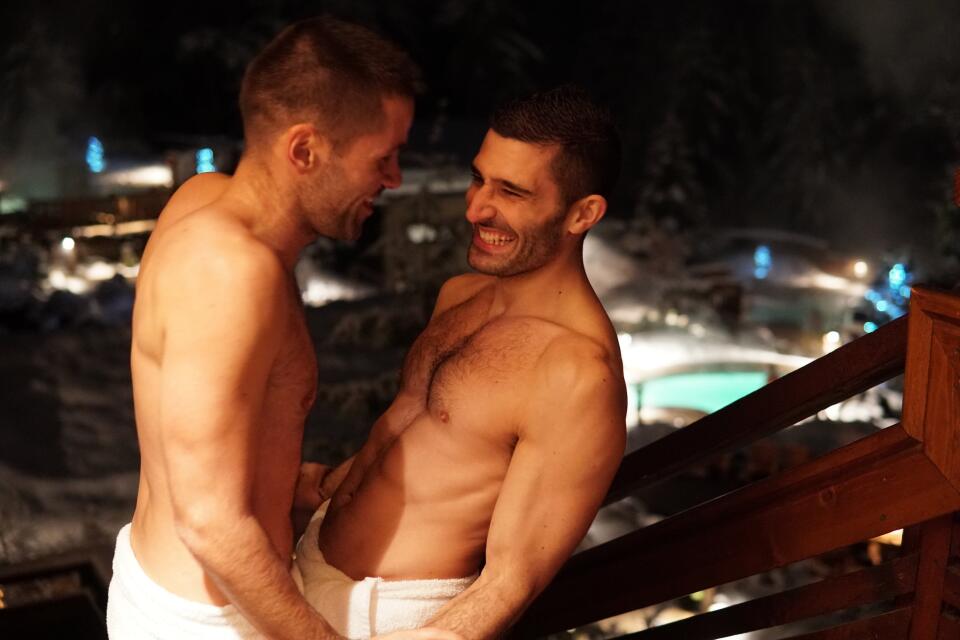 5. PEAK 2 PEAK GONDOLA RIDE: cure your vertigo!
The Peak 2 Peak is a tri-cable gondola lift that links the two big mountains. It goes between the Roundhouse Lodge at Whistler Mountain to the Rendezvous Lodge on Blackcomb mountain. The cabins hang as high as 435m/1,427 ft, travelling nearly 3.2km/2miles without passing a single support tower. Not the place to come if you suffer from serious vertigo!
Skiers use it to access new trails across the two mountains. For non-skiers, the Peak 2 Peak Gondolas are a sightseeing highlight in Whistler. The views from above are just stunning – everything below you covered in a blanket of snow.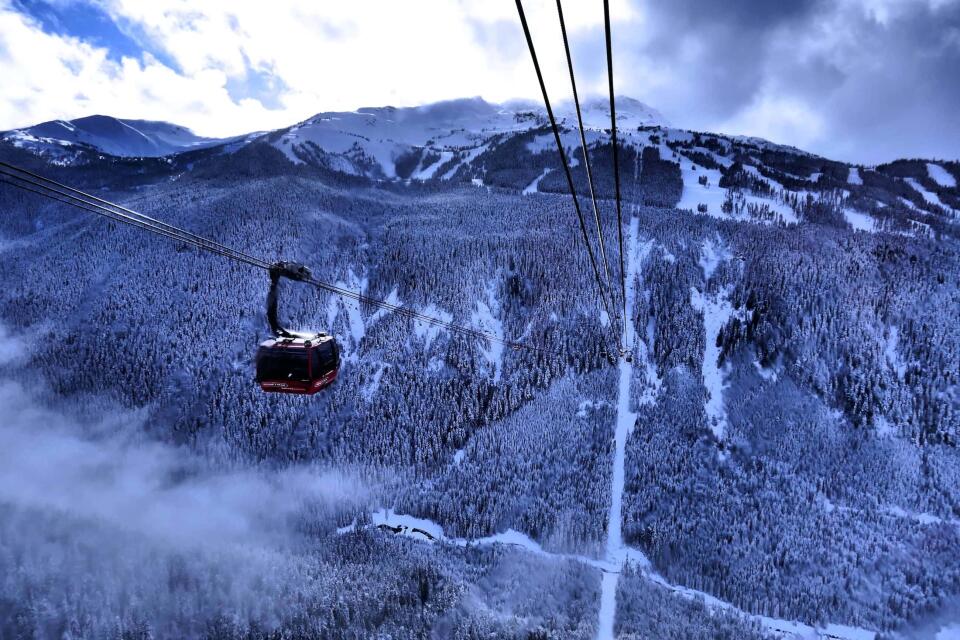 Practical information for Whistler Pride
How to buy tickets: book on the official website for the latest deals for hotel packages and more.
Where to stay in Whistler: the Aava Whistler hotel is the official Whistler Pride hotel. For a more romantic experience, we recommend the Summit Lodge Boutique Hotel, which is where we stayed, and absolutely loved it.
Whistler gay bars: there are no gay bars or clubs in Whistler. However, every place we visited was extremely gay friendly and welcoming to us.
How to get to Whistler: Vancouver International Airport (YVR) is the closest international airport, 135km/84m south. Driving time to Whistler from Vancouver is around 2-2.5 hours along the scenic Highway 99. You can also fly in to Seattle or Bellingham airports, then transfer to Whistler from there.