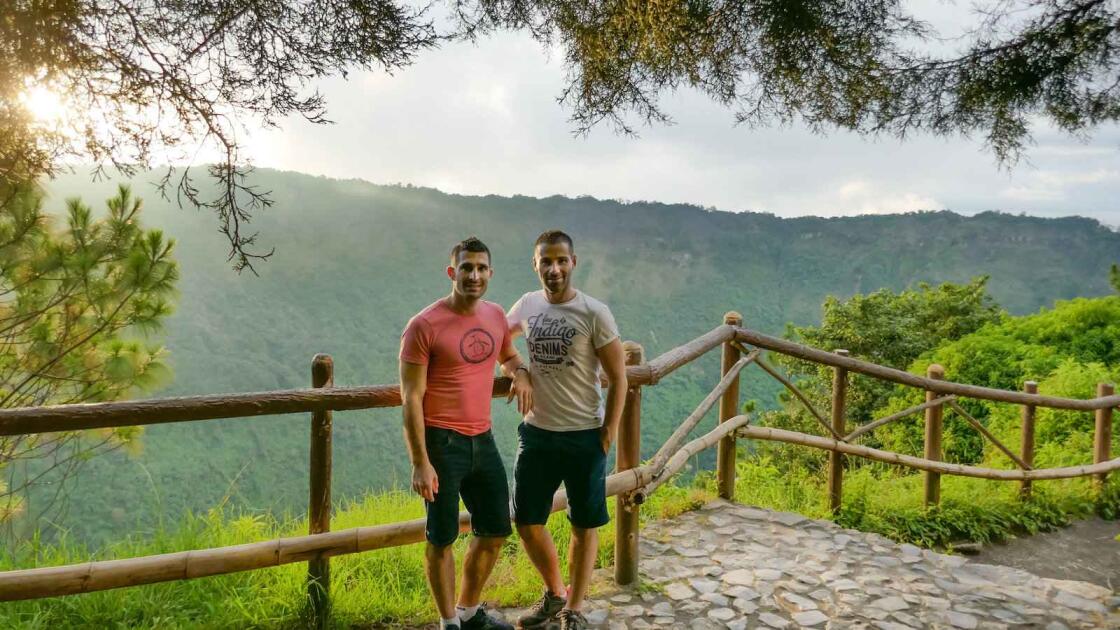 These are the best things to do during a layover in El Salvador, rather than staying inside the airport.
The first question we asked our guide, Moises, was why El Salvador is considered one of the most dangerous countries in the world. We'll never forget his candid response: "…it's because once you come here you'll never want to leave!!"
Whilst this small country in Central America does suffer from gang violence, for most tourists visiting, you're unlikely to ever encounter any problems.
We had a long 6 hours layover at San Salvador airport, so we decided to venture out to see the country. The reports about how dangerous El Salvador is did make us worry for our safety, so we decided to search for a reputable tour company and do a layover tour with them. We found Salvadorean Tours on Tripadvisor and chose them because of all their excellent reviews.
What impressed us the most was that upon arrival at San Salvador airport, they have a dedicated layover express desk who will meet you at the gate as soon as you get off the plane, then whisk you through customs, all the way to the exit to meet your guide. We've never seen that before at any airport!
These are our 5 best things to do on your layover in El Salvador, to give you a flavour of what you can expect, and why you should also consider it, instead of waiting around for hours at the airport.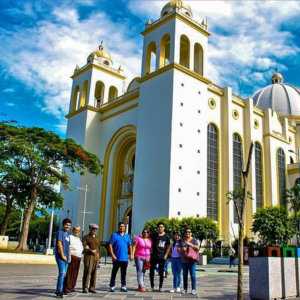 Make the most of your layover
Even if you've only got a layover in El Salvador you can still get out of the airport and see some stunning sights. This layover tour includes time exploring the city as well as a hike to the top of the San Salvador volcano!
Is San Salvador airport safe?
We would definitely have to say yes! The El Salvador International Airport (it's full name is El Salvador International Airport Saint Oscar Arnulfo Romero y Galdámez – what a mouthful!) meets all safety requirements for airports. We'd also have to say that inside an airport is probably one of the safest places in any country. Obviously, if you want to head OUT of the airport things may be different, but we didn't ever feel unsafe during our layover. Just be aware of your government's travel advice and take usual safety precautions when traveling.
1. Hike the Boqueron volcano crater
After trekking the Rinjani volcano in Indonesia, we were ready to conquer another one. The Boqueron volcano dominates the skyline of San Salvador – the capital city of El Salvador. It's located in the Boqueron National Park at an altitude of 6,210 feet (1,892m), around 40 minutes' drive from San Salvador downtown. The Boqueron is also called Quetzaltebec, named after the quetzal bird.
We hiked around the volcano crater in the Boqueron National Park, which has several viewpoints both into the crater below and also over San Salvador. The hike took around 1 hour, but you can also descend down to the volcano crater if you have time.
Although the last eruption was in 1917, it's best to check the situation beforehand – a good local tour company will be the best source of this information.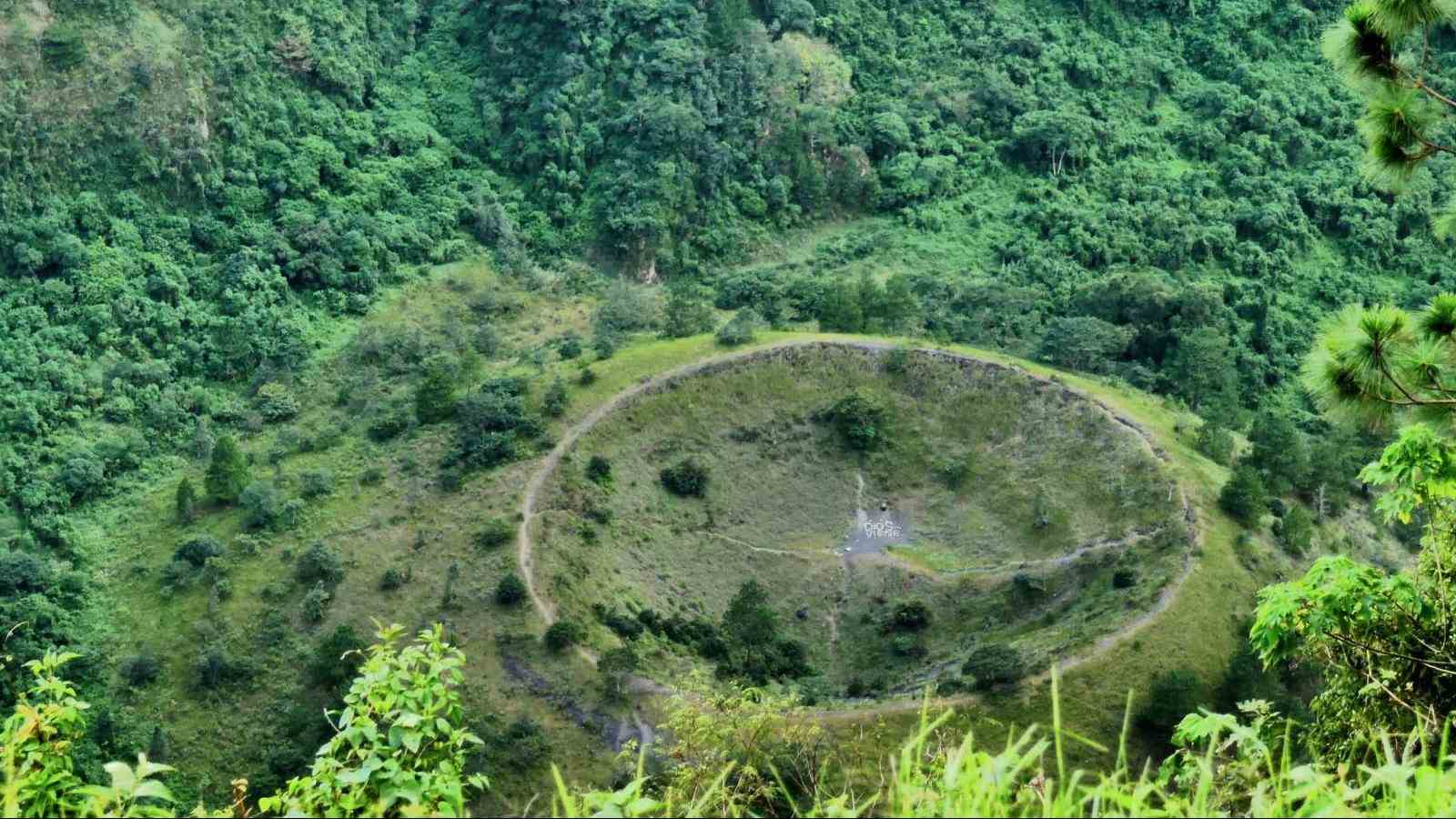 2. Visit ancient Mayan sites
The Ancient Maya Civilisation thrived in Central America for over 3 millennia from 2000 BC until the arrival of the Spanish in the 1500s. Whilst most associate Chichen Itza in Mexico and Tikal in Guatemala as the most famous Mayan sites, there are several in El Salvador, which are worth seeing.
Joya de Cerén is the most famous Mayan site in El Salvador and is a UNESCO listed site. It is also often compared to Pompeii in Italy, and therefore nicknamed "the Pompeii of the Americas". One of the highlights here are the remains of a farming community that have been preserved for centuries under thick layers of volcanic ash.
Tazumal and San Andres are two other Mayan archaeological sites worth exploring in El Salvador. Tazumal has some of the best-preserved Mayan ruins of the country, which includes pyramids, tombs and a complex drainage system. The San Andrés Mayan ruins include a large scale complex thought to have been part of a governmental building, and also has a museum with 3 galleries showcasing pre-Hispanic artefacts.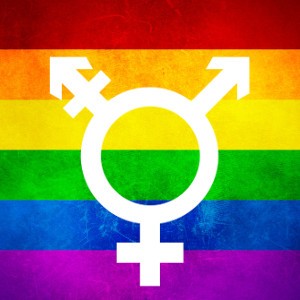 Advice for LGBTQ travellers to El Salvador
LGBTQ rights are a mixed bag here. Whilst homosexuality has been legal since 1822 and more recently in 2018 a comprehensive set of anti-discrimination laws were passed, the governments retain an anti-gay attitude, for example, openly opposing same-sex unions. This transcends across society, which is largely conservative and very Catholic. Our advice for El Salvador, whether you're straight or gay, is to book a reputable tour company for your trip and take heed of their advice in relation to safety as the country suffers massively from violent gang activity.
3. El Rosario Church in San Salvador
We normally don't get particularly excited by churches, but the Iglesia de el Rosario (the El Rosario Church) in downtown San Salvador is the most unique we've ever seen and definitely worth visiting.
From the outside, it looks like a concrete aeroplane hangar with a dome-shaped roof and a nondescript grey and red-brick construction. Inside it has a stained glass ceiling with a rainbow coloured glow.
El Rosario Church was built by local sculptor Ruben Martinez in 1971 and it also has an art display of Martinez' interpretation of the last steps of Jesus, designed in just stone and rock. We found the whole thing extraordinary – definitely a hidden gem worth seeking out in El Salvador. If you join a historic cycling tour of the city you'll be able to see the beautiful church along with lots of other architectural delights!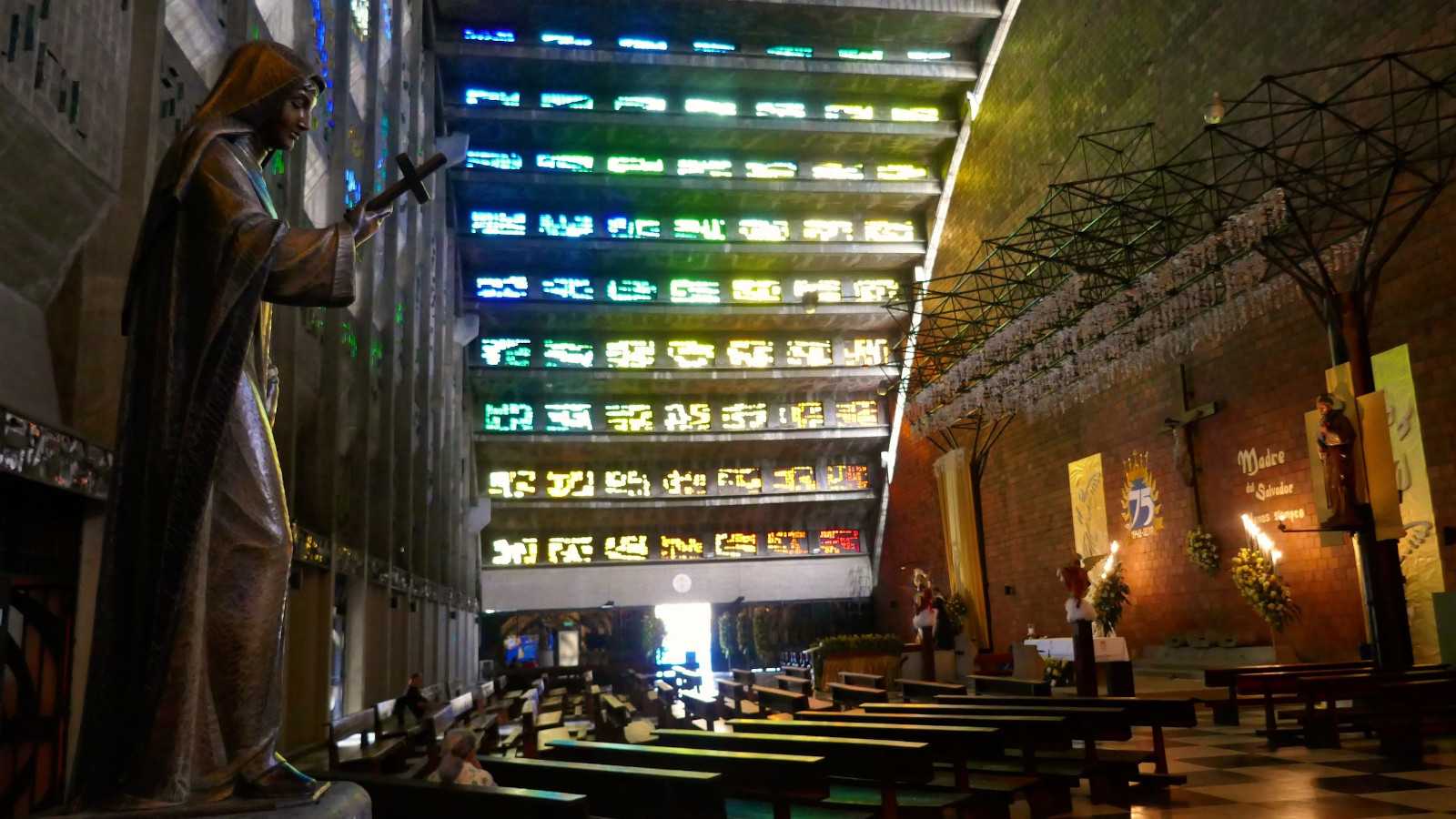 4. Try morro horchada: famous Salvadorian drink
Morro Horchata is a milky white refreshing drink in El Salvador, which is made from the seeds of morro – a green hard-shelled fruit that looks like a coconut. The Mexican version is completely different, usually made from rice.
The black morro seeds are dried in the sun, then grounded into a powder, which is blended with water to produce the horchada. The drink is so popular that Salvadorian immigrants have recreated it in the USA, but altered the recipe to include peanuts, almonds, cashews, pumpkin seeds, cinnamon and sometimes using milk instead of water.
5. Eat pupusas: the national dish
Pupusas are the national food in El Salvador. They are stuffed tortillas traditionally made from corn, containing ingredients like cheese, beans and pork. It's so delicious that El Salvadorian immigrants in the US established a National Festival on the 2nd Saturday of November to celebrate it.
Pupusas can be purchased at a pupuseria where they are freshly made and most commonly available in the afternoon during rush hour when people buy them for a snack or for dinner. One of the best places to get pupusas is from Olocuilta town located near the airport, so perfect to stop at when finishing your layover tour. Here you can also try rice pupusas – they claim they invented it right here. You can even take part in an ultimate pupusas experience tour and learn how to make them yourself at the home of the Guinness World Record's biggest pupusa!
If you miss out on this in El Salvador, there are several canteens at San Salvador airport which sell freshly made pupusas. We believe that no visit to El Salvador is complete until you've tried a few pupusas!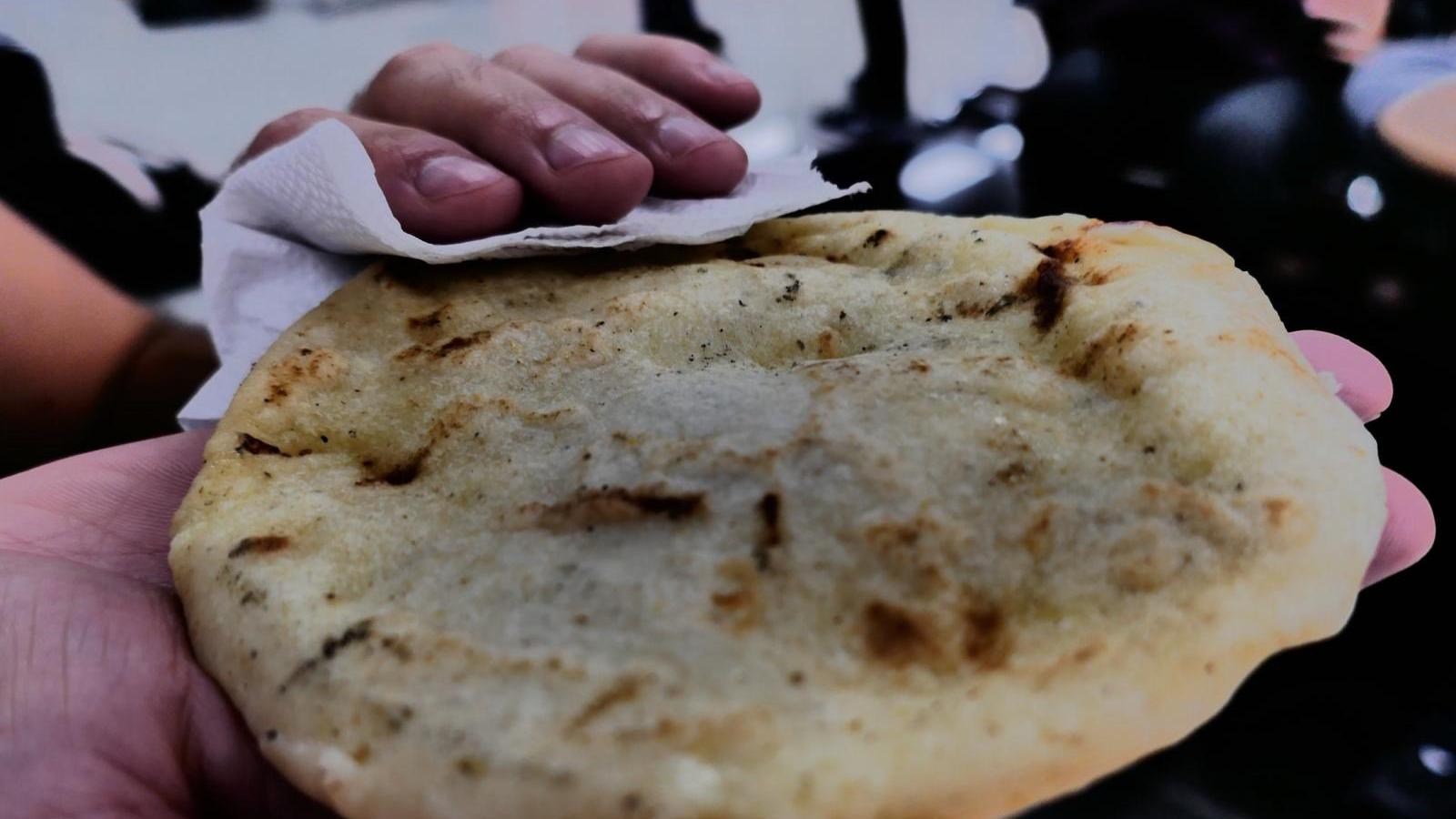 Happy travels are safe travels
We recommend you always take out travel insurance before your next vacation. What happens if you suffer from illness, injury, theft, or a cancellation? With travel insurance, you can have peace of mind and not worry. We love World Nomads travel insurance and have been using it for years. Their comprehensive coverage is second to none and their online claims process is very user-friendly.
---