Gay mega clubbing with 5,000 Colombian boys in Bogota?

Tick!

Swimming in a rainbow river, the Caño Cristales?

Tick!

Remote paradisiac Caribbean Islands like Providencia?

Tick!

Partying in the most exciting Carnival of South America outside of Rio?

Tick!

Sniffin' up tons of fresh cocaine in Pedro-Escobar-heartland: Medellin?

Ti…no wait…
…you may also have been inspired to visit this incredible country from Netflix's Narcos series, but as every Colombian will rightly tell you, the awful cocaine industry that gripped the country with an ugly civil war for decades is now ancient history. And good riddance to it!
Colombia has evolved to not only become one of the best and safest tourist destinations in all of South America, it has also become one of the most gay friendly.
We spent 6 months travelling in Colombia during our big trip in Latin America, using Medellin and Bogota as a base. We cannot rave enough about it! We were captivated, mesmerised and totally impressed. Colombia is such a rewarding destination offering beaches, culture, gay scene, loads of partying, beautiful landscapes, and some of the hottest people to walk our planet!
This is our detailed Colombia gay country guide in which we summarise some of our firsthand experiences which we hope will inspire you and help you to plan a fun and safe trip.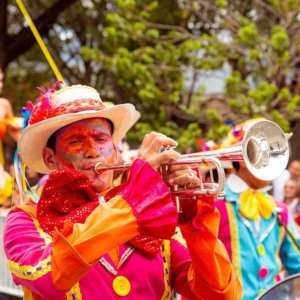 Flower Festival Gay Tour
This is one of the most unique gay tours we've come across! Instead of focusing on just nightlife, this 7-day trip includes a cooking class, a visit to a flower farm, local markets and a coffee farm. It also includes VIP seating during the Flower Festival Parade and of course, a gay night out in town!
Gay rights in Colombia
How many countries in the world do you know where there are PDAs laws in place?!
We rate Colombia as one of the most gay friendly countries in South America with some of the most progressive LGBTQ rights in the world.
To give you an idea, Colombia has a full array of anti-discrimination laws in place to protect the LGBTQ community. It also has very progressive transgender laws including the right to change gender without psychiatric evaluations (very few countries have this!), it allows LGBT people to serve openly in the army, and they have recognised gay unions since 2007.
The capital, Bogota, leads the way, electing its first lesbian mayor back in 2018. Furthermore, gay marriage in Colombia was legalised in 2016, and the Constitutional Courts have on several occasions made rulings allowing LGBTQ couples the right to express affection in public.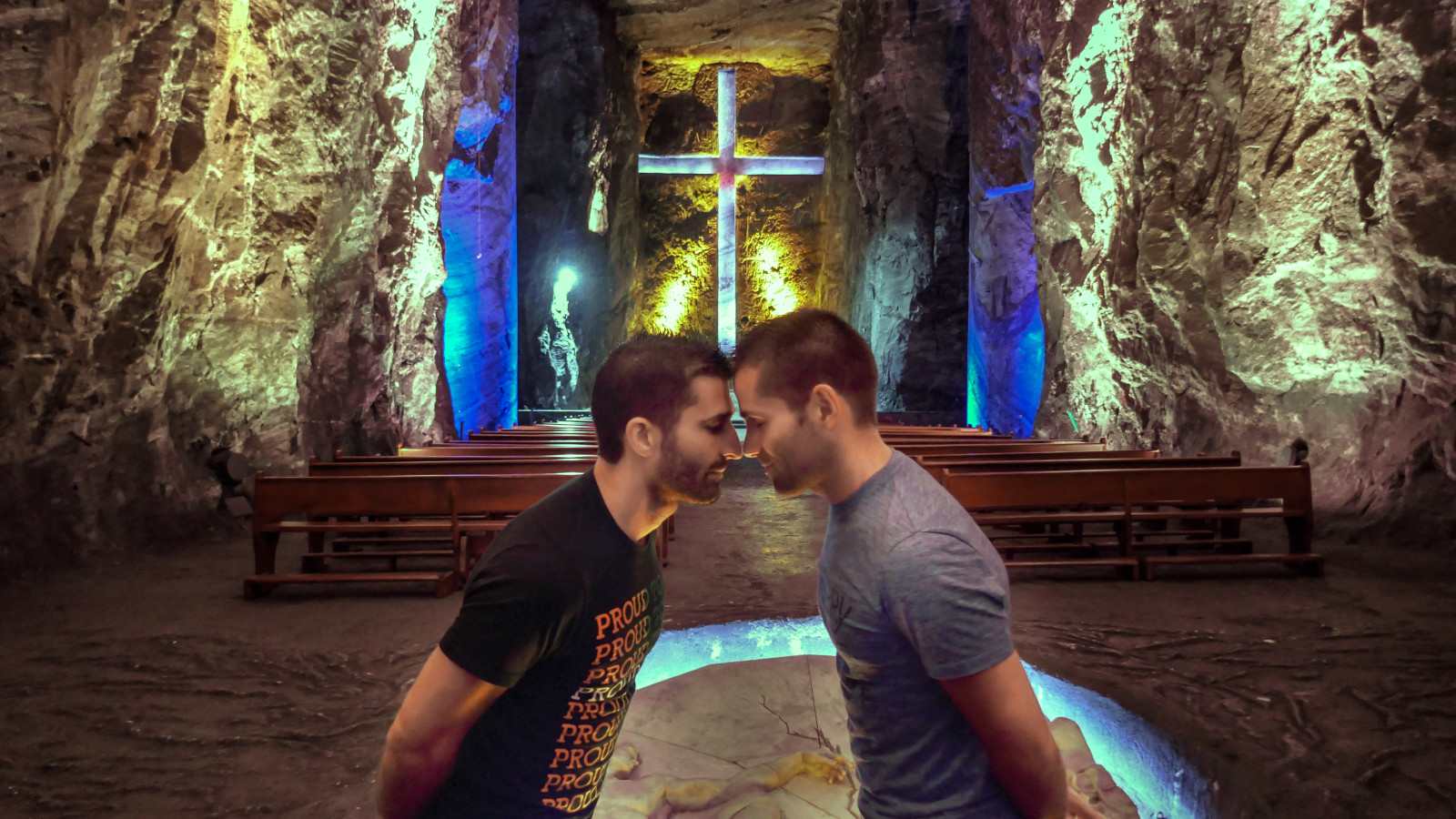 Is Colombia safe for gay travellers?
Yes, it is.
We spent half a year here travelling around as a gay couple and cannot speak highly enough about it! We never encountered any problems anywhere we went. Getting a double bed was never an issue in any of the hotels we stayed in and they had clearly welcomed LGBTQ travellers before. In one hotel we stayed at in Medellin, we even spotted a warning sign showing the hefty fines police can give you for hate speech against the LGBTQ community!
Obviously there are areas where homophobia is still prevalent, particularly around the coast, so take care with PDAs here. For a more local LGBTQ perspective check out our interview with Jesus from Barranquilla about what gay life is like in Colombia.
So, for gay travellers to Colombia, you are unlikely to ever experience any problems. As we said above, Colombia is a very rewarding destination for LGBTQ travellers in so many ways!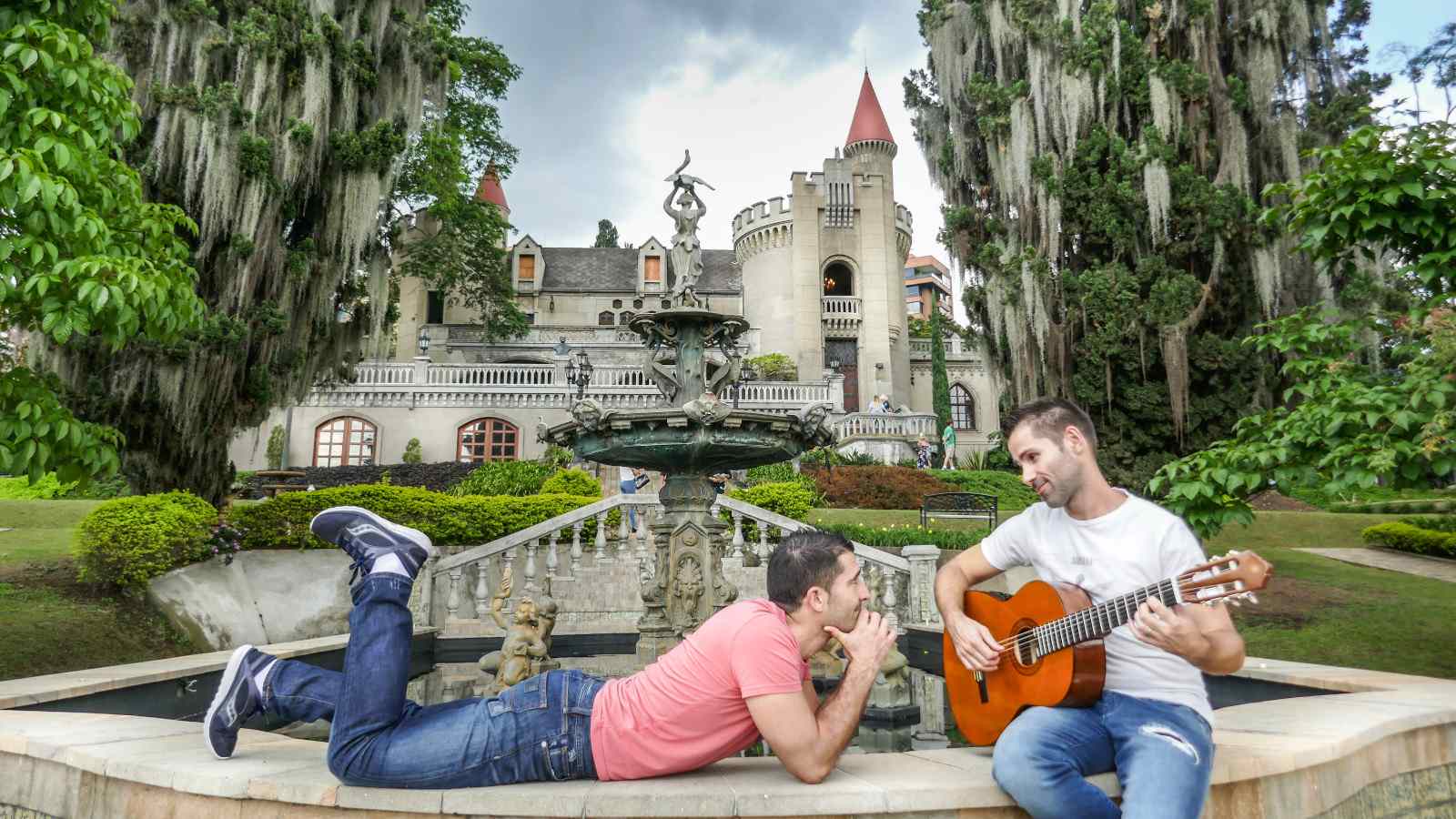 Best gay tours in Colombia
We love doing gay tours on our travels. It's a fun way to explore a new place as well as quickly making a whole bunch of new fabulous friends at the same time. Being so gay friendly, Colombia has lots of gay tour companies offering may different packages for LGBTQ travellers. These are some of the best ones:
1. Flower Festival gay tour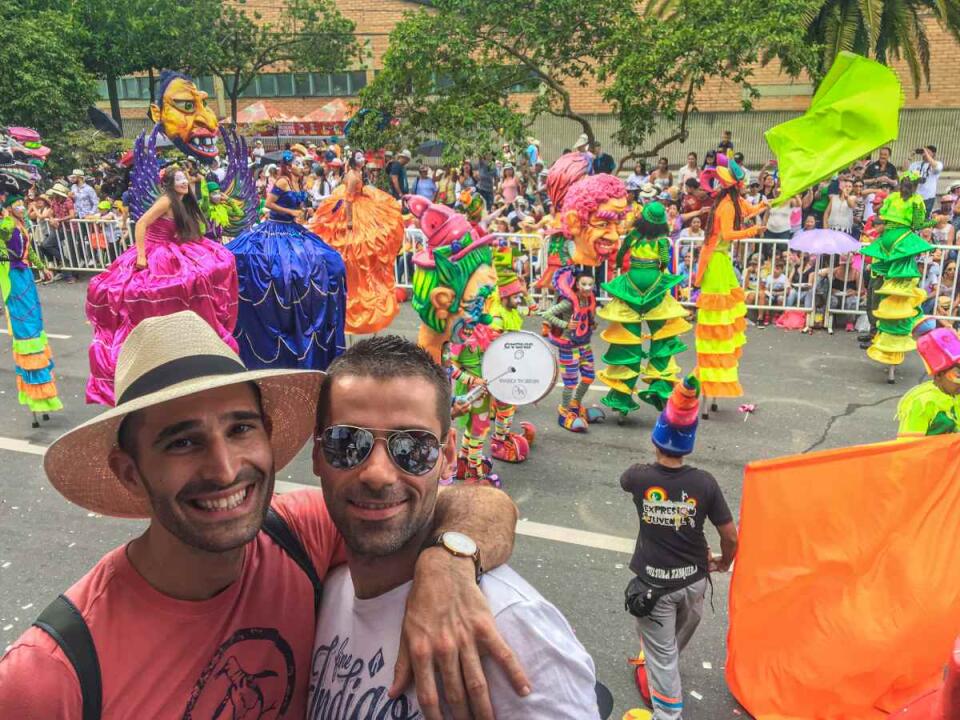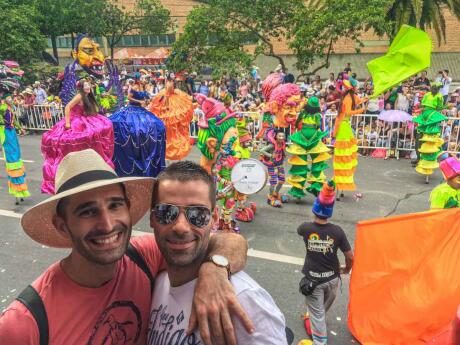 Each year, Out in Colombia offers an exclusively gay tour as part of Medellin's fantastic Flower Festival. The tour includes an exploration of the gay scene with a cute local as well as a cultural element: cooking classes and visiting a coffee farm. This also guarantees you VIP seats during the big Silleteros Parades as well as the LGBTQ themed Feria de las Flores party.
We've partnered up with Out in Colombia to offer an exclusive 5% discount for our readers for this tour.
---
2. HeTravel Gay Colombia Adventure Tour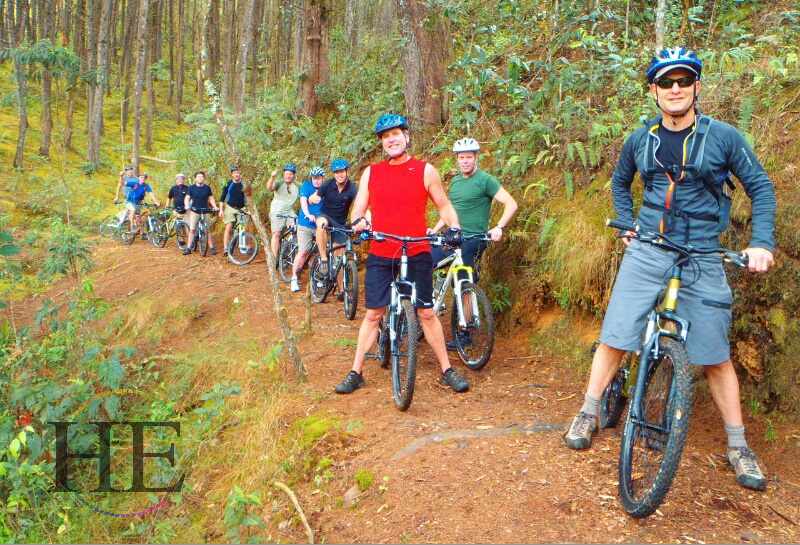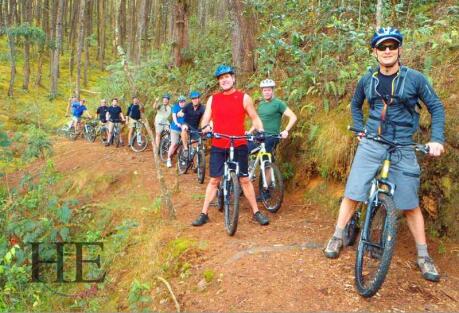 HeTravel is one of our favourite gay tour companies because of their focus on adventure-based trips. For Colombia, they offer this fantastic high energy tour, which includes mountain biking tour around Medellin's countryside, paragliding, zip-lining, canyoneering, staying in an eco-lodge and more. Gay adventure travellers like us will particularly love this!
HeTravel is offering our readers an exclusive 5% discount valid for any cruise and tour you book with them. Click the button below to find out more.
---
3. Coda Tours Highlights of Colombia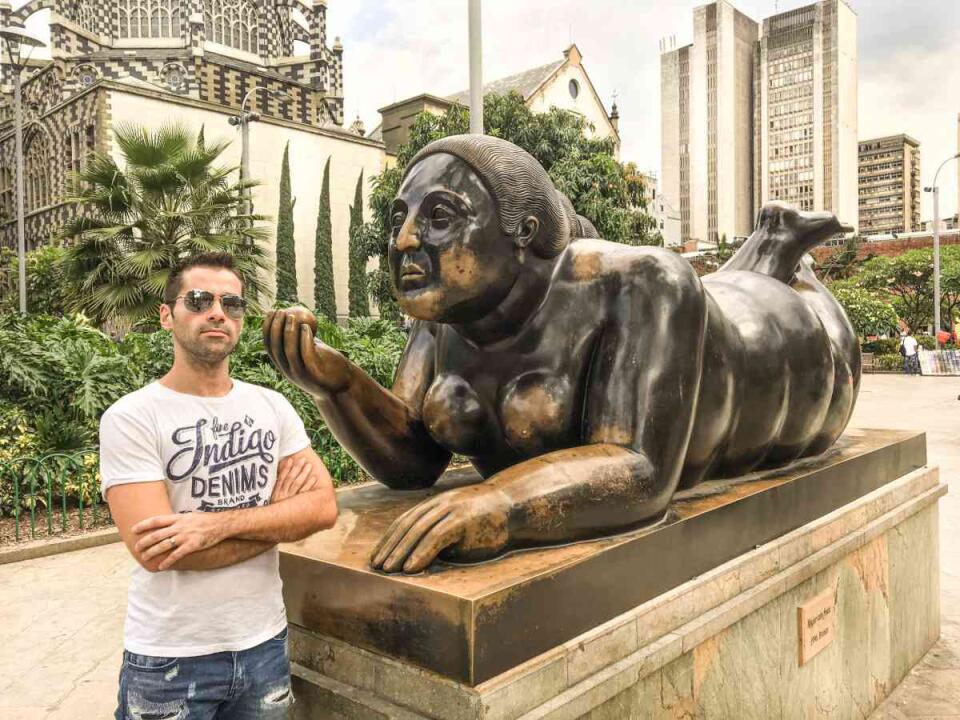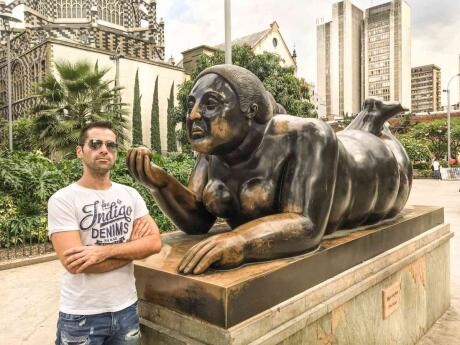 Coda Tours offer a more generic "Highlights of Colombia" tour for LGBTQ travellers. This 8-day trip includes 2 nights in Bogota, 3 nights in Medellin and 2 nights in Cartagena. Each visit focuses on the highlights of that city, with a day trip to Guatape included as part of the Medellin segment. This is ideal for gay travellers who have limited time and want to pack in as much as possible into their Colombia holiday.
Coda Tours is offering our readers an exclusive $125 discount valid for any cruise and tour you book with them. Click the button below to find out more.
---
Top gay cities in Colombia
Bogota is the capital, with the largest gay scene of the country. Vying for that top spot is Medellin, which is one of our favourites cities in South America for living. We've also included salsa capital, Cali, Barranquilla (famous for it's Carnival) and touristy Cartagena:
Bogota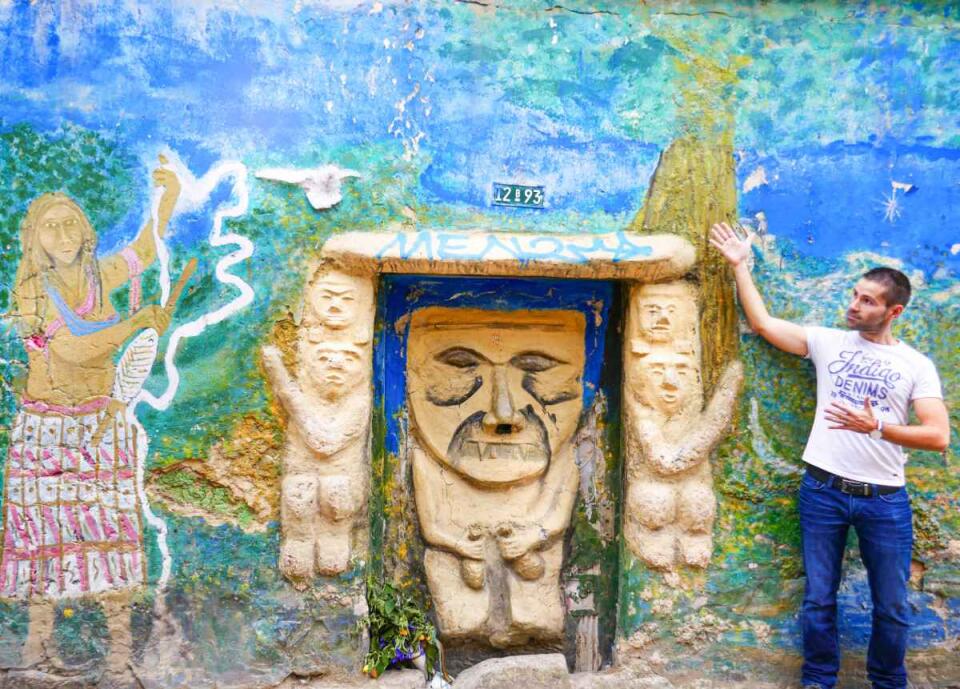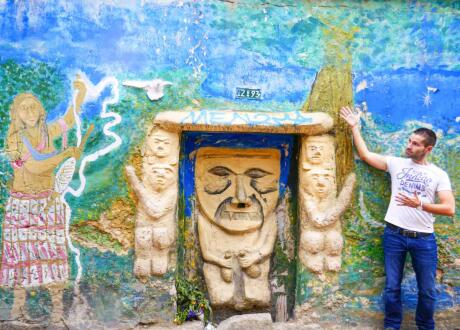 Bogota has the largest gay scene in Colombia, largely based in the residential Chapinero neighbourhood. This is where you'll find the uber-famous mega club, Theatron (see below), as well as lots of different cafes, saunas and gay bars like El Recreo de Adan and Brokeback Mountain. In terms of LGBTQ festivals, Bogota has the largest Pride event in the country, as well as the Diverso Cinema Festival, both in June.
For more, be sure to check out our gay guide to Bogota.
---
Medellin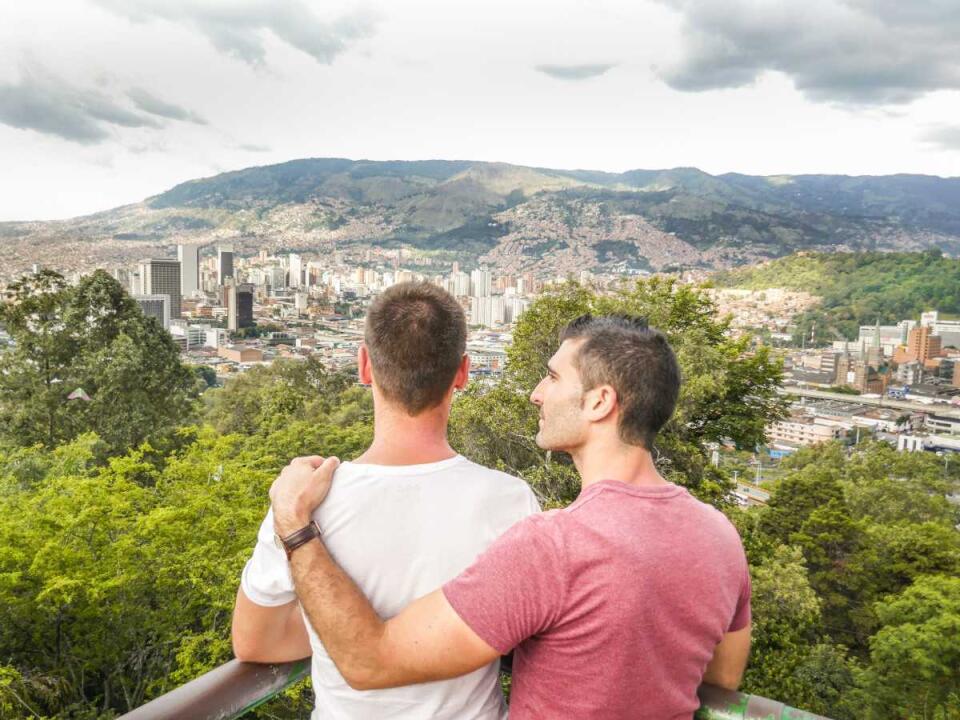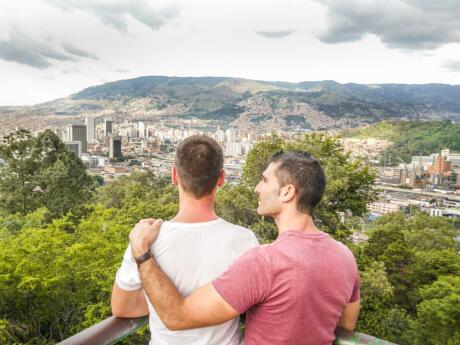 Medellin used to be considered the crime capital of Colombia but has evolved massively over the past decade to become one of the safest and most gay friendly cities city in Colombia. The paisas (nickname for people from the Medellin region) love meeting foreigners and are famous for being the hottest of all Colombians! The bulk of the gay scene of Medellin is based in and around Parque Lleras in Poblado with hangouts like Bar Chiquita and Donde Aquellos. Viva Discoteca is the main gay club to check out in Medellin.
For more, be sure to check out our gay guide to Medellin.
---
Cali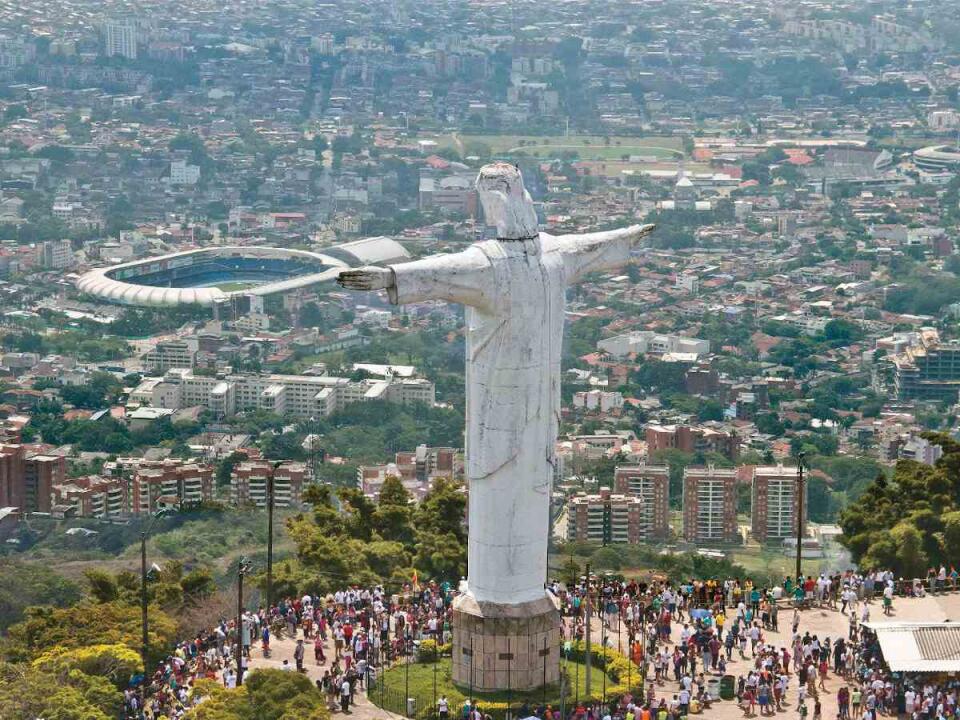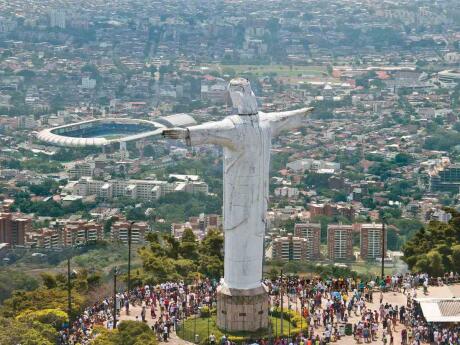 The 26-metre (85ft) tall Cristo Rey proudly looks on over Cali, the city nicknamed as the salsa capital of Colombia. Colombia's 3rd biggest city also has an exciting gay scene to check out, particularly in Comuna 3, just south of the Parque Natural Bataclán, with bars like Rumores, El Romano, Anastasia and the Queens gay club. In terms of gay events, Cali has a Pride every June, which will have plenty of parties taking place alongside it. In September, the city hosts the famous World Salsa Festival, which is when you'll also find some of the best gay parties happening in the gay bars/clubs.
---
Barranquilla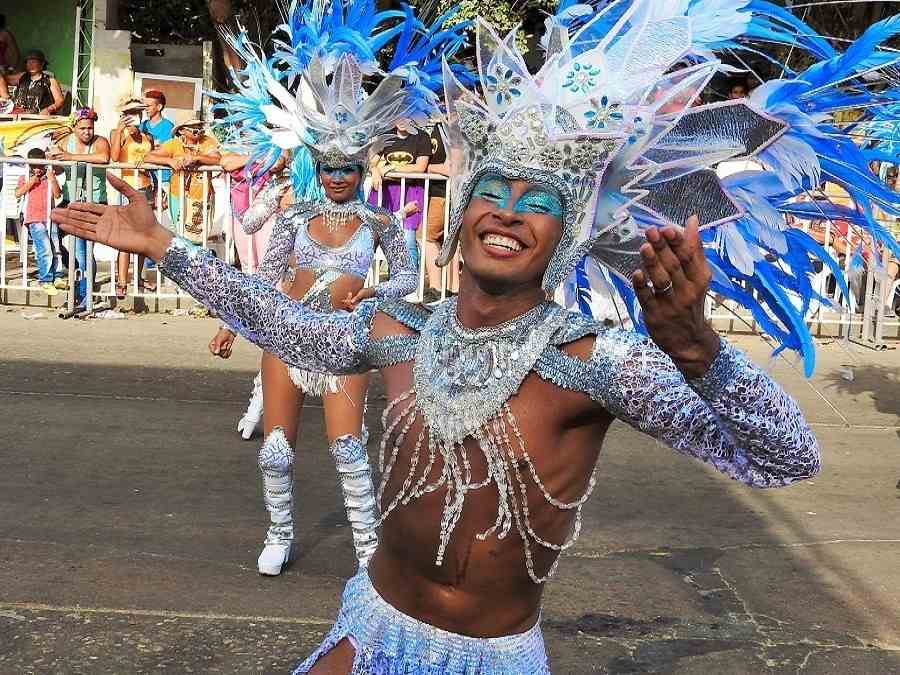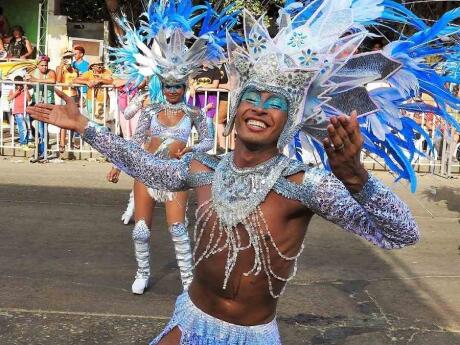 The home of Shakira is a top gay city in Colombia because of the Gay Carnival in February/March. After Rio's Carnival, Barranquilla's is the most famous in South America, and definitely the gayest! All our Colombian friends told us this is where they all aim to head for the best parties during Carnival season. The Barranquilla Carnival has one entire day devoted to the LGBTQ community, which includes an awesome and super colourful parade.
Barranquilla also has a small gay scene with gay hangouts like Patio Barranquilla, Phuket and Lives Megaclub.
---
Cartagena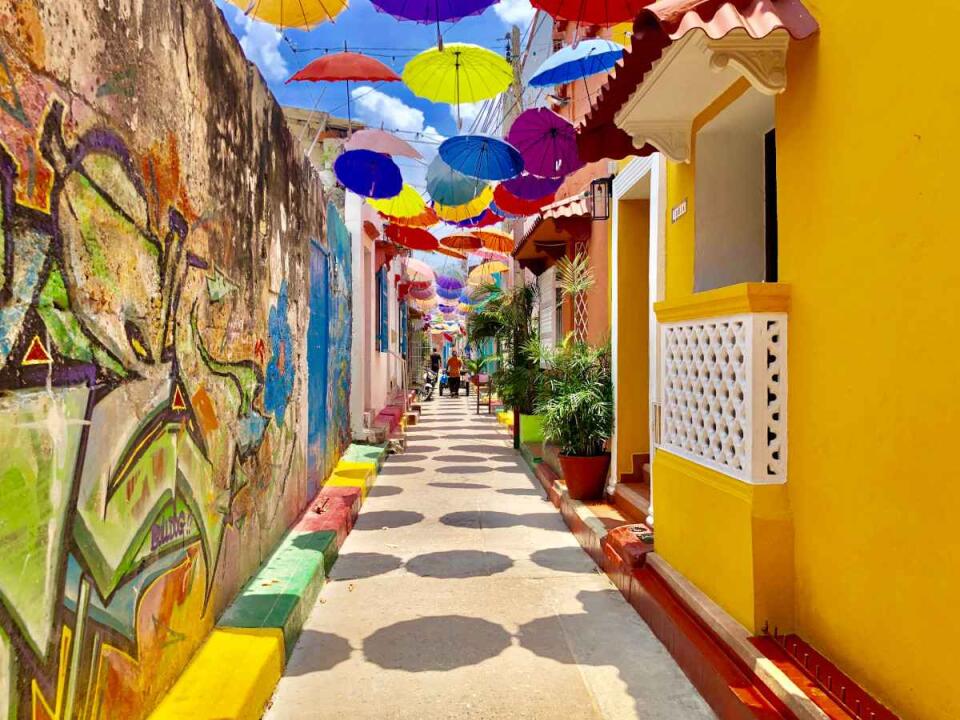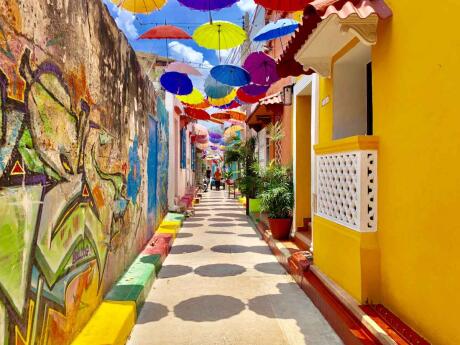 Cartagena is the most touristic place in Colombia because of its cute old town. As such, it's very touristy and very international in the city centre. There is a small gay scene here with a few gay bars like Le Petit, Solar and the Roma gay club. In terms of gay events, Cartagena has a small Pride and Circuit-like festival called Rumours happening every August.
For more, be sure to check out our gay guide to Cartagena.
---
Top experiences in Colombia for gay travellers
Colombia offers everything from gay parties, nature, amazing treks and even a rainbow river! For us, after partying in Theatron, the coffee region around Medellin was our favourite part of the country where we'd happily return to explore more of.
One tip is to try to coincide your visit with one of the big festivals taking place, particularly the Barranquilla Carnival in February (see above), the Flower Festival in Medellin in August and the Salsa Festival in Cali in September (also see above). We've listed the main highlights below to inspire your Colombia Bucket List.
Theatron mega gay club in Bogota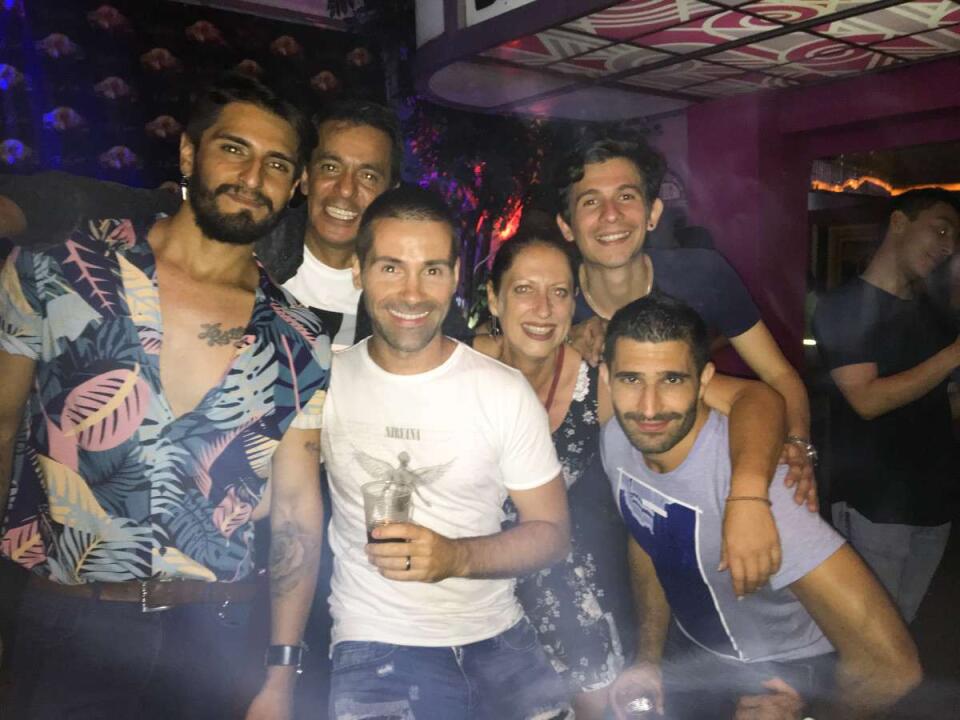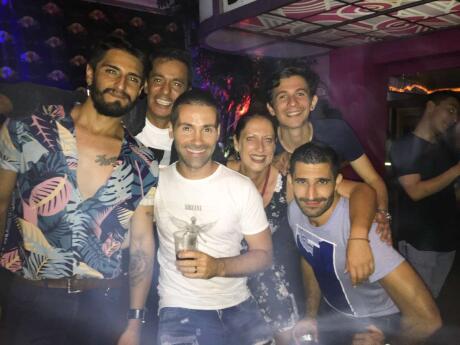 We would book a trip to Bogota in a heartbeat just to party at the excellent Theatron gay club on a Saturday night. Theatron is the largest gay club in Latin America and definitely the best we've ever been to in all our travels. It's split into 13 mini clubs spread over 5 floors, each with its own theme, for example, one room is devoted to modern pop hits, another room is only for women, another is men only with live strippers, and there's even one just for reggaeton hits. Find out more in our article about what a gay night out in Theatron is like.
Bogota is also famous for its cool street art in the downtown Candelaria neighbourhood, the Gold Museum and Monserrate Mountain.
---
Exploring the coffee region: Salento and the Cocora Valley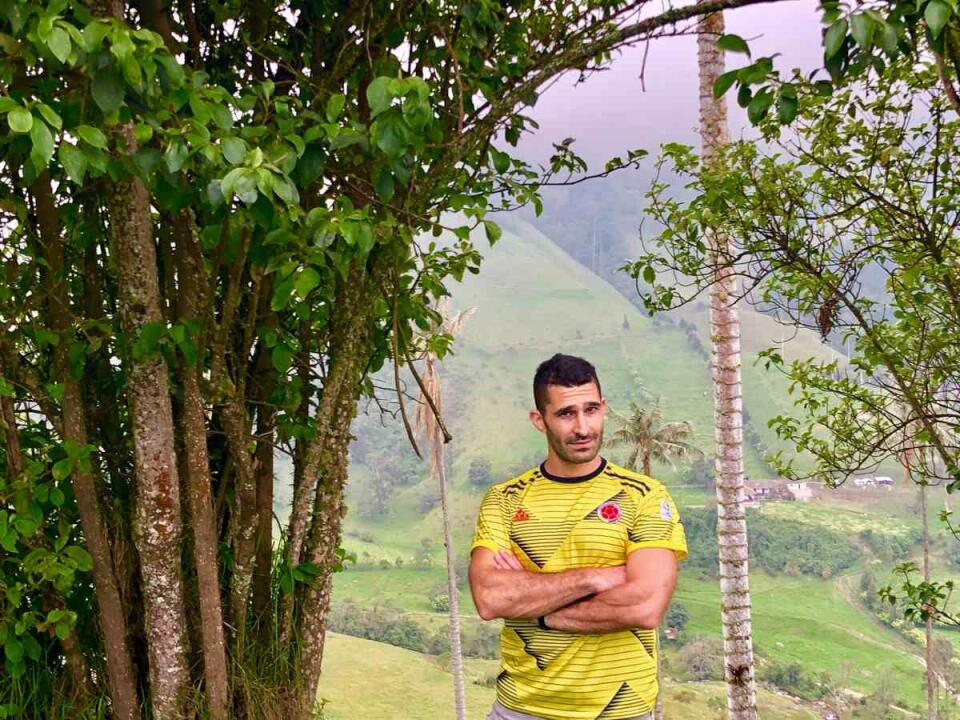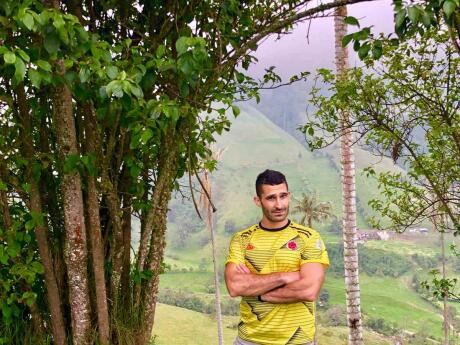 The Coffee Region of Colombia is the best part of the country in our opinion. It forms a triangle around the cities of Pereira, Manizales and Armenia, which each have airports. The cities themselves are nothing special, but the small towns around are simply gorgeous, in particular Salento. We loved Salento because it was full of character, like being transported back in time, with colourful colonial-style houses. Also, the best cup of coffee I tried in all of Colombia was right here...I speak as a caffeine-addicted coffee snob!
The other highlight of Salento is hiking in the Cocora Valley amongst the distinctive wax palms that grow up to 200m (656ft) high. These are the highest palm trees you'll ever see! You'll take some of your best Colombia pics here – for us, this was easily the #1 scenic highlight from our trip.
---
Medellin Flower Festival in August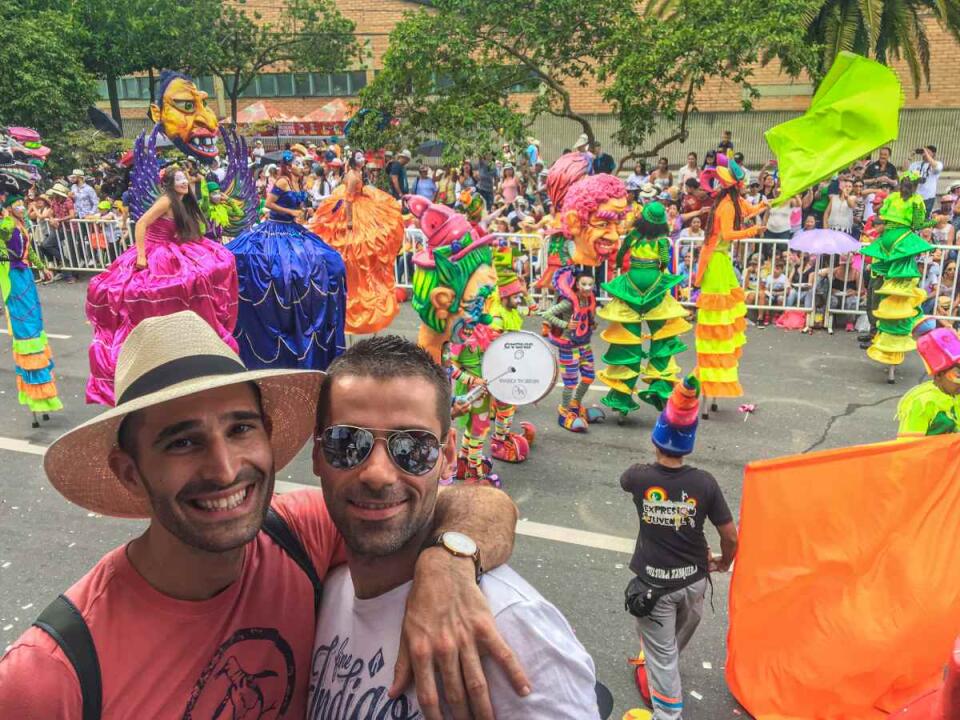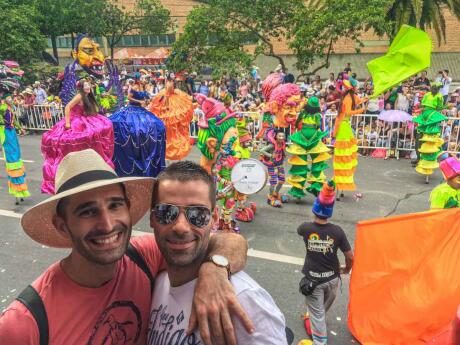 Medellin is an exciting city. Not only does it have an exciting gay scene (which we set out above), but in August, it has one of the prettiest and most exhilarating festivals in Colombia. The Feria de las Flores is 10 days of public concerts, pageants, orchid competitions, parades, and tons of parties. One thing you'll quickly learn is that every Colombian is an incredible dancer and loves to party! The Medellin Flower Festival is particularly special because the entire country descends on the city. It felt like all of Colombia had come to a standstill to come and celebrate.
The Festival usually concludes with a massive concert featuring some of the most famous Latino stars – the likes of Daddy Yankee, Nicky Jam and Marc Anthony have performed here in the past.
Read more in our article about our experience at the Medellin Flower Festival.
---
Cartagena's Old Town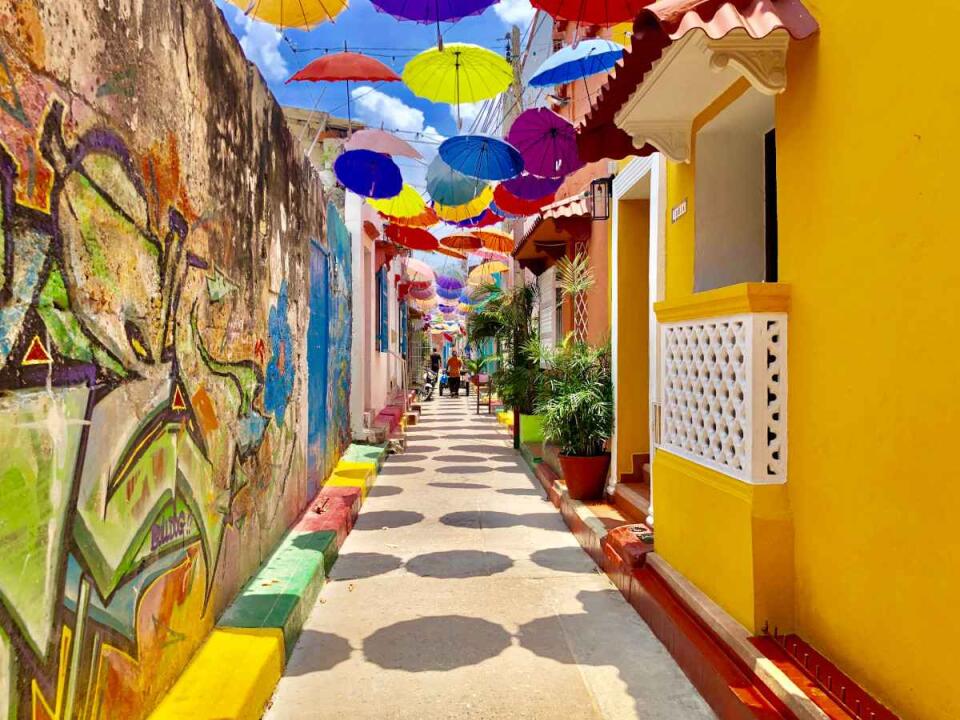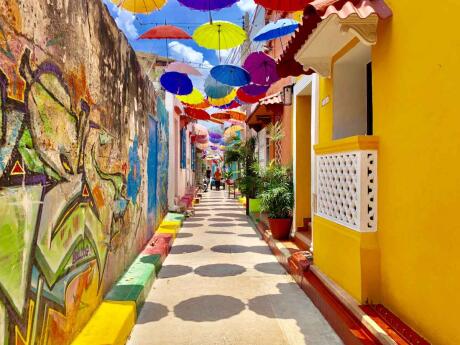 Cartagena will always have a special place in our hearts as this is where I proposed to my Seby! We fell in love with the UNESCO-listed old town. Imagine lots of tight cobblestone alleys lined with resuscitated colonial-era mansions, their walls and wooden balconies painted pastel shades of yellow, blue and green. This is where you're going to go Insta-crazy! We particularly loved all the dramatic street art murals of the old town and Plaza de la Trinidad in Getsemani. In the evening it's full of quirky street performers, artists performing, street vendors selling freshly made Mojitos and ad hoc street parties kicking off later in the evening along the narrow streets.
Cartagena is also a handy base for visiting a few beaches. Playa Blanca and Hollywood beaches are the most popular, but we recommend taking a boat trip out to the tropical Rosario Islands.
---
The Salt Cathedral of Zipaquirá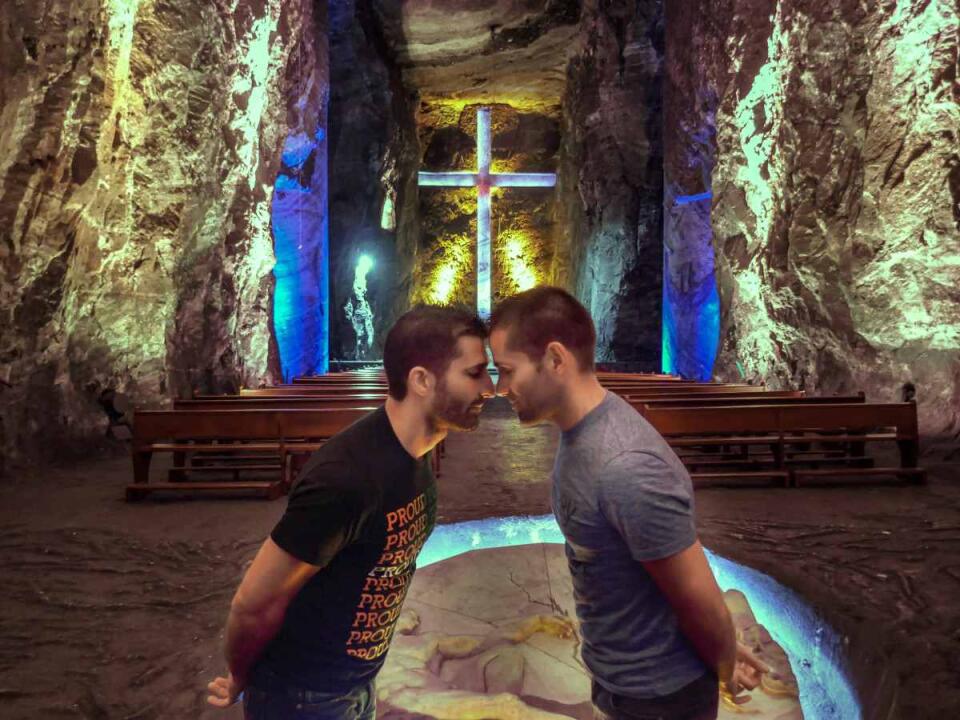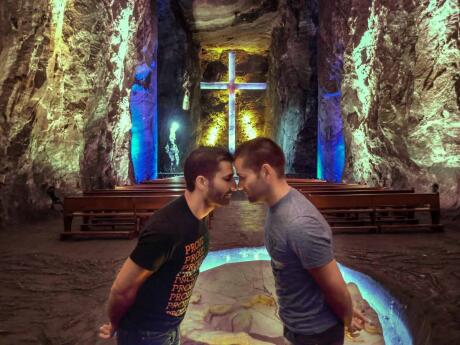 We were blown away by the spectacular Salt Cathedral of Zipaquirá. This underground cathedral is entirely carved out of salt and is only one of three such structures in the world. The other two are in Poland. The Salt Cathedral is so popular that it was voted as the #1 of the 7 Wonder of Colombia in a poll in 2007. As such it is very touristic and Disneyland-ish here, with plenty of tacky souvenir shops. But the structure itself is impressive and definitely worth the journey.
The salt cathedral is located in Zipaquirá, which you can visit on a day trip from Bogota by taxi. It takes around 1-2 hours away from Bogota central – traffic in Bogota can get quite nasty. Entry is 50,000 pesos (around $17) per person, which includes a tour in English and a light show.
---
Visit Guatape and climb El Peñol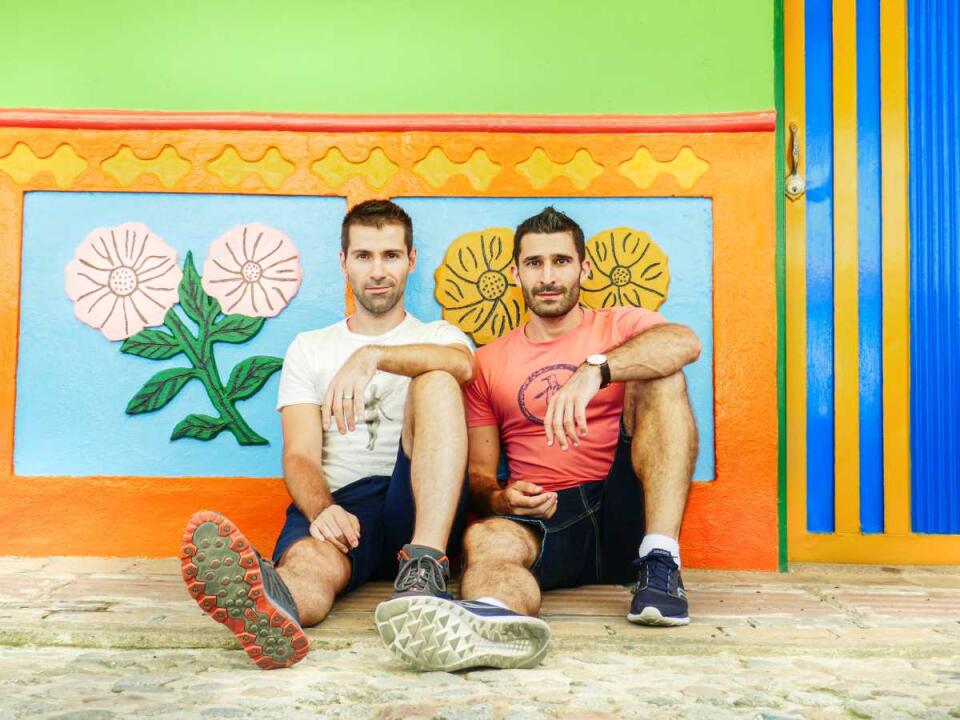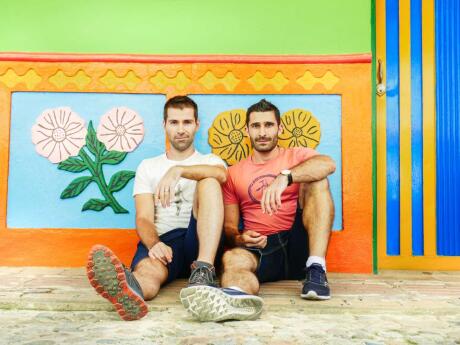 The other reason we love Medellin is because it's a handy base for visiting some of the small pretty towns of the Coffee Region. One of our favourites is Guatapé, located around 2 hours away by bus. This small town is lined with colourful streets where each building has been decorated with vibrant "zocalos" (bas-reliefs) and motifs. Another similar cutesy small town to visit in the region is Jardin but note it is much further away from Medellin (around 4 hours by bus), so would require an overnight stay.
Just outside of Guatapé is the famous "El Peñol" – a huge natural rock standing 200m (650ft) high. It has precisely 740 steps you can climb to reach the top. We recommend it for the gorgeous 360-degree view from the top of the entire valley.
---
Swimming in the Caño Cristales "Rainbow River"
The Caño Cristales is one of Colombia's natural wonders. It gets its nickname the Rainbow River because at the right time of year (around September/October), it transforms into a stream of five colours – red, orange, yellow, green and blue. This is caused by a mix of aquatic plants, algae, sand and circular rock pools, which combine to produce this pretty unique liquid rainbow effect. You can also swim in it and literally feel like you're gliding through a magical rainbow!
The Rainbow River is located deep inside what used to be dangerous Farc rebel territory. Prior to 2014, Caño Cristales was completely off-limits to all tourists. Since 2014, it has opened its doors and become a safe place to visit as long as you come with a reputable tour operator. The official tourism season is between July to December, however, the best time to visit is in September and October when the likelihood of tropical downpours is minimal thus showing the stream of rainbow colours in their full glory.
---
Island paradise in San Andres and Providencia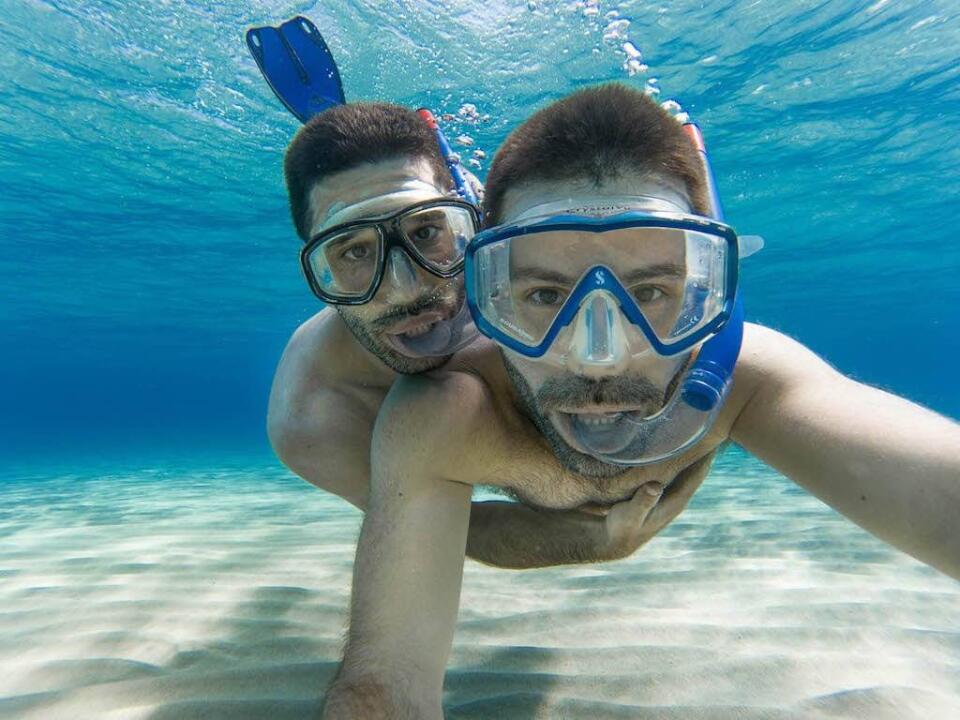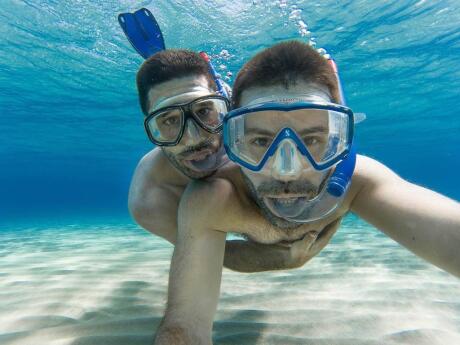 A pure remote island paradise getaway in the middle of the Caribbean waters! San Andres and Providencia are Colombia's most remote islands located quite far out, close to the coast of Nicaragua. San Andres is the more developed, and larger of the two, with direct inexpensive flights to/from Medellin and Bogota. Providencia, however, is the true hidden gem. It is located 90km (56 miles) north from San Andres. You can only reach it via a short (and quite pricey) 20-minute flight from San Andres, or a 2.5-hour rough catamaran ferry.
As such, far fewer people make it to San Andres, which is what makes it so alluring! Both islands have some of the country's most picturesque untainted, white sand beaches with clear, calm turquoise waters. Facilities are a bit limited, but this is the place we recommend you head to for the ultimate tropical beach getaway!
---
Trekking in Tayrona National Park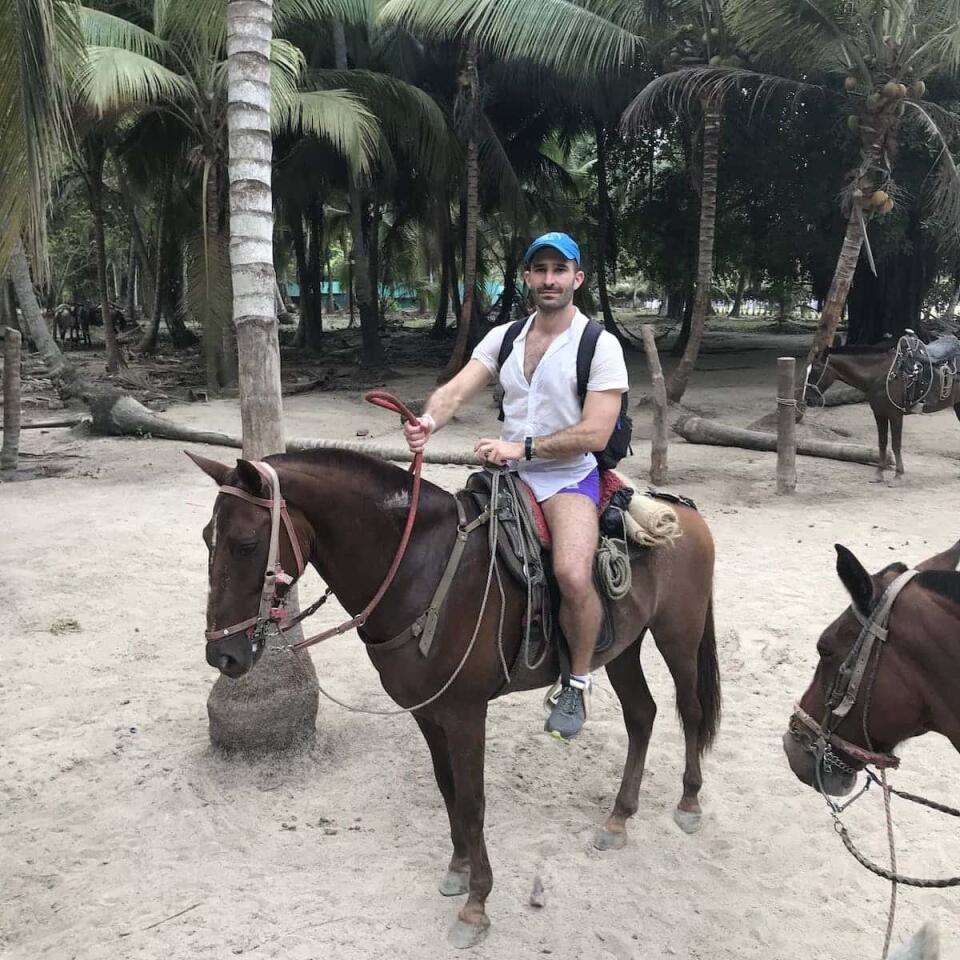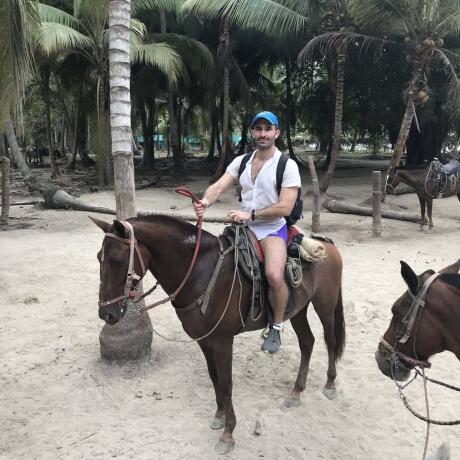 The Tayrona National Park offers some of the most thrilling trekking adventures in Colombia. It's located right by the coast, so expect hot and humid temperatures here throughout the year. We flew to Santa Marta airport, took a private transfer over and stayed near the Park for a few nights. Inside the park, it feels like you're inside a vast thick rainforest. For our visit, we split the day into two. For the first part, we rented horses to take us to Cabo San Juan, which has a handsome beach to chill out at. The water here is quite rough in Tayrona, so cooling off in the sea depends on how high the currents get. For the second part of our visit, we trekked back through the thick rainforest spotting lots of monkeys, different types of birds and event the odd snake.
---
Gay travel agent in Colombia
Out in Colombia is a fantastic local gay tour agent based in Medellin. They offer a bespoke service whereby they customise and tailor an itinerary according to what you want to see and do. If you're tight on time and want someone to organise everything for you from start to finish, we definitely recommend having a conversation with them!
We've partnered up with Out in Colombia to offer an exclusive 5% discount for our readers for any tour you book with them. Fill out this form get a personalised itinerary and claim your discount.
I WANT A PERSONALISED ITINERARY
Fill out this form to get a personalised itinerary to Colombia and get an exclusive 5% discount off the total cost of your trip.

You can also contact Out in Colombia directly, make sure to mention the promo code NOMADICBOYS05 to enjoy the 5% discount.
Gay Prides and events in Colombia
All of the big cities of Colombia have a Pride event taking place, usually on or around the 28th June, which is nicknamed "Gay Pride Day". We've highlighted some of the main ones below, along with Barranquilla's Gay Carnival in February:
Bogota Gay Pride (late-June)
The Marcha de Orgullo LGBT Bogota is the country's largest gay Pride event. It started in 1982 with just 32 people marching and nearly 100 policemen for crowd control! Today some 300,000 people descend on the big capital city to watch, celebrate, support and march in Bogota's Pride Parade. Undoubtedly, most of those gay Pride party boys will end up in Theatron at some stage during the Bogota Pride weekend!
Medellin Gay Pride (late-June)
Colombia's second city has its Marcha de LGBTI de Medellin end of June. An estimated 75,000 people took part in Medellin's 2019 Pride parade, which climaxed with lots of fabulous aguardiente-fuelled street parties in and around Poblado.
Barranquilla Gay Carnival (late-Feb/early March)
Barranquilla's Carnaval in late Feb is Colombia's answer to Brazil's mega Rio Carnival. Around 500,000 people come to party over the 4-day festival. We certainly rate it as one of the best carnival events in the world. Why? 'Cause it has an entire day devoted to the LGBTQ community! The Barranquilla Gay Carnival is a full day gay parade that takes place just before the main Barranquilla Carnival starts, and it's awesome!
Cartagena Gay Pride and Rumours Festival (August)
Cartagena's Pride is the largest Pride event in the coastal region of Colombia taking place every August. Alongside it is the Rumours Festival, which is a Circuit-like 4-day festival of parties with hot topless guys from all over the country. Both include lots of drag queens, art events, a boat party and a large parade. For more, check out the Cartagena Pride Facebook page and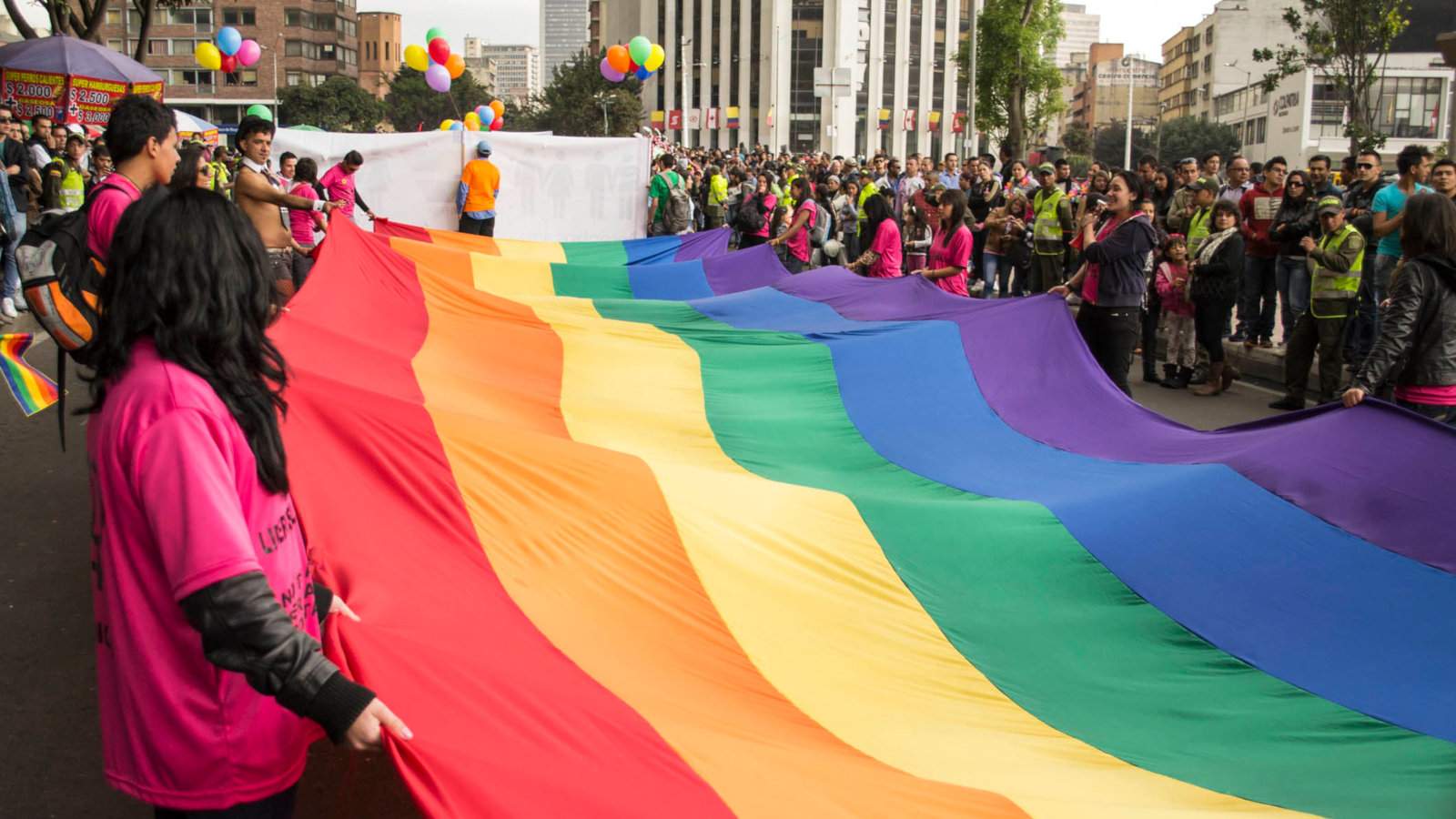 Culinary highlights of Colombia
We love the rich and diverse cuisine of Colombia. It has strong influences from the jungle, the highlands as well as the Caribbean coast. For some culinary inspiration, make sure you read our 10 best traditional foods of Colombia. We summarise here a few not-to-miss culinary highlights of Colombia to whet your appetite:
Bandeja Paisa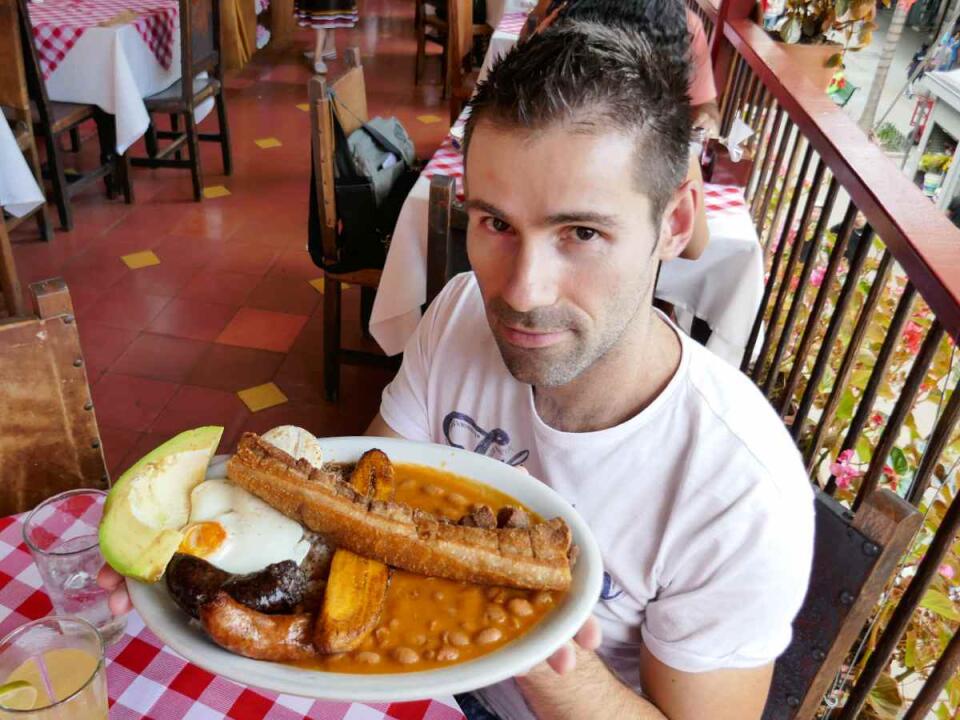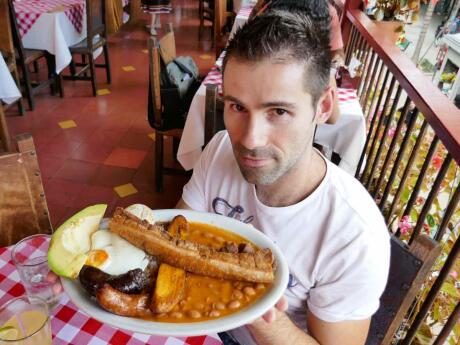 This is the signature dish of Medellin and the surrounding Antioquia region. People from this area are referred to as "paisas", and "bandeja" means 'a tray' in Spanish.
This specific tray is an immense serving of rice, ground beef, red beans, chicharron (fried pork rinds), chorizo, morcilla (similar to black pudding), fried egg, avocado, arepas and plantains. Put it this way – even we have never been able to finish one…!
---
Chicharron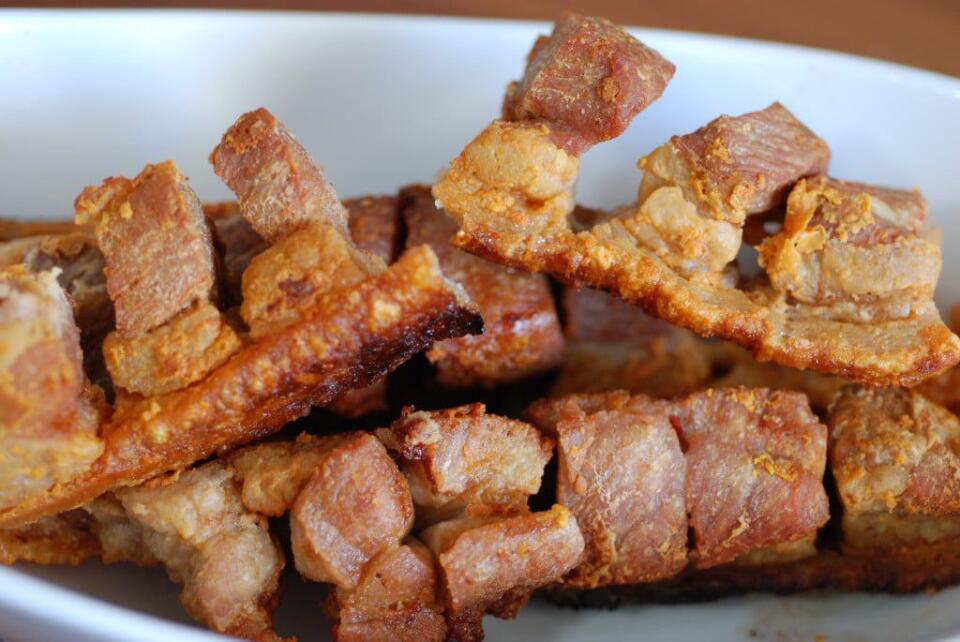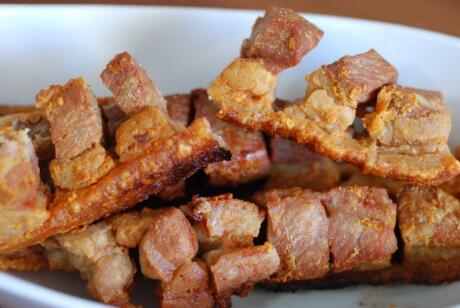 Chicharron is a plate of deep-fried crispy pork rinds or belly, usually eaten as a snack with a few beers, or part of a larger dish (like bandeja paisa). They look like thick slices of bacon, but with larger chunks of fat and a small slither of meat. They are particularly popular in the Andean regions of Colombia or with football crowds. Chicharrón can also be made from chicken, mutton or beef, but most of the time it's pork.
---
Arepas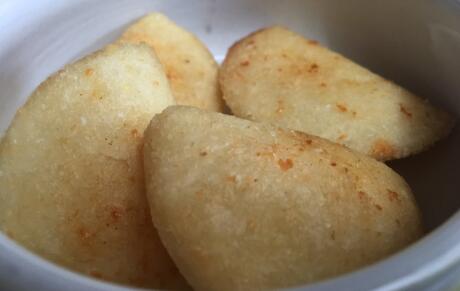 Arepas are deep-fried corn cakes, kinda like the main carb accompaniment to a meal in place of bread. They are generally a popular street food snack in both Colombia and Venezuela. In the coastal areas of Colombia, arepas are also a more elaborate breakfast dish. They come in different sizes and varieties. For example, in Medellin and the surrounding Paisa area, arepas are usually small white and round, served plain as an accompaniment in place of bread. By comparison, the breakfast arepas in the coastal region are much larger and stuffed with a variety of other ingredients like braised meat, cheese and/or egg.
---
Ajiaco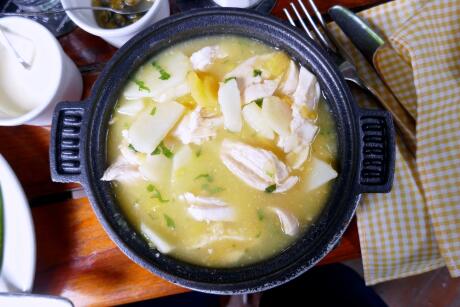 Ajiaco is a hearty chicken/potato soup from Bogota. It's like comfort food for the Rolos (nickname for the people from Bogota). The capital city is located deep in a mountain basin of the Andes, so has a much cooler climate than the rest of the country. Therefore, hearty soups like ajiaco are very popular here. Ajiaco is usually made from chicken, three varieties of potatoes and a herb called "galinsoga parviflora", or "guasca". Try out our simple recipe for Colombian ajiaco.
---
Plan your trip to Colombia
We've put together some handy hints and tips to help you plan your own trip to Colombia. Read on to find out everything the gay traveller should know before they go.
How to get there: Most will enter by flying to Colombia, usually to El Dorado airport in Bogota, although Cartagena, Medellin and Cali also have an increasing number of international flights, particularly to Spain, the US and other South American countries.
---
Visa requirements: Travellers from most EU countries, USA, Canada and Australia don't need a visa to stay in Colombia for up to 90 days as a tourist. You will, however, need to show that you have a return/onward travel ticket if you arrive by plane and a passport with at least 6 months validity from the day you arrive. Check if you need a visa here.
---
Power Plugs: Colombia uses the same 2 pronged flat type plugs found in the US. Therefore, for travellers from the UK, US, Australia and many other countries, we recommend investing in a good universal travel adaptor.
---
Travel insurance: This is a must! We always strongly recommend getting comprehensive and appropriate travel insurance for any trip to ensure you're covered for every likely scenario from cancelled flights, scuba diving accidents and other factors beyond your control. We recommend World Nomads who we have been using for all our travels. Their coverage is comprehensive and it's super easy to make an online claim if needed.
---
Safety and Security: No matter where you are, you are always at risk of encountering danger when travelling. One app we love and recommend is CloseCircle. It's like your personal "virtual bodyguard", with a 24/7 online team on hand to help you wherever you are in the world. Their service covers everything from practical advice to evacuation in the event of weather emergencies or unforeseen events. Read more about best safety tips and why we love CloseCircle in our article about how travellers can stay safe.
---
Vaccinations: All travellers to Colombia should make sure they're up to date with routine vaccinations like measles, mumps and chickenpox. Most travellers should also be vaccinated for hepatitis A and typhoid. Some travellers may also need vaccinations for hepatitis B, yellow fever, malaria and rabies, depending on what and where you'll be doing. Check the CDC website for the most up to date info for Peru and also speak to your local doctor or travel nurse.
---
Currency: The currency used in Colombia is the Peso. $1 is around 4,000 pesos, €1 is around 4,250 pesos and £1 is around 4,750 pesos.
---
Tipping culture: Generally, on a local level, tipping is not expected in Colombia and it's your prerogative. In more high-end restaurants, around 10% is the norm for good service and will most likely be automatically added as service charge to your bill. In a more local restaurant, the custom is to tip a few thousand pesos if service has not been included in the bill.
---
Accommodation: There are many excellent hotels in Colombia, particularly in the coffee region and the big cities. We use Booking.com as a starting point. Their reviews are always useful to read and they usually have the best prices and offers. They also provide free cancellation for most listings, which is handy if you want an element of flexibility when planning your trip.
---
Sightseeing and adventure: We've put some of our favourite things to do in Colombia in this article, but for a more detailed insight, we recommend checking out GetYourGuide.com. They have a lot of ideas, which is great for getting inspiration. In addition, booking their tours is extremely quick and easy.
---
When to visit: Colombia is a destination you can visit throughout the year – the climate varies depending on where you go. Bogota is located in the Andes mountains at 2,640m (8,661ft) altitude, so is much cooler than most other parts of the country. Here you'll need your jumpers. On the other extreme, coastal areas like Cartagena have a tropical climate throughout the year. In the coastal areas you ditch the layers and load up on the mosquito spray and sunblock creams! Medellin has the perfect weather, not too warm, not too cold. For this reason, it is nicknamed "the City of Eternal Spring".
---
Safety tips for gay travellers to Colombia
Colombia has evolved massively over the past few decades to become one of the safest places in South America for all travellers, straight and gay. As with all destinations, there will always be some areas you should not visit or local events something that may derail your plans. Therefore we set out some practical safety tips for you to take into account before travelling to Colombia:
Check official government advice before you go. There are some parts of the country well beyond tourist areas where kidnapping and crime is still prevalent. We recommend checking the US Travel Advice for Colombia and the UK Foreign Office Travel Advice for Colombia websites.
Although homosexuality is legal in Argentina, avoid public display of affection in rural areas. In the main touristy areas and big cities, you shouldn't encounter any problems. However, in more remote rural areas, particularly around the coast, we recommend being more cautious.
Traffic in Bogota is horrendous! The city lacks a decent public transport system – it's an ongoing joke amongst locals, but also a pain in the butt! Traffic jams in the capital can get particularly bad, particularly during rush hour or on a big national holiday. Bear this in mind if your plans are time-sensitive and be prepared to plan around it.
Avoid excess alcohol and stupefiants. It's far more likely that you will be taken advantage of, scammed or even robbed if you are obviously intoxicated. Sure, have a few drinks and a good time, but if you're going to get wasted, it's probably better to do that in a familiar environment.
Don't wear valuables in public. Or as they say in Colombia, "No Dar Papaya!" – ie 'don't show your papayas in public' – got it?! Pickpockets operate everywhere, and the flashier your belongings, the more attractive you are as a target. Therefore it's best to just leave your papayas in your hotel safe and only take out with you what you need.
Invest in a good money belt. If you must carry around large amounts of cash, your passport and credit cards, we recommend putting it in a money belt that is hidden under your clothes, out of sight and therefore harder to steal.
---
Like this post? Pin it