Gay mega clubbing with 5,000 Colombian boys in Bogota?

Tick!

Swimming in a rainbow river, the Caño Cristales?

Tick!

Remote paradisiac Caribbean Islands like Providencia?

Tick!

Partying in the most exciting Carnival of South America outside of Rio?

Tick!

Sniffin' up tons of fresh cocaine in Pedro-Escobar-heartland: Medellin?

Ti…no wait…
…you may also have been inspired to visit this incredible country from Netflix's Narcos series, but as every Colombian will rightly tell you, the awful cocaine industry that gripped the country with an ugly civil war for decades is now ancient history. And good riddance to it!
Colombia has evolved to not only become one of the best and safest tourist destinations in all of South America, it has also become one of the most gay friendly.
We spent 6 months travelling in Colombia during our big trip in Latin America, using Medellin and Bogota as a base. We cannot rave enough about it! We were captivated, mesmerised and totally impressed. Colombia is such a rewarding destination offering beaches, culture, gay scene, loads of partying, beautiful landscapes, and some of the hottest people to walk our planet!
This is our detailed Colombia gay country guide in which we summarise some of our firsthand experiences which we hope will inspire you and help you to plan a fun and safe trip.
Gay rights in Colombia
How many countries in the world do you know where there are PDAs laws in place?!
We rate Colombia as one of the most gay friendly countries in South America with some of the most progressive LGBTQ rights in the world.
To give you an idea, Colombia has a full array of anti-discrimination laws in place to protect the LGBTQ community. It also has very progressive transgender laws including the right to change gender without psychiatric evaluations (very few countries have this!), it allows LGBT people to serve openly in the army, and they have recognised gay unions since 2007.
The capital, Bogota, leads the way, electing its first lesbian mayor back in 2018. Furthermore, gay marriage in Colombia was legalised in 2016, and the Constitutional Courts have on several occasions made rulings allowing LGBTQ couples the right to express affection in public.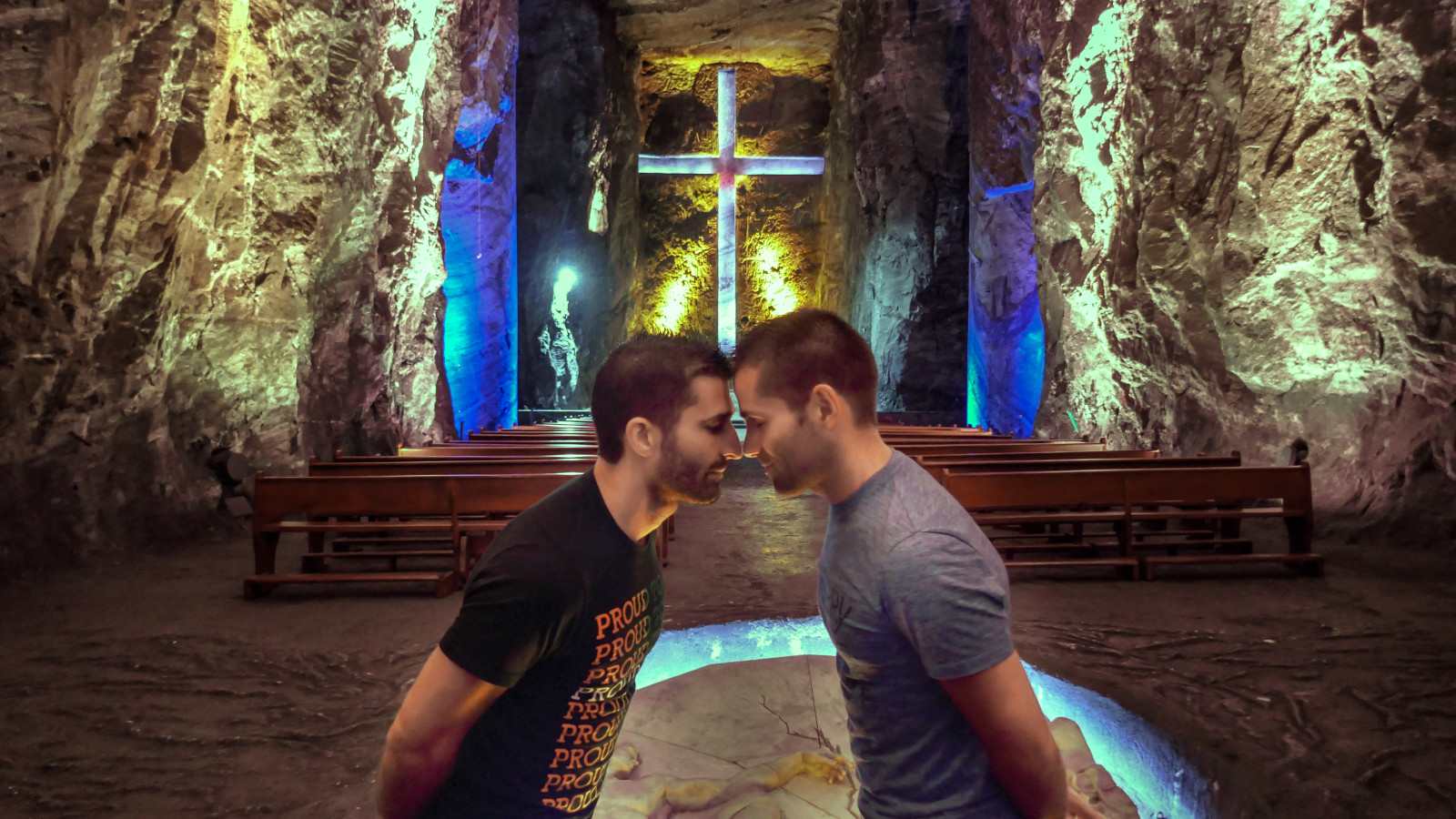 Is Colombia safe for gay travellers?
Yes, it is.
We spent half a year here travelling around as a gay couple and cannot speak highly enough about it! We never encountered any problems anywhere we went. Getting a double bed was never an issue in any of the hotels we stayed in and they had clearly welcomed LGBTQ travellers before. In one hotel we stayed at in Medellin, we even spotted a warning sign showing the hefty fines police can give you for hate speech against the LGBTQ community!
Obviously there are areas where homophobia is still prevalent, particularly around the coast, so take care with PDAs here. For a more local LGBTQ perspective check out our interview with Jesus from Barranquilla about what gay life is like in Colombia.
So, for gay travellers to Colombia, you are unlikely to ever experience any problems. As we said above, Colombia is a very rewarding destination for LGBTQ travellers in so many ways!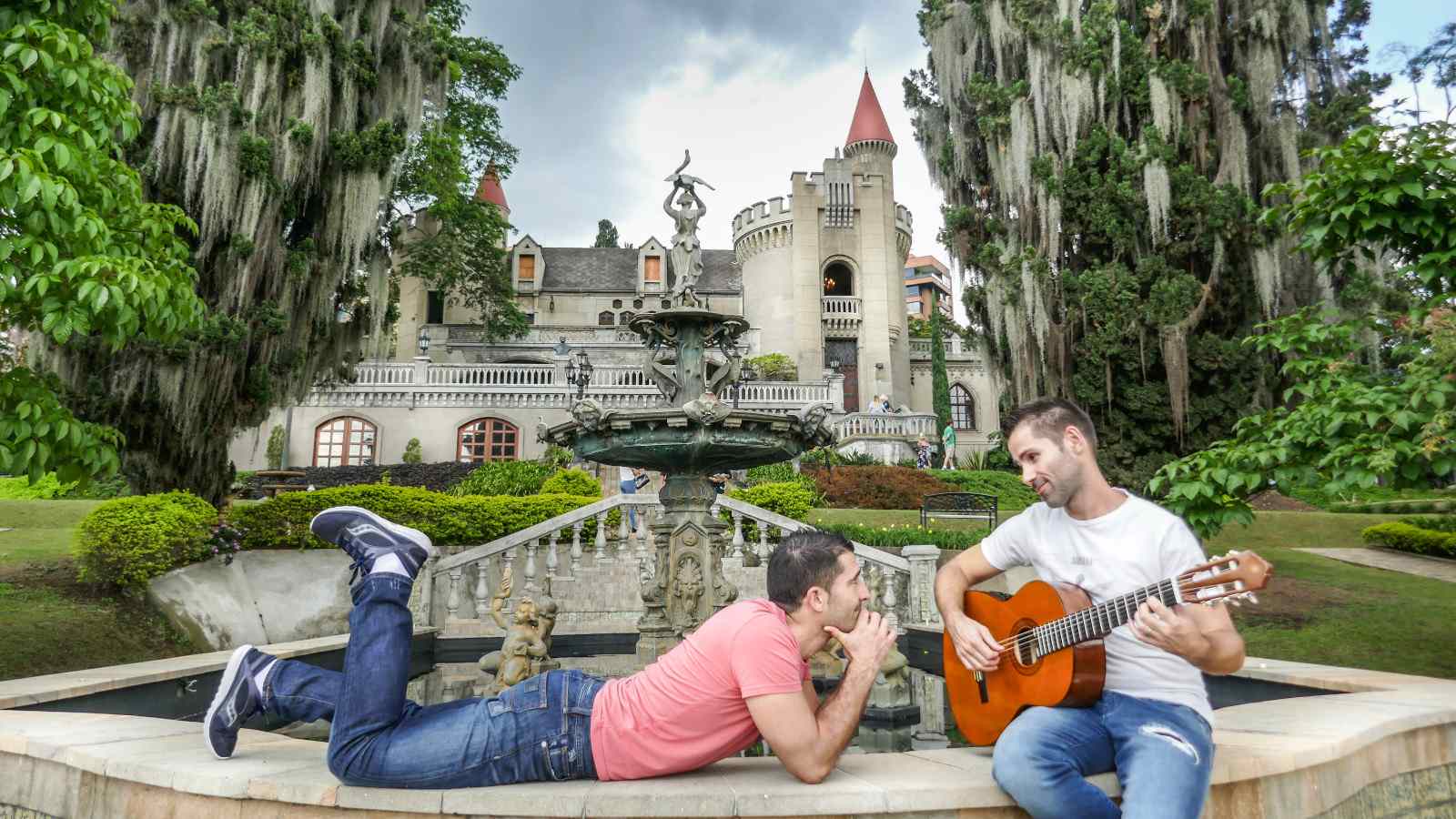 Best gay tours in Colombia
We love doing gay tours on our travels. It's a fun way to explore a new place as well as quickly making a whole bunch of new fabulous friends at the same time. Being so gay friendly, Colombia has lots of gay tour companies offering may different packages for LGBTQ travellers. These are some of the best ones:
Top gay cities in Colombia
Bogota is the capital, with the largest gay scene of the country. Vying for that top spot is Medellin, which is one of our favourites cities in South America for living. We've also included salsa capital, Cali, Barranquilla (famous for it's Carnival) and touristy Cartagena:
Top experiences in Colombia for gay travellers
Colombia offers everything from gay parties, nature, amazing treks and even a rainbow river! For us, after partying in Theatron, the coffee region around Medellin was our favourite part of the country where we'd happily return to explore more of.
One tip is to try to coincide your visit with one of the big festivals taking place, particularly the Barranquilla Carnival in February (see above), the Flower Festival in Medellin in August and the Salsa Festival in Cali in September (also see above). We've listed the main highlights below to inspire your Colombia Bucket List.
Gay travel agent in Colombia
Out in Colombia is a fantastic local gay tour agent based in Medellin. They offer a bespoke service whereby they customise and tailor an itinerary according to what you want to see and do. If you're tight on time and want someone to organise everything for you from start to finish, we definitely recommend having a conversation with them!
We've partnered up with Out in Colombia to offer an exclusive 5% discount for our readers for any tour you book with them. Fill out this form get a personalised itinerary and claim your discount.
Gay Prides and events in Colombia
All of the big cities of Colombia have a Pride event taking place, usually on or around the 28th June, which is nicknamed "Gay Pride Day". We've highlighted some of the main ones below, along with Barranquilla's Gay Carnival in February:
Bogota Gay Pride (late-June)
The Marcha de Orgullo LGBT Bogota is the country's largest gay Pride event. It started in 1982 with just 32 people marching and nearly 100 policemen for crowd control! Today some 300,000 people descend on the big capital city to watch, celebrate, support and march in Bogota's Pride Parade. Undoubtedly, most of those gay Pride party boys will end up in Theatron at some stage during the Bogota Pride weekend!
Medellin Gay Pride (late-June)
Colombia's second city has its Marcha de LGBTI de Medellin end of June. An estimated 75,000 people took part in Medellin's 2019 Pride parade, which climaxed with lots of fabulous aguardiente-fuelled street parties in and around Poblado.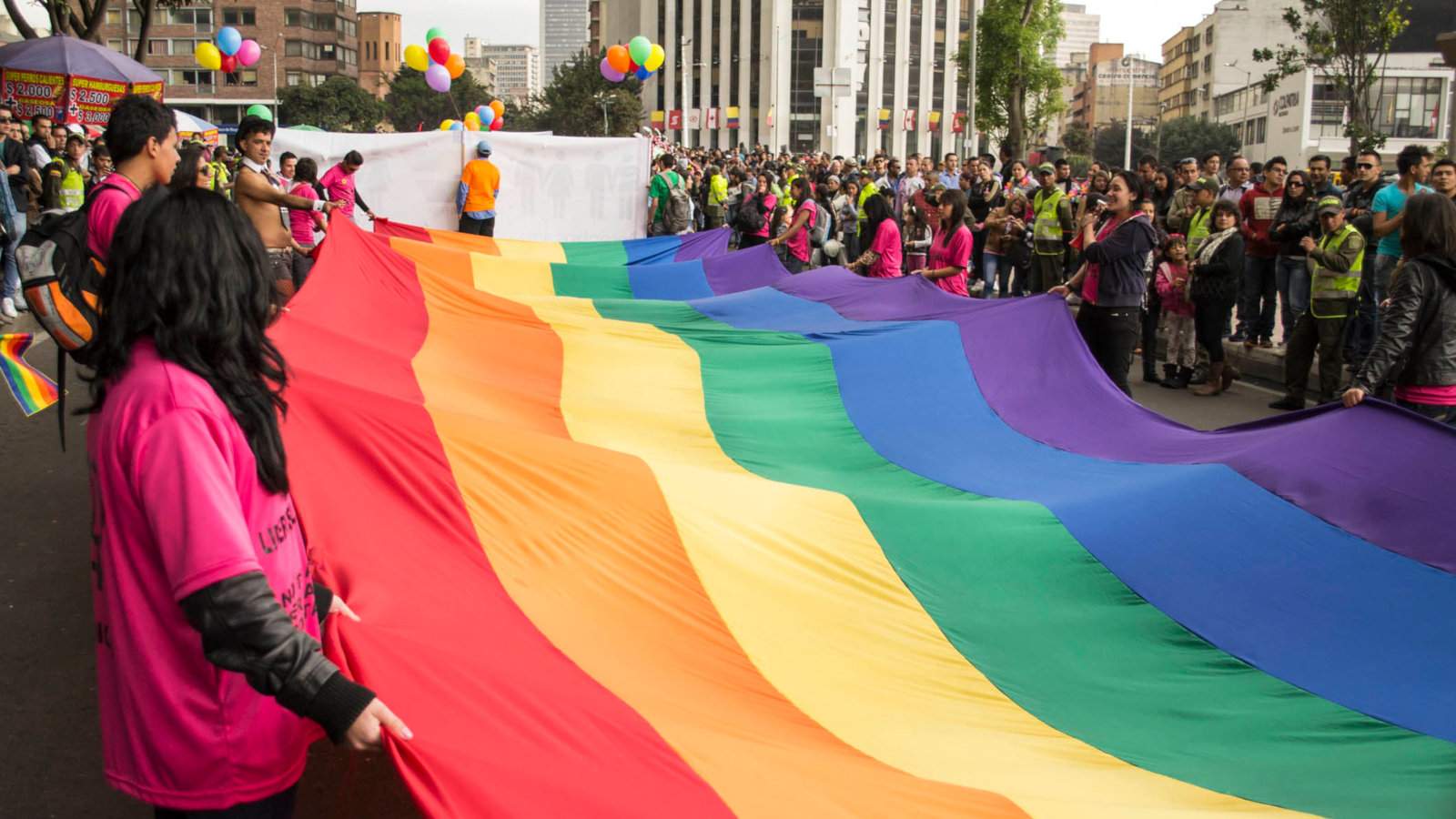 Barranquilla Gay Carnival (late-Feb/early March)
Barranquilla's Carnaval in late Feb is Colombia's answer to Brazil's mega Rio Carnival. Around 500,000 people come to party over the 4-day festival. We certainly rate it as one of the best carnival events in the world. Why? 'Cause it has an entire day devoted to the LGBTQ community! The Barranquilla Gay Carnival is a full day gay parade that takes place just before the main Barranquilla Carnival starts, and it's awesome!
Cartagena Gay Pride and Rumours Festival (August)
Cartagena's Pride is the largest Pride event in the coastal region of Colombia taking place every August. Alongside it is the Rumours Festival, which is a Circuit-like 4-day festival of parties with hot topless guys from all over the country. Both include lots of drag queens, art events, a boat party and a large parade. For more, check out the Cartagena Pride Facebook page.
Culinary highlights of Colombia
We love the rich and diverse cuisine of Colombia. It has strong influences from the jungle, the highlands as well as the Caribbean coast. For some culinary inspiration, make sure you read our 10 best traditional foods of Colombia. We summarise here a few not-to-miss culinary highlights of Colombia to whet your appetite:
Plan your trip to Colombia
Safety tips for gay travellers to Colombia
Colombia has evolved massively over the past few decades to become one of the safest places in South America for all travellers, straight and gay. As with all destinations, there will always be some areas you should not visit or local events something that may derail your plans. Therefore we set out some practical safety tips for you to take into account before travelling to Colombia:
Check official government advice before you go. There are some parts of the country well beyond tourist areas where kidnapping and crime is still prevalent. We recommend checking the US Travel Advice for Colombia and the UK Foreign Office Travel Advice for Colombia websites.
Although homosexuality is legal in Argentina, avoid public display of affection in rural areas. In the main touristy areas and big cities, you shouldn't encounter any problems. However, in more remote rural areas, particularly around the coast, we recommend being more cautious.
Traffic in Bogota is horrendous! The city lacks a decent public transport system – it's an ongoing joke amongst locals, but also a pain in the butt! Traffic jams in the capital can get particularly bad, particularly during rush hour or on a big national holiday. Bear this in mind if your plans are time-sensitive and be prepared to plan around it.
Avoid excess alcohol and stupefiants. It's far more likely that you will be taken advantage of, scammed or even robbed if you are obviously intoxicated. Sure, have a few drinks and a good time, but if you're going to get wasted, it's probably better to do that in a familiar environment.
Don't wear valuables in public. Or as they say in Colombia, "No Dar Papaya!" – ie 'don't show your papayas in public' – got it?! Pickpockets operate everywhere, and the flashier your belongings, the more attractive you are as a target. Therefore it's best to just leave your papayas in your hotel safe and only take out with you what you need.
Invest in a good money belt. If you must carry around large amounts of cash, your passport and credit cards, we recommend putting it in a money belt that is hidden under your clothes, out of sight and therefore harder to steal.