We spent 4 months travelling in Colombia during our big trip in Latin America. We were captivated, mesmerised and totally impressed by this country we knew so little about.
The only thing we knew about Colombia before arriving was that this is the home of Shakira and huge drug cartels. Despite its sordid history with the drugs cartels, Colombia has undergone a major transformation over the last 20 years to become one of the safest and most gay-friendly destinations in South America.
This is our Colombia gay country guide setting out best time of year to visit, best things to do, and general advice for gay travellers.
What we cover in this guide
Best time of year to visit Colombia
Colombia is located just north of the equator line, so is largely tropical throughout the year. It is also located by the Caribbean coast and also has mountainous regions. As such it is a destination you can visit throughout the year – the climate varies depending on where you go.
Bogota is located in the Andes mountains at 2,640m (8,661ft) altitude, so is much cooler than most other parts of the country. Here you'll need your jumpers. On the other extreme, coastal areas like Cartagena have a tropical climate throughout the year. In the coastal areas you ditch the layers and load up on the mosquito spray and sunblock creams! Medellin has the perfect weather, not too warm, not too cold. For this reason, it is nicknamed "the City of Eternal Spring".
Another tip we recommend in your planning is to try to coincide your trip with one of the many festivals taking place throughout the year in Colombia. The most famous include the carnival in Barranquilla in February, which is very popular with gay travellers, also the Flower Festival in Medellin in August, and the Salsa Festival in Cali in September.
Our 9 highlights of Colombia
#1

Cartagena's Old Town

Cartagena will always have a special place in our hearts because this is where we got engaged! This is Colombia's most popular destination because of the quaint UNESCO listed Old Town.

This historic old town was initially built by the Spanish conquistadors to safeguard their gold from pirates. Today it is a maze of pretty cobblestone alleys and colourful colonial style buildings dating back to the 1500s. It is also famous for its street art murals, which celebrate different facets of Colombian culture and politics.. There is even a small gay scene here with a handful of bars and clubs. In July there is a gay festival called "Rumours", which runs alongside the city's Pride festival. For more information check our gay guide to Cartagena.

Cartagena is very touristy, so most hotels will have hosted gay travellers at some stage. Nonetheless, we recommend emailing or calling in advance just to be certain because some machismo attitudes do prevail along the coastal regions.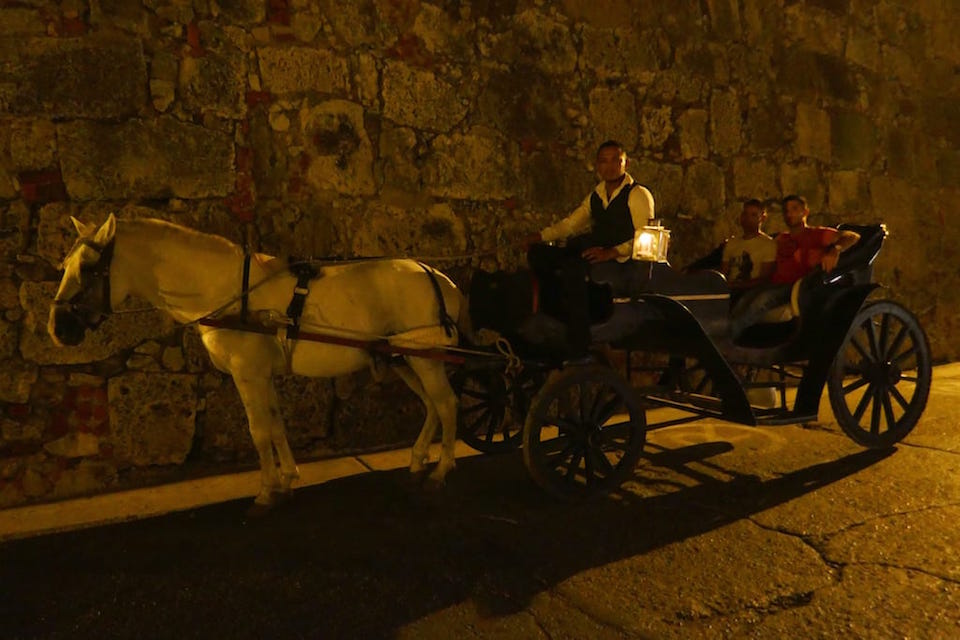 #2

Theatron mega gay club in Bogota

We would book a trip to Bogota in a heartbeat just to party at the excellent Theatron gay club on a Saturday night. The place is infamous! It is the largest gay club in Latin America, and definitely the best we've ever been to in our travels. It is split into 13 mini clubs spread over 5 floors, each with its own theme, for example one room is devoted to modern pop hits, another room is only for women, another is men only with live naked strippers, and there's even one just for reggaeton hits.

Theatron is based in the Chapinero neighbourhood, which also has many gay bars around like "El Recreo de Adan" and "Brokeback Mountain". For more, check out our gay guide to Bogota.

Bogota is also the ideal base to check out sightseeing highlights like the Monserrate Mountain, the Gold Museum and the cool street art in the downtown Candelaria neighbourhood.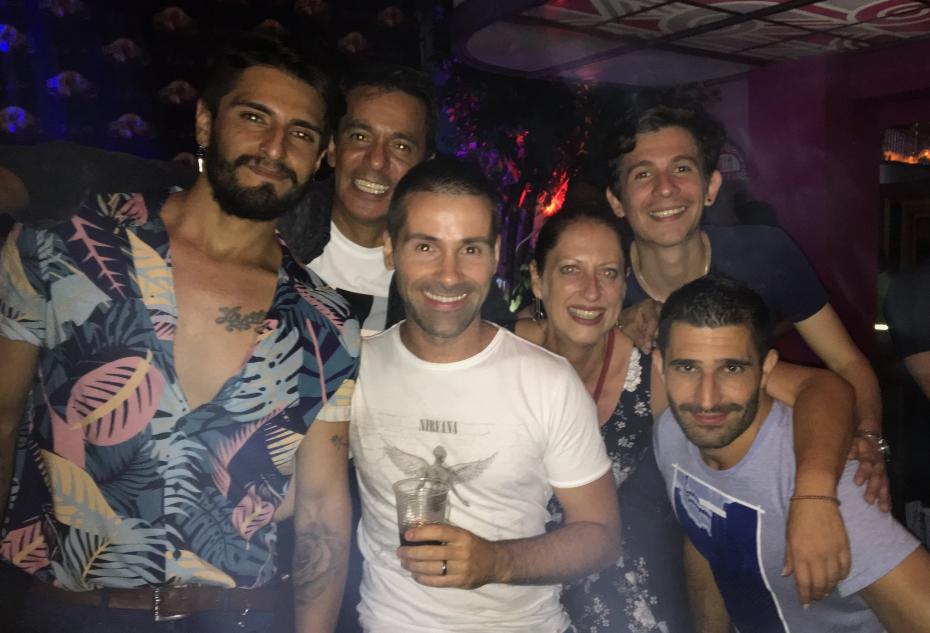 #3
The Salt Cathedral of Zipaquirá
We were blown away by the Salt Cathedral of Zipaquirá. It is extremely impressive. It is an underground cathedral carved entirely out of salt, and is only one of three such structures in the world. The other two are in Poland. It's so popular that it was voted as the #1 of the 7 Wonder of Colombia in a poll in 2007.
The salt cathedral is located in Zipaquirá, which you can visit on a day trip from Bogota by taxi. It takes around 1-2 hours away from Bogota central – traffic in Bogota can get quite nasty. Entry is 50,000 pesos (around $17) per person, which includes a tour in English and a light show.
#4
Medellin Flower Festival
Medellin used to be considered the crime capital of Colombia, but has evolved massively over the past decade to become one of the safest and most advanced places in the entire country. It's a popular base for small businesses and digital nomads like us looking for a secure and inexpensive base.
We also love Medellin because it is a very gay friendly city. The "paisas" (people of Medellin) are very welcoming, and the gay scene a lot of fun. We wrote about the main bars/clubs in our gay guide to Medellin.
Most will base themselves in Poblado, which is the main touristy heart of the city, with all the best restaurants, bars and hotels. In the evening, around Parque Lleras in Poblado, the city comes to life, particularly on the weekends. The big highlight in Medellin is the flower festival, which takes place every August. Check out our highlights from the Flower Festival of Medellin, and watch our vlog about it:
#5
Exploring the Zona Cafetera coffee region
A must for coffee lovers: the region around Medellin is called Zona Cafetera, or the "coffee zone", because this is where the famous Colombian coffee beans are harvested. One of the best places to visit in the coffee region is the Cocora Valley, where you can take guided hikes to vantage points and see close up the distinctive wax palms that grow up to 656 feet high. Other gems include Salento and Filandia, which are also great for hiking trips.
You can reach most parts of the coffee regions via buses from Medellin or inexpensive short flights from Medellin or Bogota with Viva Colombia.
#6 Visit Guatape and climb El Peñol
Guatapé is a gorgeous town located around 2 hours away from Medellin by bus. It's so colourful and begging to be photographed because each building is decorated with vibrant "zocalos" (bas-reliefs), with motifs representing the owner's occupation or interests.
Just outside of Guatapé is the famous "El Peñol" – a huge natural rock standing 200m (650ft) high. It has precisely 740 steps you can climb to reach the top. The highlight is the 360 degree view from the top across the valley. On a clear day you can see the entire area for many miles.
We visited Guatapé and El Peñol as part of a day trip from Medellin, but you of course stay overnight in Guatapé to get a better feel for it.
#7

Swimming in the Caño Cristales "Rainbow River"

The Caño Cristales is one of Colombia's natural wonders, which gets its nickname "The Rainbow River" because at the right time of year (around September/October), it becomes five colours – red, orange, yellow, green and blue. It is caused by a mix of aquatic plants, algae, sand and circular rock pools, which combine to produce this liquid rainbow effect. You can swim in it and literally feel like you're gliding through a rainbow!

It is a river deep inside what used to be dangerous Farc rebel territory. Prior to 2014, Caño Cristales was off limits to tourists. Since 2014, it has opened its doors and become a safe place to visit as long as you come with a reputable tour operator. The official tourism season is between July to December, however the best time to visit is in September and October when the likelihood of tropical downpours is minimal, as the rain can hide the colours.

To reach Caño Cristales, take a flight from Bogota to La Macarena.
#8
Island paradise in San Andres and Providencia
These are two remote and stunning Caribbean islands of Colombia. They're quite far out, close to the coast of Nicaragua.
San Andres is the more developed, and larger of the two because it has direct inexpensive flights from Medellin and Bogota. Providencia however is the true hidden jewel, with some of the best beaches. It is located 56 miles north from San Andres and harder to reach as there are no direct flights from the mainland. You instead have to fly to San Andres, and then either take another short (but quite expensive) flight or a 2.5 hours' (quite rough!) catamaran ferry service, or, another short (but very expensive) 20 minutes' flight. As such it is less visited than San Andres, more remote, but well worth it because of this.
#9

Trekking, rafting and rappelling in Tobia

Ever tried rappelling down a waterfall with a 75m (246ft) drop? Neither had we! So during our visit to Bogota, we jumped at the chance.

Tobia is a small agricultural town with a population of around 4,000, located around 2 hours' drive away from downtown Bogota. It is famous for its sugar plantations and of course its stunning scenery where many from the big city come for weekend adventure day trips.

Highlights here include rappelling down the 75m (246ft) Barandillas waterfall, trekking in the Tiger Creek Mountain, and rafting down the wild rapids of the Rio Negro (meaning "Black River") on inflatable rafts.

Rappelling was one of the most exciting things we've done during our travels and highly recommend it to everyone to try (especially if you want to feel like you're Spiderman!)
Culinary highlights of Colombia
We love the rich and diverse cuisine of Colombia. It has strong influences from the jungle, the highlands as well as the Caribbean coast. A few not-to-miss culinary highlights include:
bandeja paisa: this is the signature dish of Medellin and the surrounding Antioquia region. People from this area are referred to as "paisas", and "bandeja" means 'a tray' in Spanish. This specific tray is an immense serving of rice, ground beef, red beans, chicharron (pork rinds), chorizo, morcilla (blood sausage), fried egg, avocado, arepas and plantains. Even we've never been able to finish one…!
chicharron: these are deep fried crispy pork belly snacks, which look like thick slices of bacon, but with a large chunks of fat and a small slither of meat. They are popular in the Andean regions and either served as a standalone dish, or included as an accompaniment to dishes like bandeja paisas.
arepas: a popular breakfast snack and street food. They are deep fried corn cakes, which come in different sizes and varieties. In Medellin and the surrounding area, arepas are usually small white and round, served plain as an accompaniment in place of bread. In coastal cities they are larger and stuffed with other ingredients.
Ajiaco: a hearty chicken/potato soup from Bogota. The capital city is located deep in a mountain basin of the Andes, so has a much cooler climate. Therefore, hearty soups like ajiaco are very popular here.
For more culinary inspiration, read our 10 best traditional foods of Colombia.
General advice for gay travellers in Colombia
Gay travellers to Colombia are unlikely to face any practical problems, especially in the touristy areas. Most hotels we stayed at clearly dealt with gay travellers before and we never had any problems booking a double bed. Having said that, it's still worth calling/emailing ahead just to double-check they're ok hosting gay tourists.
As with most countries in the world, there will always exist an element of homophobia, particularly in rural communities around the coast. Colombia is still very much a deeply Catholic country. But having said that, this is also a country where the capital (Bogota) just elected its first lesbian mayor!
To find out more about gay life in Colombia, read our interview with local boy Jesus from Barranquilla. Also, learn more with our interesting facts about Colombia you need to know.
Happy travels are safe travels
We recommend you always take out travel insurance before your next vacation. What happens if you suffer from illness, injury, theft or a cancellation? With travel insurance, you can have peace of mind and not worry. We love World Nomads travel insurance and have been using it for years. Their comprehensive coverage is second to none and their online claims process is very user friendly.
Some of the links in this post are affiliate links. This means that if you book your accommodation, an activity or your insurance, we'll earn a small commission. There is never an extra cost to you for using these links and it helps us keep the site going.
IF YOU ENJOYED READING, PLEASE PIN ME: