Fresh off the plane, our Porteño friends Pablo and Gustavo welcomed us, and took us straight to a restaurant in Palermo so we could have our first taster of the famous Argentinian steak.
At that moment, we knew we were going to enjoy this city a lot!
We've been to BA several times during our big trip across Latin America, using it as a base. This allowed us to really explore the best of the gay scene and make lots of local friends along the way.
We've taken all this info and bundled it up to create this bumper gay guide to the Buenos Aires gay scene including the best hotels to stay, gay hangouts, events, things to do, and more. One thing we can confidently say is whoever you are, whatever you're into, you're in for a treat in Buenos Aires.
Is Buenos Aires safe for gay travelers?
Buenos Aires is overall a gay friendly and safe city to visit as long as you stay within the main tourist trail. It has a large gay scene and one of the largest gay Prides in Latin America. Argentina itself ranks as one of the most gay friendly countries in the world in our humble opinion with very progressive LGBTQ laws.
Homosexuality in Argentina has been legal here since 1853, loooong before the UK in 1967 and the USA in 2003. It was also the first country in Latin America to legalize gay marriage in July 2010, which included full adoption rights.
When we arrived at our hotel in San Telmo, we were told by the reception staff and a few other locals that the city is extremely dangerous for first-timers and we should take care, avoiding going out alone after 6 pm. In hindsight, we realised Buenos Aires is no different than New York, London, Paris or Barcelona. It goes without saying that gay travelers should keep their wits about them and avoid dodgy neighborhoods like Boca at night. If anything, we found Buenos Aires to be one of the safest cities in South America.
All the hotels we stayed at in Buenos Aires welcomed us as a gay couple without ever questioning our choice of a double bed. Is there a gay neighborhood?
Unlike the gay scene of Montreal, there is no exact gay village in Buenos Aires, but Palermo is considered to be the main gay area of Buenos Aires. The majority of the gay bars and clubs can be found here, with pockets of fabulousness spread further afield in the Villa Crespo, Retiro, Recoleta, and San Telmo neighborhoods. Palermo is also very residential, which makes it the ideal base.
The majority of the main tourist sites are spread across Recoleta, Retiro, and San Telmo, which are all very easily accessible from Palermo via the city's metro system or taxi. We relied on Uber in Buenos Aires, but be warned that officially Uber is "not legal", so your driver will ask one to sit in the front so it doesn't look like a taxi service.
Where to stay in Buenos Aires
Whilst the majority of the best gay nightlife in Buenos Aires is in Palermo, we think some of the best gay friendly hotels can be found further afield, particularly in San Telmo, Puerto Madero, and Recoleta.
We've included a few options in Palermo we tried out for those who do want to be based here. Check out Airbnb or Misterbnb for apartments to stay in Palermo if you prefer to rent your own place and also be sure to hit up our detailed guide to the best gay hotels in Buenos Aires.
01
Faena Hotel
Puerto Madero
The rooms at Faena are large and lush – the epitome of decadence. The best rooms are the ones overlooking the river and the iconic "El Puente de La Mujer" bridge.
Puerto Madero has a lot of green space, which is ideal for hiking and biking. The area around Faena Hotel, particularly along the river bank is perfect for morning jogs. We made a point of doing this every morning as it's a great way to explore the neighborhood, whilst burning off those dulce de leche calories…!
02
Mio Hotel
Recoleta
The rooms are elegantly designed to offer intimacy and luxury. The carved wooden bathtub is the crowning glory center piece where Sebastien spent many hours deliberating over life's most existential issues.
There's also a library where you can order drinks and listen to music while reading. For some extra pampering, we love the spa with a giant jacuzzi and a variety of treatments available.
Mio is located in well-to-do Recoleta, close to the famous Evita cemetery and the large metallic Floralis flower. There are many excellent restaurants nearby such as the highly-rated Fervor, the more local Rodi Bar, and the very plush Italian La Pecora Nera.
03
Patios De San Telmo
San Telmo
We love the high doors and ceilings as well as the really quirky art exhibitions on display…look out for the, er, horse installation with its head coming out of its backside!
Breakfast is complimentary and the hotel even caters to guests with dietary requirements such as celiac disease, if ordered in advance. The pretty garden patios are the perfect place to relax away from the bustle of the city.
The Patios de San Telmo is located right in the heart of San Telmo, which is our favorite neighborhood of Buenos Aires. You're minutes walking distance to the vibrant Sunday market as well as the Pride Cafe and the Tuesday queer tango classes of Maldita Milonga.
04
LGY G A Y Bed & Breakfast
San Telmo
LGY G A Y is kind of a mix between a hotel and a hostel so even though it's a budget option you can still expect a daily room-cleaning service, fresh towels, and a yummy complimentary breakfast.
The staff are terrific and really make you feel welcome. Solo gay travelers will particularly love LGY G A Y because it's so easy to make friends here.
There's a shared kitchen, lounge, library, and mini-gym available for all guests. Make sure you also check out their rooftop terrace, complete with a hot tub!
---
Gay bars to start the party
There's a handful of gay bars spread out throughout Buenos Aires, but you'll find the majority of the gay scene in Palermo. Just remember that Argentinians start the night very late, so most places don't get busy until after 11 pm. These are a few of our favorite gay bars in Buenos Aires, but be sure to check out our detailed guide to the best gay bars in Buenos Aires for a more comprehensive list.
A small "hetero-friendly" unassuming video bar. It's super cozy and friendly, but the drinks here are quite expensive compared to the other bars. The best time to visit is on weekends. The name "Peuteo" is a play on the naughty Spanish slang word, puto. We'll leave it to you to discover what that means…! Peuteo is open Wednesday to Sunday from 9 pm to around 5 am and is located at Gurruchaga 1867 in Palermo.
One of the only gay bars in Buenos Aires that is open every day of the week, although it's busier at weekends. KM Zero is a basement bar featuring a range of drag shows and quirky acts like ꜱtriþpers dressed as aliens. It's open daily from midnight until 7 am and is located at Avenida Santa Fe 2516 in Recoleta.
Gay clubs of Buenos Aires
As we said earlier, Argentinians do things veeery late, just like in Spain. Dinner is from 9 pm onwards, and going out for drinks doesn't happen till after 11 pm, so for clubs, you don't want to be thinking of heading there until at least 1 am – 2 am, otherwise, you'll be waiting by yourself for quite a while! As a result, the gay nightlife of Buenos Aires goes on until the early hours of the next morning. We strongly advise having a siesta if you're planning to go out partying in Buenos Aires. We certainly did and felt better for it!
These are a handful of our favorite gay clubs in Buenos Aires:
Glam: definitely the best gay night out in the city in our humble opinion. It has the perfect mix of a cool crowd who are mainly in their 20s and 30s. It's large, spread over 2 rooms, one for electronic music, the other for Latino pop. They also feature live shows with dancers throughout the night. Glam is open every Thursday to Monday evening (closed Tues/Weds) from midnight till 6:30 am and is located at Cabrera 3046 in Recoleta.
Contramano: is the most popular bear club in Buenos Aires. It's only open on weekends, but nights out here are always a laugh with a really friendly crowd. Unlike Glam, the people at Contramano are generally a lot older, mainly in their 30s/40s+. For us, the highlight is the music. We are pop kids at heart and they're always on point here with the best Latino pop hits that every good gay boy wants to hear! The entry includes a free drink: the popular one that all the cool kids here drink is called "Speed" – it's Argentinian red bull with vodka. Contramano is open on Friday-Sunday only, from midnight till 6 am, and is located at Rodriguez Peña 1082 in Recoleta.
Amerika Disco: the largest gay club in Buenos Aires, and second after Theatron in Bogota, one of the largest in South America. This place is massive, with 3 floors and 3 separate dance areas attracting around 2,000 people every weekend. The crowd is generally quite mixed; expect to see lots of handsome Porteños here! They have a famous bear night every other Saturday evening. Amerika is only open on Friday to Sunday from midnight until around 7 am and is located at Gascon 1040 in the Almagro neighborhood.
Fiesta Plop: popular parties with a young crowd every weekend at Teatro Vorterixm. They have live DJs, dancer shows, and a mix of pop hits and Latin music like cumbia (similar to salsa). Fiesta Plop parties usually happen every Friday evening but look out for other ad hoc events that take place during large events like Pride. Teatro Vorterixm is located where Federico Lacroze and Alvarez Thomas streets meet in Palermo.
Cool cafes in Buenos Aires
The main gay cafe in Buenos Aires is Pride in San Telmo – one of our favorite gay hangouts in what we think is the most exciting area of BA.
Pride Café: one of the most famous gay hangouts of Buenos Aires and one we love coming to, especially on Sundays after shopping at the famous San Telmo market. Tip from us: their dulce de leche brownie is DIVINE! Pride is located at Balcarce 869 in San Telmo and is open daily until 8 pm.
Maricafe: shop, cafe, and LGBTQ bookstore all in one. Fancy a rainbow cake and a new rainbow mug? Buy it here! Want to catch the latest episode of Ru Paul's Drag Race? This place has the city's best viewing parties for it. Maricafe is located at Honduras 4096 in Palermo and is open daily from 10 am till 9 pm (weekends till 2 am).
Gout Cafe: another "hetero-friendly" cafe in Buenos Aires. Not as famous as Pride, but more notorious for its gluten-free menu (and delicious coffee). Gout is located at Montevideo 1480 in Recoleta and is open daily from morning to 8 pm.
El Patio de la Casona: is a tiny hidden cafe tucked away in a courtyard in San Telmo. We stumbled on it during the Sunday market when we were looking for a space to chill out from the crowds and noticed the rainbow flag flying outside. It's not as popular or well known as Pride, but still worth a visit, if anything for the super Instagrammable courtyard surrounding it. El Patio is located at Defense 1179 Local 9 in San Telmo.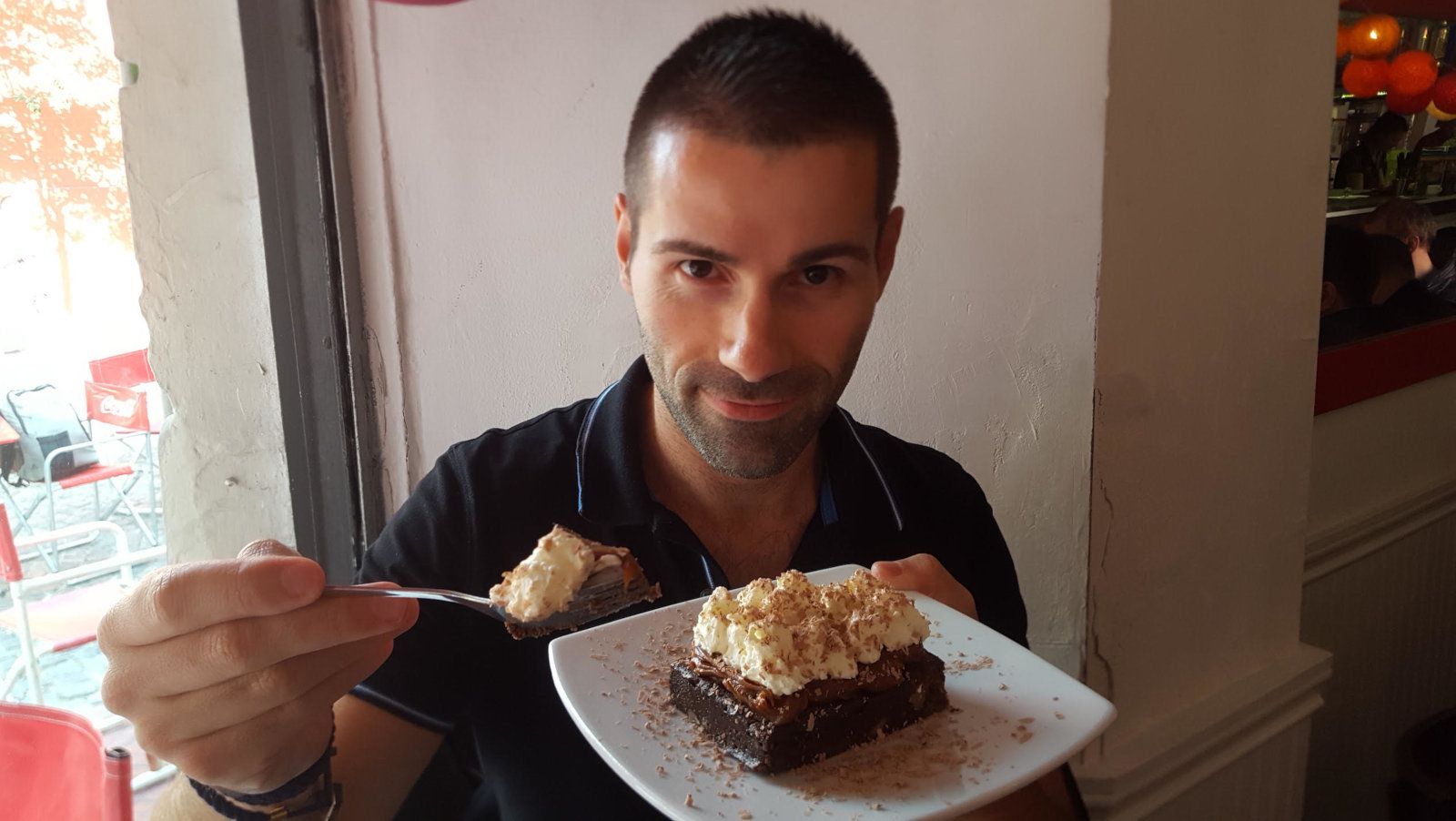 Milongas for queer tango
Sadly, since the late 1800s, male tango dancing got lost in Buenos Aires… until 2002, when queer tango milongas (tango clubs) set up, offering classes for the LGBT community. The 2 best and most popular ones are:
Tango Queer: queer tango class happens every Tuesday evening from 8:30 pm followed by freestyle dancing and a live show. It takes place at the Maldita Milonga, located at Perú 571 in San Telmo.
La Marshall has a queer tango class every Wednesday evening from 8:30 pm, with freestyle dancing happening late into the night. La Marshall is located at Yatay 961 in Villa Crespo.
Gay travel agent in Buenos Aires
If you have very little time for travel planning, we highly recommend using a personalized concierge service who can take care of all the minutiae of your trip.
The excellent gay travel agent Ursula Hosting is offering our readers an exclusive 5% discount on their services, giving you the luxury of being able to delegate all the travel planning of your trip to them. Fill out the form below to get a free consultation from Ursula hosting:

Our favorite restaurants in Buenos Aires
These are some of the best gay restaurants we visited in Buenos Aires, including gay owned and gay friendly/mixed:
LGBTQ events in Buenos Aires
As well as having one of the best gay prides in Latin America, Buenos Aires has a few other gay events worth checking out, all of which take place in November:
Asterisco Film Festival: the city's LGBTIQ film festival takes place in early November. It showcases the best movies about diversity and unites both filmmakers and activists.
Buenos Aires Gay Pride: the annual Marcha del Orgullo is one of the largest gay pride events in South America, attracting around 200,000 people, and is the city's largest street party. Pride

always takes place in the Plaza de Mayo.

Queer Tango Festival: every November, this 5-day festival takes place, which has grown to become one of the city's most unique and important dance events. It includes performances, lessons and numerous workshops hosted by several milongas.
Our top experiences in Buenos Aires
Whilst Buenos Aires is guaranteed to fulfill all steak, Evita, and tango cravings, you will no doubt have before touching down, we've set out a comprehensive list to include the obvious and not-so-obvious sites, experiences, and highlights you should check out:
Feria de San Telmo
---
Watch a tango show
---
Casa Rosada
---
Floralis Génerica
---
Boca Neighbourhood
---
Puerto Madero
---
Take a Cooking Class
---
Teatro Colon
---
Learn to play polo at a traditional Estancia
---
Cool day trips from the city
Tigre Delta day trip
---
Colonia del Sacramento in Uruguay
---
Montevideo in Uruguay
---
Tips to prepare for your trip to Buenos Aires
We've put together some handy hints and tips to help you plan your own trip to Buenos Aires. Read on to find out everything the gay traveler should know before they go.
---
---
---
---
---
---
---
---
---
---
---
Gay map of Buenos Aires
Here's a gay map of Buenos Aires which includes all the gay bars, clubs, hotels, and sightseeing highlights we've mentioned in this post. Use it to plan your own amazing gay trip to Buenos Aires!
---