TERMS OF USE: There is a chance that some of the content on this page has changed since it was last updated. By reading this article, you consent to our Terms of Use and Disclaimer. Happy Travels!
DISCLOSURE: Some of our posts may contain affiliate links which we may receive a commission if you choose to book something through one of our links.
We have put together the most exciting gay bars in Buenos Aires that we loved and think all LGBTQ travelers to Argentina need to check out!
Buenos Aires is home to one of the best gay scenes in South America. Gay Buenos Aires is massive, spread mainly across Palermo and other neighborhoods like San Telmo and Recoleta. There are gay hangouts to suit everyone, whether you're into bears, younger guys, tango, want to watch a drag show, or just a place to chill and jiggy to a bit of Kylie or Madonna.
What constitutes a "gay bar" is a bit blurred in Buenos Aires because here they don't go out till late and most bars/cafes double up as dancing venues.
Remember, Argentinians don't go to dinner before 9pm, so don't even think about heading to a bar until after 11pm and to a club until around 2am!
For our list of the best gay bars in Buenos Aires, we've also included clubs, gay milongas (tango halls), resto bars, and cafes – basically, our favorite gay hangouts that we loved going to each time we visited Buenos Aires.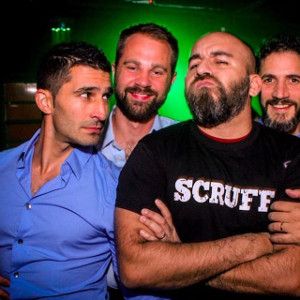 Discover the gay bars of Buenos Aires with an LGBTQ local…
A gay tour of Buenos Aires is a unique experience and a fantastic way to make new friends from all over the world. You'll be greeted by a gay local, who'll take you to the best gay bars in Buenos Aires for an unforgettable night out!

Where is the gay scene in Buenos Aires?
The main gay area of Buenos Aires is in Palermo, where the majority of the LGBTQ hangouts can be found like Work Bar, and Peuteo.
You can also find pockets of fabulousness in the affluent Recoleta neighborhood where the Contramano bear club is, as well as the more pop Glam disco.
Our personal favorite neighborhood of Buenos Aires is San Telmo, where you can find the famous Sunday market and the excellent Pride gay cafe. San Telmo is also the traditional tango heart of the city, with some of the best milongas, including a few queer ones, which we've included in this list.
Note that the iconic "Flux Bar" did not survive the Pandemic and has since closed its doors for good.
---
Do you have a place to stay in Buenos Aires?
Check out this guide to the best gay hotels to stay in Buenos Aires. Find out where the gay neighborhoods are and choose a cool and gay friendly place to stay for your holiday in Buenos Aires.
Peuteo Bar
in Palermo
Peuteo is a 'heterofriendly' video gay bar located in the heart of Palermo and the place to come for Ru Paul's Drag Race viewing parties.
The crowd is a mix of locals/foreigners, in their 20s, 30s and older. Most come here for a few cocktails before heading to one of the clubs. Also check out the staff: super friendly and easy on the eyes!
Peuteo is closed on Mondays and Tuesdays. On all other days, it's open from 9 pm till around 3/4 am on weekdays and until 5 am on weekends. It is located at Gurruchaga 1867 in Palermo.
Work bar
in Palermo
Work is the place to come if you're into electro music. Although it's a small unassuming, industrial-looking narrow bar in the heart of Palermo, it has quickly become one of the most popular gay bars in Buenos Aires, particularly among locals.
Work is closed on Mondays, Tuesdays, and Wednesdays. On other days it's open from 9 pm till around 5 am. But be warned, although it's open from 9 pm, it doesn't get busy until after midnight. Work is located at Gurruchaga 1832 in Palermo.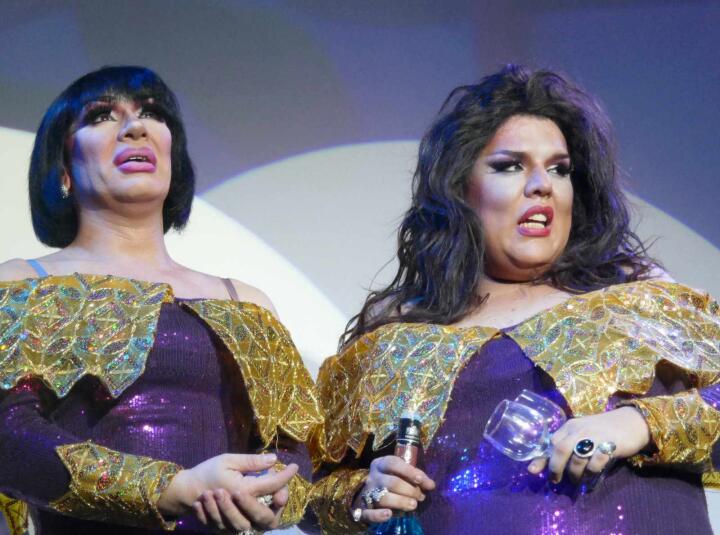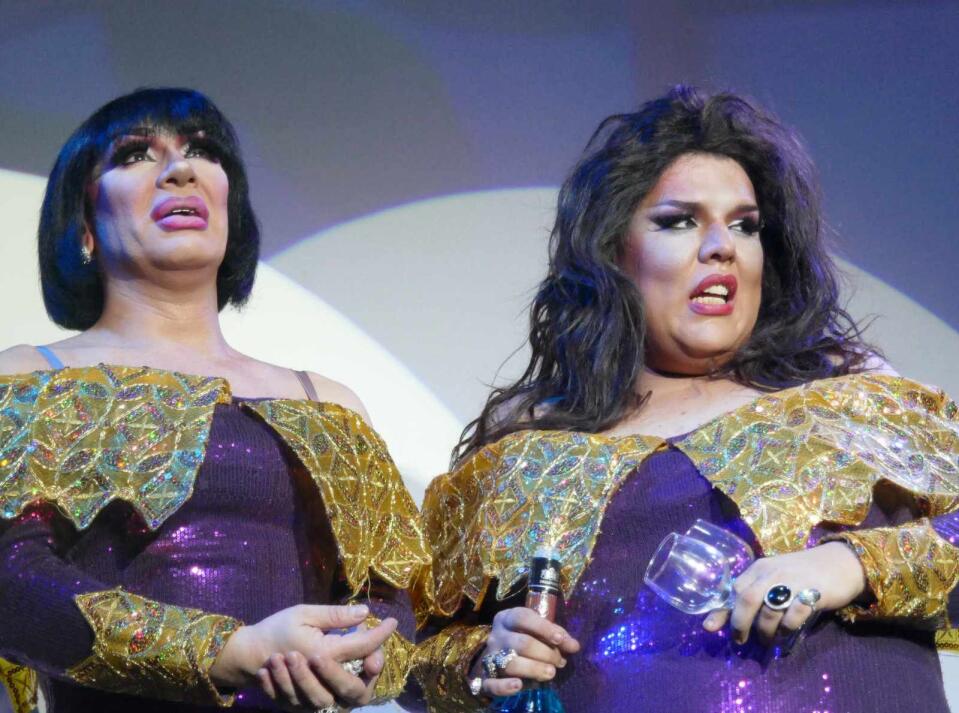 Contramano Club
in Recoleta
Contramano is the main bear bar of Buenos Aires and the place to come to find handsome beefy chongos – Porteño gay slang for butch manly men. We found Contramano to be super friendly and also loved the mix of music they play, which includes the best pop hits as well as Latino anthems.
The crowd tends to be more on the older side here – mainly men in their 30s/40s and older. Contramano is only open on weekends: Friday, Saturday, and Sunday nights from midnight until 6 am. It is located on Rodriguez Peña 1082 in Recoleta.
Gay travel guide to Buenos Aires
Find out more about the best gay hangouts in the city, where to eat, activities to do, travel tips, etc… in our gay guide to Buenos Aires.
Glam
in Recoleta
Glam is a younger crowd than Contramano – a mix of students, guys in their 20s/30s, lovers of pop music, and us! Of all the gay clubs in Buenos Aires, this was our favorite.
Glam is divided into two main sections, one for pop/Latino music, the other more for electro. Look out for the live dancer shows that take place throughout the night.
Glam Disco is only open on Thursday to Sunday nights from midnight until 6.30 am. It is located at Cabrera 3046 in Recoleta.
Tango Queer at Buenos Aires Club
in San Telmo
At its inception in the late 1800s, the tango was a dance between two men. Whilst its queer origins may have been lost over time, there has been a renaissance of gay tango over the last few decades, culminating with a queer tango festival in November.
Tango Queer is one of the best gay milongas (gay tango halls) in Buenos Aires. We came here on a Tuesday evening to try out their lessons, which then turned into freestyle dancing, followed by a show. You cannot come to Buenos Aires and not do a gay tango class. It's romantic as well as an excellent way to meet friends.
Gay tango classes at Tango Queer take place every Tuesday at 8 pm and are for all levels, including outright beginners, which we were when we first went! Tango Queer takes places at the Maldita Milonga at Perú 571 in San Telmo.
La Marshall Milonga
in Villa Crespo
La Marshall is another excellent gay milonga in Buenos Aires worth checking out. If you miss the Tuesday class of Tango Queer, you can come to this one on a Wednesday evening.
Like Tango Queer, La Marshall follows the same format: classes from 8:30 pm followed by free-style dancing from around 10 pm, and then a show later on in the evening.
La Marshall Milonga is located at Yatay 961 in Villa Crespo.
Pride Cafe
in San Telmo
We love hanging out at Pride Cafe. It's not only in our favorite part of Buenos Aires (in San Telmo), the food and cocktails are always a treat – especially their delicious dulce de leche chocolate brownies!
One of the highlights of Buenos Aires is the Sunday San Telmo market, which we highly recommend. Pride is right by the market, which makes it the ideal place to come for a coffee after shopping, or for Sunday brunch.
Pride is open every day from morning until 8 pm and is located at Balcarce 869 in San Telmo.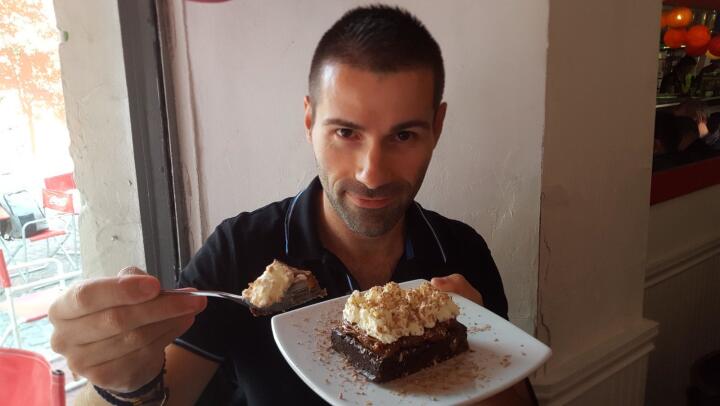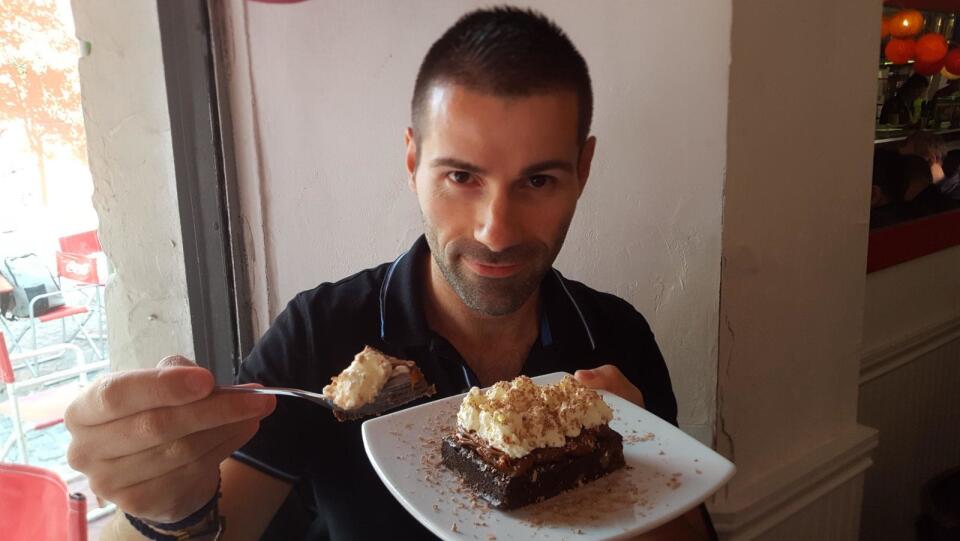 Gout Cafe
in Recoleta
Gout Cafe is a hetero-friendly cafe in Recoleta, famous for its gluten-free menu. Their coffees and cakes are also really goood, especially their red velvet cakes and macaroons. It's all made fresh every day so you know you're in for a treat here. Celiacs will, of course, particularly love this place.
Gout Cafe is open daily from 11 am to 8 pm. It is located in Montevideo 1480 in Recoleta.
Km Zero
in Recoleta
Located right by the subway station in Recoleta, KM Zero is another gay bar in Buenos Aires to come for drag shows. As a bonus, they also have very handsome exotic dancers.
The music ranges from electro-dance to Latin-house. It's also quite unique in that it was one of the only gay bars in Buenos Aires we found that is open every day of the week!
KM Zero is open daily from midnight until around 6 am and is located at Avenida Santa Fe 2516 in Recoleta.
Amerika Club
in Almagro
Amerika is the largest gay club in Buenos Aires and one of the biggest in South America. After Theatron in Bogota, it was definitely the largest gay club we've been to on the continent!
Amerika is spread out over 3 floors, each with dancing areas. They have themed nights like foam parties, bear nights, and more. When we went it was generally a younger crowd: guys in their 20s, but this will vary depending on the night.
Amerika takes place on weekends – Friday, Saturday, and Sunday evenings, from midnight until around 6/7 am. It is located at Gascon 1040 in Almagro.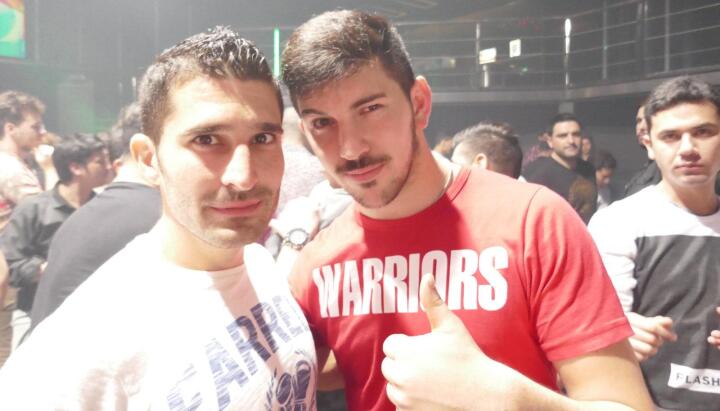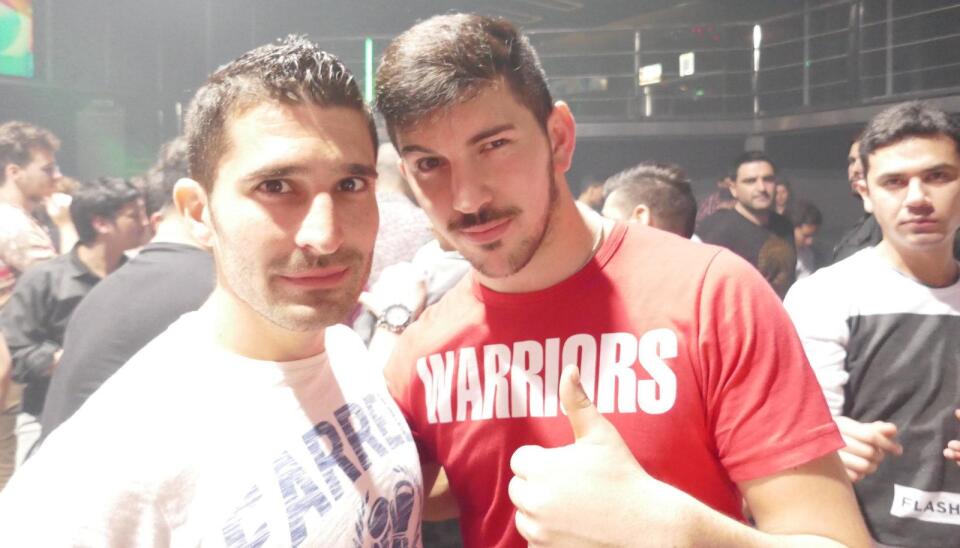 Feliza Bar
in Palermo
Feliza, or Fel!za, is a fabulous, fun, and super quirky gay bar in playful Palermo. They hold lots of fun events like Queer Teatra (theatre) contests, queer cinema screenings, drag karaoke, urban dance classes and even reading workshops!
The walls are decorated with powerful queer feminist art, which you can purchase. We also love all the retro arcade games they have. Music is a mix of Latino pop hits, usually by a live DJ with a few drag acts to hand to get the crowd warmed up. Upstairs there is a relaxed chillout area where you can also play foosball…definitely a first for us!
The crowd here is a wonderful mix of everyone from our LGBTQ rainbow family, usually in their 20s and 30s.
Located at 3271 Avenue Córdoba, Feliza is open only Thursday to Sunday evenings until around 4/5 am. Make sure you check their Facebook page to see what's on!
Casa Brandon Culture Club
in Villa Crespo
How to explain Casa Brandon? Self-dubbed as a queer cultural club, many locals in Buenos Aires come here for art exhibitions and performances from LGBTQ artists.
There's a monthly party known as BRANDONgayday where diversity is celebrated and partygoers dance to live DJs. If you're looking for something a bit different, a bit cultural, with yummy food and drinks, then you might like to try out Brandon.
You'll need to check out their Facebook page for the most up-to-date info on what's on and when. Casa Brandon is located at Luis Maria Drago 236 in Villa Crespo.
Fiesta Plop
in Palermo
These are some of the best weekend gay parties in Buenos Aires, especially for students, younger guys, and their fans. Fiesta Plop takes place on Friday evenings.
The Fiesta Plop parties have live DJs, exotic dancers, and lots of handsome young Porteño boys. They take place at the Teatro Vorterix (Vorterix Theatre), which is located on the corner of Frederico Lacroze and Alvarez Thomas in Palermo. Also, look out for ad hoc Fiesta Plop parties that take place during big occasions like Pride.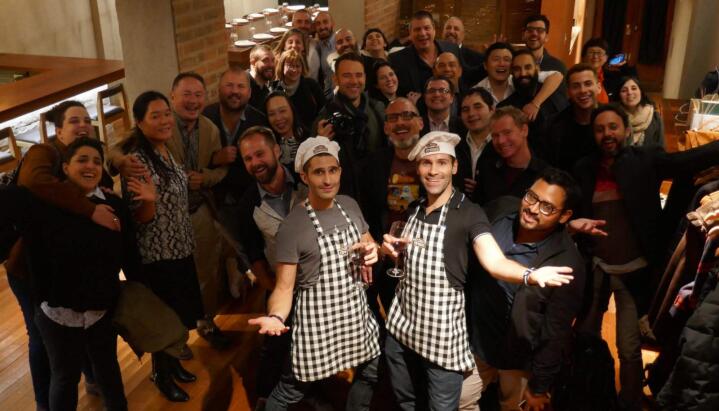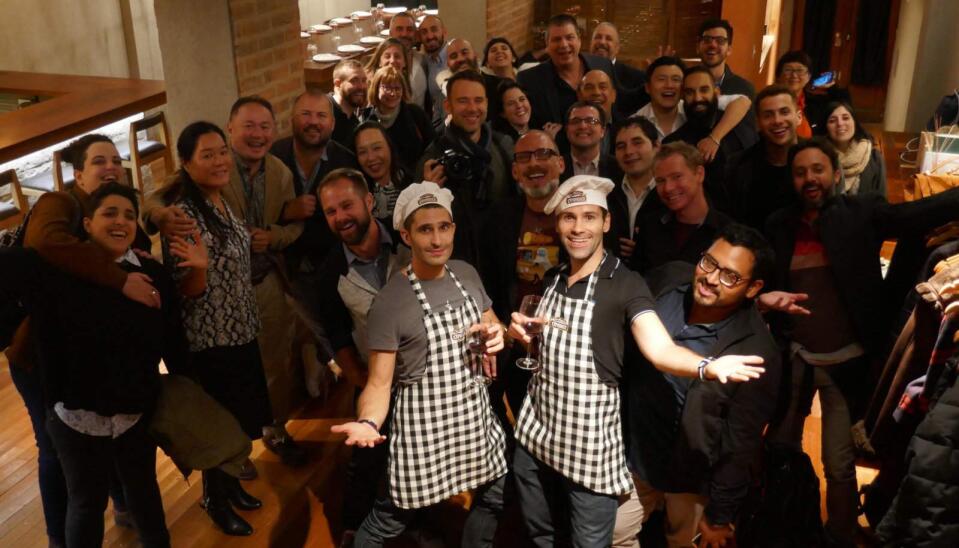 Maricafe
in Palermo
Maricafe is the latest addition to the gay scene of Buenos Aires. It's a gay cafe/bar and also an LGBTQ bookstore, right in the heart of Palermo. We love the name – a clever play on "maricon" (Spanish slang for a gay guy).
Drag Race fans, this is where you'll want to be heading to in BA for the best viewing parties. Every time there's an episode on, these guys are the first to put on a faaaabulous show for it!
The Maricafe also has a shop selling a wide range of rainbow paraphernalia from snazzy mugs, and cakes to your own Coming Out Box! For more, check out their website, and Twitter. They are located at 4096 Honduras Street in Palermo.
---
Like this post? Pin it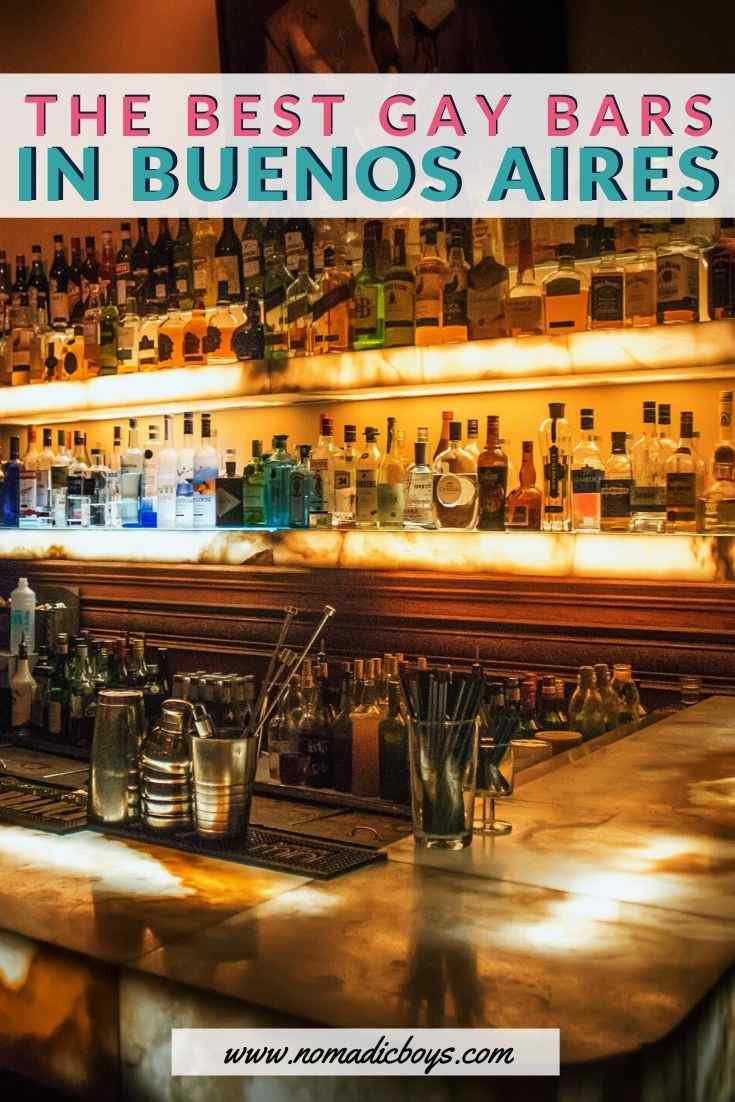 ---
Happy travels are safe travels
We recommend you always take out reputable travel insurance before your next vacation. What happens if you suffer from illness, injury, theft, or a cancellation? Many gay travelers forget about it and regret it when something happens. Better to pay a small price and have peace of mind and not worry.