5 unique gay friendly hotels in Buenos Aires
Argentina is a fiery beacon of fabulousness in Latin America, which really embraces LGBT travellers.
Perhaps our biggest test of how gay friendly a destination is: the response when we initially make contact with a few of the hotels and ask them if they're ok hosting a gay couple, who want to sleep in a double bed.
Awkward silence? Straight out "no thanks we don't do any of that here!" (yup – happened once in Crete, Greece).
Or instead, a positive, welcoming response, baffled at the need to even ask this question in the first place?
Fortunately in Buenos Aires, we only ever got the latter response. Here's our 5 favourite and unique gay friendly hotels to stay in Buenos Aires following our 2 months visit in this pink friendly city.

STAY WITH A GAY LOCAL
Misterb&b is the Airbnb equivalent for the LGBTQ community. Unlike on Airbnb, you know your host is gay, avoiding any nasty surprises when you check in. It is also a great way to meet gay locals and discover the underground gay scene. Click below to get 10 € (or $10) off your first booking.
Mio is one of the sexiest boutique hotels in the city, located in the heart of Recoleta and walking distance to the city's main attractions.
The rooms are elegantly designed to offer intimacy and luxury. The carved wooden bathtub in the middle of the room was one of the coolest we've seen in our travels and oh so welcoming after a long day sightseeing.
Mio Hotel Buenos Aires also has a spa area with a welcoming indoor pool, steam room and gym. The breakfast is super, with a wide selection of fresh fruits, exquisite yoghurts and yummy pastries.
This is definitely a spot not to miss in Buenos Aires.
Rooms at Mio Hotel start from $250 a night.
Hotel Boca is a very unique hotel which celebrates one of the famous local football teams: The Boca Juniors. Each door has a painting dedicated to one of the players. The most famous is of course Maradona's on room 1104.
However, football-hating Seby was quick to point out Hotel Boca is not just for football fans. Its unique design, cosy rooms with wooden floor, excellent breakfast and very helpful staff make it the ideal place to stay in San Telmo.
It's not only walking distance from the Sunday antique market but also close to some of the best parillas (Argentinian steak houses), like Gran Parilla del Plata.
And why else would you stay at Hotel Boca? Because think about all those sexy straight boys it attracts who will certainly want to hang out at the pool and spa area!
Rooms at Hotel Boca start from $120 a night.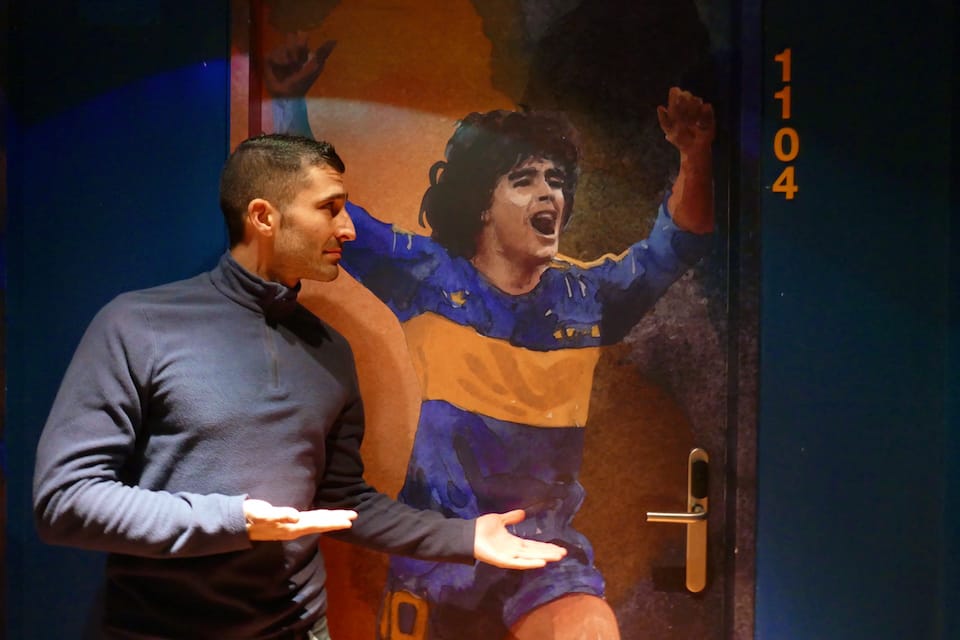 A home-away-from-home, which has that important je ne sais quoi which we always look for!
Le Petit Palais is a beautiful B&B with a quirky design, great location and an incredibly charming French host: Gilles and his 3 friendly cats! The breakfast is a real highlight with homemade yoghurt, freshly squeezed orange juice and lots of naughty pastries.
You can tell Gilles really cares and pays extra attention to every detail: the rooms are decorated with immaculate taste and are exceptionally clean.
Le Petit Palais is located in the heart of Palermo, close to the gay bars and many trendy parillas like the highly rated Lo de Jesús.
Rooms at Le Petit Palais start from $70 a night.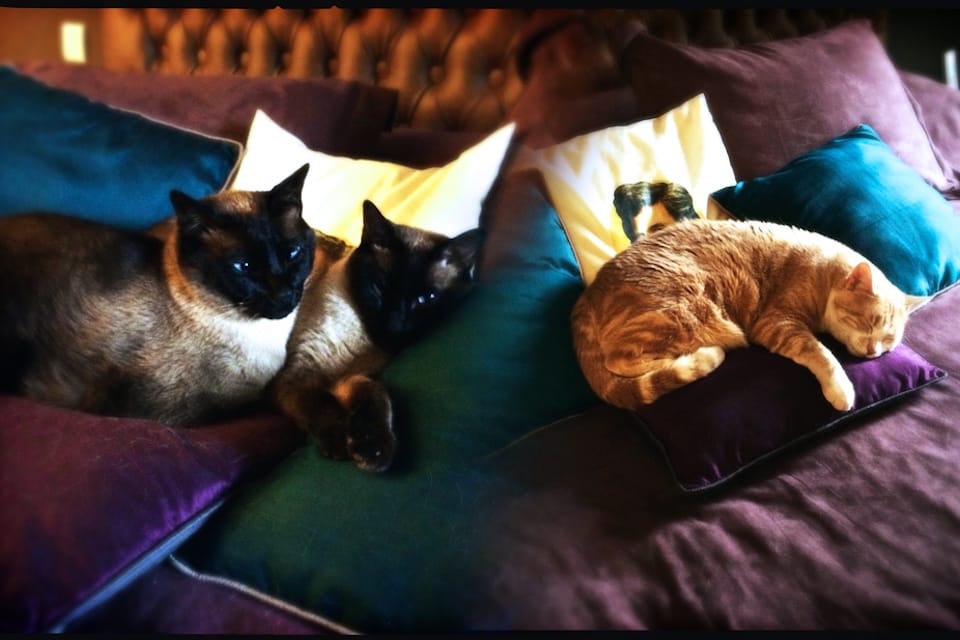 Faena is a chic hotel located in the trendy Puerto Madero neighbourhood, one of our favourite parts of the city. It is the former port of the big capital city, which has been revamped into a new, vibrant and very modern neighbourhood.
The hotel itself has a real feel of classic European design with modern touches. The rooms are spacious and elegant, with some offering stunning views across the river. There is a huge gym, excellent spa and extremely inviting swimming pool.
Faena Hotel is also home to Rojo Tango, the best tango show in Buenos Aires.
If you're looking for indulgence and luxury, Faena has it all!
Rooms at Faena Hotel start from $340 a night.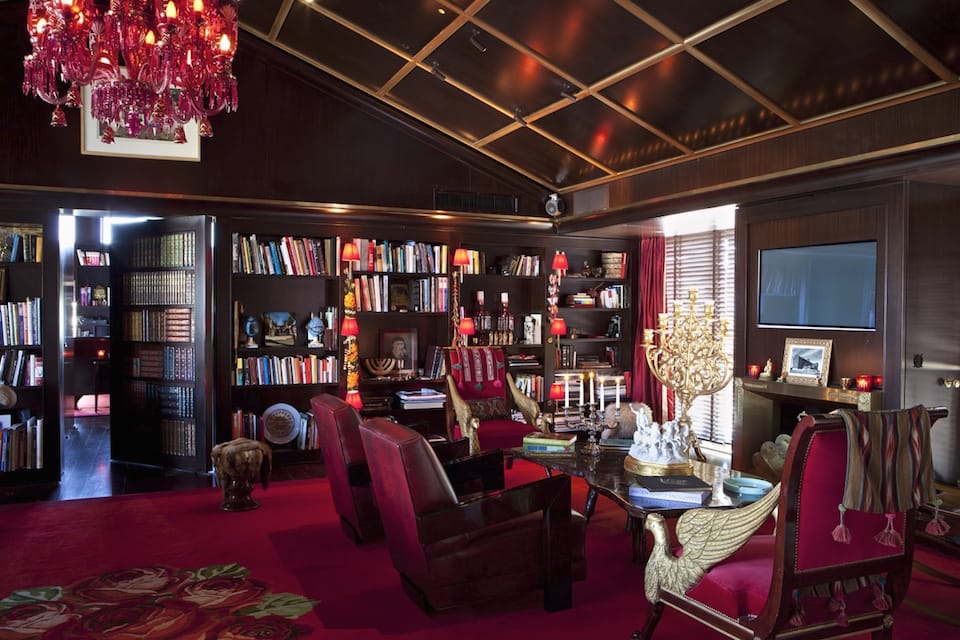 Home is super chic and in our opinion, a true hidden gem. It's located in Palermo Hollywood, close to the gay bars of Palermo. As soon as you step inside Home Hotel, it's like you've entered an oasis of tranquility, welcomed by smiley and very attentive staff.
We recommend staying in one of their 2 Suites, decorated in vintage style boasting a large Jacuzzi, perfect for a romantic and relaxing moment with your loved one.
The daily changing breakfast is fantastic and the garden area ideal for post shopping recovery or pre-dinner cocktails.
Rooms at Home Hotel start from $379 a night.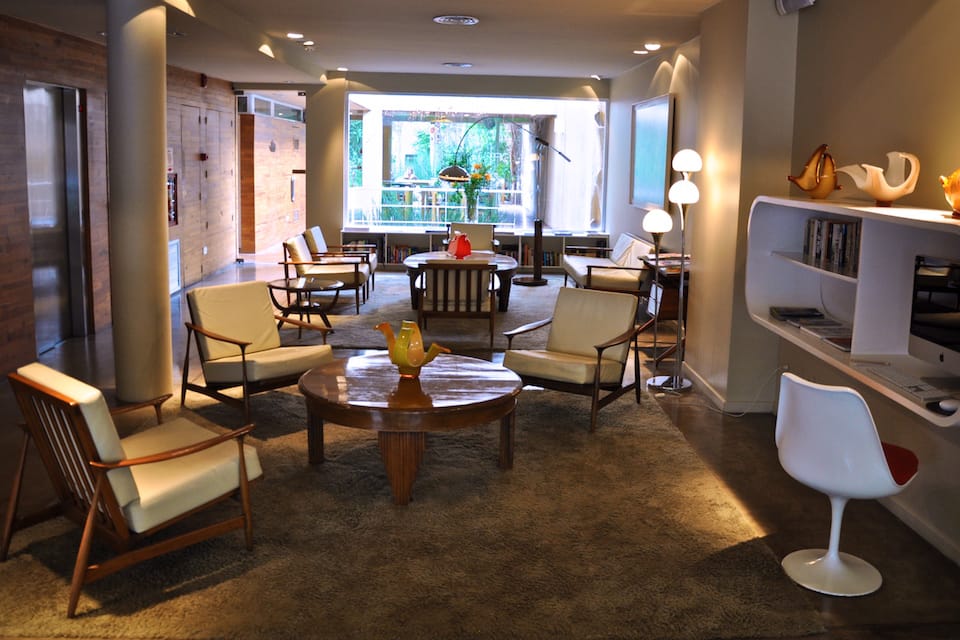 OUR FAVORITE TRAVEL RECOMMENDATIONS
⭐️ TRAVEL INSURANCE — We recommend you always take out travel insurance before your next vacation. What happens if you suffer from illness, injury, theft or a cancellation? With travel insurance, you can have peace of mind and not worry. We love World Nomads travel insurance and have been using it for years. Their comprehensive coverage is second to none and their online claims process is very user friendly.
⭐️ SAFETY & SECURITY — All travelers (gay or not) can sometimes encounter danger when traveling. CloseCircle is your "virtual body guard" mobile app which provides security alerts and support wherever you are in the world. They have a 24/7 emergency response team monitoring their users who will contact you immediately if the SOS swipe button is activated. Support can include anything from practical advice, to free evacuation from areas with extreme weather or security risks. You can read more about CloseCircle in our article about how to stay safe whilst traveling.
⭐️ ONLINE ANONYMITY — A VPN (Virtual Private Network) is a must in many countries: it allows you to surf anonymously and maintain your privacy whilst traveling. You'll particularly need it in countries where gay dating apps are blocked by the government. We recommend ExpressVPN, a reliable and cost effective service which we used and loved during our travels.
⭐️ HOTELS or APARTMENTS — When we plan a trip, we always look for the best hotel deals. We love Booking.com because not only do they have a comprehensive listing of accommodation options, they also offer the best prices. Added bonus: they provide 24/7 support and free cancellation for most listings.
⭐️ SIGHTSEEING and ADVENTURES — When we travel somewhere, we like to seek out the best experiences, whether it is cooking with locals in Bangkok, hiking on a glacier in Patagonia, or going on a wildlife safari in Sri Lanka. Our favorite place to look is GetYourGuide because they have over 30,000 highly rated activities, a user-friendly booking process with free cancellation and a 24 hour customer support.
This article contains affiliate links. If you click on them, we may receive compensation which keeps our website alive and helps us bring you to more destinations.
To find out more:
IF YOU ENJOYED READING, PLEASE PIN ME: