TERMS OF USE: There is a chance that some of the content on this page has changed since it was last updated. By reading this article, you consent to our Terms of Use and Disclaimer. Happy Travels!
DISCLOSURE: Some of our posts may contain affiliate links which we may receive a commission if you choose to book something through one of our links.
These are the best and most unique gay friendly hotels in Buenos Aires for basing yourself in the capital of Argentina.
Argentina is a fiery beacon of fabulousness in Latin America, which really embraces LGBTQ travellers. The capital city, Buenos Aires, is one of our favourite gay cities on the continent. It's got everything you need for a truly terrific gaycation: a huge gay scene, many cultural things to do (queer tango classes anyone?) and that's before we've mentioned the sexy Porteño boys…
Buenos Aires has everything : a huge gay scene, culture, queer tango classes and of course, very sexy Porteño men…
Perhaps our biggest test of how gay friendly a destination is: the response when we initially make contact with a few of the hotels and ask them if they're ok hosting a gay couple, who want to sleep in a double bed.
An awkward silence? A straight-out "no thanks we don't do any of that here!" (happened once in a guesthouse in Crete, Greece). Or instead, a positive, welcoming response, expressing bemusement at even having to ask this question in the first place?
In Buenos Aires, we only received welcoming responses to this question, which for us, is testament to how gay friendly it is here.
We've been to the Argentinian capital on many occasions, each time trying out a range of different hotels and guesthouses. Based on our first-hand experience, we've put together this list of our favorite gay friendly hotels to stay in Buenos Aires.
Which area to stay in Buenos Aires?
Buenos Aires is a massive city, with over 40 different neighbourhoods, or barrios, that have all been influenced by countries from around the world. During our travels in Argentina, we used Buenos Aires as a base, and stayed in many different areas each time we visited. Below are the areas we loved:
From the airport…
The best way to get from the airport to the city center is via a hotel shuttle or private transfer. You can also use the public taxis but make sure they use the meter. Book your shuttle now to avoid queues at the airport or your private transfer with an English speaking driver.
---
01
Mio Buenos Aires
Recoleta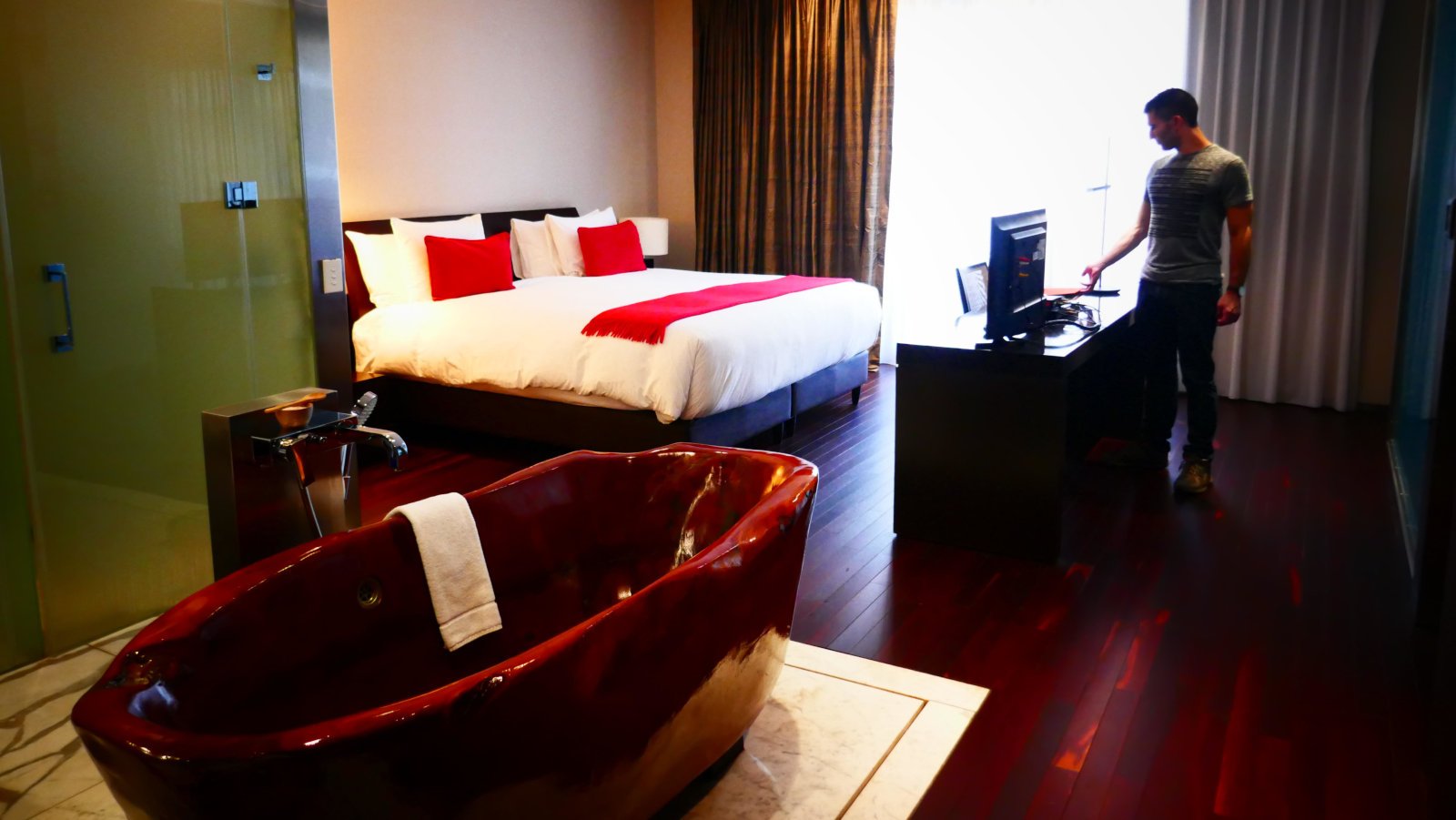 Why we love it
---
Carved wooden bathtubs!
Local art throughout the hotel
Luxurious spa with giant Jacuzzi
Hotel library with drinks and music
Mio is one of the sexiest gay boutique hotels in the city, located in the heart of Recoleta and walking distance to the city's main attractions.
The rooms are elegantly designed to offer intimacy and luxury. The carved wooden bathtub in the middle of the room was one of the coolest we've seen in our travels and oh so welcoming after a long day sightseeing.
Mio Hotel Buenos Aires also has a luxurious spa area with a welcoming indoor pool, steam room and gym. The breakfast is delicious, with a wide selection of fresh fruits, exquisite yoghurts and yummy pastries.
The hotel is a boutique art hotel so some of the amazing artwork you will see includes the front doors made from wine barrels, regular exhibitions from local artists, a lobby with a garden wall, fountains and giant butterflies; did we mention the carved wooden bathtubs yet? They are made by Argentine artist Mario Dasso from calden trees that he finds already dead, so no cutting them down. This is definitely a spot not to miss in Buenos Aires.
STAY WITH A GAY LOCAL
Misterb&b is the Airbnb equivalent for the LGBTQ community. Unlike on Airbnb, you know your host is gay, voiding any nasty surprises when you check-in. It is also a great way to meet gay locals and discover the underground gay scene. Click below to get 10 € (or $10) off our first booking.
02
Hotel Boca Juniors by Design
San Telmo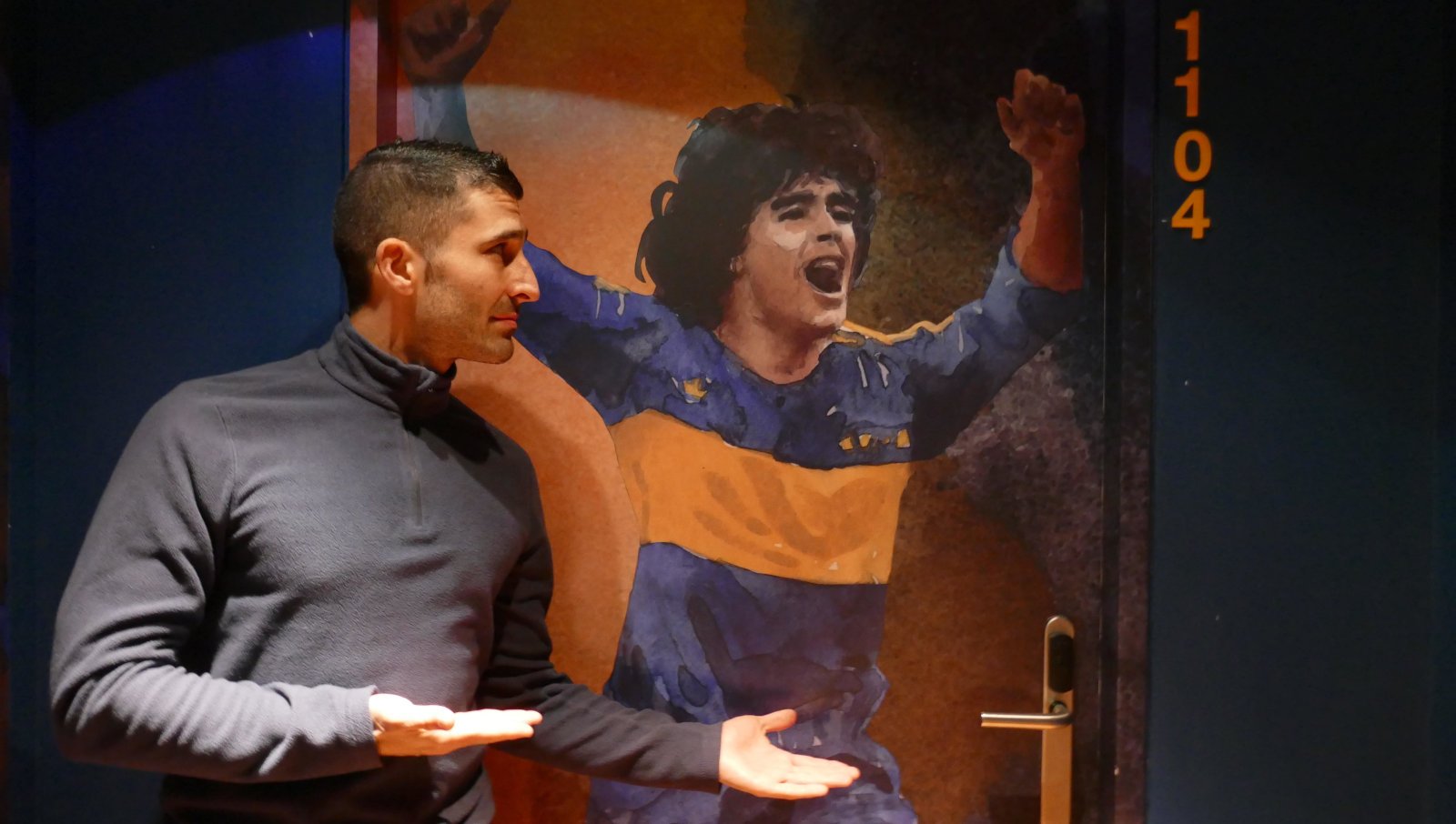 Why we love it
---
Buenos Aires' first football-themed hotel
All rooms have a spa bath
Lovely spa with luxurious treatments
Great location in San Telmo
Hotel Boca is a very unique gay friendly hotel which celebrates one of the famous local football teams: The Boca Juniors.
Each door has a painting dedicated to one of the players. The most famous is, of course, Diego Maradona's on room 1104.
However, football-hating Seby was quick to point out that Hotel Boca is not just for football fans. Its unique design, cosy rooms with wooden floors, excellent breakfast and very helpful staff make it the ideal place to stay in San Telmo. It's also very cool and colourful, with the blue and yellow of the Boca Juniors echoed throughout the space.
Hotel Boca Juniors is not only walking distance from the Sunday antique market but also close to some of the best parillas (Argentinian steak houses), like Gran Parilla del Plata. The area is very bohemian, perfect for a stroll amongst the antique shops, art galleries, cafes and tango parlours.
And why else would you stay at Hotel Boca? Because think about all those sexy straight boys it attracts who will certainly want to hang out at the pool and spa area!
03
Le Petit Palais
Palermo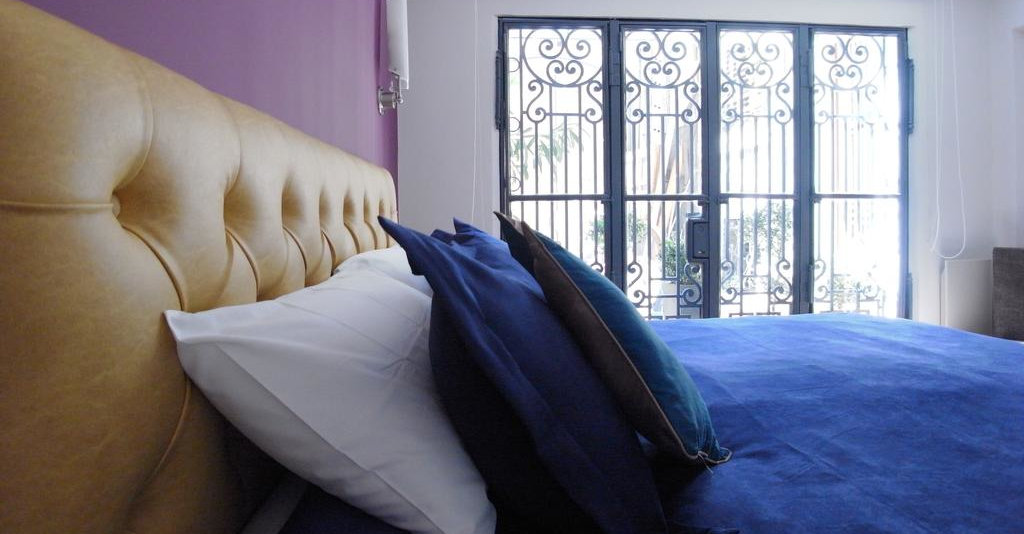 Why we love it
---
3 friendly resident cats
Very homey B&B
Delicious homemade breakfast
Friendly and helpful gay host, Gilles
A home-away-from-home, which has that important je ne sais quoi which we always look for!
Le Petit Palais is a beautiful gay owned B&B with a quirky design, great location and an incredibly charming French host, Gilles, along with his three friendly cats! The breakfast is a real highlight with homemade yoghurt, freshly squeezed orange juice and lots of naughty pastries.
You can tell Gilles really cares and pays extra attention to every detail: the rooms are decorated with immaculate taste and are exceptionally clean. We particularly liked the bright colours in the bedrooms as well as the shared leafy terrace and tranquil library.
Le Petit Palais is located in the heart of Palermo, close to the gay bars and many trendy parillas like the highly rated Lo de Jesús, as well as lots of museums and tourist sites to explore during the day.
04
Faena Hotel
Puerto Madero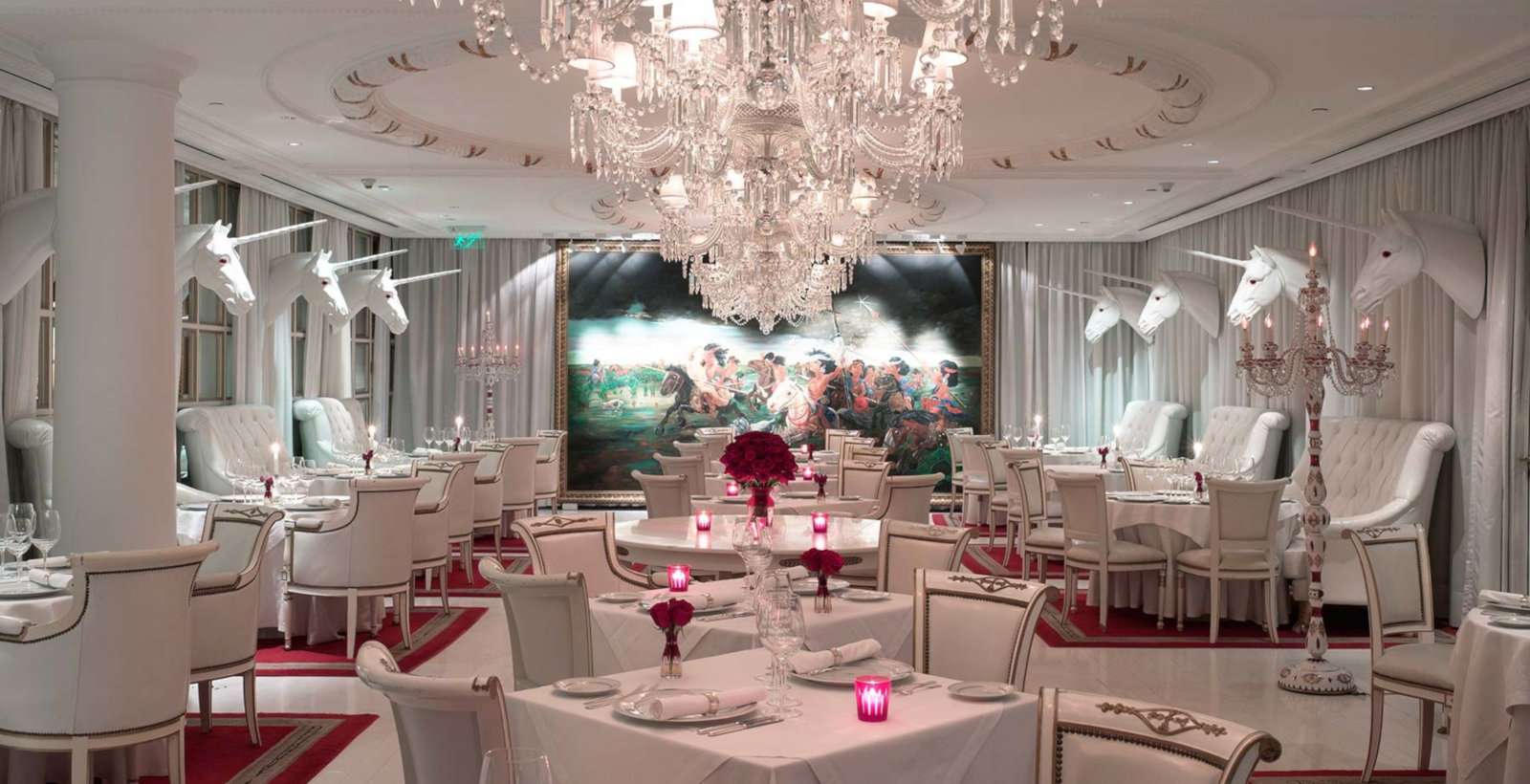 Why we love it
---
Whimsical unicorn decor of Bistro Sur
Massive crown in the pool!
Home to the famous Rojo Tango show
Gorgeous design and colours
Faena is a chic gay friendly hotel located in the trendy Puerto Madero neighbourhood, one of our favourite parts of the city. It is the former port of the big capital city, which has been revamped into a new, vibrant and very modern area.
The hotel itself has a real feel of classic European design with modern touches. The rooms are spacious and elegant, with some offering stunning views across the river.
Facilities include a huge gym, excellent spa and extremely inviting swimming pool with a pool bar for cocktails. There's even a massive crown in the middle of the pool; perfect for all the queens out there!
Faena Hotel is also home to Rojo Tango, the best tango show in Buenos Aires. The entire hotel is decked out with pops (or walls) of red, the colour of passion that one really associates with Argentine tango.
If you're looking for indulgence and luxury, Faena has it all! Make sure you eat at the whimsically decorated Bistro Sur as well (pictured). Need we say more?
05
Home Hotel
Palermo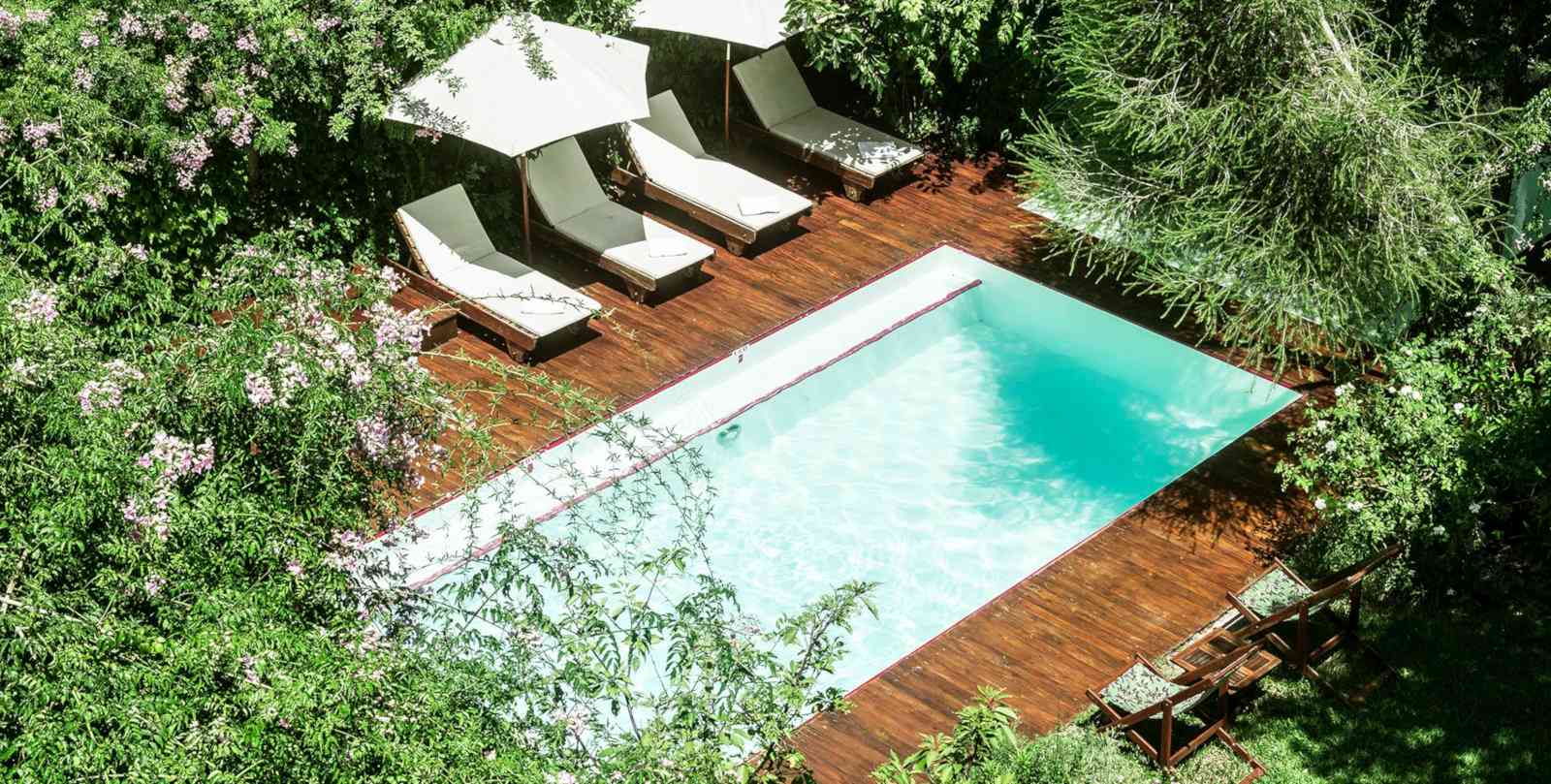 Why we love it
---
Lush jungle-style garden and pool
Great location near the gay nightlife
Lovely spa services
Delicious breakfast and brunch
Home is super chic and in our opinion, a true hidden gem. It's located in Palermo Hollywood, close to the gay bars of Palermo.
As soon as you step inside Home Hotel, it's like you've entered an oasis of tranquillity, welcomed by smiley and very attentive staff.
We recommend staying in one of their 2 Suites, decorated in vintage style boasting a large Jacuzzi; perfect for a romantic and relaxing moment with your loved one. We also love the services on offer in the spa, with special massages and facials designed for men or those suffering from jet lag.
The daily changing breakfast is fantastic, you can have a buffet between 7.30 – 11.30 am or the breakfast menu from 10.30 – 11.30 am and there's a special brunch menu on weekends. The garden area and pool make you feel like you are in a jungle or a treehouse; ideal for post-shopping recovery or pre-dinner cocktails.
06
LGY G A Y Bed & Breakfast
San Telmo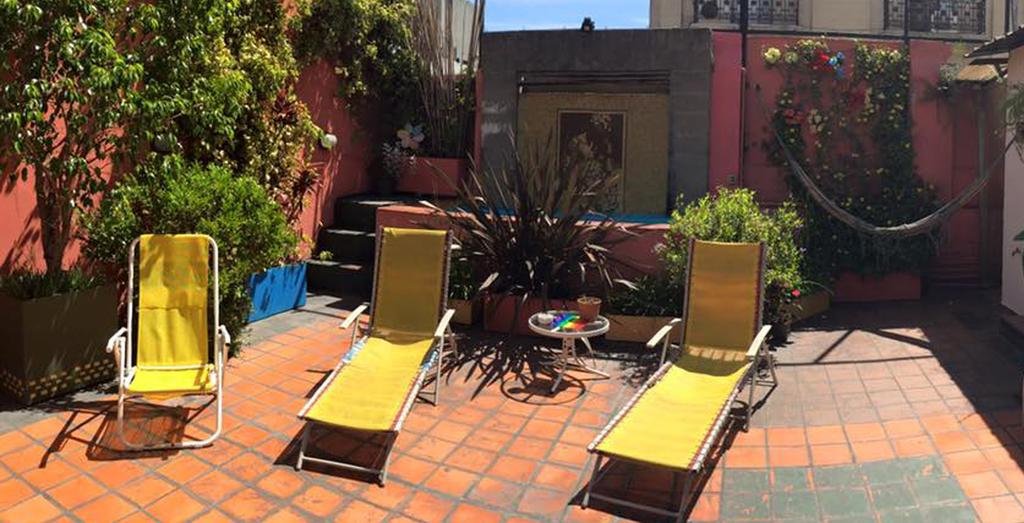 Why we love it
---
Exclusively for gay men
Cool shared areas for making friends
Rooftop terrace and hot-tub
Lovely hosts, gay couple Javier and Santo
Located in the heart of San Telmo, LGY G A Y Bed & Breakfast is ideal for male gay travellers to Buenos Aires, it's right there in the name!
This gay accommodation is very affordable, with a variety of rooms available from those with bunks, singles or double beds; and a mix of shared and private bathrooms.
LGY G A Y is sort of a cross between a hostel and a hotel, the prices are great but you can still expect a daily room-cleaning service and fresh towels. Be aware you will need to carry your luggage up lots of stairs!
It's also a lovely place to relax and meet other gay travellers in the cosy lounge, shared kitchen or library. And even though it's basic it still has some nice included extras like a hot tub, mini-gym, rooftop terrace and free breakfast.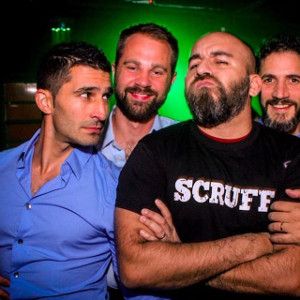 Discover the gay bars of Buenos Aires with an LGBTQ local…
A gay tour of Buenos Aires is a unique experience and a fantastic way to make new friends from all over the world. You'll be greeted by a gay local, who'll take you to the best gay bars in Buenos Aires for an unforgettable night out!

07
Alvear Palace Hotel
Recoleta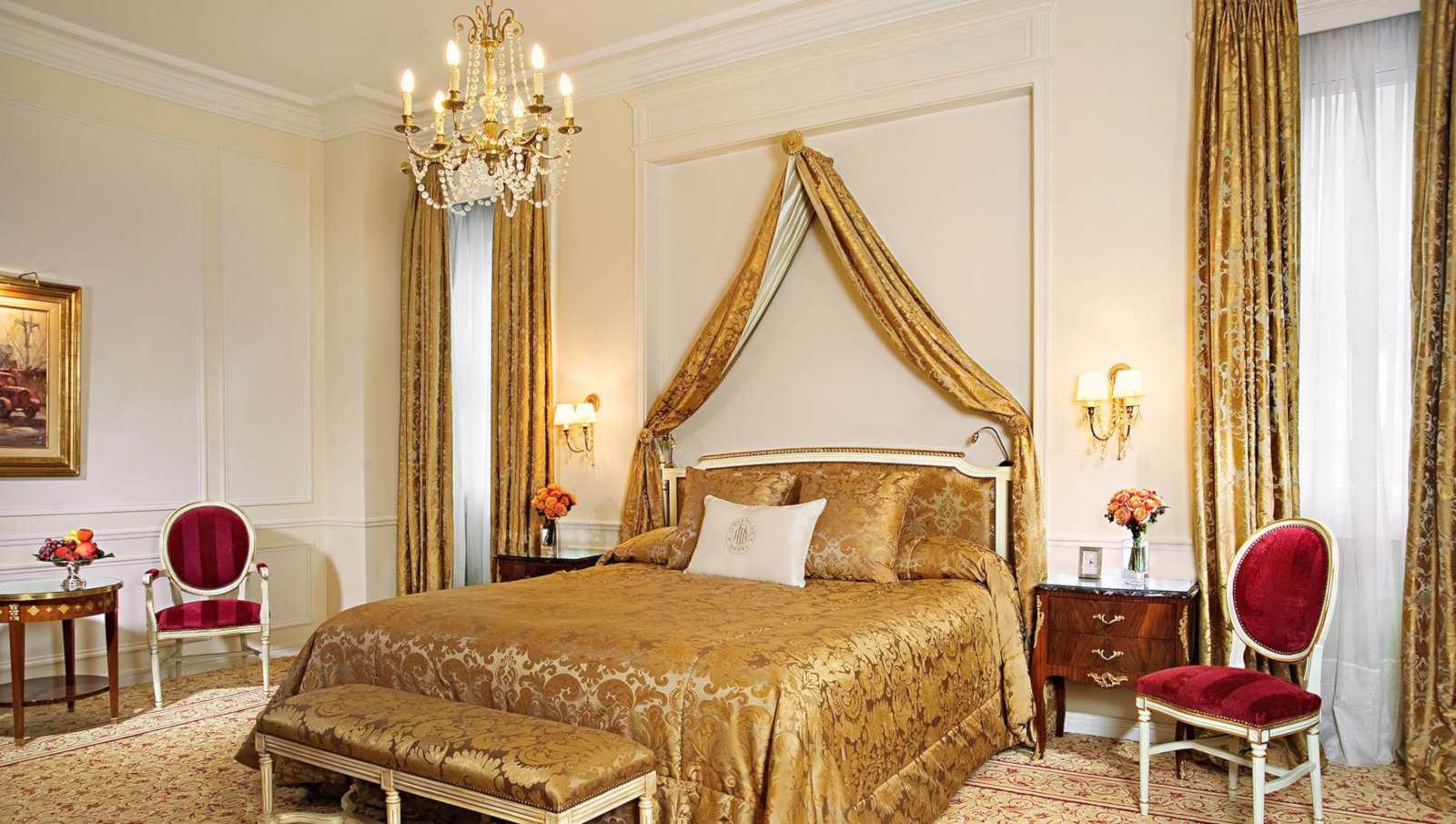 Why we love it
---
Beautiful French design
Luxurious spa and wellness options
Romantic rooms
Rooftop pool and pool bar
For something truly decadent why not stay at the gay friendly 5-star Alvear Palace Hotel, one of the most luxurious hotels in the world?
With magnificent French-inspired architecture and design, this is the place to feel like a princess or a queen!
Sumptuous details abound here will catch your eye, from the Hermés by Paris toiletries to the fresh fruit in your room on arrival.
We love the huge wellness/spa complex which features multiple steam baths, saunas, pressure showers and relaxation rooms. There's a rooftop indoor pool with a pool bar and an exceptional gym. Don't forget to book a relaxing massage or facial during your stay.
The Alvear Palace Hotel also has two on-site restaurants and two different bars; try traditional Argentinean cuisine in the Alvear Grill or a lovely French-inspired breakfast, brunch or high tea in L'Orangerie.
If you ever want to actually leave the hotel you will find yourself within Recoleta's elegant neighborhood, close to some of the city's main attractions such as the Recoleta Cemetery and Museo Nacional de Bellas Artes.
08
Art Factory Palermo
Palermo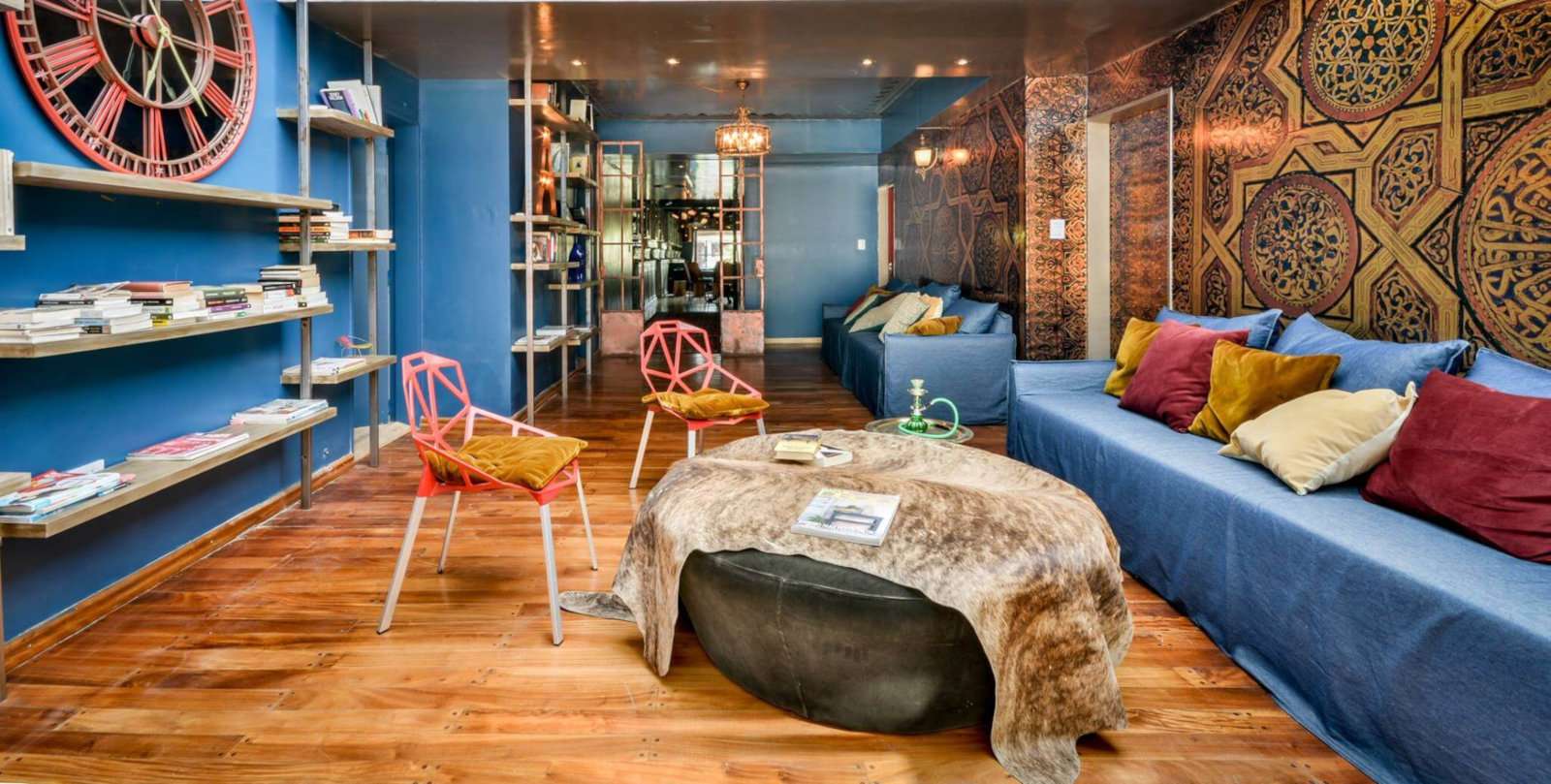 Why we love it
---
Art and colours everywhere
Free Spanish conversation classes
Very affordable and groovy
Great location in Palermo
For seriously cool budget gay accommodation we love the Art Factory Palermo!
There are vibrant murals throughout the building and you can choose from a simple bunk (that look kind of like cartoon drawings) in a dorm or a private room with a shared or private bathroom.
With a shared kitchen, lounge and games room (with a ping pong table), you are guaranteed to have fun and make friends. Staff are friendly and helpful and there's the added bonus of being located in the exciting main gay neighbourhood of Palermo.
Even though it's a seriously budget option, the Art Factory is known for it's cleanliness and we love the extras like a free street art tour and free Spanish conversation classes! There's also a library and book swap as well as computers with free WiFi for guests.
09
Palermo Viejo B&B
Palermo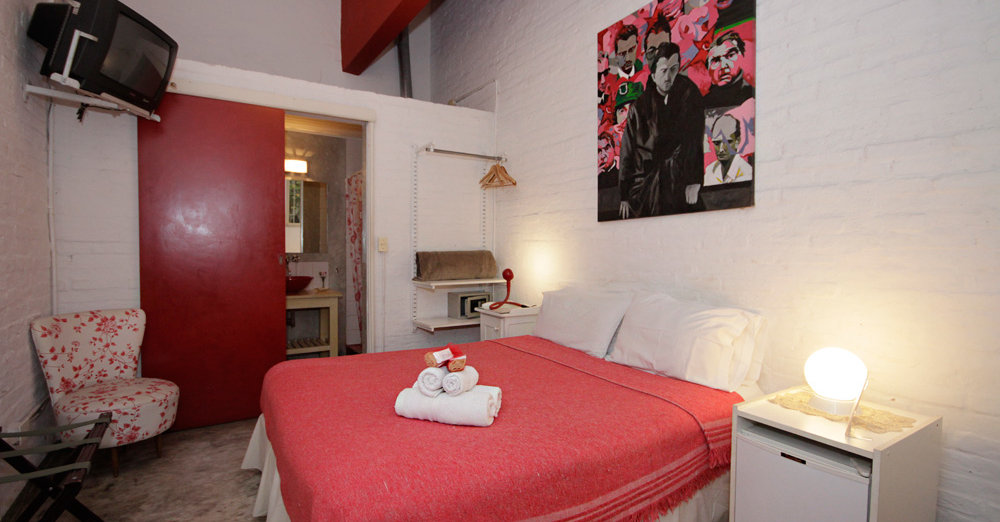 Why we love it
---
Close to the biggest outlet shop in Buenos Aires
Charming and colorful
Great affordable option
Yummy homemade breakfast
Another excellent budget option in the awesome barrio of Palermo is the Palermo Viejo bed and breakfast.
The building itself is very interesting, it used to be a former factory and although it has been renewed it still retains it's traditional Buenos Aires charm. It's also located just minutes away from Cordoba Avenue; the biggest open outlet shop in the city.
While the rooms are simple and rustic, they're lovingly decorated with different color themes and every room comes with a private bathroom, minibar and safe. You won't need to sacrifice comfort for the sake of price here!
This is a truly welcoming gay friendly bed and breakfast; friendly host and owner Ariel provides a yummy continental breakfast each day with homemade bread, eggs, and fresh fruit. The plant-filled patio is a lovely spot to relax and there's also a little library where you can take a book if you leave a book.
---
Happy travels are safe travels
We recommend you always take out reputable travel insurance before your next vacation. What happens if you suffer from illness, injury, theft, or a cancellation? Many gay travelers forget about it and regret it when something happens. Better to pay a small price and have peace of mind and not worry.