A romantic road trip in Northeast Argentina
"Poor Niagara!"
…so said the late Eleanor Roosevelt when she first came face to face with the almighty Iguazú Falls back in 1944.
The famous Falls are a bucket list destination for pretty much all travellers visiting Latin America. If it isn't, it sure as hell should be. You can stand for hours marvelling at this sheer force of nature, spell bound, your hairs standing on end, whilst getting completely soaked from the powerful spray, but without a care in the world.
It's truly a mesmerising experience.
The Iguazú Falls are located in Northeast Argentina in the Misiones province, straddling the Brazilian border. Most visitors to Argentina make this their main destination after Buenos Aires, only spending 2 or 3 nights in Puerto Iguazú before moving on to another destination.
However, the rest of Misiones, along with the neighbouring Corrientes province, are home to some of the most unique natural phenomenons and ecosystems on earth such as the incredible Moconá Falls and the peaceful Esteros del Iberá wetlands.
Sadly, due to the lack of transport options in the region, Moconá Falls and Esteros del Ibera are usually skipped. There are, however, excellent roads connecting each destination, making it the perfect road trip.
Following our very own romantic road trip across Misiones and Corrientes provinces, we've put together this itinerary to make the best of Northeast Argentina's wonders.
OUR 7 DAYS ROAD TRIP ITINERARY
Day 1: pick up your car at Posadas airport
Pick up your car at Posadas airport
First of all, flights are expensive in Argentina, so do not expect bargain deals. We flew with Aerolinas from Buenos Aires to Posadas airport and paid $150 dollars each way for a 1.5 hour flight. With Ryanair starting lowcost flying in Argentina in 2017, airfaires should soon become more competitive.
Buses are a good alternative to flying if you want to save money and have time to spare. From Buenos Aires, the bus takes around 14 hours to Posadas ($72-$100) or 20 hours to Puerto Iguazú ($85-$135). We recommend the South Pass offered by "Argentina By Bus" to save money on long bus journeys.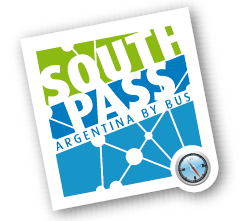 For the car rental, any car will do. The roads to all the destinations proposed in this itinerary are well paved and a 4×4 is not required.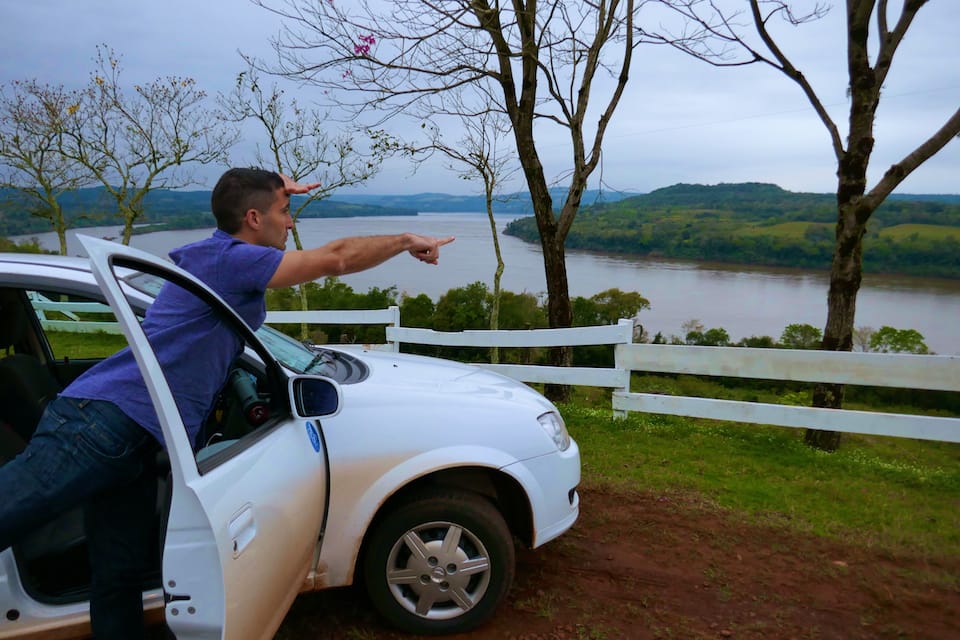 Day 1-3: drive from Posadas to Puerto Iguazú
Drive from Posadas to Puerto Iguazú
The drive from Posadas airport to Puerto Iguazú is around 4-5 hours. Half way through, you will pass the little town of San Ignacio, famous for its Jesuit ruins.
1. Worth a stop: San Ignacio Jesuit ruins
This UNESCO site is one of the most important and best preserved Jesuit ruins in Latin America. Dating back to 1632, the San Ignacio Miní is one of many missions built by the Jesuits for the indigenous Guaraní communities to convert them using a very unique approach: mixing western culture with the Guaraní to produce a new one.
You don't need more than 2 hours to explore San Ignacio Miní. If you're tight with time, you can also visit the site on your way to the Moconá falls.
Parking is available and entry to the San Ignacio ruins costs 180 pesos ($12) per person. The ticket is valid for 15 days and includes entry to the surrounding missions as well.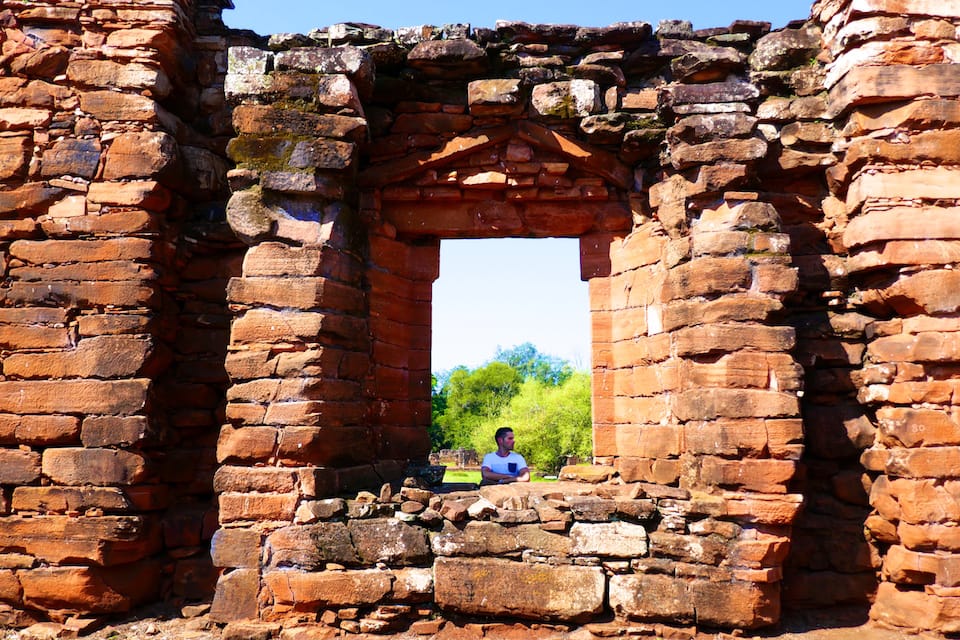 2. Where to stay in Puerto Iguazú
Puerto Iguazú is a quiet and laid back little town where people base themselves to see the Iguazú Falls. There are many decent options to stay in Puerto Iguazú. Here's a few of our favourites:
The Amerian Portal Del Iguazú sits on the Paraná river bank, overlooking Paraguay and Brazil. We stayed in their gorgeous suite, which offers incredible views across the river and the jungle beyond. The romantic sunset view we experienced every evening made it very special.
The hotel is located directly opposite the bus stop where you can get the public bus to the Iguazú National Park.
Rooms at the Amerian start from $240 a night.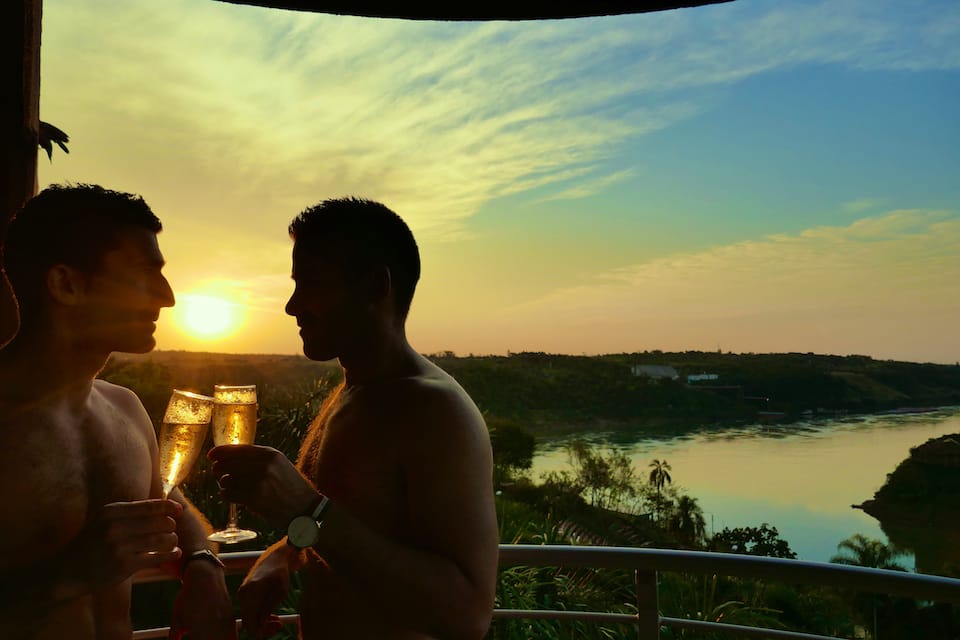 Loi Suites Iguazú is located just outside Puerto Iguazú town, right in the heart of the jungle and very near the Jasy Porã Guaraní village. For 2 nights, Loi Suites was our little oasis of luxury and relaxation. We particularly loved their sexy outdoor pool, great for #IJustWokeUpLikeThis moments.
Rooms start from $250 a night and includes breakfast.
3. Iguazú National Park
The Iguazú Falls are one of the most incredible things we've ever seen in our travels. They were voted as one of the Seven Natural Wonders of the World by a poll in November 2011 as was the Underground River in Palawan.
A guided tour will help you make the most of your visit to the Iguazú National Park. If you decide to visit the park on your own, entrance fee is 330 pesos ($22) per person and half price for the second day.
The falls are a 2.5km (1.5 miles) towering mass of roaring water, comprising nearly 300 cascades, straddling the Argentinian and Brazilian border. The climax point, Devil's Throat will leave you stunned as you take in the immensity of the 80m waterfall drop to the cloudy abyss below. Tip: bring a light poncho – the splash is quite intense!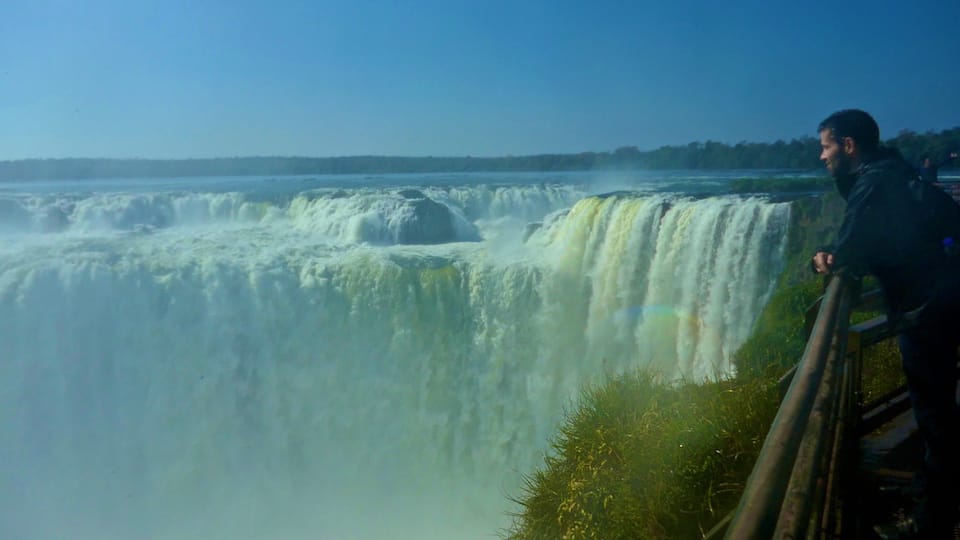 The ultimate romantic experience is to watch the Iguazú Falls during a full moon (called luna llega). Each month, and for only a few days, the National Park opens its doors by night to all visitors to witness this extraordinary show.
4. Not to miss: a visit to the Jasy Porã Guaraní tribe
The Jasy Porã (meaning beautiful moon in the Guaraní language) is one of the remaining indigenous Guaraní tribes in the Misiones province. Their community live in a secluded village outside of Puerto Iguazú.
We visited the Jasy Porã tribe while we where staying in the nearby Loi Suites. We met their cacique (the village official), learned about their traditions and took plenty of selfies with the young teenage Beliebers.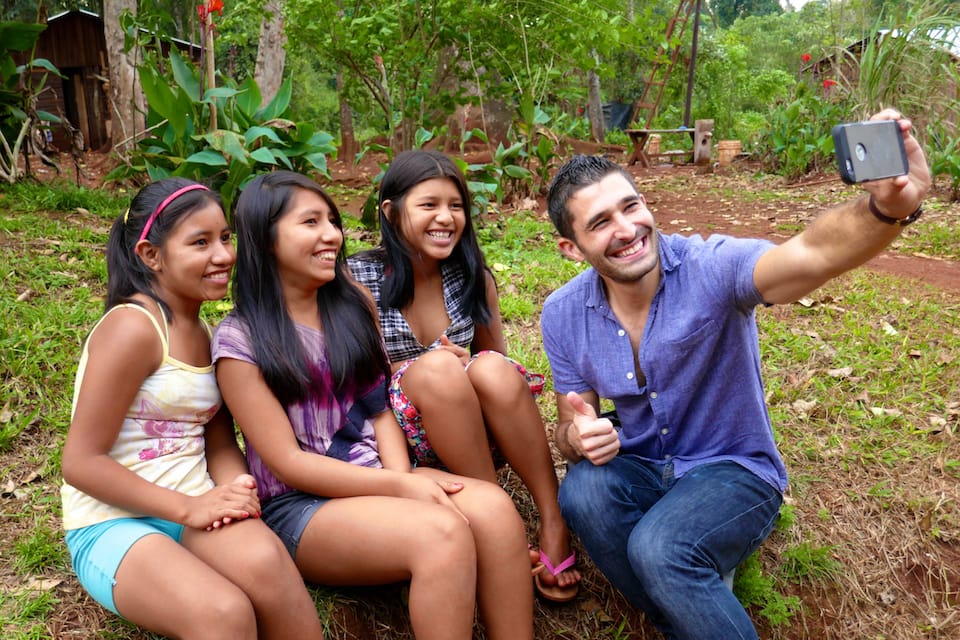 The Jasy Porã tribe were featured in a short documentary film, which you can view here (use password: karai). They offer organised tours, which we highly recommend to learn more about this ancient culture, and also sell beautiful handicraft. The money you pay goes directly to their community.
To book tours to the Jasy Porã, contact Nazaret Pared of the Misiones Tourism Board.
4. Where to eat in Puerto Iguazú
Puerto Iguazú has plenty of excellent restaurants, all offering a variety of both Argentinian and international food:
A Piacere Parilla: one of our favourite restaurants because of the lively outdoor atmosphere and live music. Parillas are the steakhouses of Argentina and the place to come to get your fill of meat.
Aqva Restaurant: we came here to try the local specialty, the oily surubí freshwater fish, washed down with some divine caipirinhas. It made a nice break from all the meat we consumed during our travels in Argentina!
La Toscana: one of the best Italian restaurants in town, serving up delicious home made pasta dishes – check out the Pasta Casera section of the menu. The dishes are prepared in front of you on a massive wheel of parmesan cheese!
La Vaca Enamorada: one of the most highly rated restaurants in town, offering up yummy steaks and a very tasty chocolate mouse dessert. The extremely charismatic owner charmed the pants off Sebastien speaking to him in fluent French.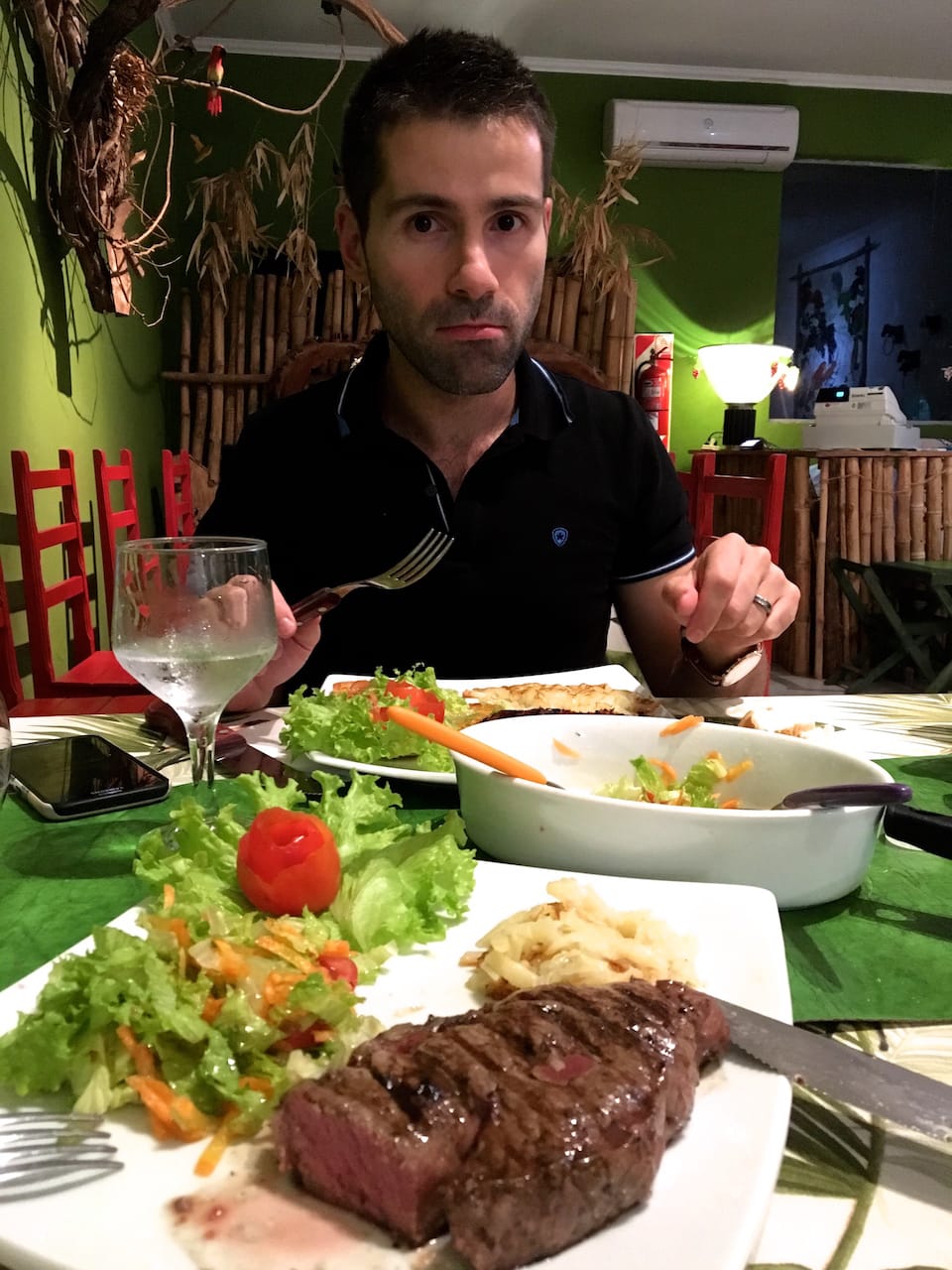 Day 4-5: drive from Puerto Iguazú to Moconá
Drive from Puerto Iguazú to Moconá
Misiones province is not only home to the Iguazú falls, but also to the lush Yabotí biosphere, a 250,000 hectares protected reserve created by UNESCO in 1995. It is made of untouched pristine rainforests – in short, this is the Argentinian jungle. Moconá is also where you can see one of the most fascinating and unique natural phenomenons: the Moconá Falls.
We stayed at Don Moconá Virgin Lodge (see below), a beautiful lodge in the heart of the Yabotí biosphere with direct access to the Uruguay river and the Moconá falls. The roads from Puerto Iguazú to Don Moconá Virgin Lodge are in excellent state and the drive will take no more than 5 hours.
1. Worth a stop: Salto Encantado
If you have time, we recommend taking a break from the drive to visit Salto Encatada provincial park. It's located halfway between Puerto Iguazú and Don Moconá at Aristobulo del Valle. The park can also be visited on your way to Esteros del Iberá from Don Moconá Virgin Lodge.
The Salto Encatada is one of the most important protected areas in the province with a plethora of wildlife to marvel at, especially birds. The walkways are recently refurbished and ideal for getting into the heart of the parkland to awe at the magnificent waterfalls, cascades and surrounding wildlife.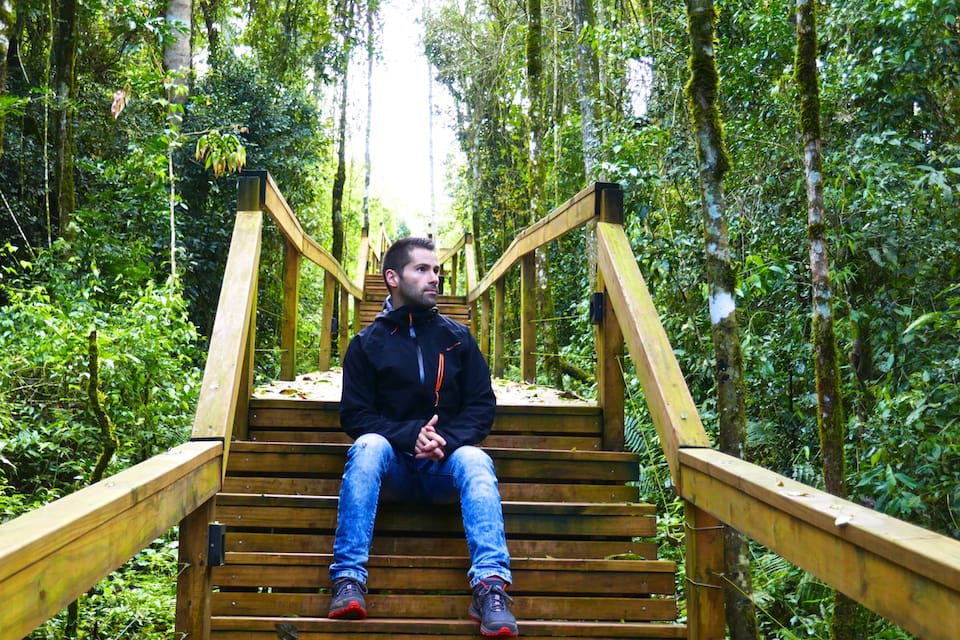 2. Where to stay?
We based ourselves at Don Moconá Virgin Lodge for 2 nights, a jungle lodge set in the heart of the Yabotí biosphere and close to the Moconá falls. Our wooden bungalow was surrounded by selva (jungle), overlooking the tranquil Yabotí River.
In the morning, we would wake up to bird songs, look out from our balcony and watch the jungle come to life.
There is no mobile network here and very little internet, so you really are cut off from reality. We just loved feeling at one with nature.
The Don Moconá Virgin Lodge has an excellent in house restaurant offering affordable meals.
This is the place to try out local specialties of the region like Paraguayan soup (more like a quiche than an actual soup), the pacú fresh water fish and palmitos (palm heart vegetable harvested from palm trees). To find out more, check out our article about our 10 favourite Argentinian foods.
The jungle lodges at the Don Moconá Virgin Lodge start from $209 a night.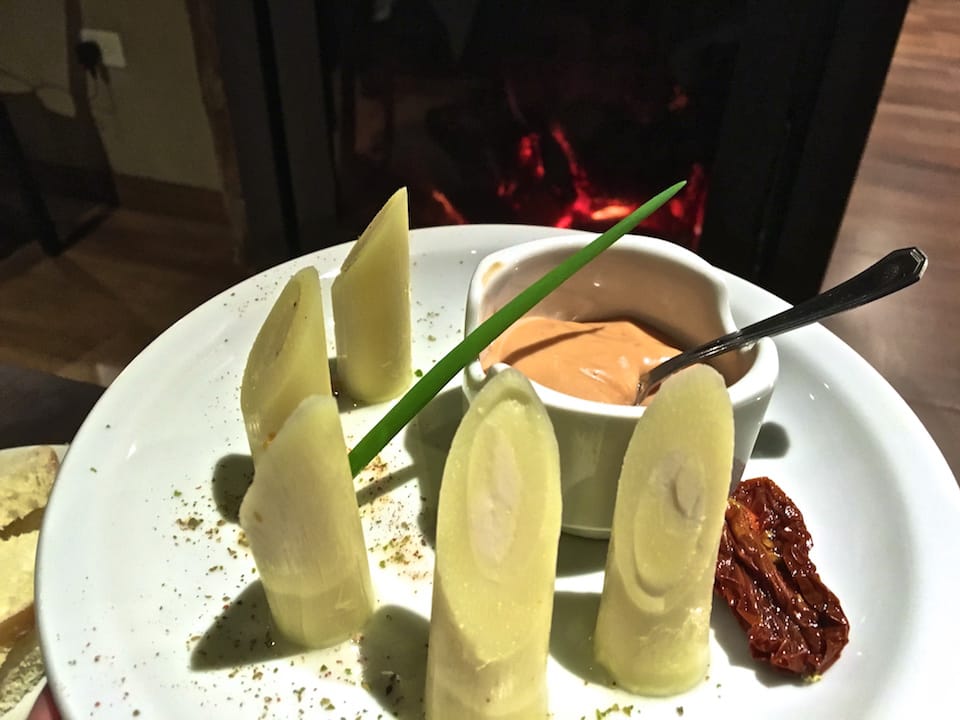 3. The Moconá Falls (Saltos del Moconá)
The Saltos del Moconá lie on the Uruguay River in the Misiones province and on the border between Argentina and Brazil.
They are formed by the presence of a natural fault running parallel to the river bed causing the water to fall down from one side of the river to the other, forming a 3km (1.8 miles) long waterfall. This makes the Moconá Falls unique as it is perhaps the only set of waterfalls in the world to run parallel to the river rather than perpendicular.
The height of the river water level determines whether you can see the falls and as such they are not visible for around 150 days of the year.
If you stay at Don Moconá Virgin lodge (or a nearby guesthouse), they will be able to arrange a visit to the Moconá Falls.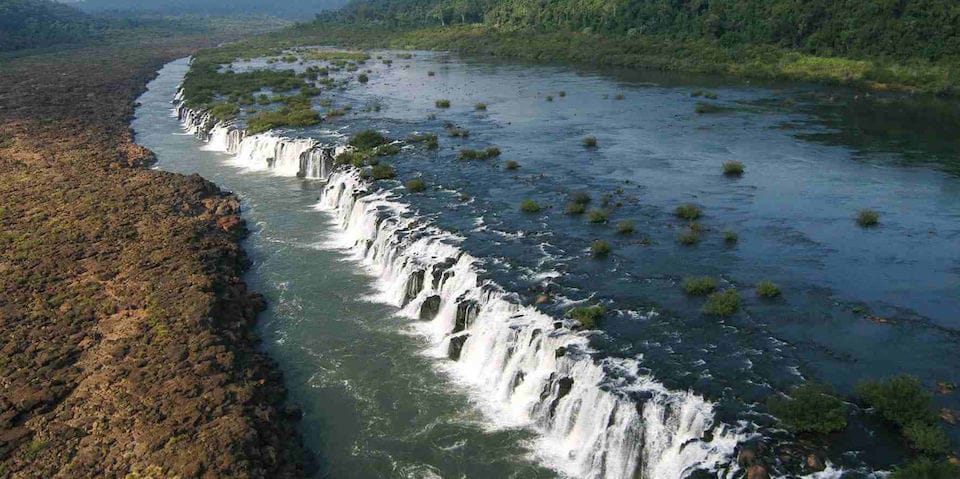 4. The Yabotí Biosphere: the Argentinian jungle
The Yaboti Biosphere is the area surrounding the Moconá Falls. It is an UNESCO listed biosphere reserve with a rich sub tropical forest ecosystem, a large diversity of fauna and many endangered species of reptiles, birds and mammals.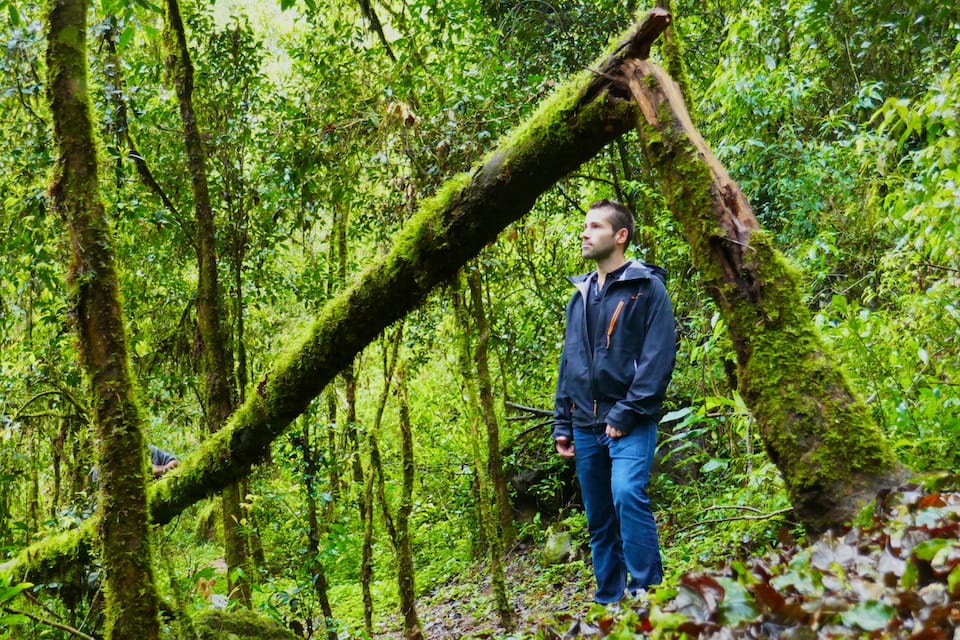 5. Other activities
Don Moconá Virgin Lodge offers a wide variety of activities such as trekking, kayaking, tubing, rappeling and ziplining. Their English speaking guides are passionate and extremely knowledgeable about the Yabotí biosphere.
Ziplining over the jungle was one of our favourite experiences… The feeling of just letting go and being carried across the rainforest is so liberating!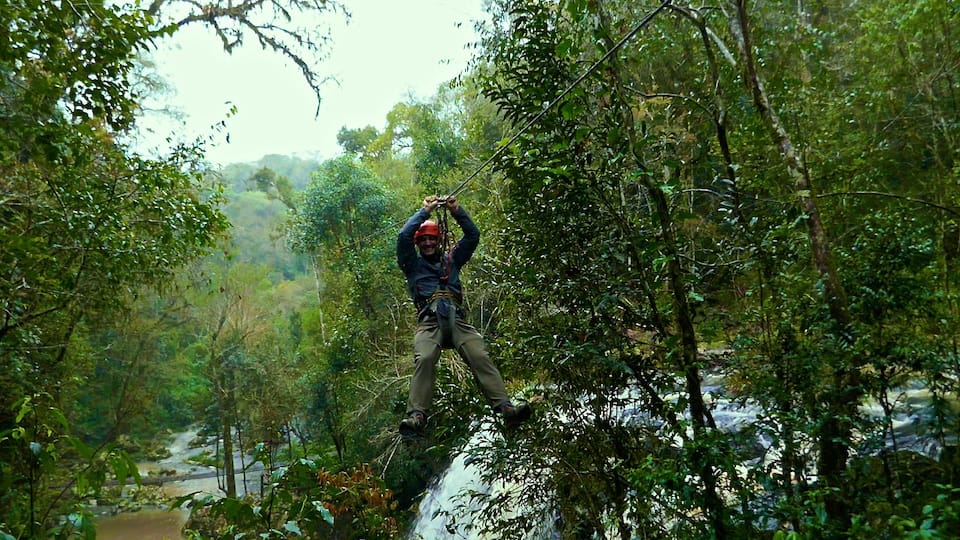 Day 6-7: drive from Moconá to Esteros del Iberá
Drive from Don Moconá Virgin Lodge to Esteros del Iberá
Esteros del Iberá is the second largest wetland in the world after Brazil's Pantanal and the place to see monkeys, caimans, capybara rodents and over 350 species of birds.
Colonia Carlos Pellegrini is the biggest village in Esteros del Iberá and usually the main gateway to the wetlands. The drive to Colonia Carlos Pellegrini can be a challenging one, better done with a 4×4. Puerto Valle however, is an excellent place to experience the Iberá wetlands because it sits at the Northern tip, with excellent road access, so you can reach it using any vehicle.
The drive from Don Moconá Virgin Lodge to Puerto Valle should take around 4-5 hours.
1. Stay at the exclusive Puerto Valle
Puerto Valle is a luxury hotel located on the bank of the Paraná River, originally an Argentinian estancia (cattle ranch) from the 1860s.
This is the perfect place to relax, connect with nature and discover the wildlife around the Iberá wetlands. We cannot recommend it highly enough.
In addition to exploring the Iberá wetlands, there are many other activities guests can enjoy as part of the experience.
We particularly enjoyed spotting wildlife off the channels of the Paraná River whilst sipping mate, and horse riding through the impressive grounds of the Puerto Valle estancia.
Meals were another highlight of our stay. Every single serving was a gourmet experience, cooked to perfection and beautifully presented.
This included a mix of international and local specialties like the pacú fresh water fish with criolla salad. Everything was filling, healthy and never too heavy.
Rooms at Puerto Valle start from $900 a night, which includes 3 meals a day and all activities.
You can read more about our adventures in Esteros del Iberá in our article about this hidden gem of Argentina on Mr Hudson Explores.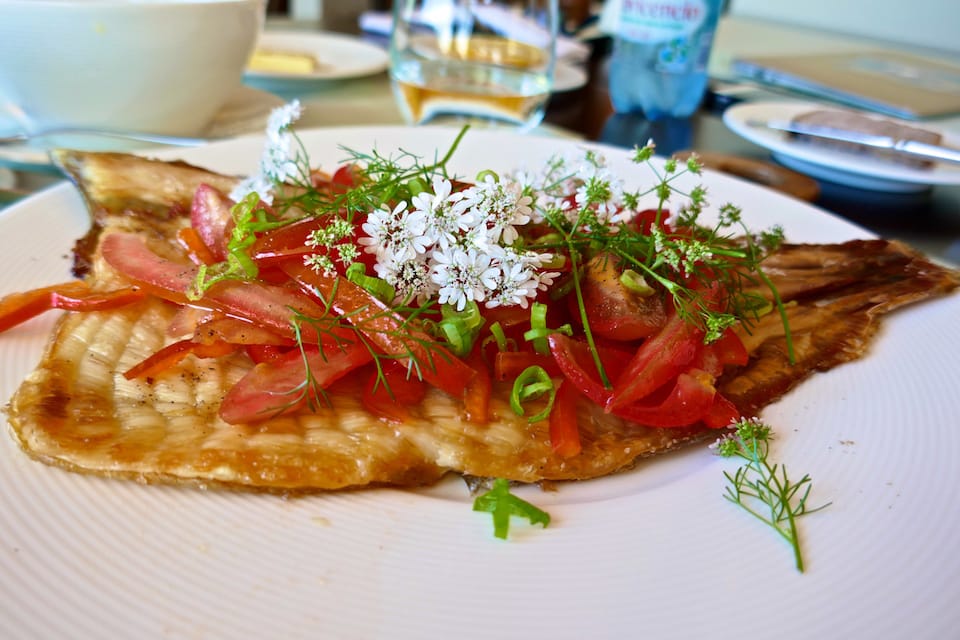 2. Exploring Esteros del Iberá
Puerto Valle has an exclusive access point to Esteros del Iberá, where their private boat is docked. We ventured deep into the Laguna Valle with their excellent guide Ezequiel.
Along the way, we spotted a few capybaras (the world's largest rodents) and many caimans.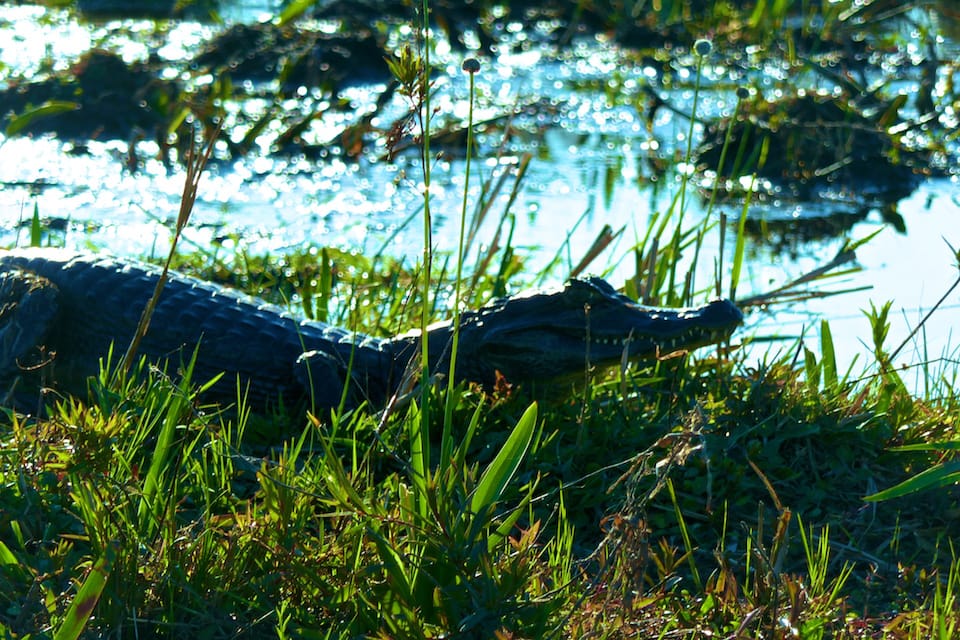 Eventually we reached a man made wooden dock right in the heart of the lagoon, where we stopped to watch the sunset while sipping mate and munching on chipa cheese snacks.
There was nobody around, just us and the wetlands. An experience we'll never forget!
Day 7: drive from Esteros del Iberá to Posadas airport
Drive from Esteros del Iberá to Posadas airport
The final drive from Esteros del Iberá to Posadas airport is simple and takes no more than 1 hour.
If you have time to spare and want to up your country count, you could take the bus from Posadas to the nearby Paraguayan town called Encarnación. It's a good taster of how laid back Paraguay is, but outside the famous carnival season in February, there's little to write home about.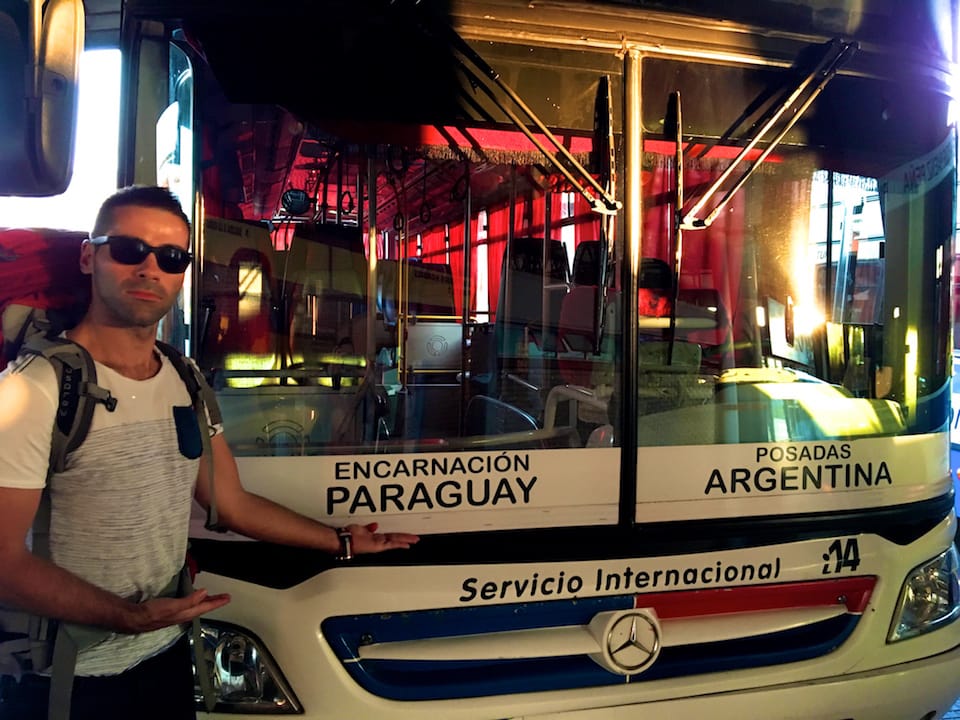 We used Posadas airport as our start/end point, but you can also use Puerto Iguazú and follow the same 7 nights itinerary proposed above.
The main point to bear in mind is to start and end in the same place, whether it's Posadas or Puerto Iguazú. If you start at one and drop the car off at the other, you'll have to pay a $200 surcharge.
We created this map showing the main stops of our road trip as well as the places we stayed at:
Read more about our travels in Argentina:
OUR FAVORITE TRAVEL RECOMMENDATIONS
⭐️ TRAVEL INSURANCE — We recommend you always take out travel insurance before your next vacation. What happens if you suffer from illness, injury, theft or a cancellation? With travel insurance, you can have peace of mind and not worry. We love World Nomads travel insurance and have been using it for years. Their comprehensive coverage is second to none and their online claims process is very user friendly.
⭐️ SAFETY & SECURITY — All travelers can sometimes encounter danger when traveling. CloseCircle is your "virtual body guard" mobile app which provides security alerts and support wherever you are in the world. They have a 24/7 emergency response team monitoring their users who will contact you immediately if the SOS swipe button is activated. Support can include anything from practical advice, to free evacuation from areas with extreme weather or security risks. You can read more about CloseCircle in our article about how to stay safe whilst traveling.
⭐️ ONLINE ANONYMITY — A VPN (Virtual Private Network) is a must in many countries: it allows you to surf anonymously and maintain your privacy whilst traveling. You'll particularly need it in countries where dating apps are blocked by the government. We recommend ExpressVPN, a reliable and cost effective service which we used and loved during our travels.
⭐️ HOTELS or APARTMENTS — When we plan a trip, we always look for the best hotel deals. We love Booking.com because not only do they have a comprehensive listing of accommodation options, they also offer the best prices. Added bonus: they provide 24/7 support and free cancellation for most listings.
⭐️ SIGHTSEEING and ADVENTURES — When we travel somewhere, we like to seek out the best experiences, whether it is cooking with locals in Bangkok, hiking on a glacier in Patagonia, or going on a wildlife safari in Sri Lanka. Our favorite place to look is GetYourGuide because they have over 30,000 highly rated activities, a user-friendly booking process with free cancellation and a 24 hour customer support.
This article contains affiliate links. If you click on them, we may receive compensation which keeps our website alive and helps us bring you to more destinations.
Pin for later