Gay Mendoza: a gay travel guide to the wine capital of Argentina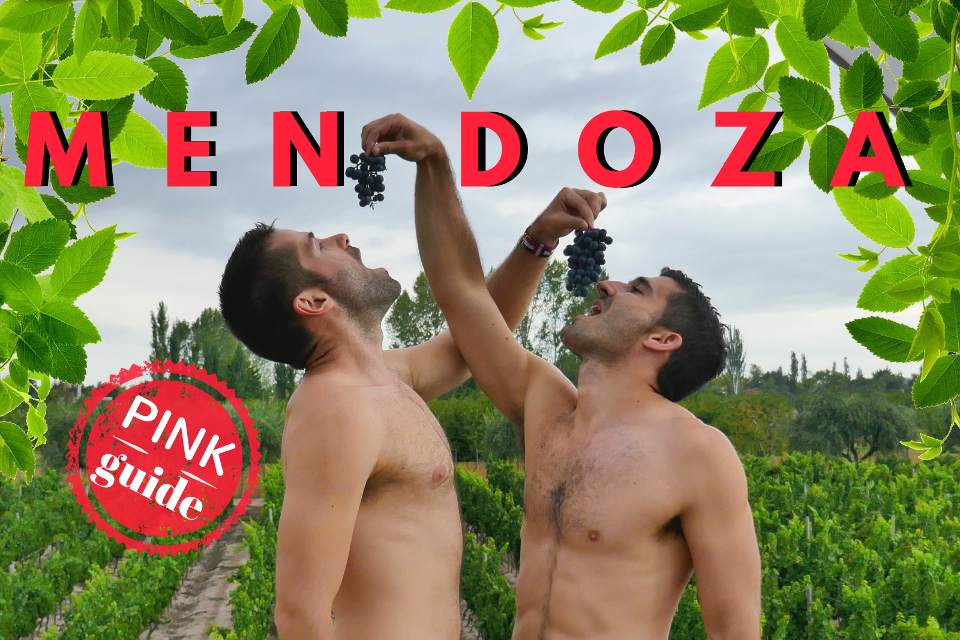 When you think of Mendoza, you think of wine. This is the home of the famous Argentinian Malbec, where people come to get tipsy in the many bodegas (wineries) spread across the region.
The city itself is small, with a handful of gay bars worth checking out. Most will come here to stay in the countryside, marvel at the mountain scenery and of course, get up close to the many different flavours and styles of wines. Mendoza is after all the most important wine region in Argentina, responsible for producing nearly 80% of the country's grapes.
When to visit Mendoza
Mendoza is a destination you can visit any time of the year, with over 300 days of sunshine and very little rain.
December and January are the hottest months with temperatures around 25-35 degrees celsius (80-90 Fahrenheit). Winter starts from June until August with temperatures around 15 degrees celsius (60 Fahrenheit) and the rest of the year a more comfortable 20 degrees celsius (70 Fahrenheit).
The best time of year to visit Mendoza is at the beginning of March when the famous Vendimia grape harvesting festival is takes place. There's even a gay segment called Vendimia Para Todos, which is definitely worth going to.
Gay Vendimia
Vendimia para todos (meaning "Vendimia for everyone") is a 1 week festival of activities, parties and events, which climaxes with a large parade on the final day. This is Argentina's largest LGBT event after the gay pride parade in Buenos Aires in November.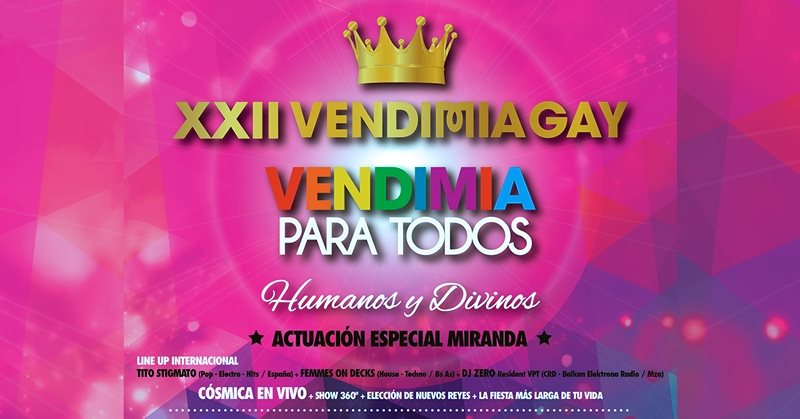 Sadly, there is very little up to date information online confirming the official dates for the gay Vendimia and they are not advertised until last minute. We were told the main gay event usually takes place one week after the main Vendimia festival, but we recommend reaching out to the Mendoza Tourism board via their Facebook page for the most up to date information.
You can get an idea of the gay Vendimia festival in this very funny video by this Chilean YouTube channel:
Gay bars and clubs in Mendoza
Mendoza city is where you'll find all the gay bars and clubs of the region. The two most popular are La Reserva and Queen Disco:
Queen Disco: this is the most popular gay hangout in Mendoza and the place to be at weekends. Queen is Mendoza's oldest gay club playing the latest latino pop songs and techno music. It's a taxi ride away from the centre at 25 de Mayo 318 and it is open on Friday and Saturday evenings from 11pm till late.
La Reserva: a fun place to have a drink which also hosts theatre plays, music concerts and drag shows on weekends. La Reserva is open all day everyday except Mondays and located at Rivadavia 32.
Estacion Miro: this is an alternative place with a mix of gay men, women and transsexuals all happily getting on and dancing the night away. It's open Friday and Saturday evenings from 11pm till late and is located at Ejercito de los Andes 656.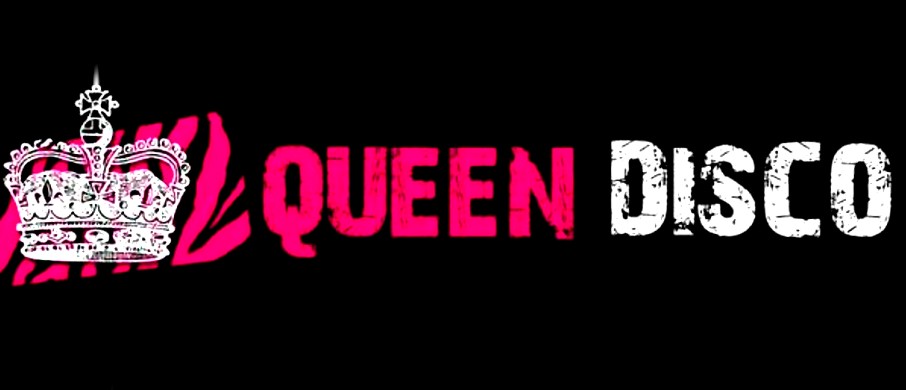 Where to stay in Mendoza
The best way to get the most out of the vineyards and the bodegas is to stay in one of the small villages around the city, like Lujan de Cuyo or Chacras de Coria. Although you're away from all the action, you're only a 15 minutes drive away from the gay bars of Mendoza.
If you prefer a quieter holiday, surrounded by nature, we suggest heading to the Uco Valley, which is around 2 hours drive away from Mendoza city.
The hotels we recommend below all welcomed us as a gay couple and were clearly used to receiving LGBT tourists.
Entre Cielos is a luxury boutique hotel set in a vineyard with the dramatic backdrop of the snowcapped Andes mountains. The outdoor pool with hot tub is such a delightful place to relax. Entre Cielos also has a highly rated restaurant and produces its own Malbec wine, the Gran Marantal, which was voted one of the top 20 best Malbecs in 2013. Wine tastings at the restaurant are therefore a must!
Their hamam was definitely the highlight of our stay, with a six stage circuit complete with grape seed exfoliation, grape extract wine bath and relaxing massages.
With only 16 rooms, staying at Entre Cielos is quite a privilege, especially if you stay in the Limited Edition room, a "Vineyard Loft" rising up right in the middle of the vineyard.
Rooms at Entre Cielos start from $350 / £280 a night. You can read more about it on Tripadvisor.
Villa Mansa is a more affordable wine hotel in the Lujan de Cuyo region. Rooms are bright and spacious with balconies overlooking the large surrounding vineyard. We loved the pool area which is the place you want to hang out after a day cycling around the nearby bodegas.
Staff are really friendly and will help you arrange all dinner reservations, tours, taxis and visits to bodegas. They also offer bike rentals so you explore the nearby bodegas independently.
Rooms at Villa Mansa start from $220 / £175 a night. You can check prices and read more about it on their website.
The Vines is one of the most famous luxury hotels in the area, located in the Uco Valley, around 2 hours drive away from central Mendoza.
The 22 villas at The Vines are huge, with plenty of indoor and outdoor space. They have a cosy fireplace, outdoor Jacuzzi and impressive views of the Andes mountain range. They take the wine experience to another level offering a wine camp for adults, which includes a hay ride out to the vines, grape picking, grape squeezing and a picnic barbecue.
Rooms at The Vines start from $725 / £577. Read more about it on Tripadvisor.
If you want to stay in Mendoza to be close to the nightlife, it may be worth renting an apartment on Airbnb. Doing this allows you to have your own place to cook, almost like a temporary home base.
You can claim $40 / £30 off your first booking using our unique link.
Activities to do in Mendoza
Mendoza is the place to come to get wine-ed out! Here's how to maximise your wine adventures in the area:
Bodega wine tour: we took a tour with Vintura Wine Tours and found it to be the perfect way to get familiar with Argentinian wine and the many bodegas. We were picked up by Fabio, a very charismatic English speaking guide, who took us to two exclusive bodegas: Benegas and Matervini. Each visit included a tour and wine tasting. We also had an outstanding lunch at the award winning Ruca Malen bodega, famous for its food-wine pairing experience. For more inspiration check out this awesome guide about the best wine tours.
Cycling in the countryside: a more simple way to visit the bodegas is to rent a bicycle from your hotel and visit them independently. We recommend calling the bodegas in advance to tell them you're coming as they have different opening/closing times.
Visit an olive oil plantation: everyone gets so into grapes that it's easy to neglect another popular fruit grown in abundance here: olives! Olive oil production is also famous in Mendoza. You can visit an olive oil plantation like Laur and learn more about how the olives are harvested and used to produce olive oil. Tours at Laur include the obligatory tasting session afterwards of their delicious products!
IF YOU ENJOYED READING PLEASE PIN ME: