We lay out all the facts so you can choose between hiking El Chalten or Torres del Paine in Patagonia.
Patagonia is synonymous with adventure, mountaineering, and wallpaper-like landscapes. If you love trekking, this should be high up on your bucket list of places to visit.
"Both El Chalten and Torres Del Paine are bucket list hikes: they offer stunning vistas and are treks that you'll never forget!"
We love our trekking adventures, having spent ample time discovering the Himalayas during our Annapurna Circuit in Nepal, trekking to the Rinjani volcano in Indonesia, the 4-day Inca Trail to Machu Picchu, and trekking to Ella Rock in Sri Lanka.
Patagonia has two trekking highlights to add to our list: Torres del Paine in Chile and El Chaltén in Argentina. Both offer stunning vistas, images to decorate your Instagram gallery, and satisfying trekking adventures you'll never forget. If, however, your time is limited, here we compare the two to give you an idea of which is best to choose.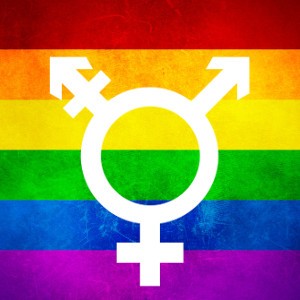 Advice for LGBTQ travelers to Patagonia
Chile and Argentina make up the large landmass that we refer to as Patagonia. Both are very progressive countries, especially Argentina. Argentina is famous for being one of the most gay friendly countries in not only Latin America but in the world. Chile is more conservative but as an economic powerhouse of the region, not too far behind. Down in Patagonia, the crowds are very diverse and international because tourism is the main driving force. We, therefore, found the region to be very easy to travel around as a gay couple, with no issue getting double beds in any of the hotels or guesthouses we stayed at.
Read more in our interview with Juan from Buenos Aires about gay life in Argentina, and Ivan from Santiago about gay life in Chile.
A word about Torres Del Paine
Torres del Paine is one of the highlights of anyone's Patagonia itinerary. This UNESCO World Heritage Site was voted one of the 8 Wonders of the World by VirtualTourist.com in 2013 beating off 300 entries from 50 countries.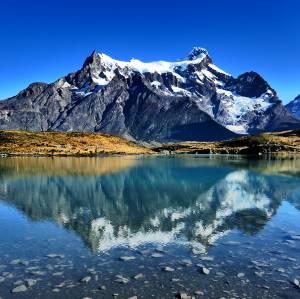 Visit Torres Del Paine in one day
Trekking Torres Del Paine is a one-in-a-lifetime experience. A full-day tour will allow you to discover the incredible glaciers, waterfalls, caves mountains, rock formations, and plant life that make up this unique landscape.
The trails of Torres Del Paine
The most popular trail is the famous W Circuit, so named because the trail on the map is in the shape of a W. This is normally done in 5-7 days. The climax is reaching the base of the famous Paine towers.
If you don't like camping, you can instead stay in a nearby hotel and still visit the highlights of the W Circuit as day trips. Popular day trip treks include Glacier Gray, the French Valley (Valle del Frances), Mirador Los Cuernos, Mirador Condor, trails around the picturesque Pehoe Lake, and, the big one, the Base Torres trek.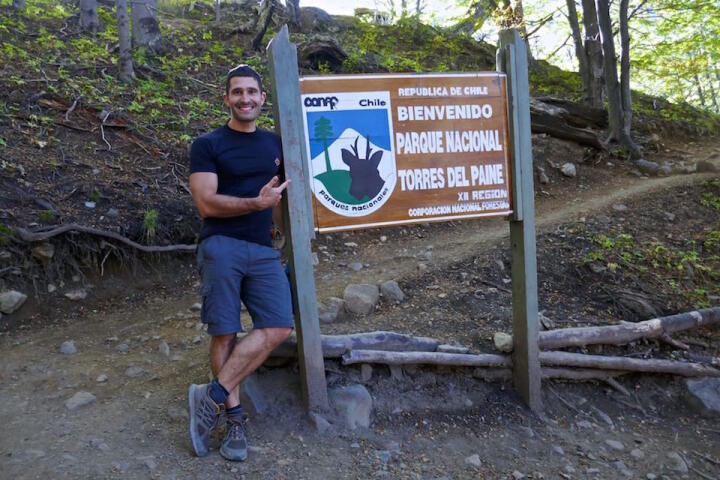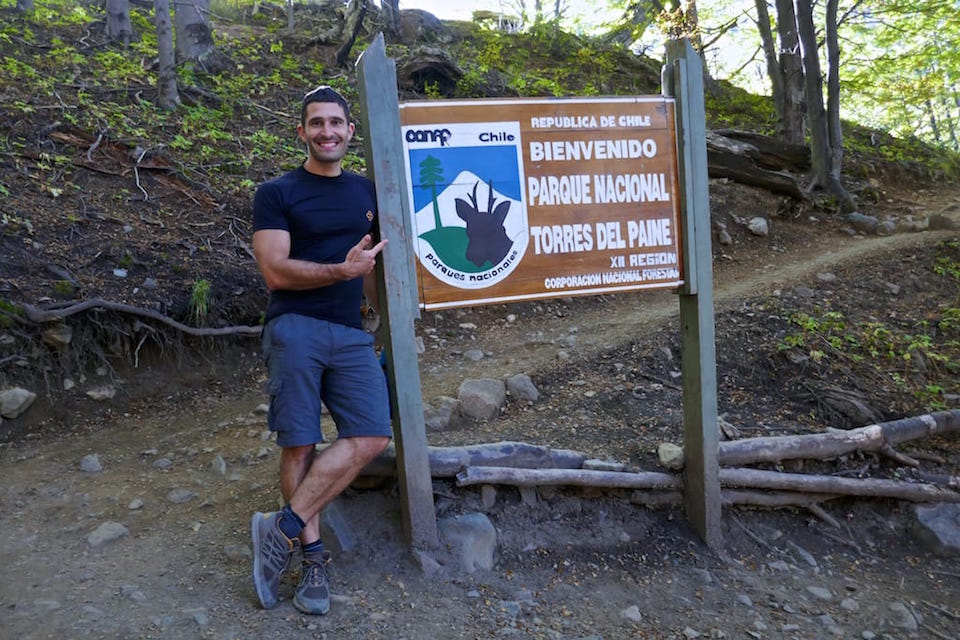 Torres Del Paine Entrance fees
The entrance fee for Torres del Paine is 21,000 Chilean pesos ($32/£25) during the high season (October-April) and 11,000 Chilean pesos ($17/£13) during the low season (May-September).
How to reach El Chalten
Looking for an affordable way to get to El Chalten without hassle? Book your transfer now from El Calafate to El Chaltén, the hiking capital of Argentina. Enjoy the view, take your first pictures of this awe-inspiring land, and arrive stress-free.
Where to stay in Torres del Paine
There are different ways to trek Torres del Paine. Some like to be roughing it and choose to camp whilst trekking the W Circuit. Others (like the Nomadic Boys), prefer to do day trips and sleep in a comfortable bed. We've put up together a list of our favorite places located near the entrance of the National Park and suitable for all budgets.
01
Chile Patagonia Camp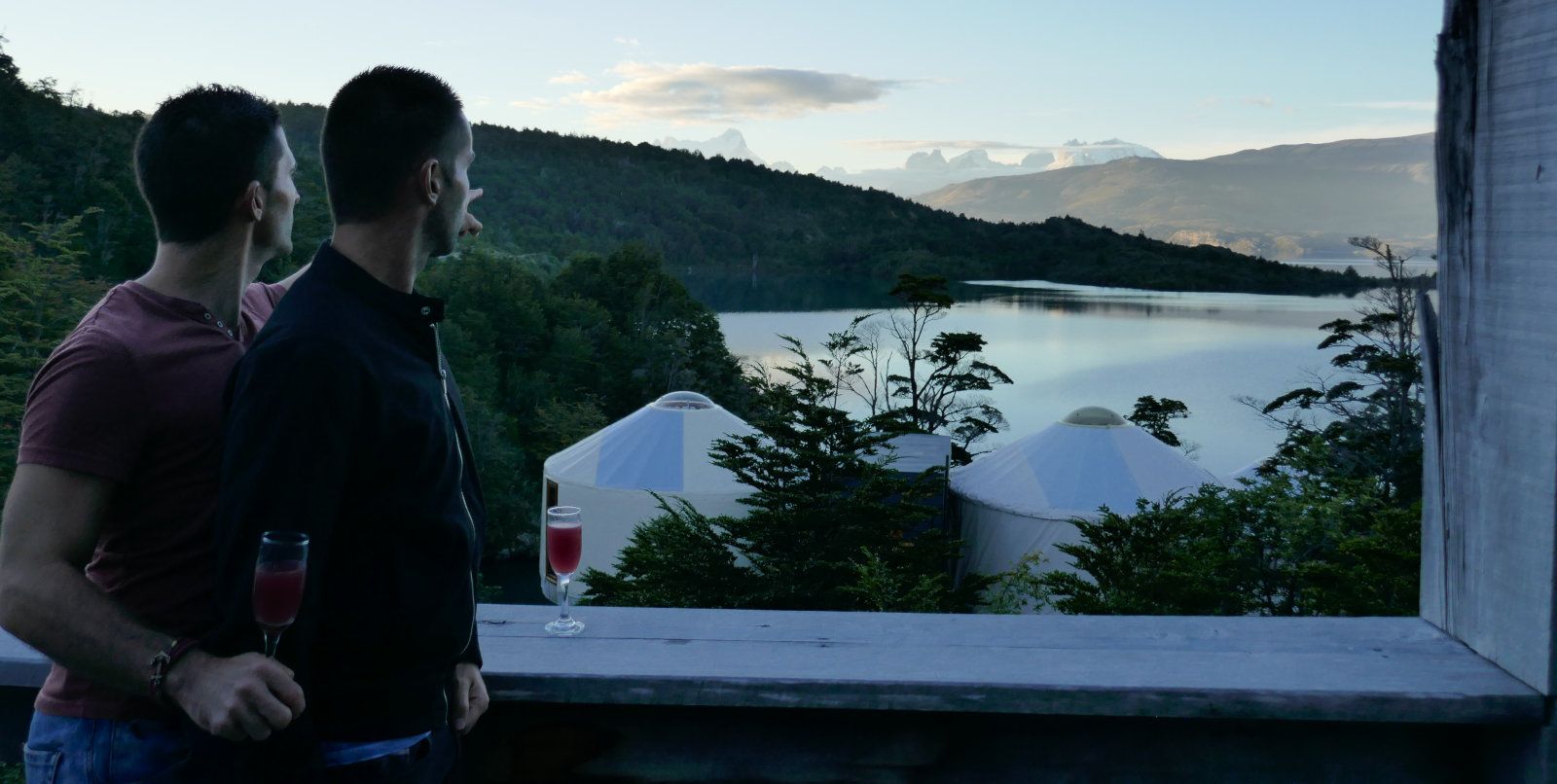 Why we love it
---
Luxurious Mongolian-style yurts
Buffet breakfast included in the price
Stunning views over Toro Lake and Paine Massif
Delicious Patagonian food in the restaurant
For a unique and romantic glamping experience, we recommend staying at the Patagonia Camp in Torres del Paine!
This is the first luxury camp in South America and it's located just 15 kilometers away from the Torres del Paine National Park with incredible views over Toro Lake and Paine Massif. It's an exceptional way to get close to nature in the Torres del Paine, without sacrificing any comfort.
We loved the chance to sample traditional Patagonian delicacies in the restaurant, such as Magellan's lamb and the freshest seafood. Of course, your meal will be accompanied by excellent Chilean wines as you gaze out of the huge windows in the lodge where the restaurant is located.

At Chile Patagonia Camp, you stay in a Mongolian-style yurts but luxury style: you have your own private bathroom, terrace, large king-sized beds, and central heating. Patagonia Camp offers guided tours for guests, including our favorite, the 7-hour trek to the base of the spectacular granite Paine towers.
02
Río Serrano Hotel & Spa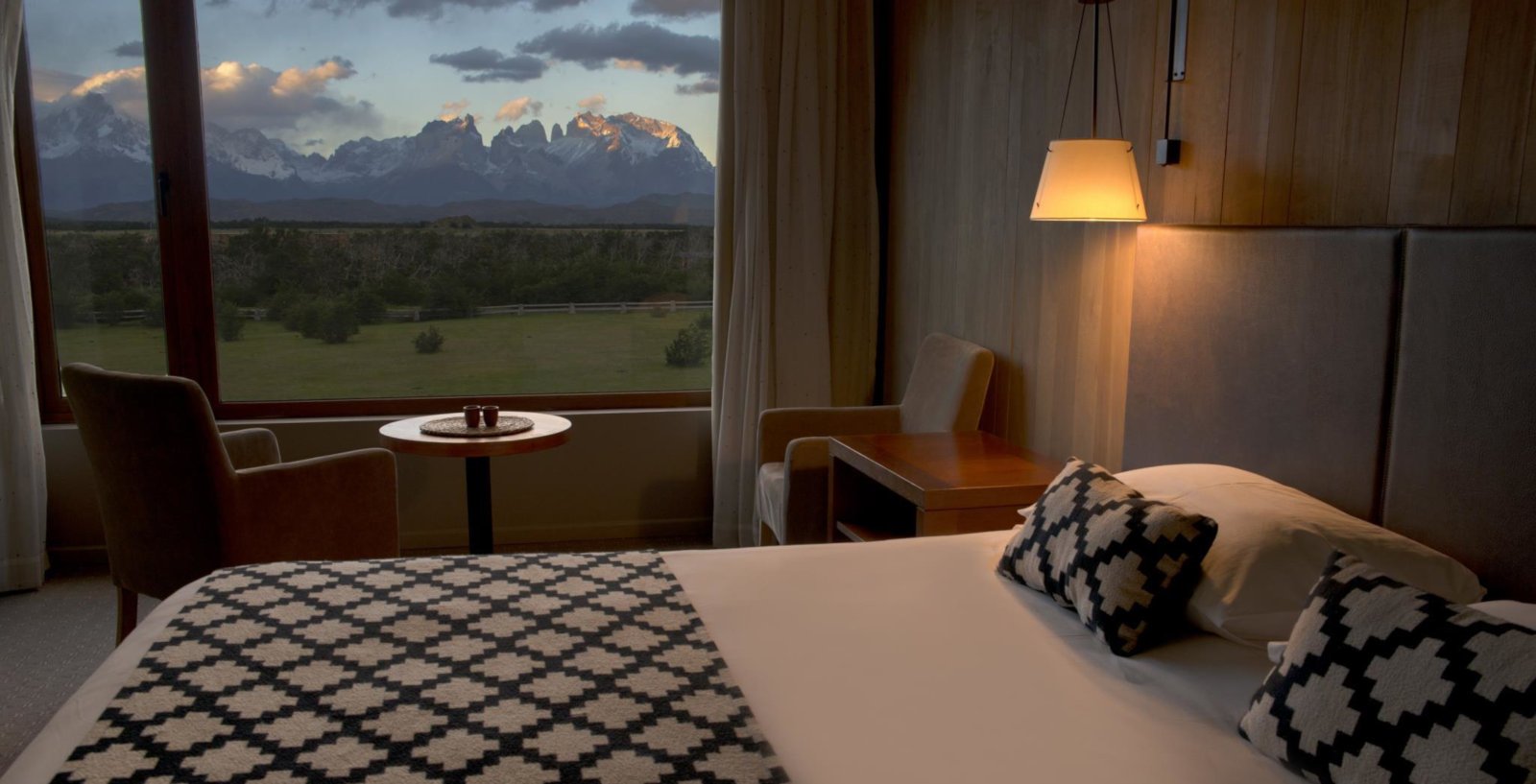 Why we love it
---
Gorgeous, comfortable hotel
Sumptuous spa services and swimming pool
All-inclusive or standard rates
Beautiful design and decor
If you want to be located as close as possible to Torres del Paine National Park while still enjoying your creature-comforts, then the Río Serrano Hotel and Spa is an excellent choice.
Located just 4km from one of the park entrances, this beautiful hotel has stunning views which can be enjoyed from your room, the restaurant, the garden and even the 20-meter swimming pool!
This family-owned hotel offers both standard and all-inclusive rates so you will be able to enjoy their hospitality no matter your budget. All-inclusive rates include all meals at the restaurant and there's also an on-site bar for evening drinks while looking out over at the Paine Massif. The three-level spa is perfect for relaxing after a day of hiking either in the heated pool, saunas or by having a massage.
There are also a number of excursions to enjoy, either for an additional fee or included in the all-inclusive rate. Choose from boat trips, horseback riding or hiking with bilingual guides. Or you can simply relax in front of the fireplace and watch for guanacos and birds of prey through the huge windows throughout the hotel.
03
Estancia Tercera Barranca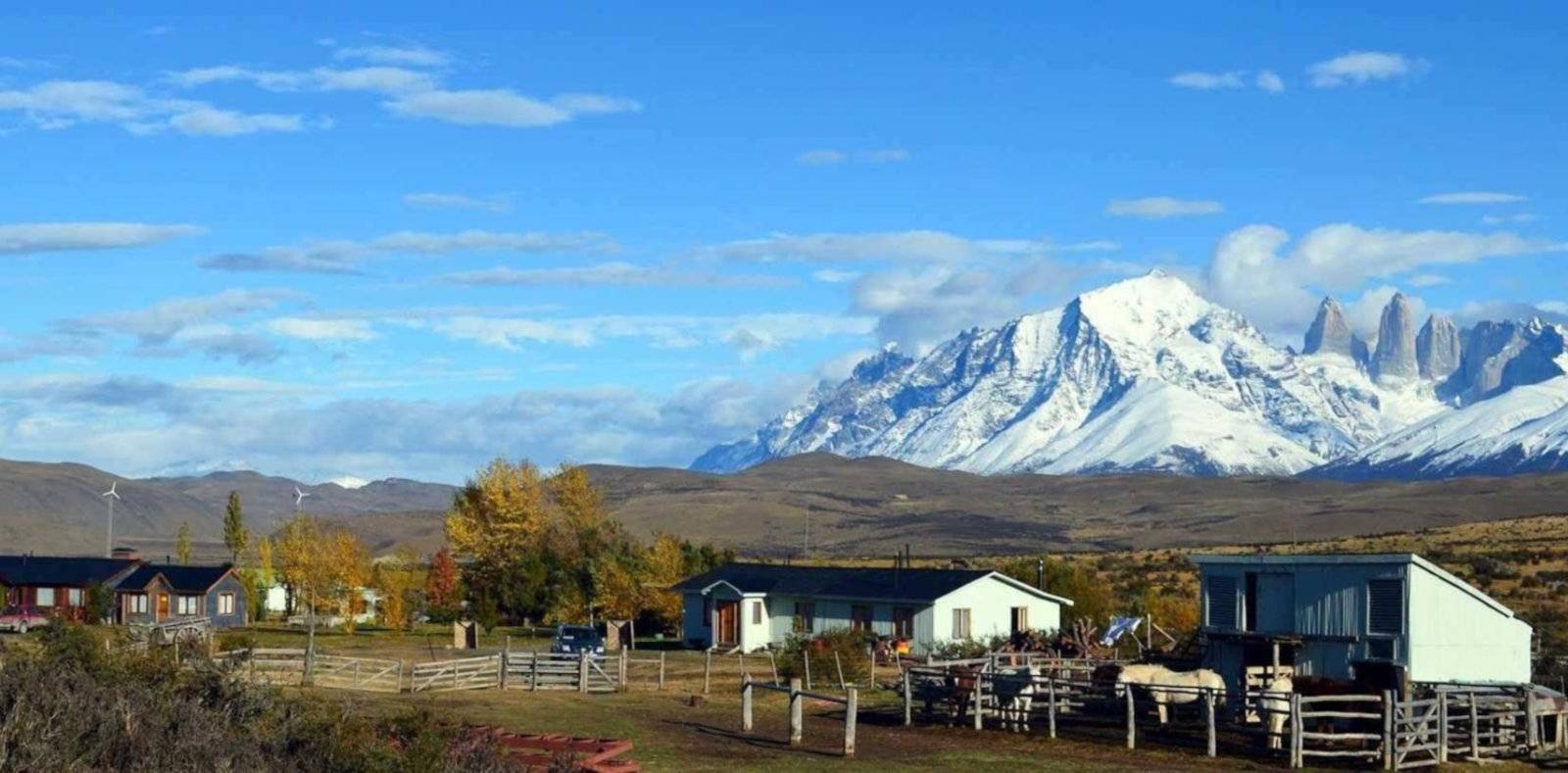 Why we love it
---
Budget option on a working ranch
Lovely welcoming staff
Stay in the middle of nature surrounded by horses!
A truly unique and cosy estancia
A more budget-friendly option that is still perfectly lovely is Estancia Tercera Barranca. This is a working ranch so you will be getting up close and personal with horses and sheep as well as local Patagonians!
The family who own the ranch and the local staff are so welcoming, friendly, helpful and willing to share their knowledge of the local area and wildlife. If you want to get off the grid and experience life on a real Patagonian ranch, this is the perfect choice.
This is country-style accommodation; rustic and comfortable. There are a variety of rooms available, including ones inside very cute gypsy caravans. This isn't a luxury hotel but you will still enjoy hot showers in your private bathroom, a cozy fire in the shared lounge room and delicious home-cooked meals.
The guachos who attend the sheep and horses will also take you horse-riding, where you are almost guaranteed to spot guanacos, condors, eagles and armadillos. All of this with the constant, stunning views of the Torres.
Torres del Paine scenery
The scenery is dominated by dramatic mountain ranges, glaciers, waterfalls, grasslands and of course the 3 granite Paine towers from which the park takes its name.
Sadly, popularity comes with a high price. The immense tourism has led to careless people causing fires in the park from cigarette butts or BBQs. The worst was caused by a backpacker in 2011, which led to the destruction of thousands of acres of forest. It will take decades for these to re-grow and as a result, a large chunk of the scenery has been ruined.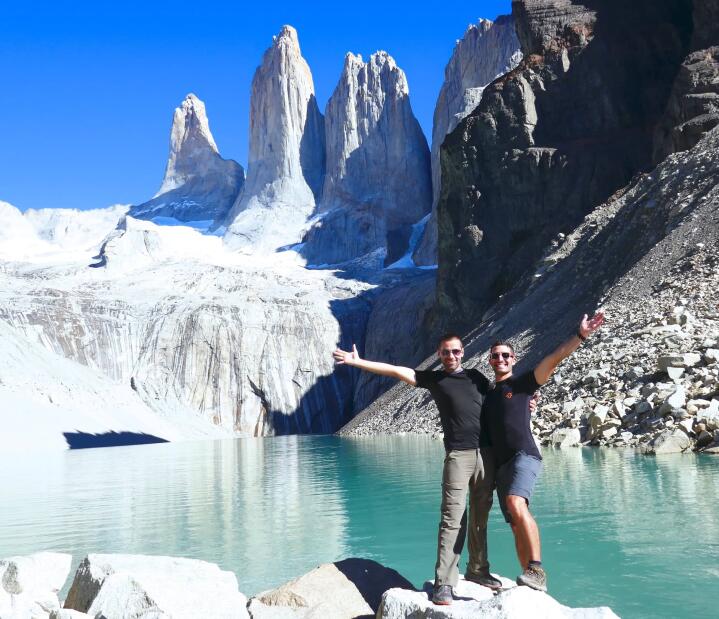 Torres del Paine wildlife
There are 26 species of mammal in the Torres del Paine National Park. The deer-like guanaco is the most common. You can also find pumas if you're lucky, as well as the South Andean Deer, flamingos, hares, eagles and condors.
A word about El Chalten
El Chaltén lies in the Santa Cruz region of Argentina, close to the Chilean border. It is a small town that caters to the trekking community, with many hotels, camping grounds, restaurants, and shops. But no ATMs, so remember to bring plenty of cash with you!
El Chalten is famous for being the gateway to trails surrounding the peaks of Cerro Torre and Mount Fitz Roy.
Trek Mount Fitz Roy with a guide
Worried about hiking on your own? Get stunning views of the Piedras Blancas glacier and imposing Fitz Roy mountain with an experienced mountain guide with lunch included.
The trails of El Chalten
There are many trails around El Chalten of varying levels of difficulty, all starting from the center of town.
We trekked to the Los Condores and Auilas viewpoints on our first day, which took 1.5 hours each way. Here you get beautiful panoramic views of El Chaltén and the surrounding mountain range. This is an easy trail to do, made more satisfying at sunset when the weather is clear.
On our second day, we did the more intense full-day trek to Laguna de Los Tres. This was our highlight from all our trekking experiences in Patagonia. If you have the time, we strongly advise this trek. The climax point is when you reach the lake and you have this delicious view with the Fitz Roy mountain in the background.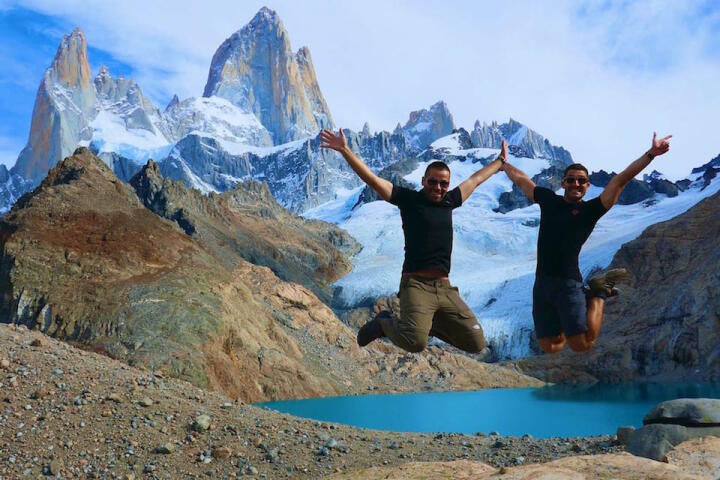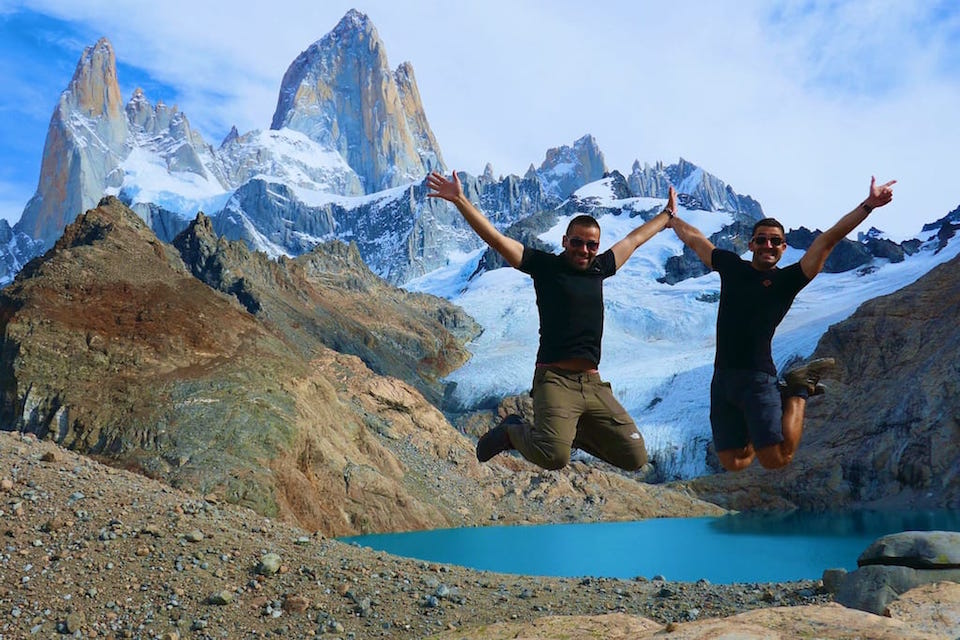 El chalten Entrance Fees
There are no entrance fees to pay in El Chaltén.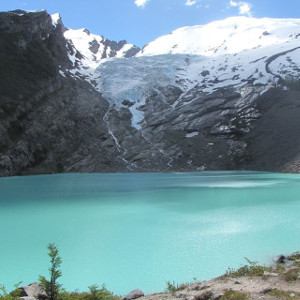 For something different: Glacier Ice Trekking
Live a true mountaineering experience with a guide by
trekking the Cagliero glacier in the Los Huemules Reserve, one of the most beautiful areas of El Chalten.
Where to stay in El Chaltén
You can do camping at many sites to pitch your tent along the trails. But if like us, you're not too keen on staying in a tent, we recommend the following options, all located within walking distance of the tourist center of El Chaltén.
01
Destino Sur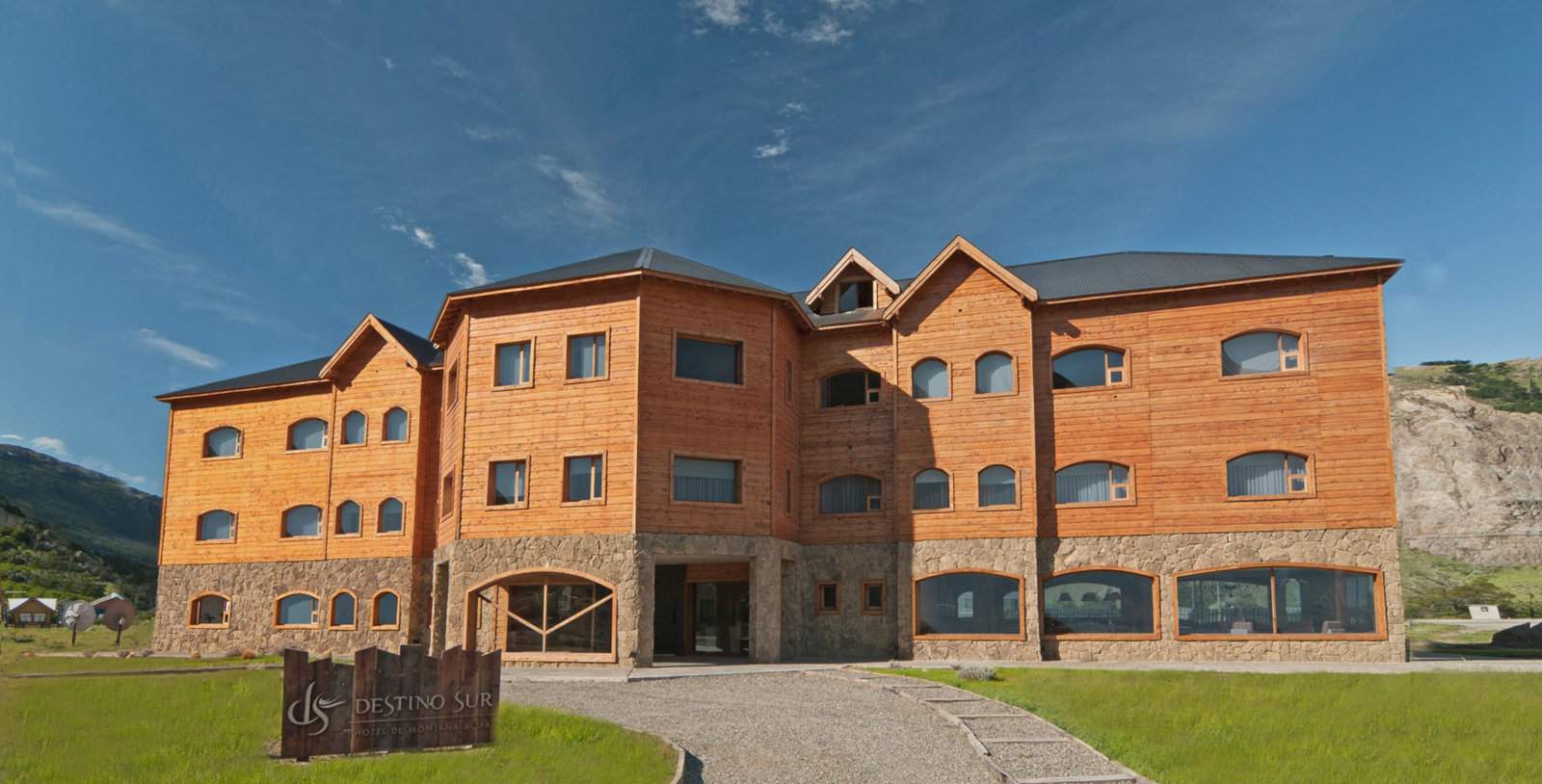 Why we love it
---
Mountain views from every room
Fantastic spa facilities
Free-to-use bikes for getting around town
Only 500 meters from Los Glaciares National Park
Tucked away in a quiet corner of the town of El Chaltén is Destino Sur, a very comfortable hotel and spa.
Boasting mountain views from all of the Alpine-style rooms, this is a lovely place to relax and be pampered after a long day of hiking to Fitz Roy Mountain. The bedrooms at Destino Sur are comfortable with very large king-sized beds and a private bathroom with toiletries provided.
The best part? The spa! You can book the entire spa area for an hour. It has two Jacuzzis, sauna, steam room and even a mini gym – perfect for sore muscles after a long day trekking to Laguna de Los Tres. Of course, you can also book yourself a massage as well.
Guests can enjoy a yummy buffet breakfast each morning as well as eating in the restaurant of an evening. There's an on-site bar for a night-cap, and the hotel offers free bikes so that you can also explore the bars and restaurants within the town.
02
Hosteria Senderos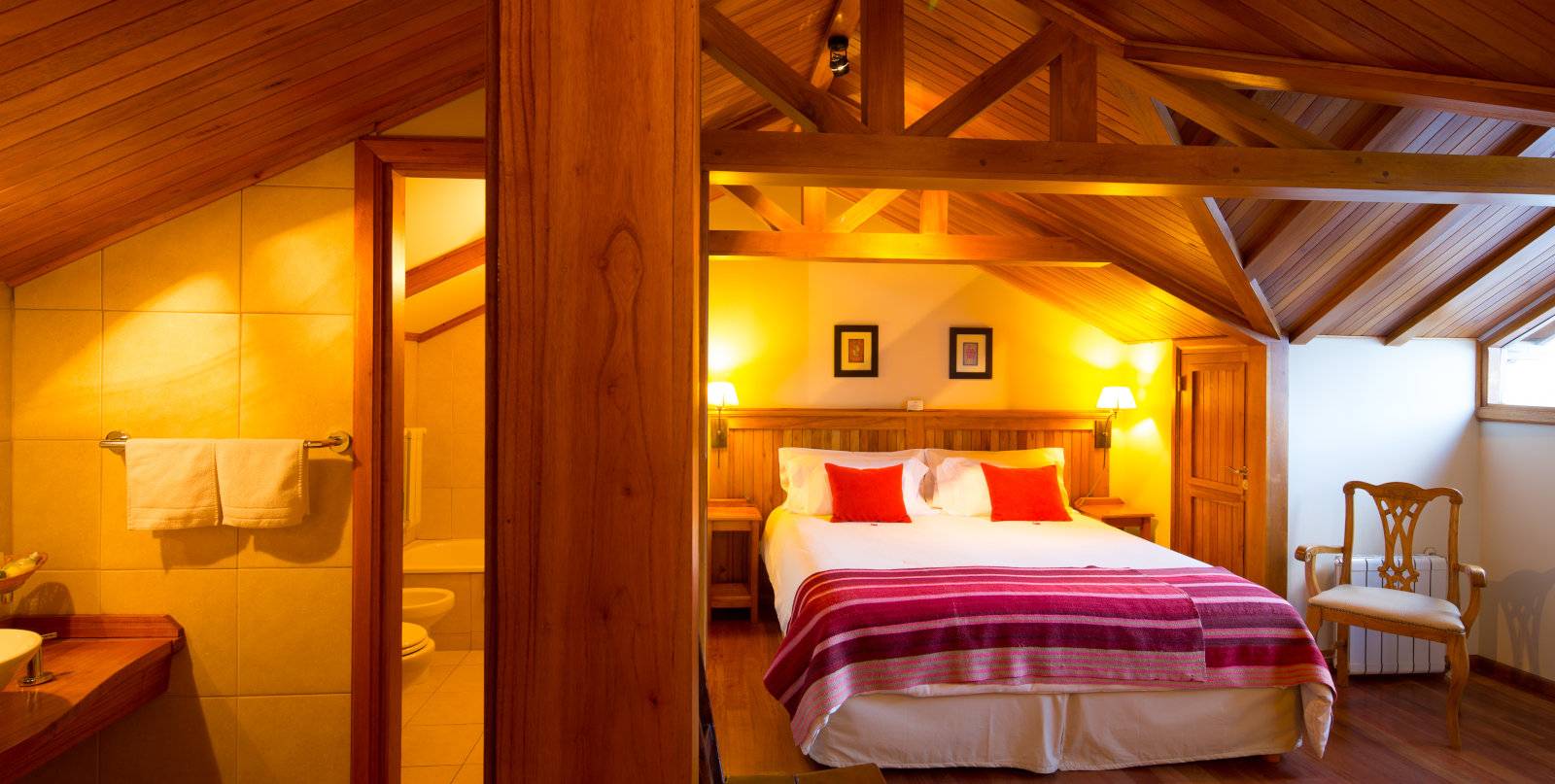 Why we love it
---
Beautiful rustic inn-style accommodation
Excellent restaurant and wine bar
Located 200m from Los Glaciares National Park
Free airport shuttle available
We love the look and style of this hotel/guesthouse built in traditional Patagonian style. The gabled roof and rustic architecture look gorgeous from the outside, while from the inside, the bedrooms offer lovely views of Fitz Roy Mountain.
There's a variety of rooms and suites available so this is an excellent mid-range option if you want to be based close to Los Glaciares National Park.
The shared lobby/lounge space with a stone fireplace is gorgeous, as is the quiet reading room if you just want to relax with a good book. The restaurant offers some delicious meals as well as an American-style buffet breakfast. You'll also be able to sample some of Patagonia's best wines in the wine bar.
There's plenty of free parking if you are traveling by car and a free airport shuttle service if you are not. The rooms are comfortable and all have a private bathroom with a bathtub – so you'll still be able to soak those tired muscles after a day of hiking!
03
Rancho Grande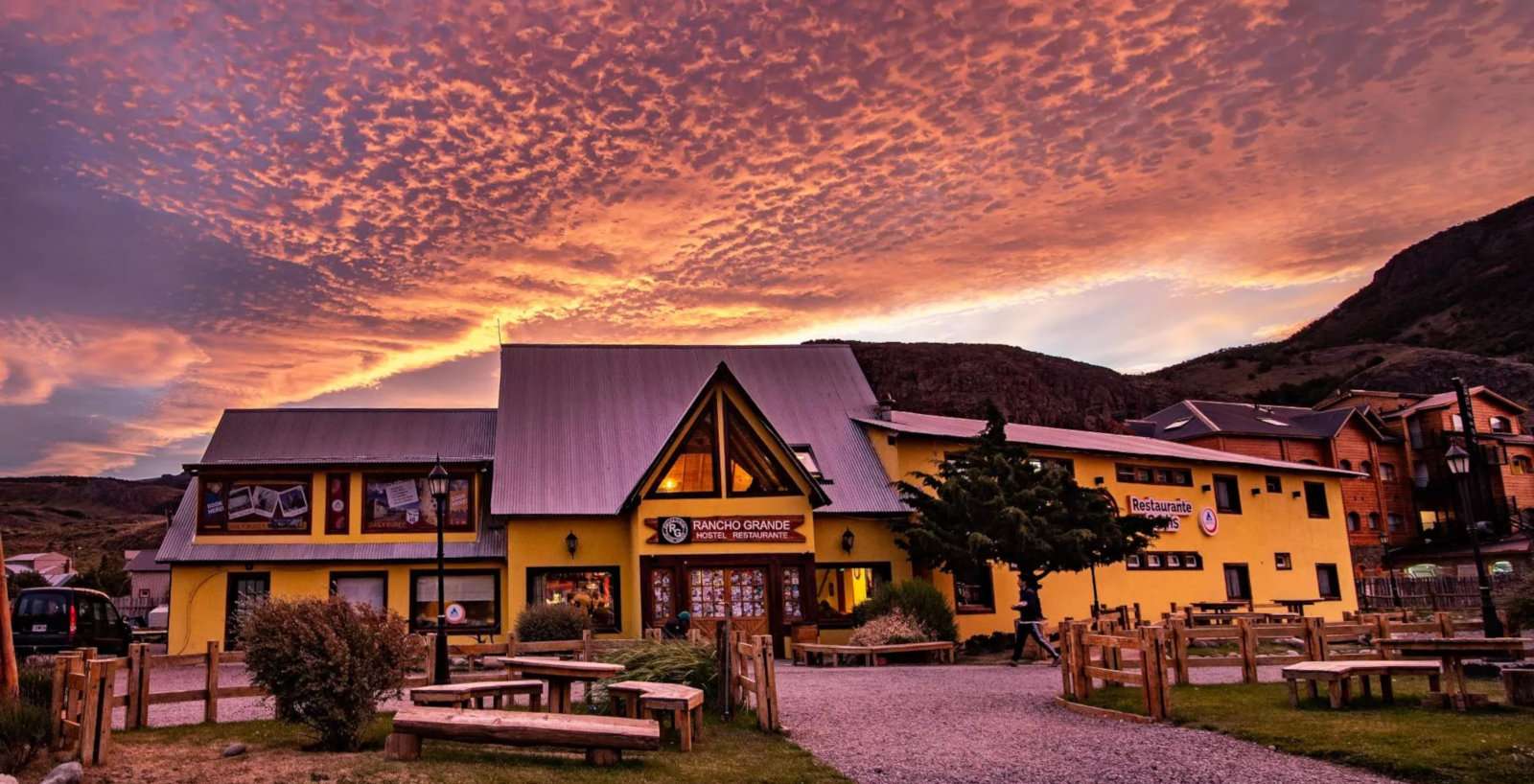 Why we love it
---
Clean and comfy budget option
Great location
24-hour restaurant on site
Dormitory rooms or private rooms with ensuite
For a very budget-friendly option, the Rancho Grande is one of the most fun and popular hostels in El Chaltén.
All the Chaltén buses stop here so it's a great base for exploring. You can also choose between dormitory rooms or a private room with an ensuite if you still want some privacy without a huge price tag.
There's a well-equipped shared kitchen area so you can cook your own meals to save costs, but there's also a 24-hour restaurant/cafe on-site if you're in the mood for a Bife Rancho at midnight! The portion sizes are also huge, so you won't be starving after all the hiking in the area.
This hostel is very clean, with great hot showers and the opportunity to make friends with other travelers from around the world. Obviously, this is not a luxury option but if you want to relax in a bar and enjoy the area of El Chaltén on a budget, then it's a great choice.
The scenery in El Chaltén
Fitz Roy mountain (3,405m/11,171ft) is the iconic landscape in El Chaltén together with other mountain ranges including Torre Mountain (3,102m/10,177ft). There are many unspoiled forests, waterfalls, and streams, as well as some spectacular views.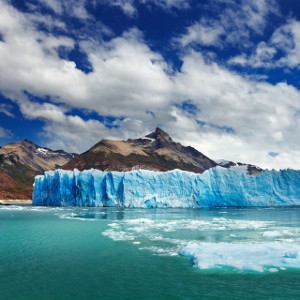 Must do in Patagonia: Perito Moreno
Perito Moreno is one of the most unique places in Argentina. You can visit by yourself or go on a full English guided tour with transfer included
The wildlife in El Chaltén
The most famous inhabitant in El Chalten is the elusive huemel deer-like animal, which is an endangered species. Other mammals you may find include pumas, foxes, and guanacos.
Along our trails, we also spotted many different species of birds, like condors, woodpeckers, and parakeets.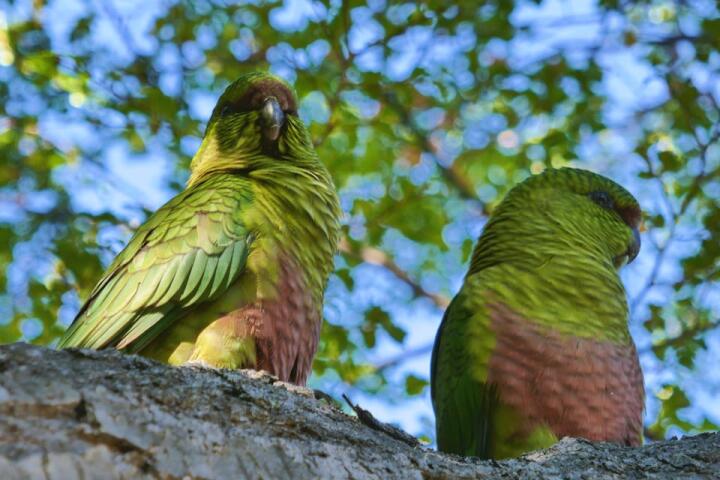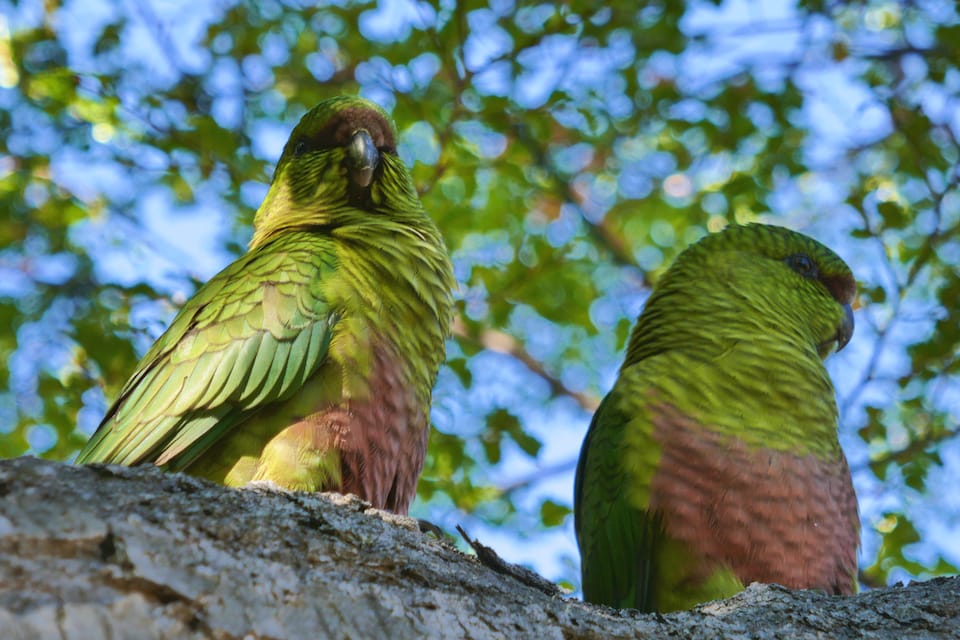 El Chaltén or Torres del Paine?
For us, we prefer El Chaltén because you can walk out of your hotel and you can start any trail you want, for free. In Torres del Paine, either you do the entire W Circuit, or you have to organize day trips with a guide from the hotel you're based at. Also, Torres del Paine National Park has an entrance fee to pay.
Both offer amazing treks, probably the best you will ever do. If you have time, definitely try both. We personally preferred Fitz Roy because we think it has the edge on the scenery, especially as a large chunk of Torres del Paine has been destroyed by fires.
Whichever you choose, you are guaranteed to be spoilt rotten in terms of trekking memories and beautiful landscapes.
---
Happy travels are safe travels
We recommend you always take out a reputable travel insurance before your next vacation. What happens if you suffer from illness, injury, theft, or a cancellation? Many travelers forget about it and regret it when something happens. Better to pay a small price and have the peace of mind and not worry.