Patagonia! That massive chunk of land on the tip of the American continent, split between Chile and Argentina.
This is the place for adventure travellers, home to some of the most incredible landscapes we've seen, exciting treks as well as a wide variety of wildlife.
After a month travelling across this vast region, here are our 10 interesting facts about Patagonia we learnt on this stunning journey.
Patagonia means 'Land of the Big Feet'
The story goes that when Portuguese explorer, Ferdinand Magellan, first set foot here in 1520, he found large footprints of the natives. Later when he met them, he alleged they were almost twice the size of normal human size, measuring around 4 metres (13ft)! Future explorers also wrote about meeting Patagonian giants but were later criticised for exaggerating.
Fantasy or not, the myth of the giant natives inspired the name for the area, which has been used ever since.
It has the second longest living species on Earth
At 2,600 years old, the Alerces Tree is an interesting fact about Patagonia because it is the second longest living species on our planet. The oldest is the Methuselah (White Mountains in California, USA), which is almost 5,000 yrs old.
This famous tree is located in the UNESCO listed Alerces National Park on the Western side of Chubut, Argentina Patagonia, near the Chilean border. The National Park was created in 1937 to protect this family of ancient trees.
Can you believe this tree is older than Jesus Christ?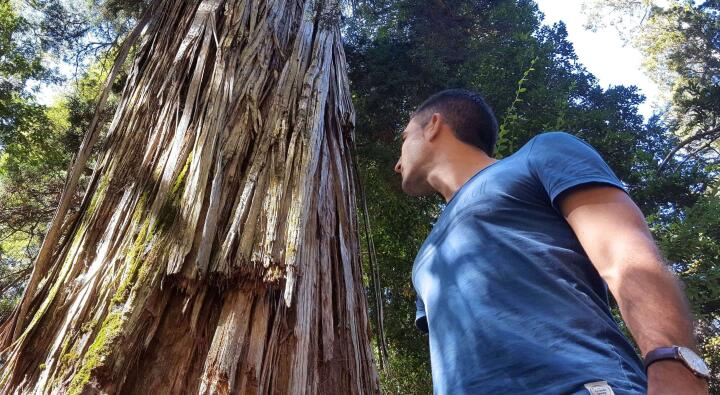 Patagonian has wine, bien sûr!
Argentinian Malbec from Mendoza and Chilean Cabernet Sauvignon from the Maipo province may dominate all the headlines, but Patagonia also has its own less talked about range of thriving wineries. The Patagonian weather of intense winters and summer cool nights is prime condition for certain grapes, particularly Pinot Noir.
We visited the Viñas de Nant y Fall winery near Esquel, Argentina, a gay owned vineyard specialising in Pinot Noir grapes, which prides itself for being "the southernmost vineyard in the world"!
If you come in March, you may catch some of the local Vendimia (grape harvesting) festivities along with lots of wine tasting.
Welsh people live here!
Patagonia is home to one of the largest Welsh communities outside of Wales, especially in the Chubut region of Argentina. Settlers first arrived in 1865 in Puerto Madryn and over the years spread inland, creating settlements like Gaiman, Trelew, Trevelin and Dolavon.
The Welsh culture has been retained across the region. For example, you can find road signs in Welsh as well as family owned tea houses serving an elaborate Welsh tea.
We sought out several teahouses for Welsh tea including Nain Maggie in Trevelin and Ty Té Caerdydd in Gaiman where Princess Diana famously had tea in 1996. Welsh tea features a variety of cakes and tarts, including the renowned torta negra (Welsh cake) made using recipes handed down by previous generations.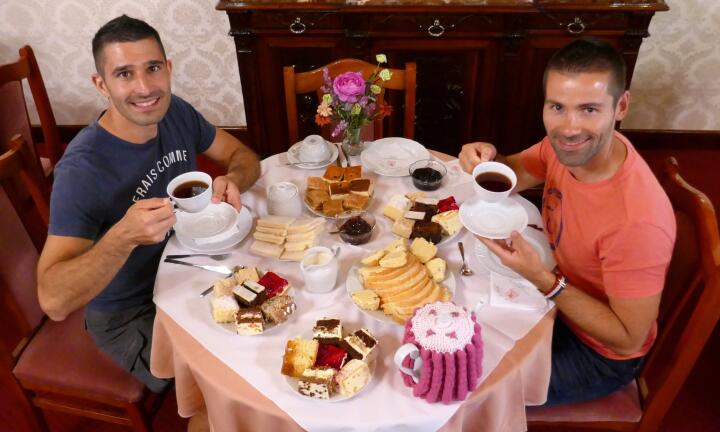 Mummy whales come here to give birth
One of our favourite fun facts about Patagonia: the East coast of Patagonia is a popular breeding ground for whales. They reproduce every 2-3 years, opting for the safe and quiet waters around Peninsula Valdés in Chubut.
One of the best places to see them is in Puerto Madryn or by boat trip from Puerto Piramedes, between May to December, when they come right up to the shore to give birth and raise their calves.
This area is also famous for a having a lot of wildlife like penguins, seals, sea lions and killer whales (orcas).
The biggest dinosaur ever is from Patagonia
Dino fans will love this fun fact about Patagonia: the fossils for the largest ever dinosaur that walked our planet was found smack bang in the middle of Patagonia on the Argentinian side.
This dinosaur is still unnamed but is known to have been a herbivore, measuring 42m in length and weighing 76 tons. To get an idea of its size, a statue of what it would have looked like has been recreated just outside of Trelew so you can visit and pretend you're in Jurassic Park.
There is also a fascinating dinosaur museum in Trelew worth visiting, dedicated to all the dinosaur fossils found in the region, along with a laboratory where you can see the palaeontologists at work.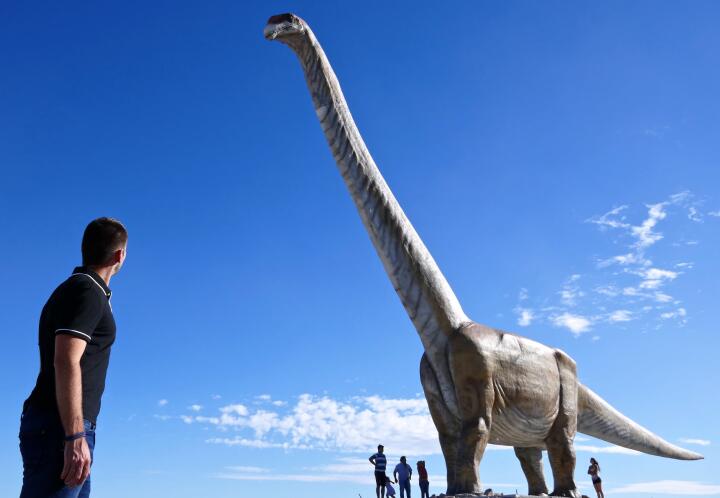 El Calafate is not just a city, it's also a fruit
El Calafate is the main city hub for tours to the famous Perito Moreno and surrounding glaciers. However, its name emanates from the Patagonian plant of the same name, which grows in abundance in the area.
The calafate produces a berry-like fruit, which you can use to make marmalades, liquors, teas, ice creams, soups and even vodka.
On the Chilean side of Patagonia, look out for yummy purple looking Calafate Pisco Sour, but go easy on these, they're not for the faint hearted!
Patagonia is a desert!
That's right. The 8th largest in the world in fact. The Patagonian desert is 673,000 square kilometres (260,000 mi2) and is primarily located in Argentina. It spreads all the way from the Andes on the Argentinian side to the Atlantic Ocean.
The Patagonian desert is a cold winter desert, with average temperatures of only 3 degrees celsius (37 Fahrenheit), rarely exceeding 12 degrees celsius (53 Fahrenheit).
Whilst you may associate the desert with sand dunes, it is in fact a barren area of land, with little precipitation and hostile conditions for plant and animal life. Therefore, the largest desert on our planet is Maudlandia in Antarctica, followed by the Arctic and Sahara deserts.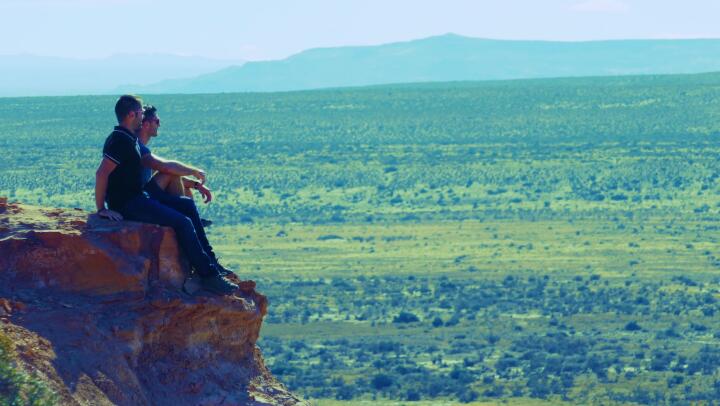 It has a growing, expanding glacier
The Perito Moreno glacier is a popular landmark in Patagonia, located in the Argentinian Los Glaciares National Park, a UNESCO World Heritage site.
From all our interesting facts about Patagonia, this one is quite unique and rare because unlike most glaciers in the world, Perito Moreno is growing in size instead of receding. The precise scientific reasons why glaciers like Perito Moreno are receding are not yet fully understood by glaciologists.
Perito Moreno is also very accessible. We hiked across Perito Moreno as part of a tour wearing crampons. Walking on the ice of this giant glacier is an experience we'll never forget and one we truly recommend to travellers visiting Patagonia.
Largest colony of Magellanic Penguins in the world
Upon his arrival on the continent in 1520, Ferdinand Magellan discovered a unique species of penguins, which were subsequently named after him.
One of the largest colonies of Magellanic penguins can be found at Punta Tombo, on the Argentinian side by the coast. Over 1 million Magellanic penguins descend on the region between mid-September to mid-April to nest, breed, moult and then migrate to the warmer climates in South Brazil.
The Magellanic penguins grow to around 61-76 cm (24-30 inches) and are extremely cute to watch, especially when they're clumsily waddling around on land.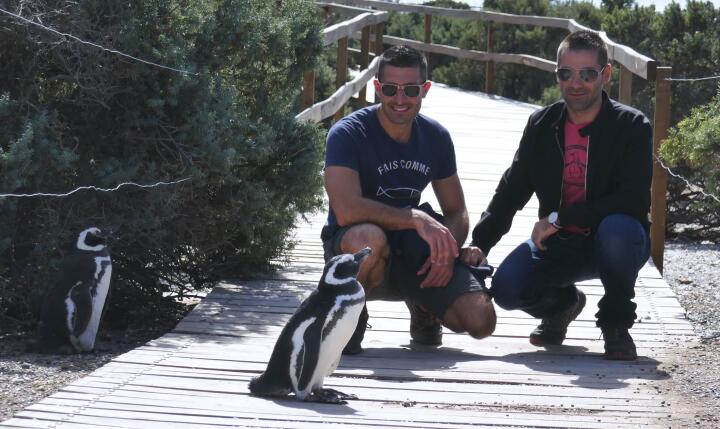 ---
For more inspiration:
Like this post? Pin it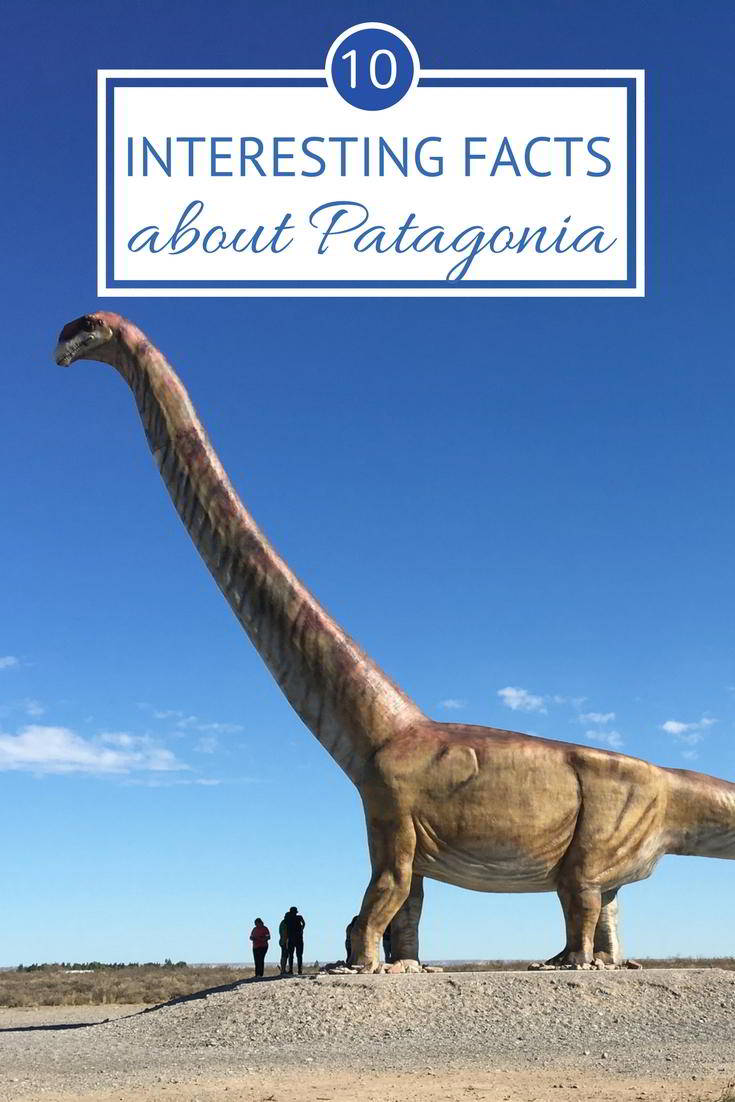 OUR FAVOURITE TRAVEL TIPS
⭐️ TRAVEL INSURANCE — We recommend you always take out travel insurance before your next vacation. What happens if you suffer from illness, injury, theft or a cancellation? With travel insurance, you can have peace of mind and not worry. We love World Nomads travel insurance and have been using it for years. Their comprehensive coverage is second to none and their online claims process is very user friendly.
⭐️ SAFETY & SECURITY — All travelers can sometimes encounter danger when traveling. CloseCircle is your "virtual body guard" mobile app which provides security alerts and support wherever you are in the world. They have a 24/7 emergency response team monitoring their users who will contact you immediately if the SOS swipe button is activated. Support can include anything from practical advice, to free evacuation from areas with extreme weather or security risks. You can read more about CloseCircle in our article about how to stay safe whilst traveling.
⭐️ ONLINE ANONYMITY — A VPN (Virtual Private Network) is a must in many countries: it allows you to surf anonymously and maintain your privacy whilst traveling. You'll particularly need it in countries where dating apps are blocked by the government. We recommend ExpressVPN, a reliable and cost effective service which we used and loved during our travels.
⭐️ HOTELS or APARTMENTS — When we plan a trip, we always look for the best hotel deals. We love Booking.com because not only do they have a comprehensive listing of accommodation options, they also offer the best prices. Added bonus: they provide 24/7 support and free cancellation for most listings.
⭐️ SIGHTSEEING and ADVENTURES — When we travel somewhere, we like to seek out the best experiences, whether it is cooking with locals in Bangkok, hiking on a glacier in Patagonia, or going on a wildlife safari in Sri Lanka. Our favorite place to look is GetYourGuide because they have over 30,000 highly rated activities, a user-friendly booking process with free cancellation and a 24 hour customer support.
This article contains affiliate links. If you click on them, we may receive compensation which keeps our website alive and helps us bring you to more destinations.