Montreal is beautiful. Montreal is proud. Montreal is energetic. Montreal is bold. Above all else, Montreal is open, ready and WAITING to embrace you!
This gorgeous city in Canada's French Quebec region is home to one of the biggest gay villages in the world. It's literally an entire neighbourhood, officially recognised in city maps and social media tags. The atmosphere here is one of the best we've experienced from all the different gay scenes we've been to around the world.
There's always something going on down the mile-long Rue Sainte-Catherine with plenty of bars, clubs, after-hours clubs, saunas, ꜱtriþ bars, cafes, and more, to suit everyone. And we are LIVING for it!
We visited Montreal in the height of the summer during the Fierte Pride in August. My god, these guys sure know how to have a good time! We'd happily return in a heartbeat. Check out our vlog about the first-ever Fierte Canada Pride in Montreal right here.
Is Montreal safe for gay travellers?
Short answer: hell yeah!
This is definitely one place we felt absolutely comfortable walking the streets holding hands. Put it this way, even at government level there is immense pride in the city's LGBTQ community – for Montreal Pride, not only the mayor and the Premier of Quebec led the parade, but alongside them was the country's Prime Minister, Justin Trudeau. Lovely Justin also happens to be one of Montreal's famous residents, who made this beautiful speech about diversity:
"Diversity is the engine of invention. It generates creativity that enriches the world"

Justin Trudeau
Canada generally has always been at the forefront of LGBTQ rights, being one of the first countries to legalise gay marriage and with one of the most progressive transgender laws in the world. Montreal, in particular, has always been a bedrock of acceptance and cultural diversity, to the point where it has developed the largest gay village in North America (see below), and also hosts many gay events throughout the year.
To get a feel for gay Montreal, we highly recommend watching this short gay web series called Montreal Boy: Some Strings Attached, made by the tourism board and Logo TV (let's just repeat that part: the tourism board of Montreal commissioned this series: a sure-fire sign that a city truly welcomes and celebrates its LGBTQ community!)
Le Village Gai: the gay neighbourhood of Montreal
Montreal's gaybourhood, otherwise known as Le Village Gai or just The Village is famous for being the largest gay neighbourhood in North America. It's literally an entire district of the city, even officially recognised in tourist city maps and searchable in social media location tags.
The Village is the heart of the city's LGBTQ community, based along the mile-long Saint Catherine street, bordered by St Hubert Street to the west, De Lorimier Avenue to the east, Sherbrooke Street to the north and René Lévesque Boulevard to the south.
The Gay Village dates back to the 1980s when it used to be a poor working-class neighbourhood. It was first occupied by gay and lesbian businesses after they were forced out from downtown Montreal. Over the years, the area gentrified massively to become the pink bubble of fun it is today.
During May-September, St Catherine Street is closed to cars, allowing the cafes, bars and restaurants to spill out onto the pavements to create outdoor terraces, giving the village an exciting buzzy atmosphere. We love it just for this! It also has a rainbow crossing to mark its starting point.
Gay hotels in Montreal
Montreal is one place in the world where you know most hotels welcome LGBTQ travellers with open arms. We've never had any issues booking a double bed as a gay couple travelling in Montreal, especially at the large chain hotels.
We've set out some of the best gay friendly hotels for all budgets, either which we've tried and loved, or were recommended to us by fellow LGBTQ travellers:
01
Fairmont The Queen Elizabeth
Downtown Montreal
The Fairmont is the place where celebs and famous people will most likely stay when in town, so you know you're in good hands! When we stayed here for the Fierte Canada Pride, the Canadian Prime Minister, Justin Trudeau, was not only staying here but in the same corridor as us! (Cue Stefan's many pathetic attempts to try "Hello housekeeping!") In addition, the gay pride parade passes right outside the front door of the Fairmont, so you can watch it from the comfort of their outdoor terrace with a birds-eye view.
Rooms and suites at the Fairmont are comfortable and gorgeously designed, with lots of bold art on the walls. As well as being right in the heart of the city there is so much to do inside the hotel. For example, they have an indoor swimming pool, a state-of-the-art fitness centre and a luxurious spa offering lots of wellness treatments. We loved dining at their Rosélys restaurant (famous for its French food) and also recommend getting a few cocktails at the sophisticated Nacarat Bar. They also have a cafe called Kréma which does the perfect morning brew (unless you wanna head to Timmies for a "double double and a box of Timbits" – ask your Canadian friends to translate that!).
02
Hôtel William Gray
Old Montreal
The rooms are huge, often with incredible views. Some have a private outdoor terrace. We loved the hotel's rooftop terrace, where you can dine in the rooftop restaurant, or just have a cocktail and enjoy spectacular views of the city. The indoor Maggie Oakes restaurant is also a stylish haven, with lots of dark wood and a pop of green from the succulent wall. Perche is the terrace restaurant, which also has an adjoining cafe. We particularly enjoyed the big lounge room space, with a library, pool table and another bar.
Hôtel William Gray also has its own gym, handy for burning off all those poutine calories. The hotel spa is also incredible, with a luxurious hot/cold thermal circuit, a Himalayan salt room, Finnish sauna, steam room, experiential showers, cold room, herbal sauna and a seasonal outdoor pool. You can even relax in one of their Gharieni spa beds that involve a healing warm quartz massage bed or a Spa Wave sound therapy system. You're guaranteed to leave the William Gray feeling truly pampered!
03
W Montreal
Old Montreal
Bold design and bright colours are King at the W Montreal, along with plenty of quirky artwork on the walls. This was also the first pet-friendly hotel we'd encountered, offering pet-friendly rooms with dog/cat beds, food/water bowls, "Bark Box" treat boxes and even dog sitting/walking facilities. Gym bunnies will be delighted with the fitness centre: it's massive, with super modern equipment and lots of bold bright colours!
There are no on-site restaurants at the W, but this is isn't a big deal as there are so many great dining options nearby. In terms of inhouse bars, you need to check out the Bartizen. It's a beautifully designed space which captures the feeling of a 1940s-style lounge with felted seating and stunning dark tones, creating an intimate spot for a cocktail. They also specialise in Quebec gin and tonics, to which they even add perfumes…let's just say you certainly won't forget your G&T&P here in a hurry!
04
Bed and Breakfast du Village BBV
Gay Village
On offer are Suites, the Cottage room, and The Queen Room. Guess which one we picked?
The rooms are all cozy and comfortable. There's a shared kitchen where guests can prepare their own meals, although you're just steps away from the cafes and restaurants in the Gayborhood of Montreal. The breakfast is a big highlight – plentiful and everything home-cooked breakfast each morning; in the summer months, it's so nice to have your breakfast on the terrace. The shared areas are also lovely to relax with a book, with the ambient music oozing out around you.
Gay bars in Montreal (open till 3am)
There are many gay bars in the Gay Village of Montreal. We recommend to just head there and see where the night takes you. There's always something happening every single night of the week.
Note that in Montreal, there's a blur between what is a "bar" and "club". Most places combine both and are open late until 3am (due to the lax licensing laws). After 3am, people head to "after hours" clubs. So to differentiate between the two sections, we've put in this bit the best gay bars/clubs, which are open until 3am, and the "after hours" ones we've listed in the "Gay Clubs" section directly underneath.
Complexe Sky is the biggest gay club in Canada! It's also the most popular and famous gay bar in Montreal. We loved it. It's in a large building with a restaurant on the ground floor called Le Branché, then four floors with different styles of music above that, concluding with a rooftop terrace with a pool and hot tub. Our favourite part was definitely the Cabaret area, where there are regular fierce drag shows, but basically the entire building is one big go-to for gay gay gay party and fun!
Located at 1478 Rue St-Catherine Est, the different parts of Complexe Sky have different opening times but most of them are open from 4pm until 3am.
Although Le Stud is officially a bear bar, everyone is welcome and that's why we love hanging out here. It has a really friendly atmosphere with an outdoor drinking area during the warmer months and a large dancing area inside. Look out for their themed nights or longer events like "Polar Bear Week" and the "Full Moon" parties. The connected L'Antre BBQ + Grill does fantastic pub food with burgers, hot dogs and poutine to keep all those rumbly bear tummies happy.
Bar Le Stud is located at 1812 Rue St-Catherine Est and is open daily from 10am until 3am.
Mado Lamotte is Montreal's most popular drag queen. She became famous for hosting one of the biggest drag shows called Mascara. Cabaret Chez Mado is her home where she hosts some of the city's best cabaret and drag acts, particularly on Tuesday and Saturday evenings. You don't need to be fluent in French to have a rollicking time, but knowing a few words and phrases will help you get some of her more subtle jokes!
Cabaret Mado is located at 1115 St-Catherine Est and is open every day from 4pm until 3am.
This is the best gay bar in Montreal for karaoke. Every evening a live DJ hosts the karaoke, which goes on till late. On Fridays before 10:30pm they have a Happy Hour. We loved the friendly fun atmosphere – it feels like being in a gay Cheers bar, albeit a very chic one! There are two levels to the bar as well as a lovely terrace that's nice to sit outside in summer.
Located at 1669 Rue St-Catherine Est, Bar Le Cocktail is open daily from 2pm – 3am.
Aigle Noir (French for Black Eagle) is a cool "man's" bar, similar to other Eagle bars we've been to around the world. It's friendly and cruisy, with three different bar sections. On the mezzanine level, there is a sports bar in case you want to pretend to be a hetero dude grunting over football (we tried and failed!). We came here on a Friday evening when it was absolutely heaving, but really enjoyed it, especially on the terrace.
Located at 1315 Rue St-Catherine Est, Aigle Noir is open every day from 8am til 3am.
Whilst the name says "Club", we found Unity to be more of a bar environment, which became a dancy space later in the evening. It's a big gay complex, much like Complexe Sky, but not as massive. It has 2 different dance areas playing a mix of electro/pop music as well as a VIP lounge and a large rooftop terrace. The rooftop terrace is quite a romantic spot in the evening when there's a cool breeze and you can see the stars shining bright above. Unity also hosts awesome themed parties (like for Halloween) and drag shows.
Club Unity is located at 1171 Rue St-Catherine Est and is open Wednesday to Sunday evenings from 10pm until 3am.
Bar Renard is a very stylish gay friendly bar, which almost every gay local recommended to us as their favourite place for "cute boys and cocktails"! It doubles up as a restaurant during the day, serving delicious meals, with lots of vegetarian and vegan options. Bar Renard is the perfect spot to begin your night, maybe with some of their delicious cocktails on the terrace surrounded by greenery…
Located at 1272 Rue St-Catherine est, Bar Renard is open every day from 3pm to 3am.
Gay clubs in Montreal (open after 3am)
When it got to around 3 am in the Gayborhood when the gay bars (listed above) were closing, we found that most of the local gay guys who wanted to keep partying either headed to a sauna or to one of the after-hours clubs. Note that if you're looking to party after 3 am, Stereo is now the only option in Montreal after the sad closure of Circus Club in 2020:
Stereo was THE after-hours club everyone recommend to us. Playing primarily house and techno music until well into the next morning, Stereo apparently has an excellent sound system. Couple this with friendly staff and delicious drinks and you're bound to have you a gay 'ole time. Sadly these two Nomadic Grandmas couldn't quite keep up and went home after Sky Bar closed at 3am!
Located at 858 Rue St-Catherine Est, Stereo is open only on Saturday and Sunday mornings from 2-10am.
Gay ꜱtriþ bars in Montreal
Gay ꜱtriþ bars are a thing here. Every local gay guy we met told us we have to visit a gay ꜱtriþ bar at least once in Montreal. The dancers are extremely talented and due to the lax laws, they bare everything. The best gay ꜱtriþ bars in Montreal include:
It was the Tripadivsor reviews that really sold it for us, boasting the most handsome men in North America. And it doesn't disappoint! Located in the heart of the gay village, Stock Bar provides hours of hot entertainment in the form of fit men gyrating on stage, often in costume (until they take it off of course) and pole-dancing. The layout of the bar looks almost exactly like the one from the Channing Tatum movie "Magic Mike"!
Stock Bar is located at 1171 Rue St-Catherine Est and is open Tuesday – Sunday from 8pm until 3am.
Campus is a less touristic ꜱtriþ bar than Stock Bar, with a mix of gay boys and groups of (straight) women. There are two bars offering prime views of the stage (should you need a stiff drink while fanning yourself!) Campus is also open during the day, so you don't have to wait until dark to enjoy the, erm, delights within… Day-time ꜱtriþpers are usually more twink-like while those working the night-shift are more of your butch bodybuilder types.
Campus is located at 1111 Rue St-Catherine Est and open Monday – Friday 3pm-3am, Saturday/Sunday 1pm-3am.
Gay saunas in Montreal
There are two gay saunas in Montreal, conveniently located right in the heart of the Gayborhood… So, as you stumble out of Club Unity or Le Stud at closing time at 3am and try to decide where to go next, if you don't go to one of the after-hour clubs, then you'll most likely be joining the queue to enter either Oasis or Sauna GI Joe:
Oasis
What's not to love about Sauna Oasis? It's open 24 hours a day, has a cheeky "hole in the wall" room and free WiFi! Not to mention the fact that there are more than 100 different rooms including private ones you can rent for a bit of fun, a steam room, dry sauna, oversized spa, and hot movies for your viewing pleasure. Oasis really is the place to come for fun, no matter the time or day!
Located at 1390 Rue St-Catherine Est, Oasis is open 24 hours a day, 7 days a week.
Another 24/7 gay sauna in Montreal is the oh-so-naughty Sauna G.I Joe. The facilities are spread out over four floors, including a roof terrace. There are lots of private rooms some featuring your very own swing. There's also all the sauna amenities you would expect like a steam room, dry sauna and spa, along with little extras like cheeky "holes in the wall" and play areas.
Sauna G.I Joe is located at 1166 Rue St-Catherine Est and is also open 24 hours a day, 7 days a week.
Gay cruising in Montreal
To be honest most gay guys looking for play in Montreal now use Grindr to connect with locals. This has dramatically reduced the outdoor cruising options. However, the following are places that locals told us are still quite popular for gay cruising, but we can't vouch for them ourselves:
Piscine Hochelaga: located at 1870 Rue Davidson
Olympic Stadium Hall's toilets: located at 4141 Pierre de Coubertin.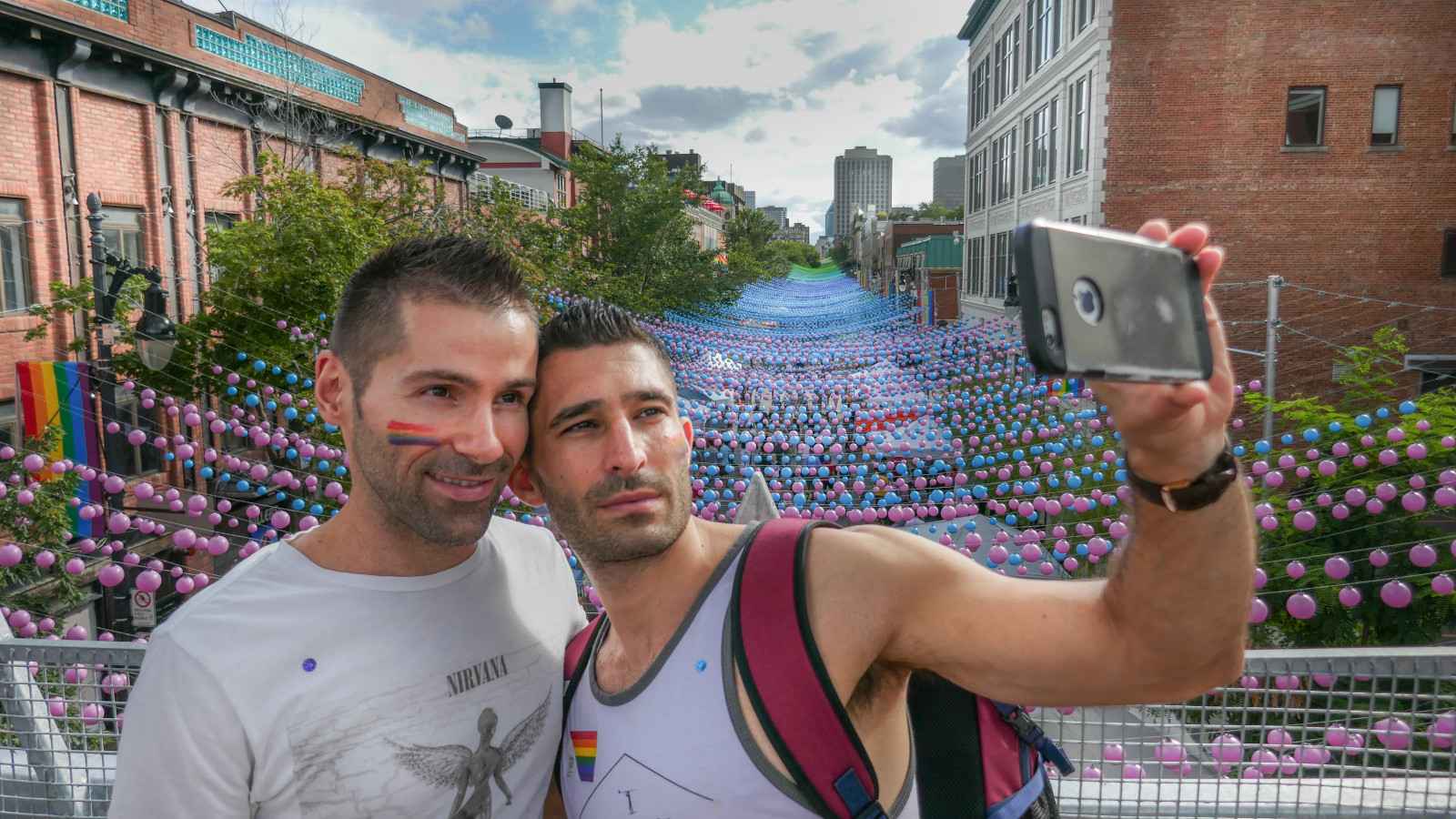 Gay events in Montreal
Since it's such a gay friendly city you can bet there are plenty of fabulous events just for us LGBTQ folk! Montreal Pride in August is definitely the biggest and best, but be sure to check out the others we've listed. For more, read our favourite gay events in Montreal.
Every year in August, Montreal has an incredible gay pride event attracting 2 million people! Everyone gets involved, families, allies and the whole LGBTQ community of the city. We visited the Fierte Canada in Montreal in August 2017 and absolutely loved it. It features a moving Moment of Silence to commemorate LGBTQ pioneers, after which, the parade culminates in the Gay Village where there is a fantastic, fun party atmosphere going on till late.
This is a large gay festival of social, cultural, sports and party events that take place over a full week in October, which also coincides with the Canadian Thanksgiving (second Monday in October). It started in 1991 and has been going strong ever since. The Black & Blue Festival raises money for AIDS charities and attracts more than 80,000 people from all over Canada, U.S.A., Europe, Australia, South America and New Zealand.
The annual Image+ Nation Festival Film LGBTQueer Montreal (now that's a mouthful!) is an 11-day long queer film festival which highlights revolutionary storytelling. It takes place in late November/early December and in 2019 celebrated its 32nd anniversary. This is a wonderful way to experience both local and internationally produced films that amplify the voices of LGBTQ storytellers.
From mid-January for a month, Igloo Fest takes over the Old Port of Montreal for a large electro-music festival each weekend. Whilst it's not an exclusively gay festival, it's extremely popular with the LGBTQ crowd. One highlight is the unique #Iglooswag winter wear competition, although we think the icy decor, projections and winter-themed activities are what truly make it feel like an Arctic wonderland.
This is a large outdoor electronic music festival that takes place every Sunday afternoon from May to September at the Parc Jean-Drapeau. Like Igloo Fest, it's not exclusively gay, but all our local gay Montreal friends raved about this one as well. As it takes place during the summer months, the outfits are a lot skimpier compared to Igloo Fest…just sayin'...
Festival TransAmeriques (or FTA) is a popular, annual 2-week dance and theatre festival taking place in May/June. With workshops, debates and performances galore, you'll find plenty to enjoy if you're in the city at the right time. There are usually around 25 different performances taking place in more than 15 venues throughout Montreal, including outdoor spaces, so check their website for all the details.
This is the largest international comedy festival in the world, held every July for 1 week. It features dozens of stand-up acts, comedy galas and free events all over the city. Attracting more than 2 million people to Montreal, there are often huge comedy stars performing along with undiscovered talent. If you like a good laugh (and seriously, who doesn't?) then you have to catch some of this rip-snorting event in person!
Gay cafes in Montreal
For when you just need a quick bite, breakfast or cup of Joe, Montreal has some wonderful gay cafes to check out. These are our favourite gay owned and gay friendly cafes we loved in the city:
Titanic Montreal
---
Pourquoi Pas Espresso Bar
---
Cafe Lulu
---
La Grain Brûlée
---
Best gay restaurants in Montreal
The Montreal gay village has many different excellent restaurants to grab a bite to eat. Whether you're craving something healthy or some deep-fried chicken, you'll manage to find mouth-watering treats at wonderfully inclusive businesses. We've listed below some of our favourite restaurants, but for more mouth-watering inspiration, be sure to check out our guide to the best gay restaurants Montreal.
Le Saloon Bistro Bar
---
Le Red Tiger
---
Rotisserie St-Hubert
---
Things to do in Montreal
As the largest city in Canada's Quebec province, you can bet there are lots of exciting things to see and do in Montreal. These are a few of the not-to-miss sightseeing highlights in Montreal that we loved the most:
The balls of the Montreal Gay Village
---
Montreal street art tour
---
Exploring Old Montreal
---
Bota Bota Spa
---
Mont-Royal mountain views
---
Observatoire Place Ville Marie
---
Taste Montreal's most famous dishes
---
Museum of Fine Arts
---
Ziplining over the Montreal Old Port
---
Spot wolves and bison at Omega Park
---
Plan your trip to Montreal
We've put together some handy hints and tips to help you plan your own trip to Montreal. Read on to find out everything the gay traveller should know before they go.
---
---
---
---
---
---
---
---
---
---
---
---
---
Gay map of Montreal
Here's our gay map of Montreal to show you where all the gay bars, clubs, hotels and sightseeing highlights we've mentioned in this post are located. Use it to plan your own amazing gay trip to Montreal!
---