Montreal has one of the biggest gay villages in the world. It's literally an entire neighbourhood, officially recognised in city maps and social media tags.
And it's got balls. Lots and lots of balls!
Seriously – each year, between May-September, Le Village Gai has a large display of around 200,000 pink balls hanging down across the main street, the mile long Rue Sainte-Catherine.
This is also the heart of the gay scene of Montreal, with plenty of bars, clubs, after hours clubs, saunas, strip bars, cafes and more, to suit everyone. This is our gay guide to Montreal featuring the best bars, clubs, hotels and things to do, following our visit during the Fierte Canada Pride in August 2017.
What we cover in this guide
Gay hotels in Montreal
We had no issue getting a double bed as a gay couple anywhere in Montreal. Most places are extremely welcoming to LGBTQ travellers. These were the gay friendly hotels we tried and loved or were recommended to us by fellow gay travellers:
01
Fairmont The Queen Elizabeth
Downtown Montreal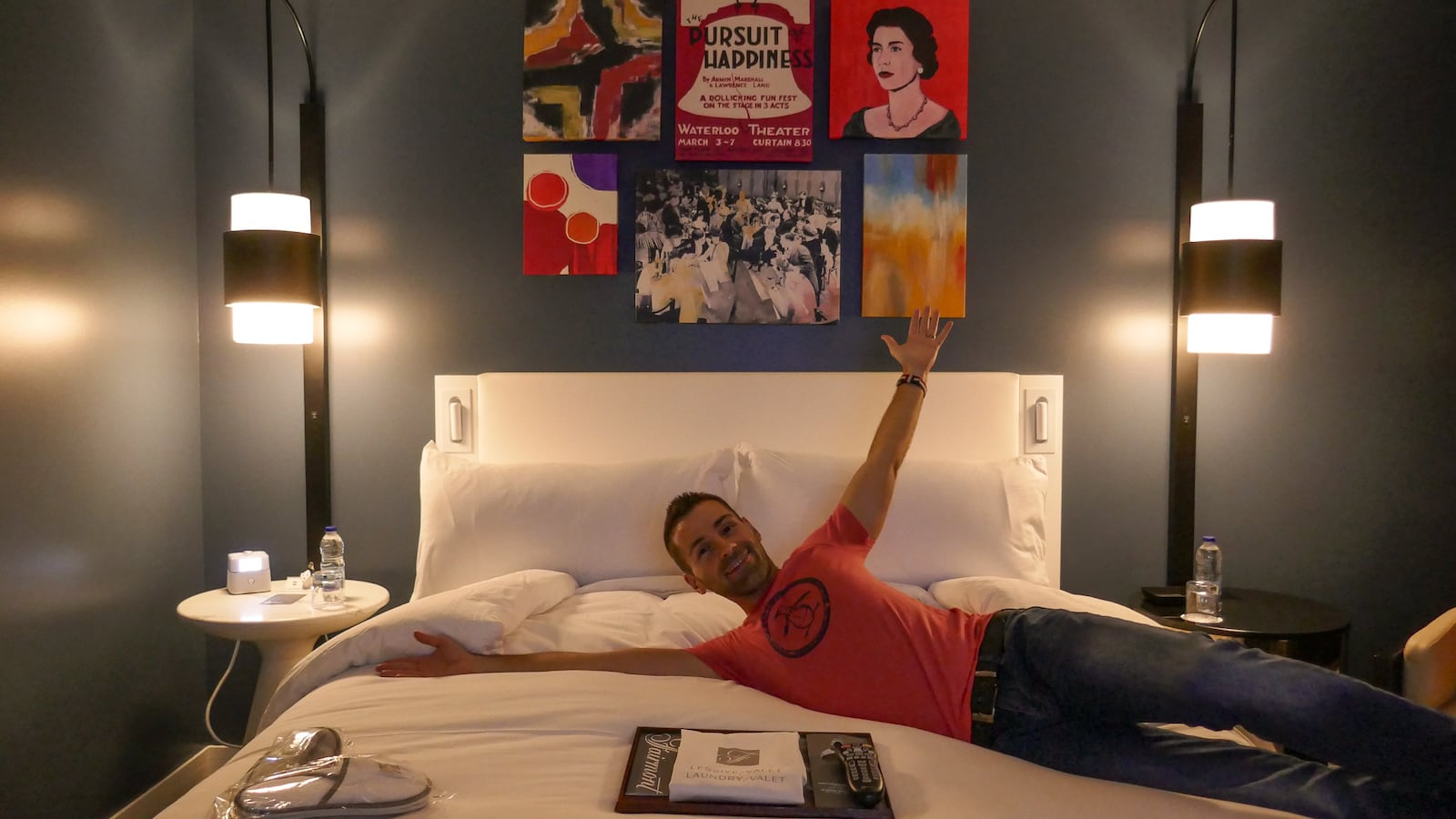 Why we love it
---
Luxurious and famous hotel in the heart of the city
Lovely spa, swimming pool and fitness centre
Beautiful rooms and suites
Excellent restaurant, cocktail lounge and coffee shop
We stayed at the Fairmont during the Fierte Canada Pride in Montreal, located in downtown Montreal.
It is regarded as one of the best luxury hotels of the city, made famous by John Lennon and Yoko Ono, where they staged one of their week-long Bed-Ins for Peace non-violent protests against the Vietnam War in 1969 (in Room 1742 which is now available for bookings). You can watch the full documentary about it on Yoko Ono's YouTube channel.
The Fairmont is the place where celebs and famous people will most likely stay when in town, so you know you're in good hands here. When we stayed here for the Fierte Canada Pride, the Canadian Prime Minister, Justin Trudeau, was also staying on the same corridor as us. In addition, the gay pride parade passes right outside the front door of the Fairmont, so you can watch it from the comfort of their outdoor terrace with a birds-eye view.
Rooms and suites at the Fairmont are comfortable and gorgeously designed, with lots of bold art on the walls. As well as being right in the heart of the city there is so much to do right in the hotel. There's an indoor swimming pool and a state-of-the-art fitness centre, as well as a luxurious spa for all the wellness treatments or massages you could need. We loved dining in the Rosélys restaurant on French cuisine, while Nacarat is a sensual and sophisticated spot for delicious cocktails. You can also grab a coffee at the Kréma cafe before heading out to explore the city.
02
Hôtel William Gray
Old Montreal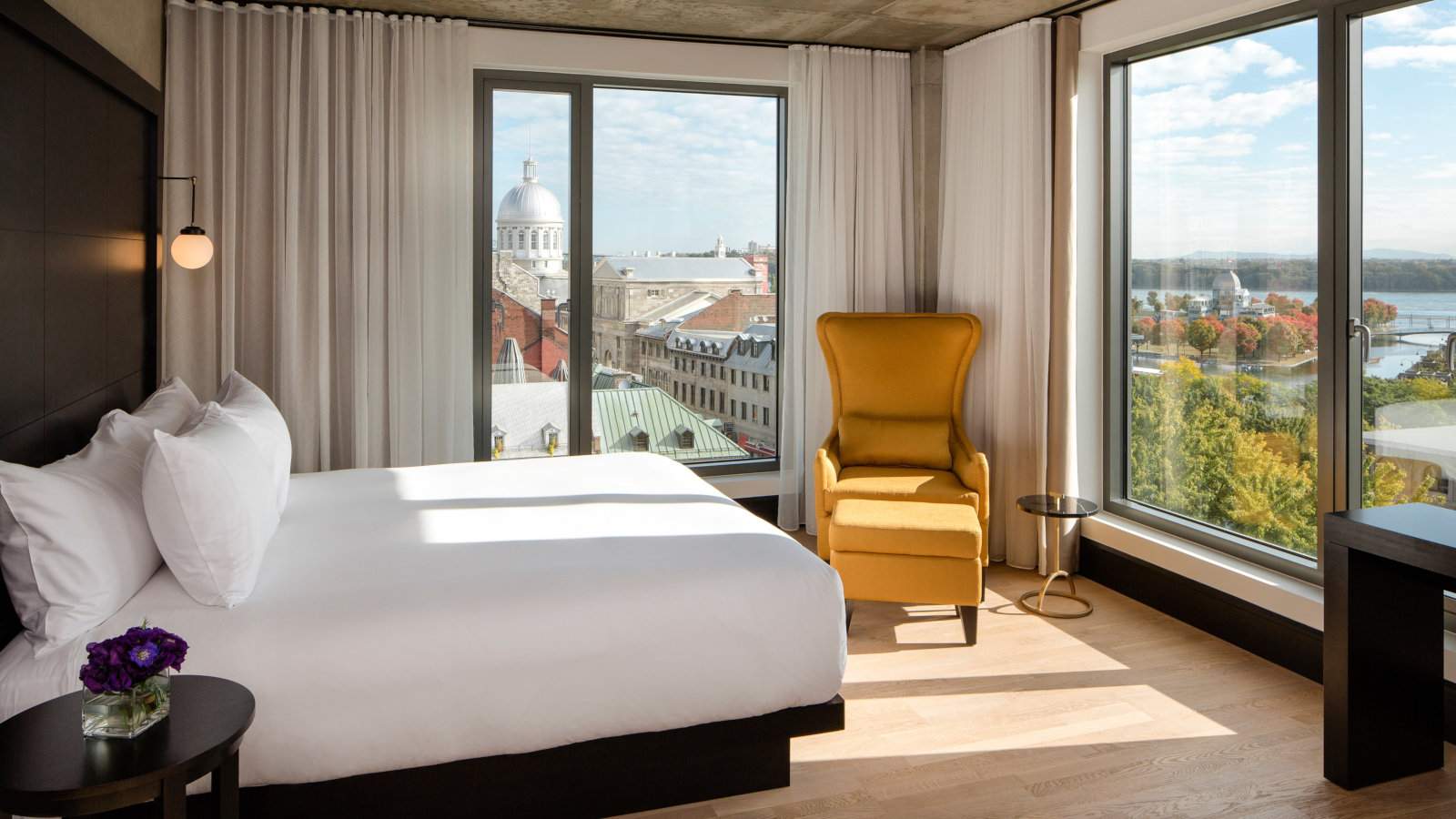 Why we love it
---
Amazing boutique luxury hotel
Wonderful spa, swimming pool and gym
Rooftop terrace dining and drinks with a view
Multiple restaurants and a cafe
This is one of Montreal's best boutique luxury hotels, very romantic and perfect for couples.
It's located in Old Montreal facing Place Jacques Cartier, and the hotel's buildings are also stunning examples of 18th-century history. The hotel was actually created by building a glass tower on top of the historic Maison Edward-William-Gray and the Maison Cherrier. Now the buildings are home to this stunning boutique spa hotel that you'll never want to leave!
The rooms are huge, often with incredible views and you can also book rooms with private outdoor terraces. We loved the hotel's rooftop terrace, where you can dine in the rooftop restaurant, or just have a cocktail and enjoy spectacular views of the city. The indoor Maggie Oakes restaurant is also a stylish haven, with lots of dark wood and a pop of green from the succulent wall. Perche is the newest terrace restaurant and there's also a cafe. We particularly enjoyed the big lounge room space, with a library, pool table and another bar.
Hôtel William Gray also has its own gym, which is handy for burning off all those poutine calories. The hotel spa is also incredible, with a luxurious hot/cold thermal circuit, a Himalayan salt room, Finnish sauna, steam room, experiential showers, cold room, herbal sauna and a seasonal outdoor pool. You can even relax on one of their Gharieni spa beds that involve a healing warm quartz massage bed or a Spa Wave sound therapy system. You're guaranteed to leave the William Gray feeling truly pampered!
03
Sir Montcalm Gite B&B
Gay Village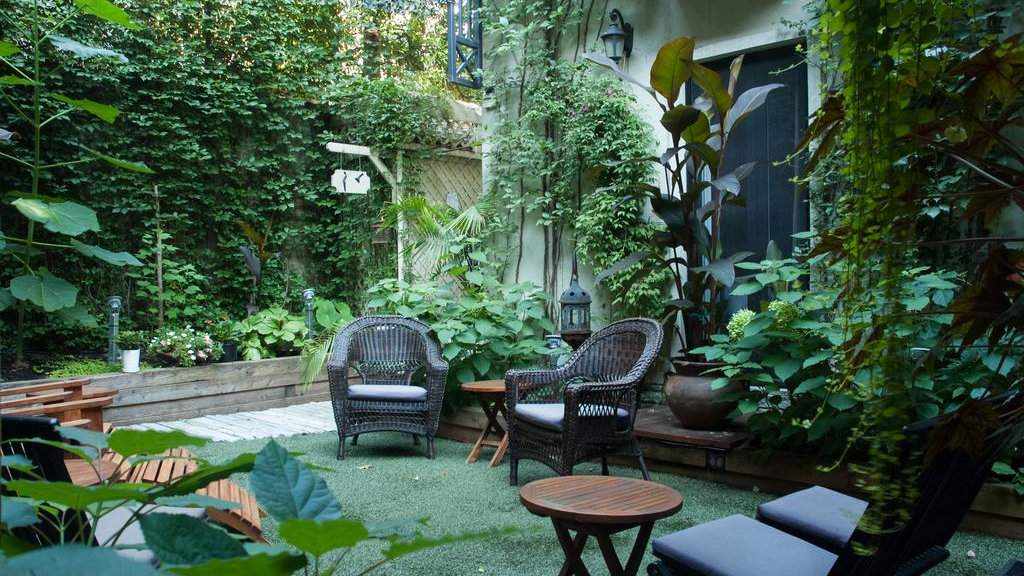 Why we love it
---
Gay friendly accommodation IN the gay village
Intimate and beautifully appointed rooms
Gorgeous terrace garden for relaxing
Welcoming and friendly hosts
Sir Montcalm Gite is a very gay friendly B&B located right in the heart of the Gay Village of Montreal.
This is ideal if you want to be close to the exciting gay scene of Montreal, but Sir Montcalm also provides a little oasis of peace and tranquillity once you go back to your accommodation. The interior terrace garden, in particular, felt like our own personal jungle and was perfect for relaxing with a coffee in the morning or a glass of wine in the evening.
With just three guest rooms, a suite and a loft, this is a truly intimate B&B experience, plus the host André makes you feel like part of the family. The rooms are all cosy and comfortable but we definitely recommend booking the suite or loft for that little bit extra je n'ais ce quoi! The suite and loft both feature French doors opening onto the garden as well as a romantic Romeo & Juliet-style balcony overlooking the courtyard below.
There's a shared kitchen where guests can prepare their own meals, although you're also just steps away from plenty of excellent cafes and restaurants. This is a true bed AND breakfast in every sense of the words though, as guests are also provided with a scrumptious big home-cooked breakfast each morning, in the garden during summer. The shared areas of the house are also lovely to relax with a book, while you listen to the ambient music wafting through the building…
04
W Montreal
Old Montreal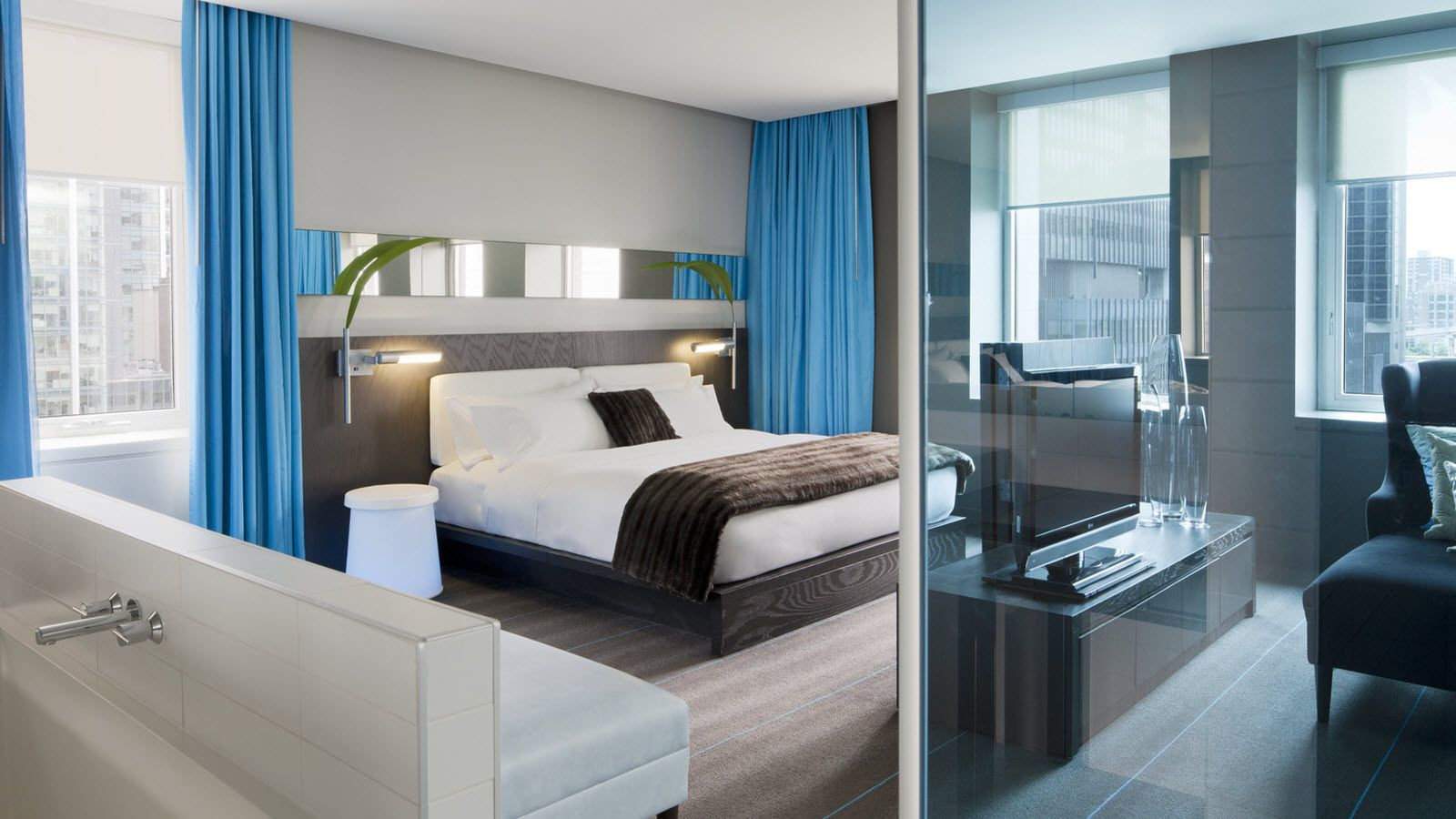 Why we love it
---
Luxurious hotel with bold and quirky design
Truly pet-friendly with lots of extras for cats or dogs
Gorgeous 1940s-style bar for cocktails
Excellent fitness centre
The W is a very gay friendly brand. At the Fierte Canada Pride, it hosted the LGBTQ Queer Me Out series and is world-famous for its commitment to our gay community.
W Montreal is a luxury design-driven hotel, located in the Banque du Canada building right on the line between Downtown Montreal and Old Montreal. It's particularly popular with younger gay travellers in their 20s or 30s, but welcoming to everyone!
Bold design and bright colours are King at the W Montreal, along with plenty of quirky artwork on the walls. This was also the first really pet-friendly hotel we'd encountered. Offering up pet-friendly rooms, which include dog/cat beds, food/water bowls, "Bark Box" treat boxes and even dog sitting/walking facilities, you can feel comfortable bringing your four-legged pal along on your holiday. Meanwhile, you can use the excellently appointed and colourful gym to keep yourself in shape as well.
There isn't an on-site restaurant at the W, which doesn't matter are there so many great dining options nearby, but there is a stunning bar which we loved. Bartizen is a beautifully designed space which captures the feeling of a 1940s-style lounge, with felted seating and stunning dark tones which create an intimate spot for a cocktail. They also specialise in Quebec gin and tonics, to which they even add perfumes. It was certainly a memorable experience to sample some of their delicious G&T&Ps!
STAY WITH A GAY LOCAL
Misterb&b is the Airbnb equivalent for the LGBTQ community. Unlike on Airbnb, you know your host is gay, avoiding any nasty surprises when you check in. It is also a great way to meet gay locals and discover the underground gay scene. Click below to get 10 € (or $10) off your first booking.
Gay bars in Montreal (open till 3am)
There are many gay bars in the Gay Village of Montreal. We recommend to just head there and see where the night takes you – there's always something happening every single night of the week.
Note that in Montreal, there's a blur between what is a bar/club. Most are both and are open until 3am due to the licensing laws. After 3am, people head to "after hours" clubs. These are a few of our favourite gay bars/clubs in Montreal, which close by 3am, unless otherwise stated:
Sky Bar: Sky was the most popular and famous gay bar in Montreal and we loved it. It's in a large building spread over 3 floors with a restaurant on the ground floor called Le Branché, an large rooftop bar and a dancing venue with drag shows.
Le Stud: although officially a bear bar, everyone is welcome and that's why we love it. It has a really friendly atmosphere with an outdoor drinking area during the warmer months and a large dancing area inside. On a side note, bear boys may want to check out the Urs bear shop down the road.
Cabaret Chez Mado: Mado Lamotte is Montreal's most popular drag queen who became famous for hosting one of the biggest drag shows called Mascara. Cabaret Chez Mado is her home where she hosts some of the city's best cabaret and drag acts particularly on Tuesday and Saturday evenings.
Bar Le Cocktail: best gay bar in Montreal for karaoke and drag shows. Every evening a live DJ hosts the karaoke, which goes on till late. On Fridays before 10:30pm they have Happy Hour. We loved the friendly fun atmosphere – it feels like being in a gay Cheers bar.
Aigle Noir/Black Eagle: very cool bar, friendly atmosphere and open every day of the week. We came here on a Friday evening when it was heaving, but really enjoyed it.
Club Unity: Unity is huge, with 2 dance areas playing a mix of electro/pop music. It also has a VIP lounge and an large rooftop terrace, which we loved for chill out. It's open Wednesday to Sunday evenings from 10pm.
Bar Renard: very stylish gay friendly bar, which almost every gay local recommended to us as their favourite place for cute boys and cocktails! It's open everyday from 1pm and also doubles up as a restaurant during the day.
Titanic Montreal: for something different, check out this gay owned cafe in Old Montreal. It's a great place to come for lunch or coffee during the day – we recommend their delicious mac and cheese. It's open Monday to Friday until 4:30pm.
Gay after clubs in Montreal (open after 3am)
These are the gay bars/clubs in Montreal open later than 3am, which are locally referred to as "after hours":
Stereo Nightclub: Stereo was THE after hours club everyone talked about when we were there. Sadly these two Nomadic Grandmas couldn't quite keep up and went home after Sky Bar closed at 3am! Stereo is open only on Friday, Saturday and Sunday morning from 2-10am and primarily features house & techno music.
Circus: the other favourite gay after-hours club in Montreal, which plays a mix of electronic, house, trance and techno. Circus is open Thursday to Sunday mornings from 2-9am.
For more, check out our 5 highlights from the Montreal gay village.
Gay strip bars and saunas in Montreal
Gay strip bars are a thing here. Every local gay guy we met told us we have to visit a gay strip bar at least once in Montreal. The dancers are extremely talented and due to the lax laws, they bare everything. The best gay strip bars in Montreal include:
Campus: this is less touristic than Stock Bar, with a mix of gay boys and groups of (straight) women.
In terms of gay saunas in Montreal, there are two main ones. As you stumble out of Club Unity at closing time at 3am and walk down the village, you'll notice a big queue to enter the following:
Oasis: what's not to love – it's open 24 hours, has a sling room and free WiFi…
GI Joe: another 24/7 gay sauna in Montreal, appealing more to the fetish crowd.
Gay events in Montreal
Fierte Montreal Pride: every August, Montreal has an incredible gay pride. Everyone gets involved, families, allies, as well as the LGBTQ community of the city. We visited the Fierte Canada in Montreal in August 2017 and absolutely loved it. It features a moving Moment of Silence to commemorate LGBTQ pioneers, after which, the parade culminates in the Gay Village where there is fantastic, fun party atmosphere going on till late.
Black & Blue Festival: this is a large gay electro/techno dance music festival which takes place during the Canadian Thanksgiving weekend (second Monday in October). It started in 1991 and has been going strong since. It raises money for HIV/AIDS charities and attracts around 70,000 people.
Image+Nation Gay Film Festival: the annual 2 weeks queer film festival of Montreal, which highlights revolutionary storytelling. It takes place in late November / early December and in 2017 it celebrated its 30th anniversary.
Igloo Fest: from mid-January for a month, Igloo Fest takes over the Old Port of Montreal for a large electro music festival each weekend. Whilst it's not an exclusively gay festival, it's extremely popular with the LGBTQ crowd. One highlight is the unique #Iglooswag winter wear competition.
Piknic Electronik: this is a large electronic music outdoor festival every Sunday afternoon from May to September at the Parc Jean-Drapeau. Like Igloo Fest, it's not exclusively gay, but all our local gay Montreal friends raved about this one as well.
Festival TransAmériques: a popular annual 2 weeks dance and theatre festival taking place in May/June, with workshops, debates and performances.
Just For Laughs: the largest international comedy festival in the world held every July for 1 week. It features dozens of stand-up acts, comedy galas and free events.
For more, check out our 5 favourite gay events in Montreal.
Best gay friendly restaurants for dinner
The Montreal gay village has many different excellent restaurants to grab a bite to eat. Some of my favourites are:
Le Saloon Bistro Bar: this was the very first restaurant I tried in the Montreal gay village when I first came here many years ago. I love it because as well as being a gay institution of the village for over 25 years, they serve up delicious North American hearty burgers, tartars and healthy salads. I also love their Bloody Caesar cocktails.
Kitchenette: I love coming here on a date. Their 5 course tasting menu is goooood and the best way to impress your other half.
Le Red Tiger: this is my favourite Asian restaurant in the Montreal gay village. Here they specialise in Vietnamese street food, which is ideal for sharing with friends.
Rotisserie St-Hubert: although this is not too fancy, I like it because it's a great place to get a quick bite to eat that isn't too unhealthy. It's conveniently located right in the middle of the Montreal gay village by St. Catherine Street East and Rue Amherst.
There are also some excellent restaurants I love because they let you bring your own bottle, such as "Bato Thai" and "O'Thym".
Things to do in Montreal
These are a few of the not-to-miss sightseeing highlights in Montreal:
Street art tour: street art murals are very popular across Montreal, particularly in the Plateau neighbourhood. We recommend taking a tour with the gay owned Spade & Palacio. The guides are gay locals who are extremely passionate about their city. They also do bicycle, food and Old Montreal tours.
Old Montreal: the Vieux-Montréal is the oldest part of the city with many beautiful colonial buildings, some dating back to the days of New France in the 1700s. The gothic style Basilique Notre-Dame church was our favourite site, which you should definitely check out.
Bota Bota Spa: this is a spa set in a large boat, with numerous heated pools, saunas, baths and treatments. We definitely recommend it as a romantic evening treat, particularly their Water Circuit at sunset.
Mont-Royal mountain views: this 233 metres (765ft) high mountain is the iconic symbol of the city from which locals get their bearings from. You can hike up or drive to the Belvedere Observatory at the top for the best views of the city.
Au Sommet Skyscraper: located in Downtown Montreal, the Au Sommet is another popular place for awesome views of the city. It's also got a fabulous restaurant, which serves up delicious burgers with poutine.
Try poutine at Patati Patata: this is one of the most popular diners to try poutine – a local specialty of fries with cheese curd and gravy. It's gooood! Especially on a Sunday afternoon when you're nursing a hangover… For more, check out our 5 foods in Montreal you need to try.
Smoked meat at Schwartz's: the East European Jewish immigration to Canada in the 1900s brought with it culinary gems like smoked meats. Schwartz's it the most famous with queues going round the block. We loved it and definitely recommend the experience. Tip: if you're a group of just 2 you'll get in quicker, skipping the long queue.
Bagel mania in Mile End: bagels are another famous culinary prize here, with some of the best bagel bakeries in the Mile End neighbourhood. The recipe was brought over by Russian immigrant Isadore Safman back in 1919 who opened up one of the first bakeries here called Fairmount Bagel.
Museum of Fine Arts: the Musée des Beaux-Arts is the most prestigious museum of the city and most visited in Canada. They also have an fascinating display of outdoor exhibitions in front of the museum and along the main road outside, which is worth checking out.
To get a feel for Montreal, we highly recommend watching this short gay web series called Montreal Boy: Some Strings Attached, made by the tourism board and Logo TV. It's super cute, the guys are very cute and we found it an awesome introduction to the city. Also, read why we think Canada is the most gay friendly country in the world.
Where to take the best selfies
I love La Graine Brûlée because it is super colourful and quirky. Check out the leopard printed seats, mini ferries wheel, graffiti covered cubby holes and small nooks that make it look like a play room with old Nintendo games. This unique cafe is located on the west side of the Montreal gay village right by the Berri-UQAM metro station. For me, this is THE place to take a selfie to kick off a great night out in the Montreal gay village.
I also love taking selfies by the rainbow crossings that mark the entrance of the gay village. Try to get the background ball installation in your picture, which is rainbow coloured during Pride.
Montreal also has some of the best street art murals, which are perfect backgrounds for your Instagram gallery.
Montreal also has some of the best street art murals, which are perfect backgrounds for your Instagram gallery.
And…watch our vlog about the first ever Fierte Canada Pride in Montreal right here:
---
Like this post? Pin it