Greenpeace, Ryan Reynolds and Botox – what do they all have in common? They're all from/invented in Vancouver!
This is Canada's very cool city located right on the country's far Western coast in the Province of British Columbia. The city is also famous for being extremely welcoming and accepting to everyone: we frequently saw many same gender couples walking the streets hand in hand all across town, and we definitely felt comfortable doing the same.
We loved the gay scene of Vancouver a lot, and have put together our guide of the best bars, clubs, events, hotels and more.
Where to stay in Vancouver
Vancouver is an extremely safe city for LGBTQ travellers. We never had any problems as a gay couple anywhere we stayed, and felt very welcome in all the places we visited. These are some of our favourite Vancouver gay friendly hotels we recommend:
STAY WITH A GAY LOCAL
Misterb&b is the Airbnb equivalent for the LGBTQ community. Unlike on Airbnb, you know your host is gay, avoiding any nasty surprises when you check in. It is also a great way to meet gay locals and discover the underground gay scene. Click below to get 10 € (or $10) off your first booking.
The West End Guesthouse is owned by super cute gay couple David and Paul. It is perfectly located in the West End neighbourhood, walking distance to the Davie Village. We love that they only have 7 guest rooms, which makes it feel like you're living with a family.
The West End initially caught our eye because not only is it the #1 rated B&B on Tripadvisor, it is also listed on major LGBTQ directories like Purple Roofs.
Rooms here start from CAD$220 (USD£173/£124) a night.
We stayed at this gorgeously designed Marriott hotel during our trip and loved it. Staff are friendly and extremely helpful with any request you may have. It's very cool and chic here with quirky elevator lights and a hidden bar behind a bookcase in the main bar. The Douglas also has the Honey Salt restaurant which is worth checking out for a gourmet romantic meal.
The Douglas is located near Yaletown, which is a short taxi ride away from the Davie Village. Rooms here start from CAD$354 (USD$280/£200) a night.
Vancouver is well known for being an expensive city, so those travelling here on a budget will want to check out the HI Vancouver. It's walking distance to the Davie Village which is handy, and for the price, very comfortable. It also includes a decent breakfast.
Rooms here start from CAD$82 (USD$64/£46) and a dorm bed from CAD$38.50 (USD$30/£22) a night.
Vancouver gay village: Davie Street
Vancouver's gay village, also known as the Davie Village, is the heart of the city's LGBTQ community. It is based mainly along Davie Street between Jervis Street and Burrard Street. This is where the majority of the gay bars, clubs, fashion outlets, faces and saunas are. Although it's not as big as the gay scene of Montreal or Toronto, it's just as fun.
There is also a more bohemian area popular with the lesbian community of the city at Commercial Drive, called "The Drive" over in East Vancouver, which we did not visit so have not covered in this guide.
Davie Street is also the first place in Canada to have a permanent rainbow crossing, proudly installed in July 2013. You can find it at the intersection of Davie and Bute Streets. Next to the rainbow crossing is the Jim Deva Plaza, which is a living memorial to the late Jim Deva, one of Vancouver's best known gay pioneers and heroes.
Vancouver gay bars and clubs
Vancouver has a thriving gay scene with some really fun gay bars and clubs. Most bars double up to become dance floors later in the evening. These are our favourite gay bars and clubs in Vancouver, which are largely based in or around the Davie Village:
Fountainhead Pub: this little gastropub gem is located right in the heart of the Davie Street Village and has a large outdoor patio. It's the perfect place to come for drinks, good food and people watching. Fountainhead is located at 1025 Davie Street and is open everyday from 11am to midnight, with late closing till 2am on Fridays and Saturdays.
1181 Bar + Lounge: this is a more low key and unpretentious gay bar in the Davie Village. On Sunday evenings, they have really funny drag shows. Ru Paul Drag race fans will want to come here for the viewing parties. It is located at 1181 Davie Street and is open everyday from 6pm to 3am.
PumpJack Pub: PumpJack is the popular Vancouver gay leather bar, with various parties on weekends like Wet and Wild and Underwear Night. The most famous event is the Sunday afternoon Keggers. PumpJack is located at 1167 Davie Street and is open from 1pm to 2am.
Celebrities Nightclub: Celebrities is the most popular gay club in Vancouver, with the largest dance floor in the Davie Village. This is where you want to be on a Saturday night. Check out their website to join the guest list. Celebrities is located at 1022 Davie Street and is open only on Tuesdays, Fridays and Saturdays from 10pm to 3am.
Numbers Cabaret Entertainment Centre: Numbers is the longest running gay club of Vancouver, going strong for nearly 40 years. Numbers is a multi-level bar with live DJs, dance floor, pool, darts and speciality theme nights, including Karaoke Box. Numbers is located at 1042 Davie Street and is open everyday from 8pm to 3am.
The Junction: we love coming here for early evening cocktails in the outdoor patio. They also have a pub menu so you can get dinner if you're feeling peckish. Later in the evening, Junction becomes a nightclub with drag shows and live DJs. The Junction is located at 1138 Davie Street and is open everyday from 3pm to 3am.
Vancouver gay beaches
Vancouver's location by the Pacific coast means it has many cool beaches worth checking out during the warmer summer months. There are 3 gay beaches in Vancouver:
Wreck Beach: this beach is famous because it is the largest clothing optional naturist beach in North America . It has over 7km/4.3m of shoreline and sandy beach area. Although the steep incline makes it a bit of a challenge to reach, it means it will be more remote and private. To reach the gay area use trail 7 off Old Marine road.
Sunset Beach: a quiet beach located near the residential West End neighbourhood. However in August things get raucous here because this is where the annual Pride Festival takes place.
English Bay Beach: this is the closest beach to the Davie Village, located at the westernmost end of Davie Street. It has restaurants, washrooms, kayak rentals, volleyball courts and no fewer than 66 palm trees. We love it because it's a very romantic spot for an evening cocktail to enjoy the sunset underneath the palm trees.
Gay events in Vancouver
There are a number of Vancouver gay events happening throughout the year, which we definitely recommend planning your trip around:
Whistler is a small town around 2.5 hours drive north of Vancouver, famous for being a weekend ski retreat for locals. The Whistler Pride and Ski Festival is one of the largest and best LGBTQ ski events in North America. We had a lot of fun here highly recommend. You can read more about it in our 5 amazing things to do during the Whistler Pride week. You can also find out more information, tickets and details on the Whistler Pride 2019 website.
RUBBOUT is a ticketed weekend event held every March for men into rubber and gear. It is the longest consecutively-running men's rubber event in North America, going strong since it started in 1991. Some of the most popular events include the famous Gear Swap and Puppy Play Parties.
This is one of many reasons why we love Canada: they have their own political/legal system for the drag community called the Mother Court of Canada. It is run by the Dogwood Monarchist Society (DMS), and each year they crown a new set of monarchs. The crowning ceremony is celebrated at the very glamorous Coronation Ball. As well as being a lot of fun, all proceeds go to local charities like the Rainbow Refugee Group, WAVAW (Women Against Violence Against Women), HiM (Health Initiative for Men) and the Zee Zee Theatre.
For the record the 46th elected monarchs of Vancouver were: Empress XVI Jane Smoker and Emperor XLVI Tommy Della Notte.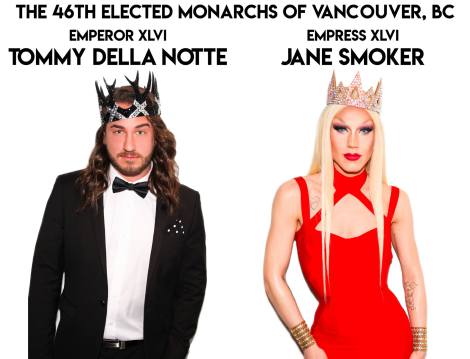 Taking place over the Easter long weekend each year, the Ignite Festival is one for queer men to explore embodiment and intimacy. Each of the three days offers up a variety of workshops with facilitators from all around the world – you can join workshops for dance, yoga and more. This is a very unique event that's sure to deepen connections with yourself and others. We also love that you can choose from one, two or three-day festival passes, so even if you're only in town for a day you can partake!
STRUT walk-a-thon: June
STRUT Vancouver is an annual walk-a-thon that raises funds to support the Foundation of Hope's efforts towards charities that actively support LGBTQ+ refugees and newcomers. Their slogan is: A Mile in Heels is Easier than a Lifetime in the Closet". For more information check out their Facebook page.
Canadians sure know how to put on a spectacular Festival! Toronto is one of the most famous in the world, and we also loved the Fierte Canada gay pride in Montreal. The Vancouver Gay Pride started in 1978 and has since grown to become the largest parade of any kind in Western Canada, with around 650,000 people attending the 2017 Pride.
The Pride takes place in the summer, usually in late July/early August. The 2018 Vancouver Gay Pride Parade will take place on Sunday 5 August. For full details of events during the Vancouver gay pride check out their website.
The Vancouver Queer Film Festival is the largest queer arts event in Western Canada, taking place every August. It showcases LGBTQ films from all around the world as well as workshops, panels and parties. On the final day there is a Closing Gala with an awards ceremony for the best films.
Awesome things to do for gay travellers
Vancouver is a diverse, bustling city on the west coast of Canada in the British Columbia province. It's gorgeous because on the one side you have the ocean breeze and on the other side, the city is surrounded by snow capped mountains. Nature is everywhere here.
The downtown central part of Vancouver is an excellent base for couples to visit, with many highly rated hotels, restaurants and bars. These are our 5 favourite things to do in Vancouver, which we loved, and most importantly, you can do throughout the year.
Evening stroll along the Vancouver waterfront
The waterfront area of Vancouver was our favourite spot. It the perfect place to come for an evening stroll and watch the sea planes take off/land on the water. We also loved the city views here because of the mountain backdrop.
When strolling the waterfront, be sure to check out another favourite landmark of ours – the iconic blue raindrop statue called The Drop. The official explanation of this sculpture is that it is meant to pay homage to the power of nature, particularly water, which surrounds the city. We also love the unofficial explanation by locals that it is more of a celebration of the high amount of rainfall in Vancouver.
Other things to do in Vancouver's waterfront is to visit the virtual flight ride called FlyOver Canada located in the nearby "Canada Place". This is a simulation ride on a dragon over China and then over Canada. It's impressive and feels so life like. If like us you're a fan of simulation rides like the ones at Universal in Orlando, Florida, you will love the FlyOver Canada ride.
Capilano Suspension Bridge Park
The Capilano Suspension Bridge Park is a large green space, which is separated in two by the Capilano River. In 1889, a 137m (450ft) long suspension bridge was built to connect the two sides. It hangs around 70m (230ft) above ground. Depending on your vertigo level, it's a lot of fun/nerve wracking to cross!
On the other side of the suspension bridge is a larger park with 7 smaller suspended footbridges. There are also a handful of cafes and souvenir shops.
Another aspect of the Capilano Park, which we loved is the celebration of the First Nations people, including a mini museum information centre by the entrance and several intricately carved Totem poles.
Shopping and coffee in Gastown
Gastown is Vancouver's most historic neighbourhood, with cobblestone streets and restored Victorian buildings. It's one of our favourite things to do in Vancouver because it has several boutique shops as well as a handful of trendy cafes.
One of the most famous landmarks in Gastown is the steam clock on the corner of Cambie and Water Street. It is powered by a steam engine and produces a puff of steam from its top every hour. It was built in 1977 to cover a steam grate, to harness the steam and prevent homeless people sleeping on it.
Nickelback fans will recognise it as the clock featured on the cover of the 2011 album "Here and Now".
Exquisite Chinese gardens in Chinatown
Vancouver's Chinatown is the largest in Canada and the second largest in North America after San Fransisco. The city has the country's largest Chinese population and because of this, Vancouver has been given nicknames like "Hongcouver". As such the Chinese influence in the city's culture is prevalent everywhere. For example in Italian ice cream shops you can find green tea, lychee and even durian flavours.
We love snacking in the different Asian bakeries here, then going face down in one of the dim sum restaurants.
Nearby, we recommend checking out the Dr. Sun Yat-Sen Classical Chinese Garden. It is an authentic representation of China's Ming Dynasty–era garden traditions, with winding covered walkways, beautiful pavilions and even 150 year old miniature trees. It's a very romantic setting as well, great for Instagram. It also makes for the perfect tranquil escape from the busy city life outside.
Cycling in Stanley Park
Cycling in Stanley Park is one of our favourite things to do in Vancouver, especially on a clear day. Stanley Park is the large 405-hectare (1,001-acre) public green space at the Northern edge of Downtown Vancouver. It is almost entirely surrounded by waters of Vancouver Harbour and English Bay.
Stanley Park is nicknamed The Crown Jewel of Vancouver. It is also frequently rated by travellers as one of the best parks in the world, and in 2014, it was even voted as the #1 park in the world by Tripadvisor.
There is a 9km seawall bike path, which you can either walk (2-3 hours), or cycle (1 hour). Much of the park remains as densely forested as it was in the late 1800s, which is part of its charm. It has over 500,000 trees, some of which are hundreds of years old and over 70m (230ft) tall. Other romantic spots we recommend seeking out in Stanley Park includes the Rose Garden, the Lovers Walk with two trees embracing, Prospect Point, Third Beach, and The Teahouse restaurant for a romantic dinner.
Happy travels are safe travels
We recommend you always take out travel insurance before your next vacation. What happens if you suffer from illness, injury, theft or a cancellation? With travel insurance, you can have peace of mind and not worry. We love World Nomads travel insurance and have been using it for years. Their comprehensive coverage is second to none and their online claims process is very user friendly.
For more inspiration read our top 10 favourite gay friendly countries in the world.
If you enjoyed reading, please pin me: