Gay Vancouver: guide to the best gay bars, clubs, hotels and events
Greenpeace, Ryan Reynolds and Botox – what do they all have in common? They're all from/invented in Vancouver!
This is Canada's very cool city located right on the country's far Western coast in the Province of British Columbia. The city is also famous for being extremely welcoming and accepting to everyone: we frequently saw many same sex couples walking the streets hand in hand all across town, and we definitely felt comfortable doing the same.
We loved the gay scene of Vancouver a lot, and have put together our guide of the best bars, clubs, events, hotels and more.
Vancouver gay village: Davie Street
Vancouver's gay village, also known as the Davie Village, is the heart of the city's LGBTQ community. It is based mainly along Davie Street between Jervis Street and Burrard Street. This is where the majority of the gay bars, clubs, fashion outlets, faces and saunas are. Although it's not as big as the gay scene of Montreal or Toronto, it's just as fun.
There is also a more bohemian area popular with the lesbian community of the city at Commercial Drive, called "The Drive" over in East Vancouver, which we did not visit so have not covered in this guide.
Davie Street is also the first place in Canada to have a permanent rainbow crossing, proudly installed in July 2013. You can find it at the intersection of Davie and Bute Streets. Next to the rainbow crossing is the Jim Deva Plaza, which is a living memorial to the late Jim Deva, one of Vancouver's best known gay pioneers and heroes.
Vancouver gay bars and clubs
Vancouver has a thriving gay scene with some really fun gay bars and clubs. Most bars double up to become dance floors later in the evening. These are our favourite gay bars and clubs in Vancouver, which are largely based in or around the Davie Village:
Vancouver gay saunas
The main two Vancouver gay bathhouses can be found in or around the Davie Village:
F212 Steam: the most popular Vancouver gay bathhouse, located on 1048 Davie Street and is open 24/7.
Steamworks Baths Vancouver: for men aged 18+ only, with an option for anonymous check in. It is open 24/7 and located outside the Davie Village at 123 West Pender.
Vancouver gay beaches
Vancouver's location by the Pacific coast means it has many cool beaches worth checking out during the warmer summer months. There are 3 gay beaches in Vancouver:
Wreck Beach: this beach is famous because it is the largest clothing optional naturist beach in North America . It has over 7km/4.3m of shoreline and sandy beach area. Although the steep incline makes it a bit of a challenge to reach, it means it will be more remote and private. To reach the gay area use trail 7 off Old Marine road.
Sunset Beach: a quiet beach located near the residential West End neighbourhood. However in August things get raucous here because this is where the annual Pride Festival takes place.
English Bay Beach: this is the closest beach to the Davie Village, located at the westernmost end of Davie Street. It has restaurants, washrooms, kayak rentals, volleyball courts and no fewer than 66 palm trees. We love it because it's a very romantic spot for an evening cocktail to enjoy the sunset underneath the palm trees.
Gay events in Vancouver
There are a number of Vancouver gay events happening throughout the year, which we definitely recommend planning your trip around:
Whistler is a small town around 2.5 hours drive north of Vancouver, famous for being a weekend ski retreat for locals. The Whistler Pride and Ski Festival is one of the largest and best LGBTQ ski events in North America. We had a lot of fun here highly recommend. You can read more about it in our 5 amazing things to do during the Whistler Pride week. You can also find out more information, tickets and details on the Whistler Pride 2019 website.
RUBBOUT is a ticketed weekend event held every March for men into rubber and fetish gear. It is the longest consecutively-running men's fetish event in North America, going strong since it started in 1991. Some of the most popular events include the famous Gear Swap and Puppy Play Parties.
This is one of many reasons why we love Canada: they have their own political/legal system for the drag community called the Mother Court of Canada. It is run by the Dogwood Monarchist Society (DMS), and each year they crown a new set of monarchs. The crowning ceremony is celebrated at the very glamorous Coronation Ball. As well as being a lot of fun, all proceeds go to local charities like the Rainbow Refugee Group, WAVAW (Women Against Violence Against Women), HiM (Health Initiative for Men) and the Zee Zee Theatre.
For the record the 46th elected monarchs of Vancouver were: Empress XVI Jane Smoker and Emperor XLVI Tommy Della Notte.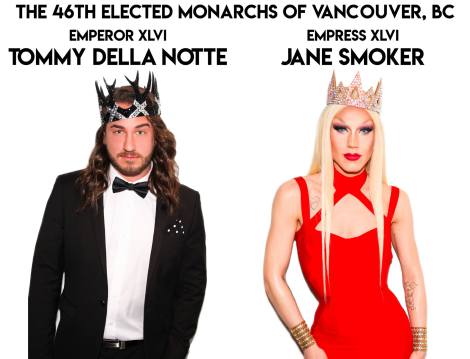 STRUT Vancouver is an annual walk-a-thon that raises funds to support the Foundation of Hope's efforts towards charities that actively support LGBTQ+ refugees and newcomers. Their slogan is: A Mile in Heels is Easier than a Lifetime in the Closet". For more information check out their Facebook page.
Canadians sure know how to put on a spectacular Festival! Toronto is one of the most famous in the world, and we also loved the Fierte Canada gay pride in Montreal. The Vancouver Gay Pride started in 1978 and has since grown to become the largest parade of any kind in Western Canada, with around 650,000 people attending the 2017 Pride.
The Pride takes place in the summer, usually in late July/early August. The 2018 Vancouver Gay Pride Parade will take place on Sunday 5 August. For full details of events during the Vancouver gay pride check out their website.
The Vancouver Queer Film Festival is the largest queer arts event in Western Canada, taking place every August. It showcases LGBTQ films from all around the world as well as workshops, panels and parties. On the final day there is a Closing Gala with an awards ceremony for the best films.
Gay hotels in Vancouver
Vancouver is an extremely safe city for LGBTQ travellers. We never had any problems as a gay couple anywhere we stayed, and felt very welcome in all the places we visited. These are some of our favourite Vancouver gay friendly hotels we recommend:
The West End Guesthouse is owned by super cute gay couple David and Paul. It is perfectly located in the West End neighbourhood, walking distance to the Davie Village. We love that they only have 7 guest rooms, which makes it feel like you're living with a family.
The West End initially caught our eye because not only is it the #1 rated B&B on Tripadvisor, it is also listed on major LGBTQ directories like Purple Roofs.
Rooms here start from CAD$220 (USD£173/£124) a night. You can check availability, prices and read more about it on Tripadvisor.
We stayed at this gorgeously designed Marriott hotel during our trip and loved it. Staff are friendly and extremely helpful with any request you may have. It's very cool and chic here with quirky elevator lights and a hidden bar behind a bookcase in the main bar. The Douglas also has the Honey Salt restaurant which is worth checking out for a gourmet romantic meal.
The Douglas is located near Yaletown, which is a short taxi ride away from the Davie Village. Rooms here start from CAD$354 (USD$280/£200) a night. You can check availability, prices and read more about it on Tripadvisor.
Vancouver is well known for being an expensive city, so those travelling here on a budget will want to check out the HI Vancouver. It's walking distance to the Davie Village which is handy, and for the price, very comfortable. It also includes a decent breakfast.
Rooms here start from CAD$82 (USD$64/£46) and a dorm bed from CAD$38.50 (USD$30/£22) a night. You can check availability, prices and read more about it on Tripadvisor.
Airbnb: for a more affordable local experience
You can find some really affordable deals on Airbnb for a shared room with a local or entire apartment all to yourself. Some condos will even have their own gym and pool. Definitely worth checking out if you prefer a more local and independent experience.
If you sign up here, you can claim CAD$40 (£20/$30) off your first booking.
For more inspiration read our top 10 favourite gay friendly countries in the world.
If you enjoyed reading, please pin me: