TERMS OF USE: There is a chance that some of the content on this page has changed since it was last updated. By reading this article, you consent to our Terms of Use and Disclaimer. Happy Travels!
DISCLOSURE: Some of our posts may contain affiliate links which we may receive a commission if you choose to book something through one of our links.
The gay scene of Toronto is huge, full of queer hangouts. From drag shows to Ŧetish bars, Toronto's gay nightlife will tantalize your senses
Diverse, exciting, buzzing, and…best ass?
Yup, that's actually a thing in the Toronto gay scene! Over at Woody's gay bar, every Friday evening, they host the "best ass" competition!
Butts aside, the gay scene of Toronto truly has something for everyone. The city is home to Canada's largest LGBTQ community and welcomes visitors from all walks of life.
Just like the gay scene in Montreal, the gay village of Toronto is huge. It is located at the intersection of Church and Wellesley Streets, hence its nickname: the "Church and Wellesley Village", or just "The Village"…or, "ya'll wanna go out in Church later?". This is where the majority of the best gay bars, clubs, restaurants, cafes, and clothing stores can be found.
Toronto's Gay Village is also ground zero for the annual Toronto Pride Week every June, which is one of the largest Pride events in the world. Whether you come to the Toronto gay village in the deep winter or summer, there's always a buzz in the air, which is why we love it.
In this guide, we've put together our favorite gay bars and clubs in Toronto. Also, be sure to watch our vlog about the gay scene in Toronto above.
01
Woody's and Sailor's
467 Church Street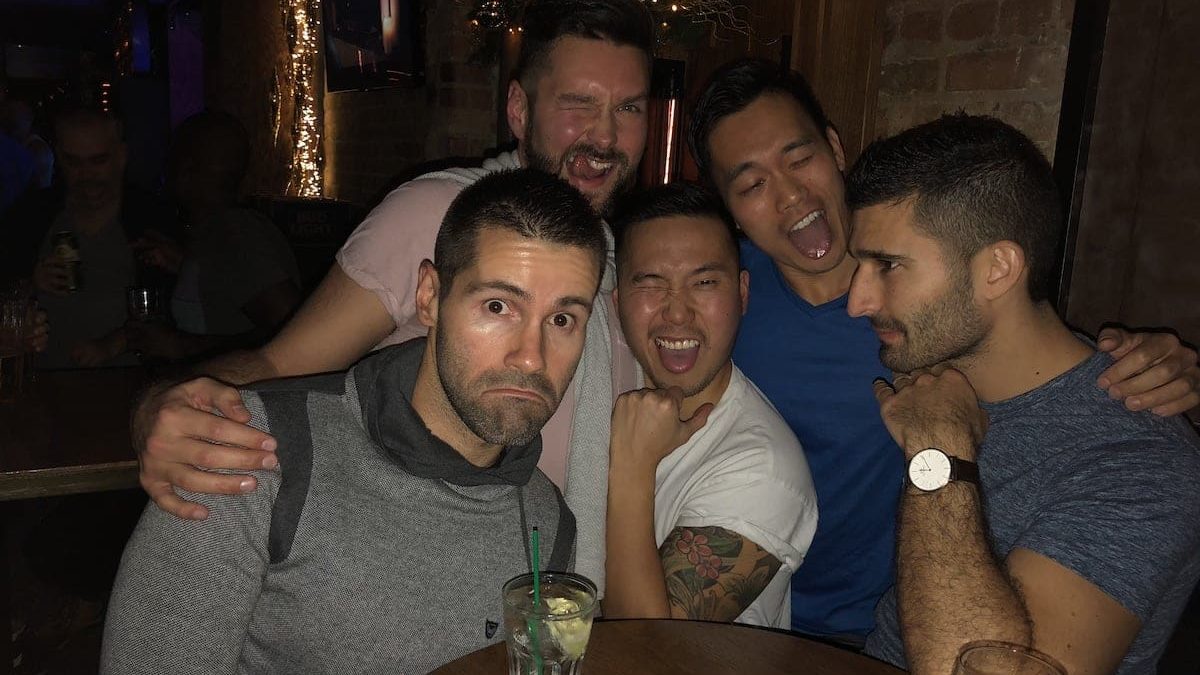 Woody's is an institution in Toronto's gay nightlife. From the outside, it looks like 2 separate bars: Woody's and Sailor's. On the inside, the two connect and merge into one massive factory of fun and fabulousness. Woody's is the go-to bar for most gay guys in Toronto, and also the largest gay bar in town. It's become THE staple on the gay scene of Toronto, dating back to 1989 when it was the very first gay bar to open in the village. It's also famous, being the main gay hangout for the boys in the American version of Queer As Folk.
We love their drag shows here, which happen almost every evening on the week. You also need to check out their "best" competitions on the weekends…the "best chest", "best legs" and "best ass" being the most popular! In case you're wondering, the contestants are judged on whatever asset is the subject of the competition is considered the, er, best! The drag queen hosting it will crown the contestant based on who she thinks receives the loudest applause from the audience and of course who first with her the most!
Woody's became the main bar that we ended up coming to at some stage every time we went out in the Toronto Gay Village. As we said, it's an institution here, and for good reason!
Woody's is open every day from 1pm till late and is located at 467 Church Street. Find out more about them on Woody's Wikipedia page and also on their Instagram.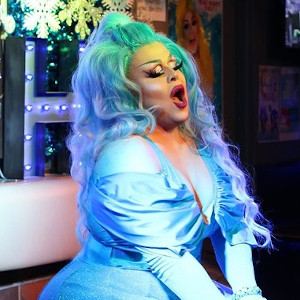 Discover Toronto's gay scene with a drag queen
This has got to rank as one of THE best gay tour we've ever done! A local drag queen guides you through the most popular gay bars with drag performances for that evening. She'll also introduce you to each queen you see performing. The tour includes a visit to 5 bars, 4 drag shows and 4 free drinks. It's a must – kinda like paying homage to the awesome Toronto drag queen legend that is Mrs Brooke Lynn Hytes!
02
Crews & Tango
508 Church Street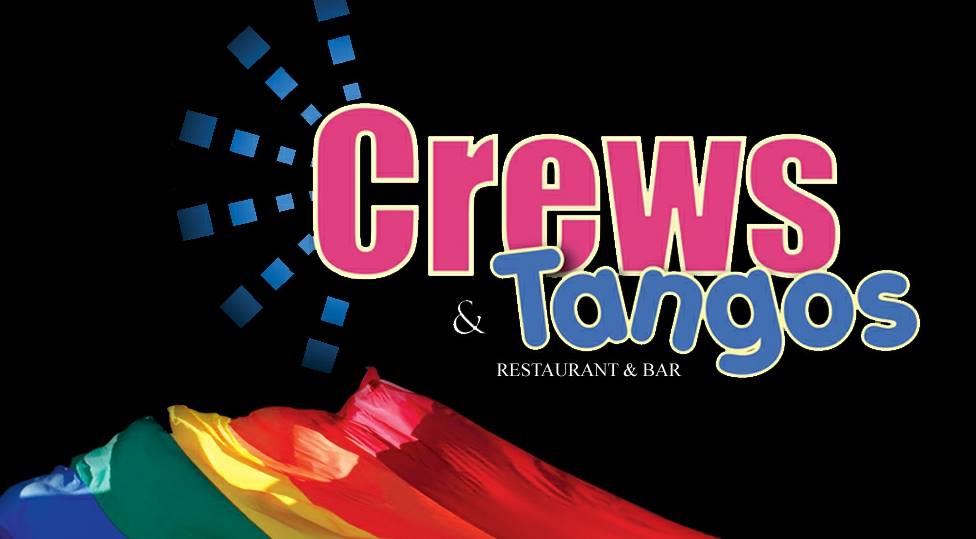 Crews & Tangos is the best gay bar in Toronto for drag shows, with a hilarious performance taking place every night of the week. It's considered the hub of Toronto's drag culture, the place where local drag queens will have started their careers at some stage. The most famous of them all – the Queen of the North, Mrs Brooke Lynn Hytes, who is from Toronto, started her career right here many years ago. She still performs here every so often.
On the subject of Ru Paul's Drag Race, this is where you'll want to head for the best viewing parties. Crews and Tangos even host their own Crews & Tangos Drag Race every summer as well as the Miss Crews & Tangos Pageant.
When we visited Crews and Tangos, it was on a Thursday evening at one of their karaoke parties. It's a ball – you ever been to a karaoke party with drag queens? A new bucket list item for you to try out! For clubbing, Friday and Saturday evenings are their biggest and busiest nights.
Crews & Tangos is open every day from around 8pm till 2am and is located at 508 Church Street. Find out more on the Crews & Tangos website.
STAY WITH A GAY LOCAL IN TORONTO
Misterb&b is the Airbnb equivalent for the LGBTQ community. Unlike on Airbnb, you know your host is gay, avoiding any nasty surprises when you check in. It is also a great way to meet gay locals and discover the underground gay scene. Click below to get 10 € (or $10) off your first booking.
03
Black Eagle
457 Church Street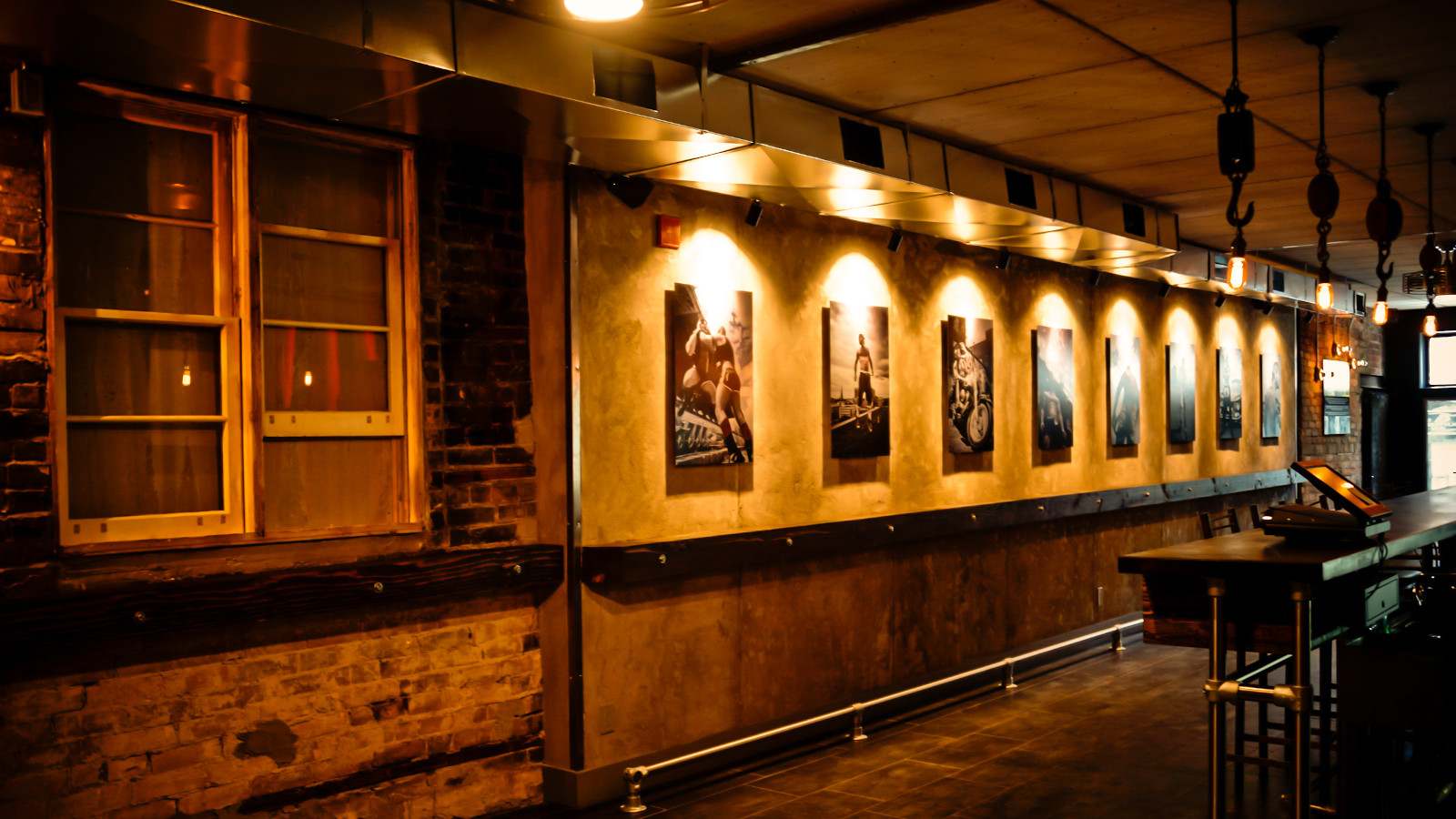 Black Eagle is one of the most famous fetish bars in Toronto – although the rules have recently been watered down a bit. To give you an idea, up until recently, you would only be allowed in if you were wearing leather, but now they'll let you in if you're wearing jeans and T-shirt. Oh but do note – they will especially let you in if you're just wearing a jock and/or boots!
Black Eagle has retained its dark, industrial Berlin-esque grittiness, which is what we love about it. Downstairs at the Black Eagle is the almighty Dungeon space complete with slings, and a wet area for water play. They regularly host themed events like "OINK!" during the day and "Kink 101" on Thursday evenings. Others include their "Spanking Social" and the "Regal Beagle Bingo".
The Black Eagle is also famous for its large outdoor patio area. Weather permitting, it's a great place to hang out, especially in the summer months when they have a Sunday afternoon BBQ here. Gamers will also love the Black Eagle – Tuesday evenings they have their "Gaystation Gaming Night" with 6 screens to geek out on.
Black Eagle + dungeon(!) is open daily from 3pm until 2am and is located at 457 Church Street. Find out more on the Black Eagle website and on their Facebook page.
Looking for the best things to do in Toronto?
There is so much to do in Toronto, a city full of excellent museums, the iconic CN Tower to climb, a fantastic aquarium…and that's before we've even talked about the Distillery District. Oh, and a day trip to Niagara Falls? We recommend checking out the range of tours offered by GetYourGuide for more inspiration.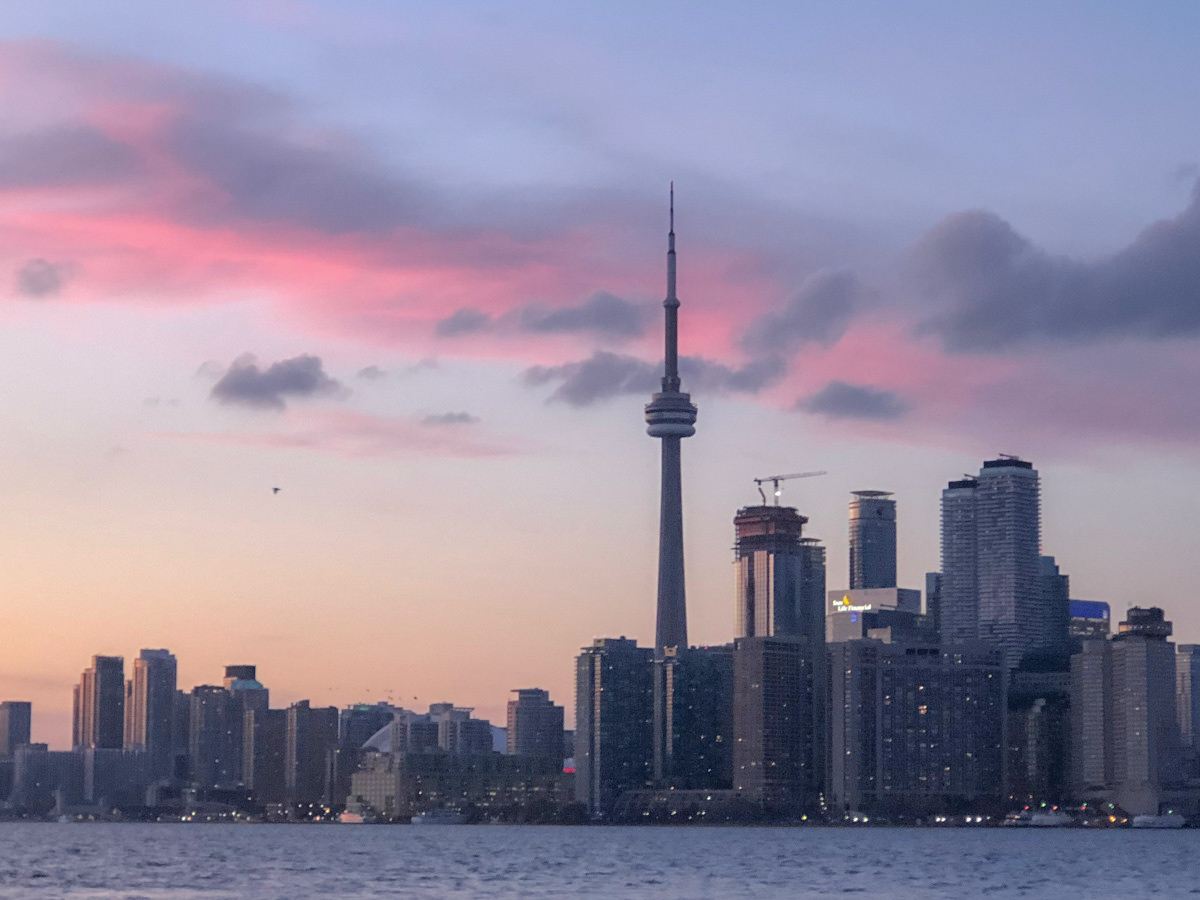 04
Buddies in Bad Time
12 Alexander Street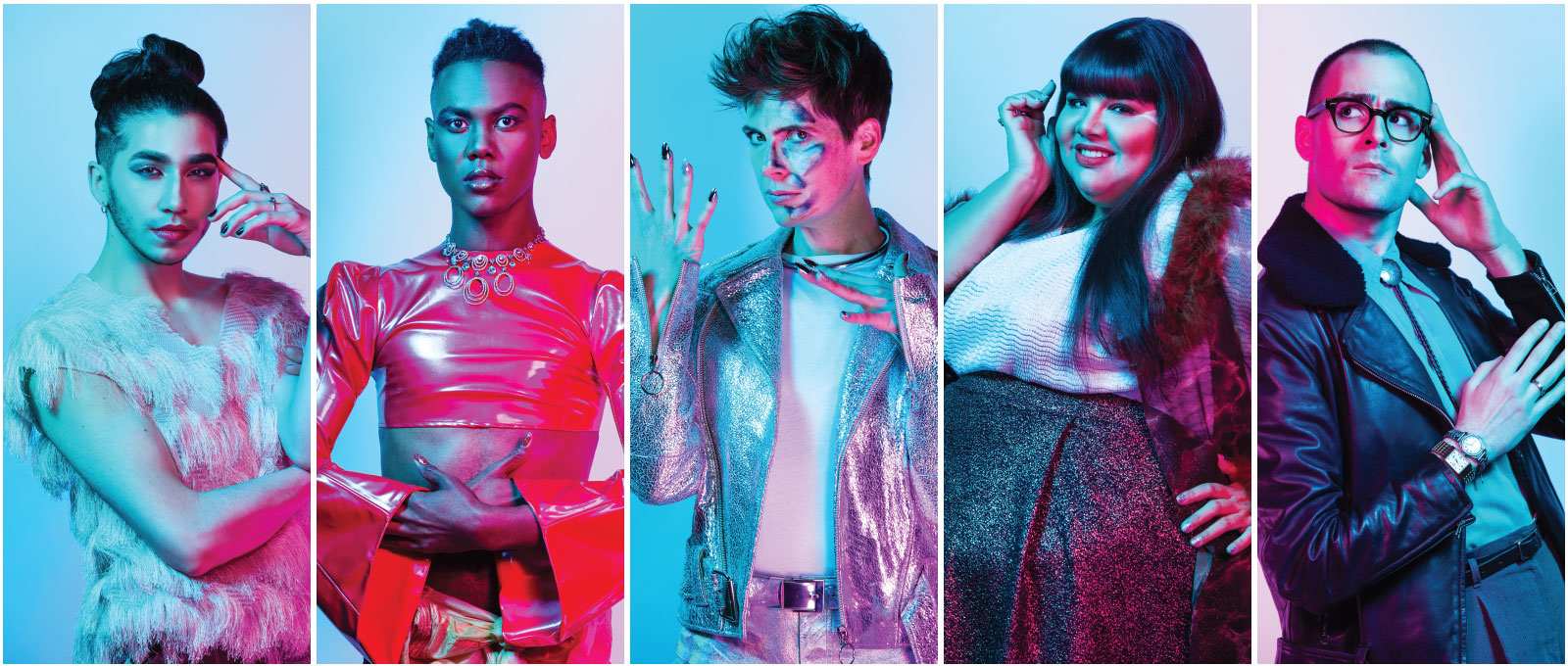 Queer…Far…Wherever You Are... an apt Celine-inspired tagline for this super quirky queer gem! Buddies is a queer theatre space by day and on weekends transforms into one of Toronto's best gay nightclubs. And greatly needed, we might add! Each year, more and more queer spaces are being priced out of the Gay Village such as the Fly 2.0 gay club.
The theatre itself is super impressive, dating back to 1979. It's famous for being the largest and longest-running queer theatre in the world. They feature some of the best queer musicals and plays with the aim of developing queer voices and stories for the stage. We cannot recommend seeing one of these plays highly enough, if anything, to support such an excellent institution!
And of course, there are the weekend parties with themed nights like "Lipsynched: Girl Groups", "After Werk Star Twerk" and "F**k S**t Up: On The Dancefloor!" complete with hundreds of topless hunks, cabaret shows, live DJs, GoGo dancers, and drag queens all mingling with the crowds.
Buddies in Bad Times is located at 12 Alexander Street. Check out their website for what's showing for details of next weekend's party.
05
The Drink
459 Church Street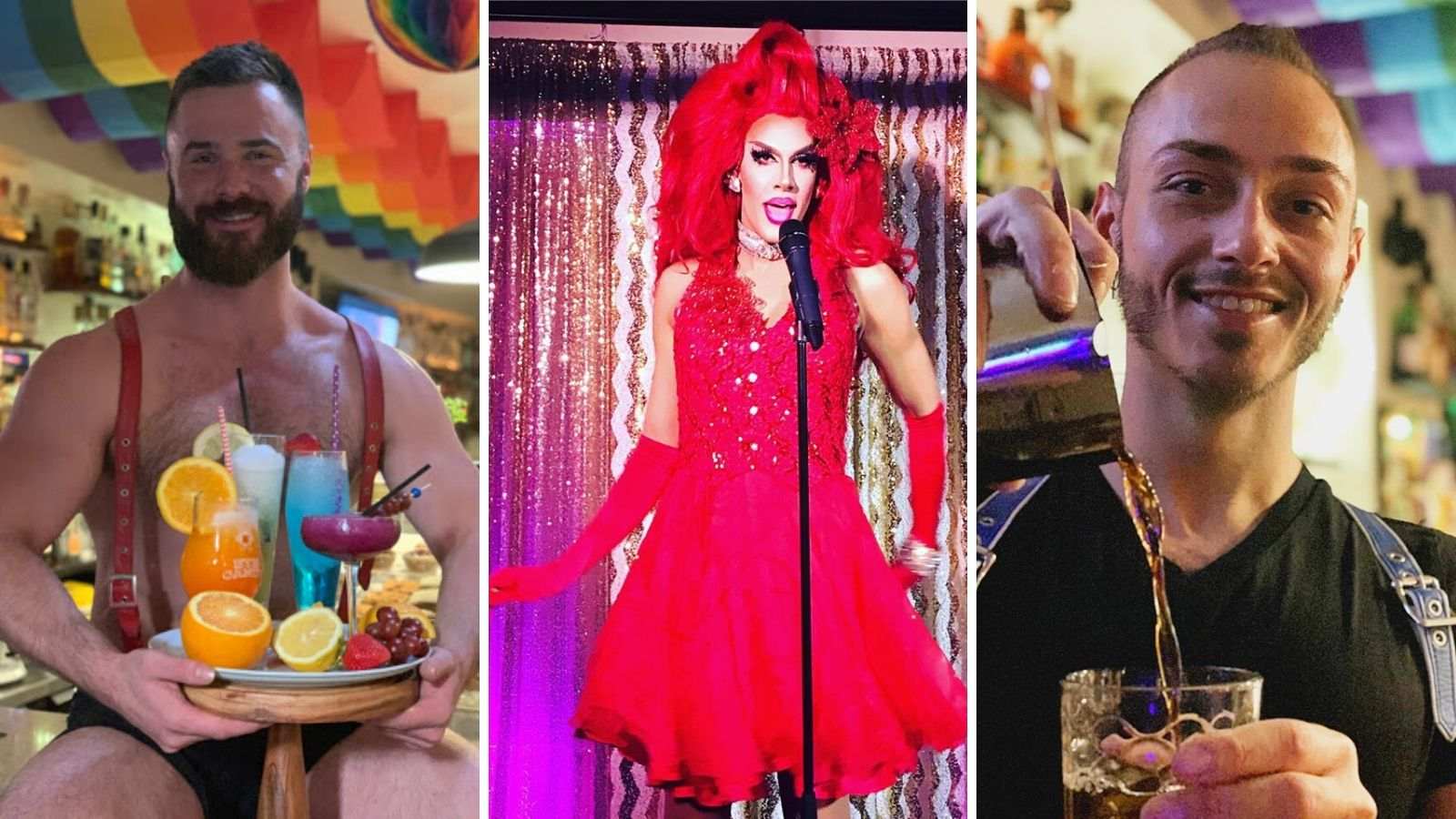 Squeezed in between Woody's and The Black Eagle is our favorite spot for Sunday brunch: The Drink! This is a super cool restobar where you can come for your late morning coffee, croissant, and then cocktails later in the day.
The main reason why we love The Drink so much is because of the strong drag culture here – all day every day! Every evening there is a drag show or drag-themed party here. For example, on Tuesday evenings they have the "Drag Battle" night and on Fridays, it's the "Drag & Social". The most famous is the Sunday Drag Brunch which features a weekly rotation of queens.
Brunch and drag show aside, The Drink turns into a dancing party space on Thursday to Sunday evenings with live DJs. These parties get quite raucous, going on until the early hours…the bonus: they never have a cover charge!
Drink At The Drink is located on the second floor at 459 Church Street and is open daily from around midday to 2/3am. Find out more on their Instagram.
06
Church Street Garage Bar
477 Church Street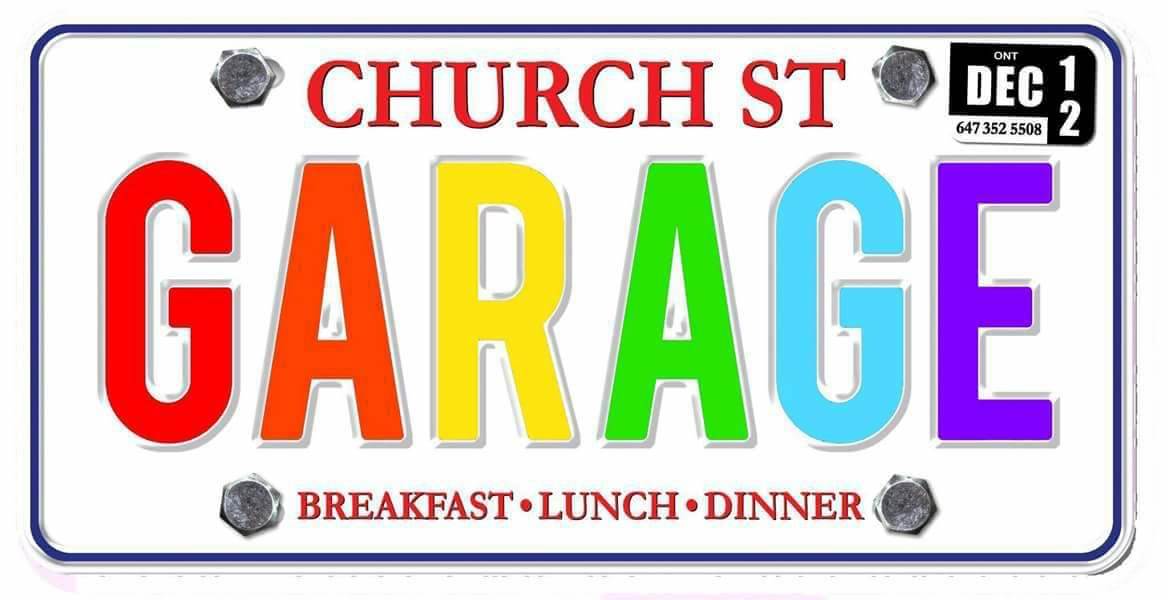 Garage is a family-run restobar by day and an awesome gay bar by night. It's a relatively new bar on the Church gay scene, having opened in 2013. Every day they have a themed event. Some of our favourites include the $25 Steak Dinner on Mondays, Queeryoke Karaoke night on Wednesdays and the Finish Line Friday Drag Race viewing parties. On Sunday evenings they have the "Tension Release" party hosted by hilarious drag queens (like Heaven Lee Hytes) and includes "dirty games and even dirtier banter"!
Garage also hosts a drag show every evening from around 9pm. One of the best drag shows we saw here was "The Ivory and Priyanka Show" on a Thursday evening. Priyanka is a very popular local Toronto drag queen who always cracks us up – check out her music video sketch about what tucking feels like! Rumour has it that Mrs Brooke Lynn Hytes herself occasionally pops into Garage (both in and out of drag), but we've yet to spot her here…
Garage is located at 477 Church Street and is open every day (except Sundays) from 11am until 2am. To find out more, check out Garage's website and their Facebook page.
Happy travels are safe travels
We recommend you always take out reputable travel insurance before your next vacation. What happens if you suffer from illness, injury, theft, or a cancellation? Many gay travelers forget about it and regret it when something happens. Better to pay a small price and have peace of mind and not worry.
07
Pegasus on Church
489B Chruch Street

Pegasus on Church is another staple on the Toronto Church gay scene going strong since 1993 (making it the second oldest after Woody's). It is spread over 2 floors with weekly events like drag queen bingo, trivia evenings and even the occasional league night for local LGBTQ sports leagues. Pegasus is perhaps most well known for its standup comedy nights on Sundays, featuring local LBGTQ breakout comedians.
For us, it felt like being a local neighborhood bar – low-key and a friendly crowd. We loved it! It's all about creating a community here with lots of activities like pool tables, pinball machines, Buzztime trivia ping pong, darts and even a shuffleboard. This is the sort of place to come on Sunday afternoon with a group of friends and play cards over a good old catch-up.
Christopher Hudspeth is the charismatic and super energetic owner of Pegasus who is the key to making it feel so friendly here. He is also active within the Church/Wellesley Business Improvement Area (BIA), proudly flying the rainbow high for the LGBTQ community in the area.
Pegasus on Church is located at 489B Church Street and is open daily from 3pm until around 2am. For more, check out the Pegasus on Church website as well as their Facebook page.
08
The Lodge at O'Grady's
518 Church Street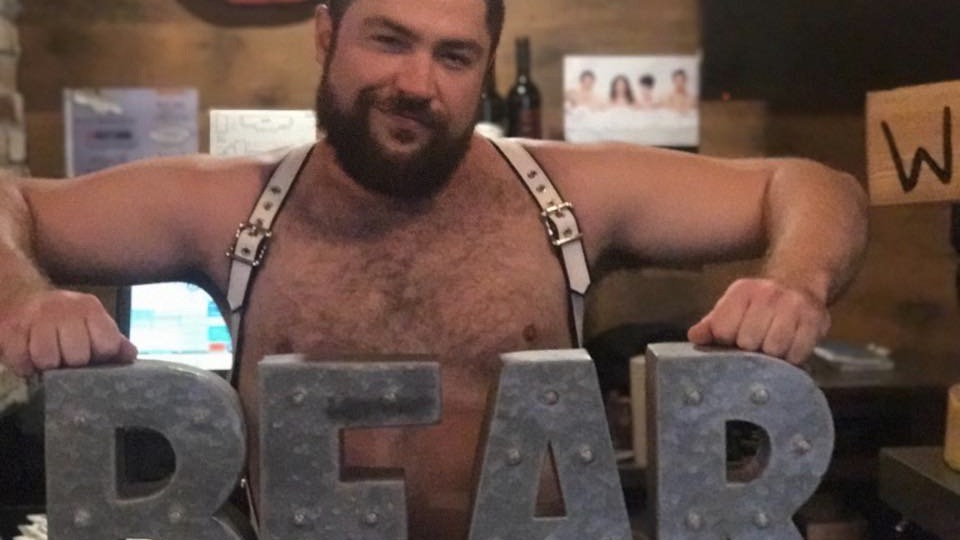 The Lodge is one of the best bear bars in Toronto – ie if you wanna just hang out but don't fancy being tied up in a swing and/or peed/spat on etc(!) then this is the ideal alternative to the Black Eagle. The Lodge is the upstairs bar to the O'Grady's Restaurant – another gay gem on the Church Street gay scene.
Friday is the best night to come here when they have one of the best Bear parties in the city. As a result, O'Grady's downstairs mainly attracts a fabulous bear crowd throughout the week, helped by the fact that it's located right in the middle of the Church Street gay scene. The outdoor patio is one of the best and definitely one of the largest we saw. On a sunny day, it gets packed here with a super friendly bear crowd. The owners are actively involved in the local community by providing sponsorship to local LGBTQ sports teams and other queer Toronto events.
The Lodge is located upstairs of the O'Grady's Restaurant at 518 Church Street. It is open daily from 5 pm until 2 am. To find out more, check out the Facebook page for The Lodge.
09
Boutique Bar
506 Church Street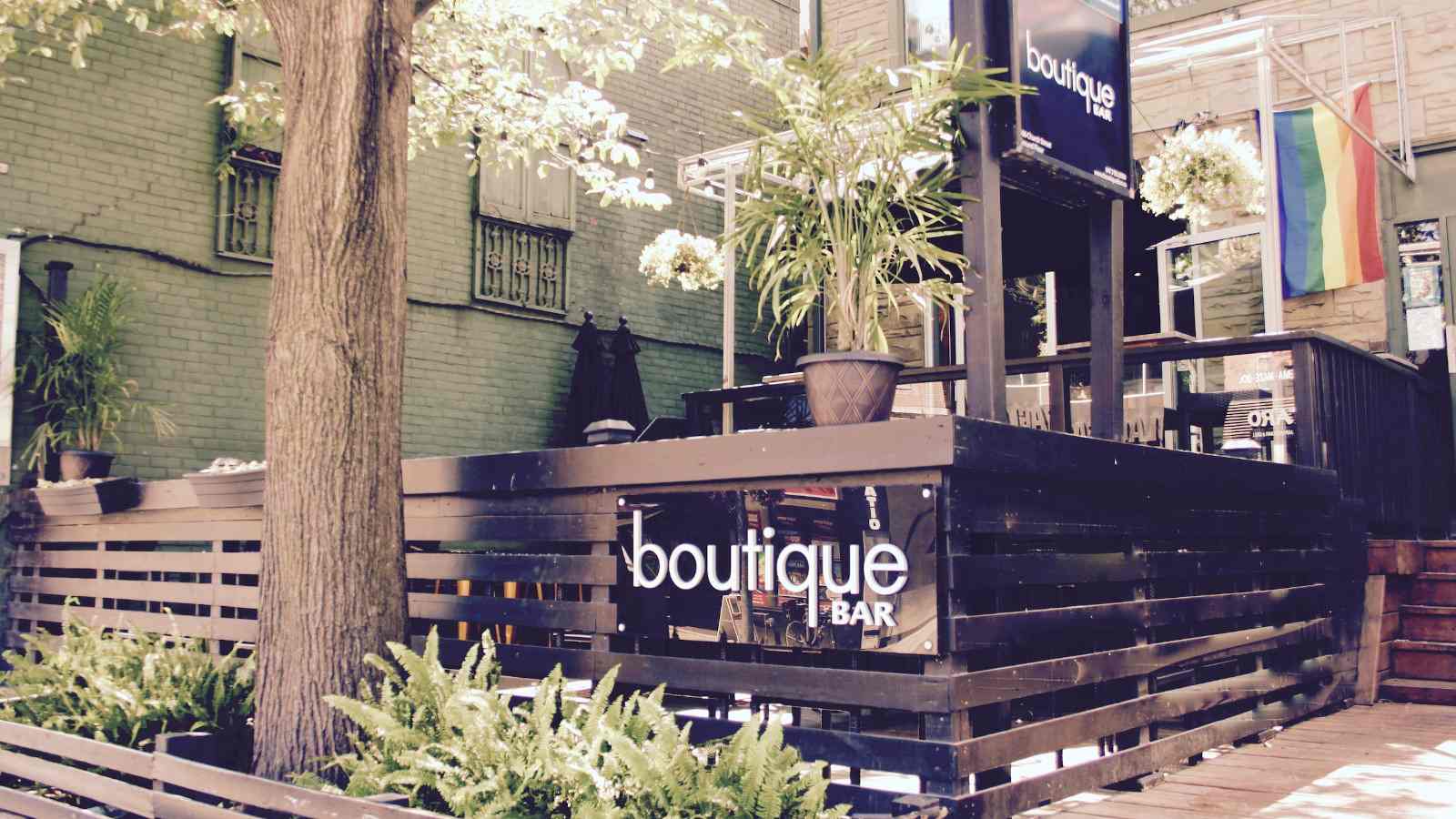 NOTE: Unfortunately, Boutique Bar has closed down for now, but they may reopen again in the future if they find a new venue! Watch this space for updates. Last updated July 2023.
Boutique Bar is one for date nights. It's a cosy, chic and stylish bar in the Toronto Gay Village. On sunny days, the outdoor patio area is one of our favourite hangouts – it's one of the best places to come for people watching (ie: "cruising"!). Boutique is all about making the perfect cocktail. It's their speciality – well they certainly know their target audience well! They have an extensive cocktail menu, which has a mix of classics along with some more creative creations like "Keeping up with the Cubans".
The crowd here are mainly professional guys in their 30s and 40s – to give you an idea, we saw more blazers than tank tops. Other than weekends, Mondays is their busiest night when they have their Martini special offers to attract what is locally referred to as the "industry crowd". They also have a live DJ later in the evening who plays a mix of 'electro, funk house, techno and new wave' music, which creates a chilled ambiance.
Boutique Bar is located at 506 Church Street and is open daily from 4pm to 2am.
---
Like this post? Pin it