TERMS OF USE: There is a chance that some of the content on this page has changed since it was last updated. By reading this article, you consent to our Terms of Use and Disclaimer. Happy Travels!
DISCLOSURE: Some of our posts may contain affiliate links which we may receive a commission if you choose to book something through one of our links.
From our experiences backpacking as a gay couple, we rounded up our 5 favorite gay hostels in Europe.
Climbing into bed at 4 AM. That wouldn't be like us…
Yet with the disco remixes of all our beloved gay anthems still echoing in our heads, we know we deserve a rest after a long day of exploring the city. We can still hear the laughter of patrons who are leaving the long line of bars and clubs which populate the gay village, and relish in the thought that although we're miles from home, we still feel surrounded by our big gay happy family! This is the feeling of being in a gay hostel, regardless of where we are…

When interrailing around Europe, we found gay hostels a great place to connect with fellow LGBTQ backpackers who have since turned into lifelong friends. We love the cool vibe in them, that exciting traveller atmosphere you don't quite get in hotels. We've put together our 5 favourite gay hostels in Europe based on our experience backpacking across the continent.
Gay travel in Europe
As a rule, Europe is super gay-friendly! We've never had a problem booking a double bed in a room, particularly in North and West Europe, which has most of the gay-friendly countries in the world. However, the more East you head, the less queer-friendly it becomes, although there are some pockets of fabulousness in East Europe.
If you are travelling around the Balkans or around East Europe, we definitely advise calling/emailing ahead to check they're ok to host gay travellers just to be on the safe side, particularly in the rural areas. If, however, you're heading to places like Berlin, Madrid, Cologne, Brighton etc, we can assure you, you're not going to have any problems!
The flip side to this is that accommodation in North and West Europe is generally very expensive, but cheaper in East Europe. Therefore, staying in a hostel is a great way to save money as well as connecting with like-minded travellers, especially if you're travelling solo.
We love using Hostelworld to find decent, reliable gay-friendly hostels in Europe. As well as having some excellent resources and advice for LGBTQ travellers, they allow you to filter results by reviews and price, which is super handy. Once you've found a place and set on it, you can then just instantly book it and, voila, you're good to go!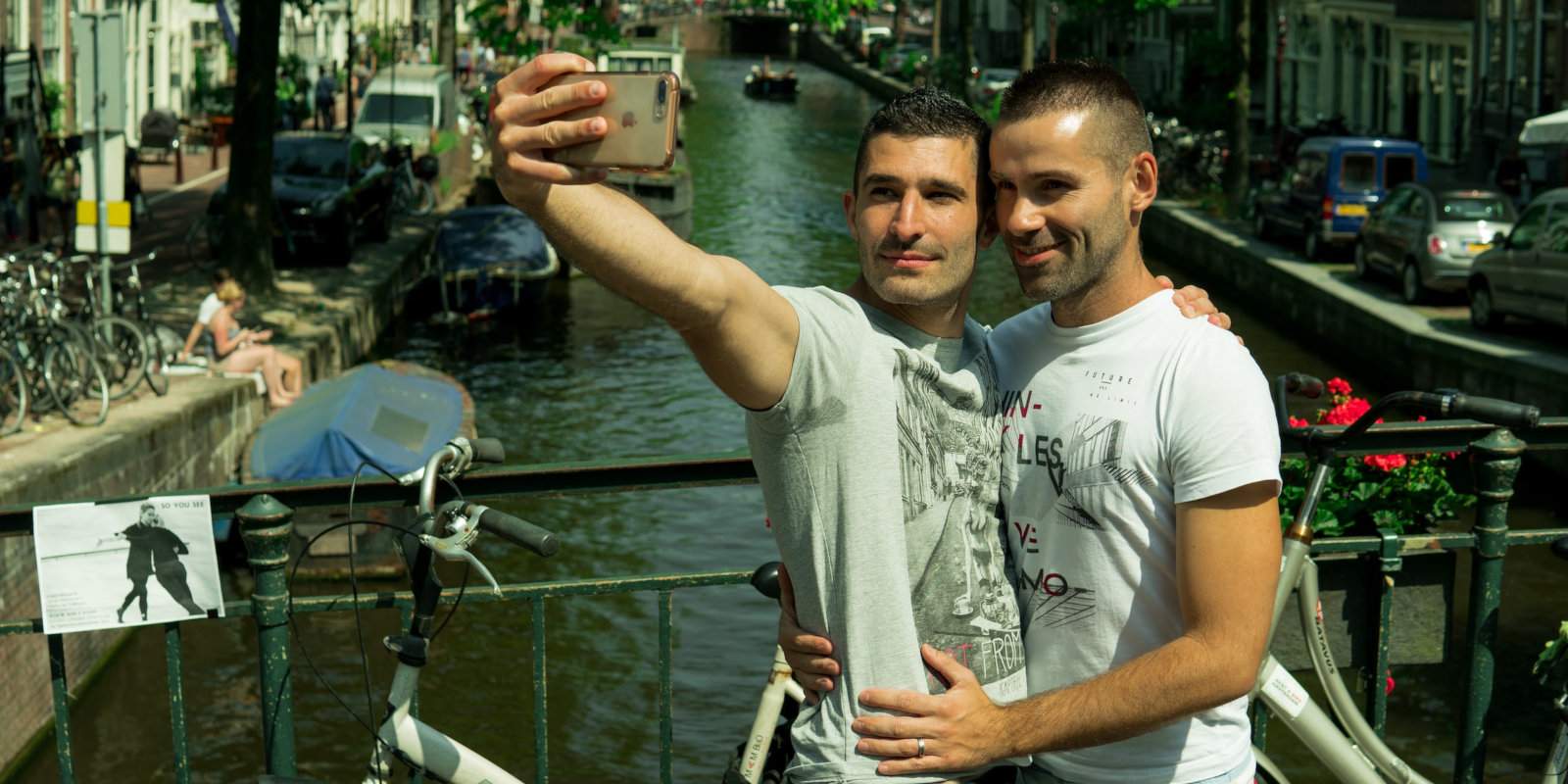 01
Gay Hostel Berlin
Berlin, Germany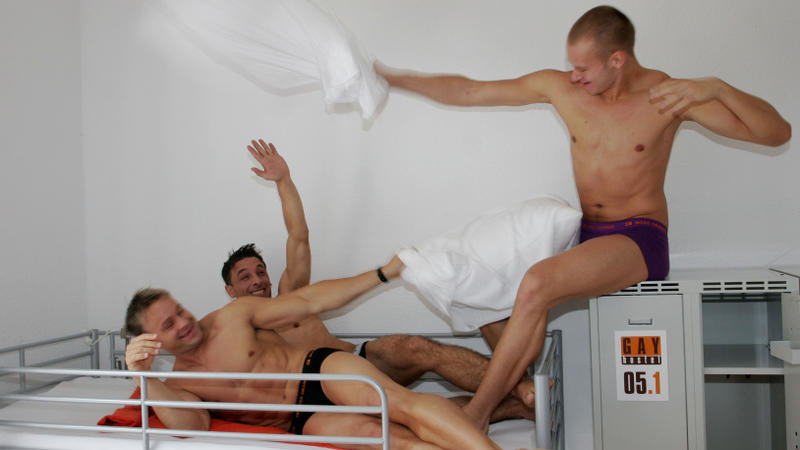 Why we love it
---
Excellent location in Schöneberg gay area
Small and intimate but also fun!
Exclusively for gay men
Very clean and comfy
The Gay Hostel in Berlin is a really fun place to stay. For gay backpackers, it ticks all the boxes: it's cheap, the rooms are comfortable and clean, has hot water, clean toilets (this is a BIG deal from our hostelling experience!) and a great communal area to hang out and meet people.
It's also small, with just 4 rooms, so it feels more like you're with a family. As a solo traveller, you'll quickly make friends and you'll never feel lonely here.
In terms of location, the Gay Hostel Berlin is beautifully located right on the doorstep of the Schöneberg gay scene of Berlin. We felt as if we'd stumbled into some alternate queer world walking around here and we loved it!
There are plenty of gay bars and clubs within walking distance. Regardless of your mood, you're bound to find the perfect place for you. If you're looking for awesome cocktails, Heile Welt is your go-to. We loved Hafen bar and the 2-4-1 drinks promotions on Wednesdays at Prinzknecht. If you want to go cruising, head over to Tom's Bar. We also love this area because there are plenty of dance clubs and drag bars within a stone's throw away, particularly the infamous Berghain, as well as Möbel Olfe in Kreuzberg and SchwuZ in Neukölln. Sequins and disco balls? Check! Drag queens? Check! Good dance tunes? Double check!
Fancy a bit of brunch? We love heading to Romeo und Romeo, round the corner, which is a popular hangout for the LGBTQ community in the area. There are also loads of museums and gay shops around to explore.
Another touch about the Gay Hostel we loved is that they offer guests a "Hostel Pass" which includes lots of drinks offers, shopping discounts and more.
STAY WITH A GAY LOCAL
Misterb&b is the Airbnb equivalent for the LGBTQ community. Unlike on Airbnb, you know your host is gay, voiding any nasty surprises when you check-in. It is also a great way to meet gay locals and discover the underground gay scene. Click below to get 10 € (or $10) off our first booking.
02
My-Gay Hostel
Berlin, Germany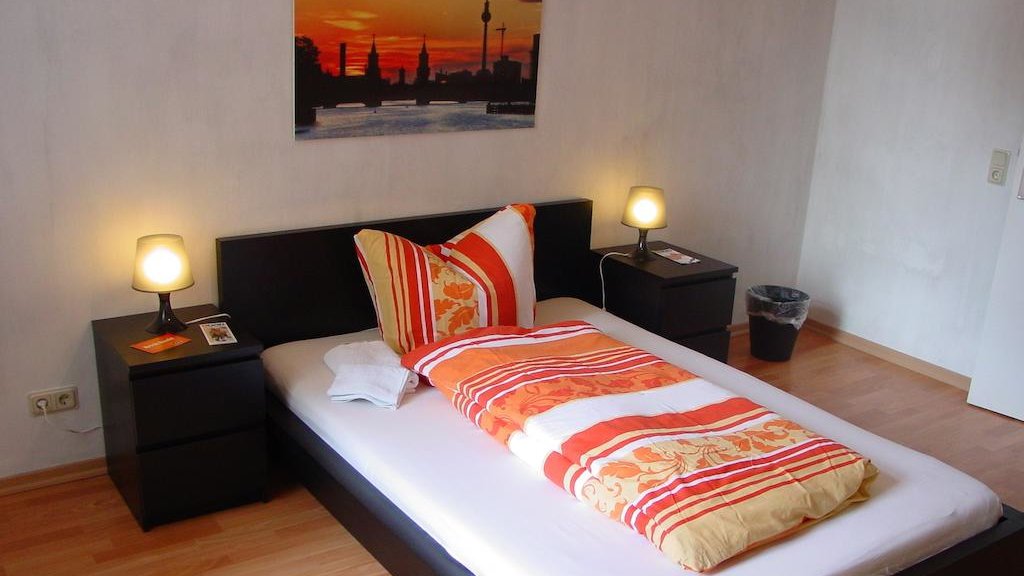 Why we love it
---
Great location and metro connections
Clean, secure and comfortable rooms
Walking distance to gay bars and a gay sauna
Exclusively for gay men
Not to be confused with the Gay Hostel, My-Gay Hostel is located just down the street from the Gay Hostel in Schöneberg, close to the Nollendorfplatz train station.
It's clean, secure and centrally located to everything. It has everything the Gay Hostel has although it is lacking a fun communal area to meet new people.
It's very close to some great gay bars though, so you definitely won't get bored!
One thing we loved about My-Gay is its proximity to the Nollendorfplatz train station – we cannot stress how handy this is when you're going to different places around the city and relying on the metro. You can also walk to the nearby gay bars and cafes, as well as the gay sauna Apollo.
In terms of price, My-Gay and the Gay Hostel are about the same – you can get a bed in both for around €25 a night, though My-Gay works out to a few euros cheaper. On a personal level, we preferred the Gay Hostel overall, mainly due to the cool communal areas, but everybody's different!
03
Hostal La Zona
Madrid, Spain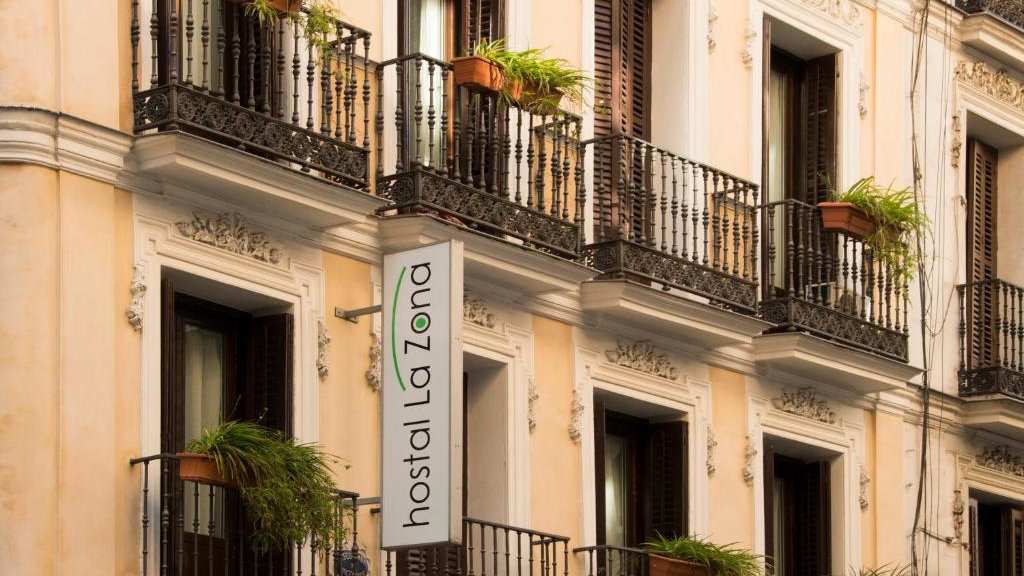 Why we love it
---
Perfectly located for Madrid's gay nightlife
No dorms, only private rooms
Some rooms have lovely balconies
Bright, white and clean throughout
Situated near Plaza del Carmen, this gay hostel in Madrid is the perfect place to rest your head after a night out in good old gay Chueca.
After spending a few days in this hostel and hanging out in the fabulous Chueca, we can see exactly why Madrid is one of the best places to visit for gay travellers.
Many of the main museums and other attractions of Madrid are within walking distance of the hostel, so public transport isn't really needed here. If you do use it, we strongly advise investing in a city metro pass! With enough rainbow flags hanging from each shop or restaurant window to make you go blind, you'll become engrossed with pride here.
Despite being a hostel, Gay Hostal La Zona doesn't offer dorms, just rooms. This includes basic ones with shared bathrooms to more luxurious ensuites with a balcony looking out onto the square. Definitely try to get one of these – they're great for spotting all the gorgeous Spanish hunks passing by!
04
SoHostel
London, United Kingdom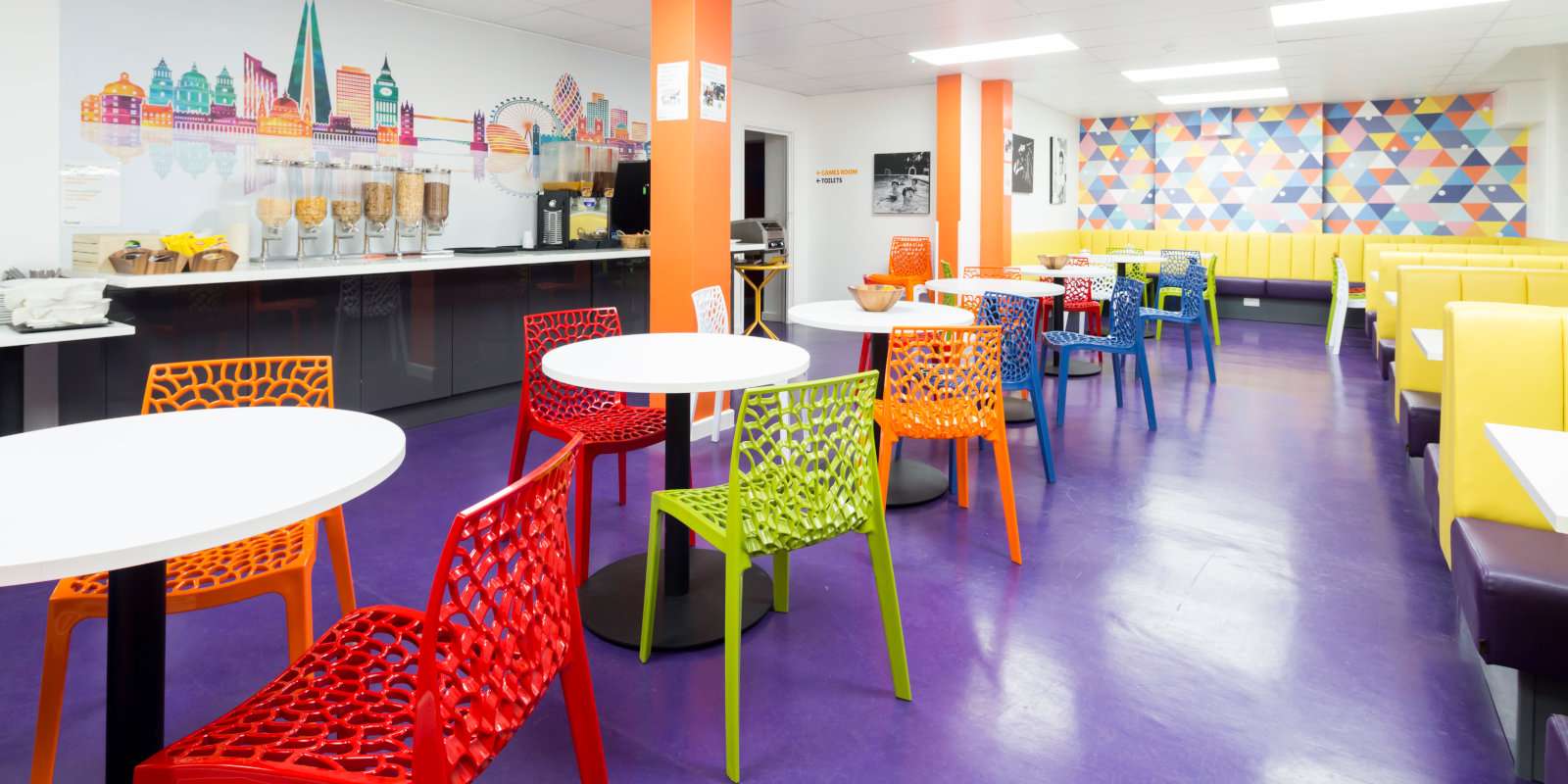 Why we love it
---
Right in the middle of London's gay Soho district
The hostel company also helps London's homeless
Vibrant and fun
On-site bar with regular drinks specials
You cannot visit London and not check out the gay mecca of Soho. So why not stay right in the heart of it? The gay-friendly SoHostel is right in the heart of the Soho gay village centre on Dean Street.
What we love about it the most is that it is owned and managed by One Housing, a not-for-profit housing association. So their profits go to helping London's homeless. Gotta love a company that helps the local community!
The hostel itself is vibrant and modern. With bright colours, really friendly staff, and a fun atmosphere. There's an on-site bar which does regular drinks specials, perfect for warming up before heading out to explore London's gay scene.
Location wise, this is ideal: you're right by some of our favourite gay bars – Comptons for bears, GAY for twinks, Village for Karaoke, Balans for cocktails and Ku Bar for partying. SoHostel is also down the road from the British Museum, shopping mecca Oxford Street and Chinatown. It's one of our favourite parts of London.
05
Kipps Brighton
Brighton, United Kingdom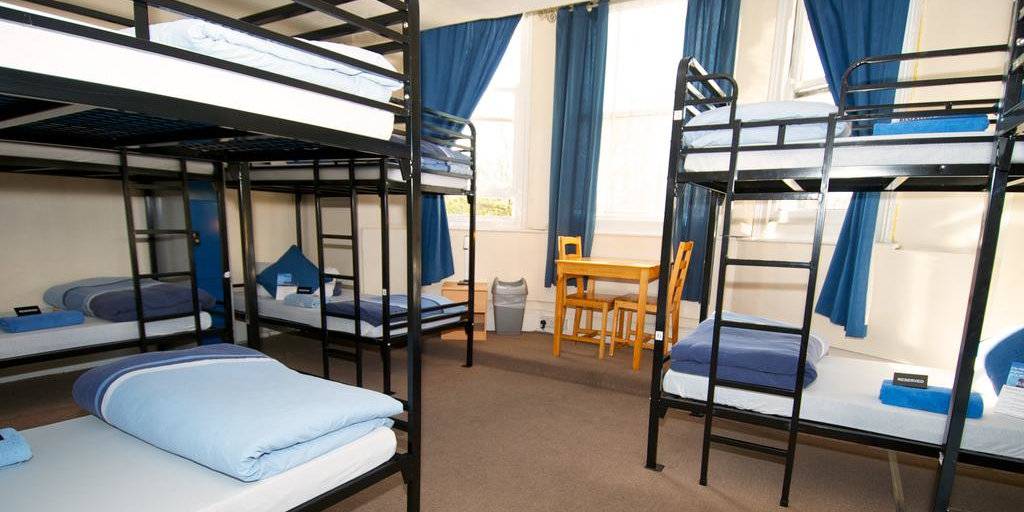 Why we love it
---
Excellent location near Brighton's main attractions
Super modern and chic hostel
Free continental breakfast if you book a double room
Lovely terrace and hostel bar
There's nothing like a trip to a seaside town, and Brighton really lives up to the hype. With gorgeous views of the city from the rooms, matched with the breeze of the seawater air, a trip to Brighton brings together both a naturalistic getaway and a city break.
Kipps is just 500 metres away from Brighton's famous pier and beach as well as being opposite the famous Royal Pavilion, so you're ideally situated here for sightseeing as well as partying.

As we stepped inside the gay-friendly Kipps Brighton, we couldn't help but notice how super chic it looked for a hostel. With brightly decorated rooms, groovy art hanging on the walls, and gaming consoles in the common rooms – this place felt super modern. The staff is very friendly and you can socialize with other guests in the shared areas.
There's a lovely terrace to relax on as well as a small bar for a tipple. The kitchen is also available for guests to do their own cooking and if you book a double room then a continental breakfast is included. The bedrooms are a mix of hostel dorms or privates, also very comfortable, and let's just say it was a great place to grab a kip…!
---
Like this post? Pin it