TERMS OF USE: There is a chance that some of the content on this page has changed since it was last updated. By reading this article, you consent to our Terms of Use and Disclaimer. Happy Travels!
DISCLOSURE: Some of our posts may contain affiliate links which we may receive a commission if you choose to book something through one of our links.
Check out this interview with local boy Andres from Mexico City who tells us all about gay life in Mexico and it's like growing up in the big Mexican capital.
There was a time when the number 41 was considered very bad luck in Mexico. The Army used to leave the number 41 out of battalions, and in hospital/hotel rooms, Room #41 would just be skipped out entirely. It was so bad that some people would even skip out their 41st birthday completely!
Why?
This innocuous number became synonymous with Mexican queer culture in the early 1900s following a raid on a private party by police on 17th November 1901. At this party, there were 41 men: 22 dressed as men, 19 as women. There was, in fact, a 42nd person in attendance: Ignacio de la Torre, who was President Porfirio Díaz's son-in-law. Whilst the police allowed Ignacio to escape, they arrested the remaining 41, beat them, jailed them, convicted them, then later conscripted them into the army as punishment. This became a massive scandal in Mexican society and became known as "The Dance of the 41" ("Baile de los 41").
Whilst homosexuality was legalised in Mexico as far back as 1871, society remained so hostile to homosexuality that this scandal led to the vilification of the number 41. Calling someone 41 was akin to saying they were queer.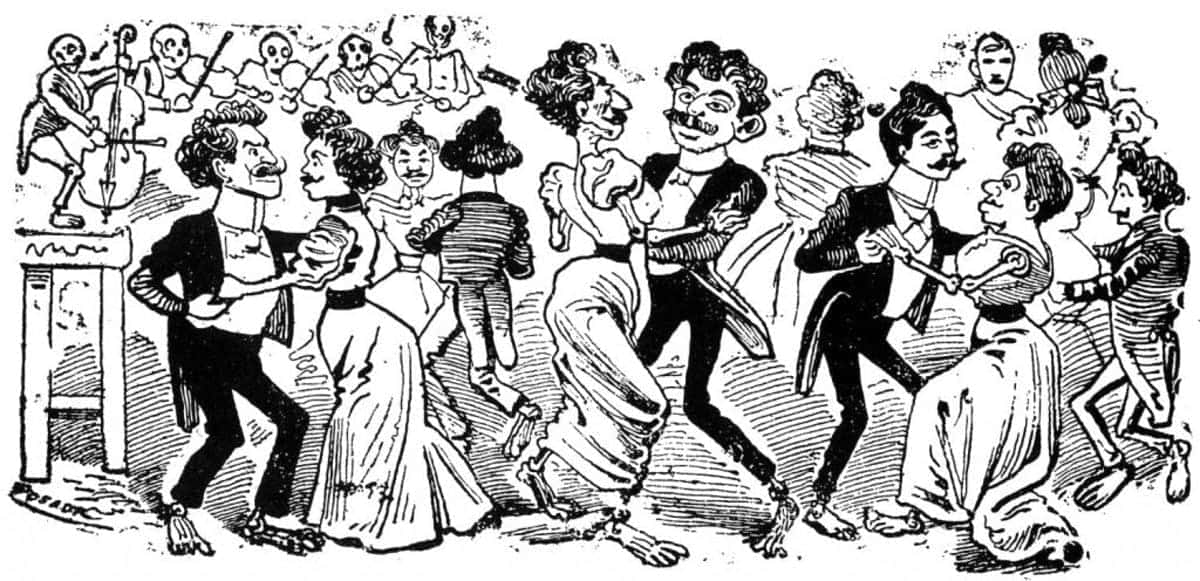 Fast forward 100 years and the Mexican LGBTQ community is now very out, loud, and super proud! Mexico City has a fantastic gay scene with one of the best gay Pride events in Latin America, Puerto Vallarta has become one of the hottest gay destinations in the world, and as of October 27, 2022, Mexico has passed gay marriage laws in all of its 32 states.
We've visited Mexico many times during our travels, particularly Puerto Vallarta Pride, Mexico City, and the Yucatan Peninsula, but we wanted to find out what it's like from a local's perspective. We asked our gay Mexican friend Andres from Mexico City to give us the full lowdown in this interview about what it's like growing up gay in Mexico.
Hola Andres! Welcome to our blog…introduce yourself:
Hello, my friends! My name is Andrés Mejía born in 1989. I'm from Mexico City where I live with my husband.
I work for an LGBTQ tour company which I set up called "Leemba Travel". Leemba comes from the Mayan word, "Leembal", which means shine. It's based on the idea that the LGBTQ community have, for too long, been hiding in the shadows, so it's now time to come out and shine!
What was coming out like for you?
I've been extremely lucky that all my family, friends and co-workers have always been supportive since I was young. I came out when I was 15 years old, although my parents claim to have known about me since I was 5, apparently because I used to punch like a girl!
My grandfather was an amazing person. We were very close. He knew about me and even met all my ex-boyfriends. Before he passed away he told me:
"If you ever get married, I would be so honoured to be one of your witnesses".
My mother is often asked what it's like having a gay son, in a country like Mexico, where the "machismo" macho culture is so prominent; to which she always replies:
"All I ever wanted is to have a happy son. So for him to be happy, I love him unconditionally, no matter what!"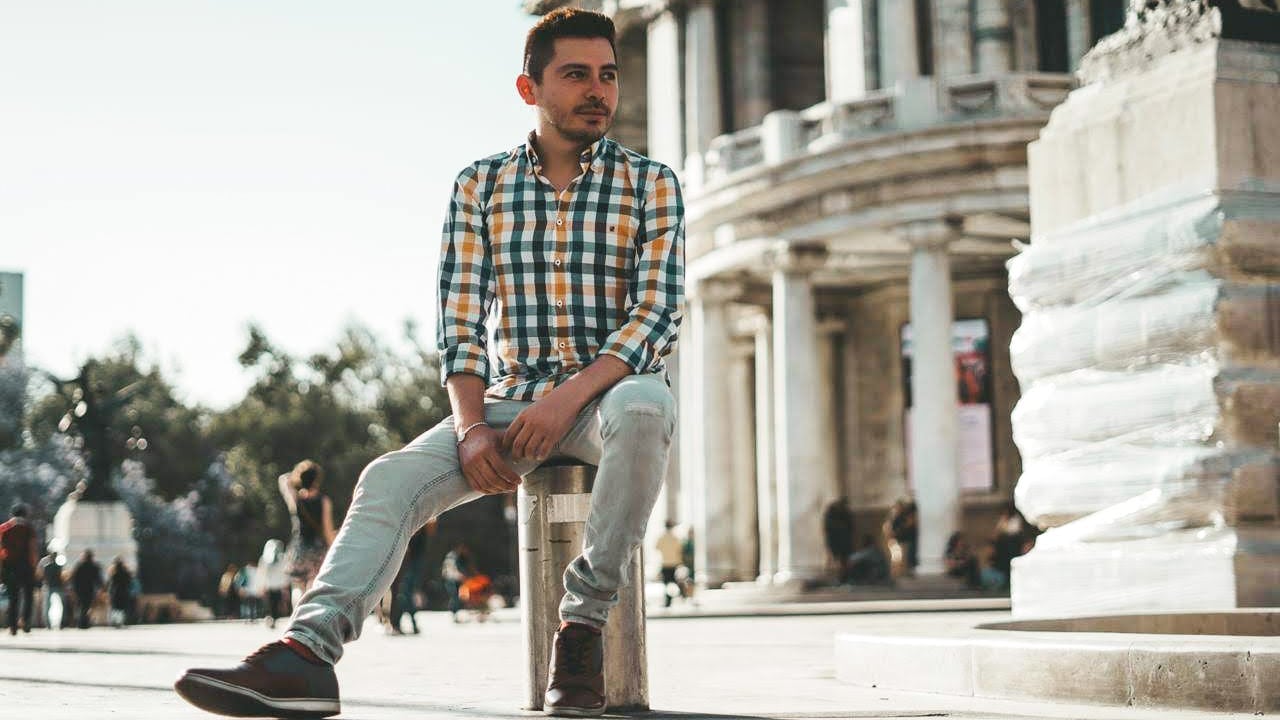 What's gay life like in Mexico?
Growing up in a big city like Mexico City (which has a population of around 25 million people), meant that it was really easy to be myself and love whoever I wanted. We have a huge gay scene here, with many queer festivals, events, and parties taking place throughout the year.
However, as a country, we still have an issue with homophobia, caused by the strong influence of the Catholic Church, and also by the "machismo" sexist/misogynist culture, which is most prominent in the smaller towns. For example, when I was in my early twenties, I had a boyfriend who was from the "high society" of a smaller town in the southeast of Mexico. When his father found out about us, there was a lot of trouble! We had to break up immediately and he was forced to block all contact with me. I never saw him again, but I have heard from mutual friends that he is still hiding his sexuality by being in an unhappy heterosexual relationship.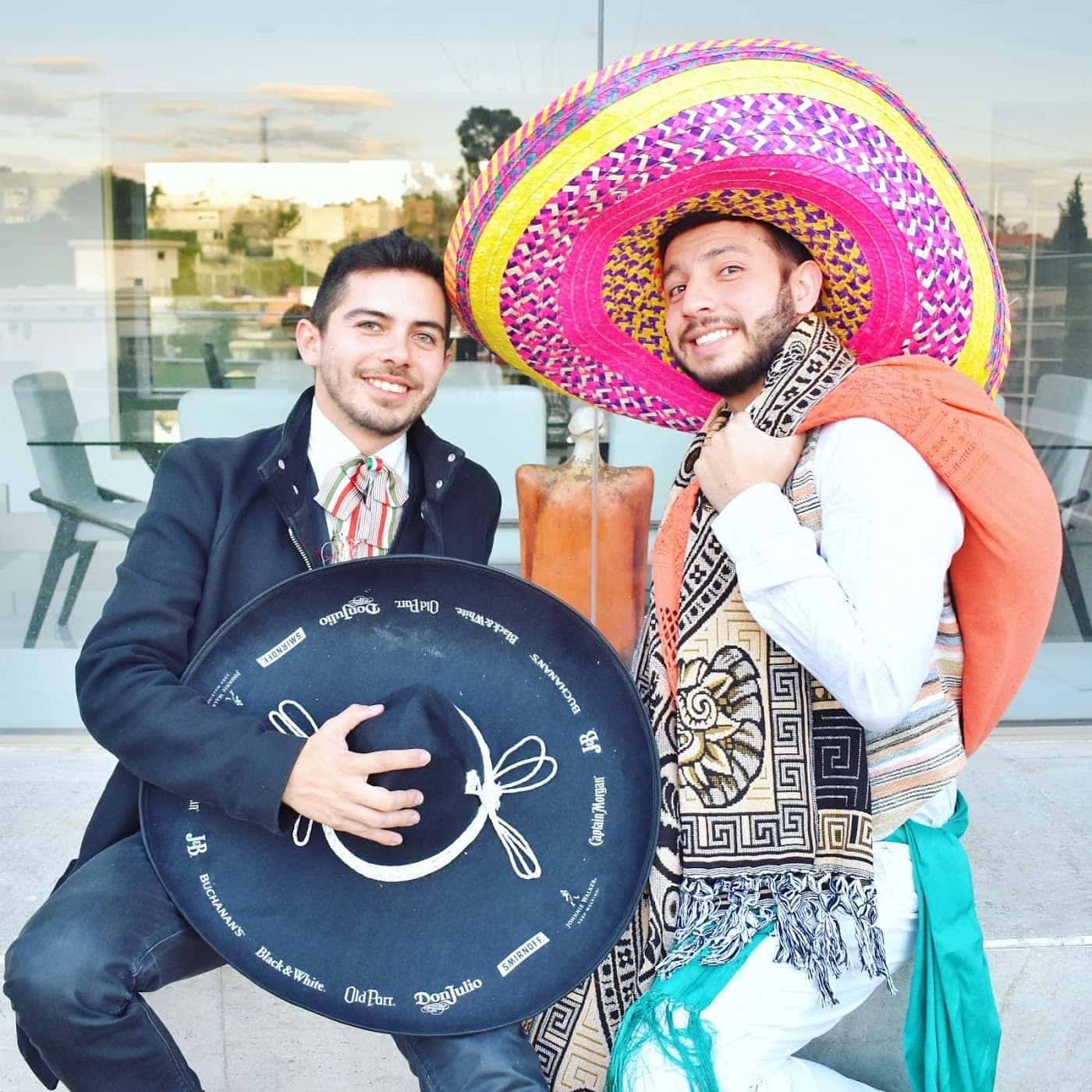 Did you ever experience any homophobia growing up?
Fortunately, when I was growing up, I was very lucky to never experience any direct homophobia.
However, when my husband and I were planning our wedding, we experienced some very blunt, direct discrimination! We were searching across the country for a beautiful Haciendas to serve as a venue for our wedding. One of the places we found had been recommended by a family friend, so we went to meet with the owner to discuss the arrangements. Sadly, his response to our face was:
"I didn't realise that this was going to be that sort of wedding! Unfortunately, we do not accept weddings like this at this venue!"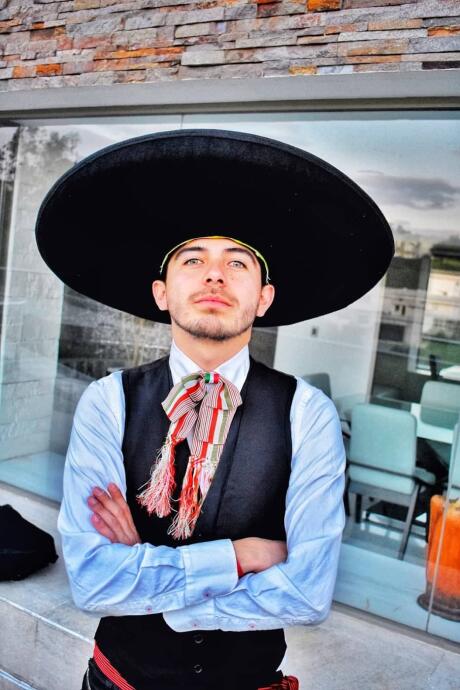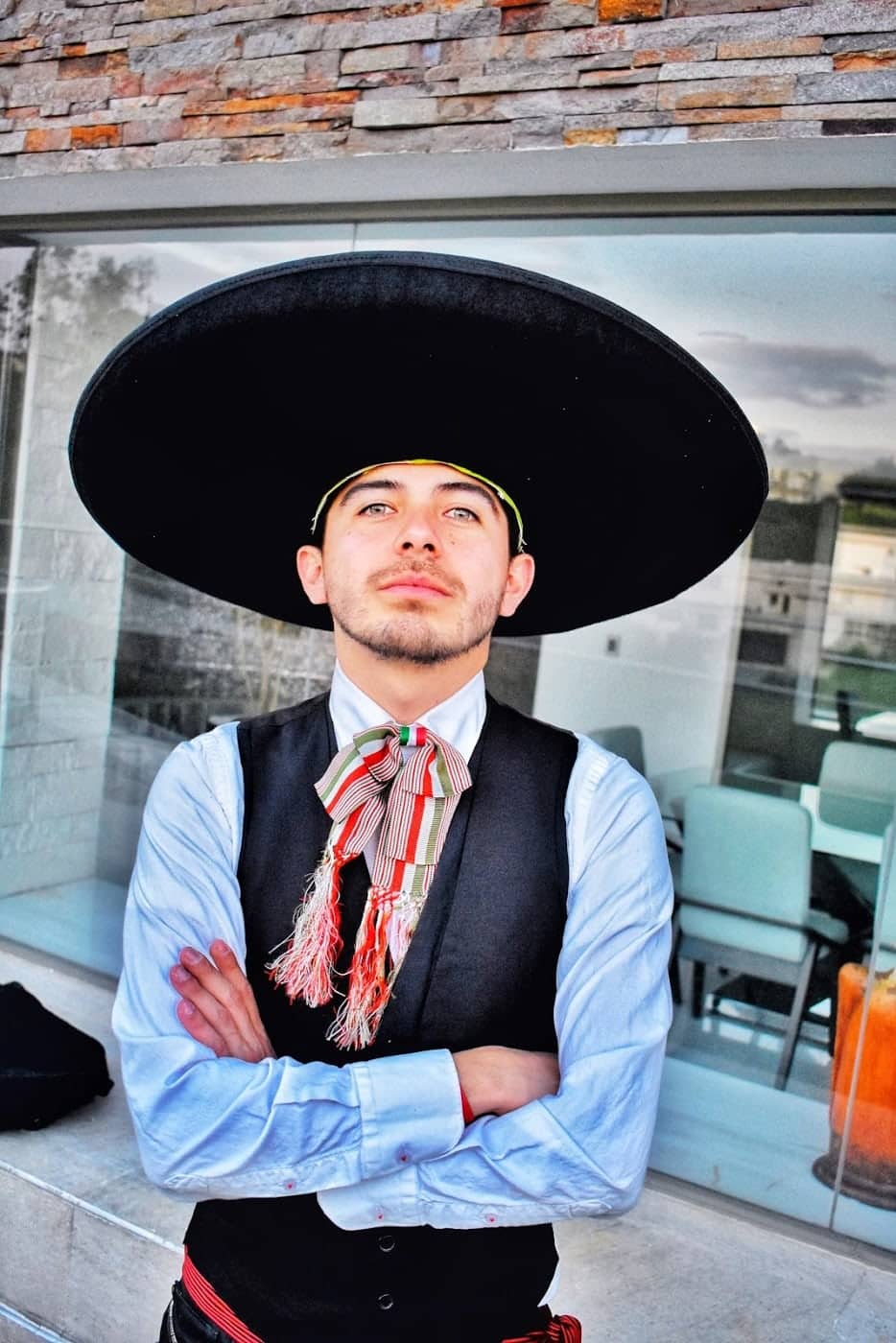 How did you meet guys growing up?
Before the days of Grindr and Scruff, it wasn't as easy to meet guys as it is today. I used to head to the gay bars of Mexico City and I also used online dating sites like Manhunt and Gaydar.
We also have our Latino equivalent called "Latin Chat", which was really popular with gay guys in Mexico. It's fun and super cute. Basically, you create your own animated avatar, which represents you in the chat rooms. Then you interact with it, like moving it around in the chat room, placing it next to another avatar that you wanted to chat with, while the rest of the room watches on.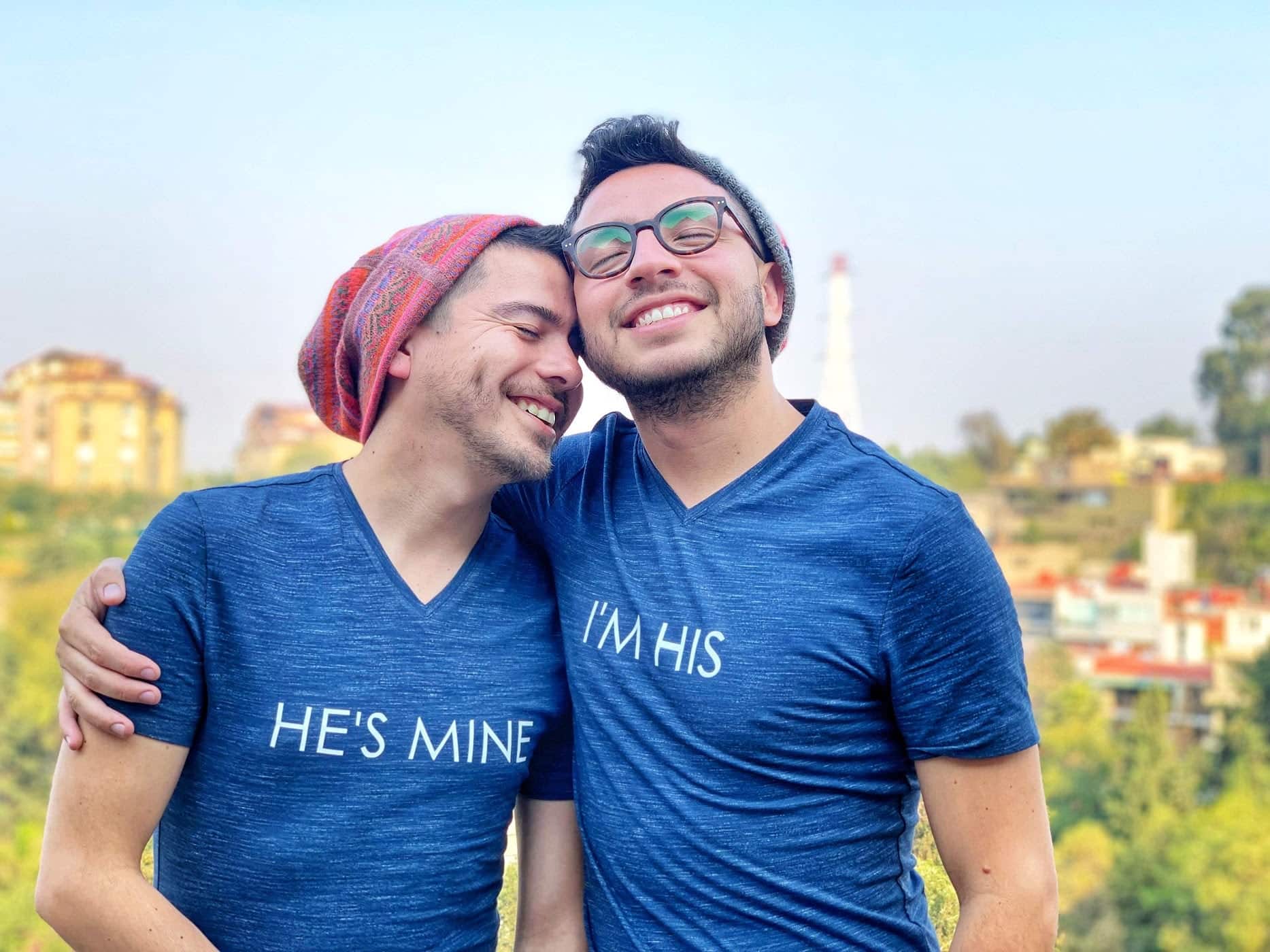 What's the gay scene of Mexico City like?
Honestly, it's incredible! As it's so big, it has meant that a huge gay scene has developed. There is something for everyone with bars for twinks, fetish, muscle queens, bears, and even cowboys.
The main gay neighbourhood is "Zona Rosa" (literally means, Pink Zone!), where the majority of the gay hangouts are like "Nicho Bears & Bar", "Almacen", "Boy Bar" and "Cabaré-tito". My favourite is "Kinky Club" because it's always full of sexy guys and has a fun chilled atmosphere, especially on their karaoke nights.
Outside of Zona Rosa, other queer hubs have developed, particularly in the plush "Polanco", with fancy bars like "Envy". Nearby is the most popular gay sauna in Mexico City called "Sodome".
Another popular queer hub in Mexico City where the local gay Mexican boys love to hang out is in the historical center around "Calle Republica de Cuba", which has a more alternative hipster atmosphere. My favorite bar here is "Marrakech Salón". And, if you're looking for fetish bars, one of the best is "Tom's Leather Bar" in the Roma neighborhood.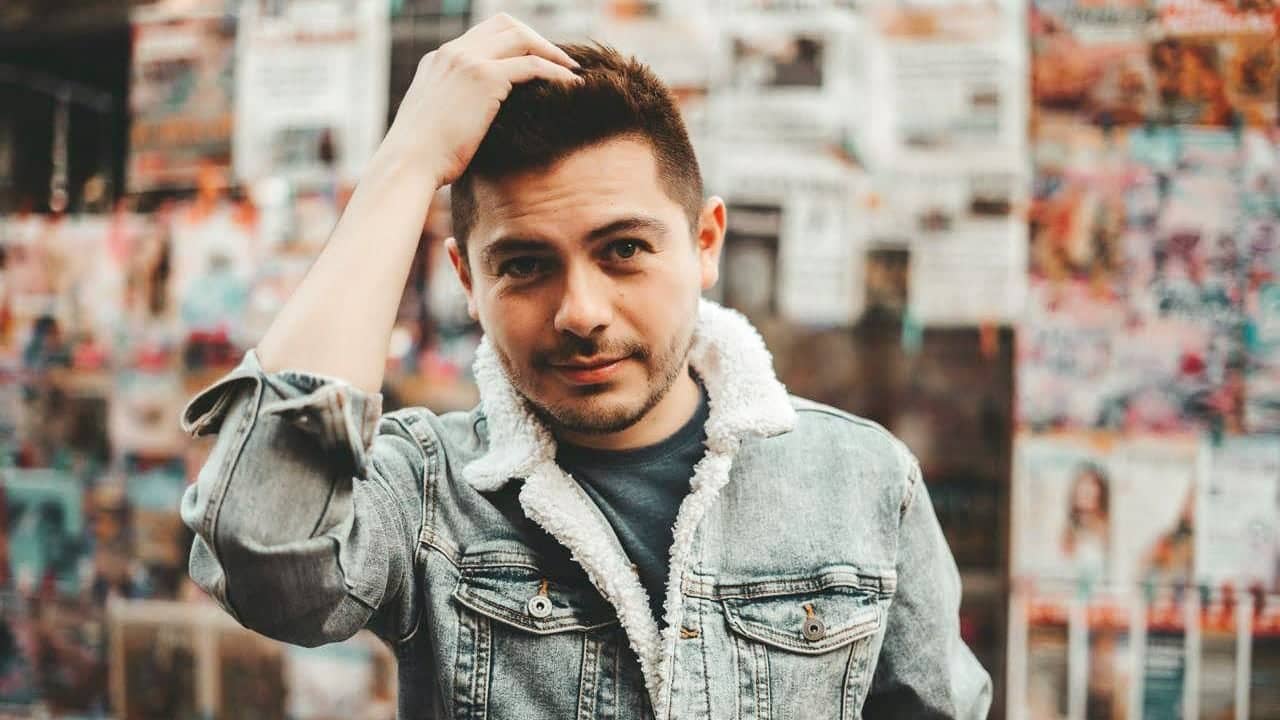 Where are the best places in Mexico for gay travelers to visit?
Mexico City should be your starting point. It's like the beating heart and soul of the country. We have the largest gay scene, as well as many things to see and do, and some of the best restaurants in the country; remember Mexican food is one of the few cuisines that are UNESCO listed! Most travelers will then head to Cancun as a base to visit the world-famous Mayan ruins of Chichen Itza, and the stunning Caribbean beaches of the very gay friendly Riviera Maya.
Puerto Vallarta (on the Pacific coast) is also super gay! The gay scene of Puerto Vallarta is not only famous for being one of the best gay destinations in Mexico but also in the world. It has a massive LGBTQ community living there, which includes many US ex-pats, so there is always something going on, particularly during PV Pride in May.
Finally, Guadalajara…land of Mariachis and Tequila. This is my personal favorite guilty pleasure in Mexico because all the boys here are beautiful! Every time I used to break up with an ex-boyfriend, I would then visit Guadalajara to seek out a new romance… So for gay travelers looking for the hottest gay Mexican boys? Head to Guadalajara!!!
Where would you take your husband for a romantic weekend in Mexico?
We both loved San Miguel de Allende a lot and would go back in a heartbeat. We also love Isla Holbox – an extremely beautiful and very bohemian Caribbean island just off the Yucatan province. It's so peaceful. There are no cars, just golf carts, small sandy roads, flamingoes, pelicans, and a few romantic boutique hotels. If you love snorkeling/diving, you will see lots of turtles and whale sharks here.
To reach it, you need to get a ferry from Chiquila on the mainland, which takes around 30-minutes or you can get an air taxi from Playa del Carmen, Cozumel, or Cancún.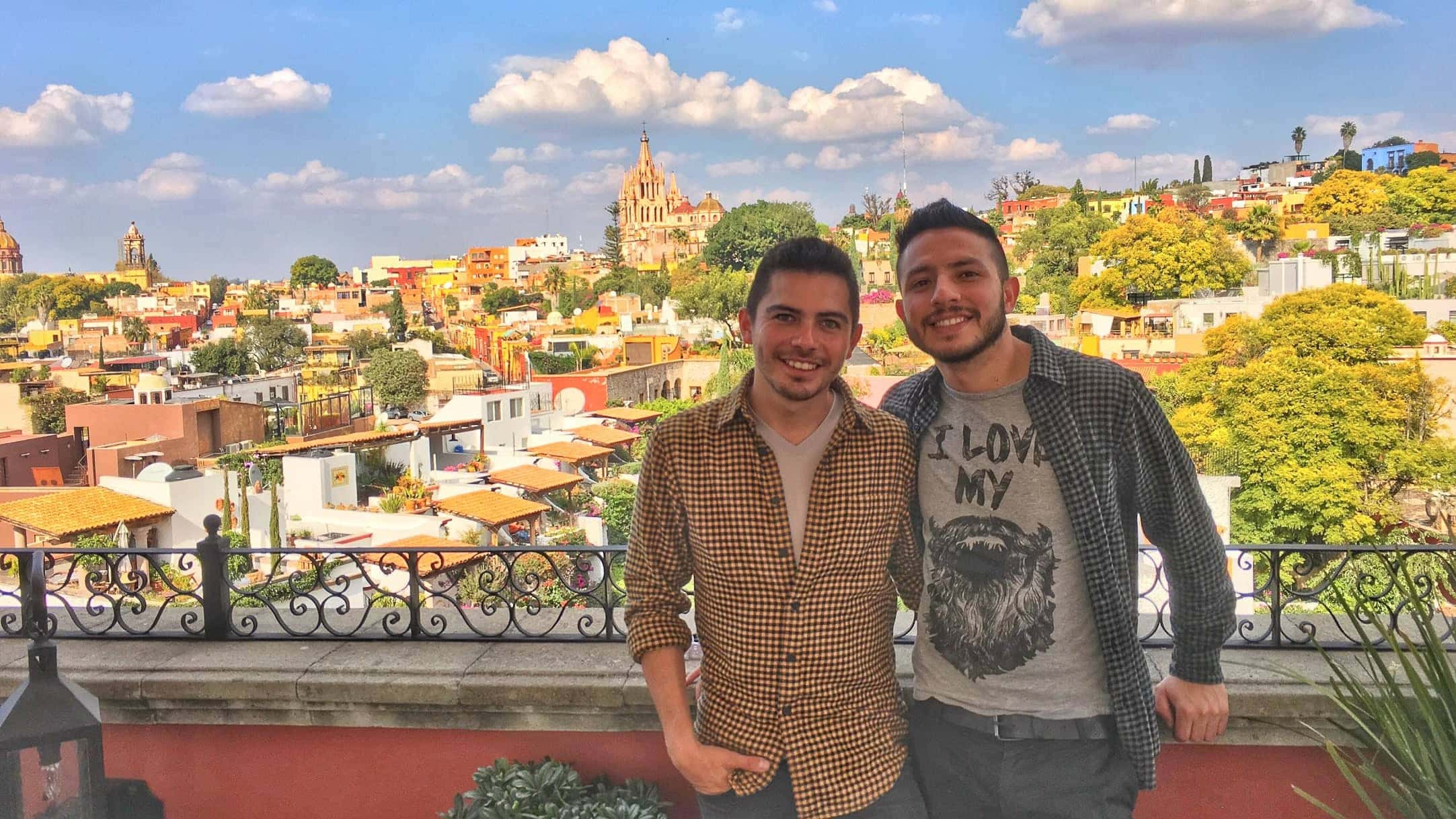 Which are the best gay events in Mexico?
The best one is the Arena Festival in Playa del Carmen, which takes place in late January/early February every year. It's the biggest LGBTQ dance music festival in Mexico. I love the music at Arena as well as the atmosphere. I go every year without fail.
The other big gay events to look out for in Mexico are the Pride festivals. The two main ones are Puerto Vallarta Pride in May, and Mexico City's Pride in June, where you see large corporates like Uber, Google and P&G supporting the Mexican LGBTQ community.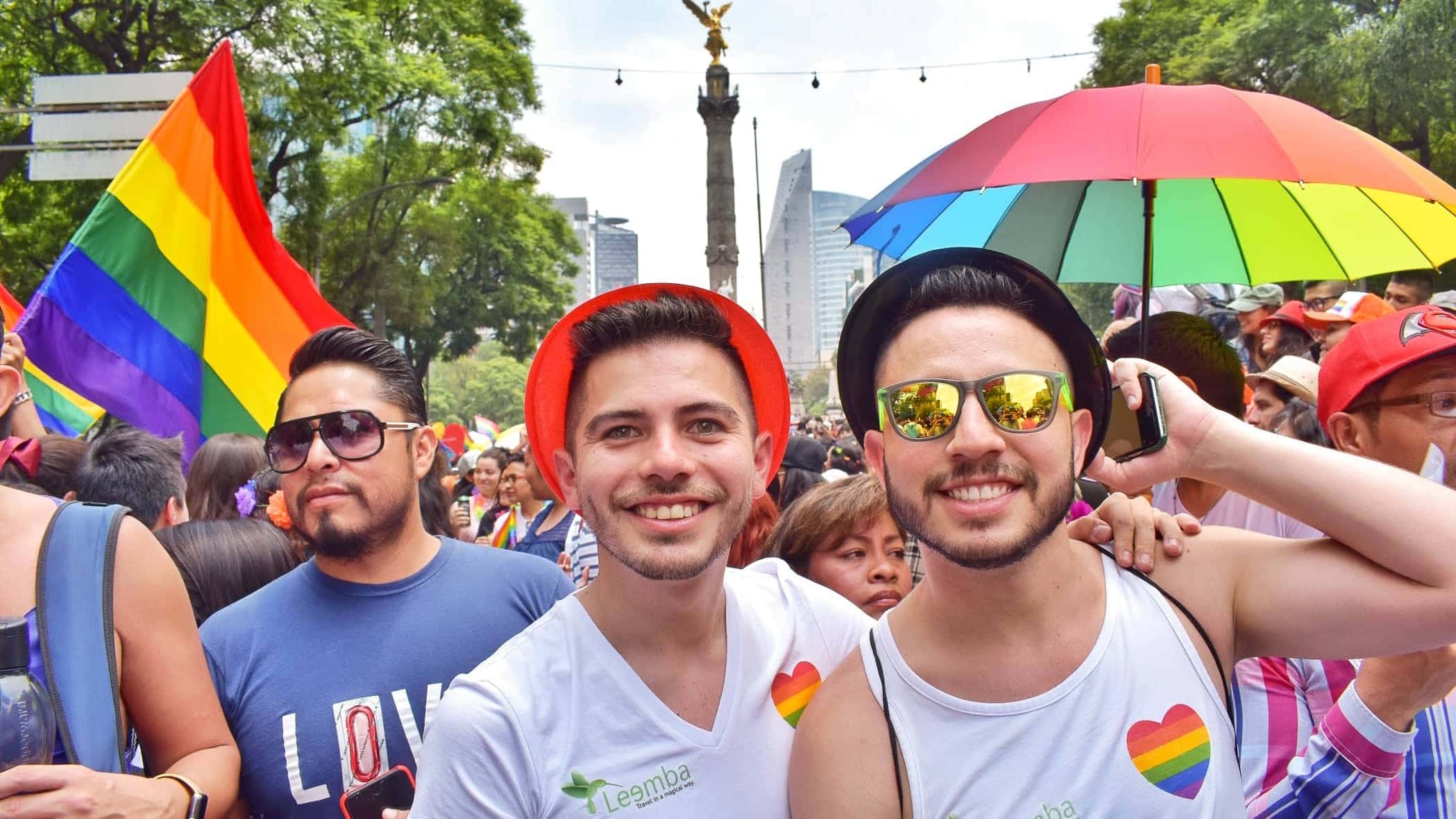 Any underrated gay cities in Mexico you recommend?
I highly recommend visiting Guanajuato and San Miguel de Allende. They are magical and super romantic! The architecture and the legends behind all of their colonial streets are simply incredible. Both are just 1-hour driving distance from each other and are very gay-friendly places.
I also love Oaxaca and Chiapas. As well as having lots of archaeological sites and beautiful natural scenery, both are places where you can meet our indigenous communities. I particularly love the women's outfits the most – full of colour and symbols dating back to the Mayas and the Aztecs.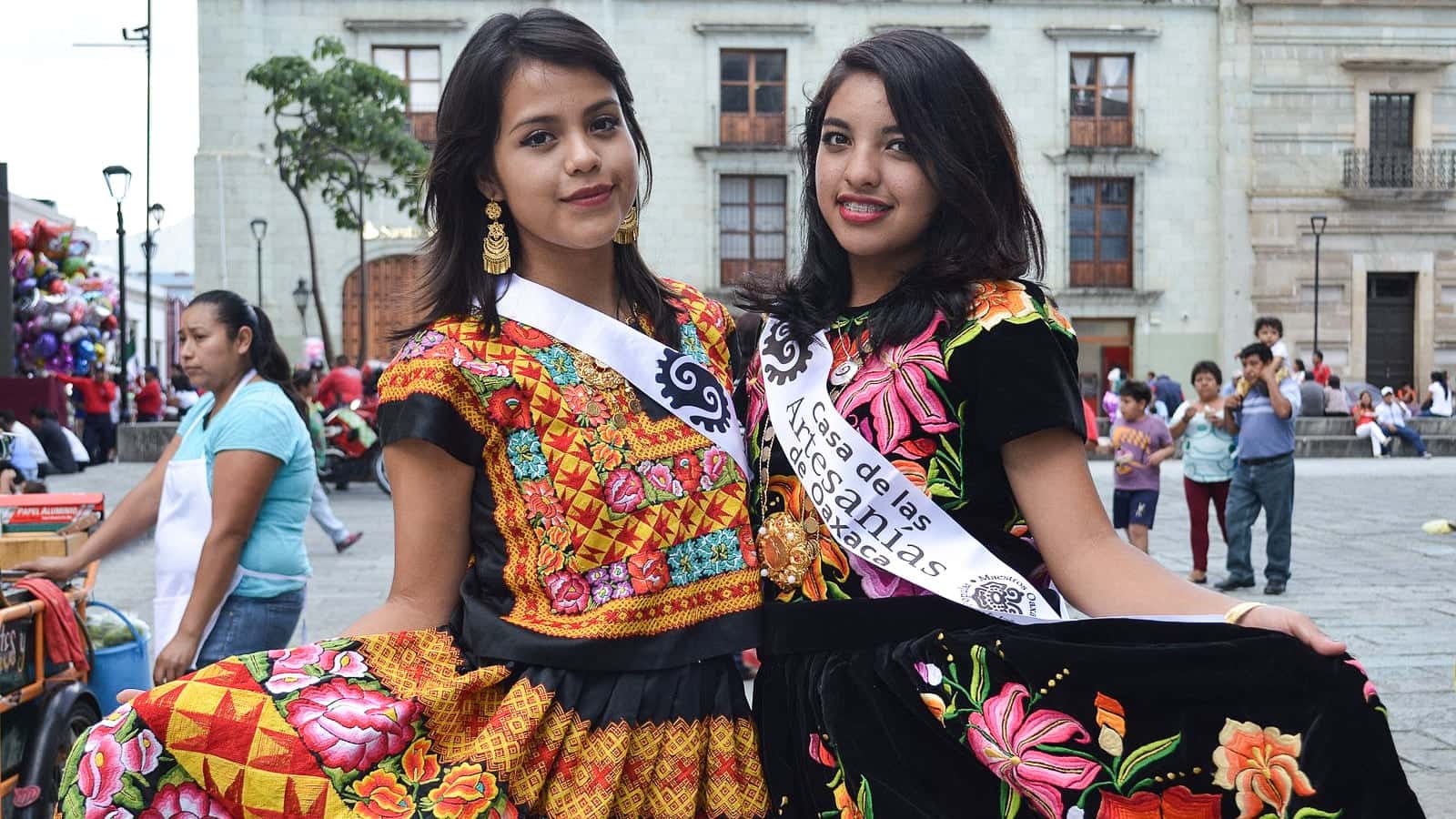 What are the best ways for gay travelers to meet gay locals in Mexico?
I recommend going out to the bars, museums and if you see a friendly face, just say 'hi'. We Mexicans embrace people that come from other countries. I guess tequila is also a reason that keeps us so happy and welcoming…
If you're shy, Grindr and Instagram are great ways to connect with local gay guys.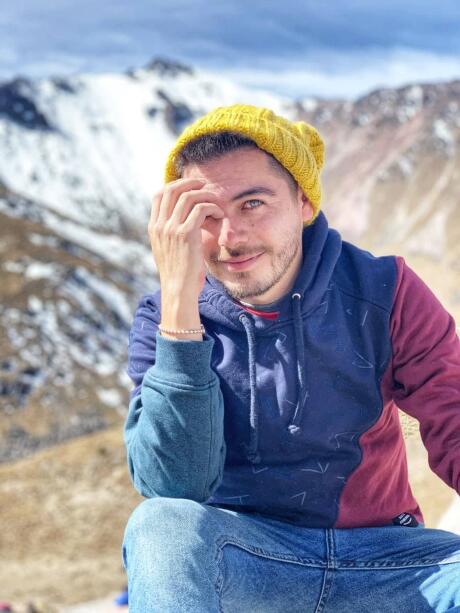 Any gay slang Mexican words gay travelers should know?
Here are some of the main ones I recommend to get you started:
Buga = heterosexual
Chacal = a rough, dirty, Latin, sexy looking guy
Inter = versatil
Entrona con lugar = you use this as "I get into anything you want and I can host"
Entrona sin lugar = same as above but that you can't host
Bar de ambiente = a gay bar
Guey = means friend, however, if you say: "He is my guey" that means he is my boyfriend
Cuero = the literal translation is leather however if you say: "You are very cuero" that means you are very sexy
Esta de Huevos = literal translation means "that is so eggs", however, it means 'that's very cool'
Padre = literal translation means "father", however, if you say "that's padre", it means: "that's cool!"
A toda madre = literal translation means: "that's so mother", however as slang it means: "that's way to cool!"
For more, watch this hilarious video by one of my favourite Mexican vloggers, Pepe:
What is "The Forty-One" we hear so much about?
Very much so! This story is a rich part of our Mexican history. I think every generation has heard about it and I hope we keep making it relevant because this was like our own Stonewall.
Another awesome LGBTQ Mexican tradition is the "Muxe" of Oaxaca. These are transsexuals that are raised with a great deal of respect and are honoured by their families. For a family in Oaxaca to have a Muxe as a daughter is considered an honour. Every November there is a big festival for the Muxe Queen Coronation (La Vela Muxe), where the community chooses a new queen to represent them.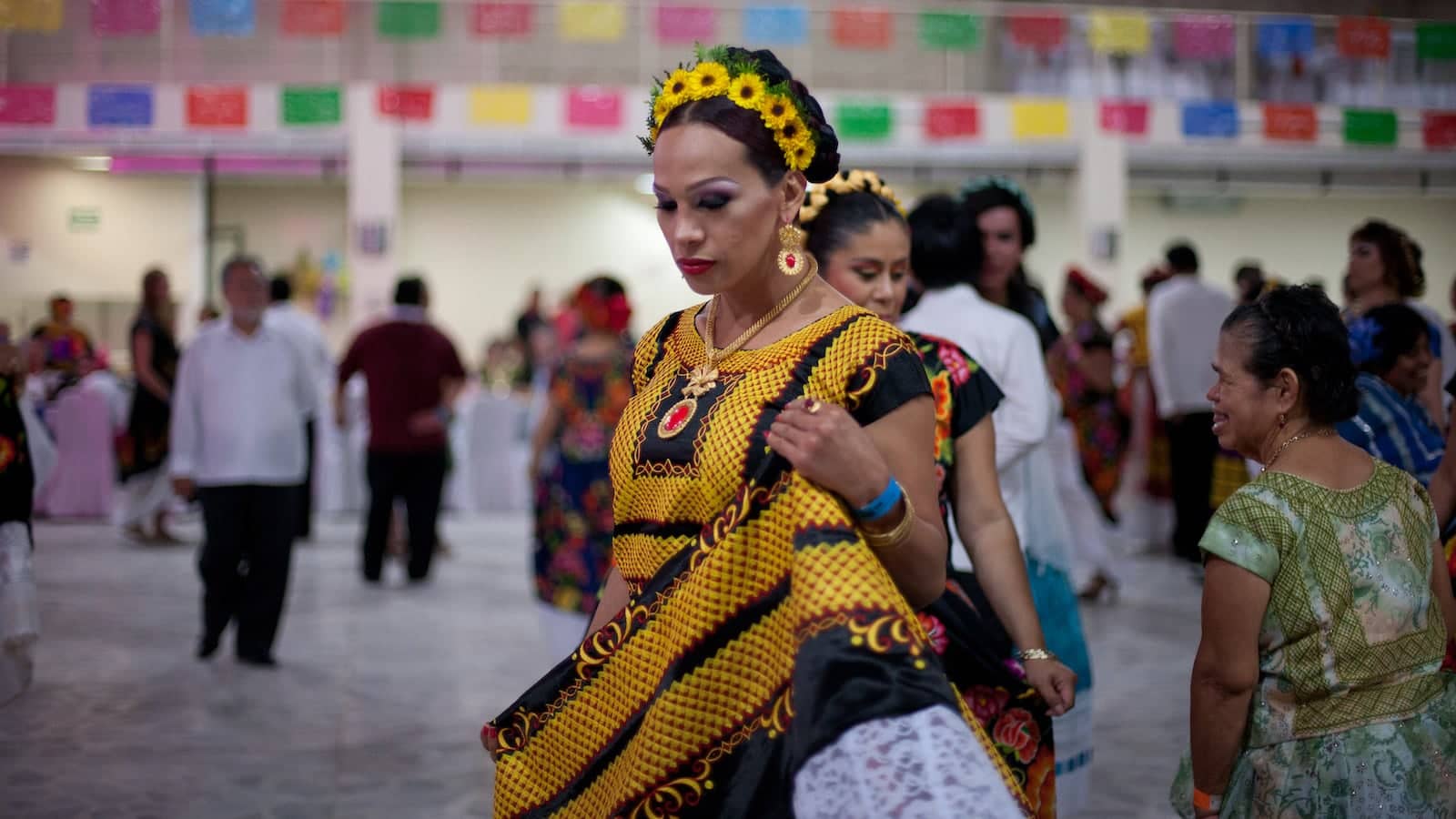 Are there any famous openly gay Mexican celebrities?
One of the most famous gay Mexican celebrities is the late Juan Gabriel (1/7/1950-28/8/2016), also known as "el divo" (Divo = Diva but masculine). He was a very well-known and loved singer/songwriter. When asked by a reporter, "are you gay?", he responded by saying "you can't ask what you can see!"
Recently we had the first gay couple in a Mexican telenovela, known as the Aristemo Couple. This sort of exposure on TV helps us a great deal to educate people on how amazing we are as a community and that love is love.
Other famous LGBTQ Mexican celebrities include the late Frida Kahlo (6/7/1907-13/7/1954) who was one of our most famous painters, and Christian Chavez, who was one of the first Mexican actors to come out back in 2007, after starring a very popular telenovela called "Rebelde".
And we can't forget the very sexy: Polo Morin. Polo is one of my favorite actors! You can't help but get lost in his beautiful blue eyes and admire his great body…to be honest I quite can't recall any shows or movies he's been in…!
If you want to connect with Andres, check him out on Instagram.
---
Like this post? Pin it