TERMS OF USE: There is a chance that some of the content on this page has changed since it was last updated. By reading this article, you consent to our Terms of Use and Disclaimer. Happy Travels!
DISCLOSURE: Some of our posts may contain affiliate links which we may receive a commission if you choose to book something through one of our links.
PV is THE place to be! Puerto Vallarta is home to a variety of stunning gay hotels as well as a mix of exciting clothing optional and all-inclusive gay resorts.
The abbreviation "PV" could stand for many things — Partying Vivaciously, Paradise Vibes, Puerto Vallarta — but it clearly means all of the above! When you're in Puerto Vallarta, you are going to party away your days and nights in this captivating gay Mexican oasis.
Puerto Vallarta is not only a stunning beach resort city located right on the Pacific Coast, but it's also a wild destination for the gay boys to have a little fun in the sun. We had a blast exploring the city and always felt relaxed and safe walking hand in hand through the colorful cobblestone streets. We especially savored our time in both Zona Romantica and Playa de los Muertos, which are the primary gay hotspots of Puerto Vallarta.
If you head to Puerto Vallarta in May you'll also get to experience their gay Pride, which takes place during the US Memorial Day weekend. With pool parties, boat parties, beach parties, a drag derby, the gay pride parade of Puerto Vallarta and more events, you'll definitely need somewhere comfy to rest your head each night.
Choosing where to stay when you're venturing on a tropical holiday is hard enough when your location isn't a fraction as fabulous as PV, which is why we decided to break this guide down into specific sections that will show you the best of the best lodgings across the board. Be prepared to hear about some of the most fascinating and accommodating gay hotels that Puerto Vallarta has to offer!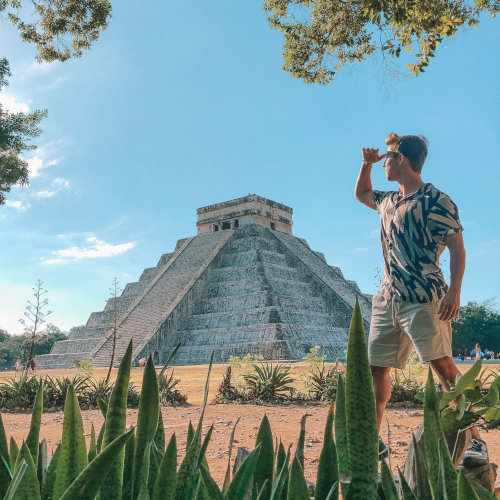 Shake your tail feathers with a gay tour of Mexico City!
Our friends at Out Adventures just launched an all-gay tour of Mexico City and its surrounding sites. The short and sweet escape ticks off the megalópolis' best-known attractions such as Frida Kahlo's house, Chapultepec Castle, and nearby Teotihuacan. Best of all, the tour mambos over to Zona Rosa where boys, booze and bad decisions await.
Tips for choosing your gay hotel in Puerto Vallarta
Here are some practical tips for choosing your gay hotel in Puerto Vallarta based on our first hand experience:
An all-inclusive experience is not necessarily the best one: Zona Romantica, the gay heart of PV, is full of restaurants and bars, all walking distance from each other. If you choose to stay in an all-inclusive gay resort, you'll miss out on all those little gems. As you will see on our handy dandy list here, there are plenty of stunning non all-inclusive gay resorts to stay in Zona Romantica, so don't sweat it if you can't fit an all-inclusive resort on your itinerary.
The best all-inclusive resorts are outside Zona Romantica: if all inclusive is totally your thing, you'll find the best ones outside of the gay area. It might sound counterproductive to be outside of the gay neighborhood, but trust us, you won't mind the distance when you're on the receiving end of the beachfront luxury of these gay, all inclusive resorts.
Avoid non-gay friendly resorts: there are two all-inclusive options we recommend that you avoid at all costs: Playa los Arcos and San Marino. The former has a family friendly policy and quite unfriendly staff, while the latter has very bad food and drinks. No bueno! You will be much better off staying elsewhere! Sadly these are the only all-inclusive options in Zona Romantica, which is why we strongly advise looking further afield for the best gay friendly options.
🔥 OUR TOP GAY RESORT PICKS FOR 2021 🔥
All-inclusive gay resorts in Puerto Vallarta
Are you anticipating the royal treatment? These all-inclusive resorts are here to wait on you hand and foot so that you can leave your vacay feeling completely refreshed and revitalized. Enjoy an adult-only sanctuary with fantastic beach views, gourmet restaurants and extraordinary service with any one of these three resorts:
01
Almar Resort Luxury LGBT Beach Front Experience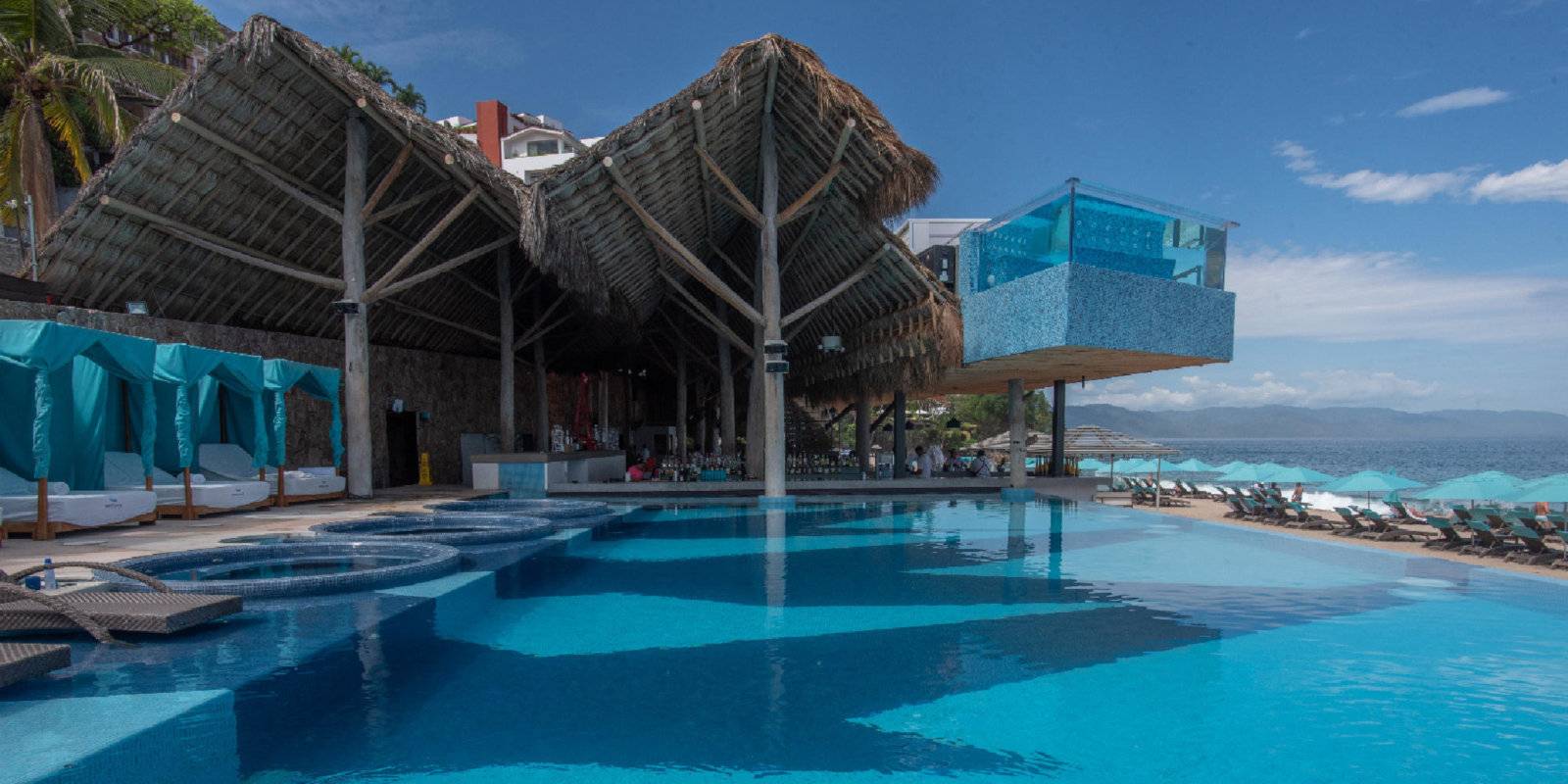 In a nutshell
---
Luxury LGBT resort by the sea
Infinity pool overlooking the sea
Proximity to Playa de los Muertos
Skybar with weekly dragshows
If you were to ask me what I believe to be the most important attribute of a gay friendly resort, I would have an answer for you in seconds flat. It's so easy and simple. At the end of the day, it all boils down to balance.
And I can just as quickly say that Almar Resort expertly walks along that fine line between action and relaxation, with plenty of options for pampering or excitement.
With 89 luxurious and contemporary suites, each complete with their own private balcony that offers unbeatable views of Playa de los Muertos, you will be able to savor a full night of peaceful rest. On the other hand, you'll be staying at a destination that never truly sleeps, so if you're feeling up for a thrilling gay night out, you will have plenty of places to go. The number one spot to hit up during your visit? It has got to be Mantamar Beach Club Bar and Sushi!
You may initially go to the Mantamar Beach Club for placid walks along the astounding sandy shores, but you will stay for the infinity pool, the Balinese beds, the bar and restaurant, and above all else, the themed parties! However, if you'd prefer to hang out a little bit closer to your room, Almar Resort's sky bar, The Top, provides guests with equally exciting occasions. Our favorite nights were always the Sassy Girl drag shows that came around every Friday, but we also appreciated their gourmet dinners and happy hour. It's worth noting that Zona Romantica is simple a five minute walk away, so there will be incredible gay bars and clubs practically at your doorstep as well.
Almar Resort Luxury LGBT Beach Front Experience is constantly trying to improve upon their service and amenities, and their hard work shows! Visit them once, and you will not be able to stop yourself from visiting again and again.
Prices at Almar LGBT Resort start from $144 per night:
---
STAY WITH A GAY LOCAL
Misterb&b is the Airbnb equivalent for the LGBTQ community. Unlike on Airbnb, you know your host is gay, voiding any nasty surprises when you check-in. It is also a great way to meet gay locals and discover the underground gay scene. Click below to get 10 € (or $10) off our first booking.
02
Villa Premiere Boutique Hotel and Romantic Getaway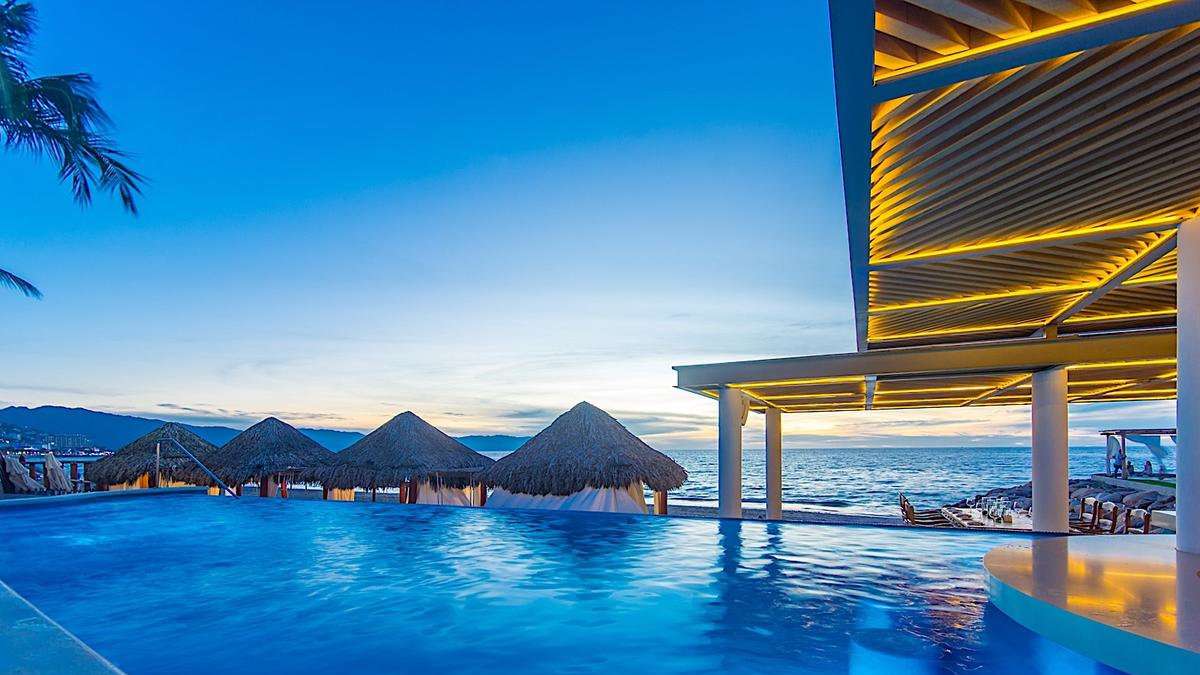 In a nutshell
---
All inclusive gay frienldy boutique hotel
Three gourmet restaurants on site
Free welcoming massage
In-room aromatherapy
If any place on this list really proves their dedication to their clientele, Villa Premiere takes the cake! I mean, a five minute anti-stress welcoming massage? Helloooooo? Need I go on?
That's just the beginning of your adventure into this slice of gay friendly heaven. At any hour of the day you will have direct access to butler service, concierge assistance, an expansive fitness center, and exceptional options for in-room dining.
To ensure that your room is exactly to your liking, the staff will provide you with a pillow menu and a scent menu based on aromatherapy practices. We personally loved the sage with lemongrass, but if you're not into earthy smells like us, you can choose between anything ranging from honey to grapefruit.
If you're fortunate enough to be staying in one of their deluxe suites, you can further customize your experience by requesting that the butler give your room the romance treatment. Seby actually surprised me with this during our time at Villa Premiere. We first attended the resort's private dinner opportunity, where we delighted in an elegant three course meal as the sun set against stunning ocean waves. I was already swooning by this point, but then, upon returning to our room, I was greeted by our jacuzzi decked out with candles, rose petals, and chocolates! To say I was shocked would be an understatement.
While I would obviously recommend one of these grand bedrooms for your Villa Premiere arrangement, I guarantee that you will be able to enjoy a passionate trip with your partner no matter what your lodgings look like. With two pools surrounded by luscious flower gardens and three sumptuous restaurants, you will have no shortage of excuses to share a few tender moments with your beloved.
Prices at Villa Premiere Boutique Hotel start from $158 per night:
---
03
Casa Velas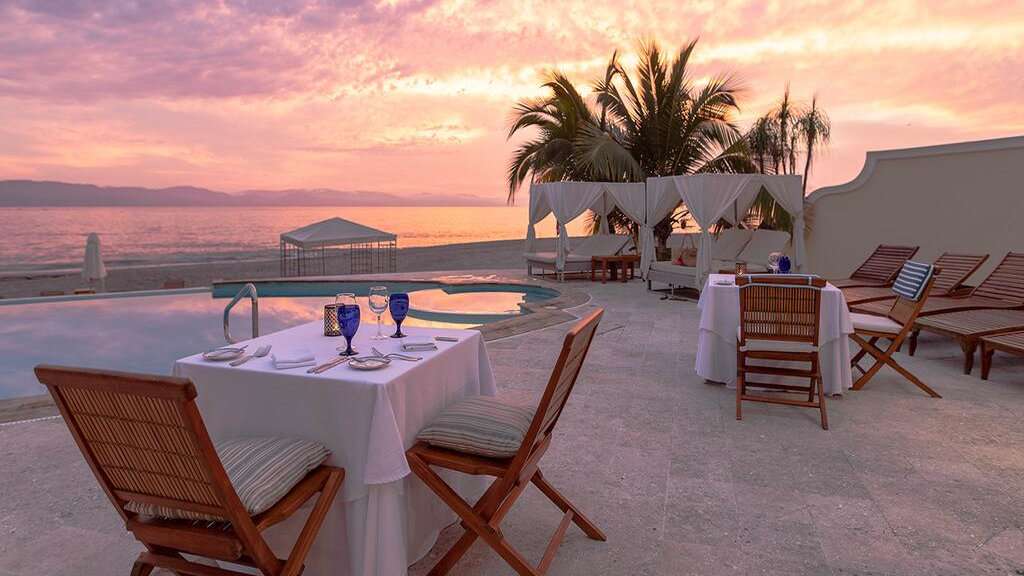 In a nutshell
---
Authentic Mexican decor and architecture
Beautiful garden surrounding the pool
In-house restaurant and four more nearby
Live peacocks roaming the property
Once you cross through the sophisticated metal gates of Casa Velas, you know that you're going to be in for a treat. Out of the all gay friendly inclusive resorts, I feel like Casa does the most to emphasize a connection to both nature and authentic Mexican culture.
It's a sumptuous adults-only retreat, with a swimming pool, private beach and exclusive beach club as well.
This little gay oasis, nestled precariously against the coast, gives their visitors a chance to roam about huge tropical gardens, to sit beneath towering palm trees, to glance into tranquil koi ponds, and, my personal favorite, to co-exist with their wild, resident peacocks! I think every gay man has probably felt a connection to a peacock at least once in his life, right? Proudly strutting your stuff with all of your colors on display? Come on, don't tell me that's just my thing!
Either way, no matter how pleasant you find the rooms at Casa Velas (they are incredibly serene with their warm, traditional Mexican furnishings) you will likely see yourself spending the majority of your time in the great outdoors. If you're not wandering about the property, helping yourself to a dip in their oversized swimming pool, or scarfing down a delicious meal at their signature AAA four-diamond restaurant, Emiliano, then you will likely be dabbling in local events coordinated for you by the friendly staff. The list of activities is fairly extensive, and I wouldn't want to give you too many vacay spoilers, but you'll have the opportunity to expand your horizons through wine and cheese tastings, painting classes, Wellness Wednesdays, and so much more!
It's clear why Casa Velas has been rated one of the best all-inclusive resort in the region. With all of their extravagant offerings, staying at this gay friendly all inclusive resort will feel like a refreshing dream from which you might never want to wake up!
Prices for all inclusive at Casa Velas start from $490 per night:
---
Clothing optional gay resorts in Puerto Vallarta
We came into this world nude, so why not experience the finer parts of life the same way? We know not everyone is comfortable showing off their birthday suits, but for those of you who love letting loose and expressing the most carefree side of your soul, PV provides plenty of spaces for you to live it up in the buff!
01
Piñata PV Gay Hotel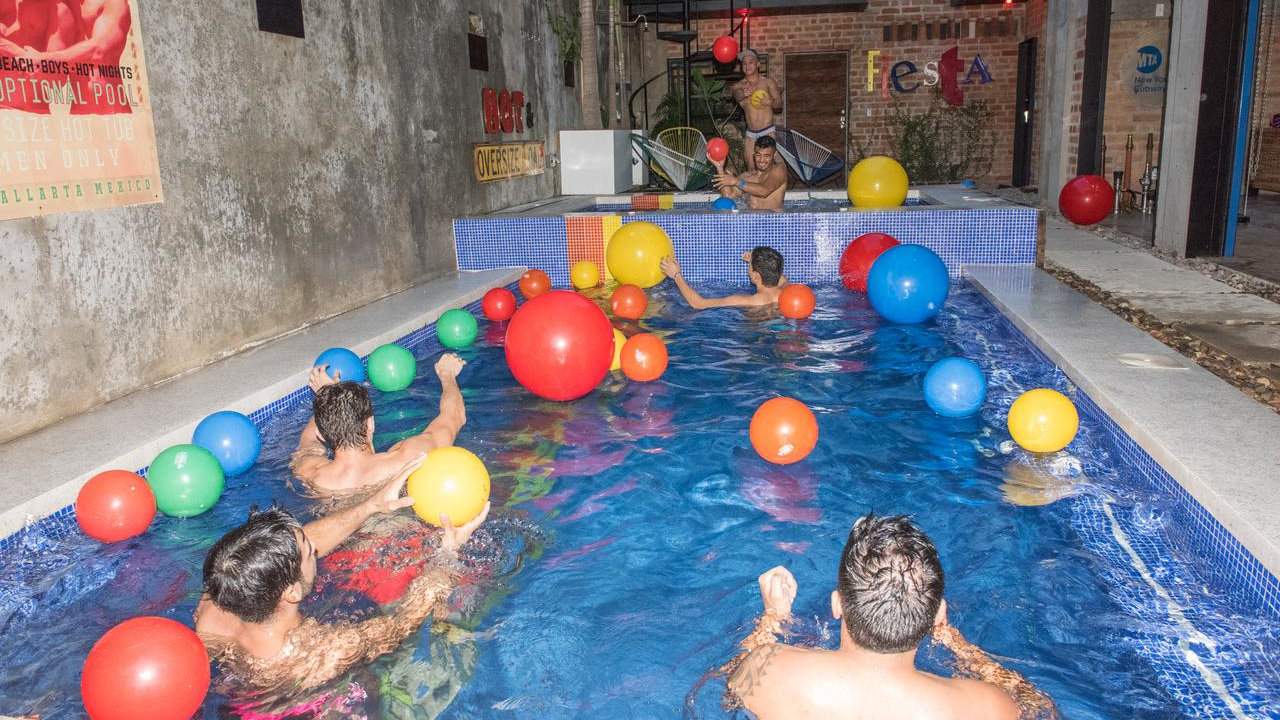 In a nutshell
---
Gay clothing optional resort
Fun balls to toss around during pool parties
Atmospheric rainbow lights outside
Casual yet modern bedrooms
Seeking rural Mexico meets urban New York vibes for your hotel? Then have I got the place for you! Piñata PV Gay Hotel combines cute, colorful decor with natural brick walls and vibrant vegetation to achieve a perfectly imperfect, quirky design.
During the day, Piñata Hotel probably seems like a casual, quiet place to hang out with friends, which is honestly pretty true, not that there's anything wrong that!
Owners Ronnie and David cater to their guests in such a way that you genuinely feel like you're visiting the home of a few of your old acquaintances. The boys will always be there to steer you in the right direction, whether that means inviting you on exciting local tours or recommending their preferred restaurants. You will also be in a prime PV location – right in the heart of Zona Romantica and only a few minutes walk away from Playa de los Muertos. With so many nearby businesses ready to welcome you through their doors, it makes sense that the hotel would be quiet from dawn till dusk.
However, once the sun sets on this busy town, Piñata PV Gay Hotel lights up and transforms into party central! In fact, we recommend trying out a couple of gay bars before returning to the hotel for the evening. Because with how wild the crowd can get during the clothing-optional pool parties… You're going to want to pre-game! The large pool and neighboring hot tub are the go-to spots for enjoying the fun loving company of your fellow travelers, but if you're interested in finding a more secluded location for you and your boy toy, the rooftop gym and the steam room are both fully available for all of your cruising needs.
Our stay at Piñata PV Gay Hotel was nothing but an overwhelmingly positive experience. No matter the time of day, when you visit this hotel, you will be on the receiving end of an astonishingly dependable and valuable adventure.
Prices at Piñata PV Gay Hotel start from $189 per night:
---
02
Casa Cupula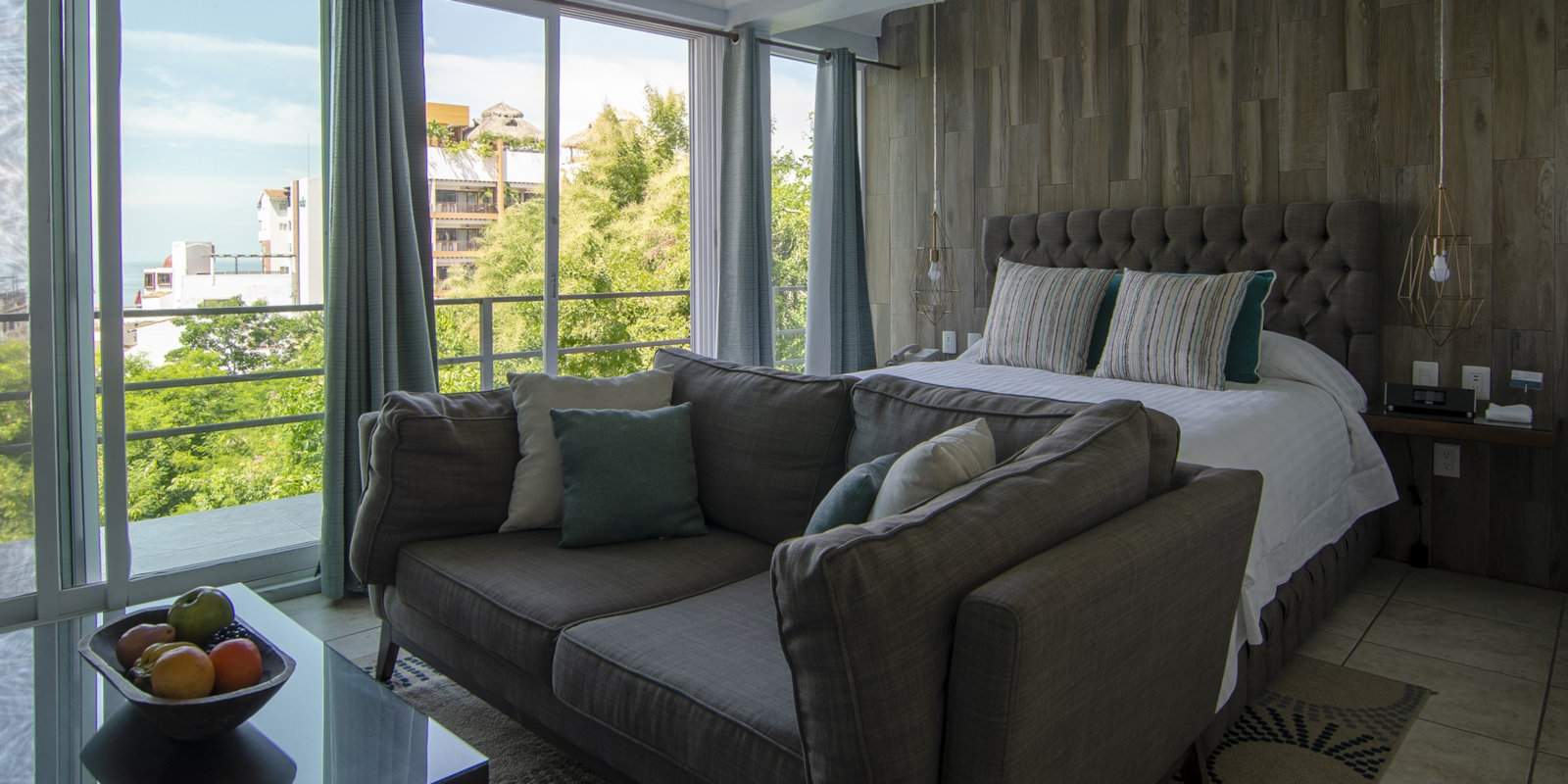 In a nutshell
---
Male only clothing optional resort
Two pools: 1 clothing-optional and 1 infinity
Sunday brunch at The Taste
Suites have their own private hot tubs
I feel like Casa Cupula poses as Piñata Hotel's older sister.
She's a little more sophisticated and mature, especially with her international reputation and award-winning style, but at the same time, you can tell she appreciates the same party atmosphere as Piñata. Am I actually making any sense here? Let me try to explain it in a different way!
The service and amenities offered at the gay retreat Casa Cupula mirror those of any 5-star resort, but the energy is a lot more intimate and personal. With gay owners who treat their guests like family and only nineteen available rooms, you will undoubtedly get to know everyone with whom you're sharing your gorgeous surroundings.
And when I say gorgeous, I mean the views are just to die for! Whether you're spending time in your room, hanging out with friends at the pool club, or relishing in the delicious food options at their in-house restaurant, Casa Cupula impresses with grand sights of the neighboring ocean and the nearby jungle.
Above all else, there are two places at this gay hotel you must promise me you'll seek out during your stay: The Taste restaurant and the swimming pool. The Taste serves breakfast and lunch and provides outdoor seating to fully immerse guests in their tropical location. However, the biggest reason you need to make sure you stop at The Taste is for their famous Sunday brunch. They mix classic Mexican and American foods in such a way… It's hard to describe, but it's really magical, okay? As for the pool, Casa Cupula hosts regular parties featuring exotic dancers and DJs from CC Slaughters Nightclub at their primary, clothing-optional swimming pool. You will not want to miss out on these impressive blowouts!
However, the gay boutique hotel does have another, smaller infinity pool on their rooftop if you'd rather enjoy a soothing, pleasant afternoon soaking up the sun. The choice is ultimately yours to make, but I know you will find plenty of activities to your liking at Casa Cupula!
Prices at Casa Cupula start from $139 per night:
---
03
Villa David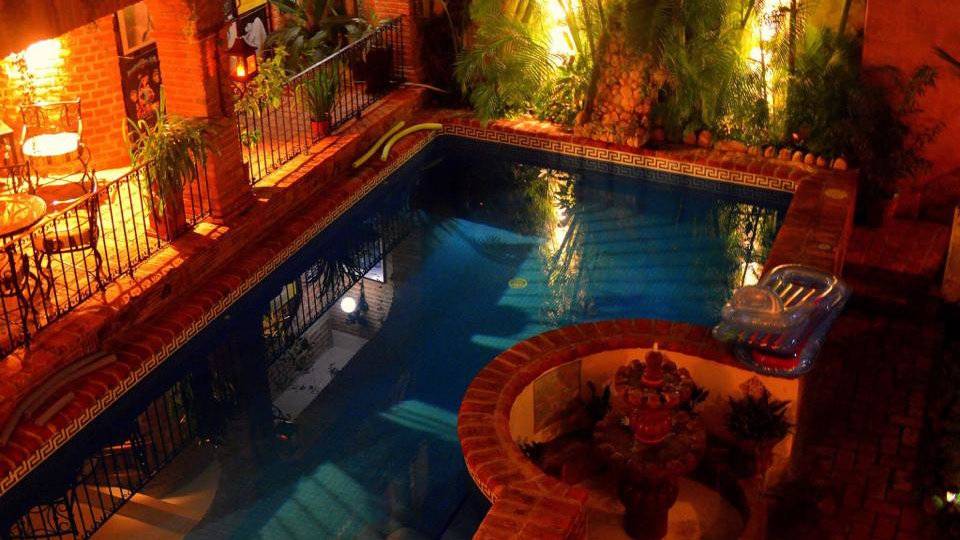 In a nutshell
---
Gay-owned and men-only B&B
Open-air living room and dining room
Brick/tile pool built around old stone fountain
Candles lit at night for ambience
Be prepared to immerse yourself in the culture of Puerto Vallarta as you return to nature with Villa David! This precious, gay-owned bed and breakfast resides in a tightly packed neighborhood in the old town, about ten minutes from Zona Romantica.
Throughout your stay you will slowly begin to embrace the lifestyle of the town until you feel as though you're a permanent resident.
With the essence of home lingering within the walls of each room, you will have a hard time tearing yourself away from the beautiful hacienda-style mansion. The bedrooms are home to exceptional features, such as tile murals of aquatic life or large tubs encased in domes and cupolas, but the real pièce de résistance arrives in the form of the common areas. The shared living and dining room employs an open-air concept, ushering in the fresh mountain winds and the salty bay breeze as you chat with fellow guests and delight in your daily continental breakfast. Meanwhile, the rooftop houses a hot tub, which is perfect for basking in the glorious Mexican sunsets or stargazing at night.
But of course, nothing can top the courtyard with its lush plant life, which includes bougainvillea, orchids, and night blooming jasmine. It smells incredible and looks absolutely divine, especially with the brick and tile pool claiming the prized spot as the centerpiece. For me personally, being able to stroll through such an organic area completely undressed gave me the impression that I was Adam, walking peacefully through the Garden of Eden.
Owners Bill and David have done an outstanding job of creating a pleasant plot of land that resembles a paradise. It comes as no surprise that Villa David sees so many repeat patrons because, after all this time, I'm still itching to visit them again!
Prices at Villa David start from $130 per night:
---
Gay BnBs in Puerto Vallarta
Searching for a place that carries the Puerto Vallarta culture throughout every single room? With so many emphasizing Mexican architecture, decor, and dining, you are bound to have an enriching and intimate stay at any of these fantastic bed and breakfasts! We highly recommend any of the following gay guesthouses for your holiday.
01
Villa Lola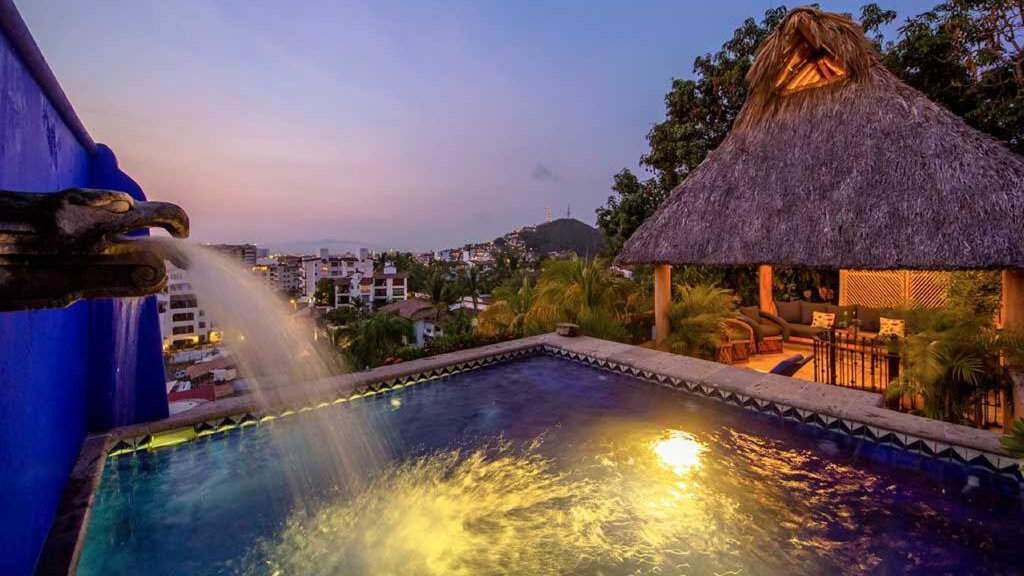 In a nutshell
---
Rooftop plunge pool with a fountain
Open-air kitchen that can be stocked for you
Mexican decor with modern facilities
Brownies and wine available every night
I'm going to say three words, and I want you to continue reading if any of them call to you: Dream! Sip! Splash! …Okay, so I assume all who are interested have stuck around, so allow me to give you the hot deetz on gay friendly Villa Lola!
This adult-only bed and breakfast serves high-end, classy vibes with its rooftop dipping pool, welcoming lounge area, and modern, open-air kitchen.
Choosing Villa Lola means you'll be near the heart of the gay action in Zona Romantica and only two blocks away from Playa de los Muertos. With seven rooms that can sleep up to sixteen people, I say the best way to vacay here would be to grab a large group of friends, rent out the B&B together, and let everyone hit the town for some wild, uninhibited fun!
However, if you'd prefer a quieter trip with less people, don't you worry! One of the biggest draws to Villa Lola is that, despite being settled among the everyday commotion of Zona Romantica, they exist as a tranquil sanctuary for those who want nothing more than to relax in a charming and contemporary environment. As a guest, you will be encouraged to appreciate the little things, from the distinct decor and local art that make the bedrooms so remarkable to the exquisite tile floors and iron spiral staircase.
No matter how you plan to enjoy your holiday at Villa Lola, you will undoubtedly savor the breakfast they serve daily on their terrace. The chefs, Rosa and Ellie, cook with an extensive knowledge of the outstanding local flavors and can whip up some mean eggs. And if they're the ones who bake the brownies that the staff sets out in the evening… Girls, I want that recipe! They are so yummy and fudgy and gooey, please tell me your secrets…
If you haven't been sold on their slogan yet, then you need to understand that Villa Lola offers fantastic gay friendly service that guarantees your chance to sleep well, drink freely, and entertain yourself in the open ocean.
Prices at Villa Lola start from $189 per night:
---
02
Hotel Mercurio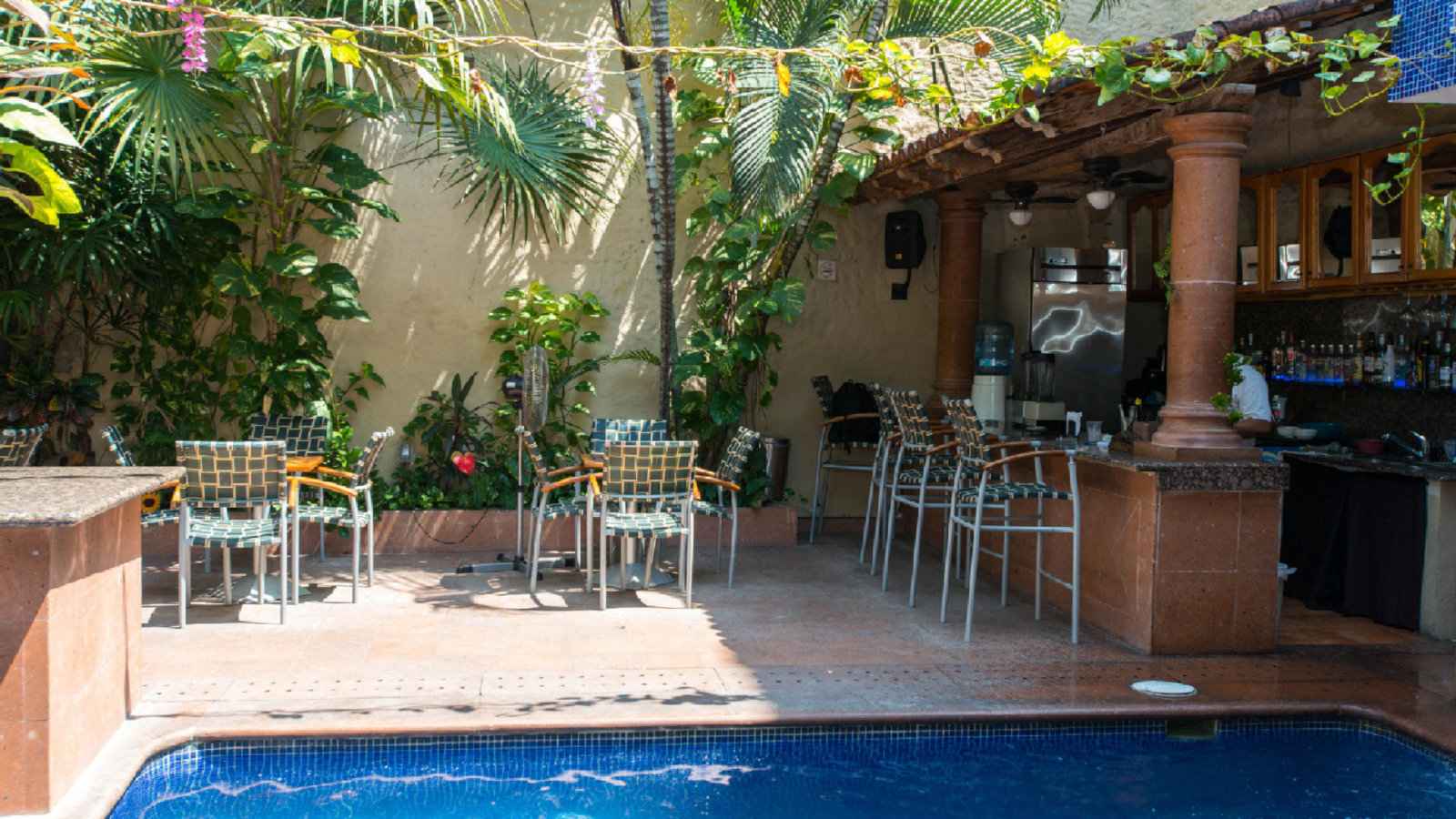 In a nutshell
---
Welcome gift with chocolate, fruit and more!
Beers, boys, and burgers parties
In Zona Romantica and close to the beach
Hetero-friendly with gay owners and staff
From my experience, bed and breakfasts tend to get painted in a negative light. Sure, some can be boring and drab, but I think you'll find that exciting gay friendly B&Bs can exist anywhere. Hotel Mercurio serves as a prime example of what I'm trying to describe here.
There are twenty eight rooms that can each house up to four people, which is fairly large when you consider the standard size of a bed and breakfast.
However, despite the considerable number of patrons they serve, the owners do a fabulous job of making everyone feel happy and safe throughout the duration of their visit. And even though they are not an LGBTQ exclusive establishment, they do cater heavily to the community by employing only queer staff members and hosting regular gay events.
Now, this is where things get juicy! Every Sunday evening, Hotel Mercurio holds their famous Beers, Boys, and Burgers party. Not only are you allowed to partake in unlimited burgers and beer for a fixed price, but you'll also be able to admire the work of the MercurioSwim handsome guys and dance to the tunes of a live DJ! I promise you will have a rather delicious evening if you attend. However, if you can't make the party, you can still live it up at the pool twenty-four hours a day and sip on scrumptious cocktails late into the evening.
Breakfast options change daily at the hotel, and they are always consistent with full, restaurant style meals in terms of the amount of food you receive and the nutritional value. What's even better is that, with an additional charge, you can upgrade to having your breakfast in bed! Isn't that so sweet?
With all of their spectacular amenities and their superb location within Zona Romantica, Hotel Mercurio is a wonderful place to stop during your journey through Puerto Vallarta!
Prices at Hotel Mercurio start from $70 per night:
---
03
Casa 567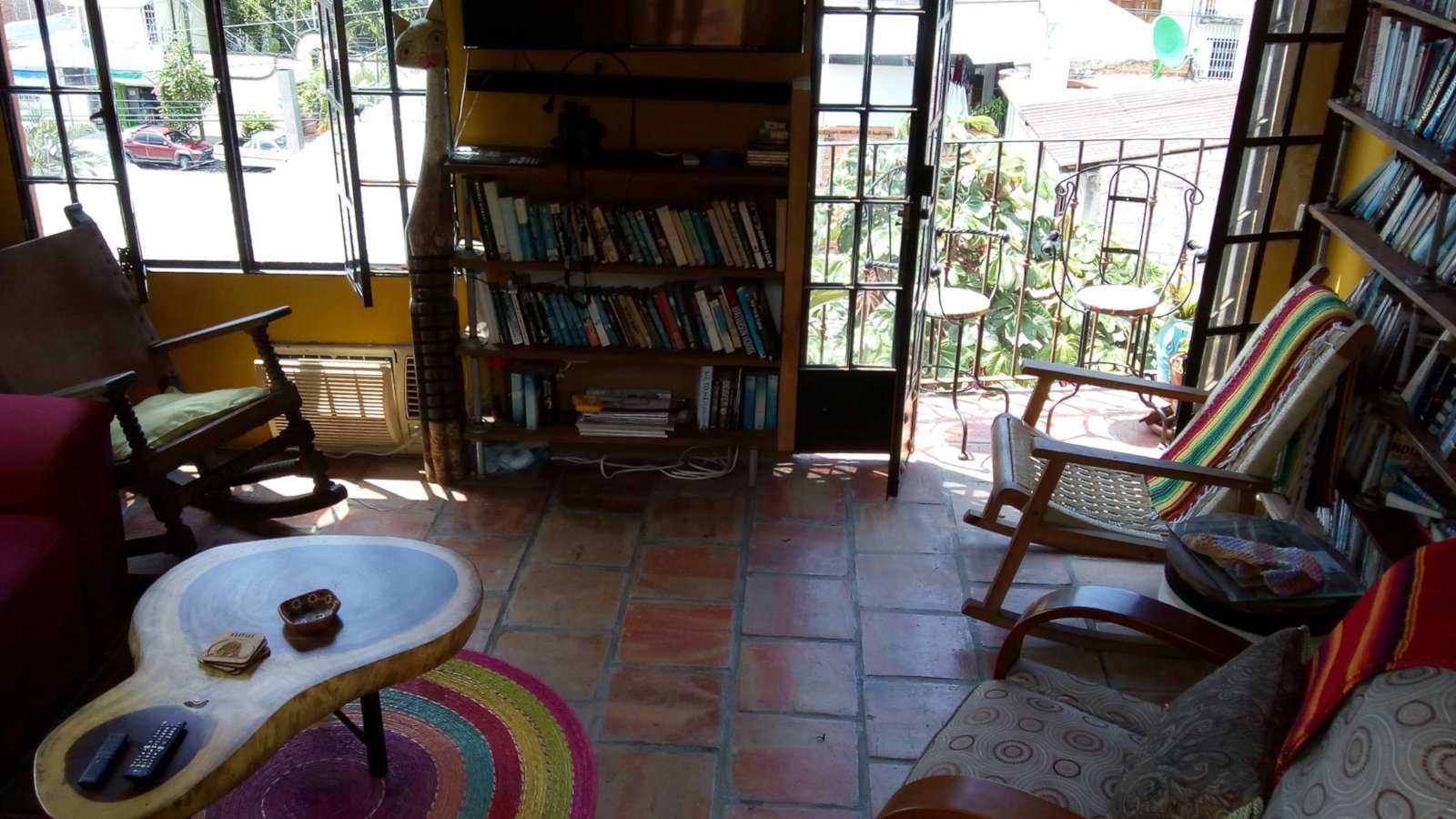 In a nutshell
---
Sweet hosts Mario and Keith
Proximity to Emiliano Zapato Mercado
Custom hand-painted murals throughout
Fully stocked media room and library
Unique charms of each bedroom
Interested in staying at one of the original townhomes of Puerto Vallarta's old town? Then you will adore gay Casa 567!
Mario and Keith, the passionate duo who own Casa 567, painstakingly restored this breathtaking residence back to its original glory before opening. Hand painted murals on the inside and outside walls tell any guest or passerby that love lives within this four-story masterpiece.
Each room differs from the next, but they all retain a certain Mexican charm. While we find no faults with any of the lodgings, we would still likely spring for the Penthouse room on the third floor if given the option. I just can't resist the temptation of an open-air shower and a natural stone bath existing in one place, okay? Alternatively, if you're traveling with a group of gay friends, the apartment on the first floor presents a great opportunity since it comes with two bedrooms, four beds, a full kitchen, a living room…and (hallelujah!!)…another natural stone bath!
Despite being nine blocks away from Playa de los Muertos and Zona Romantica, there is no shortage of thrilling entertainment in the surrounding area. We highly suggest you venture out and experience the thriving Mexican market, Emiliano Zapata Mercado, especially since it is located right outside the doors of Casa 567. You will also be a mere four blocks away from sensational local bars and taco stands.
However, if you're having a day where you'd like to hang back at the hotel, you will not be disappointed at all by the common areas in your B&B. Casa 567 has a rooftop pool, an open patio, a shared kitchen, a media room complete with a vast movie collection, and a well-stocked library. Don't be afraid to mingle with your fellow adventurers while you partake in this fine fragment of PV history together.
Prices at Casa 567 start from $55 per night:
---
Gay Airbnbs in Puerto Vallarta
If you're planning a big group trip for you and your closest queens, then you will not want to miss out on this beautiful rental. There will be plenty of room for all of you to romp around the property together before hitting the town to enjoy all of PV's most outstanding amusements…!
01
Boana Torre Malibu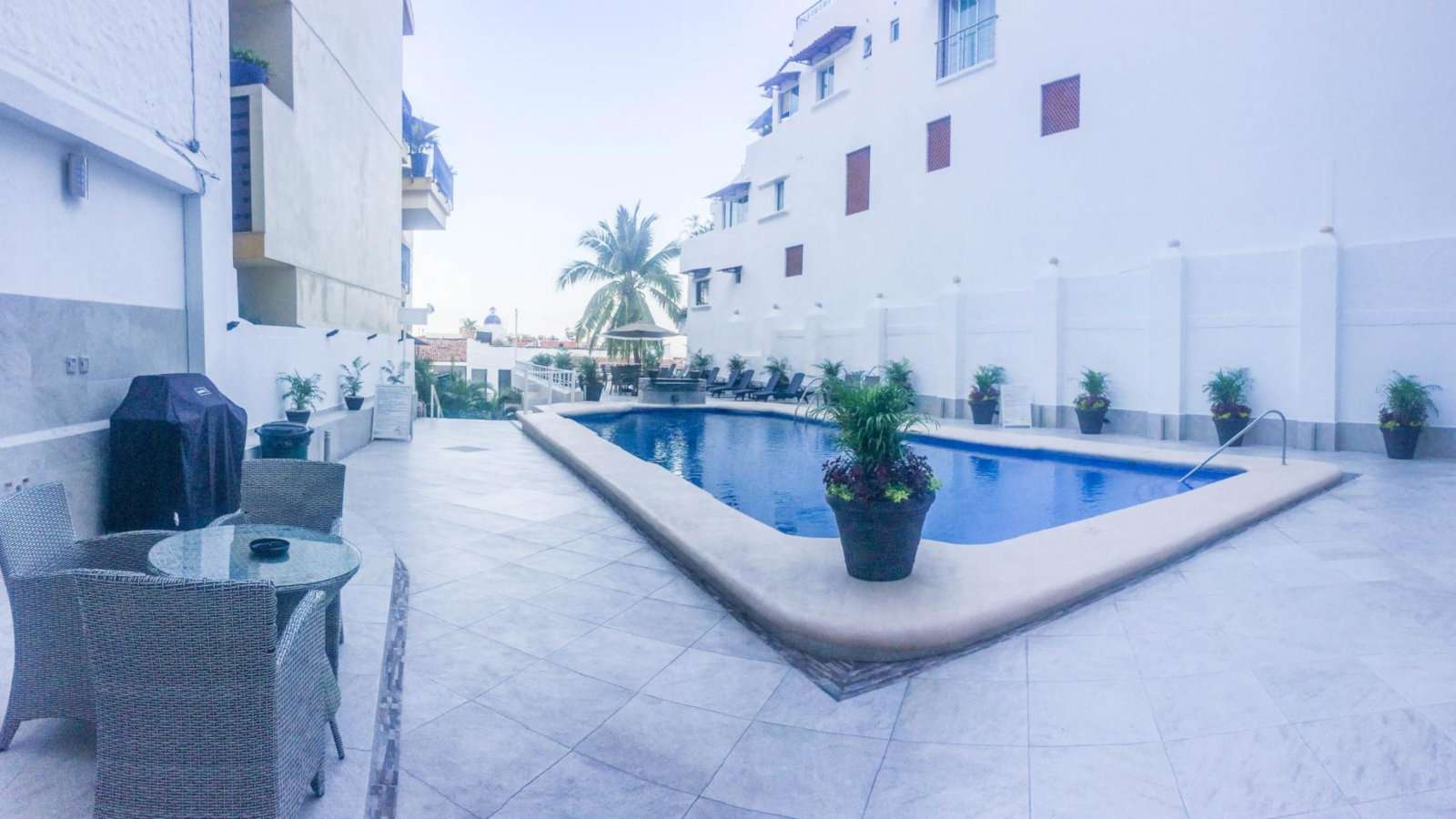 In a nutshell
---
Home of the largest pool in PV
Steps away from fantastic restaurants and bars
Incredibly helpful and kind staff
Kitchen equipped with all the necessities
The blue chairs of Playa de los Muertos have become an infamous symbol signifying the gay life and culture that exists within Puerto Vallarta.
The condo-hotel Boana Torre Malibu proudly totes that symbol and then takes it a step further – decking out the majority of its furnishings in bright blue as a means of inviting the queer community to enter into their gorgeous world of grandeur.
When staying at Boana Torre Malibu, you won't have to go far to spot those famous blue chairs. In fact, you can likely see them from your balcony! For Seby and I, we kind of treated it like a game each morning. Once I had rolled out of bed and prepared my sleeping prince his daily cup of fruit to help him ease into the day, we would sit outside together, enjoying the fresh morning air as we counted the little blue chairs on the beach.
On that note, having our own kitchen where I could fix meals and drinks was just amazing! I know it's standard for condos, but I definitely didn't expect anything as nice as I received since Boana Torre also functions as a hotel.
The cherry on top of an already exceptional visit was the staff! Whether you're lounging by the side of their pool (which should definitely be acknowledged as the largest pool in all of Puerto Vallarta because wow, it's supermassive!), or lazing about your room, the personnel are cheerful and accommodating without exception. No matter how big the ask, they are eager to assist with a smile.
As the largest gay condo hotel in PV, the price of a night at Boana Torre Malibu is an absolute steal that can't be passed up!
Prices at Boana Torre Malibu start from $169 per night:
---
Gay hostels in Puerto Vallarta
Ready to take your trip but need something to work with your tight budget? Puerto Vallarta has an excellent and super comfortable gay hostel to check out:
01
Jet's Gay Hostel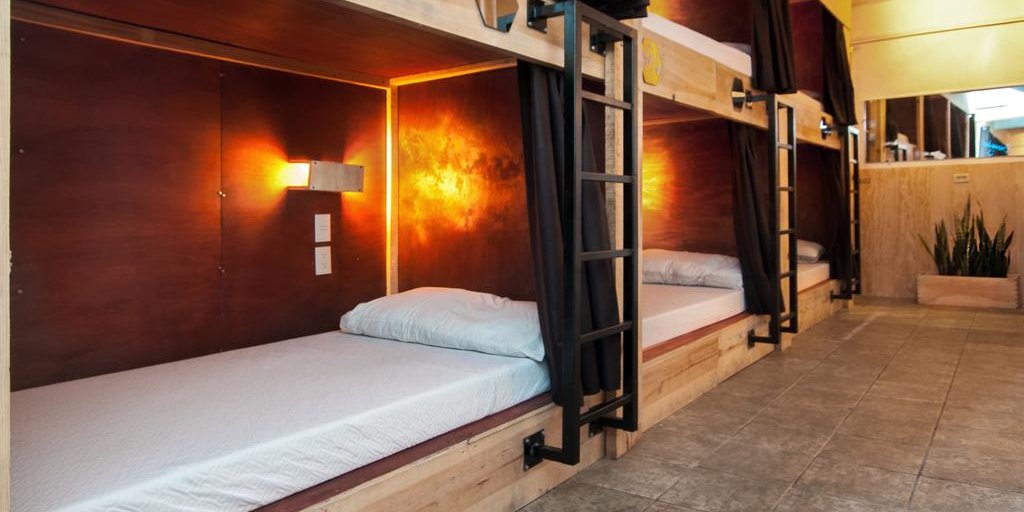 In a nutshell
---
The first gay hostel in PV
Spacious bunks with memory foam mattresses
Rainfall showerhead in modern bathroom
Cute lounge room with board games
It probably goes without saying that resting in a shared space with strangers can be a bit uncomfortable, but Jet's Gay Hostel does the most to make their guests feel right at home!
Since Jet's only opens their doors for gay people who are aged between 18 and 35, you're bound to be in decent company for the duration of your stay. If you're traveling alone, the hostel will be a fantastic place to make new friends.
Their lounge room remains stocked with plenty of fun board games to start that initial, possibly awkward bonding stage. From there, you and your new buddies can venture out into the streets, making the quick walk down to Zona Romantica where you can let loose by sipping on tasty cocktails and dancing the night away! Sounds like a blast, right?
Though, I do understand that not everyone is quite as social as me. For those of you who are simply longing to find a clean hostel that is available for a decent price, Jet's definitely delivers. The bunk beds are complete with memory foam mattresses, lamps with soft yellow light bulbs, power outlets, and privacy curtains. Honestly, the set up kind of reminds me of a fancy tour bus, so if you've ever wondered what it's like to be a rockstar, I say this would be the perfect chance to live out those fantasies! Except, I highly doubt that any high profile celebrity tour bus would come equipped with a refined bathroom and rainfall shower, so you might actually be encountering an improvement.
If you don't love Jet's Gay Hostel for their marvelous hospitality, then maybe you'll fall in love with their fascinating rainbow decor or funky mannequin lights. Regardless, nothing could possibly take away from the fact that this hostel is the perfect place for any young traveler who is visiting Puerto Vallarta on a budget.
Prices at Jet's Gay Hostel start from $32 per night:
---
---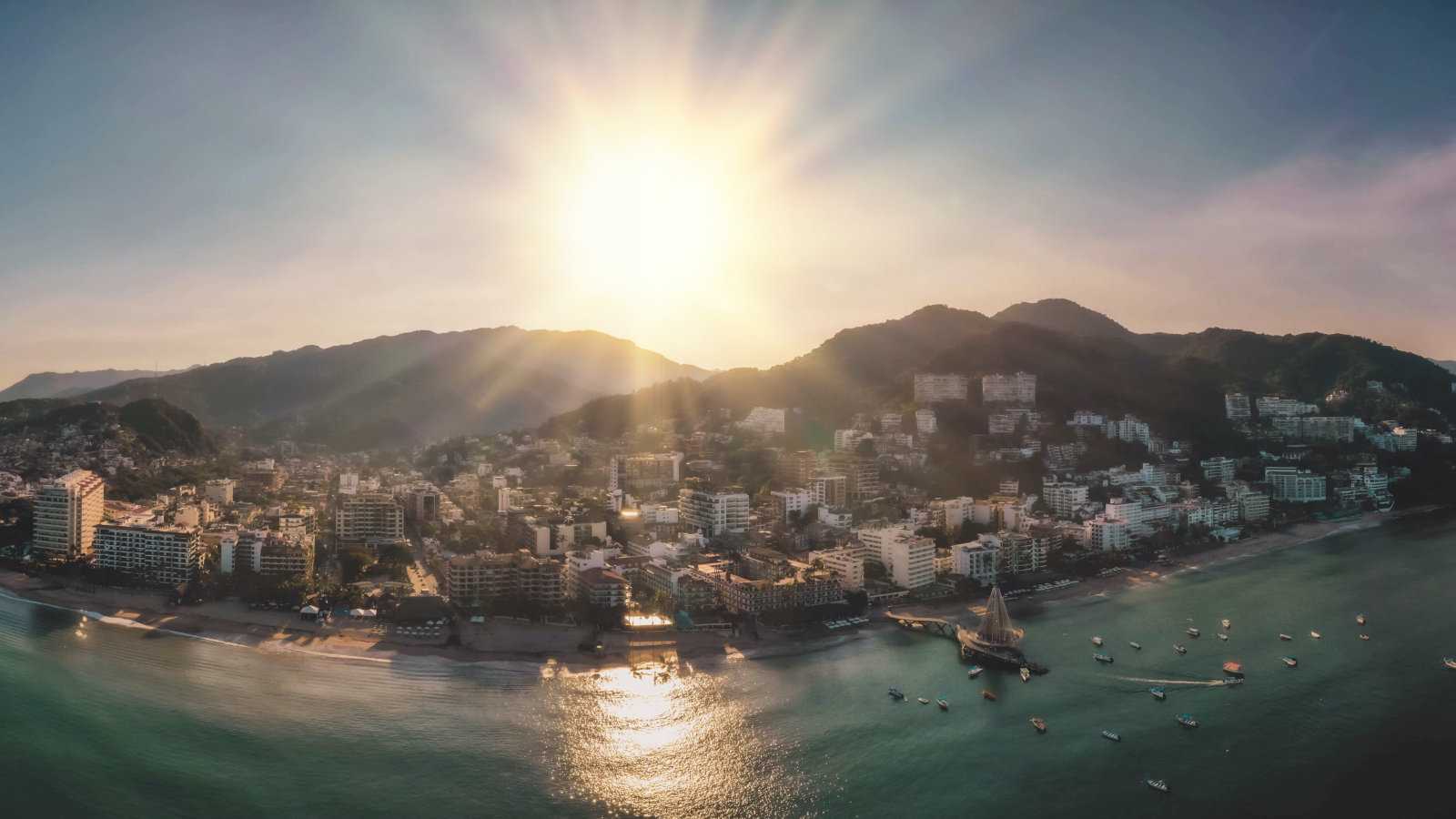 What to do in Puerto Vallarta?
It's not all about the gay partying in Puerto Vallarta (although sometimes it kinda is)! As well as beautiful beaches the city is filled with cultural delights and you're ideally situated to get up close to wildlife like dolphins. No matter what you like, there'll be plenty to entertain you…
---