Gay Cartagena: our guide to the best bars, clubs and hotels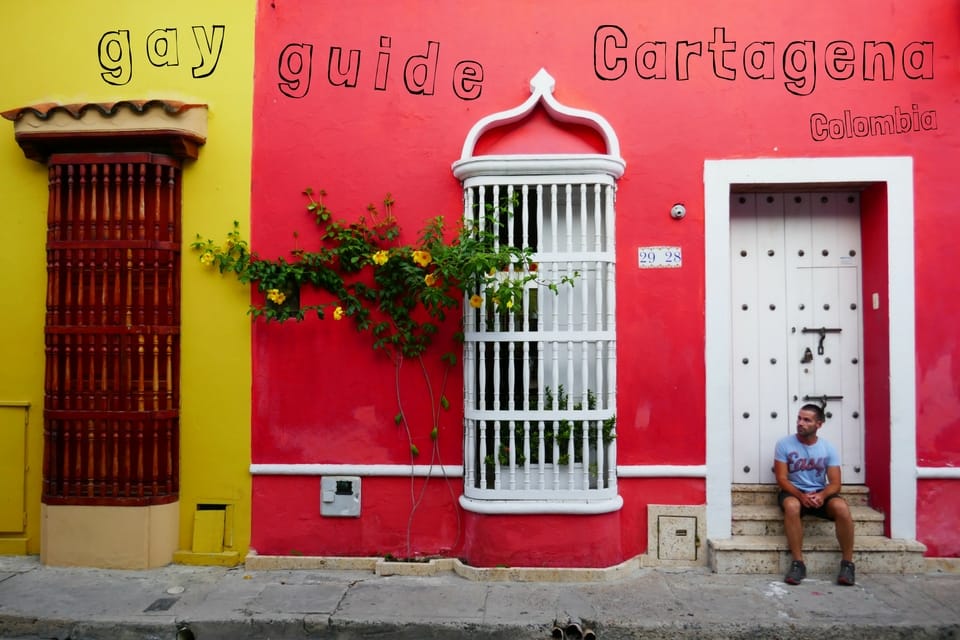 Lonely Planet calls Cartagena the undisputed queen of the Caribbean coast…well that was before these two greedy queens sashayed their way into Colombia's most touristic city.
Cartagena's old town is a UNESCO World Heritage site, a maze of pretty cobblestone alleys and colourful colonial style buildings. There's also a small gay scene worth checking out and even a large gay event called Rumours every July. We put all our discoveries into this guide to gay Cartagena, featuring the best gay hangouts, places to stay and things to do.
Gay bars and clubs in Cartagena
The gay scene changes quite frequently, but these are a handful of gay bars and clubs in Cartagena, both based in the Old Town:
Gay friendly hotels to stay in Cartagena
Cartagena is very touristy, so most hotels will have hosted LGBTQ travellers at some stage. Nonetheless, we recommend emailing or calling in advance just to be sure. These are the hotels we tried, loved and felt completely welcomed as a gay couple:
Hotel Quadrifolio is the ideal hotel for gay honeymooners and one of the most highly rated hotels in Cartagena by Tripadvisor. It's located right in the heart of the Old Town in the Centro neighbourhood. It's very exclusive with just 8 suites, so we recommend booking in advance to avoid disappointment.
The building from the outside is quite unassuming, but once inside, you quickly realise why it's so highly well regarded: it's so chic and stylishly decorated. The service is flawless, staff are very professional, speak fluent English and extremely hospitable.
Our favourite thing about Hotel Quadrifolio is the rooftop which has sun loungers as well as a hot tub. They also have a pool on the ground level. As there's only 8 rooms here, you almost always have the pool and hot tub all to yourself.
Suites at Hotel Quadrifolio start from $285/£225 a night. You can check prices and read more about them on Tripadvisor.
Les Lezards is a highly rated guesthouse in the Getsemani neighbourhood of Cartagena. It's the former family home of local guy Marcus, who converted it into a guesthouse with 6 rooms. Marcus and his staff run it and offer an extremely personable service. They will pick you up from the airport, show you round the neighbourhood and make you feel like you're at home.
Les Lezards also has a rooftop terrace area to chill as well as a beautiful Jacuzzi area, hidden within a mini jungle of plants. We highly recommend booking the Up in the Sky room, which has its own private plunge pool.
Rooms at Les Lezards start from $110/£85. You can check prices and read more about Les Lezards on Tripadvisor.
Allure Chocolat is a part of the chain hotel group called Karisma. It's located in the Getsemani neighbourhood, overlooking the ocean.
Although a large hotel, it still has an element of charm, particularly in the reception area and the restaurant. The main highlight is the rooftop infinity pool, overlooking the ocean. This is a reason alone to stay at Allure Chocolat: it was our favourite rooftop hangout area from all the places we stayed at, although it can get a bit busy at weekends.
Rooms at Allure Chocolat start from $120/£150. You can check prices and read more about Allure Chocolat on Tripadvisor.
We love having our own little love nest when travelling and renting an apartment gives us more freedom and flexibility than a hotel. There are plenty of apartments to rent in Cartagena, which often work out much cheaper than a hotel, especially if you're going to stay for more than a few days.
If you sign up here, you can claim £30/$40 off your next booking.
Things to do in Cartagena
The main highlight of Cartagena is the ancient UNESCO listed Old Town. Although it is touristy, it still retains a great deal of charm, rich with history dating back to the 1500s. Here's some of our favourite activities during our visit in Cartagena:
Horse & carriage ride in the Old Town: there is no better way to see the Old Town than on a romantic horse & carriage ride. We started near the famous clock tower and went around the entire historical centre, through the narrow cobblestone streets just after sunset. You can't beat this for a romantic experience if travelling as a couple. We recommend GoBe Tours who will arrange hotel pick up, guide and also include dinner in one of the best restaurants. For more information about pricing and booking, check GoBe's website.
Sunset drinks at Cafe del Mar: every evening we were rewarded with absolutely stunning sunsets. Cafe del Mar is strategically located on top of the ancient walls, facing the ocean, making it one of the best places for a sunset cocktail.
Beaches and islands: the main beach near Cartagena is Playa Blanca, which you can reach by bus, private car hire or by boat. Cartagena is also surrounded by the small Rosario coral islands, where you can find secluded beaches do water sports and snorkelling. Our favourites were Agua Azul beach on Baru island and lunch at the super cool Blue Apple on Tierra Bomba island who offer a shuttle service for guests. You can read more about our boat tour in Cartagena islands.
The Palace of the Inquisition: The Palacio de la Inquisición is one of the finest buildings in Cartagena, but was historically the place where inquisitions took place during the colonial era. Today it's a museum with quite graphic exhibitions, such as the instruments of torture used during the inquisitions.
If you enjoyed reading, Pin me for later!
For more inspiration: