Lonely Planet calls Cartagena the undisputed queen of the Caribbean coast…well that was before these two greedy queens sashayed their way into Colombia's most touristic city.
Cartagena's old town is a UNESCO World Heritage site, a maze of pretty cobblestone alleys and colourful colonial style buildings. There's also a small gay scene worth checking out. We put all our discoveries into this guide to gay Cartagena, featuring the best gay hangouts, places to stay and things to do.
Gay hotels to stay in Cartagena
Cartagena is very touristy, so most hotels will have hosted LGBTQ travellers at some stage. Nonetheless, we recommend emailing or calling in advance just to be sure. These are the hotels we tried, loved and felt completely welcomed as a gay couple:
Hotel Quadrifolio is the ideal hotel for gay honeymooners and one of the most highly rated hotels in Cartagena by Tripadvisor. It's located right in the heart of the Old Town in the Centro neighbourhood. It's very exclusive with just 8 suites, so we recommend booking in advance to avoid disappointment.
The building from the outside is quite unassuming, but once inside, you quickly realise why it's so highly well regarded: it's so chic and stylishly decorated. The service is flawless, staff are very professional, speak fluent English and extremely hospitable.
Our favourite thing about Hotel Quadrifolio is the rooftop which has sun loungers as well as a hot tub. They also have a pool on the ground level. As there's only 8 rooms here, you almost always have the pool and hot tub all to yourself.
Suites at Hotel Quadrifolio start from $285/£225 a night. Check best prices now.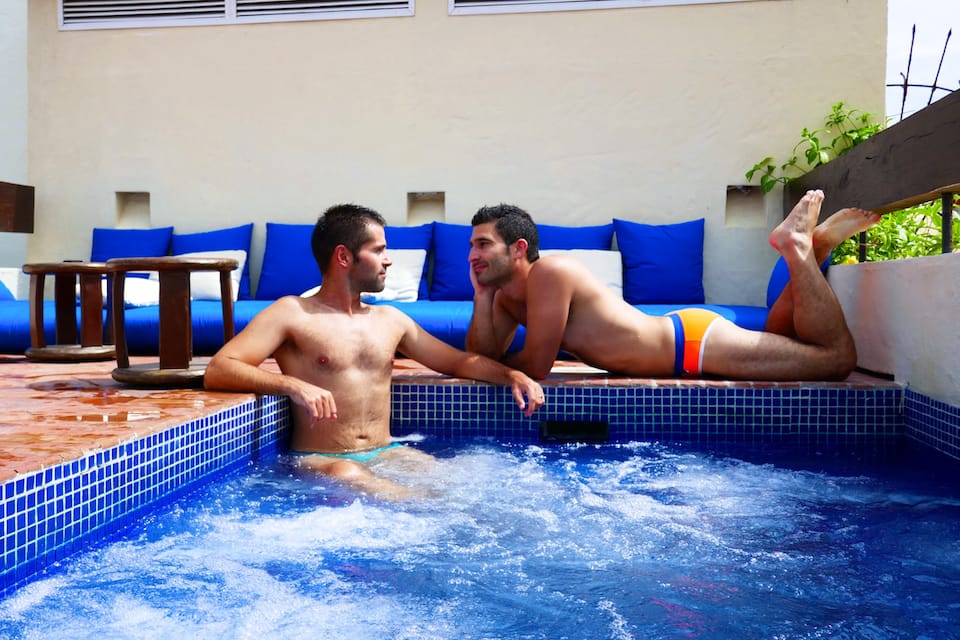 STAY WITH A GAY LOCAL
Misterb&b is the Airbnb equivalent for the LGBTQ community. Unlike on Airbnb, you know your host is gay, avoiding any nasty surprises when you check in. It is also a great way to meet gay locals and discover the underground gay scene. Click below to get 10 € (or $10) off your first booking.
Les Lezards is a highly rated guesthouse in the Getsemani neighbourhood of Cartagena. It's the former family home of local guy Marcus, who converted it into a guesthouse with 6 rooms. Marcus and his staff run it and offer an extremely personable service. They will pick you up from the airport, show you round the neighbourhood and make you feel like you're at home.
Les Lezards also has a rooftop terrace area to chill as well as a beautiful Jacuzzi area, hidden within a mini jungle of plants. We highly recommend booking the Up in the Sky room, which has its own private plunge pool.
Rooms at Les Lezards start from $110/£85. You can check best prices now.
Allure Chocolat is a part of the chain hotel group called Karisma. It's located in the Getsemani neighbourhood, overlooking the ocean.
Although a large hotel, it still has an element of charm, particularly in the reception area and the restaurant. The main highlight is the rooftop infinity pool, overlooking the ocean. This is a reason alone to stay at Allure Chocolat: it was our favourite rooftop hangout area from all the places we stayed at, although it can get a bit busy at weekends.
Rooms at Allure Chocolat start from $120/£150. You can Check best prices now.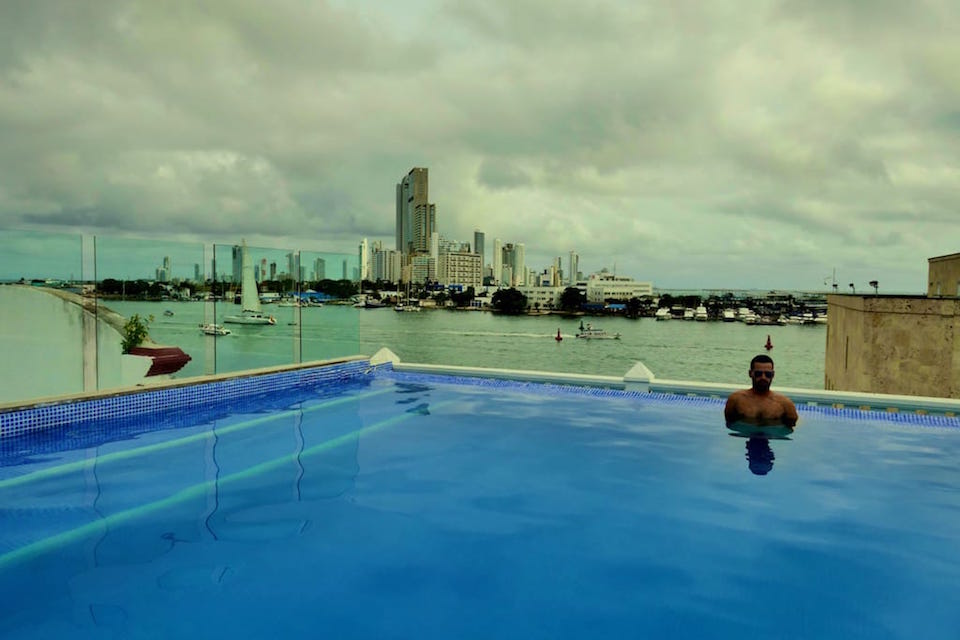 Gay bars and clubs in Cartagena
The gay scene changes quite frequently, but these are a handful of gay bars and clubs in Cartagena, both based in the Old Town:
Le Petit: fun small gay bar in Cartagena with very sexy waiters. It's a restaurant during the day and then transforms into a gay venue in the evening, blasting out classics by Shakira, Maluma and more. If you're brave enough, you have to try their gigantic pitchers of beer mixed with rum. Le Petit is open everyday from 11pm and is located at Calle del Candilejo 32-34 in the Centro neighbourhood of Old Town.
La Plancha: another cool gay bar in Cartagena, brand new and nicely located in the Getsemani neighbourhood. Great place for a drink any night of the week. It's open from 4pm till late everyday, and located at Calle 25 (also called Calle Larga) # 9A-36 in Getsemani.
Roma Club: the hottest new gay club in Cartagena, associated with Le Petit bar. Inside there are two clubs, playing a mix of awesome Latin pop hits. Cover charge is 15,000 pesos ($5), which gets you into both clubs. Roma club is best on weekends, and located at Avenida Santander 2nd floor of Mega Tiendas.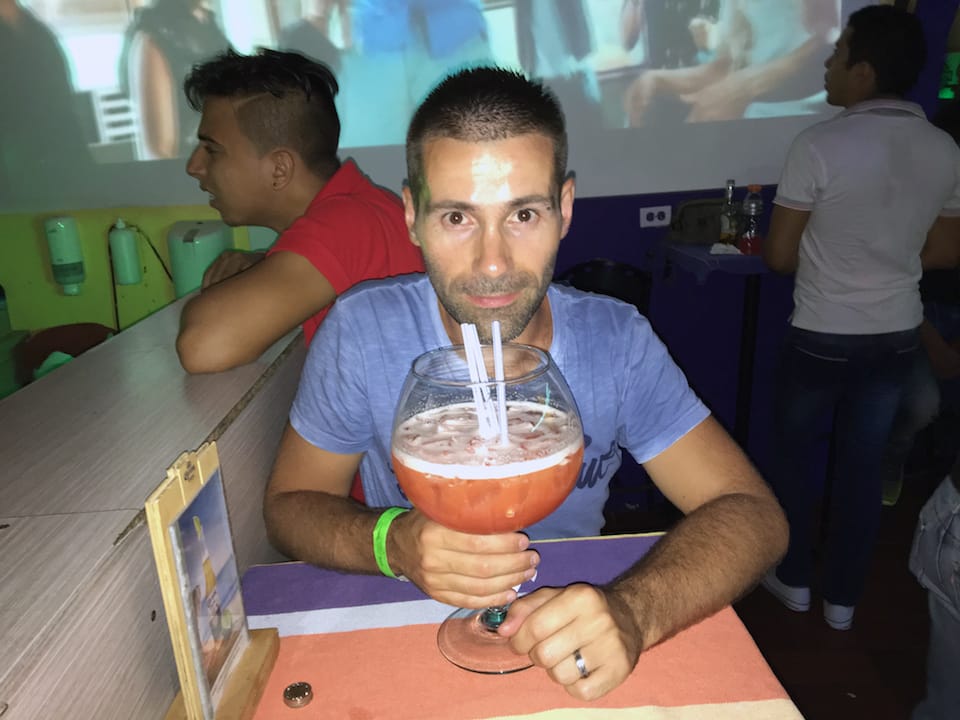 Things to do in Cartagena
The main highlight of Cartagena is the ancient UNESCO listed Old Town. Although it is touristy, it still retains a great deal of charm, rich with history dating back to the 1500s. Here's some of our favourite activities during our visit in Cartagena:
Horse & carriage ride in the Old Town: there is no better way to see the Old Town than on a romantic horse & carriage ride. We started near the famous clock tower and went around the entire historical centre, through the narrow cobblestone streets just after sunset. You can't beat this for a romantic experience if travelling as a couple.
Sunset drinks at Cafe del Mar: every evening we were rewarded with absolutely stunning sunsets. Cafe del Mar is strategically located on top of the ancient walls, facing the ocean, making it one of the best places for a sunset cocktail.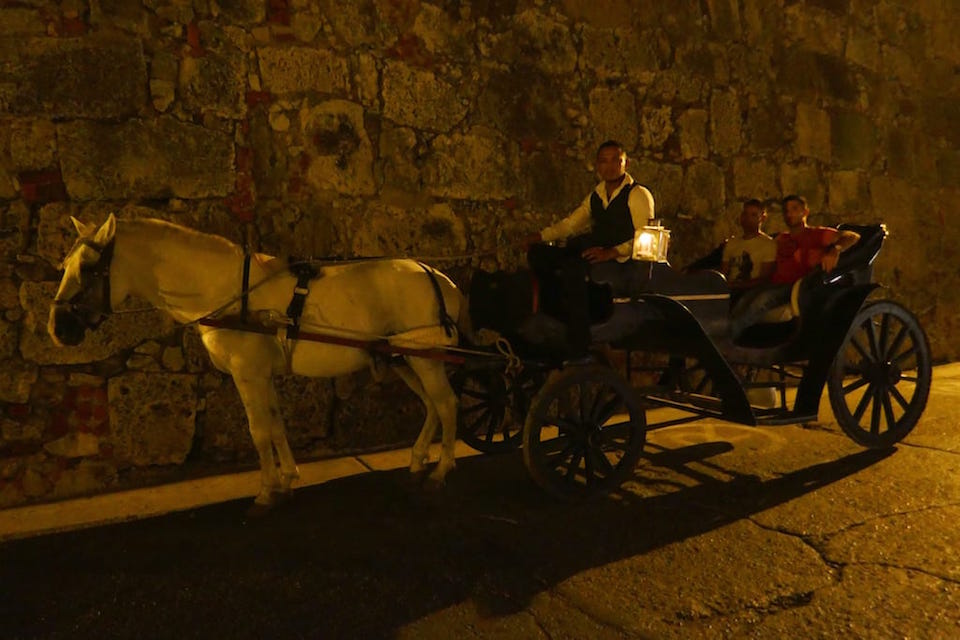 Beaches and islands: the main beach near Cartagena is Playa Blanca, which you can reach by bus, private car hire or by boat. Cartagena is also surrounded by the small Rosario coral islands, where you can find secluded beaches do water sports and snorkelling. Our favourites were Agua Azul beach on Baru island and lunch at the super cool Blue Apple on Tierra Bomba island who offer a shuttle service for guests. You can read more about our boat tour in Cartagena islands.
The Palace of the Inquisition: The Palacio de la Inquisición is one of the finest buildings in Cartagena, but was historically the place where inquisitions took place during the colonial era. Today it's a museum with quite graphic exhibitions, such as the instruments of torture used during the inquisitions.
OUR FAVOURITE TRAVEL TIPS
⭐️ TRAVEL INSURANCE — We recommend you always take out travel insurance before your next vacation. What happens if you suffer from illness, injury, theft or a cancellation? With travel insurance, you can have peace of mind and not worry. We love World Nomads travel insurance and have been using it for years. Their comprehensive coverage is second to none and their online claims process is very user friendly.
⭐️ SAFETY & SECURITY — All travelers (gay or not) can sometimes encounter danger when traveling. CloseCircle is your "virtual body guard" mobile app which provides security alerts and support wherever you are in the world. They have a 24/7 emergency response team monitoring their users who will contact you immediately if the SOS swipe button is activated. Support can include anything from practical advice, to free evacuation from areas with extreme weather or security risks. You can read more about CloseCircle in our article about how to stay safe whilst traveling.
⭐️ ONLINE ANONYMITY — A VPN (Virtual Private Network) is a must in many countries: it allows you to surf anonymously and maintain your privacy whilst traveling. You'll particularly need it in countries where gay dating apps are blocked by the government. We recommend ExpressVPN, a reliable and cost effective service which we used and loved during our travels.
⭐️ HOTELS or APARTMENTS — When we plan a trip, we always look for the best hotel deals. We love Booking.com because not only do they have a comprehensive listing of accommodation options, they also offer the best prices. Added bonus: they provide 24/7 support and free cancellation for most listings.
⭐️ SIGHTSEEING and ADVENTURES — When we travel somewhere, we like to seek out the best experiences, whether it is cooking with locals in Bangkok, hiking on a glacier in Patagonia, or going on a wildlife safari in Sri Lanka. Our favorite place to look is GetYourGuide because they have over 30,000 highly rated activities, a user-friendly booking process with free cancellation and a 24 hour customer support.
This article contains affiliate links. If you click on them, we may receive compensation which keeps our website alive and helps us bring you to more destinations.
Pin to read later
If you enjoyed reading, Pin me for later!
For more inspiration: