Cartagena will always be a special place for us. It's the place where we got engaged: the moment when Stefan (finally!) asked Sebastien to marry him.
If you're looking for romantic experiences, there's no better place for it than this fairy-tale-like Colombian coastal city. It has the sunsets, beaches, beautiful UNESCO ancient old town and more. Here's our favourite 5 romantic things to do in Cartagena.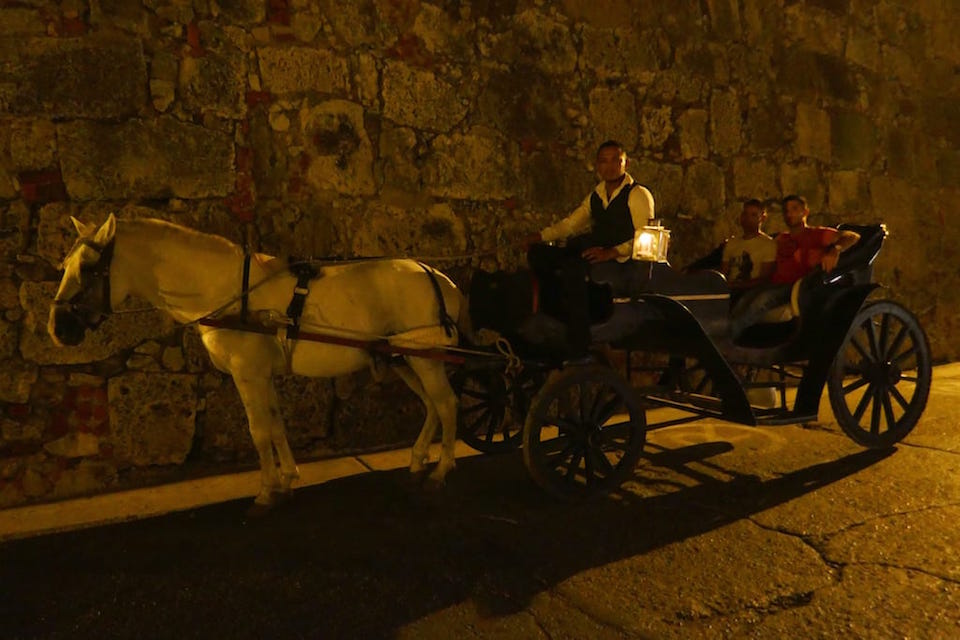 #1

Horse & carriage ride in the old town

The historical centre of Cartagena is full of Instagrammable images everywhere you look. The main draw is the inner walled town, which is lined with cobblestone streets, plazas, palaces and some pretty cool street art.

We loved walking around these quaint little streets, but when we saw the horse & carriages making their way around the Old Town, we knew we had to do try it as well. The old town dates back to the 1500s, so exploring it on horse & carriage adds to its ancient colonial atmosphere.
#2

Stay in a romantic boutique hotel

Cartagena has many excellent luxury hotels to stay like the Sofitel Legend Santa Clara, Bastion Luxury Hotel and more. However, there's also more intimate boutique hotels, which are more exclusive and aimed at gay couples. We stayed at the Hotel Quadrifolio, located right in the heart of the walled old town and absolutely loved it.

Hotel Quadrifolio is very exclusive with only 8 suites available all decorated with chic and style. The hotel also has its own pool and rooftop hot tub which is heavenly to chill out in together after a day spent exploring the old town.

For more, check out our gay guide to Cartagena featuring the best gay friendly hotels, bars, clubs, things to do and more.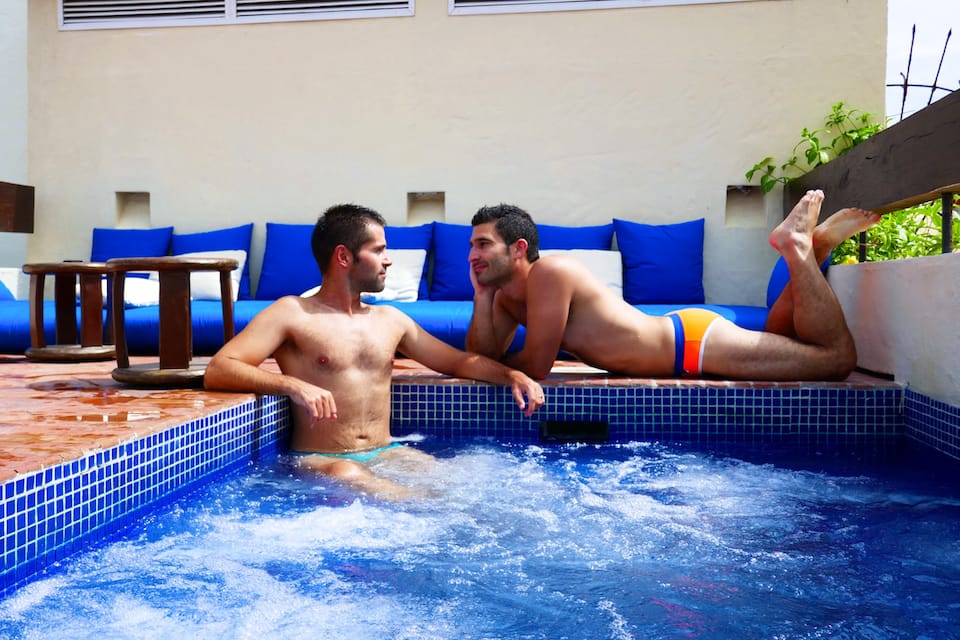 #3

Sunset drinks on the old city walls

The ocean facing side of the ancient old city walls is the perfect spot to watch the gorgeous sunsets. Every evening you're rewarded with more and more delicious #sunsetporn.

Our favourite spot is the view from Café del Mar, located on the Santo Domingo bastion, facing out towards the ocean. It's one of the most popular places to come and watch the sunset in Cartagena, but as a result it's expensive compared to other bars and attracts a fairly large crowd.

An alternative is to bring your own drinks and walk along the walls to find your own little spot where you can sit and enjoy the sunset together.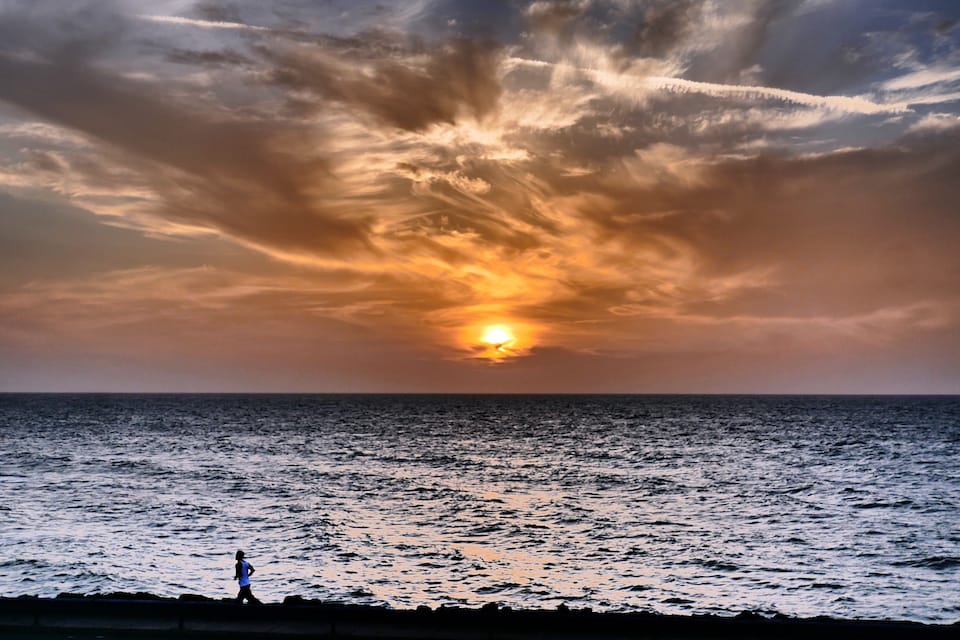 #4

Drinking coco locos together on a secluded beach

Cartagena is surrounded by many islands including the Rosario archipelago and Baru Island. One of the finest beaches is Playa Blanca on Baru island, 20km southwest from Cartagena. It has a large stretch of powder white sand, but gets very. Another excellent but more secluded beach worth visiting is Agua Azul, located further south on Baru island.

Along each beach, look out for people selling coco locos. These are Colombian cocktails of rum mixed with the water of a fresh coconut. We had a few coco locos together at each beach…just remember to apply your sun block cream beforehand…

You can reach the beaches by boat on a private tour, or independently by taxi and boat. You can find the taxi drivers at at Mercado Bazurto in Cartagena who will take you to where the boats depart. The boats depart in the morning between 7:30-9:30am every day except Sundays. For the return, the last boat leaves Playa Blanca at 3pm.

You can read more about how we celebrated Seby's birthday on a boat tour in Cartagena islands.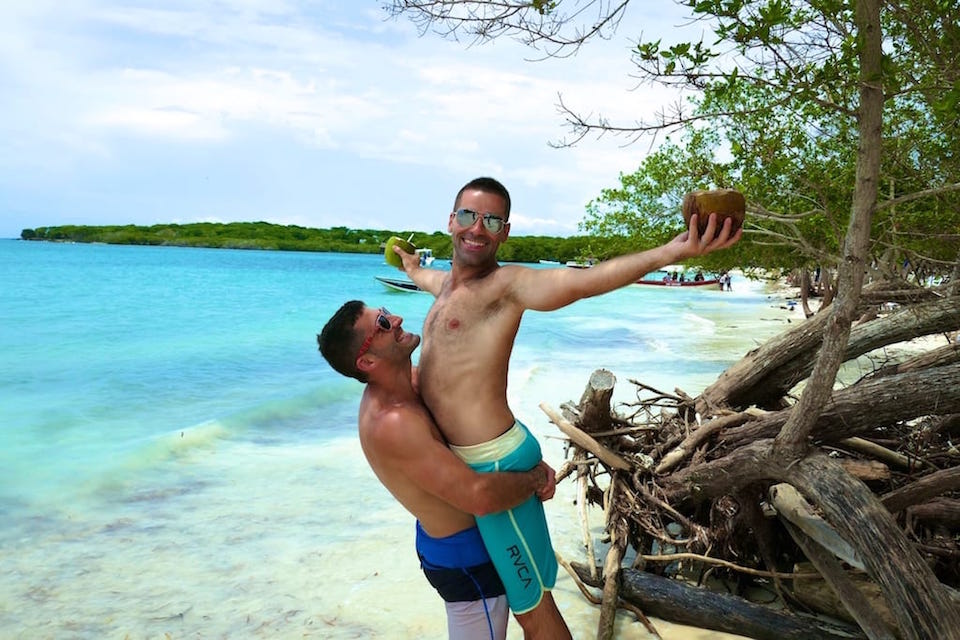 #5

Fine dining at a gourmet restaurant

Cartagena has many highly rated fine dining restaurants. Stefan needed to find one to take Sebastien for his birthday dinner and of course to propose to him. He used Tripadvisor's list of the top fine dining restaurants Cartagena, asked several locals and was consistently told by almost everyone to go to Carmen.

Carmen offers a choice of either a 5 or 7 course tasting menus with wine pairing. The food is absolutely delicious, on par with Michelin style restaurants we've tried back home in Europe. Every dish was bursting with flavour and the wine pairing was spot on. Some of our favourite dishes included the fresh octopus, ceviche and beef carpaccio.

The staff were very welcoming and friendly but without being intrusive. They brought Sebastien a surprise cake with candles to celebrate his birthday. He made his wish, blew out his candles and at that moment, Stefan surprised Seb and asked him to be his husband.

Of course he said "YES!"

And the rest is history.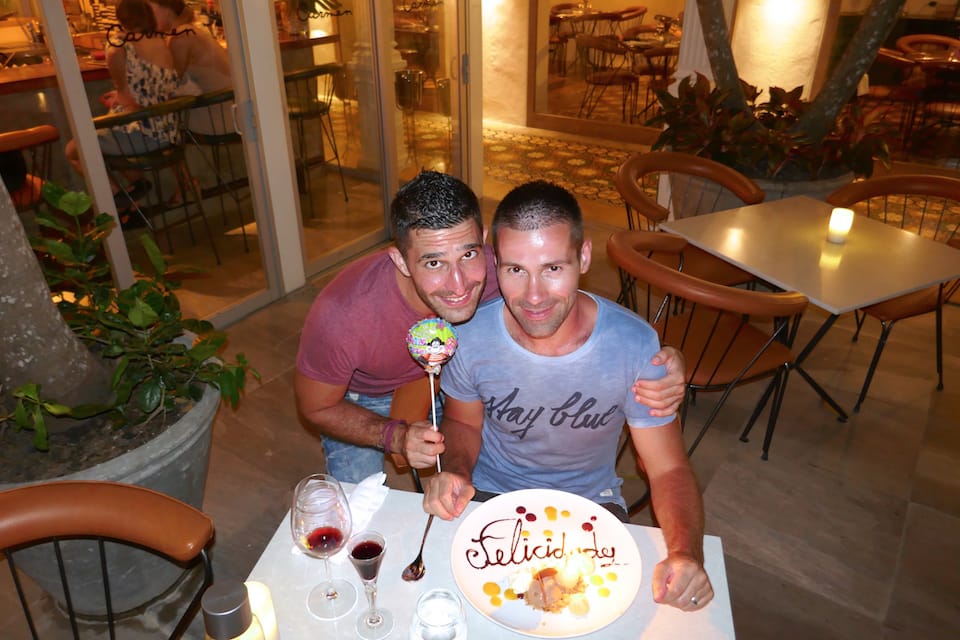 OUR FAVOURITE TRAVEL TIPS
⭐️ TRAVEL INSURANCE — We recommend you always take out travel insurance before your next vacation. What happens if you suffer from illness, injury, theft or a cancellation? With travel insurance, you can have peace of mind and not worry. We love World Nomads travel insurance and have been using it for years. Their comprehensive coverage is second to none and their online claims process is very user friendly.
⭐️ SAFETY & SECURITY — All travelers can sometimes encounter danger when traveling. CloseCircle is your "virtual body guard" mobile app which provides security alerts and support wherever you are in the world. They have a 24/7 emergency response team monitoring their users who will contact you immediately if the SOS swipe button is activated. Support can include anything from practical advice, to free evacuation from areas with extreme weather or security risks. You can read more about CloseCircle in our article about how to stay safe whilst traveling.
⭐️ ONLINE ANONYMITY — A VPN (Virtual Private Network) is a must in many countries: it allows you to surf anonymously and maintain your privacy whilst traveling. You'll particularly need it in countries where dating apps are blocked by the government. We recommend ExpressVPN, a reliable and cost effective service which we used and loved during our travels.
⭐️ HOTELS or APARTMENTS — When we plan a trip, we always look for the best hotel deals. We love Booking.com because not only do they have a comprehensive listing of accommodation options, they also offer the best prices. Added bonus: they provide 24/7 support and free cancellation for most listings.
⭐️ SIGHTSEEING and ADVENTURES — When we travel somewhere, we like to seek out the best experiences, whether it is cooking with locals in Bangkok, hiking on a glacier in Patagonia, or going on a wildlife safari in Sri Lanka. Our favorite place to look is GetYourGuide because they have over 30,000 highly rated activities, a user-friendly booking process with free cancellation and a 24 hour customer support.
This article contains affiliate links. If you click on them, we may receive compensation which keeps our website alive and helps us bring you to more destinations.
Pin to read later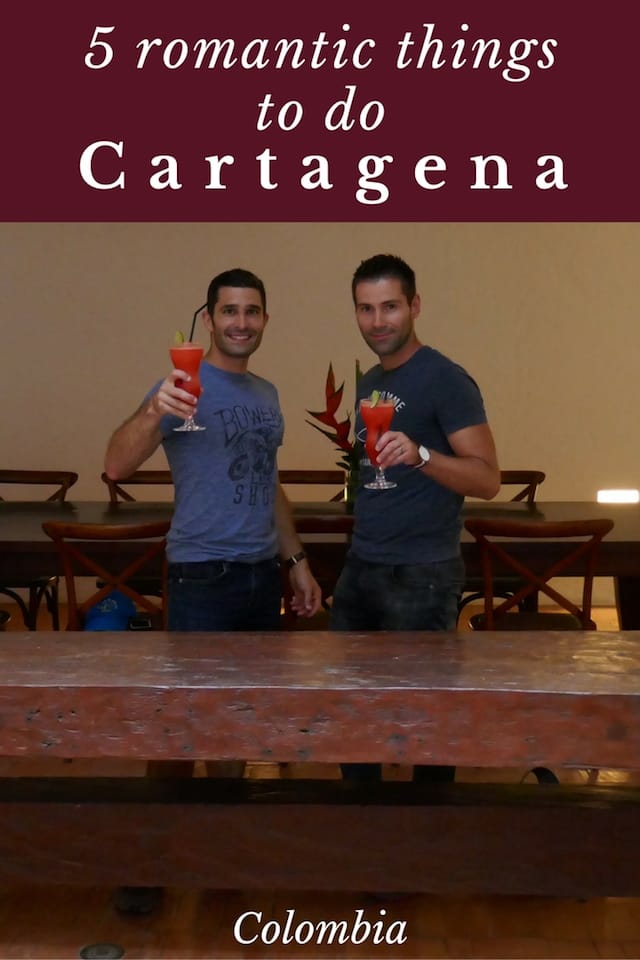 For more inspiration: