Berlin is super gay. Gayness is so well accepted in every aspect of society that you'll find sprinkles of it everywhere.
Schöneberg is the heart of the gay community and has been since the 1920s when it became the first ever gay village – in the world.
Although it was all heavily repressed during the Nazi era, it was reborn after the Berlin Wall was erected in the 1960s and has continued to thrive ever since.
Alternative gay scenes have started to spring up in the East over the past 20 years since the Wall came down, particularly in Kreuzberg, Neukölln and Friedrichshain.
But Schöneberg nonetheless remains the Queen of the Berlin Scene. To get a locals' perspective, check out our interview with cutie Marcel from Berlin about gay life in Germany.
Don't forget…
To maximise your enjoyment and avoid queues at the ticketing machines, it's definitely worth investing in a Visit Berlin WelcomeCard before you arrive. It will give you unlimited access on the metro (from 2 to 6 days) and discounts on various attractions.
Where is Schöneberg?
Schöneberg is located in the centre west of Berlin, close to the Zoological Garden and Tiergarden Park. It has everything you need: shopping centers, restaurants, high end hotels, transport links and of course, the bulk of the gay scene is right here.
The gay action happens around Fuggerstrasse and Motzstrasse, where the majority of the bars, clubs and cafes are based.
To reach Schöneberg from the airports, check out our guides for both Tegel airport and Schönefeld airport.
Gay hotels in Schöneberg
Whether you're gay, lesbian, transgender, bisexual, dressed in leather or simply curious, people don't care. In Berlin, you can come just as you are.
There are many excellent gay friendly hotels in Schöneberg, which will welcome you with open arms. Here's a few of our favourites:
Axel is a very cool gay "hetero friendly" hotel.
The rooms have a modern design with darkened lighting to give it that sensual atmosphere. Look out for the famous "DO DISTURB" signs you can put on the door if you want some attention!
Axel is located right in the heart of Schöneberg's lively gay area and also has a popular Jacuzzi, sauna and steam room.
The hotel also has a restaurant and bar attached to it, which is a great place to get a bite to eat and a few drinks before a gay night out in Schöneberg. On some evenings it features live music, stand up comedy and drag shows.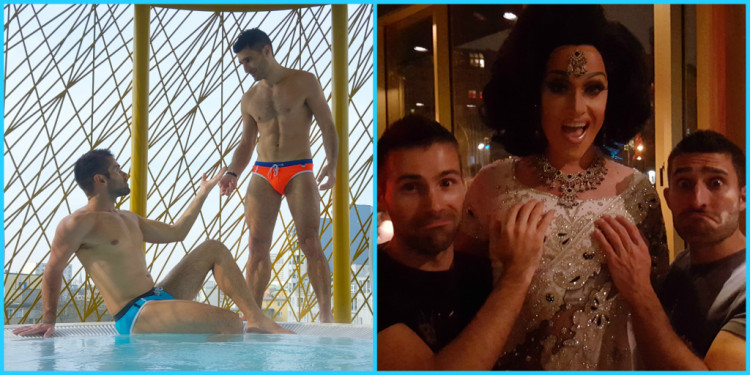 STAY WITH A GAY LOCAL
Misterb&b is the Airbnb equivalent for the LGBTQ community. Unlike on Airbnb, you know your host is gay, avoiding any nasty surprises when you check in. It is also a great way to meet gay locals and discover the underground gay scene. Click below to get 10 € (or $10) off your first booking.
Hotel Palace Berlin is a 5* luxury option, based right in the heart of the main shopping area, opposite the Zoological Garden, minutes walk away from Schöneberg gay scene and OMG: the cute footballers of the home team Hertha Bsc stay here when they play a home game!
The rooms are spacious and the beds very comfortable, with the choice of 3 pillow types.
The Hotel Palace has an excellent Lounge area for business use as well as a gym, a sexy pool and a Jacuzzi.
This is the place to come and truly spoil yourself.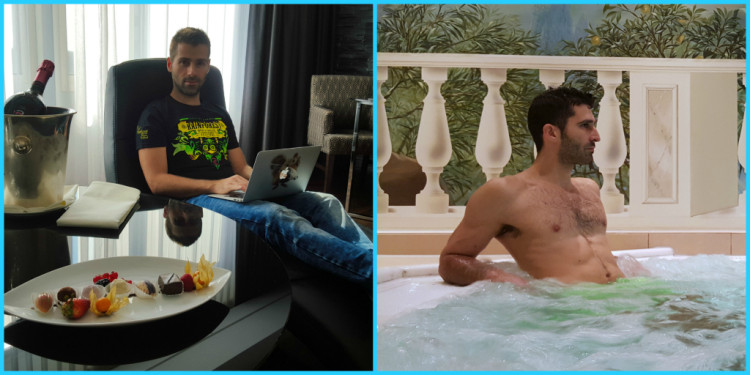 Hotel Q is a small boutique hotel conveniently located in Kurfürstendamm, the main shopping boulevard.
They have a restaurant serving yummy Asian food and delicious signature rum based cocktails.
The rooms are very intimate with an open jacuzzi bath right next to the bed. You can also order their Sex Toys package: a special Secret Passion box full of toys and prizes to spice up your stay…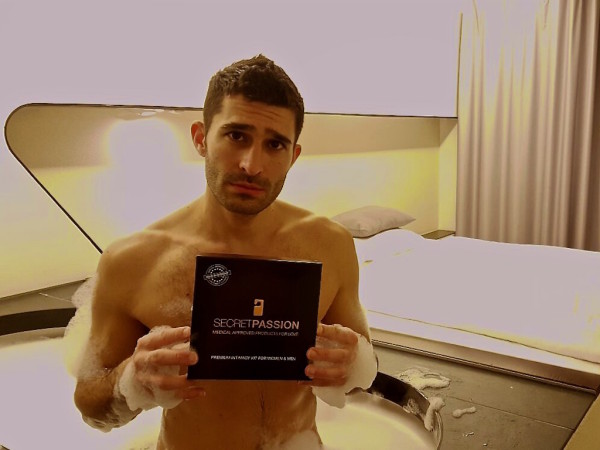 This is a good budget option if you're travelling alone and want to make friends.
The Gay Youth Hostel is located in the heart of the gay scene in Schöneberg, minutes away from all the bars and clubs.
They offer rooms and dorm beds for up to 8 people starting from €22. We just loved their marketing for what goes on in their dorm rooms (!)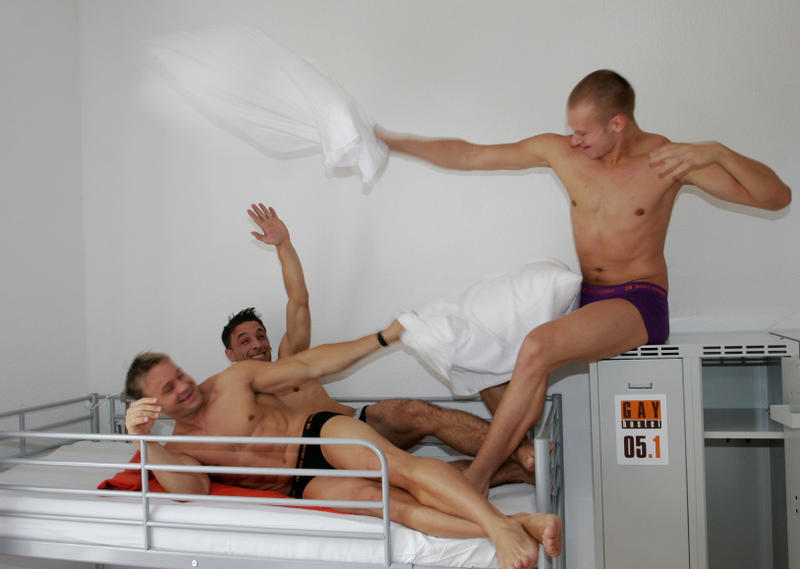 Gay bars and clubs in Schöneberg
Schöneberg has a whole bunch of bars and clubs to choose from. Whatever you are into, you will probably find it in Schöneberg. One tip is to look out for the bars offering 2 for 1 drinks promotions because these will be the most happening places on that particular evening.
For drinking fun
Here's a few of our favourites for drinks, fabulous cocktails and just to hang out at with friends: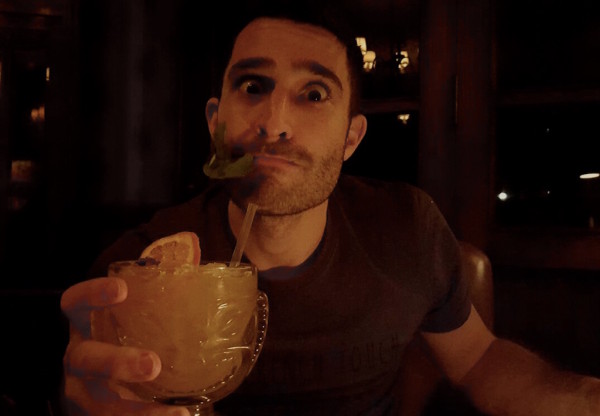 For some naughty fun
Berlin is well known for having a very diverse and no taboo gay-scene. If you're looking to unleash your wild side, check out these clubs:
Tom's Bar: not as popular as it used to be but definitely worth going on Monday evenings for the 2 for 1 drinks promotion.
WOOF: the HQ for bears and otters. Tuesday is the busy evening when they have a 2 for 1 drinks promotion.
Mutschmann: ideal for leather aficionados, but they also feature many other fetish nights.
Gay bars and clubs outside of Schöneberg
Gay Berlin is not just in Schöneberg, it is everywhere. Areas in East Berlin such as Kreuzberg, Prenzlauer Berg and Neukölln are also popular gay hangouts.
There's a handful of excellent gay clubs and bars to check out like Möbel Olfe in Kreuzberg and SchwuZ in Neukölln.
And one club you must (try to) visit in Berlin is the famous and super exclusive, Berghain: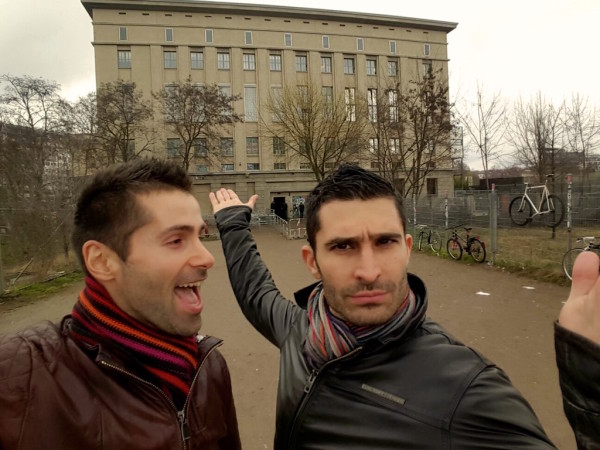 Berghain is a huge former railway warehouse, turned cool, nightclub in Kreuzberg, for electronic music lovers. It opens on Friday evenings and continues right up until midday on Monday. It's always full, with hour long queues to get in.
The bouncers of the Berghain are notorious. Their word is final, no matter who you are! Even Britney and Macklemore were famously turned away. This is the ultimate clubbing experience to check out in Berlin – if you can get in!
Gay friendly cafes and restaurants in Schöneberg
Foodies will love the culinary offerings in Schöneberg. There's a plethora of excellent offerings to suit even the pickiest of palates:
Gay cafes in Schöneberg
Romeo und Romeo cafe: popular gay cafe with excellent WiFi…and rainbow vegan cake! All those boys you saw the night before in Heile Welt will be hanging out here during the day.
Cafe Kalwil Kunde: another quirky gem with fancy Victorian-esque decor, perfect for a romantic brunch or coffee with a group of friends. We loved their Breakfast Heinrich, which comes with sparkling wine.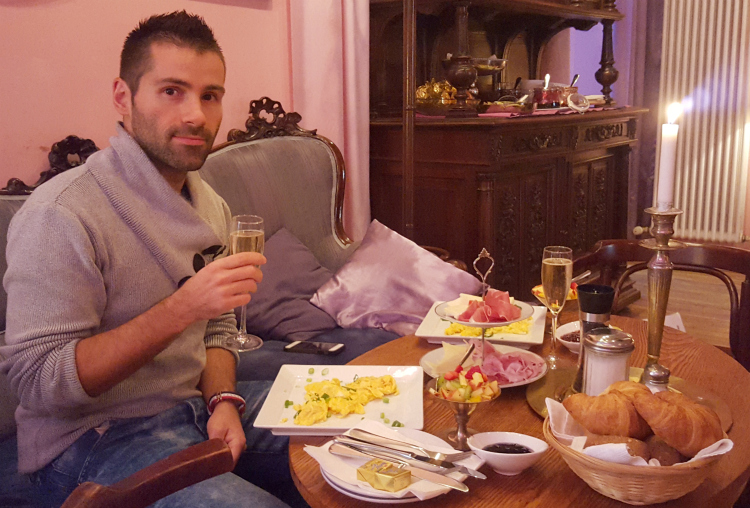 For a little snack
Fritz & Co: one of food stands outside Wittenbergplatz metro selling the famous Berlin spiced sausage: currywurst.
Except this is no ordinary currywurst. This is a gay currywurst, sprinkled with fabulousness!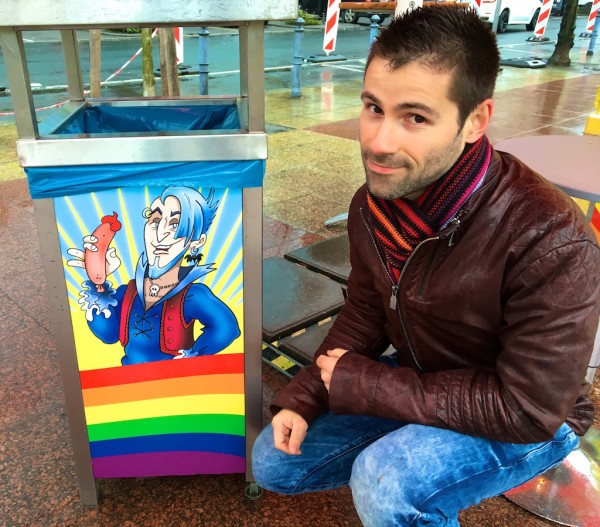 Restaurants in Schöneberg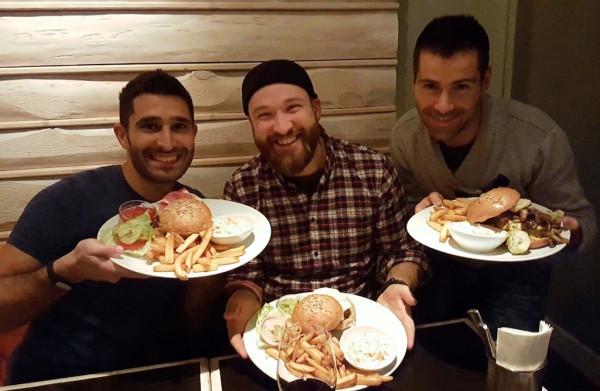 Gay events in Berlin and Schöneberg
Berlin hosts the biggest gay events in Europe, all year round, for everything and everyone. The most popular are:
Activities to do in Schöneberg
Berlin walks offers a Queer walking Tour to learn about the history of Schöneberg, the first gay district in the world which dates back to the 1920s. We did a tour with Finn McCool from Berlin Walks who we highly recommend. He's a fountain of knowledge about everything to do with queer Berlin, and the city in general.
Finn also offers his own private tours to places like the gay concentration camps: the Nazis took the gay boys to Sachsenhausen camp and the gay girls to Ravensbrück.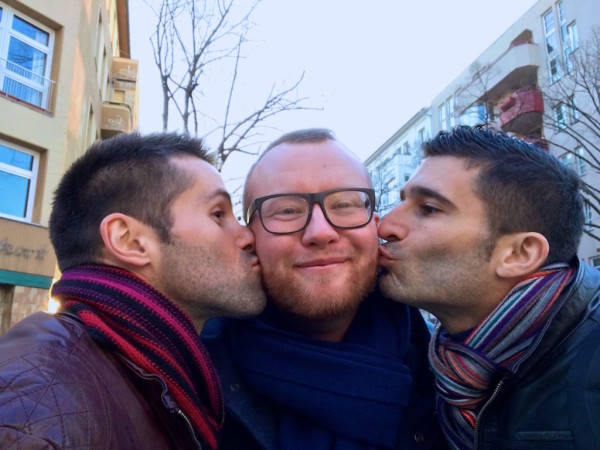 The Schuwles gay museum
This is an excellent museum in Schöneberg, dedicated to the history and culture of LGBTIQ communities. It was founded in 1985 and is now the world's largest institution for the queer community.
It's open everyday except Tuesdays and features a variety of different exhibitions throughout the year, like SuperQueeroes – the famous queer comic heroes/heroines.
Prepare your wallet for some serious shopping
If you like shopping, Schöneberg is the place for you. The high end shopping mall KaDeWe is based right outside Wittenbergplatz metro.
The Kurfürstendamm Boulevard is like the Champs Elysees of Berlin with all the popular high street retailers like H&M, Zara, Lacoste and many more.
Other shopping malls in the area include the Bikini Mall and the Karstadt shopping centre.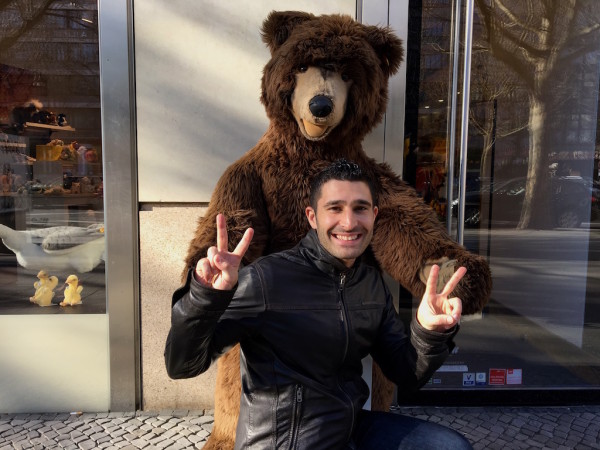 Discover Berlin on a Bike
If you're heading to Berlin, you will no doubt want to embrace its rich heritage and learn about its history. Berlin is a large flat city, with the sites spread out, so what better way to see everything, then by bike.
We did a private tour with Sascha of Berlin on Bike who showed us the main sites like the iconic Brandenburg Gate, remains of the famous Berlin Wall, the Bundestag and more.
Romantic things to do in Berlin
If you and your other half are looking for some serious romance, Berlin has a lot to offer: for some inspiration, check out our 5 romantic things to do in Berlin guide.
To read more, check out Wander Tooth's guide about the best neighbourhoods in Berlin and also read why we think Germany is one of the most gay friendly countries in the world.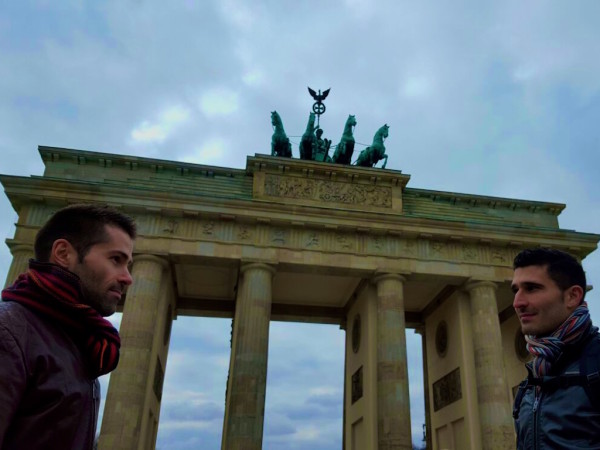 PRACTICAL TIP: transport tips
Moving around Berlin is easy. In Schöneberg itself, you're never far from a metro station to catch the U-bahn or S-Bahn.
To maximise your enjoyment and avoid queues at the ticketing machines, it's definitely worth investing in a Visit Berlin WelcomeCard before you arrive. It will give you unlimited access on the metro (from 2 to 6 days) and discounts on various attractions.
TIP: remember to stamp-validate your ticket in one of the machines before you board a train. It's easy to forget, allowing the unforgiving plain clothes inspectors to fine you!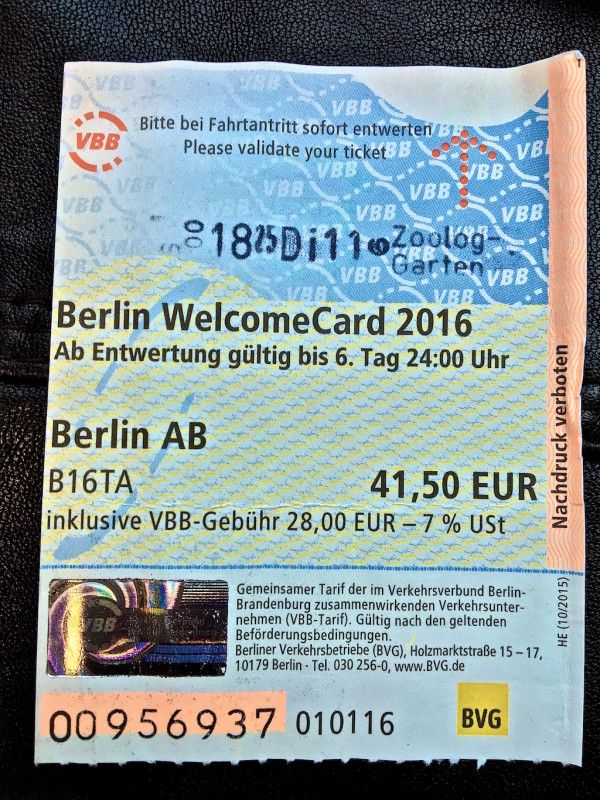 OUR FAVOURITE TRAVEL TIPS
⭐️ TRAVEL INSURANCE — We recommend you always take out travel insurance before your next vacation. What happens if you suffer from illness, injury, theft or a cancellation? With travel insurance, you can have peace of mind and not worry. We love World Nomads travel insurance and have been using it for years. Their comprehensive coverage is second to none and their online claims process is very user friendly.
⭐️ SAFETY & SECURITY — All travelers (gay or not) can sometimes encounter danger when traveling. CloseCircle is your "virtual body guard" mobile app which provides security alerts and support wherever you are in the world. They have a 24/7 emergency response team monitoring their users who will contact you immediately if the SOS swipe button is activated. Support can include anything from practical advice, to free evacuation from areas with extreme weather or security risks. You can read more about CloseCircle in our article about how to stay safe whilst traveling.
⭐️ ONLINE ANONYMITY — A VPN (Virtual Private Network) is a must in many countries: it allows you to surf anonymously and maintain your privacy whilst traveling. You'll particularly need it in countries where gay dating apps are blocked by the government. We recommend ExpressVPN, a reliable and cost effective service which we used and loved during our travels.
⭐️ HOTELS or APARTMENTS — When we plan a trip, we always look for the best hotel deals. We love Booking.com because not only do they have a comprehensive listing of accommodation options, they also offer the best prices. Added bonus: they provide 24/7 support and free cancellation for most listings.
⭐️ SIGHTSEEING and ADVENTURES — When we travel somewhere, we like to seek out the best experiences, whether it is cooking with locals in Bangkok, hiking on a glacier in Patagonia, or going on a wildlife safari in Sri Lanka. Our favorite place to look is GetYourGuide because they have over 30,000 highly rated activities, a user-friendly booking process with free cancellation and a 24 hour customer support.
This article contains affiliate links. If you click on them, we may receive compensation which keeps our website alive and helps us bring you to more destinations.
PLEASE PIN ME: