How to get from Schönefeld airport to Berlin city centre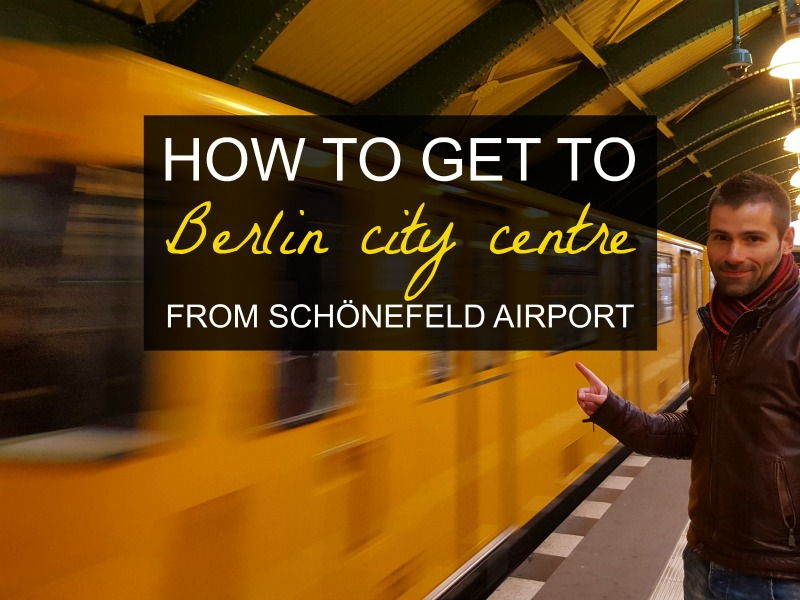 Schönefeld (or Schoenefeld) is one of the two international airports for Berlin and the one you're most likely to arrive at if you fly in with any of the low cost airlines like Easyjet, Condor and Ryanair.
Tegel is the other airport in the Northwest of the city, which will close when the new Brandenburg airport opens in around 2018/2019.
Schönefeld airport is located in the southeastern end of Berlin, 18km from the centre. It will be merged with the new Brandenburg airport (located very close by) when it does finally open.
There are many ways to reach the city centre from Schönefeld airport.
Following our trip to Berlin, in March 2016, we reviewed all the options for you on how to get from Schoenefeld airport to Berlin city centre:
1. AIRPORT EXPRESS TRAINS RE7 / RB14
The airport express train is the fastest way to reach Berlin city centre from Flughaten Berlin-Schoenefeld Station, which is walking distance from the airport terminal.
The train runs every 30 minutes between around 4am to 11pm and costs €3.30 each way. On weekends there's a night train at 1:44am.
The airport express stops at Karlshort, Ostbahnhof, Alexanderplatz, Friedrichstrasse, Hauptbahnhof (Berlin Central station), Zoologischer Garten and finally Charlottenburg.
To avoid queues at the airport (there are only 2 ticket machines at the airport), we recommend you buy a Berlin WelcomeCard, which allows you to travel on the metro up to 6 days in capital's trains and discounts for a variety of attractions.
TIP: remember to purchase it for zones ABC – ie to include the extra zone C add on, in order to cover Flughaten Berlin-Schoenefeld Station.
2. PRIVATE TRANSFER: Comfortable and no hassle
Arranging a Berlin private transfer is the most convenient and quickest way to reach Berlin city centre from Schönefeld airport, subject to traffic.
We recommend trying Blacklane private transfer, a more upmarket and luxurious alternative to a taxi service with a James Bond style car with seats that give you a massage, heaters and mini dock station to charge your phone. They also have mini TV entertain screens.
The drivers are professional, knowledgeable locals who will text you introducing themselves, telling you when they've arrived at the airport and are waiting for you.
You can also book your private car on Viator from 52 euros ($61).
3. THE BERLIN METRO: S-Bahn
The S-Bahn is part of the Berlin metro system and runs all the way to the airport. It's not as convenient as the airport express and costs the same.
But the advantage is that the S-Bahn runs non-stop during weekends so if your plane lands late or during the night, this is a good option to reach the city centre.
S9 and S45 are ideal if you're looking to reach West or East Berlin. However to go to the city centre, you will need to change.
4. PUBLIC BUS
Buses X7, 171, and night bus N7 depart from Schoenefeld airport to go to Rudow U-Bahn station (first stop on the blue line U7). Then you can jump on the U7 line to go to Kreuzberg or Neukoelln.
This is the best option for late evening arrivals on weekdays when you've missed the last airport transfer, there's no S-Bahn and you don't want to book a private transfer.
5. METERED TAXI
A metered taxi from Schönefeld airport to Alexanderplatz or Nollenderplatz costs around €45.
It can get very busy during peak times, so if you wish to avoid queuing, it maybe better to book your private transfer online with a company like Blacklane as set out above.
6. PRIVATE CAR HIRE
Hiring a car is an excellent and very convenient option if you are planning trips outside of Berlin and need a car to move around.
You can check Auto Europe below for cost effective car hire quotes.

PLEASE PIN ME: