5 sex hotels in Berlin, for some cheeky romance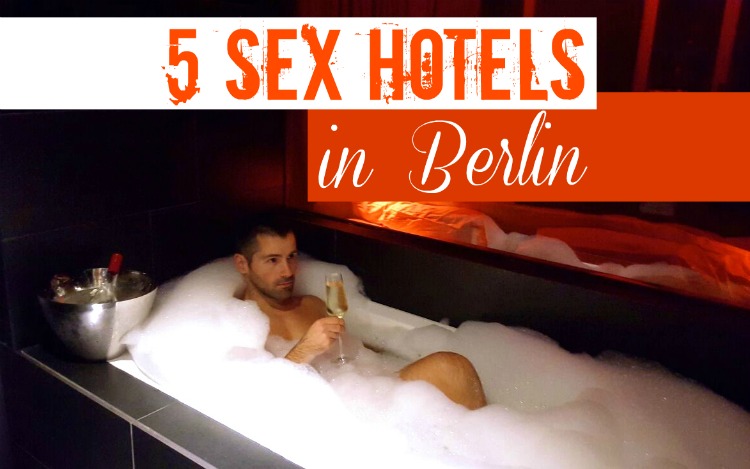 "Du bist verrückt mein Kind, du mußt nach Berlin."
("You are crazy, my child. You must go to Berlin.")
So said one of the great composers of the Austro-Hungarian Empire, Franz von Suppe (1819-1895) during a time when Berlin was so famous for its liberal attitude and sexual freedom.
Even after the Nazi era and the hard post WW2 years, the city gradually returned to its former glory as a place where whatever you're into, you will find it.
Berlin has an extremely relaxed attitude to sex and sexuality. This is the perfect place to visit if you're looking for some cheeky romantic playtime with your lover.
Check out our gay guide to Schöneberg and Berlin and read below our favourite 5 sex hotels in Berlin:
1. HOTEL Q
Hotel Q is a small boutique hotel, really stylishly designed and centrally located just off the city's main shopping boulevard, Kurfürstendamm.
The rooms are designed to make couples feel cozy. The lighting gives them a romantic sexy time feel and they feature an open bathtub Jacuzzi next to the bed.
Hotel Q offers a unique Sex On The Beach package over 2 nights, which includes a candlelit 3 course dinner and exclusive over night access to the spa area from 11pm to 6am with a bottle of champagne. Definitely one for Valentine's Day or that special anniversary.
The hotel also offers a Sex Toys package: a special Secret Passion box full of toys and prizes to spice up the bedroom.
2. HOTEL 25 HOURS BIKINI
"Come as you are. Real Place, real people" is the slogan.
Hotel 25 is a super cool chain offering bed and breakfast with plenty of entertainment, surprises and lots of fun.
It is centrally located, overlooking Berlin's famous zoo in the uber-cool retro Bikini building.
This is the place for couples to have a romantic stay with a twist. For example, check out the Jungle L room, which has a bathtub in the bedroom, view over the zoo – and a hammock!
The other gem is the Monkey Bar and restaurant on the top floor. It has a 360 degrees rooftop terrace with first class views of the city and of the neighbouring Berlin Zoo.
3. TIGER ROOM S&M PLAYROOM SUITE
Sex fetishes are immensely popular in the city and as a result, there's an increasing number of accommodations to meet this demand.
On Mister BNB, you can rent your own S&M suite, which has an extremely well-equipped playroom, includes bondage walls and a 2-way dog slave cage.
The Tiger Room also has a separate smaller jail playroom with a blackjump-leather sling (of superior quality), plenty of bondage toys, a steal door, a variety of dildos, whips, ropes and lots of other prizes.
This is the place to stay to live out your S&M fantasies.
4. PROPELLER ISLAND CITY LODGE
Strictly speaking, Propeller Island City Lodge is not a hotel, but a piece of art! Each room is totally different and completely unique. For example, Room 23 is upside down.
If you like role play and want to stay somewhere, different – quirky, then this is ideal for you.
Check out gems like Room 15 – the Mirror Room. It is decorated with just, mirrors! Perfect for couples looking for a bit of vanity.
Another room that stands out is the Two Lions Room (#42), featuring cages to sleep in. For the real exhibitionists, you will love the two-way mirror into the next room where you can watch each other making out.
5.
 

AXEL HOTEL

This is for the gay boys – a "heterofriendly", adults only hotel, where everything is geared towards one thing, but done in a really cool way.

The rooms have a modern design with darkened lighting to give it that sensual atmosphere. Look out for the famous "DO DISTURB" signs you can put on the door if you want some attention!

It's located right in the heart of Schöneberg's lively gay area and has a popular Jacuzzi, sauna and steam room where you can head to for some group action.
PLEASE PIN ME: