TERMS OF USE: There is a chance that some of the content on this page has changed since it was last updated. By reading this article, you consent to our Terms of Use and Disclaimer. Happy Travels!
DISCLOSURE: Some of our posts may contain affiliate links which we may receive a commission if you choose to book something through one of our links.
"Du bist verrückt mein Kind, du mußt nach Berlin!"

Franz von Supp
Translation: "You are crazy, my child. You must go to Berlin!"
So said one of the great composers of the Austro-Hungarian Empire, Franz von Suppe (1819-1895) during a time when Berlin was so famous for its liberal attitude and sexual freedom.
Even after the Nazi era and the hard post-WW2 years, the city gradually returned to its former glory as a place where whatever you're into, you will find it.
Today, Berlin is notorious for its relaxed attitude to sex and sexuality. Whilst we love visiting Berlin for partying, it's also the perfect place if you're looking for some cheeky romantic playtime with your lover. Just like the sex hotels in Amsterdam, there are heaps of places you can stay in Berlin that cater to every different kind of fetish in an adults-only environment.
In this guide, we've found some of the best sex hotels in Berlin, focusing on those that are, to put it mildly, conducive to having a good old sexy time!
Don't forget…
To maximise your enjoyment and avoid queues at the ticketing machines, it's definitely worth investing in a Visit Berlin WelcomeCard before you arrive. It will give you unlimited access on the metro (from 2 to 6 days) and discounts on various attractions.
01
Hotel Q!
Charlottenburg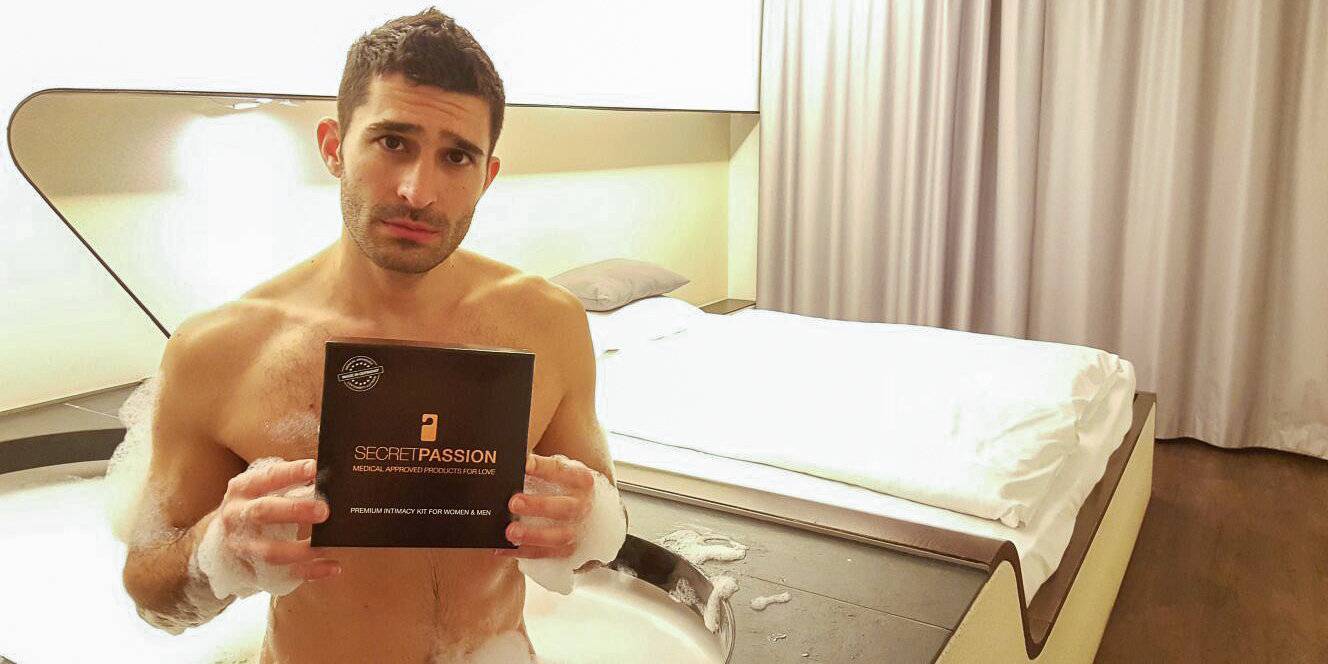 Why we love it
---
Stylish boutique hotel
Special romance packages available
Lovely bar with a fireplace in winter
Decadent spa and wellness facilities
Hotel Q! is a small boutique hotel, really stylishly designed and centrally located just off the city's main shopping boulevard, Kurfürstendamm.
The rooms are designed to make couples feel cosy and romantic. The lighting creates an intimate vibe with some of the rooms featuring an open Jacuzzi bathtub right next to the comfy bed, ooh la la! But just be careful not to get too much water on the bed, nobody wants to sleep in a wet patch…(no seriously, clumsy Stefan did this twice!)
Hotel Q! offers a unique Sex On The Beach package over two nights, which includes a candlelit 3-course dinner and exclusive overnight access to the spa area from 11pm to 6am, with a bottle of champagne. Definitely one for Valentine's Day or that special anniversary. You can also opt for the Like Lovers Do package which includes a rose petal bath and breakfast in bed complete with champagne. When we stayed they also offered a special Secret Passion box full of toys and prizes to spice up the bedroom.
Everything at Hotel Q! oozes sexy style, with sleek black and white decor with pops of red throughout. In winter you can snuggle up here in front of the wood fire while in summer you can enjoy the green inner courtyard. The hotel spa includes a Japanese wash zone, a Finnish sauna, steam room and a sand relaxation room with heated floor – that's where the beach part of the 'sex on the beach' package comes in! We also recommend checking out the in-house restaurant's fine Thai cuisine, as well as having a few cocktails at their Fox Bar.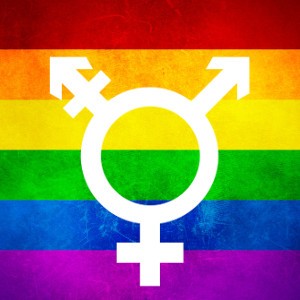 Advice for LGBTQ travellers to Berlin
We LOVE Berlin! It's like a playground for LGBTQ travellers, with so many bars, clubs and events for whoever you are and whatever you're into. Berlin definitely ranks as one of our favourite gay cities, and in our opinion, Germany one of the most gay friendly countries in the world. Read more in our comprehensive gay guide to Berlin as well as our interview with gay Berlin local, Marcel Danner.
We also stress that all the hotels listed in this article are very gay friendly and welcoming of all LGBTQ travellers!
02
Provocateur Berlin
Charlottenburg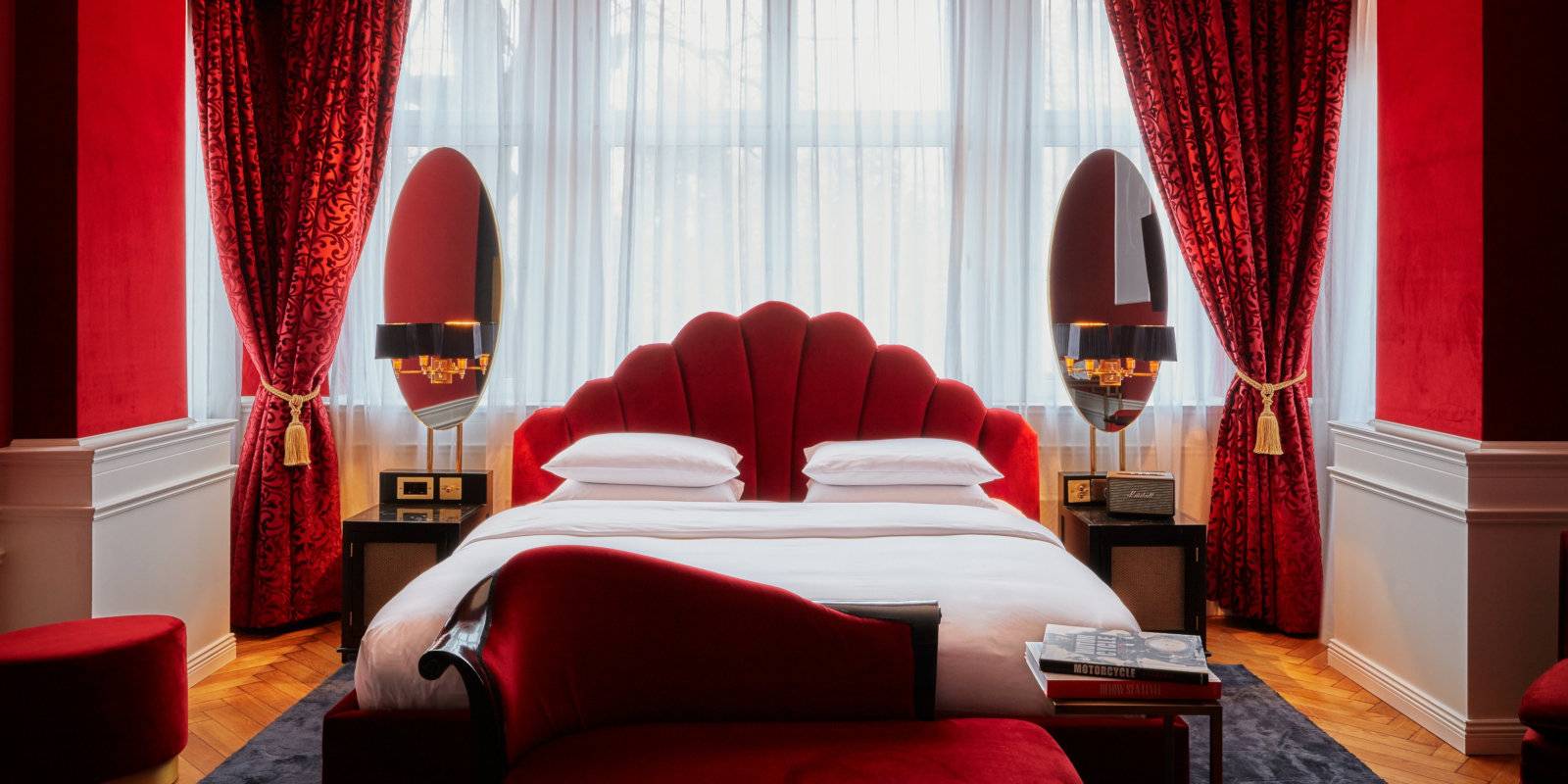 Why we love it
---
Glamorous burlesque-style hotel
Very sexy couples package available
Delicious restaurant with French-Chinese cuisine
Awesome bar with excellent cocktails
With a name like Provocateur you just know this hotel is going to be all about naughty, sexy fun!
Also called "the Burlesque brother of Roomers Hotel", the Provocateur certainly feels like you might be treated to a sexy show from behind those red velvet curtains at any moment!
Add to that a sexy package for couples and you've set the scene for an unforgettable stay.
The Made with l'amour package for two includes a welcome drink, a rose petal decorated bed on arrival, a bottle of champagne, chocolate and a yummy breakfast organised for the next day. But the really sexy part is the "time to tease" set, which comes with condoms, massage oil and a naughty set of handcuffs to enjoy with your partner! There's also an erotic film projected onto the bedroom wall to help set the mood!
We love everything about the Provocateur, from the Oscar Wilde quotes on the website to the 1920s flair in design and decor. The bedrooms are either decked out in sexy red or deep, classy blues, with splashes of gold in both. Some of the rooms have gorgeous free-standing bathtubs, while in others, the showers of black marble are roomy enough for two or even three people – justsayin'! The Golden Phoenix restaurant serves an incredible fusion of French-Chinese cuisine, while the hotel bar provides all the innovative and delicious cocktails you could ever want.
03
Schlosshotel Berlin by Patrick Hellmann
Charlottenburg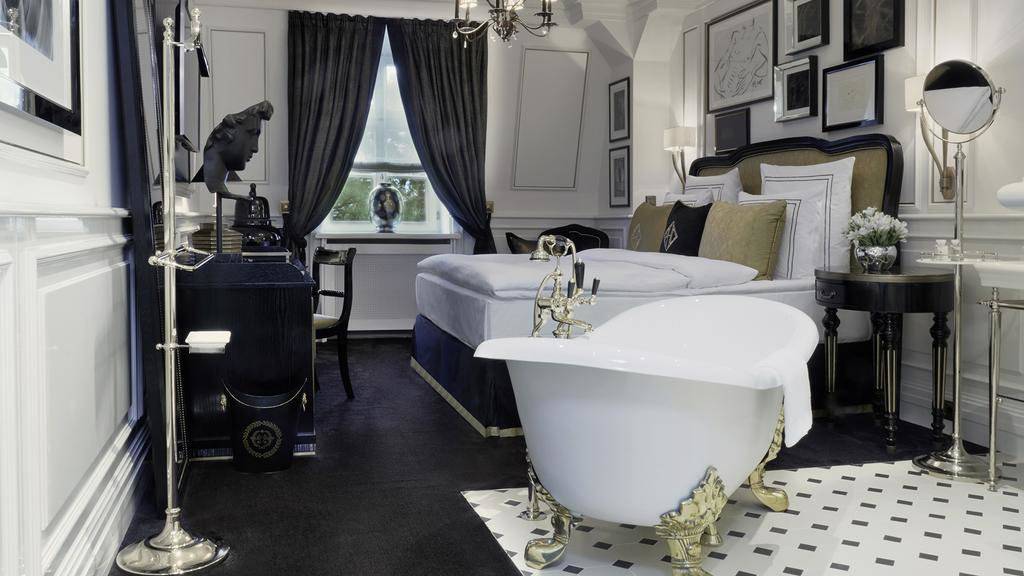 Why we love it
---
Gorgeous 5-star luxury hotel
Located in an 18th-century style palace
Incredible romantic dream package available
Swimming pool, spa, gym, restaurant and bars
The Schlosshotel Berlin is an incredible five-star luxury hotel in a German chateau (that's what Schloss means). When you combine that with their special Romantic Dream Package, you've got the stuff that dreams really are made of!
Built in 1911 in the 18th century Renaissance style of the French palaces and designed by the luxury fashion brand of Patrick Hellmann, you'll feel like you're staying in your own private palace.
The hotel's Romantic Dream Package includes champagne on arrival, a five-course candlelit dinner and a private midnight visit to the pool just for the two of you. The next morning you can enjoy a lavish breakfast in your room before leisurely going on your way. If you're looking to celebrate a special occasion in what feels like a fairytale setting, then this place is absolutely amazing.
Everything about Schlosshotel Berlin is incredible, from the huge common areas to the stunning indoor pool with sauna and spa. The gardens are also beautiful, perfect for strolling hand-in-hand with your lover. The restaurant will make you feel like you're dining in the ballroom of "Beauty and the Beast", with huge mirrors, gold detailing and chandeliers dripping from the ceiling. There's also a champagne lounge in the same style while the GQ Bar is all dark wood, black, grey and pops of royal purple.
04
25hours Hotel Bikini Berlin
Charlottenburg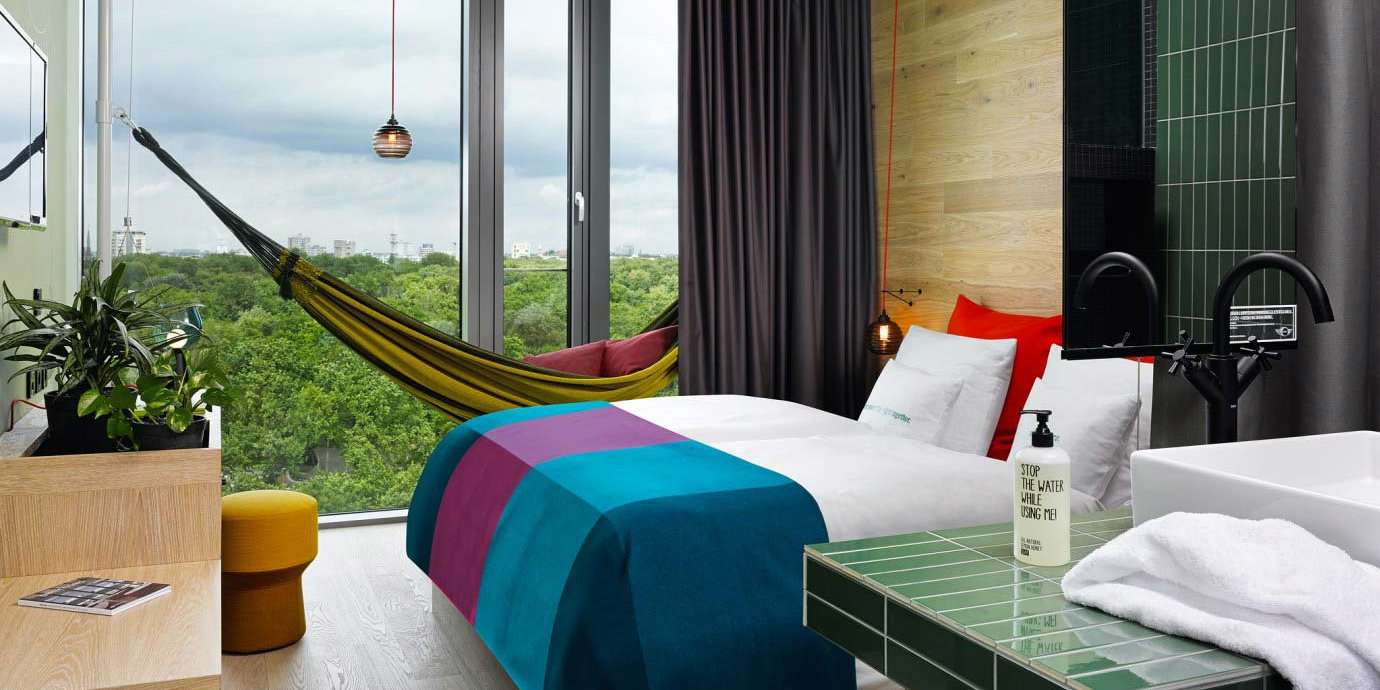 Why we love it
---
Cool and quirky with an urban jungle theme
Views over Berlin Zoo from many areas
Rooftop "Monkey Bar" for drinks
In-house sauna and restaurant
"Open for monkey business" is the slogan and the theme here!
25hours Hotels is a super cool chain offering accommodation with plenty of entertainment, surprises and lots of fun in multiple cities.
The Bikini Berlin is centrally located, overlooking Berlin's famous zoo, and they've capitalised on that with fun 'urban jungle' details throughout the hotel.
This is the place for couples who want a romantic stay with a quirky twist. For example, some rooms feature a bathtub, which is stuffed with monkey toys or even a hammock! You'll be treated to views either over the zoo itself or of the lively city centre. The Jungle Sauna on the ninth floor looks directly onto monkeys and elephants, so you can pretend you're Tarzan while you relax in the steam. There's a bakery and multiple lounging areas in reception (ie more hammocks!) plus you can avail yourself of the hotel's bicycles to explore Berlin, for free.
Another gem is restaurant NENI on the tenth floor – "a culinary mosaic" of Persian, Russian, Arabic, Moroccan, Isreali, Turkish, Spanish, German and Austrian inspired dishes. On the top floor is the Monkey Bar, which is a 360-degree rooftop terrace with some pretty sweet views of the city and the zoo.
05
Axel Hotel Berlin
Schöneberg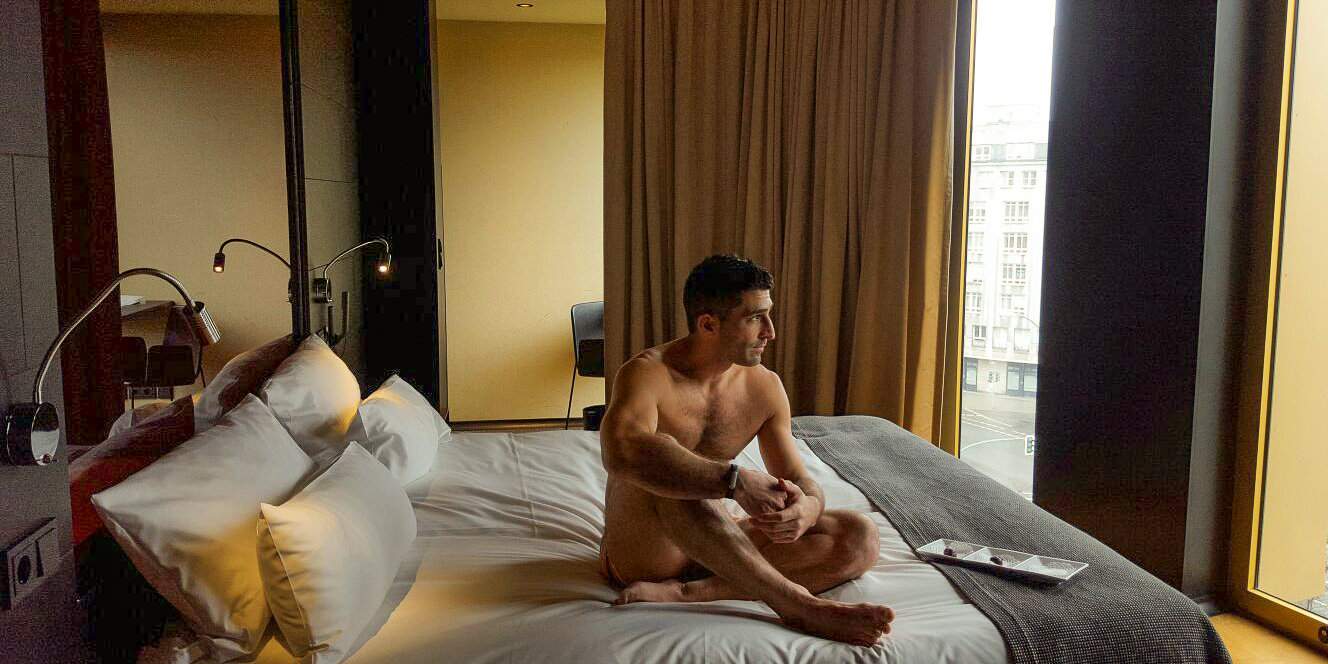 Why we love it
---
Adults-only gay hotel
But still "hetero-friendly"!
Outdoor Jacuzzi with awesome views
Sauna, steam room, Turkish bath and gym
This awesome "hetero-friendly", adults-only hotel is notorious in the gay community. For us, it represents the heart of the gay scene of Barcelona. Since it opened in Berlin back in 2009, it has also become the focal point of the gay scene of Schöneberg.
Whilst it may feel that everything at Axel is geared towards just one thing(!), it's done in a very sleek and tasteful manner. The rooms have a modern design with an elegant mix of gold and black with pops of red. The sensual atmosphere is created by the slightly darkened lighting in both the rooms and communal areas.
The rooms are completely sound-proofed, so you need have no qualms about getting a little noisy! Up on the top floor, there's a very cruisy area (especially later in the evening) with sauna and steam room. There's also an outdoor Jacuzzi and roof terrace area to chill, with panoramic views over Berlin. Axel also has a small gym to firm up those pecs and burn a few calories before you get lost in their sauna…!
Oh, and of course, look out for the infamous "DO DISTURB" signs that you can place on the door to invite attention from other curious guests!
Axel's lounge bar is quite a romantic spot for a cocktail or a few glasses of wine, with stained-glass windows looking out onto Lietzenburger Strasse. Location wise, this is perfect for LGBTQ travellers as some of the best gay bars of Berlin like Heile Welt, Hafen, Tom's Bar and WOOF are literally just around the corner.
06
The Weinmeister Berlin-Mitte
Mitte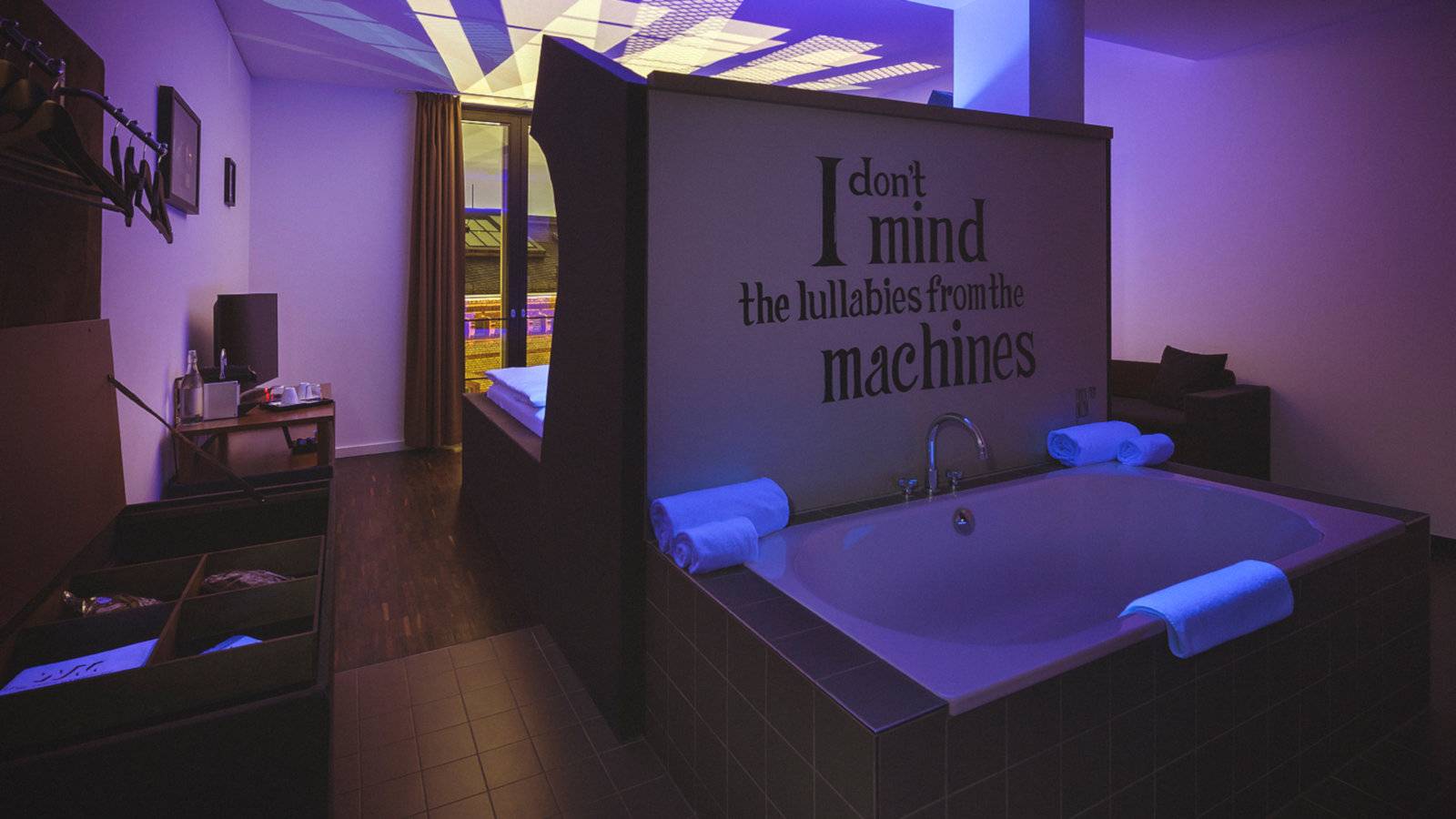 Why we love it
---
Very cool adults-only art-inspired hotel
Signature rooms all uniquely designed
Huge comfy beds and some rooms with bathtubs
Rooftop Jacuzzi with incredible views
If you know any German you can probably figure out that Weinmeister translates to 'wine-master'. Though, whilst this hotel isn't designed around wine it's certainly a master of cool!
The theme of The Wienmeister Berlin-Mitte is the nightlife of Berlin – a combination of clubs, cinema, art, graffiti and history. With signature rooms transformed into private art galleries by international artists, your stay might be watched over by music legends, images of Salvador Dali or a variety of wild animals.
With huge comfy beds that dominate the room, you may never want to leave. But the hotel is located just steps away from some of the best boutiques, galleries, cinemas and theatres. The signature rooms also feature big bathtubs right behind the bedhead, where you can soak together with lots of bubbles.
One of the other drawcards to The Weinmeister is the rooftop terrace with panoramic views over Berlin and one giant outdoor Jacuzzi. Oh too cold for outdoor fun during the winter months? The hotel disagrees with you and has a pretty quirky motto which we love: "as long as there is no rain or storm, the door is open and the water is warm".
07
ArtHotel Connection
Schöneberg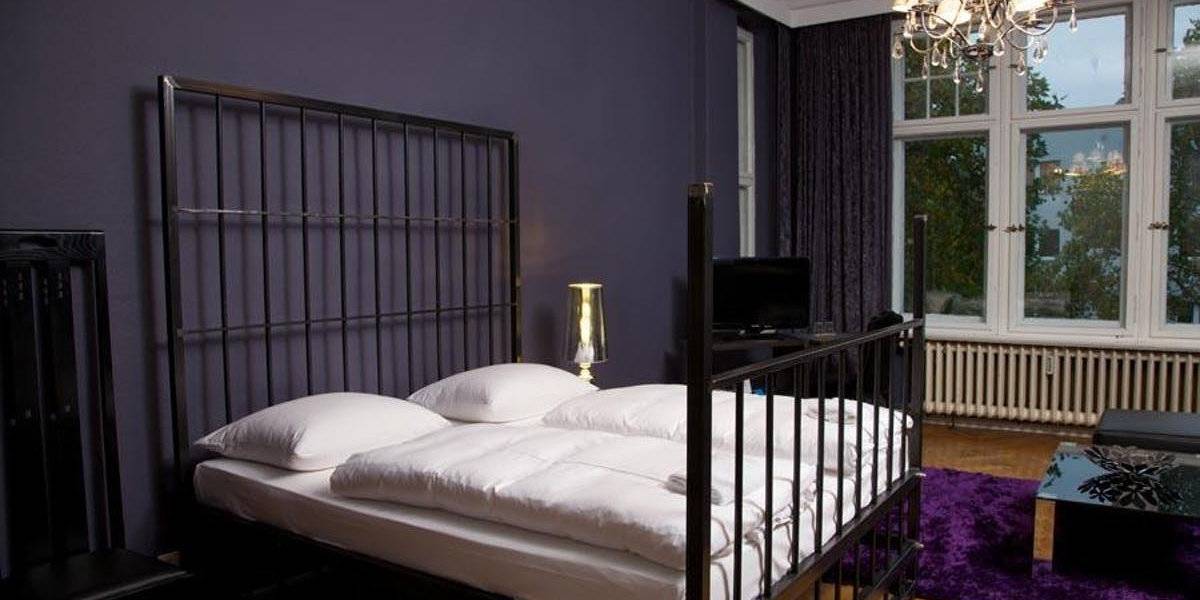 Why we love it
---
Gay friendly/hetero-friendly hotel
Lovely welcoming and helpful staff
Close to vibrant nightlife
Uniquely designed rooms with a LATE breakfast!
ArtHotel Connection is a super trendy hetero-friendly hotel, conveniently located in a quiet, tree-lined street in good old gay Schöneberg.
Like Axel, this is an excellent base if you want to be located around the corner from some of the best bars and clubs of Berlin.
For us personally, we hate stressing over making it in time for breakfast. Not here – you can request a late breakfast until 4pm!
Each room is individually designed in a kitsch art-nouveau style. And oh boy are they sexy! Check out all those purple and red themed walls, with zebra print chairs and colourful artwork on display. Another highlight is the creaking wooden stairway, with gorgeous murals on the ceiling and a super cool antique working elevator. This place definitely gave us Priscilla, Queen of the Desert vibes!
The hotel prides itself on being precisely 2,297 feet from Berlin's Kurfurstendamm shopping area and the KaDeWe department store. This is the same spot where you can try the famous Bratwurst (German sausage) at the quirky and uber-gay Fritz & Co.
08
Private Fetish Apartments
Various locations across Berlin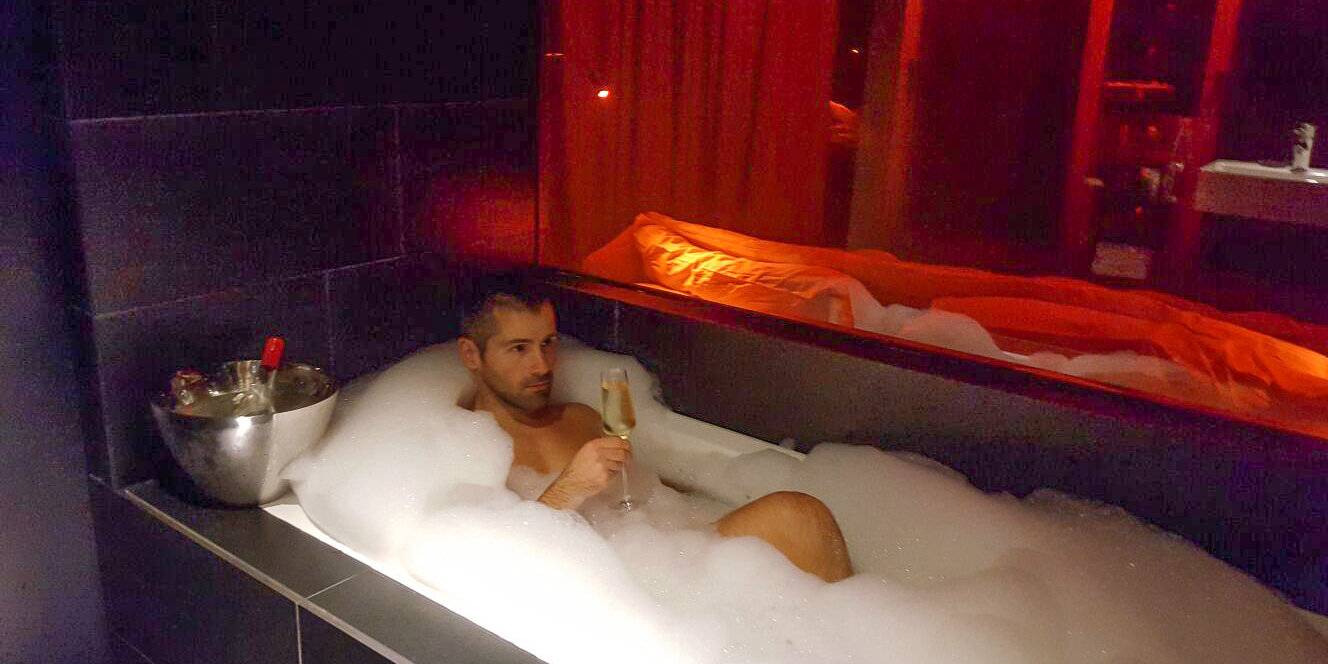 Sex fetishes are immensely popular in the city and as a result, there's an increasing number of accommodations to meet this demand. On Misterbnb, you can find apartments to rent, like this one, which are geared towards S&M and other fetishes. They will be well-equipped with the necessary amenities ranging from leather slings, plenty of bondage toys, steel doors, whips, ropes and more.
CLAIM YOUR 10 € credit voucher
Misterb&b is the Airbnb equivalent for the LGBTQ community but everyone is welcome to book. You'll find plenty of fetish appartments with S&M theme. Click below to get 10 € (or $10) off your first booking.
Sign up today using our link to claim a €10 credit voucher. Other websites offering fetish apartments include BDSM-Loft.com, Casa Frivolica and MINESHAFT.
---
Like this post? Pin it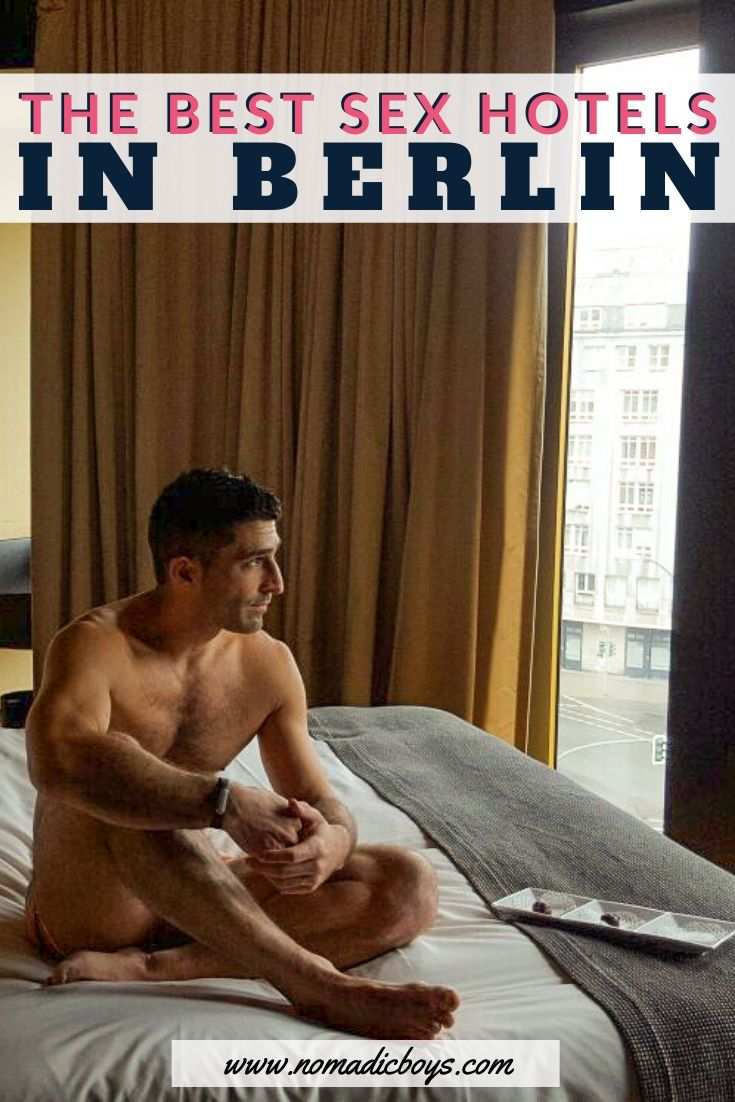 Happy travels are safe travels
We recommend you always take out a reputable travel insurance before your next vacation. What happens if you suffer from illness, injury, theft, or a cancellation? Many travelers forget about it and regret it when something happens. Better to pay a small price and have the peace of mind and not worry.