TERMS OF USE: There is a chance that some of the content on this page has changed since it was last updated. By reading this article, you consent to our Terms of Use and Disclaimer. Happy Travels!
DISCLOSURE: Some of our posts may contain affiliate links which we may receive a commission if you choose to book something through one of our links.
These are our picks of the best gay tours in Berlin for LGBTQ travelers looking to get to know this fabulous German city.
Berlin is a city that has been revelling in its queerness for years. Even as far back as the 1920s, it was known as the gayest city in the world. While other cities have recently begun to vie for that crown, for us, there's just nowhere quite like Berlin!
With a truly hedonistic gay scene featuring gay clubs, bars, saunas, hotels and cruising clubs, Berlin might seem a little overwhelming to first-time visitors. Hell, even us old queens who've been here dozens of times occasionally get surprised by the newest additions that have popped up since our last visit!
Luckily, for those who want to ease into Berlin's gay scene gently, or even explore the city from a unique perspective, there are a variety of fabulous gay tours to experience. Whether you want to just explore Berlin with a gay guide, get acquainted with the gay nightlife, or even learn about the city's history of sex, there's a tour for you! We've rounded up the best of the best for you right here:
DON'T MISS OUT!
Join our newsletter
Subscribe now to receive in-depth FREE travel guides, along with inspiring stories, savvy planning tips, and exclusive discounts on gay tours.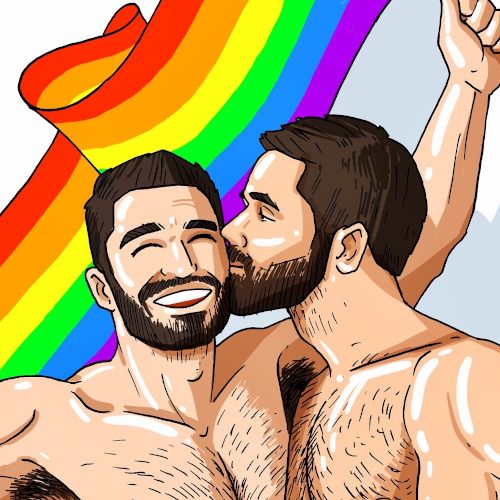 01
Berlin's gay, lesbian, and queer scene walking tour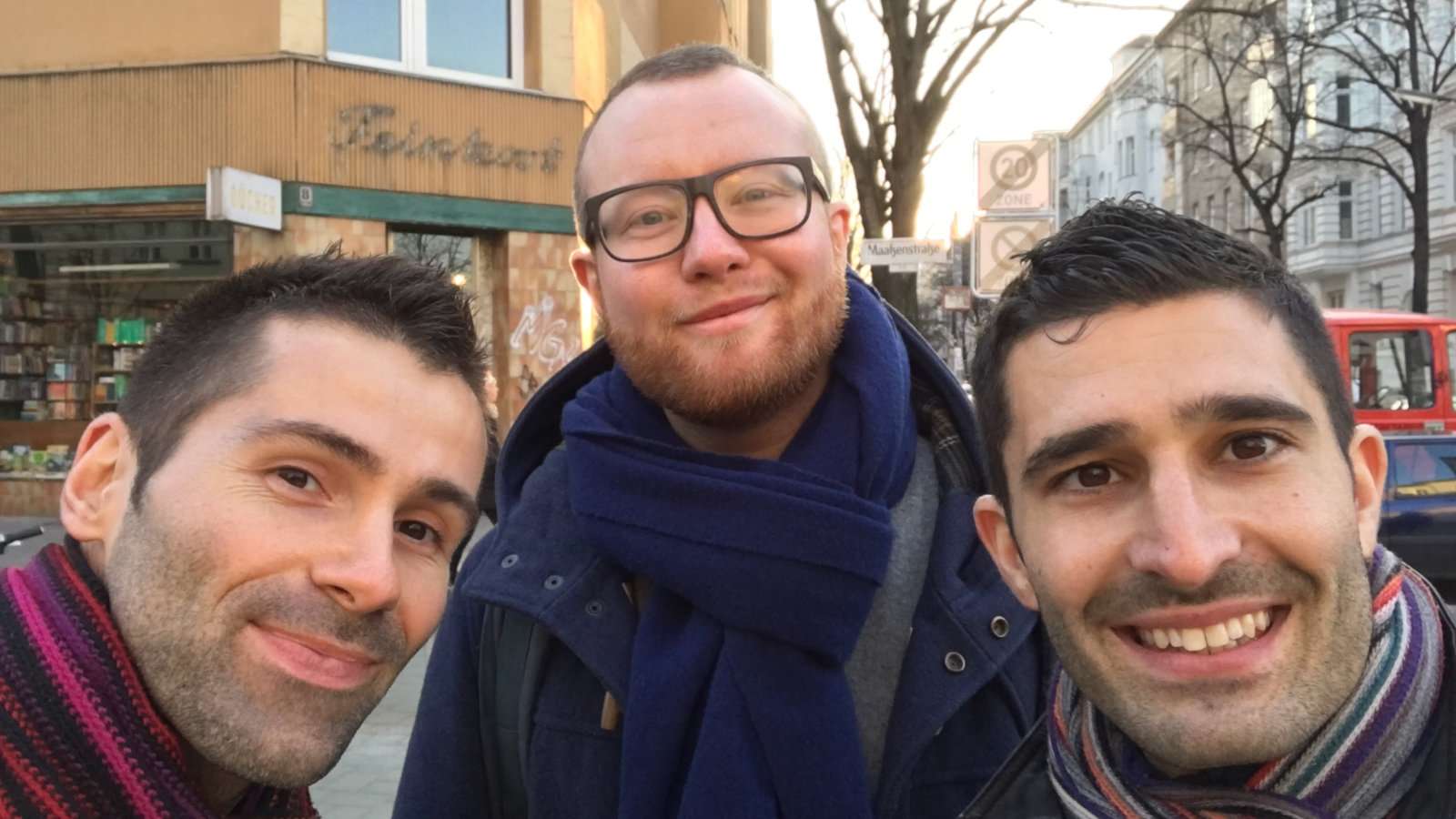 Marlene Dietrich still keeps a suitcase in Berlin, and so do we!
When we did this tour we had the terrific, Finn, as our guide. Finn is a gay local and also a history fanatic – the perfect person to get you acquainted with Berlin's historic gay scene!
The tour is organised by Original Berlin Walks, who focus on telling the history of Berlin in an informative and entertaining manner. We were definitely entertained by Finn, learning so much about Berlin's queer history at the same time as he walked us through the streets of Schöneberg.
We loved learning more about Christopher Isherwood, the legendary British writer whose novel Goodbye to Berlin inspired the famous gay musical Cabaret! We also got to see where Marlene Dietrich lived and worked before visiting the Eldorado – the oldest gay/transvestite bar in the city. Other notable sites that this tour can show you include the memorial to all the homosexuals persecuted by the Nazis, Berlin's gay museum in Kreuzberg and the Tiergarten.
If you like to explore a city by walking, want to know more about the history of Berlin's queer scene and be entertained by a fun guide, then you will love this tour. We can't recommend them enough! Finn also has an incredible story to tell as an FTM transgender person, which you can read all about in our interview with him.
STAY WITH A GAY LOCAL
Misterb&b is the Airbnb equivalent for the LGBTQ community. Unlike on Airbnb, you know your host is gay, voiding any nasty surprises when you check-in. It is also a great way to meet gay locals and discover the underground gay scene. Click below to get 10 € (or $10) off our first booking.
02
Gay Berlin by night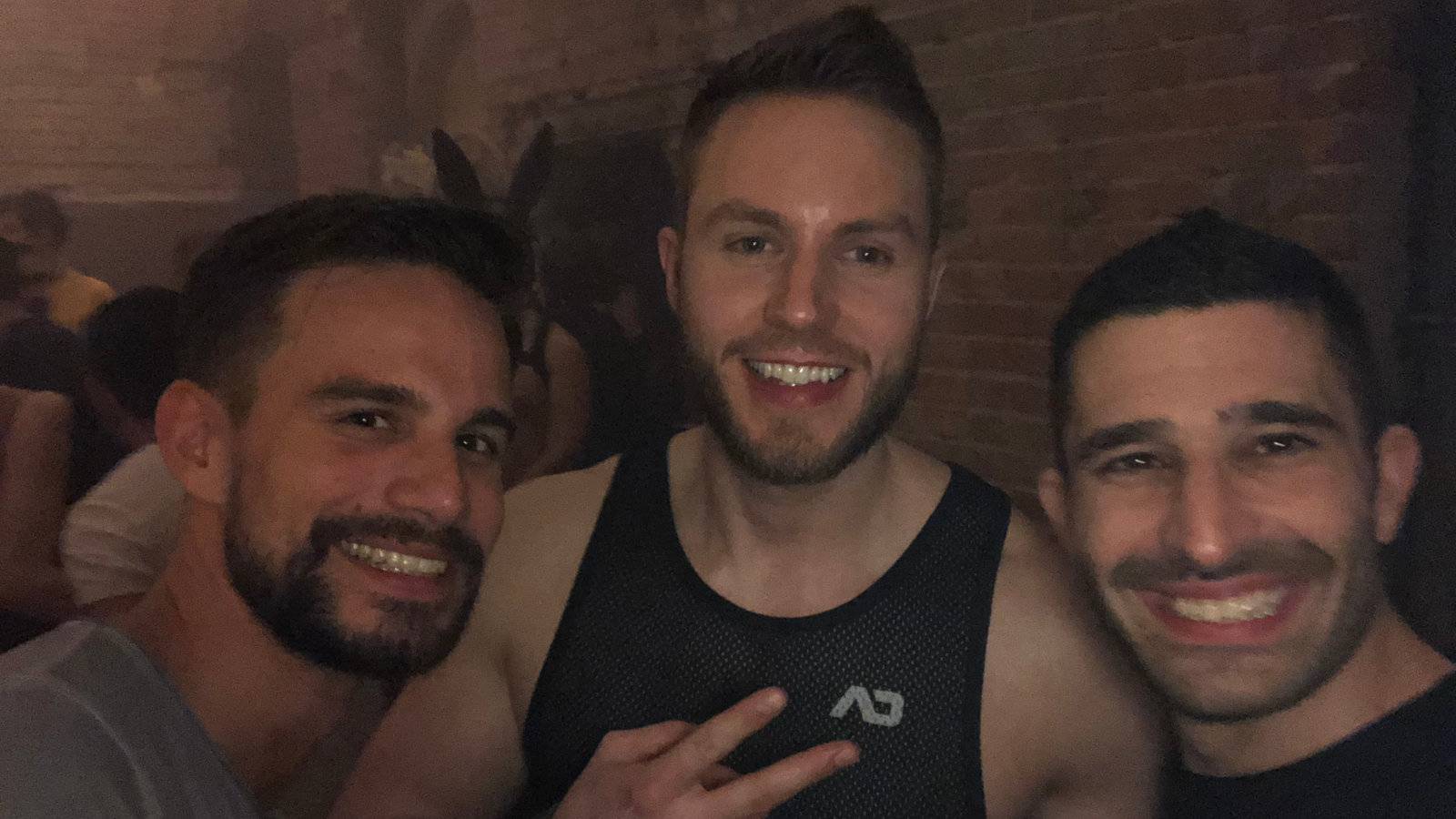 "You are crazy, my child. You must go to Berlin." Well ok, then Franzie baby!
Let's be honest, sometimes the history of a gay scene is just not as exciting as experiencing the gay bars and clubs, right?!
On this fabulous night time tour, you'll benefit from a local guide showing you around all the best bars and clubs in the gay neighbourhood of Schöneberg. If this is your first time visiting Berlin, or you're travelling solo, we highly recommend this tour. It's the perfect way to quickly make new friends as well as getting the lowdown on what gay life is like from a gay local.
The tour includes stops at a few different gay nightlife spots but may change based on the tastes of the group. No matter what, you'll have a chance to chill out somewhere quiet to start off and get to know your group, before heading to some hip, happening spots.
The tour includes a few drinks included at the bars with your guide. When the tour finishes, your guide will give you the low-down on the best places to go afterwards for the late-night party boys who want to continue their journey down the rabbit-hole of Berlin's gay nightlife! We highly recommend everyone experience the rabbit-hole of Berlin's gay nightlife at least once in their lifetime…
Landing soon in Berlin ?
From the airport you can catch the airport express train which runs every 30 minutes from 4am to 11pm. Make sure you pre-order your Berlin Transport Card before you arrive to avoid queues at the airport. It includes unlimited travel in Berlin and a return journey from / to Schoenefeld airport. Remember to purchase it for zones AB and C which also includes Berlin-Schoenefeld airport station.
03
Schöneberg and Kreuzberg's secrets gay tour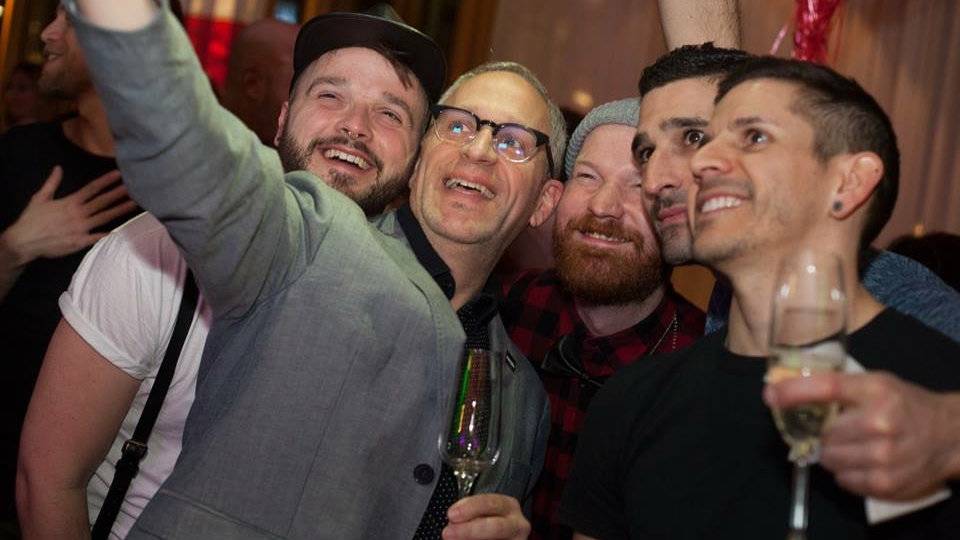 It's no secret that Berlin is a fabulous city for the gays!
While Schöneberg is known as the gay neighbourhood of Berlin, there are many other sprinkles of fabulousness scattered throughout the city, particularly in Kreuzberg. This tour focuses on both, with emphasis on the upcoming, super trendy and hipster gay hangouts of Kreuzberg like Möbel Olfe.
If you've heard of the incredible, super-exclusive and almost impossible-to-get-into Berghain club (seriously, even BRITNEY was turned away!), well that's also located in Kreuzberg. Whilst it can seem pretentious, you have to experience an evening clubbing at this former power plant. There's nothing quite like the gritty, industrial-like, smokey, electro environment inside! And it's open from Friday evening, throughout the weekend until Monday morning. We woke up on Sunday morning, had our breakfast, then headed here for an afternoon boogie. Our advice for getting in: avoid big groups, dress in dark plain colours, and whatever you do, never smile or laugh when the infamous Berghain doormen are assessing you. They're like the Dementors in Harry Potter – just avoid looking them in the eyes and you may be allowed entry! If not, bad luck, but you're in good company with a whole bunch of famous people who have also been turned away. Your guide on this tour will also give lots of practical tips for getting into the Berghain.
The Berghain aside, our favourite part of this tour was learning about the Eldorado Bar in Schöneberg. This is one of the city's oldest gay and transvestite bars, where Marlene Dietrich performed. They have old black and white photos of the bar showing the bar in its heyday before the Nazis closed it down. It reopened in 1996 at a new location (Motzstraße 20) as a cabaret bar and is still going strong.
04
Historic tour of Berlin with an LGBTQ local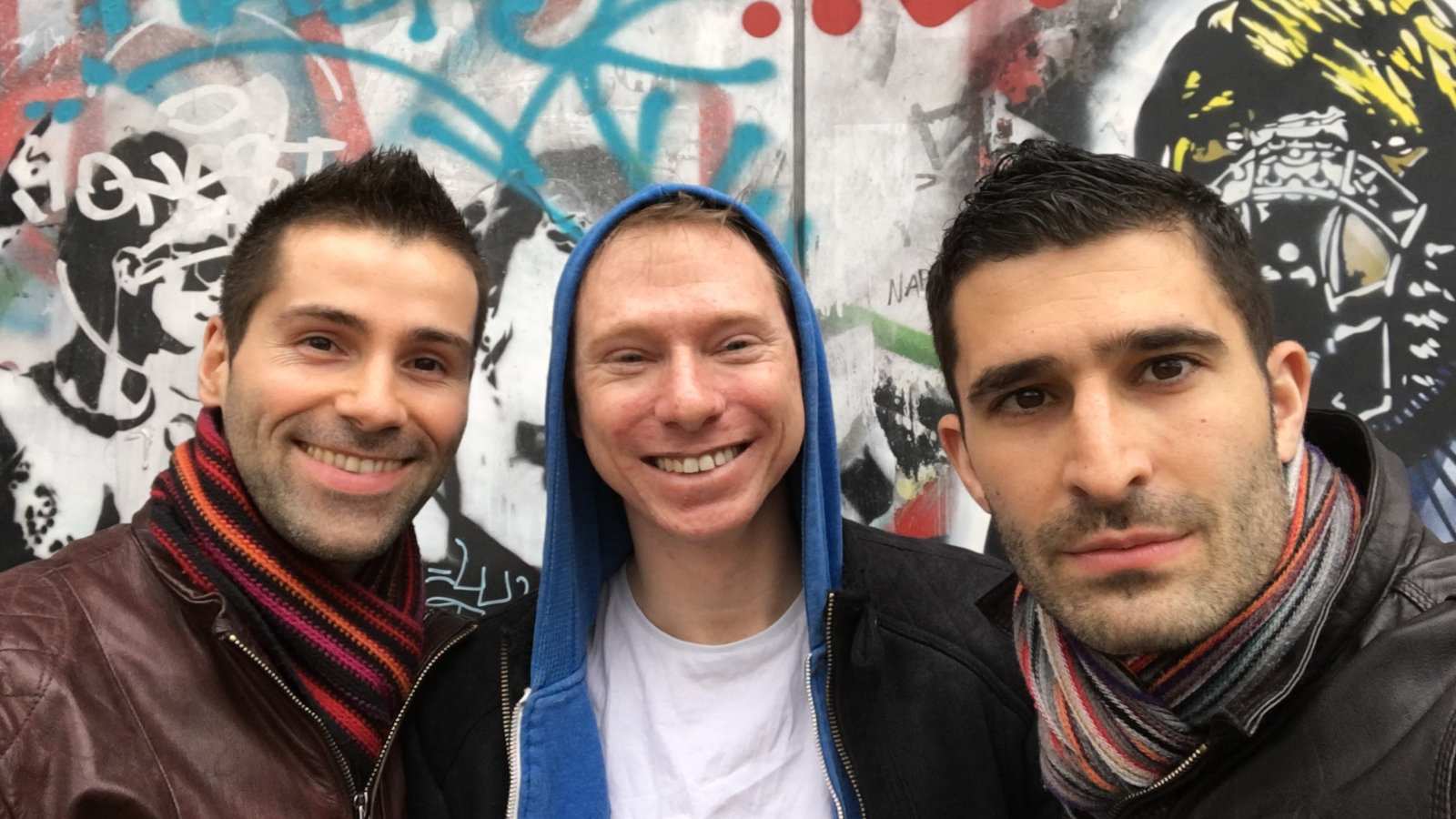 For when you want a bit of history as well as the ideal Insta shot in front of a pretty building…
Maybe you want to explore Berlin and learn about the city's history but not just focus on one neighbourhood? This gay tour takes you to the main tourist sites with an LGBTQ guide, who will also tell you all the history behind everything.
Instead of joining a regular sightseeing tour, we rate this tour because as well as exploring the highlights like the Brandenburg Gate, Reichstag Building and Museum Island, you have a gay local who will tell you things from his perspective. For us, this was important because the LGBTQ community were hit hard during the Nazi regime (remember the origin of the pink triangle?), so we wanted an insight about this sad aspect of Berlin's history from a gay local. Obviously, it goes without saying that a gay local showing you around will also tell you the best LGBTQ hangouts to check out both during the day and in the evening.
One of the stops we loved the most was the stunning Berliner Dom, aka the Berlin Cathedral. Located on Museum Island, the domed roof of this incredible structure is one of the most recognisable in Berlin.
The final part of this tour includes your skip-the-line entrance to the Berliner Fernsehturm, which is the iconic Berlin TV Tower. For us, this is the most recognisable building on the Berlin city skyline, so we were super excited to visit. You get to admire the city from 203 metres (666 feet) above on the viewing platform. Also, look out for the revolving restaurants, which is a romantic place to get a sunset cocktail whilst watching the Berlin rush hour unfold around you.
05
Berlin's history of sex tour with a sociologist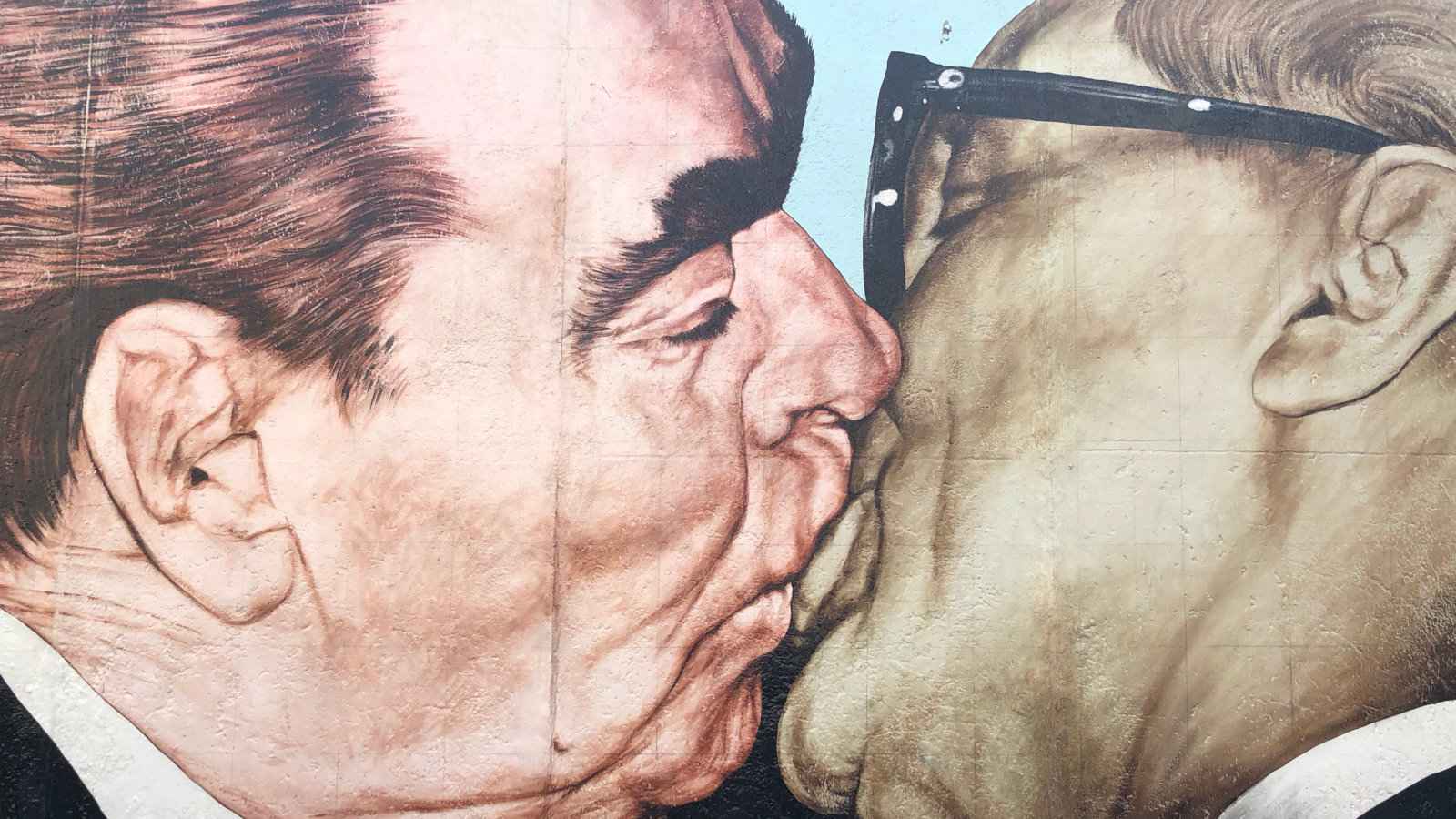 "Berlin is poor, but sexy!" – Klaus Wowereit, ex-Mayor of Berlin…
For something a little bit out of the ordinary, we recommend this quirky tour about Berlin's history of sex, led by none other, than a sociologist! While this is not an outright gay tour per se, it does touch on Berlin's queer history along with other sexual aspects of the city's past.
This tour visits some of the famous gay landmarks mentioned in this guide, like the Eldorado Bar and the memorial to the homosexuals persecuted by the Nazis. In addition, it also includes visits to other locations that are significant historically. Perhaps one of the most fascinating (at least for us) was the Magnus Hirschfeld's Institute of Sexual Science – he is renowned for being the world's first 'sexual' scientist and a prominent advocate for LGBTQ rights in the early 1900s.
Other fascinating aspects covered on this tour include the history of nudism in Berlin, the sex worker industry of Berlin and how the HIV/AIDS epidemic was dealt with in a divided city.
Overall, this tour provides a very unique insight into how and why Berlin has become known as a city of hedonism. If you have any sort of interest in social movements and history then you will also find this tour completely captivating.
06
Schwules Museum (Gay Museum) Tours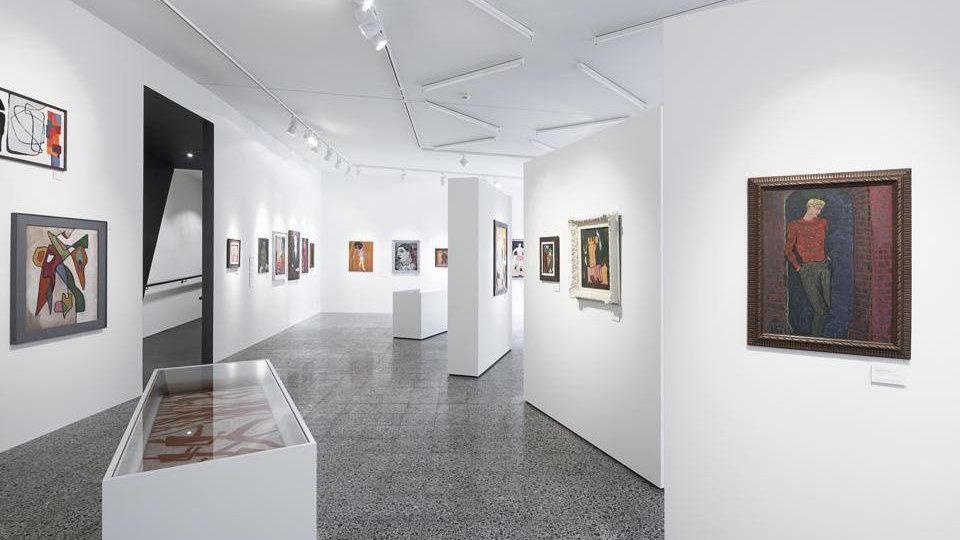 A whole museum of gayness? Darling, sign us up!
If you're short on time or don't really want to do a great big city tour, there is an alternative. The Schwules Museum, also known as the gay museum, is a museum and research centre dedicated to LGBTQ history.
When the Schwules Museum was opened in 1985, it was the first museum in the world dedicated to gay history. It was opened after the success of the first public exhibition shown in Germany of research on gay life at the Berlin Märkisches Museum. Today it holds over 50,000 objects showcasing gay culture with everything from postcards to clothing and vinyl records. They also display themes relating to drag, gender issues, HIV/AIDS and more. You could easily spend an entire day exploring – we sure did!
We recommend looking out for their ad hoc events and talks. As well as being educational, it's the perfect social gathering to quickly make new friends.
The Schwules Museum is open every day except Tuesdays. Look out for the free tours they offer on Thursdays and Saturdays. Another tip, if you purchase the "Berlin Pass" it will include free entry to Schwules as well as to other attractions and museums in Berlin.
DON'T MISS OUT!
Join our newsletter
Subscribe now to receive in-depth FREE travel guides, along with inspiring stories, savvy planning tips, and exclusive discounts on gay tours.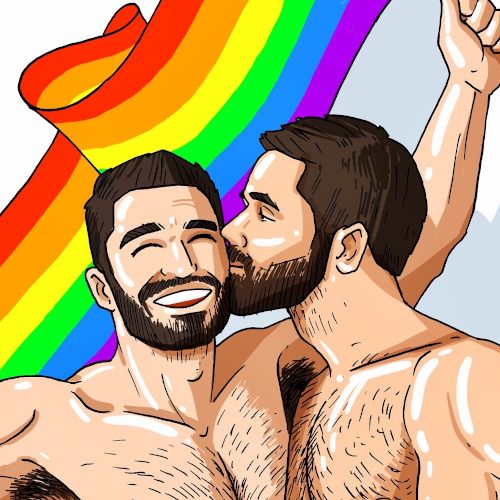 ---
Like this post? Pin it