TERMS OF USE: There is a chance that some of the content on this page has changed since it was last updated. By reading this article, you consent to our Terms of Use and Disclaimer. Happy Travels!
DISCLOSURE: Some of our posts may contain affiliate links which we may receive a commission if you choose to book something through one of our links.
This is our gay guide to Xi'an in China, with all the best gay friendly places to stay, eat, drink and what to do.
Emperor Qin Shi Huang was one pretty remarkable Diva in Ancient China! Not only did he declare himself as the first Emperor of a unified China back in 221 BC, he also created an entire tomb of terracotta sculptures depicting his massive army who would protect him in his afterlife.
This was no mean feat. Old Qin Shi's posthumous army consisted of 8,000 soldiers, 130 chariots with 520 horses and 150 cavalry horses. And it's pretty damn impressive to behold!
We came to Xi'an expecting to be wowed by Emperor Qin Shi Huang's famous Terracotta Warrior sculptures – and bloody hell, we sure were! But unbeknownst to us, we were also blown away by the delicious street food in the Muslim Quarter as well as the city's small, but lively gay scene.
Most will only come to Xi'an expecting to stay for just a few days to see the Terracotta Army then leave. But we recommend hanging around a few days longer. This is a city with an extraordinary history that dates back over 3,000 years, back to when it was called "Chang'an" – one of the four great ancient capitals of China and the starting point of the famous Silk Road trade network. A few days just doesn't do it justice – trust us, you'll thank us!
This is our detailed gay guide to Xi'an's bars, clubs, hotels and some invaluable inspiration for LGBTQ travellers. All the information in this guide is based on our first-hand experience travelling here as a gay couple coupled with notes from gay locals we met during our trip who continue to help us keep our guide up-to-date.
Most social media apps are blocked in China
In addition, the Internet is heavily regulated by the Chinese government, most non Chinese websites like Google, Youtube, Facebook etc… are not available in China. The best way to get around it is to get a VPN service in order to access blocked apps and websites, as well as to enable you to browse the web anonymously.
Is Xi'an safe for gay travellers?
The short answer is yes very much so! Xi'an is the gateway to one of the biggest attractions of China, so locals are more than accustomed to welcoming travellers from all over the world. As a gay couple, we never experienced any problems in Xi'an. Booking a double bed in any of the hotels we stayed in was never a problem. Despite China's lack of proactive LGBTQ rights, we found locals to be extremely respectful and polite to us. At worst, most people just thought we were brothers.
We do point out that this is our perspective as foreigners. Obviously the situation for an LGBTQ Chinese local is a lot different. Modern-day China still has a long way to go to accept and protect its LGBTQ community. Chinese society remains very conservative and heteronormative. Therefore, whilst it may feel ok as a foreigner, we recommend avoiding any PDAs. Better to save this for one of the queer friendly spaces we set out in this guide. You can find out more about actually growing up gay in China in our interview with local boy Cass.
Gay friendly hotels in Xi'an
Xi'an is super touristy because of the Terracotta Warriors. Therefore hotels are used to seeing foreigners from all over the world, which will, inevitably, include LGBTQ travellers. We found the large international chain hotels to be the most welcoming and gay friendly as their staff adhere to a set of international standards. If staying in a small family-owned hotel or guesthouse, we recommend calling ahead to check they're ok welcoming gay travellers.
The following are the best gay friendly hotels in Xian that we can personally vouch for, based on a mix of our personal experience, recommendations from LGBTQ locals and advice from other gay travellers we met: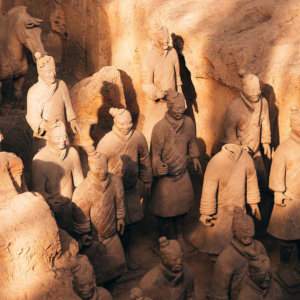 Must do in Xi'an: See the Terracotta Warriors
Let's be honest, like us, the main reason you want to visit Xi'an is to see the Terracotta Army right? One of the best ways to experience this amazing site is by joining a tour with a local guide who will show you around the site as well tell you all about the history behind what we found to be one of the greatest archaeological discoveries in the world.
01
W Xi'an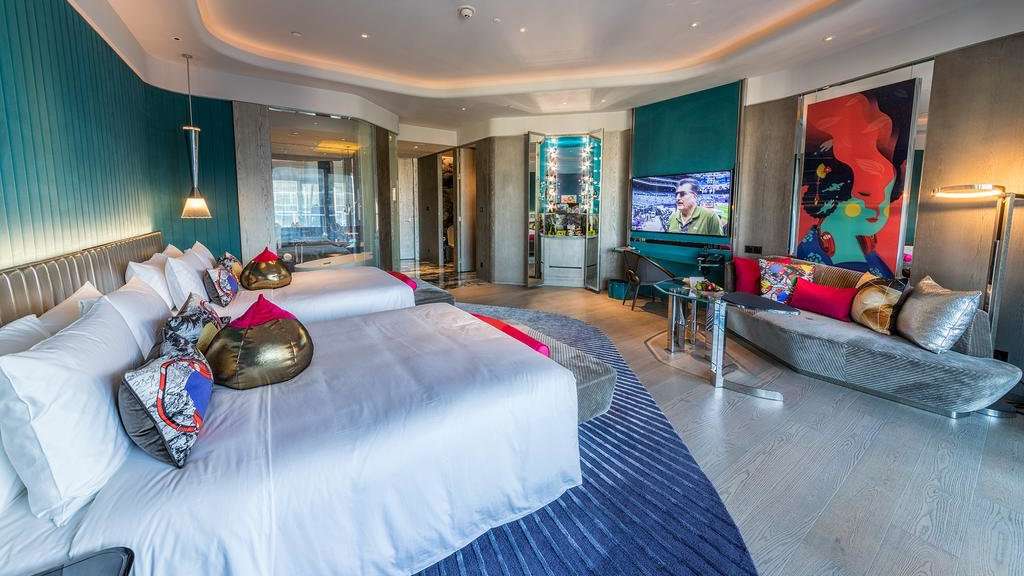 Why we love it
---
Stunning gay friendly luxury hotel
Indoor and outdoor swimming pools
Multiple excellent restaurants on-site
Lovely spa and wellness facilities
We love the W brand as it is famous for being super gay friendly wherever it in the world it is found. The W Xi'an is no exception, with incredible architecture that makes the whole hotel look like some kind of colourful and futuristic set of pyramids.
The interior is just as bright and stunning, with parts fitted out in blue while others are bright red. The bedrooms are more muted and relaxing, but still with pops of colour and luxurious details throughout.
We felt extremely pampered the whole time we were here. The staff are friendly and attentive, not batting an eye when we checked in and requested a room with a double bed. All the rooms have incredible views, either of the city or the Qujiang Lake. The rooms are huge, with stunning marbled bathrooms and big freestanding bathtubs to soak in. Some even have a private balcony. It's not surprising that the W Xi'an is so spacious, as it's the largest W Hotel in all of Asia!
There's a gorgeous indoor swimming pool, as well as a seasonal outdoor one that you can use when it's warm. The Away Spa offers many relaxing services, plus there's a nice hot tub and sauna to soak or steam all your worries away. There are three different restaurants on-site, all excellent. Our favourite is FU because of the delicious Chinese hot pot they specialise in. We recommend coming here even if you're not a guest as it's a great way to learn more about this very traditional Chinese way of eating: as part of the hot pot experience, you literally cook your food in the broths served on your table.
02
Sofitel Legend People's Grand Hotel Xi'an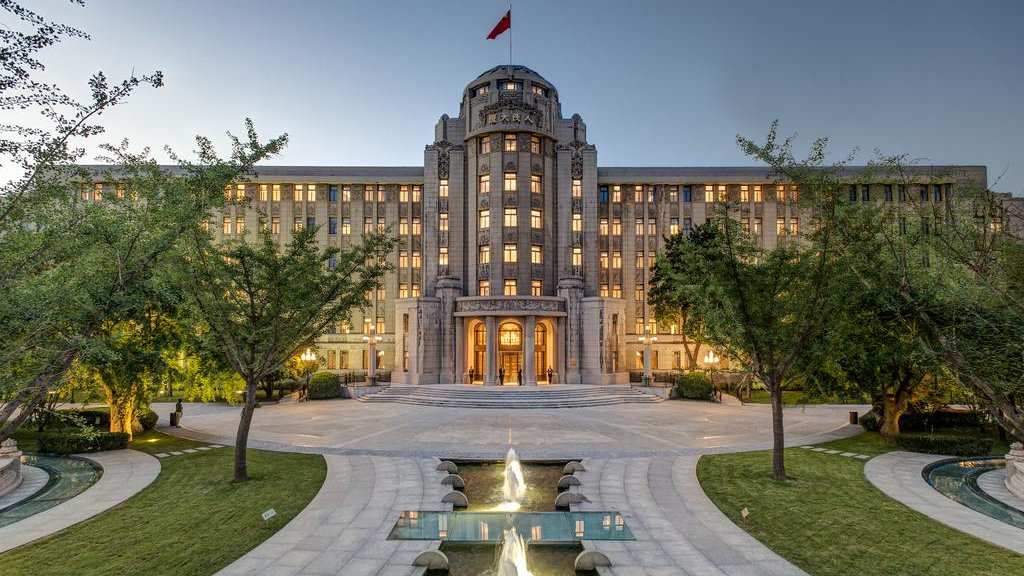 Why we love it
---
Incredible luxury hotel
Personal butler service
Swimming pool, spa and fitness facilities
Delicious Italian restaurant and multiple bars
For the ultimate luxury experience in Xi'an, you cannot go past the incredible Sofitel Legend People's Grand Hotel. The impressive building has been a hotel since 1953 when it was opened as a state-run hotel for visiting Chinese leaders and foreign dignitaries. Previous guests include French President Francois Mitterrand and US diplomat Henry Kissinger.
After extensive renovations, the hotel offers a gorgeous spot to base yourself while exploring the city of Xian.
And when we say gorgeous we really mean it! The hotel is situated within 40,000m² of landscaped gardens, with multiple stunning fountains. Once you step inside the art deco building you're greeted by marble, chandeliers and sophistication everywhere you look. You can choose to stay in a huge bedroom or one of their palatial suites. All accommodations include Hermés bathroom amenities, butler service, nightly turndown, a pillow menu and evening cocktails in the lobby.
There's a lovely Italian restaurant on-site, Dolce Vita, as well as three different bars for cocktails and light snacks. All guests can enjoy the swimming pool and Jacuzzi, as well as the small fitness room. You can also have a relaxing massage at the spa, which includes a couples room for that little extra romantic touch. We certainly felt like absolute queens while staying here, swanning about in our silk bathrobes and having breakfast on the balcony overlooking the gardens!
03
The Westin Xi'an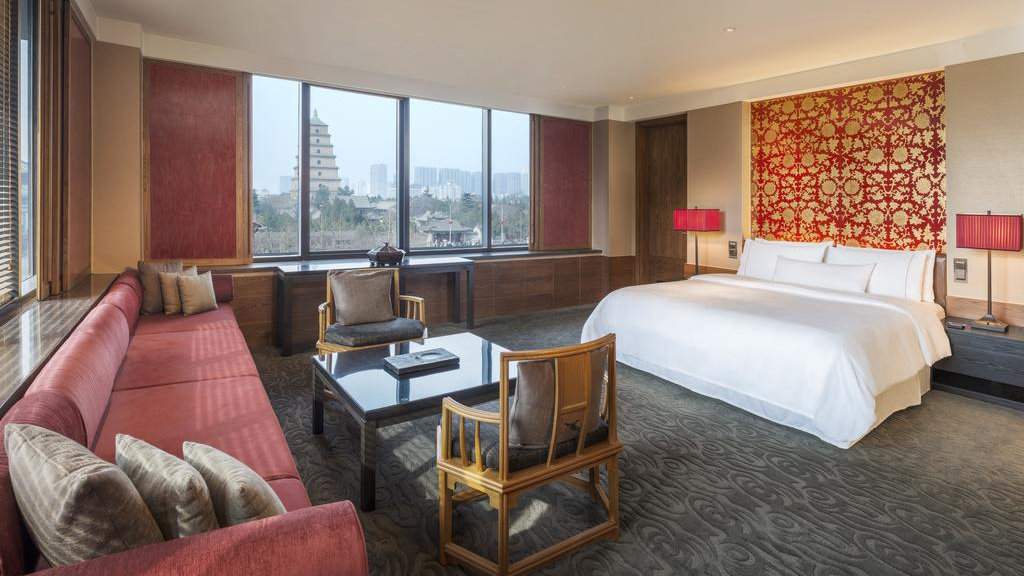 Why we love it
---
Affordable 5-star hotel
Indoor swimming pool
Excellent gym and spa
On-site art museum
If you're looking for something a little easier on the purse strings, but still just as comfortable, then we recommend The Westin Xian. While this hotel is more affordable than the previous two, it's still a five-star establishment so you won't be lacking anything.
The Westin is within walking distance of the Giant Wild Goose Pagoda and is also home to the Xian Qujiang Museum of Fine Arts, so it's perfect for guests interested in culture, art or history.
Rooms and suites are spacious, with soothing, minimalist decor. We recommend dining at their "Five Zen5es" restaurant for tasty Sichuan food as well as their "Mai" restaurant for some of the best Japanese food you'll find in all of Xian.
In terms of fitness and relaxation, The Westin Xian have nailed it! They have an indoor swimming pool as well as an excellent, well-equipped gym with lots of machines and equipment so you can have a workout. You can join a group class such as yoga, pilates, and Zumba or work with a personal trainer as well. The Heavenly Spa is aptly named, as it is definitely heavenly to enjoy rejuvenating treatments, especially in the VIP couples room which has a whirlpool, two massage beds, and a resting area.
04
Hantangyi International Youth Hostel Xi'an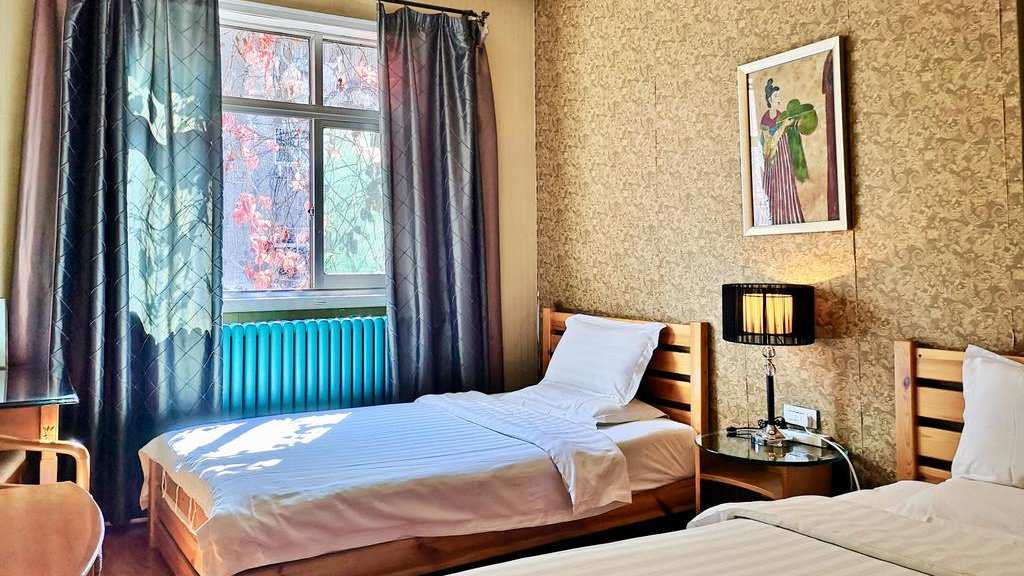 Why we love it
---
Clean and comfy budget accommodation
Lots of social activities organised
Cute resident cats
On-site bar and restaurant
For travellers on a budget, we recommend staying at the Hantangyi International Youth Hostel (also known as the Han Tang Inn).
It's perfect for solo LGBTQ travellers as everyone is looking to make friends and travel buddies.
In addition, we found everyone working and staying here to be open-minded, tolerant, well travelled and gay friendly. Cat-lovers will also be charmed by the resident cats, Mimi and Sheldon!
You can choose from private or dorm-style rooms, which are all clean and comfy with the basics you need for somewhere to rest your head each night. Even though the bedrooms are basic, the hostel offers plenty of amenities as well, including a sauna and massage services. There is also an onsite restaurant, a bar and a terrace/garden area on top, so you've pretty much got all you could ever need under one roof!
One of the best things about the Han Tang Inn is that the staff organise lots of fun social events to really tighten the bond amongst guests. We made a lot of new travel friends (both gay and straight here). Events include movie nights, cooking classes, karaoke, mini-golf and a "Happy-Hour" drinks evening.
Gay bars and clubs in Xi'an
We'll be honest with you. You're not going to come to Xi'an to party. Quite likely, you're here because (like us), you want to visit the Terracotta Army. If you have some time to spare, we recommend checking out the gay scene. It's small, but a lot of fun and certainly a new cultural experience – gay clubbing in China!
When we went (and at the time we recently updated this article), there was sadly just one. There is however a large LGBTQ community in Xian. We recommend getting a VPN and connecting to gay dating apps like Grindr, Hornet and Tinder to connect with them. Also, look out for any ad hoc underground gay parties taking place that are only announced via word-of-mouth.
In.D
In.D is currently the main and only gay bar/club in Xi'an. We recommend checking it out if anything to experience what gay clubbing is like in China. You'll find that guys here do not dance. Gay clubs here are all centred around a show (be it drag or sexy GoGo dancers) with the audience watching sat around tables and chairs.
When we entered In.D, we were allocated a table and told we had to spend 200 yuan (around $30) per table. This included a choice of 20 bottles of beer or 2 bottles of (mediocre) wine for our table! We then sat back and enjoyed the various shows. The cabaret at In.D was some of the funniest we've seen (see video below), despite the language barrier! There was also a variety of Chinese comedy sketches, solo singing, and cute boy band dancing.
At around 1am the shows finished, the area was cleared and we were able to dance a bit. We found that most of the Chinese guys at this point either left, or they stayed back watching these tipsy foreign queens make a fool of themselves on the dance area! Overall, Chinese guys just don't like dancing and prefer to look on – you have to experience it!
In.D is located at "Taibaoji Xiang" next to the Starway Hotel on "Taibaoji Xiang" inside Zhu Qu Men.
Gay saunas in Xi'an
There used to be a handful of gay saunas in Xi'an, including the Zua An gay sauna. However, since 2016 they have all closed down and we have no record of any new ones in operation. The same for outdoor cruising areas.
Our advice if you're looking to hook up with other guys is to use a VPN to connect to apps like Grindr, Hornet and Tinder. If you want to meet gay local guys, we also recommend checking out the Blued app, which is the largest gay dating app in China.
Where to eat?
The best advice is to just head to the Muslim Quarter every evening. There are so many different street vendors selling freshly made pulled noodles, dumplings and other treaties. We've also included a few other restaurants that we tried based on recommendations from our local friends:
The Muslim Quarter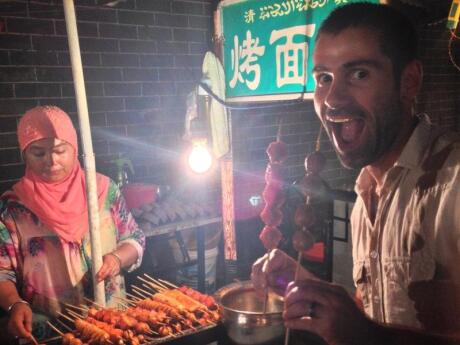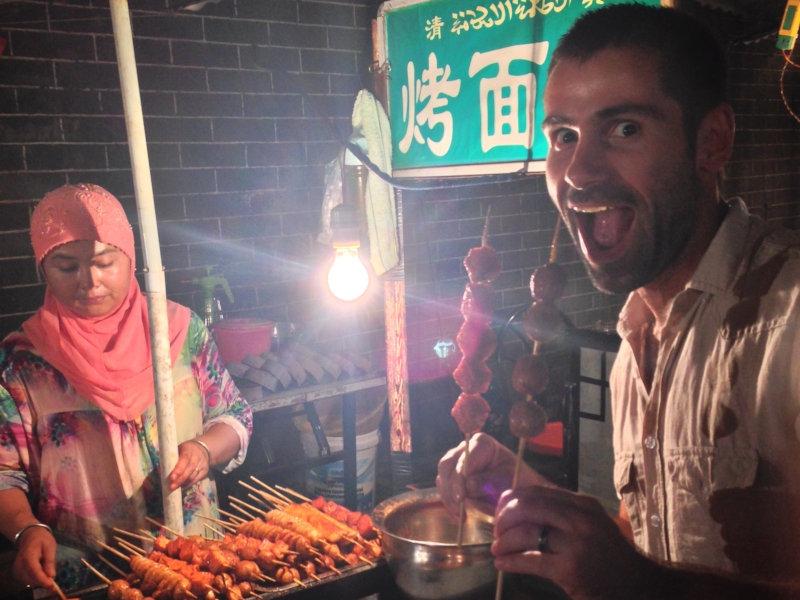 Muslims have been living in Xian for thousands of years, after travelling to the ancient capital via the Silk Road. Nowadays the neighbourhood around Huimin Street is known as the Muslim Quarter. It is famous for its street-food stalls selling all manner of delights. We loved wandering along and trying all sorts of dishes made right in front of us. Some of our favourites we recommend looking out for was the stands making noodles from scratch, and our favourite, the sticky glutinous rice deserts called, "gui hua gao". If you're interested in the stories behind the food we recommend joining a gourmet street food tour with a local guide to take you to all the best spots.
---
Rou Jia Mo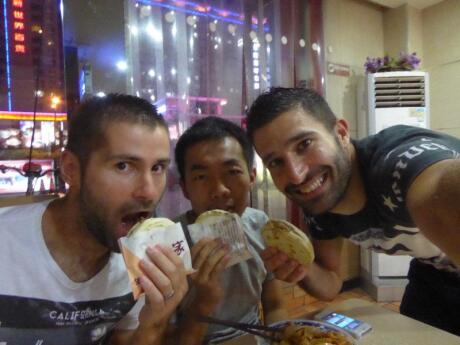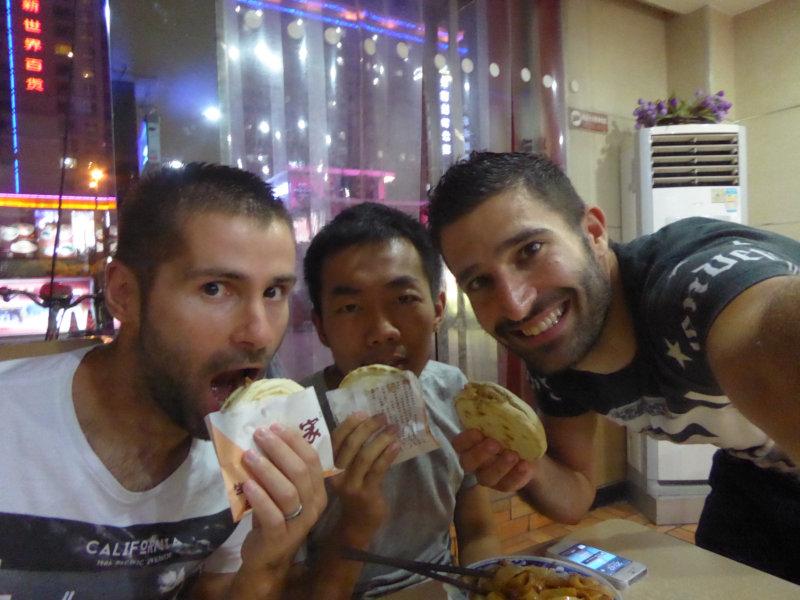 Sometimes called the world's first burger, Rou Jia Mo is a popular street food that's been around for over 2,000 years! It's made by putting tender fatty pork that has stewed for hours into a handmade bread that's cooked to be crispy on the outside and soft on the inside. We loved these "Chinese hamburgers" and ate a ton of them during our time in Xian. You can get them at street food stalls or inside local restaurants. Our favourite was at Wang Kui's Juicy Chinese Burger. Make sure you also get your burger with a side of chilled noodles and "Ice Peak" (Xian's orange soda!), which forms one of the most popular fast food meals in China!
---
De Fa Chang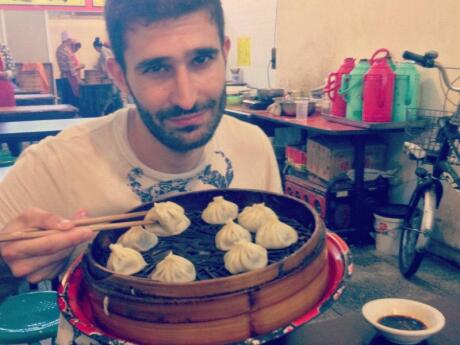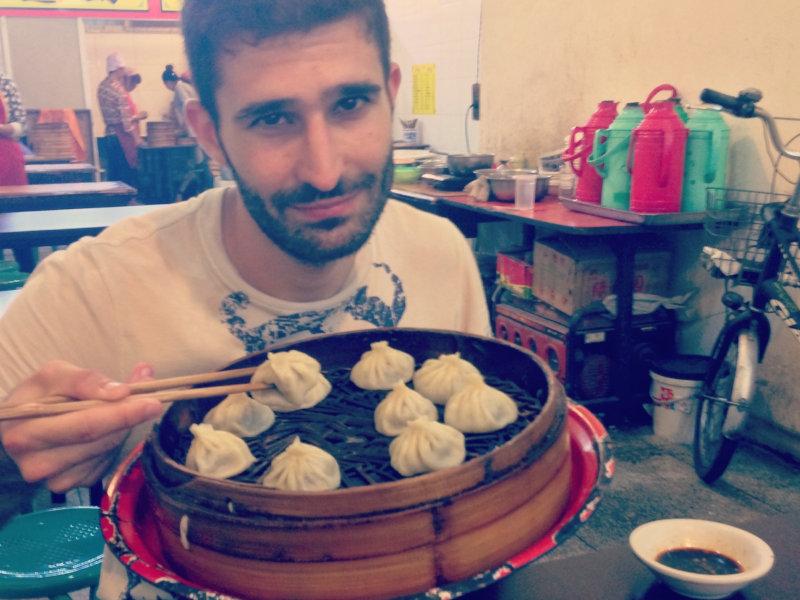 We love steamed dumplings and have tried them throughout our travels in Asia. We rate the ones in Xian as one of the best we've tried. De Fa Chang is one of the most famous restaurants in Xian and one of our favourite places to come for an absolute dumpling feast. The portions here are huge, with many different kinds of dumplings with fillings of chicken, pork, shrimp, vegetables and even nuts. Some of them are crafted to look like adorable little animals. Just make sure to wear loose pants before coming here – all those dumplings, delicious rice, soup, mochi and tea will make you feel stuffed!
---
Best things to do in Xi'an
Whilst most will come to Xian to see the Terracotta Army. We've included a few other must-sees that we loved in Xi'an and think you should also check out:
Terracotta Army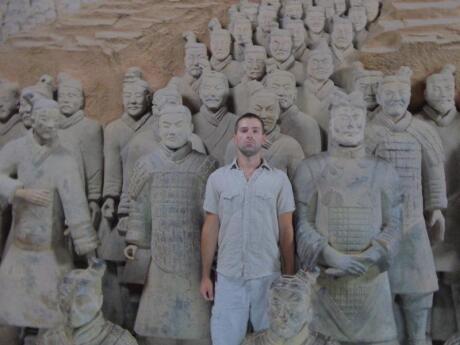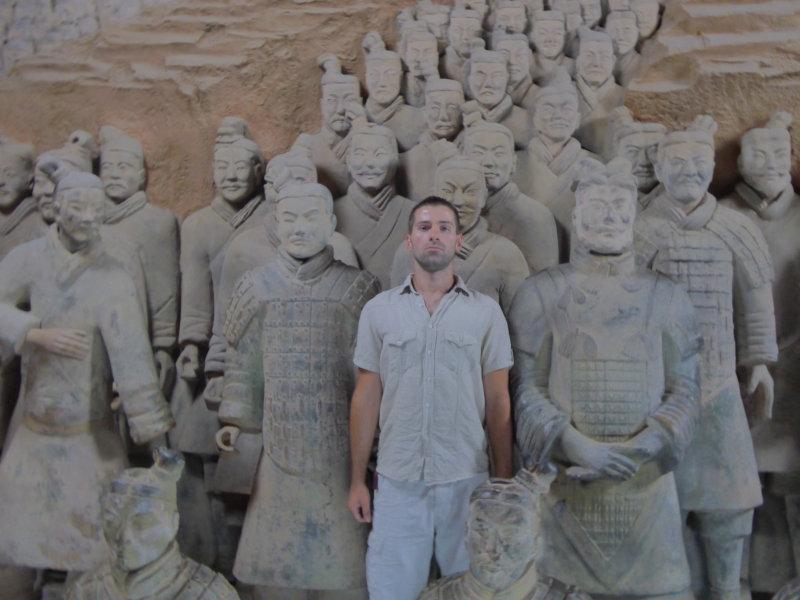 Officially named the "Emperor Qinshihuang's Mausoleum Site Museum", the site and museum are located about 40-50 minutes outside of Xi'an. There aren't any direct public transport links, so the best way to visit this fascinating UNESCO World Heritage Site is either with private transport or by joining a guided tour with transport included. A tour will include an expert guide to tell you all about this most significant archaeological excavation of the 20th century, the story of Emperor Qinshihuang and the history of the Qin Empire.
---
Explore the Ancient City of Xian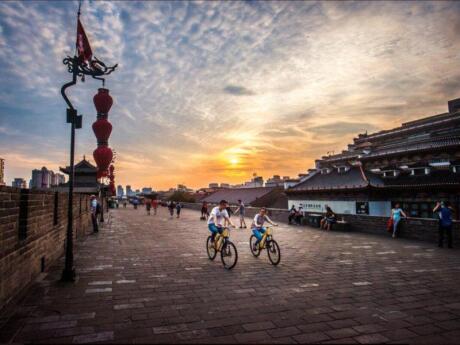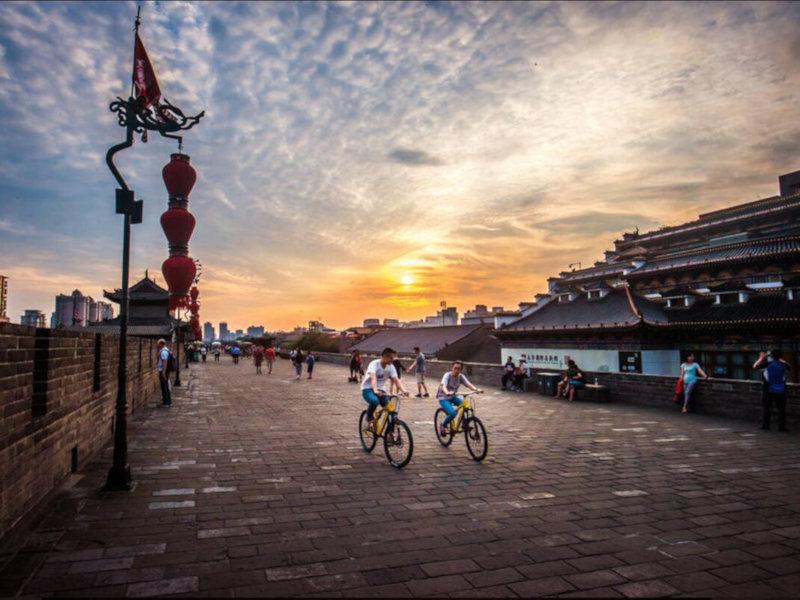 Make sure you spend some time exploring the most ancient parts of the city. Xian is a city with a rich history having been the origin point of the Silk Road. In addition, it is one of the oldest cities in China and one of the four great ancient capitals. The city walls are the largest and best-preserved ancient city walls in China. You can join a cycling or walking tour to explore the walls and learn more about Xi'an's fascinating history. We also recommend visiting the Giant Wild Goose Pagoda, a Buddhist pagoda that's over 1,000 years old. Oh and be sure to check out the large fountain next to it – it's famous for being the largest fountain in all of Asia, and every evening they have a spectacular sound and light here.
---
Drum and Bell Towers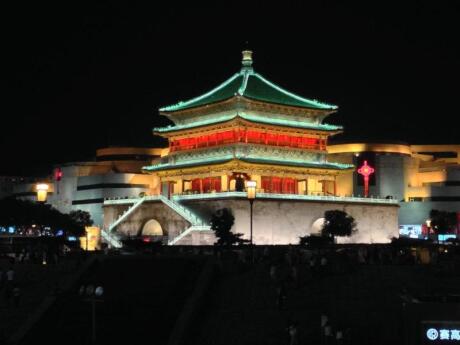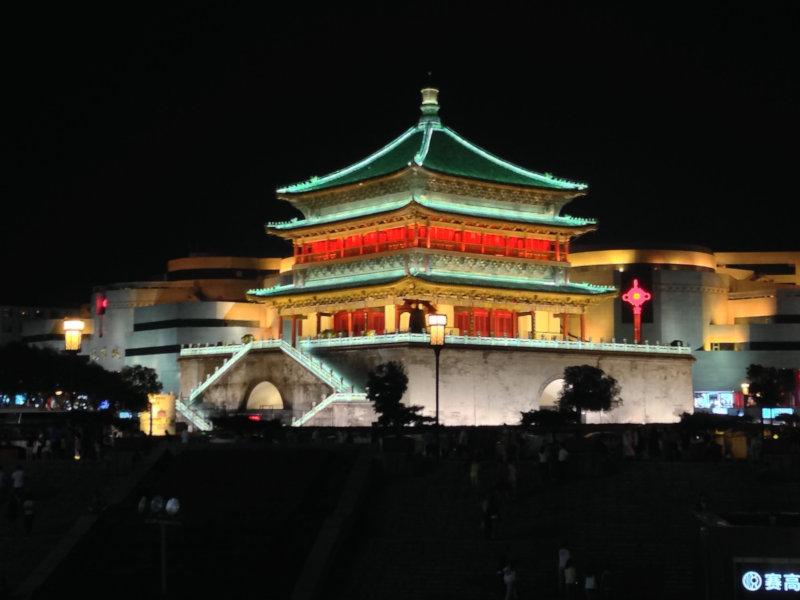 There are two other towers well worth a visit in Xian: the Drum Tower and the Bell Tower. Both were built during the Ming Dynasty and have not become a combined symbol of the city. The Bell Tower, in particular, is a grand structure and one of the best-preserved bell towers from Ancient China. In the past, the bells in the Bell Tower were struck at dawn, while the drums in the Drum Tower were beaten at sunset to tell locals the workday was over. Now you can enjoy a drum performance in the Drum Tower each day, or just climb either tower for excellent views of the city. Each night the towers are lit up and you can see them shining out in the dark.
---
Cooking class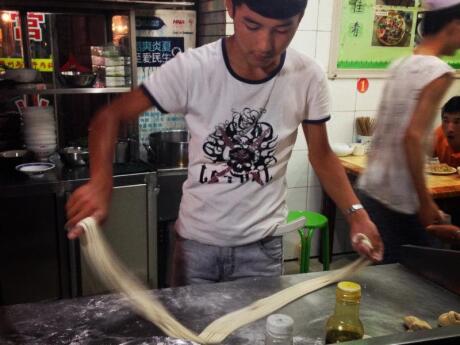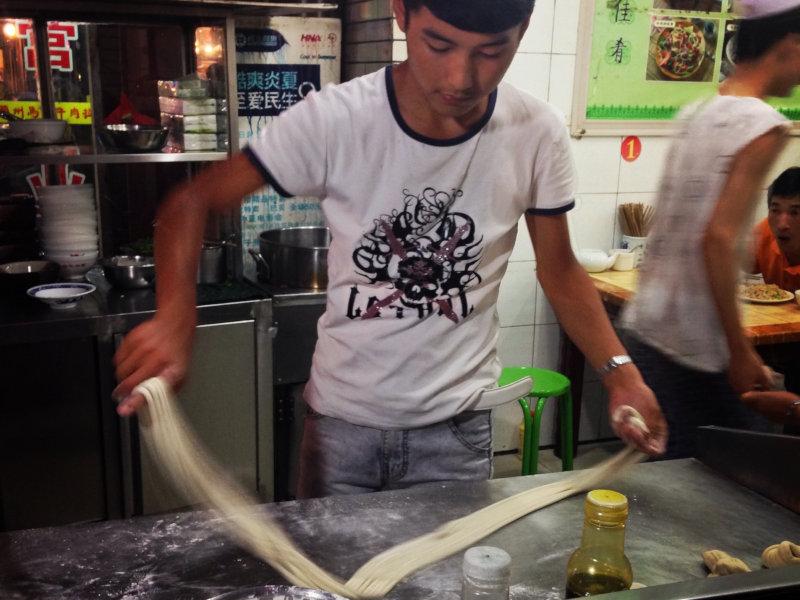 If there's one thing we greedy boys like doing when travelling, it's trying allll the local delicacies. And China sure has a smorgasbord of deliciousness to sample! The Shaanxi province (where Xi'an is located) is famous for a type of noodles known as Biang Biang noodles. This is due to the 'bang bang' sound they make when you're making them! We love joining cooking classes when we're travelling so we can recreate our favourite dishes at home, so we joined a biang biang noodle-cooking class in Xi'an and had a great time. These wide, handmade noodles are served with spicy sauce and any kind of toppings or add-ins you like.
---
Plan your trip to Xi'an
We've put together some handy hints and tips to help you plan your own trip to Xi'an. Read on to find out everything the gay traveller should know before they go.
Travel insurance: We always make sure we have travel insurance because you just never know when you might miss a flight, lose your luggage or face some other mishap on your travels. We recommend Heymondo Travel Insurance for your trip to Xi'an, as they offer affordable and comprehensive coverage. It's also really easy to make a claim online if you need to.
---
---
Visa requirements: Passport holders from some countries (such as the United Kingdom and all European Union citizens) can enter China visa-free for up to 30 days. If you are visiting Xian from countries such as the United States, Canada or Australia then you will need to apply for a visa online.
---
Getting around: You can get around within the city of Xi'an via buses, taxis, and the metro, or even by hiring a bicycle.
---
Power Plugs: China uses power plug types A, C and I of which some are also found in other countries. However, since you probably never know which one you will find in each place (China is a BIG country) we recommend bringing a universal power adaptor with you to Xi'an.
---
Vaccinations: All travellers to Xi'an should ensure they are up to date with routine vaccinations such as measles, mumps, rubella etc. Most travellers to China should also be vaccinated against typhoid and hepatitis A. Depending on where else in the country you will be visiting and what you might be doing you may need further vaccinations. Make sure you check the CDC website and speak with your doctor well before making any travel arrangements.
---
Currency: The currency used in China (and therefore Xi'an) is the Renminbi which uses the code RMB or CNY. While the official name is Renminbi it's usually also called the Chinese Yuan, although technically a yuan is a basic unit of Renminbi, with RMB banknotes starting at one Yuan and going up to 100 Yuan. The symbol for the yuan in Chinese is 元. Currently, US$1 converts to about 7.10 yuan, €1 is worth about 7.76 yuan and £1 converts to around 8.84 yuan.
---
Tipping culture: In general, tipping in China is not commonplace at all, and you may cause confusion or even offence if you try to leave a tip. In some more touristy destinations, like Xi'an for example, Chinese workers at high-end hotels may be more accustomed to receiving tips, but you really don't need to. Check out this guide for more information on why you shouldn't tip in China.
---
Internet access: There are free WiFi hotspots throughout Xi'an. We recommend buying a local SIM card from one of the large phone providers – remember to take your passport with you as they'll need this to register the new SIM.
---
Online privacy: Many western sites like Instagram, Facebook and even Google are blocked in China, so if you're looking to connect with friends or family back home while in Xi'an then you will need a VPN. We always use Express VPN when we're travelling as they provide a reliable and affordable way to browse the internet with complete anonymity.
---
Accommodation: There are many more accommodation options in Xi'an than just the ones we've mentioned here. We love to use Booking.com to choose where we're going to stay because they have a comprehensive listing of accommodation options and they also offer the best prices. As an added bonus they also provide 24/7 online customer support and free cancellation for most listings.
---
Sightseeing and adventure: Our favourite place to look for cool activities to do in Xi'an is GetYourGuide because they provide a very user-friendly booking process with free cancellation and 24-hour customer support.
---
When to visit: Xi'an has four distinct seasons with cold winters, hot summers, rainy autumns and mild spring. Spring is definitely the nicest time to visit weather-wise, although you can visit at any time really, just bring the correct clothing!
---
For more, watch our China travel video as we ate our way from Beijing in the North all the way to the south via Pingyao, Xi'an, Shanghai, Yangshuo through to Shangri-La:
Gay map of Xi'an
Here's a gay map of Xi'an which includes all the gay bars, clubs, hotels and sightseeing highlights we've mentioned in this post. Use it to plan your own amazing gay trip to Xi'an!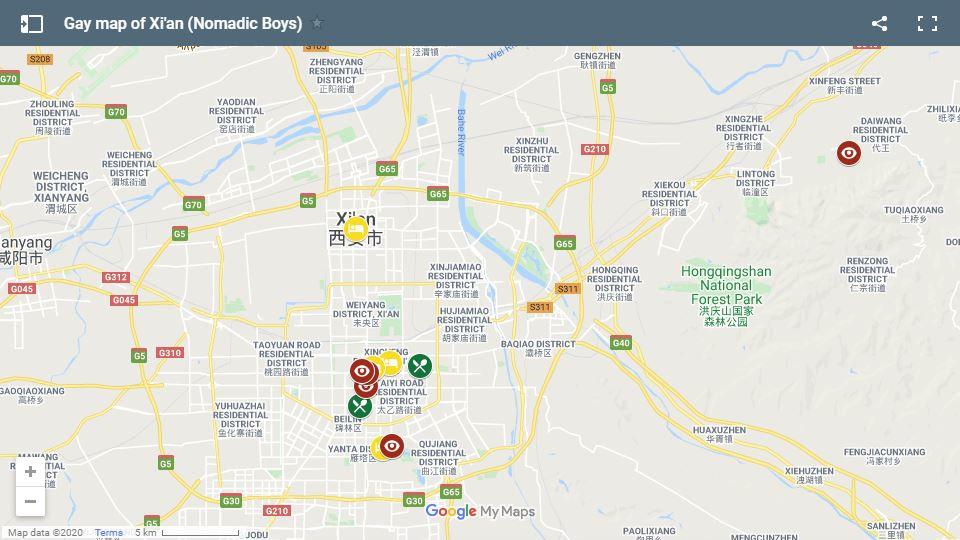 ---
Like this post? Pin it