Discover the gay area of Bangkok including the best gay bars, places to stay, where to eat, things to do, and more…
Lights…Camera…ACTION!
10s! 10s! 10s! across the board, as you sashay your way down Bangkok's Silom Soi 4 street, the beating heart and soul of the city's exhilarating gay scene.
We love it here. It's one of our favorite gay scenes in the world. Regardless of which day of the week you come, there's always life and action. Whenever we visit Bangkok, the first thing we do is head straight to the Circus gay bar and have our obligatory "welcome to Bangkok" Pad Thai on their outdoor terrace.
Circus is one of the many gay bars in Silom – an area with lots of gay hotels, massage parlors, clubs, saunas, and restaurants. You can read our full gay guide to the city of Bangkok, but in this article, we take you on a magical journey through the gay neighborhoods of Bangkok!
Heads up: We just wanted to let you know that this post contains affiliate links. That means if you book something through one of those links, we'll get a small commission, at no extra cost to you. It helps us keep our blog going – so thank you in advance for your support! ♥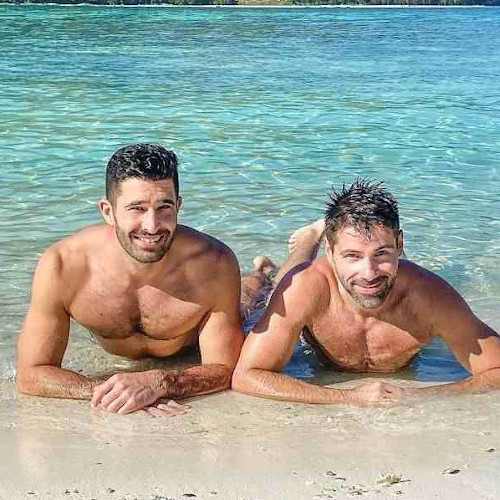 Gay tour of Thailand
Discover how Thailand earned its moniker 'The Land of Smiles' on this awesome gay tour with Out Adventures. The boys over at OA run four annual departures through the country with stops in Bangkok, Chiang Mai, Krabi, and Phuket. It's a fantastic way for first-timers to Thailand to get a thorough flavor of this incredible country with a fabulous bunch of squirrel friends to hand.
1. SILOM: Bangkok's main gay area
Silom is the premier gay neighborhood of Bangkok. It's well located right in the heart of town, which makes it popular with both locals and tourists. It's also the city's central business district, so lots of skyscrapers and condos.
There are two main gay streets in Silom, known as Silom Soi 4 and Silom Soi 2. Sala Daeng is the nearest BTS Skytrain station to both.
Silom Soi 4 is where the main gay bars of Bangkok can be found, in particular Circus, Balcony, and Stranger. There are some smaller, more chilled ones as well like HUGs bear bar. We love grabbing a few drinks first on the outdoor seating terrace of Circus or Balcony and then heading over to Stranger Bar to watch their drag shows.
A few blocks away from Silom Soi 4 is Silom Soi 2, which is an entire street dedicated to gay clubs! DJ Station is the main one. We usually head here at around 11 pm to watch the live shows and then dance the night away. Just behind Silom Soi 2 is another infamous gay club called "G Bangkok" (aka G.O.D.), which is the place to head if you want to dance with hot, sweaty, shirtless guys!
If gay massages are your bag, we recommend heading over to Silom Soi 6, which is where the best gay massages in Bangkok can be found. No pressure here: they cater to both the "Happy Ending" crowd as well as the more conservative amongst us who simply want a thorough rubdown after an intense gym session. If, however, the "Happy Ending" wasn't enough and you want more, check out Heaven or Sauna Mania gay saunas…
The other reason we love basing ourselves in Silom is that the best gay hotels can be found here. For gay travelers on a budget, we recommend the Silom Space Hotel, which is located right next door to DJ Station. A more upmarket option is Tartanwan Place, just a short walk from Silom Soi 4. If you want to splash out and splurge, we recommend the W Bangkok.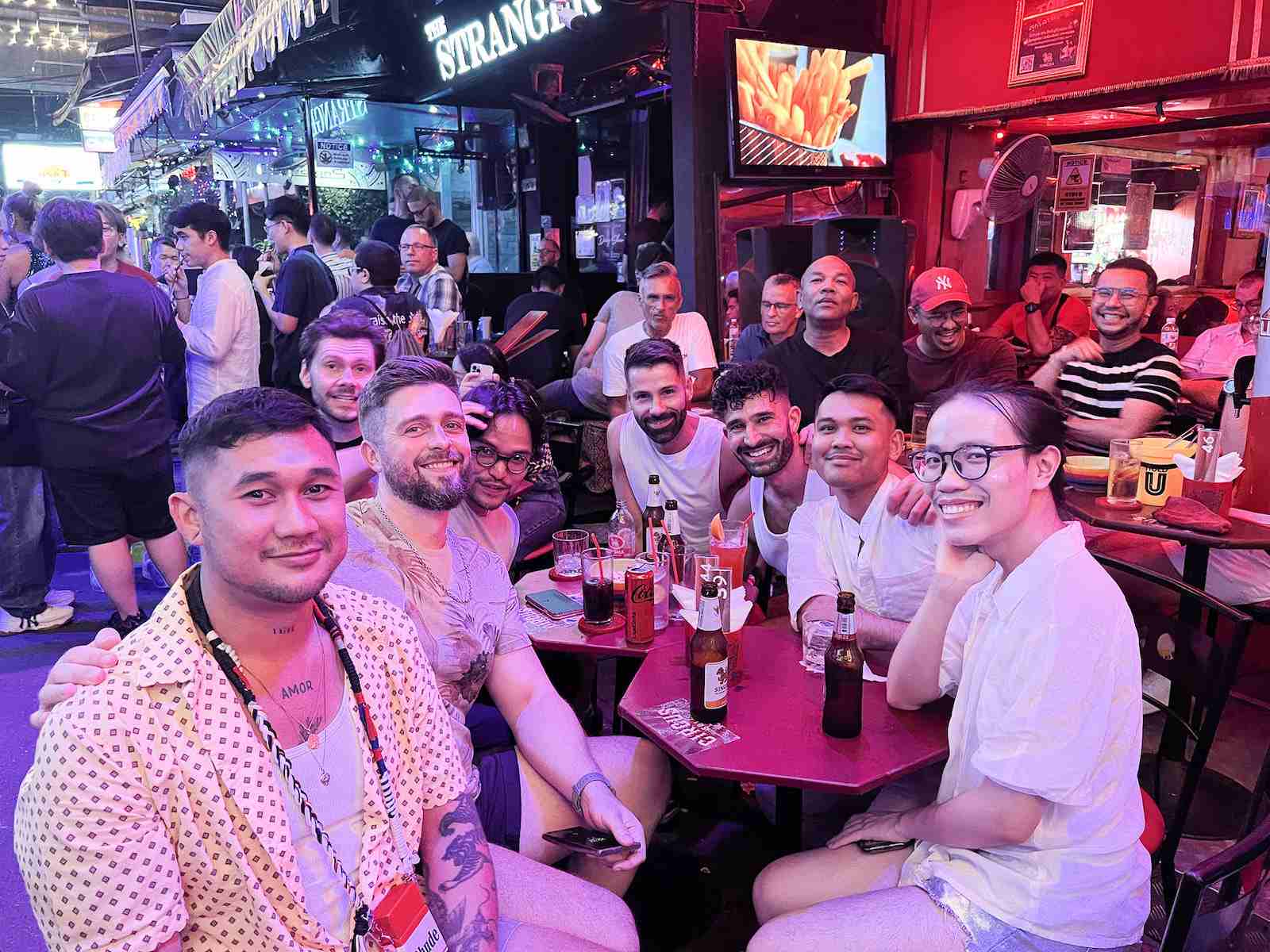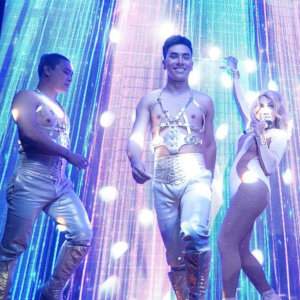 Discover Bangkok's gay nightlife
Gay Bangkok can be quite overwhelming for first-timers. This is why we recommend arranging a personalized gay night-time tour with a local guide to introduce you to the scene. You'll not only get to make new friends but also learn about gay life in Thailand from a cute local!
2. RATCHADA: the place to hook up with a Thai daddy
Ratchada is a suburb of Bangkok located north of Silom. It is spread out on either side of the Ratchadaphisek main road starting from Phra Ram 9 metro in the south stretching to Ratchadaphisek station in the north.
Ratchada has become more trendy over the years with locals because whilst it's close to the city center it doesn't have the same intensity that Silom does. Rents are also cheaper here than in Silom so more businesses have set up shop here taking advantage of the proximity to being close to the center. Hot young Thai office daddies also love the area because it's close enough to Silom but you get more bang for your buck in terms of condo quality and square feet!
We love Ratcahda because it's got a more local vibe than Silom and hotels/Airbnbs here are a lot cheaper. Silom is in any case a short taxi ride away: a hot tip from us – if you are two people (or more), the cost of the taxi is usually the same if not cheaper than two metro tickets.
When it comes to gay places in Ratchada, there are two: the Fake gay club and the Ratchada gay sauna (also called R3 Sauna). Fake is a great gay club in Bangkok to check out if you're fed up with DJ Station and want something new. As it's outside of the Silom gay bubble, it attracts a more local Thai/Asian crowd. Similarly, Ratchada gay sauna has a more local vibe than those located centrally in Silom (like Heaven and Sauna Mania).
Check out some of our top gay hotels to stay in Phra Khanong: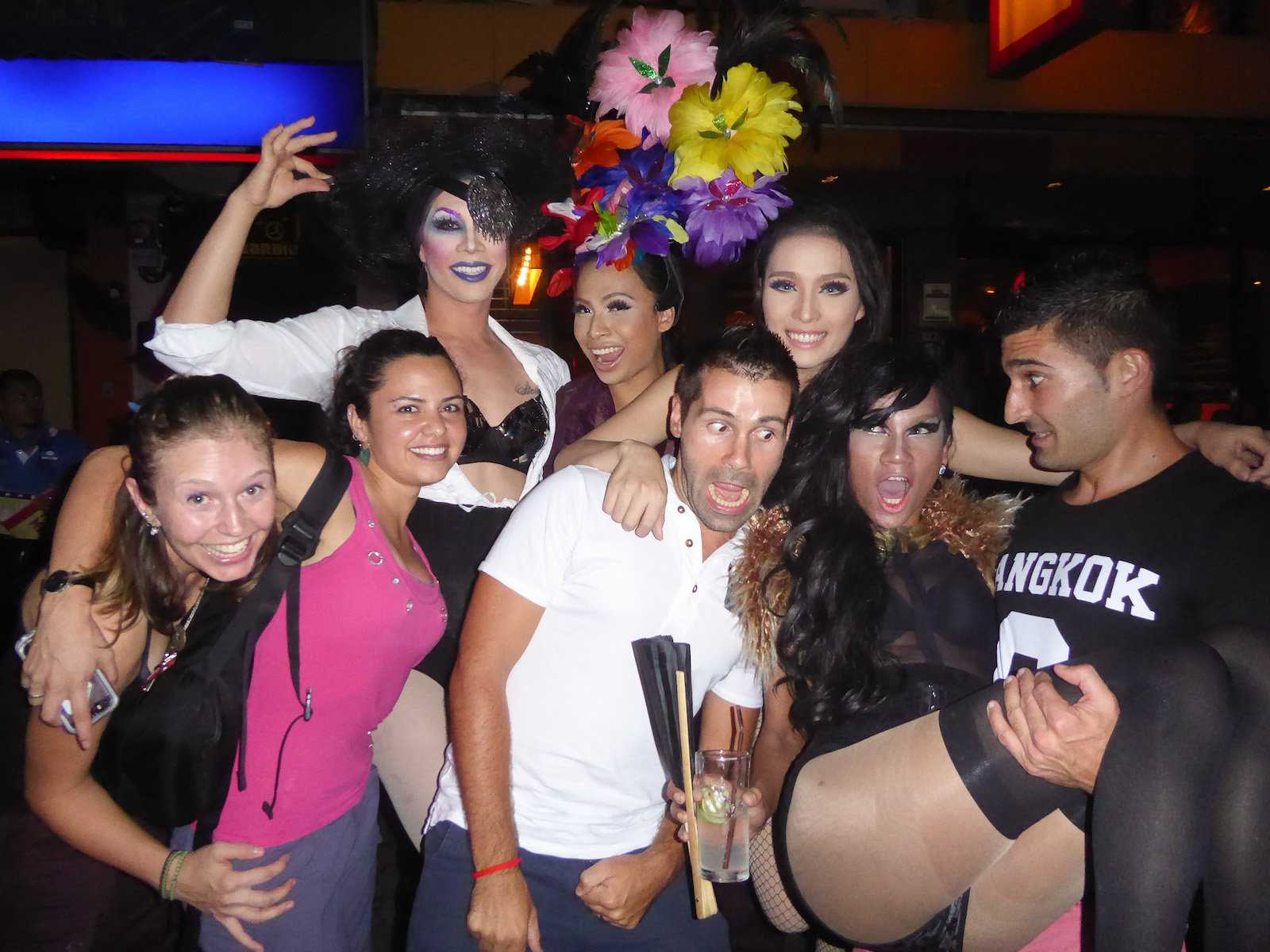 3. CHATUCHAK: the best outdoor shopping
Chatuchak is famous for its weekend market, which is one of the largest outdoor markets in the world. It has over 8,000 market stalls spread over 14 hectares attracting around 200,000 people every weekend! The market takes place on the southern edge of the neighborhood, next to the large Chatuchak Park – another popular landmark of the area.
Chatuchak is located further out than Ratchada located on the northern edge of Bangkok, around 20 minutes to Don Mueang airport. The main metro/BRT Skytrain stations are Chatuchak Park and Ha Yaek Lat Phrao.
A large chunk of the Thai LGBTQ community calls Chatuchak, especially gay Thai guys from the Northeast of the country who moved to the big city for a better life. There are no official gay hangouts in Chatuchak but the weekend market attracts a lot of gay guys who come to shop here and will then head to the gay friendly Viva 8 bar nearby for a few drinks. In addition, the 39 Underground Sauna and Chakran gay sauna are both a short cab ride south of the area, close to the Chatuchak Weekend Market.
This is the place to check out in Bangkok for a very local experience, but our advice is to have your Google Translate app to hand as English is not as widely spoken here compared to other parts of the city.
Check out some of our top gay hotels to stay in Phra Khanong:
4. RAMKHAMHAENG: popular with gay Thai students
Ramkhamhaeng is the area of the city further east of Ratchada. This is gay studentville thanks to the proximity of the Ramkhamhaeng University – Thailand's largest public university. As a result, the LGBTQ crowd here is a younger one, mainly guys in their late teens and early twenties.
The main station for the area is called Ramkhamhaeng, located at the southern end of Ramkhamhaeng Road, which leads up to the famous university.
In terms of gay hangouts, your best bet is to head to Ramkhamhaeng Soi 65 aka Soi Ram 65. It's an area full of student nightlife that is buzzing every evening (except during the holidays when students go back to their hometown). WANT and Relax are popular bars that attract a sizeable mixed crowd and NOIR is the main club in the area.
For a more intense gay experience in the area, head over to the Farose Sauna, which is right in the heart of the area tucked inside Ramkhamhaeng 21 Alley. As with most gay places outside of the Silom gay bubble, the Farose gay sauna is very local, so as the only foreigner, you will get a lot of attention. The crowd here is mainly gay students, some fresh out of the closet!
Check out some of our top gay hotels to stay in Ram Kham Haeng: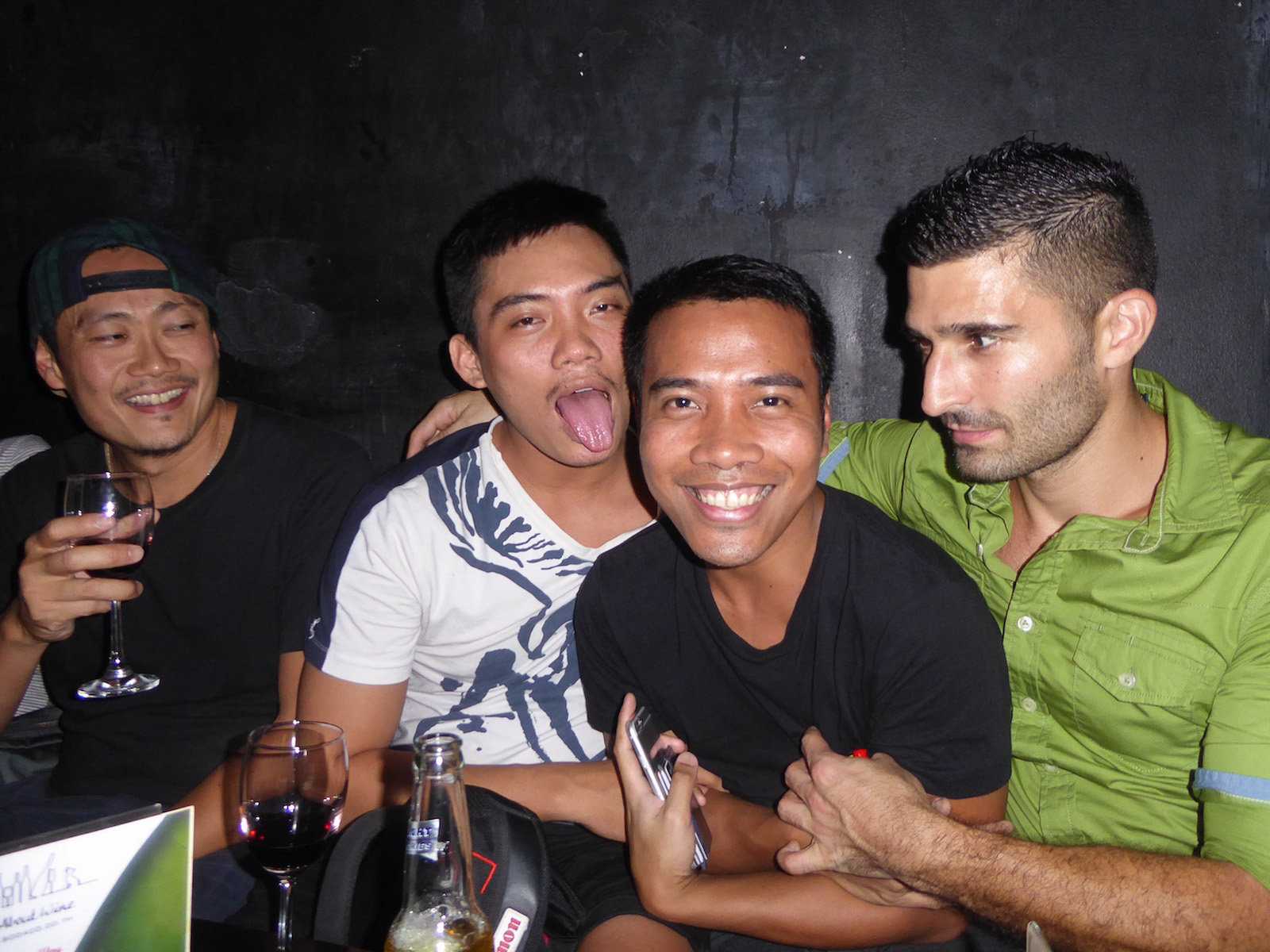 5. PHRA KHANONG: for the ultimate local experience!
Phra Khanong is located in the southeast of Bangkok. The closest BRT Skytrain stations are On Nut on the north edge of the area, Bang Chak in the center, Punnawithi, and then Udom Suk in the south.
On one of our earlier trips to Bangkok, we stayed in Udom Suk for a few weeks. Whilst it's a bit far out from the Silom gay bubble it's a great way to get an authentic and local flavor of the city. And quite literally, on every other road, we stumbled upon a new food market. Our evening walks around Udom Suk were always a joy for this reason alone.
And as a gay neighborhood in Bangkok, your Grindr's going to brrrruuuuup quite a bit here!
Local gay hangouts are quite sparse out here in Phra Khanong, however, the Krubb Bangkok Social Club gay sauna is close by – a 15-minute walk from On Nut station. Krubb is super popular with Thai gay guys of all shapes and sizes; on an evening here you'll be extremely popular as you'll likely be the only foreigner. It's useful to brush up on your Thai lingo – "rook" means top and "rup" is bottom..."rail rail" means faster, and "rang rang" means harder…Enjoy!
Check out some of our top gay hotels to stay in Phra Khanong: