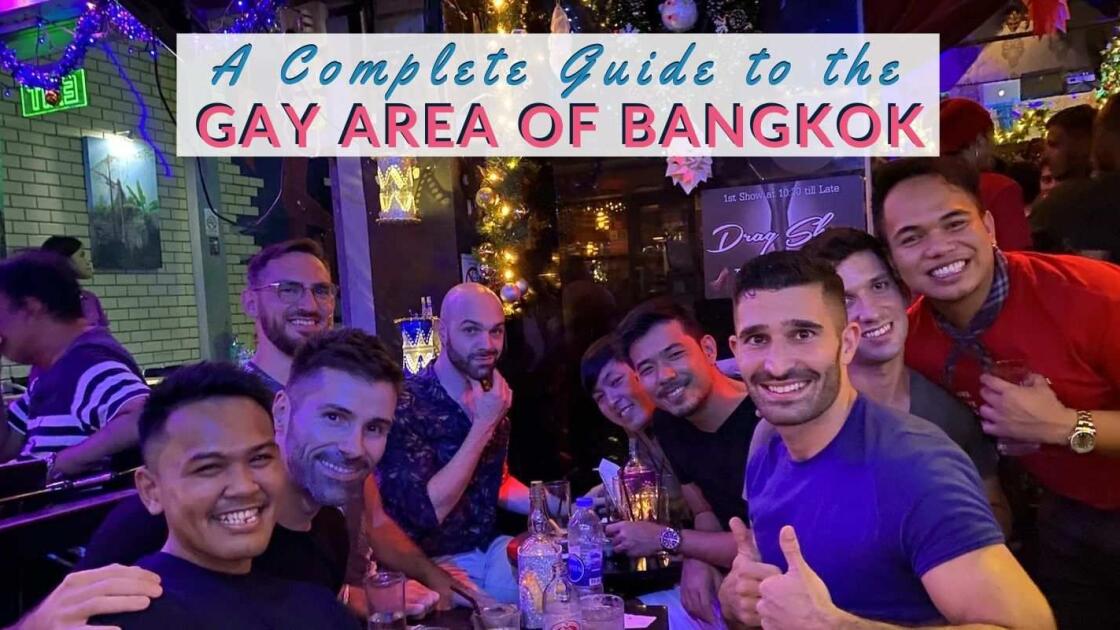 Lights…Camera…ACTION!
10s! 10s! 10s! across the board, as you sashay your way down Bangkok's Silom Soi 4 street, the beating heart and soul of the city's incredible gay scene.
We love it here. It's one of our favourite gay scenes in the world. Regardless which day of the week you come, there's always life and action. Whenever we visit Bangkok, the first thing we do is head straight to Balcony and have our obligatory "welcome to Bangkok" Pad Thai in their outdoor terrace.
Balcony is one of the many gay bars in Silom Soi 4 – an area with lots of gay hotels, massage parlours, clubs, saunas and restaurants. You can read our full gay guide to the city of Bangkok, but in this article, we take you on a magical journey through the gay area of Bangkok!
Where is Bangkok's gay area?
The majority of Bangkok's gay bars and clubs are located in Silom, which is a sub-district of Bang Rak. There are two main gay streets in Silom, known as Silom Soi 4 and Silom Soi 2. Both of these smaller pedestrian-only streets lead off from the main Silom Road, which you can reach via the BTS Skytrain (get off at the Sala Daeng station) or the Silom MRT Station.
Silom Soi 4 is where the bulk of the gay bars of Bangkok can be found, in particular Balcony, Circus, and Stranger. There are many smaller ones, but these are the main three – Circus and Balcony are the largest, with outdoor seating facing each other. Stranger Bar is where the best drag shows of the city take place every evening.
Silom Soi 2 is where the bulk of the gay clubbing scene is, in particular DJ Station. After drinking in Silom Soi 4, most then head to Silom Soi 2 around 11pm/midnight to catch the shows there and dance the night away.
Later on in the evening, just behind Silom Soi 2 is G Bangkok (sometimes called G.O.D) – which is where all the late-night party boys end up, usually shirtless…
Where to stay around Silom Soi 4?
The gay area of Bangkok around Silom Soi 2 and Silom Soi 4 is also home to lots of gay / gay friendly hotels, inns, hostels and guesthouses. These are some of our personal favourites based mainly on our first-hand experience (we've been to BKK many many times!) as well as recommendations from fellow LGBTQ travellers:
01
Le Meridien Bangkok
Not only will you be walking-distance from the gay street of Bangkok, but there are multiple places to have a drink or a meal within the hotel if you don't feel like going out. Latest Recipe restaurant serves amazing breakfast, brunch, lunch and dinner buffets, including one with a seafood tower. You can also have a romantic cocktail or small meal at the Bamboo Chic Bar, plus drinks and light bites are served poolside by the Plunge Bar.
As well as the awesome swimming pool, there's a small but well-equipped gym for getting pumped up ready for a topless night in G.O.D…! If you feel the need for some pampering, Le Meridien's spa is one of the top five spas in the whole of Bangkok on TripAdvisor. It offers a range of services to make you feel fabulous ranging from a couples massage, ayurvedic treatments, facials, body wrap, foot bath and more. The majority of the staff are either gay themselves or if they're not, they are more than accustomed to welcoming gay travellers!
02
The Tarntawan Hotel Surawong Bangkok
An excellent buffet breakfast is included in the rates, but for us, the highlight is the 24-hour breakfast – so you can have an all-nighter and wake at 2pm to have a late breakfast!. The food is also delicious, with a mix of both Thai and Western dishes to enjoy. The lounge/restaurant area is a popular spot for a drink, with wicker chairs and a pretty garden area just outside. We also loved the little touches like how they gave us fresh fruit in our room every single day.
Not only is the hotel close to the gay neighbourhood of Bangkok, but you're also only 200 metres away from the Patpong Night Market. For even more shopping options, the Tarntawan provides a free shuttle bus service to and from the exciting open-air mall Asiatique: the Riverfront. If you're staying at the hotel on a Tuesday, we recommend checking out their private cocktail party for guests – if you're travelling solo, it's the best way to make a few friends before heading over to Silom Soi 4.
03
HQ Hostel Silom
There are beautiful, compact double rooms if you don't want to sleep in a bunk-bed dorm, but you can still socialise with other guests in the shared common area. There's a TV with DVD player and lots of movies to watch here, as well as a library corner if you'd prefer a spot of quiet reading. But let's be honest, with all of the city's gay nightlife literally on your doorstep, you're not going to be spending much time here watching DVDs are you?!
Unlike quite a lot of other hostels which don't provide sheets and towels, HQ Hostel does, which is a big plus! In addition, the staff are super friendly, smiley (oh we love the Thai for this!) and super welcoming to gay travellers. The little cherry on the top of the cake is that there is a swimming pool next door, which you can use for a small fee if you want to burn off some of those Margarita calories.
04
Crowne Plaza Bangkok Lumpini Park
The Crowne Plaza has so many luxurious amenities to enjoy, from the stunning outdoor swimming pool (with whirlpool!) to the four different dining options. Both the Panorama and Xin Tian Di restaurants give you the opportunity to dine while enjoying views over the city. The highlight for us which we recommend is the delicious dim sum at Xin Tian Di.
There are also two different lounge bars. We loved having a romantic drink at The Finishing Post while looking out at the city lights before heading out. Along with the swimming pool, Crowne Plaza also has an excellent fitness centre as well as a relaxing spa where you can enjoy a traditional Thai massage. Oh and the massive highlight for us here – the big, comfy beds! Honestly, it's like sleeping in a cloud – it was one of THE best nights sleep Seby has ever had in a hotel (he's a very difficult sleeper…)!
The best bars and clubs in Silom
For a small area, the gay neighborhood of Bangkok packs in a lot! There are many small bars, clubs, restaurants and even Go-Go bars all within walking distance of each other. These are some of our favorite bars and clubs in Silom. Note: you may prefer to simply join a night-time tour of the gay scene, especially if you're traveling solo and want to quickly make new friends.
Gay restaurants in Silom Soi 4
Foodies listen up: Thai traditional food is one of the best ever! Silom Soi 4 is not just home to gay bars and clubs, there are also plenty of excellent gay restaurants to get your Thai foodie fix in! These are some of our favourite places to eat in the Silom gay area of Bangkok:
Tapas Cafe
---
Balcony Pub Bar
---
Eat Me Restaurant
---
Lon Lon Local Diner
---
Unicorn Cafe
---
Luka Bangkok
---
Rocket Coffeebar
---
Map of the gay area of Bangkok
Here's a map of Bangkok's gay neighbourhood which includes all the gay bars, clubs, hotels and places to eat we've mentioned in this post. We hope it helps you have your own fabulous gay holiday in Bangkok!
---