TERMS OF USE: There is a chance that some of the content on this page has changed since it was last updated. By reading this article, you consent to our Terms of Use and Disclaimer. Happy Travels!
DISCLOSURE: Some of our posts may contain affiliate links which we may receive a commission if you choose to book something through one of our links.
Our 10 favourite gay hotels to stay in Amsterdam, all cool and stylish, including guesthouses & hostels, to help you plan a fabulous stay!
Amsterdam is one very gay friendly city which we love visiting. It has one of the best gay scenes in Europe and we always have an amazing time here.
Booking a hotel to stay in Amsterdam has never been a problem for us. We have always felt welcome at every place we've stayed at and sharing a bed has never been an issue. We never feel like we have to hide our sexuality anywhere in Amsterdam or in Holland, which is why we think it is one of the most gay friendly countries in the world.
"In Holland, you can be yourself. We never felt like we had to hide our sexuality anywhere in Amsterdam or in Holland"
These are our 10 favourite unique gay hotels in Amsterdam based on our personal experiences and from recommendations by other LGBTQ travellers. Just remember, Amsterdam is one of the most expensive cities in Europe, so anything around $100 or less is considered budget, between $100-$200 is medium average budget, and over $200, high end luxury.
Where to stay in Amsterdam
Amsterdam is a very walkable city so it's quite easy to base yourself anywhere near the centre and walk to the most popular attractions. Free ferries leave from Centraal Station to take you across the water to the hip Noord area and you can hop on a tram if you want to venture further out from the centre.
Amsterdam (and the Netherlands as a whole) is an incredibly gay friendly destination, being the first country in the world to legalise same-sex marriage in 2001.
Gay clubs, bars, shops and saunas can be found throughout the city, particularly in the streets of Kerkstraat, Reguliersdwarsstraat, Warmoesstraat and around the red light district. Make sure you stop by the Pink Point for the city's official gay and lesbian information kiosk. Visitors coming for the Gay Pride in August will want to be as close to the Amstel or Prinsengracht (gracht means canal) as possible in order to enjoy the world's only floating pride parade! These are our favourite areas to base ourselves in when enjoying everything gay Amsterdam has to offer.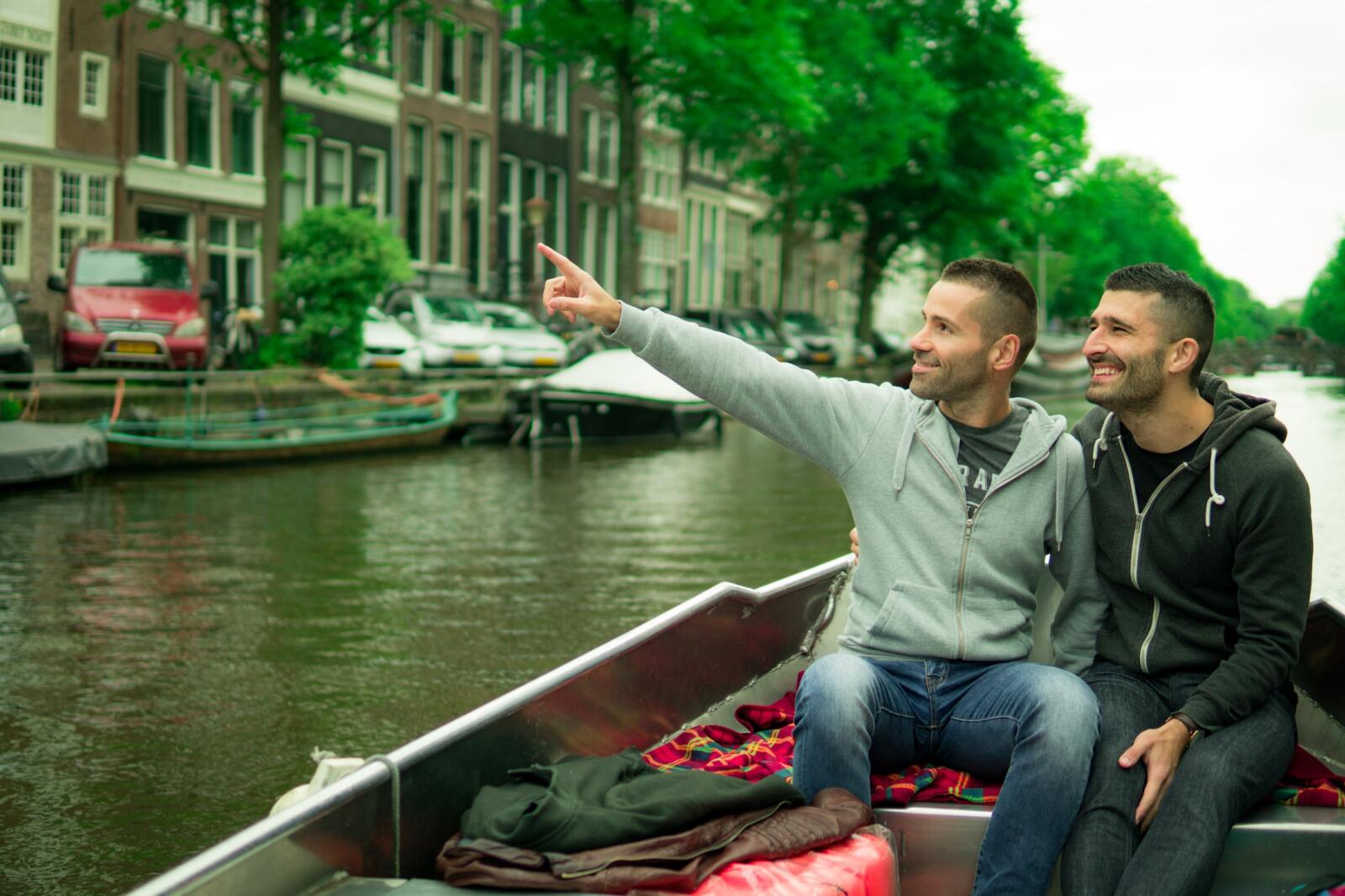 From Schiphol airport…
The main way to reach Amsterdam centre from the airport is via the Airport Express Bus 397 or the regional train to Amsterdam Centraal. We recommend you pre-order your Amsterdam Public Transport card which gives you unlimited travel on all the city's public transport and transfer from/to the airport. For a more comfortable journey, book your private transfer with an English speaking driver.
01
The Hoxton
Canal Belt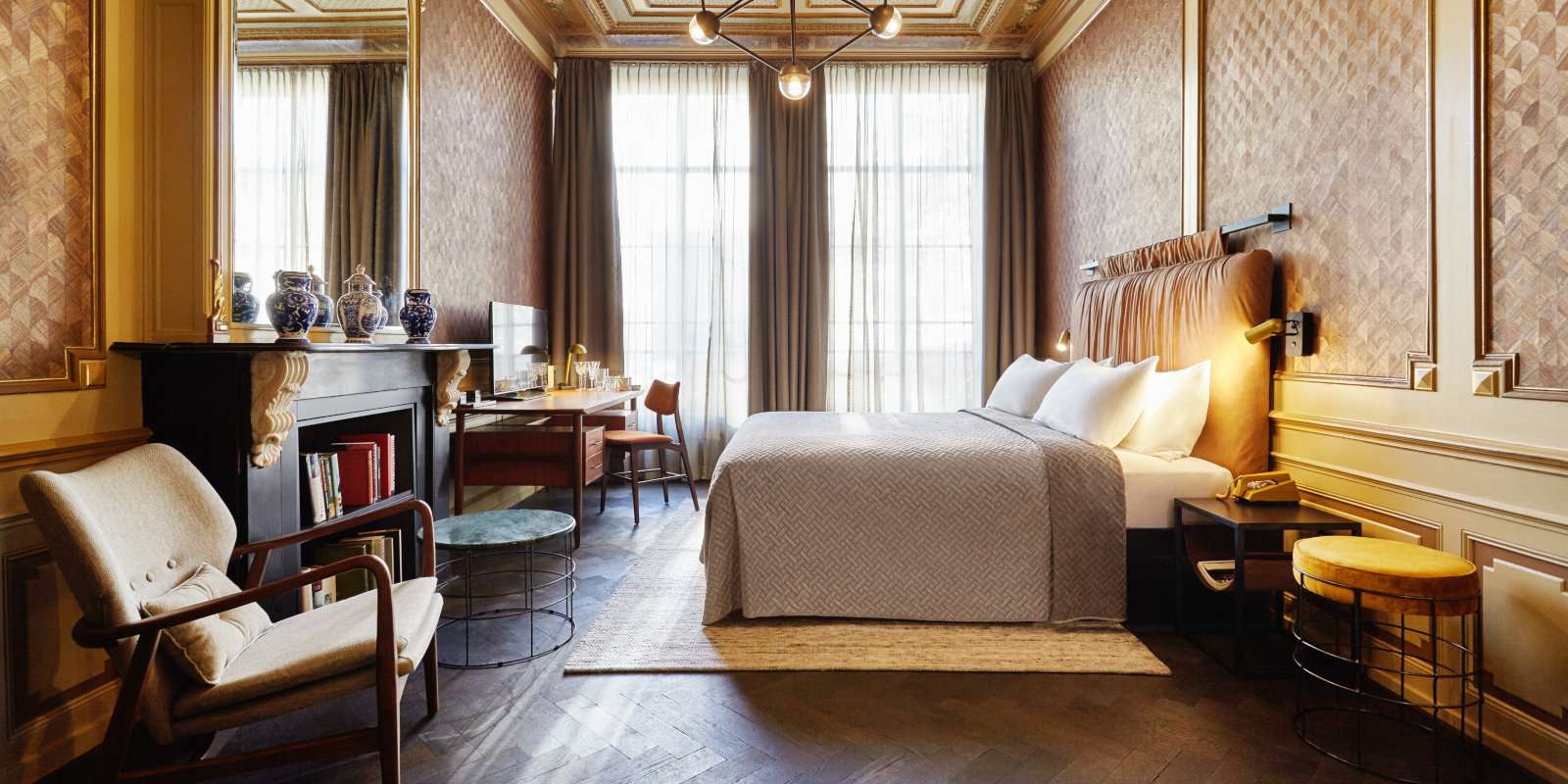 Why we love it
---
Beautiful design hotel with canal views
Delicious restaurant with sunroof and work facilities
Free extras like international phone calls!
Located near the city's best museums
Hoxton is a chain of really trendy and modern hotels, which we absolutely love.
The Amsterdam Hoxton is huge, with more than 100 rooms spread over 5 buildings overlooking the canal; some of the rooms used to belong to the city's mayor and all of them are beautifully designed.
Staff in Lotti's restaurant and bar go above and beyond to make your stay perfect, and we love that the restaurant features a retractable glass roof that's opened on sunny days. The restaurant also serves food all day (open 7am – 1am) and have charging stations plus USB ports near almost all tables in case you need to get some work done.
All the rooms come with a free light breakfast bag although you don't want to miss out on Lotti's delicious breakfast and brunch menus! As well as the expected free WiFi you can even make free international calls to anywhere in the world. The Hoxton is also close to some of the best museums like the Anne Frank House, Van Gogh Museum and the Rijksmuseum.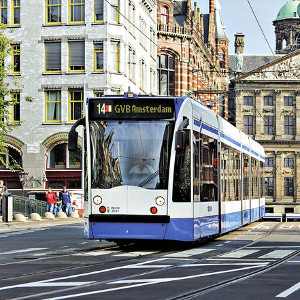 Getting around Amsterdam

Whether you travel on the metro, trams, buses or ferries, the public transport in Amsterdam is very efficient. Get the most out of your stay with the Amsterdam transport card which gives unlimited travel for all public transport networks throughout the city.
02
Sofitel Legend the Grand Amsterdam
Centrum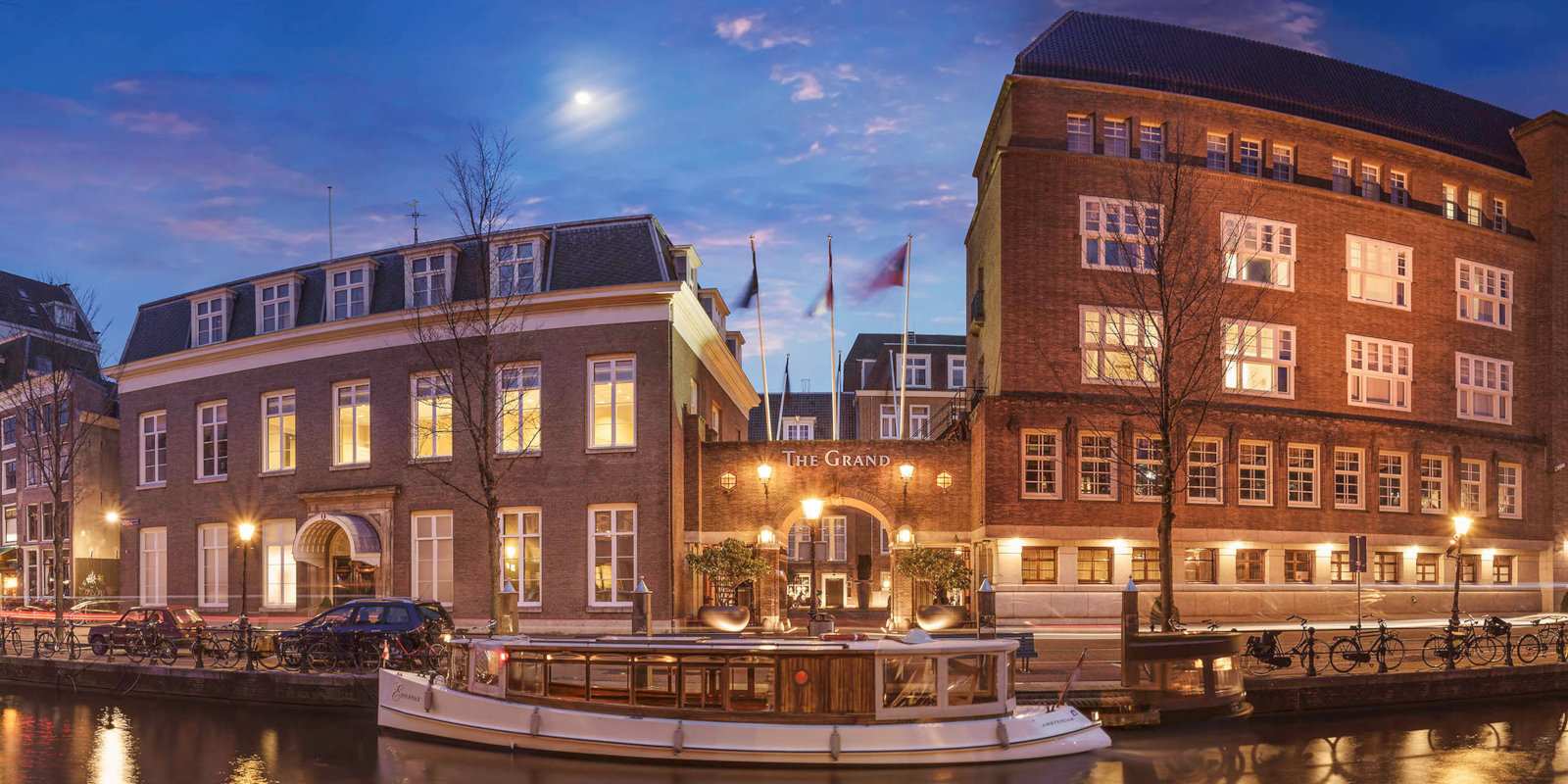 Why we love it
---
Incredibly beautiful historic canal buildings
Private boat or horse-drawn carriage tours available
Michelin-starred restaurant Bridges Dining
Relax at the exclusive So Spa
The Sofitel Legend is a 5* luxury hotel located in the heart of the city, technically within the red light district, between two of the most picturesque canals.
The building is extremely grand, which gives it a unique historical ambience. We particularly loved the blend of Dutch history with French contemporary and elegant design.
It has 177 rooms and an additional 52 suites each with butler service. There is an indoor swimming pool, salon and even its own in house Michelin star restaurant, Bridges Dining, which focuses on delicious seafood. There's also a cocktail bar, library, courtyard and a traditional Dutch brown cafe called The Flying Dutchman.
Everything at the Sofitel Legend is incredible, from the So Spa which combines treatments from around the world as a nod to Dutch exploration; to the private boat for canal cruising. As an IGLTA member you know they are more than happy to welcome LGBTQ travellers as well.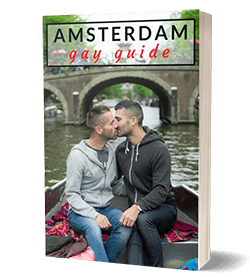 Gay travel guide to Amsterdam
Discover the best gay hangouts in the city, where to eat, activities to do, travel tips & Gay map in our gay travel guide to Amsterdam
to help you plan a fun and safe trip.
03
W Amsterdam
Centrum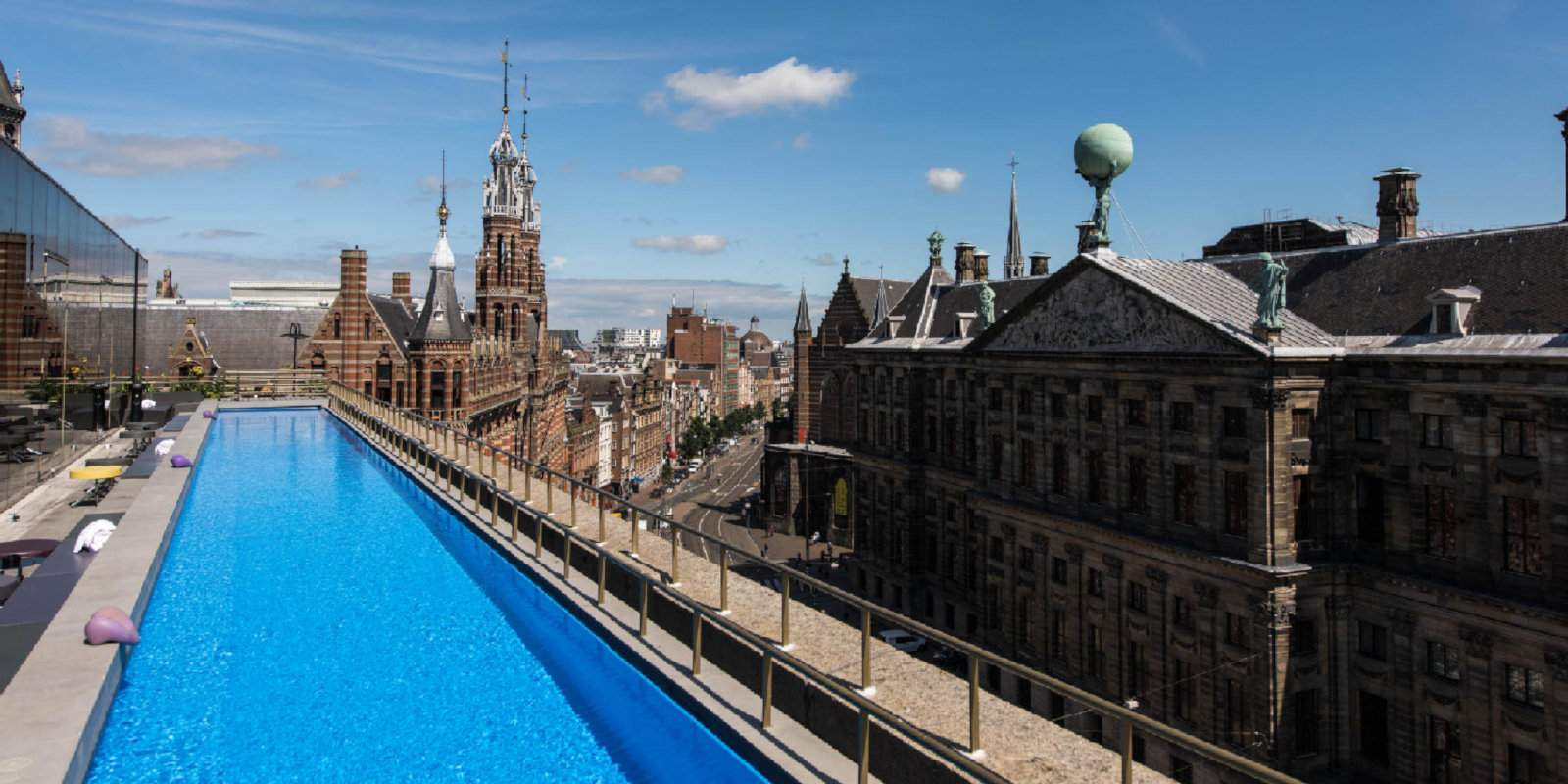 Why we love it
---
Central location and stunning views
Three restaurants on site
Very funky design
Heated rooftop pool and lounge bar
The W is a trendy and modern luxury hotel that is generally marketed towards Millennials.
We especially love the W brand because it's well known for being gay friendly internationally. It's owned by Marriott who have always strongly supported the gay travel community, most recently with their #lovetravels campaign (see video below).
The W Amsterdam is housed in two old buildings that have been converted into a hotel with some really quirky design features. It has a fitness centre, the AWAY spa and a heated rooftop pool with views of the beautiful Royal Palace. There's also the rooftop W Lounge bar to relax with a cocktail in the evening.
Rooms and suites at the W include cool design features like huge circular beds in some of them. If you don't feel like leaving the building to eat there are three different restaurants to choose from; the Michelin-starred The Duchess serving Nouveau-Niçoise cuisine, The Butcher for hamburgers and boozy milkshakes or Mr Porter for everything meat!
STAY WITH A GAY LOCAL
Misterb&b is the Airbnb equivalent for the LGBTQ community. Unlike on Airbnb, you know your host is gay, voiding any nasty surprises when you check-in. It is also a great way to meet gay locals and discover the underground gay scene. Click below to get 10 € (or $10) off our first booking.
04
Andaz Amsterdam Prinsengracht
Canal Belt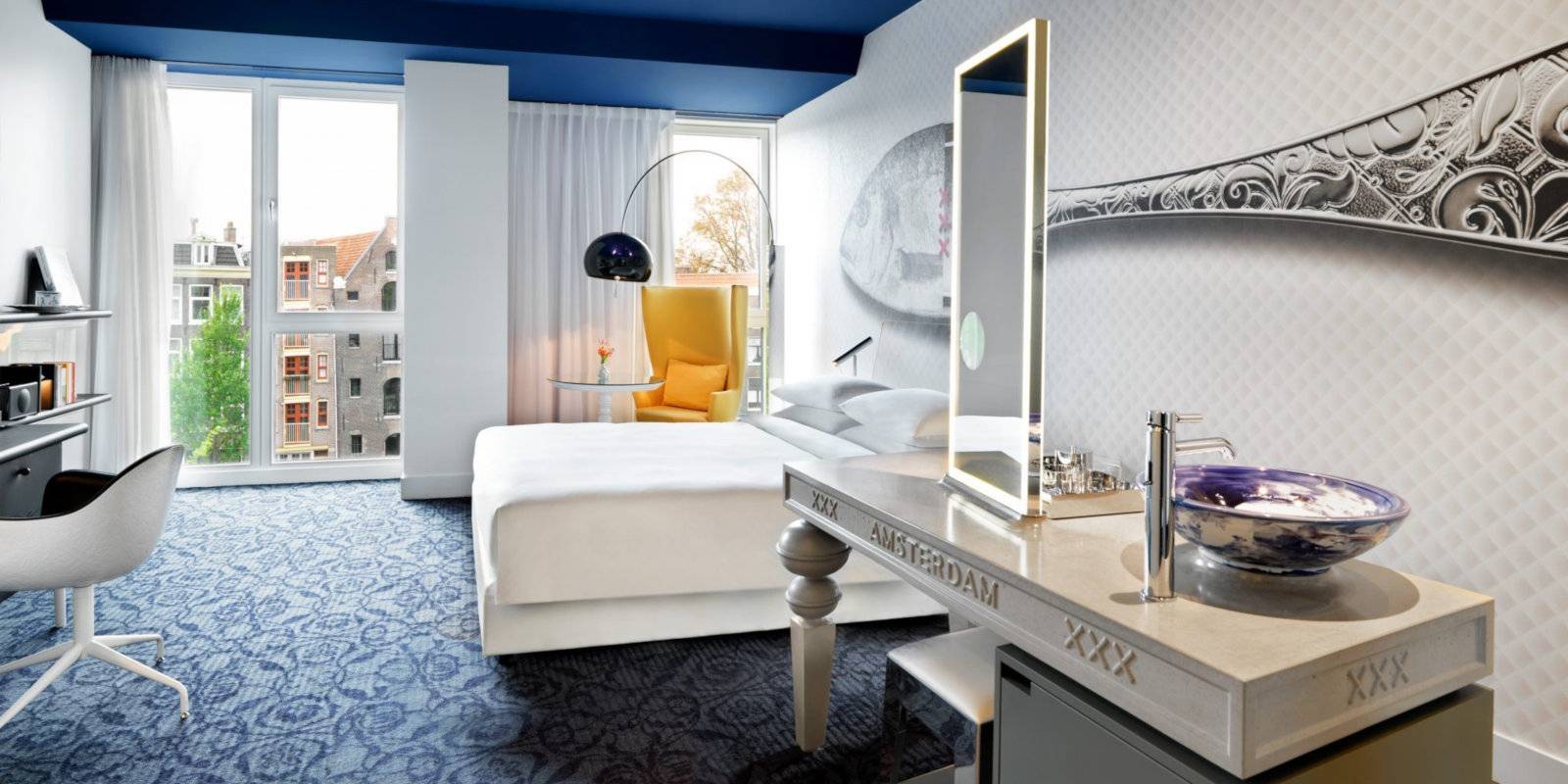 Why we love it
---
Lovely canal location and views
Stunning design rooms
On-site restaurant and spa
Pet-friendly with extras for your pooch!
Andaz is a 5* luxury hotel in the business area of Amsterdam, owned by the Hyatt group. It has 122 rooms each individually designed and decorated by Marcel Wanders, a leading Dutch designer.
The rooms are simply stunning, with lots of white and blue with splashes of gold. Many feature impressive views of the Prinsengracht canal, or look out over the hotel's pretty courtyard.
It's so gorgeous that it's also a popular venue for anniversaries, gay weddings and other special gatherings. It has a fitness centre and a spa offering many different treatments, as well as the on-site restaurant Bluespoon. The cocktail bar also looks out over the canals which males it the ideal spot to relax with your loved one.
Andaz is situated in the quieter canal area of the city but is still only a quick walk to the top sights such as the Anne Frank House, Rijksmuseum and Dam Square, as well as the bars/clubs of the Leidseplein. We love that the Andaz is pet-friendly; if you bring your pooch with you, the hotel provides a designer dog bed, food/water bowls and a jar of treats!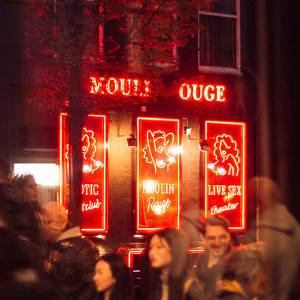 Not to miss: Red Light District
We recommend you take a tour of the Red Light District and discover Amsterdam's most exciting neighborhood. This is a great opportunity to learn the real history of the area with a local guide, and get a unique insight into the city's historically liberal attitudes.
05
Amistad Hotel
Canal Belt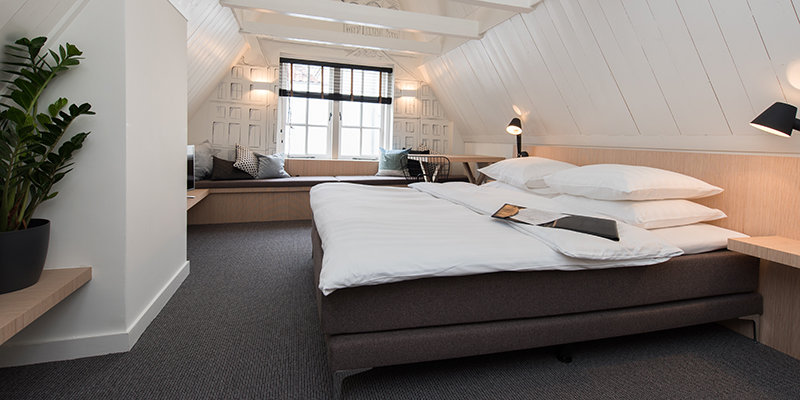 Why we love it
---
Walking distance to the gay bars
Yummy breakfast included in the rate
Hotel rooms or B&B studios available
Recently renovated with gorgeous decor
Amistad used to be one of the most famous gay hotels in Amsterdam. It's recently been taken over by new management but remains incredibly welcoming to all travellers.
The hotel has also been extensively renovated in a Dutch Delft Blauw theme throughout the hotel, complete with actual plates on the walls.
Staying here feels more like you're with a group of friends rather than in a faceless hotel. An extensive breakfast is served every morning, with Dutch pancakes and eggs cooked how you like them. With the new renovation, you can choose between a hotel room or a spacious deluxe studio in the bed and breakfast section. Breakfast is included in the rate no matter which part you sleep in though!
Amistad is located near Club Church and a short walking distance to the gay scene on Reguliersdwarsstraat. There's also a tram stop only steps away, so you'll be able to see the rest of the city easily.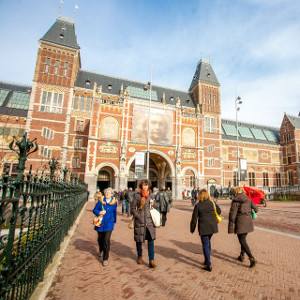 History: Rijksmuseum Museum
The Dutch National Museum tells the story of the Netherlands from the Middle Ages to the 20th. The museum hosts over 400 masterpieces by great artists such as Jan Steen, Frans Hals, Vermeer and Rembrandt. The queues are long so we strongly advise you pre-order your ticket before you go.
06
Quentin Golden Bear
Canal Belt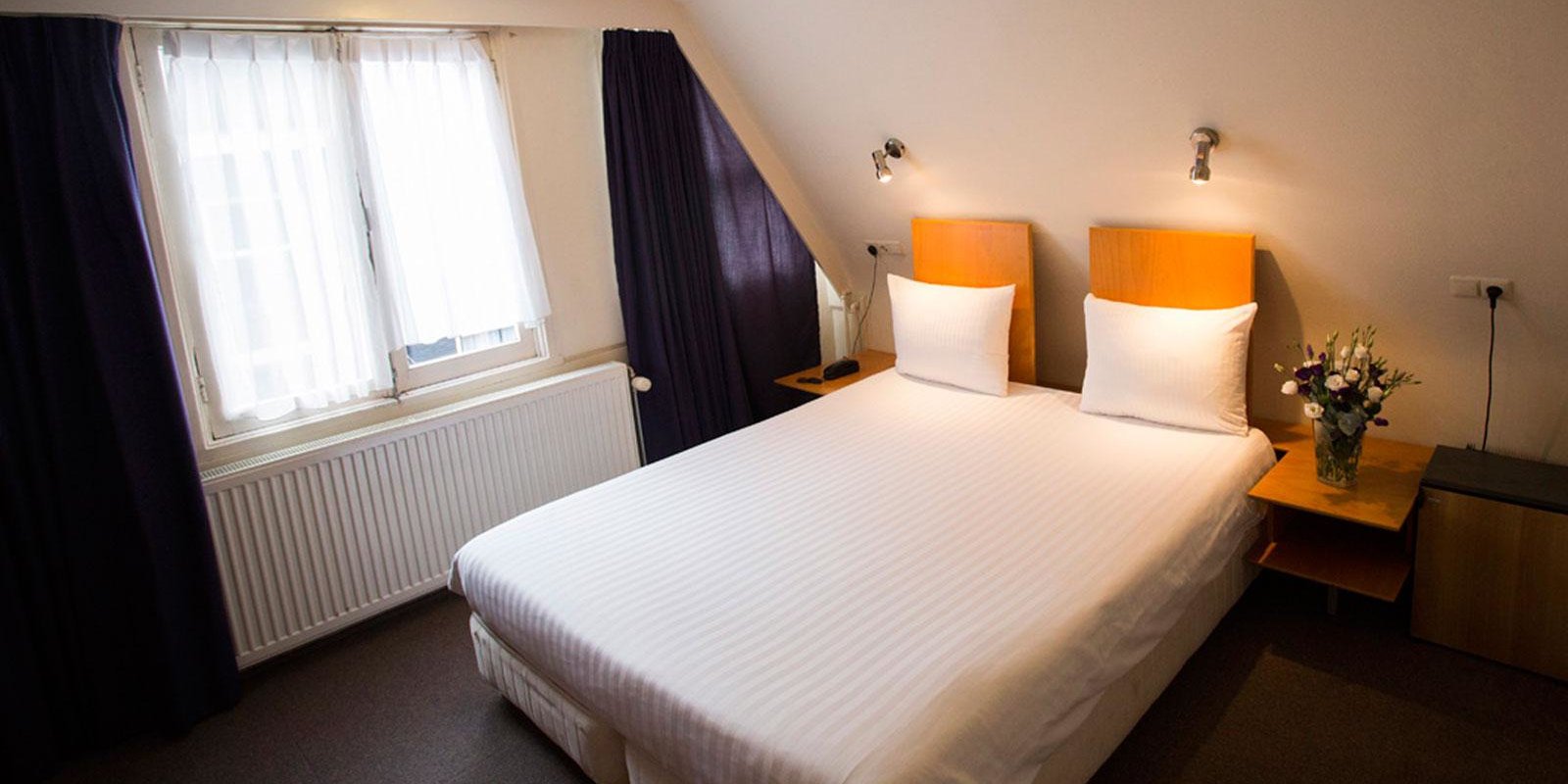 Why we love it
---
Clean and comfy budget option
Great location near gay hangouts
Recently renovated
Very stylish design for the price
The Golden Bear used to be a gay hotel, but a recent change in management has widened the net to target backpackers and travellers on a budget. Despite this, it's remained a very gay friendly hotel.
It has recently (2019) undergone extensive renovations so while it is a budget option you can rest assured the rooms are fresh and modern in design.
Quentin Golden Bear is in a great location near the Leidseplein, which is walking distance to the city's gay hangouts, particularly the infamous Club Church. You'll also be easily able to walk to Museumplein in one direction and the city centre in the other.
While this isn't a luxury hote,l it is a great choice if you are looking for something clean and comfortable which won't break the bank. Plus, if you're going to be partying at all the local gay bars and clubs, then you may only be looking for somewhere to rest your head at night!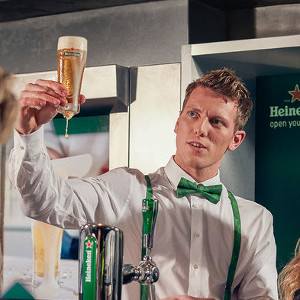 Heineken experience
Discover what lies behind the doors of the former Heineken brewery in Amsterdam. This interactive experience is a fun way to learn about the famous beer's history and how it is made. Queues are long for this attraction, so pre-order your tickets in advance.
07
Mauro Mansion
Centrum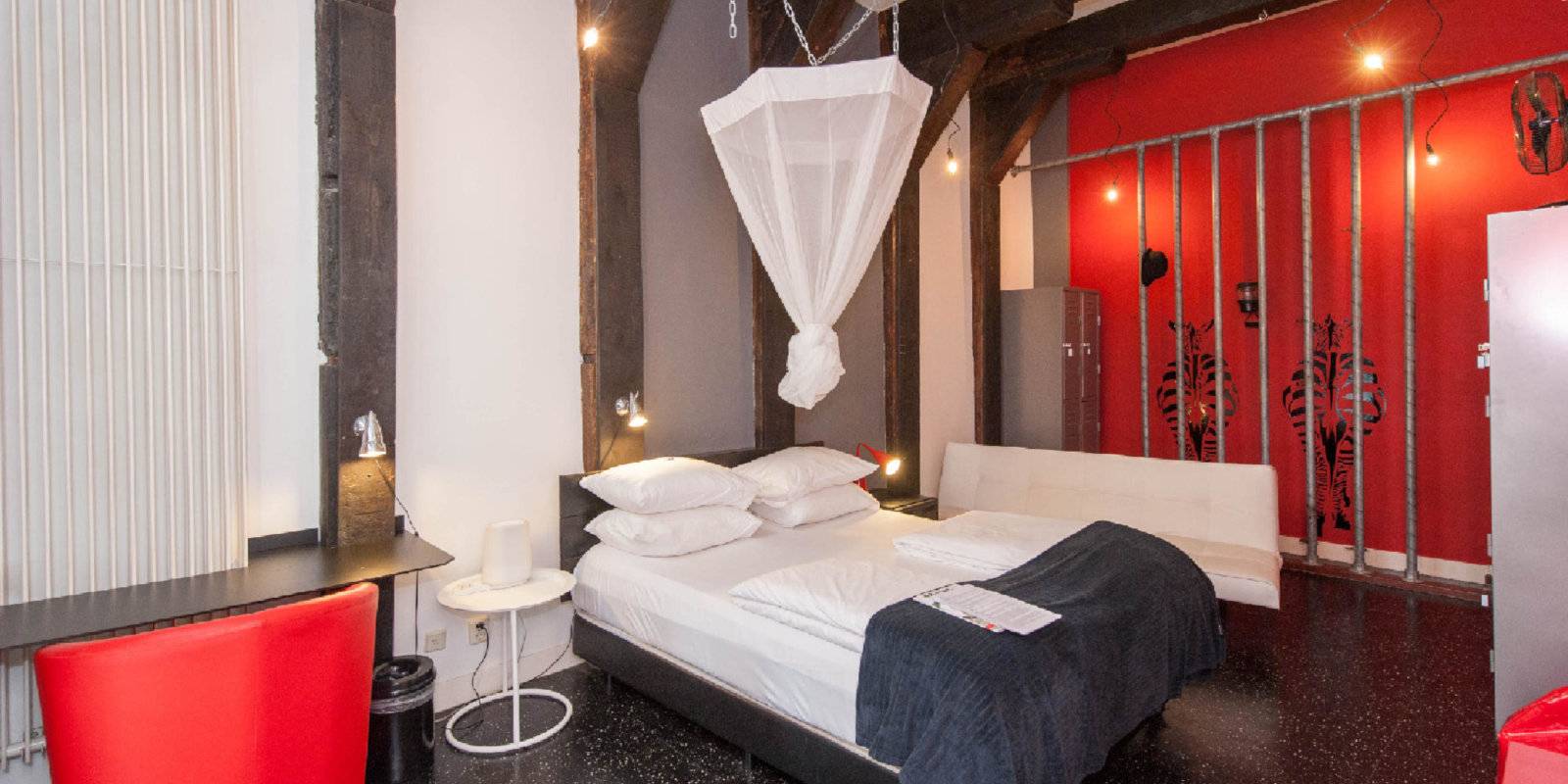 Why we love it
---
Right by Centraal Station
Cool and quirky design
Complimentary mini-bar in all rooms
Jacuzzi bath in top-floor rooms
Mauro Mansions is a 3-star hotel in a 16th-century canal house, located just around the corner from Amsterdam Centraal train station.
The hotel only has 9 rooms and is targeted to couples looking for a boutique romantic stay. Large group bookings and children under 12 years old are not allowed here!
We love the eclectic design in the bedrooms, with lots of bold reds, exposed brick walls and even a hammock chair in one of the rooms. The two top-floor rooms also feature a Jacuzzi bath.
Unlike many hotels, the small number of alcoholic drinks in your room are complimentary, so make sure you sip some Prosecco while looking out across the canal. Breakfast is available at a small price, but for €7.50 you'll get fresh coffee as well as made-to-order eggs and pancakes.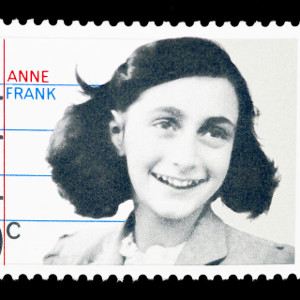 Discover Amsterdam through the eyes of Anne Frank

Anne Frank' walking tour gives an interesting and in-depth perspective on what Anne Frank and others had to go through during the second world war. A must do in Amsterdam if you want to learn more about her tragic story.
08
ClinkNOORD Hostel
Noord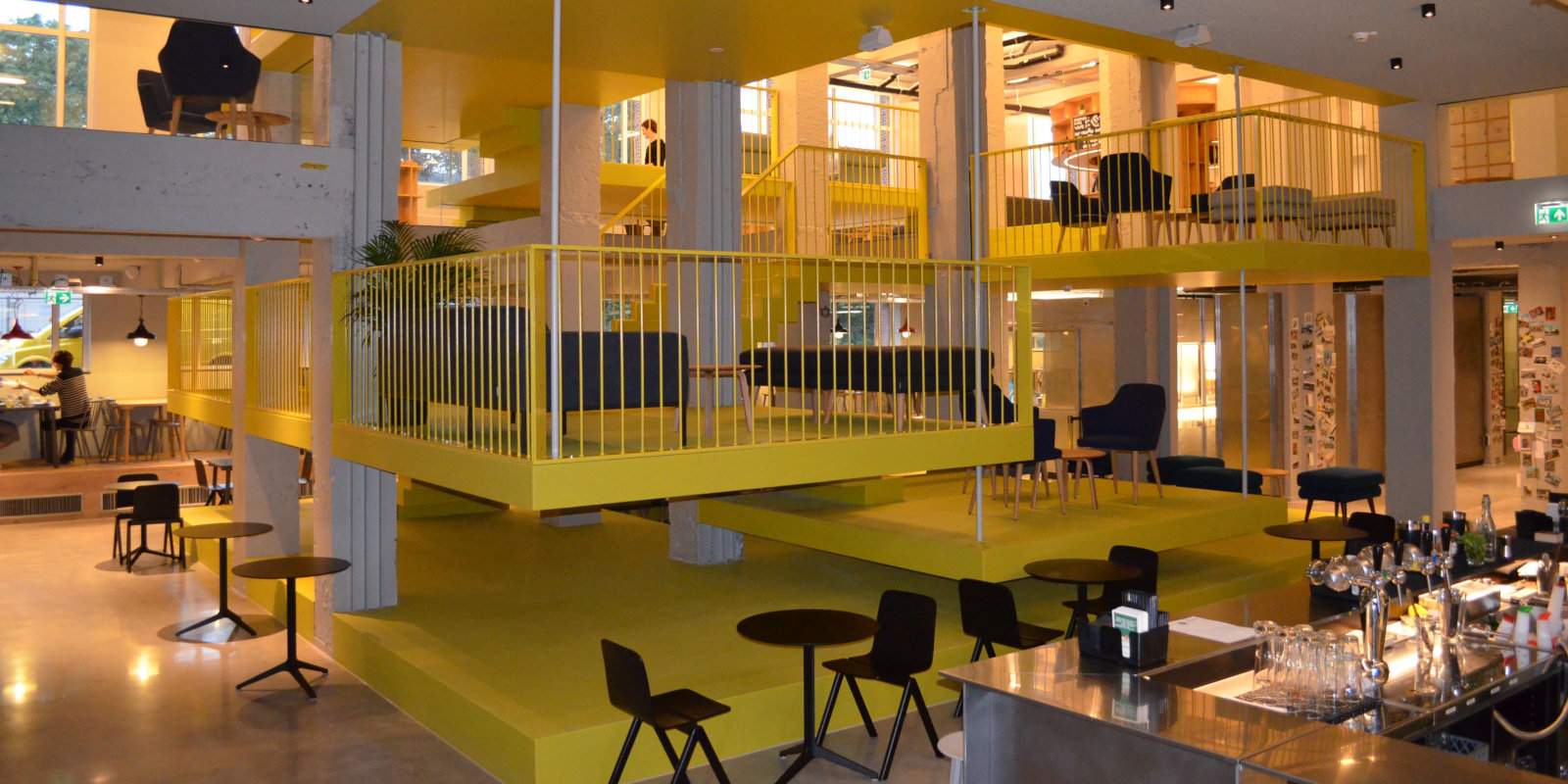 Why we love it
---
Groovy hostel in a former 1920s laboratory
On-site bar and cafe
Variety of communal areas including a library
Daily free walking tour of Amsterdam
This gay friendly hostel is located in Amsterdam Noord, a hip neighbourhood across the river from Centraal Station by free ferry.
It's not as gay as some of the other hotels on this list, but it's the sort of place you can stay at knowing you'll be welcome as an LGBTQ traveller.
The hostel is located in a 1920s style former laboratory and the space has been converted into a very quirky place to relax. Travellers on a budget can choose from bunks in the dorm rooms or private rooms with ensuite for a bit more privacy.
There are a lot of communal areas to hang out, play pool and make new friends. The kitchen is available for cooking your own meals although there's also an on-site cafe (Catalyst Cafe) where you can order burgers or snacks. The bar ZincBAR also often has live music and really plays with the 'science lab' theme in a fun way!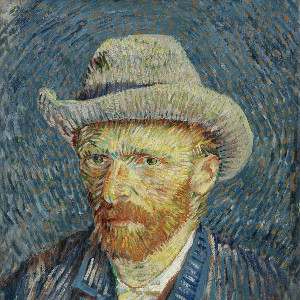 Van Gogh Museum
The Van Gogh Museum has the largest collection of works by Vincent van Gogh in the world. It is one of the most important museums in the Netherlands and has been visited by millions of people.
09
Hotel Espresso
Museumkwartier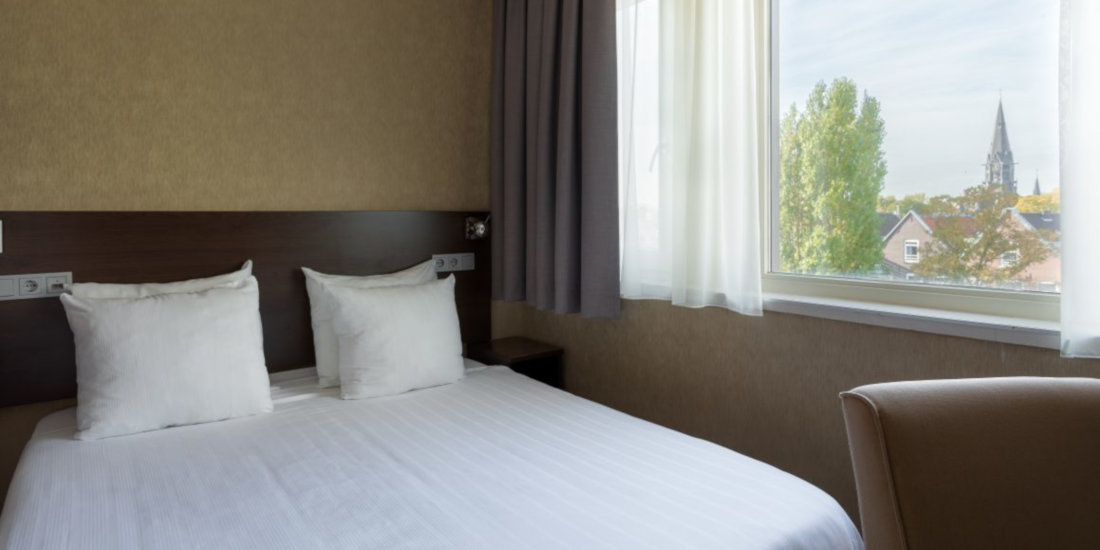 Why we love it
---
Complimentary coffee and tea available 24/7
Great location and transport links
Good mid-range option
Bike rental available
Hotel Espresso is a lovely mid-range hotel, comfortable and cosy without costing an arm and a leg. The design is modern with a total of 68 rooms/
It is conveniently located within walking distance to the Van Gogh museum, Rijksmuseum and Vondelpark. It's also minutes walking distance to Leidseplein where the Airport Express Bus #197 stops, giving it a direct link to Schiphol Airport.
Hotel Espresso offers complimentary tea/coffee for guests in the lobby, and bike rental if you don't want to walk everywhere.
It's located in a quiet part of the city so you'll get a good night's sleep but still be close to the main attractions and nightlife. There are also lots of great restaurants, cafes and takeaway places in the nearby streets so you can sample everything.
10
ANCO Hotel
Centrum (Red Light District)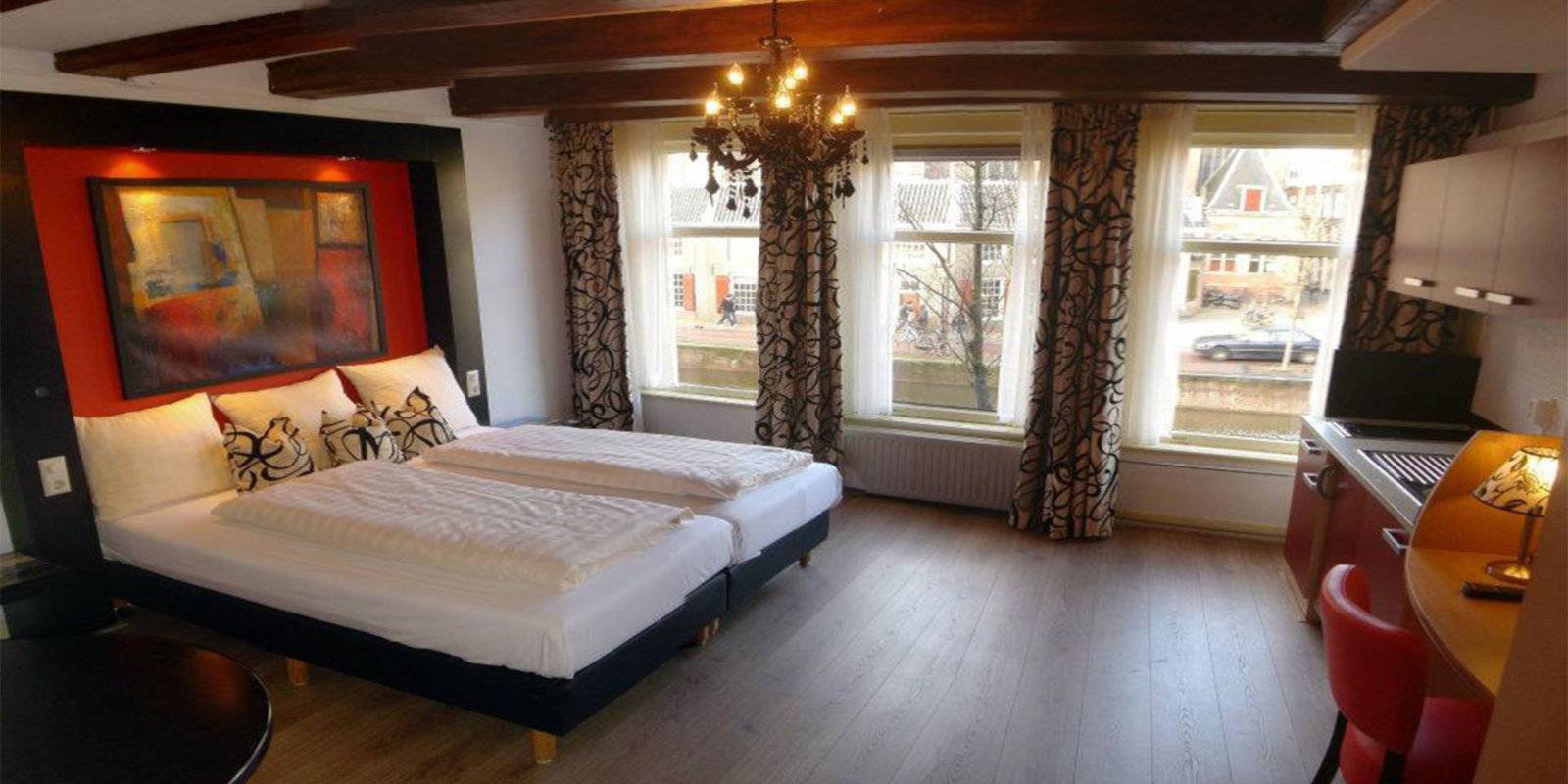 Why we love it
---
Right in the heart of the red light district
Full of character and cool design
Continental breakfast is included in the rate
Great budget option
ANCO used to be a men-only leather hotel, but has now become "hetero-friendly", welcoming straight guests.
It's located in Amsterdam's Red Light District in a historic house dating back to the 1600s, so it's full of character. It's also walking distance to the Queen's Head gay bar, which is famous for its Drag Bingo nights.
While this is a fairly budget choice, with most rooms having shared bathroom facilities, the style and location make it well worth your money. Canal-side rooms look out to the beautiful Oude Kerk (Old Church) and you're within walking distance to Centraal Station.
The studio room features a private bathroom and mini kitchenette. There's an on-site bar open late and we particularly love the splashes of red throughout the hotel. If you want to be in the heart of all the craziness that Amsterdam's Red Light district has to offer, this is the perfect choice for you!
---
UPDATE JULY 2022: a new trendy hotel just opened up in Amsterdam: art'otel!
The art'otel is a proud LGBTQ+ friendly 4* hotel that even organizes events during Pride. It is located opposite Amsterdam Central Station, within the canal belt.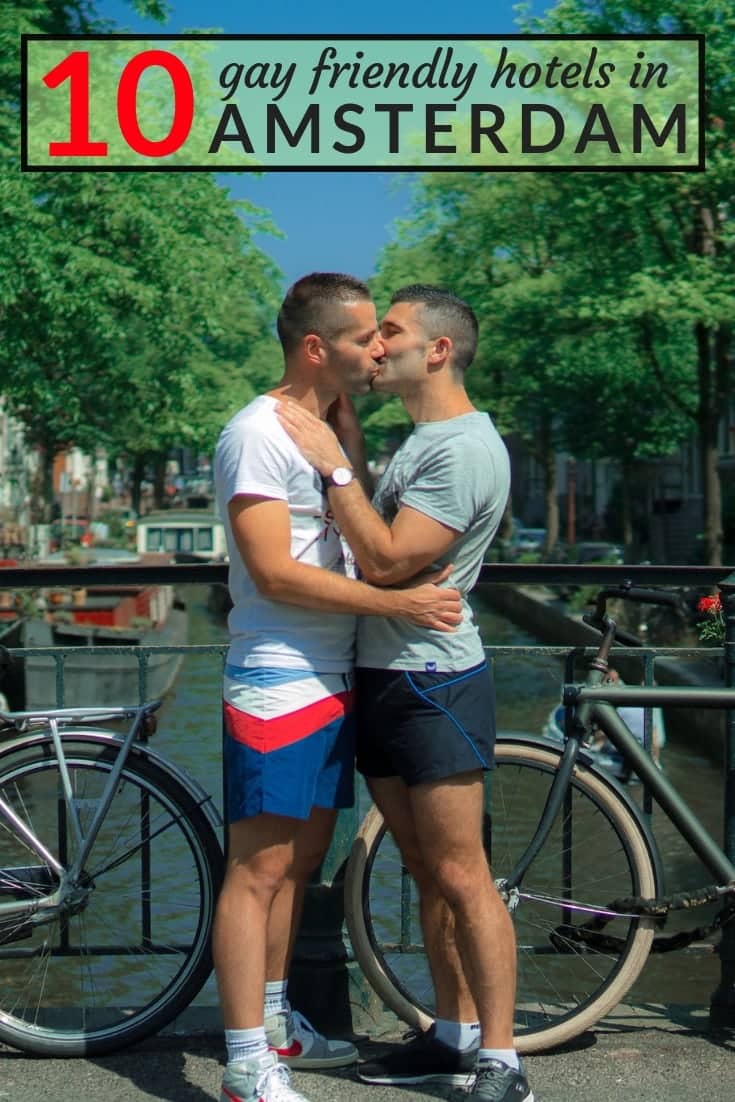 Happy travels are safe travels
We recommend you always take out reputable travel insurance before your next vacation. What happens if you suffer from illness, injury, theft, or a cancellation? Many gay travelers forget about it and regret it when something happens. Better to pay a small price and have peace of mind and not worry.