TERMS OF USE: There is a chance that some of the content on this page has changed since it was last updated. By reading this article, you consent to our Terms of Use and Disclaimer. Happy Travels!
DISCLOSURE: Some of our posts may contain affiliate links which we may receive a commission if you choose to book something through one of our links.
The most fabulous gay bars in Barcelona, from local dive bars to exotic rooftop cocktail lounges!
Having been the birthplace of the LGBTQ movement in Spain, Barcelona is a hot favorite for gay travelers moving across Europe. It has a rich history, fabulous sights, a gorgeous beach, and a super hot nightlife.
There is so much variety across the city for when you're hitting the town. You don't even need to be the biggest party animal. You can be fairly chilled and still find a comfy corner to spend the evening. Bear in mind, the Spanish do things quite late, so if you're planning an evening out and about, be sure to factor in an afternoon dolly nap siesta!
This is our comprehensive guide to the best gay bars in Barcelona…sooooo many to choose from! Note that the awesome People's Lounge gay bar has closed its doors for good.
Where is the gay neighbourhood of Barcelona?
Tucked into the centre of the Eixample district is the glowing "Gaixample" (pronounced gay-sham-ple) gay neighbourhood of Barcelona. This is where most of the gay bars of Barcelona can be found. The area is more specifically defined as being between Carrer de Balmes, Gran Via de les Corts Catalanes, Carrer del Comte d'Urgell and Carrer d'Aragó.
As a point of reference, we use the main Axel Hotel, which lies right in the middle of Gaixample. For more, check out our detailed gay guide to Barcelona.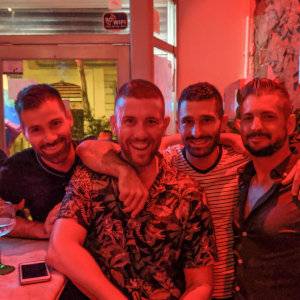 Explore Barcelona's gay bars with a local
If you'd rather explore the gay bars in Barcelona with a local guide, then you absolutely can! Gaily Tours offer a wonderful night-life tour where a local gay guide will take you to all the best places for drinks and dancing.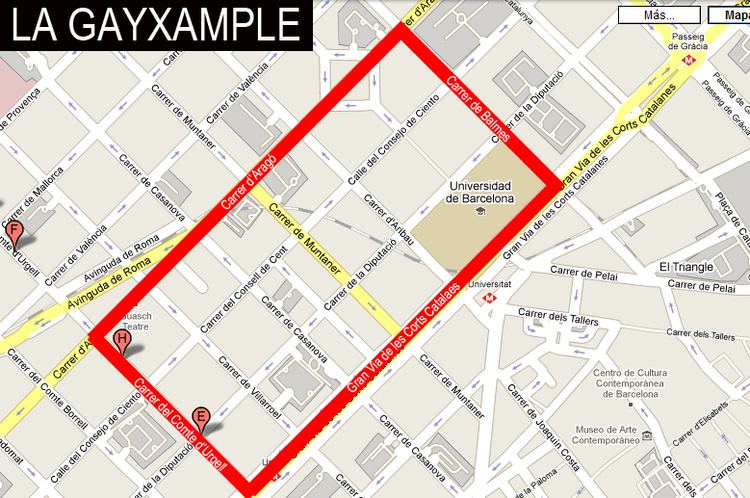 Ok, so don't tell the others, but this is totally our favourite bar… which is why we added it first on the list. It's always super busy, meaning there's a great buzz in the atmosphere and people are super friendly there. Friday nights tend to be the busiest when it can a tad overcrowded but in a nice way.
We especially love the themed nights they throw. There is a free canapes evening on Thursday followed by an exotic dancer show. Then on Sundays, they have bingo nights, which is followed by a show with mixed artists, showcasing some of the finest Barcelona talents of the queer/drag scene.
The crowd here is mainly in their 20s, 30s and 40s, especially on weekends. Oh and the bar staff…phwooooaaaar!!
Moeem is located at Carrer de Muntaner, 11 and is open every day until 3am.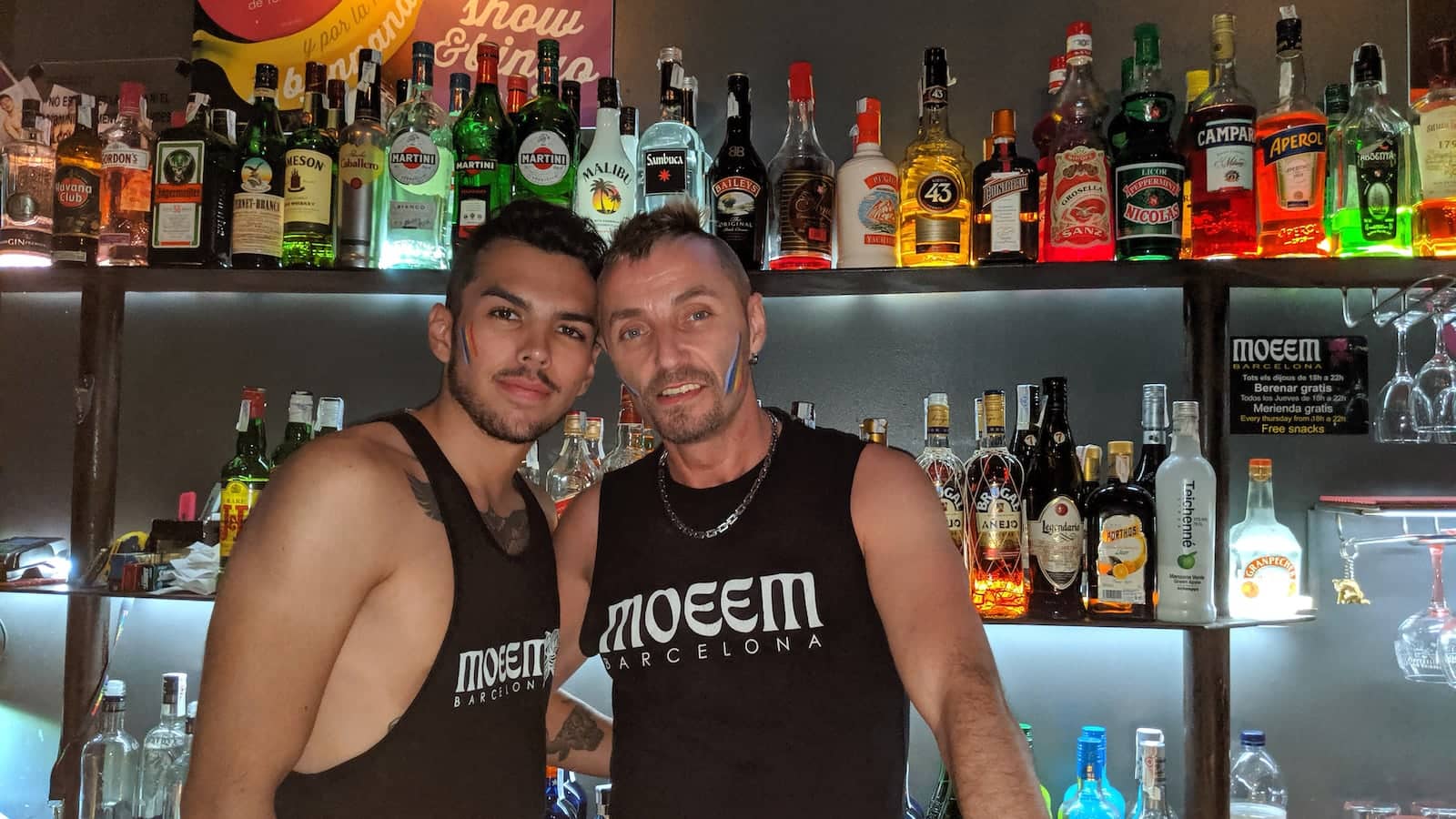 Getting around Barcelona
Barcelona is a big city with public transport links including bus, metro, trams and trains. To make life easier when exploring, we like to use the Hola BCN public transport ticket because with just one payment you have a card that gives you unlimited access to the entire transport system for up to five days!
Not to be confused with the bar with the same name in the Gaixample neighbourhood. This one's located in the El Raval neighbourhood, just off the famous Las Ramblas. It's famous for being the original and first gay bar of Barcelona. For that reason alone it's worth a visit!
When it first opened many years ago, the El Raval neighbourhood was not a nice area, famous for the trade. It's where the sailors would head to for a little bit of cheeky "downtime" when docking at Barcelona port! The club became famous for its drag shows and epic dance nights, so naturally, it became very popular with the LGBTQ community.
From the deep royal blue walls to the funky artwork hanging on the walls, something about El Cangrejo feels quite homely. It's a very local crowd, a mix of all ages from fresh-eyed baby gays and daddies.
This El Cangrejo is located at Carrer de Montserrat, 9, in El Raval. It is only open on Friday and Saturday evenings from 11pm until around 3:30am.
Looking for fun things to do in Barcelona?
Barcelona is such a fun city with so many cool things to see and do! With lots of gay bars, delicious restaurants and famous sights you will definitely be spoiled for choice here…
This place is one of the few gay bars in Barcelona that gets packed before 11pm. Normally, most bars don't get busy until after 11pm.
We put it down to its cheap drinks, incredible music, quirky staff, and a wide mix of patrons. The place had a mixed crowd of locals and foreigners, so really the best of both worlds. Punto's also a handy place to come to get the discount flyers for gay clubs like Arena.
Punto is located at Carrer de Muntaner, 65 and is open daily until around 3:30am.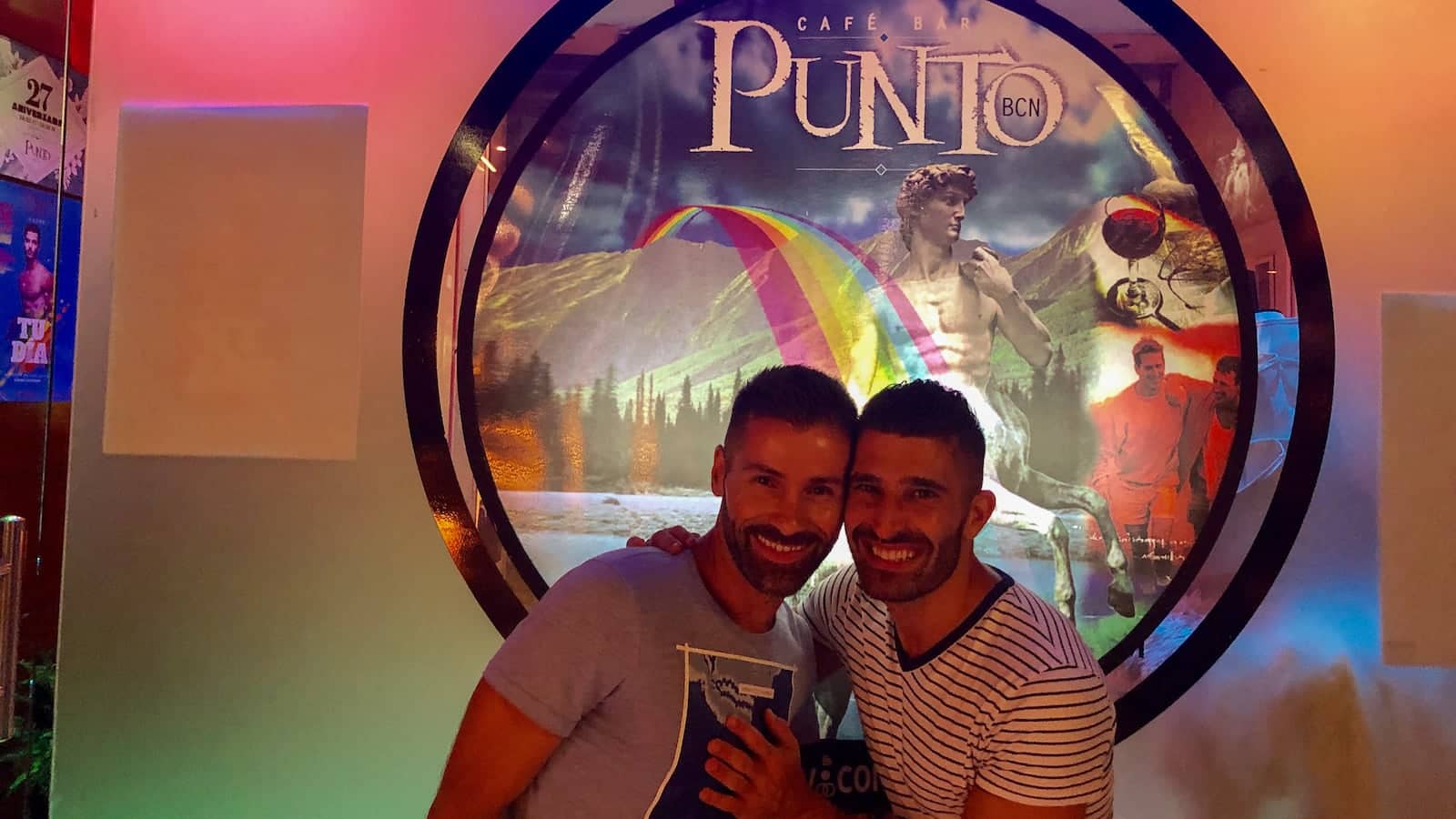 A little slice of gay Greece in Barcelona…
Mykonos is a popular haunt for the 40+ crowd with a fun and laidback vibe. It plays lots of classic disco favourites and 80s hits, so for those in the mood for a nostalgia wave, then give this place a look-in.
Inside is rather grand. With a long bar, bright lights and lots of room to dance and chill out, Mykonos is fabulous! It is quieter than other places on the Barcelona gay scene, yet can be a great place to kick off your evening.
Mykonos is located at Carrer de Casanova, 75 and is open daily (except Tuesdays) until around 3am.
If you love your mojitos as much as we do, then you need to march your sweet ass into La Chapelle ASAP!
You'll also fall head over heels for its alternative cute and small interior. With church-like art hanging around the walls and lots of cool art for sale, La Chapelle marries together the clubbing experience with spiritual awakening!
The crowd was mixed, all ages, shapes and sizes. Sometimes we love this even more than places with niche themes, as we feel more united and connected to the LGBTQ community as a whole.
La Chapelle is open every day until 2:30am and is located at Carrer de Muntaner, 67.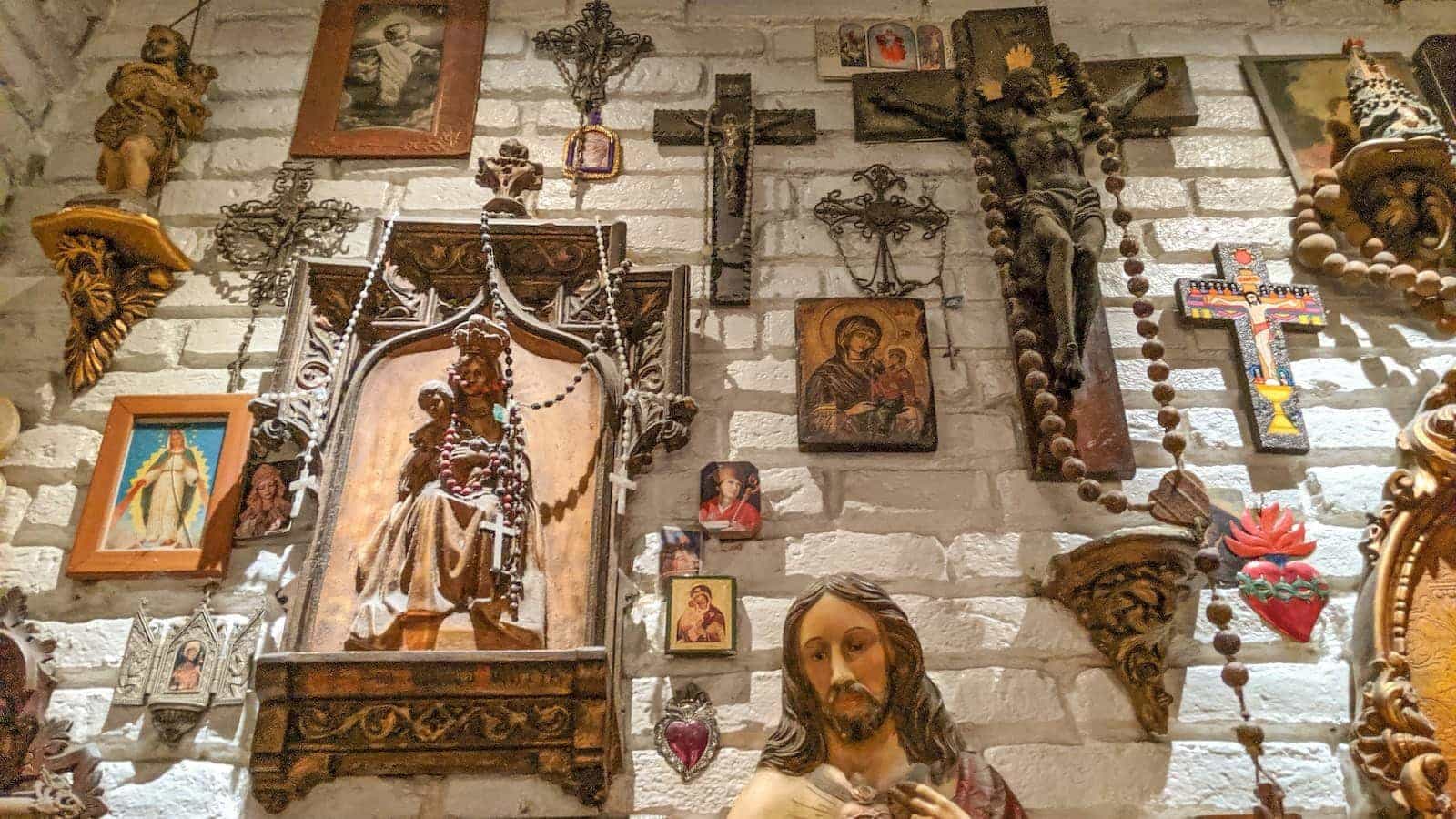 When you think of museums, you think of art, history, and animal wax figures. Your mind certainly doesn't spring to dancing, drinks and shirtless men. Well, that's what this kind of Museum is like…
You could say this place is like an homage to pop culture, with campy fake sculptures dotted around the place, posh-looking paintings on the wall and TV screens with iconic music videos playing on a loop.
The drinks are cheap and the music is popping! It's a fun and carefree atmosphere, with a wide mix of young and trendy patrons.
Museum bar is open only on Friday, Saturday and Sunday evenings from 11pm until around 3:30am. It is located at 178, Carrer de Sepúlveda.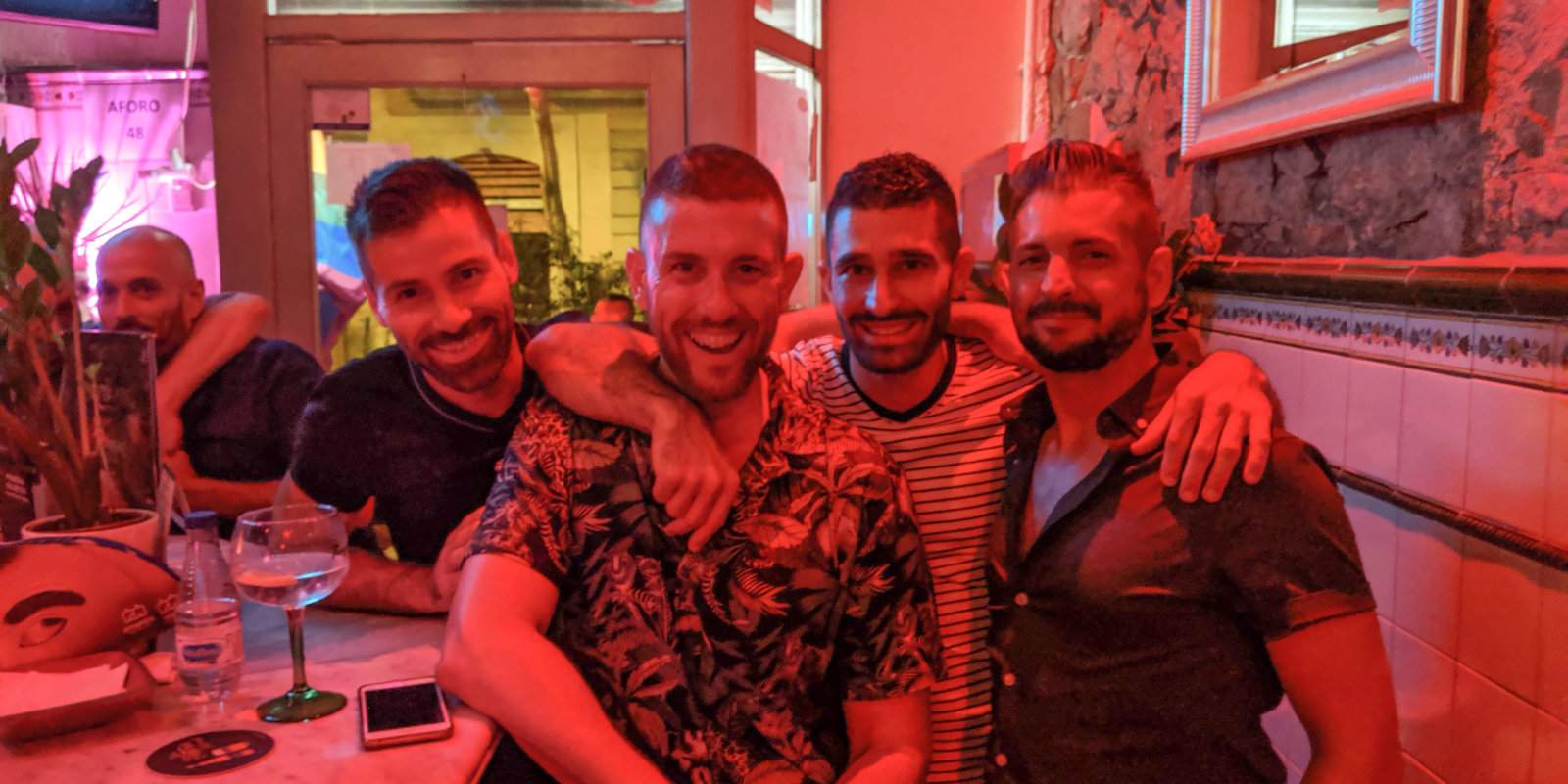 The best bear bar in all of Barcelona. The place has such a homely and cosy vibe, adding to the whole bear sanctuary theme. The place typically welcomes a slightly older crowd, generally guys in their 40s+.
We found that Thursday night is the busiest, with tons of big guys letting loose on the dancefloor. The crowd is super friendly and always up for having a great time. The bartender had such quick wit that we could barely pick up with the banter. But it's all part of the charm. You feel like you always leave the place having made 10 new friends.
Bacon Bear is open daily until around 3:30am and is located at Carrer de Casanova, 64.
Versailles is a stunning architectural bar – the most beautiful you'll see in all of the Barcelona gay bars (in our humble opinion). High ceilings, glittering chandeliers, regal decor and fancy liquor make this place feel like a palace.
Dancing under the shining disco lights, surrounded by Renaissance art, make the experience unforgettable. The crowds are always fun, exuding confidence and up for a laugh.
Versailles is located at Passatge de Valeri Serra, 3 and is open every day (except Monday) until around 2:30/3am.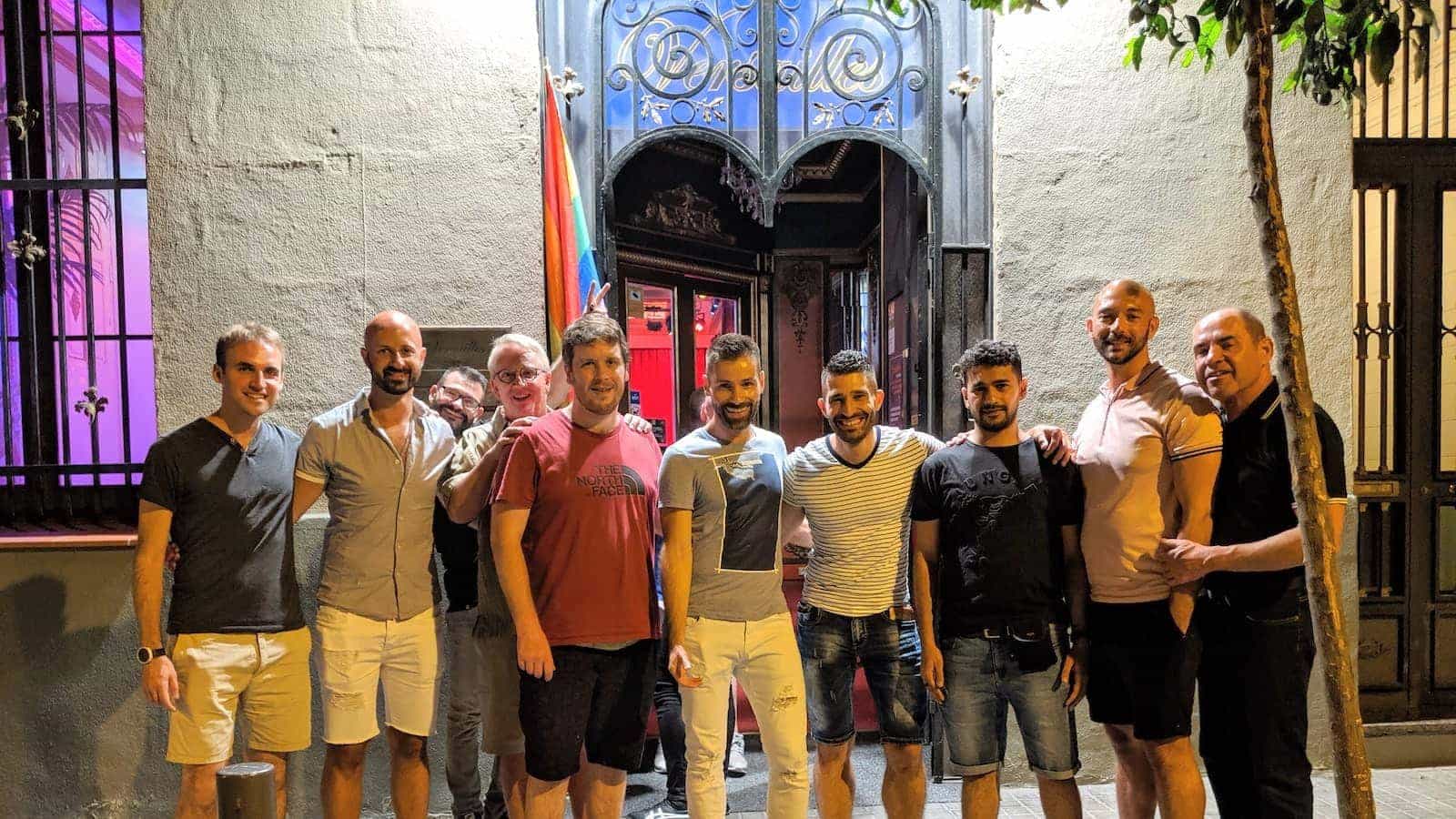 A fabulous place to go for food and drinks. We could barely pick ourselves from the table after stuffing our faces with scrumptious Italian food. Also, the lounge area was super cosy, so we just didn't want to leave!
The staff were super friendly, funny and served up the food quickly. It's definitely the kind of place you'd find yourself before heading to a club. It has a unique interior, with a stone wall facing the bar that adds a whole medieval vibe. The music was loud enough to dance but you could also enjoy a conversation without having to shout.
You'll find Bianca & Nero at Carrer de Viladomat, 85. It is open every day (except Mondays) from around 2pm until midnight (3am on weekends).
Sky Bar is the rooftop bar of the notorious Axel gay Hotel. It's fancy, stylish and very trendy. This is where you bring your attitude and lots of cash! Cocktails here are super expensive and it's all face face face!
We particularly love hanging out by the pool area of the Sky Bar, especially on Sundays when they have the Luna Diva drag show.
The crowd is mainly foreigners and tourists as locals look down on it a bit. The staff can be a bit snooty and stuck up (depending on who you get), so it does have a reputation for being a bit full of itself. But as we said above, Axel is often considered as being the heart of the Barcelona gay scene, which makes this bar a hotspot for meeting friends and starting out the night. It's also quite romantic, with a really beautiful skyline view of the city.
Note the second Axel Hotel also has a rooftop Sky Bar with the same name. This one is located at the "TWO Hotel Barcelona by Axel" at Carrer Calabria 90-92. It is officially always open, but the bar is only open until around 10pm.
The main Sky Bar is at the "Axel Hotel" at Carrer d'Aribau, 33. It is open until around 2/3am every evening.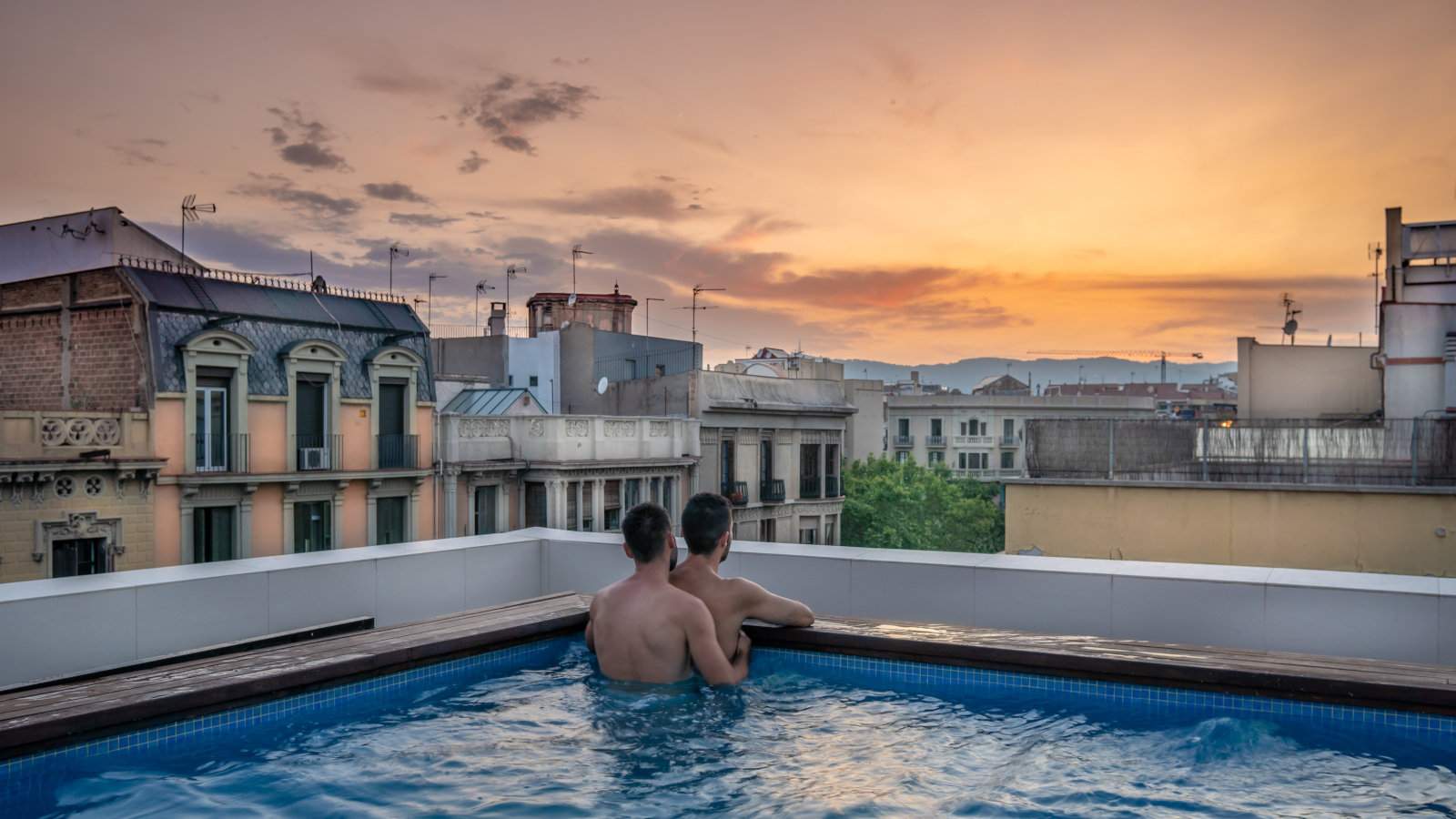 While it may be smaller in size, yet it still has plenty of heart!
It is generally a place that locals go to. We found most people didn't speak English, yet, we saw it is an opportunity to practise our Spanish. It 100% had a local scene vibe, with a laidback and relaxed atmosphere. If you're looking for a nice place to grab a drink and a catch up with some mates, then definitely check this place out.
The music playlist was a blend of classic pop tunes and sassy Latina hits – a perfect mix for the dancefloor. Whilst the locals may snicker at you trying to pull some salsa moves on the dancefloor, they'd be more than happy to show you a move or two – if you ask nicely!
El Cangrejo is located at Carrer de Villarroel, 88, and is open only Fridays and Saturdays until around 3am.
One – it's on a beach. Two – it's a bar!
Is there anything else this place needs to catch our interest? We don't think so. After a long day of frolicking around on Mar Bella beach, we love nothing more than a cool drink at the Chiringuito Begay bar. Hey, if the bar tells us to 'be gay', you best believe we'll be gay!
Mar Bella is our favourite of all of Barcelona's gay beaches. There's always a fun crowd here, making it easy to make friends. It's also always busy, particularly in the summer months, though it can get too busy during the Circuit Festival in August.
Our only issue with this bar is that the drinks are a bit weak compared to most of the other bars we've been to in Barcelona.
To reach the Chiringuito Begay bar on Mar Bella beach, head to Poble Nou metro station and from there it's a 10-15 minutes walk. It's open daily from 9am to 2am. For more, check out our guide to the best gay beaches of Barcelona.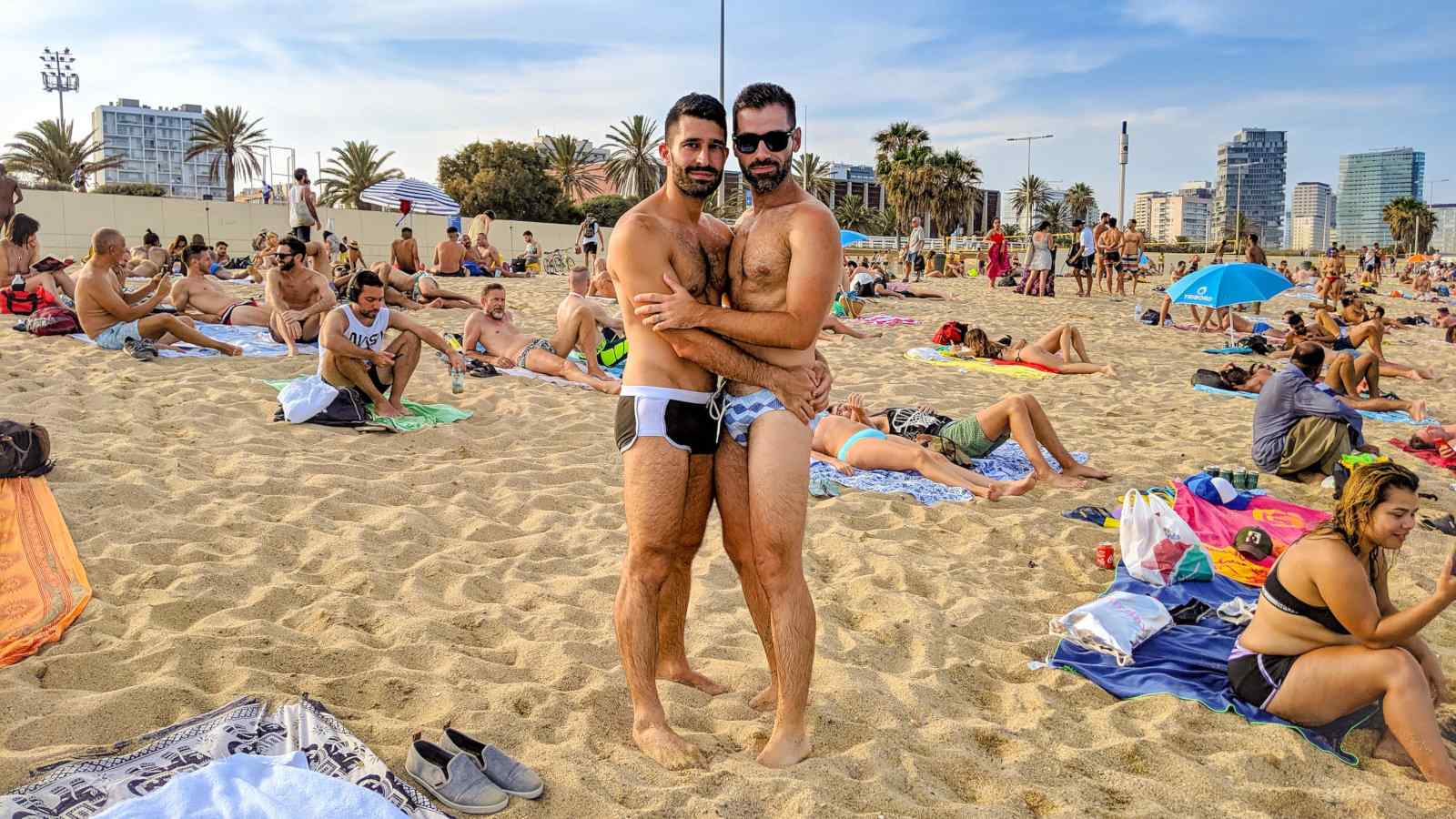 Let's hear it for the boys!
Whenever we come back to town, the Boys Bar is pretty much always near the top of our list. It celebrates all things dancing, classic pop, and gay culture. Like a little slice of New York City in the beating heart of Barcelona, Boy Bar is always on-trend. A night here feels uber-glam, all you need to do is decide who amongst your friends is the Carrie, Samantha, Miranda and Charlotte of the group!
The bar generally attracts a young crowd. Expect to see loads of bug-eyed baby gays, college graduates and young professionals around the dancefloor. The drinks are reasonable and the staff always have a warm smile on their face.
Boys Bar is open daily (except Mondays) from 9pm until around 3am, and is located at Carrer Diputació, 174.
Put the word 'gin' in the name, and you're guaranteed to pique our interest. Add it in twice, and we're practically already in the door.
With an open and friendly atmosphere, the GinGin bar is famous for its 20 different types of gins available to try! They also do lots of fun drag shows. For that reason, it tends to bring in a diverse crowd. From die heard gin lovers to drag obsessed geeks like us, the mix always creates a fun and lively atmosphere!
The decor feels like the inside of a 1960s sitcom about friends who run a bar. From pop art to glowing letters spelling out "G I N" plastered on the walls, and leopard print panels lining the bar, the place feels super groovy…
Located at Abribau 40, GinGin is located across the street from the main Axel Hotel. It is open daily from 5pm to 3am.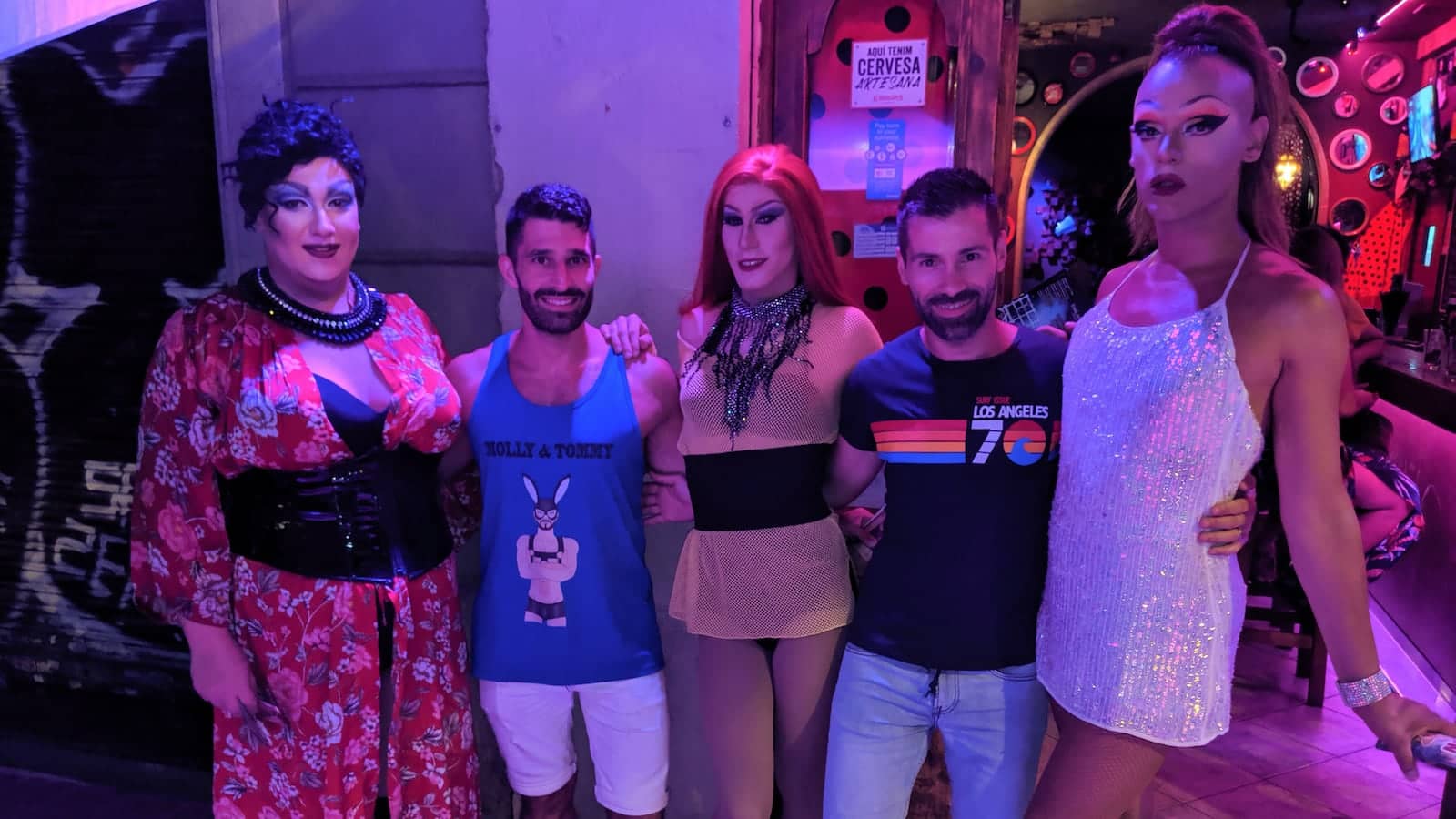 Do you believe in life after love? You definitely will after visiting this place!
Hands down the best place to go to in Barcelona for drag shows. The shows start just after midnight and go on for a good 2 hours with plenty of glamour and humour. The drag queens are hilarious, performing in a mix of English and Spanish.
The crowds are a cool mix of lesbians and gays, locals and foreigners, and of all ages from all around the world. They have a great mix of tasty cocktails, usually with a special offer to encourage the crowds in ready for the drag shows. After the shows, the bar transforms into one large dancing hall, which goes on till the early hours. It's one of the few gay bars of Barcelona with a late licence.
Believe is located at Balmes 56 and is open daily from 11pm until 6am.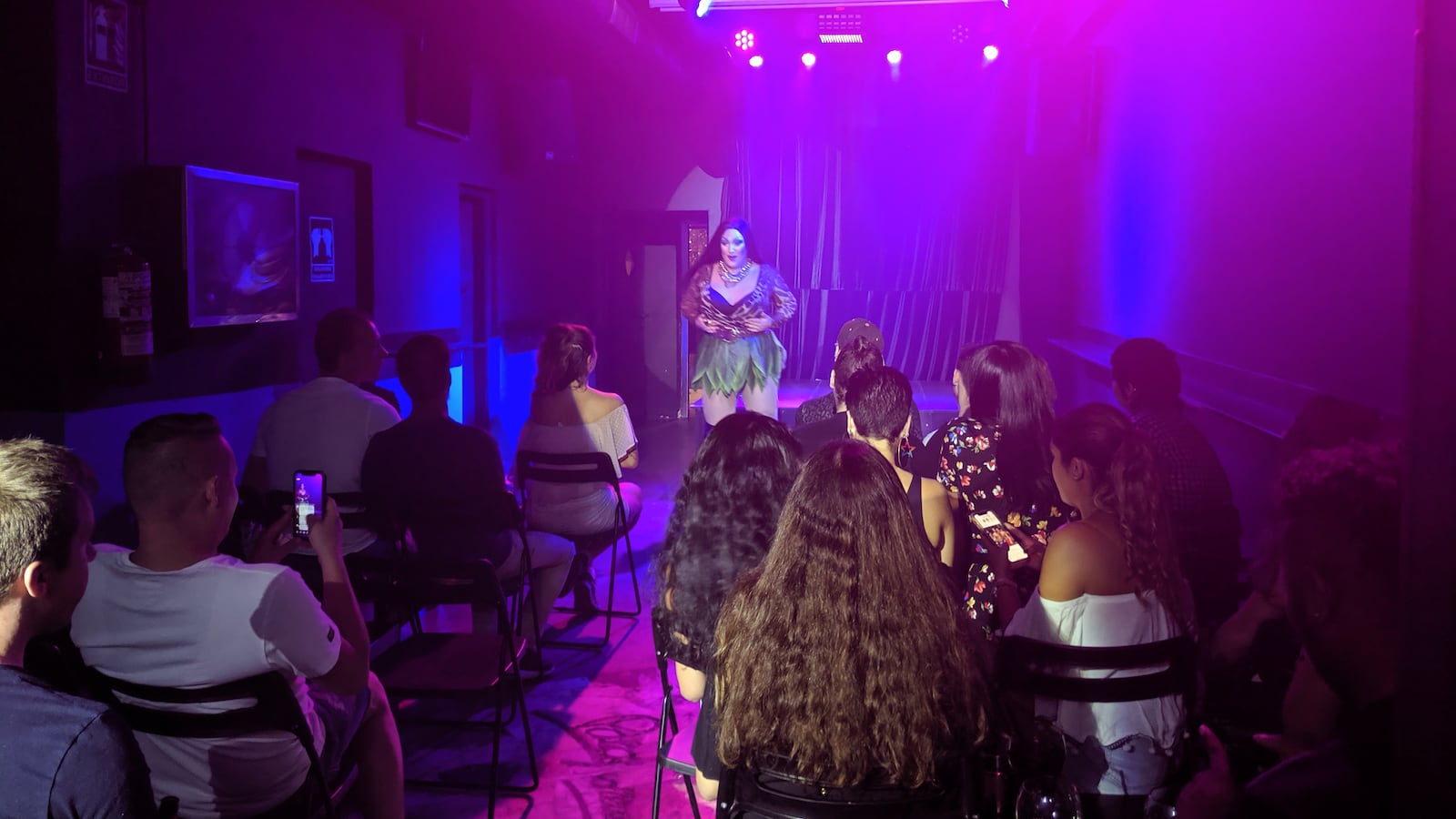 From the giddy bartenders to tasty drinks, the Plata bar has a unique ambiance. Whether you fall in love with the tropical-inspired decor, tasty drinks, lovely staff, great dancefloor, or handsome exotic dancers, you'll find yourself leaving your heart at Plata.
It is located at Carrer del Consell de Cent, 233, and is only open Wednesday to Sunday until around 2/3am.
Atame is an old-fashioned kind of gay bar that pays homage to the vintage drag scene.
A highlight of our experience here is the Gram Show with performer Patrik Transformita. A veteran on the Barcelona scene, this queen knows how to capture an audience's attention. Wickedly talented and hilarious, we were captivated by every movement they made!
Atame is only open Tuesday to Saturday until around 2:30/3am and is located at Carrer del Consell de Cent, 257. Tip: like Puno bar, Atame is another place to come and get discount flyers for the gay clubs.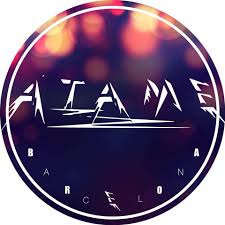 A male-only bar…sorry ladies!
Complete with darkrooms, gloryholes galore, cabins and a cruising area, there is plenty of space to explore your wild side. The bar also has photography exhibitions so you can enjoy your own impromptu, model photoshoot!
There are free rubbers – be a little bit wiser baby, put it on, put it on! Let the night, be the night, when 2 become 1…!
Don't get too caught up in some fun time with a loved one or you may miss Happy Hour. It takes place from 6-9pm, and seriously, ensure you take full advantage. The drinks are super cheap and you can't help but fawn over their deliciousness!
Night Barcelona is open daily from 6pm until around 2:30/3am and is located at Carrer Diputació, 161.
From the outside, the lime green facade doesn't look like much. In fact, it appears like the last place you'd go to for an afternoon shag! It's very popular with the local boys, so you might feel like a needle in the haystack once inside. When you step through the door, you'll see loads of guys kissing and dancing around the place.
There are 16 cabins for you and a loved one (or someone you met that same evening) to go and enjoy some alone time. Some cabins allow you to enjoy quiet time, whilst others, have a few surprise holes…
Don't be too worried though, everyone is laidback and easygoing. The staff are friendly and approachable so you'll always feel very safe.
It is located just next door to the Two Barcelona Hotel at Calabria 96 next to Rocafort Metro. It is open daily from noon until around midnight. For more cruising inspiration check out our guide to the best gay saunas of Barcelona.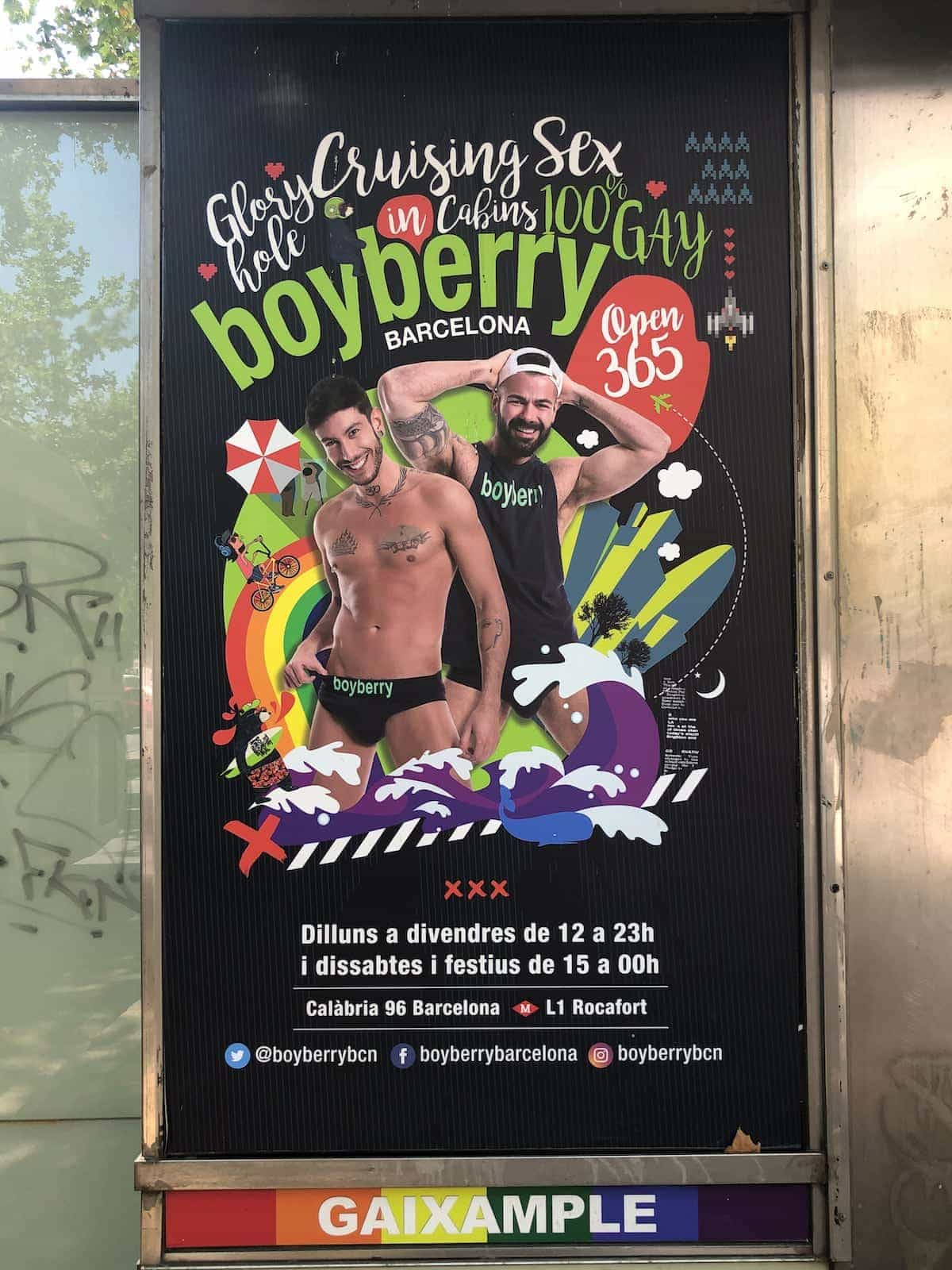 It's safe to say, you may need an open mind before entering this joint! But once you're inside, you're in for a good time…! Open Mind is one of the few gay bars in Barcelona with a late licence, so it's open until the early hours of the next morning, especially on weekends.
Open Mind is a cruising bar with themed nights, like the Nude Party and Sarong Night. It's a stark contrast to a typical night out in town! After all, where else can you find a cage on the dancefloor?!
The erotic art on the wall and low-red lighting really add to the mood of the place. It makes you feel super sexy.
Open Mind is located at Carrer Aragó 130 and is only Thursday to Sunday evenings from 11pm until around 7/8am (Sundays from 7pm to 6am).
Another sexy-themed bar. We particularly love this one for its themed nights like Underwear Party on Tuesdays, Club Bastards SM session on Wednesdays and Naked Party on Thursdays. We particularly recommend their monthly athletes and BDSM themed nights. It's the best place to go show off or gawk at some other sport-clad hotties!
Whilst no one will ever force you to do anything you feel uncomfortable doing, we recommend only visiting this place if you're up to experiment. It has a super raunchy atmosphere inside and is totally hyper-sexualised.
You can still go for a drink and a boogie, but most people there are looking for one thing! The music takes a page out of the book from the industrial dance warehouses of Berlin, so expect heavy dance beats and full-on electronic music.
Berlin Dark is located at Carrer Passatge Prunera, 18 and is open daily (except Mondays) from 10:30pm until around 3/3:30am.
La Federica is a really cool gay bar in Barcelona with some of the most hilarious drag shows ever!. They specialize in delicious tapas and fancy cocktails while hosting Vermut Drag shows in the middle of the day from Friday to Sunday.
We loved coming here for a Sunday brunch with a drag show after a weekend of partying. We especially love how La Federica celebrates all different kinds of drag artists. From bearded queens to bio queens, all are welcome here.
You won't just be watching passively here either, as the Vermuts include sing-alongs and competitions, while DJs spin tunes to keep the party going. Even the walls are crazy and colorful, but also the perfect backdrop for an Insta pic…
La Federica is located at Carrer de Salvà, 3 and is currently open on Fridays from 1-5 pm, and on Saturday and Sunday from 12-5 pm.
---
Like this post? Pin it