TERMS OF USE: There is a chance that some of the content on this page has changed since it was last updated. By reading this article, you consent to our Terms of Use and Disclaimer. Happy Travels!
DISCLOSURE: Some of our posts may contain affiliate links which we may receive a commission if you choose to book something through one of our links.
Our yummy roundup of the best gay saunas in Barcelona where you can play with handsome locals – and just let your naughty side run loose!
Being one of the most gay-friendly cities in the world, it's no surprise that there is such a huge variety of gay bathhouses to choose from in Barcelona.
The fascination with hot, steaming rooms dates back to the bathhouses which could be found all around Europe in medieval times. Back then, people would go to saunas to bathe, socialize and unwind. At one stage, they even began to believe saunas held magical powers. With that idea put out into the universe, the Church quickly turned around and said a big hell-no to sauna use, which led to the closure of many bathhouses across Europe.
Over the past century, saunas have grown more popular than ever, particularly within the gay community…what could be better than a boiling room, filled with steam and guys just hanging out? They've become an important staple of the LGBTQ community, a safe haven where you can come for action and to explore your envies or simply just chill.
The gay scene of Barcelona in "Gaixample" (pronounced "gay-shample") is vast, brimming with many queer hangouts and of course, plenty of gay saunas. Why they are so popular here is mainly a result of the intense recession the country has faced over the past decade. This led to high unemployment rates, particularly among young guys, who as a result of this have had to live with their parents to save money, making it hard to bring back a date (or two!). Hence the rise in demand for gay saunas across the city.
In this guide, we've put together the 6 best gay saunas in Barcelona to check out where you can connect with locals, bears, otters, or whatever and whoever takes your fancy! Note that the gay "Sauna Barcelona Wellness Spa" has not survived the Pandemic and has since closed its doors for good.
DON'T MISS OUT!
Join our newsletter
Subscribe now to receive in-depth FREE travel guides, along with inspiring stories, savvy planning tips, and exclusive discounts on gay tours.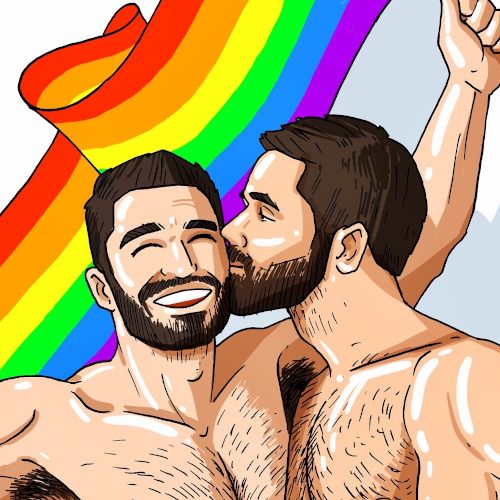 Sauna Casanova: most popular sauna
Now don't get lost within the twisting corridors of Sauna Casanova…
Filled with young gay guys looking to play and socialize, the sauna Casanova has many pockets to explore. From the adult media streaming room, where you can get it on with a loved one, to the darkroom, wherein lies mystery and allure. Private rooms are available – with some even harboring a delightful swing for you to play on…we wonder what kind of fun activities one could have on one of those eh?
As well as a bar, Sauna Casanova has a gorgeous pool that sits in the center of the main room. With soft orange lighting, golden speckled walls, crystal blue glass room dividers, and Roman-style pillars, the place took on a totally cultural-inspired interior. If Julius Caesar had set up a disco-infused all-gay bathhouse, this would be it!
Sauna Casanova gets busiest during the middle of the night, between 2-6am, so if you're going, make sure you're nocturnal.
With an €18 entry fee, the Sauna Casanova can be found at Carrer de Casanova 57, and is open 24 hours a day, 7 days a week.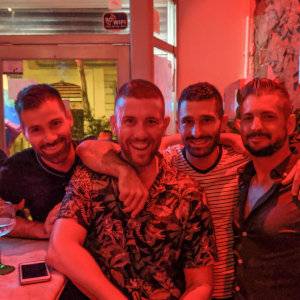 Explore Barcelona's gay scene at night
Once you've relaxed in Barcelona's gay saunas you'll probably be re-energized and ready to hit the gay bars and nightclubs of Gaixample! You can join a Gaily night-time tour with a local guide to show you all the most hopping hangouts the city has to offer.
Sauna Condal: popular with the bear boys
Sauna Condal prides itself on being "the bear sauna". Bear boys and their fans should definitely head here.
It's a very large sauna, spread over 3 floors. It also feels super unconventional compared to the rest. For starters, as you enter, you come face to face with a mountain goat…not what you'd expect to find in an all-gay bathhouse! Continue inside and you arrive in the video cinema room. Kick back and relax as a stream of hot content unravels on the screen.
Sauna Condal is mostly popular with the over 40s bear crowd. It tends to be a bit quieter during the day and weeknights. Stop by during the weekend, and you'll discover a whole different vibe! There are epic parties, a fun clientele and relaxing pools to dive into.
With an €18 entrance fee, Sauna Condal can be found at Carrer d'Espolsa-sacs, 1, 08002, just behind the corner at Carrier Comtal. It's open 24 hours a day, 7 days a week.
Sauna Bruc: for older men
Sauna Bruc offers a fresh respite from the modern world. You'll be torn between wanting to soak in the bubbling jacuzzi or go straight for the steamy sauna. The Bruc blends both old and new design. With shiny walls and fluorescent blue seating, the sauna pulls in elements of classical design, with portraits of Roman statues and hanging plants dotted around the room.
This is a sauna more suited to an older crowd – particularly the over 50s crowd, making it a total silver fox haven!
When finished letting off some steam (get it…because a sauna has steam? You can't say you weren't expecting at least one steamy pun!), dive into the hydromassage pool. Relax your muscles whilst you swim, with these trickling and soothing waters. Or pop up to the bar for a drink and a natter with the friendly barmen.
DON'T MISS OUT!
Join our newsletter
Subscribe now to receive in-depth FREE travel guides, along with inspiring stories, savvy planning tips, and exclusive discounts on gay tours.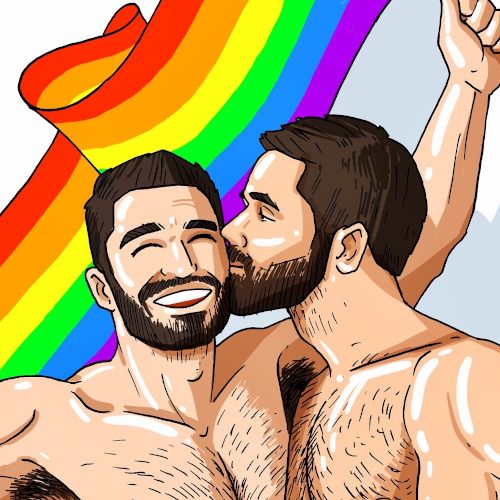 The first Saturday of every month sees the sauna throw a nudist party. Clothing is NOT optional, so if you aren't prepared to show it all off, then you best stay away. Although you obviously don't have to participate in any acts (!!!) if you don't wish to do so. Sometimes the fun is in just being nude!
At €12.80 per person, entry to Sauna Bruc is by far one of the cheapest in the city. The sauna is open every day from 11 am until 10 pm and is located at Pau Claris, 87.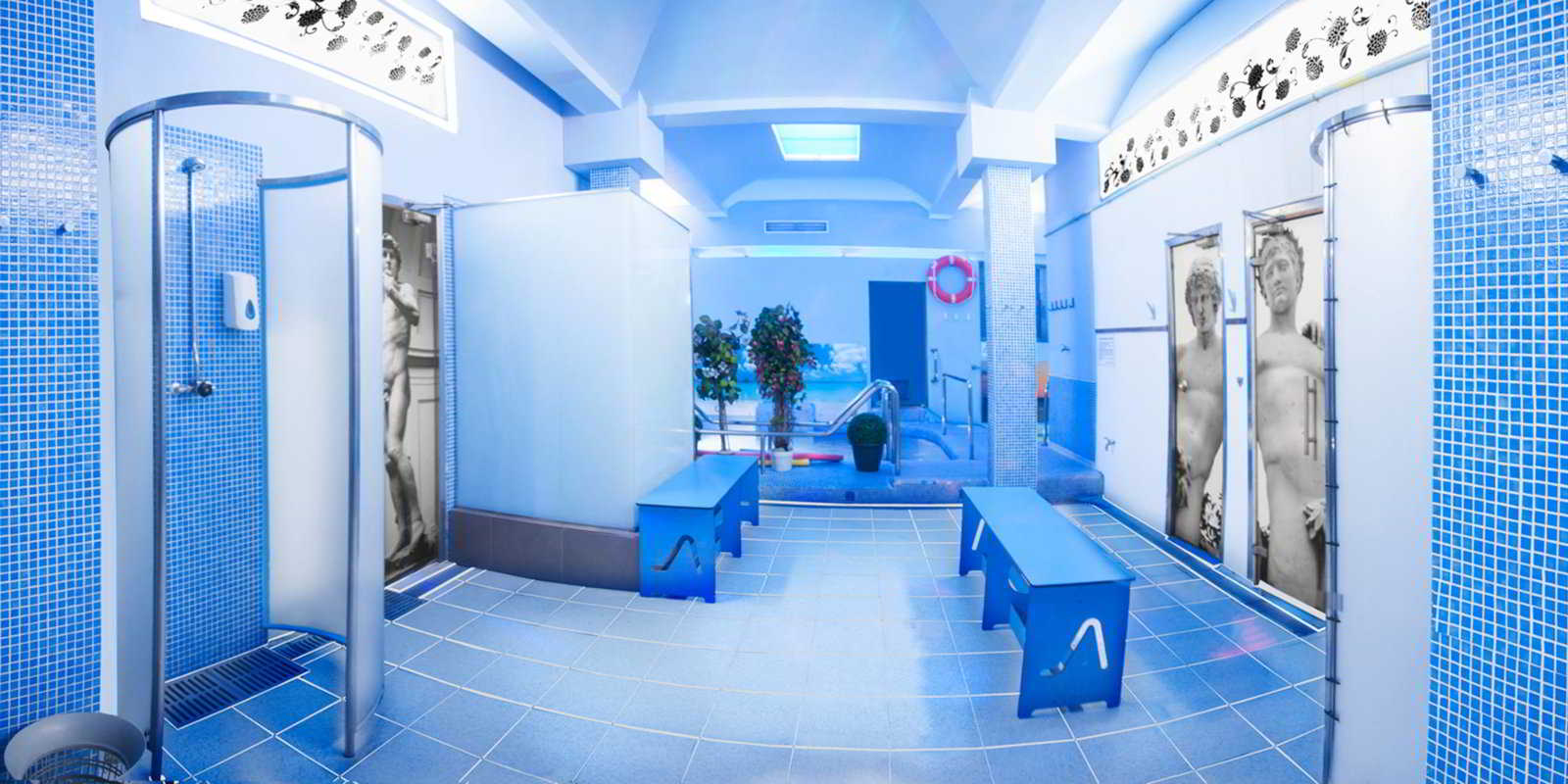 Sauna Thermas: great if you're looking to hire a gentleman
Sauna Thermas welcomes you with open arms, an open heart, and a whole other sort of openings…!
This is one of the few places in Europe where you can meet and mingle with gentlemen available for hire in a secure environment. It might seem a bit intimidating to those who have never been in such a place before, but relax! The guys are super easygoing, and won't pressure you into doing anything you aren't comfortable with.
So if you were thinking that it would give off a Red Light District type of vibe, then you'll see you were mistaken. With options for private rooms, equipped with protection and lubricants, you'll never be made to feel unsafe. It's also squeaky clean here. Be wary though: if you do decide to hire a gentleman for a night, they will expect some tuppence; rumour has it they charge at least €50.
Plus, you don't even have to go to get with anybody. Like most saunas, there are spaces for you to just chill out, including a bar.
The entrance fee for Sauna Thermas is €18. It's located at Carrer de la Diputació, 46, 08015 and is open 24/7.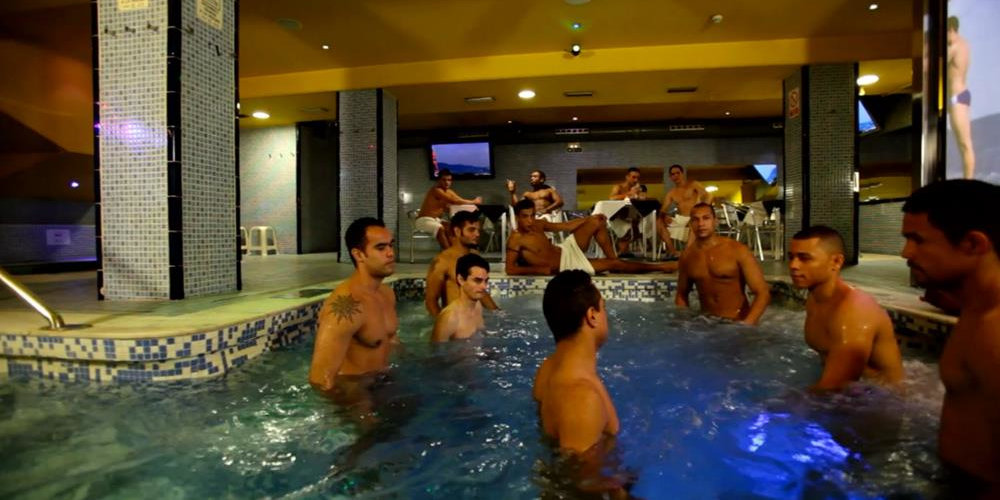 Sauna Galilea: one for the younger guys!
Sauna Galilea is a fun urban gay sauna spread out over four floors in the center of Barcelona.
They have lots of great discounts on different days, often offering reduced entry for under 25s, guys between 25, and weekend specials. This place generally attracts a younger crowd with such good deals for young gay guys, although any age is welcome.
There's a Finnish-style sauna, as well as a Jacuzzi, cabins where you can have a massage, a small gym and TV rooms where you can relax with any new 'friends' you might make. We particularly liked the blue-tiled shower rooms and the round windows in the Jacuzzi room that look like portholes in a ship. Hello, sailors!
Prices vary between weekends, weekdays, and late night-entry, so you'll generally be paying between €10-€15. But if you're between 18-25 you'll only pay €5 and it's €8 for guys between 25-30. Sauna Galilea is located at Carrer de Calàbria, 59, and is open Monday to Thursday from midday until midnight.
---
Like this post? Pin it